Are you searching for the best WordPress golf themes to create the ultimate club site?
Or maybe you'd like to start a golf blog or sell clubs, equipment and clothing?
NO WORRIES!
I tested fifteen promising ones but found these eight to be the finest.
This post covers:
Each WordPress theme includes everything you need to create your golfing website fast and easily.
You can even promote events and start a membership plan.
SWING with the theme – like a pro.
5 Big Questions I Asked When Testing Best WP Golf Themes
I approach all theme testing with a beginner in mind because I want to include only such that everyone can get the most out of.
This includes newbies and experts.
For this reason, I asked ourselves five big questions during the testing phase:
Is the theme optimized for performance? (Does it load fast and adapt to different screen sizes? I used Google's Mobile-Friendly Tool and Pingdom Tools.)
Is the theme regularly updated for bug fixes and improvements?
How easy and quick it is to install the theme? (You may also read our guide on installing a WP theme.)
Does the theme have an organized interface?
Is the theme simple to customize?
But I also always try to answer the question of plugin expansions and compatibility. Also, how well-written the documentation is and how friendly and helpful the support team is.
THE ULTIMATE 3:
Best WordPress Golf Club Themes
1. Kallyas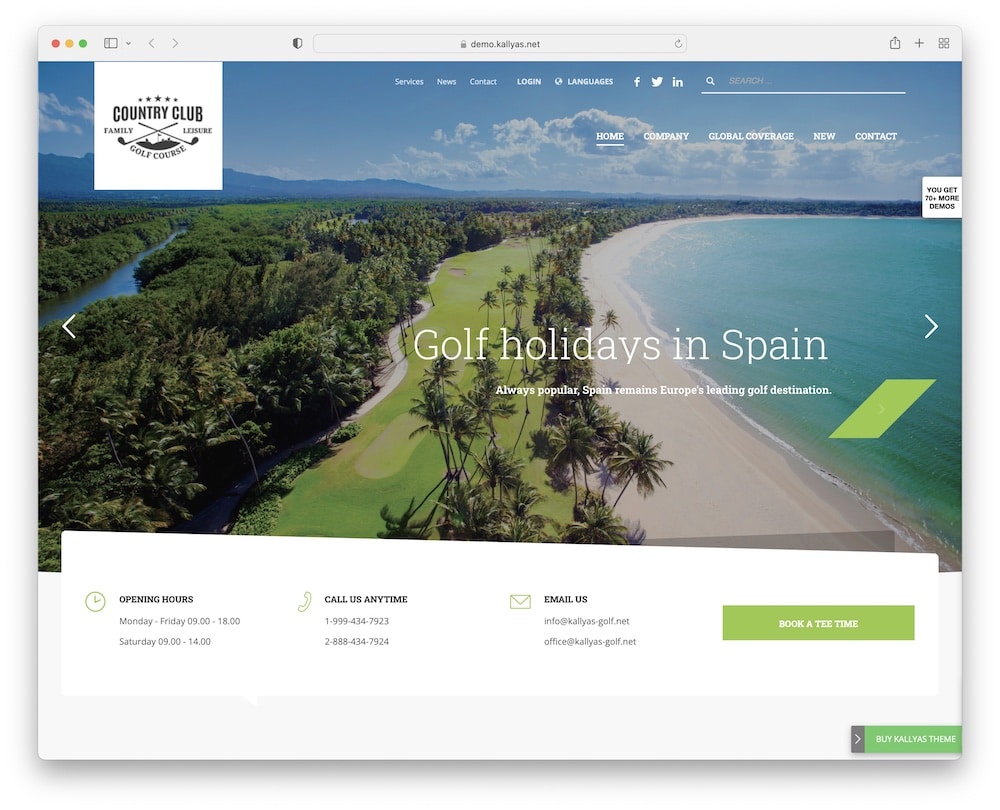 Modern Kallyas theme is a MUST for any golf enthusiast.
It's easy to work with (pre-made homepage, functional plugins) and offers a BIG opportunity to write, publish and sell anything across the golfing industry.
Showcase golf courses, review the most popular tournaments, organize events and display membership advantages.
And don't forget to activate the contact form for visitors (FREE opportunity for future promotions!).
By the way, I think it is smart to include testimonials of your loyal members directly on site. (Best promotion you can get!)
Kallyas is also optimized for high speed and is SEO-friendly (Hey, Google).
Oh man, and it comes with lifetime FREE updates!
Swing easy with Kallyas.
Kallyas features:
51,000+ sales
4.7+ star ratings
Price: $69 (may vary)
MORE INFO / DOWNLOAD
DEMO
2. Brentwood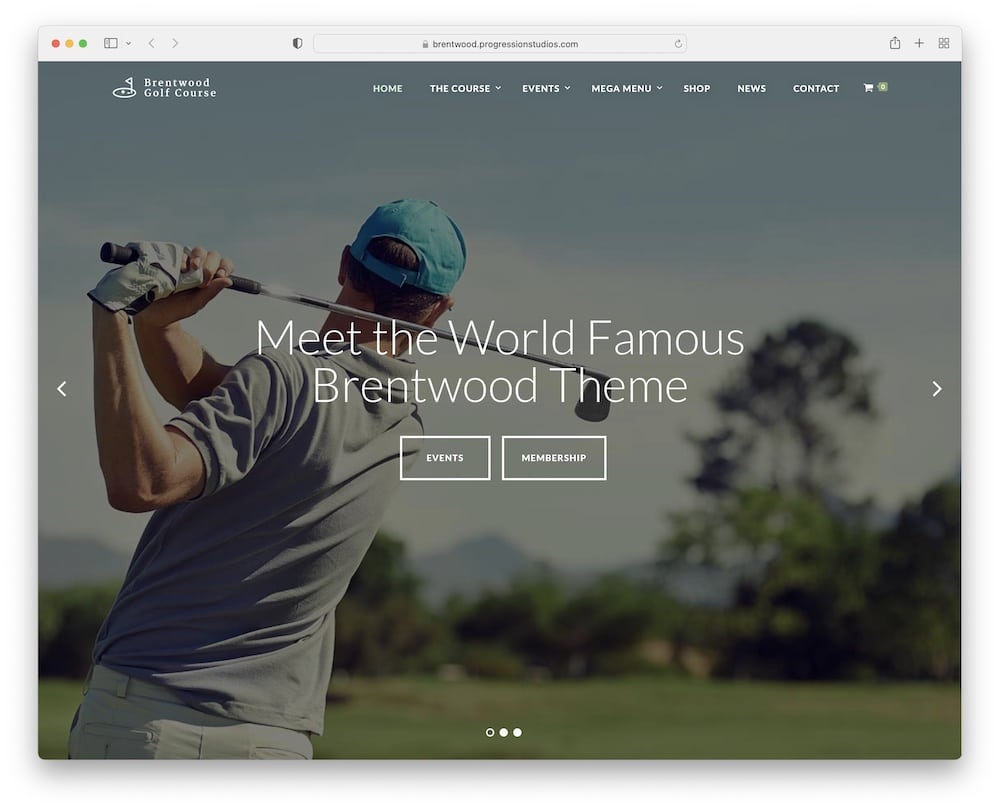 Golf isn't just a game, it's a lifestyle, and Brentwood golf club WordPress theme agrees with it!
Beautifully crafted Brentwood offers a ready-to-use template for a super quick start. Click on the import button and you are in the round (even if you are a Duffer)!
For a GOOD reason, Brentwood includes Slider Revolution (No. 1 plugin).
Why wouldn't you WOW your clients with pro-level visuals? It's just heaven to create an attractive slideshow easily!
Moreover, with unlimited colors, you can use all shades of GREEN. "A golfer's diet: live on greens as much as possible." 🙂
NOTE: you can pass on your golfing experiences in different languages due to Brentwood translation-ready feature.
Be in the zone!
Brentwood features:
890+ sales
4.6+ star ratings
Sell golf stuff easily
Price: $59 (may vary)
MORE INFO / DOWNLOAD
DEMO
3. N7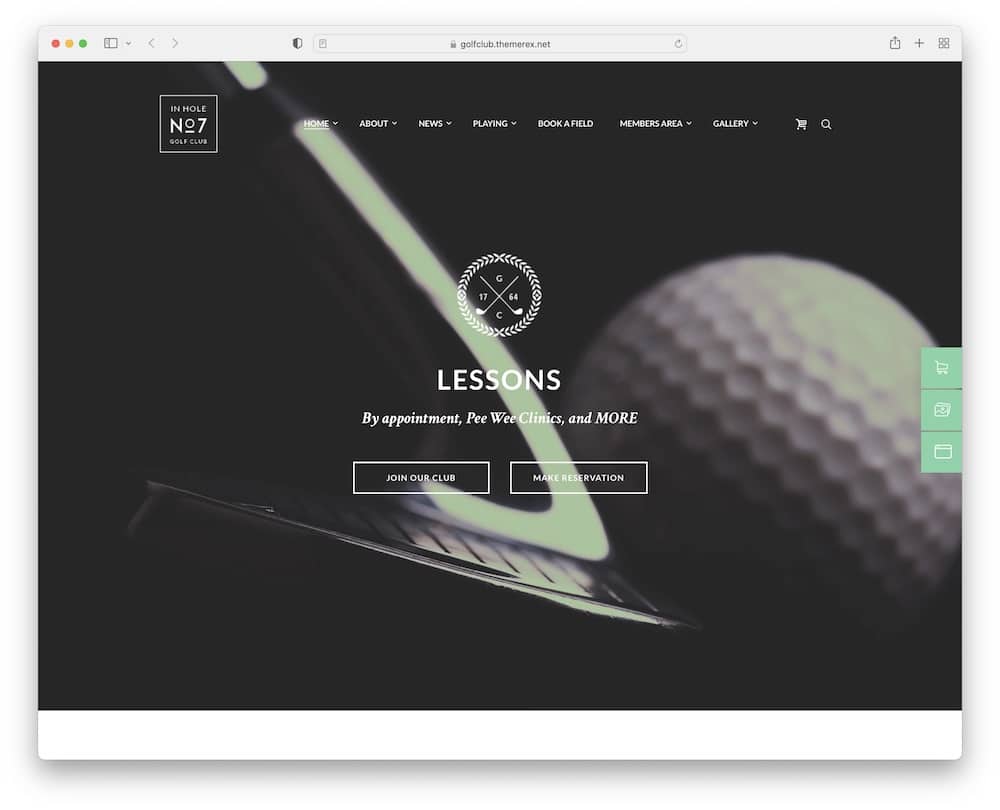 Connect with like-minded golf lovers through the gorgeous N7 golf club WordPress theme.
Design success comes easy with WPBakery page builder (no coding or web design experience required).
Take full control over the front- and back-end of your new website.
Hi, BOSS!
N7 is perfect for writing about golf news, brilliant tips & advice, or displaying relevant tournaments, competitions, and popular courts (HINT: create a stunning gallery).
Of course, you can also showcase your membership offer, set up a price list for golf coaching and an online timetable for golf course reservations. (You can even sell equipment & tickets.)
VICTORY. LAP.
In short, N7 includes everything you need.
N7 features:
810+ sales
4.8+ star ratings
Match results
Price: $69 (may vary)
MORE INFO / DOWNLOAD
DEMO
4. Uplands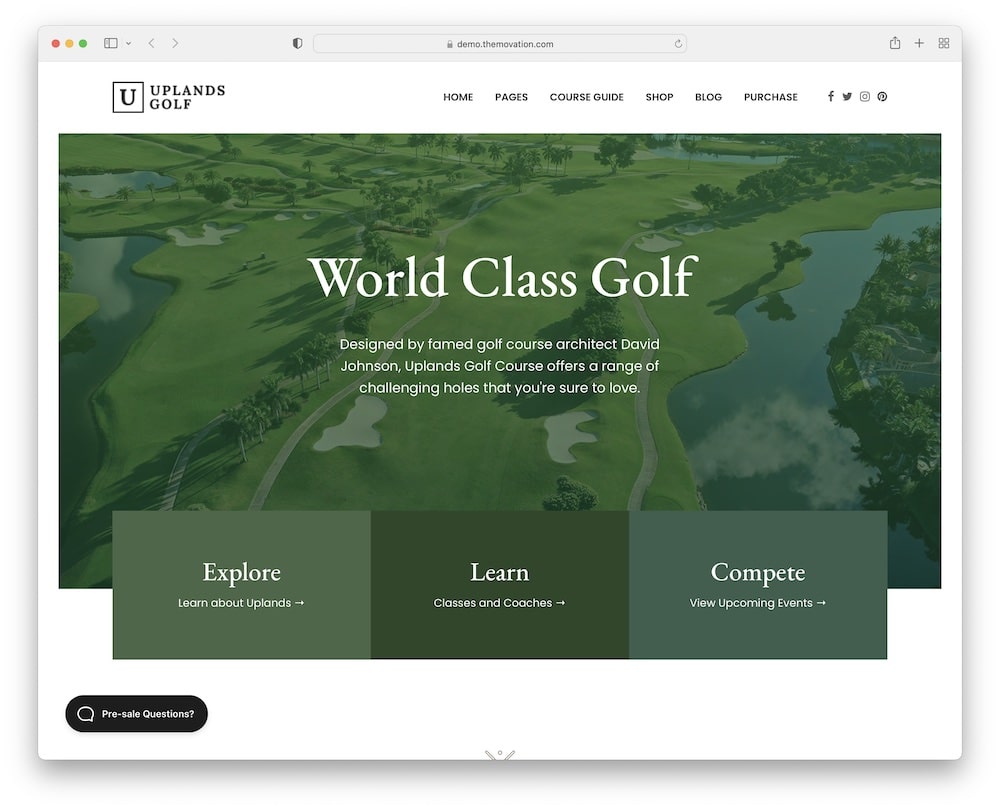 Are you as well hooked on golf? Share your passion through Uplands golfing WordPress theme.
Check out and fall in LOVE with its drag-n-drop simplicity.
Whatever you do (copy, move, link, set up) you see the result right away (live customization). SO drag the element where you want, preview it and click publish.
Voila!
Furthermore, Uplands offers an AWESOME bundle of hand-picked features for everyday golf adventures – online booking, scheduling, and payments.
Best user experience guaranteed!
For me, one of the key advantages of Uplands is the premium design for displaying golf courses. OMG (!), how beautifully you can present sun-drenched courses!
And even practical documentation (articles & guides) is available.
Pick Uplands!
Uplands features:
830+ sales
4.8+ star ratings
3-min setup
Price: $59 (may vary)
MORE INFO / DOWNLOAD
DEMO
5. Triompher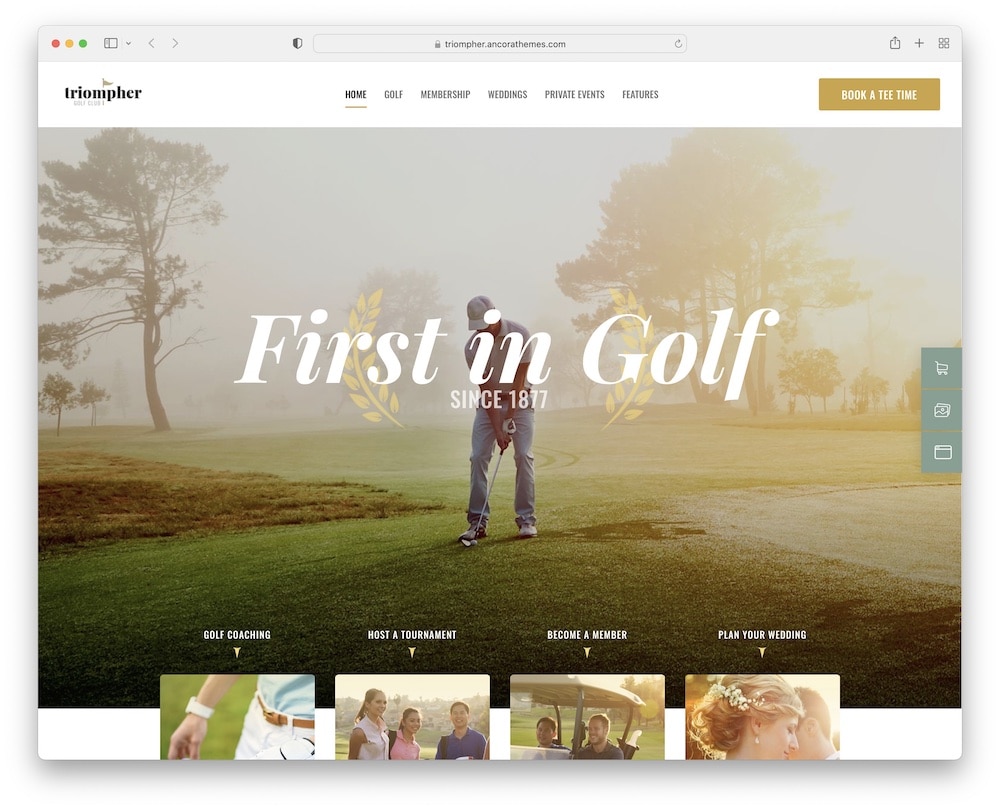 Triompher is a one-stop theme for everything golf.
It comes with a responsive and retina-ready design, so you don't need to worry about blurred or pixelated images.
Ensures HIGH-QUALITY!
Of course, you can fully adjust the header & footer, decide between boxed and full-width page layouts and add additional functionality with custom widgets.
And the huge collection of color and typography options is fantastic!
Best of all, Triompher supports the most popular plugins such as WPBakery, Slider Revolution, MailChimp, WooCommerce, and Contact Form 7.
Yes, you can brag!
Win matches with immpresive Triompher.
Triompher features:
350+ sales
5-star rating
Quick Ajax search
Price: $69 (may vary)
MORE INFO / DOWNLOAD
DEMO
6. Grulf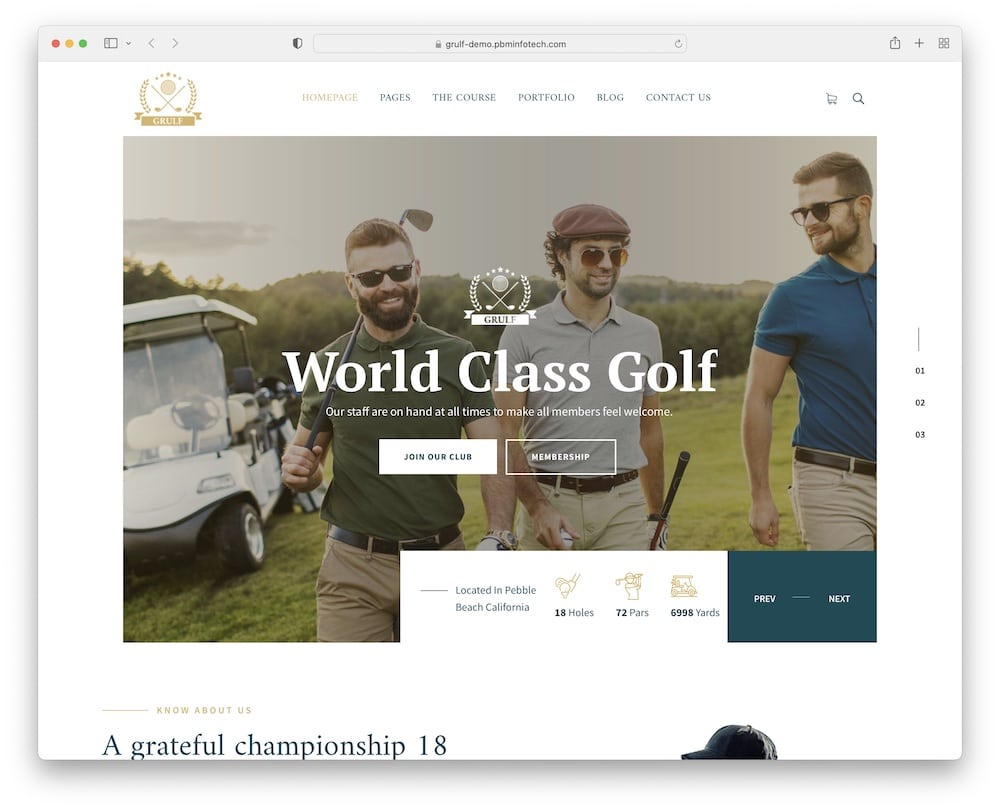 Present the beautiful game of golf with the unique Grulf golf club WordPress theme.
You will find three (ready-to-use) homepages, adjustable header styles, tons of pre-made content blocks, and additional widgets for even more site flex in Grulf package.
You don't need to pay for high-cost developers, or even have coding knowledge. Simply try new things and learn new skills (on the fly!).
Moreover, you can HOOK, ENGAGE, and CONVERT readers with amazing MailChimp. Secure subscription service!
Oh GOD, Grulf even offers a 30-day money-back guarantee. I can hear you thinking: You should include 1,000 heart-eye emojis (I agree!).
With Grulf you need only one swing – accomplish ACE today!
Grulf features:
170+ sales
4.6+ star ratings
30-day money-back (!)
Free updates (forever)
Price: $59 (may vary)
MORE INFO / DOWNLOAD
DEMO
7. Putter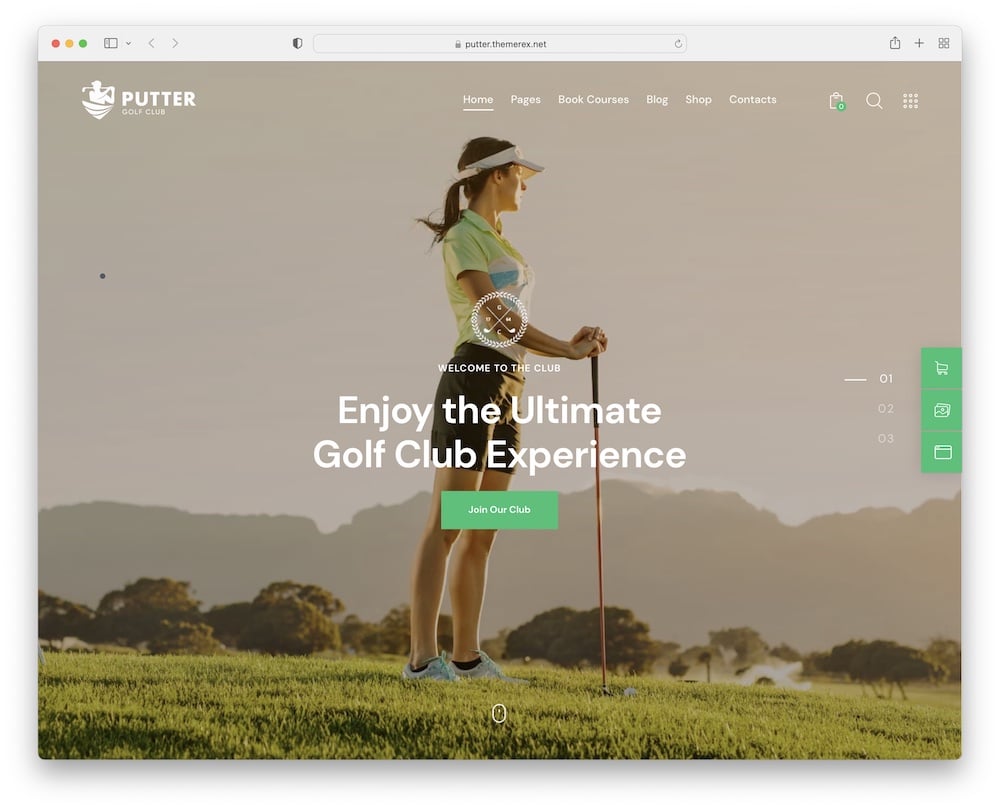 Prepare for a good game (read WIN) with your golfing partner, Putter. There's no need to shout "Get up!" your ball is going to make it to the hole.
This attractive theme offers premium plugins, pre-designed templates, and FREE lifetime updates. For heaven's sake, what more can I say!?
Well, integrated events manager, online booking system, and WooCommerce store are gems we should all be snapping up!
By the way, modern Putter supports payments with CRYPTOCURRENCIES (which is awesome, I know).
And, it's so comfortable to start blogging with Putter.
Choose a blog layout you like, customize its look and start uploading the latest news, best players, course maps, the most popular equipment, and more.
Putter features:
70+ sales
4.4+ star ratings
70+ custom elements
Price: $69 (may vary)
MORE INFO / DOWNLOAD
DEMO
8. Gofo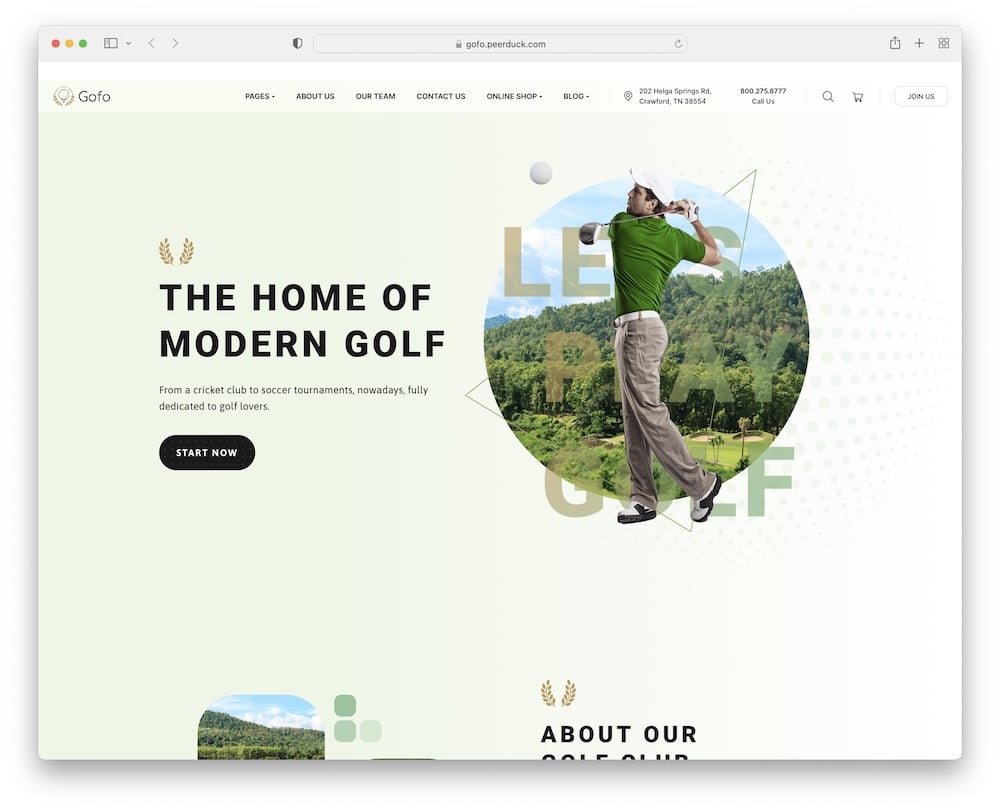 Shoot like a PRO with the all-in-one Gofo golf club WordPress theme.
A set of beautifully crafted homes, inner pages, and trendy layouts enable everyone to start fast and stress-free.
It sounds hard? STOP! It is easy to work with Gofo!
Besides, Gofo includes full documentation (step-by-step guide) and automatic updates.
This stuff is GOLD.
Moreover, everything about Gofo feels sooo responsive and looks stunning on every browser. Plus, gorgeous animations and eye-catching icons make me HAPPY every time I scroll.
The best part?
You can offer lessons, lux golf tours, golf car rentals, and sell equipment & accessories (high five, WooCommerce).
Hurry up – press the "more info" button and start with a BANG!
Gofo features:
40+ sales
4.5+ star ratings
Simple installation guide
Price: $59 (may vary)
MORE INFO / DOWNLOAD
DEMO
::
Note: This article was originally published on July 4, 2022. But our team regularly reviews it and updates it with necessary improvements for accuracy.