There's always room to improve your business, and one way of doing it is with these free WordPress coaching themes.
Here are the absolute best after spending months reviewing dozens of available solutions.
Plus, they are versatile enough to work for mentors, trainers, professionals, and speakers (check our speaker WordPress themes).
SO GOOD!
This post covers:
Creating a professional online presence takes minutes once you pick the theme that works for you.
Start promoting your services like never before and enjoy the result.
(Which will be – of course – more business!)
A great coach with a GREAT website can change lives. GO.
What To Look For In A Free WP Coaching Theme?
While testing and reviewing free themes for the coaching industry, we kept several factors in our mind to ensure we create a list with the ultimate solutions.
For this reason, we want to share with you a few of them in case you plan to do further research.
But trust me; you'll create an epic online presence with any theme from the collection below.
7 Key factors of a great coaching theme:
Performance optimization: It's essential that a theme is lightweight (to contribute to fast loading) and mobile-friendly to ensure an excellent experience across all devices.
Great documentation (& support forum): A theme must come with extensive documentation so you can quickly find the necessary information. Plus, an active support forum is extremely helpful.
User-friendly admin interface: This is especially important for beginners. The admin needs to be organized, so you don't have to search endlessly for the elements you'd like to customize (edit, add, remove, etc.).
Services (& pricing): A services section is a must on a coaching website. We also advise adding pricing tables to save potential clients time (use a WordPress pricing table plugin or the theme's integrated function).
About page: A compelling about page can help you go on a more personal level, letting visitors get familiar with your first before doing business.
Testimonials: Do you want to build social proof? Add testimonials. And if you have ever worked with any big and notable brand, don't miss adding their logo to your site.
Professional blog: You can easily stand out from the masses with a professional blog. This can also mean introducing a content marketing strategy and bringing in more business (including through SEO). Google loves great content!
Of course, you also shouldn't miss a contact page with a functional form and social media integration.
It's handy to add a clickable phone number so potential clients can get in touch more easily.
You may also want to read our tutorial on how to install a WordPress theme.
Best Free WordPress Coaching Themes
1. Blossom Coach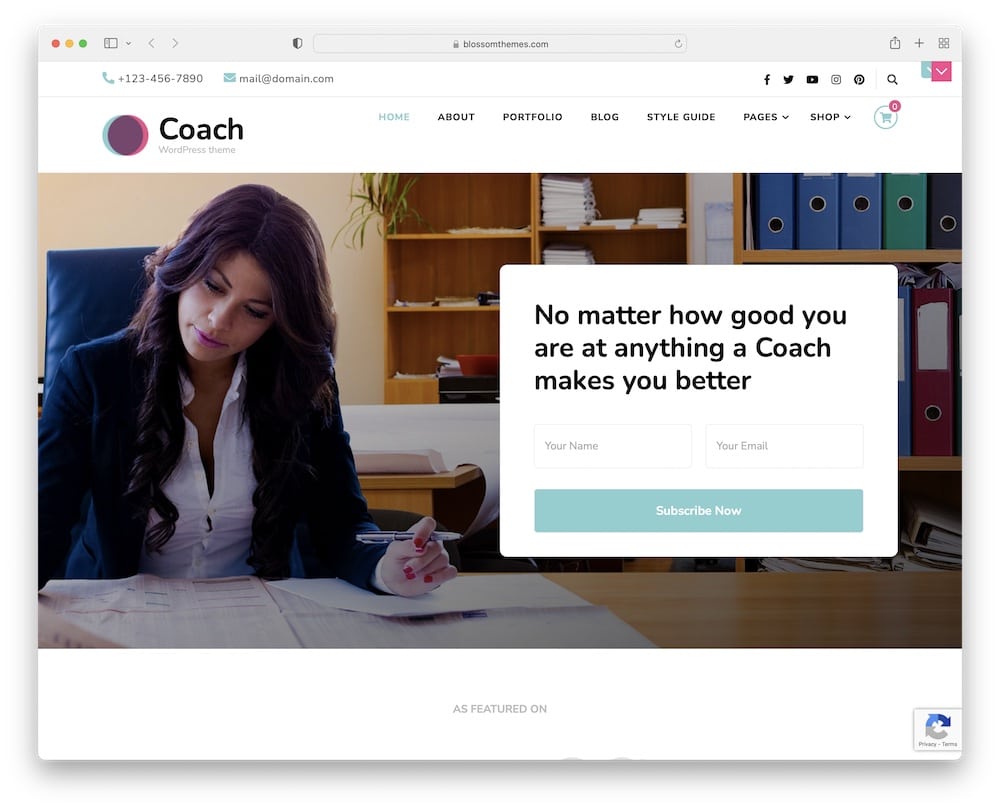 Your effective coaching can transform your clients' lives. SO do yourself a favor and build a stunning website with Blossom free WordPress coaching theme.
Blossom Coach packs fantastic design possibilities, useful tools, and excellent widgets.
With that in mind (remember): You don't need any coding knowledge to work with this theme.
BADASS.
Of course, Blossom Coach is mobile-friendly – meaning it looks polished on any device.
Too GOOD to be true? Well, it's your lucky day!
Also, check out the blog options and update your visitors with valuable content.
Be tactic with Blossom Coach.
Blossom Coach features:
3,000+ active installs
Online shop creation
Hover effects
Lead generation form
Top bar
MORE INFO / DOWNLOAD
2. Life Coach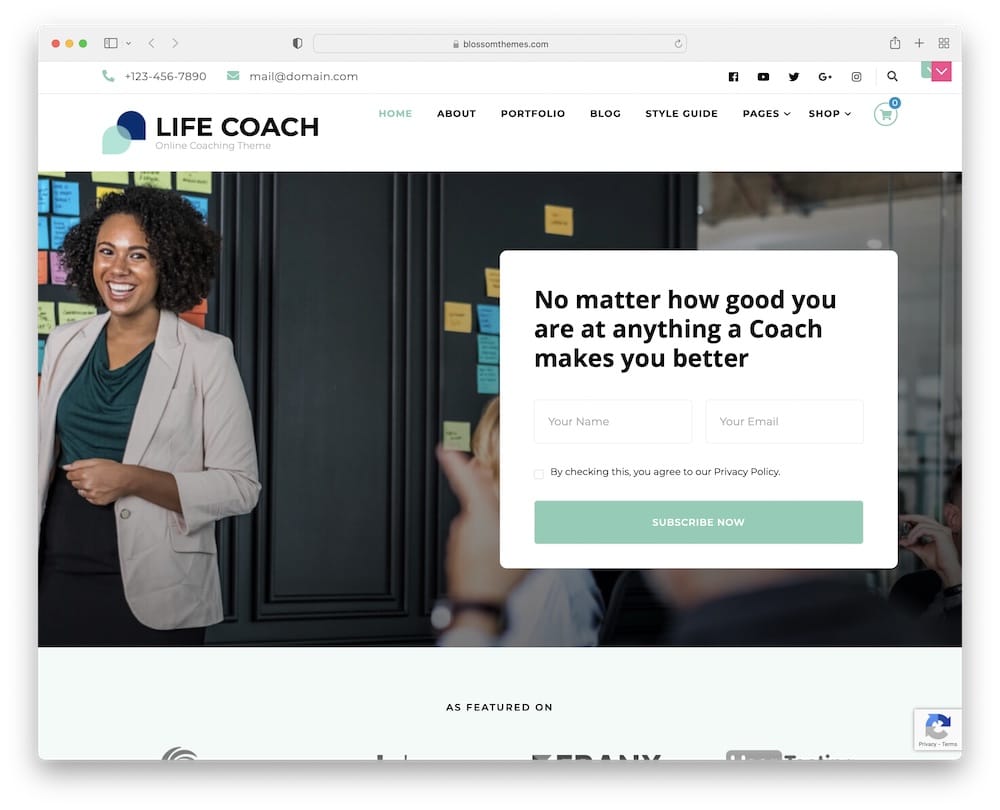 Prepare your business for the future with the unique & elegant Life Coach free WordPress theme.
It comes with a ready-to-use header, single post layout, blog templates, slider, newsletter form, and image background.
Life Coach works great with the best tools – AHA, even WooCoomerce!
Besides, numerous useful widgets simplify site customization.
Look and feel success!
Secret FREE sauce: Life Coach is regularly updated, easy to understand (extensive documentation), and supported by a friendly team (quick assistance guaranteed).
All-in-one partnership!
Life Coach features:
600+ active installs
Cross-browser compatible
10 home page sections
Latest post & categories slider
Free support
MORE INFO / DOWNLOAD
3. Ridhi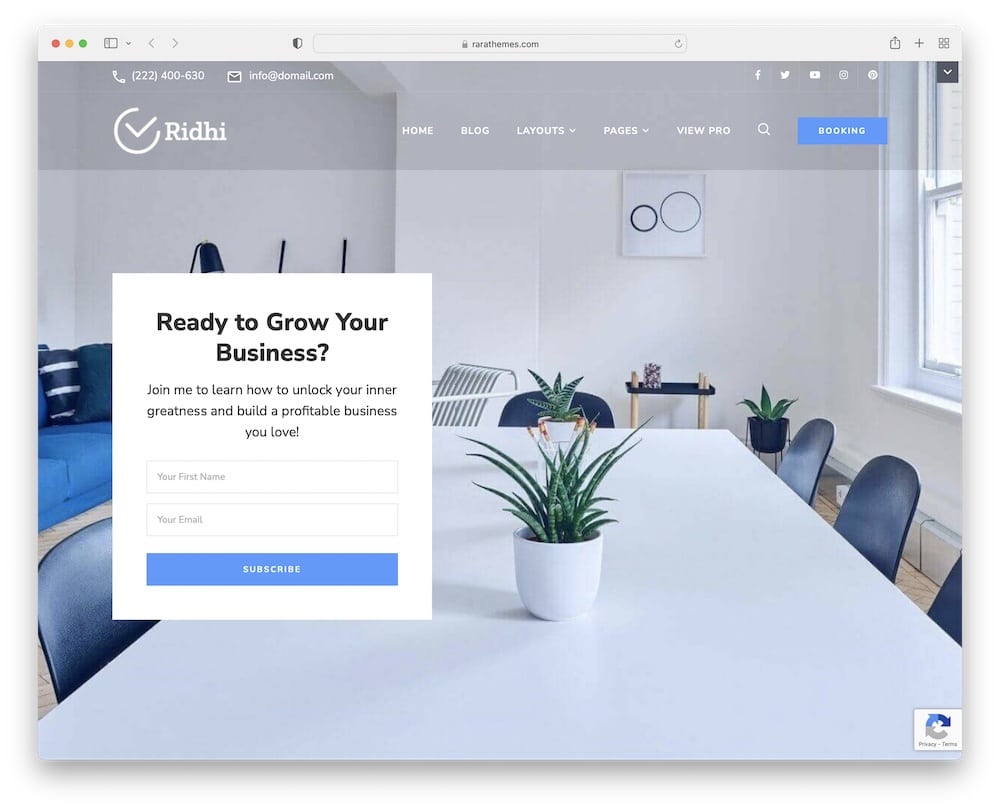 Influence and engage your clients to do something BIG by saying YES to the custom Ridhi free WordPress coaching theme – packed with practical elements and tools just for you.
Ridhi's design was created to highlight YOU, your work, services and coaching programs.
Showcase your story, services, happy clients, latest blog content, contact details, and do not forget to insert a newsletter form with multiple pre-made sections.
You can also connect with your audience in different languages (translation-ready) by using Ridhi. After all, why wouldn't you go global?
Write your next chapter with highly-effective Ridhi.
Ridhi features:
600+ active installs
1-click demo import
Change the look in a few clicks
Social icons
MORE INFO / DOWNLOAD
4. VW Health Coaching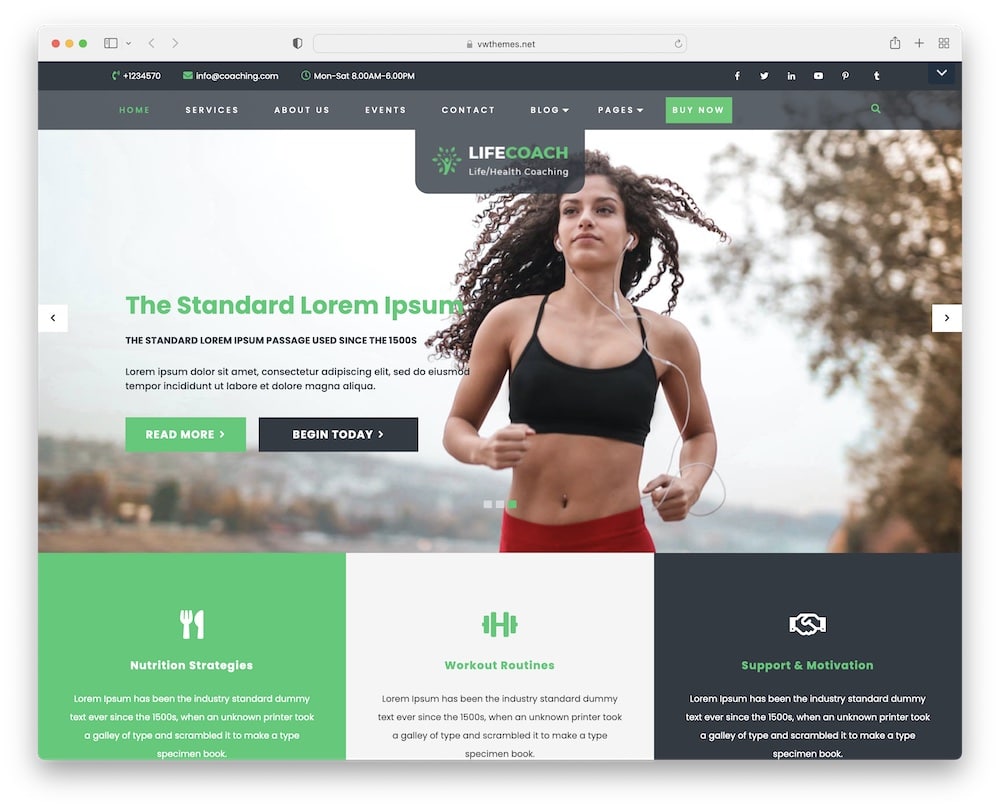 Are you motivated, strong, and ambitious? A perfect match for the VW Health Coaching free WordPress coaching theme.
Expand your vision with ready-to-use design, list your services, get feedback from your customers, collect emails through subscription form, and connect with users on social media.
Be smart and take advantage of all the GOODIES!
Plus hand-picked benefits such as cross-browser compatibility, responsive & retina-ready design, secure code, and SEO optimization are in-the-saddle (don't wait!).
Step into a coaching role and turn your vision into reality with stylish VW Health Coaching.
VW Health Coaching features:
400+ active installs
Works with 3rd-party plugins
Always updated
Full-width layout
Extensive documentation
MORE INFO / DOWNLOAD
5. LearnPress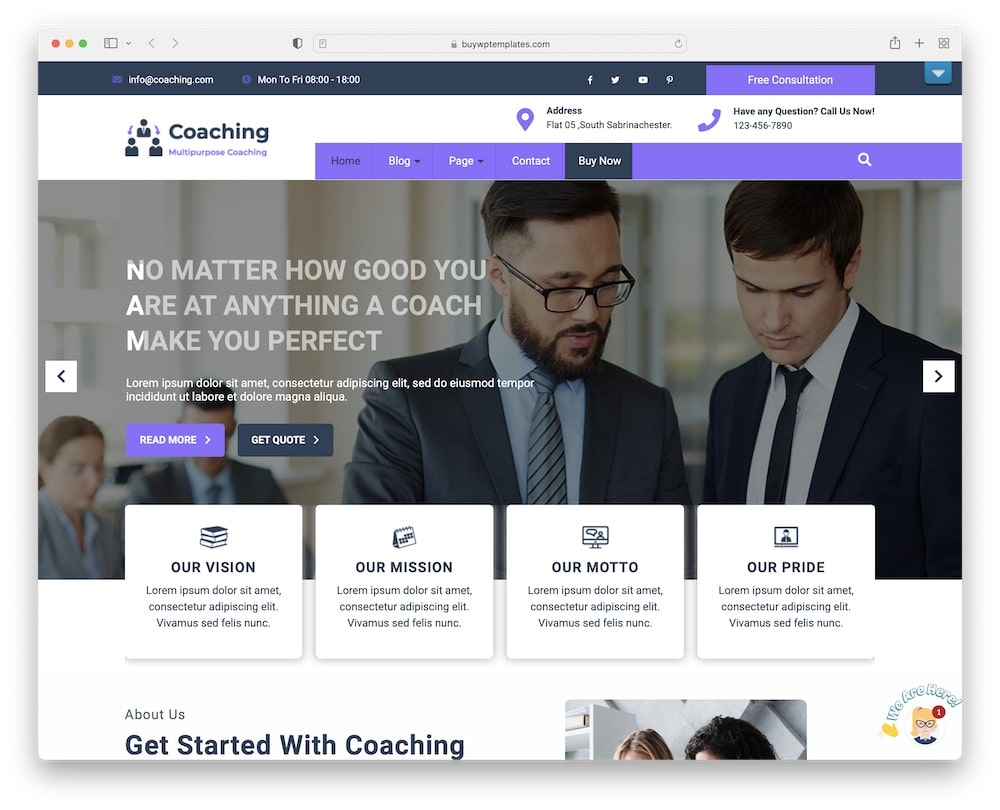 Empower individuals with the unique & elegant LearnPress free WP theme.
Remember, a professional-looking website is crucial for any mentor or coach. LearnPress has a 100% customizable design and comes with intelligent tools for stunning results.
I enjoyed changing layouts, adjusting colors, picking Google Fonts and setting up various useful widgets. Kinda the best day of your life. But yours, too!
Oh, and you can LearnPress translate into any language you want (supports enabling RTL in WP).
Pretty COOL!
Deliver a high-impact coaching experience with creative LearnPress. This one is for you.
LearnPress features:
100+ active installs
Modern & professional
Left or right WP sidebar
MORE INFO / DOWNLOAD
6. Career Coach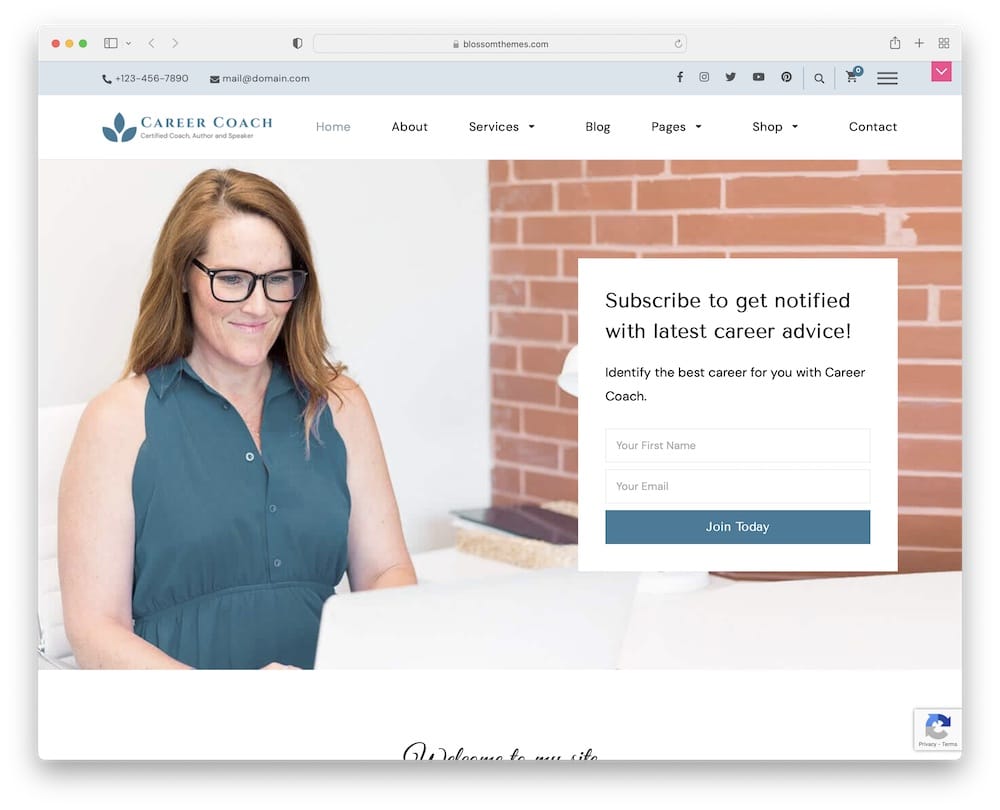 Lead, coach, and consult clients with the help of a creative Career Coach free WordPress coaching theme.
Career Coach is packed with an easy-to-use design, a flexible menu, multiple headers, banners, and unlimited color options.
Plus, it is compatible with stunning Gutenberg and Elementor page builders. Hurray!
Of course, you can also create your online store due to the No.1 WooCommerce plugin (trouble-free).
And hey, don't forget to add a newsletter subscription and social media buttons to your website – be strategic with Career Coach!
Go ahead and create a kick-ass online training, workshops, and one-on-one guidance.
Career Coach features:
200+ active installs
Fast loading
Font options
MORE INFO / DOWNLOAD
7. Business Coach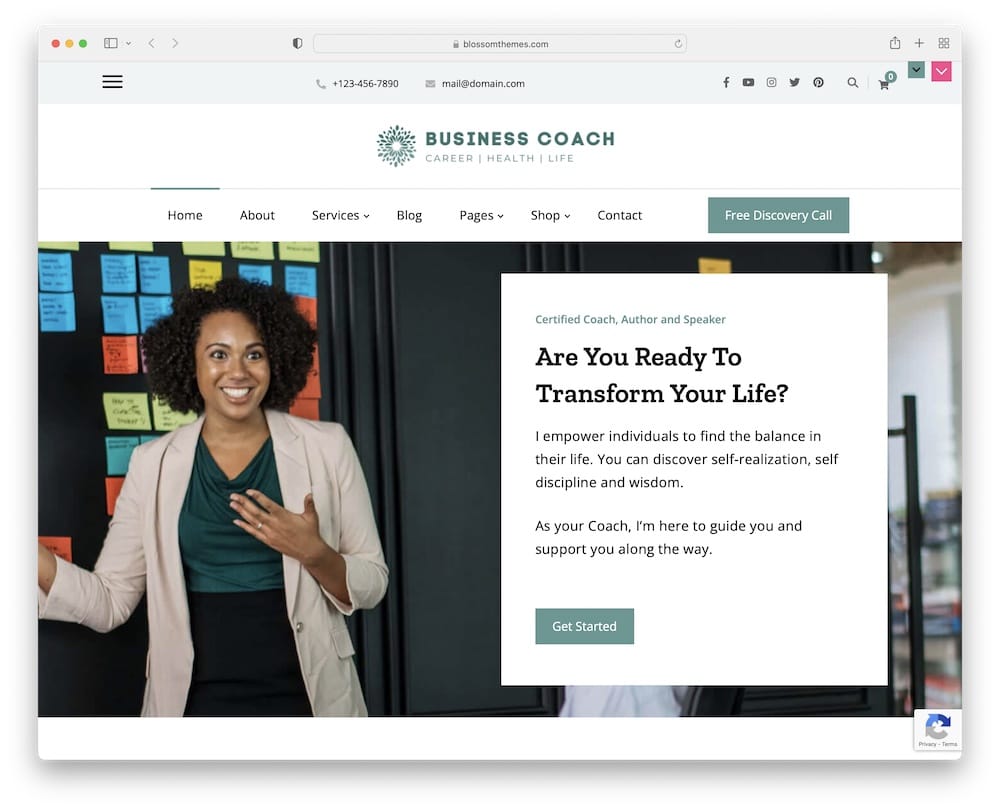 Run and grow your calling with a modern and fresh Business Coach free WordPress theme.
It includes a pre-made homepage layout, fully responsive design, adjustable WP typography, banner with slider, predefined portfolio page, and back to top button.
HELLO yes!
Effortlessly customize every part of your website from the ground up (I had a lot of fun!).
Few other gems: Business Coach is speed optimized, cross-browser compatible, and integrates social media.
According to my experience, it is crucial to have an online presence.
Live a successful story in the coaching industry with (online champ) Business Coach!
Business Coach features:
MORE INFO / DOWNLOAD
8. Yoga Coach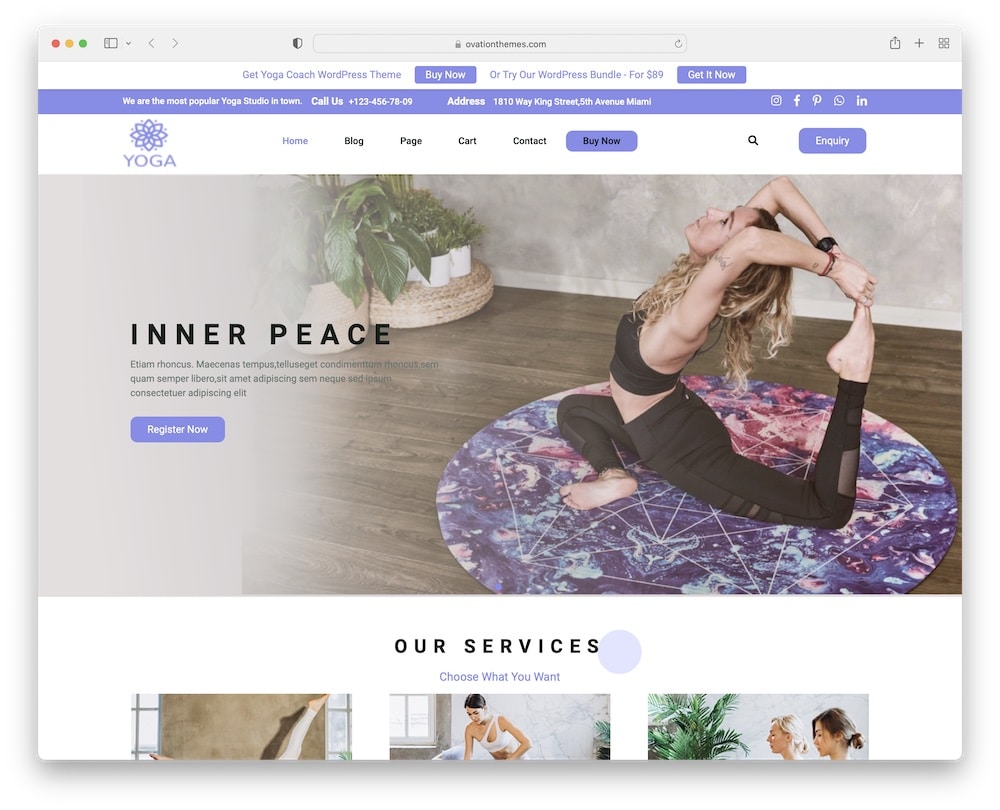 Yoga & coaching is about mindfulness, slowing down, listening to the wisdom of your heart, and transforming clients' lives (for the better).
Grow your impact with the beautiful Yoga Coach free WordPress coaching theme today.
You can personalize Yoga Coach 100% to all your needs (simple yet not limiting).
I liked adding more functionality with WP shortcodes, setting up social media buttons, and changing color pallets and fonts.
It is also SEO optimized, frequently updated, and mobile-friendly. Plus, the testimonial section allows your visitors to comment and give reviews on your website (don't miss checking our WP review plugins).
Exciting!
I mean, seriously. What's not to LOVE?
Note: You can also use it as a pilates WordPress theme or for other similar activities. So. Versatile.
Yoga Coach features:
MORE INFO / DOWNLOAD
9. Meditation Coach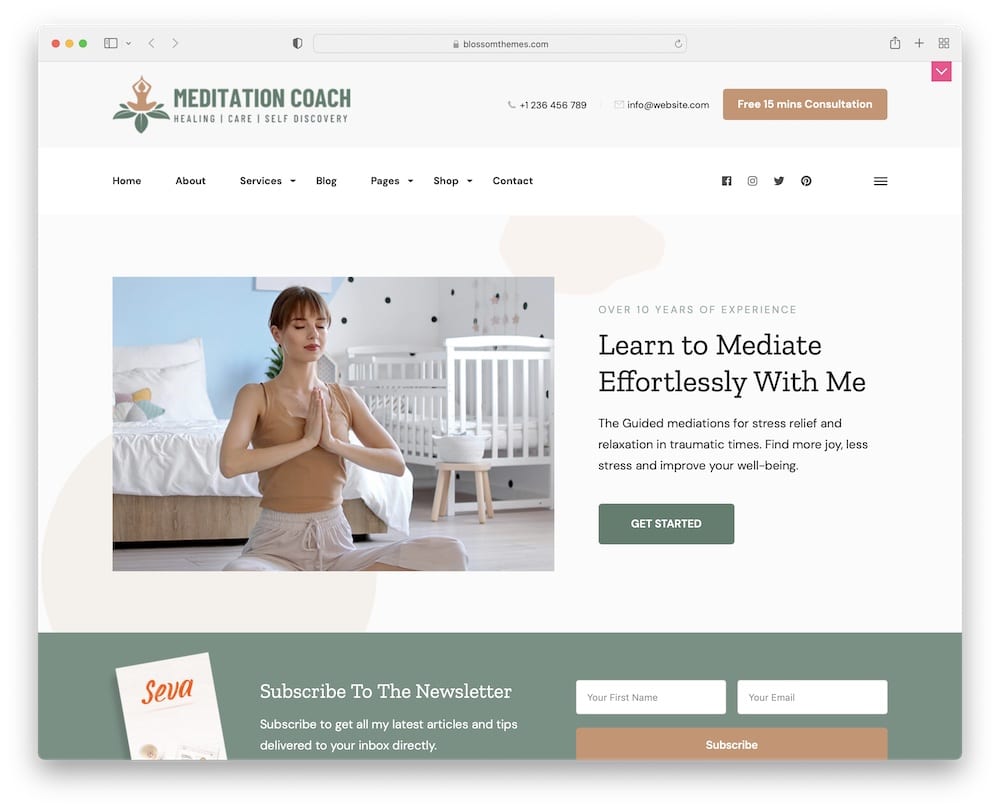 The Meditation Coach free WordPress theme inspires people to get stronger, healthier, and more successful. Create a new path for yourself!
A modern and stylish coaching and meditation WP theme.
Meditation Coach is a perfect match for yoga instructors, entrepreneurs, therapists, mentors, and lifestyle coaches. Pretty COOL!
And hey, if you are thinking of having your online store – now is your chance! Yup, Meditation Coach is fully WooCommerce compatible, allowing me to create an eCommerce section in a few clicks.
REAL. POTENTIAL.
Besides, Meditation Coach was created with users in mind. Enjoy fast page loading time, responsive design, easy online schedule for appointments, social media integration, and a valuable blog.
Life-changing!
Meditation Coach features:
300+ active installs
Minimal design
Integrated search (or create an advanced one with a WordPress search plugin)
Custom CSS
Great mobile experience
MORE INFO / DOWNLOAD
10. CoachPress Health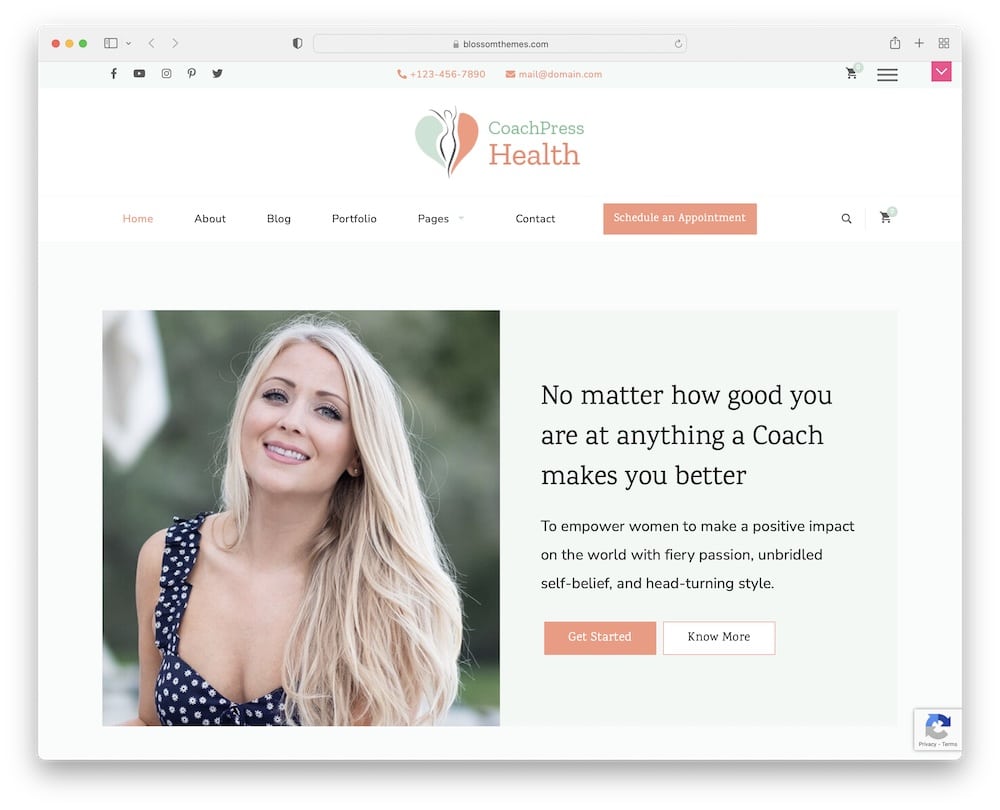 Focus on a well-lived life with a brilliant CoachPress Health free WordPress coaching theme.
This theme is easy to use, looks professional, and allows you to change it exactly as you want instantly.
Go ahead and choose fonts, set up a menu, and upload your images & content. Of course, you should not miss adding customer testimonials. (BUILD TRUST!)
Grow with your clients through blog and social media engagement.
Oh man, and CoachPress health is also translation-ready (supports all modern WP translation plugins). That's right; your site can speak your customer's language!
Ready to take a deep dive into CoachPress Health? Then let's get going.
CoachPress Health features:
300+ active installs
Also works for mentors & speakers
Newsletter section
Client logo slider
MORE INFO / DOWNLOAD
11. Perfect Coach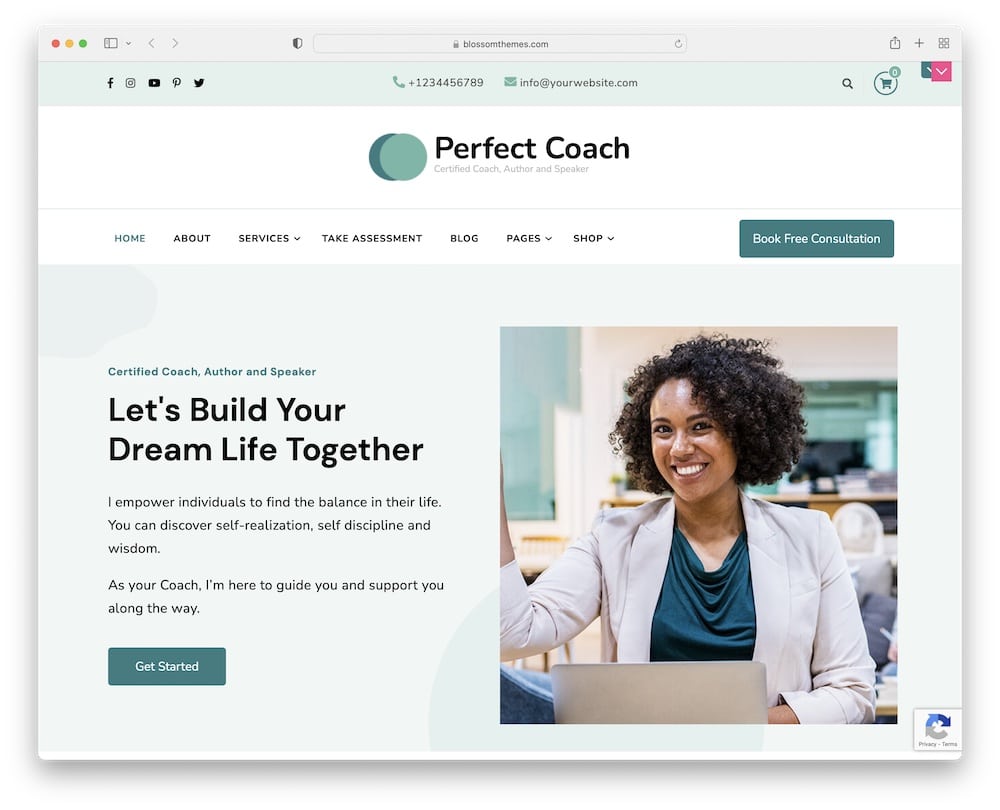 Demonstrate the power of effective coaching with the Perfect Coach free WordPress theme.
Perfect Coach is compatible with the most popular plugins, integrated with social media, and works smoothly on different devices (NO screen is too big or too small!).
Want to sell your programs, best-practice systems, or services?
Simply create a gorgeous WP landing page and promote your stuff professionally. As I mentioned, you can make whatever you want and need with plugins!
BLISS.
Perfect Coach is also speed optimized, SEO-friendly, and cross-browser compatible. Look no further!
Rework details, add your style, and make an advanced website.
Perfect Coach features:
300+ active installs
Upload site logo
Quick customization
Video banner
Widget-rich footer
MORE INFO / DOWNLOAD
12. Fitness Coaching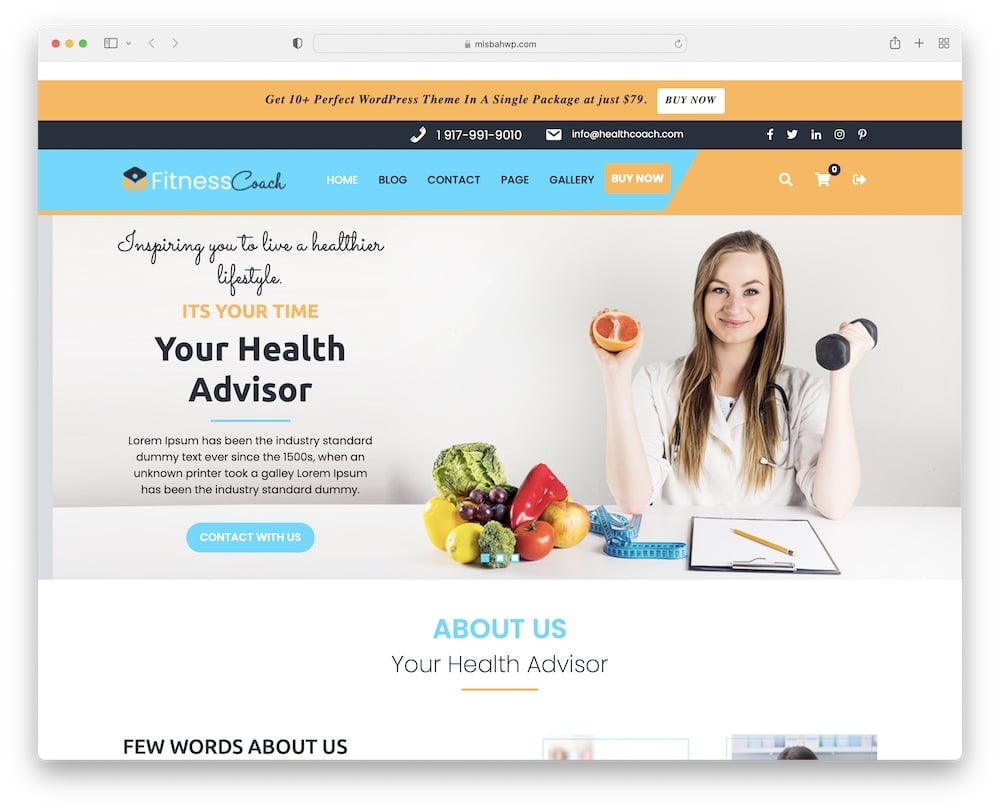 Coaching is more accessible & popular now than ever.
Just decide and realize your dream to serve people on different goals with Fitness Coaching free WordPress theme.
Fitness Coaching is for health and lifestyle coaches, workout, fitness, yoga, gym, personal trainers, etc.
It comes with everything you need for a fast, straightforward build (the absolute highest quality).
I want you to remember that you can change and personalize it from all aspects.
Have some fun.
And by the way, Fitness Coaching is translation-ready and supports RTL languages.
EASY. PEEZY.
Let's do it!
Fitness Coaching features:
100+ active installs
Embed charts
Carousels
Pricing plans
Can work for one-page sites
MORE INFO / DOWNLOAD
13. Speakers Outlet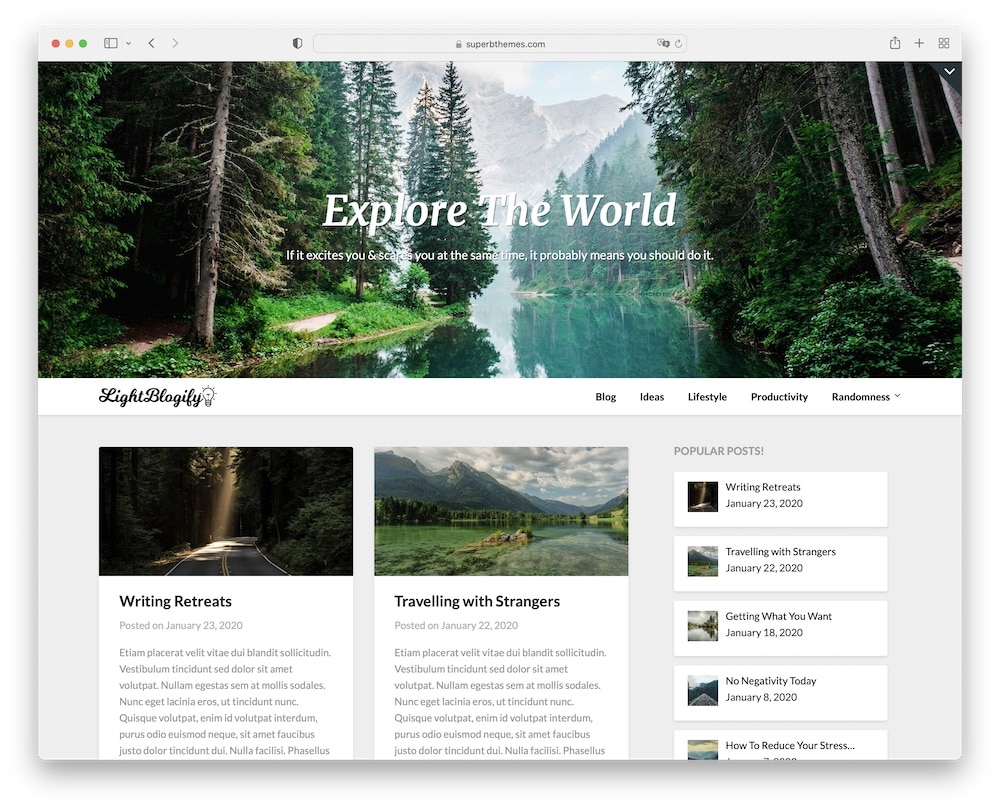 Coaching is a powerful method for growth, development, and solution-finding: Be one of the best!
Reap the benefits of Speakers Outlet and create a stunning online presence.
Prepare your content, set up a menu, change colors, upload your logo and add social media icons.
Infinite options!
And remember, Speakers Outlet comes with many advertisement spaces where you can put your Google Adsense or other ads.
And who doesn't want to have a modern, SEO-friendly, and responsive site? Speakers Outlet promises the ultimate.
Get desired results with the creative Speakers Outlet – NOW!
Speakers Outlet features:
300+ active installs
Custom site title & tagline
Editable navigation
Excellent loading speed
Speedy modifications
MORE INFO / DOWNLOAD
::
Note: This article was originally published on April 21, 2022. But our team regularly reviews it and updates it with necessary improvements for accuracy.