We put 39+ speaker WordPress themes under our testing process due to receiving so many requests from our users.
Here are the best 13 alternatives.
Perfect for (public) speaking, coaching, training, and motivational services.
These are all KILLER designs that make an immediate difference.
This post covers:
5 Key Features Of A Great Speaker Website
WE made sure to pick themes with features such as:
Create your dream website speedily – with little to no effort.
Let them sense your professionalism just by visiting your website. (Easily achievable.)
BOOST. YOUR. POTENTIAL.
Introduce your signature style, and voila, an outcome is ready to go live and attract new clients.
Success!
How We Picked Best Speaker WP Themes
We had a clear picture of what to look for in a WP theme after thoroughly studying the speaking and coaching industry.
First, we got a more general idea of each theme by checking ratings and user feedback.
Second, we wanted to ensure that the themes we include provide regular updates and improvements. And if not, it needs to be so next level that works for years to come as-is.
Third, how well-written is the documentation? Is the support team responsive and helpful?
Fourth, we tested each theme for performance with Google's Mobile-Friendly Tool and Pingdom Tools. But we also analyzed each on different devices manually.
Fifth, how easy is it to navigate the theme's interface? Can a newbie use it and build a page with it?
Sixth, are the theme features mentioned in the description the same as the ones you actually get to play with?
QUICK-PICK: Best Speaker WP Themes:
Best Coach & Speaker WordPress Themes
1. BeTop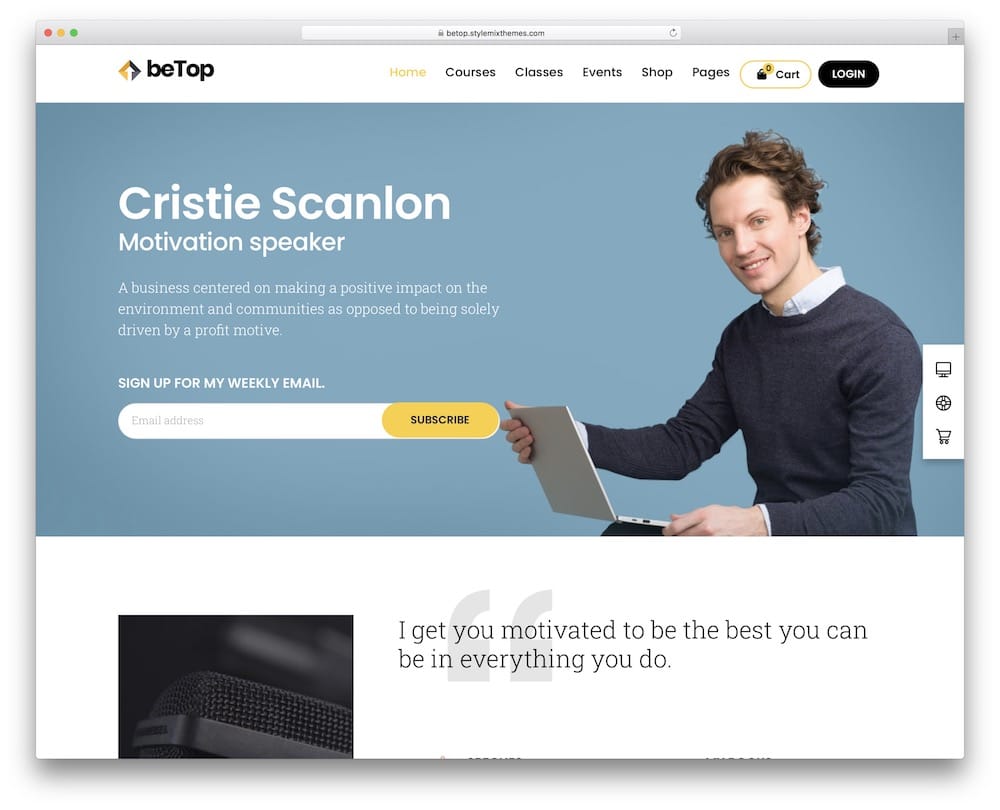 Knowing what you want to talk about is an easy way to become a great speaker.
BeTop speaker WordPress theme is a MODERN, life/business coach, trainer, or motivation speaker theme.
BeTop will provide you with all the necessary stuff you need if you want to build a great speaker website for your customers.
You can easily add new sections and include everything you desire with the Elementor page builder.
You can choose from 23 custom widgets, set a booking system, or schedule online speaking courses.
In fact, you can sell courses and classes, too – BeTop fully supports the convenient WooCommerce plugin.
BeTop features:
700+ sales
4.8+ star ratings
Header & footer builder
One click installation
Price: $59 (may vary)
MORE INFO / DOWNLOAD
DEMO
2. Everlead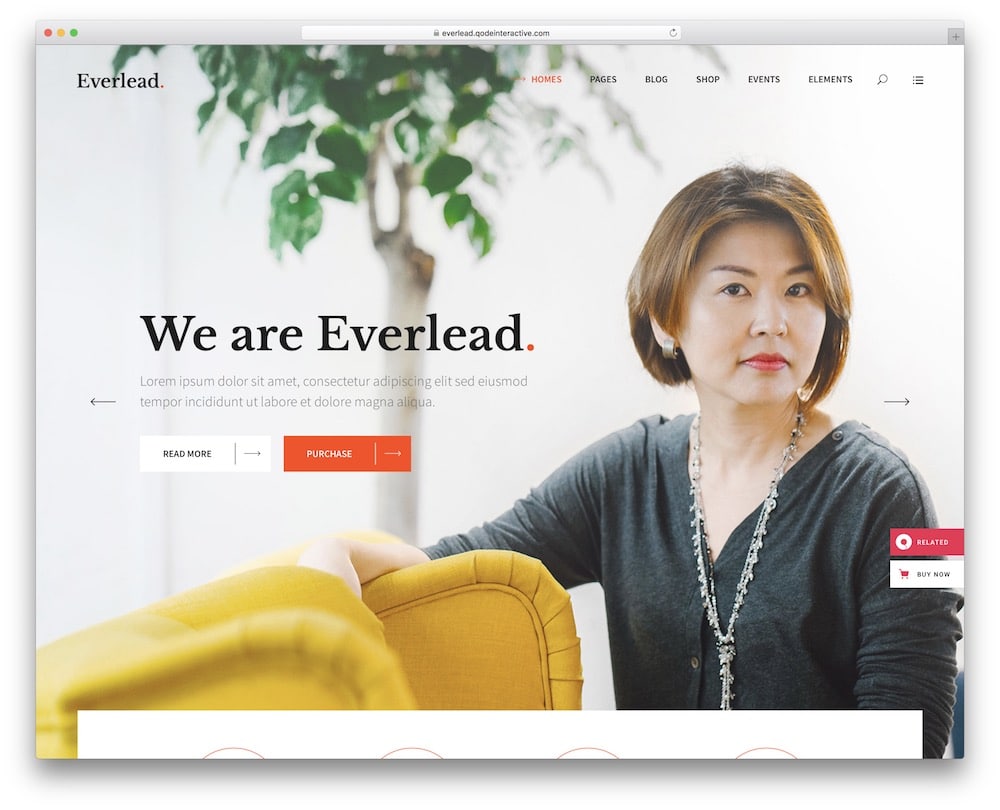 If you're a rising life coach/speaker then this WordPress theme will make you look EVEN MORE professional.
The main focus of Everlead is to help you showcase your coaching and speaking services, promoting yourself online professionally.
Stunning layouts, one-click demo import, a large collection of useful inner pages, and various portfolio layouts make your job of creating a new page simple.
Smooth scrolling, portfolio, life-changing blog and valuable information will reward your potential clients with something extra.
Everlead features:
MORE INFO / DOWNLOAD
DEMO
3. Eistruttore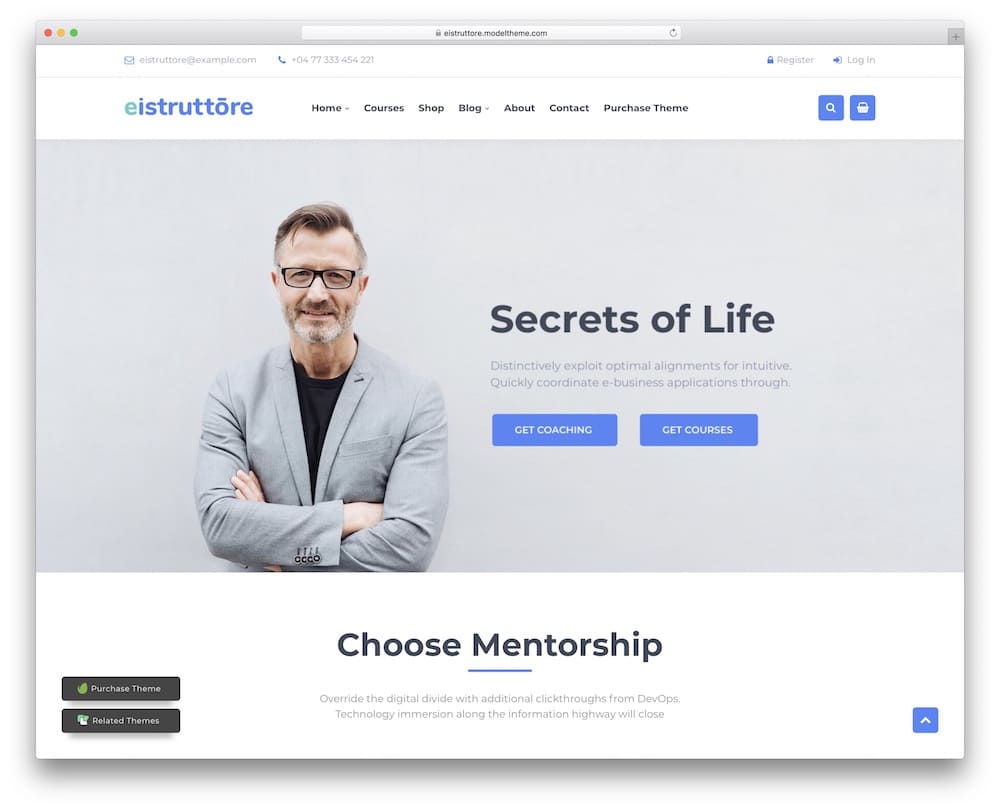 Give your people exclusive information, life coaching, training, and motivation content with incredible speaker WordPress theme, Eistruttore.
Creating a website was never so smooth, thanks to the fast and modern theme that Eistruttore is.
It comes with various ready-to-use pages, the responsive Slider Revolution, UNLIMITED design options, and three ready-made home pages.
With all the special goodies available, you'll have no problem launching a modern-looking speaker site.
And no, Eistruttore requires no coding knowledge.
Eistruttore features:
220+ sales
4.4+ star ratings
Powerful admin panel
Price: $59 (may vary)
MORE INFO / DOWNLOAD
DEMO
4. Rosaleen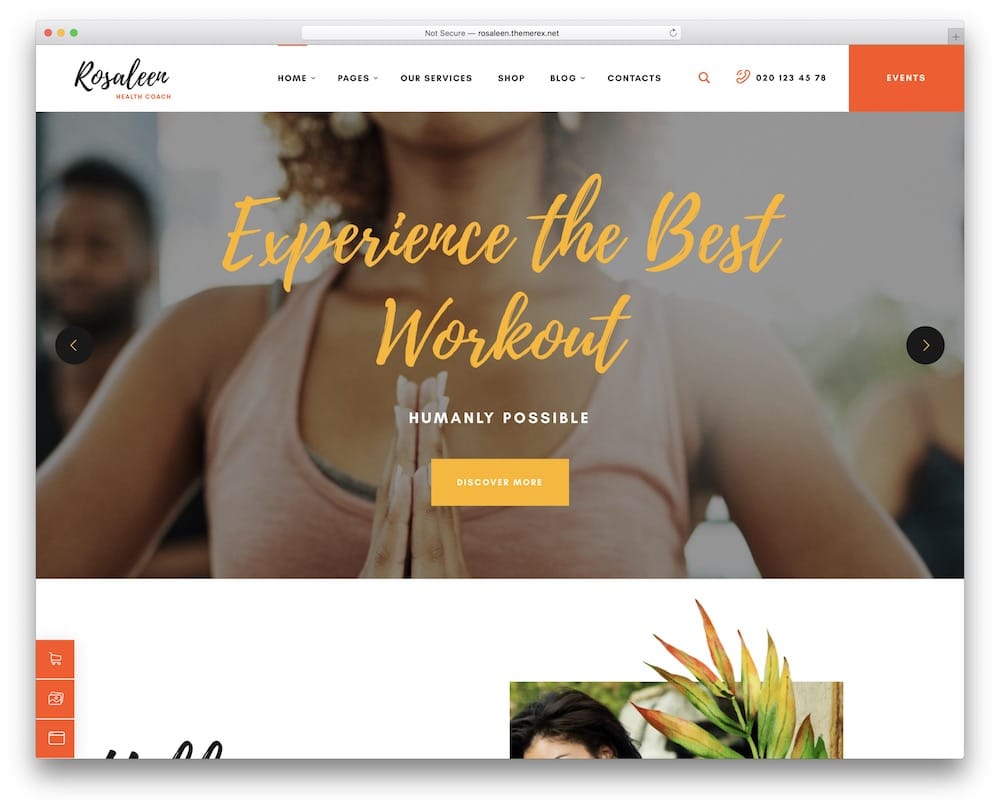 Popular lifestyle coach, motivation, and speaker WordPress theme Rosaleen is a TOP-NOTCH tool for your online presence.
The theme uses Elementor page builder so you know establishing your business website will be a little breeze.
In short, everything is customizable. You can rearrange the entire color palette as you wish as well.
Adding to the Rosaleen package, your website will look great on all modern browsers and devices due to its flexibility.
Furthermore, you can translate the theme to your language with ease and localize your website. And if you are offering classes and seminars, you can push that, too.
Rosaleen features:
520+ sales
4.5+ star ratings
Events Calendar integration
Price: $69 (may vary)
MORE INFO / DOWNLOAD
DEMO
5. Life Coach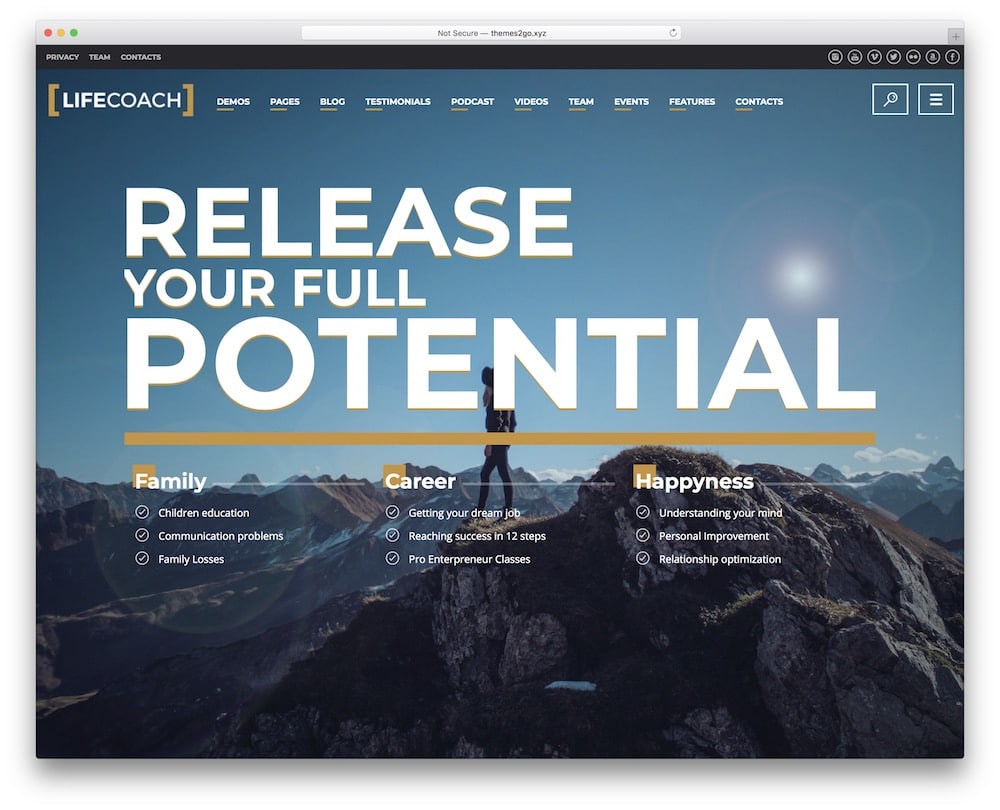 Attractive design, popular features, and useful plugins will turn this speaker WordPress theme into your most successful project.
Life Coach was designed to kick-start your personal career and show the world who you are.
Integrated page builder will help you create various page layouts or reshape existing ones.
Life Coach is EASY to install, manage, and update. But you may also want to check our tutorial on how to install a WordPress theme quickly.
This tool's other goodies are Slider Revolution, five custom widgets, eighteen shortcodes, testimonials, and a blog section.
Life Coach features:
1,000+ sales
4.5+ star ratings
Create an eCommerce section
Price: $59 (may vary)
MORE INFO / DOWNLOAD
DEMO
6. DotLife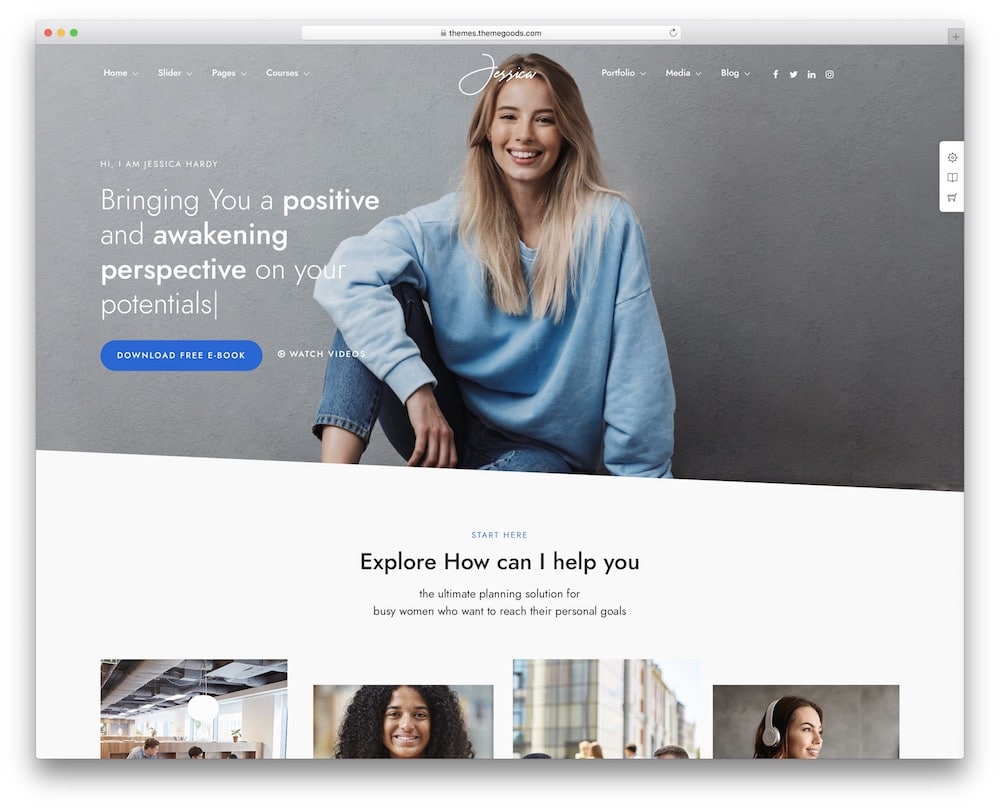 A popular choice to present your ideas, courses, and content is by stylish speaker WordPress theme.
DotLife focuses on displaying your content on various layouts and offers your visitors a UNIQUE experience.
DotLife uses Elementor page builder for those that are new to creating websites. Your audience will enjoy the clean and minimal design no matter what device they use, as DotLife adapts to all modern screens instantaneously.
You can also use social sharing buttons and expand your website with an online section, thanks to WooCommerce integration.
DotLife features:
3,700+ sales
4.6+ star ratings
Supports Zoom meetings
Building courses & quizzes
Price: $64 (may vary)
MORE INFO / DOWNLOAD
DEMO
7. Colead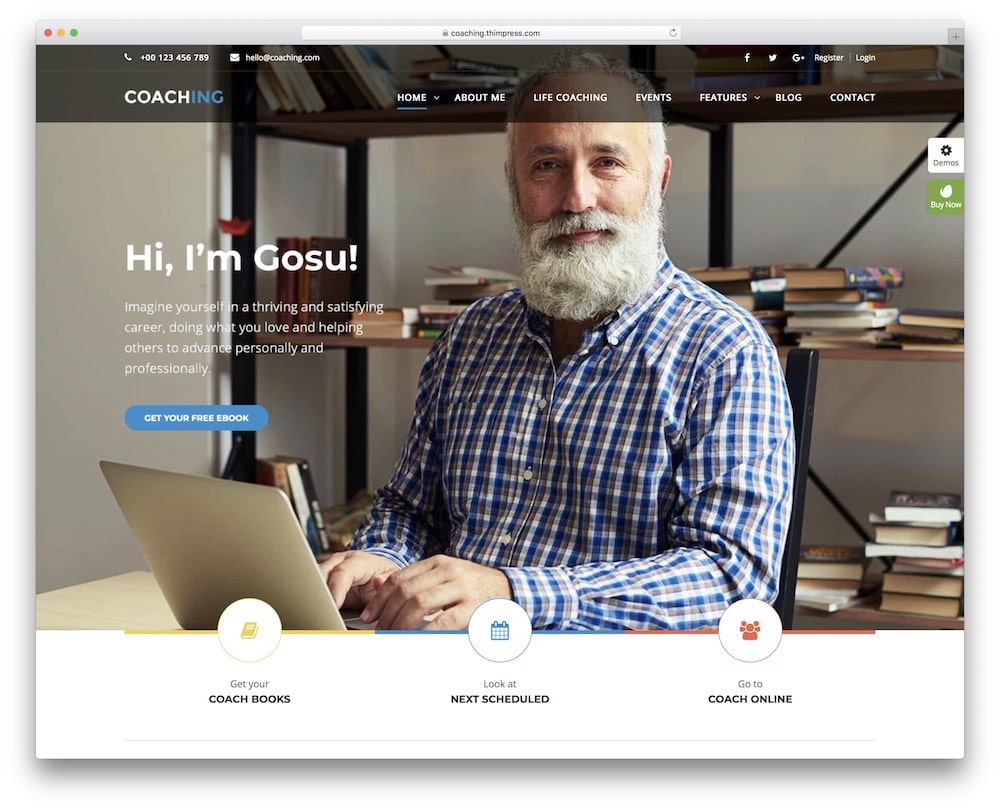 No doubt, you've got a good message and knowledge to share if you are looking for a speaker WordPress theme.
Colead is a flexible, multipurpose theme for mentors, trainers, coaches, and speakers.
You can easily mix and match the available material to create a site with your own designs and ideas.
You can combine all features from the nine demos into the most CREATIVE and ELEGANT website.
Moreover, feel free to add your touch of creativity as well.
Colead theme will perform well on all devices for your convenience.
If you want to demonstrate the best presentation of your work and services then FORGE an amazing site with Colead.
Colead features:
6,700+ sales
4.8+ star ratings
Gutenberg & Elementor ready
Price: $54 (may vary)
MORE INFO / DOWNLOAD
DEMO
8. Celeste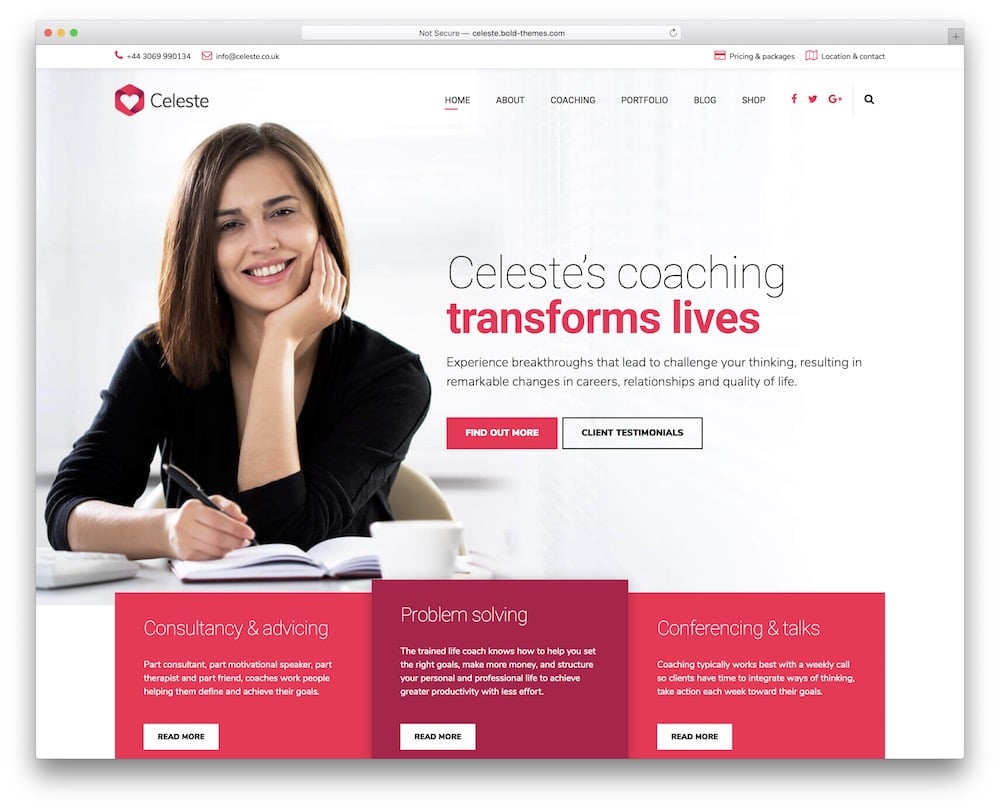 You can now have a professional website exclusively for your counseling, life coaching, and speaker career.
Celeste is a popular choice for all sorts of successful people and brands.
With a one-click demo content importer tool, you can start personalizing your website and adjusting the demo content right away.
Celeste offers you tons of PRACTICAL features and functions to take to your total advantage.
You do not need to be a pro coder nor designer to make a spectacular and business-driven website – just use Celeste.
Celeste features:
1,200+ sales
4.5+ star ratings
Price: $69 (may vary)
MORE INFO / DOWNLOAD
DEMO
9. Jost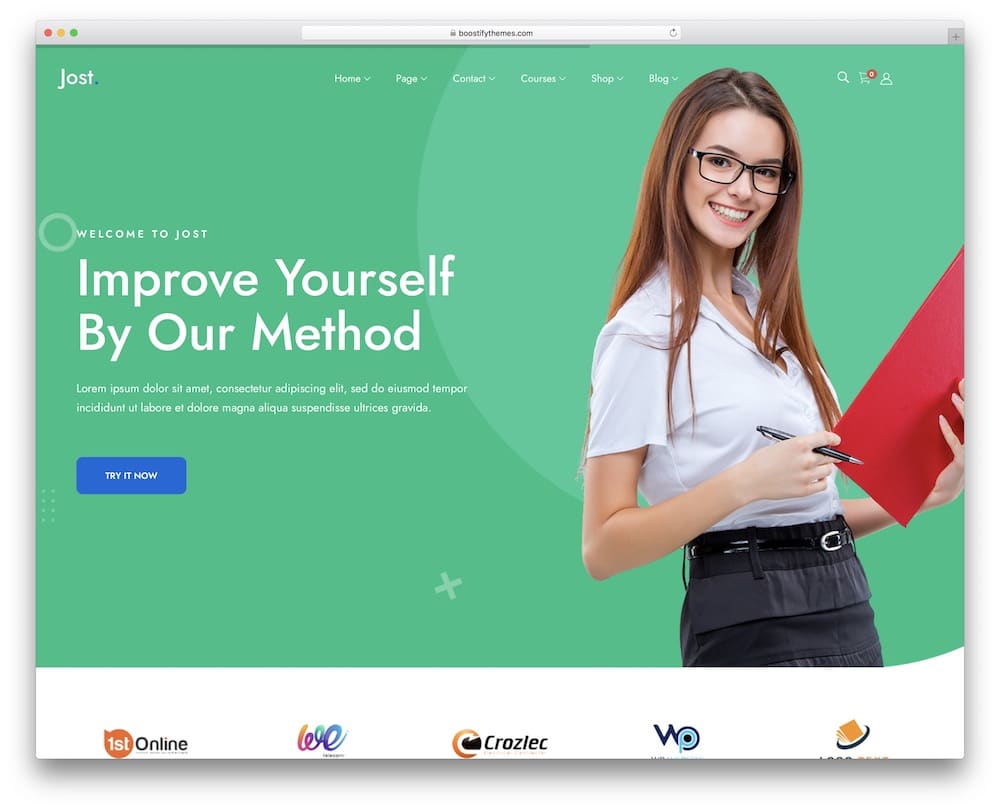 Speaking and training skills are not all you need to succeed in this world. A major role has the presentation of your skills.
Jost is a speaker WordPress theme that was crafted to help you build your brand, name, and business online.
There are multiple choices of Jost that will IMPRESS you. For example, you can inspire your visitors with blogs, courses, tips, lessons, and quizzes.
Your site will look excellent on any device due to the responsive design and retina-ready display.
Thanks to Jost's dedicated support, you will not have problems building a site on your own.
Jost features:
70+ sales
4.5+ star ratings
Frequent updates
Comprehensive documentation
Price: $59 (may vary)
MORE INFO / DOWNLOAD
DEMO
10. Efor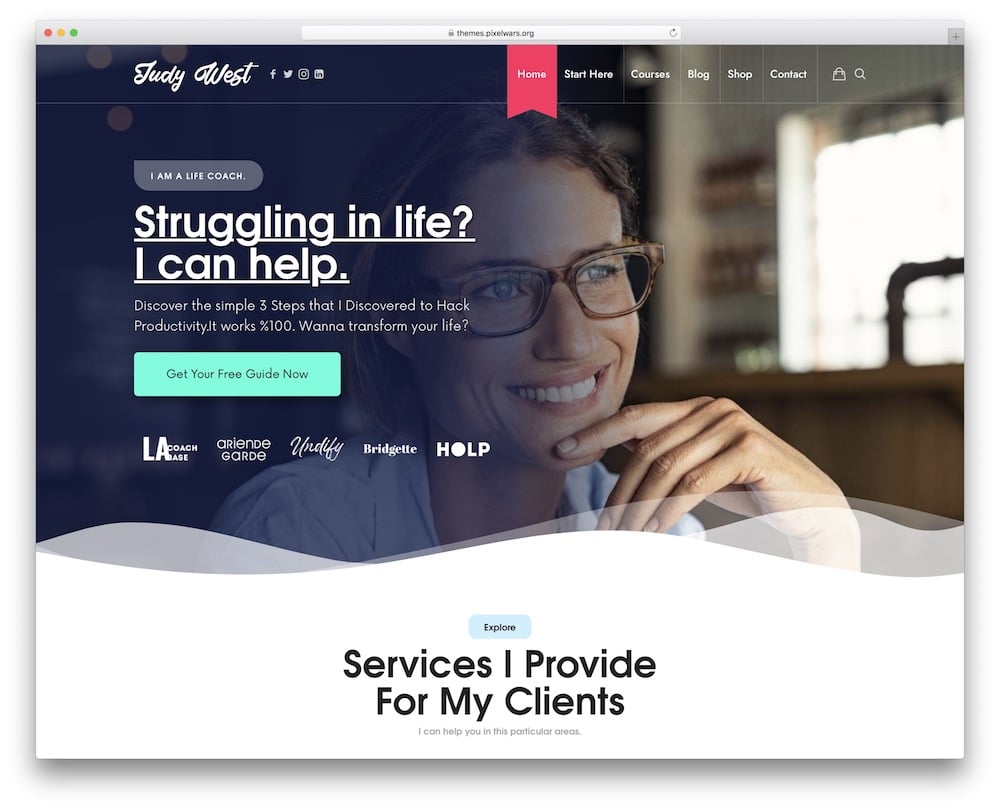 Attract new clients and sell courses online with a powerful website.
Efor is a coaching and speaker theme that will help you grow your project to new heights.
You can design your site exactly how you want it, even if you have no experience with programming.
With Elementor, you can customize, style, create and choose features that you LOVE.
Efor is translation-ready and retina-friendly, designed for the best mobile experience due to its responsiveness. Play with different layouts, widgets, elements, and sidebars, until you find the perfect combination.
Adding a powerful blog will BOOST your audience and help share the knowledge that you have.
Efor features:
4,500+ sales
4.5+ star ratings
You can sell courses online
Customizable pop-ups
Price: $99 (may vary)
MORE INFO / DOWNLOAD
DEMO
11. Coacher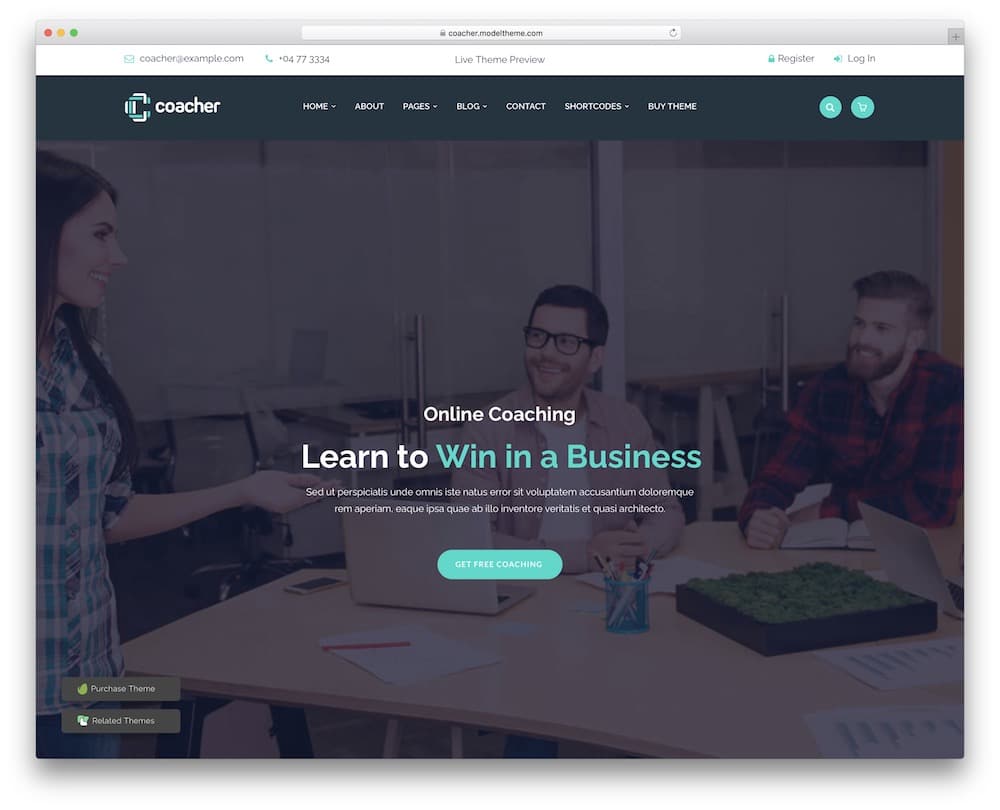 Mastering speaking and coaching requires commitment and good publicity.
Coacher is a flexible speaker WordPress theme that will help you create an INCREDIBLE online presence.
In the package, you get to choose from three beautiful home pages and go from there.
The tool comes with great styling settings and unlimited possibilities and options for you to modify.
Coacher theme is fast and easy to use for everyone!
You can advertise and SELL courses, live events, and products directly on your website.
Coacher's eye-catchy icons, colors, animations, and typography will amaze your visitors.
Coacher features:
420+ sales
4.9+ star ratings
Ajax contact form
CSS animations
Price: $75 (may vary)
MORE INFO / DOWNLOAD
DEMO
12. Esperto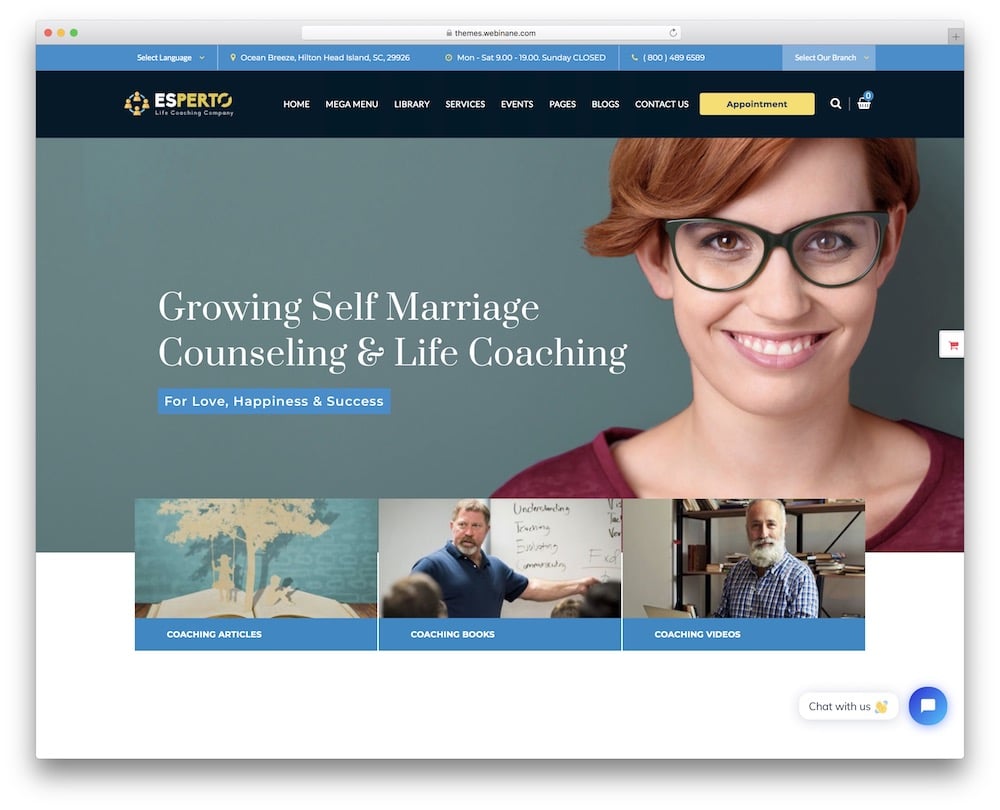 Introduce your purpose of inspiring, amusing, motivating, or entertaining with a speaker WordPress theme.
Esperto is a professional web design for coaching, consulting, and speaking services.
With Elementor page builder, you can develop and modify your own gorgeous site SWIFTLY.
With powerful sliders, libraries, timelines, and a store you can manage your courses, books, audios, and videos comfortably.
Esperto is a market-friendly service theme that will help push the boundaries and advertise your speaker services to the world.
Esperto features:
320+ sales
4.5+ star ratings
Full-blown rating system for coaches
Price: $69 (may vary)
MORE INFO / DOWNLOAD
DEMO
13. UniCoach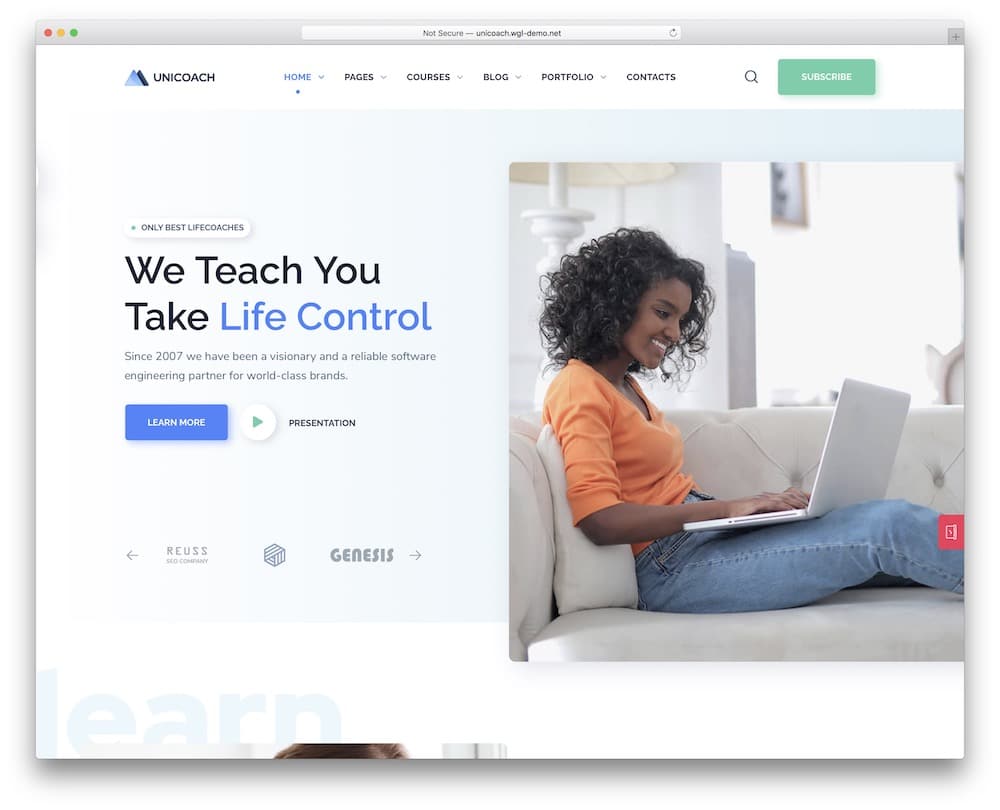 Coaches and speakers, UniCoach will become your best companion when promoting your business online.
UniCoach makes sure that your website stands out from the masses with the impactful design and tons of great features.
This WordPress theme is also straightforward to use, making sure EVERYONE gets the most out of it.
Enjoy the many different samples, import them with a single click and modify them to your liking.
Everything is possible with UniCoach, and you will never need to deal with the tedious coding work.
You can even create online courses and operate your business exclusively virtually.
UniCoach features:
540+ sales
4.8+ star ratings
Meetings & chat
Online shop
Price: $69 (may vary)
MORE INFO / DOWNLOAD
DEMO
::
Note: This article was originally published on November 28, 2020. But our team regularly reviews it and updates it with necessary improvements for accuracy.