Are you searching for the absolute best WordPress gift shop themes?
Welcome to my insightful review after testing the WordPress themes over multiple months.
These ten are EVERYTHING you need, regardless of the gifts you want to offer.
Whether you'd like to go niche or general, it doesn't matter, I have a theme ready to take your business to the next level.
This post covers:
My Favorite WordPress Themes For Gift Shops Pick
Best WordPress Gift Shop Themes
1. Pinkmart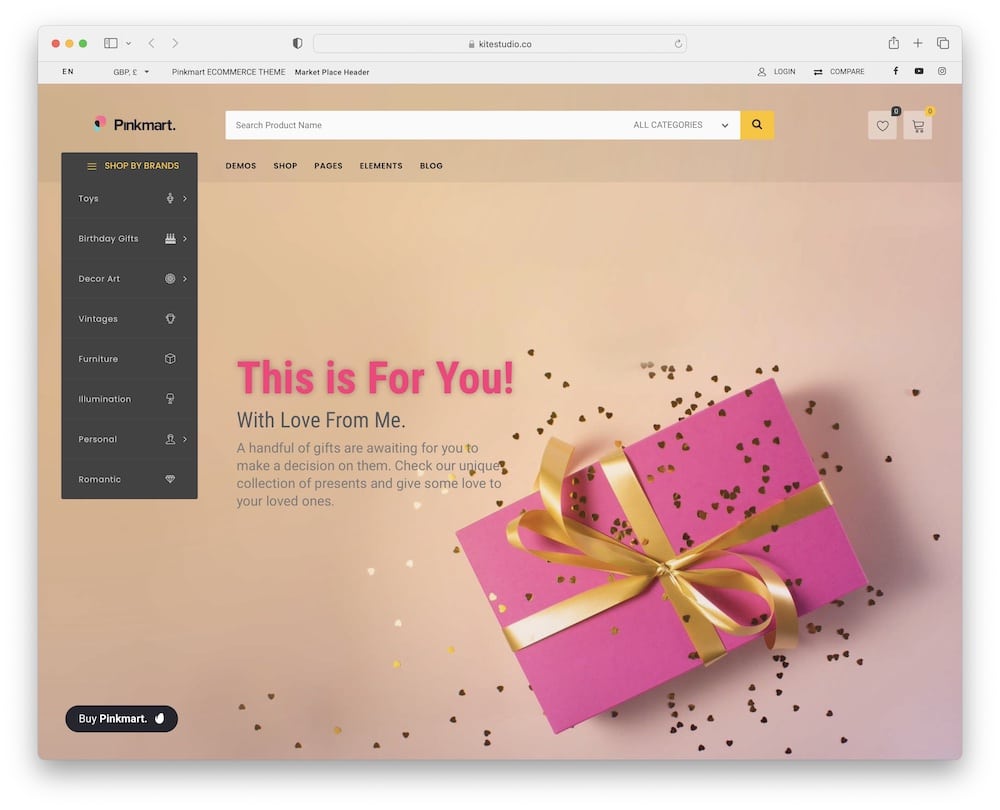 It's a fact: All people love gifts! (Me especially.)
The colorful Pinkmart WordPress theme comes with a ready-to-use demo, advanced plugins and is even translation ready (you can use any WordPress translation plugin).
Wowie!
Just change colors, play with fonts, mix elements, set up the mega menu, customize WP sidebars, banners, or tabs, and you'll have a whole new look in no time.
It's fun!
Plus, you can (look at you!) build a beautiful online store via the WooCoomerce plugin.
I love to use Ajax technology, pre-made product pages & layouts, infinite scrolling, product videos, smart WP widgets, and COOL icons.
Pinkmart offers many epic features for creating a POPULAR store for gift seekers.
You have everything at your fingertips!
Pinkmart features:
MORE INFO / DOWNLOAD
DEMO
2. Zass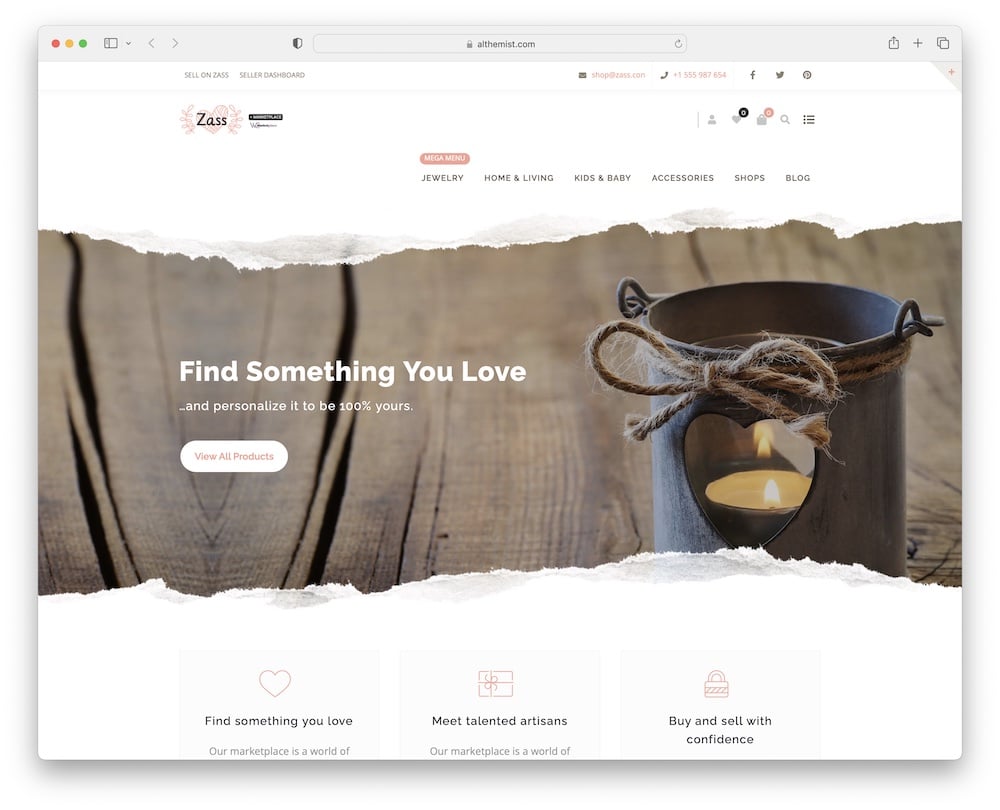 The elegant and modern Zass WordPress gift shop theme is perfect for handmade items, accessories, jewelry, unique decor, or toys.
Opening presents is happiness. Period.
Product page designs are clean, full of eCommerce features and small details. Everything that you need for a quick start is included in Zass (0 extra expenses).
Hurray!
Moreover, you can create your artistic portfolio or start a blog about handcrafted pieces, stories of accessories available in your store, and artists who create them.
Also, promote your website on social media. (Easily add social share buttons to your WP site.)
Oh, and Zass is SEO friendly out of the box! You're SOOO gonna love it.
Zass features:
2,000+ sales
4.7+ star ratings
Built-in product quick view
Price: $49 (may vary)
MORE INFO / DOWNLOAD
DEMO
3. Gifts Shop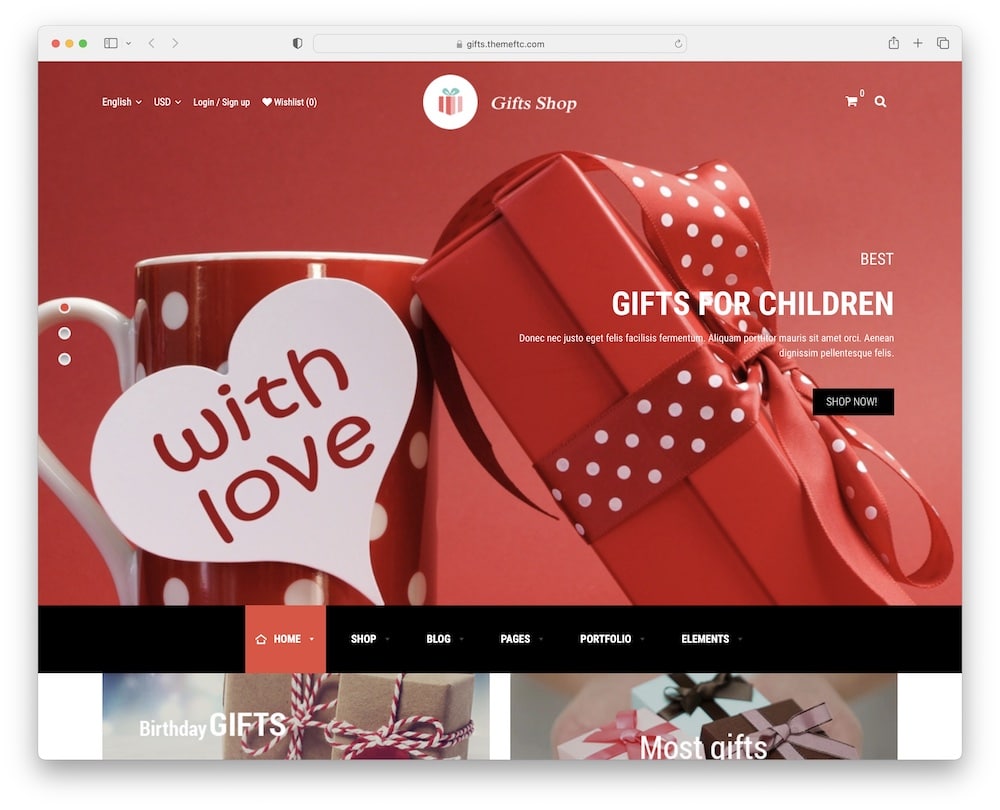 You can't go wrong with the Gifts Shop theme. Seriously, check it out!
This WordPress gift shop theme comes with a mobile-ready layout, optimized code, supports access from all favorite browsers, and is SEO friendly to kick some competing brands' asses on Google!
Pretty COOL, right?
Besides, you can install Gifts Shop with a single click and fully customize its look via the WPBakery page builder (my hero!). But you may also want to check how to install a WordPress theme first – a guide Ales prepped.
Smooth creation guaranteed!
Moreover, with the awesome mega menu, you can neatly sort all your gifts by category, purpose, price range, etc. Plus, you can add links, text, images, WP shortcodes, and icons to your navigation.
Probably my favorite moment of building a site.
Okay, now it's your turn!
Gift Shop features:
540+ sales
5-star rating
Price: $59 (may vary)
MORE INFO / DOWNLOAD
DEMO
4. Gifymo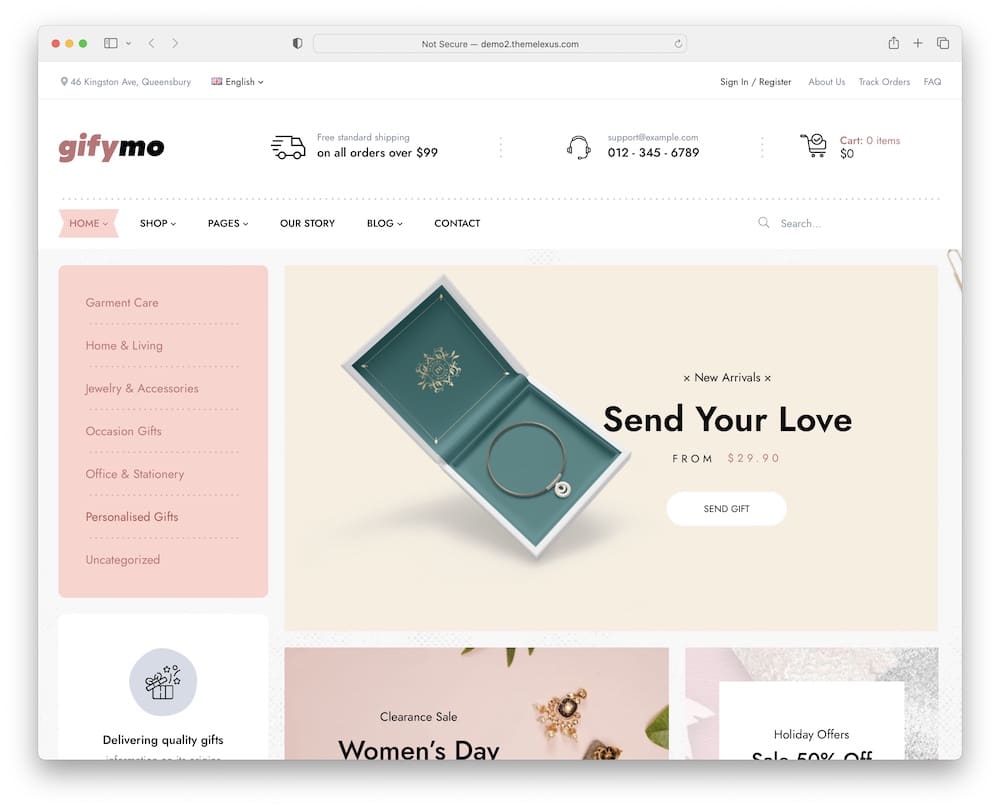 I scream, you scream, and we all scream for the Gifymo WordPress gift shop theme!
Pretty Gifymo offers five ready-to-use demos accompanied by the best plugins, beautifully designed inner pages & layouts, plus unlimited colors to choose from.
You can use stunning parallax effects both on the content and rows of your new online store.
Because who doesn't like the feeling of responding to impressions when scrolling through a website?!
Oh, and you can even display testimonials of your satisfied customers about the unique gift items they bought.
(I highly recommend adding testimonials. You can even use a WP testimonial plugin for additional functions.)
Gifymo also provides well-prepared documentation and reliable assistance from 5-STAR customer support.
High five!
Gifymo features:
150+ sales
4.6+ star ratings
Horizontal & vertical menus
Quick 1-click import
Price: $49 (may vary)
MORE INFO / DOWNLOAD
DEMO
5. HeartStar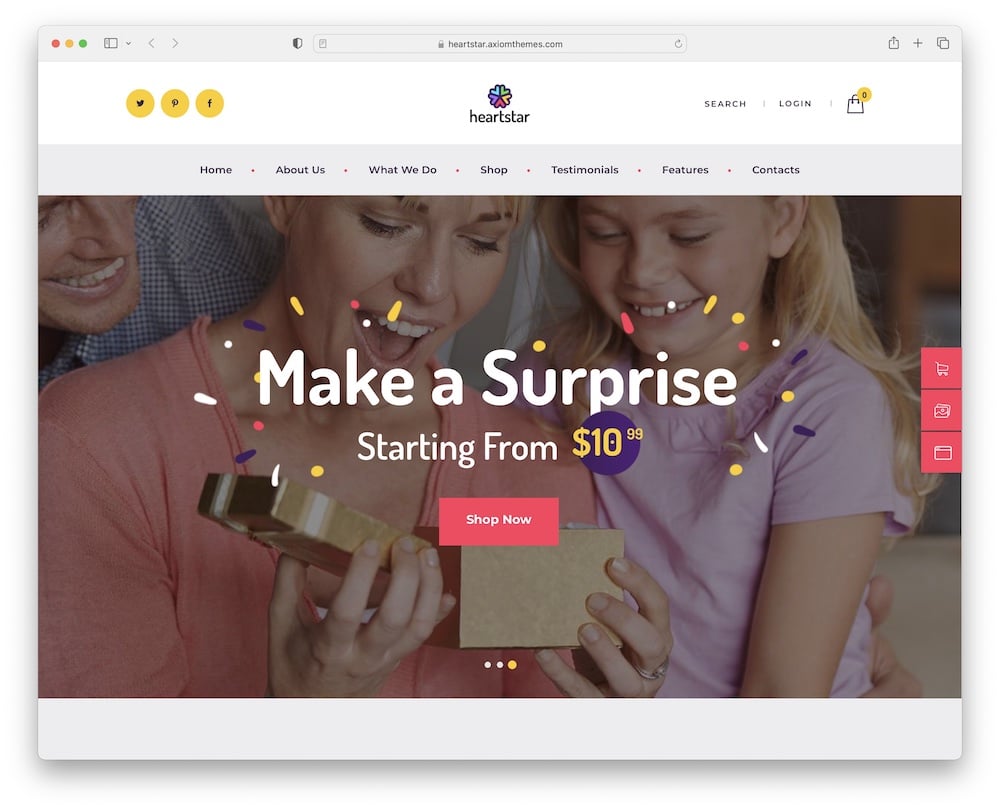 Holidays, anniversaries, birthdays, baby showers, special occasions, or "just because" moments are perfect for the HeartStar WordPress gift shop theme.
This bright and fresh theme comes with drag & drop page builder for simple content management.
Also, you can mix, match and adjust the elements to create the site you always dreamed about.
NO need for professional help because you can do it all!
The best part?
You GET Slider Revolution, WooCommerce, MailChimp, and Contact Form 7 (aka my best buddies) FREE of charge! What a bargain.
Oh, and hey!
With pre-made HeartStar blog styles, you can become a blogger straight away. You know, we all need gift guides for Mom, Dad, BFFs, kids, pets, and more.
HeartStar features:
110+ sales
5 star rating
Price: $69 (may vary)
MORE INFO / DOWNLOAD
DEMO
6. LeArts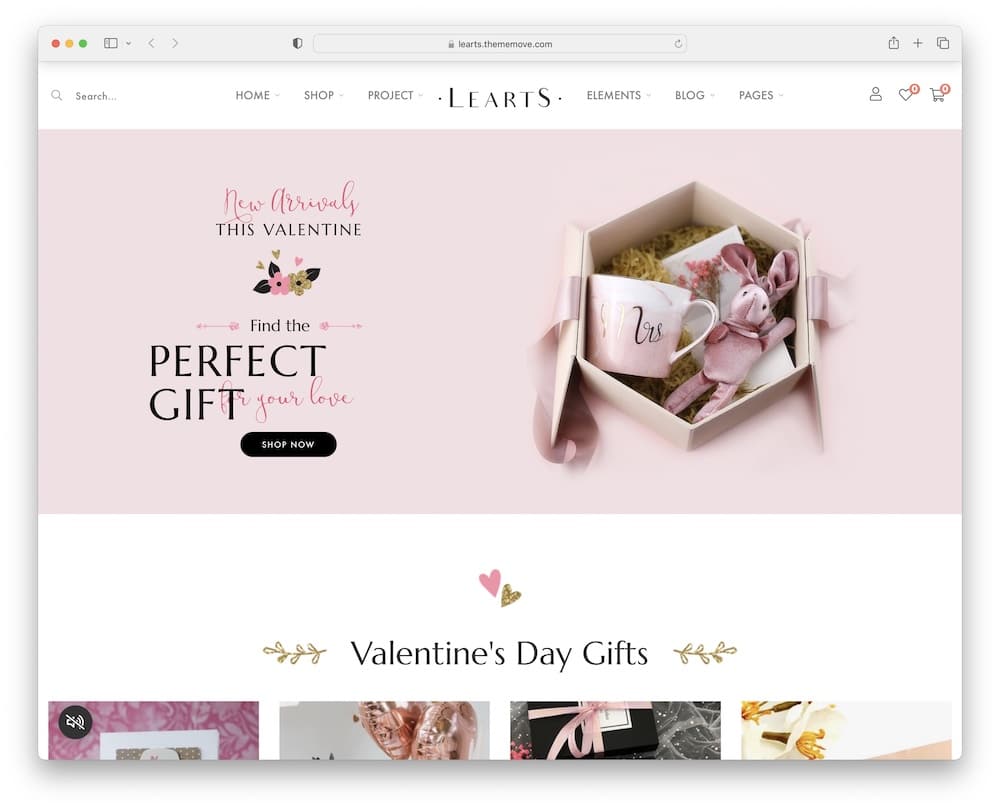 We all have our passion projects. And this one could be yours.
Genius LeArts WordPress gift shop theme comes with lively and creative designs. Explore pre-made homepages and choose the right for you. Ooh, la la!
Also, you can pick the most suiting header & footer style, shop layout, and even create a portfolio or a blog. Versatility is the name of the LeArts.
Furthermore, Contact Form 7 and MailChimp are a match made in heaven, I'd say.
It is just super important to have a good contact form (to collect emails) on your site accompanied by one of the best marketing tools.
BIG advantage.
Already so excited!
LeArts features:
MORE INFO / DOWNLOAD
DEMO
7. Lemani

Take gifting to a whole new level whit the elegant Lemani WordPress gift shop theme.
You can customize Lemani with the Elementor page builder (!), meaning you don't need to be a professional to build a gift-inspired website.
You just need to have a COOL idea.
Every change you make (background image, fonts, color, etc.) can be previewed and corrected before going live.
Fun fact: 5+ million WordPress websites have Elementor installed and active.
Well yeah, you get the point.
Plus, other premium plugins like Slider Revolution (beautifully displayed products) and WooCommerce (KING of online stores) are essential. Yep, I am semi-obsessed.
But can you translate Lemani? Silly question, of course!
Lemani features:
190+ sales
4.3+ star rating
30+ practical modules
100+ theme options
Price: $69 (may vary)
MORE INFO / DOWNLOAD
DEMO
8. Flower Shop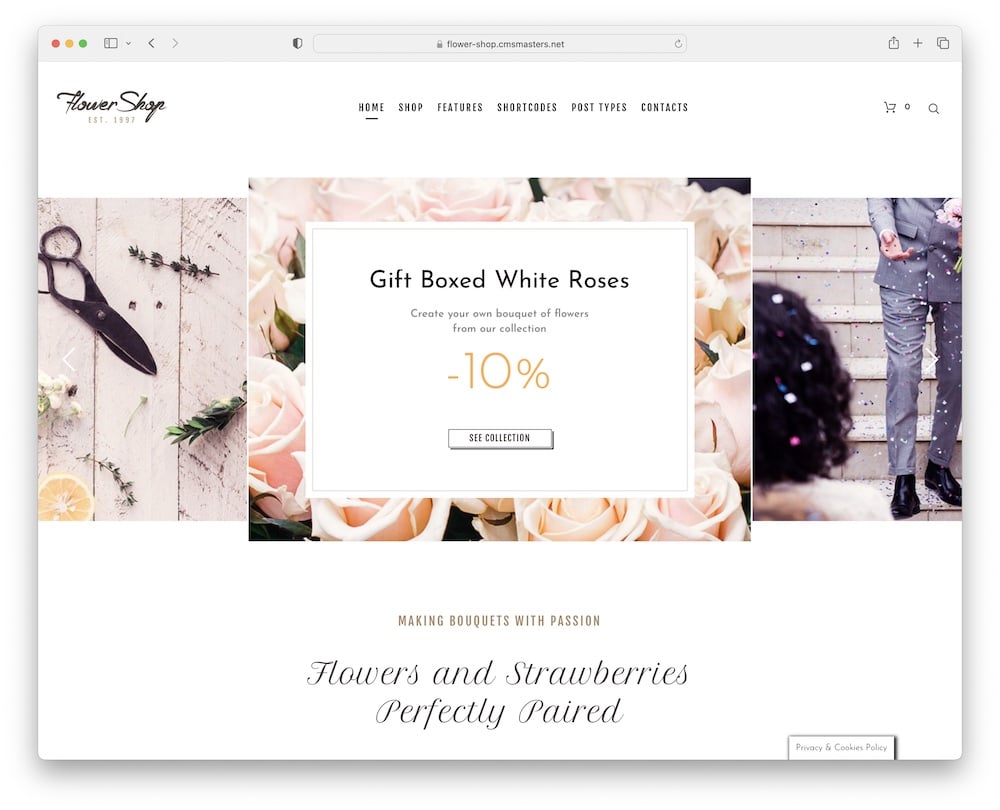 Offer the best selection of flowers, blossoming bouquets, gift-boxed roses, and other pretty things for women on the Flower Shop WordPress gift shop theme.
How sweet is this theme?! I like it too!
Simply customize pre-designed pages, use fonts & colors you love, set up a mega menu, and upload your product images.
Besides, you get the Slider Revolution plugin that turns every homepage into a magical display of business values and the finest products.
Moreover, you can even start writing an online journal (aka blog) about gift guides for the whole family. You and your ideas can be an inspiration (friendly help) for your visitors.
Oh, and Flower Shop includes animations for an extra touch of WOW.
Flower Shop features:
680+ sales
4.5+ star ratings
Beautiful portfolio styles
Supports all popular free WordPress plugins
Price: $59 (may vary)
MORE INFO / DOWNLOAD
DEMO
9. Revo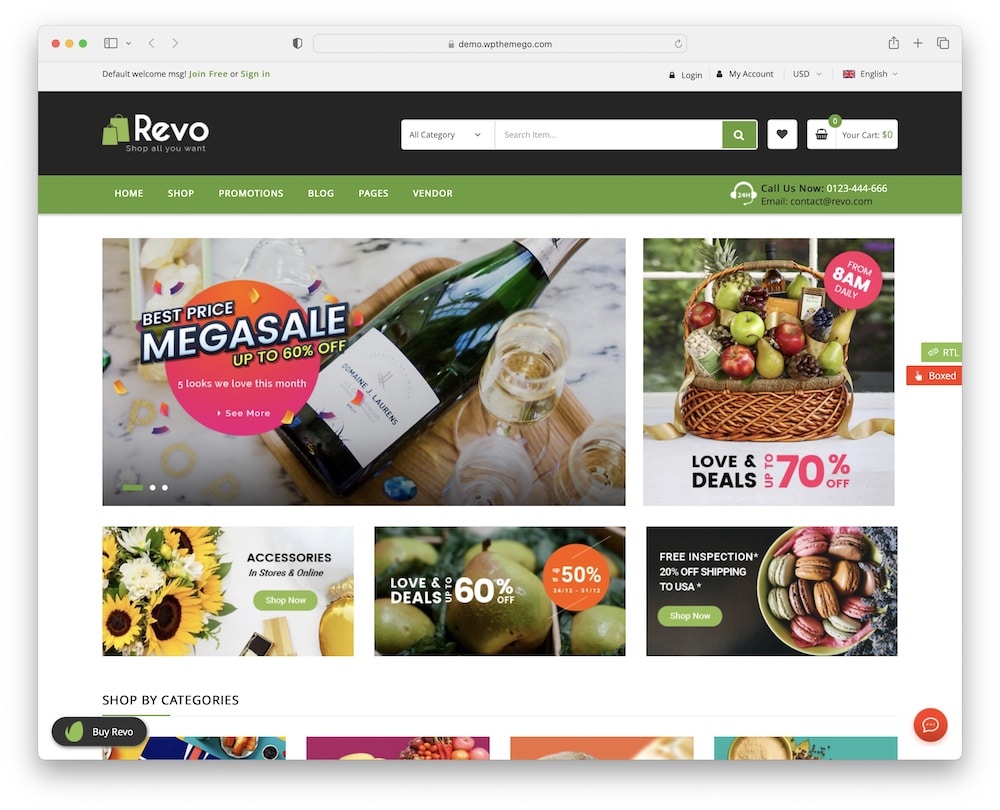 The responsive Revo WordPress gift shop theme offers a place for dozens of hand-created gifts, accessories, fruit baskets, festive vines, flowers, and much more.
You know, things people will be fighting over!
You can start building your online store with the quick installation of a ready-to-use demo and the advantage of drag-n-drop functionality.
Neatly arrange your products in categories, set up a product slider, display special offers, and weekly deals.
Oh, and you get tons of COOL options for a user-friendly online store.
Revo includes well-organized documentation, FREE lifetime updates, and top-notch customer support to make the whole process even smoother.
Plus, its SEO optimization can bring on your A-GAME!
Revo features:
1,800+ sales
4.3+ star ratings
Predefined headers & footers
Instagram & Twitter feeds
Price: $69 (may vary)
MORE INFO / DOWNLOAD
DEMO
10. Bellaria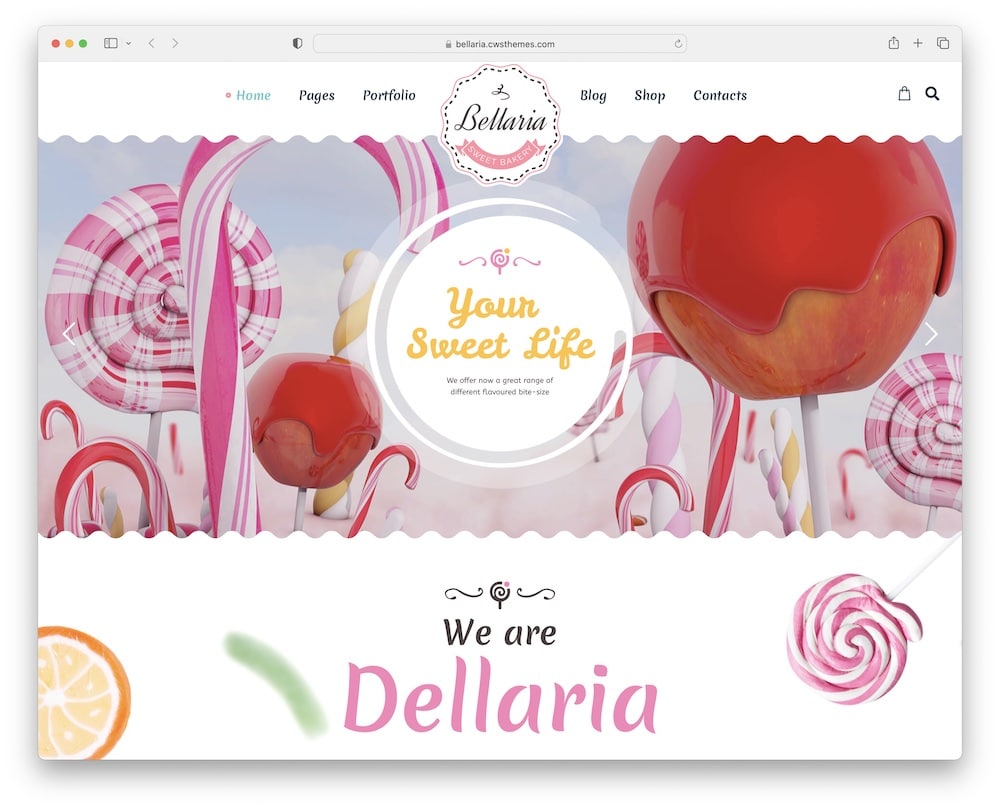 The colorful Bellaria WordPress gift shop theme is perfect for yummy gifts and delicious coffee blends.
Because even the most complicated people love tasty and aromatic presents!
CHOOSE from unlimited color variations, add a specific feature with included widgets, decide about the width of layouts, and discover the awesomeness of plugins!
With no stress at all.​
Plus, the bundle of pre-made inner pages (cutish!) offers various options and great possibilities to display your most important products & permanent content.
Moreover, visitors can easily submit special orders via the Bellaria handy contact form! Tip: Make social share buttons and icons visible!
Just. Start.
Bellaria features:
1,300+ sales
4.7+ star ratings
Custom sidebar
Video tutorials
Price: $59 (may vary)
MORE INFO / DOWNLOAD
DEMO
8 Key Features Of A Great Gift Shop
I want to share with you the most important features every online gift shop needs to succeed.
These were also the ranking factors that I used when picking the ultimate WP themes for this list so that you can create your website much faster.
Mobile-first: A responsive gift shop is a must because so many people browse and shop using their mobile devices. That's it!
Fast loading: Another important aspect of a great gift shop is that it loads fast and guarantees the ultimate performance. This will boost your user experience and increase conversion. You can also read our guide on choosing a fast WordPress theme.
Images & videos: Add images and videos to your website because we all know gifts spark emotions and you can achieve a lot better results with great visual content. This brings us to:
Great product pages: Your product pages matter greatly! High-quality imagery, videos, great text, and specification; provide absolutely everything that you think a potential customer needs so they make the final decision easier.
Easy checkout: When they decide to purchase from you, offer them an easy and quick checkout, so they won't even be able to change their minds. I particularly like one-page checkouts.
Testimonials/reviews: Do you want to increase your sales some more? Of course, you do! That's why you must add testimonials and reviews because they build trust.
Contact details: But there will be many who will have questions about your products, so a contact form and (optional) a phone number are 100% necessary.
Blog: Don't forget about adding an active blog section to your online gift shop. You can create the best gift guides, share your story, provide tips and tricks – whatever. You can even add an insight look at how your products are made.
::
Note: This article was originally published on October 28, 2022. But our team regularly reviews it and updates it with necessary improvements for accuracy.