Are you looking for the best free and premium WordPress podcast plugins?
We are excited to bring you our tested collection of the best options for every podcaster.
Note: Recent statistics show that 50%+ of all homes in the US are podcast fans. (ULTIDA team, too!)
You came to the right place if you want to turn your website or blog into an audio Netflix quickly!
The following plugins will help you add and manage a modern podcast player on your website.
And that's not all.
You can also create RSS feeds for your podcast content and quickly submit your episodes to podcast directories.
This post covers:
Our top 9 picks have everything from basic players to advanced organizers.
Microphone on. Test. Let's go!
Best WordPress Plugins For Podcasters
1. Fusebox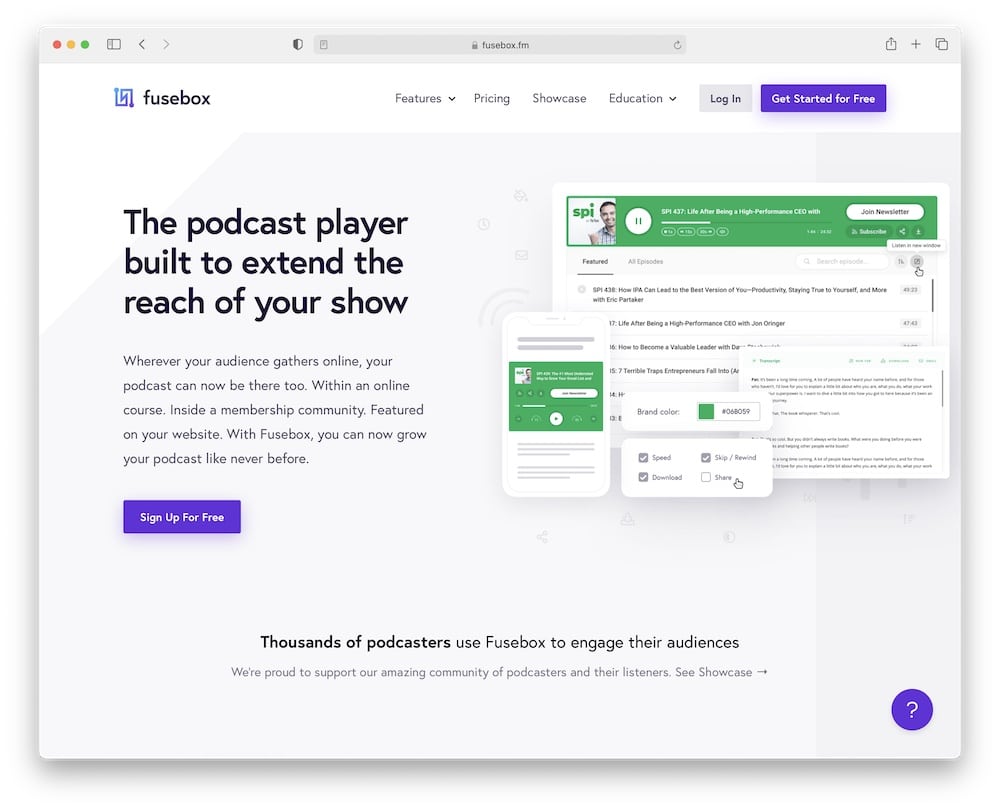 Fusebox is one of the most RELIABLE and POWERFUL podcasting plugins we have tested for this article. (But we also used it for many client projects.)
This is the plugin to fully manipulate and publish your podcasts from the front-end.
In a few words, Fusebox is a 2-in-1 plugin. It provides a modern, fully customizable and responsive podcast player.
Fusebox gives you and your listeners ultimate control over the podcasts you upload (speed, share buttons, and more).
In addition, Fusebox is also a transcription plugin that allows you to create and share your podcast transcripts with your website visitors.
This will help you rank better on Google since the algorithm recognizes and indexes audio content.
Fusebox features:
8,000+ sales
4.7/5 ratings
Social sharing
Multi-platform support
Price: Free or $7.50/mo+
MORE INFO / DOWNLOAD
2. Simple Podcast Press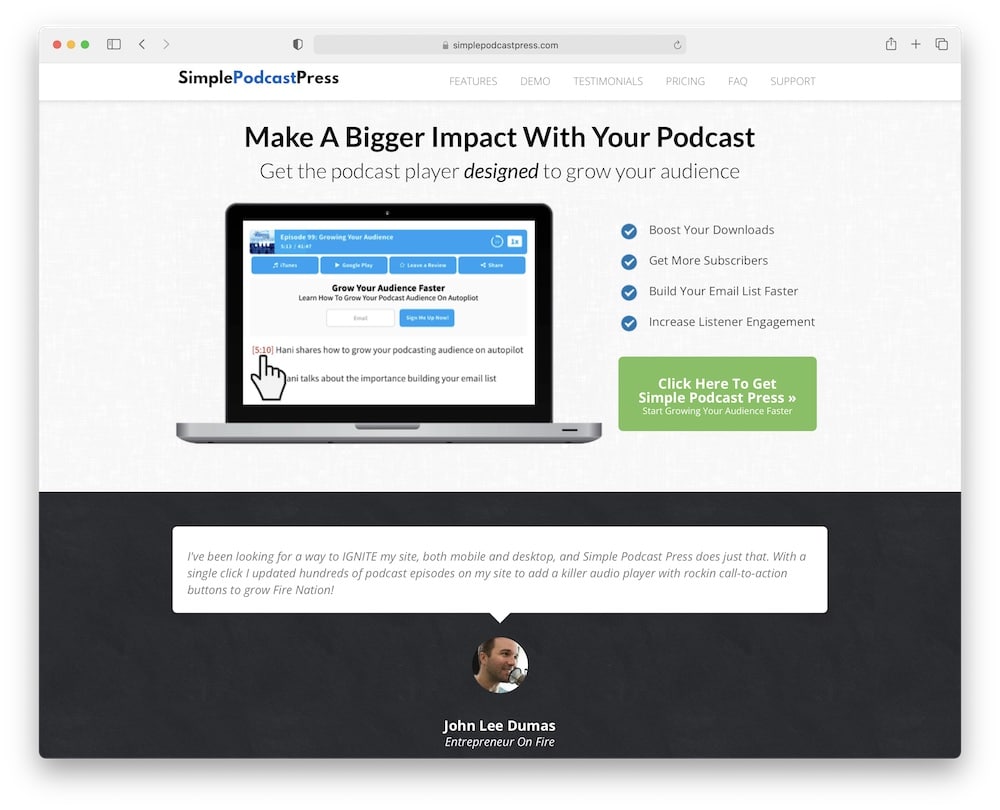 Our final choice is Simple Podcast Press, a premium WordPress podcast plugin that automates the process of uploading your episodes.
This plugin proved very powerful and easy to use during our review.
After installing the plugin, you must enter your podcast's iTunes URL, and it will automatically showcase your episodes.
We really liked the player's MODERN interface and fully-responsive design.
In a few words, if you want to share your iTunes podcast with your website visitors, there's nothing better.
Simple Podcast Press features:
10,000+ sales
4.6/5 ratings
Clickable timestamps
Offers subscribe buttons & email opt-in
Price: $67+
Note: 30-day money-back guarantee.
MORE INFO / DOWNLOAD
Best Free WordPress Podcast Plugins
3. Seriously Simple Podcasting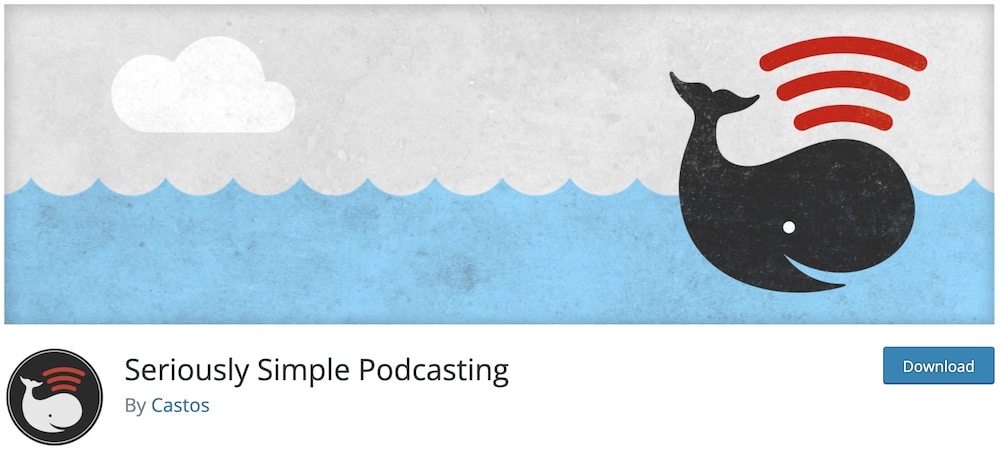 When it comes to free WordPress podcast plugins, there's nothing BETTER than Seriously Simple Podcasting.
This is a beginner-friendly plugin for publishing and editing your podcasts in minutes.
We had no problems publishing more than one podcast during our testing. The plugin provides a unique RSS feed for each podcast you publish.
If you have never published a podcast on WordPress before, don't worry. The instructions for this plugin are very comprehensive.
In short, this is the PERFECT solution for new podcasters creating a WordPress podcast website for the first time.
Seriously Simple Podcasting features:
30,000+ active installations
4.7/5 ratings
Supports video podcasting
Fully-editable podcast player
Translatable (use any WordPress translation plugin)
MORE INFO / DOWNLOAD
4. Podcast Player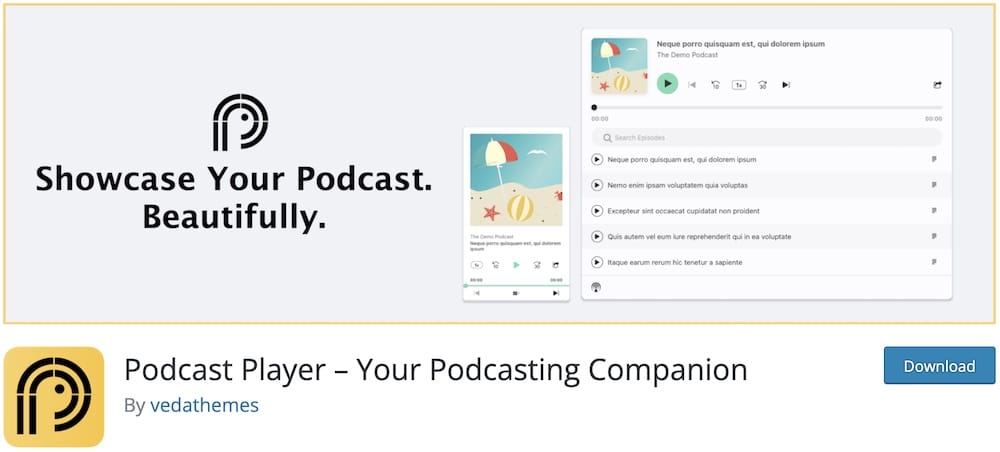 Are you looking for a simple way to connect your podcast library to your WordPress website? Then Podcast Player is a smart solution.
All you need to use this plugin is the URL of your RSS feed.
You can also use this free podcast plugin to host your podcast with any provider. We found it very useful to integrate the podcast player in more than one way (WP shortcode, WP widget, Gutenberg block).
Add to that the modern and customizable WordPress audio player, and we can SAFELY say that Podcast Player is a plugin that both beginners and professional podcasters should try.
Podcast Player features:
10,000+ active installations
4.9/5 ratings
Supports podcast badges (Apple, Google, Spotify)
Fully-responsive layout
Great video tutorials
MORE INFO / DOWNLOAD
5. PowerPress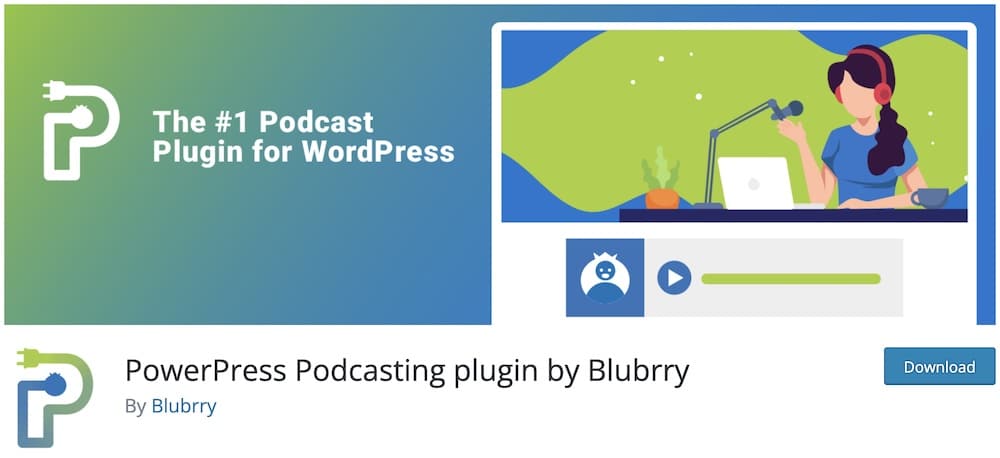 PowerPress is one of the most complete WordPress podcast plugins on the market. The plugin made it into our top picks for many reasons.
First of all, we really liked the fact that it lets you choose between a basic and advanced mode. This makes it the perfect choice for both newbies and experts.
Also, PowerPress has proven to be one of the most trustworthy plugins for submitting a podcast to podcast providers and embedding it on a website.
PowerPress is an IDEAL plugin for those who need to import their show into RSS feeds like LibSyn, Anchor, SoundCloud, or Squarespace.
PowerPress features:
50,000+ active installations
4.6/5 ratings
HTML5, MediaElement.js and VideoJS video players
Easily-integrated shortcodes
Endless subscription tools
MORE INFO / DOWNLOAD
6. Podcast Importer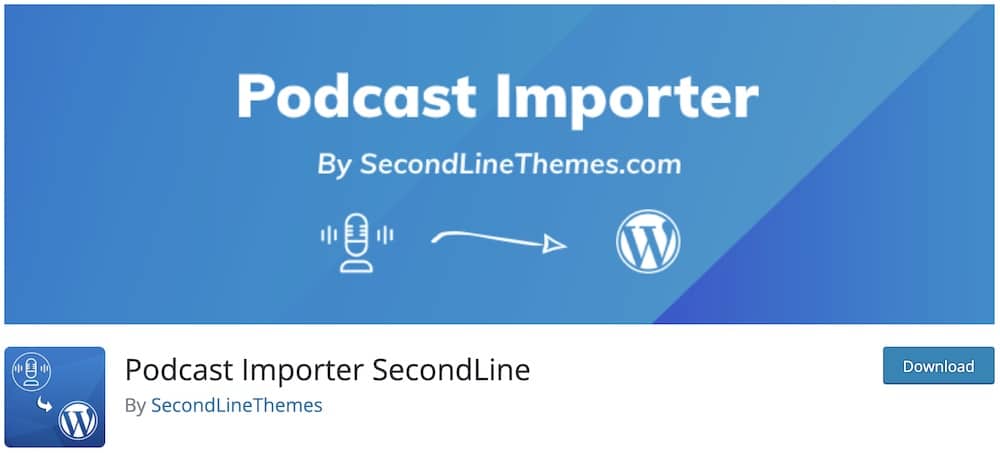 Podcast Importer may not be the most powerful WordPress podcast plugin out there, but it's definitely one of our FAV.
If you want to import your podcast into WordPress via a feed URL, this is the easiest way to do it.
The process is pretty simple and everything happens through the WordPress dashboard. The plugin can automatically import your podcast episodes by simply clicking a button.
Most podcasters use this plugin as an external importer, combined with other podcasting plugins like Seriously Simple or PowerPress.
Podcast Importer features:
6,000+ active installations
4.8/5 ratings
Supports 15+ podcast hosting providers
Regular updates
Offers scheduled imports
MORE INFO / DOWNLOAD
7. Buzzsprout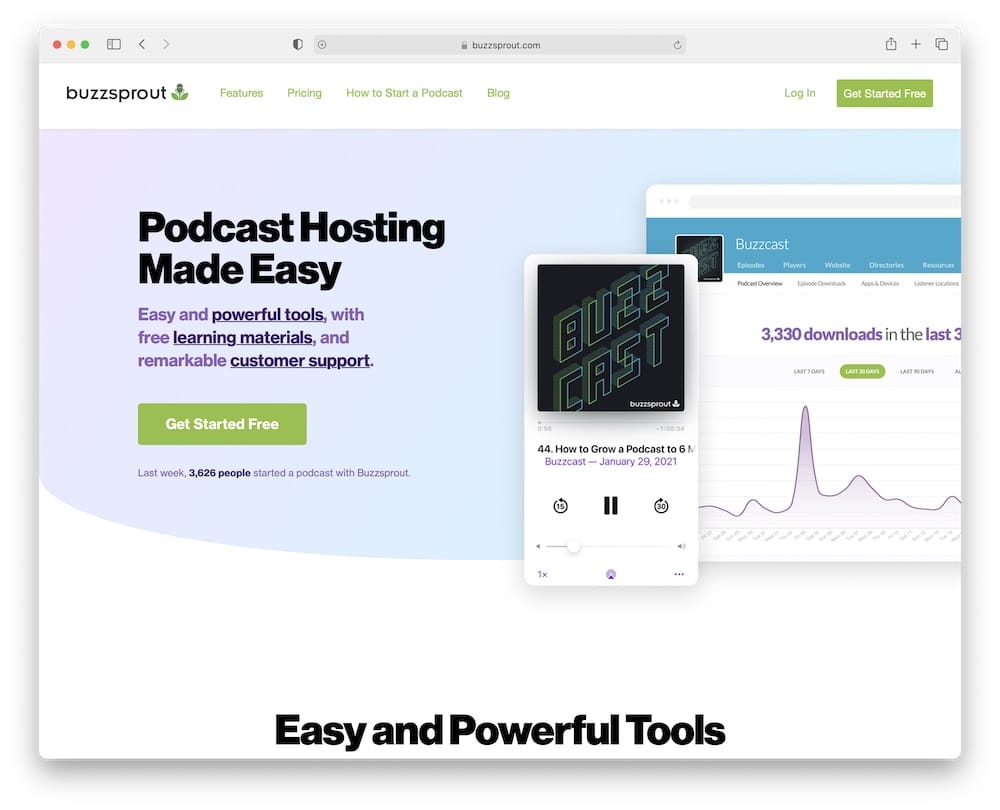 Buzzsprout has been around for 10+ years. This WordPress podcast plugin is one of the most popular on the market for many reasons.
The only thing Buzzsprout requires you to do is upload your podcast audio file.
For this reason, Buzzsprout is one of our FAVORITE plugins for automated, straightforward publishing processes.
It works perfectly in any browser and you do everything through a simple shortcode.
In summary, this is a top-notch solution for anyone looking to upload, categorize, and edit their podcast episodes in WordPress.
Buzzsprout features:
100,000+ sales
4.8/5 ratings
Supports numerous podcast directories (Spotify, Stitcher, etc)
Easy-to-learn
Price: Free or $12+
MORE INFO / DOWNLOAD
8. Podcast Subscribe Buttons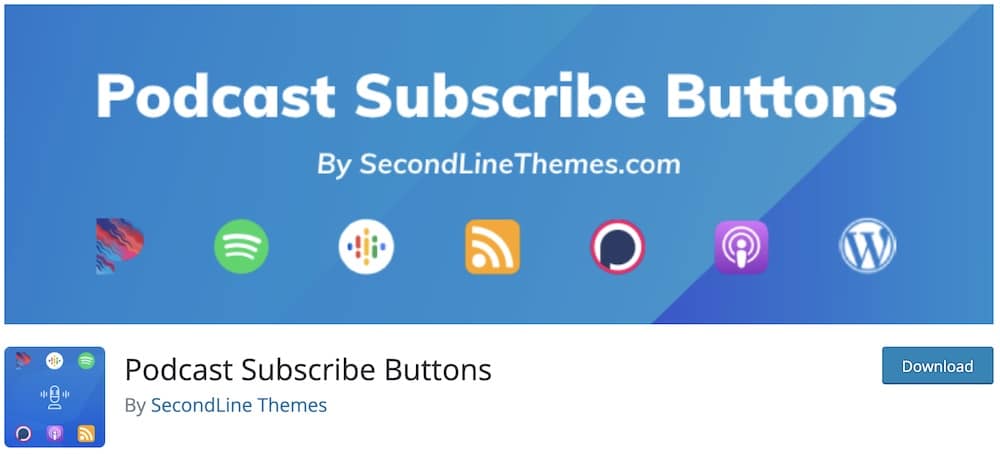 As the name suggests, our next selection is about adding custom subscribe or follow buttons to your WordPress website or blog.
Although you can not upload and edit your podcast episodes with this plugin, it is very useful for any podcaster.
You can import 60+ custom buttons into any of your pages or posts using a simple shortcode.
Of course, the buttons are FULLY customizable.
Therefore, this is an excellent solution to add a direct link to an RSS feed, an external podcast platform like SoundCloud or Spotify, etc.
Podcast Subscribe Buttons features:
7,000+ sales
5/5 ratings
Works with Gutenberg & Elementor
Top-tier support
New icons added regularly
MORE INFO / DOWNLOAD
9. Podlove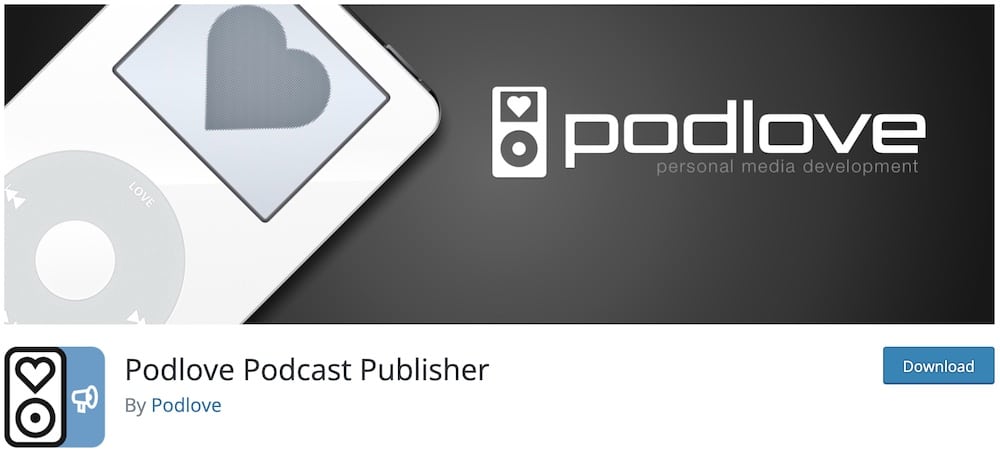 Podlove (cute name!) is one of the best podcast publishers we tested to make this list. The great thing about Podlove is that podcasters developed it.
Podlove is a perfect all-rounder.
Podlove lets you effortlessly upload and manipulate your podcast episodes, just like most of our suggestions.
However, Podlove also offers a multiple RSS feed feature and allows for detailed (SEO-friendly) categorization of your episodes.
Finally, Podlove supports MULTIPLE audio and video formats for your podcasts. This is a great choice for podcasters who know how to use WordPress (even for a first-timer!).
Podlove features:
7,000+ sales
4.5/5 ratings
Multi-format publishing
Editable podcast player template
Detailed tutorials
MORE INFO / DOWNLOAD
FAQs About WordPress Podcasting Plugins
Is WordPress good for podcasting?
Yes, WordPress is a great platform to start a podcast. You don't need any experience to create an excellent podcasting website where you share your episodes, start a blog, sell merch, and more.
Can I put a podcast on WordPress?
Yes, you can quickly put a podcast on your WordPress website using a plugin. You can start with a free version with the basic features but expand on functionality with a premium one.
How do I create a podcast site using WordPress?
A WordPress podcast theme is the best solution if you build from "scratch." It features all the necessary material to get you going in no time. But a plugin will be ideal for everyone who already has a website but would like to include the podcast for more engagement and better user experience.
What is the best podcast plugin for WordPress?
The best premium plugin is Fusebox (you can test it for free) and the best free Seriously Simple Podcasting. We recommend starting for free if you're a beginner because the plugin's capabilities are decent. But the premium one is for all the advanced users.
Finally, you may also be interested in learning our tutorial on how to install a WordPress plugin if you're unfamiliar.
::
Note: This article was originally published on December 7, 2021. But our team regularly reviews it and updates it with necessary improvements for accuracy.