Welcome to our collection of the best renewable energy WordPress themes that embrace sustainability through stunning designs and powerful features.
Whether you're an alternative energy company, an environmental organization, or simply passionate about going green, these WordPress themes offer visually stunning designs and robust functionality to help you create an impactful online presence.
INSTEAD of building an entire online presence from scratch or hiring a pricey professional to do it for you – YOU can now do it yourself.
Yes, really!
These themes are incredibly beginner-friendly. But still handle even the most advanced users.
Let's dive in and discover the perfect theme to bring your eco-friendly vision TO LIFE!
How We Tested Renewable Energy WP Themes
When we decided to create a list of the best themes in the niche, we picked 30 solutions available for the green energy industry.
We first sought user feedback, reviews, updates and ratings in each theme. Some already flopped at this stage.
Moving forward, we contacted the support team and investigated theme documentation to ensure the help and guidance you receive are TOP-NOTCH.
With fifteen themes left, we installed each on our testing website and dove deeper. We also have a guide on how to install a WordPress theme.
The first step was to test loading speed (thanks, Pingdom Tools) and mobile-friendliness (thanks, Google Mobile-Friendly tool). We eliminated two themes with poor performance.
The second step was to explore the theme's customization options and configure them. At this step, we also activated functionalities like sliders, contact forms, maps, social media integration, menus, etc.
We also tested compatibility with plugins, widgets and shortcodes to ensure everything runs smoothly.
Finally, we ran a securing scan using Wordfence Security plugin to check if the theme has any vulnerabilities or weaknesses. By the way, don't miss this tutorial on how to choose a secure WordPress theme so you always avoid inconvenience.
QUICK-PICK: Ultimate Renewable Energy WP Themes
Best Green & Renewable Energy WordPress Themes
1. R-energy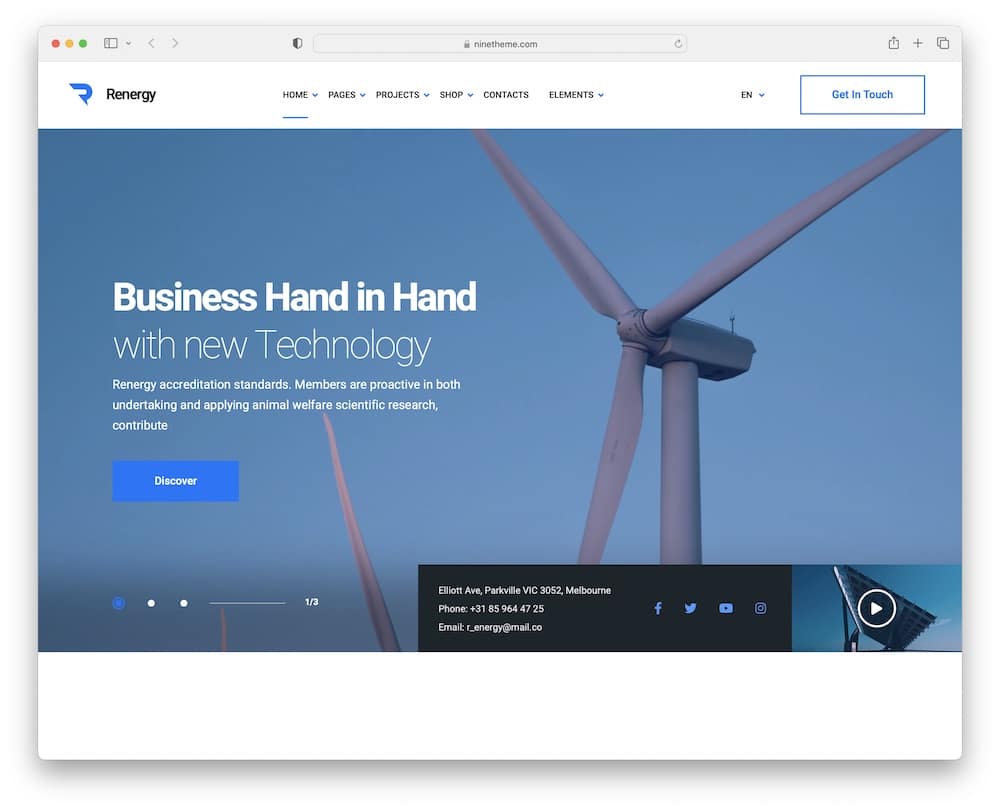 Modern, flexible, and ready for you!
Check out the R-energy WordPress theme and create a professional-looking website (in no time).
Remember, you can create anything with Elementor page builder and its accompanying widgets + shortcodes!
R-energy is optimized for fast speed and is completely mobile responsive. Yup, perfect combinations for an AWSOME user experience.
And you can even build your online store and offer products or services with a transparent pricing plan.
Thumbs up!
Oh, and I just LOVE the feeling of knowing that top-notch customer support is available for me if I face any issues (do you too?). The R-energy team is just like having a reliable friend by your side!
R-energy features:
MORE INFO / DOWNLOAD
DEMO
2. Nur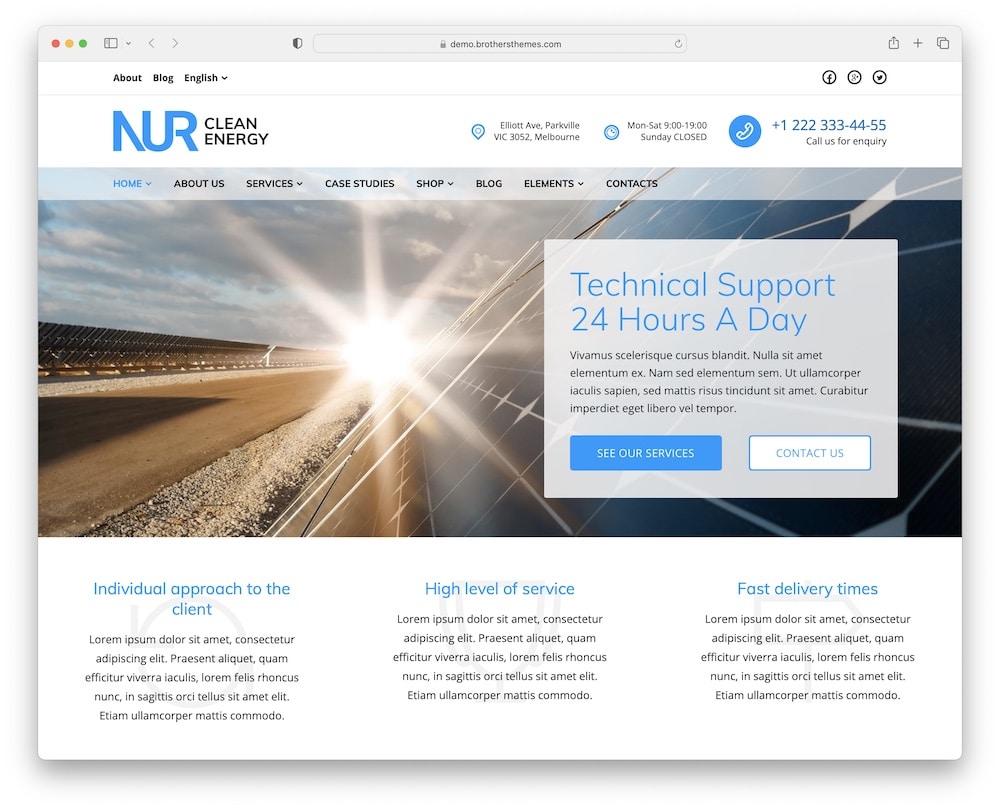 Nur renewable energy WordPress theme is an attractive and elegant choice for your company's presentation.
EPIC Nur comes with ready-to-use demos (single click import) to display your project images, contacts, price list for services and products, case studies, blog, portfolio, and much more.
You can customize Nur in real-time via the WPBakery page builder for instant results of your changes before you go live. MIND. BLOWING.
Moreover, WooCommerce offers a user-friendly setup process for your online store. Create and customize your store to match your branding, design, preferences, shipping services, and payment gateways.
BTW: Nur is also translation ready (use any WordPress translation plugin) – meaning the world is yours!
Nur features:
730+ sales
5-star rating
1-click demo data import
Clean code, lightweight structure
Price: $59 (may vary)
MORE INFO / DOWNLOAD
DEMO
3. Good Energy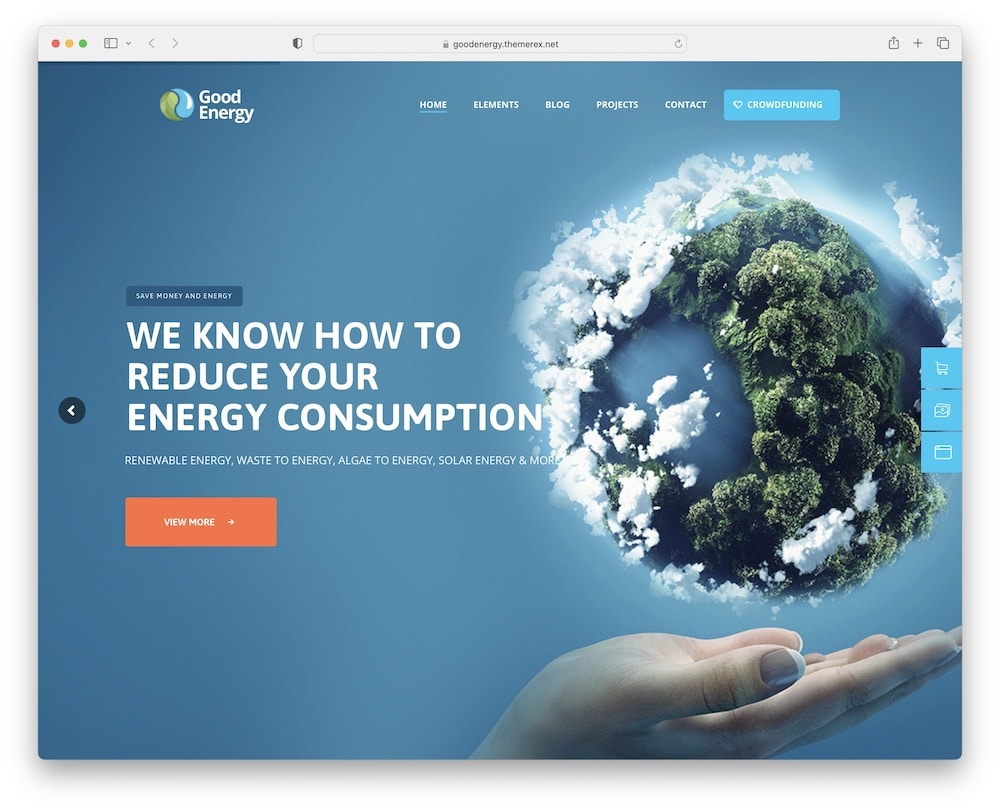 The visually stunning Good Energy alternative energy WordPress theme comes with a user-friendly interface that makes it EASY to create with (for both experienced and beginner users).
In fact, Good Energy includes reliable guidance and assistance via well-prepared (step-by-step) documentation, professional customer support, and FREE lifetime updates!
I also love its seamless integrations with the most popular plugins, social media sharing, Zoom or other video options, and GDPR compliance for the EU.
Moreover, Google Maps provides an engaging way for your visitors to interact with your business location. They can zoom in, zoom out, and explore the provided map to get better directions to your physical store.
Power a green future with Good Energy!
Good Energy features:
MORE INFO / DOWNLOAD
DEMO
4. Energium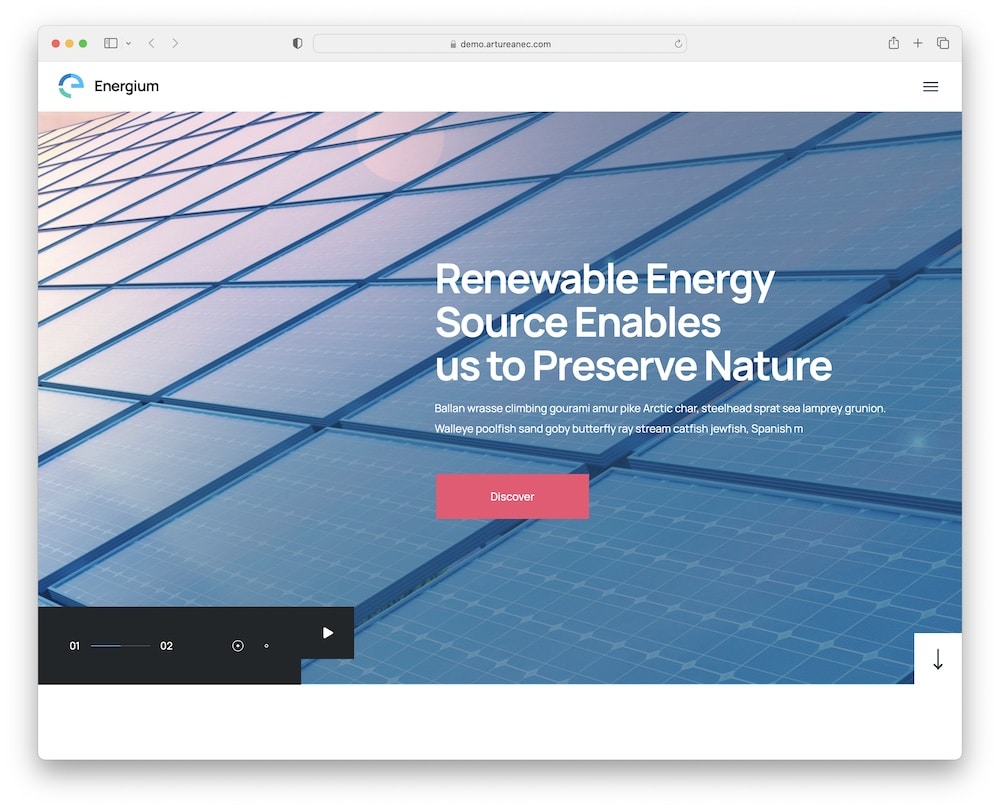 You have the POWER to create a brilliant website via the Energium renewable energy WordPress theme.
Elegant Energium is great for small or big companies and includes numerous pre-made pages, elements, blocks, the coolest gallery, and a social share tool (see how to add social share buttons in WP).
Bless you, Energium!
Another great thing is unlimited color choices and gorgeous typography alternatives.
Moreover, Energium is designed with SEO in mind – it has clean code, proper heading hierarchy, and structured data markup.
Plus, it's optimized for fast load time and mobile friendliness.
Oh, and if you passionately follow news in wind or ocean energy, solar power, and other green solutions, then I recommend you start a blog.
Keep in mind, valuable content is KING for Google.
Three, two one go!
Energium features:
280+ sales
4.9+ star ratings
6 home, 30+ inner pages
30+ customizable PSD files
Price: $59 (may vary)
MORE INFO / DOWNLOAD
DEMO
5. Soleil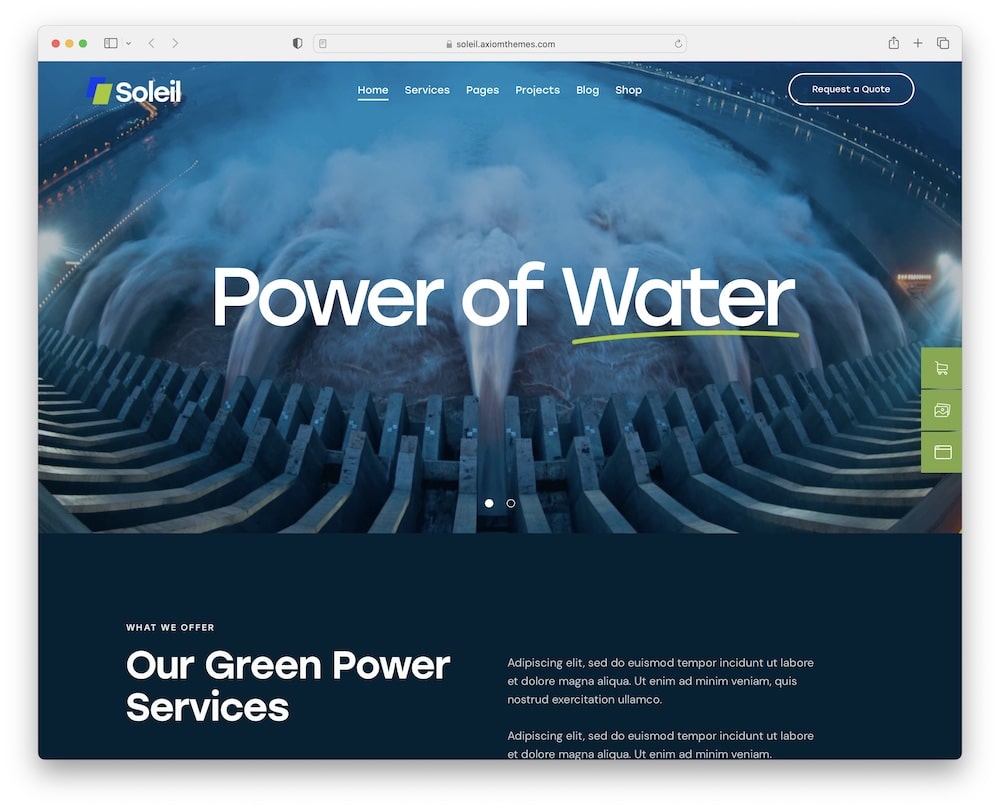 Brighten up your company with the unique Soleil solar panels and alternative energy WordPress theme.
This stylish theme comes with a one-click import demo that you can easily customize with a WordPress page builder.
Drag & drop motion works like magic!
You can also create an online store with multiple useful functions to sell solar panels, indispensable gear, and offer a range of services like installation, maintenance, repairs, or system upgrades.
Visitors can simply contact your company via the "get in touch" form or through social media icons placed in your footer.
Amazing!
Oh, and Slider Revolution is my FAV tool to do dynamic sliders, attractive carousels, and animation effects. BTW: Over 9 million users trust it (check out positive reviews) worldwide.
Soleil features:
120+ sales
5-star rating
Interactive Ajax search
Custom widgets & shortcodes
Price: $69 (may vary)
MORE INFO / DOWNLOAD
DEMO
6. Sunlux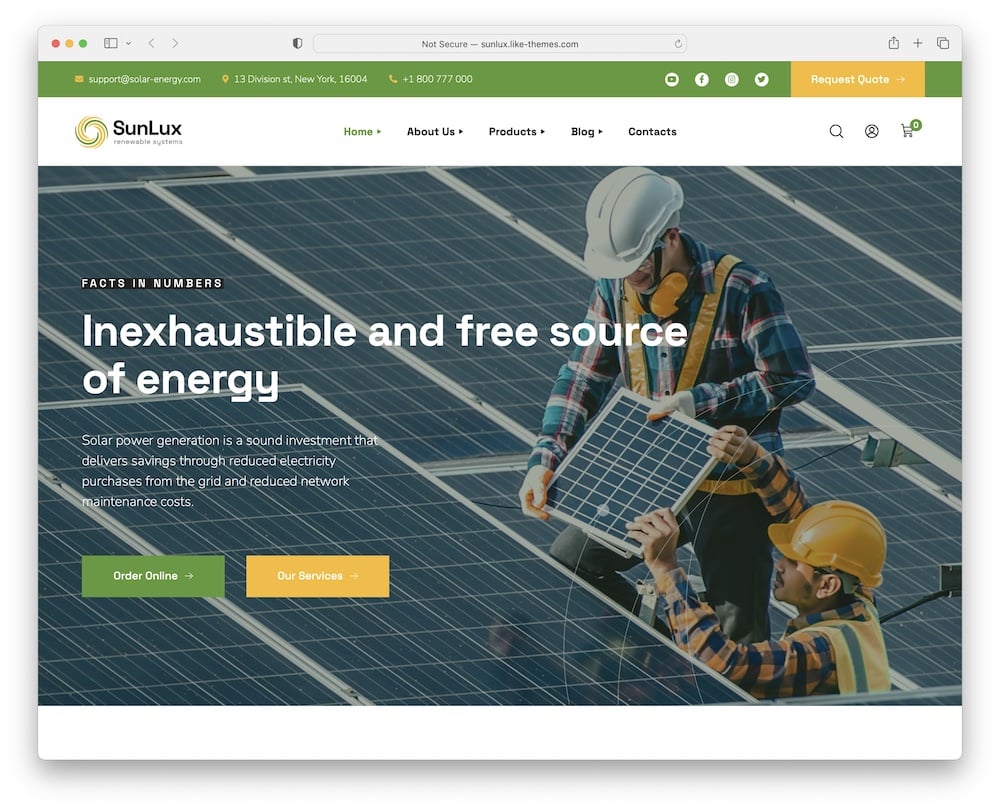 Your future will look so much greener with Sunlux renewable energy WordPress theme!
Sunlux invites you to play with the pre-made design of its demos to make your site marvelous. And you can do it FAST.
You can change elements, colors, header – overall look, without the overwhelming complexity of coding.
See? So easy!
The best part: Sunlux is compatible with highly efficient plugins such as Elementor page builder, WooCommerce, MailChimp, and Contact Form 7. This bundle will save you money and time over and over and over.
Furthermore, I feel the parallax theme effect adds attractive depth and dimension to a website. Plus, with me, it also creates a desire of scrolling and exploring the content (due to its interactive nature) a little more.
Unlock your superpowers with Sunlux!
Sunlux features:
110+ sales
4.5+ star ratings
Multi-level menu
Catchy scrolling animations
Price: $59 (may vary)
MORE INFO / DOWNLOAD
DEMO
7. Energo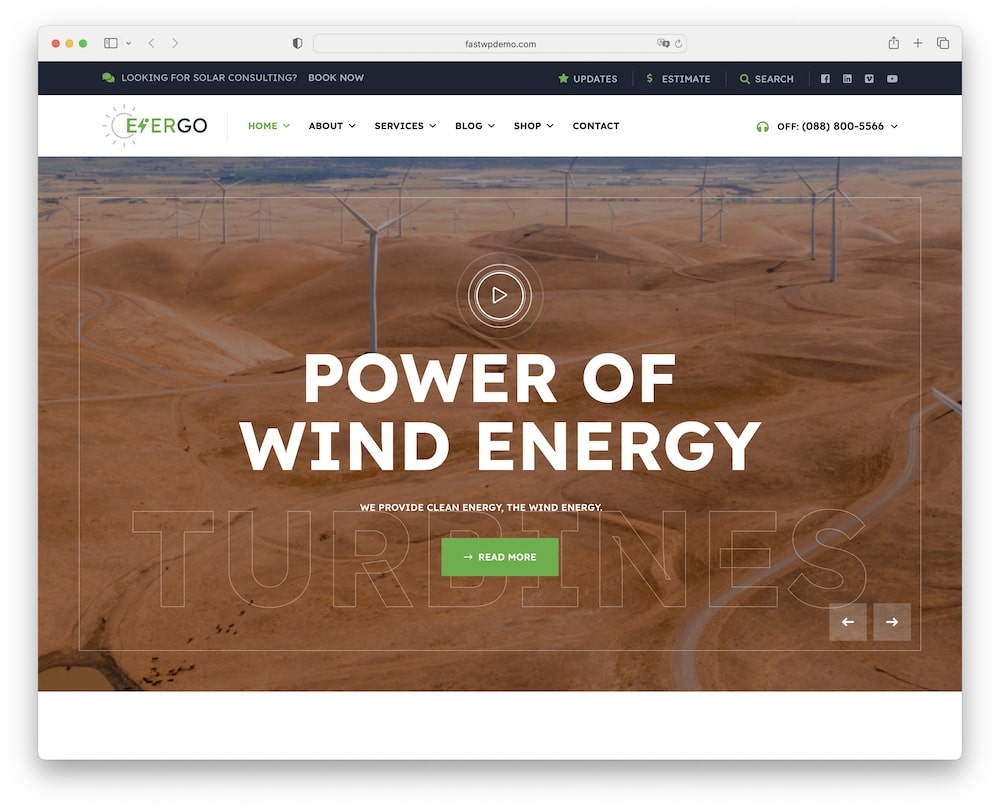 Switch to the stylish Energo wind and (other) renewable energy WordPress theme and make a difference.
Energo includes ready-to-use homepages that you can use out of the box (as they are) or customize (next level) to fit your specific needs.
Keep in mind, with amazing Energo you will never need to write a single line of code.
Also, I love the responsive and retina-ready display with adaptable and high-resolution design for various devices like Phones, iPads, and laptops. We all want to have a visually appealing experience, don't we?
KEEP CALM, you can start simple and add new pages, plugins, and other necessary functionalities to your site when you need change and your business grows.
Come out on top bit by bit!
Energo features:
170+ sales
4.4+ star ratings
WordPress Multisite support
Wide & boxed layouts
Price: $35 (may vary)
MORE INFO / DOWNLOAD
DEMO
8. Soltech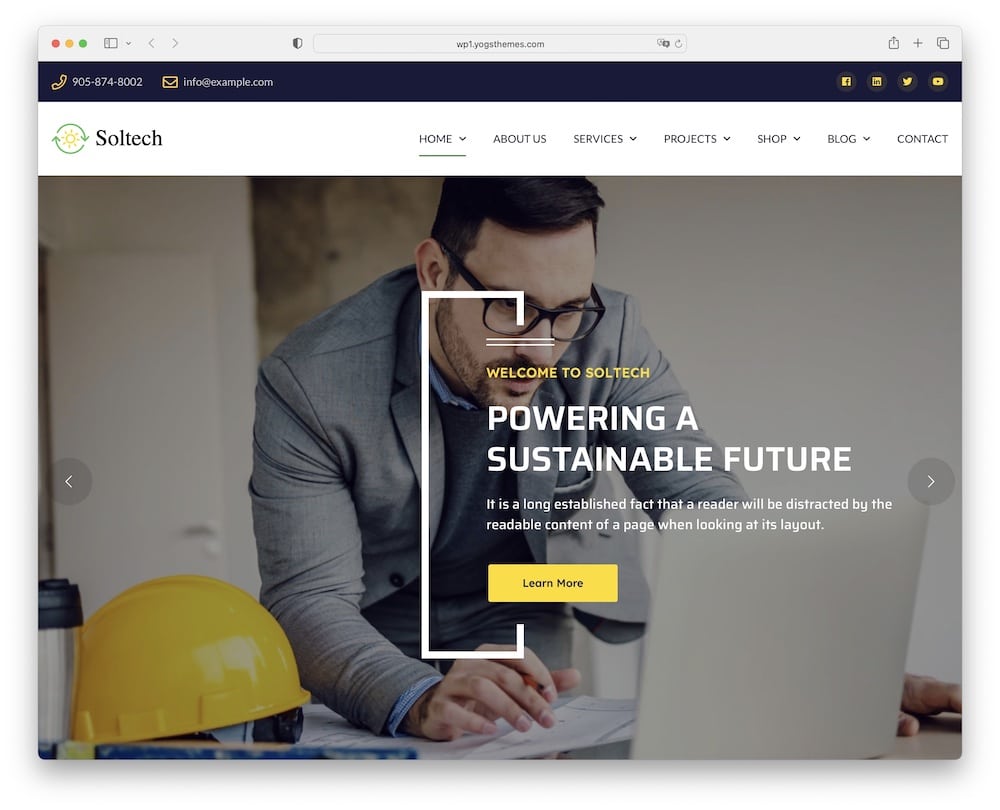 Professional Soltech renewable energy WordPress theme is the place where nature meets technology.
Keep scrolling!
Popular Elementor provides all the necessary tools for your success EVEN if you are a beginner. With its user-friendly interface, customization options, and widgets such as sliders, forms, images, buttons, and text blocks, you can easily match your design preferences.
The flexibility is A+.
Moreover, Soltech offers detailed documentation and dedicated customer support for TOP-NOTCH assistance when needed.
Oh, and included Contact Form 7 enables you to create multiple forms on your site if you require them for various purposes like registration, contact, surveys, or feedback forms.
It is ideal that visitors can reach out to you in a quick and simple way!
Soltech features:
120+ sales
4.5+ star ratings
Advanced, user-friendly admin panel
Custom CSS ready
Price: $29 (may vary)
MORE INFO / DOWNLOAD
DEMO
9. Podgorica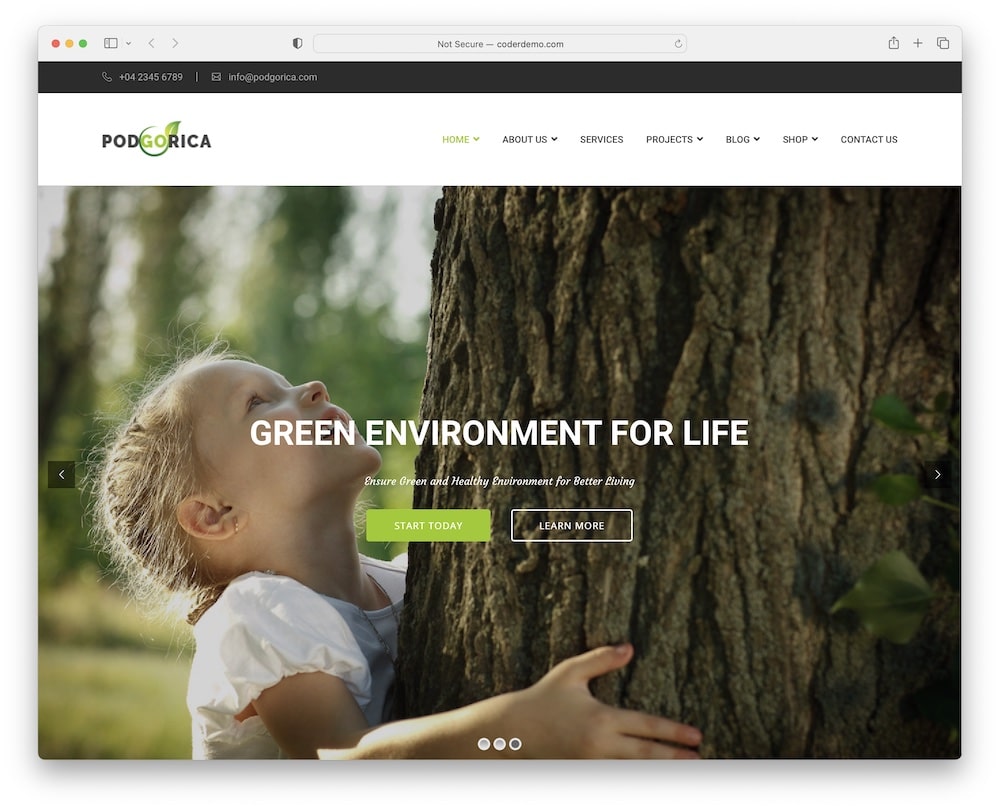 Harness the power of nature with the help of the Podgorica environment and renewable energy WordPress theme.
Stunning Podgorica is ready-to-use immediately after the one-click install. WOW – I think the choice is obvious!
Then have a blast with customization: choose between numerous Google fonts, unlimited colors, unique pages, easy-to-integrate elements, and indispensable sidebars.
Bottom line: This is most definitely a really FUN process.
Moreover, Podgorica is built with SEO best practices to help you be visible (organic traffic, please!) and keep your search engine rankings on top.
Fortunately, you can even break language barriers with translation-ready Podgorica!
Podgorica features:
380+ sales
4.7+ star ratings
Custom renewable energy-specific pages
Background slider
Price: $49 (may vary)
MORE INFO / DOWNLOAD
DEMO
10. Geya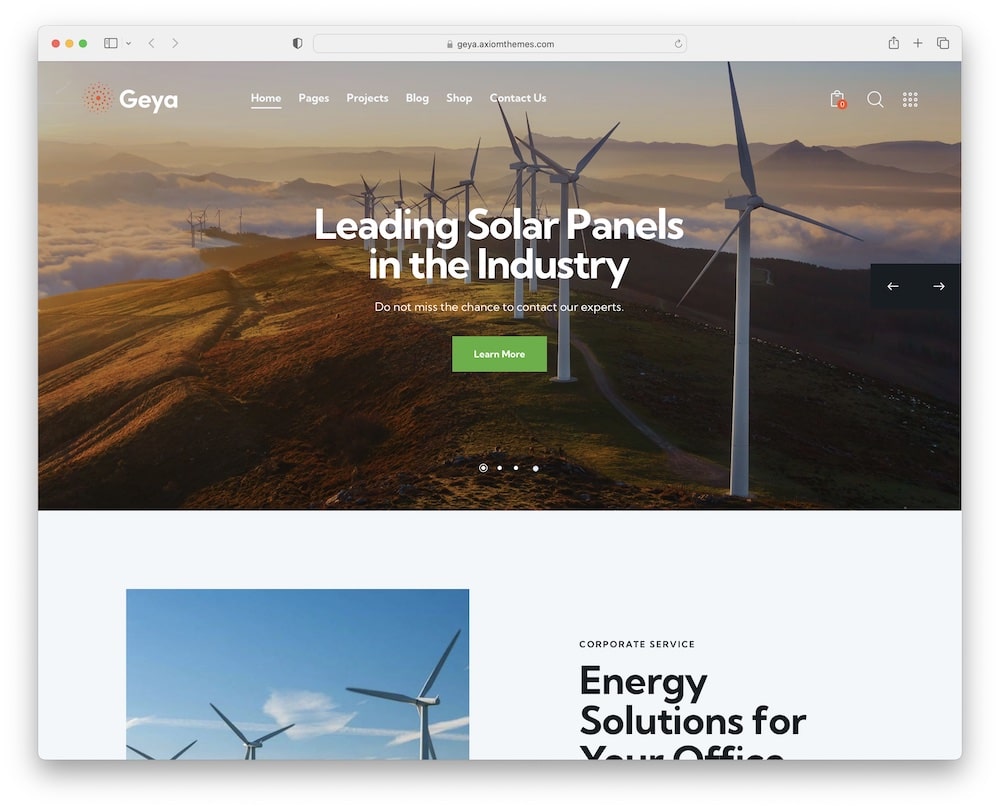 Unstoppable Geya renewable energy and ecology WordPress theme was created for alternative energy sources, recycling businesses, and eco-related organizations.
Geya is bundled with the coolest plugins, numerous layouts, unique header & footer styles, and dozens of shortcodes. Take advantage of these features and make your website handy & functional for your visitors.
Moreover, Geya is also GDPR compliant to help you manage and protect personal user data.
I've always been a blog person. So, I recommend you pick one of the engaging blog layouts and start a blog!
Because sharing valuable insights, ideas, industry trends, case studies, and product reviews is the best way to attract organic traffic from search engines (Hi, Google!) and become an authority in your field.
GRAB Geya and get ready for something special!
Geya features:
70+ sales
5-star rating
Very intuitive & user-friendly
Quick header & footer building
Price: $69 (may vary)
MORE INFO / DOWNLOAD
DEMO
11. Eco Green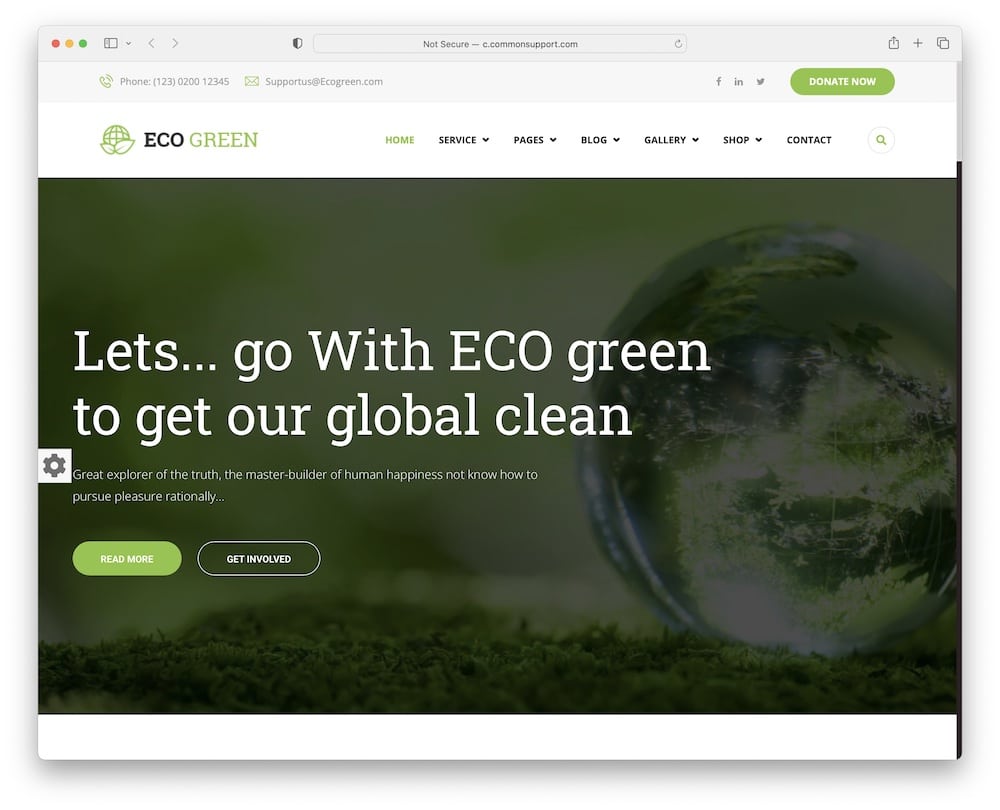 Help to create a cleaner world with gorgeous Eco Green renewable energy WordPress theme.
You can easily display your story, team members, case studies, success projects, tutorials, highlight events, and testimonials.
Plus, an extensive gallery offers great visual appeal and can be a brilliant way of storytelling for your visitors.
Build a dream website with King Composer Pro via drag-and-drop motion like a PRO!
Furthermore, with unlimited sidebars, you can easily find the right layout structure for your content. You can place ad banners, widgets, or elements in various (strategic) locations.
Also, build an online store via WooCoomerce by following a few simple steps. Or organize fundraising campaigns and raise donations for to a specific cause.
Craft your dream brand with Eco Green!
Eco Green features:
MORE INFO / DOWNLOAD
DEMO
::
Note: This article was originally published on June 28, 2023. But our team regularly reviews it and updates it with necessary improvements for accuracy.