You can build the ultimate website with these free and premium WordPress vacation rental themes.
Besides hosting and domain name, a WP theme is the last thing to build a solid online presence.
We made sure to properly test each theme for performance, customizations, built-in booking, and more.
Thus, we guarantee all the themes we added are a STRONG foundation to grow your accommodation business to the next level.
This post covers:
Make your customer enjoy their stay – STARTING with a neat vacation rental website.
THE ULTIMATE 5:
Best Premium Vacation Rental WordPress Themes
1. RealHomes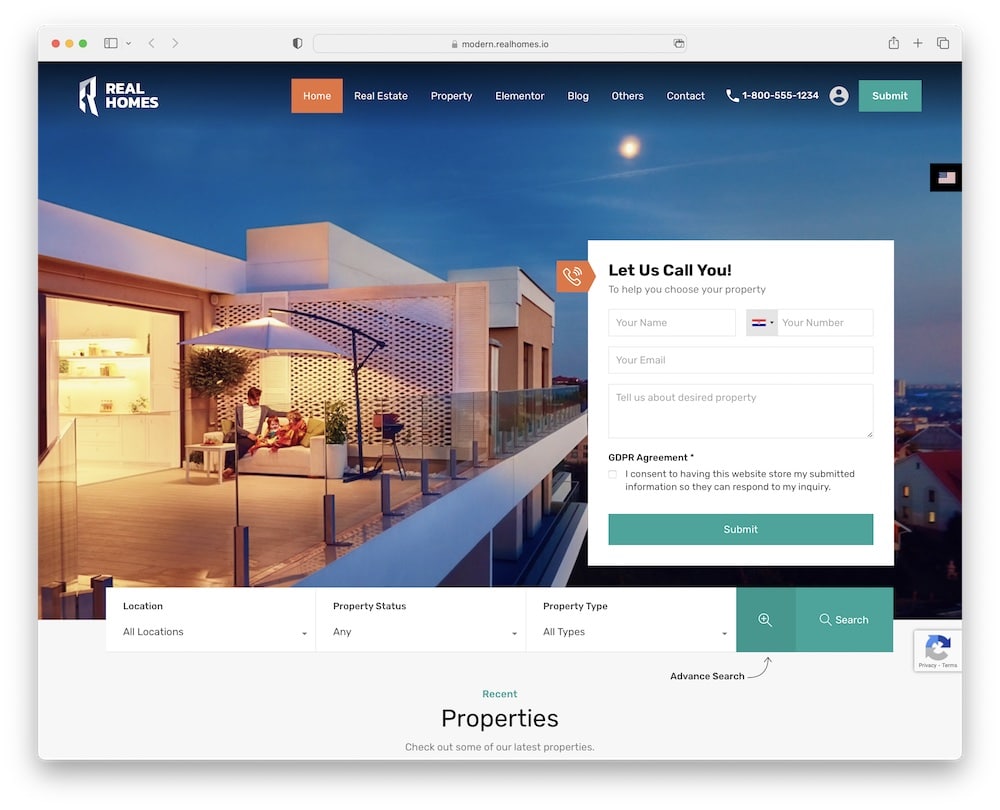 Grow your rental business with the stunning RealHomes WordPress theme.
RealHomes includes numerous pre-designed demos (SO pretty), smart WordPress widgets, advanced plugins, and excellent customer support.
Moreover, Slider Revolution (my fav!) can display your properties elegantly and stylishly.
RealHomes offers everything you need for a smooth & happy customer experience.
From multiple payment gateways, currency switcher and integrated map system to instant property booking and availability calendar – it's all in the package.
You can also upload virtual tours, floor plans, agent information, and set up an open contact form for easy reachability.
Plus, take advantage of attention-grabbing discounts, promotions, and special price banners.
And YES, you can implement a full translation of the RealHomes.
Sweet!
RealHomes features:
30,400+ sales
4.7+ star ratings
Advanced search form
Price: $69 (may vary)
MORE INFO / DOWNLOAD
DEMO
2. Estate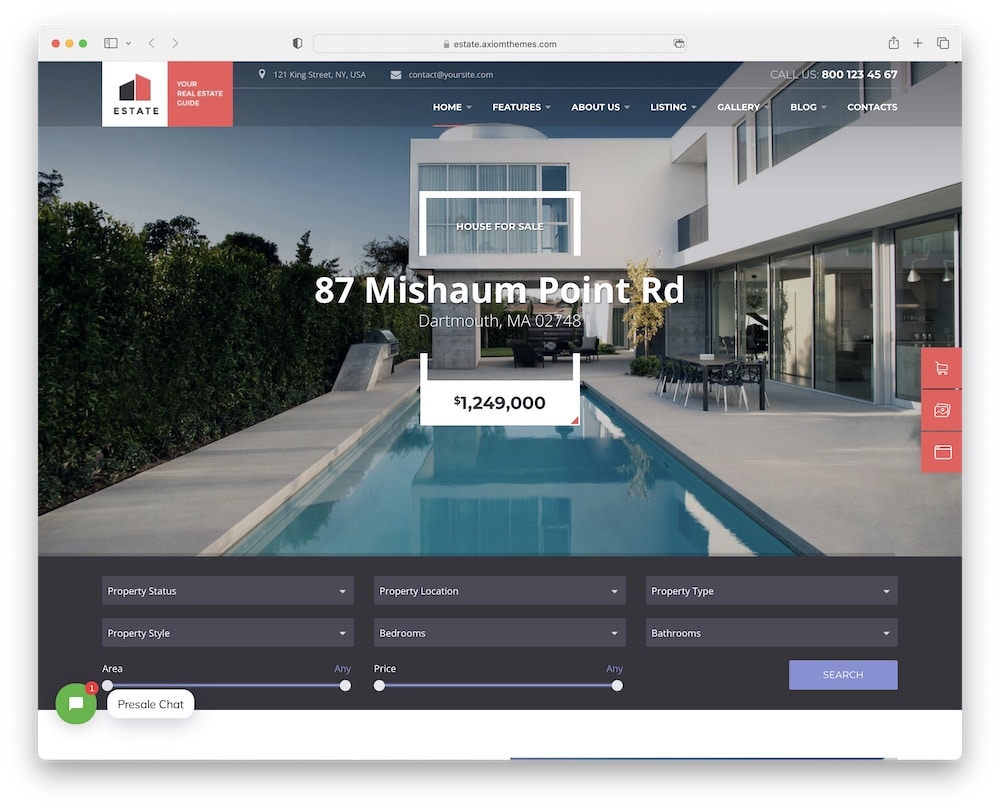 Let Estate WordPress vacation rental theme spoil you with both luxury and comfort.
You can change, mix and match elements without any coding knowledge by using the AWSOME WPBakery page builder.
Wuhuu!
Furthermore, Estate has a sticky menu for simple navigation, animations, unique icons, unlimited colors, and Google fonts.
Of course, reliable customer support is ready to assist you with any dilemma.
We all know how important social media is these days, SO make sure to insert your Facebook, Twitter, Instagram, etc. links and icons on your site.
Plus, displaying customer testimonials is always a good thing! (You can also check our best WordPress testimonial plugins for more options.)
Oh man, and Estate offers well-prepared documentation and FREE lifetime updates. Facts!
Estate features:
MORE INFO / DOWNLOAD
DEMO
3. Bellevue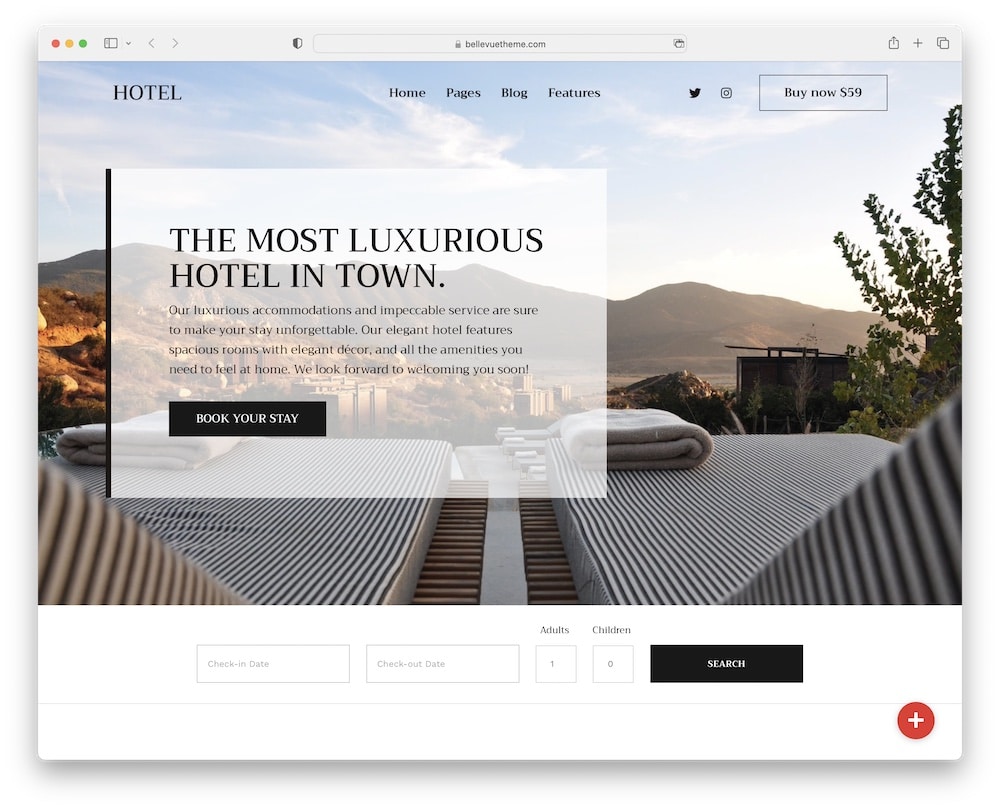 Fall in love with the modern Bellevue WordPress vacation rental theme. #numberonesellingtheme
Bellevue has gorgeously designed demos (one-click import), flexible page templates, and valuable widgets.
Important: everything (colors, fonts, header, parallax, sidebars) is editable.
Quick setup guaranteed!
Of course, you also get all the necessary tools for easy online booking (!), plus a real-time WordPress calendar for fast availability checks and a WooCommerce payments add-on.
NOTE: You can automatically send invoices to your customers with included PDF invoices. Amazing!
Furthermore, Bellevue works wonderfully on mobile devices due to its retina-ready & touch-optimized design. I love to surf for vacations on my phone, too!
11,000+ businesses trust Bellevue; why shouldn't you?
Bellevue features:
12,300+ sales
4.8+ star ratings
Online & offline payments
Price: $69 (may vary)
MORE INFO / DOWNLOAD
DEMO
4. Oceanica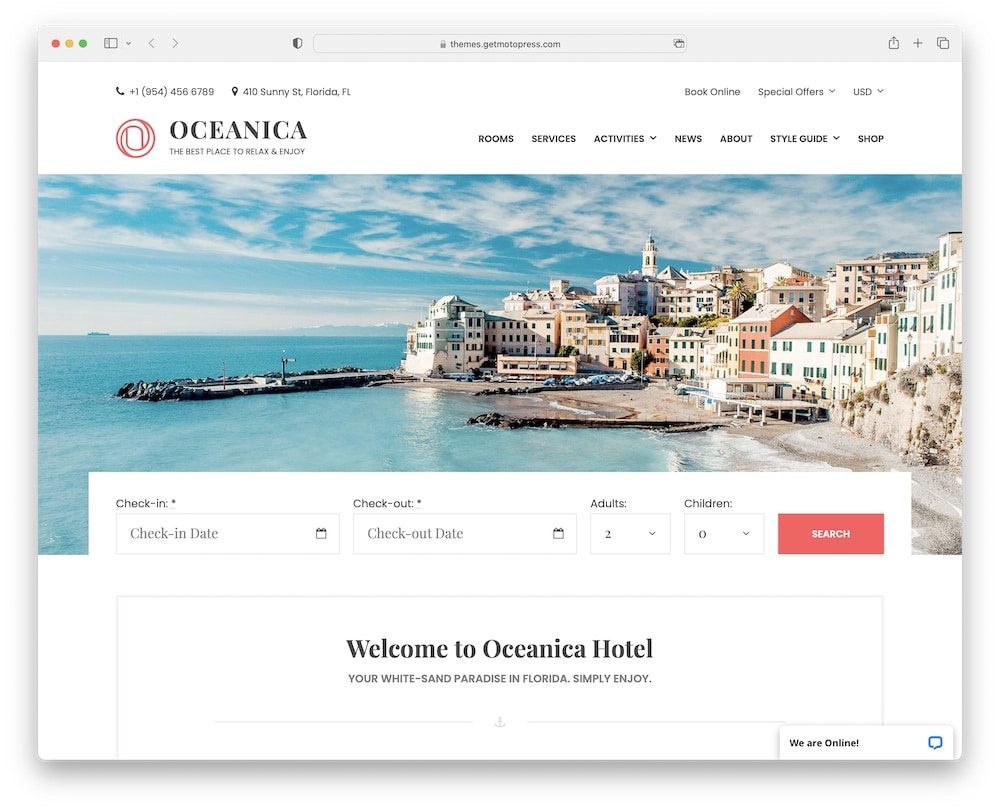 Make a professional impression with the high-class Oceanica WordPress vacation rental theme. I promise you will love the experience.
You can easily build your website (which you want to, 'cause you're here), starting with the one-click install. (Need help? Then check how to install a WordPress theme first.)
You got this.
Stunning galleries, online booking, live search form, flexible seasonal pricing, and discount coupons are just some of Oceanica's COOL features.
Yaassss!
Sharp and clean design will display your vacation listings beautifully on different screen sizes (mobile friendly), offering your clients a friendly online experience.
Besides, Oceanica comes with social media icons for quick connection. Yup, you can brag on Instagram about your GORGEOUS rentals.
Oceanica features:
300+ sales
4.8+ star ratings
Great properties listing
Multiple pricing options
Price: $79 (may vary)
MORE INFO / DOWNLOAD
DEMO
5. The Happy Inn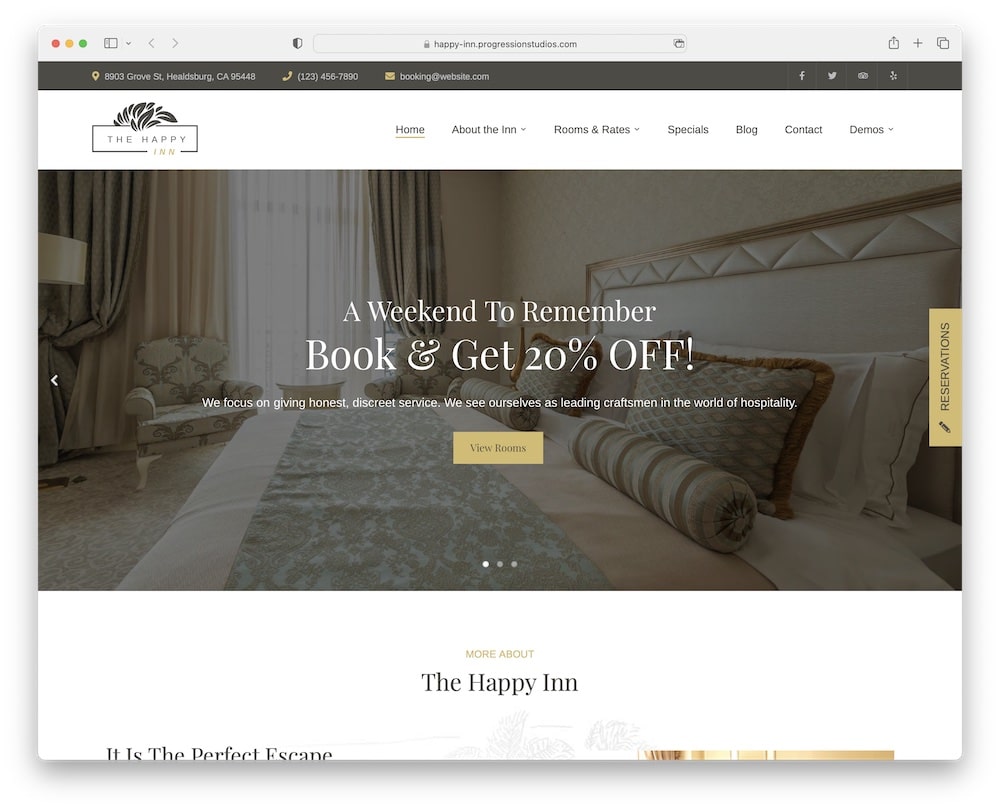 This WordPress vacation rental theme is perfect for luxury villas, guest houses, holiday rentals, and boutique hotels.
And newsflash: You don't need to be a developer or designer to partake!
You can customize the Happy Inn with drag and drop WordPress page builder. Change the header & footer, add a beautiful slideshow, play with colors, fonts, and the mega menu.
Total freedom!
Oh, and Hey! Google Maps on your site is not optional. You must.
Note: You may be interested in reading our guide on how to add Google Maps in WordPress.
Moreover, with The Happy Inn, you can create unlimited image galleries.
Remember, users scan websites; they don't want to read all your content. So take extra thought while choosing your final images.
Get your hands on The Happy Inn today!
The Happy Inn features:
450+ sales
4.6+ star ratings
Editable footer & header
Excellent support
Price: $59 (may vary)
MORE INFO / DOWNLOAD
DEMO
6. Chalet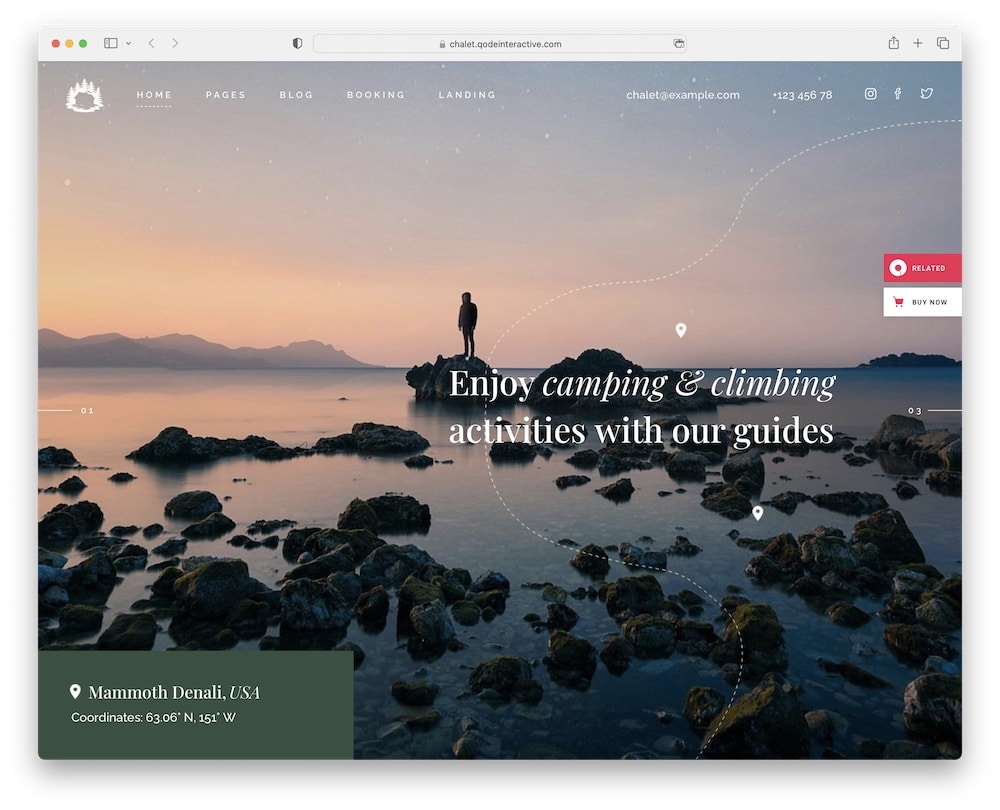 Expand with the charming Chalet WordPress vacation rental theme – NO limits.
Your visitors can discover beautiful rentals, check availability, schedule their stay and pay for chosen real estate – ONLINE -due to Chalet's smart features.
It doesn't get easier than this!
Moreover, Chalet is compatible with Elementor, WooCommerce, Contact Form 7, and Slider Revolution. Party time!
And if you ask me, everyone will enjoy flipping through your blog if you make it valuable (share tips, tricks, and things to do on offered locations).
Chalet also offers numerous shortcodes that you can place on your site to gain specific features such as banners, buttons, pricing tables, testimonials, and much more.
Whew. Now you have it.
Chalet features:
160+ sales
4.5+ star ratings
Contact form plugin compatible
Price: $79 (may vary)
MORE INFO / DOWNLOAD
DEMO
7. Luviana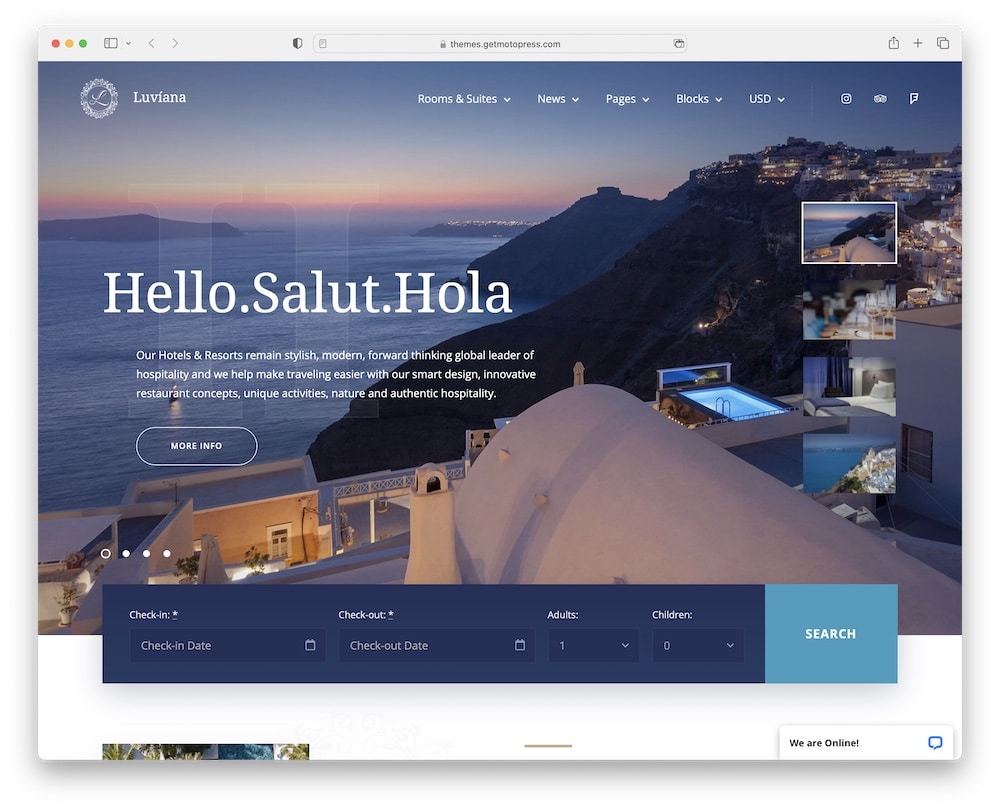 Life is just better with Luviana WordPress vacation rental theme! #elegant #premium #posh
Luviana comes with all the must-haves and can be used out of the box for an instant result.
But if you have a personal style in mind, edit it as you wish (WITHOUT coding).
Simple.
IMPORTANT: MotoPress Hotel Booking plugin (included for FREE) offers property management software, a reservation system, online bookings, and instant online or offline payment.
Plus, you can set up automated email marketing with integrated MailChimp.
Luviana also handles taxes & fees, GDPR, and can be synced to Booking.com, Airbnb, and more.
Seriously? I know, too good to be true, right?!
Check. Check. Check.
Luviana features:
530+ sales
4.1+ star ratings
Syncs with OTAs
Single & multiple property layouts
Price: $79 (may vary)
MORE INFO / DOWNLOAD
DEMO
8. Gast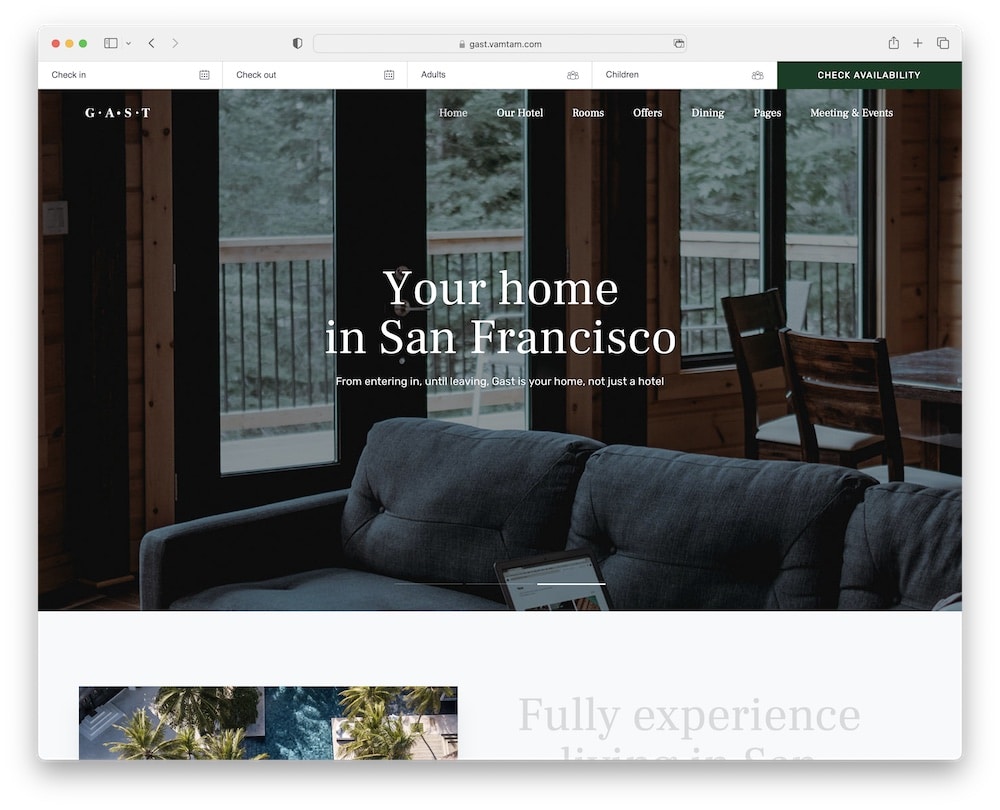 Gast WordPress vacation rental theme will become your most prized possession.
I love that you get room & availability management forms, multiple payment gateways, and a contact us form for quick communication.
Besides, you can customize and adjust the pre-made design with the real-time editor (easy to work with).
No more guesswork. Yay!
Fun feature alert: Custom icons are super imaginatively crafted exactly for vacation fans.
Moreover, Gast is made for great performance with SEO-ready optimization, fast page load, and responsive design. Plus, video background sections are "OH WOW" moments.
And for the record, Gast offers a 30-day money-back guarantee. This is a miracle of EPIC proportions.
Gast features:
350+ sales
5-star rating
Room availability & management
Various payment gateways
Price: $89 (may vary)
MORE INFO / DOWNLOAD
DEMO
9. WP Rentals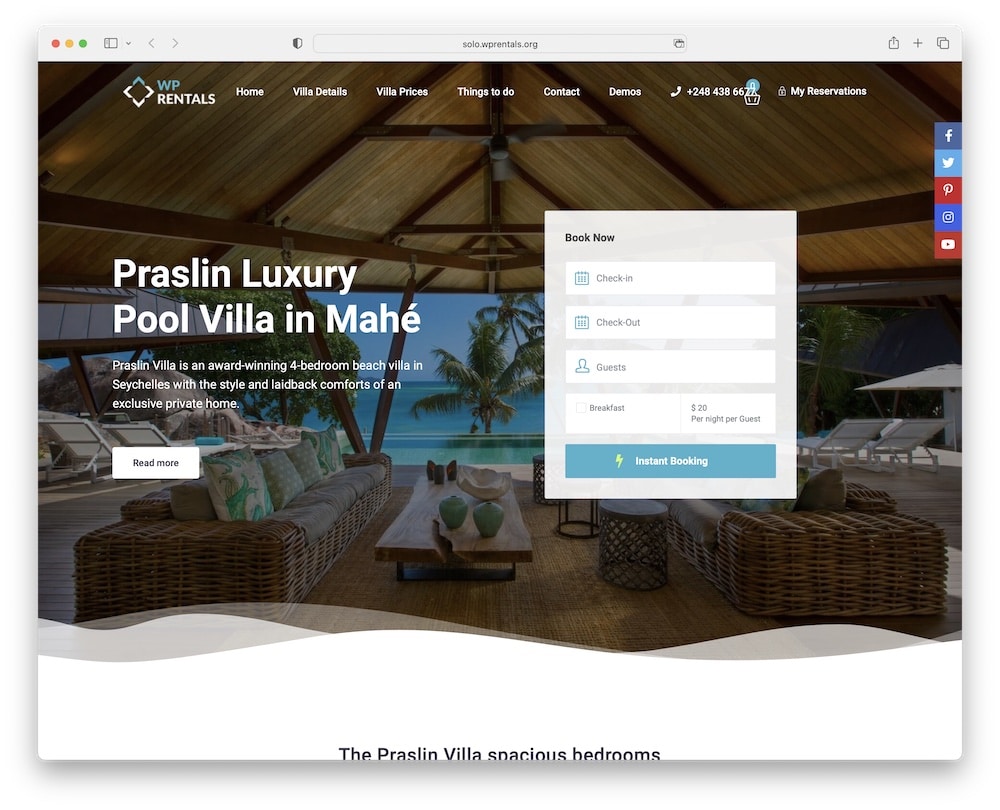 WP Rentals WordPress vacation rental theme will serve you beyond your expectations. Where do you sign up, right?
And it's so handy to customize WP Rentals. You just open the WordPress admin panel and put to use all of the elements via Elementor page builder.
This is not fancy, people. Not fancy at all. Everyone can do it!
Also, WP Rentals includes pre-made pages, property lists (various WP sidebar positions), beautiful header styles, mega menu, tons of booking options, and advanced search functionality.
But synchronizing your availability calendar with Airbnb, Booking.com, HometoGo, or other booking platforms is probably my favorite feat. Wicked!
Get all and more from WP Rentals.
WP Rentals features:
10,800+ sales
4.8+ star ratings
SMS notification (Twilio API)
Instant bookings
Price: $69 (may vary)
MORE INFO / DOWNLOAD
DEMO
10. Homey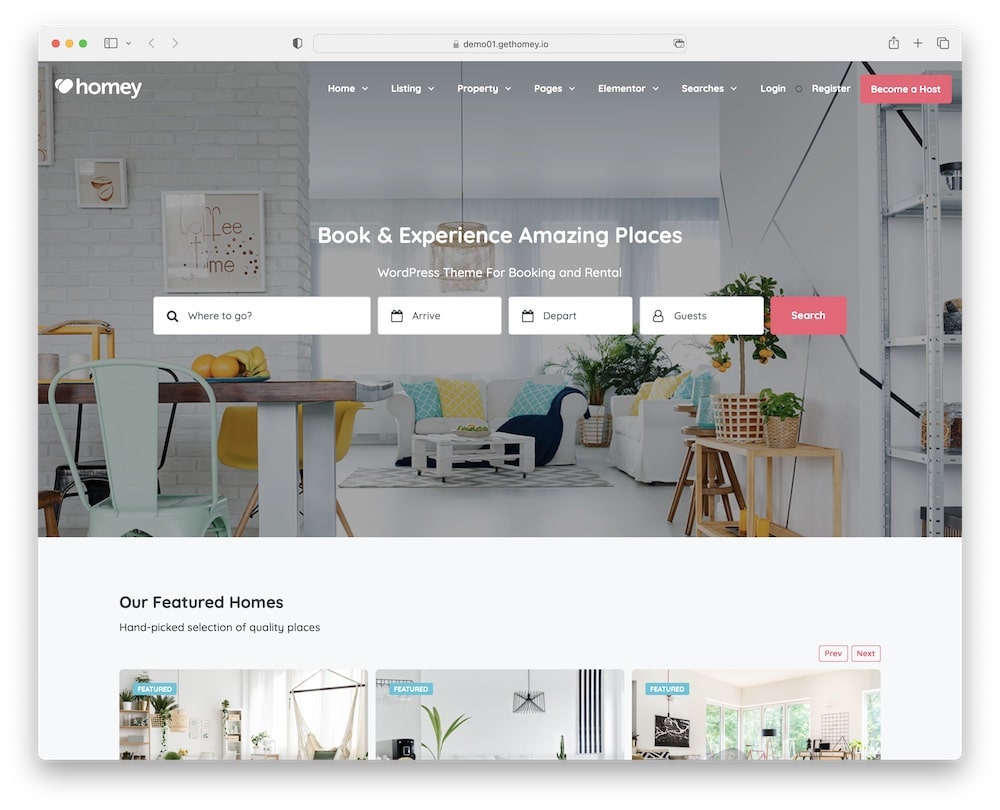 Get all that you desire from the fantastic Homey WordPress vacation rental theme.
Sooo trouble-free to customize with such incredible results.
Keep in mind, with Homey, you get to choose between WPBakery and Elementor page builder. Yup, drag-n-drop baby, along with the best plugins and pre-designed options.
In fact, Homey offers a smart booking system, easy-to-use forms, various search filters, user profiles, Google maps, and is fully integrated with the most popular payment gateways.
These features are focused on one goal – getting you more bookings!
Everything you love about your Homey gets even better with well-prepared documentation, top-notch customer support, and FREE lifetime updates.
Homey features:
5,200+ sales
4.6+ star ratings
Excellent user experience
Easy listing management
Price: $69 (may vary)
MORE INFO / DOWNLOAD
DEMO
Best Free Vacation Rental WordPress Themes
11. Resort One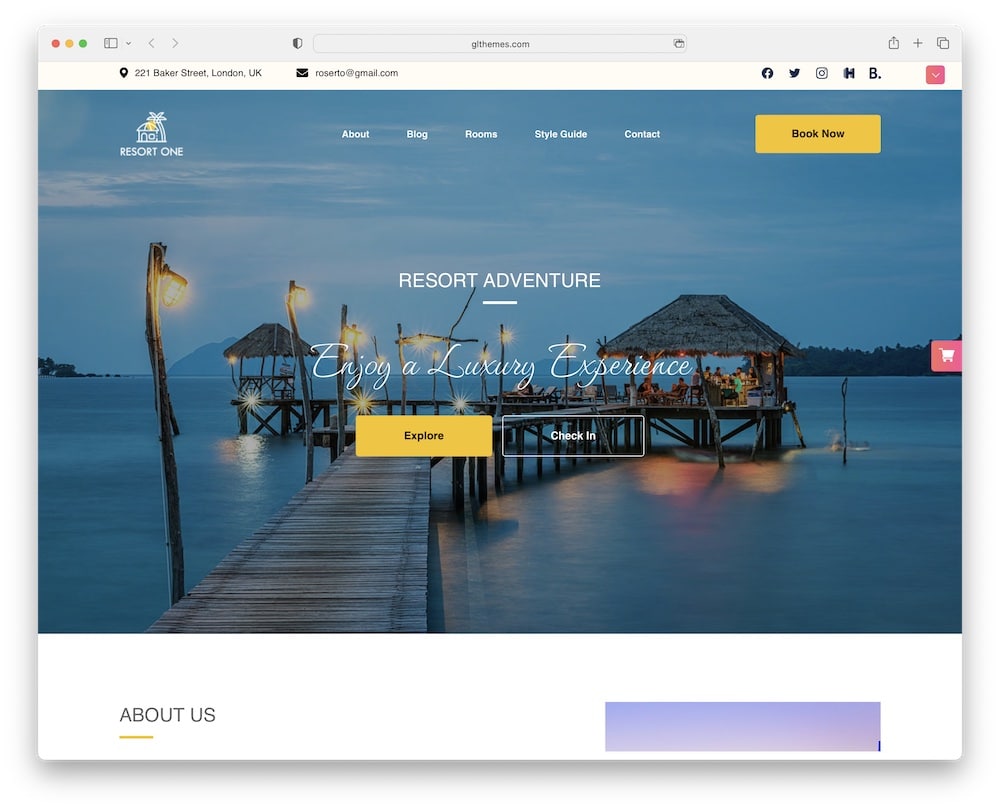 Shine like a star due to the elegantly designed Resort One, a free vacation booking WordPress theme.
Like me, you can start by adjusting the header & footer, choosing the position of the sidebars, and fixing the menu to your liking.
Resort One is also responsive (Hello, various screen sizes!), SEO friendly and cross-browser compatible. Plus, it loads fast (Pingdom Tools: 1.78s load time)!
Thankfully, Resort One is so creatively laid out that your visitors will get inspired as they will scroll through high-quality images of your real estate and luxurious rooms.
The included blog layout perfectly tells your story and presents landscape, travel tips, and activity recommendations.
Remind your clients how beautiful our world truly is!
Resort One features:
100+ active installs
Minimalist design
RTL compatible & translatable (use any WordPress translation plugin)
Lifetime (regular) updates
Great performance
MORE INFO / DOWNLOAD
12. Party Villa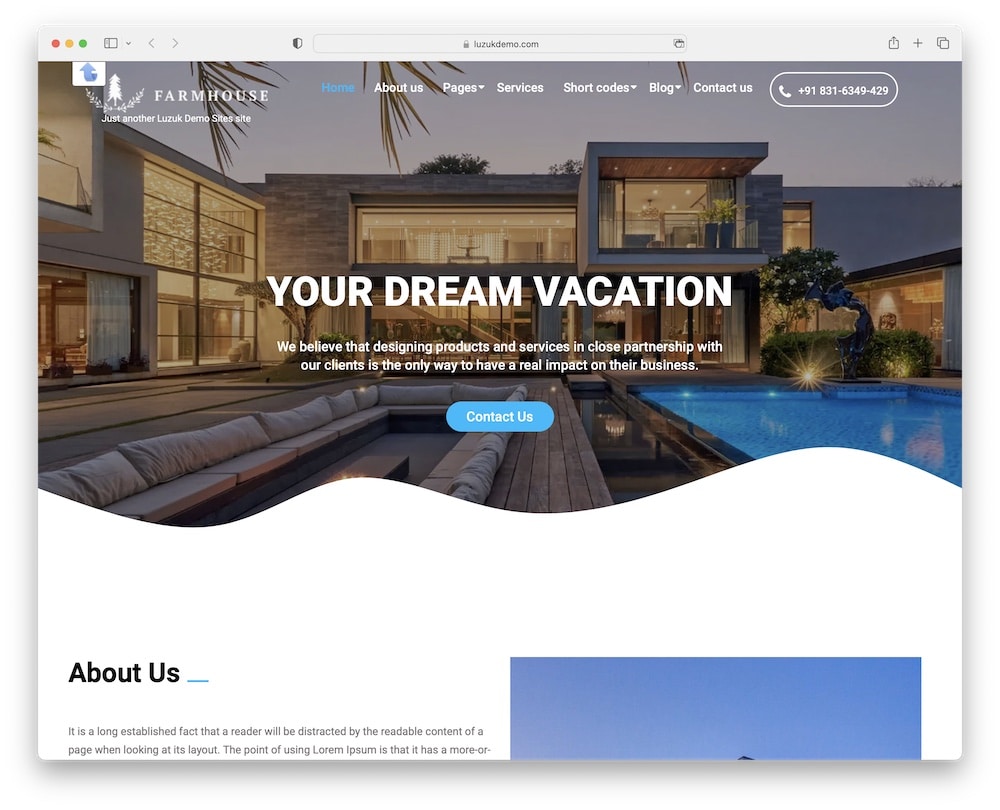 Make Part Villa free vacation rental WordPress theme's radiant design yours!
It offers a modern presentation of your business, services, and dream rentals. You can customize its look even if you are a newbie – you have nothing to lose!
And if you want more functionality, you can always add extra plugins.
Remember, you already get the EPIC WooCommerce, providing online payments and various gateways for a great user-friendly experience. HI5!
Plus, with Party Villa, you can focus your time locally or globally due to its translation-ready feature.
BTW: If social media is adding popularisation to your business, simply connect it with integrated icons.
Life is just better with a beautiful website!
Party Villa features:
100+ active installs
Frequent updates
SEO-ready code
Lightweight for fast loading
Full-width slider
MORE INFO / DOWNLOAD
6 Essential Features For Your Vacation Rental Website
You must knowhow to choose the ideal WordPress theme for your business.
Thus, here are six of the must-have features that any vacation rental website should have.
These are also the ones that we used when conducting this review for your convenience.
1. Beautiful design
The first thing that everyone will see is your site's design.
It needs to be pretty; that's it!
But how do you achieve the best result?
To keep it SIMPLE and MINIMAL.
Instead of overcomplicating with flashy stuff and special effects, keep it clean and focus on beautiful images and videos that will WOW your visitors.
2. Responsive layout
Okay, this one might come first because if your website isn't mobile-ready, people won't even be able to tell if it's beautiful or not.
LUCKILY, all WordPress vacation rental themes we have here are responsive by default.
Also, we MADE sure to choose only fast WordPress themes, so your visitors can enjoy the best performance.
3. Excellent listing pages
Another big thing you need to pay CLOSE attention to is listing pages.
Whether it's a room or an apartment, ensure the presentation has the necessary visual content and all the other details.
I've seen so many vacation rental websites with poor listing pages, which were actually the main reason I didn't make the booking.
Poor listing pages = lost business.
4. Online booking
While many work with 3rd party services like Booking and Airbnb, you can avoid fees by having your online booking system – on your website!
That's why the best WordPress themes come with built-in booking, but you are free to install a WP plugin and integrate the system yourself.
It's VERY easy to do!
5. Reviews
Customer reviews and testimonials will raise your potential because they'll help build trust in your vacation rental business.
Reviews WORK great on your home page, but we also recommend adding them to your individual listing pages.
You can also add star ratings for extra engagement.
6. Blog (with recommendations & tips)
Too few do it, so this is something that can differentiate you from the masses – easily.
Start an active blog that's exclusive to your vacation rental business and location.
Provide recommendations, tips, best food places, safe/unsafe streets, ultimate shopping spots, etc.; the topic ideas to cover with blog posts are endless.
And what's EVEN BETTER, you can expect more traffic to your site through SEO optimization.
You can even read our how to rank new WordPress content faster guide to achieve better results.
::
Note: This article was originally published on September 21, 2022. But our team regularly reviews it and updates it with necessary improvements for accuracy.