The struggle of building a solid car booking website ends now with these ultimate car rental WordPress themes.
It happened to me so many times in big cities – when trying to pick a good car rental, their website (especially on mobile) sucked so much that I instead went by foot.
Please stop it.
I thoroughly reviewed and tested these 12 WordPress themes that guarantee an excellent website.
And what's even better, you can achieve PRO-LEVELS quickly and effortlessly.
This post covers:
Either you have a great website, or you don't and rely on 3rd-party platforms.
I highly recommend you build a business site since it'll help you take things to the next level.
Do it like a champ! Because you can!
Quick-Pick: Our Best WP Themes For Car Rentals
Best Car Rental & Booking WordPress Themes
1. Grand Car Rental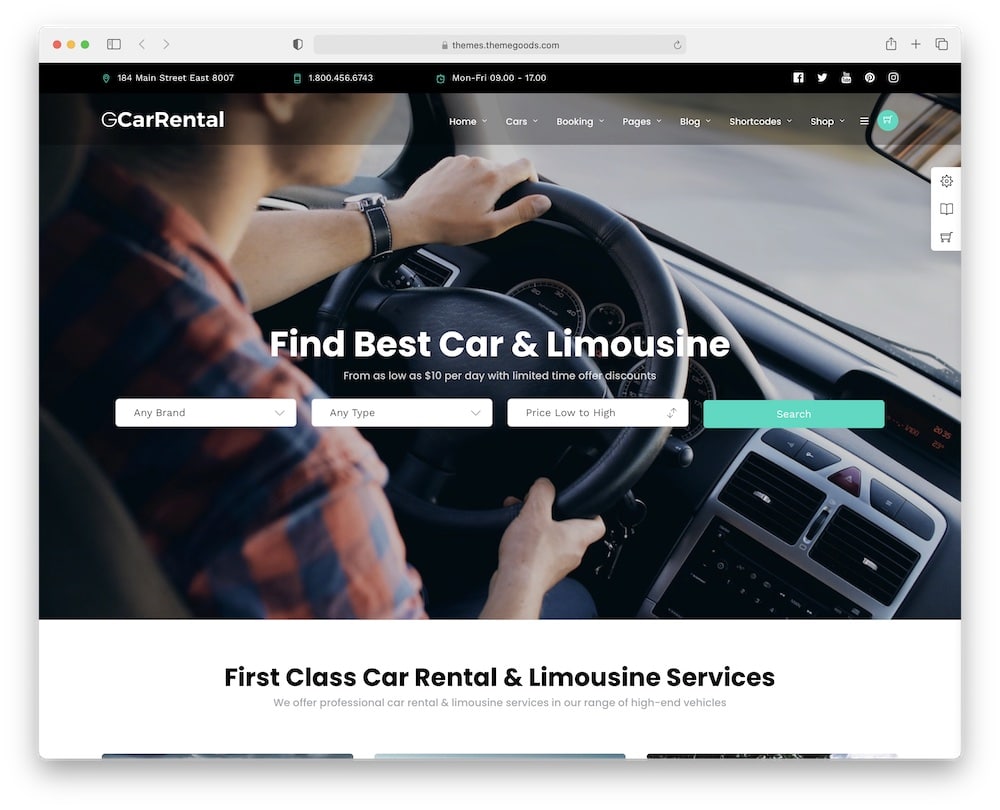 What exactly is the car rental business, you ask? Friends, it's a lifestyle.
It's like to ride but not to drive, like to be free, cozy and safe, no-problem transport kind of lifestyle.
It fits SO many people in busy cities and the Grand Car Rental car booking theme will fit your lifestyle as well.
Grand Car Rental comes with a one-click demo import that includes pre-made pages, posts, WP widgets, menus, sliders, and complete theme settings.
Impressive (totally!).
Plus, you can simply add car video reviews, luxury car galleries, customizable booking forms, coupons or discounts, and price per day display (multiple pricing).
Yep – lots of treats for your visitors!
Grand Car Rental's outstanding customer support gives you a professional and friendly hand when needed. HEY, from time to time, everyone needs little extra help.
Grand Car Rental features:
1,600+ sales
4.5/5 star rating
Price: $64 (may vary)
MORE INFO / DOWNLOAD
DEMO
2. Car Rental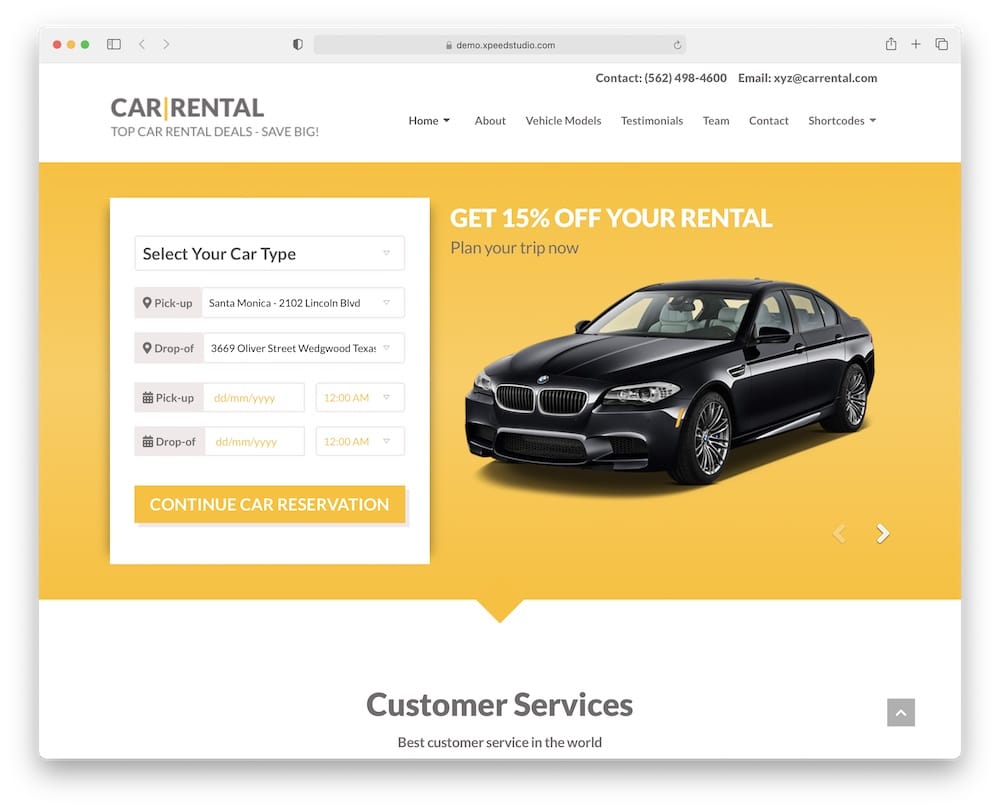 If it feels like I'm selling you something, it's because I am. I AM SELLING YOU WONDERFUL car rental WordPress theme.
HI5.
While most websites require too much energy to make it, Car Rental is on in just minutes – Hooray! The minimal effort involved due to pre-made templates, smart plugins, fun WP animations, and cool extensions is worth your time.
More than worth it!
You can choose colors, icons, and typography based on your business recognition and create an "OH WOW" moment for your visitors.
Don't just make a site, nail it!
Tip: Car Rental includes translation-ready files, take this advantage and become a global brand!
And PLEASE know, when I share a theme, it's because I really, really, really love it. And I know you will REALLY love Car Rental, too.
Car Rental features:
MORE INFO / DOWNLOAD
DEMO
3. Autostar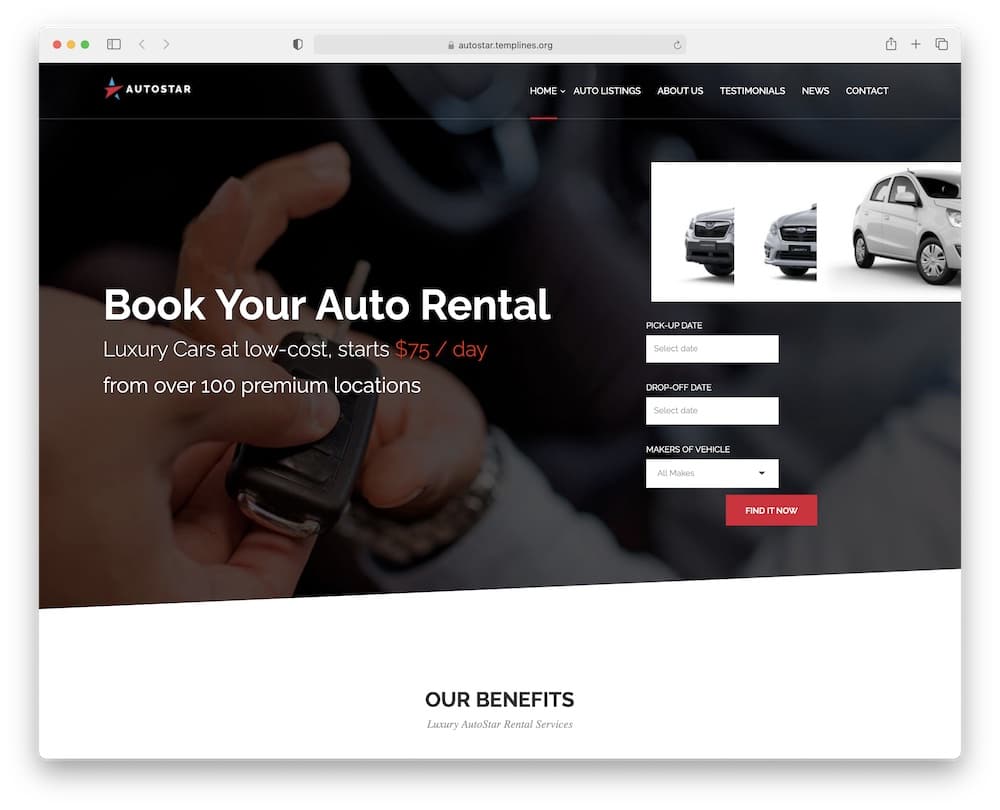 Can I blow your mind for a second? Welcome to the responsive and modern Autostar car rental theme.
Designed to simplify your car rental business with plenty of useful and creative tools.
It is SO. DARN. BEAUTIFUL.
And if you like what you see, you can try it out first before buying. Saaay whaaat? YES.
Another great reason to choose Autostrad is the easy and fast booking system – your customer has to press a few buttons and Voilà (brilliant and sound).
Benefit: You can even add a WP blog (latest news & tips), and OF COURSE customer reviews and testimonials for building trust.
The opportunity you can't miss!
Autostar includes everything you need for a successful start.
Autostar features:
460+ sales
4.7/5 star rating
100s of elements
Great support
Price: $39 (may vary)
MORE INFO / DOWNLOAD
DEMO
4. City Cruise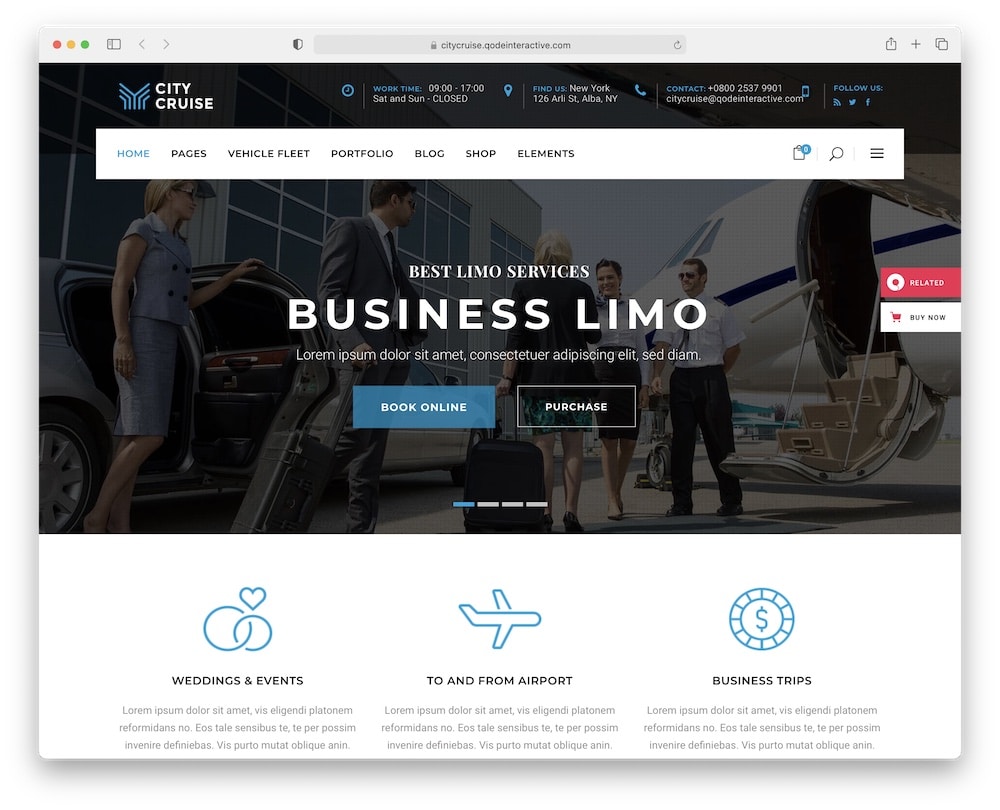 Alright! Today is your day to check out City Cruise car booking theme. It is super versatile, so you can customize it to your fancy.
Pretty sweet!
One of the great features is the stunning WPBakery page builder to help you build faster and better (drag and drop function). OH, and NO programming knowledge is required.
Uhhhhhmazing.
High-quality layouts, different inner pages, a big WP shortcode collection, various widgets, and powerful typography & color options are ALL waiting for you to start creating.
YAY!
City Cruise is fully responsive and retina-ready for the best user experience. Of course, parallax sections and smooth page transitions will also make a MAGICAL impression.
Yes, it's really your day!
City Cruise features:
410+ sales
4.4/5 star rating
Includes WP child theme
Price: $79 (may vary)
MORE INFO / DOWNLOAD
DEMO
5. Autozone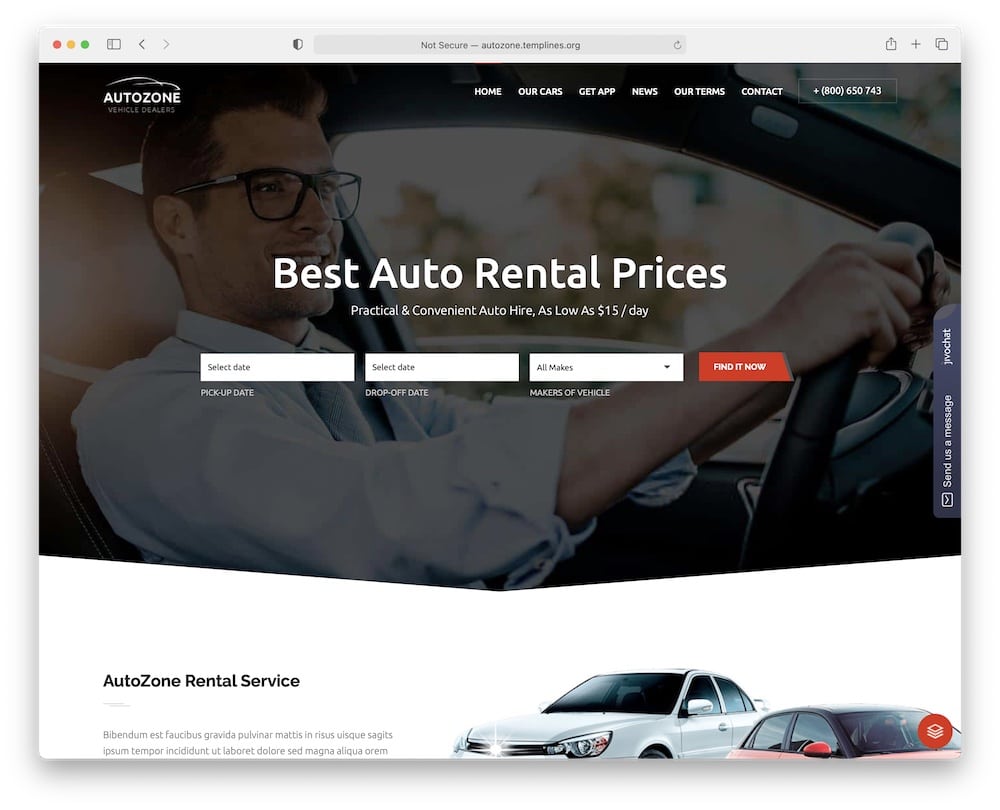 There are a lot of things I like about Autozone car booking WordPress theme. Like, I could write a novel about it. The quality, affordability, variety, unlimited options…
This well-structured theme is just perfect for car rental businesses. A great choice for people who don't have tons of time and knowledge for building a new site.
Keep in mind, it doesn't get easier than this!
And with the powerful WooCommerce plugin, you can simply create your shop for some additional products. Be creative.
Oh, and dynamic Google Maps are included in Autozone for a smooth user experience (real-time traffic updates, best routes, directions).
It works like a charm!
BONUS: You can even monetize your new site with ads, banners, and valuable blog content.
You can't go wrong with Autozone.
Autozone features:
MORE INFO / DOWNLOAD
DEMO
6. Rentacar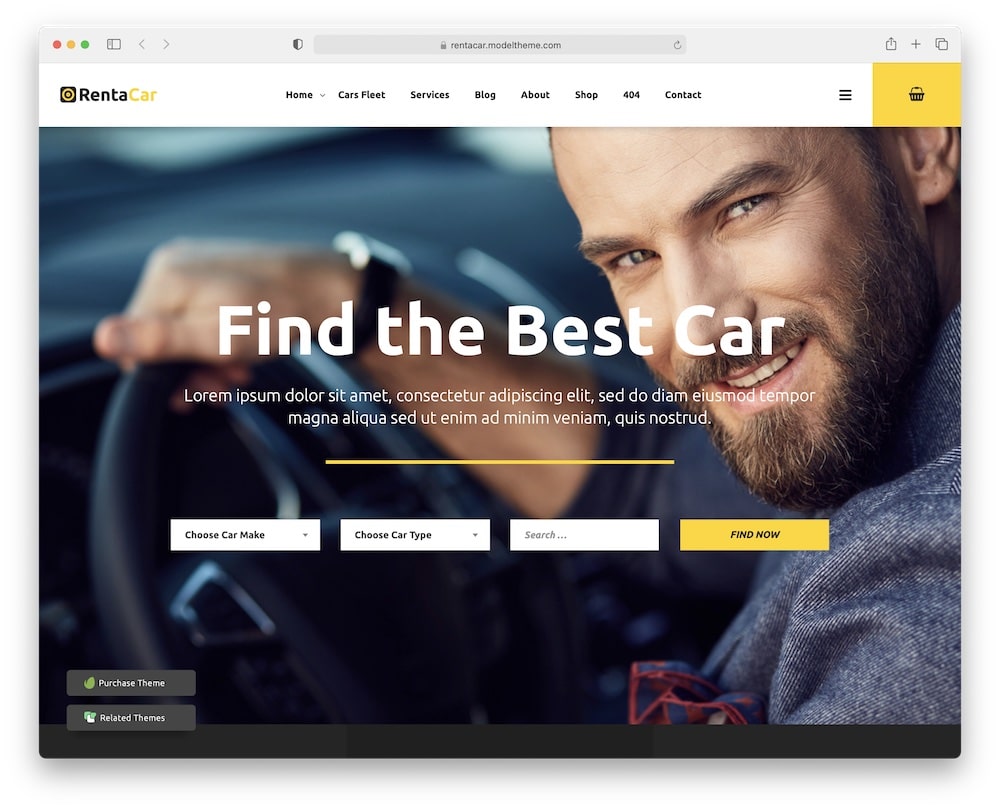 I'm coming to you with exciting news today: Rentcar car rental WordPress theme is ready-to-use and waiting for your brilliant ideas to bring to life!
The faster your site loads, the better – YUP (obviously) Rentacar is optimized for high speed. Note: I also tested it on all major devices (perfect screen fit).
Moreover, I love a blog's excellent go-with-the-flow (interesting, appealing, or exciting) concept. Share news, tips, and wisdom about smart car rent with your audience.
FOREVER. APPRECIATED.
Just in case you want to know more about Rentacar, it comes with clean documentation and a step-by-step guide. On top of that, regular updates are guaranteed (for FREE).
You got this. ♡
Rentalcar features:
190+ sales
4.6/5 star rating
Everything is editable
Feels like app on mobile
Price: $75 (may vary)
MORE INFO / DOWNLOAD
DEMO
7. Rentit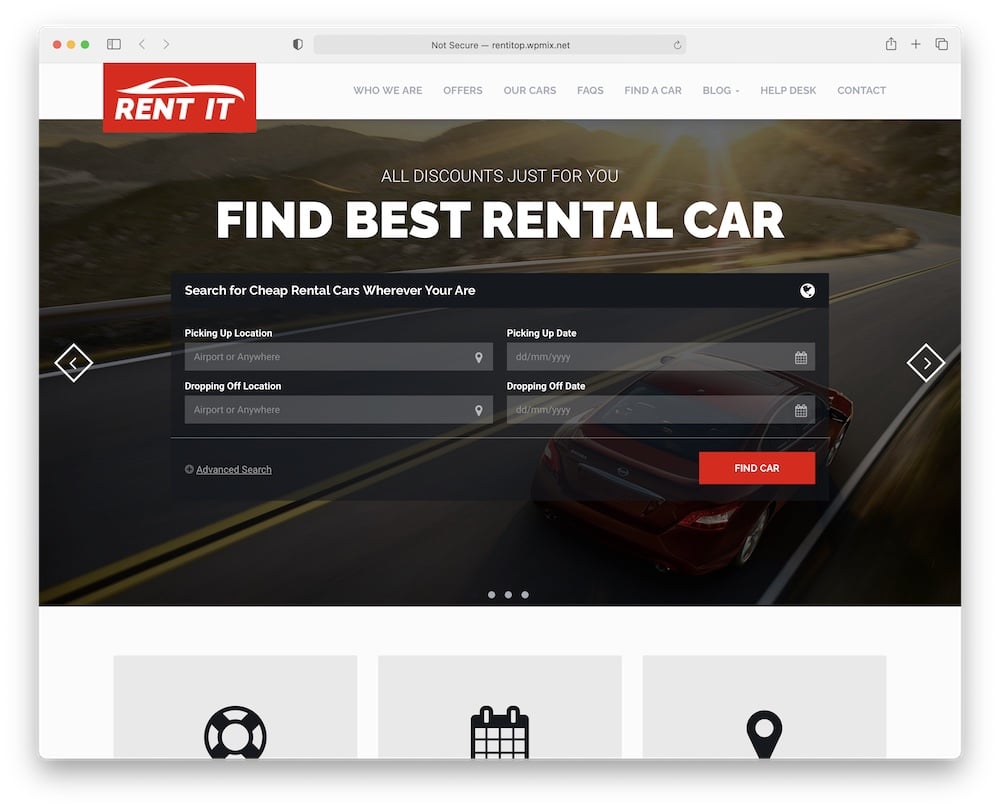 Raise your hand if you're ready for Rentit car rental WordPress theme!
You can start building your future website immediately due to ready-to-use (six included) homepages.
One of the main features is the AMAZING car booking process (integrated with WooCommerce).
SMART. AND. ATTRACTIVE.
You can simply add locations (Google Maps), latest tweets, and WP social media icons, discounts, multiple payment gateways, and stunning video posts. Tons of options!
Plus, Rentit is SEO optimized – it helps you milk more free traffic and sales.
If your hand is still in the air and your heart is locked into this vibe, you must click the buy button!
Rentit features:
1,500+ sales
4.6/5 star rating
Handy filtering
Seasonal prices
Price: $49 (may vary)
MORE INFO / DOWNLOAD
DEMO
8. Efuel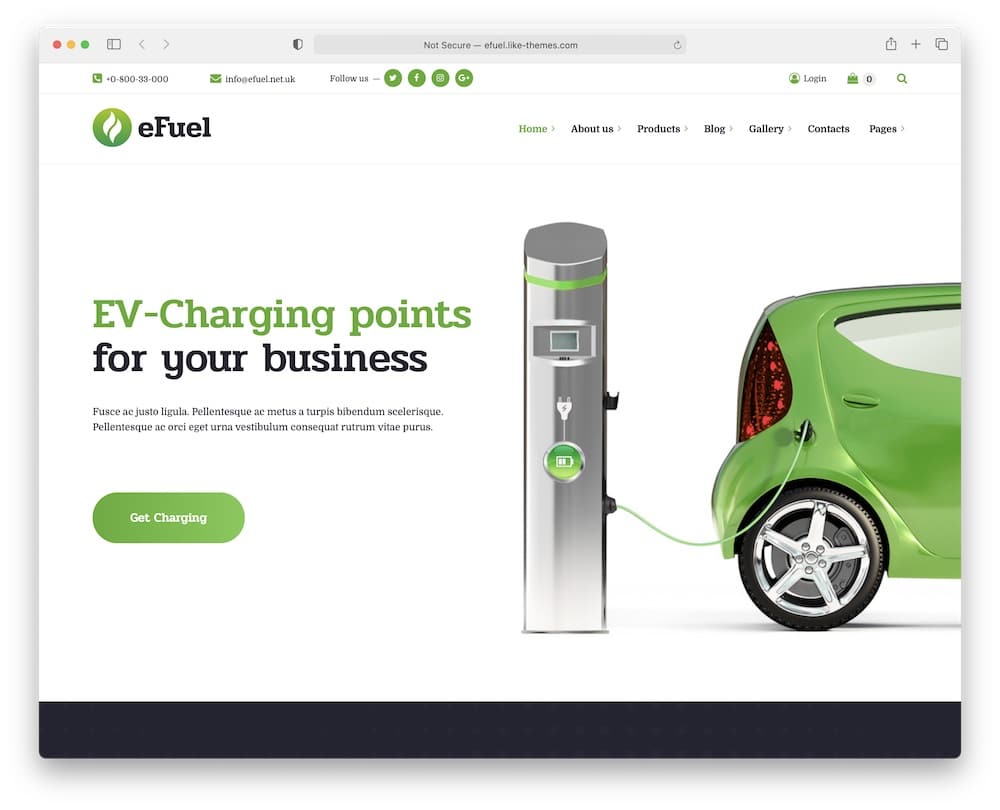 NOPE you didn't see this car rental WordPress theme yet!
Efuel contains unique homepages, different shortcodes, product catalogs, tons of elements, plugins, icons, and sliders.
EVERYTHING you need is here! YAY!
You can easily create beautiful layouts with the WordPress page builder (customize the look 100%) since working with the drag and drop function is fast and real-time.
Unbeatable values are automatic updates and well-documented extras – poof – they will land in your inbox.
Make Efuel your happy place!
Efuel features:
520+ sales
4.9/5 star rating
20+ practical elements
Price: $59 (may vary)
MORE INFO / DOWNLOAD
DEMO
9. Wheelsberry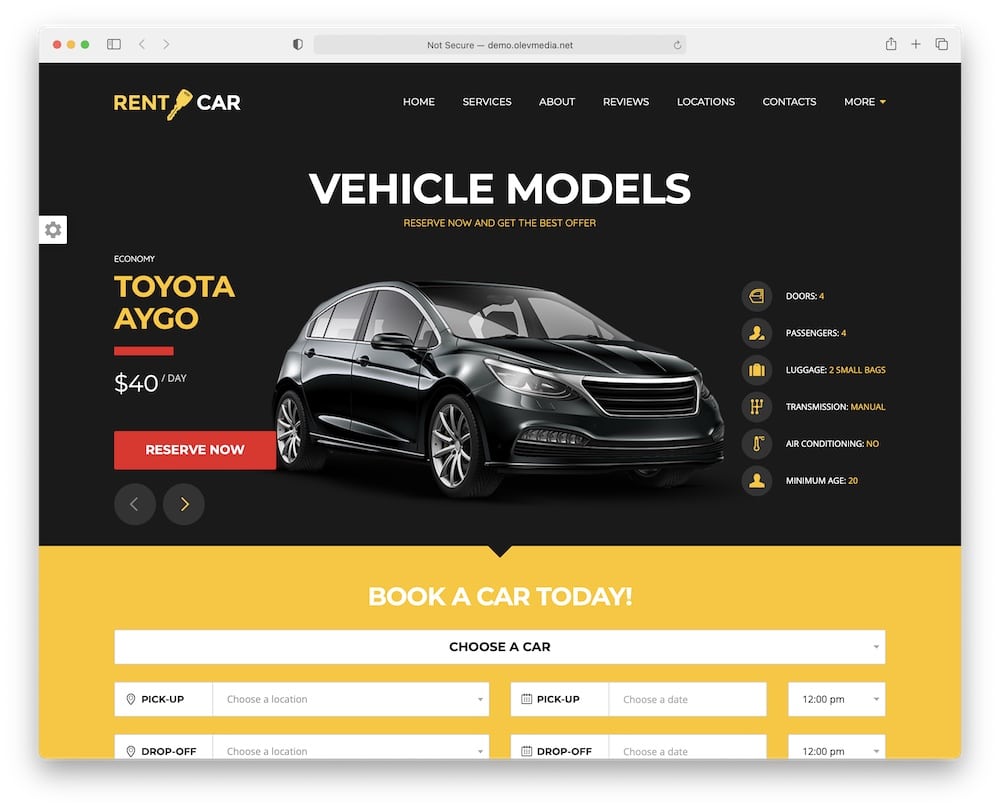 There's no time! But is there ever?
If you feel you need a website super quick, you came to the right place. Start building with a fantastic Wheelsberry car rental WordPress theme.
Yes, yes, yes!
With Wheelsberry, your customer can choose a car online in the clean booking form (customize it as you wish) without any complications.
You can do everything with just some simple clicks. Plus, all the necessary information, extra rent options, and contacts are on the site.
Moreover, you can display Google Maps (pick up and drop off locations), write a valuable blog, and even add customer reviews. Oh, and anyone can reach your car rental service from any device (responsive design).
Sounds GOOD?
This sounds perfect! Bring your business to the next level with Wheelsberry.
Wheelsberry features:
1,000+ sales
4.4/5 star rating
Supports one-page layout
Ready for  enabling RTL in WP
Price: $48 (may vary)
MORE INFO / DOWNLOAD
DEMO
10. Revus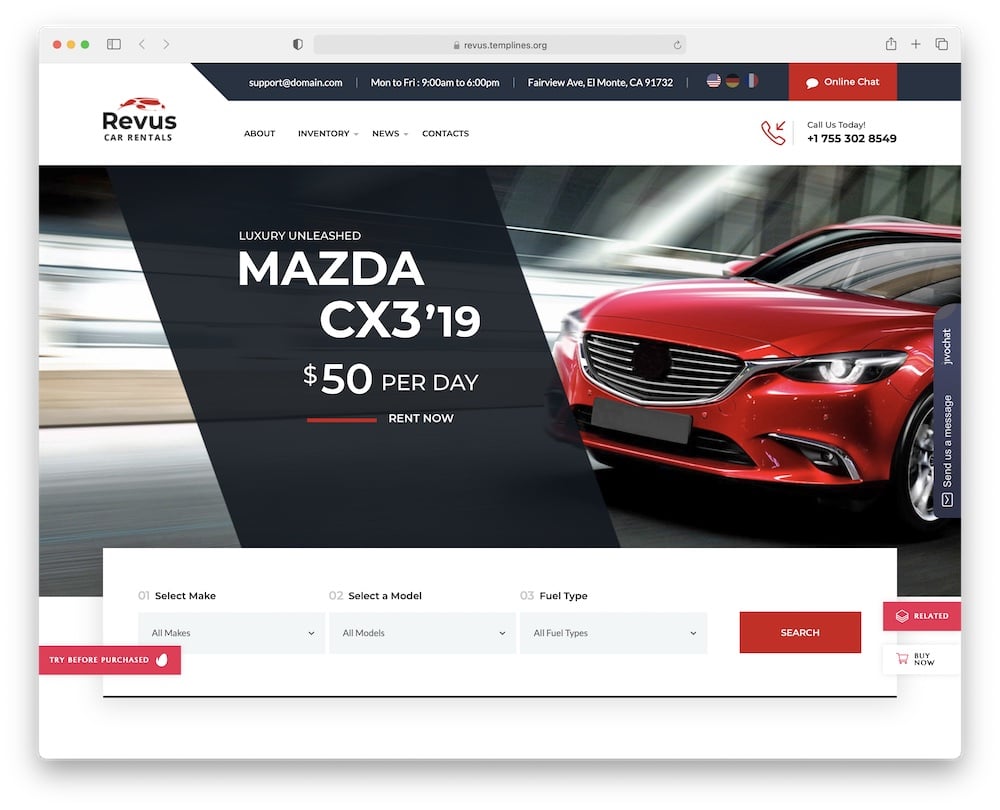 Let me present some ideas to get the most out of your new best friend – Revus car booking WordPress theme. READY – SET – GO!
Revus is a whole-packed deal. You get pre-designed templates, custom shortcodes, many Google fonts, unlimited colors, flexible tools, and different icons.
Yes, you get everything you need to reach your goal 🙂
Sounds like magic?
Even better, because you also get the most popular plugins included for FREE. I know (!) with these tools (Slider Revolution, Contact Form 7, and WPBakery) in your hand, the quality of your site will improve in a BIG way.
Isn't everything better when you put it online?! I sure think so. Bring out the best of your business with Revus.
Revus features:
360+ sales
4.9/5 star rating
Built-in WP live chat
Newsletter subscription form
Price: $45 (may vary)
MORE INFO / DOWNLOAD
DEMO
11. Ireca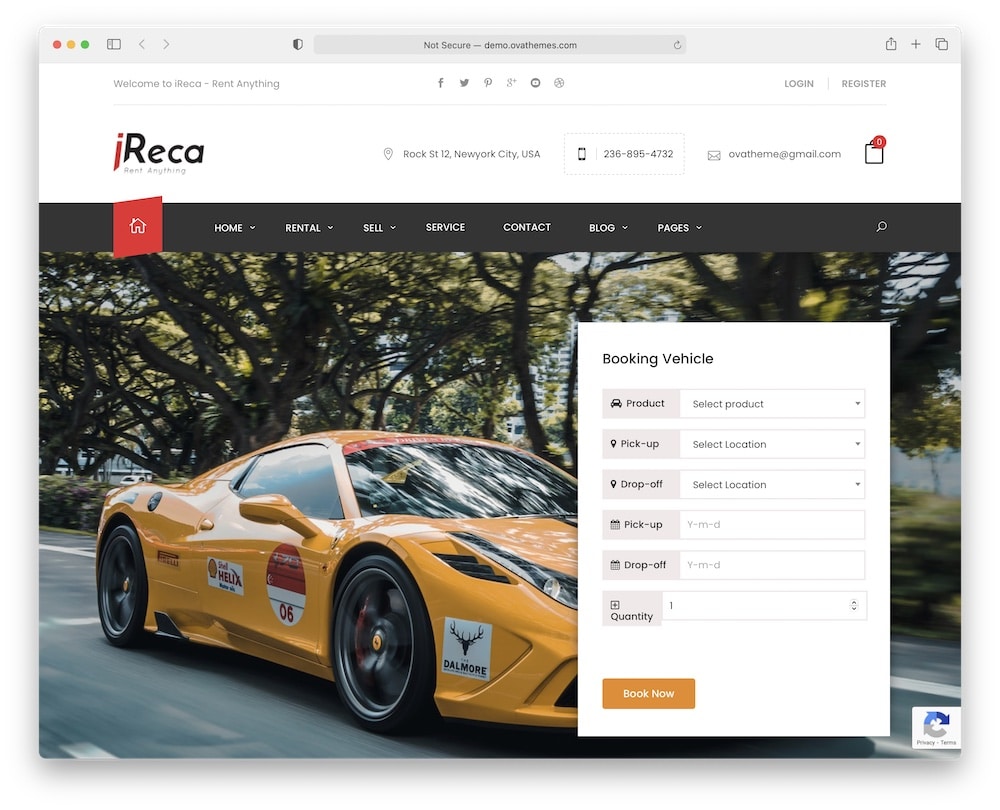 I could keep you here for 100 years to share with you all the great things about owning your website. But I think you already know how amazing is to have your own business.
And hey, everyone reading this: Ireca car rental WordPress theme is SO really, very, worth of your look.
One way to put it – Ireca is super flexible to work with and offers unlimited options to change, add, set up, or mix, provided elements.
Prize winner!
You can simply add a little sparkle to the functionality of your site with a smart time calculation, automatic insurance cost, multiple payment gateways, and coupons.
Who doesn't LOVE coupons???
Heads up for the translation-ready option, too. Keep in mind, Ireca can technically be a polyglot. Just start!
Ireca features:
830+ sales
4.7/5 star rating
Many payment gateways
Can add extra services
Price: $59 (may vary)
MORE INFO / DOWNLOAD
DEMO
12. TanTum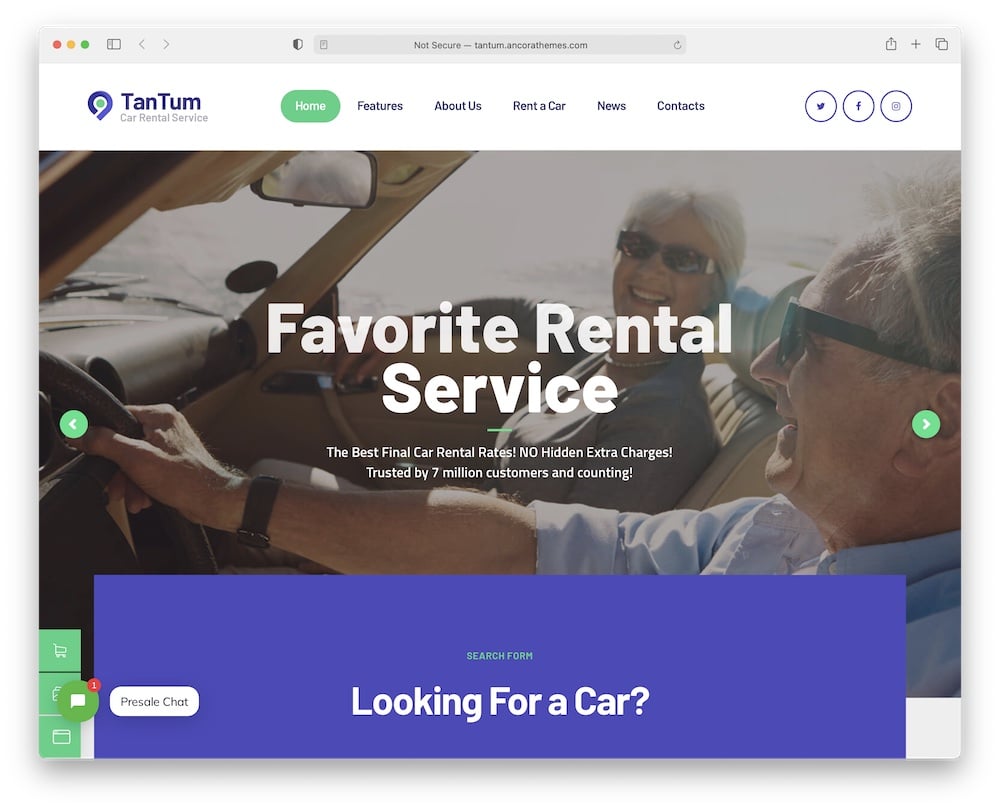 Okay, the last thing I will leave you with is a modern, intuitive, and easy-to-edit TanTum car booking theme.
It works with the most popular plugins and has pre-built demos and layouts.
FAST. INSTALLATION.
Ready-to-use blog layouts are included, too, SO just start writing and adding your valuable content (hint: content marketing!).
Besides, TanTum supports all the brilliant social media platforms – a simple connection with your audience guaranteed.
BIG. YES.
TanTum assures that your new website is cross-browser compatible, mobile-ready and fast loading. This calls for an excellent performance. Hurray!
It's just… five stars.
TanTum features:
380+ sales
5/5 star rating
Ajax search integration
Price: $69 (may vary)
MORE INFO / DOWNLOAD
DEMO
6 Essential Features Of A Car Rental Website
After studying the six must-have features of a great car rental website for many months, I'm revealing them all to you.
These are the essentials, but there are also other details, like social media, Google Maps integration and a blog that will take your website to the next level.
1. Responsive
Your website must be 100% mobile optimized so that you can guarantee the ultimate user experience.
But it's also great if you choose a fast WordPress theme to ensure an epic performance that all your users will enjoy.
2. Vehicles
There's no car rental website without a display of an entire list of vehicles a client can rent.
You can even create a separate page for each vehicle if you want to include images and additional information. (This is something that I recommend you do.)
Luckily, a WordPress theme you pick has all the layouts and elements predefined for your convenience. Fill out the missing data, perform customizations (without coding), and you're ready to go.
3. Easy online bookings
Instead of asking a potential client to make a call to book a car (SO old-school!), integrate an online booking system that's extremely practical and saves a lot of time.
You can also add a form on the front page (above the fold) and on each vehicle's page.
There's one rule: Make it easily accessible so the client can take action fast!
4. Quick & secure payments
Your payments need to be quick and secure, so there's no way a user can change their minds.
Simple steps and multiple payment gateways are vital to keep conversions high.
5. Testimonials
Client feedback and testimonials work like the online version of word-of-mouth recommendations. These are critical and can significantly increase your conversion.
I recommend adding them to the home page, but testimonials can also work great on individual vehicle pages.
Note: You can use our list of the best WordPress testimonial plugins if you need more options.
6. User profile
While you can offer guest car bookings, you should also not miss including the registration option.
Hey, some users will want to book your service multiple times, so offering them a user profile where they can check their history and more is excellent.
You can then also reward your members, heck, even create a membership plan and expand your business over and beyond. And you can use a powerful WordPress membership plugin for this.
Hey! You may also want to read our full tutorial on how to install a WordPress theme if it's your first time. (Don't worry, it's suprt easy!)
::
Note: This article was originally published on November 17, 2021. But our team regularly reviews it and updates it with necessary improvements for accuracy.