We ended up with a solid collection of transportation WordPress themes after working with five companies (4 local & 1 global) in the past two years.
So it was about time to share our best picks with you.
We thought, "If these work for us, we're SURE they'll work for many others, too."
From transportation and trucking to cargo, warehousing, logistics, shipping, moving and delivery, the tools here cover it all.
You never need coding and design skills when building a successful beautiful transportation website.
Plus, the process is always quick and effortless.
Note: Some themes come with a cost calculator (user experience booster!).
Take your transportation services to the next level!
Best Logistics & Transportation WordPress Themes
1. Transport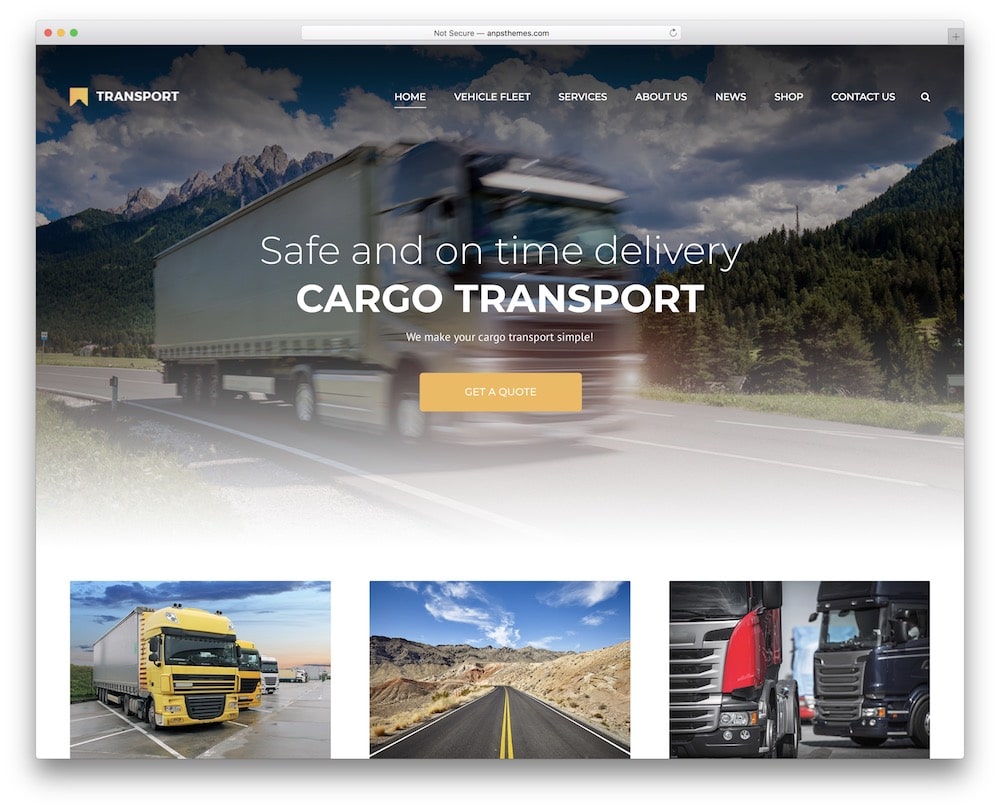 Transport is a WP theme that focuses heavily on shipping, delivery and storage services for companies that are in the transport and cargo business.
The whole theme is user-friendly and optimized for anyone.
So, if you are a seasoned professional in these waters or just an amateur starting his own business, this transport company WordPress theme is a great find.
WPBakery Page Builder, Slider Revolution and WooCommerce support are mandatory in this tool.
Some other ADVANCED features include unlimited colors, Google Maps, header styles and unlimited layouts are all here and ready for you to set up and enjoy.
Transport features:
1,800+ sales
4.4+ star rating
88 practical shortcodes
Price: $59 (may vary)
MORE INFO / DOWNLOAD
DEMO
2. Cargo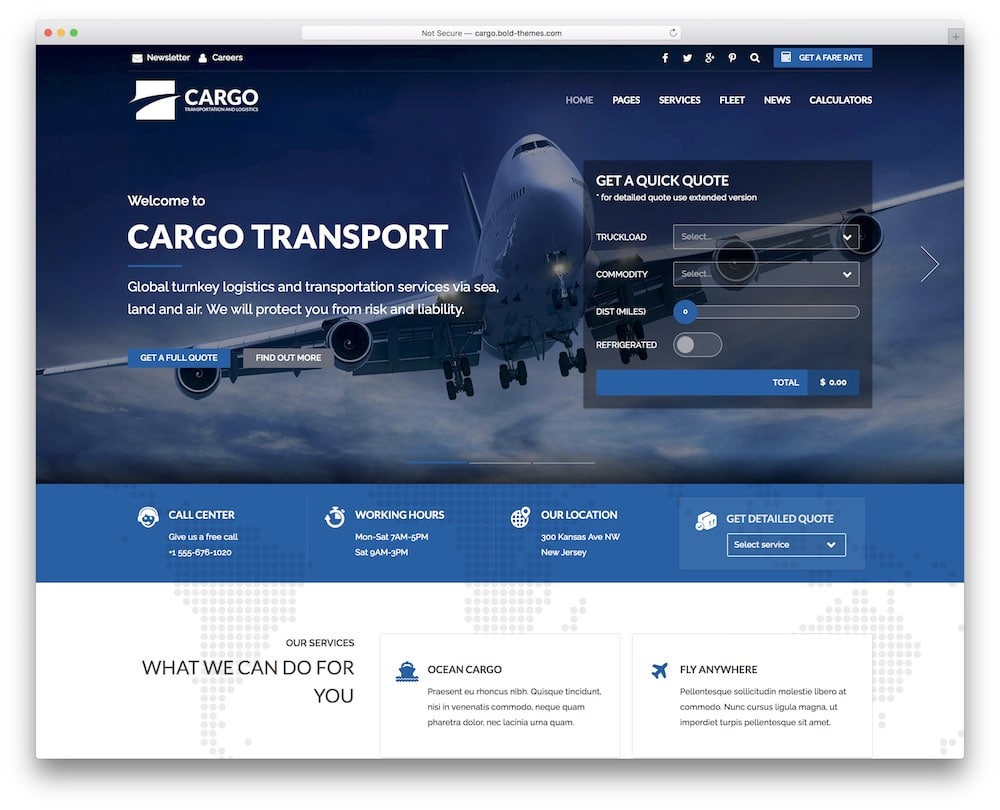 Cargo offers you a wide array of options and features to choose from if you are looking for a transportation WordPress theme.
The tool easily satisfies owners' desires and wishes due to its spectacular flexibility.
It has quote calculators, three blog layouts, many header styles and UNLIMITED customization options.
Cargo is translation-ready and comes with different main samples to choose from for an instant start.
Cargo features:
1,800+ sales
4.4+ star rating
Cost calculator
Price: $59 (may vary)
MORE INFO / DOWNLOAD
DEMO
3. Transcargo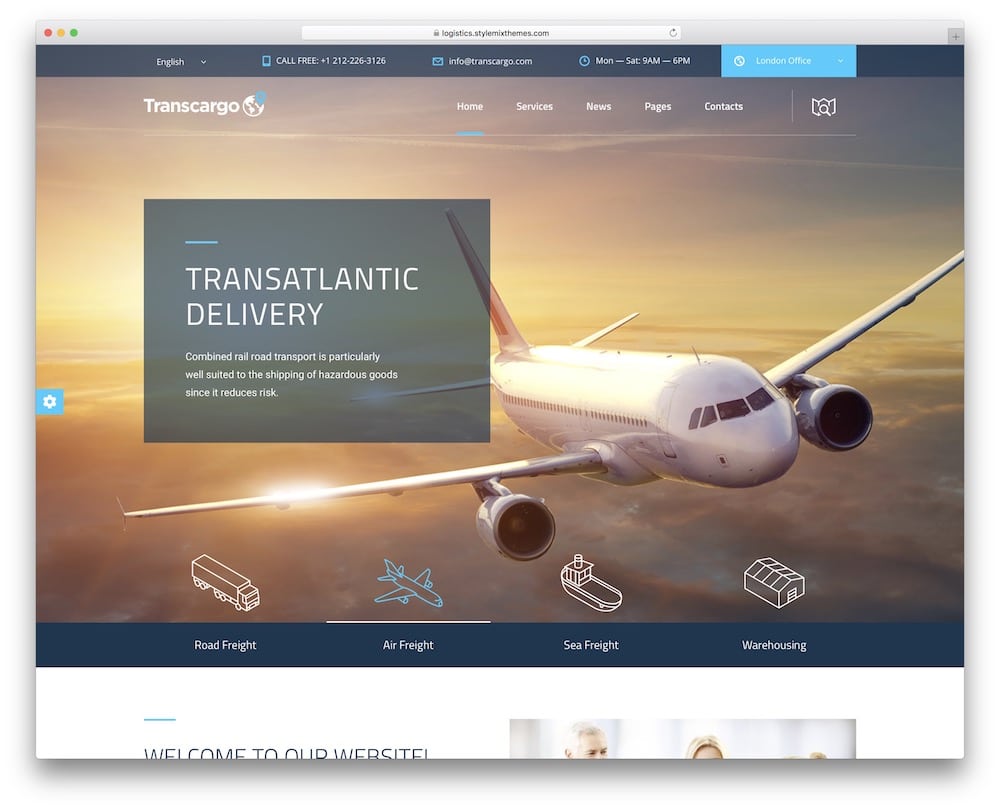 Transcargo is a theme that is made by studying and researching many shipping and transportation company websites.
With this, the author was able to find the best possible solution for a transportation WordPress theme.
It has road, air and sea freight options for choosing, catering to different industries efficiently.
Transcargo is fully responsive and easy-to-use due to its interface that works wonders paired with its intuitive drag and drop page builder.
It's WPML and translation-ready and also has two service listing layouts.
Transcargo features:
3,000+ sales
4.8+ star rating
Google Maps with multi-location
Mobile- and cross-browser-ready
Price: $59 (may vary)
MORE INFO / DOWNLOAD
DEMO
4. Moovit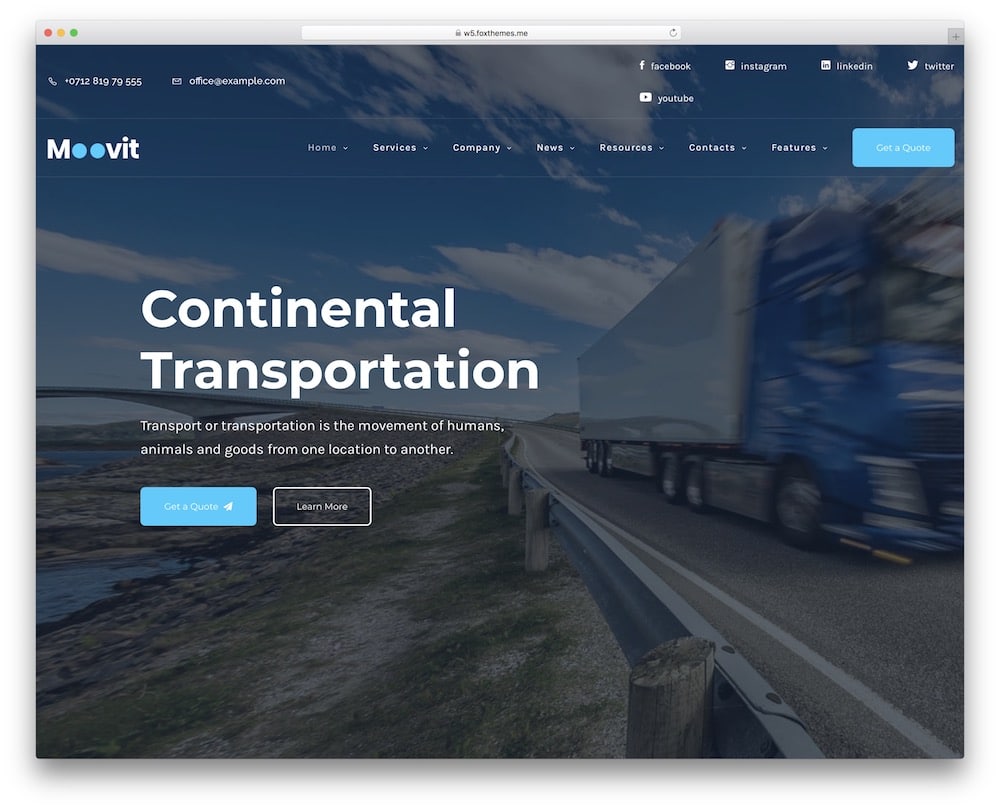 This theme is optimized for a business that has several forms of services available. Moovit transportation WordPress theme is an easy-to-use tool for cargo and transportation websites.
It is fully optimized to suit your service requirements.
However, if you need this theme for something else, that's also an option. (You can quickly customize it without coding!)
It works for relocation services, cargo, freight, warehouse transport and oh SO MUCH more.
If you are on the hunt for a theme that works for multiple niches, that's when you opt for the top-class Moovit.
Moovit features:
440+ sales
4.5+ star rating
Online appointments & booking calendar
Price: $49 (may vary)
MORE INFO / DOWNLOAD
DEMO
5. Wheelco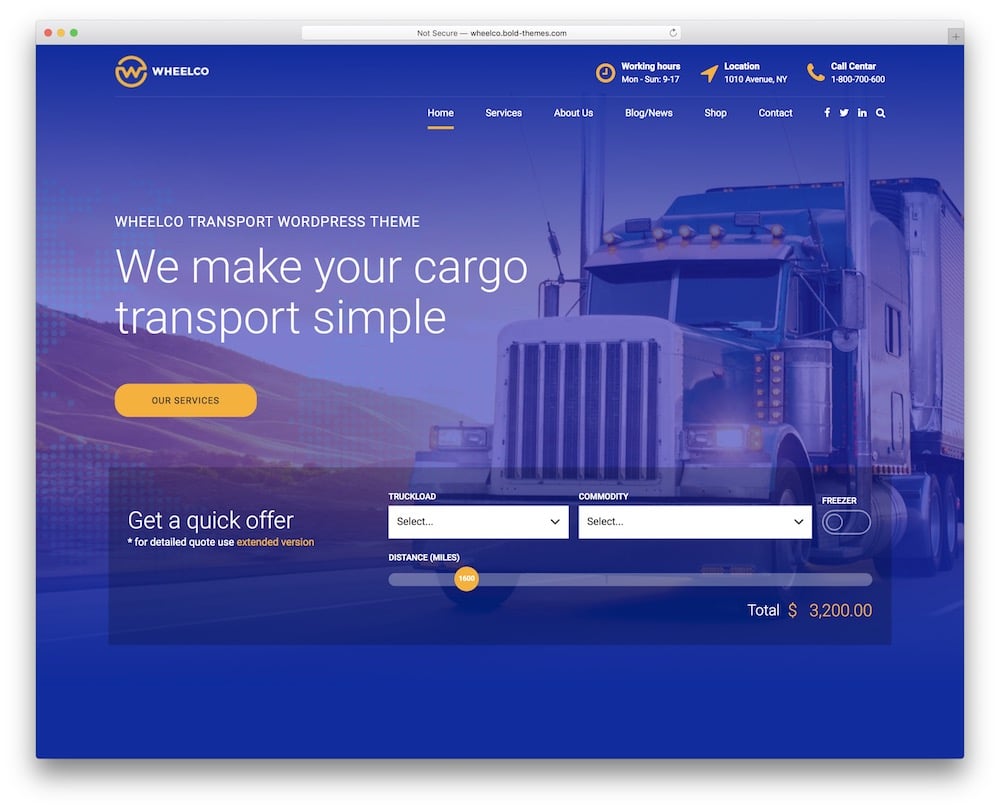 Wheelco is a transport WordPress theme that is fully optimized for new users, and easy to customize to almost any of your requests.
It's translation-ready, child theme compatible, and follows all the LATEST trends and regulations of the web.
Wheelco is great for business owners who want a transportation WordPress theme that will suit all their needs.
It's carefully crafted with hand-selected features to choose from. Getting this WP theme ready is as easy as it can get.
Wheelco has ready-to-use demo content that makes everything even more comfortable.
Wheelco features:
540+ sales
4.2+ star rating
Custom industry-specific icons
Price: $69 (may vary)
MORE INFO / DOWNLOAD
DEMO
6. Trucking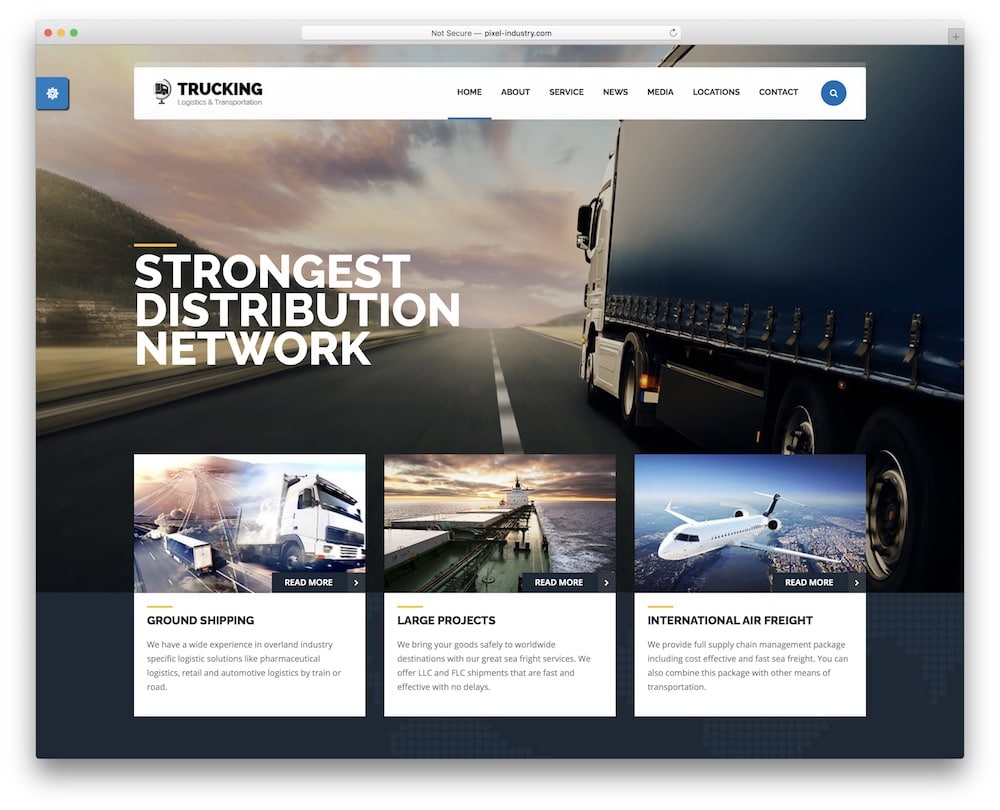 Trucking has everything you need to start a successful business in the transportation and cargo business.
The theme is fully optimized to give you an easy-access user experience.
Conducting research and consulting other cargo and transport businesses, this transportation WordPress theme is sure to MEET all of your needs.
Trucking has header styles and layouts that you can customize to your leisure. Moreover, it will showcase your services in just the way you want them to.
Trucking features:
1,900+ sales
4.1+ star rating
Beginner-friendly customization
Interactive slider map
Price: $49 (may vary)
MORE INFO / DOWNLOAD
DEMO
7. Logistic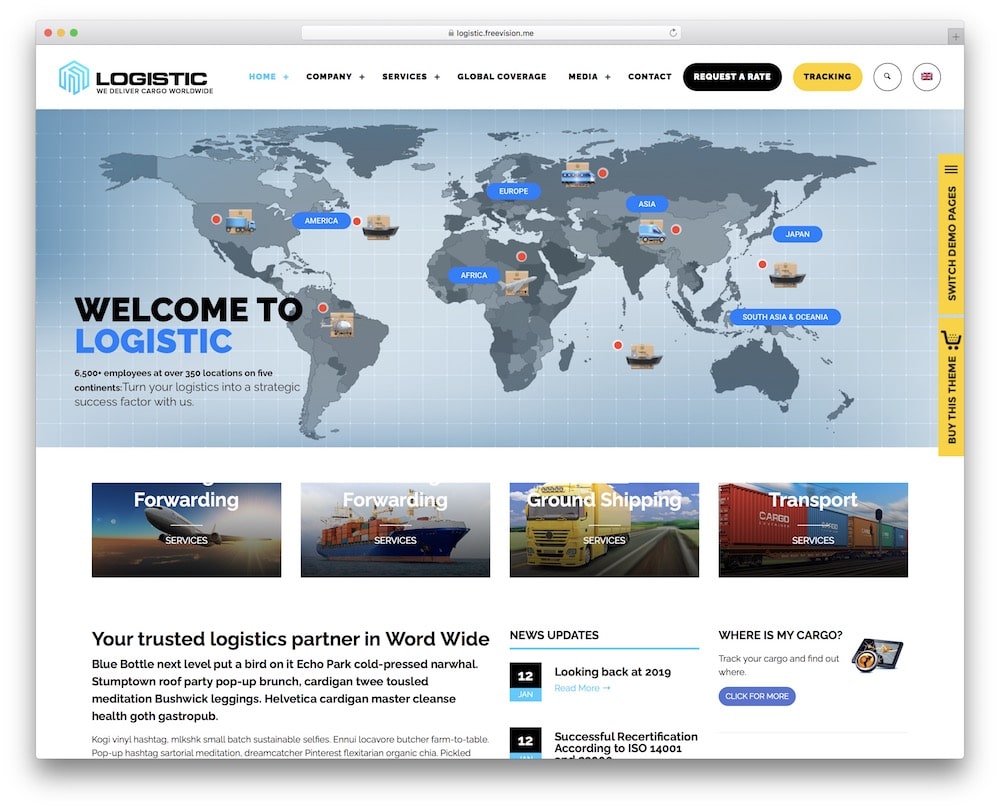 Logistic covers all your needs and wants with its unique interface and slick design.
It gives a kind of freshness to the layout of your website compared to other transportation WordPress themes.
It has ready-to-use homepages, layouts and features (including parcel tracking!) for easy use.
The structure is solely concentrated to be responsive and result-oriented.
Of course, you can use Logistic for other businesses, but if you want the best results for your transportation company, this WP theme is HIGHLY recommended, even by using it as is.
Logistic features:
3,900+ sales
4.7+ star rating
Price: $51 (may vary)
MORE INFO / DOWNLOAD
DEMO
8. Geoport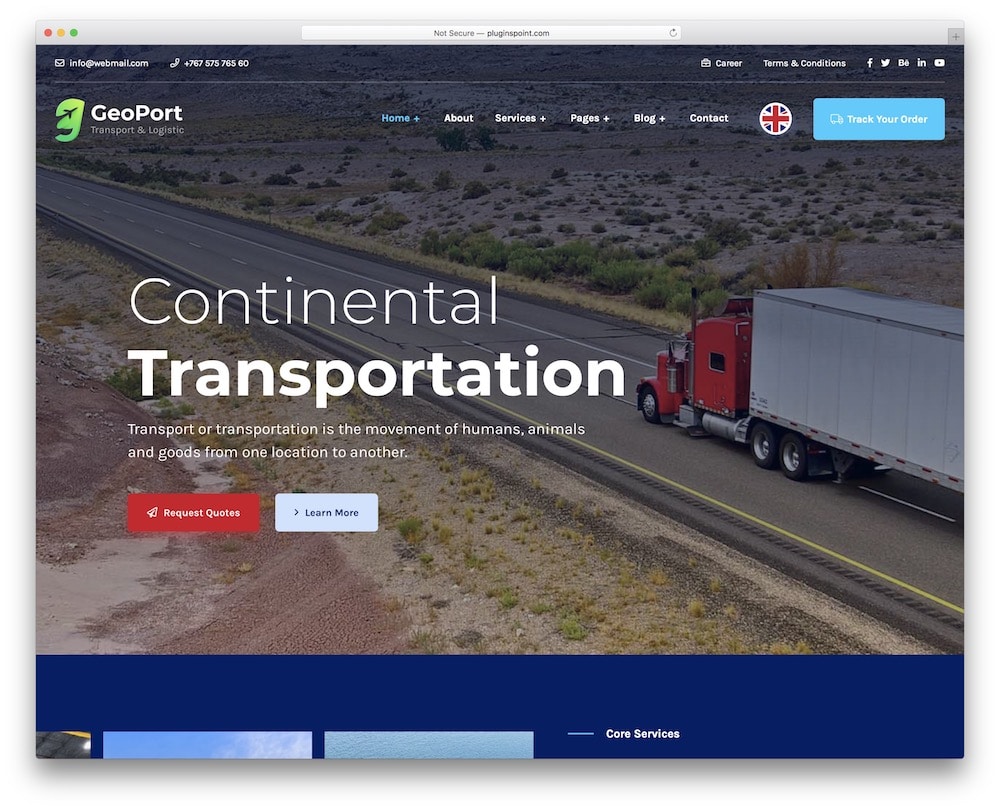 Geoport is a great alternative optimized for businesses that give you transport and logistics services.
Trucking services, delivery warehouse, cargo movement, you name it, this transportations WordPress theme covers it.
Keep in mind, you can also modify the default settings and tailor Geoport to your needs.
Several homepage variations give you excellent options to choose from, and you can kick things off with the convenient ONE-CLICK installation.
In short, you will have no problem whatsoever in using this WP theme to your full advantage. It's SEO optimized and has a spotless code for your convenience.
Geoport features:
510+ sales
4.9+ star rating
Many practical custom widgets
Price: $39 (may vary)
MORE INFO / DOWNLOAD
DEMO
9. Transport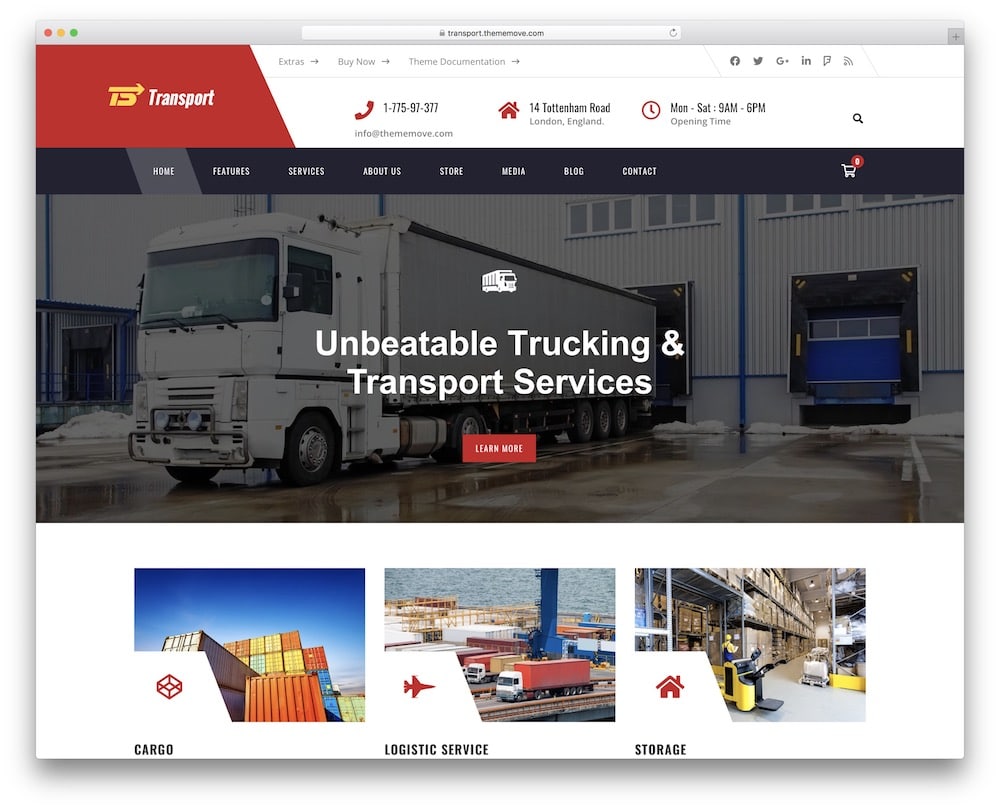 Transport is a – hence the name – transportation WordPress theme that contracts on bringing you the best-optimized user interface.
The tool comes with all the necessary material and then some to start online as fast as possible.
This is a theme with innumerable possibilities and options, and to note just some of them won't do justice to the number of great features Transport has.
Go ALL-IN and make an immediate difference now with a powerful and business-driven website.
Transport features:
1,500+ sales
4.7+ star rating
WooCommerce compatibility
Price: $59 (may vary)
MORE INFO / DOWNLOAD
DEMO
10. Additrans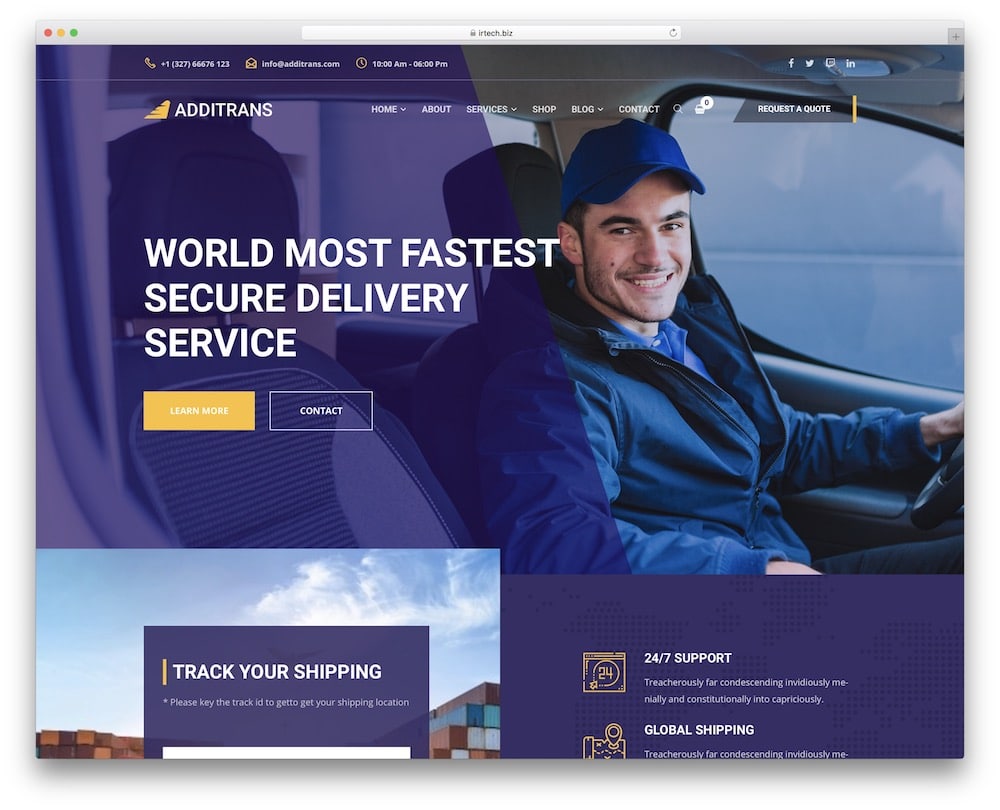 Additrans is a transport and logistics WordPress theme that is focused on bringing a modern twist to your business.
It is paired with great additional features, making this theme suitable for anyone looking for courier, delivery, moving, shipping, storage transport, warehouse transportation websites.
Additrans has a friendly user interface and EASY-TO-USE features that round up the WP theme as a whole nicely.
Additionally, it has cross-browser compatibility and a powerfully designed responsive layout to work flawlessly at all times.
Additrans features:
140+ sales
5-star rating
Shortcode generator
Price: $59 (may vary)
MORE INFO / DOWNLOAD
DEMO
11. Logio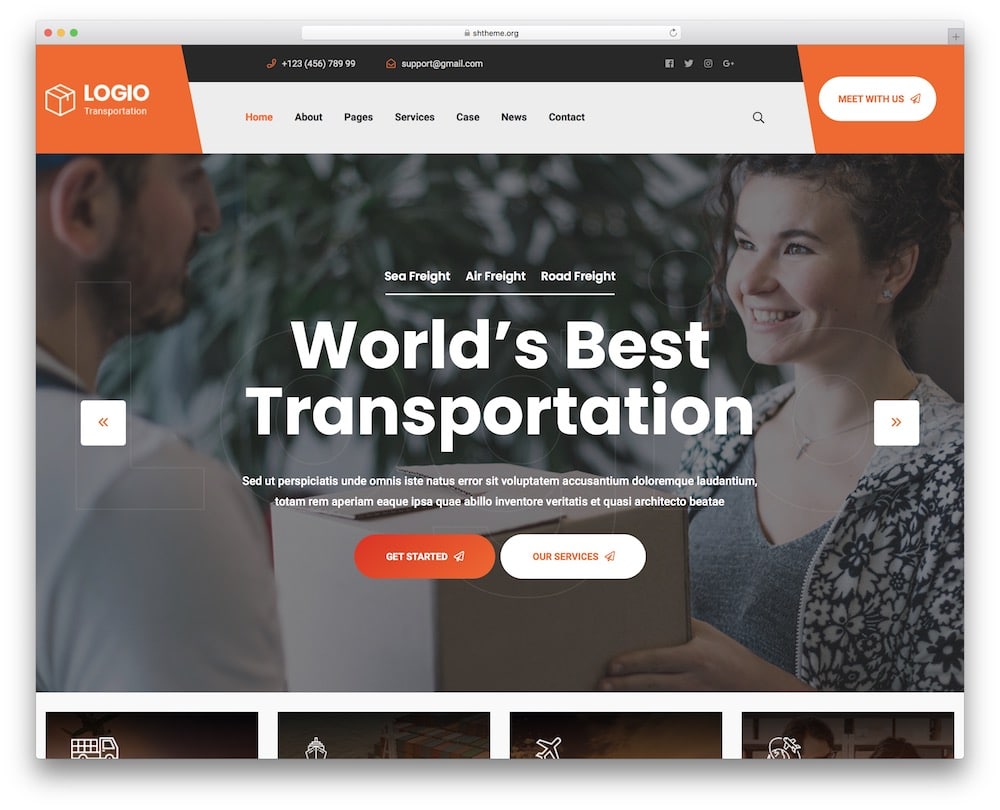 Logio is a fully responsive logistics and transportation WP theme with a nice design. Like other themes on this list, it is compatible with all the major browsers and devices.
It's suitable for any need you can think of, including cargo, delivery, logistics, moving, shipping, and the like.
Logio is designed to match the user's wants and needs with a unique and creative outlook on everything.
With built-in transport features, this transportation WordPress theme satisfies the needs of every user.
Logio features:
80+ sales
5-star rating
Request form
Price: $99 (may vary)
MORE INFO / DOWNLOAD
DEMO
12. Startesk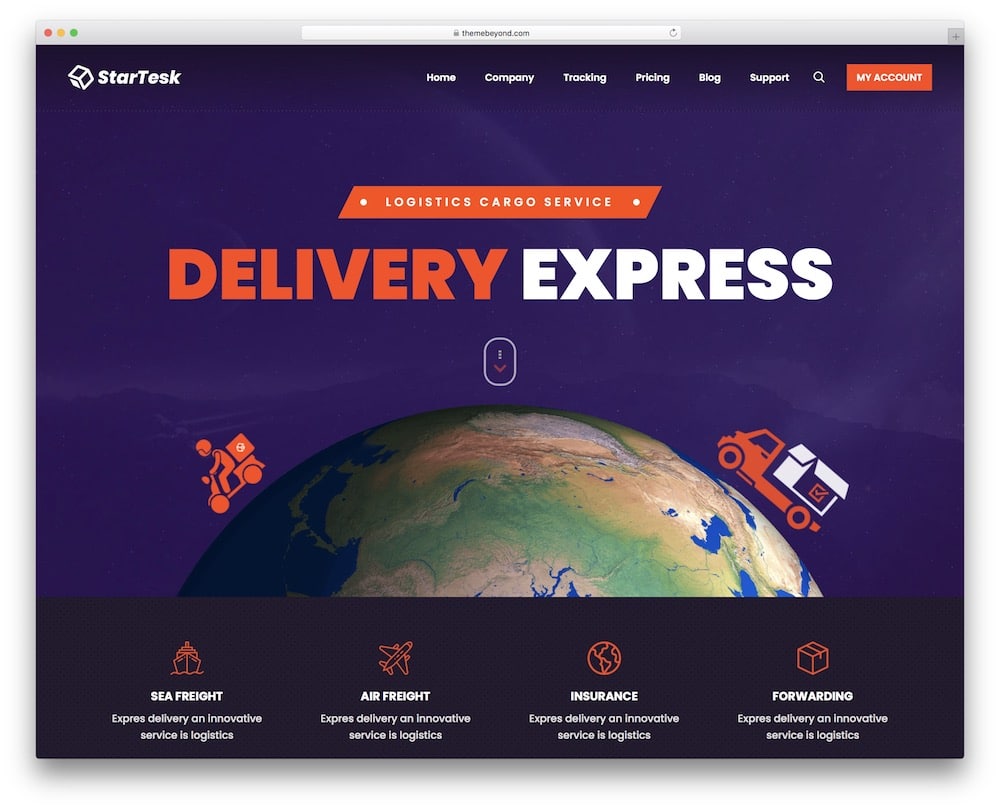 Startesk is a transport WordPress theme that incorporates a fully responsive interface, fresh design, and built-in features that will satisfy the needs of any business offering transportation services.
Its structure is based on modern trends, CSS3 and Bootstrap, making this WordPress theme high-performing.
Startesk has a nice and clean design with a clean code, functional contact form, blog module, and a 24/7 support system.
You also get documentation if you would like to get the gist of it first. Very useful for beginners, if you will.
Startesk features:
60+ sales
4.5+ star rating
Price: $29 (may vary)
MORE INFO / DOWNLOAD
DEMO
13. Mikago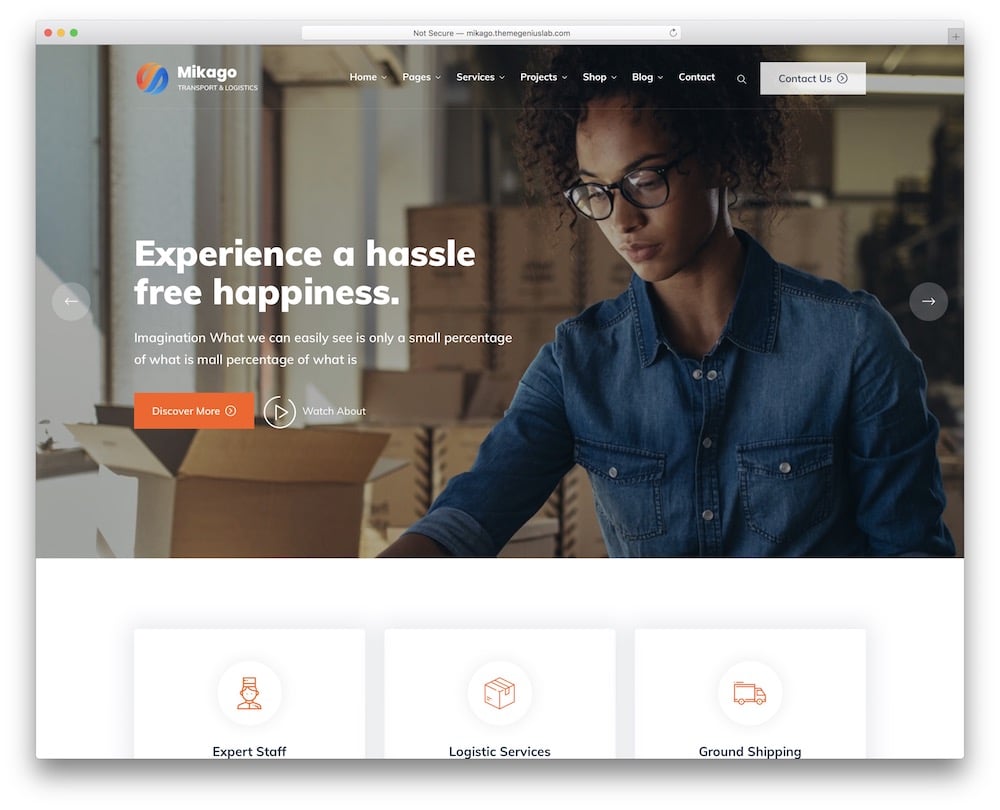 Mikago is exclusive to bringing logistics and transportation businesses a FULL-BLOWN and immersive WP theme that is responsive and high performing.
It has a modern and elegant design, making this tool a joy to use.
It comes with many features, like Google Maps with multi-location, Contact Form 7, sticky menu and smooth animations.
Every section is unique and looks perfect on mobile and desktop devices without a hitch.
Mikago features:
65++ sales
4.6+ star rating
Full-width slider
Price: $39 (may vary)
MORE INFO / DOWNLOAD
DEMO