Do you search for the best trucking WordPress themes to build a pro-level business site?
Even though we used these for three local businesses, they work globally just as well.
Plus, you can translate them!
Our review started with 45 themes.
However, the 12 below are the only ones that you can 100% rely on. (We used Shiptar, Morz and Trucking)
Along with trucking, YOU CAN also use these designs as:
Warehousing themes
Shipping themes
They all come with a zero-design-and-coding skill policy.
You can be a complete beginner and still achieve a SUERB outcome. (Hint: live, drag-n-drop editing!)
Whether you work locally or globally, expand your trucking services over and beyond now.
Reach the world!
Best Trucking & Transportation WordPress Themes
1. Trucking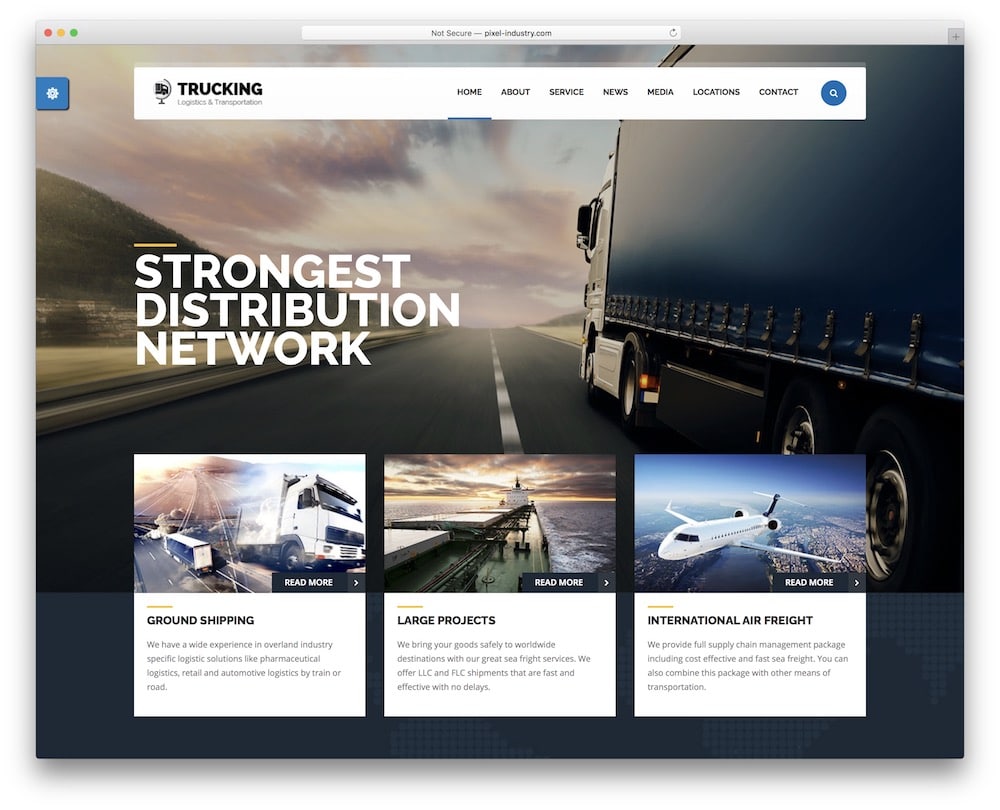 Trucking is one of THE BEST transportation and logistics WordPress themes on the market. Its many great features make it a tool worth your while.
They consulted similar businesses worldwide to see their workflow and offer you everything you will ever need from a WP theme for this specific kind of business.
Trucking has a nice, straightforward design and custom transportation and logistics options that will help you showcase your services with style and ease.
Trucking features:
1,900+ sales
4.1+ star rating
Custom-made icons
Search engine optimized
Price: $49 (may vary)
MORE INFO / DOWNLOAD
DEMO
2. Logistic Business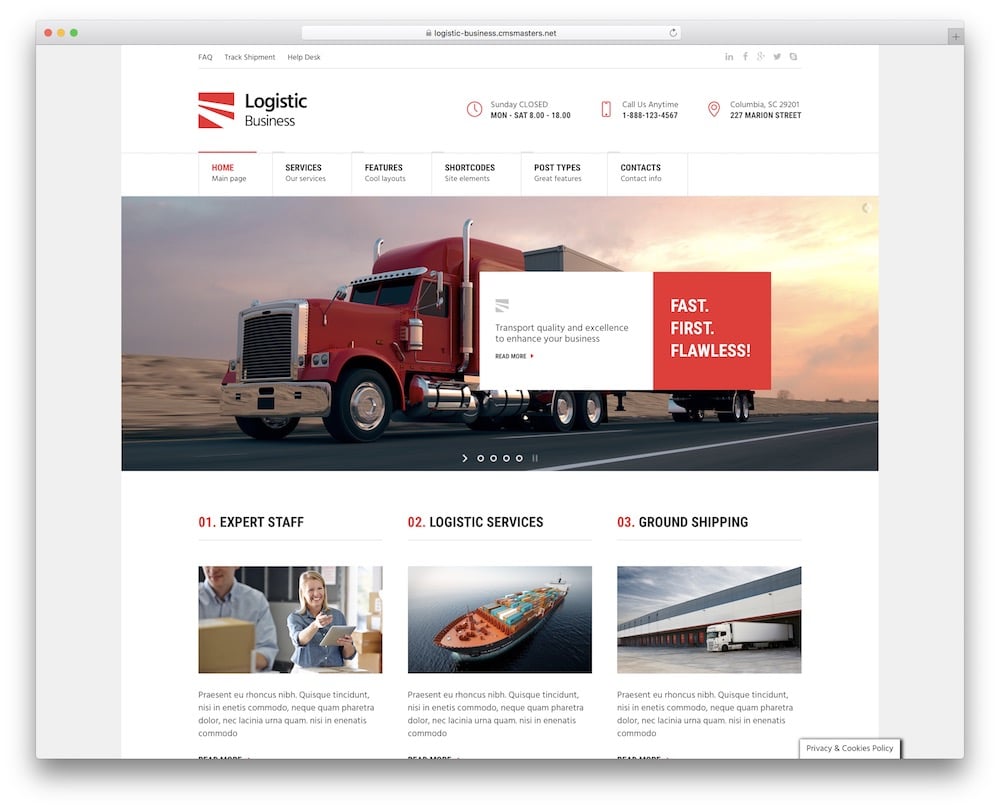 Logistic Business is a dedicated WP theme that has transport and trucking logistics in mind with a slick design, and easy-to-use features.
It's multi-language ready, GDPR-friendly, plugin-compatible and more. All of these features make this trucking WordPress theme one of the best on the market.
Logistic Business is a theme for serious business owners with an optimized interface compatible with almost any browser and device used these days.
This WP theme has an ultimate performance on all retina displays providing great presentation quality for your website.
Logistic Business features:
780+ sales
4.3+ star rating
Tons of shortcodes
Price: $49 (may vary)
MORE INFO / DOWNLOAD
DEMO
3. Globax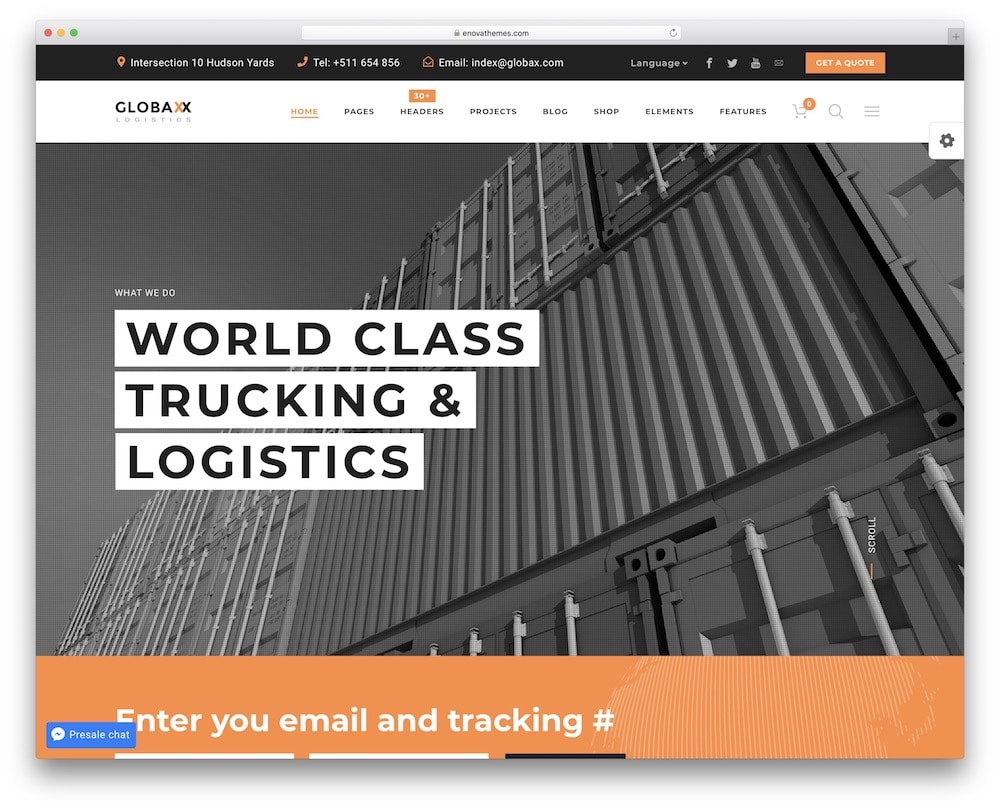 Globax is a WP theme that brings you a fresh and slick design that is up-to-date with all the major design trends you can see nowadays.
It is feature-rich, has a super flexible interface, eye-catchy animations and a nice design that makes this trucking WordPress theme STAND OUT compared to others.
With its modern design, drag and drop page builder, and revolutionized slider Globax has all the features you need.
Everything to be on top of the trucking industry's game, and if that's not enough, a lot more features are waiting for you to explore.
Globax features:
660+ sales
4.8+ star rating
100+ predefined elements
Compatible with WooCommerce
Price: $35 (may vary)
MORE INFO / DOWNLOAD
DEMO
4. Unload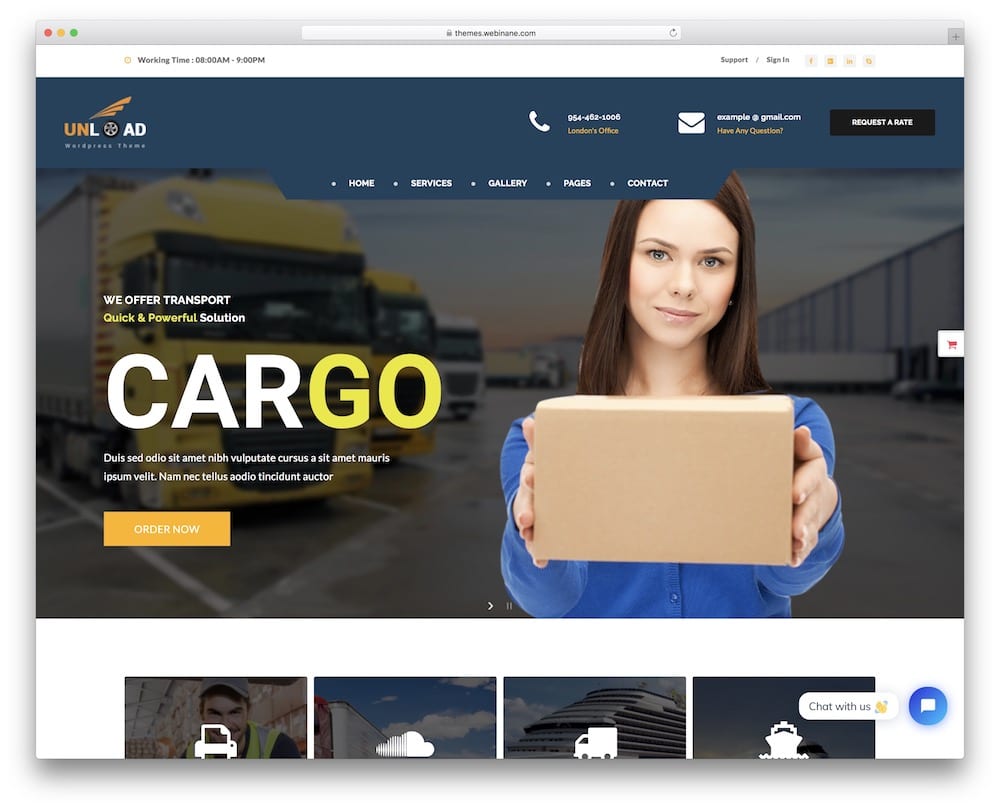 Unload is a site canvas with many uses to its name. The most successful of them is the superb trucking WordPress theme that gets the job done, and leaves no customer unsatisfied.
It has a shipment tracking system, a quote system, and many options and possibilities to customize it to your liking.
You can immediately put sample data into play and start working on your business website without wasting time.
Unload features:
340+ sales
4.5+ star rating
Google Maps integration
Shipping calculator
Price: $59 (may vary)
MORE INFO / DOWNLOAD
DEMO
5. Shiftler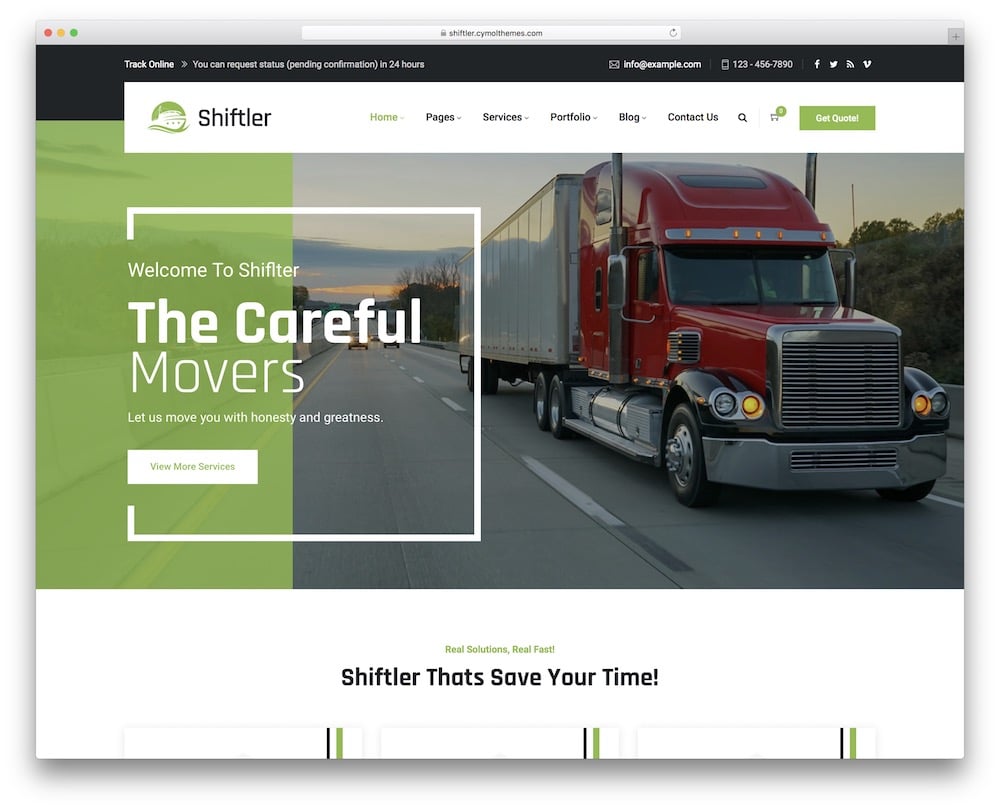 For trucking and transportation services, Shiftler is a remarkable WordPress theme that will wow everyone. With its modern and attention-grabbing concept, you can now raise your potential SKY-HIGH.
Shiftler works flawlessly as is, but you can beautify it, too. With codeless editing, you unlock unlimited possibilities, even as a beginner.
Home and header styles, 100% responsive layout, blog module, WooCommerce compatibility, you name it, Shiftler covers it.
There are also multiple custom-made shortcodes for quick and effortless integration/customization. Make your trucking business pop online with Shiftler now.
Shiftler features:
100+ sales
5-star rating
Animations & hover effects
Price: $59 (may vary)
MORE INFO / DOWNLOAD
DEMO
6. Logisco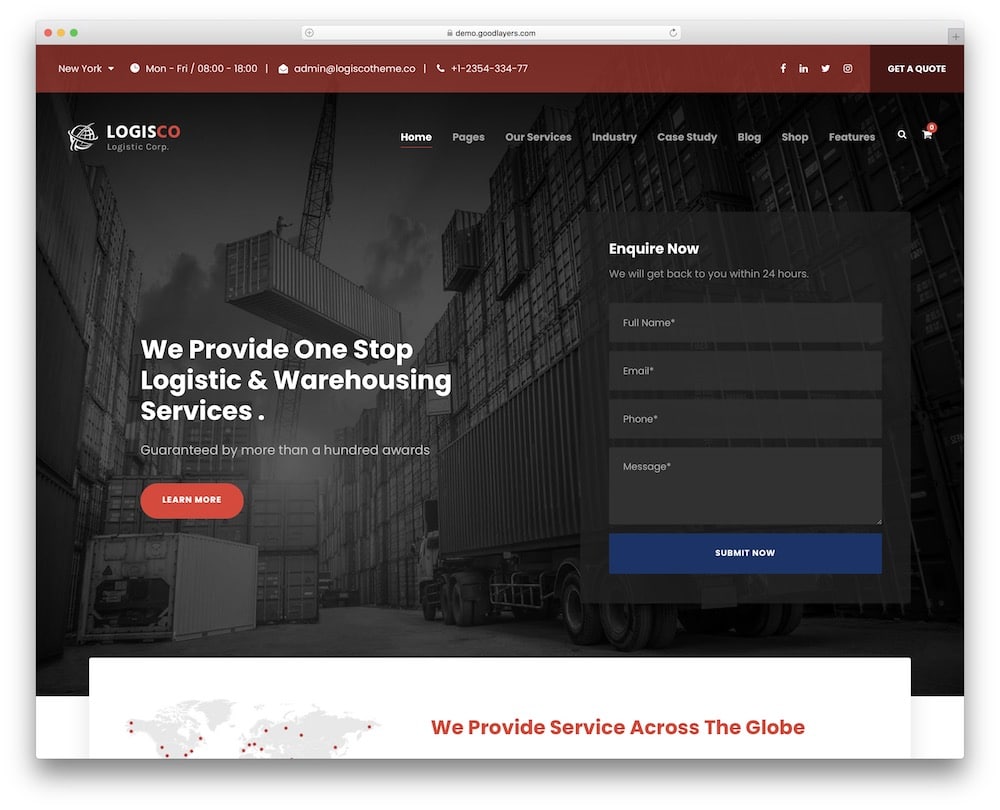 Logisco is one of those tools that look a bit dark and gloomy on the outside but when you get immersed in the features it provides you can CLEARLY see that this trucking WordPress theme is one of the best on the market.
It has a black layout that looks modern and serious, paired with features like color pickers, high-quality demos, GoodLayers page builder.
Logisco makes for a fantastic site to use for your business. The nineteen header styles to choose from are just a bonus to the magnificent features it provides.
This theme is an excellent option for those who want to become serious business owners and partners.
Logisco features:
400+ sales
4.9+ star rating
One-click demo installation
Portfolio & gallery layouts
Price: $57 (may vary)
MORE INFO / DOWNLOAD
DEMO
7. Transport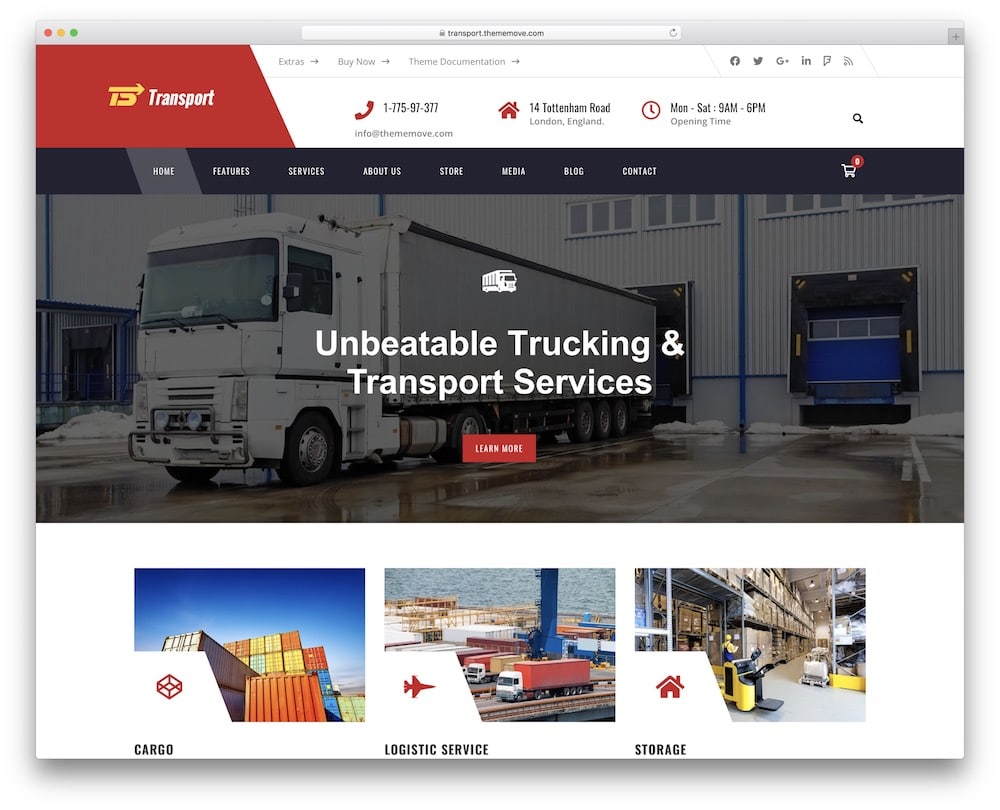 Transport is a logistics and warehouse theme with its customers' best interests in mind when it comes to design, features and navigation.
You can clearly say that this trucking WordPress theme has it all. Transport has many available options with dynamic home page samples for any trucking and transport services.
The theme has a NICE design and OUTSTANDING elements to it, and if the users change from one device to another, it stays the same.
With the effortless codeless process, you can fine-tune and customize Transport to your regulations.
Transport features:
1,500+ sales
4.7+ star rating
CSS3 animations & parallax effect
Price: $59 (may vary)
MORE INFO / DOWNLOAD
DEMO
8. Morz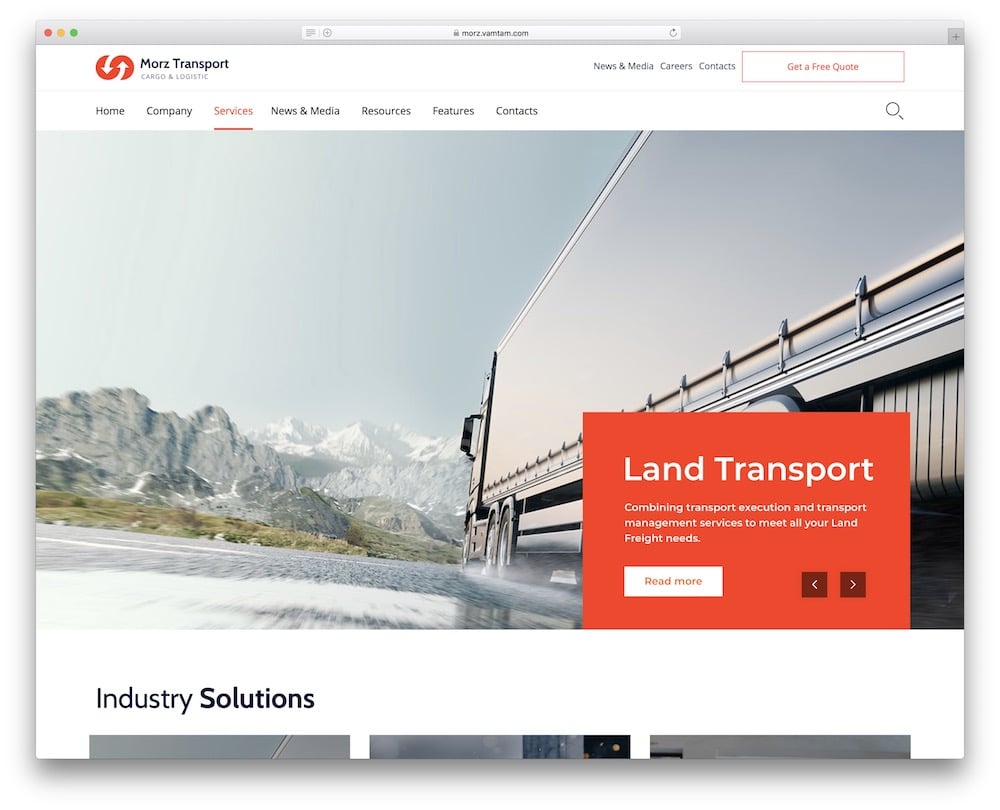 Morz is a transport and trucking theme that gives you access to features and options you will need to build every bit of your transport business site you need.
It's great for amateurs and people that have been in this business for a long time. Morz gives you all the immersive content you need for a complete experience.
It is suitable for any business operating in the transport/logistics segment, and its design is oriented toward users with zero programming skills in mind.
Morz features:
720+ sales
4.7+ star rating
Drag & drop page builder
Documentation & video tutorials
Price: $79 (may vary)
MORE INFO / DOWNLOAD
DEMO
9. TruckPress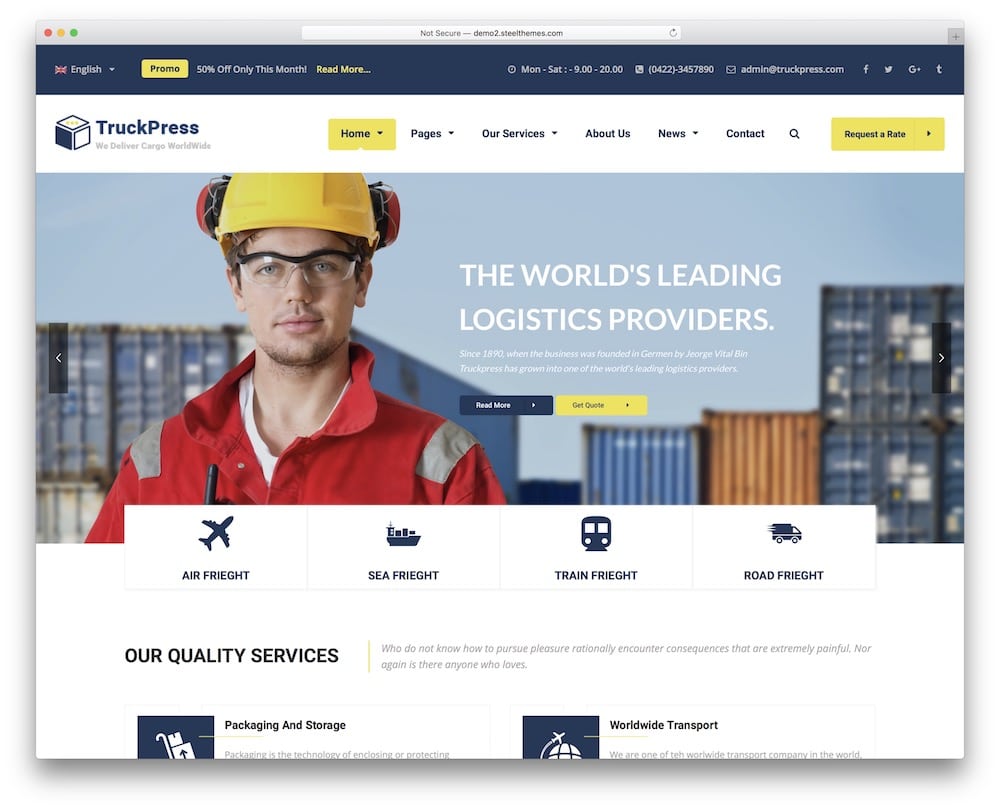 TruckPress is oriented to bringing you all the modern solutions a website has to have to do business in this niche SUCCESSFULLY.
Its design is done great with a blue-white layout with detailed home page samples, making this trucking WordPress theme one of the best you can find.
It's easy-to-customize and fully responsive for anyone. While you can work with the out-of-the-box version, you can also modify TruckPress to your needs and regulations.
TruckPress features:
180+ sales
5-star rating
Multi-location Google Maps
100% translatable
Price: $39 (may vary)
MORE INFO / DOWNLOAD
DEMO
10. Expeditor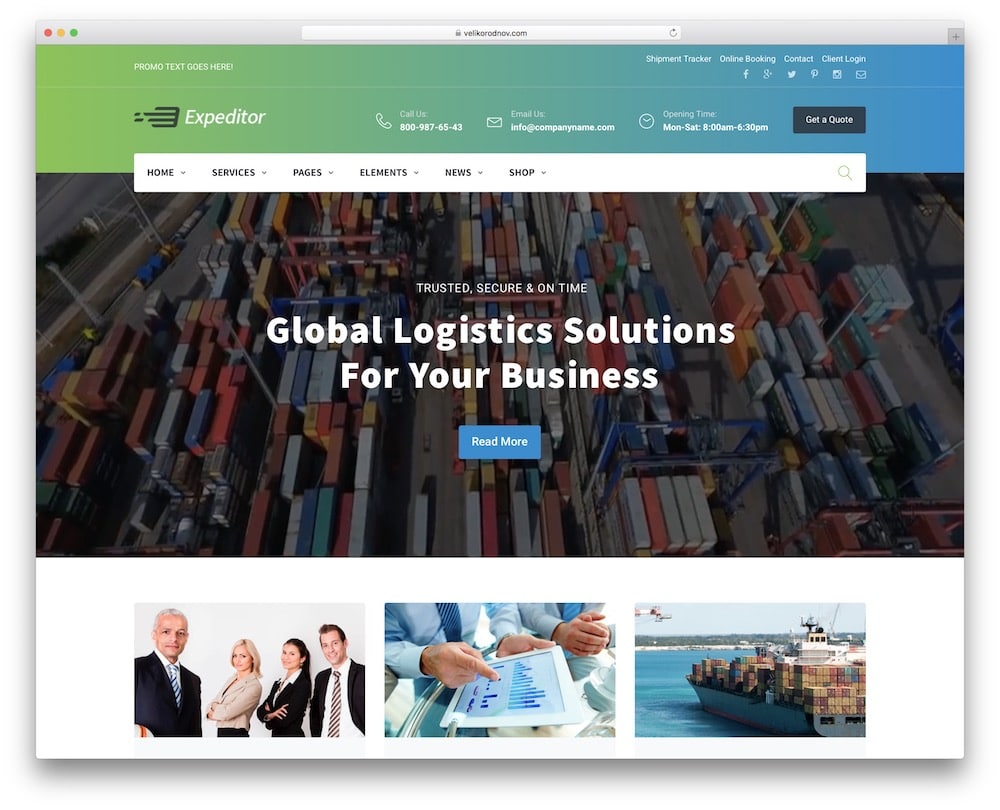 Expeditor is known as one of the best WP themes for transportation, trucking freight and logistics companies. It's even optimized for small freight businesses coming with a wide range of index layouts that fit any transportation industry size.
You can use it on a local or global scale.
If you need a trucking WordPress theme that handles air freight, ocean freight, warehouses, moving companies, and overland networks, this is the theme you have been searching for.
All the features it brings to the table make for an outstanding user experience.
Expeditor features:
440+ sales
4.7+ star rating
Shipping calculator
Price: $69 (may vary)
MORE INFO / DOWNLOAD
DEMO
11. Shiptar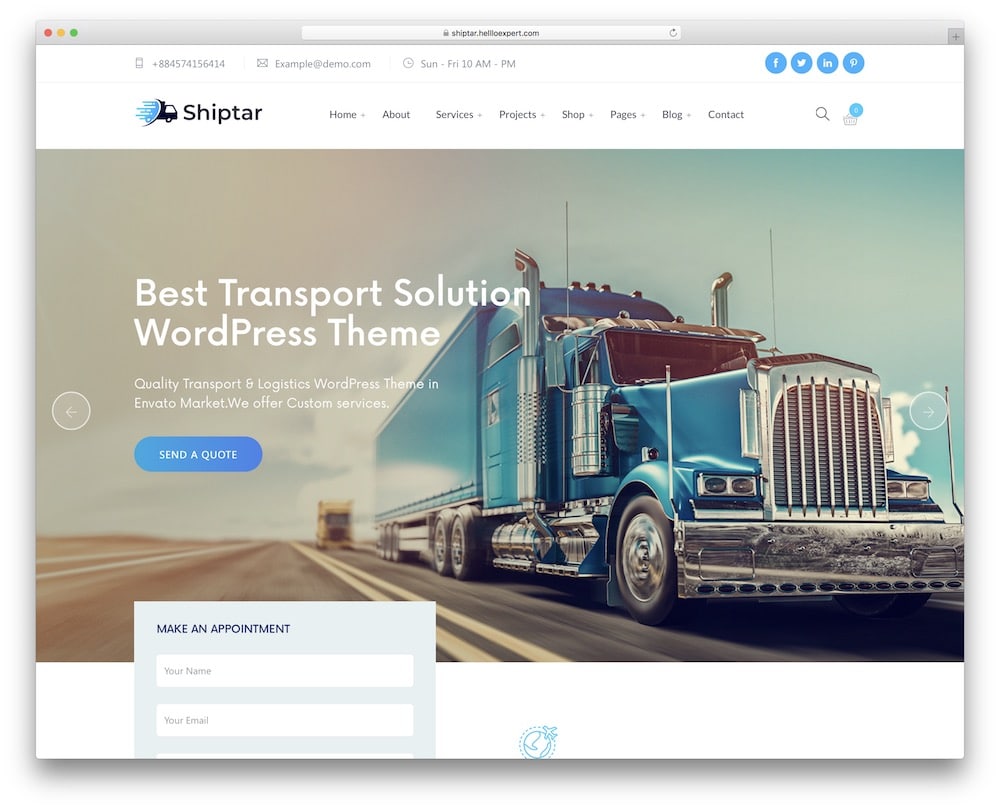 Shiptar was created with a modern and unique design in mind and covers all transport and logistics-related businesses.
The options are IMMENSE, and this trucking WordPress theme is perfect for everyone who wants a professionally made website.
Shiptar has a clean, creative design with customizable options built with modern tools.
The theme uses a page builder, one-click installation, Contact Form 7 and a floating menu. Your website will stand out from the masses with Shiptar.
Shiptar features:
340+ sales
5-star rating
Full-width slider
Price: $29 (may vary)
MORE INFO / DOWNLOAD
DEMO
12. FreightCo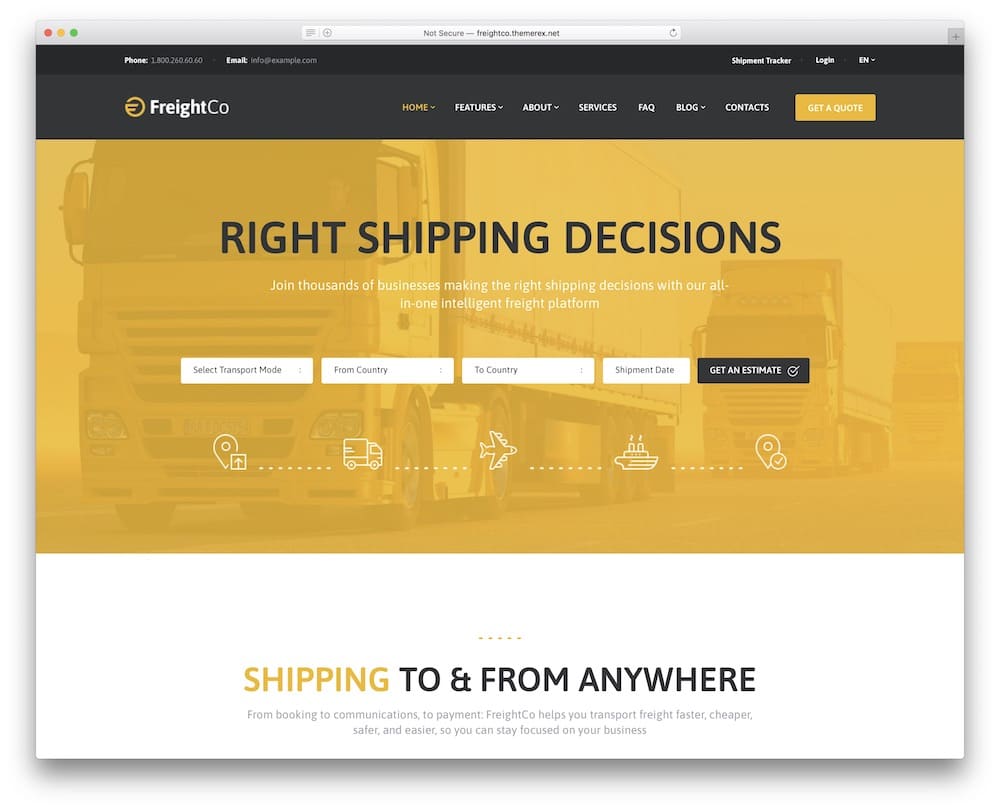 FreightCo is a powerful tool for warehousing and trucking services with a modern design and easy-to-use navigational system.
Many features help bring your business to a HIGH level compared to the competition.
FreightCo has all the useful and trendy features you will need to ensure your organizational system is up-to-date and running smoothly.
It's also a great trucking WordPress theme for many other similar services like overnight post services, supply chain solutions and parcel dispatch services in high demand.
FreightCo features:
200+ sales
4.7+ star rating
Over 40 shortcodes & widgets
Blog section
Price: $69 (may vary)
MORE INFO / DOWNLOAD
DEMO