Are you searching for the best logistics WordPress themes to create a professional website?
We bring you a collection of advanced and easy-to-use tools to expand your business.
Three clients participated in our review phase, so picking 100% RELIABLE WP themes was necessary. (Yew!)
What's cool, you can use these tools for all sorts of businesses, like: transportation, cargo, warehousing, trucking, shipping, courier & delivery services.
Note: There is no need for coding and design knowledge to build your website. Every theme has everything you need to go live quickly and effectively.
(At a pro level, even as a beginner!)
This post covers:
You can comfortably customize the default settings, branding the theme to your company's regulations. (Code-free!)
Create a top-notch logistics website to take your potential to the next level and grow to new heights.
Go for it!
Quick Pick: Best WordPress Themes For Transportation & Logistics
Best Transportation & Logistics WordPress Themes
1. Cargo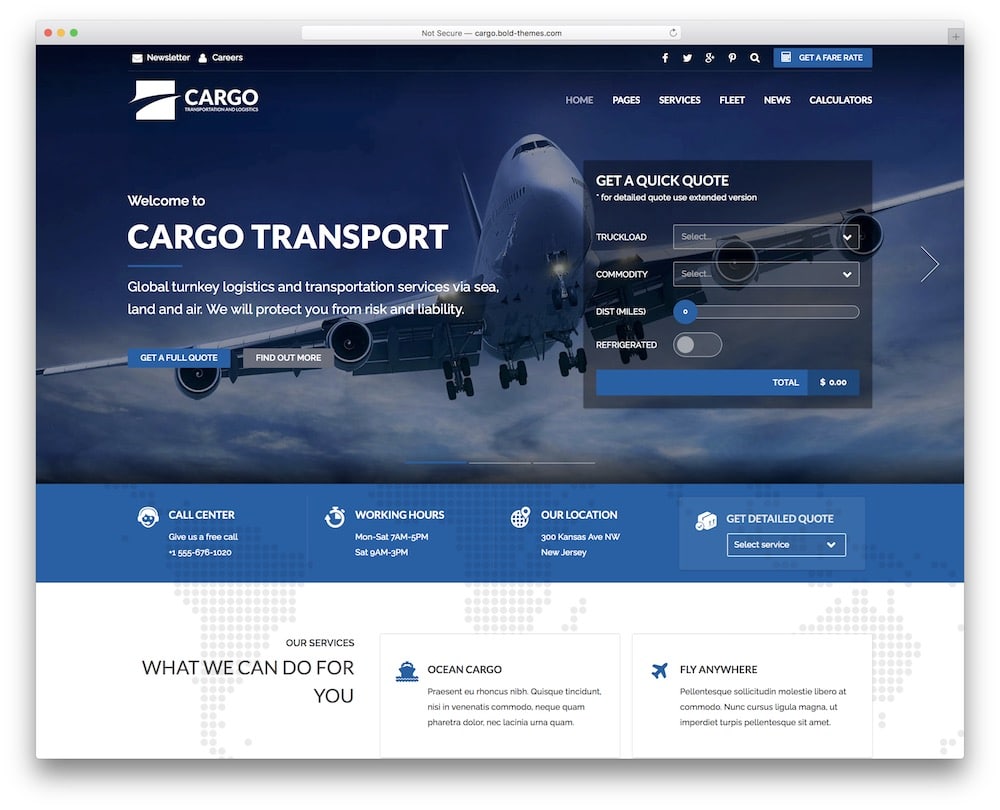 Running a business doesn't come naturally to some people, so you can get superb results with the right tools.
If you are in the cargo, logistics and transport business, this logistics WordPress theme for business owners is a great way to bring your work to a higher level.
Cargo is a great starting point for anyone trying to make their name in the cargo transport world.
This logistics theme is optimized for professionals who don't want to call an agency or developer whenever they need an update to their website.
Cargo features:
MORE INFO / DOWNLOAD
DEMO
2. Moovit – Transportation Logistics WP Theme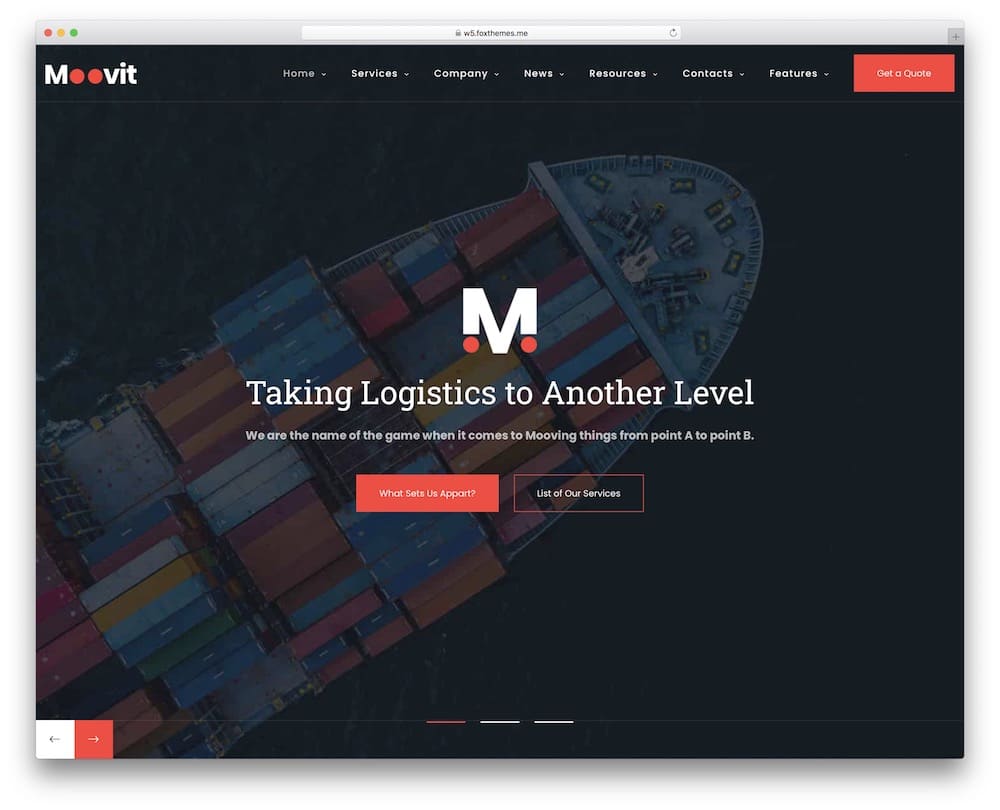 This theme is ready for a business with several services willing to promote them online successfully.
Moovit is an easy-to-use WordPress theme for cargo and transportation websites fully optimized to suit your service requirements.
However, if you need this tool for something else, it also suits many applications. Moovit is compatible with warehouse transport, cargo shipping, cargo moving, relocation services, and much more.
If you are creating a site that falls under the trucking, transport, or logistic service company, Moovit is the theme you were looking for.
It has an engaging design that will help your business pop online.
Moovit features:
MORE INFO / DOWNLOAD
DEMO
3. Geoport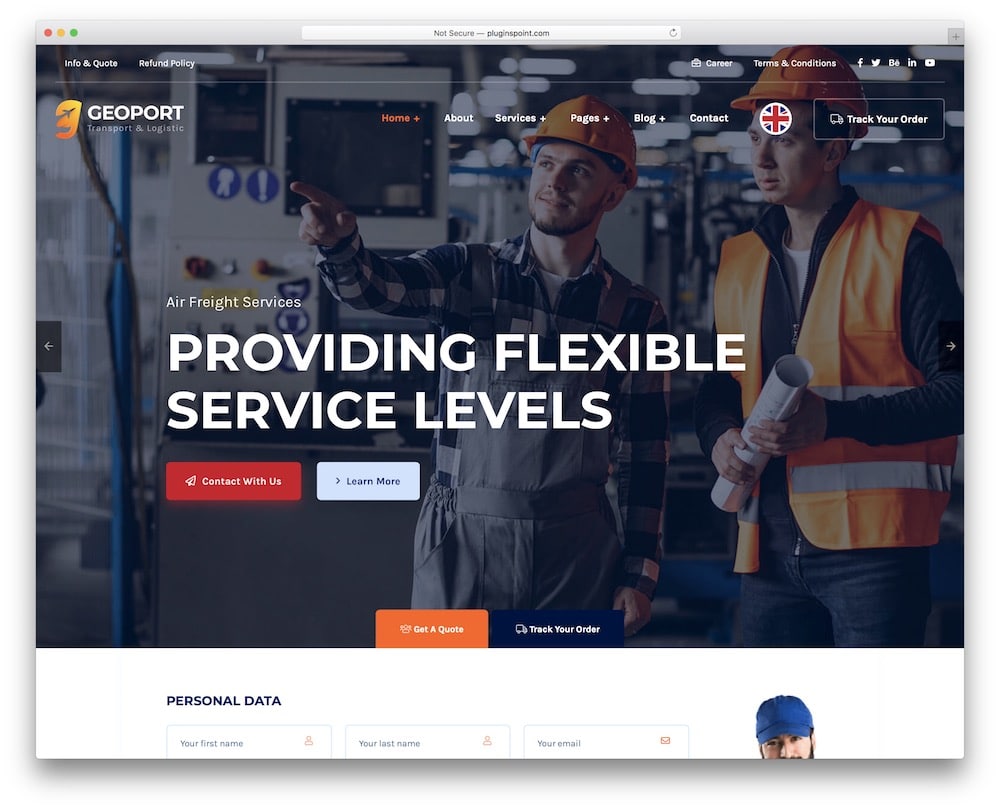 Geoport suits any business that falls under the transportation and logistics industries.
For commercial transport business, ship freight, trucking services and the like, this logistics WordPress theme is suitable and easy to use for all starting in this industry.
You get a WordPress theme you can trust and brings its maximum effort to the table.
Geoport has several homepage variations and just as many headers, so there are quite a few options. BUT!
When you want to customize any part of the site, the theme lets you do so without touching code.
Geoport features:
But you may also want to check our guide on installing a WordPress theme to do it successfully.
MORE INFO / DOWNLOAD
DEMO
4. Transcargo – Logistics WordPress Theme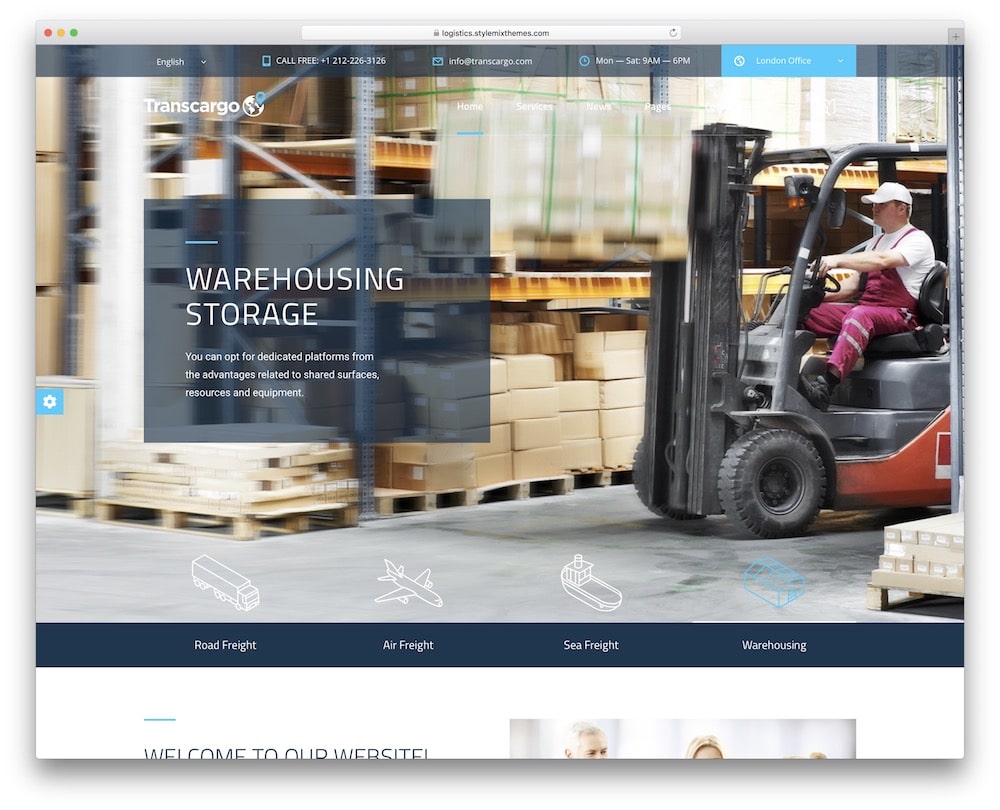 Transcargo is a multi-functional WordPress theme with outstanding premium features like making changes in real-time, integrated fonts and fast loading. We also have a tutorial on how to choose a fast WordPress theme if you need more info.
It follows all the latest web trends and uses only modern technologies to promise top-class performance.
Transcargo has a fantastic-looking design out of the box, but you can also fine-tune it further.
In short, this neat site canvas is a superb choice to up your game and bring your business to another level.
Transcargo features:
3,400+ sales
4.7+ star rating
Parallax and video backgrounds
Price: $59 (may vary)
MORE INFO / DOWNLOAD
DEMO
5. Wheelco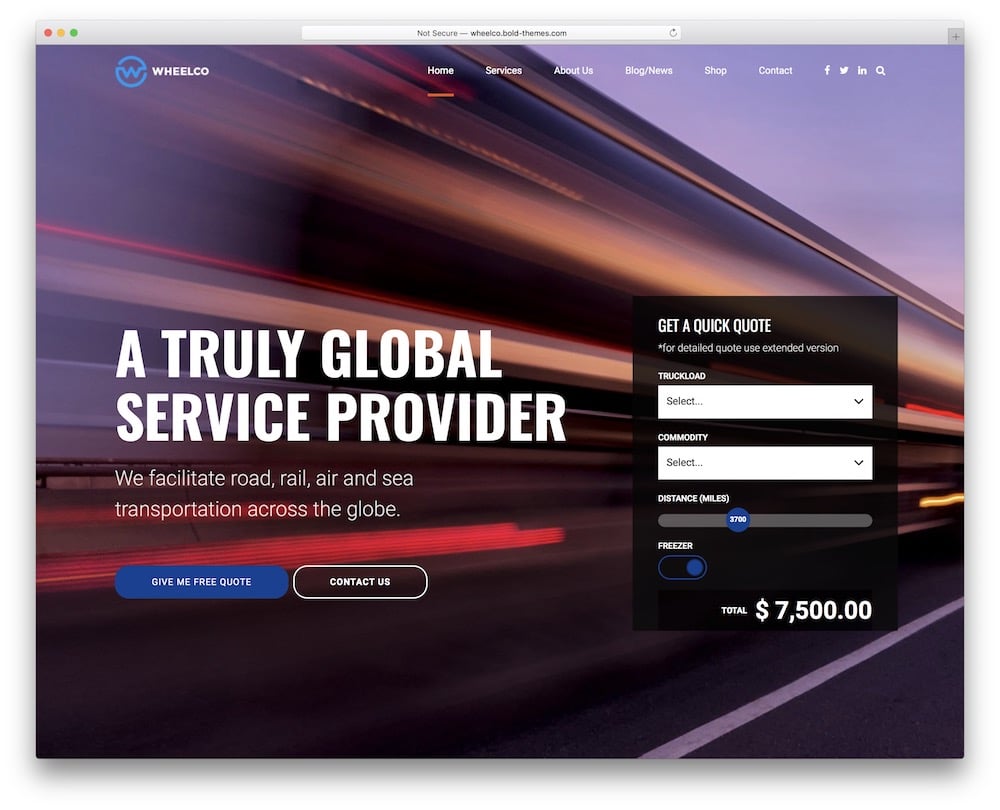 Wheelco is a logistics WordPress theme that is fully optimized for new users, and easy to customize to almost any of your requests.
On the other hand, every expert will also find it of great use. It's child theme ready, translatable (don't miss our multilingual WordPress themes), and customizer ready.
Wheelco is great for business owners with its carefully crafted and selected features to choose from.
It has ready-to-use demo content, and getting your website up and running is just a click away.
Wheelco features:
MORE INFO / DOWNLOAD
DEMO
6. Logistic Business – Transport & Logisitcs WordPress Theme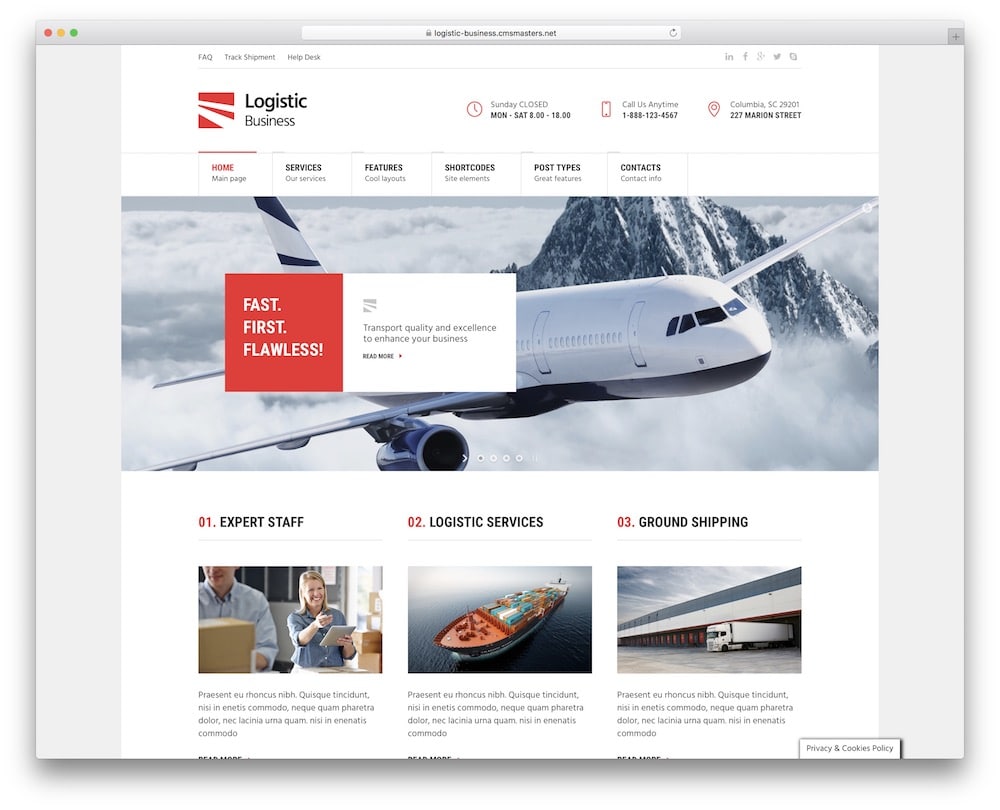 Logistic Business is everything a WordPress theme has to have to fulfill the requirements of someone that wants a serious web design for their business.
Serious WP theme for serious owners and Logistic Business had only this in mind with the layout and features they provide.
It's a mobile-ready, plugin-compatible, professionally set up, multi-language, and GDPR-ready logistics WordPress theme that will give you an outstanding user experience.
It is retina-ready and has custom page backgrounds and customizable structure, so you can change the overall design as you wish.
Logistic Business features:
810+ sales
4.3+ star rating
Tons of practical WordPress shortcodes
One-page layout support
Price: $49 (may vary)
MORE INFO / DOWNLOAD
DEMO
7. Trucking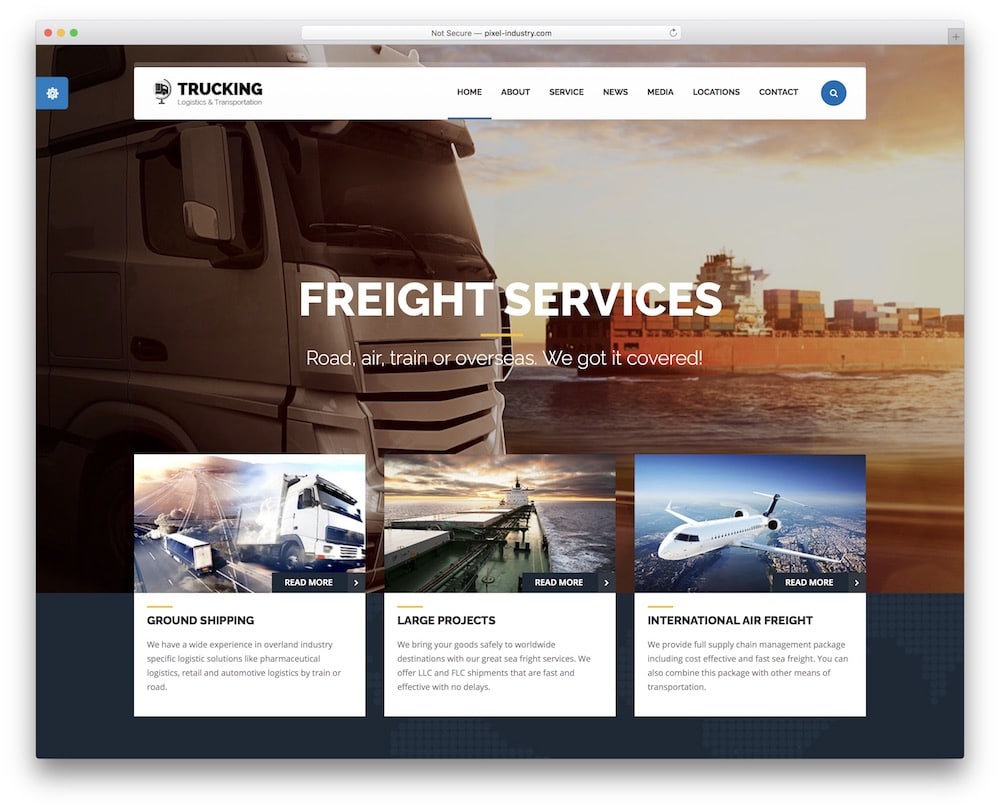 Trucking has all the necessary and then some to satisfy the needs of someone that's only starting in the transport and cargo business.
It is also optimized to suit the needs of owners who are in the business for some time.
This theme was brought to you by consulting several other transport and cargo businesses to ensure you get what you require from a logistics WordPress theme.
Trucking has several header styles, color styles and layouts.
It brings you a fresh and straightforward design with unique elements specific to the logistics and transportation industry niche.
Trucking features:
2,000+ sales
4.1+ star rating
Price: $49 (may vary)
MORE INFO / DOWNLOAD
DEMO
8. Globax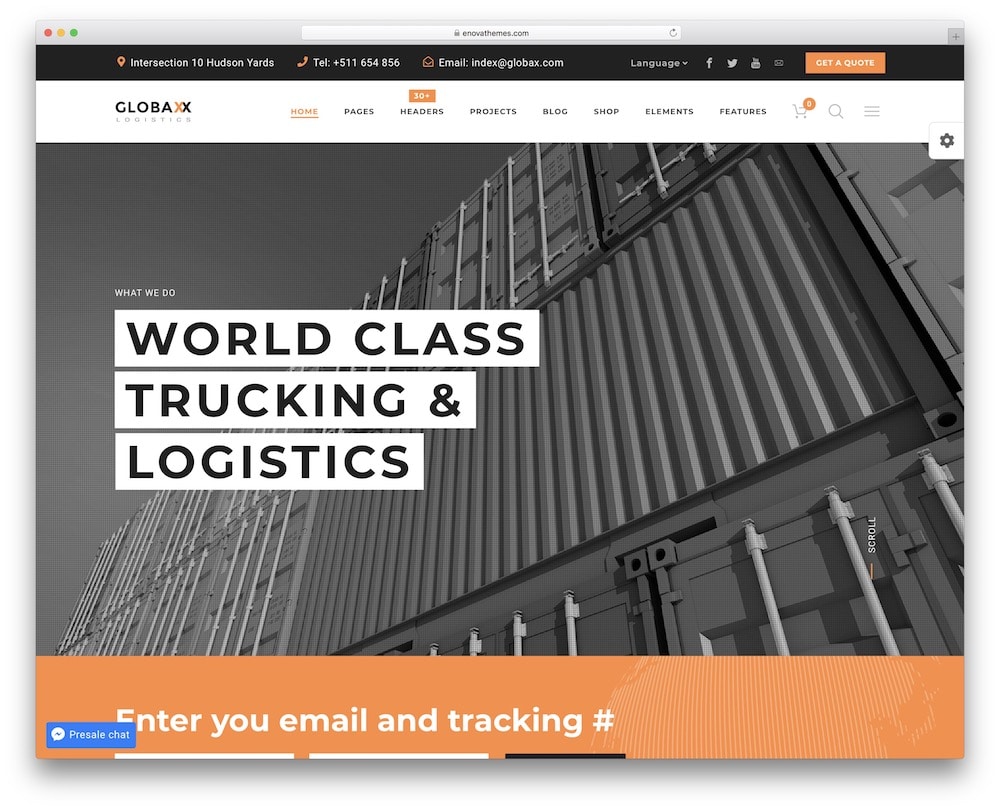 Globax is an easy-to-use logistics WordPress theme with a user-friendly options panel.
It's WP Customizer ready, has advanced form styling, typography, over thirty navigation options and unlimited color options.
Do you have a need? It has a solution, is Globax's motto, and we couldn't agree more.
It has a header and footer builder that features a simple drag and drop option, which also applies to other sections.
Globax is easy-to-use and fully optimized to bring you the best experience it possibly can.
Globax features:
720+ sales
4.6+ star rating
100+ elements
Price: $39 (may vary)
MORE INFO / DOWNLOAD
DEMO
9. Logisco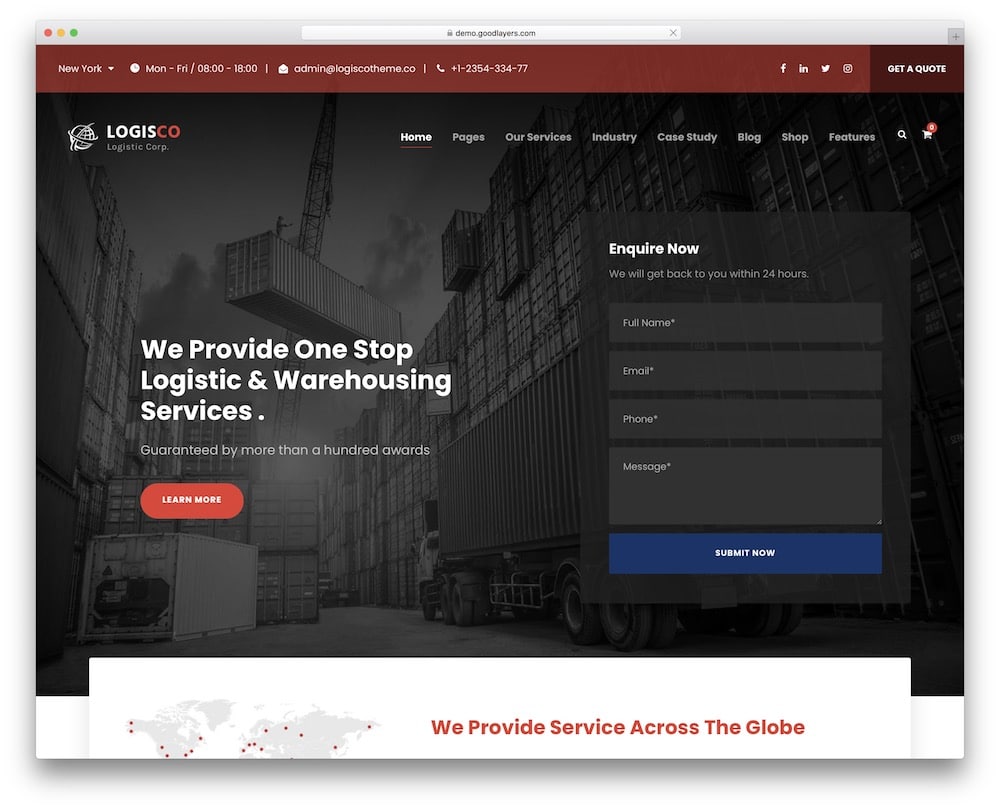 Logisco has all the features and options to do the job in the logistics space.
It comes with many high-quality inner pages and is optimized to be user-friendly for people just starting in this kind of business.
No need to have web development experience.
The way to import content/images is easy and fast, so everyone can quickly make changes.
Logisco works excellently with plugins, features top-notch demos, and supports all modern devices.
It's optimized to look great anywhere and does a great job in doing so.
Logisco features:
450+ sales
4.9+ star rating
Request a quote form
Price: $57 (may vary)
MORE INFO / DOWNLOAD
DEMO
10. Logistics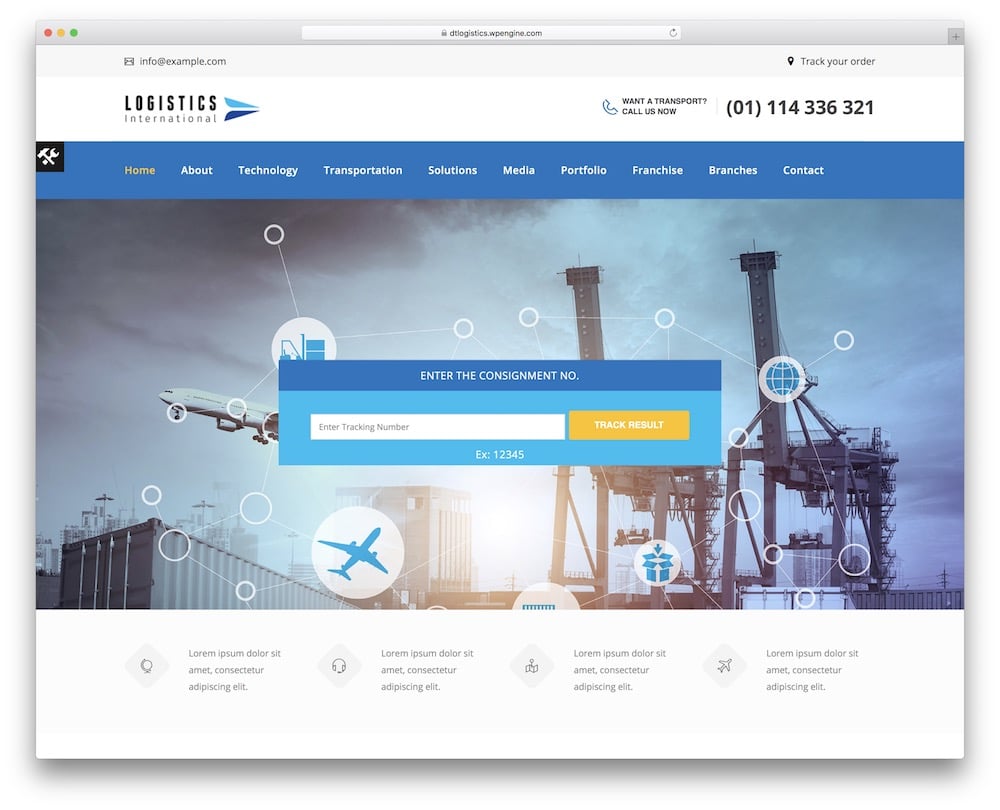 Logistics is a WP theme for all kinds of shipping, cargo, trucking, warehousing and logistics services.
It has three home styles, a clean design, and tons of shortcodes you can optimize for a better user experience.
You can create pages from scratch or from a wide array of temples, which makes this logistics WordPress theme creator-flexible for those that want to give the pre-made templates their personal flair.
Logistics features:
310+ sales
4.2+ star rating
Order tracking
Price: $69 (may vary)
MORE INFO / DOWNLOAD
DEMO
11. Transport – Logistic & Warehouse WP Theme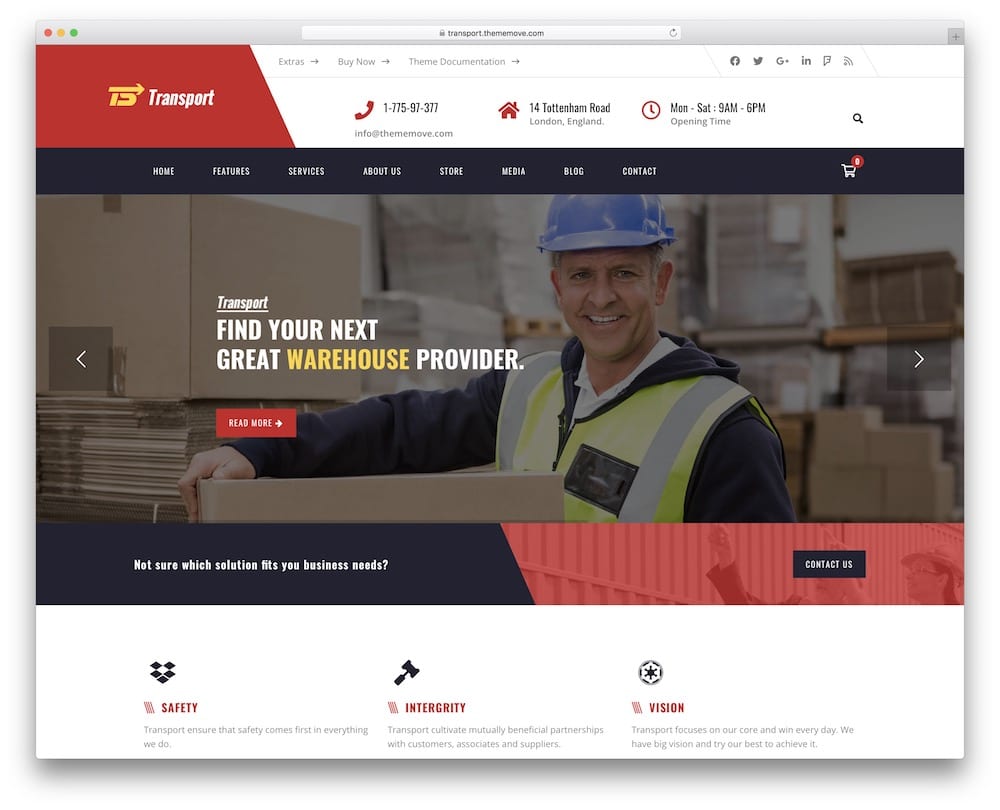 Transport is a logistics WordPress theme with the customer in mind when it comes to design, navigation and features.
With multiple dynamic homepage styles, Transport has a plethora of available options for you to choose from. Use it out of the box or style it further, that's up to you.
Transport has several practical plugins and other conveniences to help you start immediately.
You do not need anything else, but if you are after something exclusive, Transport is easy to expand.
Transport features:
1,600+ sales
4.7+ star rating
Fast loading speed
Price: $59 (may vary)
MORE INFO / DOWNLOAD
DEMO
12. Kargo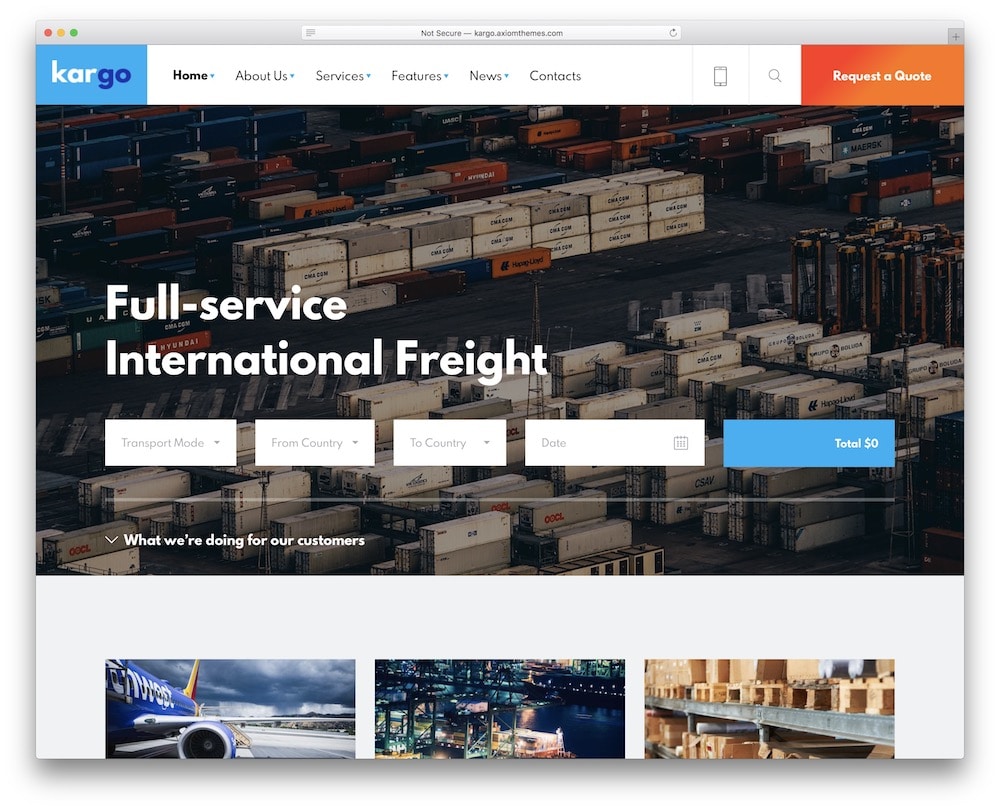 Kargo is a logistics WP theme that has features that work directly in the favor of the business owner, and potential clients looking at establishing a unique relationship between them.
It's trendy and versatile to ensure a logistic organization website that runs smoothly.
You can choose from multiple layouts and ready-made pages that make this tool look fantastic out of the box.
Enjoy the smooth page creation and enter the industry with a banging product.
Kargo features:
140+ sales
5-star rating
Header & footer builder
Price: $69 (may vary)
MORE INFO / DOWNLOAD
DEMO
13. Morz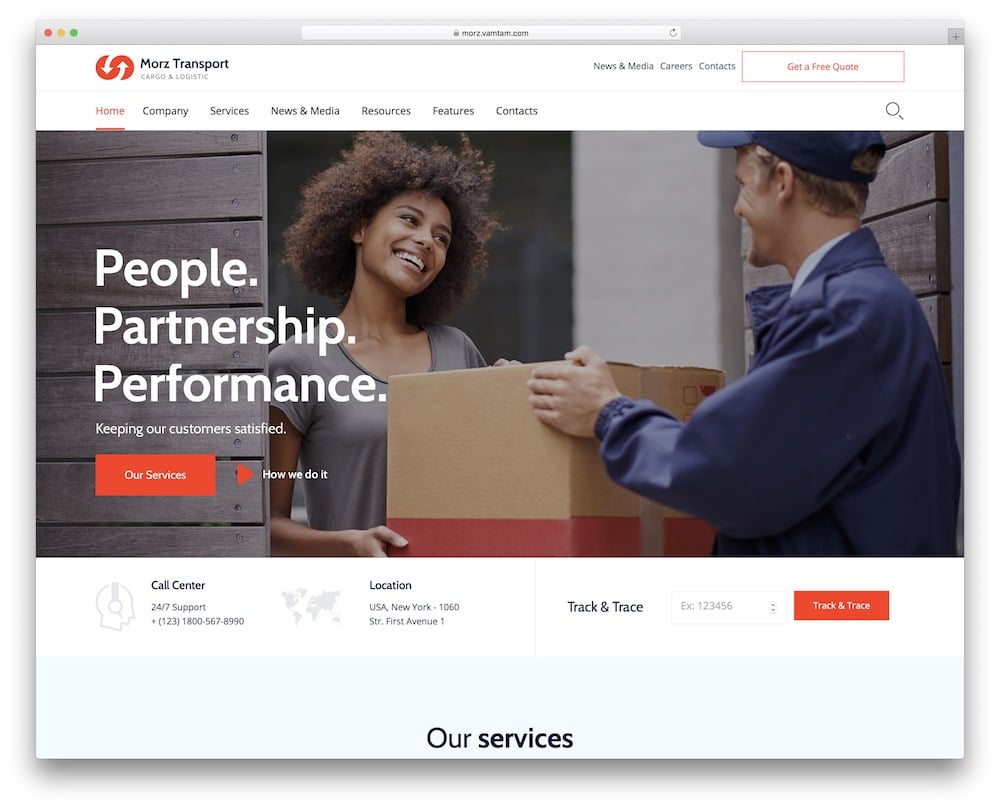 Morz gives you access to many options and features that you will need when building a transport cargo logistics empire.
It is suitable for seasoned veterans and amateurs in the world of transport.
Morz features a drag and drop front-end WP builder, an extensive setup guide, custom icons and tons of other goodies that make this logistics WordPress theme stand out compared to its competition.
Morz features:
780+ sales
4.7+ star rating
Smooth transitions
Price: $89 (may vary)
MORE INFO / DOWNLOAD
DEMO
14. Eagle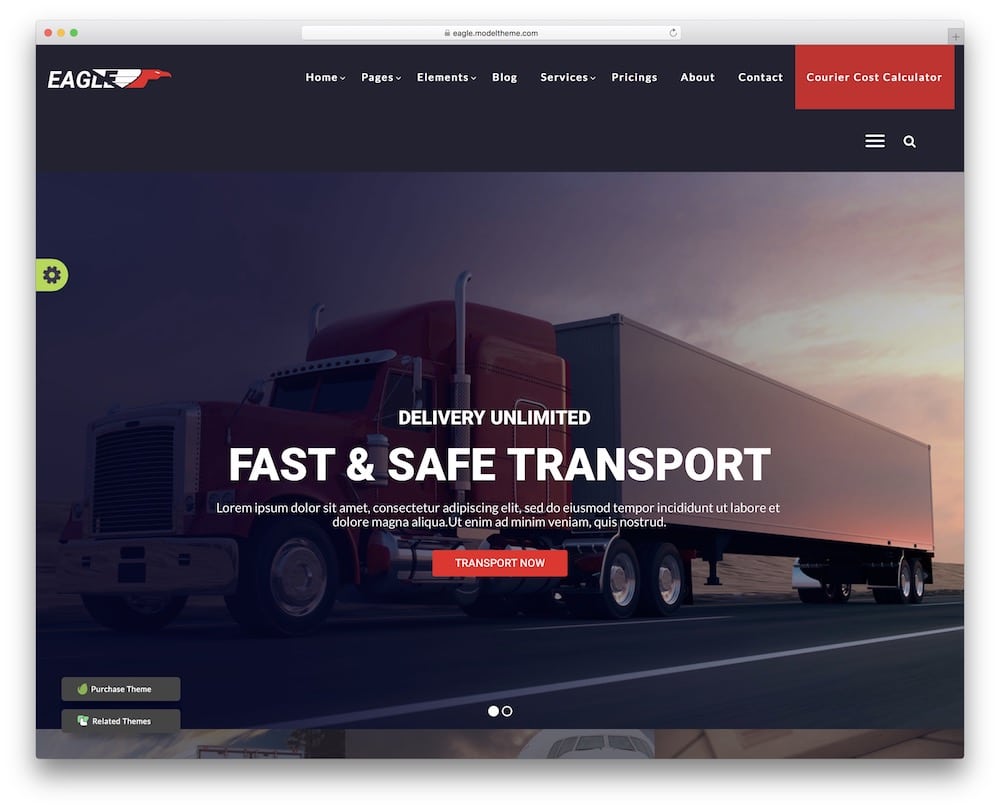 Eagle is a logistics WordPress theme that prides itself on its beautiful design, many satisfied customers, and guaranteed exceptional website performance.
It has fully customizable sidebars, ultra-responsive design, an intuitive options panel, and built-in Google Analytics, making this tool great for anyone, whether you are a beginner or an expert in the field.
You can be sure that this WP theme has everything you need to start a successful business website with no sweat. (It's SEO friendly with permanent updates and advanced blog options.)
Eagle features:
190+ sales
4.7+ star rating
Price: $59 (may vary)
MORE INFO / DOWNLOAD
DEMO
How To Choose The Right Transportation & Logistics WordPress Theme
There are many vital factors that you need to follow (just like we did for this collection) when picking the perfect theme for your logistics firm.
You won't get very far without a solid business website, and that's a fact.
We keep promoting that every business builds a page, regardless of the industry.
And transportation, logistics and warehousing are no different.
But it's so easy to create a professional website – even if you have 0 experience.
However, keep the following in mind:
Responsive layout: When someone needs logistics services, they'll pick up their phone and search for the best offer. And if your website isn't mobile-friendly, it's very unlikely it'll even appear in SERPs. And even if it will, and they land on it, they'll leave quickly because an unresponsive site doesn't perform well. SO! Keep your logistics website mobile-ready!
Pricing & cost calculator: Everyone wants to know how much something costs (without needing to get in touch). That's why having a great and transparent pricing section is a must for a logistics site. But you can take things to the next level for a more refined pricing search with a cost calculator.
Services page: Similar to pricing, you need to show and promote your services. But don't just tell what you do, share how your clients will benefit from your services.
Call-to-action buttons: A little encouragement to take action goes a long way. Thus, including CTA buttons across your website will benefit your greatly. We suggest adding them at least on your home page and your pricing page/section.
Contact & location: Many will want to get in touch with you first or even visit you for a meeting. Luckily, all logistics WordPress themes have a built-in contact form and Google Maps, so you don't need to deal with it yourself. (But you can also use a WordPress Google Maps plugin.)
Blog: This is a bonus that will easily differentiate you from the rest. Because (!), how many logistics firms did you see that run a blog or a news section on their website? I know, right?! Now is your time to stand out from the masses and start a logistics blog to bring in more organic traffic and potential clients.
That's it!
You'll definitely grab many more visitors' attention if you follow these six key factors of a logistics website in combination with great design.
You may also be interested in two more of our tested collections: