Are you searching for the best Shopify fashion themes to create a trendy online store?
Selling clothing online is a highly competitive industry, but you can easily stand out from the masses with a STYLISH online store.
I tested 50+ themes to choose the greatest twelve you can use for niche, general and single-product fashion shops.
This post covers:
Every theme is optimized for the best online shopping experience with multiple features to customize it however you want.
No coding is necessary to build a masterpiece to increase your potential and boost sales.
Quick Pick: 6 Best Shopify Themes For Fashion & Clothing
Best Overall Shopify Fashion Theme: Ella
Best Shopify Clothing & Fashion Theme: Belle
Best Shopify Fashion RTL Theme: Kalles
Best Shopify Single Product Theme: Boom
Best Fast Loading Shopify Fashion Theme: Avone
Best Shopify Fashion Dropshipping Theme: Wokiee
Life's too short to run a boring online fashion store.
Now is your chance to make a difference.
Best Shopify Fashion & Clothing Themes
1. Ella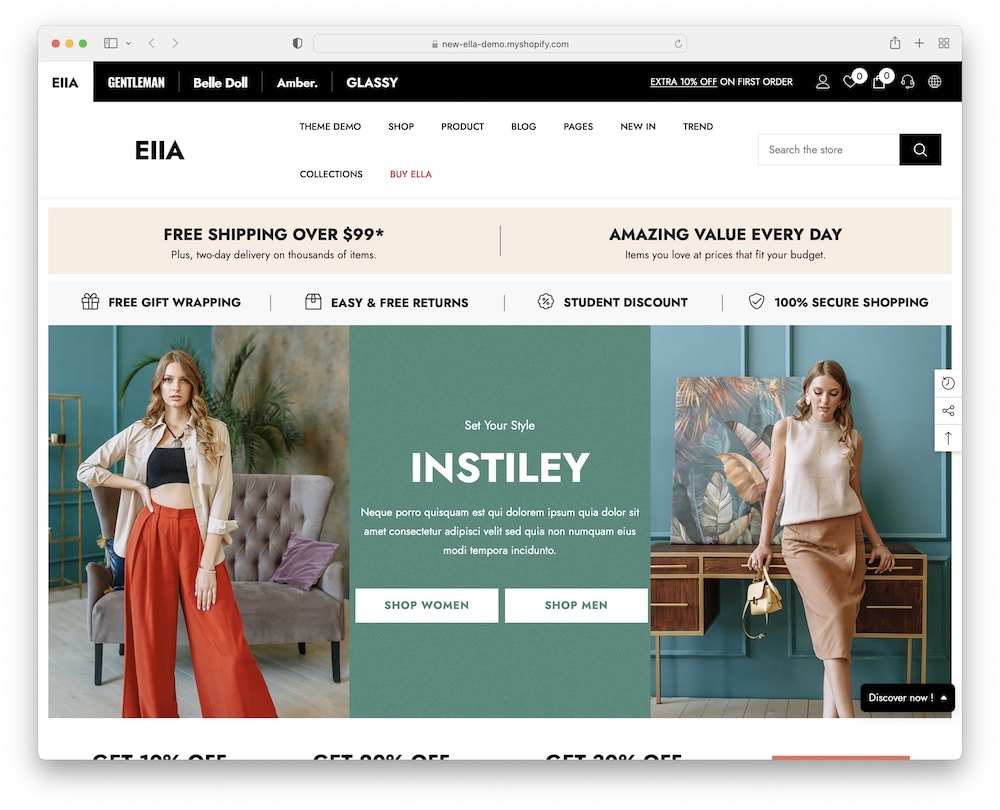 Not feeling particularly stylish today?
Ella theme can give you lots of inspiration!
You can build fast and with low startup costs, thanks to the included ready-to-use homepages. I am a BIG fan of drag-and-drop sections (so easy to work with)!
Nope, you won't need to code.
Luckily, Ella is also created with responsive design & fast loading speed in mind.
Moreover, you get many add-ons for FREE! From the mega menu and countdown timer to wishlist and product filtering.
And the best part: Ella includes 99+ content blocks. Just add, reorder and adjust the design or content within a section.
Full control over the appearance of your online store is guaranteed!
Ella features:
31,400+ sales
4.8+ star ratings
Regular updates
Page load: 1.28s (by Pingdom)
Price: $89 (may vary)
MORE INFO / DOWNLOAD
DEMO
2. Belle

Make top money with the modern Belle Shopify fashion theme.
Pre-made demos offer everything you need to launch your store right out of the box.
And keep in mind, the admin panel is the place where you can enter your store info, add products, process orders, and set up a blog.
Very. Intuitive.
I don't know about you, but I need to see pretty product pictures to decide and buy something. So make sure you upload GOOD quality product images!
A. MUST.
Furthermore, free technical support and well-written documentation are all you need to handle any dilemma. Keep going.
BTW: It doesn't matter if you love black, pink, red, or gray – you can brand Belle with unlimited options.
Belle features:
2,200+ sales
4.9+ star ratings
Product pre-orders (my fav!)
Awesome lightbox product gallery
Price: $79 (may vary)
MORE INFO / DOWNLOAD
DEMO
3. Wokiee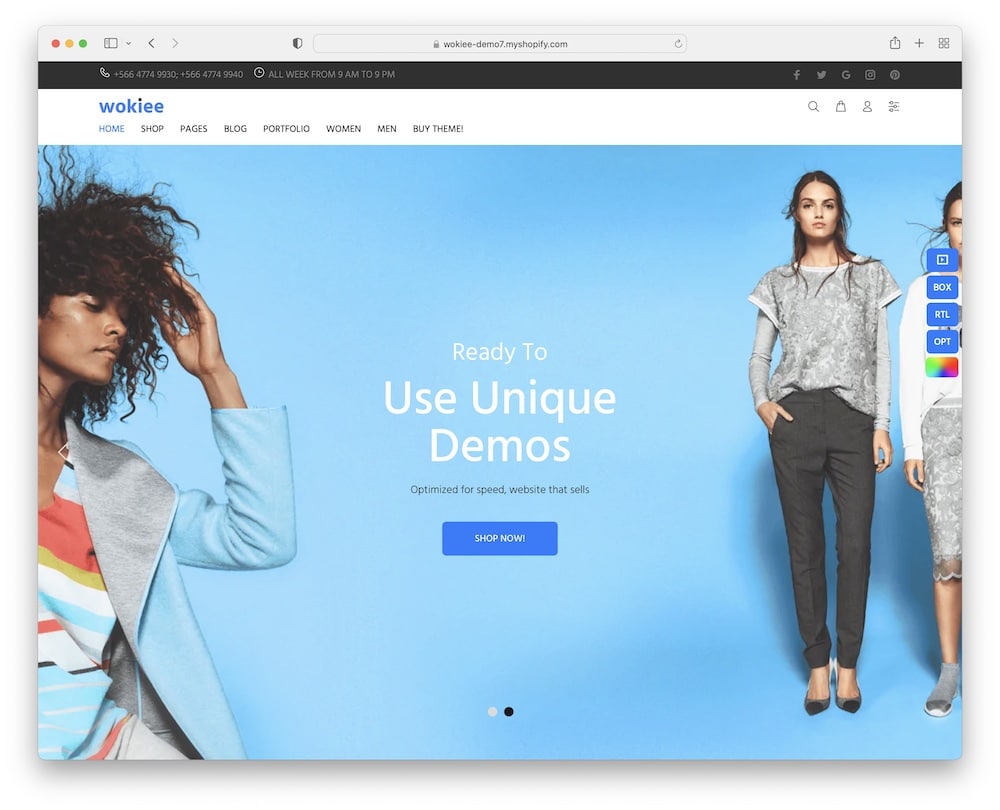 Strike a balance between daily wear and high fashion through Wokiee best Shopify theme for clothing.
Included content blocks give you numerous design options, plus you get FREE apps to reach your goals and increase the functionality of your site.
Woohoo!
I am crazy about beautiful skins, modern layouts for shop pages, and various header options. Feel free to make your Shopify site as personalized as you want.
Moreover, check out the COOL color, size, and material swatches (brilliant).
Oh, and a quick view popup is a perfect way to encourage visitors to take action (launch it at the right time).
Go over to Wookiee!
Wookiee features:
22,700+ sales
4.9+ star rating
Very practical dynamic filtering
Page load: 1.25s (by Pingdom)
Price: $79 (may vary)
MORE INFO / DOWNLOAD
DEMO
4. Fastor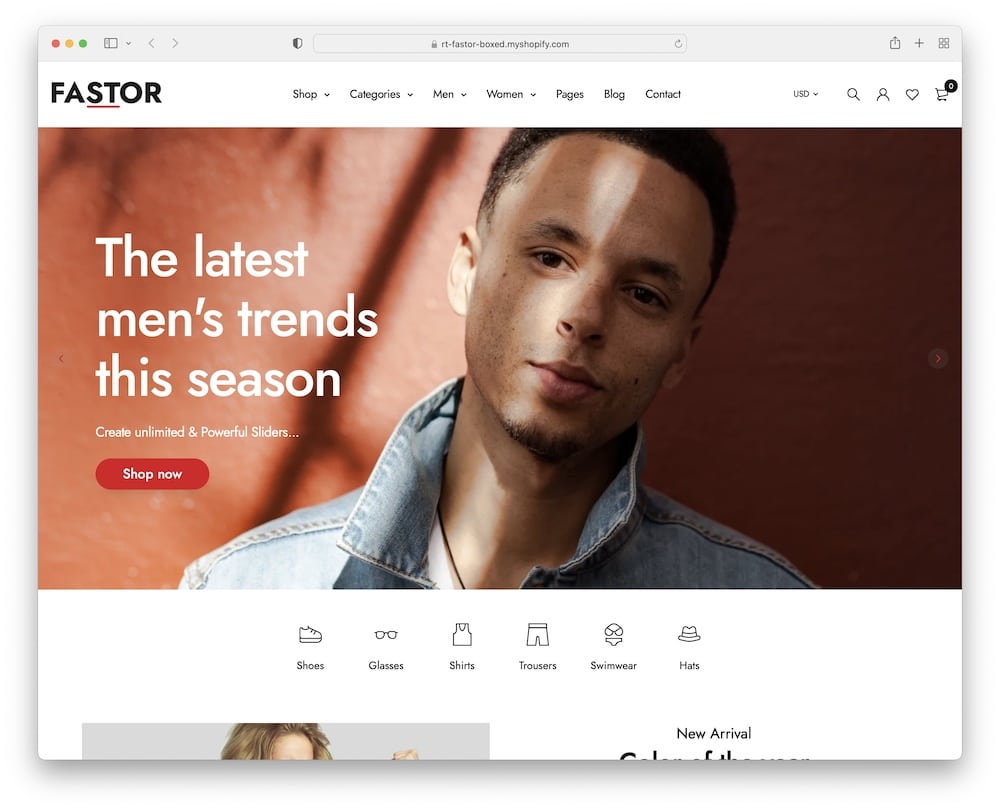 Present popular trends and seasonal favorites with Fastor Shopify fashion theme.
Remember, if your visitors see something they must have on your brilliant blog (I am crazy about blogs), they can order the look directly from your store (effortlessly).
Win-win.
Besides modern Fastor is integrated with WhatsApp chat & share for fast communication and a real-time chat experience.
And let's not forget numerous apps included for FREE in the Fastor bundle. Spend less but still enjoy AWSOME tools (check out all the smart product options and handy add-ons)!
Plus, the wide selection of colors and Google fonts always give me that sunshine and rainbows feeling.
Riiiight?!
Fastor features:
14,300+ sales
4.8+ star ratings
100+ skins (!)
Page speed booster (load time: 1.44s)
Price: $56 (may vary)
MORE INFO / DOWNLOAD
DEMO
5. Boom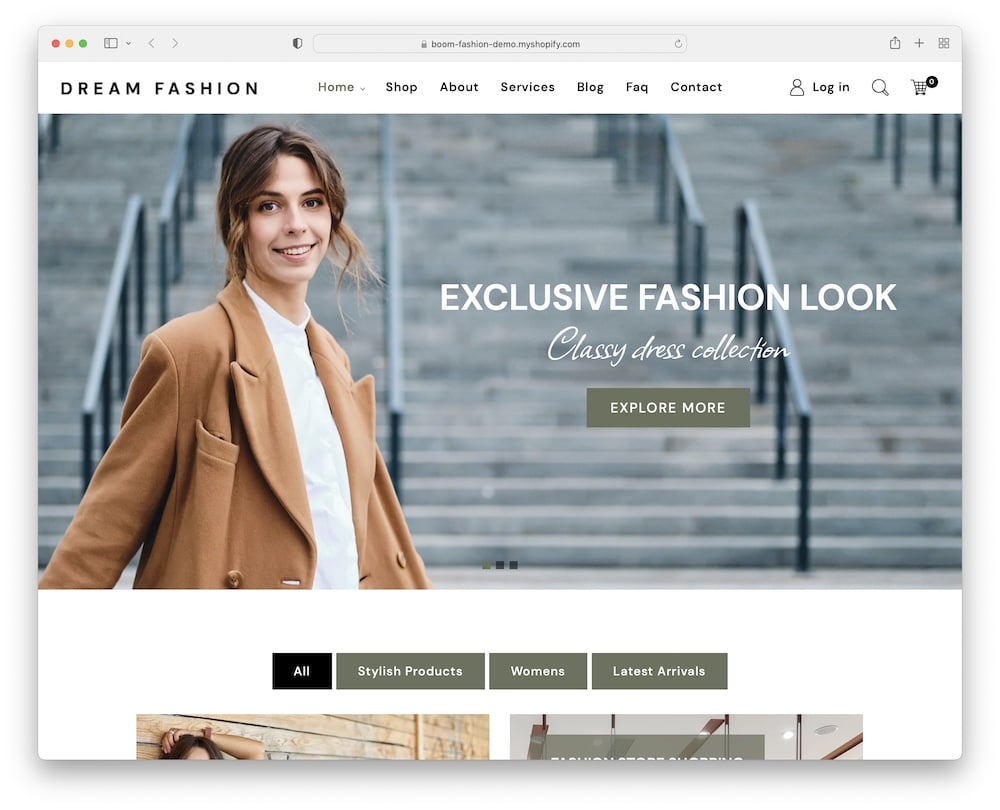 Boom Shopify clothing store theme "takes on" the fashion industry personally!
Discover gorgeous pre-made demos with numerous essential apps for an AWESOME user experience. Play around with the customization settings and create your PERFECT look.
I especially like the styling of the Boom cart dropdown for a quick view of chosen products. And, of course, newsletter popup will collect new leads for great promotional results (in this way, I promoted my eBook like a piece of cake).
Moreover, (all-in-one) Ajax tools allow visitors to instantly see changes they make in the shop (without refreshing the page).
Yep, you want to boost the performance of your website.
Oh man, and Boom offers lifetime FREE updates regularly. Sweet!
Boom features:
MORE INFO / DOWNLOAD
DEMO
6. Kalles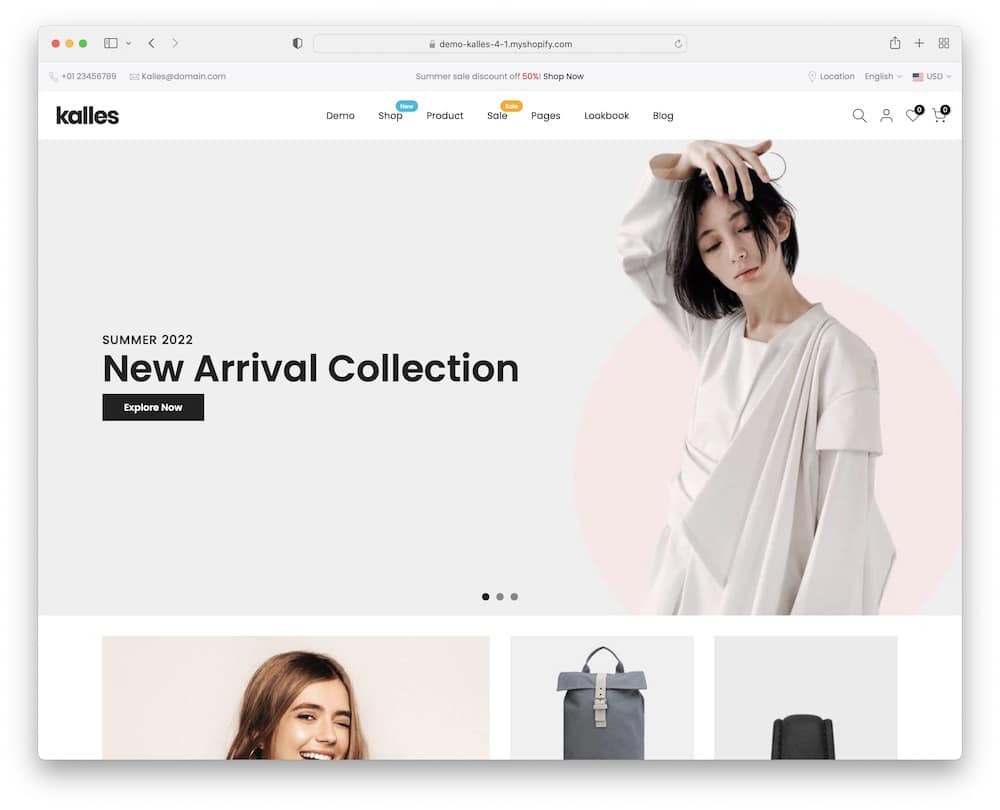 Kalles Shopify fashion theme's style is classic and elegant with many neutral colors and beautiful design details.
It really caught my eye! (But you can style it however you want.)
Kalles is optimized for great performance and offers COOL product tools for a better user experience. You can display your clothes with videos, animations, 3D models, and pretty layouts.
Plus, smart Kalles include different add-ons to boost sales (countdown timer, sales pop, pre-order, trust badges). And I LOVE smart filters – such time savers!
A wide selection of header layouts allows you to go for the one that is the best match for your brand.
My tip: Choose the one that is the easiest to scan.
It's all about style!
Kalles features:
12,600+ sales
4.9+ star ratings
Lookbook function
User-friendly theme options panel
Price: $89 (may vary)
MORE INFO / DOWNLOAD
DEMO
7. Gecko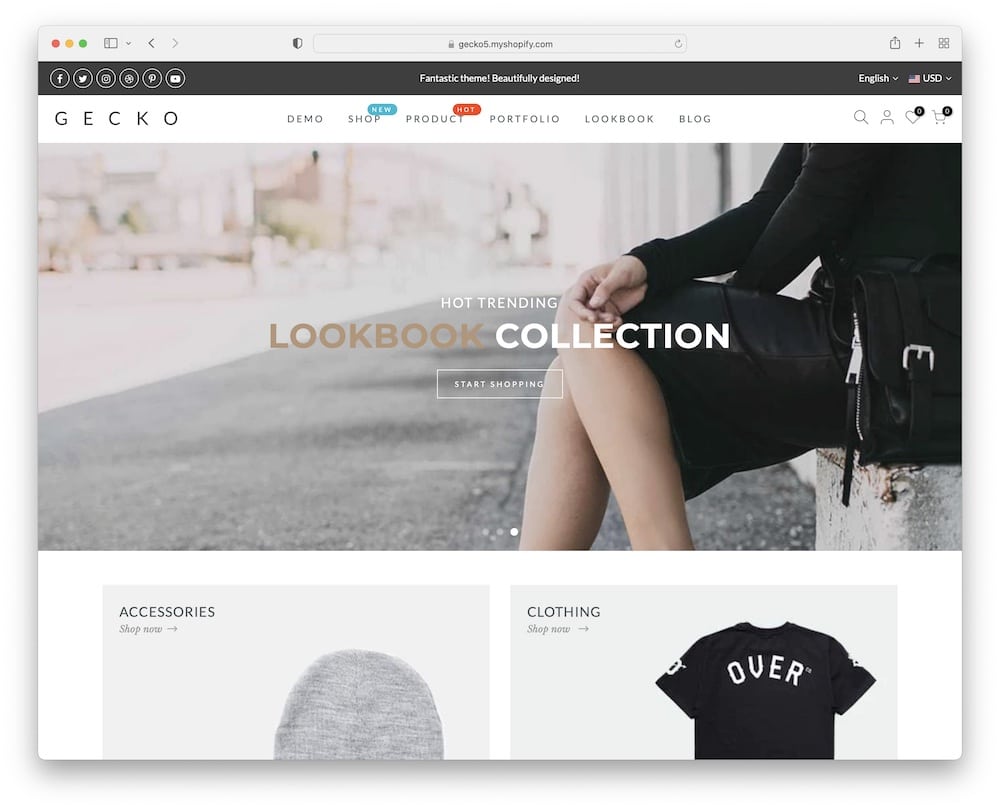 Gecko is an expression of style and luxury.
Display your products with modern design, and enable your customers to scroll, choose and purchase items fast and easy – it doesn't get better than Gecko.
Note: After I installed Gecko on one of my client's stores, their sales improved by 18%.
Gecko comes with ready-to-use homepages, brilliant product layouts, powerful Ajax search tools for products.
I know, it is a bundle of AWESOME features!
Gecko is also integrated with social sharing to promote your clothes on social media.
Or even better, why not create an Instagram shop?! Yup, you can sell products in your Instagram feed (so COOL).
Truly, honestly, from the bottom of my red heart: Take your time and make the mega menu a star of your site!
Gecko features:
7,800+ sales
4.9+ star ratings
Great RTL support
Page load: 1.92s (by Pingdom)
Price: $99 (may vary)
MORE INFO / DOWNLOAD
DEMO
8. Avone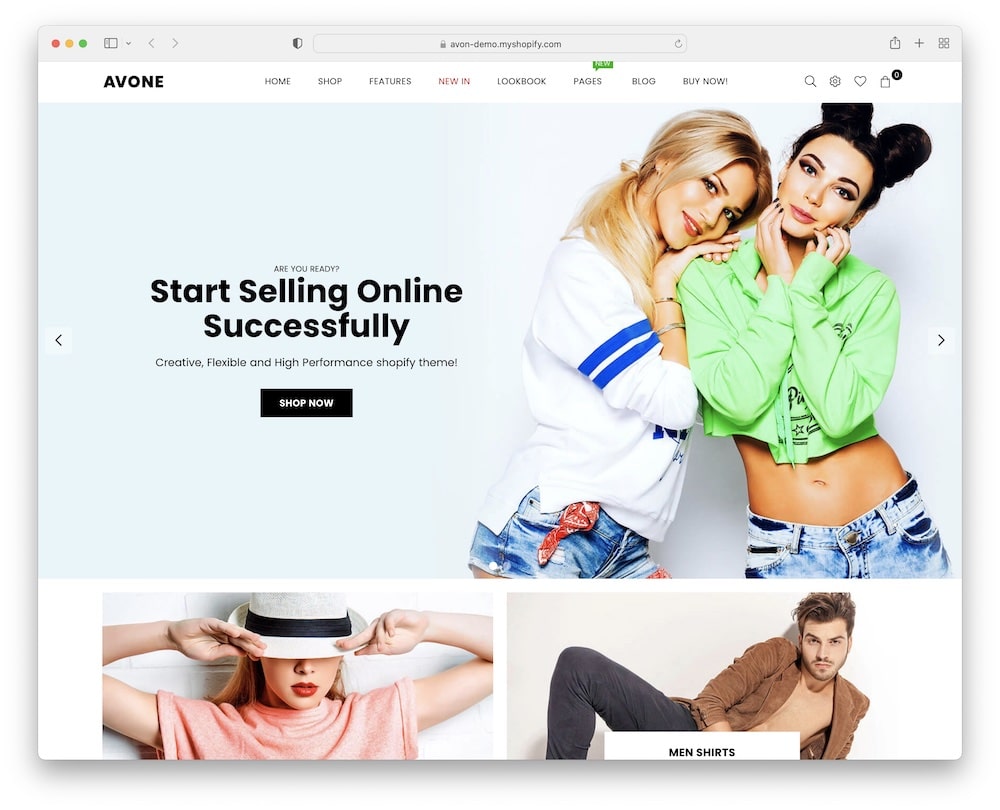 Take a risk-free fashion try with the Avone Shopify clothing store theme. Rock it & own it!
You can install this easy-to-use theme with one click (!), which speeds things up A LOT.
And then feel free to make your online store as personalized as you'd like.
Keep in mind, you can do important business actions instead of coding. Coding wizards reading: "Thank you for your service!"
Moreover, you will improve your store's performance with a sticky cart, quick view, product filters, wishlist, Ajax popup, swatches, and lookbook.
Avone has everything!
BTW: Avone is compatible with MailChimp (the newsletter is still one of the best channels to reach people on).
Well worth your time!
Avone features:
7,900+ sales
4.9+ star ratings
Ajax cart & search
Page load: 898ms (by Pingdom)
Price: $79 (may vary)
MORE INFO / DOWNLOAD
DEMO
9. Shella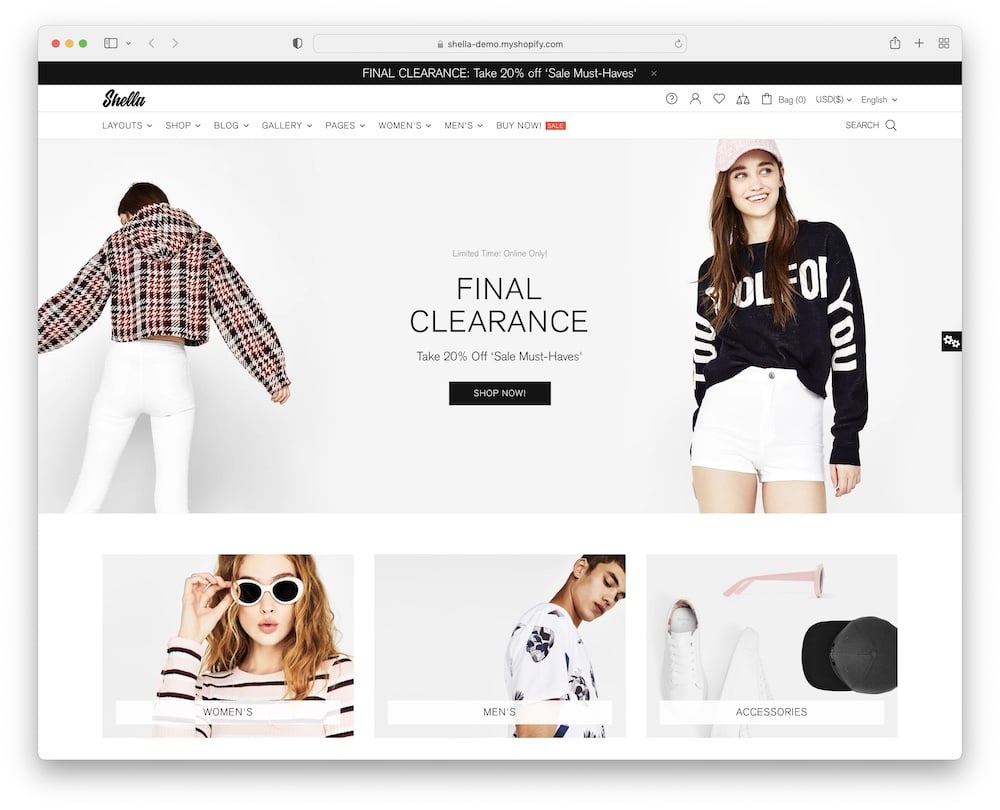 See fashion in a new and creative way with Shella Shopify themes for clothing.
Optimized product page, product gallery, 3D model, zoom popup, and infinite scroll through collection page can work wonders for your online store.
I absolutely can't do it without these features!
Shella offers multi-currency (sell in 130+ currencies) with Shopify payments. WOW!
Also, customers can skip the cart for fast & easy payment with dynamic checkout buttons.
Furthermore, POPUPS are great for testing new campaigns, products, coupon codes, etc. Take advantage of the buzz!
And in my opinion, catalog mode and lookbook are pretty COOL treats.
Shella features:
11,600+ sales
4.9+ star ratings
Free shipping progress bar
Page load: 2.05s (by Pingdom)
Price: $69 (may vary)
MORE INFO / DOWNLOAD
DEMO
10. Minimog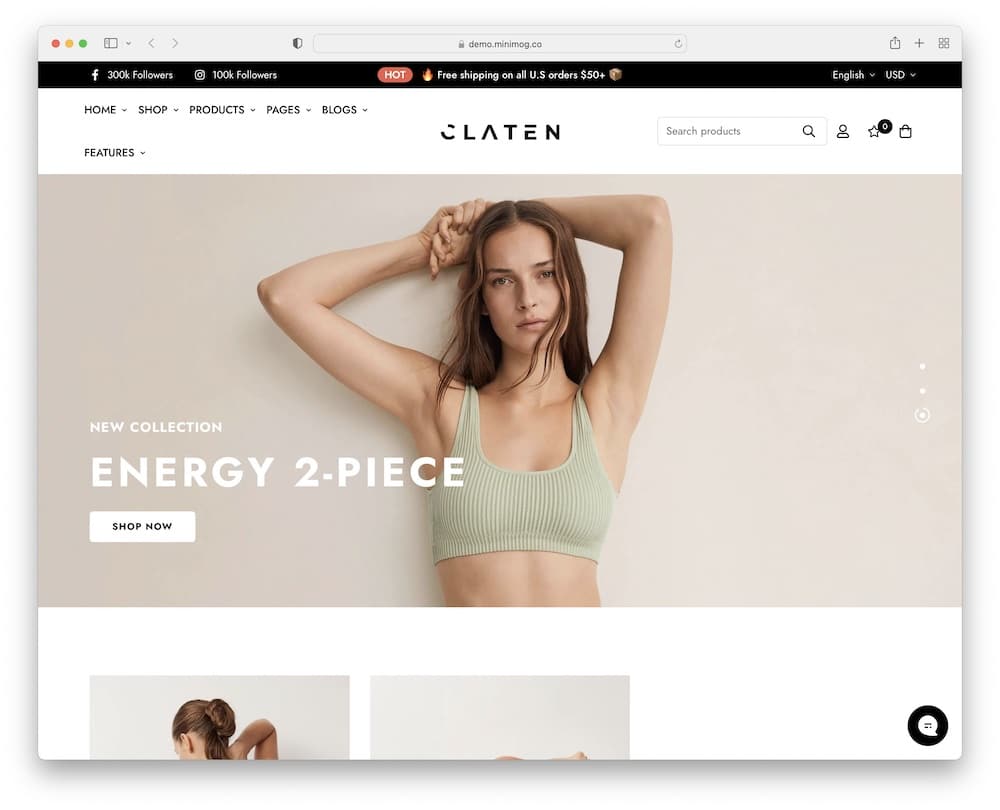 Bright colors, responsive design, and a complete eCommerce solution (all-in-one).
Minimog Shopify fashion theme includes a big template library, numerous content blocks, pre-made shop pages, and many typography options. Yes, you also get unlimited color schemes.
TIP: Let everyone get in touch with you through Facebook chat.
Additionally, SEO-friendly Minimog helps you to get along (better) with search engines (Hi, Google!) and, as a result, brings more organic traffic to your store.
DOPE.
Furthermore, Minimog offers full documentation and top-notch customer support. You even get secret weapon – tutorial videos. Nodding, yes, Yes, YES.
OMG, and who doesn't LOVE to spin a sale on the lucky wheel? Enjoy!
Minimog features:
7,600+ sales
4.9+ star ratings
Lucky wheel (motivation booster)
Performance grade: A 94 (by Pingdom)
Price: $88 (may vary)
MORE INFO / DOWNLOAD
DEMO
11. Kala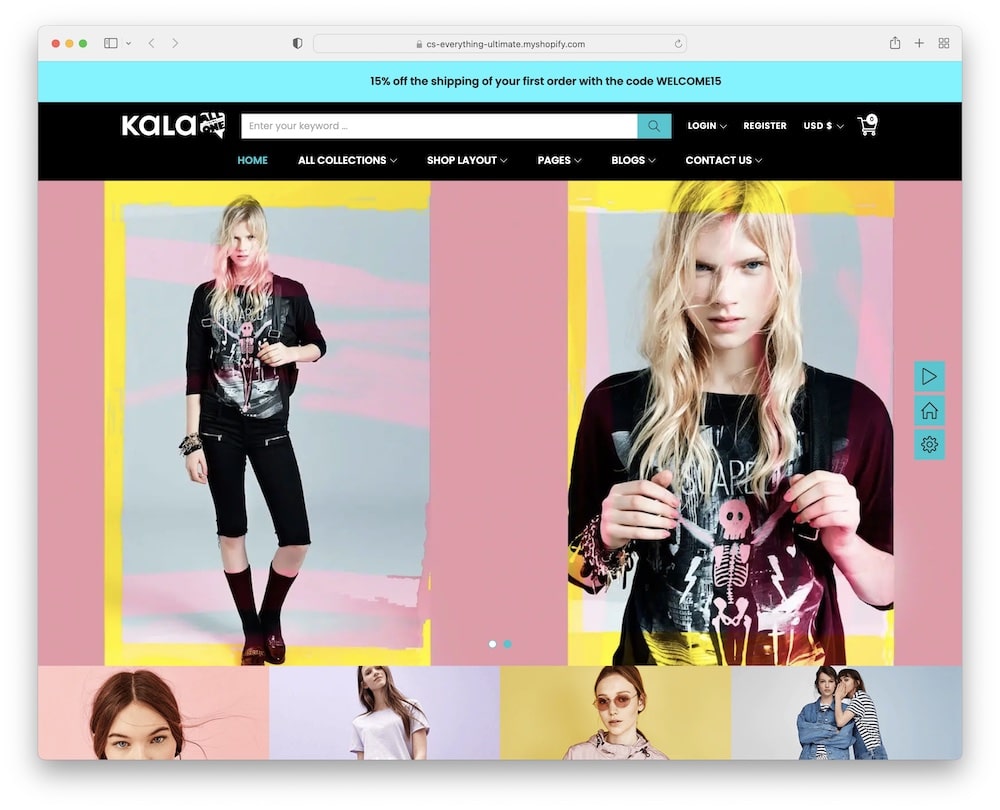 Share the hottest fashion pieces on Kala Shopify clothing store theme. Creative and stylish way!
Kala is easy to customize (mix and match provided elements, layouts and colors) so you end up with your unique store.
0 coding. 100% fun.
The best part: Shopify is reliable & secure web hosting. No more worrying about the site crashing during peak traffic hours or annoying hackers!
BIG. DEAL.
I also suggest you start a blog to get to your target audience.
And let's not forget about subscribe button or popup newsletter banner (email marketing). Kala offers built-in blog layouts, newsletter popup, and CMS pages.
Keep every outfit looking fresh with brilliant Kala.
Kala features:
4,900+ sales
4.8+ star ratings
Great as a boutique Shopify theme
Autocomplete search function
Price: $49 (may vary)
MORE INFO / DOWNLOAD
DEMO
12. Lusion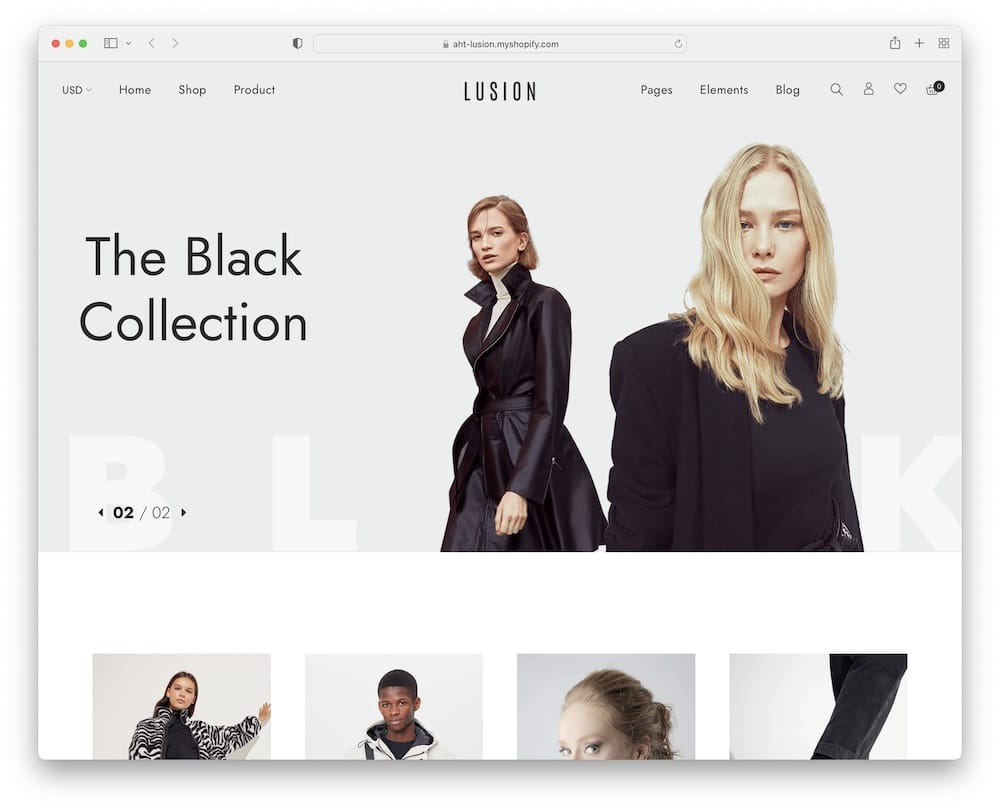 Lusion Shopify fashion theme is an excellent Ajax theme created for fast and trouble-free online store management.
Say GOODBYE to expensive developers and designers – you can do everything like a pro with pre-made demos and professional plugins.
Do whatever you want to do!
Yup, Lusion includes all the essential tools for a successful store, such as age validation, fake sale popup, wishlist, quick view, product comparison, and GDPR (EU personal data protection).
Moreover, you can create the best navigation for your website with the stylish built-in mega menu.
Help your customers quickly find what they are searching for with included images, buttons, detailed categories, links, and icons.
Go BIG with Lusion!
Lusion features:
MORE INFO / DOWNLOAD
DEMO
6 Key Features Of A Great Shopify Fashion Theme
I used these six key features and functions of a top-notch Shopify theme specific to the fashion industry when testing and reviewing themes for this collection.
Make sure you don't miss these if you plan on doing further research.
Note: I really do encourage you to always look for these six because you'll thank yourself later.
1. Responsive layout
Because Shopify is all about eCommerce and people tend to shop more using mobile devices than desktop, a mobile-ready layout is A MUST.
In fact, you need to look for themes that have additionally optimized online shopping experience for mobile.
Mobile menu, checkout, great product pages – EVERYTHING needs to be executed with mobile users in mind.
2. Sections & apps
I witnessed very rare cases when my client was fully satisfied with the out-of-the-box version of a Shopify fashion theme.
Thus, the theme needs to have predefined sections and built-in (free) apps that will help you customize the look however you want.
Don't worry, you'll never need to deal with coding when beautifying your favorite theme.
3. Built-in SEO
Even if you plan on mostly using social media, influencer marketing and media buying to promote your online fashion store, DON'T neglect search engine optimization.
But basic SEO is so simple to do with a theme that has the feature built-in.
Metas, keywords, headings, grat URL structure, internal linking, ensure you take care of all of it.
It may require a little extra work in the beginning but you can expect EXCELLENT results in the long-run.
4. Optimized checkout
I landed on a checkout page more than once and didn't know what to do. Of course, I left and didn't complete the purchase.
A Shopify fashion theme with an optimized checkout (one-page checkouts are my favorite) will boost you conversions.
And that's a guarantee.
It needs to be simple, with as little work necessary to fill the missing data.
One rule I always follow when it comes to online (clothing) shops: Keep it simple.
5. Updates
Here's the thing: Avoid any theme that hasn't received any updates in a while. A few months is OK, but anything beyond that is a no-no.
A regularly updated Shopify theme means regular bug fixes, improvements and added features, ensuring your fashion website runs smoothly for years to come.
6. Support
Even if a theme is the best of the best with endless features, I wouldn't recommend using it if it offers (very) poor support.
It's better to pick a Shopify fashion theme with fewer features and functions and BETTER support.
This proved time and time again for me and I may be the first one telling you this, but it's the truth.
Always aim for the best support.
How to test if support is quality before purchasing the theme?
Every theme on ThemeForest has Comments and Support sections.
It's here where you can share your comment, opinion and even ask questions.
Then wait for the author's response. This could be a great indicator of whether you can expect quality support or not.
It tells you more than enough if they don't respond (at all).
But if they get back to you quickly, well, they care about their potential customers and that's a good sign of quality support.