Are you ready to promote your creative works with the best WordPress themes for artists?
I did all the necessary testing and reviewing with actual artists to pick the ultimate twelve.
Some of the things I checked in every WP theme were: mobile-friendliness, portfolio functionality, customizations, number of extra demos/templates, speed and SEO optimization.
You're equipped with everything necessary to build an online art portfolio, event start a blog and create an online store.
This post covers:
You don't need skills and experience to establish a professional artist website.
Enjoy the predefined designs and heaps of features that will save you a lot of time.
You were created to CREATE – so create a page NOW!
QUICK-PICK: Best WordPress Themes For Artists
Best Premium WordPress Themes For Artists
1. Eldon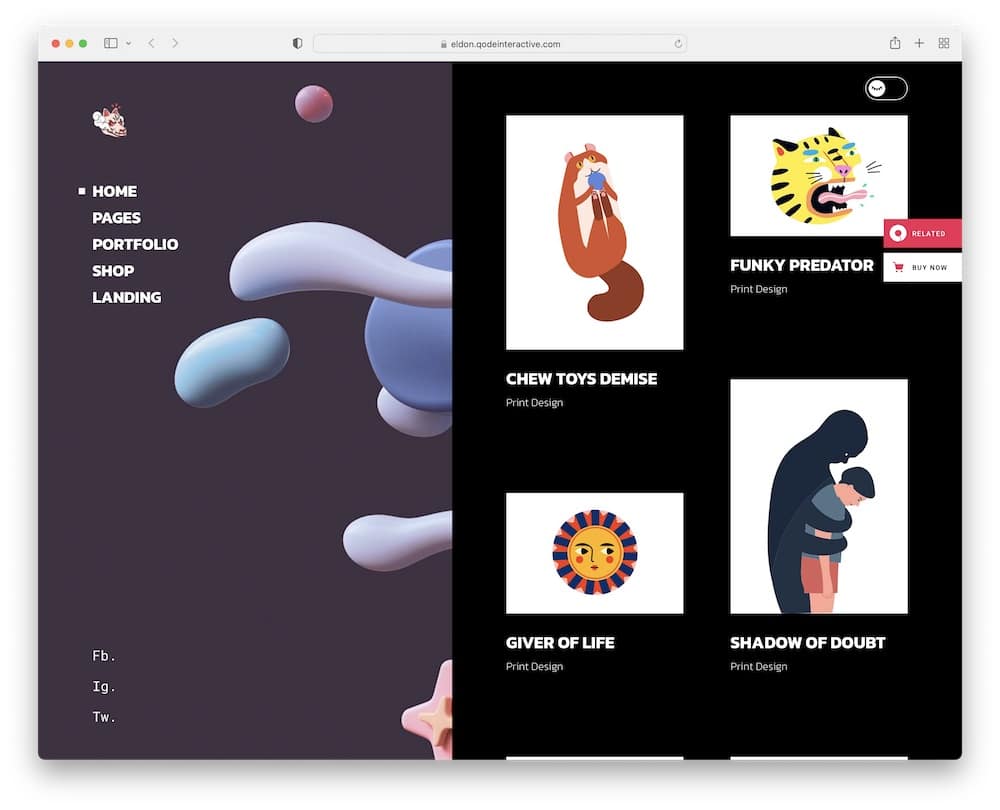 If art is why you came to this world, you have to check out Eldon WordPress theme.
Oh, man, ten pre-designed homepages, unique inner pages, and gorgeous layouts are waiting for your creative touch. You only have to choose what you like the most!
Everything comes down to one-click import, easy-to-work-with admin panel, and practical plugins – This is brilliant!
Eldon will also help you make an AMAZING portfolio, plus you can create a pretty gallery with additional images of your artwork.
BTW: The light and dark option is DOPE.
I think I just found the perfect mate for you!
Eldon features:
MORE INFO / DOWNLOAD
DEMO
2. Ginevra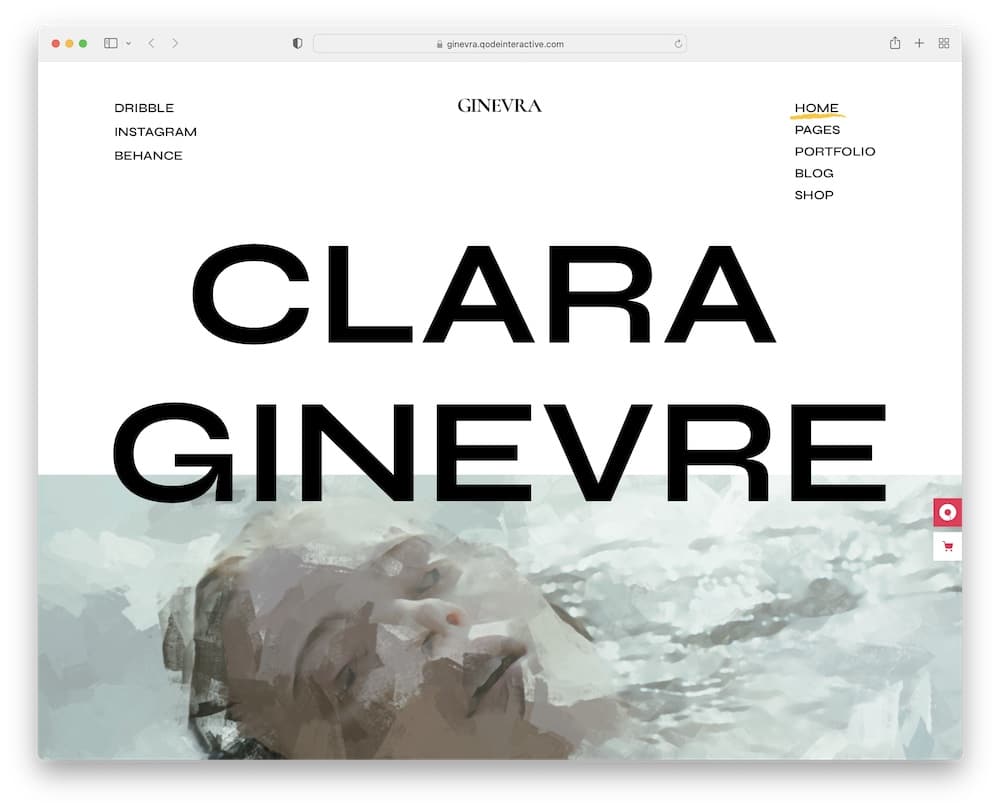 Show your work in the best light with Ginevra WordPress art portfolio theme.
Modern design, elegant details, and functional plugins are your journey to success. I like Ginevra's flow and minimalism (SO beautiful to scroll through!).
Remember, convenient WooCoomerce is the quickest way to publish & sell your artwork. YES, it takes just a few clicks to put you in the game.
Oh. My. God!
The integrated share functionality and social media icons make it easy to be social with Ginevra. Plus, tons of stunning shortcodes offer impeccable performance.
I am sure you will also enjoy a carefully designed gallery layout. Yup, you can even organize an exhibition with Ginevra!
Ginevra features:
250+ sales
4.6+ star ratings
Various custom widgets
Included child theme
Price: $79 (may vary)
MORE INFO / DOWNLOAD
DEMO
3. Artday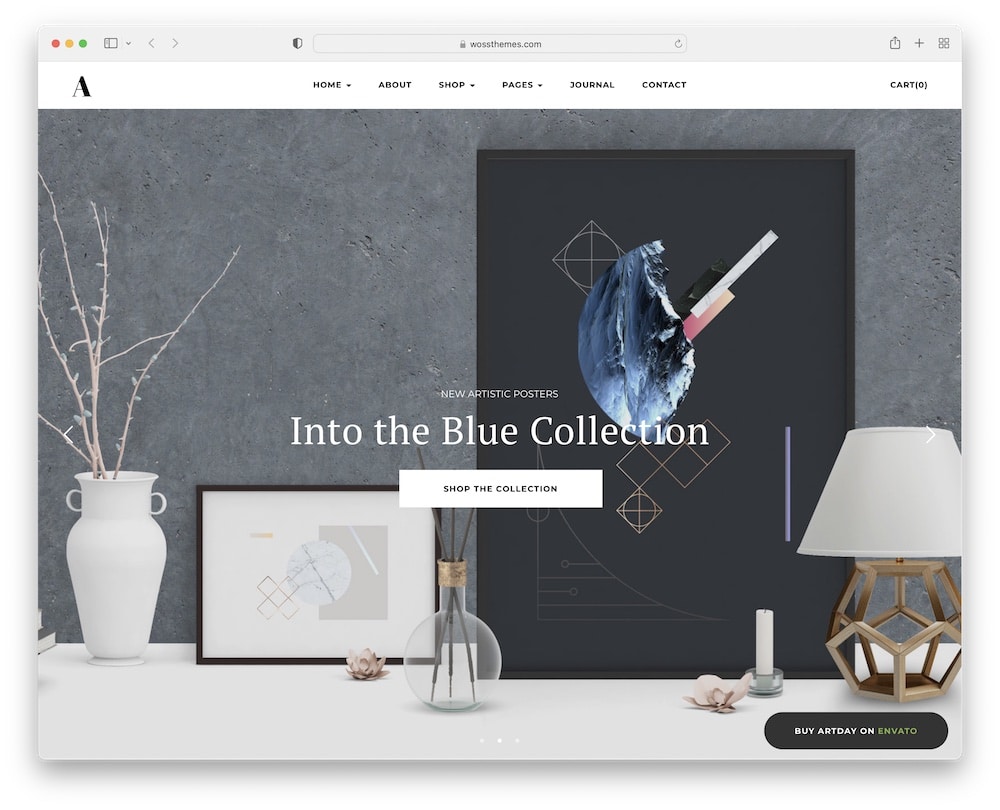 Artday WordPress theme for artists offers a luxury space to showcase, promote and sell your artwork.
So, where do we begin?
All your creative ideas can become a reality (0 coding knowledge required) with a WordPress page builder. Thanks, WPBakery!! Add widgets, elements, and images, or rearrange columns and buttons.
Be your own BOSS!
Moreover, Artday comes in the company of a WordPress slider plugin (Slider Revolution) – we all know this will be a successful creation, don't we?
To top it all up, you can set up a parallax scrolling for an interactive display of your artistic story. It is a divine effect (in my opinion).
The choice is yours, but I would take advantage of all the goodies now!
Artday features:
MORE INFO / DOWNLOAD
DEMO
4. Ekko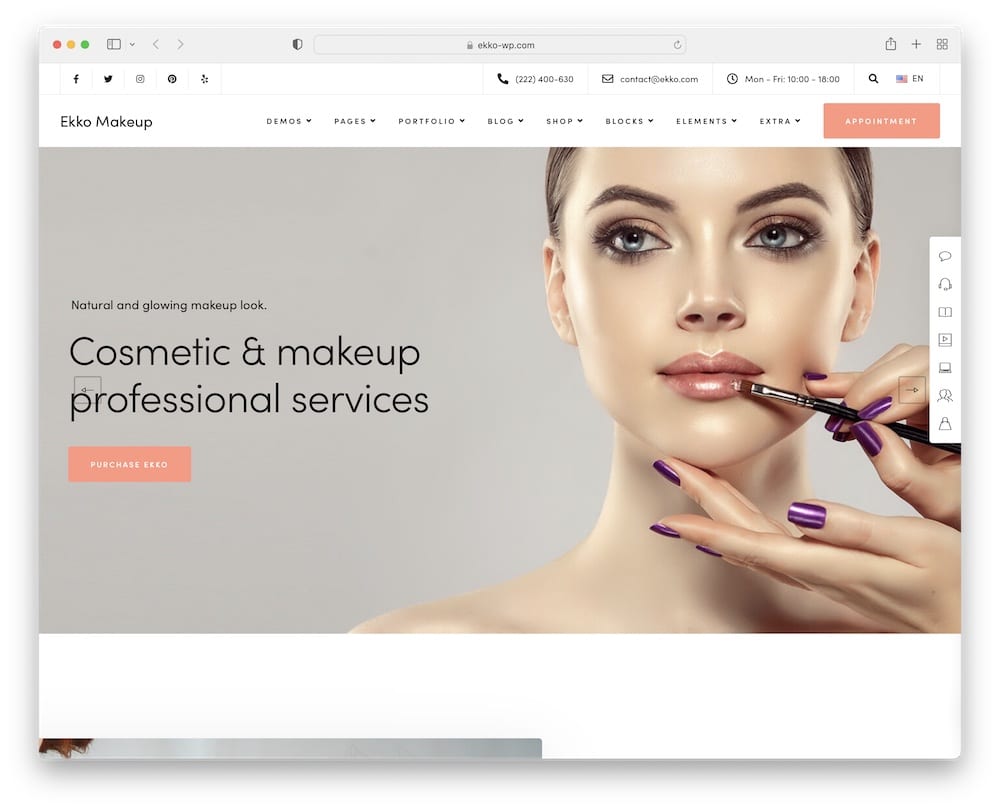 Ekko WordPress theme for makeup artists has a beautiful design, includes creative tools, and premium customer support (always has your back!).
One-click. Import completed. The fun starts now!
Kick off with the most popular plugins such as WPBakery, WooCommerce, Contact form 7, and Slider Revolution for FREE!
Unique portfolio layouts are also part of the Ekko kit. Just drag and drop sections and create an impactful portfolio in minutes.
From Meh to Wow!
Plus, with a consistent blog, you can keep a diary of your AWESOME makeup content available to the public.
OMG: Ekko also offers lifetime updates (no extra charge). Make some noise!
Ekko features:
6,500+ sales
4.7+ star ratings
200+ template blocks
Optimized for speed
Price: $59 (may vary)
MORE INFO / DOWNLOAD
DEMO
5. Red Art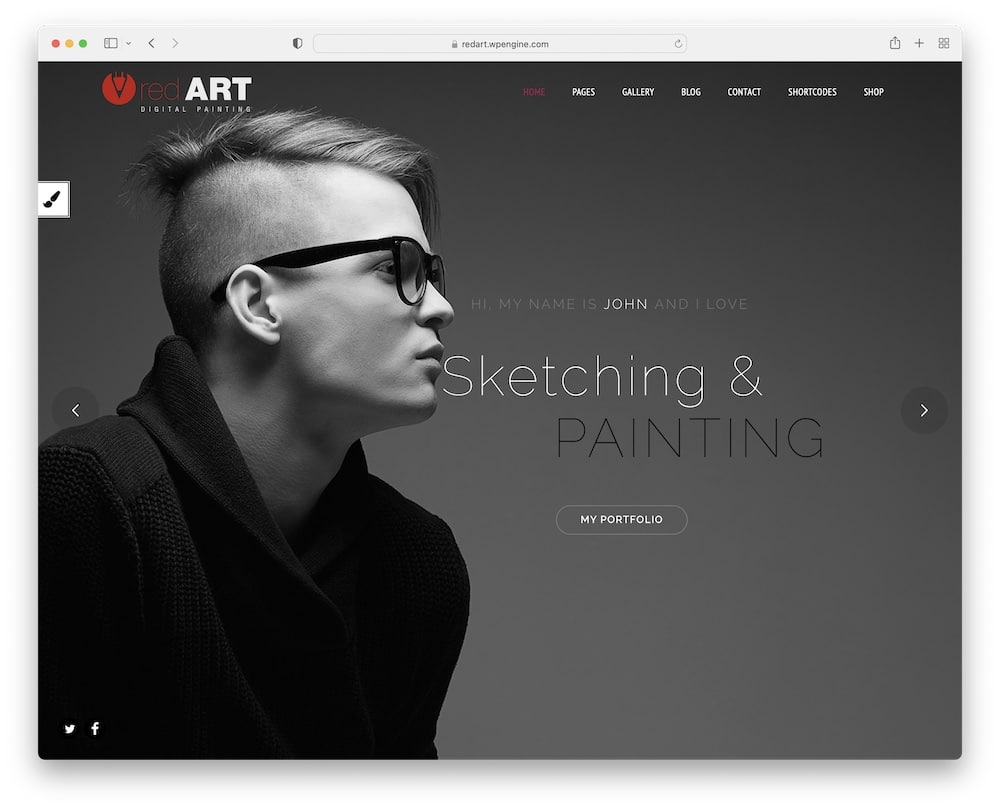 You were created to work with the modern Red Art portfolio WordPress theme (trust me).
Red Art's design options are endless!
Remember, you can use it out of the box (pre-made demos) or give it a full makeover by choosing a new header, color skin, Google fonts, and gallery style.
Setting up a dark or light background is easy – one click is enough to change your website's look. Magic.
Oh, and you can place useful shortcodes anywhere you want to display an extra function (on a page, post, or content). Pretty COOL!
Okay. Your turn!
Red Art features:
2,000+ sales
4.8+ star ratings
Use it as a parallax WP theme
Amazing support & documentation
Price: $59 (may vary)
MORE INFO / DOWNLOAD
DEMO
6. Illustrator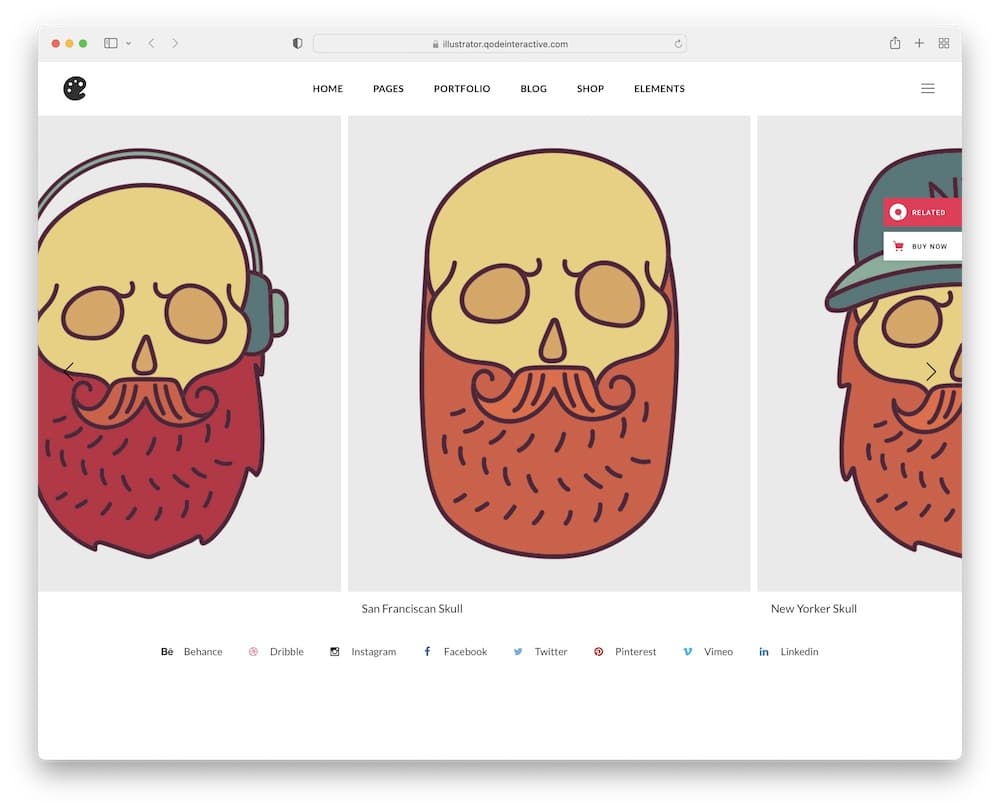 Highlight trends, emerging talents, modern craft, illustrators, animators, or underground art with the playful Illustrator WordPress theme for artists.
OMG, I can't stop scrolling through ready-to-use homepages … soooo COOL and unique!
Illustrator's trendy design is fully responsive and retina ready for trouble-free display on different devices and screen sizes (crucial for a great user experience).
Moreover, Illustrator can help you reach customers globally due to the translation-ready option. (It all depends on what your business goal is.)
Also, you can quickly put together a gorgeously looking portfolio or start a blog. Or maybe just DO both! Like me.
Enjoy Illustrator!
Illustrator features:
MORE INFO / DOWNLOAD
DEMO
7. Crafts & Arts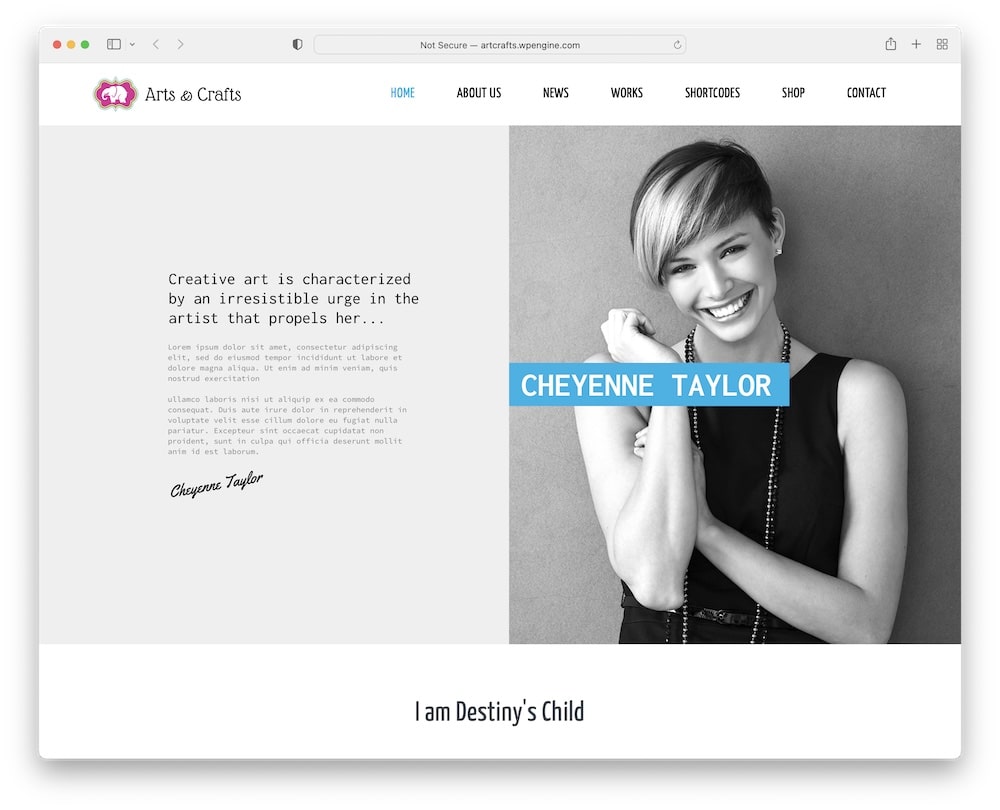 Introduce your vision to the people with the Crafts & Arts handmade WordPress theme for artists.
If you like what you see (uniquely crafted demos), you can use chosen demo exactly as it is!
BUT, you can add your personal twist to the existing layout – NO coding knowledge or design skills are required.
Are you ready for the "WOW" moment?
Great Crafts & Arts design is PERFECT for an online store (let's take a bow to WooCommerce)!
I love to work with it; such a simple way to organize products and keep inventory and sales records.
Besides, you also get other awesome plugins like Slider Revolution, MailChimp, WPBakery, Events Calender, and Contact form 7.
What a bargain!
Crafts & Arts features:
MORE INFO / DOWNLOAD
DEMO
8. Haar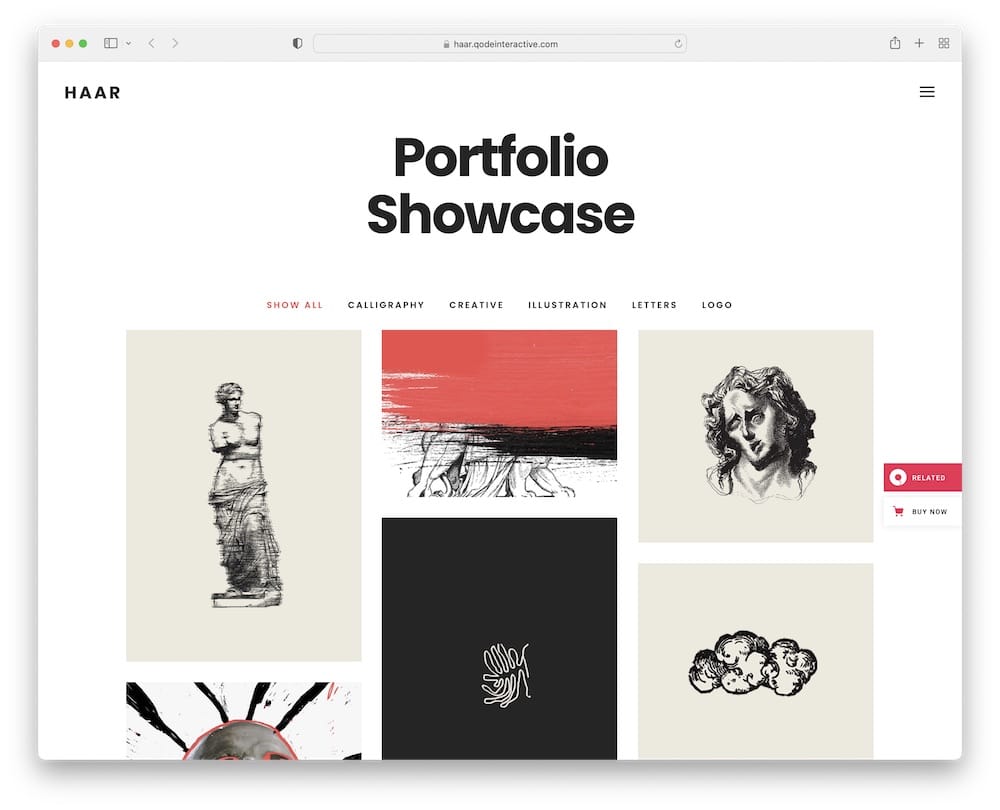 Haar WordPress portfolio can become a place where you showcase artwork, promote exhibitions, and release important news about art.
The best option for artists, designers and illustrators.
Make others jealous (evil laugh) with your beautiful artwork & I know Haar will display it with a BANG!
You get various templates, inner pages, portfolio lists, flexible headers, and blog layouts. Everything about Haar is super easy to customize and adjust to your wishes!
Plus, you get a BIG advantage with smooth scroll and page transitions. I love the flow it provides.
Haar also includes social media icons and share functionality for direct connection with your fans. And it is a real BADASS feeling when your post goes viral (fingers crossed).
Haar features:
930+ sales
4.7+ star ratings
It's easy to change WP fonts
Video & image backgrounds
Price: $89 (may vary)
MORE INFO / DOWNLOAD
DEMO
9. TattooPress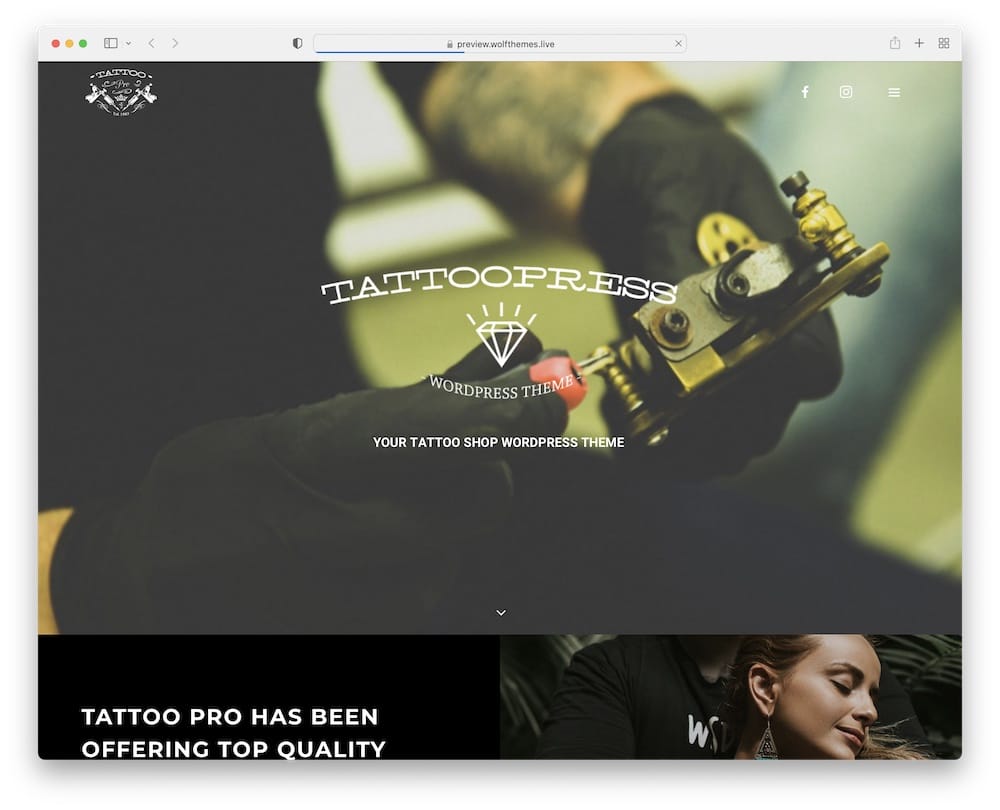 Tattoos are amazing stories – collections of beautiful moments of the journey called life.
TattoPress tattoo WordPress theme empowers you to display (pre-made photo album, video portfolio) your work, ideas, and vision.
You get a stunning WPBakery page builder, Slider Revolution, and WooCommerce.
OMG, everything you need for a fast and painless building with a gorgeous outcome!
Moreover, I enjoy shaping sites with the aid of an advanced mega menu (so many options for great navigation). It doesn't get any easier for visitors to make a quick find.
Oh, and a few things that you should definitely try: change colors, adjust Google fonts and check out animated SVG icons.
Grab TattooPress!
TatooPress features:
MORE INFO / DOWNLOAD
DEMO
10. SoundRise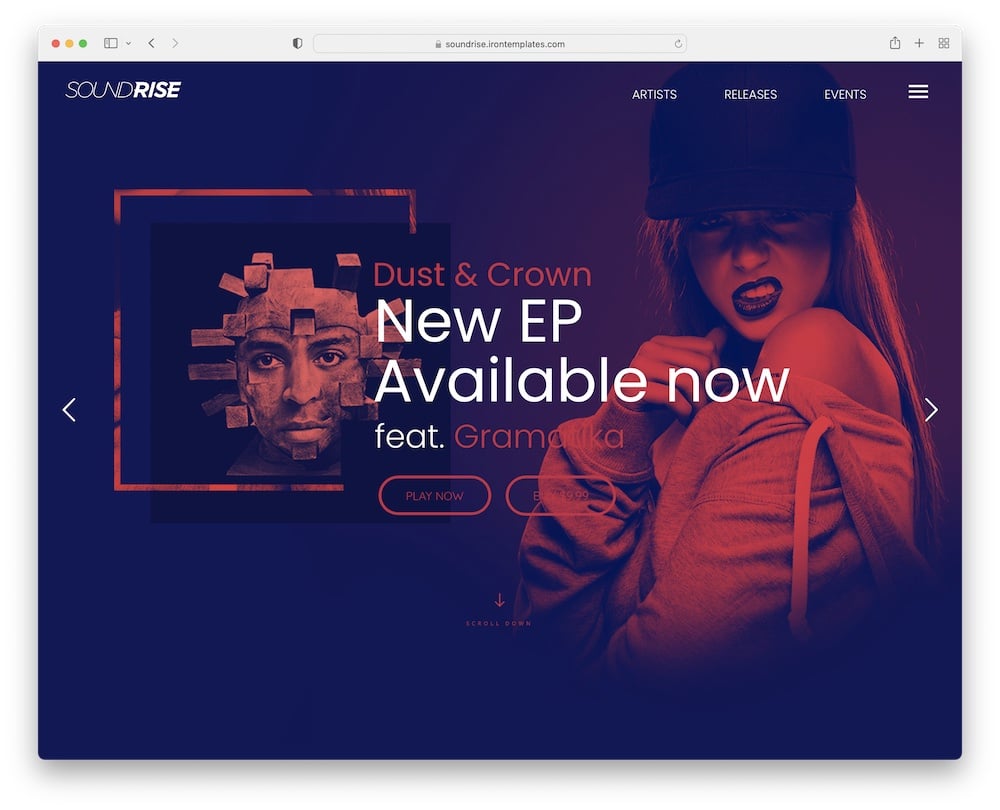 SoundRise WordPress theme for musicians contains awesome features, pre-made demos (no code, no problem), and various options of fonts, colors, headers, and sidebars.
Choose design that you like and create stylish landing pages, unlimited playlists, events, and even promote upcoming gigs.
Also, check out the parallax banners (they look amazing!).
The best part is the WordPress audio player plugin. Aha, visitors can LISTEN to your tracks the whooooole time they browse your site!
Are you excited or excited? Me, too!
Want to go global? You can! SoundRise is fully translation ready (easy to use and efficient).
Turn up the music and create your new website today!
SoundRise features:
MORE INFO / DOWNLOAD
DEMO
11. Artist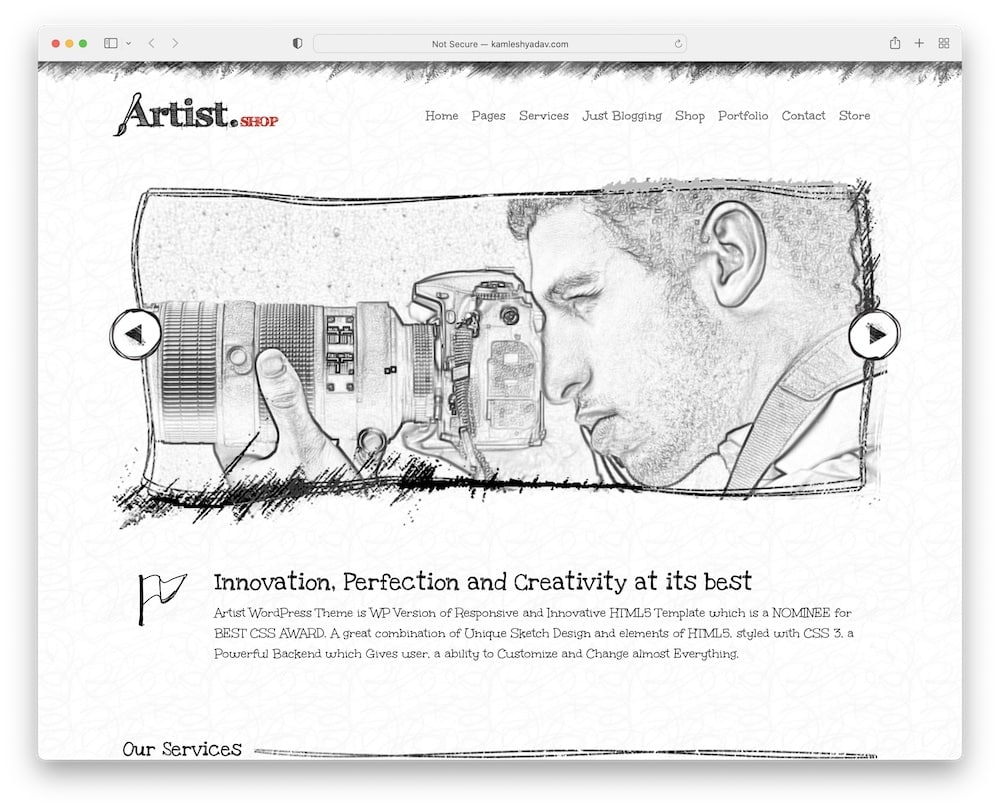 Make new style choices, implement new ideas and find impressive options with the Artist WordPress theme.
Artist will highlight your work with a pencil sketch design, unique elements, and pencil-drawn fonts. (You can also check our WordPress font plugins for more options.)
Overall, it offers a super special (eye-catchy) look that originally displays your talent.
One of my FAV!
Kickoff with brilliant drag & drop function (the most popular way of building sites).
Your goal is to rearrange, mix, add, set up, and match elements, shortcodes, plugins, columns, icons, etc.
Pretty sweet, right?
GOOD NEWS: Artist is also SEO optimized and cross-browser compatible. Hurray!
Oh, and hey. Portfolio is not optional. You must, you must, you must.
Artist features:
450+ sales
4.2+ star ratings
Unique look
Lightweight & quiality-checked code
Price: $49 (may vary)
MORE INFO / DOWNLOAD
DEMO
Best Free WordPress Themes For Artists
12. CleanPortfolio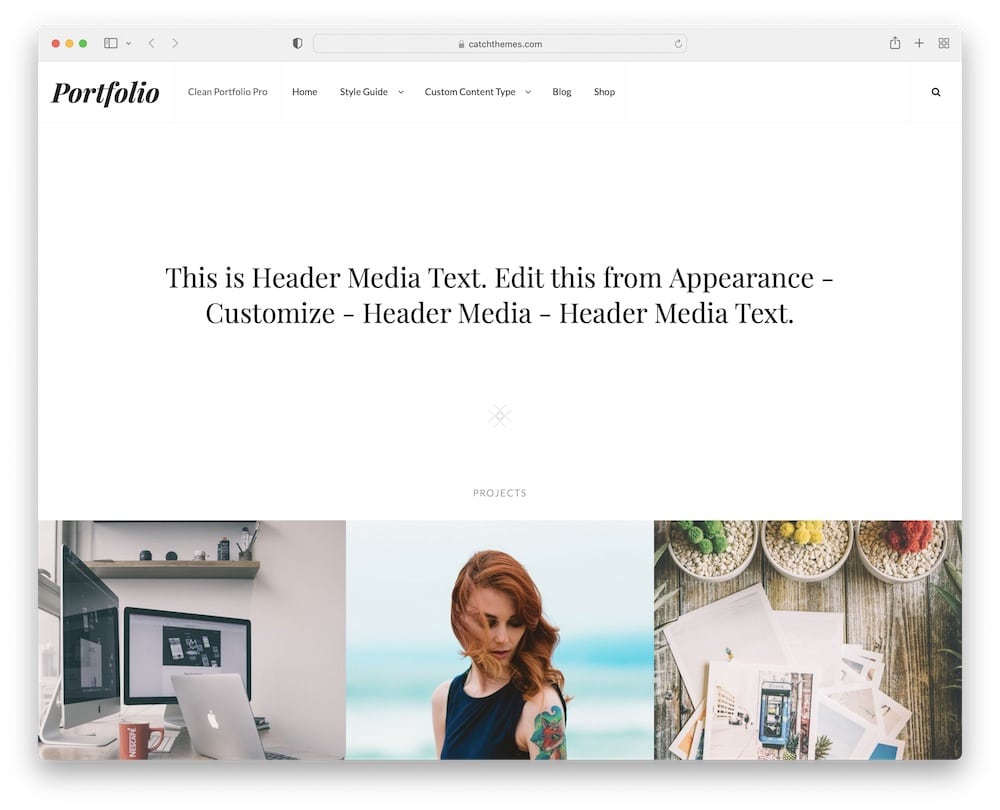 CleanPortfolio theme is flexible, friendly, FREE, and totally responsive.
Oh gosh, yes, please, and thank you!
The exciting part is that you can customize this WordPress art portfolio theme by selecting your favorite colors, fonts, and header and setting up a menu.
You can also connect (child's play) your site with social media accounts.
BIG. DEAL.
Moreover, present and display your skills, artwork, accomplishments, and vision with a gorgeously designed portfolio. Make even the Universe proud!
Thankfully, CleanPortfolio includes AMAZING customer support and detailed documentation. KEEP calm; the necessary guidance and assistance come when you need them.
Jump in and join CleanPortfolio, now!
CleanPortfolio features:
900+ active installs
5-star rating
Minimalist design
Frequent updates
MORE INFO / DOWNLOAD
7 Key Features Of An Artist Website
I already mentioned some of the stuff I checked when reviewing the themes, but here are some more insights that I kept in the back of my head to ensure you create the best artist website.
1. Artist biography
It's important to create a compelling artist biography, tell more about yourself, and even share your personal story of how you got into art.
This is also a great section to share references and achievements to WOW everyone reading your bio.
2. Portfolio & beautiful images
While your bio is important, a portfolio full of beautiful images is even more necessary.
Luckily, every WordPress theme has the feature to create a pro-level portfolio quickly.
You can design the right look with multiple ready-to-use layouts and customize them to your needs.
3. Responsive layout
Like any other website, an artist's page must also be mobile-friendly.
It's a MUST.
I don't even need to say anything else here other than responsiveness is essential.
Hint: Regardless of the above themes you choose, a mobile-first layout is built-in.
4. Contact information
You need to share your contact information if you want to use your artist website to promote your services and do business.
One way to do it is to create a contact page and (even) add Google Maps to your WordPress site if you'd like others to know your location.
But I also suggest having contact information in the footer area, which is always accessible.
5. Social media integration
Art is shareable!
You can include an Instagram feed, add sharing buttons, and connect your website with Pinterest and Twitter; the options are endless.
It's just a matter of picking what works best for you and sticking with it.
You may also be interested in checking our best social media WordPress plugins collection for more options.
6. Blog
You'll immediately stand out from the rest of the artists in your niche with an updated blog.
Why?
Because so few artists do it!
You can write about your niche, projects, working process, etc.
One more tip I can give you is to be yourself.
7. (Optional) Online store
Not everyone will sell their artwork online, but if you do, knowing that you have the option to expand your website with an eCommerce section is valuable.
And that's exactly what you can do with any WordPress theme for artists.
Note: We also have many free WooCommerce plugins that you can add to expand your online art store's functionality.
Frequently Asked Questions About Artist Sites & WordPress
Is WordPress good for an artist portfolio?
Yes, WordPress is, in fact, one of the best CMSs for building an online artist portfolio. It's beginner-friendly so that every artist can immediately start on the web.
Is WordPress good for selling art?
WordPress, combined with WooCommerce, is the quickest and easiest way to start selling your art online. You can build your online art store without coding and design skills.
How do I make an artist website on WordPress?
You make an artist website on WordPress, starting by picking a domain name and hosting. Then install WordPress, choose a theme, add your customizations and content and you're done.
How do I start an art blog?
Building an art blog is an easy and quick process with WordPress. You need a domain name, a hosting plan and a WordPress theme with blog functionality. You only need to perform personalization tweaks and customization from here on and start publishing content.
::
Note: This article was originally published on August 26, 2022. But our team regularly reviews it and updates it with necessary improvements for accuracy.