Are you searching for the best WordPress glamour magazine themes to take your fashion passion to the next level?
I'm happy to share my favorite 13 after testing 30+ relevant WP themes.
You'll be sharing content like a PRO from the get-go.
Launch your glamour magazine, even if it means building your first website.
This post covers:
You only need to focus on refining touches that take 0 coding to realize.
And your page will LOOK GOOD, and not by accident.
Enjoy!
What To Look For In A WP Glamour Magazine Theme?
There are a bunch of features and characteristics that make a great theme. If you're unsure what to look at, I'm here to help.
Here are five of the must-haves that you need to look for when picking the ideal theme.
BUT!
I already checked (and tested) all the below themes, so you can comfortably pick any you feel good about.
The glamour mag theme must be 100% responsive and lightweight. This ensures it performs at its best to offer the ultimate user experience on handheld and desktop devices.
Great navigation (and search) with a drop-down or mega menu will benefit the reader immensely. How? They will find the right content much faster.
A grid layout allows you to display multiple articles and posts organized and cleanly.
Social media integration (and social sharing) can greatly contribute to the growth of your online magazine.
Predefined ad placements are handy when you decide to monetize your glamour mag and turn it into a money machine.
Other features like contact details, multiple widgets, compatibility with page builders and plugins and a subscription form are all practical additions you shouldn't miss adding.
THE ULTIMATE 3:
Best Overall Glamour Magazine Theme: Newspaper
Best Glamour Magazine Elementor Theme: JNews
Best Glamour Magazine WPBakery Theme: Newsmag
You'll also find this tutorial on installing a WordPress theme useful if it's your first time.
Best WordPress Glamour Magazine Themes
1. Newspaper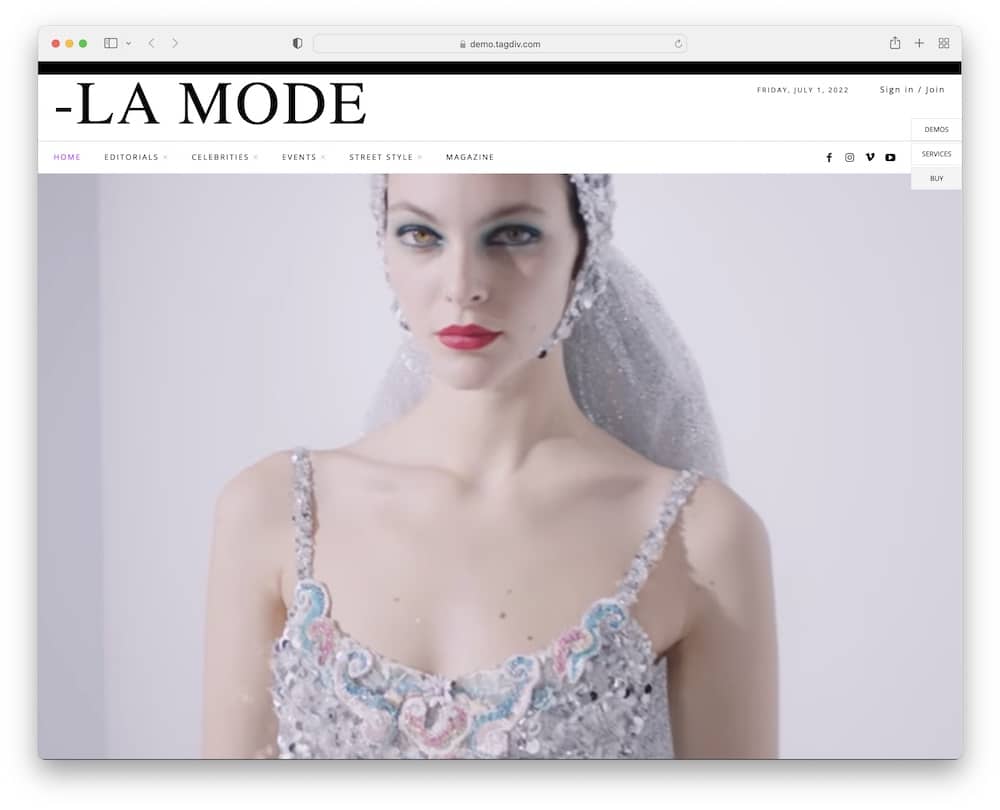 Style, high fashion, beauty, and jaw-dropping insights can be brought to your audience with the stunning Newspaper theme.
It must be your lucky day!
Newspaper is perfect for blogging, eCommerce store, review site, and even supports YouTube videos (& others).
All the things I LOVE in one bundle (pretty COOL).
Moreover, you can set up Newspaper to all your design wishes (without coding skills), and comes with lifetime updates + outstanding customer support.
OMG!
Integration with the best SEO practices, amazing speed, and cross-browser compatibility are cherries on top of this creative winner!
Boost your goals with Newspaper.
Newspaper features:
136,000+ sales
4.8+ star ratings
Price: $59 (may vary)
MORE INFO / DOWNLOAD
DEMO
2. Newsmag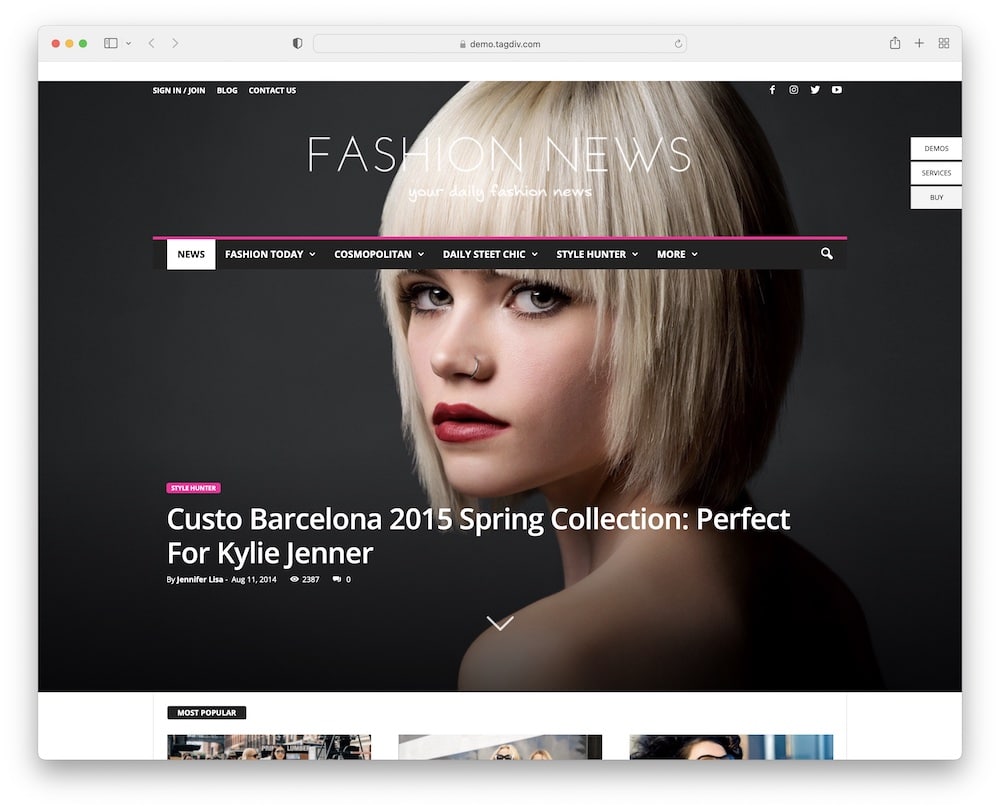 Stay ahead of the curve with the unique Newsmag glamour magazine theme.
You have NO limits, NO need for coding knowledge with FlexBlock, and it's FREE to use.
Play with the design like a PRO.
OH and Newsmag includes AWESOME widgets (add extra functionality to your site anytime) such as weather, social media, popular category, author box, and more.
Yup, we all know that majority of people use their phones to surf the internet.
Would I recommend Newsmag for a GREAT mobile experience? YES!
Display the most popular options with no sweat!
Newsmag or Newsmag?
Newsmag features:
18,000+ sales
4.8+ star ratings
Easy drag & drop
Price: $49 (may vary)
MORE INFO / DOWNLOAD
DEMO
3. JNews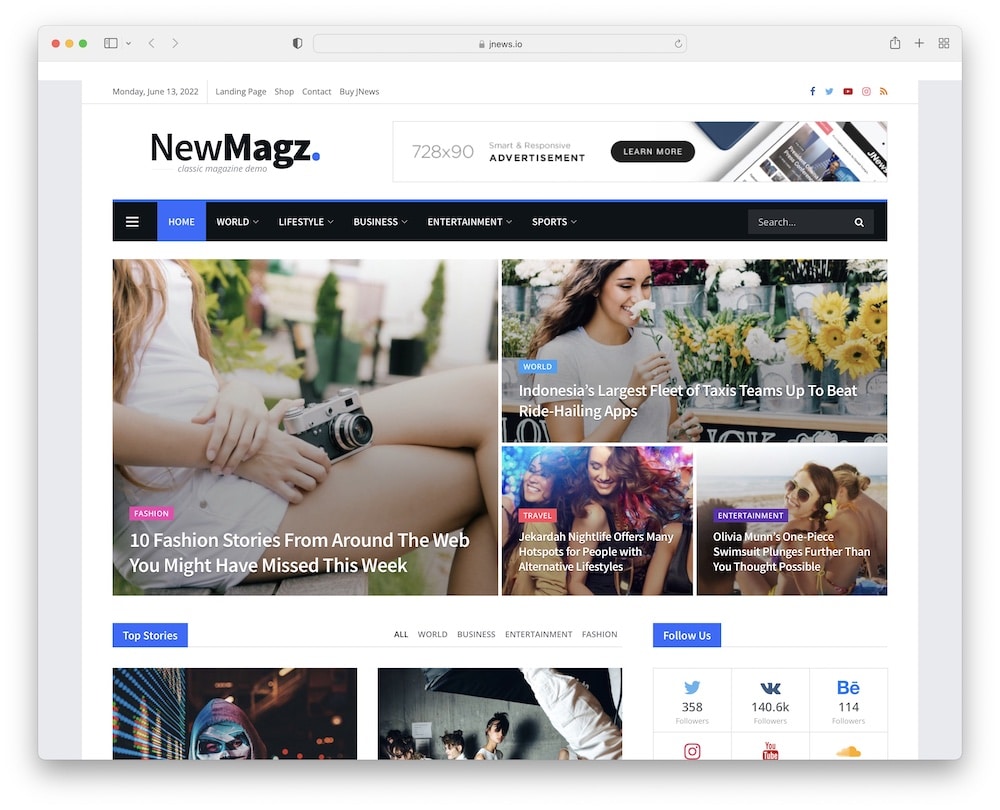 Be a creative eye behind JNews glamour magazine theme.
You can start a lavishly illustrated blog with multiple categories, an online store, promotional ads, and various reviews with its modern design.
Your site can be ready in minutes with carefully crafted demos.
Plus, the drag & drop editor will quickly become your favorite buddy (choose Elementor or WPBakery – both AMAZING).
Customize in real-time for instant results. YES, you can see your changes before going live!
BIG. DEAL.
Moreover, you can set floating videos to go with users scrolling the page with the sticky player. It's like MAGIC.
Become one of the TOP creators with HIGHLY optimized JNews!
JNews features:
21,000+ sales
4.8+ star ratings
Price: $59 (may vary)
MORE INFO / DOWNLOAD
DEMO
4. CheerUp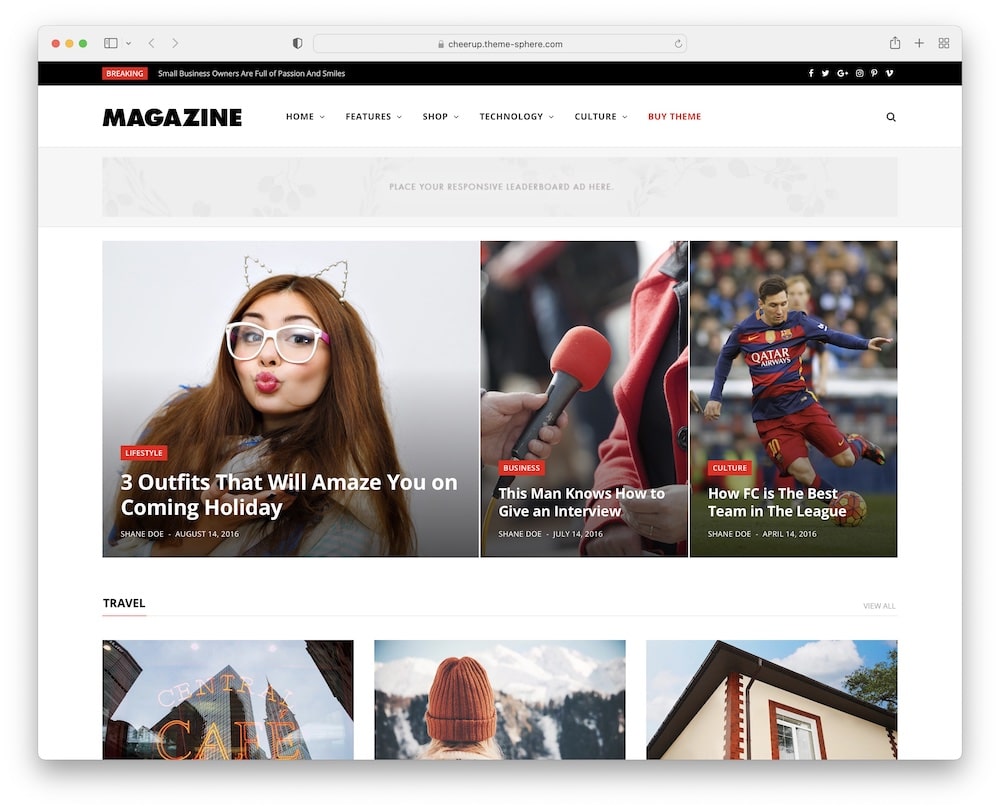 No doubt, CheerUp glamour magazine theme has a very huge scope of brilliant features.
You can easily use one of the gorgeous CheerUp demos (works out of the box) or mix and match elements till you find the right style for your brand.
Unlimited possibilities!
Smart loading images and lightweight code improve CheerUp's loading speed.
GREAT!
Moreover, you can pick the best slider style (AMAZING options) to grab the attention of your visitors from the beginning.
Plus, tons of header styles offer various logo positions. Show off your brand with a smart attitude!
Fall in LOVE with (social media) friendly CheerUp.
CheerUp features:
MORE INFO / DOWNLOAD
DEMO
5. Foxiz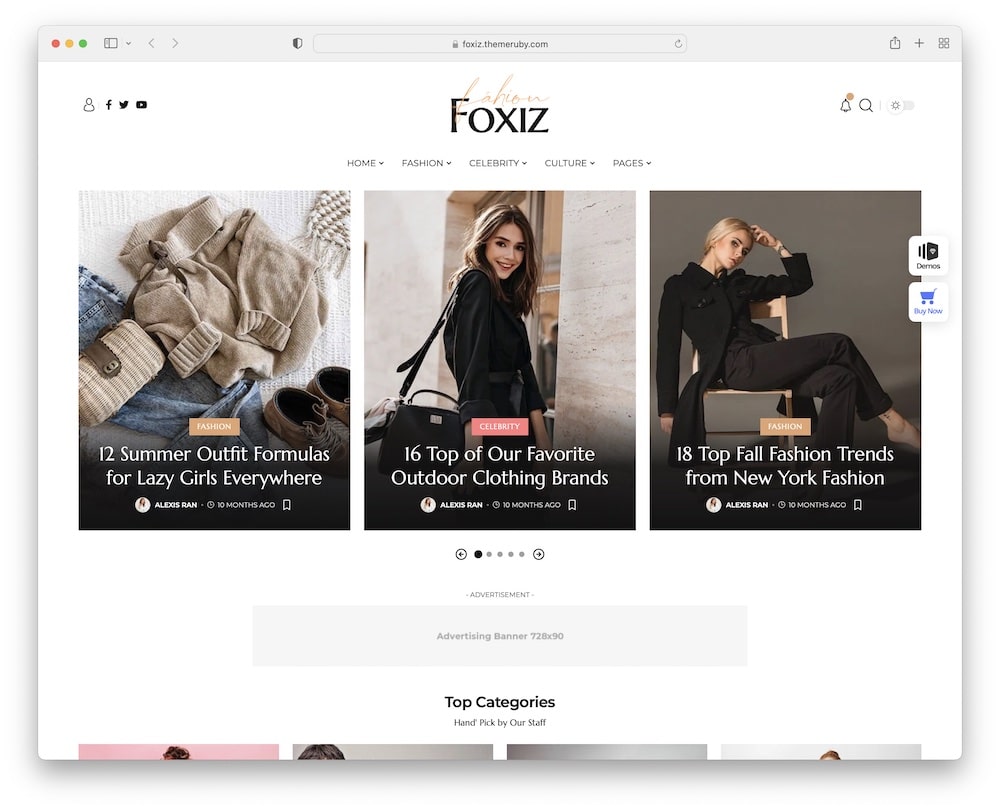 Have no fear, Foxiz glamour magazine theme is here!
Foxiz comes with a fully responsive – prioritized design for mobile phones. It is optimized for speed, SEO friendly, and "makes sure" visitors can find you from any search engine they use!
Anything is possible with aid of the stunning Elementor page builder!
Just close your eyes and think about what you want, then start customizing (NO need to hire a professional or pay for expensive software).
Also, more than 35+ option blocks are waiting for you. YOU can do it!
Furthermore, with Foxiz your visitors can choose light or dark mode. Or you can enable it as the default. Your choice.
Oh, and smart reactions to increase user engagement and social sharing are just brilliant! EMOJI for life!
Foxiz features:
3,100+ sales
4.9+ star ratings
Separate mobile & desktop options
Integrated Ajax search
Price: $59 (may vary)
MORE INFO / DOWNLOAD
DEMO
6. Buzz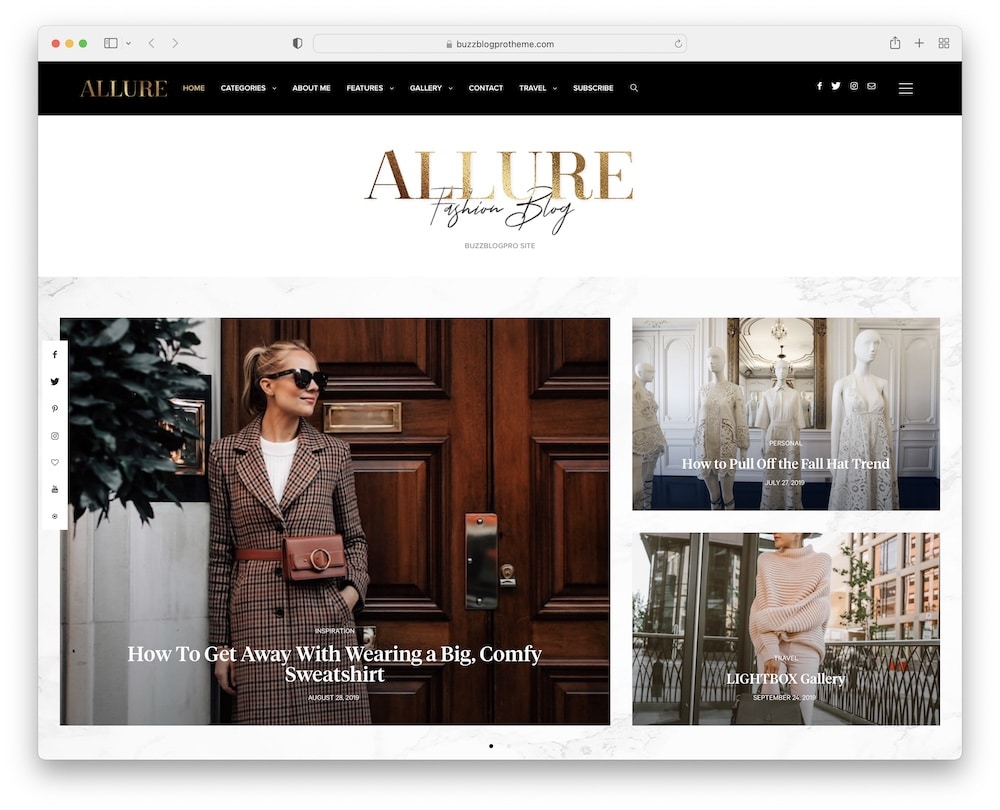 Stylish Buzz glamour magazine theme is the easiest way to polish your idea.
Feeling brave? GREAT!
Right from the start, check & decide from fifteen unique demos, and simply import "THE ONE" with a single click.
Of course, you have to test different posts and page layouts – VAST combinations are available (Hurray)!
Plus, the mega menu offers a beautiful display of your important posts and categories, even in multi-columns.
Furthermore, you can fully translate Buzz into any local language. Yup, it's smart to talk to your customers in their own language (people want to feel understood).
Easy-to-work-with customer support is ready to assist you at all times. Take action!
Buzz features:
7,100+ sales
4.8+ star ratings
Built-in cookie law
Price: $49 (may vary)
MORE INFO / DOWNLOAD
DEMO
7. Neeon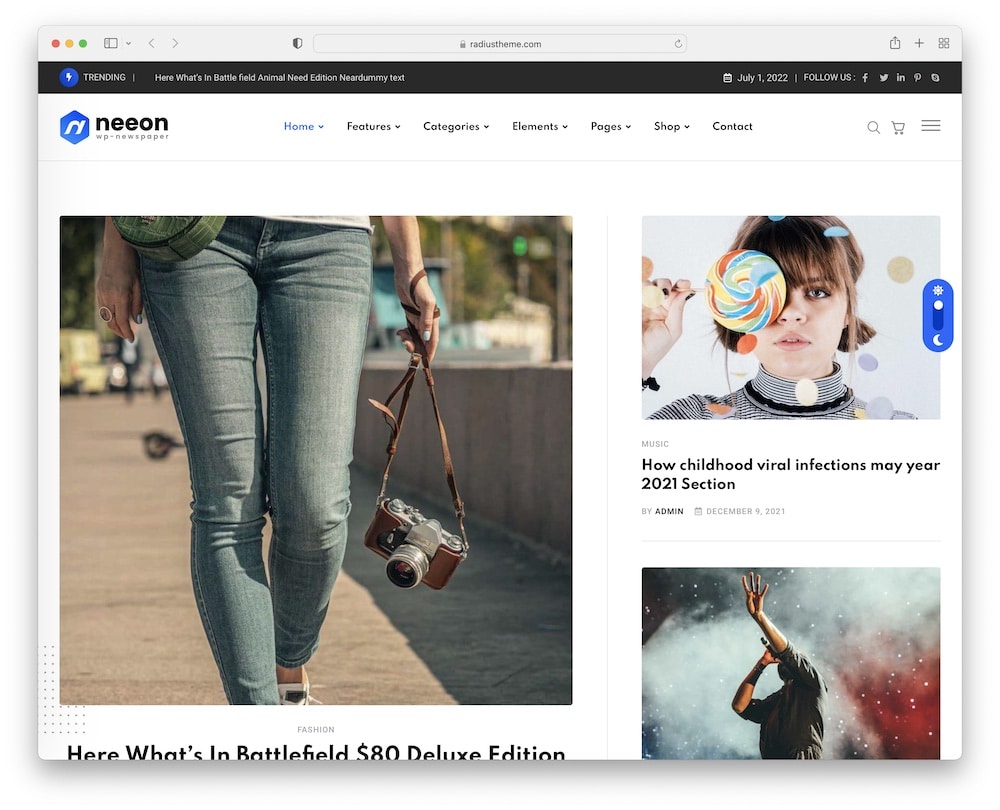 Hands up if you need a blazing fast site that looks incredible?! [Me raises hand.]
Stop by and take a look at Neeon glamour magazine theme. This fresh theme offers ready-to-use homepages, the most popular tools, and FREE lifetime updates!
LOVE it.
BTW, anyone (even non-technical users) can drag & drop blocks to the right position on the site with Gutenberg.
A unique way to create posts and pages like a champ!
Trust me, you will also have fun with Neeon's unlimited color and typography options. Let's get this party started!
And if you want to improve engagement with your audience – the infinite scroll is a wonderful tool to make them stick around for longer.
GO!
Neeon features:
2,000+ sales
4.9+ star ratings
Auto loading next post
Price: $29 (may vary)
MORE INFO / DOWNLOAD
DEMO
8. Verta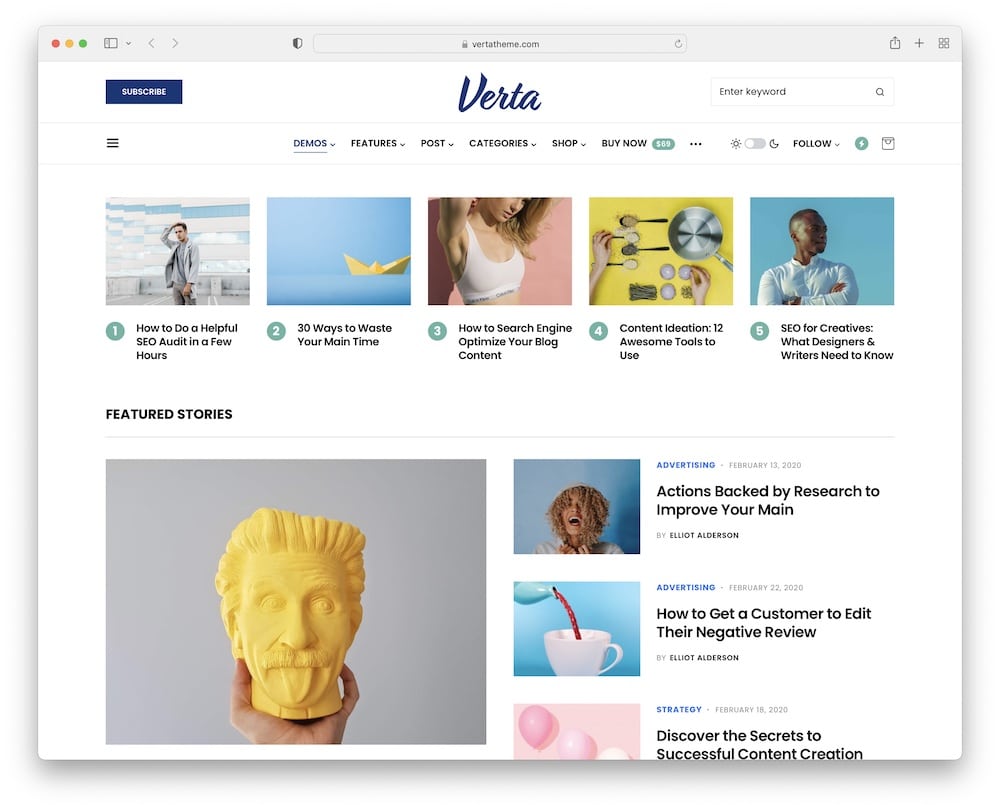 You can always count on Verta glamour magazine theme – made for publishing and writing about fashion and all your glamorous ideas.
Verta has a flexible layout with practical auto-loading posts.
What I really like about the theme is Co-Authors Plus. It allows you to attach multiple authors per post without creating WordPress users.
GRAB one of six pre-made header styles and take advantage of built-in YouTube support for background in the page header (to make it even BETTER).
Oh, and you can grow your audience more stably with Verta's integrated subscription forms & the magic of MailChimp.
Plus, added social media buttons give even more opportunities for promotion!
Verta features:
710+ sales
4.9+ star ratings
Price: $69 (may vary)
MORE INFO / DOWNLOAD
DEMO
9. Newsy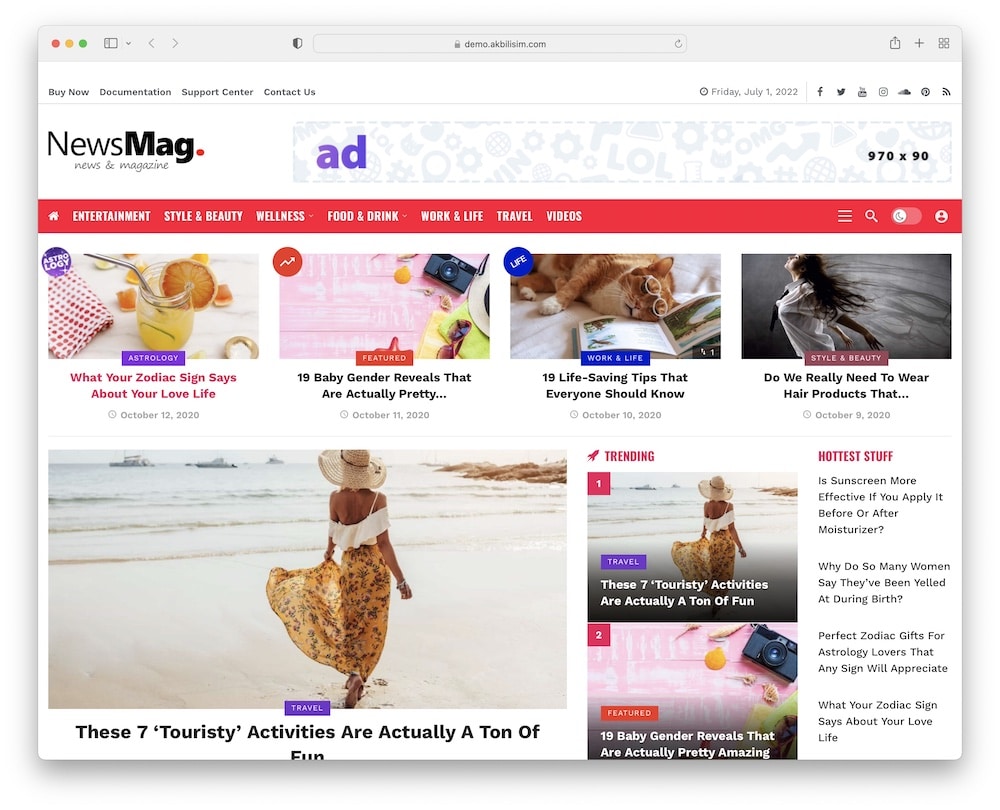 Newsy is a responsive and flexible glamour magazine theme for every webmaster – beginner or pro. Anyone can put together an engaging magazine in just minutes (thanks, WPBakery).
Wait, WHAT? I know, but I am not kidding!
Normally I start building by choosing the header & footer looks, deciding on the position of the sidebars, and checking out pre-made blocks.
I also love to add bonus functionality with custom-built widgets.
Of course, you can turn Newsy's stylish navigation into a mega menu.
And let's be real, integrated infinite scroll is a huge TREAT for your visitors (can you tell I am a fan?)!
Newsy features:
640+ sales
4.6+ star rating
Price: $49 (may vary)
MORE INFO / DOWNLOAD
DEMO
10. Blueprint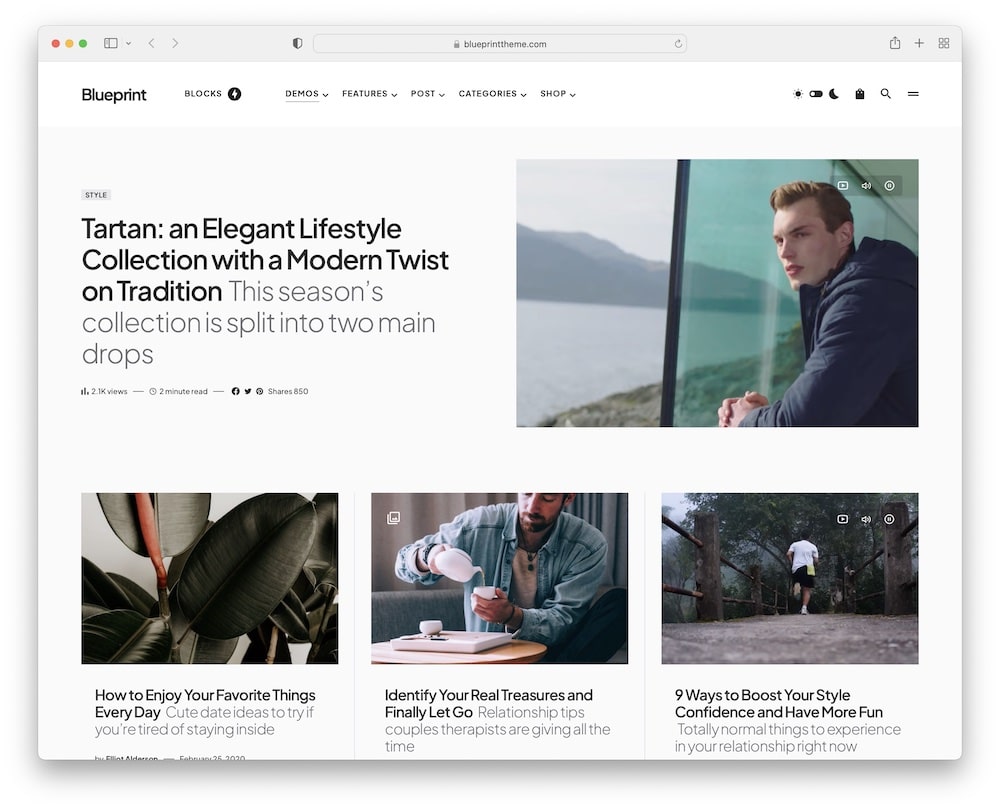 Collab with the DREAMLIKE Blueprint glamour magazine theme and make everyone talk about it!
You may use (start point) pre-designed demo with multiple layouts and advanced features. Plus, you can pick from unlimited fonts and colors (tons of opportunities for personalization).
In fact, Blueprint is suitable even for someone with little to no prior experience.
The BIG advantage is a live preview of your changes before going ALL out into the world.
Desktop, tablet, or mobile screen – Blueprint easily adapts for the best user experience.
Want to place ads on your site? No problem, Buleprint allows you to insert any content into different template parts.
TIP: Don't exaggerate with them – stay stylish!
Blueprint features:
1,000+ sales
4.7+ star rating
Epic design
Price: $69 (may vary)
MORE INFO / DOWNLOAD
DEMO
11. PaperMag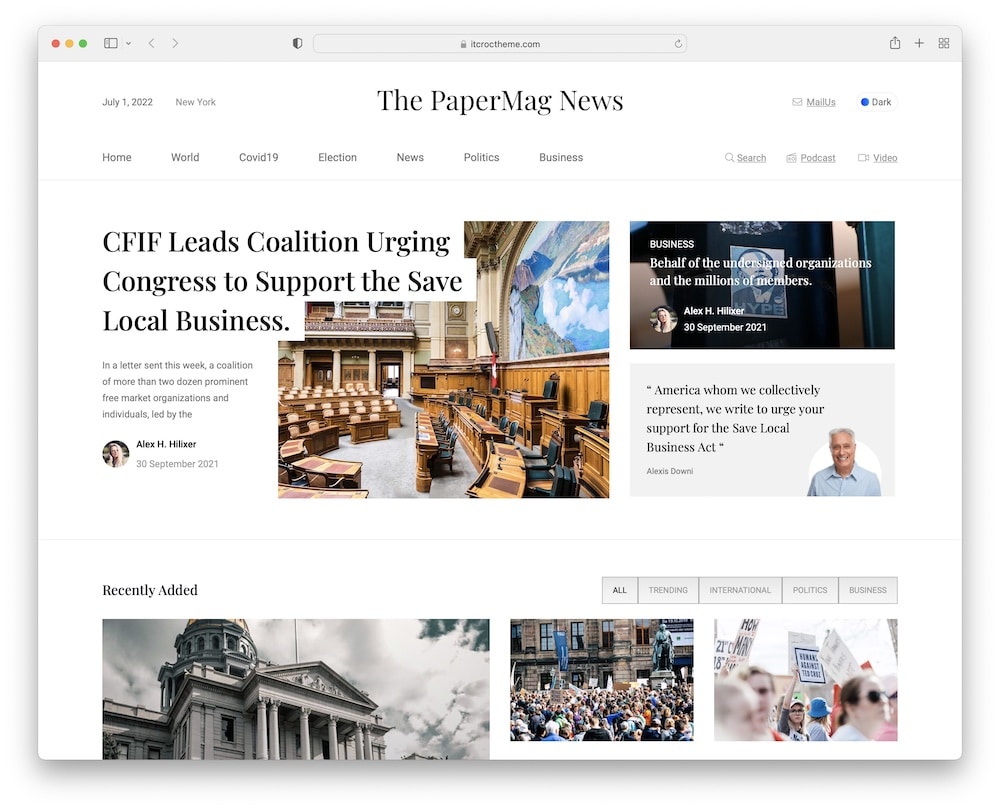 Bring your vision to life using the elegant PaperMag theme and become an online glamour publisher – today!
Alexa (just kidding), Petra, tell us everything you know about PaperMag so far.
OK, guys, let's start!
Brilliantly designed homepages offer dark & light modes to help your visitors reduce eye strain. Nobody wants to work hard these days, not even your eyes!
Remember, you can make changes effortlessly even on your smartphone!
Dazzle your audience with trending news, quick tips, and top stories with playful content. EXCITING PaperMag display options are waiting for you.
PaperMag features:
240+ sales
4.5+ star rating
1-click demo import
Price: $17 (may vary)
MORE INFO / DOWNLOAD
DEMO
12. Ceris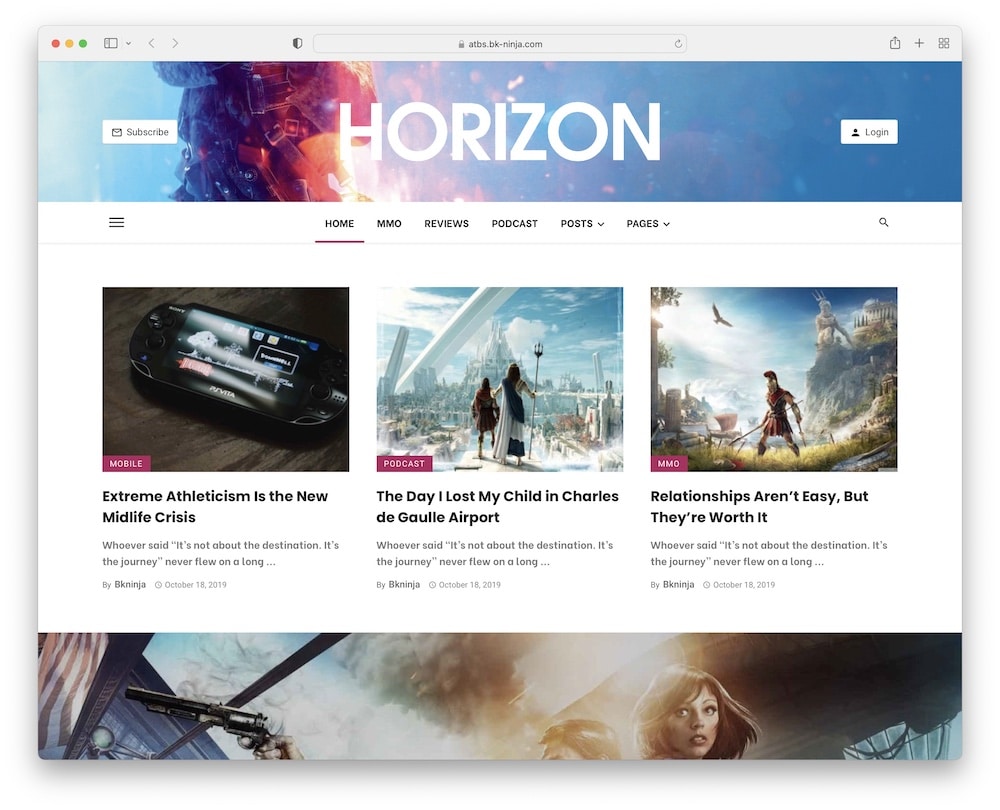 Welcome to Ceris glamour magazine theme. I'm so happy you're here!
Even if you are new to creating online magazines, you will make it happen easily and quickly. Brilliant Ceris is all about sharing breaking news and selling the hottest products!
I am hyped!
Your site can have a full width, side content, or single-page look due to flexible pages & blog layouts.
Also, you can create a professional gallery, add video content (YouTube, Vimeo), and set up a transparent mega menu.
Ceris allows readers to bookmark articles they find the most interesting from the article list with the smart bookmark feature.
Plus, emoji reactions are a MUST!
Enjoy well-documented & supported (best team!) Ceris.
Ceris features:
70+ sales
4.5+ star ratings
Author & customer reviews
Progress bar (so cool!)
Price: $59 (may vary)
MORE INFO / DOWNLOAD
DEMO
::
Note: This article was originally published on July 2, 2022. But our team regularly reviews it and updates it with necessary improvements for accuracy.