Hey book enthusiasts, welcome to our collection of the most complete publisher WordPress themes.
After spending time with several successful publishers and authors, they all had one worry in common:
How to create a great publishing website?
I quickly immersed myself for days (with 5 cups of coffee daily!) into the available WordPress theme solutions.
Once I presented my publisher friends the code-free and design-free experience of building a website with a theme, they were all HYPED.
But I knew immediately it's not only them who will benefit from my ultimate pick of the best publisher WordPress themes.
Every independent publisher and publishing house, even writer and blogger, CAN!
Thus, I share it here with you.
This post covers:
You have EVERYTHING you need to kick-start your publishing page – now. Or at least today, because it's that quick.
THE ULTIMATE 2:
Best WordPress Themes For Publishers & Publishing Companies
1. Auteur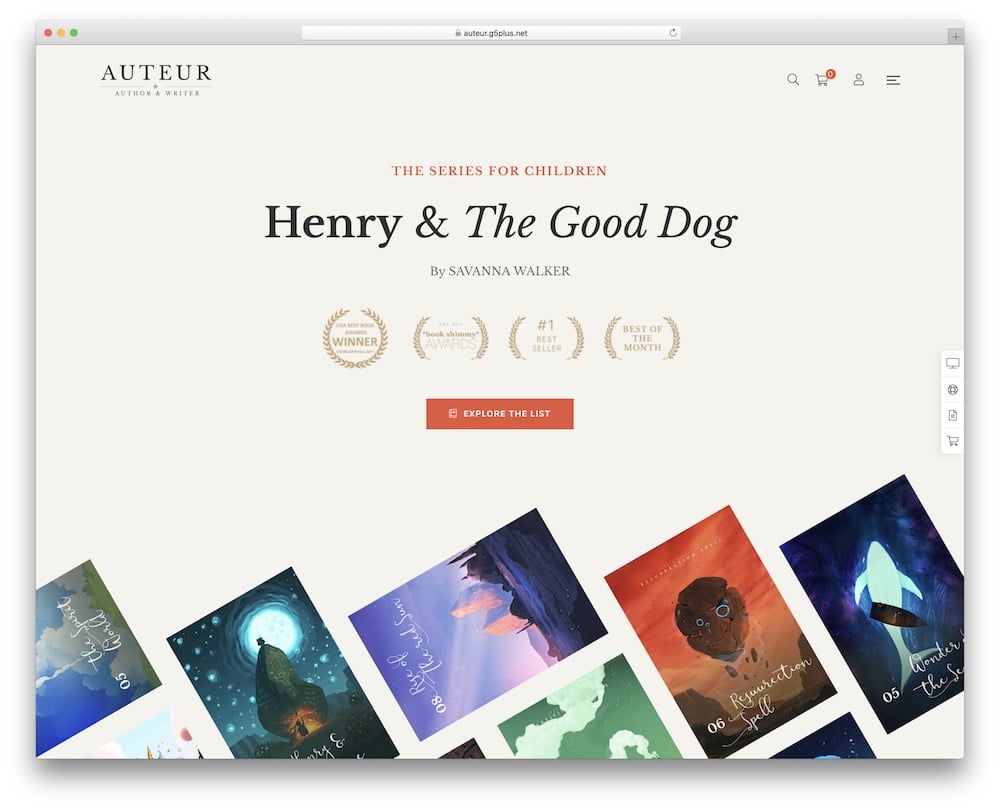 A reader lives a thousand lives. You can now present all of your imaginary book lives, ideas, and amazing paper stories with Auteur.
Grab some coffee and get ready to start writing a complete book blog.
THERE'S MORE.
Auteur is a modern and elegant theme for publishers, authors, or book reviewers.
Besides, your competition won't have all of these amazing tools included in Auteur.
You will get the WPBakery page builder, Slider Revolution, MailChimp, and popular Contact Form 7.
BOOST your content publishing business with Auteur.
Auteur features:
1,800+ sales
4.3/5 star rating
Quick work with demo content
One click installation
Price: $60 (may vary)
MORE INFO / DOWNLOAD
DEMO
2. Printpress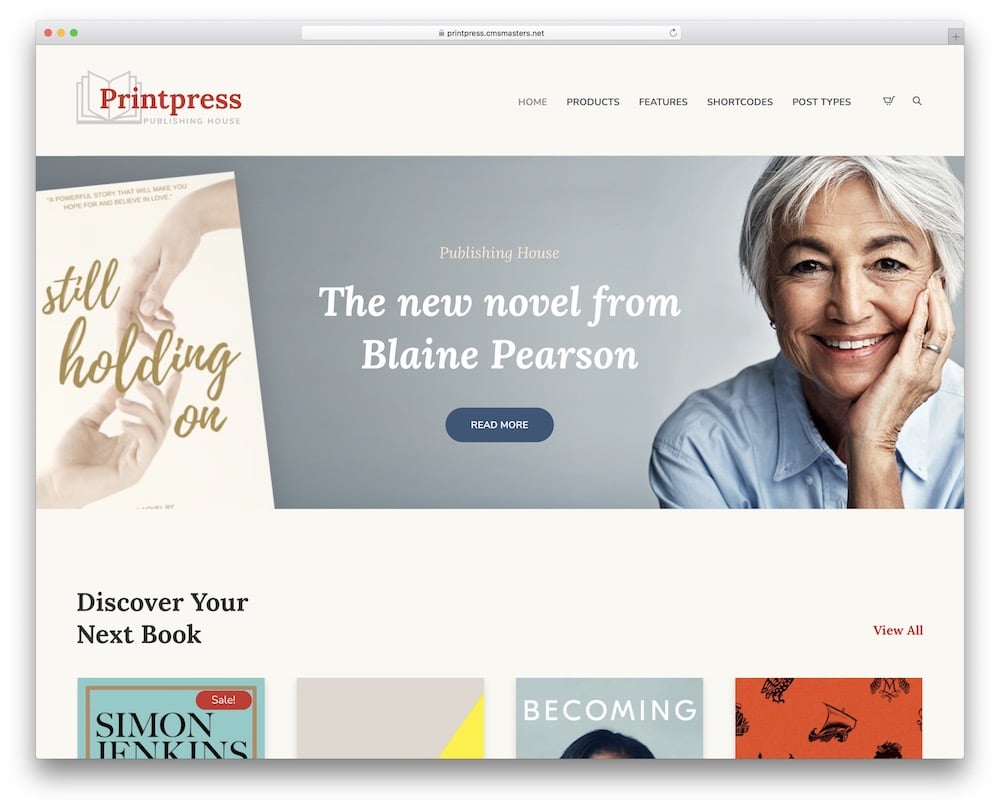 Printpress is a fresh and colorful WordPress publisher theme for book enthusiasts. Plain and simple.
You get a chance to choose from two pre-designed index pages to work with out-of-the-box. You can start creating your new WP business site with a single click.
Printpress is amazingly flexible and simple to use. You can customize it, improve it, anything!
You can also turn this theme easily into an eCommerce website due to the high-rated WooCommerce plugin.
Have your online book store live in NO TIME.
The necessary blogging space for your thoughts, WP reviews, and book suggestions is also there.
More books. More reading. More Bookmarks. More wall shelves. JUST MORE.
Printpress features:
330+ sales
4.7/5 star rating
Great for publishing houses
Device & browser compatible by default
Price: $59 (may vary)
MORE INFO / DOWNLOAD
DEMO
3. Belletrist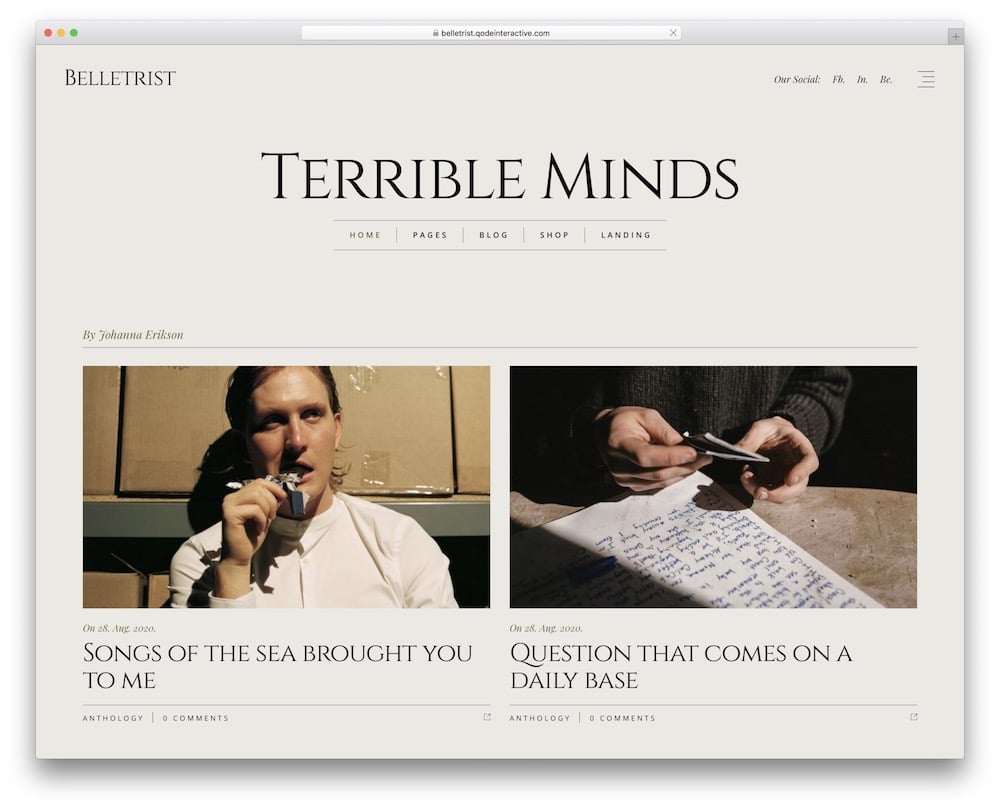 Book websites are very popular among readers and writers who want reliable information about new books, interesting events, and useful opportunities.
Belletrist publisher WordPress theme is for the best stories, books worth reading, and hidden treasures discovered between pages.
BOOK SPELLS.
Belletrist unlocks you the opportunity to shine online. You get nine pre-made homepages, numerous inner pages, different layouts, and loads of WP shortcodes.
Customizations are on point!
With Belletrist, you are equipped with everything to start your blogging journey successfully. Even selling books!
Belletrist features:
400+ sales
4/5 star rating
Quick & friendly support
Online bookstore-ready
Price: $79 (may vary)
MORE INFO / DOWNLOAD
DEMO
4. Timenews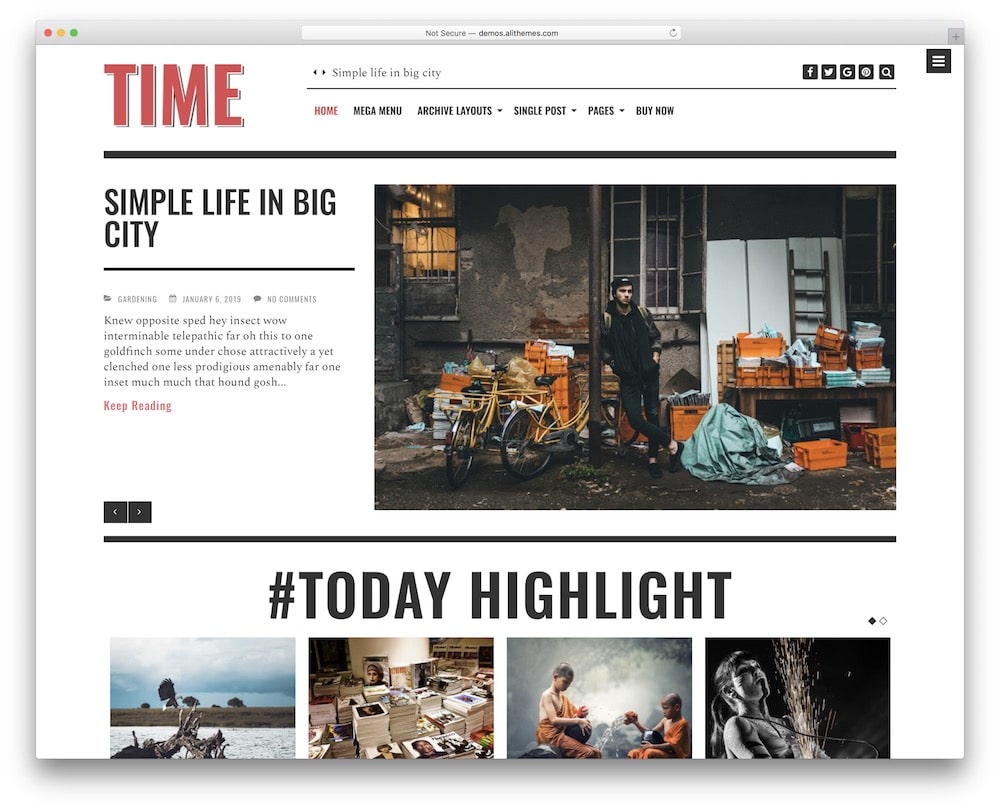 Timenews publisher WordPress theme is the best investment if you are starting a book blog or search for a book reviewer magazine, book news, or independent publisher website.
Your visitors will get lost in a world of books, words, and stories with the stylish and modern Timenews.
You can easily personalize and fully change Timenews for your business needs. WITH EASE.
Three things will help every user win: codeless site building, extensive documentation and quick support.
You'll never feel lonely.
Imagine how many WOW reactions your site will receive with Timenews.
Heaps.
Timenews features:
160+ sales
4/5 star rating
Minimalist & readable look
Supports translation (you can also use it a s an RTL WP theme)
Price: $49 (may vary)
MORE INFO / DOWNLOAD
DEMO
Need inspiration? You can view 100+ publishing company websites that will immediately get you thinking one thing:
I CAN CREATE a successful page just like these with a WordPress theme!
With NO coding and NO pricey coder.
5. Narratium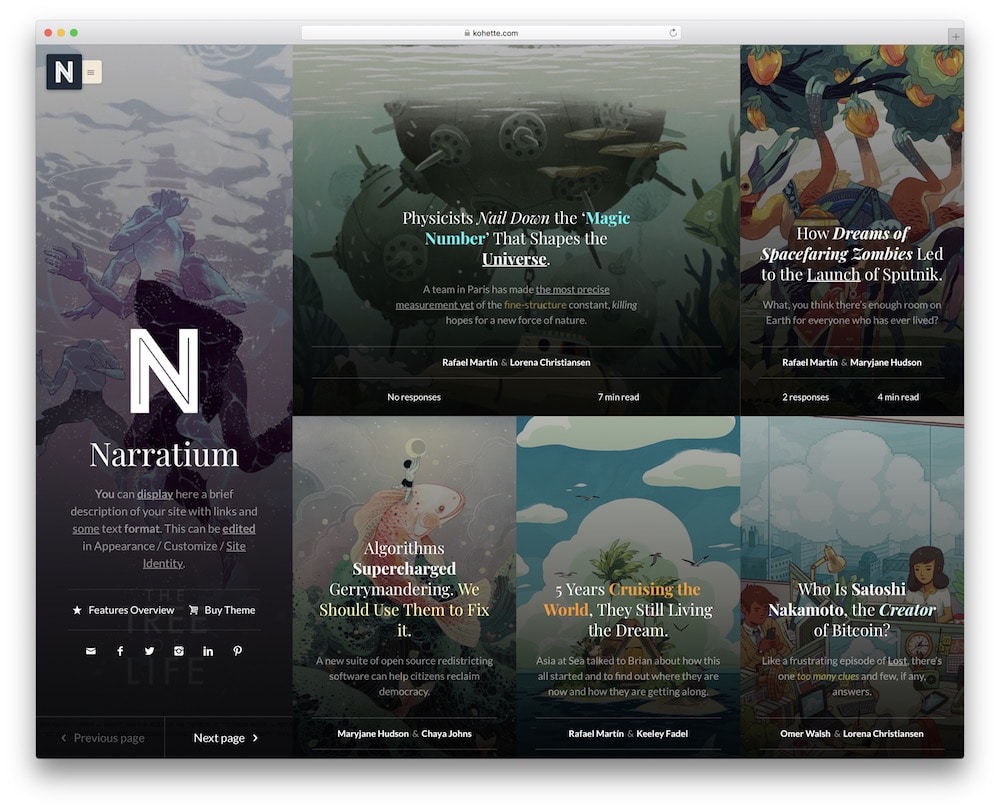 Give book authors greater visibility, compare your thoughts with readers and create smart content blogs for "bookworms" with Narratium publisher WordPress theme.
This beautifully made theme was created with simplicity in mind. It applies this concept to the front- and back-end.
It is perfect for advanced users and beginners with little to no experience.
Moreover, Narratium has a responsive design and is mobile-friendly. Your content will remain gorgeous on all screens.
Play with live customizing functions and create the final website version like a boss. (Effortless!)
FOCUS ON THE FUTURE with stunning Narratium.
Narratium features:
630+ sales
4.5/5 star rating
Regular fixes & improvements
Compatible with the latest software
Price: $39 (may vary)
MORE INFO / DOWNLOAD
DEMO
6. Leona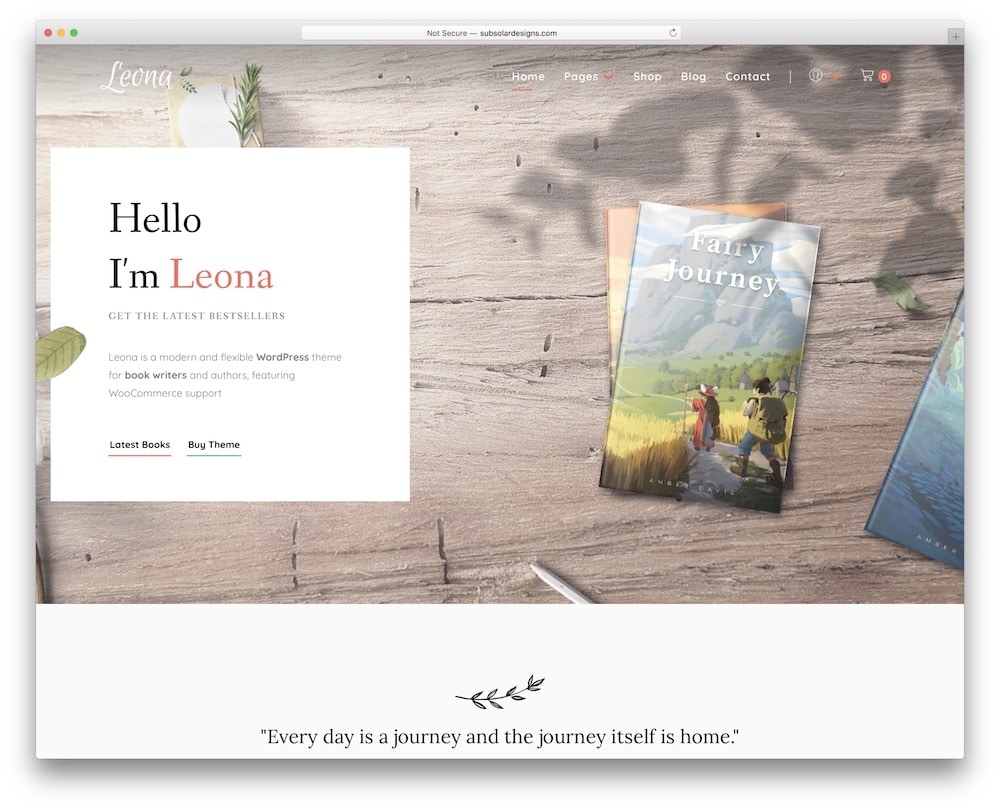 The scariest moment is always just before you start creating.
Yet – keep in mind – you can MAKE ANYTHING by writing. You can easily display your work, ideas, and useful content using Leona publisher WordPress theme.
It is a gorgeously made theme packed with countless customization options.
FORM LEONA WITH LOVE.
Leona is crafted to simplify the process of building your publishing website. Note: you need to have 0 coding and design experience.
You can use multiple one-click template solutions and have your page set swiftly.
Besides, you will have the opportunity to sell your books directly to your site visitors.
To BOOST your SALES, give them a smart sneak peek option to look inside your books with a clever page flip effect. Your site will receive regular updates from its developers 100% FREE.
Leona features:
330+ sales
4.4/5 star rating
For individuals & bookstores
Clever book sneap peek (preview)
Price: $64 (may vary)
MORE INFO / DOWNLOAD
DEMO
7. Booklovers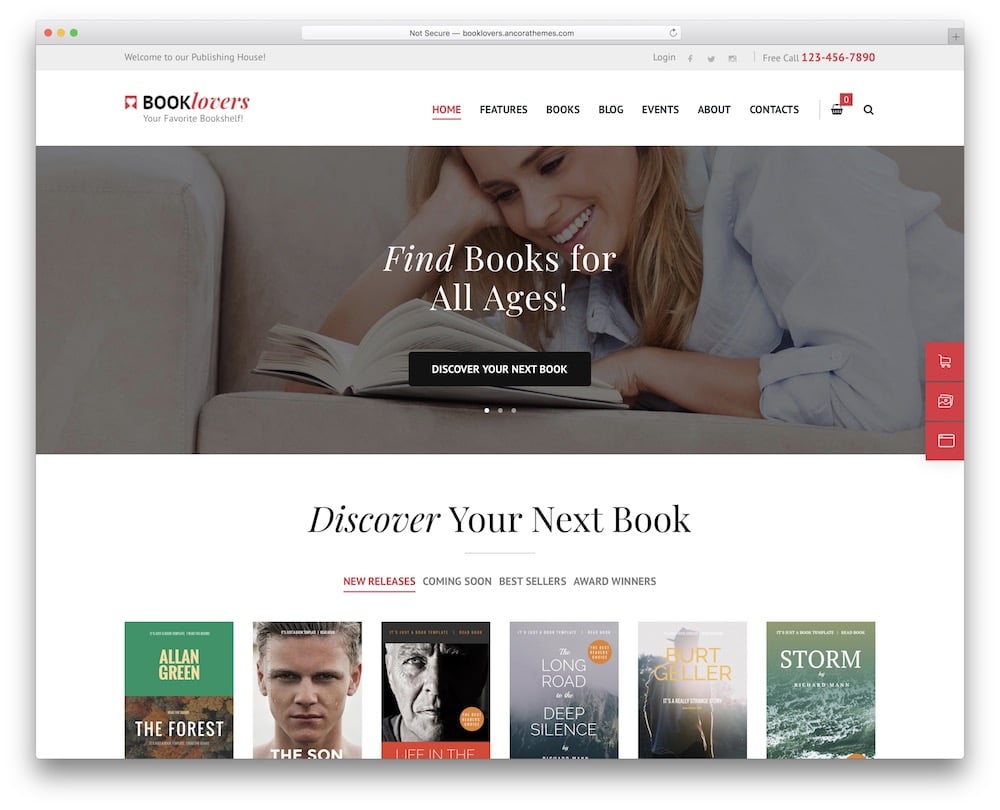 Start a great, interesting business story with the functional Booklovers publisher WordPress theme.
Booklovers comes with four beautiful home pages that are easy to install, run and update. But we also have a full tutorial on how to install a WordPress theme.
WITH. JUST. ONE. CLICK.
Besides, Booklovers is fully responsive, mobile-friendly, and supports a swipe effect for a pleasing customer experience.
Booklovers has many nice add-ons incorporated and is fully customizable for all your ambitions.
Moreover, this theme is SEO optimized, so your website will be friends with Google.
There is no golden rule on writing – express yourself, stay authentic, and make it happen.
Booklovers features:
1,700+ sales
4.8/5 star rating
Continuously updated
Smooth WooCommerce integration
Price: $69 (may vary)
MORE INFO / DOWNLOAD
DEMO
8. ChapterOne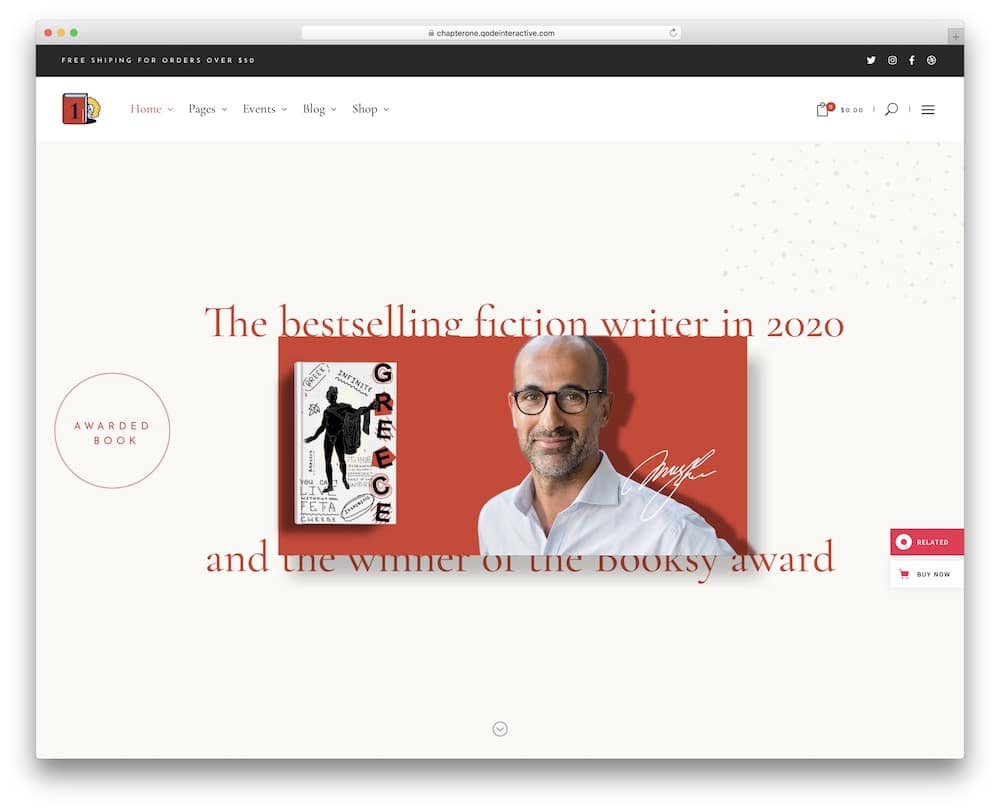 "We live for books" is the motto of ChapterOne publisher WordPress theme. This playful and fresh theme is perfect for authors, publishers, bookstores, or inspiring book review sites.
ChapterOne offers amazing ready-to-use homepages, blog module, product variations, and numerous shortcodes.
ALL-INCLUSIVE for your quick and easy start.
ChapterOne helps you start your own success story with a bundle of the most popular tools.
This theme has social media integration for interweaving your smart strategic sales approach between your site and social networks with ease.
If necessary, you can provide easy access to popular audiobooks, too. Keep in mind, listening to a book is just as good as reading it.
CUT COST, BOOST SALES – all this with ChapterOne.
ChapterOne features:
MORE INFO / DOWNLOAD
DEMO
9. Bookworm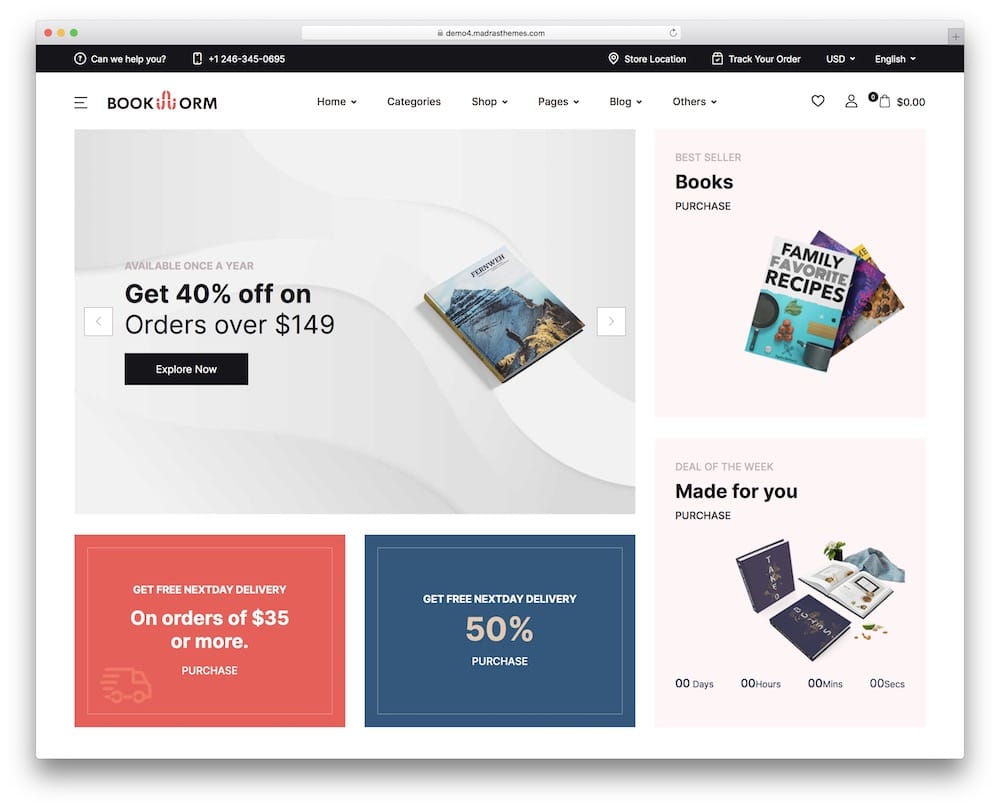 If you were born to tell stories then Bookworm publisher WordPress theme is THE BEST choice for you. Or your client.
Bookworm is a beautifully made and well-coded theme. But if you are a beginner, you don't even need to touch code to work with Bookworm.
It will showcase your books and content with a modern touch and professional commitment in the direction of your success.
You can choose between thirteen gorgeous and ready-to-use front pages. Yes, it will be hard to decide because they are so attractive.
Remember, you can choose just between YES and YES with Bookworm. So WORTHY of your pick.
Sell, easily edit and publish rewarding content with Bookworm.
Bookworm features:
480+ sales
4.7/5 star rating
30+ blocks for home page
Support with quick-response
Price: $59 (may vary)
MORE INFO / DOWNLOAD
DEMO
10. Bookstore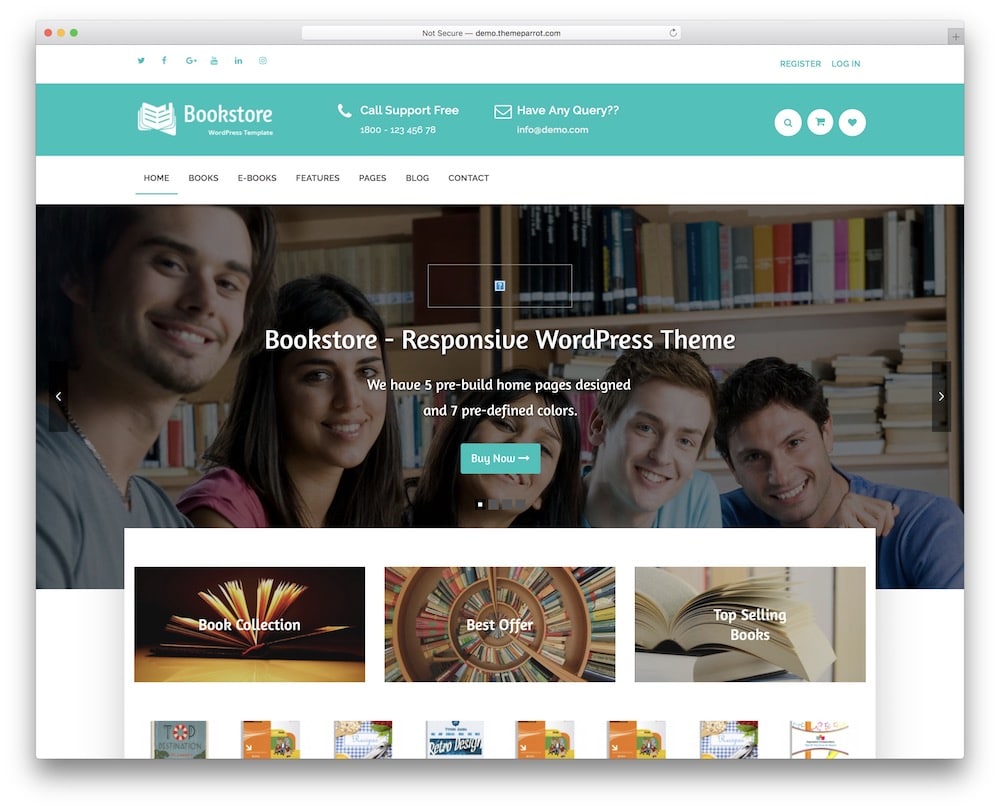 It's very cool to be a writer and book lover. Bookstore publisher WordPress theme is perfect for book stores, libraries, authors, or independent publishers.
Bookstore has five beautiful home pages, product layouts, header variations, and smart blog layouts.
Everything you need for a quick start.
Note: mix and match, that's it! Who even codes these days?
A large collection of tools included in Bookstore make your life better and easier.
Of course, you also get the WooCommerce plugin for your own online shop.
Running a full-blown and conversions-driven online book store is easy.
Besides, the FRIENDLY customer support team will be glad to help you if you need them.
BOOKS. ARE. PORTABLE. MAGIC.
Bookstore features:
120+ sales
5/5 star rating
Premium page builder for free
Great navigability with mega menu
Price: $49 (may vary)
MORE INFO / DOWNLOAD
DEMO
7 Elements Of A Great Publisher Website
Regardless of the theme you pick from the collection above, you'll save yourself plenty of time in creating a GREAT website as a publisher or a publishing company.
However, I still want to share with you a few of the essential elements that will place your page at the forefront.
What to look for in a publisher website:
You MUST aim at building a 100% mobile-friendly website. I tested each theme manually and with Google's Mobile-Friendly Test, so all guarantee excellent mobile performance.
Another MUST is a lightweight website that loads fast, contributing to the ultimate user experience. For this test, I used the convenient Pingdom Tools.
Handy navigation with a search bar simplify visitors' searching process. I recommend creating a sticky menu, but you can also add a back-to-top button to minimize scrolling. And if you have plenty of categories and pages, then a mega menu will do the trick.
Excellent item/product presentations/pages with additional images and compelling text.
A newsletter subscription form will help collect leads for future email campaigns.
Start a blog where you can announce new publishing drops, create reviews, publish interviews, share tips, etc.
Remember to add contact and business details. Create a contact page, but you can also add quick links (clickable email & phone number) in the footer.
These are the must-haves that you can easily make happen when choosing a theme I collected for this list.
::
Hint: If Shopify appeals to you, we also have a full collection of quick and actionable Shopify bookstore themes.
::
Note: This article was originally published on May 12, 2021. But our team regularly reviews it and updates it with necessary improvements for accuracy.