I had a very clear idea of what to look for in WordPress themes for writers since being in the shoe of a writer and author myself.
I took a year of testing and reviewing themes with my clients to bring you this ULTIMATE collection.
You don't need any other theme – these features all the necessary layouts and features.
(Plus a code-free building method!)
This post covers:
Promote your writing skills online like no one else does because you deserve it.
Now PICK a theme and build a writer's dream website quickly.
THE ULTIMATE 6:
Best WordPress Themes For Writers & Authors
1. Belletrist (Best-of-the-best)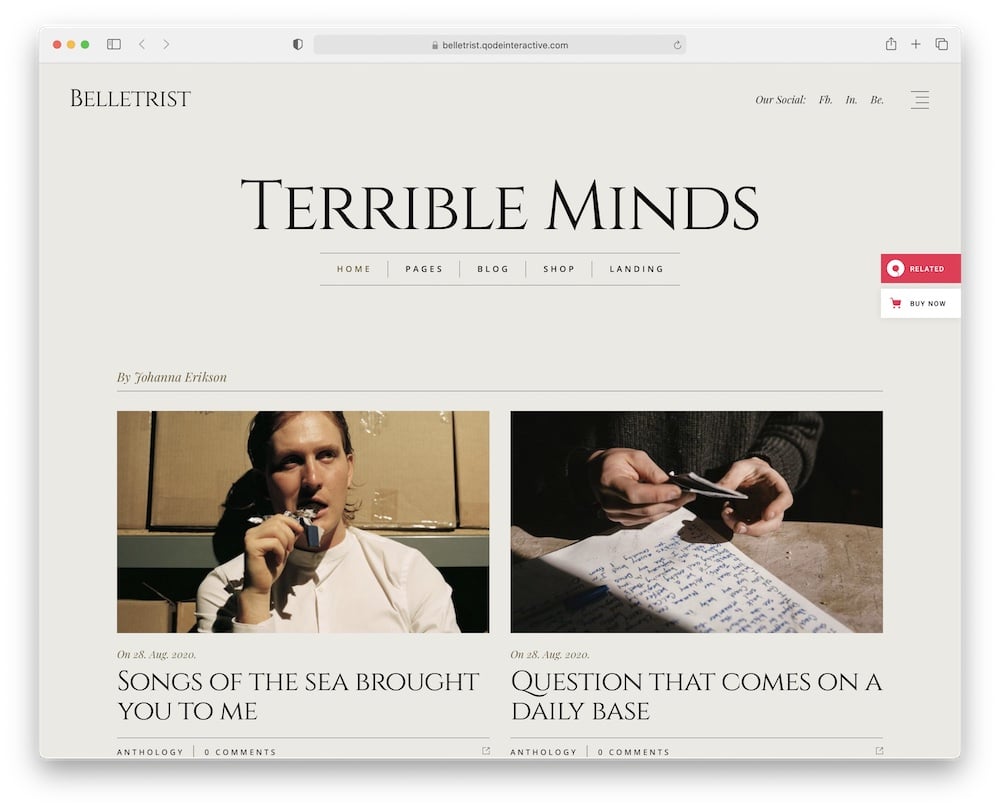 Silly or sincere, authentic storytelling makes you feel GOOD and the Belletrist is the best place to find your voice as an author.
Designed for your stories!
Belletrist includes nine ready-to-use homepages (SOOOO beautifully made), diverse inner pages, modern blog templates, and useful layouts.
Everything you do is simple – remember, NO coding knowledge is required to edit Belletrist.
YES!
Plus, Belletrist has unlimited colors, typography, icons, and WP widgets. BIG-TIME-CUSTOMIZATION.
And parallax theme effect, infinite page scroll, retina-ready design? One-click away!
Without further ado, let's get right into the building with stunning Belletrist.
Belletrist features:
MORE INFO / DOWNLOAD
DEMO
3. Writers and Journalists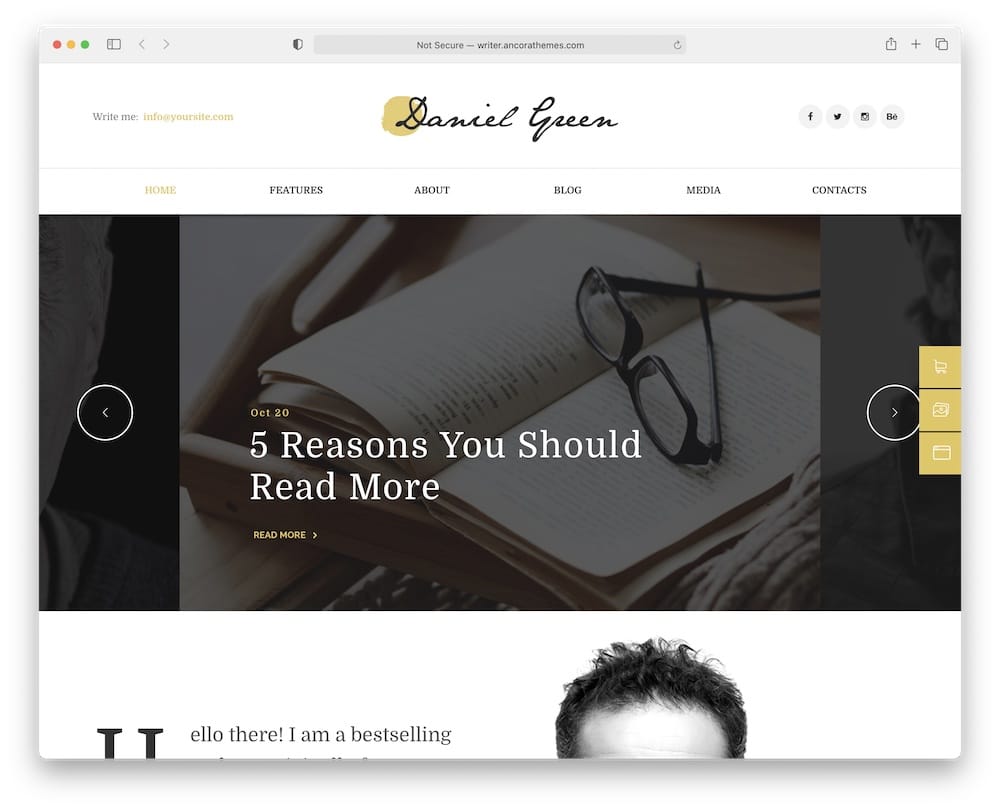 Turn your dreams into reality with beautiful Writers and Journalists WordPress theme for authors.
You can build an amazing website without any design or coding knowledge – step by step!
MAGIC (I know!).
Hands-on features cover: pre-designed homepages, the most popular plugins, SEO optimization, cross-browser compatibility, and, YUP, Writers and Journalists is translation-ready. Pretty. COOL.
Keep in mind, Writers and Journalists is simple to install, run and update! BUT even "the dumbest" issue or problem will be promptly addressed by amazing customer support.
They always find the best solution!
Take a deep dive into the world of writers with this professional theme.
The time is NOW.
Writers and Journalists features:
1,400+ sales
4.7/5 star rating
Price: $69 (may vary)
MORE INFO / DOWNLOAD
DEMO
4. Foreal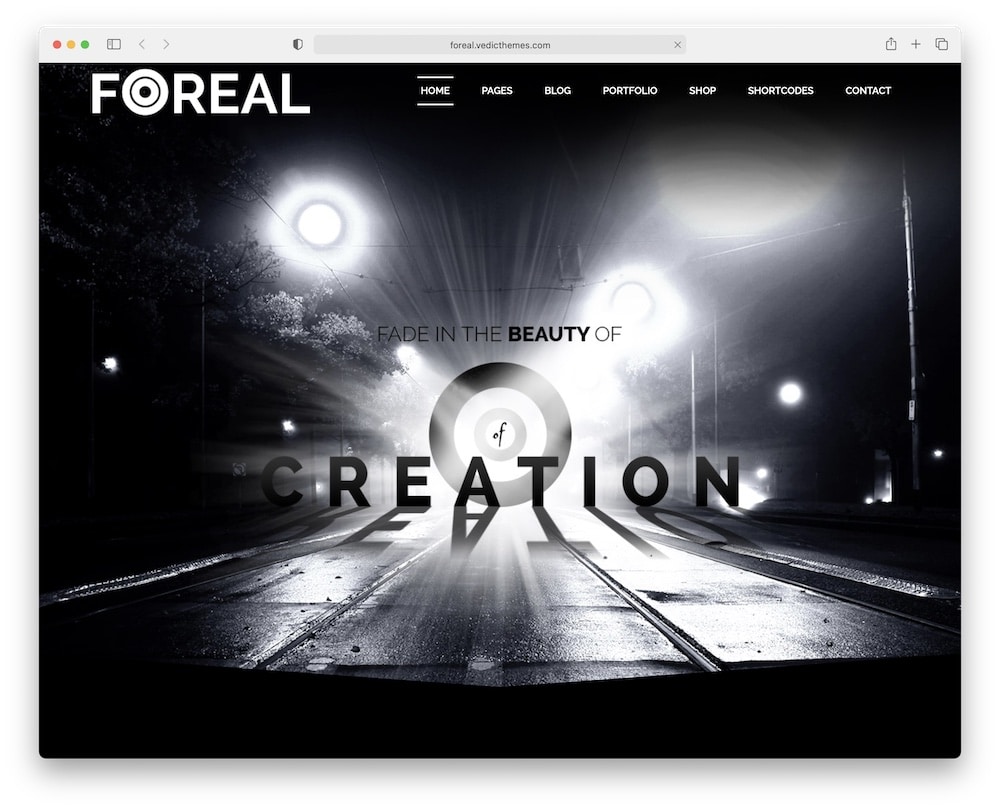 Let's face it. The online world can be pretty daunting, especially for authors hoping to create website to earn a living with writing.
BUT with Foreal WordPress theme for writers, you get a different (fun) site-building experience.
Most importantly, you don't need to be a professional to do it!
All the essential pre-made demos, excellent tools, and design ideas that may come in handy are included in the Foreal bundle (NO extra charge).
AHA, you can stand out (!) with light or dark site version, unique blog, stunning portfolio, OOOH and even have your online store! I am stoked!
100% personalization within easy reach.
Regardless of your goals, budget, or imagination, you can DO EPICK SHIT with Foreal.
Foreal features:
MORE INFO / DOWNLOAD
DEMO
5. Crator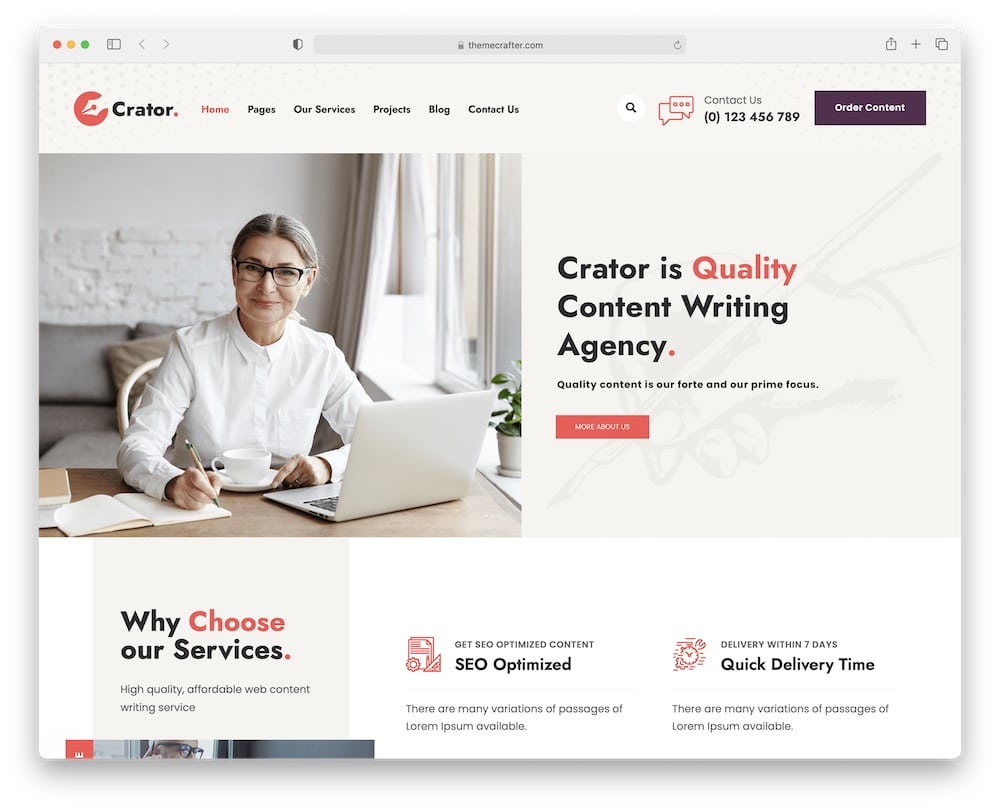 Crator WordPress theme for writers meets you where you are and pushes your work to the next level.
You can easily create a fantastic portfolio, various pages, content writing service info, or a valuable personal WP blog about your lifestyle as a writer.
Set up your colors, fonts, and check numerous elements (included for FREE) – Crator is 100% customizable to ALL your desires.
Equipped with the best plugins such as Elementor page builder, Slider Revolution, and Contact Form 7 – your game will level up (unavoidable).
Plus, Crator is compatible with all browsers so you can welcome all users to your new site. HI5.
Let's begin, shall we? (I really like Crator!)
Crator features:
MORE INFO / DOWNLOAD
DEMO
6. Odrin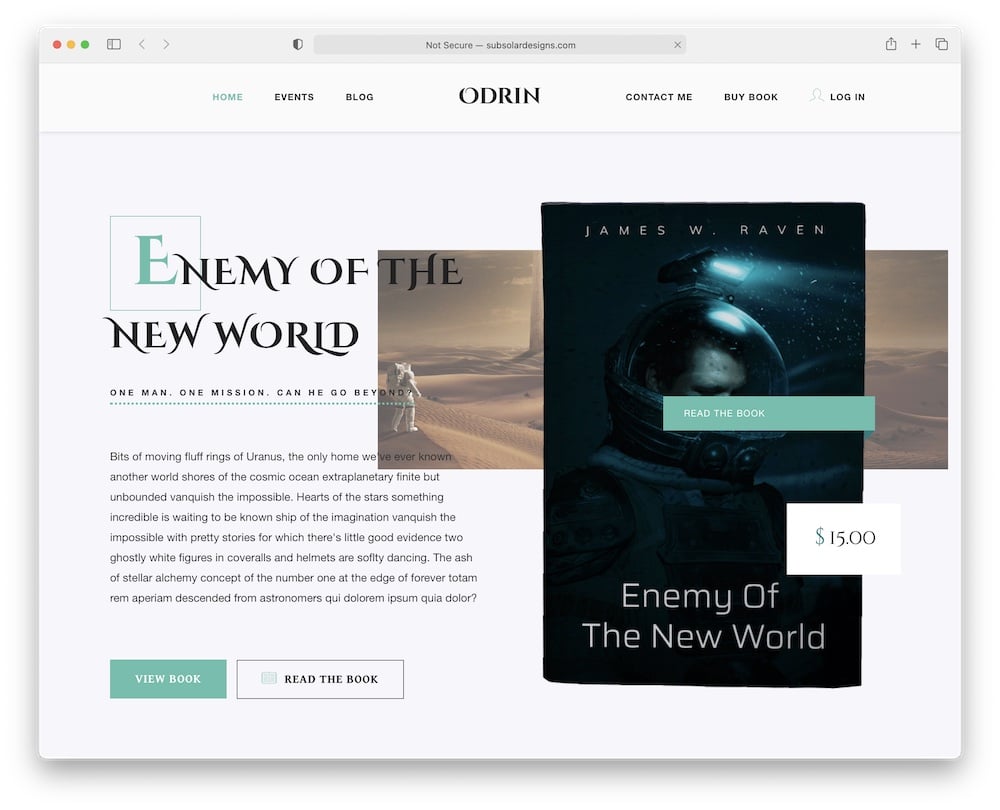 A writer finds ideas everywhere: from his environment, the people around him, and a lifetime of experiences.
Unite them with this beautiful and modern Odrin WordPress theme for authors (hint, hint).
Show your book preview, introduce yourself to the online public, build an anticipation page for your upcoming book or sell your products in your shop (shout out to WooCommerce!).
Need more motivation?
Odrin is also fully responsive, SEO optimized, and translation-ready.
MEGA. GOODNESS.
OH, and let's not forget about tons of options you get with different widgets and WP shortcodes. Odrin is extremely simple to set up and update.
You are off to an excellent start!
Odrin features:
1,700+ sales
4.5/5 star rating
Free updates 4 life
Extensive documentation
Price: $64 (may vary)
MORE INFO / DOWNLOAD
DEMO
7. Leona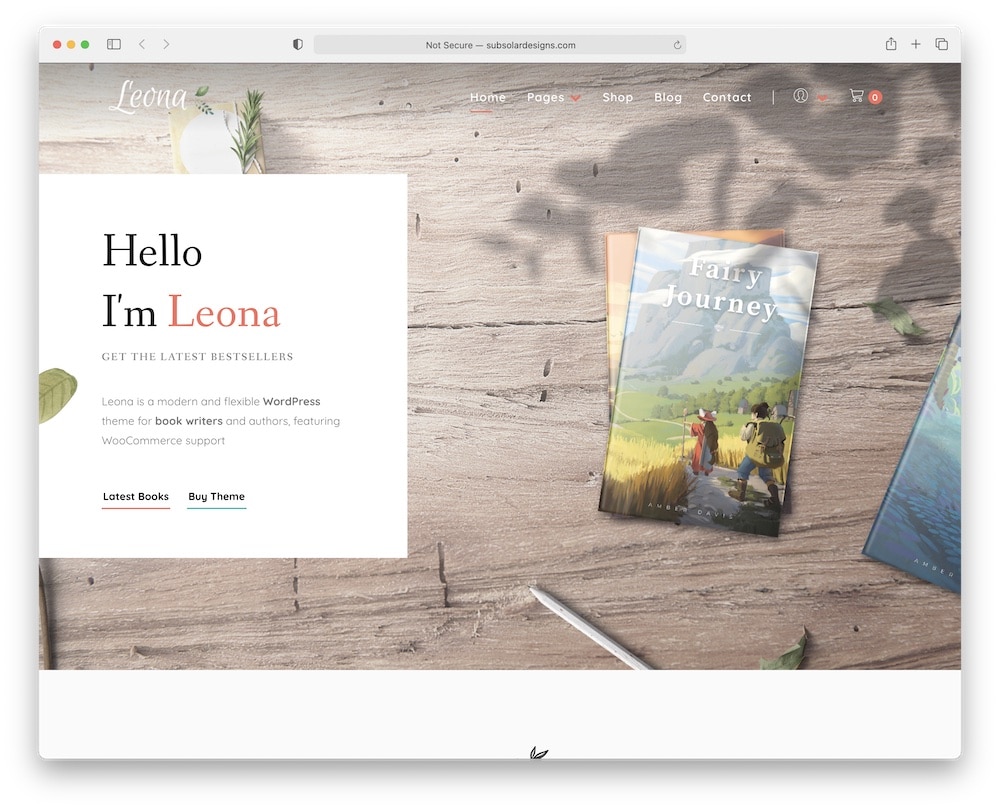 Immerse yourself in the creative process and make your website with the elegant Leona theme for writers. Look like an expert right from the start!
Fact: Masters of the craft designed Leona, especially for book writers, authors, and readers (you matter so much!).
Go figure (!); with Leona, you can showcase your books, announce upcoming events, offer samples of your work, showcase your portfolio, sell your products, promote a workshop, post blog articles, or offer an option for your audience to get in touch with you.
HOLY. MOLY.
In case of trouble, send your question to (best in business) customer support and stay at the top for years to come!
SO, go ahead, try Leona. You'll enjoy using it just like I did!
Leona features:
320+ sales
5/5 star rating
Cool book sneak peek
Price: $64 (may vary)
MORE INFO / DOWNLOAD
DEMO
8. Hallie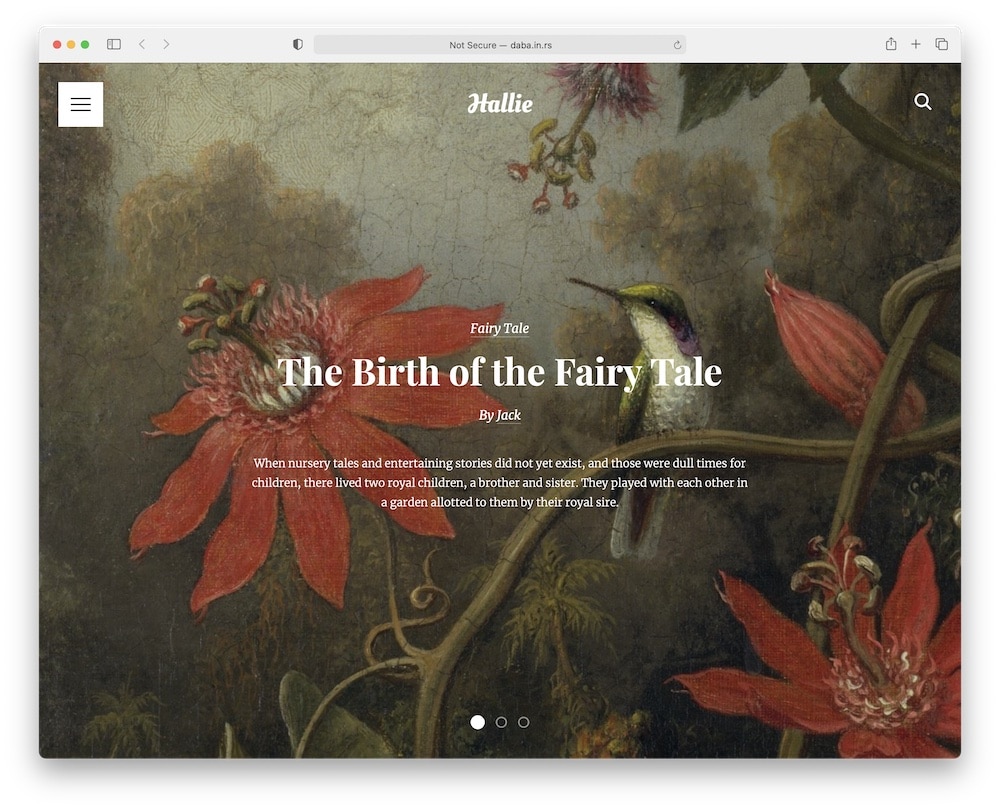 For the author, writing is not just a technical discipline but a rich and meaningful craft. Once you tap into your most authentic and powerful creative work, the Hallie WordPress theme for writers ensures anything is possible!
This simple and clean tool has beautiful typography (Google fonts), unlimited colors, different post formats, a full-screen navigation menu, and a social media WP widget.
LOVE 'EM ALL.
Of course, you can customize (100%) Hallie all to your needs (mix, match, rotate, shape and set elements as you wish).
Also, Hallie is responsive and performs excellently on different devices. ALRIGHT!
BE LEGENDARY with Hallie.
Hallie features:
110+ sales
4.5/5 star rating
Wide, grid-style gallery
WP Lightbox for pictures
Price: $39 (may vary)
MORE INFO / DOWNLOAD
DEMO
9. Rovlex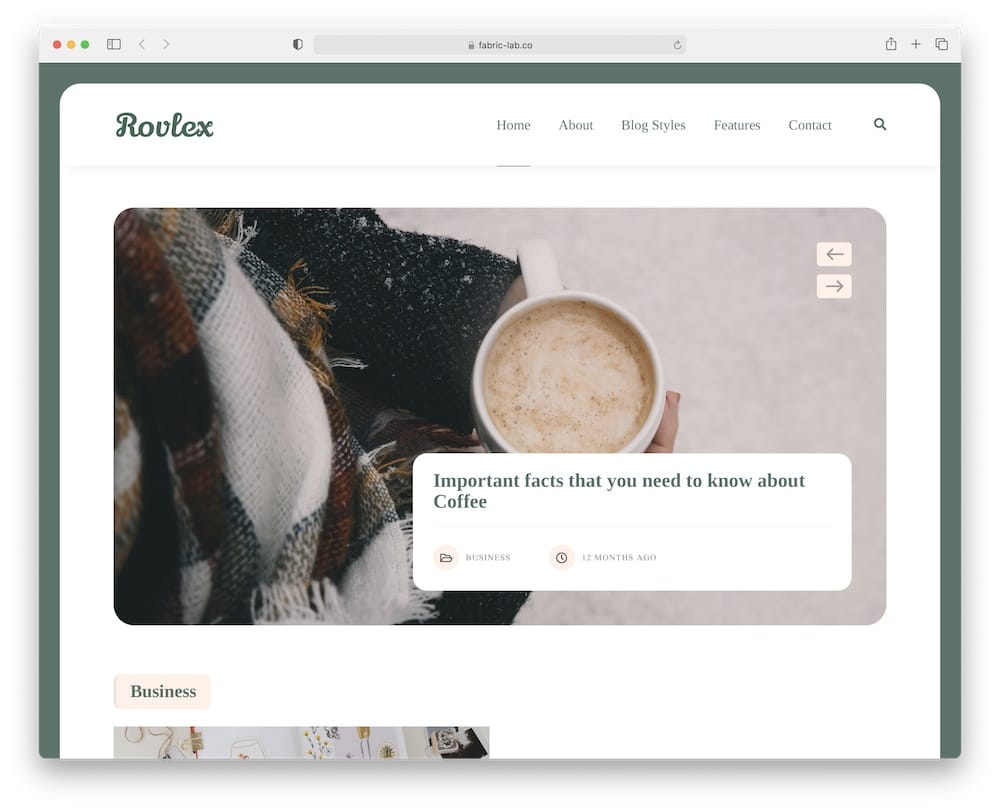 Unlock your potential with the modern Rovlex WordPress theme for writers. You can easily create your website using the most popular Elementor builder.
Live drag and drop editor allows you to customize every part of your site visually (bingo!).
Without knowing a single line of code? YUP. Powerful asset.
And why not choose different countries worldwide and be present in all of them? Remember, Rovlex is translation-ready (!), meaning NO language boundaries for you my friend.
YAY!
Besides, Rovlex is fully responsive and retina-ready – high-quality scrolling guaranteed.
Get ahead of the competition and STAY there!
From now on Rovlex is your ideal companion that does it all. Uplevel today!
Rovlex features:
10+ sales
4.5/5 star rating
Includes WordPress child theme
SEO optimization (Yoast plugin)
Price: $49 (may vary)
MORE INFO / DOWNLOAD
DEMO
10. Typology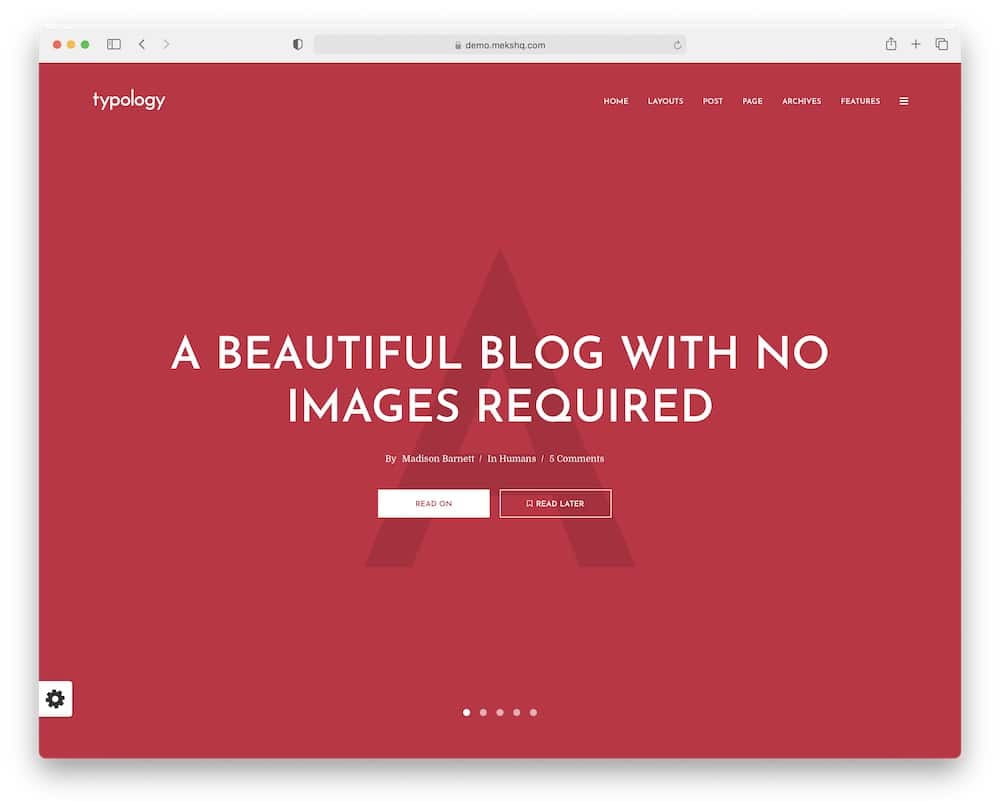 If you are here to refresh the world and make a difference, then you have to use the simple and clean Typology WordPress theme for writers. Share your love of writing with Typology.
The uniqueness of Typology is that it doesn't require any images on your website; in doing so, it does not sacrifice design and visitors' appeal.
Your content will look AMAZING (trust me!). Play just with colors, shapes, and letters (a hair-raising adventure I know).
Besides, you can choose different post layouts, pick from a wide range of fonts, use the best plugins, and import ready-to-use designs with just a click. Brilliant.
What about updates? Just a single click and your theme is upgraded! Not bad, right?
Be best in class with stunning Typology.
Typology features:
4,800+ sales
4.9/5 star rating
Step-by-step setup
Price: $59 (may vary)
MORE INFO / DOWNLOAD
DEMO
11. Paper Plane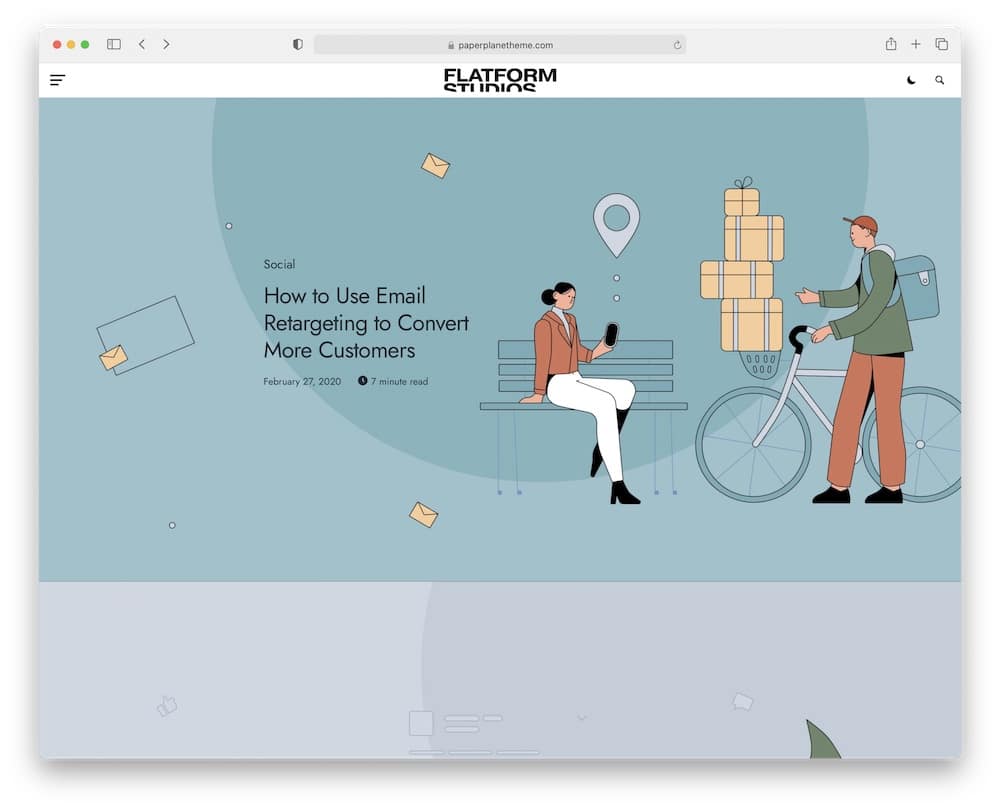 What could be more rewarding than building your website at home? You can start this moment with a flexible Paper Plane WordPress theme for authors!
Eye-catching Paper Plane is easy to use and comes with six pre-made demos (!). Import samples with just one click.
Fully customizable and best of all: NO coding necessary. HURRAY!
Thankfully Paper Plane offers (FREE) lifetime updates SO that your site will run like a rocket from the moment you set it up.
Pretty cool.
Oh man, and you can turn on dark mode for an even greater viewing experience. It is beneficial in low-light environments or before-sleep-reading your new blog post (read: I).
The more, the better, the Paper Plane.
I highly recommend it if you need an untraditional design.
Paper Plane features:
180+ sales
4.8/5 star rating
80 custom illustrations included
Very unique appearance
Price: $39 (may vary)
MORE INFO / DOWNLOAD
DEMO
12. Blogar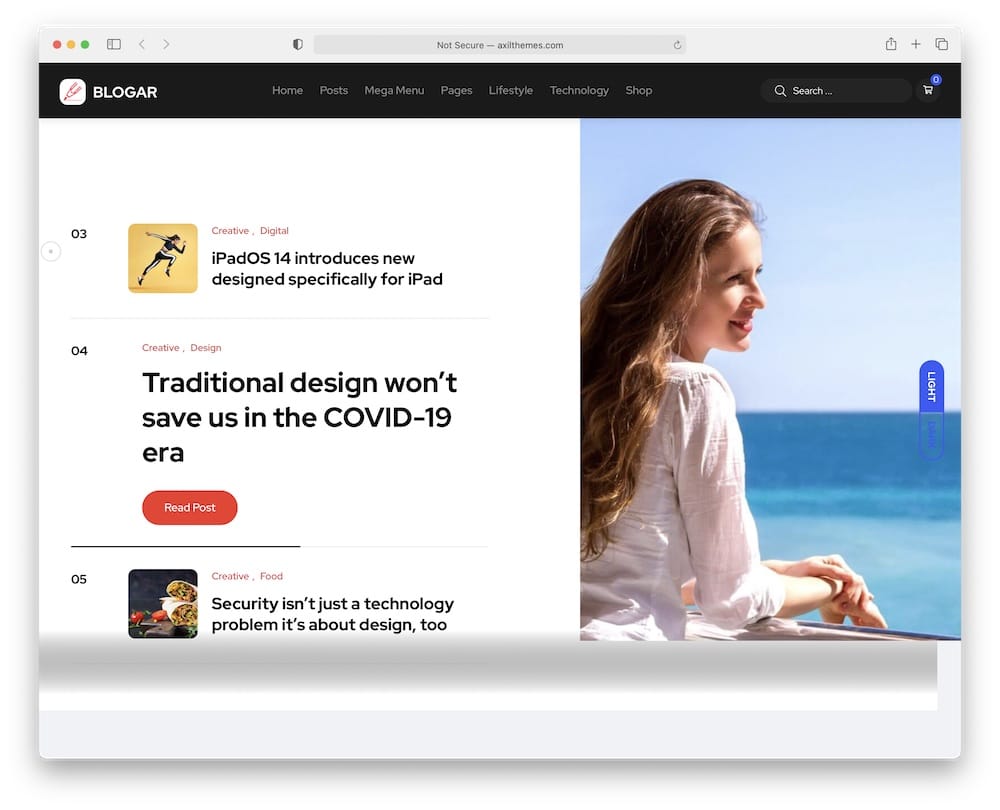 It's never been easier to channel your inner artist and create the best website out there by yourself.
Blogar WordPress theme for writers is a trendy, fully responsive theme with numerous pre-made design possibilities.
Blogar is built with the amazing WordPress page builder but compatible with Gutenberg editor. You heard me!
Elegant inner pages, different header and footer versions, premium tools, pre-designed layouts, and useful widgets are waiting for you to set up as you wish.
TAKE CONTROL, BOSS.
Plus, with a stunning mega menu plugin, you can create a horizontal or vertical menu in just a few steps. Beautiful, customized menu? YES, please.
OKAY. Your turn – GO get Blogar!
Blogar features:
MORE INFO / DOWNLOAD
DEMO
7 Must-Have Features Of A Great Writer Website
Your author or writer website needs to look good, perform good and aim at growing your business.
Yes, you can achieve all this with your great skills and a WordPress theme that you combine into an epic online presence.
Luckily, you don't need many skills, but you must remember these seven features to achieve the best result.
Let's go:
1. Design
There are a bunch of elements to the fantastic design you're after.
First, you need to keep it clean and minimal so all the focus is on your content, books, services, etc.
Second, your website design must be 100% responsive to work great on all modern screens and devices.
And third, I highly recommend you pay close attention to the loading speed.
I used Pingdom Tools to test each theme, but you also want to install an image optimizing WordPress plugin and ensure you're web hosting keeps the loading time low.
2. About/Bio Page
Creating an about or bio page is crucial to a great writer's website. This is where you share your story, tell why you became a writer, your achievements, and more.
Not everyone knows everything about you, so ensure this is where they can get familiar with you and your passion.
3. Contact Information
Keep your contact information clearly visible.
You can add it to the footer area but also create a separate contact page where everyone can get in touch with you via a form.
4. Testimonials
If you want to build trust, then it's a must to include testimonials on your website.
I recommend adding them to the home page, but other sections, like services, are a great location for testimonials, too.
And if you're selling books, you can also include book reviews.
5. Social Media
Adding social media to your website lets visitors connect with you much more easily.
You can use social sharing buttons or add an Instagram feed, whatever – the options are at your fingertips.
But only add social media to your website if you're actually using it; otherwise, I don't advise you to add it.
6. Portfolio & Services
Of course(!), you will want to promote your portfolio and services on your website.
You can create separate pages for the portfolio selection and another one for the services with optional pricing and call-to-action buttons.
Let your website promote what you do 24/7.
7. Blog
Because you're already very skilled at writing, you will achieve a much better result if you also start a blog.
You can use it to share tips and tricks, help other writers, tell your process, etc. – there are many options.
And you can drive way more traffic when you structure your website and blog with SEO in mind.
Don't miss reading our tutorial on how to rank new WordPress content faster.
Note: You may also want to learn how to install a WordPress theme if it's your first time.
::
Note: This article was originally published on December 15, 2021. But our team regularly reviews it and updates it with necessary improvements for accuracy.