Are you searching for the best record label WordPress themes to promote your music business like a PRO?
You came to the right place.
I just recently worked with a heavy metal label and used the Phase theme.
But I also used the others for my past projects.
Thus, each WP theme is thoroughly tested and reviewed to ensure you enjoy the best bang for your buck.
I tested ease of use, mobile-friendliness, speed and how accurate the features and customization of each theme are.
This post covers:
You now have everything you need, whether you run a small or a large record label.
Create a website to promote your artists, merch, shows and events!
BOOM.
QUICK-PICK: My Best WP Themes For Freelancers
If you need additional assistance, check out Ales's guide on choosing a WordPress theme and what to pay attention to.
Best Record Label WordPress Themes
1. SoundRise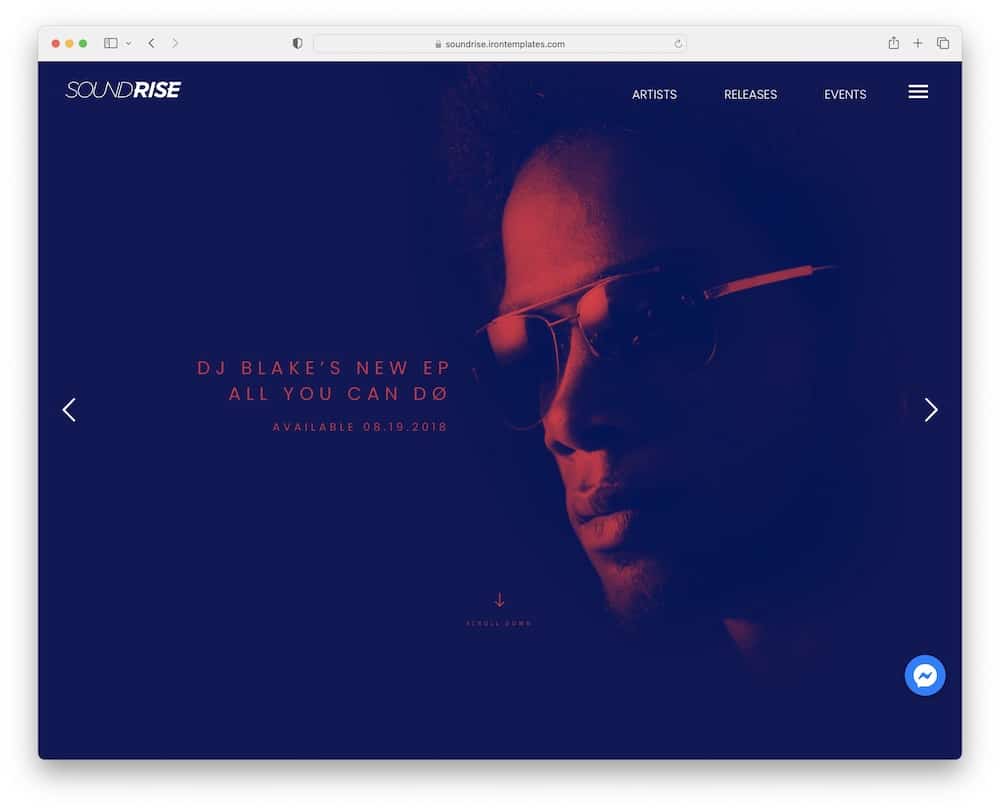 Collaborate with artists and musicians via the modern SoundRise music theme.
The best part about SoundRise is that it doesn't matter if you're a beginner or a pro – you can install and customize the demo in a simple, user-friendly way!
Moreover, SoundRise is powered by the Ajax music player offering endless music in the background of your site. Music will not stop even if your visitor changes pages.
MAGIC.
Oh, and diverse header and footer options are really COOL, but I still like the sticky header the most! Yup, that's the header that floats with you when scrolling up and down a page.
Want to display events & gigs? NO. PROBLEMO.
Bring SoundRise to life!
SoundRise features:
1,600+ sales
4.7+ star ratings
One- & multi-page support
Also works as a multilingual WP theme
Price: $64 (may vary)
MORE INFO / DOWNLOAD
DEMO
2. Phase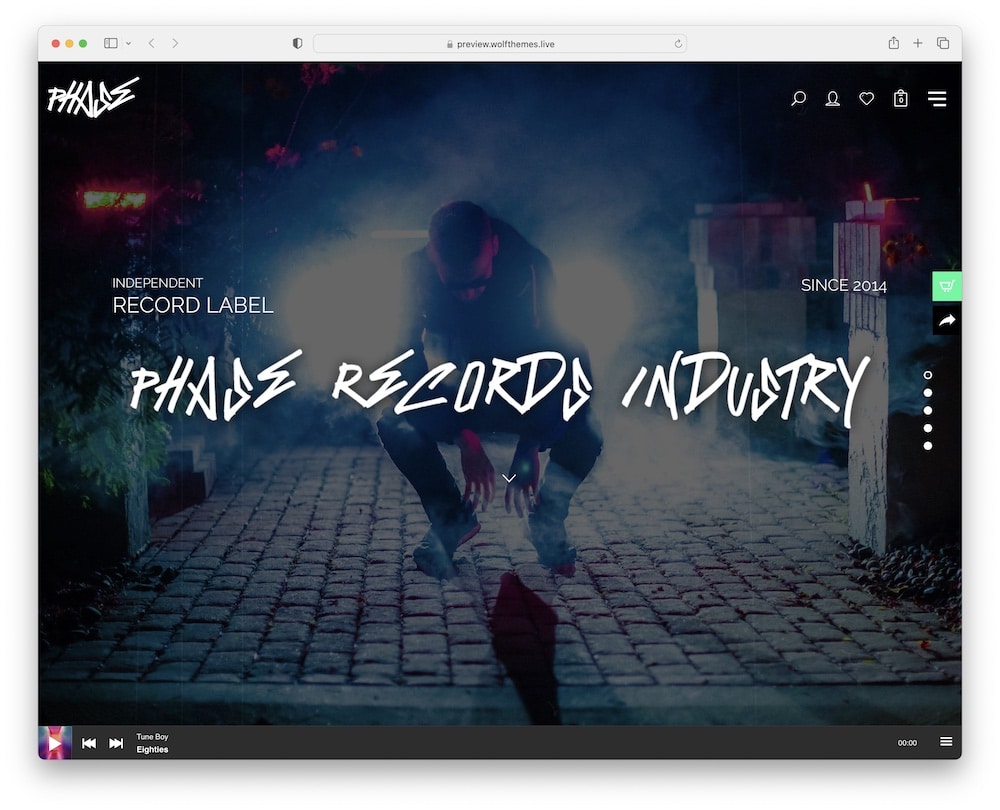 Unique Phase record label WordPress theme is ready to rock!
You can choose from numerous pre-made designs, edgy inner pages, and artist layouts.
Yes, please!
Plus, your site will look LIT from the first day due to the AWSOME Slider Revolution (sleek effects approved).
Oh, and with the WPBakery page builder (No.1), you can simply rearrange elements, mix colors, set up icons, and above all, be your own BOSS.
Moreover, Phase is mobile-friendly and SEO-optimized (big deal). Go figure. Two things that Google likes.
How to bring on your A-GAME? With video and audio player. Present discographies, artists, and singles.
Classic. Cool.
Phase features:
MORE INFO / DOWNLOAD
DEMO
3. Remix Music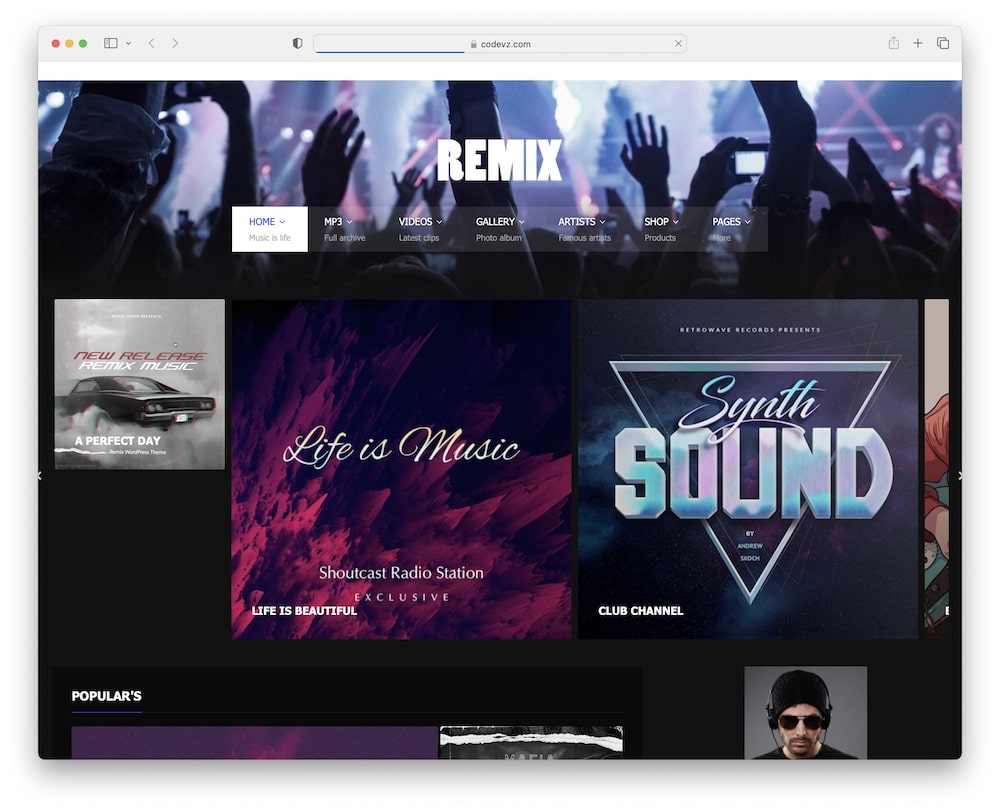 Create an elegant website with the Remix Music record label WordPress theme to promote artists and your love for music!
Remix Music has a fast load speed performance and is cross-browser approved (Welcome Firefox, Chrome, Edge, Safari … fans).
Besides, it offers two types of music players (playlists and podcasts) and an online event tool with an epic countdown timer. Make some noise!
And I love the light and dark option to reduce my eye strain. (You can also read our guide on how to add dark mode to WordPress.)
Furthermore, Remix Music is also translation ready! Aha, WordPress is used by people worldwide (no language limits).
You know you want it!
Remix Music features:
2,900+ sales
4.7+ star ratings
Music charts
Price: $59 (may vary)
MORE INFO / DOWNLOAD
DEMO
4. NeoBeat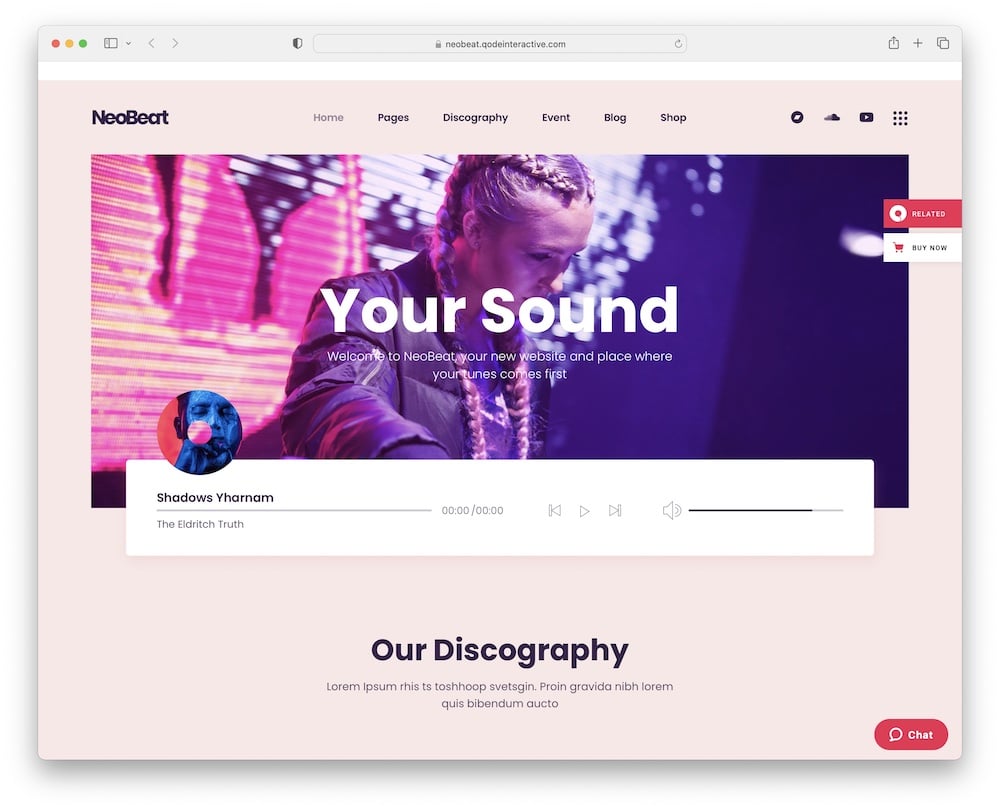 It's all about music with the NeoBeat record label WordPress theme.
Create a stunning site with a powerful WordPress admin panel and numerous pre-made options. Plus, a big shout-out to the Elementor page builder!
From beautifully designed album collections, music player, and discography layouts to announcing tour dates or displaying events – NeoBeat has it all!
Of course, you can also create a WooCommerce music store. Simple stuff!
Moreover, NeoBeat includes modern blog layouts for effortlessly sharing important music insights, emerging artists, new genres, and much more.
PROVIDE. VALUE.
Oh, and make sure to reach, nurture and engage with your audience via social share functionality and buttons. Let the entertainment begin!
NeoBeat features:
900+ sales
4.5+ star ratings
Music store
Events & tours
Price: $85 (may vary)
MORE INFO / DOWNLOAD
DEMO
5. Rawtracks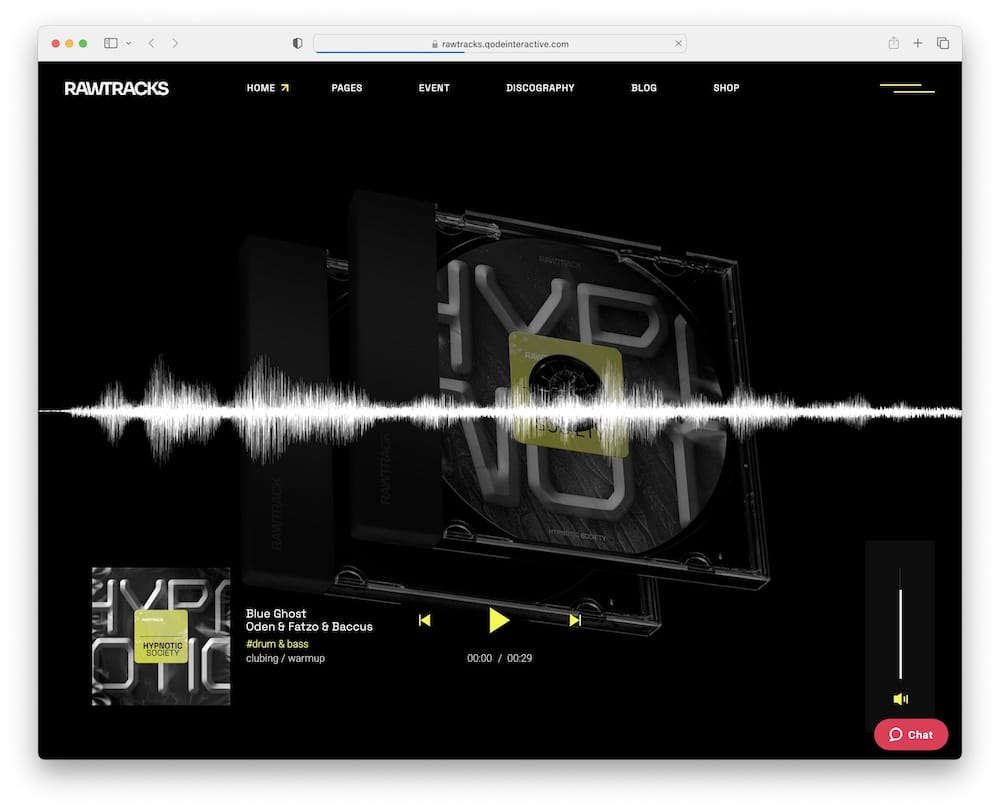 Bold Rawtracks record label WordPress theme can make your business stronger. Why?
It comes with not one or two but SEVEN ready-to-use homepages! Choose the one you like and start customizing it to all your needs. Yup, it's so simple.
I really like Rawtracks's dark look!
Furthermore, Rawtracks is compatible with the most popular plugins like Elementor, Slider Revolution, WooCommerce, and Contact Form 7. HI5!
But I always like to start with the header and mega menu adjustments. Various Google fonts and color options are also COOL to play with.
Present albums, artists, and events like they deserve! Pick Rawtracks!
Rawtracks features:
MORE INFO / DOWNLOAD
DEMO
6. Herion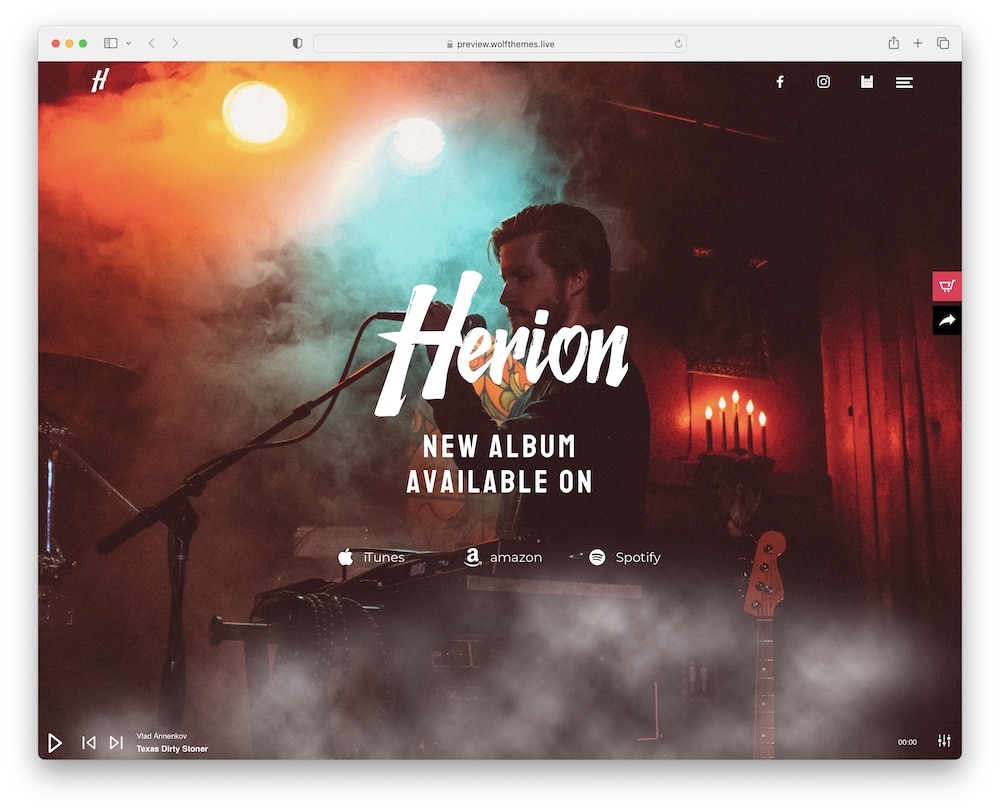 Badass-looking Herion record label WordPress theme is dedicated to music, bands, artists, festivals, and albums.
YES, all in one place!
You can simply choose from fifteen pre-made demos designed with the best performance in mind.
Plus, you get a bundle of inner pages, gallery layouts, WP widgets, and various icons. Oh, and it even includes a WordPress child theme.
I loveee the parallax theme effect and the option of a video background.
Besides, Herion supports embedded players like Spotify, Bandcamp, Mixcloud, Soundcloud, etc. I think discography & artist layout is also MUST HAVE addition.
BTW: You've got FREE gold (aka amazing customer support) in your hands with Herion!
Herion features:
530+ sales
5-star rating
Playlist manager
Price: $79 (may vary)
MORE INFO / DOWNLOAD
DEMO
7. Spectacle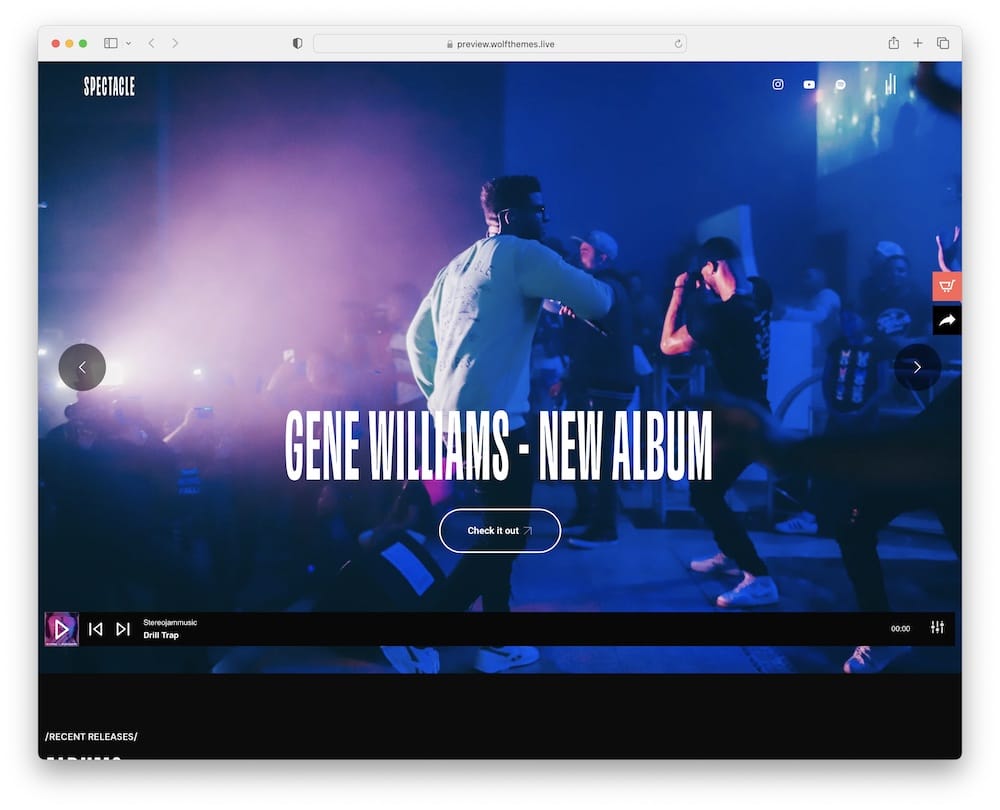 Drift into the music with the playful Spectacle record label WordPress theme.
Spectacle includes all the important features, such as a playlist manager, discography layout, event pages, video previews, portfolio design, and a beautiful gallery.
And you can easily create an online store via brilliant WooCommerce.
Fact: I ADORE smooth page transitions and pretty sliders (Hi, Slider Revolution!).
Moreover, Spectacle is SEO ready from day one – meaning your entire foundation comes optimized to help you rank better in Google. Plus, it's mobile-friendly for the AWSOME user experience.
Also, I have to mention Contact Form 7 and MailChimp!
Website forms, newsletter sign-ups or popups, and email marketing – YES, you are right to think they are life-changing.
Spectacle features:
130+ sales
4.5+ star ratings
Cool artist pages
Discography
Price: $79 (may vary)
MORE INFO / DOWNLOAD
DEMO
8. Vibra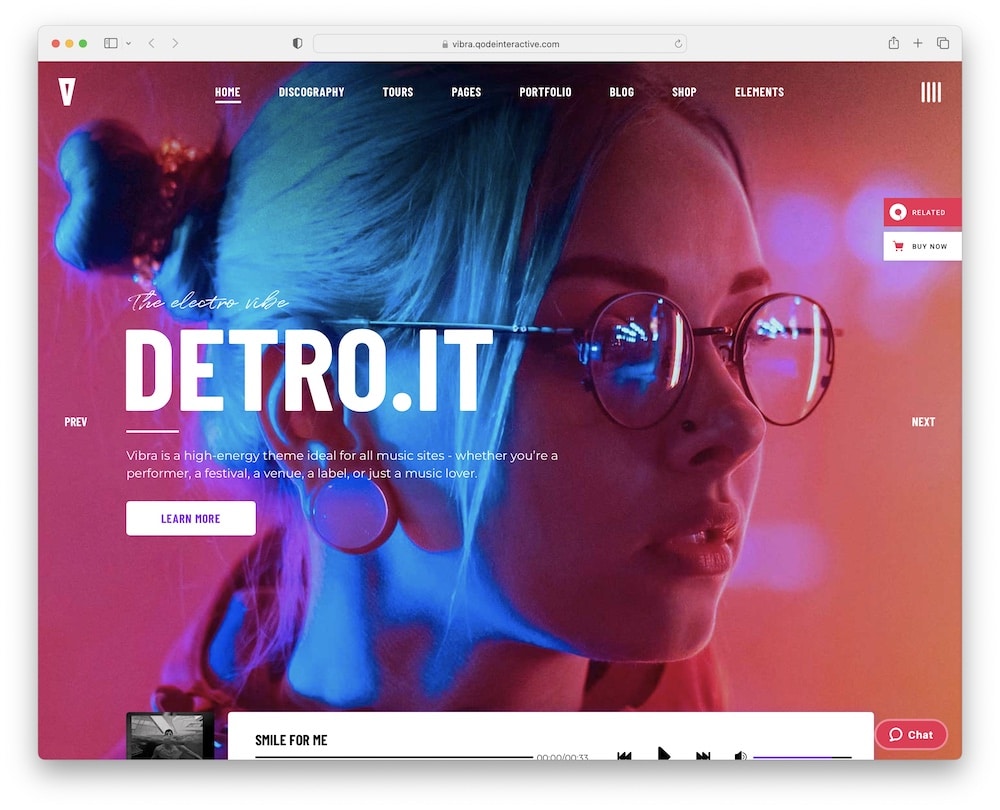 Vibra music label WordPress theme's luxurious and colorful look is spot-on!
It offers a one-click demo import that will work perfectly out of the box. BUT, of course, you can change, mix or match its design as you wish.
Hip hip hooray for the WordPress page builder (WPBakery)!
Here's the best news of the day: You can easily connect with your favorite music platforms (Google Play, Bandcamp, Spotify, etc.) and share the perfect beats, the latest artists, and amazing albums with Vibra!
Also, a professional record label portfolio with all your realized projects, events, and sign artists is a must.
BTW: Social media is a great marketing tool for everyone, so use Vibra social icons to share information.
Vibra features:
520+ sales
4+ star ratings
Quick music embed
Blog & sho pages
Price: $89 (may vary)
MORE INFO / DOWNLOAD
DEMO
9. Voicer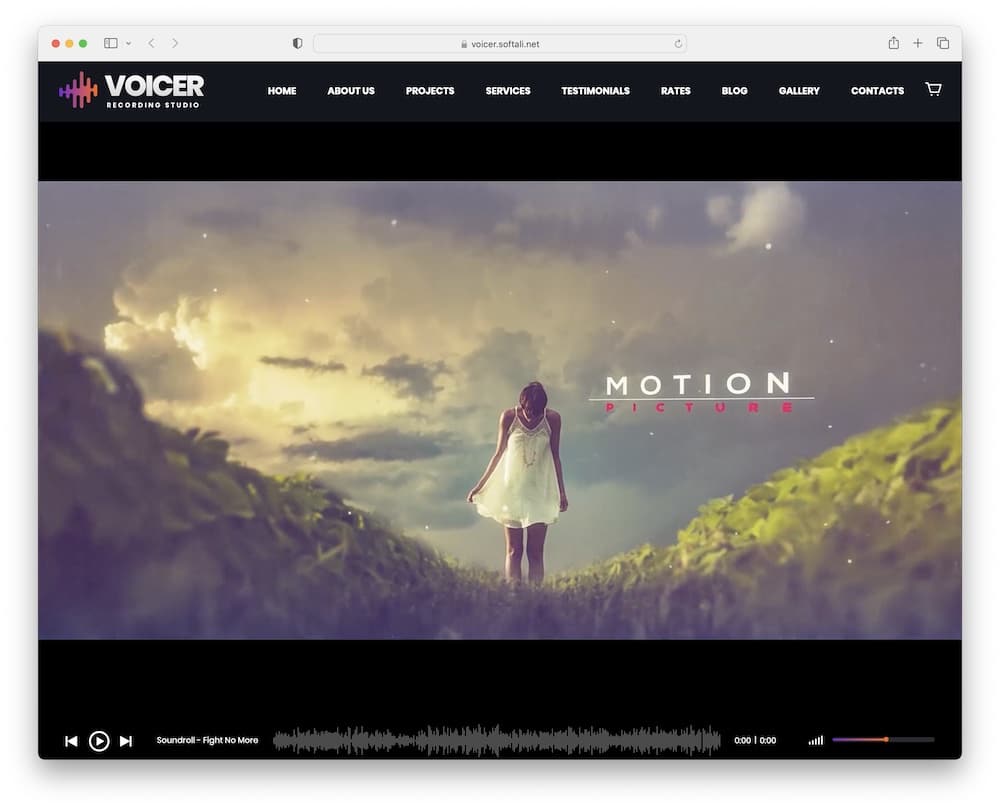 If your brain is 89% song lyrics (like mine), then you are at the right place! Let me introduce you to the eye-catching Voicer record label WordPress theme.
Keep in mind you will save your time and money with Voicer!
Responsive Voicer has a unique booking form, smart audio player, and Instagram widget. Plus, you can build your online store with WooCommerce (without experience).
Oh, and Voicer is also compatible with WPBakery page builder and Gutenberg editor. BIG. DEAL.
To me, there's nothing better than regular updates, step-by-step video tutorials, and professional customer support.
Voicer, you ROCK!
Okay, your turn. Tell me what you think?
Voicer features:
MORE INFO / DOWNLOAD
DEMO
10. Recond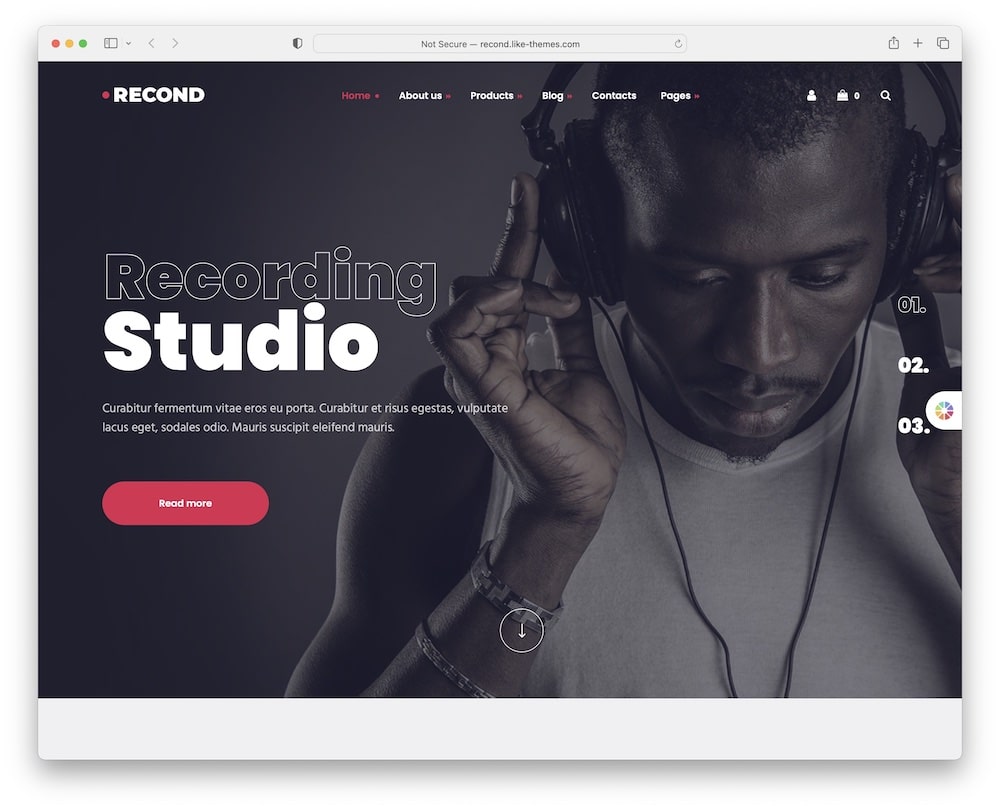 Please welcome into your life the modern Recond music label theme.
Recond comes with a smart bundle of the most popular plugins like WPBakery, MailChimp, Contact Form 7, and WooCommerce.
This put a smile on your face, didn't it? Well, I am smiling for sure!
Besides, you can customize Recond's pre-made design to your preferred style. Choose (BOSS mentality) your colors, layouts, tabs, icons, header, and pretty fonts.
Oh, Recond also looks GREAT on different screen sizes and versions of browsers due to its responsive design and cross-browser compatibility. A fantastic way to SHOW OFF!
Trust me: All in one Recond is the answer.
Recond features:
MORE INFO / DOWNLOAD
DEMO
11. Rebellion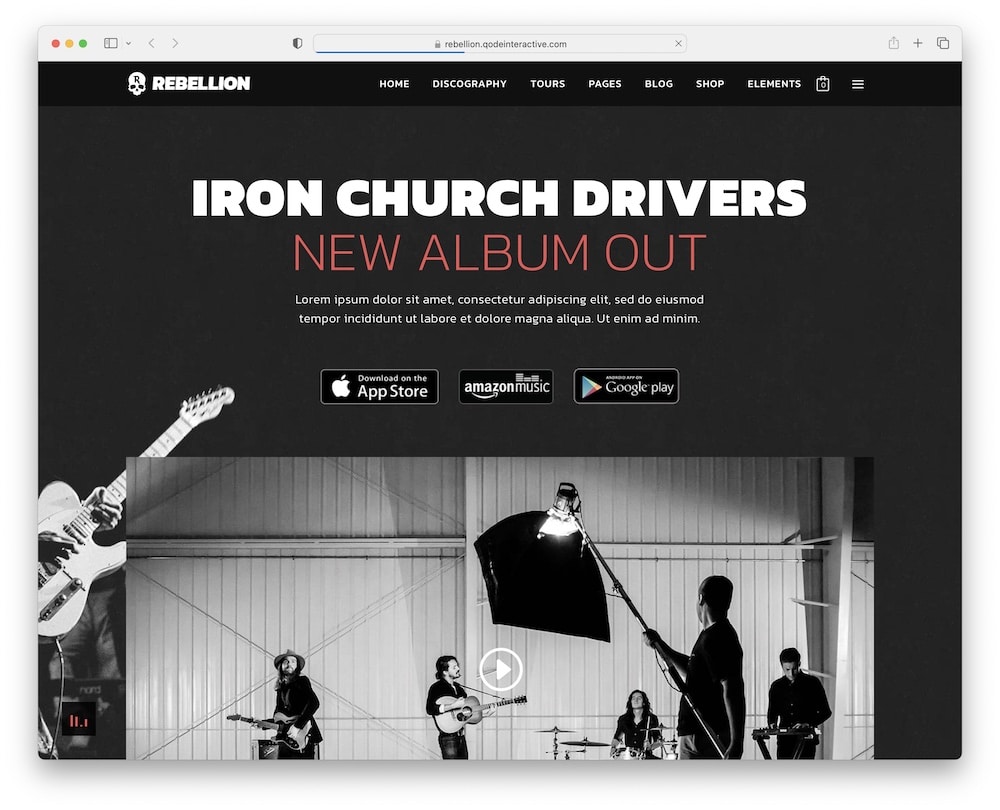 Here Comes Da BOOM: Rebellion record label WordPress theme!
Dark and fearless Rebellion includes nine BADASS homepages, pre-made inner pages, and a powerful discography layout.
What else do you need?!
Well, it's never too much to have a HUGE option of shortcodes to add an extra function on the website (to your page, post, blog, etc.). Up to you!
Personally, I think back to top button is a COOL add-on. (Check our guide on how to add back to top button in WordPress.)
Moreover, Rebellion is also translation ready if you want to connect with the whole world or just go local. Also, make sure to set up Google Maps to locate your record label company.
Remember, Rebellion has everything you need for a successful start of your new site.
Rebellion features:
700+ sales
4.6+ star ratings
Multiple inner pages
Add testimonials (you can also use a WP testimonial plugin for more functions)
Price: $85 (may vary)
MORE INFO / DOWNLOAD
DEMO
9 Key Features Of The Best Record Label Website
There is a bunch of stuff you need to follow when building the ultimate record label website.
But so you aren't lost in all the information, I created a list of the nine must-haves that I found work best.
Not just that, these were also some of the key factors I looked for when curating this list.
How I picked the best WP themes for record labels:
Don't miss getting familiar with installing a WordPress theme (if it's your first time).
Responsive layout: One of the 1st things you need to think about is the website's mobile-friendly layout. Forget about success if it's not 100% responsive. But that's something all these themes feature by default. So. No. Worry. (I tested each theme with Google's Mobile-Friendly test)
Fast loading: Another key element of a great record label website is fast loading. The theme needs to be lightweight, with as little bloat as possible. That's why I also recommend using as few plugins as possible. But you can also ready our complete tutorial on picking a fast WordPress theme.
Portfolio: A portfolio of albums or artists or both – that's what's essential for every record label website. The themes I picked come with predefined layouts that you can use as is or customize however you want.
Artist page: Every artist that's under your record label deserves an individual page. This is where fans can learn more about the artist or band, check discography, see tour dates, and more.
About us: You also must have a great and compelling about us page. Share your passion for music, but you can also add a CTA to sign new artists and bands.
Online shop: Do you want to sell albums and merch online? That's great! And it's your lucky day because you can easily make it happen with the powerful WooCommerce plugin.
Shows & events: Don't forget to promote the upcoming shows and events that you hold or of your artists and bands.
Contact details: Give everyone a chance to get in touch with you by providing the necessary contact details. A form and a clickable phone number are mandatory. But you can also use Googe Maps to showcase your record label's location. Easy.
Blog: And if you'd really like to stand out from the masses – START a blog. Promote your artists and bands, announce new album drops, publish interviews, etc. You have endless options to keep your blog alive, keep your fans happy and enjoy a portion of Google traffic.
That's it!
You're now readier than ever to create the greatest record label website, whether you're niche or general.
Note: You may also be interested in our collection of the best WordPress music themes.
::
Note: This article was originally published on November 17, 2022. But our team regularly reviews it and updates it with necessary improvements for accuracy.