You can start your project quickly with these tested free personal WordPress themes.
We all want quick solutions, right?
And it's not just about speed; these are also some of the easiest WordPress themes available.
BUT!
You'll still create a fantastic online presence whether you're a freelancer, designer, programmer, photographer, blogger, you name it!
No experience is necessary. (BEST!)
This post covers:
I did all the live testing on various projects to guarantee all these themes are the most reliable.
Turn your passion into a business.
Promote your services. Show your skills.
And grow, Grow, GROW.
Best Free Personal WordPress Themes
1. Selfgraphy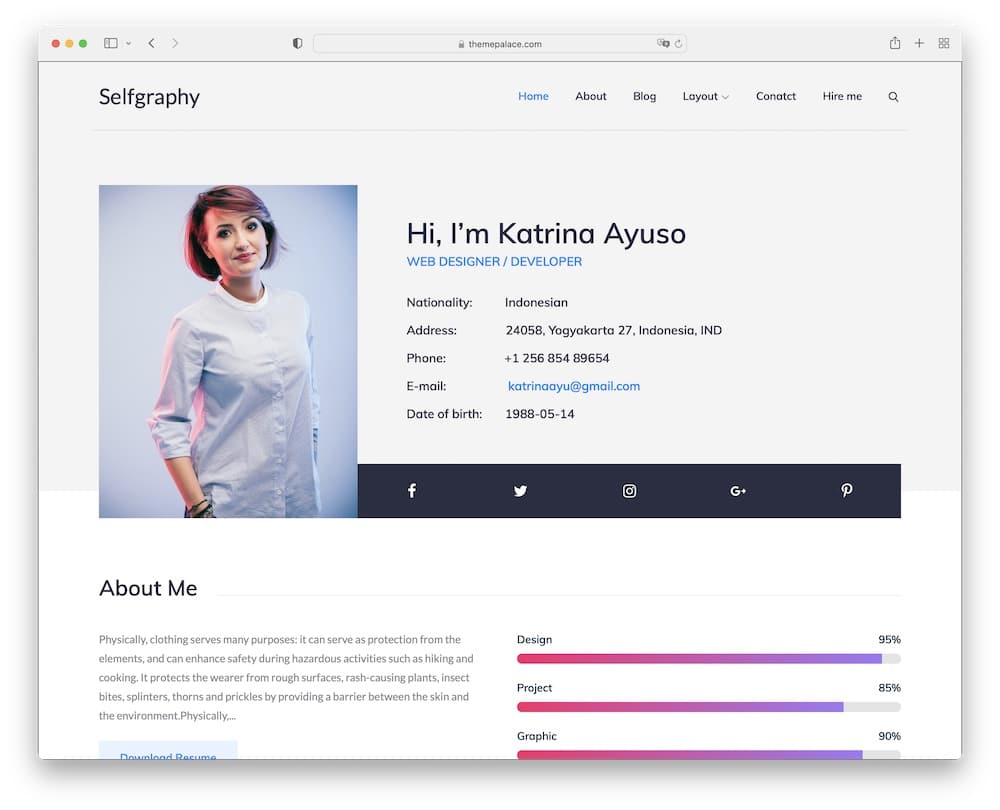 Build a community of like-minded people with the beautiful Selfgraphy free theme. Just set big goals and create a genuine online presence.
You can easily share your knowledge, ideas, and unique life experiences with a pre-made blog layout (focus on easy-to-read content).
Plus, Selfgraphy is translation-ready (pick any WordPress translation plugin) to apply to the entire world. I love it!
NOTE: Selfgraphy comes with numerous options for quick modification, such as unlimited color choice, useful WP widgets, and engaging sections.
I even created a personal portfolio in just a few clicks!
Don't miss out on responsive and flexible Selfgraphy – it works like MAGIC.
Selfgraphy features:
200+ active installs
Custom CSS options
Editable footer (or expand its capabilities with these WP footer plugins)
MORE INFO / DOWNLOAD
2. Myself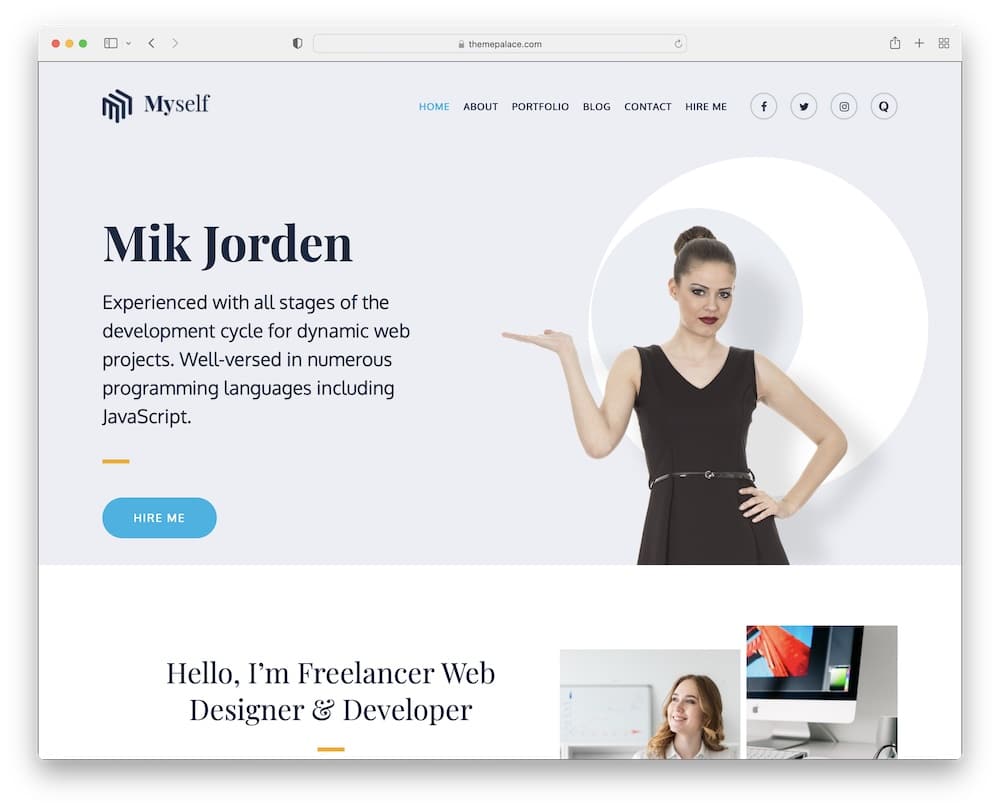 Effective Myself free personal WordPress theme helps you convert your aspirations into your new reality.
Myself has EVERYTHING you need for a blazingly fast and simple start (looks incredible).
It is perfect for showcasing your skills, sharing tricks & tips, and displaying your fantastic portfolio.
Label yourself as the best because of your popular posts, incredible photography, and regular content updates.
Myself also offers different layouts with various WP sidebar positions.
And have some fun (I always do) with setting up attractive sections like: about me, services, blog, portfolio, testimonials, contact, call to action, and much more.
Take action!
Myself features:
400+ active installs
Testimonial carousel
Multiple customizable sections
Hover effects
MORE INFO / DOWNLOAD
3. Blossom Coach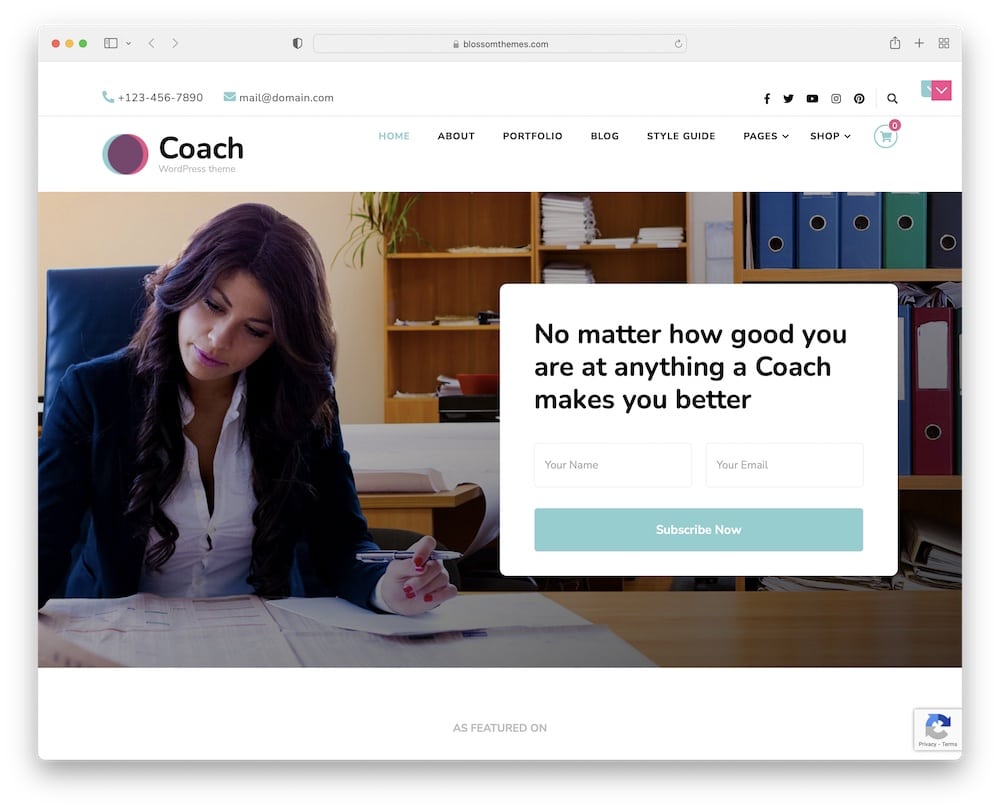 Target enthusiastic people passionate about life (like you!) with the elegant Blossom Coach free personal WordPress theme.
I love to start modifying the demo by uploading logo, images, and the most important content.
And linking social media accounts to my website (for immediate connection with my audience).
Advanced Blossom Coach works smoothly on different screens (responsive design), is speed optimized (fast as the wind), and is SEO friendly (key to Google friendship).
Also, Blossom Coach is compatible with WooCommerce to create an online store.
Go to the TOP level in just minutes! HI5!
Hint: Blossom is your secret weapon to build a powerful WordPress coaching website.
Blossom Coach features:
3,000+ active installs
Schema integration
9 home sections
Video banner
MORE INFO / DOWNLOAD
4. Blog Personal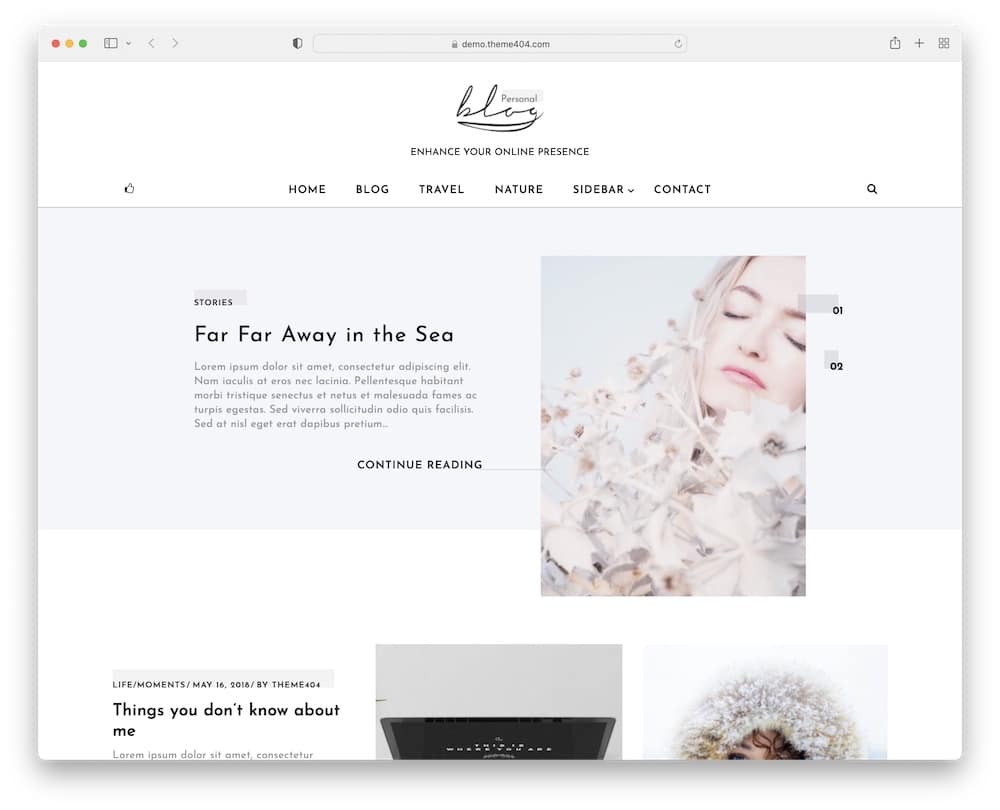 Get the best head start with the dynamic and stylish Blog Personal. An easy answer to all your wishes!
You get to begin with the ready-to-use demo with a simple one-click import.
In my opinion, this is the best way (quick & simple) to start if you don't have any coding & design knowledge (keep calm, you can do it yourself!).
You can change the menu, pictures, logo, add content, create a portfolio, and contact info in minutes. Feel free to add your touch of creativity to Blog Personal!
Spread the word about your brilliant content with a GREAT blog.
Blog Personal features:
400+ active installs
3 demos (!)
Minimalist design
MORE INFO / DOWNLOAD
5. Hexagon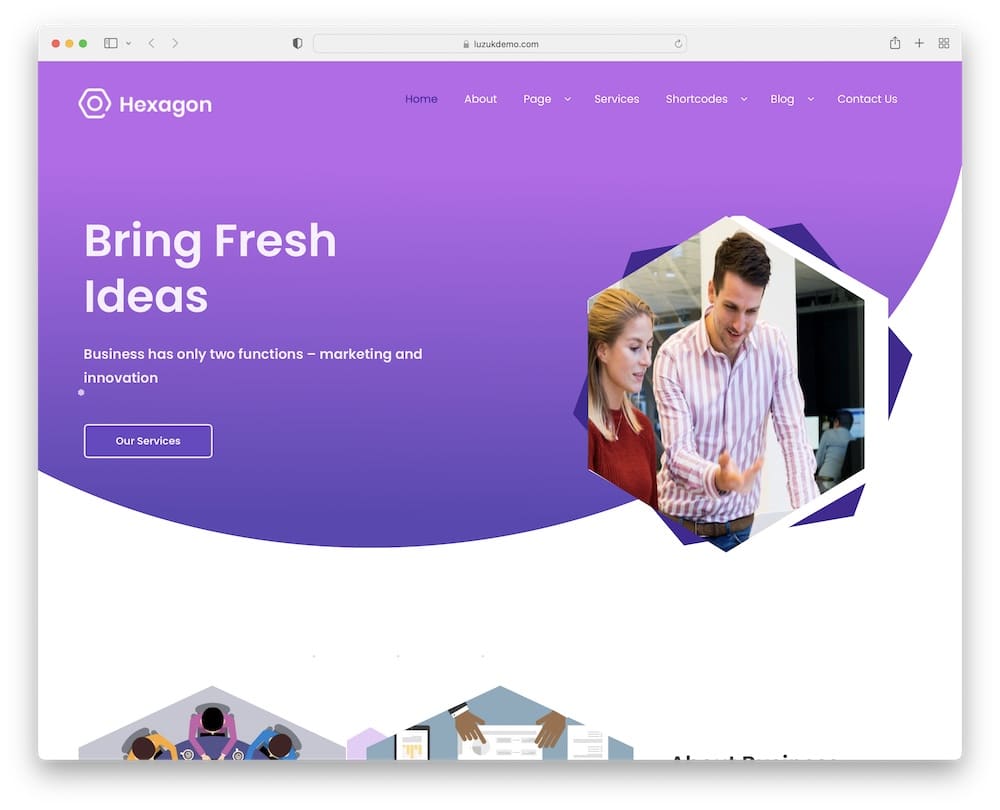 NOTHING should stop you from creating your ideal website!
Brilliant Hexagon free personal WordPress theme is armed with widgets, elements, and pre-made layouts for a quick and straightforward build.
0 experiences? NO problem, you get FULL documentation.
Moreover, you can choose from the massive color palette, upload numerous images, and connect your site with social media.
Oh, and Hexagon is also translation-ready (open up your story to the whole world – WOW).
NOTE: My suggestion is that you take advantage of powerful tools such as WooCommerce, Contact Form 7, and MailChimp. (They're more beneficial than you think!)
Save money & think success with Hexagon!
Hexagon features:
200+ active installs
Excellent performance
Full-width layout
Regular updates
Distinct look
MORE INFO / DOWNLOAD
6. Personalblogily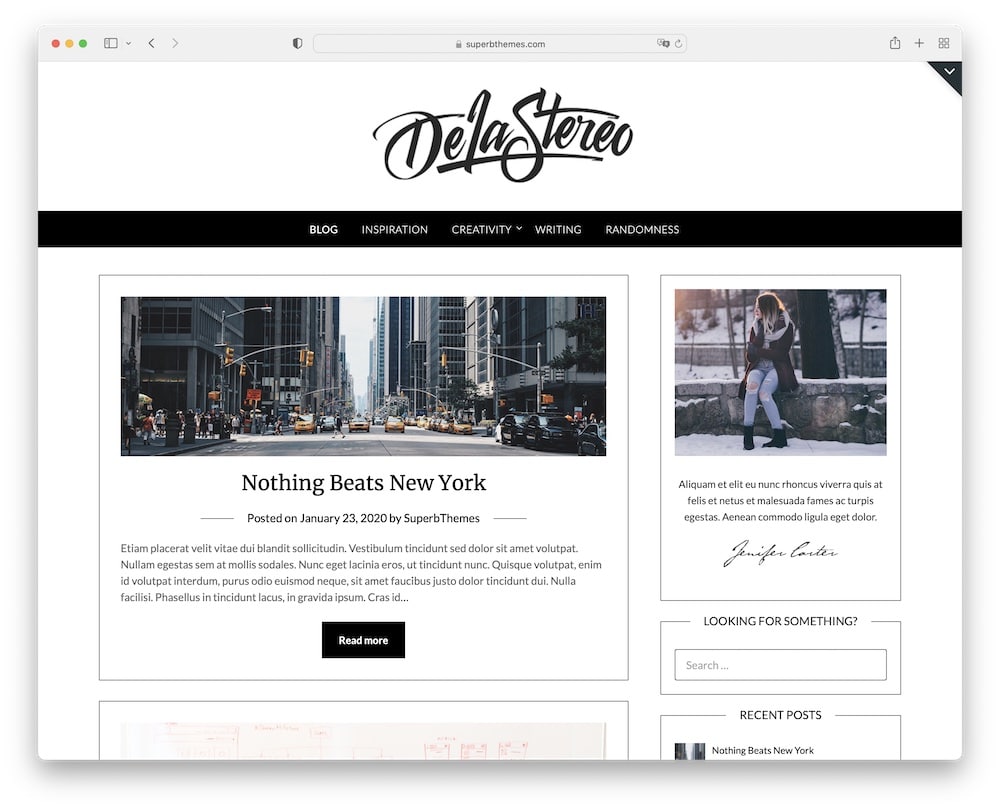 The Personalblogily free WordPress theme is leading the way in introducing beautiful enthusiasts to the world.
Its minimalistic and clean design takes the user experience over the top!
Remember, you can profit from this highly optimized theme – BIG time!
Personalblogily offers responsive design, smooth loading and is SEO ready.
So stop searching and start building with Personalblogily (thank me later)!
I love to begin with fun stuff like adjusting colors, background images, changing header & footer, and sidebars. It's. So. Easy.
Good luck and post me a link to your new site when you finish!
Personalblogily features:
2,000+ active installs
Custom logo & favicon
Integrated search
Comments (Do you need a custom solution? Use these WordPress comments plugins.)
Hideable copyright
MORE INFO / DOWNLOAD
7. Feminine Style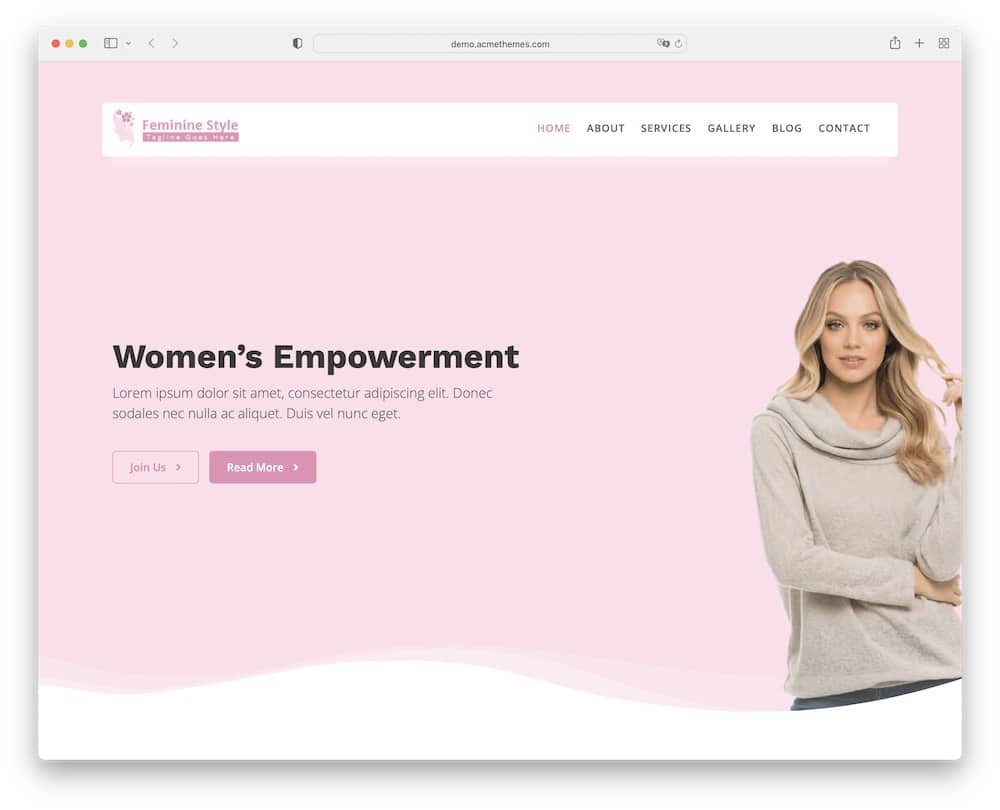 Regardless of your age, fashion, or lifestyle, Feminine Style free personal WordPress theme offers GREAT design solutions for your business.
Created for WOMEN!
Feminine Style is 100% changeable and easy to work with – just click the customizer option settings and adjust the header, sidebar, slider, footer, etc.
I also like to use various widgets (super accessible).
And, who doesn't LOVE to set up a popular plugin on their feminine WP site?
Choose from 100s of excellent tools! No code. No hassle.
Anyone can start a business site full of informative and engaging content and services for women of all ages (YES, you too!) with Feminine Style.
Feminine Style features:
600+ active installs
Enable/disable theme credit link
Breadcrumbs
Global sidebar options
Support forum
MORE INFO / DOWNLOAD
8. Personal Gym Trainer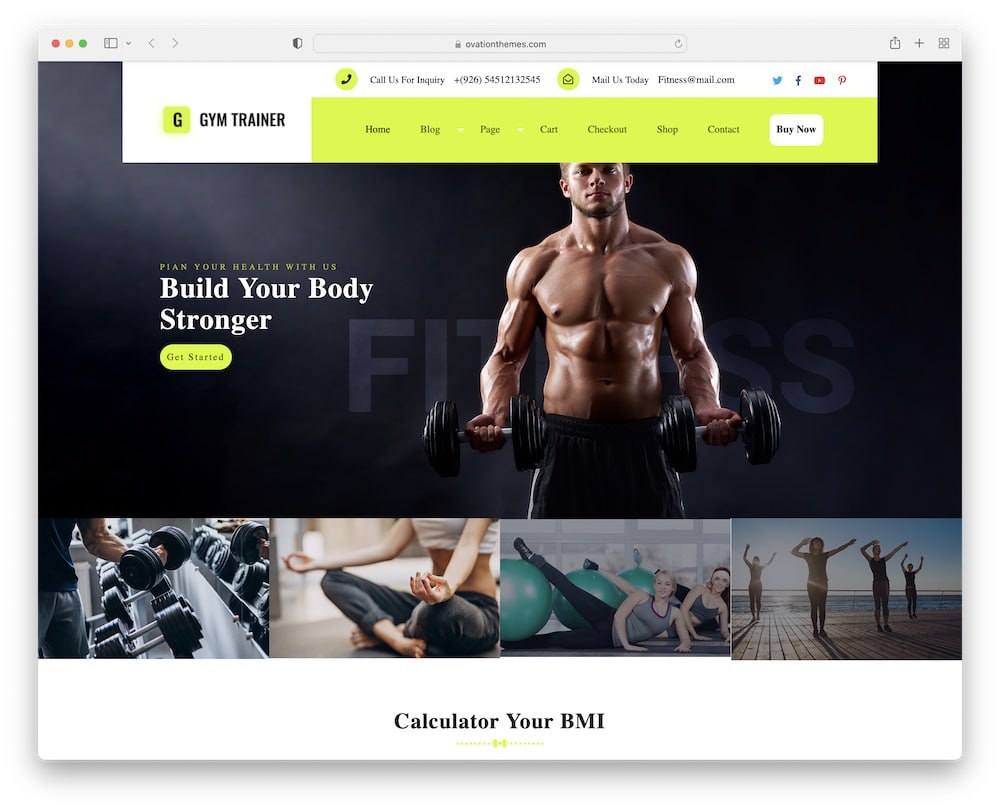 Turn your passion and expertise into an online voice that inspires people to do a life-changing shift!
Personal Gym Trainer is specially designed for personal trainers, fitness experts, health enthusiasts, and more.
Pretty COOL, I know!
You can easily create a well-thought-out website with a jaw-dropping (responsive) design, fast page load, SEO integration, and secure code.
Of course, you can make your site even more functional by adding different widgets, valuable WP shortcodes, and brilliant plugins. Options are endless!
Be authentic & relatable to your fans with the modern Personal Gym Trainer.
Personal Gym Trainer features:
70+ active installs
BMI chart
Back to top button
Workout timetable
MORE INFO / DOWNLOAD
9. Saaya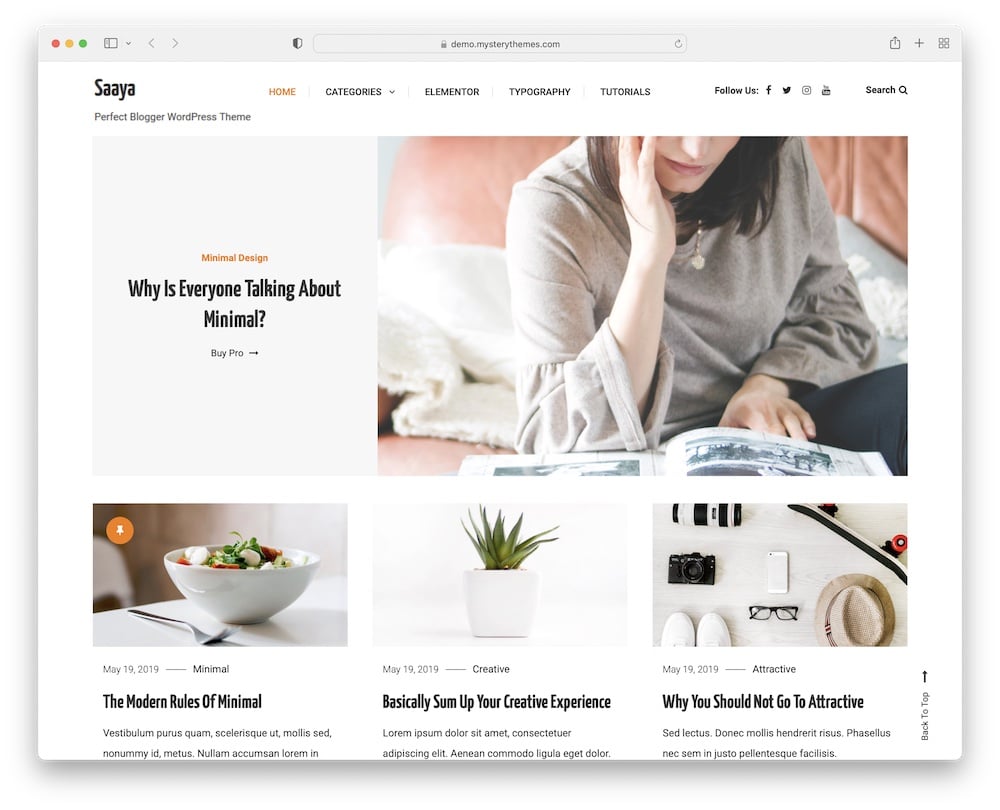 Spread authentic stories, lifestyle tips, common problems & solutions, stunning ideas, etc., through the minimalistic Saaya free personal WordPress theme.
I love personal WordPress bloggers who break boundaries with their content!
You can easily engage with fans across the globe due to its translation-ready option with beautiful Saaya.
QUICK. JUMP.
Also, Saaya supports the amazing Elementor or WPBakery page builders for advanced (0 coding!) editing. You can easily change a menu, colors, background, sidebars, or columns, etc.
I bet $50 that anyone reading this right now has a social media account, SO make sure you connect your website to show how friendly you are.
Celebrate the Saaya times!
Saaya features:
300+ active installs
GDPR compliant
Page pre-loader
Simple, powerful grid layout
Overlay search function
MORE INFO / DOWNLOAD
10. UPortfolio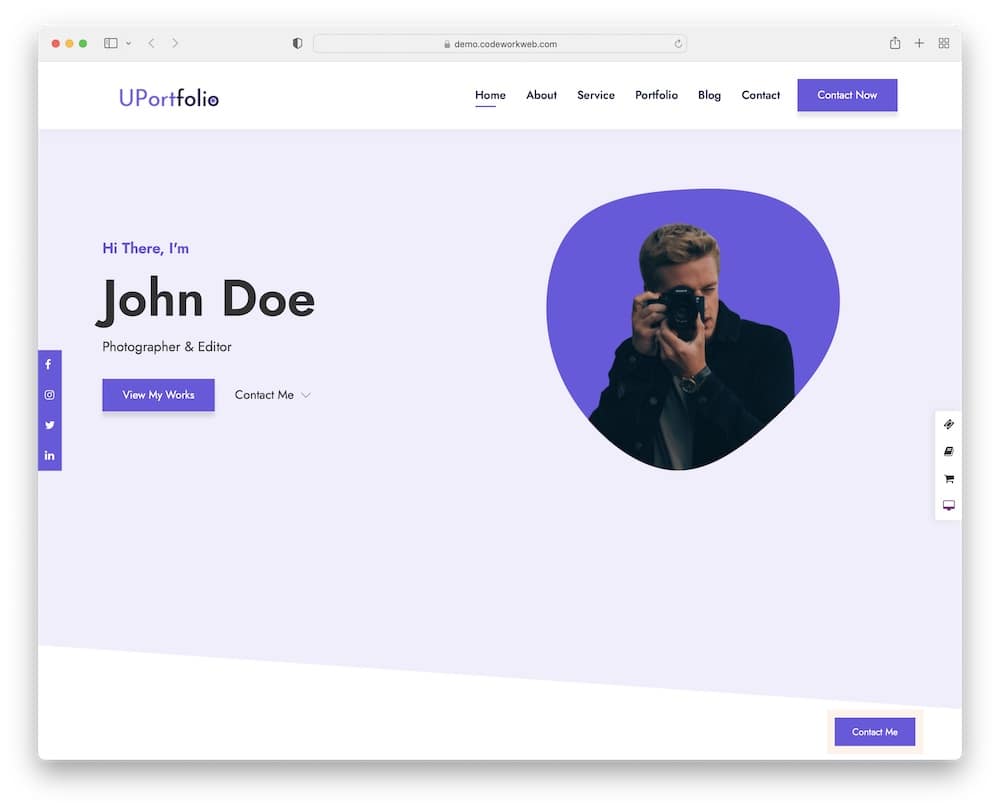 The unique and refreshing UPortfolio free personal WordPress theme offers the cool 1-click demo import.
Yup, simply click on the button, and you are in the game. But fear not – no prior experience is necessary.
Hurray!
Keep in mind, beautiful, UPortfolio comes with seven dazzling homepage sections (from about us, portfolio, blog, contact info, to CTA). What else do I like?
You can effortlessly add multiple inner pages, choose from unlimited colors, and set up the one-page scrolling effect. Oh, and the responsive layout perfectly fits any device!
Waste no time and begin using UPortfolio NOW!
UPortfolio features:
300+ active installs
One-page layout
WP lightbox portfolio
Sticky elements
MORE INFO / DOWNLOAD
11. Eyepress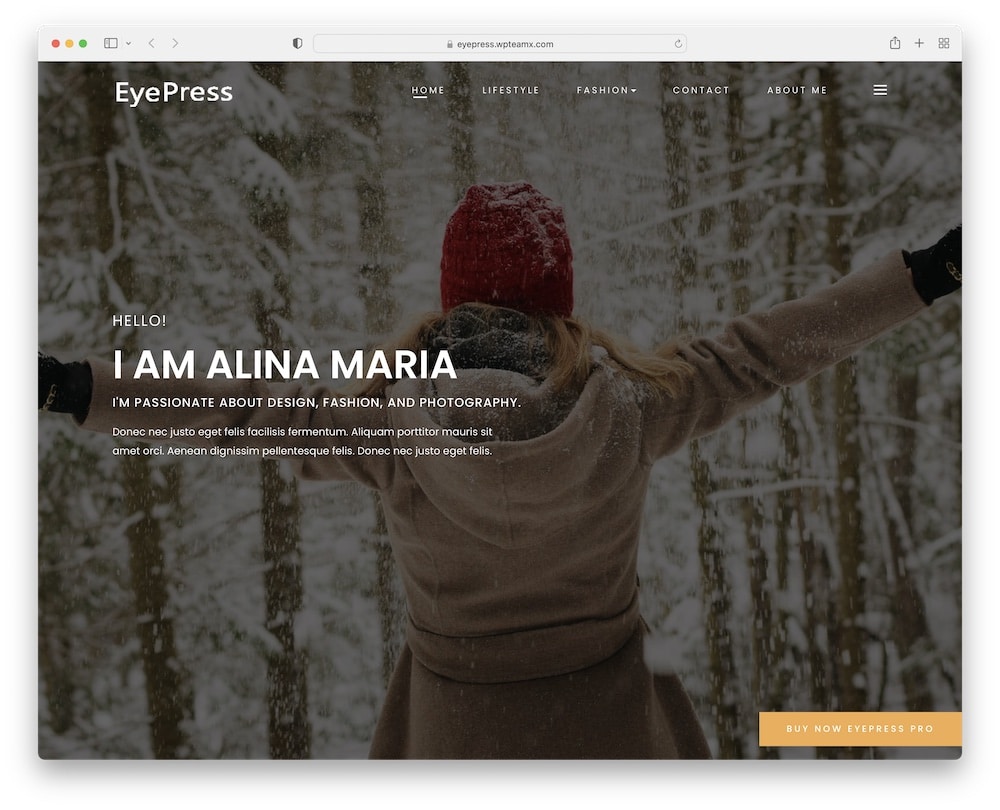 Build an award-winning lifestyle career with the uplifting Eyepress free personal WordPress theme. You can do anything and everything!
You have the opportunity to bring all your ideas to life with Eyepress.
Choose between several pre-made layouts & colors, upload your logo, change the header & footer, and set up the menu and banners.
Eyepress is your (and mine) DREAM playground.
Of course, you can also add on the most popular plugins and get additional functionality. And you can even start your online publication.
Take care of your audience with Eyepress's top-level performance.
Eyepress features:
100+ active installs
Great blogging experience
Custom background
100% responsive & browser compatible
Fast loading
MORE INFO / DOWNLOAD
12. Mik Personal Lite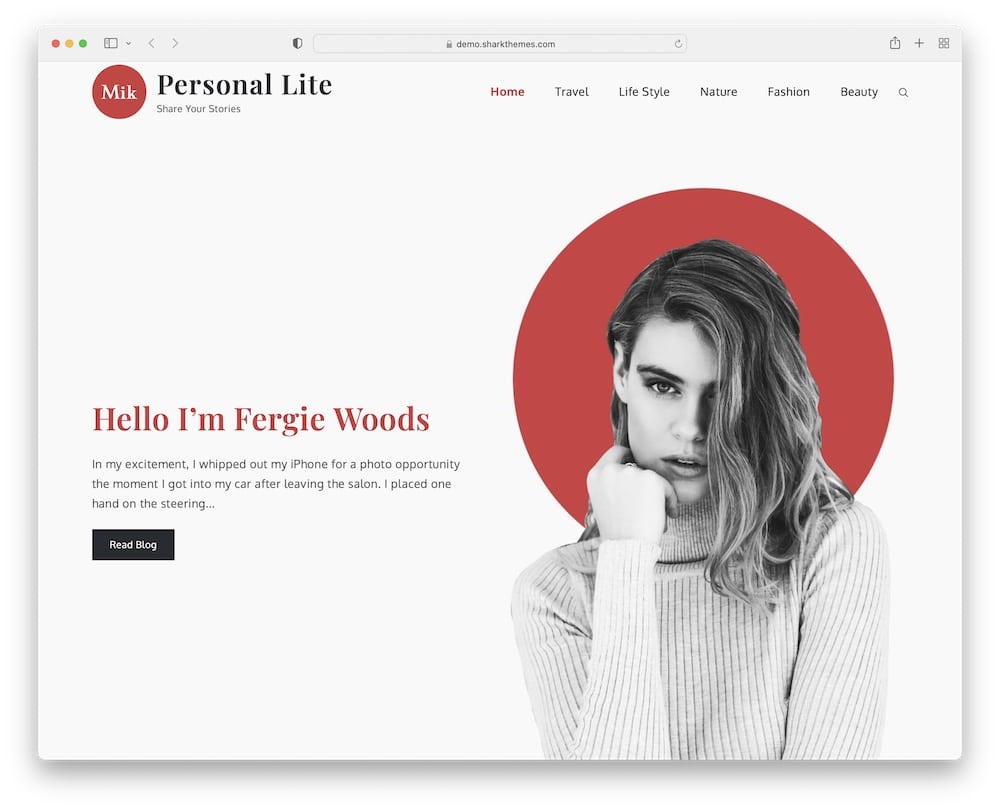 Want to create a minimalistic and modern website about YOU? Get a peek at the charming Mik Personal Lite free theme.
Trust me, so worth your time!
Mik Personal Lite has key features such as live customization (see changes in real-time before publishing), multiple layout options, adjustable sidebars, a flexible menu, and different widgets.
Create and maintain your website as you desire!
Mik Personal Lite lets you translate it into your native language easily.
You know what to do 🙂
Mik Personal Lite features:
MORE INFO / DOWNLOAD
13. Otography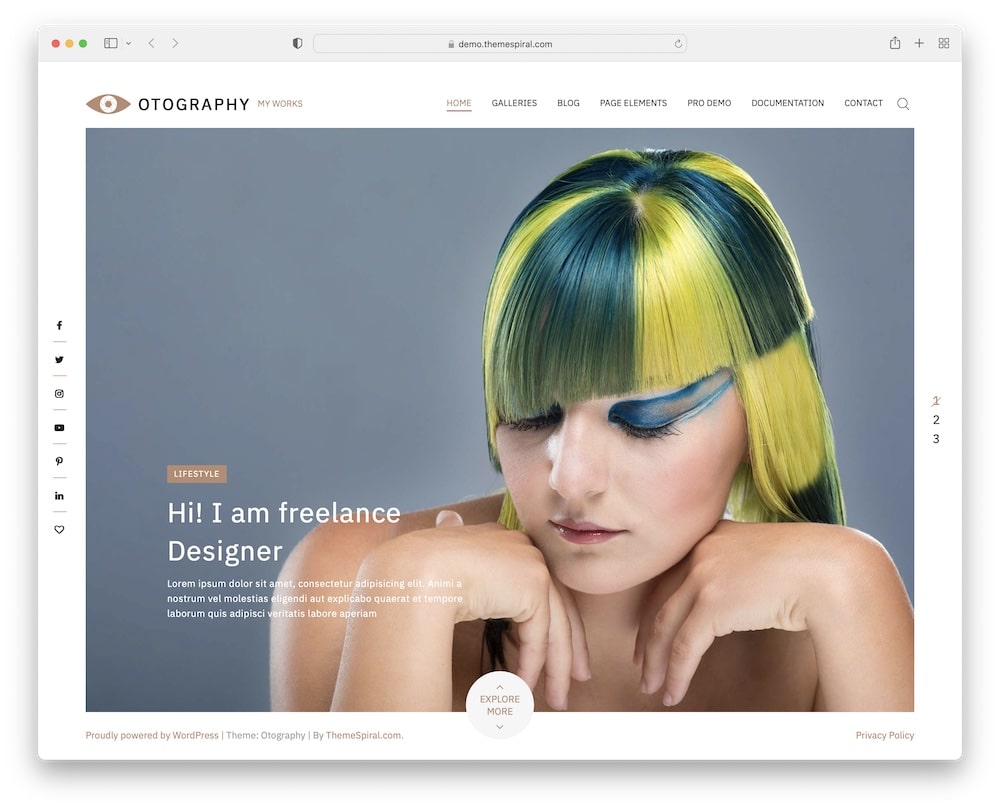 Your website is a representation of who you are, SO put in some effort and stand out from the crowd!
Otography free personal WordPress theme quickly sparks your imagination and gets your creative juices flowing.
Furthermore, Otography offers eye-catching slider and banner options, a sticky menu, a BIG color scheme, and is WooCommerce compatible.
Happy-go-luck!
Great value also comes with cross-browser support, RTL compatibility, and SEO setup. If you are like me, you are now smiling.
POINT. MADE.
The MAIN MARK: Otography fits both you and your readers!
Otography features:
300+ active installs
7 social buttons
Big slider
For multiple niches
MORE INFO / DOWNLOAD
6 Key Characteristics Of A Great Personal Website
After running a personal website myself for many years and thoroughly studying 100s of others' pages, I'm excited to share with you the six main characteristics that every top-notch personal site has.
Of course, there are still many more goodies that you can add to spice things up, but these are mandatory.
And these were also at the core of our testing phase when conducting this collection.
How I chose the best free personal WP themes:
Responsive layout: Your website must ensure the ultimate performance and device compatibility. For this reason, I used Google's Mobile-Friendly Test to analyze each theme. (You won't believe how many free themes weren't mobile-friendly, but the ones above are.)
Fast loading: Another important factor to ensure a great user experience is fast loading. Remember, while a theme contributes to this with its lightweight structure, the choice of web hosting also plays a big role in how fast your page loads. I used Pingdom Tools to test speeds in different locations and size for your convenience. (You may also want to read our guide on how to choose a fast WordPress theme.)
Portfolio & services: You will likely want to share your portfolio and services on your website. Some even add pricing, so a potential client instantly knows how much budget they'll need to invest.
Testimonials: Do you want to build social proof? That's when testimonials and feedback come into play. Tip: If you worked with any notable brand or an authority mentioned you, mention them on your website (even by adding only their logo).
About me page: Every epic personal website has a compelling about me page. Make it put extra shine on you (and don't forget to make it more personal by including your image).
Social media: Are you present on social media? Add social buttons on your website.
Another fantastic way of putting yourself ahead of everyone else is by starting a professional (or personal) blog.
::
Note: This article was originally published on April 24, 2022. But our team regularly reviews it and updates it with necessary improvements for accuracy.