Do you need the best free and premium WordPress table plugins to display a ton of data on your website?
We decided to share our list of the best picks since we used these plugins for numerous clients.
These plugins allow you to create charts and tables QUICKLY and EFFORTLESSLY because they require 0 coding.
Some even support icons, images, audio and videos!
This post covers:
We reviewed 30+ free and premium table plugins over the last three years, and here are the ones we use.
Pricing, comparison, data, statistics and any other table with cool, Excel-like drag-n-drop builder – yes, that's what you get!
Enjoy.
How ULTIDA Tested The Best WordPress Table Plugins
How we tested the 30+ plugins and narrowed the selection down to only 9?
The first step was to carefully read through all the comments and reviews, check ratings and updates. This process alone cleared 14 plugins.
The next step was to get in touch with the support team and read through the documentation and support forums. This helped us find three more unreliable plugins.
Now came the more advanced testing process of individual table plugins by installing them on our demo website that we use for experimentation.
Note: Don't forget to check our tutorial on how to install a WP plugin.
The first question we tried to answer was: Does the plugin slow down the website?
From here on, we tested configurations and settings, the ability to customize tables and tried inserting them into posts and pages.
This also allowed us to examine the tables' responsiveness (not all were mobile-friendly!).
We are happy to say that the nine plugins that we have here ticked all the boxes and are ready to display your data.
THE ULTIMATE 5:
Best Premium WordPress Table Plugins
1. League Table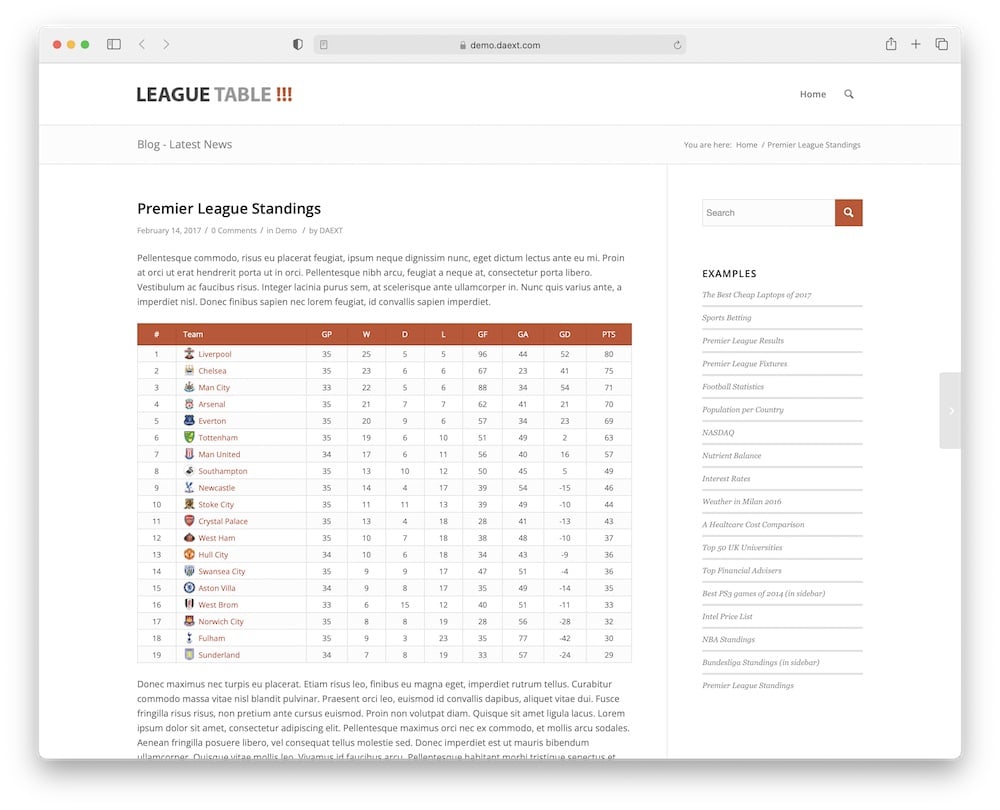 League Table is a great tool to create and showcase visual tables in a breeze.
It supports tables based on product prices, finance data, sports teams, and more.
The only thing you have to do is place the values and arrange columns with the Excel-like editor that this plugin provides you.
Besides all that, League Table will give you a WP shortcode function to display your table in every post or page you want.
League Table features:
2,600+ sales
4.8/5 ratings
Fully responsive
Supports WP multisite
Price: $39 (may vary)
MORE INFO / DOWNLOAD
2. Easy Tables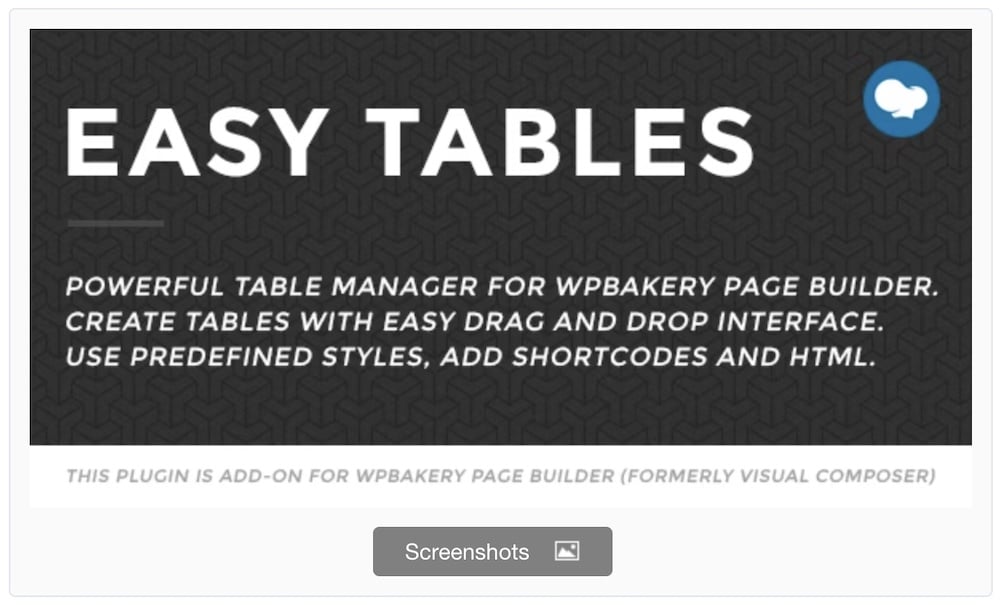 Easy Table is one of the most well-known premium WordPress table plugins. It has many features to work with, like the great drag and drop interface. (We love it!)
The admin panel provides an experience that reminds us of Excel, with a lot of essential configurations like font size, underline, color, etc.
Moreover, you will save a lot of time while creating your tables with the function to add or remove rows and columns in bulk.
Easy Tables is a great and powerful plugin that will leave you MORE than pleasant if you decide to work with it.
Note: It works with WPBakery!
Easy Tables features:
7,300+ sales
3.8/5 ratings
Easy to use
12 predefined themes
Price: $13 (may vary)
Update: We had 0 issues with the plugin despite the somewhat low overall ratings (recommend it!).
MORE INFO / DOWNLOAD
Best Free WordPress Table Plugins
3. WP Table Builder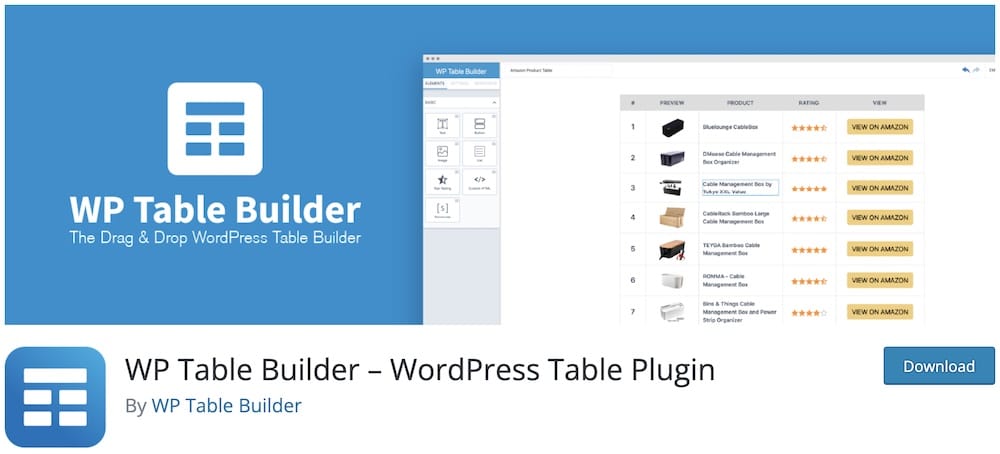 If you want a free WordPress table builder to create simple comparison tables, this one's for you.
WP Table Builder has seven elements: text, images, star ratings, custom HTML, list, buttons and shortcodes.
You can easily and quickly create comprehensive product tables, review lists and more with these elements (+ the drag and drop system!).
WP Table Builder provides an easy solution for table display.
WP Table Builder features:
60,000+ active installations
4.9/5 ratings
Customize cells
Import tables via CSV or XML
Well documented
MORE INFO / DOWNLOAD
4. Visualizer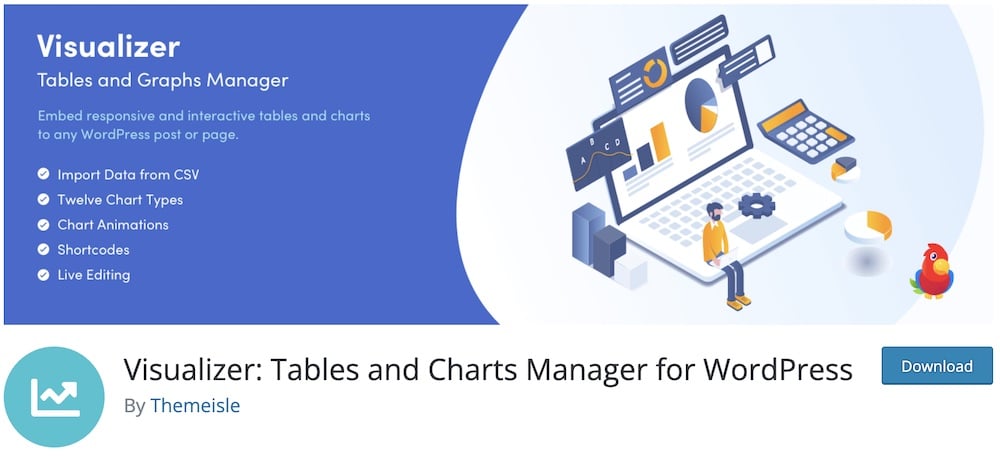 Visualizer is a POPULAR table and chart plugin. You can input charts and tables anywhere on your site with simple shortcodes.
You get a lot of customization options for creating neat presentations with this free WordPress table plugin.
Besides, Visualizer allows users to implement different chart types like line charts, bar charts, pie charts, and more.
Create responsive tables or create comprehensive charts like a PRO without coding.
Visualizer features:
MORE INFO / DOWNLOAD
5. TablePress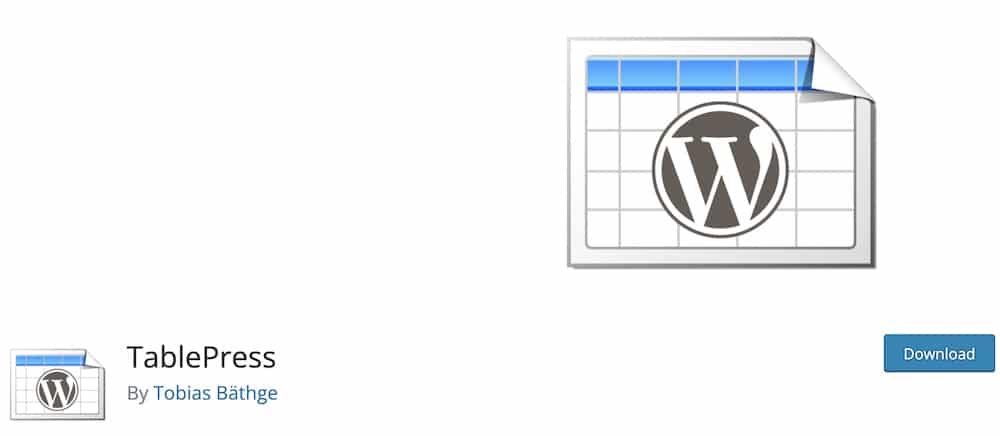 TablePress is the most powerful and famous table plugin available for most WordPress users. It provides you the FREEDOM to create all types of tables quickly and effortlessly.
Constructing tables didn't cause any formatting issues when we reviewed it.
And after we finished creating the tables for our clients we simply added them to their sites via shortcodes.
So. Quick.
TablePress features:
800,000+ active installations
5/5 ratings
Frequently updates
Fully responsive
Excel-friendly formats
MORE INFO / DOWNLOAD
6. Data Tables Generator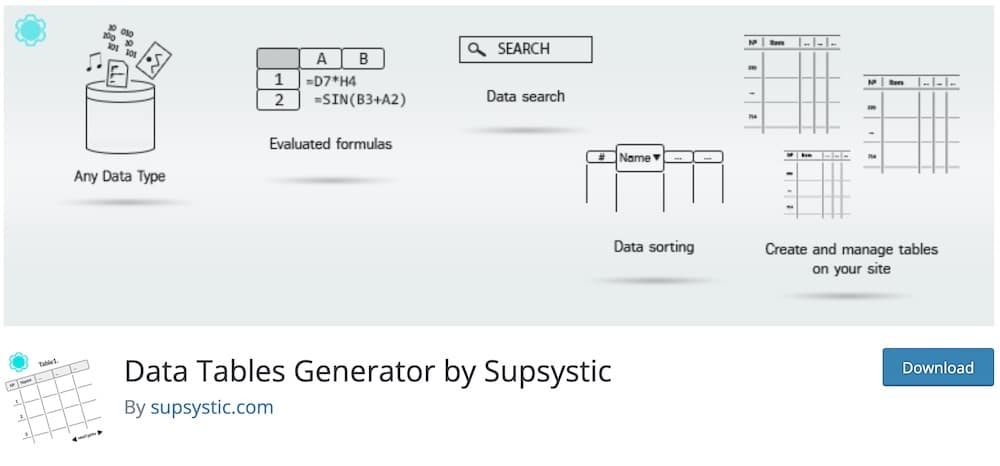 Go with Data Tables Generator if you want a great table plugin to create comprehensive visual tables with unlimited columns and rows.
Some of the projects we worked on required adding tables with sort, filter and search functions.
Luckily, this free WordPress table plugin SORTED it all out for us.
Plus, it also supports large data sets and media uploads to create tables with videos and audio.
We highly recommend Data Tables Generator for everyone who needs some extra features, especially adding visual content.
Data Tables Generator features:
20,000+ active installations
4.7/5 ratings
Option to add charts
Integration with WooCommerce
Works with any  popular WordPress translation plugin
MORE INFO / DOWNLOAD
7. wpDataTables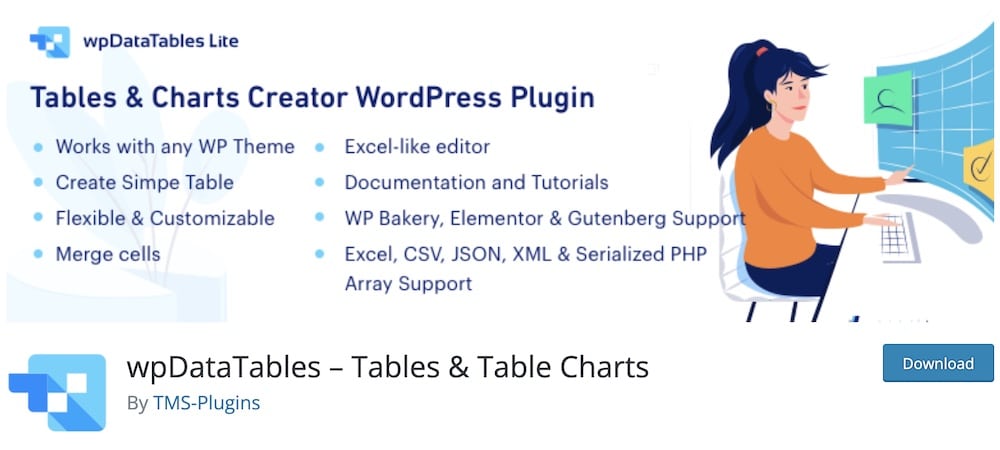 WpDataTables is an easy-to-use free WordPress table plugin to create attractive charts and tables and display them on your site without coding knowledge.
You. Got. THIS!
You can upload data from an Excel, CSV or XML file and customize the ordering and table appearance with this plugin.
Your table can include pagination and sorting features – even a search bar (we find it super handy!).
wpDataTables is an AMAZING solution if you are after simplicity (but need powerful features).
wpDataTables features:
70,000+ active installations
4.5/5 ratings
Easily customizable tables
14 different chart types
1-year free support
MORE INFO / DOWNLOAD
8. Ninja Tables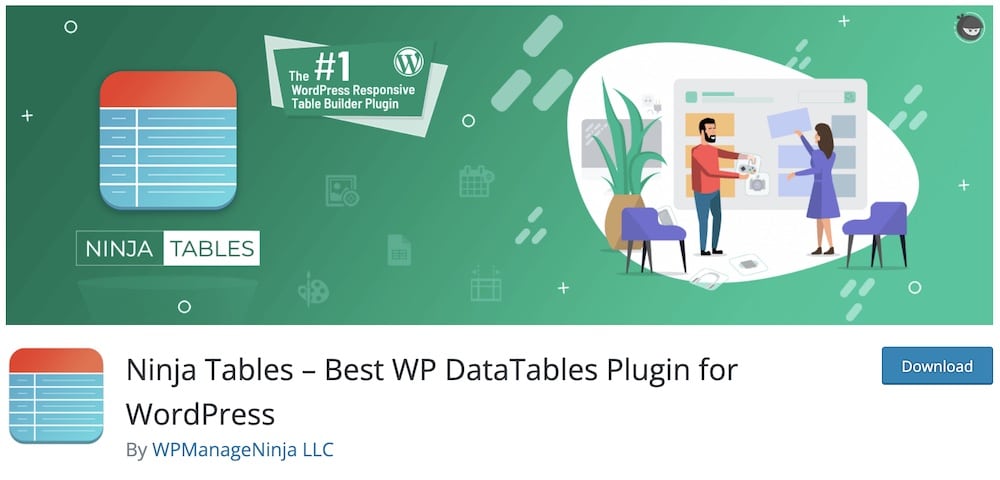 If you are looking for a free WordPress table plugin that will provide you with MANY (100+!) table styles, this one's for you.
Ninja Tables comes with great functions like sorting, pagination and filtering options. Besides, you can modify elements like colors and fonts.
You can create amazing visual tables in a breeze with its simple drag and drop system.
Note: We used it on multiple affiliate blogs, creating tables with custom links.
Ninja Tables features:
80,000+ sales
4.6/5 ratings
Lightweight/fast loading
Front-end table editing
MORE INFO / DOWNLOAD
9. Pricing Table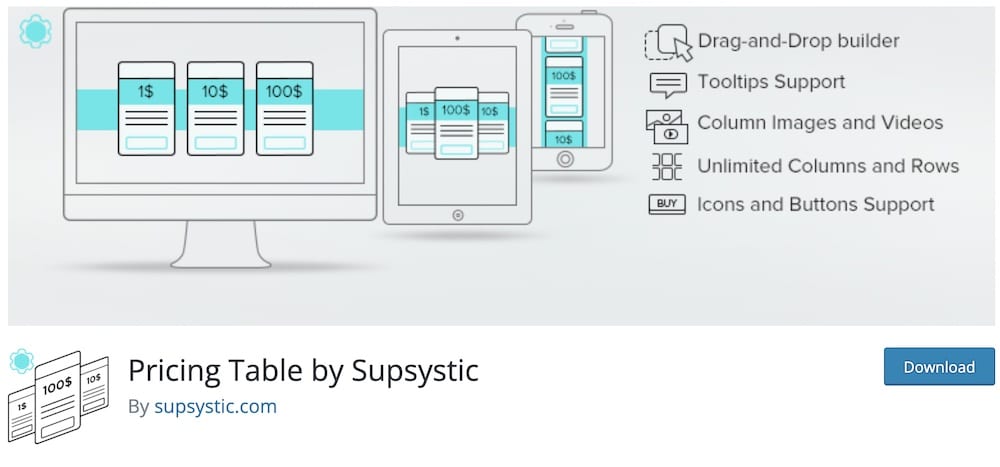 Adding pricing tables to your freelancer, agency or business website is a piece of cake with this plugin.
This plugin comes with a flexible drag and drop builder to import data in a few clicks. (We really its styling options!)
Remember, this plugin also supports images, icons and videos.
We choose Pricing Table whenever a client requests adding a pricing table to their website. It's just that SIMPLE!
Pricing Tables features:
30,000+ active installations
4.2/5 ratings
Unlimited tables, columns & rows
Animation-friendly
Ready-to-go templates
MORE INFO / DOWNLOAD
::
Note: This article was originally published on March 26, 2022. But our team regularly reviews it and updates it with necessary improvements for accuracy.