Are you searching for the best free and premium WordPress POS plugins to simplify (and BOOST) your WooCommerce businesses?
We thoroughly tested each plugin with our physical and online shop owner clients to bring you the ultimate 7.
A front-end POS management system makes running a store A LOT easier.
Operate it like a PRO.
This post covers:
And you don't need the experience to be able to use it. (Hurray!)
Expand your sales portal and manage orders like never before. Go!
What Makes A Good WordPress POS Plugin?
With the many needs of merchants comes the need for many features that a POS system needs to handle.
But it all begins with a plugin that's easy to activate and install and regularly updated to keep up with the latest WordPress versions and bug fixes. (We also have an in-depth tutorial on how to install a WordPress plugin.)
Moreover, a good POS plugin won't slow down your website but rather keep it running flawlessly as if nothing happened. (This is a big one!)
Also, every top-notch plugin comes with extensive documentation and support (in the case of premium ones), so you never need to worry about getting help.
It's also essential that the plugin allows you to control inventory, scan products, add discounts, manage multiple carts, etc.
But remember, every plugin is unique and comes with a set of exclusive features, that's why we added seven of them, so there's something for everyone.
THE ULTIMATE 2:
Top WordPress Point Of Sale (POS) Plugins
1. Openpos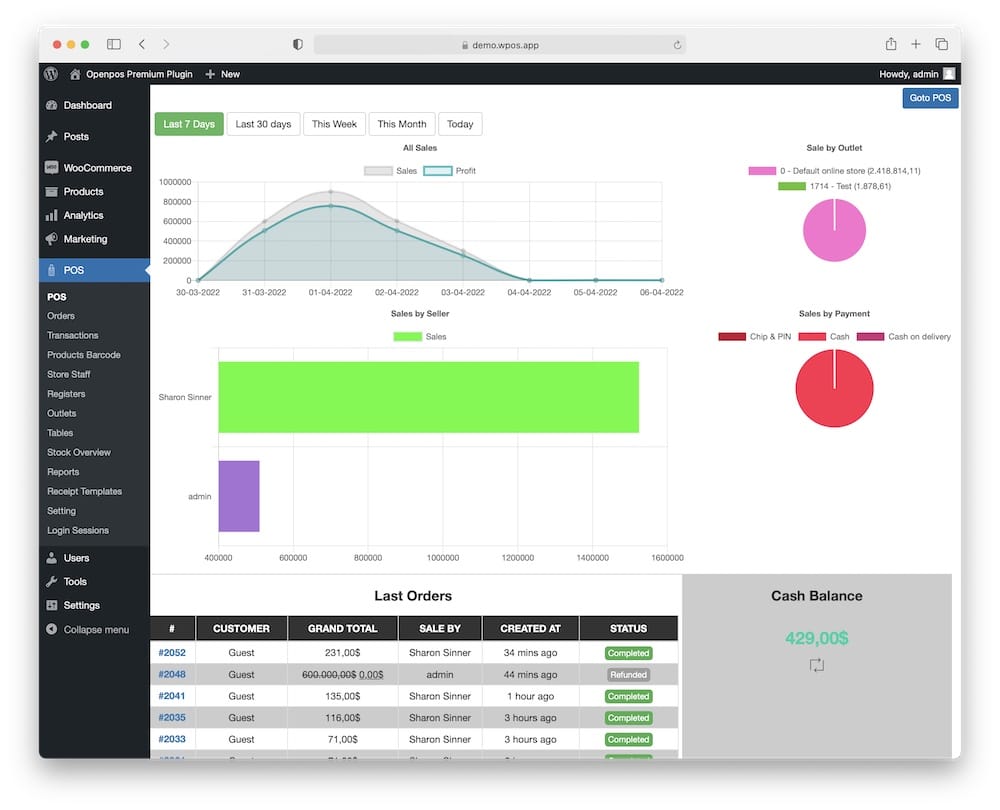 With our first pick we have one of the best premium POS plugins.
Openpos allows you to connect your eStore with your physical one EFFORTLESSLY.
It has a lot to be proud of when it comes to features.
You can manage your inventory, add discounts and coupons, scan products with barcodes, and more with its native app. Plus, display inventory on the product page with a WP shortcode.
Openpos is a powerful plugin to sync your online and offline store data in real-time and take your business to the next level.
Openpos features:
2,800+ sales
4.9/5 ratings
Well documented
Progressive web app
Price: $64 (may vary)
MORE INFO / DOWNLOAD
2. Point of Sale System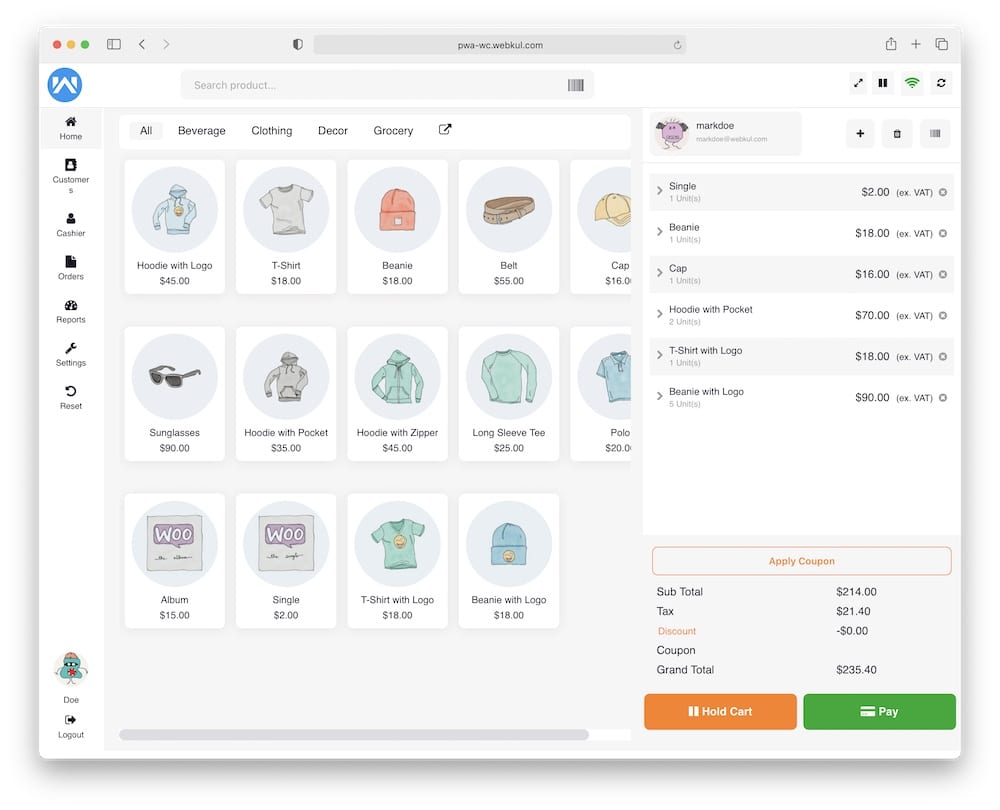 Point of Sale System is another powerful POS plugin that can manage both online and physical stores.
You'll do it like A BOSS.
This plugin is designed to boost your daily operations of the eCommerce site via brick and mortar stores.
This premium WordPress POS plugin will allow you to add discounts, manage multiple carts, add products and customers, etc.
You can also accept payments with card, cash or a combination of the two.
The Point of Sale System is an excellent choice for those who want to increase their payment system and manage multiple carts with one software.
Point of Sale System features:
1,200+ sales
4.5/5 ratings
Supports multiple store layouts & agents
Price: $99 (may vary)
MORE INFO / DOWNLOAD
3. FooSales Point of Sale (POS)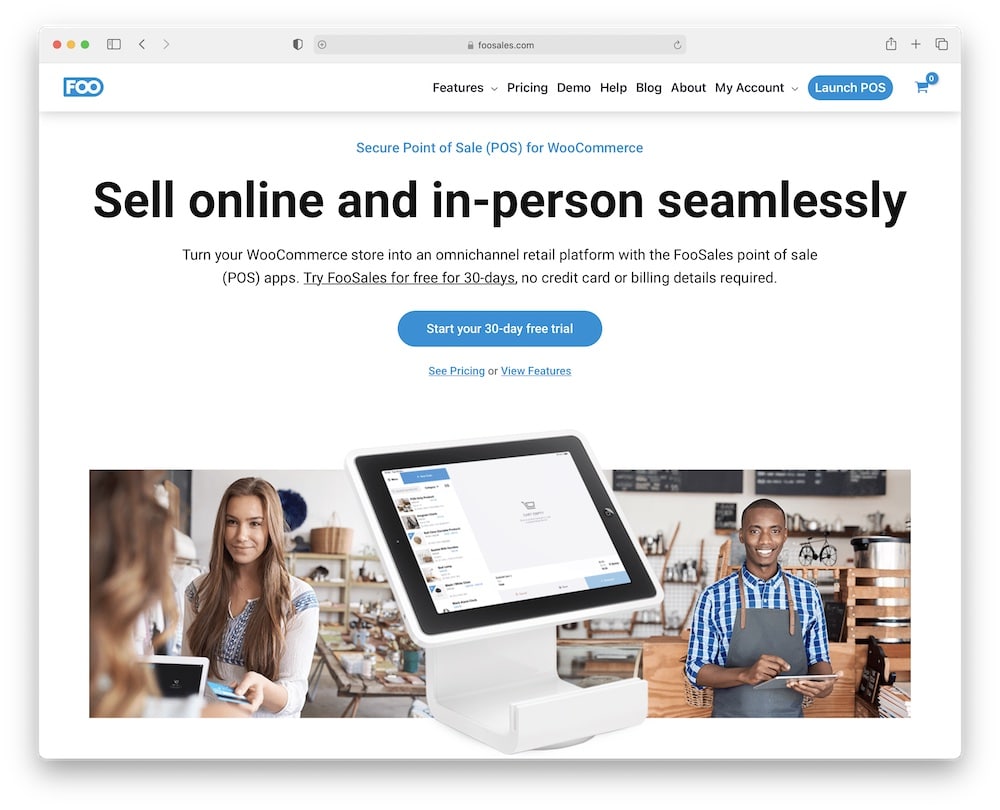 If you are looking for a WordPress POS plugin that will integrate SMOOTHLY with WooCommerce and will give you an intuitive user interface, this one is for you.
This plugin can update product inventory, order, payments, customer data and sell your products in physical stores in REAL-TIME.
Plus, this plugin will also send receipts to customers.
Moreover, FooSales Point of Sale will allow you to print receipts, access analytics about sales and issue refunds.
Con: Billed annually.
FooSales Point of Sale (POS) features:
1,800+ sales
4.8/5 ratings
30-day money-back guarantee
Frequently updates
Price: $189 (may vary)
MORE INFO / DOWNLOAD
4. YITH Point Of Sale For WooCommerce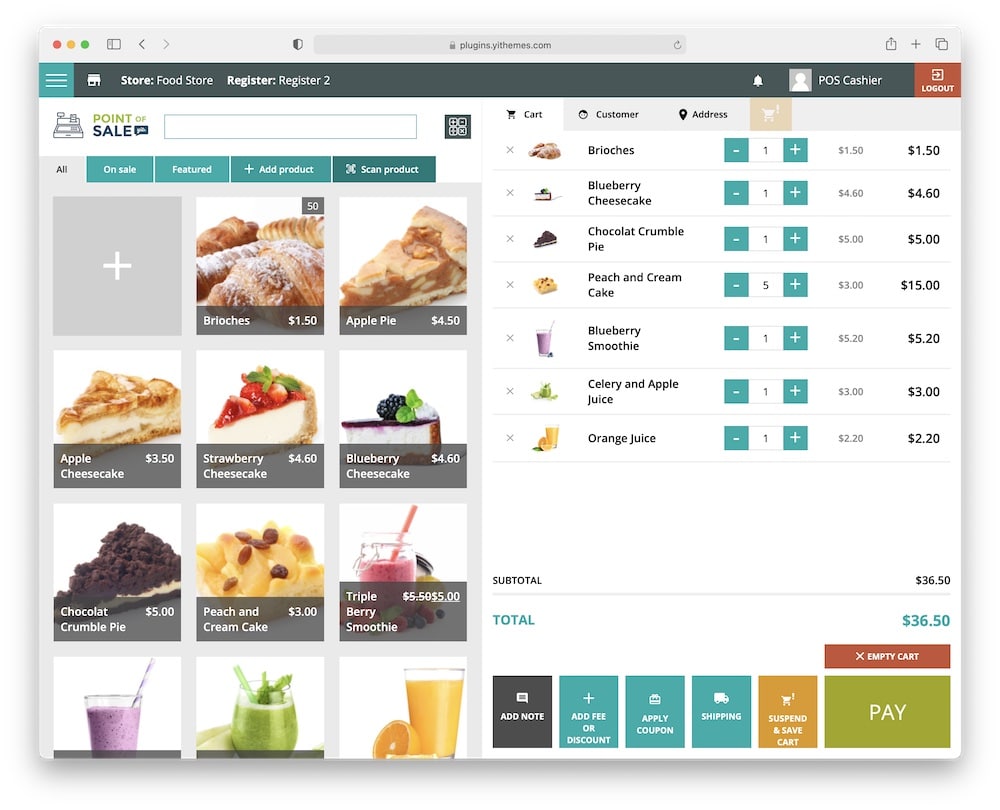 YITH Point of Sale will help you manage and accept payments in online and offline stores. Managing information about orders, product inventory and customers becomes a piece of cake.
We really enjoyed this WordPress POS plugin's virtual cash register.
Even if you do not have a physical device, the plugin covers you with the virtual one. This way, you will not have to spend money on expensive equipment.
Bomb.
Easy monitor each store and POS register from a clean (BUT powerful!) dashboard that doesn't require skills to use it.
Enjoy its mobile device compatibility and scale your business.
YITH Point of Sale for WooCommerce features:
2,200+ sales
4.3/5 ratings
Unlimited agents & stores
Centralized dashboard
Price: $209.99 (may vary)
MORE INFO / DOWNLOAD
5. wePOS (+ Free)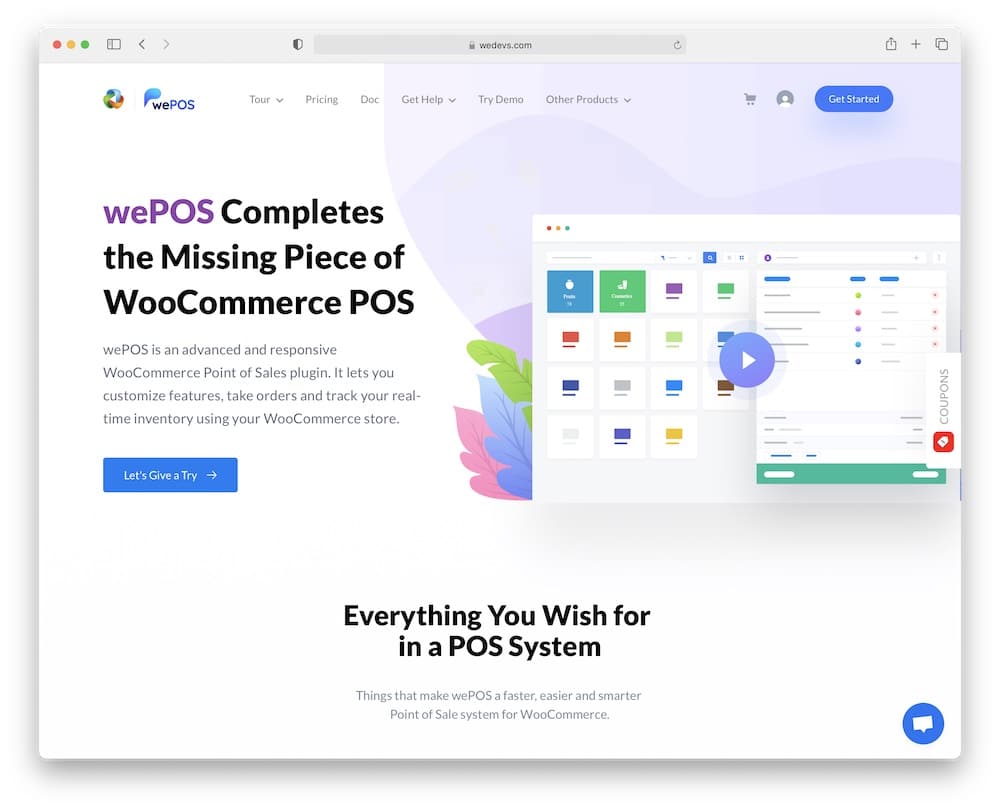 wePOS has a very easy to use interface, customization options and a lot of other features to work with.
Extremely. Beginner. Friendly.
This WordPress POS plugin is designed based on a REST API that can perform every process on a single page. Also, wePOS is known for its compatibility with the most popular payment giveaways.
Moreover, this plugin allows you to manage multiple carts and unlimited outlets simultaneously.
wePOS is an excellent option to integrate a physical store with a great POS plugin.
Note: You can start for FREE!
wePOS features:
2,500+ sales
4.8/5 ratings
Includes TAX calculation
Barcode support
Price: Free or $99+
MORE INFO / DOWNLOAD
6. WooCommerce POS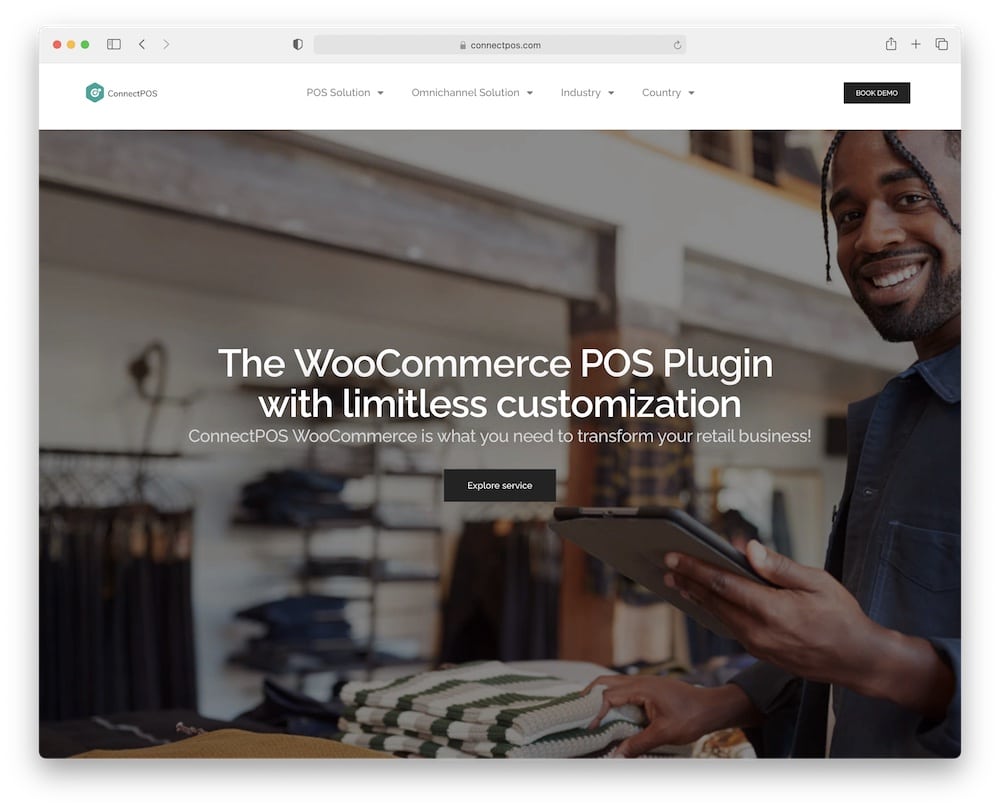 WooCommerce POS is another great tool to help you manage your entire store.
This plugin has everything you need, from warehouse control to real-time stock updates.
This WordPress POS plugin also supports various payment methods, simple checkout process and barcode scanning. Very convenient!
Besides that, you can create discounts, receipts and manage refunds and exchanges.
CONNECT your physical store with your WooCoomerce website in a few clicks for smooth operation.
Con: Need to book an appointment to get started.
WooCommerce POS features:
2,000+ sales
4.7/5 ratings
Staff training
Multi-currency
Price: $39 (may vary)
MORE INFO / DOWNLOAD
Best Free WordPress POS Plugins
7. Oliver POS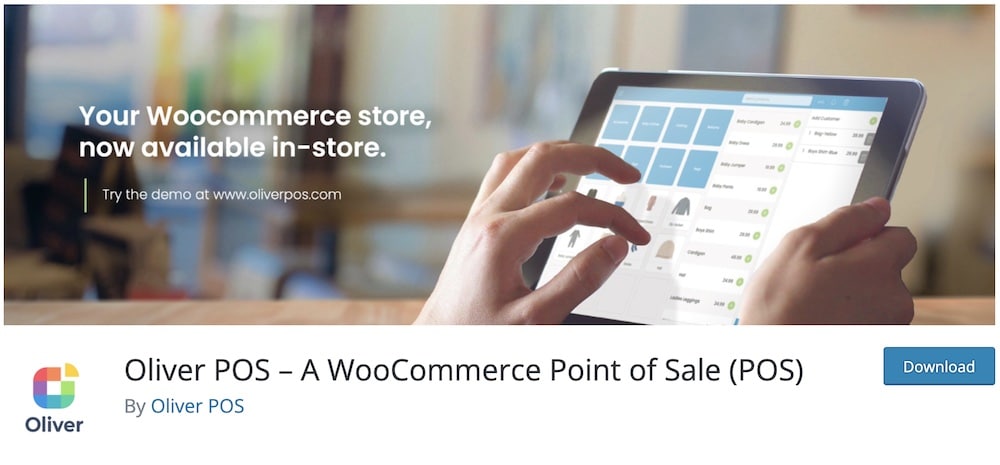 If you are looking for a free POS plugin to help offer your customers a complete omnichannel experience, this plugin is for you.
With Oliver POS, you can customize the checkout and manage orders, information, and inventory from any mobile device or tablet.
Besides, this plugin also allows you to track your stores' overall performance and the best-selling products.
It helped our clients RECOGNIZE which products to push even more!
Oliver POS is a top free option that handles store management with ease. (Just like you deserve it!)
Oliver POS features:
1,000+ active installations
4.8/5 ratings
Works with other WooCommerce plugins
Seamless payment processing
Easy to set up
MORE INFO / DOWNLOAD
::
Note: This article was originally published on April 7, 2022. But our team regularly reviews it and updates it with necessary improvements for accuracy.