These are by FAR the simplest and easiest WordPress themes you can currently get on the market.
BUT. They are as well the most powerful you can get your hands on.
We reviewed and tested 70+ themes to bring you 17 of the MOST reliable.
These themes are easy to customize, perfect for beginners, but with many advanced features (0 coding!).
We also included many easiest WooCommerce themes for all the eCommerce business owners.
YES! You have everything you need to succeed online by the end of this list.
Go.
THE ULTIMATE 10:
Best & Most Easiest WordPress Themes
1. Avada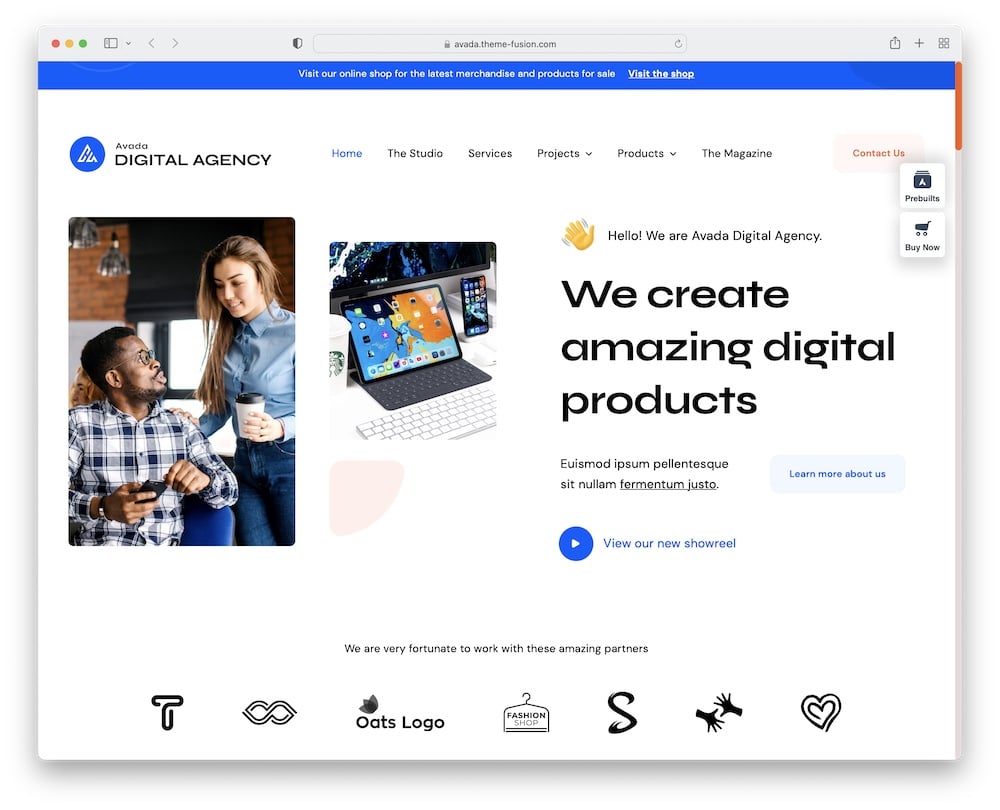 Give yourself permission to create what you want with the easiest and most powerful theme, Avada. Like their motto says it: Design anything, build everything!
Avada is a performance wizard (!). You can install demos with one click, it loads fast, is 100% responsive, and SEO friendly.
IMPORT – CUSTOMIZE -LAUNCH.
Oh man, and the most popular plugins are included as well (WooCommerce, Contac Form 7, Slider Revolution, and more).
Besides, you can simply drag and drop any element (dozens included) you wish to your site structure.
Plus, Avada also comes with the most impressive customer support out there. A pleasure to work with!
Possibilities are unlimited with Avada.
Avada features:
788,000+ sales
4.7+ star ratings
Working contact form
Price: $60 (may vary)
MORE INFO / DOWNLOAD
DEMO
2. The7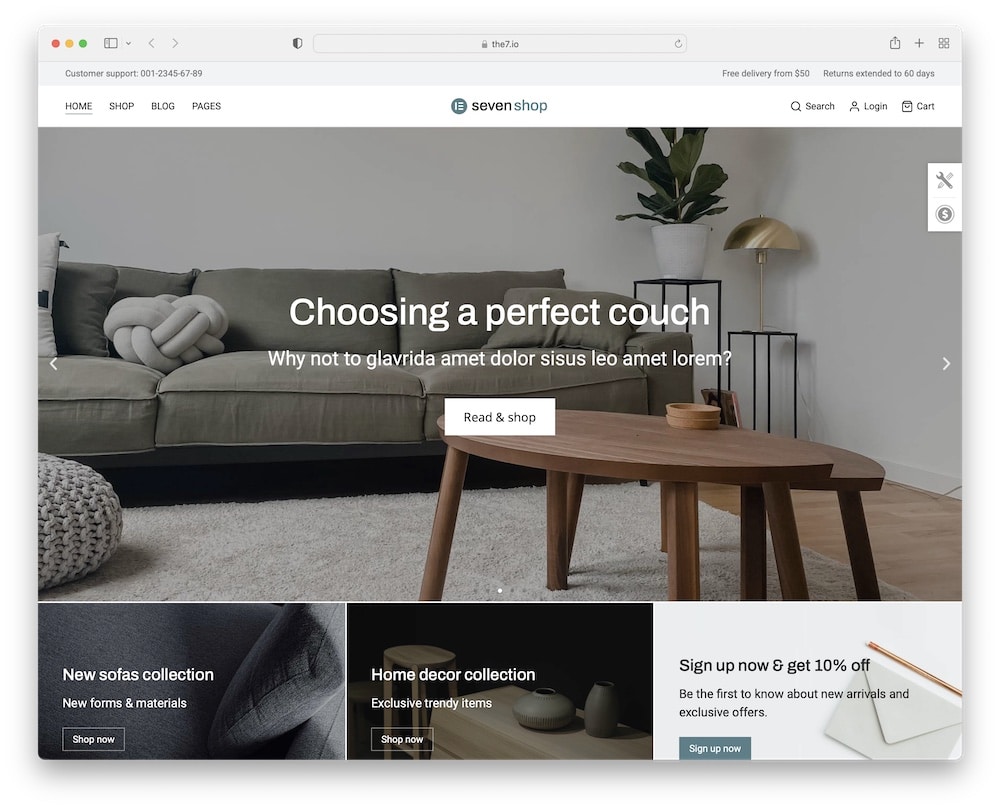 I've been WAITING for the right time to share the easiest WordPress theme – The7 – with you. Jump in and join me!
The7 comes with the amazing Elementor page builder so you can create your site by yourself (HURRAY!). Change the footer, posts, pages, mix elements, add WooCommerce, etc.
And newsflash: you don't need to be an expert to partake (0 experiences? ALL GOOD)!
Just check out all of the gorgeous ready-to-use demos (48+) and choose the one that sums up the essence of your brand (I know SO surprisingly easy).
Plus, FREE lifetime updates are guaranteed!
Say HOLA, HELLO, CIAO, BONJOUR, and start your global story where you want to. Yup, The7 is translation-ready (like a spoon full of chocolate).
Enjoy!
The7 features:
250,000+ sales
4.7+ star ratings
Price: $39 (may vary)
MORE INFO / DOWNLOAD
DEMO
3. Qwery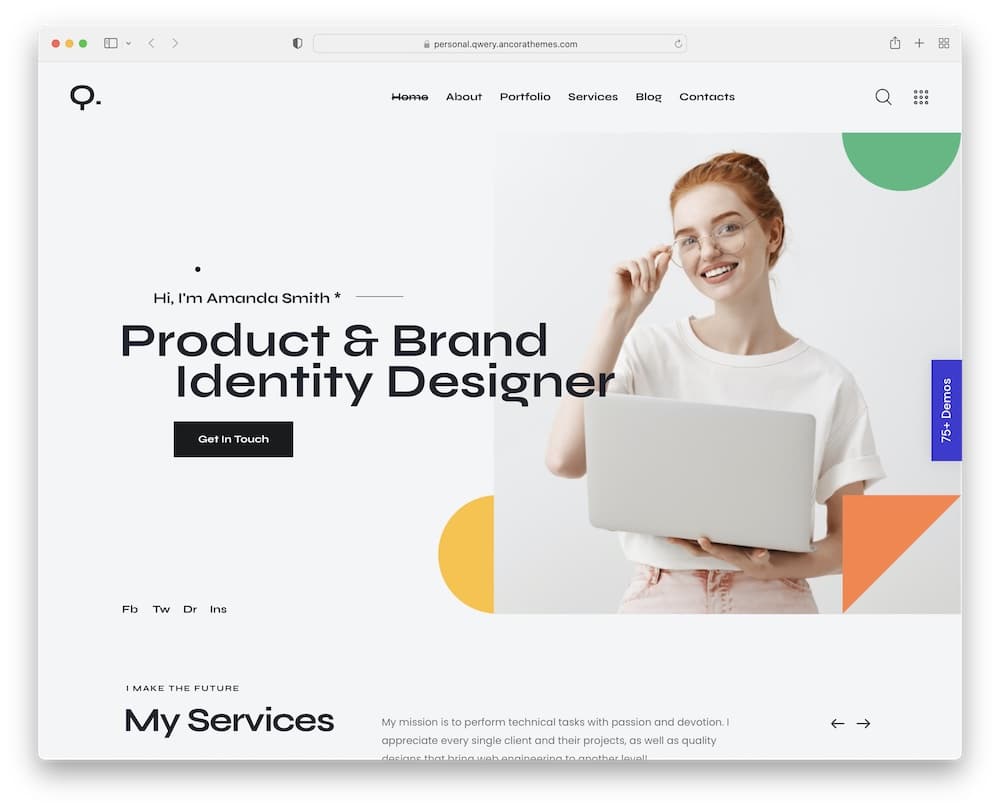 Friends, I'd like to take this moment to say that QWERY is my favorite thing.
I will probably have another favorite thing when I start building my next website in the next ten seconds, but that's kind of my job, right?
Dear Qwery, for now, you are my favorite!
Innovative, fresh, and fully compatible with the most popular plugins in the world. Install any template you like within clicks – yup (it's true) no coding knowledge required.
RELAX.
Beautiful pre-made blog and portfolio layouts of Qwery are waiting for you to display your work skills and valuable experiences.
Let your corner of the internet serve you!
Detailed documents, lifetime updates, and great customer support? Checked!
Qwery features:
3,200+ sales
4.9+ star ratings
Price: $59 (may vary)
MORE INFO / DOWNLOAD
DEMO
4. Betheme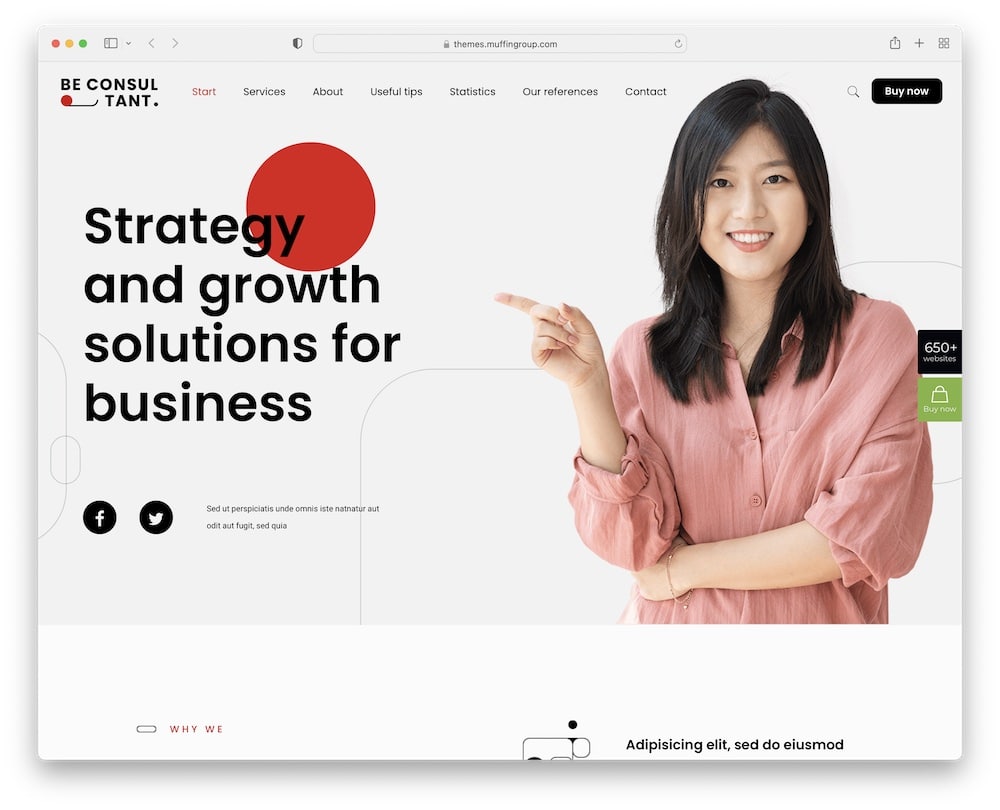 Come, HANG OUT with me and let me tell you about Betheme easiest WordPress theme to customize.
Let's start with why users love Betheme: 650+ (!!!!) pre-made homepages.
Holy smoke!
Pick a solid foundation and start building your website. Betheme FOR LIFE.
Moreover, with Betheme you get NOT one, not two, BUT four drag-n-drop builders (gulp), friends!
Everything you need is smartly packed in Betheme (I swear).
And just think about it, Betheme is blazing fast (A 96%), please tell me who doesn't LOVE fast websites?
Hit that speed up with some amazing content, products, blog and you've got GOLD on your hands.
Words of wisdom: Go to the next level with phenomenal Betheme! (Because you can.)
Betheme features:
240+ sales
4.8+ star ratings
Pricing, contact, gallery, etc. pages
Price: $59 (may vary)
MORE INFO / DOWNLOAD
DEMO
5. Enfold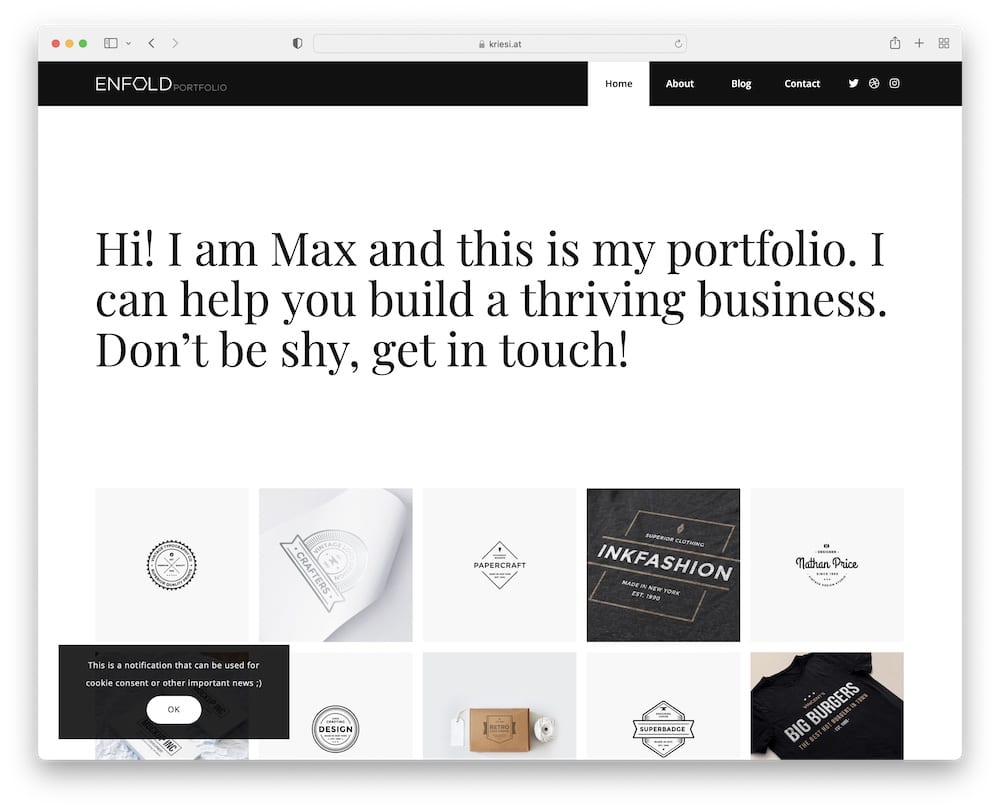 If you're feeling like you need something super quick and super easy, then you came to the right place.
Enfold is the easiest WordPress themes for beginners! And it offers exclusive demos, a simple setup, numerous features, and fantastic customer support.
Non-developer, look at how far you've come. Be proud.
Enfold includes a sidebar manager, shortcode editor, integrated form builder, and 31 PSD files (for all your mockups). Flexible options for you to work with.
To top it all up, Enfold is 100% responsive and retina ready (crystal clear on all devices). HURRAY!
Of course, you can also modify colors, fonts, layouts, background, slideshows, buttons, and contact forms.
LIKE. A. BOSS.
And there is so much more, check out (it's a must!) Enfold – TODAY.
Enfold features:
230+ sales
4.8+ star ratings
Main & secondary menus
Price: $59 (may vary)
MORE INFO / DOWNLOAD
DEMO
6. Bridge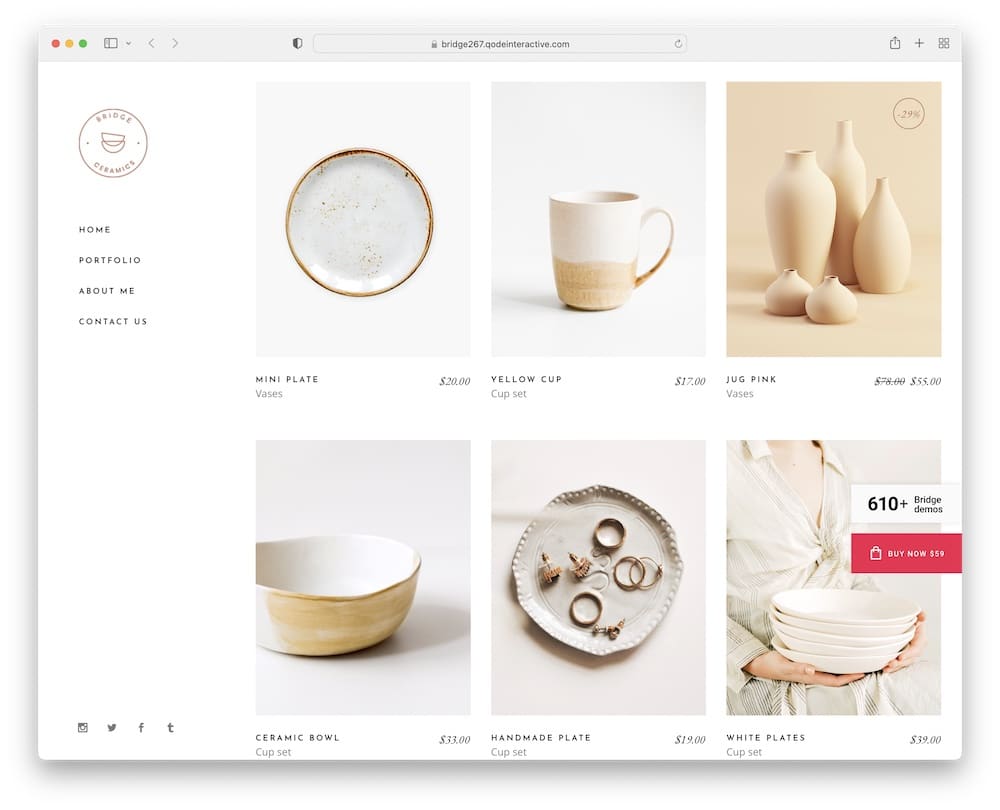 It sounds fancy when I think about all the features of Bridge, but in reality, everything about it can be simply customized, fast understood, and joy to work with.
DON'T complicate or worry (please!), you have everything you need to make your dream happen with this easiest WordPress theme.
NOPE, you don't need to be an expert (passion is truly enough – I promise).
Besides, you can use WPBakery or Elementor page builders (both are brilliant) for easy customization, depending on the pre-made demo you pick from the excellent Bridge bundle.
Exciting, I know!
Plus, you guys know I love social media; I mean, who doesn't? And YES, Bridge is integrated with social media for a quick way to engage with your audience.
REMEMBER: Sharing is caring!
All aboard?
Bridge features:
180+ sales
4.7+ star ratings
Price: $59 (may vary)
MORE INFO / DOWNLOAD
DEMO
7. Sway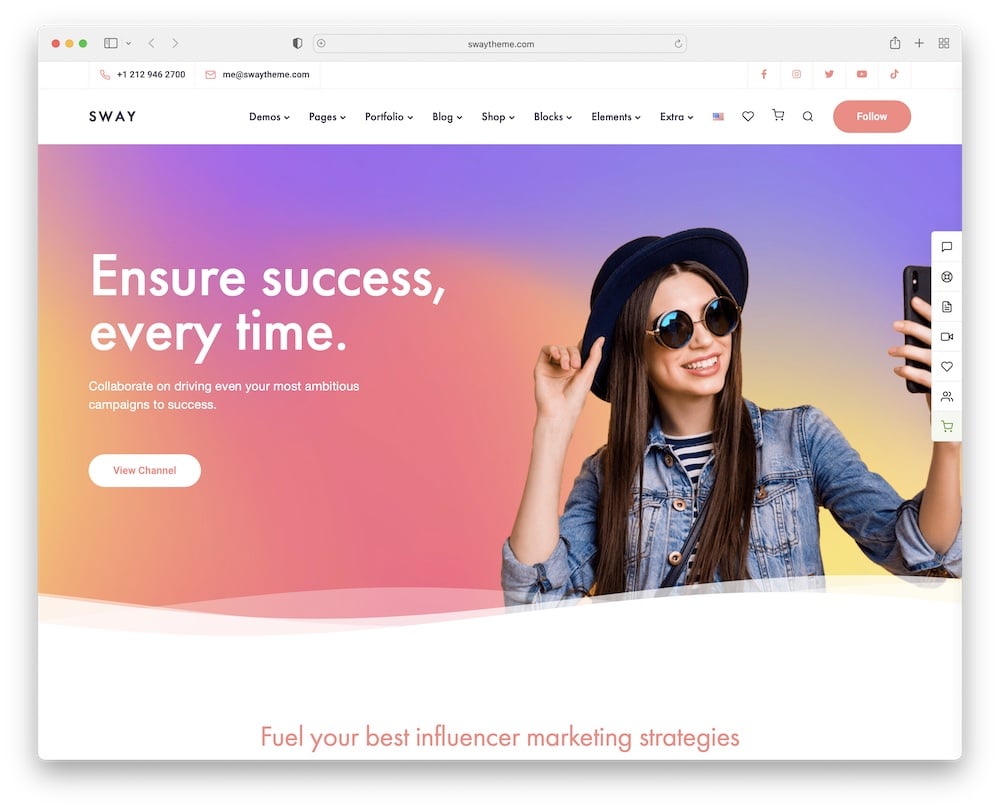 Say HELLO to the easiest WordPress theme Sway – this big bowl of goodness is yours for the taking!
Thankfully, Sway comes with 45+ ready-to-use demos (WOOWZA) and with an amazing (simple) press of a few buttons to install.
Oh, yes. You heard me correctly.
You actually save your money due to guaranteed access to FREE plugins (Slider Revolution, WPBakery builder, Contact Form 7, WooCommerce, and many more) with Sway. BOOM.
NOW. Repeat after me: Start selling and promoting online today. Again!
I really mean it, put your products and deals in the network spotlight and change the game of your business. HI5!
Oh, and helpful documentation, video tutorials, users community – everything you can put to excellent use is yours.
NO more excuses – dive into Sway!
Sway features:
2,000+ sales
4.9+ star ratings
Blogging, eCommerce & portfolio (!)
Price: $59 (may vary)
MORE INFO / DOWNLOAD
DEMO
8. Uncode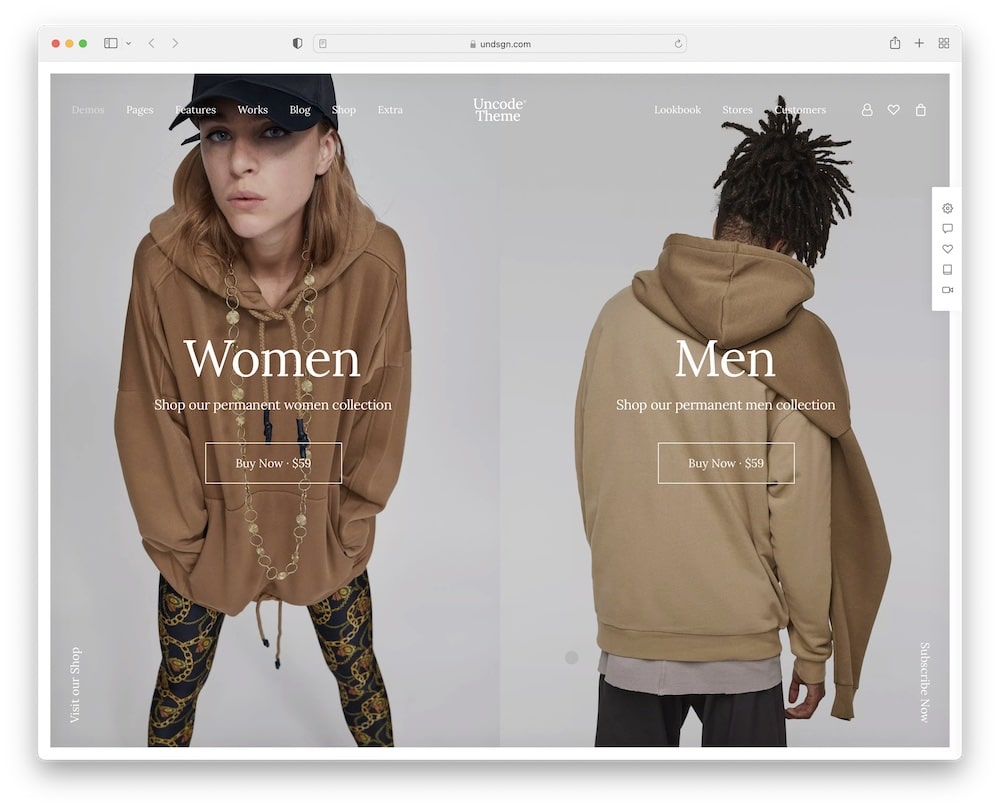 Essentially what is happening here is live editing, various ready-to-use templates, unique post layouts, amazing elements, and the most popular plugins.
All included in one single theme – Uncode.
This easiest-to-use WordPress theme also offers advanced light and dark skins, smooth scroll, interactive animations, and background color changer.
On top of that, you get impressive carousels options for a beautiful presentation of your images, posts, WooCommerce products, and more.
Aha, you have 100% of control over your new site (hair-raising fact!).
From freelancers, designers, developers, agencies to valuable blogs, restaurants, startups – Uncode is suitable for all kinds of businesses.
ALL-IN-ONE.
Just say yes, yes, and YES to all Uncode gems!
Uncode features:
96,000+ sales
4.8+ star ratings
Price: $59 (may vary)
MORE INFO / DOWNLOAD
DEMO
9. Riode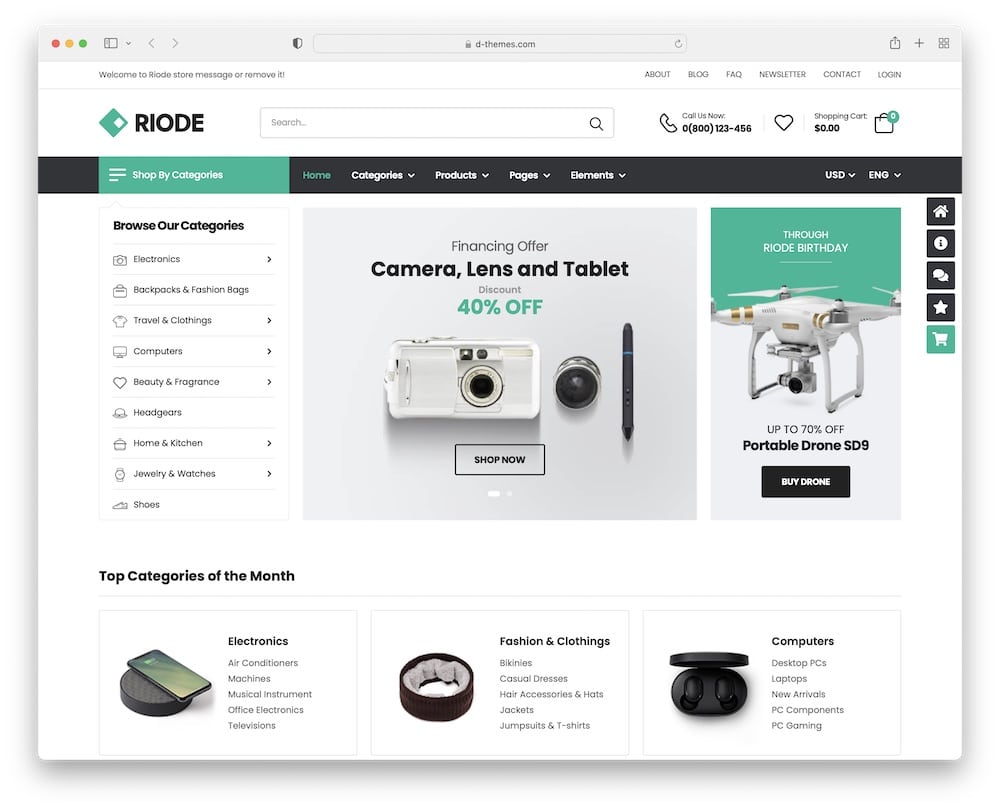 With stunning Riode easiest WordPress theme you can make everything a website should be: modern, responsive, high-speed optimized, engaging, and simple to shop on.
Sounds GOOD?
Honestly, I think you and I were made for such time as this – when you can build your website at your home! Hallelujaaah!
Riode is super flexible + fully customizable SO that you can effortlessly add a personal touch and change, mix & set up it just like you imagine.
Clean and professional code is spot on!
BONUS POINTS: brilliant mega menu, CSS 3 animations, a bundle of widgets, social sharing buttons, Ajax technology, unlimited colors, and Google fonts.
Jump in and join Riode!
Riode features:
MORE INFO / DOWNLOAD
DEMO
10. TheGem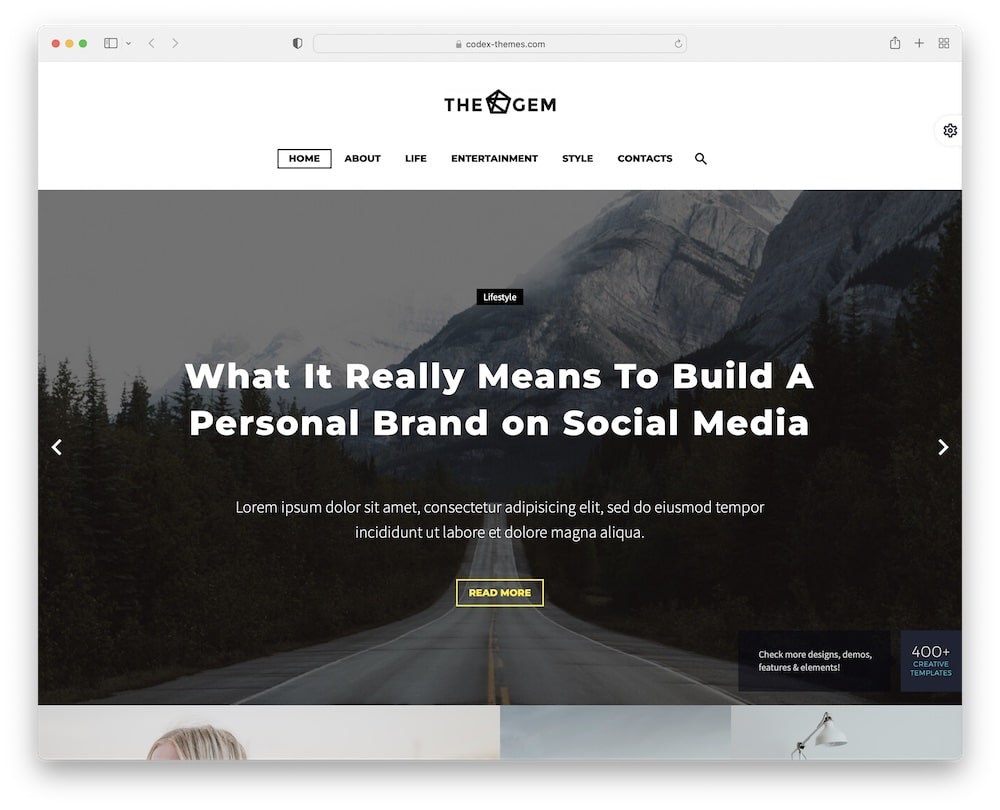 Hold on, hold on. TheGem simplest WordPress theme is in the house today and it is full of amazing stuff. My treat!
With pretty, pre-made, and fully customizable demos (400+), it's a breeze to make a stunning website from bottom to top.
Not to mention, various icons, elegant animations, useful shortcodes, and custom widgets will bring out the best of your brand!
In detail: Even the child theme is packed in TheGem.
TheGem is SEO-friendly, fully responsive, and 100% compatible with the popular plugins (globally!).
And if you want to talk global, TheGem is also multilingual – meaning you can translate your website into any language you wish!
DOPE.
Cast a spell on your visitors with TheGem.
TheGem features:
64,000+ sales
4.8+ star ratings
Frequent updates
Price: $59 (may vary)
MORE INFO / DOWNLOAD
DEMO
11. Kicker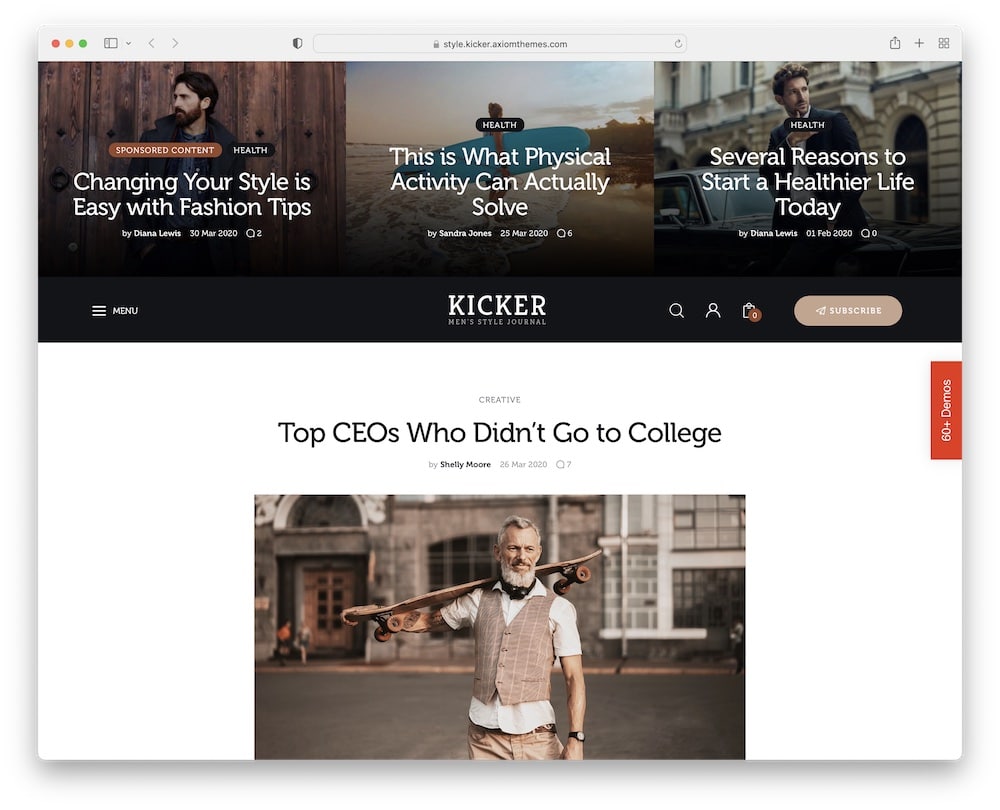 Kicker is as versatile as it gets. Blog, newspaper, or magazine website. Lifestyle, business, marketing, travel, photography, fashion, or education.
Your personal playground!
Don't want to work with Elementor page builder? Swap to Gutenberg editor.
Don't have the patience to start from scratch? Choose ready-to-use demos (1-click import!). Hate confusing menus? Create a beautiful one with a mega menu (multi-column).
However you do it, Kicker has your back!
Besides, Kicker comes with a fantastic variety of layouts for your content. Style your articles without any limits!
Above all, focus on your visitors by growing your email list (pop-up boxes) and increasing your engagement with the NO.1 MailChimp newsletter tool. Send powerful emails INSTANTLY.
BE BOLD with Kicker.
Kicker features:
1,500+ sales
4.7+ star ratings
Auto-loading posts
AMP support
Price: $59 (may vary)
MORE INFO / DOWNLOAD
DEMO
12. Hub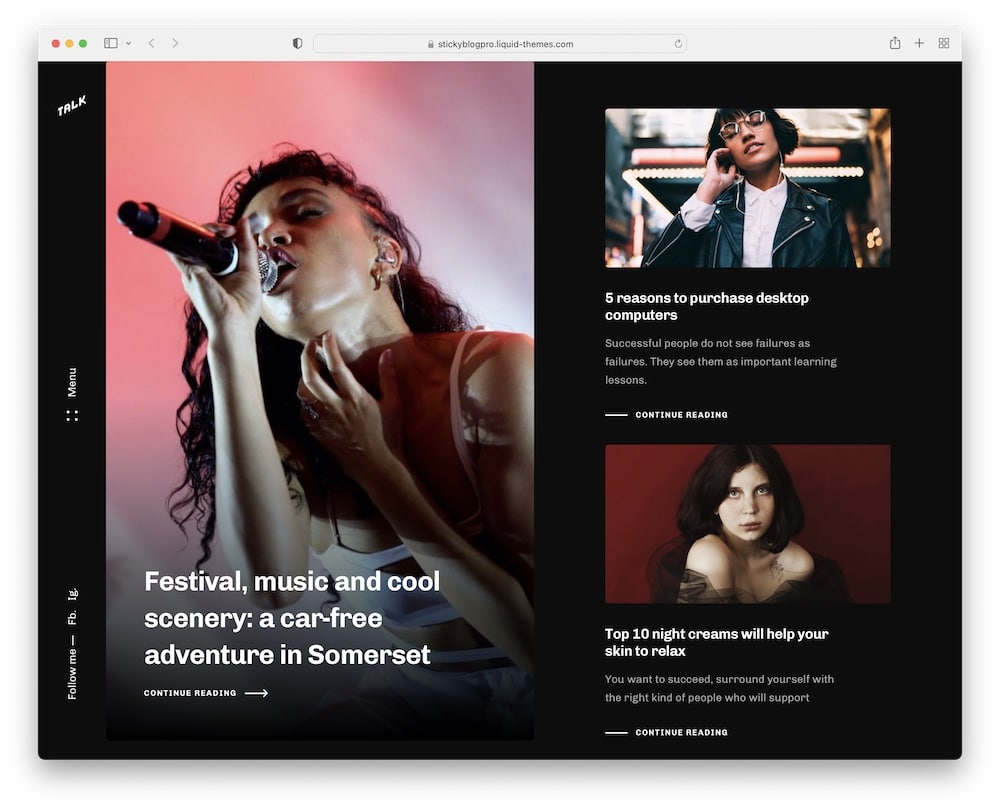 Yoohoooooooo! Over here!
Say HI to Hub easiest WordPress theme for beginners (Ciao). Not to be cocky, but Hub is the fastest-selling theme of last year (BIG DEAL).
As they say, it will just get better and better (congrats to developers!).
This all-in-one theme comes with an award-winning design (huge bundle of pre-built templates), high performance, intuitive editor, and exclusive plugins.
TOP of its class.
And. Think about it – you can even choose your favorite page builder (Elementor or WPBakery) for the smooth and simple start (both included for FREE). YEAH, baby!
Oh, and you can command and control your online store due to brilliant WooCommerce. Your customers deserve the best – Hub provides all the tools you need.
My advice? Start NOW.
Hub features:
5,600+ sales
4.9+ star ratings
Automatic updates
Quick & effortless building
Price: $39 (may vary)
MORE INFO / DOWNLOAD
DEMO
13. Razzi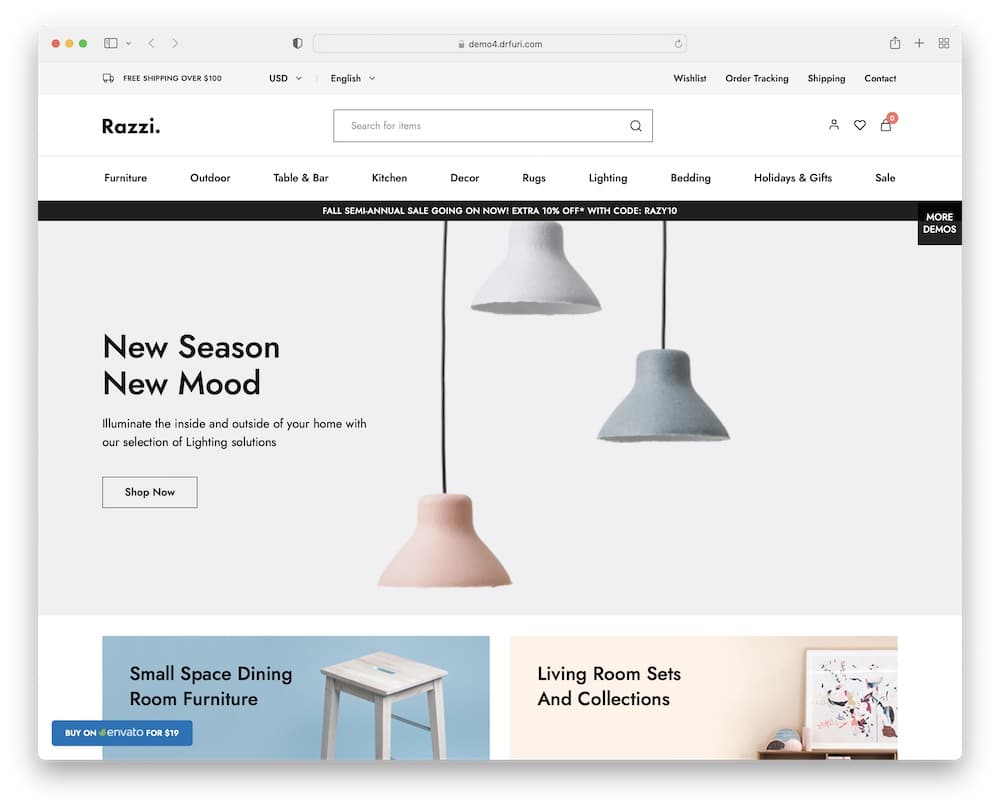 No matter which pre-built demo you choose, this baby is all about amazing plugins, easy customization, a rainbow of colors, smooth effects, advanced widgets, and responsive design.
Razzi (easiest WooCommerce theme for beginners) has it all – together in perfect harmony!
Razi offers 100% control of your new website. Make your store super customer-friendly and irresistible among your audience (I know, you were waiting for this chance).
You get amazing tools for your store such as product card styles, filters, quick view, catalog mode, size guides, video galleries, and the buy now button at no additional cost.
Take what you need and grow your business BIG!
Of course, dedicated and friendly Razzi support works around the clock (direct online help).
Razzi features:
2,100+ sales
5 star ratings
Store reports
Tax & shipping options
Price: $29 (may vary)
MORE INFO / DOWNLOAD
DEMO
14. Litho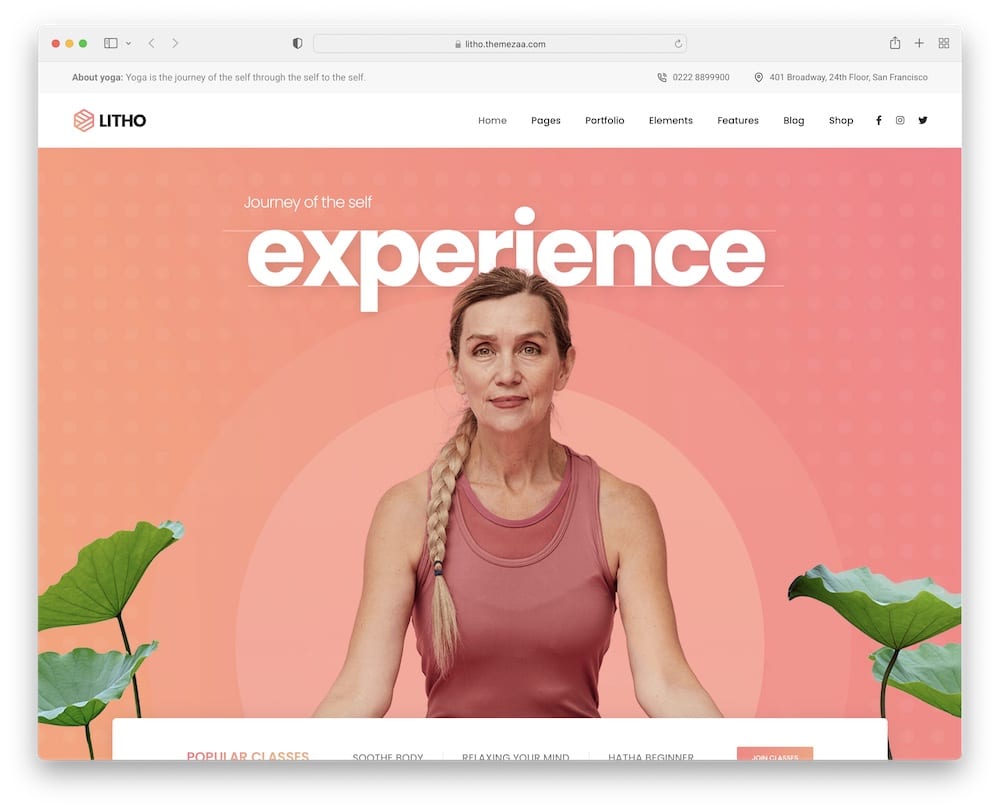 Let's just start here, okay?
Because LITHO (easiest WooCommerce theme) is a very good place to start.
It involves numerous homepages, unique elements, amazing tools, hover effects, animations, video backgrounds, and crisp icons.
That would be enough to build a stunning website, wouldn't it? Yes, I agree.
BUT.
I like it when things aren't average and Litho offers a lot more (not to brag).
Included parallax effect is super eye-catchy, the mega menu is flexible, Elementor brilliant editor; overall is Litho affordable and easy to work with.
Plus, it guarantees smooth functioning on all browsers (Firefox, Chrome, Safari, and Edge) – overdeliver!
HOOK your audience with HOT Litho.
Litho features:
1,200+ sales
4.9+ star ratings
Header & footer builder
Price: $59 (may vary)
MORE INFO / DOWNLOAD
DEMO
15. Blogar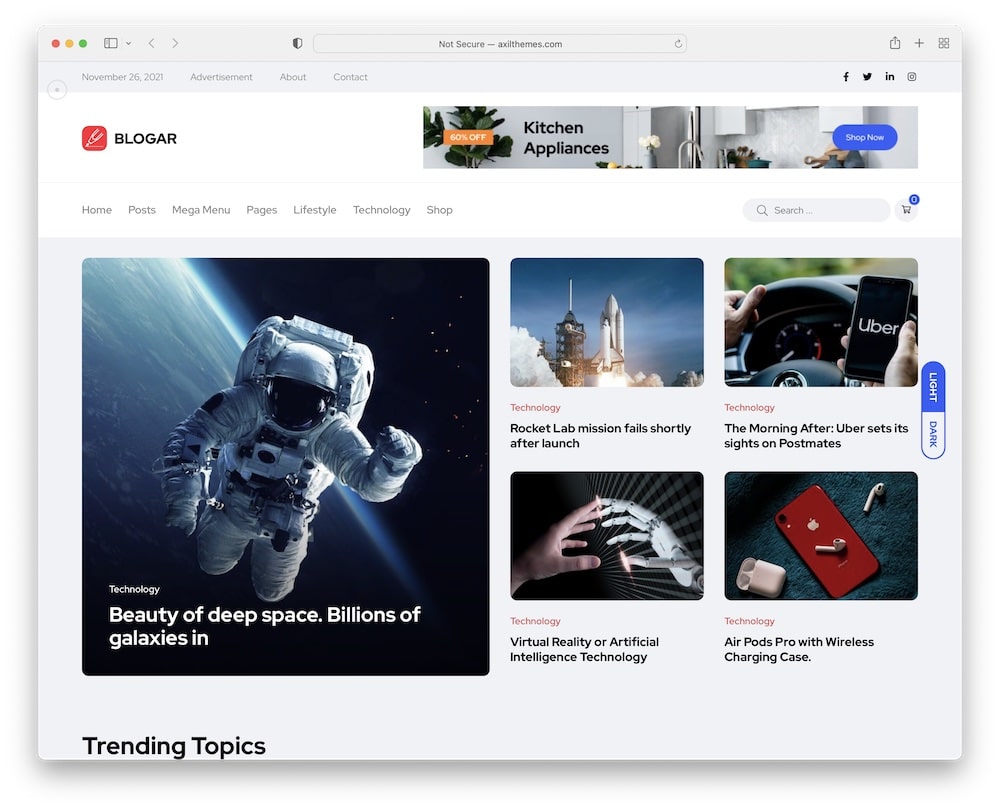 This is (SOS) easiest WordPress theme – an excellent choice for when you just need to get something on the table quickly.
Blogar is a perfect fit for creative, lifestyle & personal blogs, magazines, and news agencies.
You can easily customize and change everything you see exactly as you wish. Keep calm, you don't need experience or coding knowledge.
GIRL (or BOY), THE SKY IS THE LIMIT!
Here's some more goodness:
One-click demo install, dark or light mode, live customization, dynamic contact form, unlimited Google Fonts, and custom widgets. Weeee!
Plus, I am thrilled that Blogar is SEO optimized – better engaging process, more leads, more sales, more everything.
Make Google your best friend. BOO-YAH!
Blogar features:
790+ sales
4.8+ star ratings
Easy monetization
Dark & light mode
Price: $39 (may vary)
MORE INFO / DOWNLOAD
DEMO
16. Rayden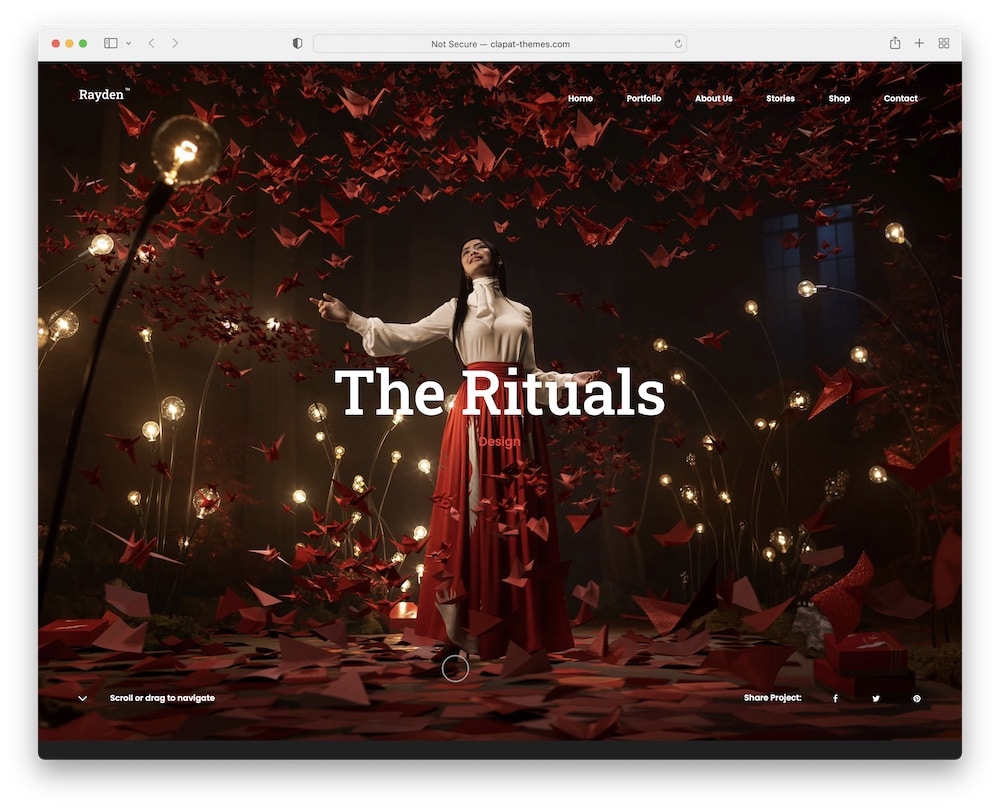 I have a fave saying: The little things are the big things. And today, Rayden easiest WordPress theme is the very important little – big thing.
INNOVATIVE. AND. ELEGANT.
Designers, photographers, or artists can easily create a high-ticket portfolio (MUST view the demo) or a valuable blog (welcome: experts and gurus).
Besides, you get lots of creative options, popular tools, unique shortcodes, and powerful elements with Rayden.
Not to mention, Rayden has a dark & light color options for background and text.
Fast loading speed? Checked. Retina-ready screen? Checked. SEO optimized? Checked.
That was easy. We are in business, my friend!
Rayden features:
670+ sales
4.7 star ratings
Bold design (IMPACT!)
Multiple portfolio layouts
Price: $39 (may vary)
MORE INFO / DOWNLOAD
DEMO
17. Deva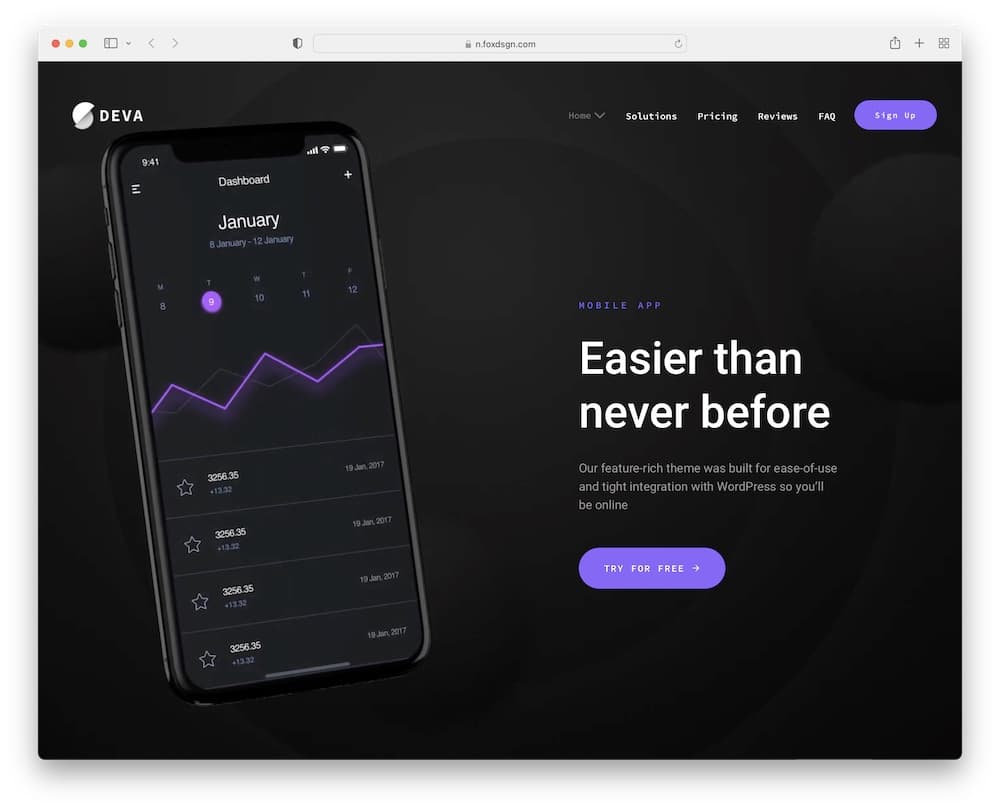 Deva WordPress theme for beginners is truly remarkable. So put it on your computer and start creating your future (now).
Complete control in your hands!
Beautiful Deva comes with 30+ ready-to-use demos, 100+ inner pages, 180+ blocks and 20+ headers & footers. Angels singing? I hear it, too. LALALALALALA.
Plus, with amazing WooCommerce integration, you have no online store creation limits. Truly, from the bottom of my heart – It does not get better than this.
Of course, Deva is packed with amazing plugins and you even get two editors (yup, not one, but 2!). Choose your favorite and rock it!
You got this! Please report back.
Deva features:
610+ sales
4.5+ star ratings
Gallery
Newsletter subscription
Price: $49 (may vary)
MORE INFO / DOWNLOAD
DEMO