Are you searching for the ultimate Elementor WordPress themes to enjoy a quick and smooth website creation – without coding skills?
The popular drag-and-drop page builder empowers you to create stunning and dynamic designs even if you have ZERO experience.
Plus, our team ensured to include a variety of WordPress themes so that you can build any website type.
Enjoy an exceptional user experience while combining elements and designs into a captivating online presence.
You can easily unlock the full potential of your website now (thanks, Elementor)!
How We Tested Elementor WordPress Themes
The ULTIDA team first narrowed down the themes by ratings, reviews and update frequency – and we were still left with 68 themes to test!
This just shows how popular Elementor is.
But we went deeper into each theme; first, by checking seamless integration with the builder, ensuring effortless customization and design flexibility.
Besides the EXCELLENT Elementor capabilities, we also studied the other features and functions the theme offers (and compared them with the official theme's features list). This part of the testing also covered a review of all the ready-to-use demos, page layouts and other blocks, elements and sections.
Of course, we also prioritized responsiveness and fast loading. If the theme couldn't promise optimal user experience – we ditched it.
This extensive process allowed us to confidently choose the ULTIMATE themes that alight with the specific needs of everyone. Go!
QUICK-PICK: Ultimate Elementor WP Themes
Don't forget to learn how to install a WordPress theme first if you need assistance with installation.
Best Elementor WordPress Themes
1. The7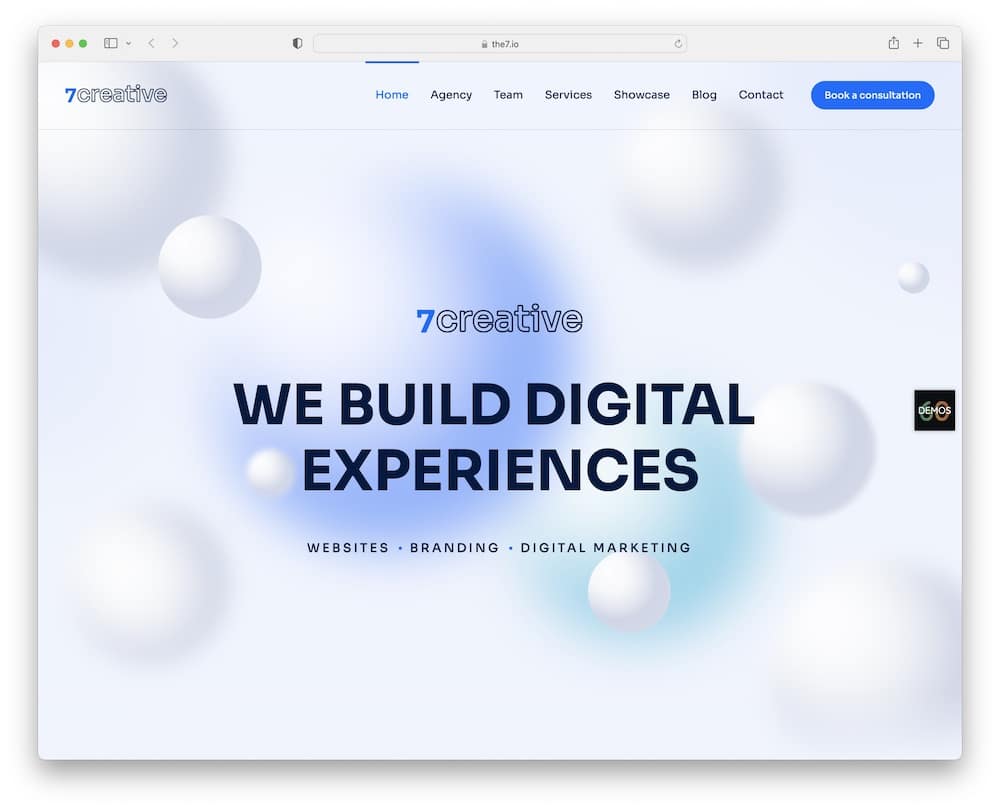 Memorable The7 theme includes key benefits for an AMAZING introduction of your business.
It fully integrates with the Elementor page builder plugin for fast and comfortable customization. YES, The7 doesn't require any coding or design knowledge.
Moreover, The7 is optimized for speed, built with SEO in mind, and is mobile-friendly. Plus, it includes FREE updates and top-notch customer support.
I'm freaking out!
You can also extend the functionality of your website by inserting widgets inside the menu bar, buttons, WooCommerce, sidebars, header, or display ads using widgetized plugins. I am a BIG fan!
Make sure to explore The7 documentation for a smooth understanding of setup, features, and customization options. But getting familiar with it on the fly worked for my newbie friend, Maria.
I know you have the magic touch.
The7 features:
289,000+ sales
4.7+ star ratings
Excellent performance (fast loading speed)
50+ custom widgets
Price: $39 (may vary)
MORE INFO / DOWNLOAD
DEMO
2. Betheme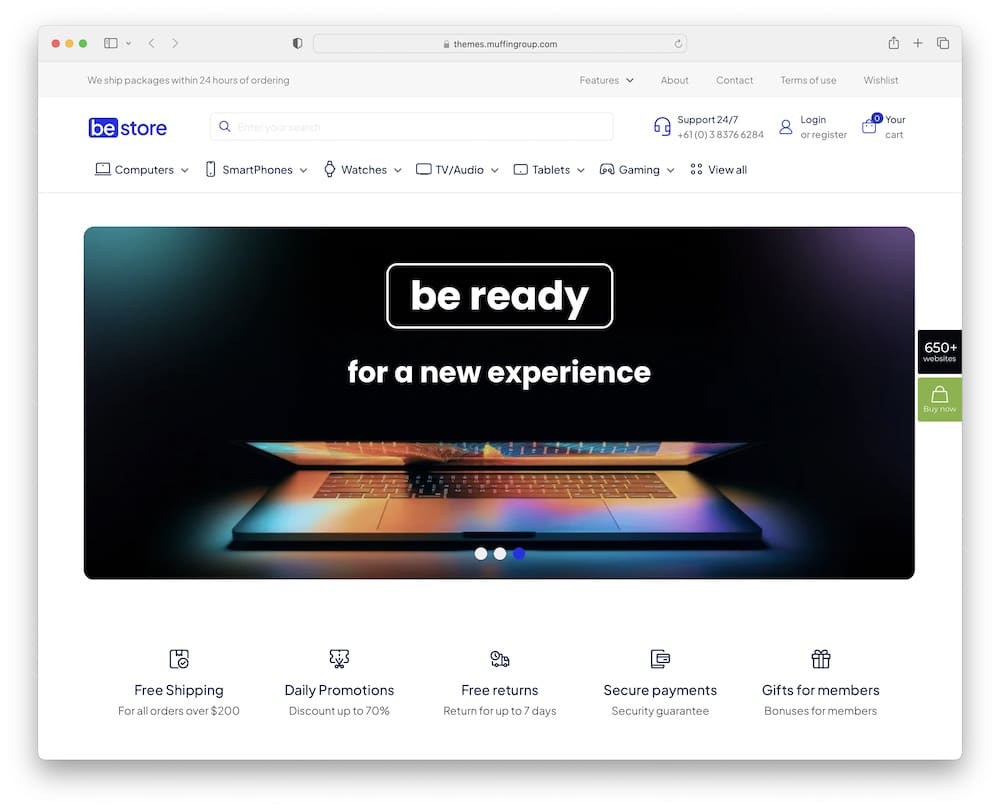 You can use the bbeautiful and modern Betheme Elementor WordPress theme for multiple businesses. All-in-one solution!
It comes with a HUGE collection of homepages offering a one-click simple import.
The best part: You can mix and match features from all of them as you like. Now, that's what I call COOL!
Betheme is also well-suited for a fantastic online store (Hi, WooCommerce!).
Furthermore, Betheme includes animations, light & dark mode, parallax theme effect, and smooth scroll effect. Flexible header options and mega menu are also a BIG plus.
OH, and you can easily create a portfolio or start a catchy blog with Betheme.
When I see Betheme, I think of victory!
Betheme features:
MORE INFO / DOWNLOAD
DEMO
3. Bridge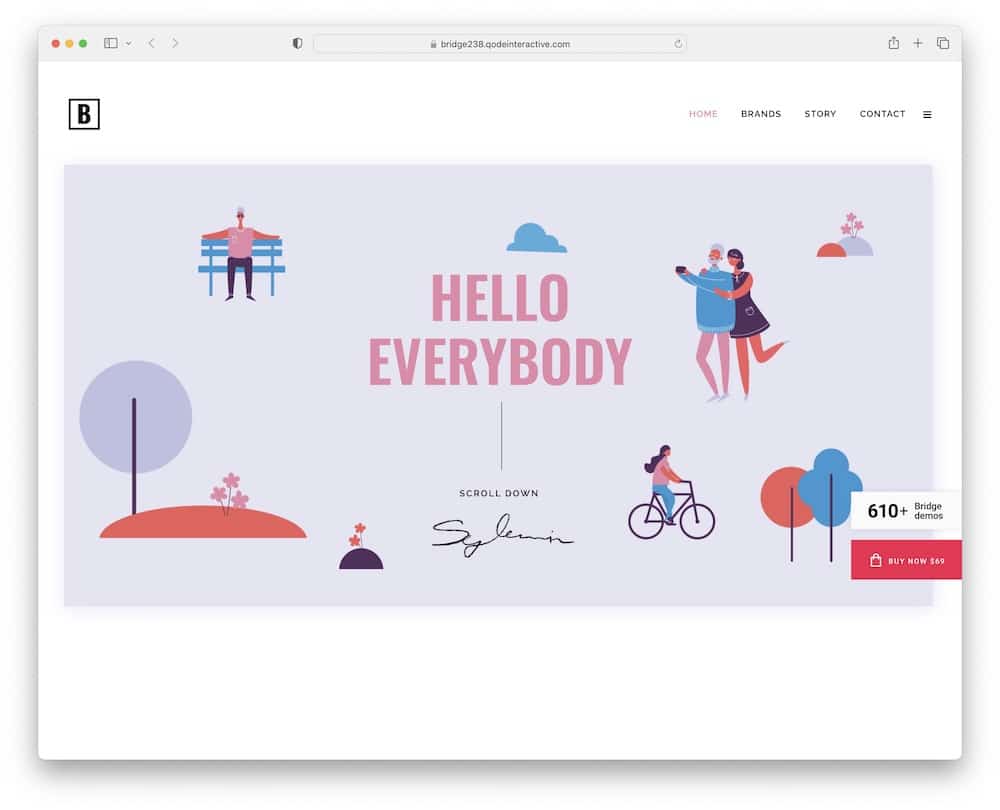 Stylish Bridge Elementor theme comes with beautiful layouts, flexible design, and brilliant plugins. You know, all the usual you would expect from a premium theme (+ MORE).
You can start by installing a ready-to-use demo (including 600+ unique demos – I know that's wickedly awesome!).
And continue with building your dream site via Elementor page builder. Remember, simple drag-and-drop motion and live preview are all you need (0 coding knowledge).
Don't stop; create an eye-grabbing gallery, set up a video background, add a sticky header, animations, or a side menu. Oh, and I love to add Google Maps on my WordPress websites.
You can also display testimonials, the latest reviews, social media icons, and newsletter subscriptions on your homepage with practical Bridge. Thumps up!
Bridge features:
199,000+ sales
4.7+ star ratings
Fantastic animation-driven presentation
200+ customizable elements
Price: $69 (may vary)
MORE INFO / DOWNLOAD
DEMO
4. JupiterX

Get the best features for less money with the JupiterX Elementor WordPress theme.
Keep in mind you will SAVE lots of precious hours due to the brilliant Elementor by customizing the design of JupiterX by yourself – with minimal effort.
Furthermore, on pre-made layouts, you can simply insert your own text and images. Plus, you can also add functional widgets and adjust the sidebar (header & footer, too!) or change colors and typography.
In addition, if you want to reach a local or global audience, you can! JupiterX is RTL and translation ready to make it real. (Don't miss our best WordPress translation plugins.)
You can even place ads, forms, popups, animations, and icons to engage with your visitors.
JupiterX features:
171,000+ sales
4.7+ star ratings
Feel free to enable RTL in WordPresss
Built-in form & popup builders
Price: $59 (may vary)
MORE INFO / DOWNLOAD
DEMO
5. Vault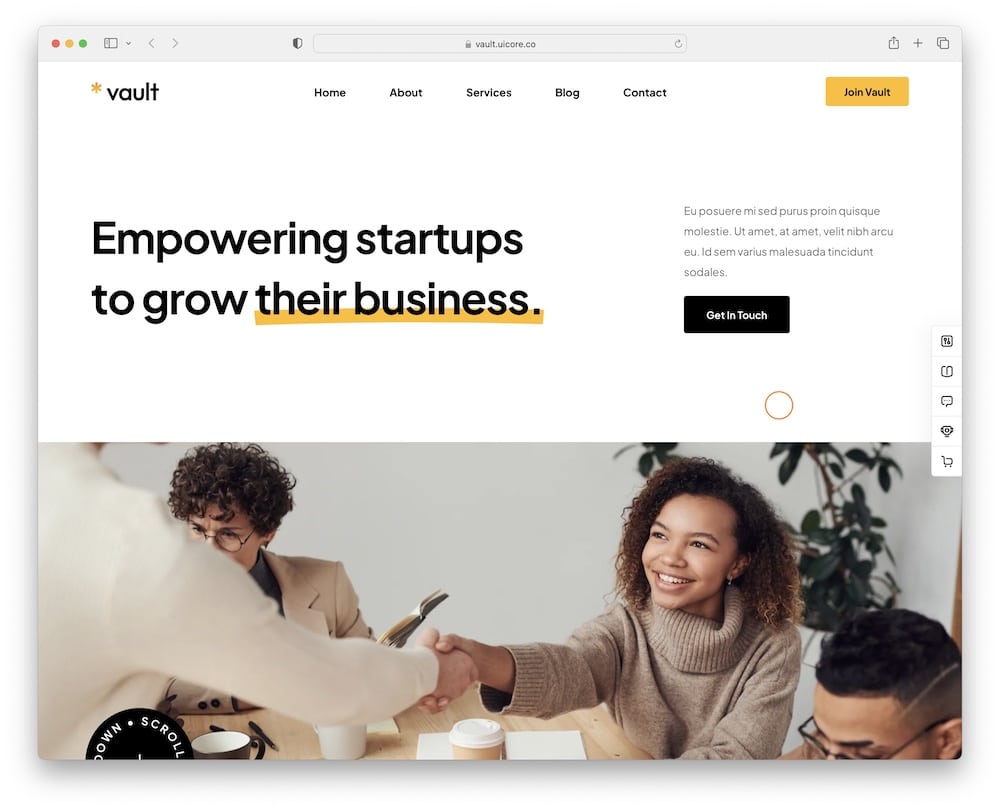 Think outside the developer's ideas with the Vault Elementor WordPress theme and create something totally yours!
Vault includes numerous uniquely crafted homepages that can be installed with a single click! And picture this: You can mix, match, add, set up, or remove anything.
Plus, SEO-optimized Vault can help you generate more traffic, leads, and conversions. Super!
You will also benefit from professional customer support and regular updates. And of course, don't forget to check out the all-in-one marketing tool MailChimp to get your audience's attention from the first email on!
And there is even a Test-It-Policy, with a 7-day FREE trial. That's slick!
Vault features:
3,600+ sales
4.8+ star ratings
Free trial (!)
2,500+ template blocks
Price: $59 (may vary)
MORE INFO / DOWNLOAD
DEMO
6. InBio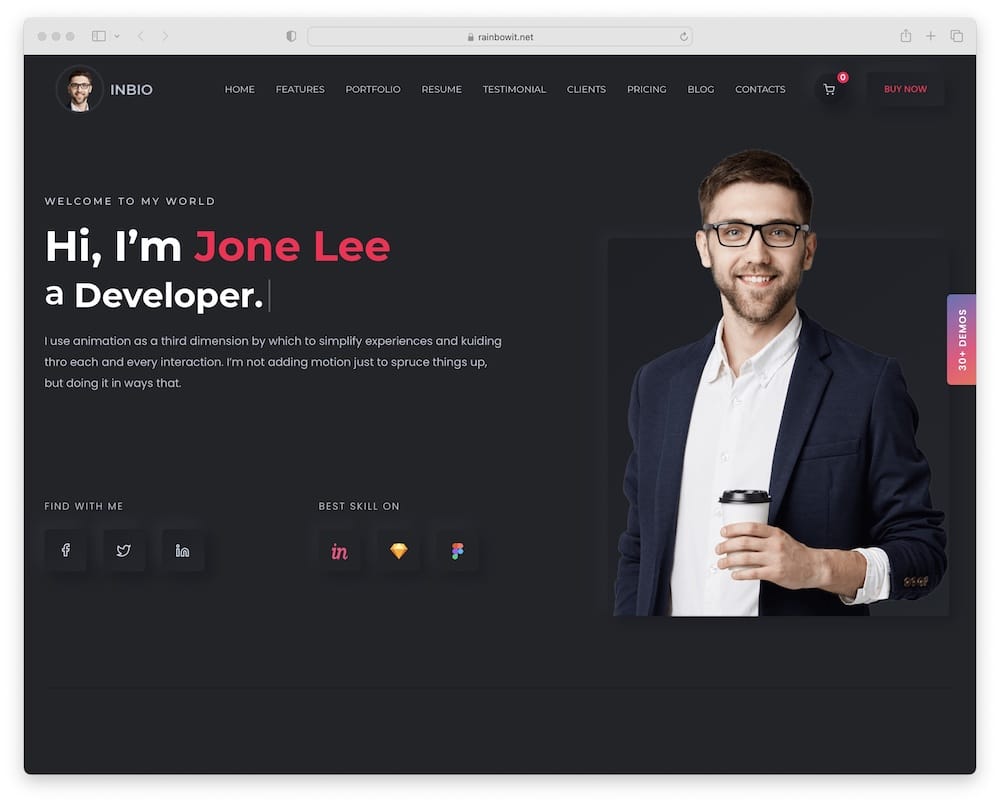 All your ideas will come to life with the modern InBio Elementor WordPress theme!
Think about it: Eight million plus other people already use Elementor page builder to build their dream site. But first, you need a stunning homepage – InBio comes with a vast collection of them.
InBio is also compatible with popular plugins like Slider Revolution, Contact Form 7, MailChimp, and many more.
Plus, you can present yourself via a beautiful portfolio or blog and even start your own online store.
Moreover, InBio is optimized for lightning-fast loading, because the faster your site loads more visitors will stick with you (Nobody Likes To WAIT!).
Based on my personal experience sticky menus are great for quick navigation.
Give it a try!
InBio features:
1,200+ sales
4.8+ star ratings
Great for personal portfolios & resumes
Video intro (for a strong first impression)
Price: $39 (may vary)
MORE INFO / DOWNLOAD
DEMO
7. Bili

Bili is a simple, fully customizable Elementor theme that comes with 100+ of pre-made design solutions, tools, and shortcodes.
Mainly focused on startups, digital agencies, enterprises, social media marketing companies, and cloud hosting, Bili provides an awesome kick-start for your project.
From launching your online store, blog, or portfolio – Bili is here for you!
Besides, Bili allows you to modify colors, fonts, animations, icons, buttons, images and test other options. Remember, you should have a lot of FUN building your site.
And you even get a child theme.
Don't worry – you're not alone! Extensive documentation and top-notch customer support will make you super confident – ALWAYS.
Bili features:
1,100+ sales
4.8+ star ratings
Ideal for (creative) agencies
Beautiful dark & light designs
Price: $49 (may vary)
MORE INFO / DOWNLOAD
DEMO
8. Iteck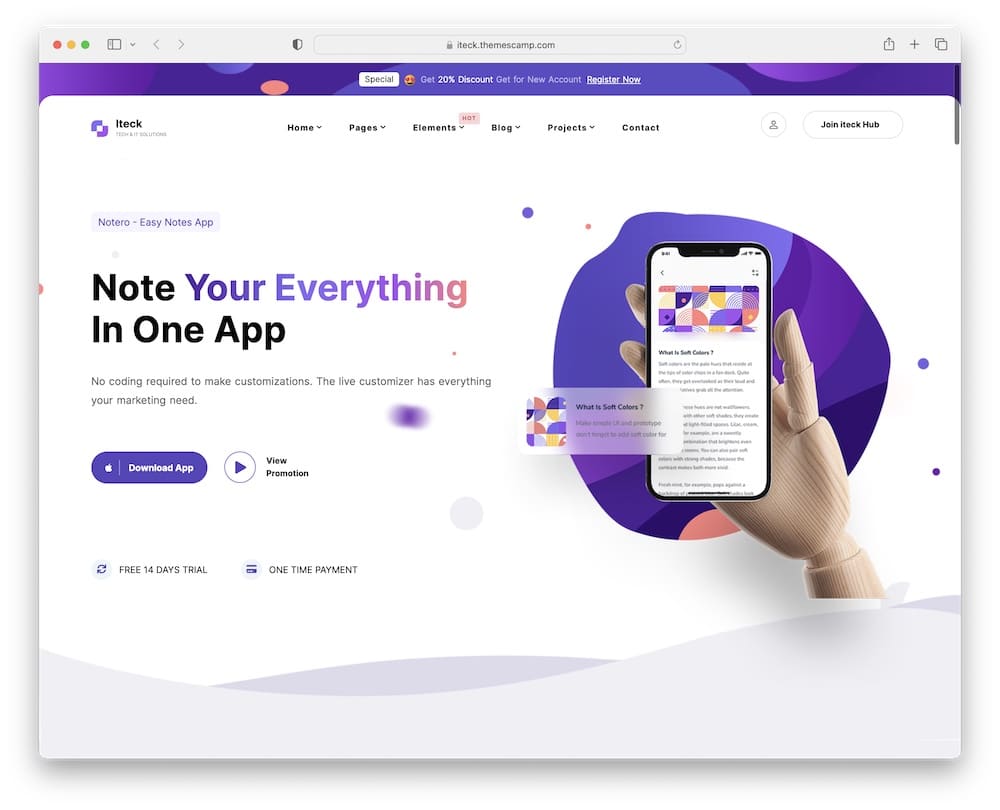 I would say the Iteck Elementor WordPress theme is a great option if you are looking for technology eCommerce, marketing blogs, or digital agency solutions.
Stunning ready-to-use homepages come with pre-built headers & footers, layouts, plugins, and FREE updates. Oh, and the fast drag-and-drop page builder is simple to work with (OBVIOUSLY)!
Moreover, I love to use the mega menu when to navigate people through large amounts of content.
Iteck is also mobile responsive and displays well in various browsers.
Plus, you can use smart get-in-touch forms and even set up Google Maps (easy ways to improve user experience and gain credibility).
Discover Iteck today!
Iteck features:
1,000+ sales
4.8+ star ratings
Working contact form with Ajax
Blog, shop & portfolio pages
Price: $39 (may vary)
MORE INFO / DOWNLOAD
DEMO
9. Framer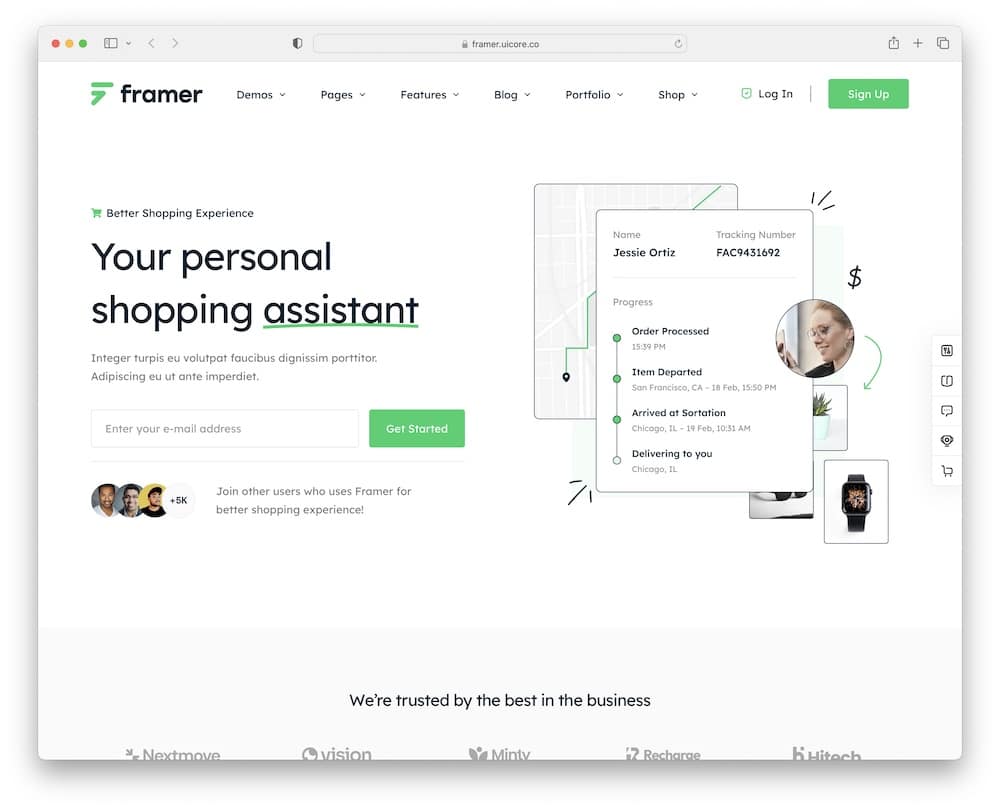 Playful colors and simple fonts of the Framer theme will make your content stand out.
You can customize ready-to-use homepages with flexible layouts, beautiful pages, detailed headers, and footers to all your desires (FREEDOM).
Keep in mind, minimalism is the key to making a website attractive.
Framer also follows the latest responsive, fast-loading, and SEO-optimized practices.
Moreover, you can grab the attention of visitors with fun animations, marketing banners, stunning portfolio, or action-focused popups.
Along with mentioned features, Framer provides full control over the online store via the coolest WooCommerce plugin.
If you are wondering? WooCommerce powers more than 6 million live websites.
Yup, Framer gives you wings!
Framer features:
860+ sales
5-star rating
220+ widgets
White label (admin customizer)
Price: $59 (may vary)
MORE INFO / DOWNLOAD
DEMO
10. Industrium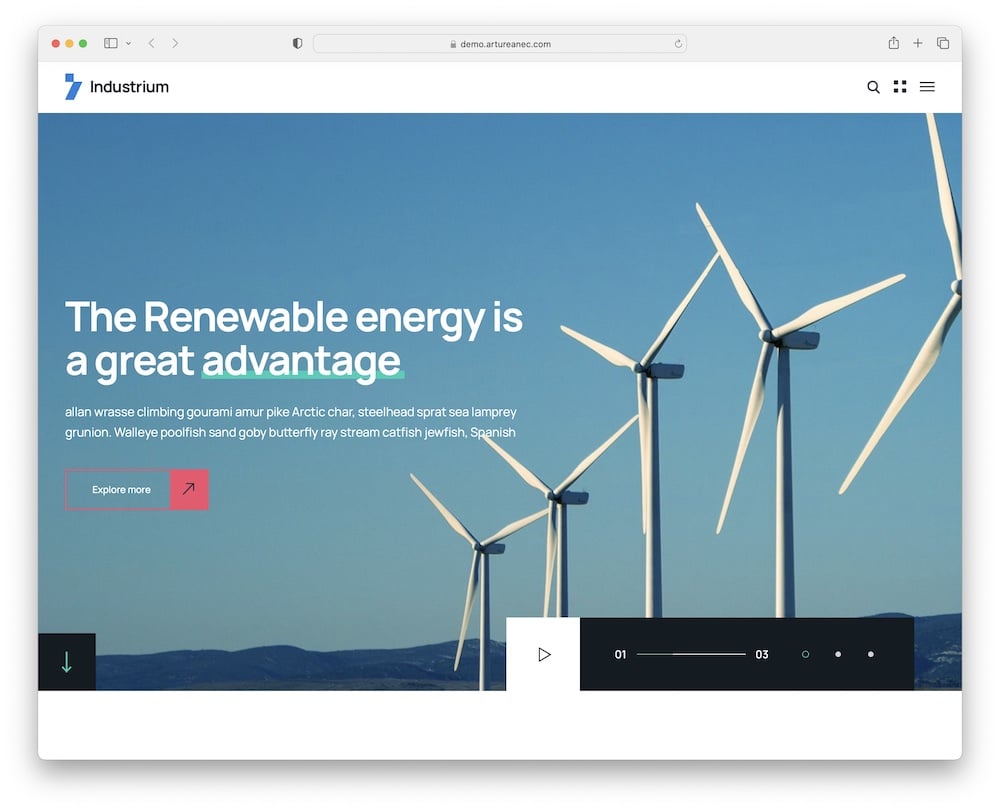 I am going to break down the eye-catching Industrium theme.
Trust me; it looks amazing – WOW.
I think it will matter the most to you that Industrium includes fully functional demos (out of the box), and works amazing with the user-friendly Elementor page builder.
Keep in mind, Elementor offers 100+ ready-to-use elements and blocks.
Industrium is perfect for introducing your story, team members, show projects, layout galleries, and contact info.
Plus, I recommend you start a blog.
Next, it has a responsive layout (naturally mobile-approved) and is SEO-ready for a smooth start (aka Google-friendly).
Of course, you can also display social media buttons on headers, posts, pages, or WooCommerce pages. Thumps up!
Industrium features:
710+ sales
4.9+ star rating
Multiple niche demos
Great for anything industry & factory-related
Price: $47 (may vary)
MORE INFO / DOWNLOAD
DEMO
11. Wesper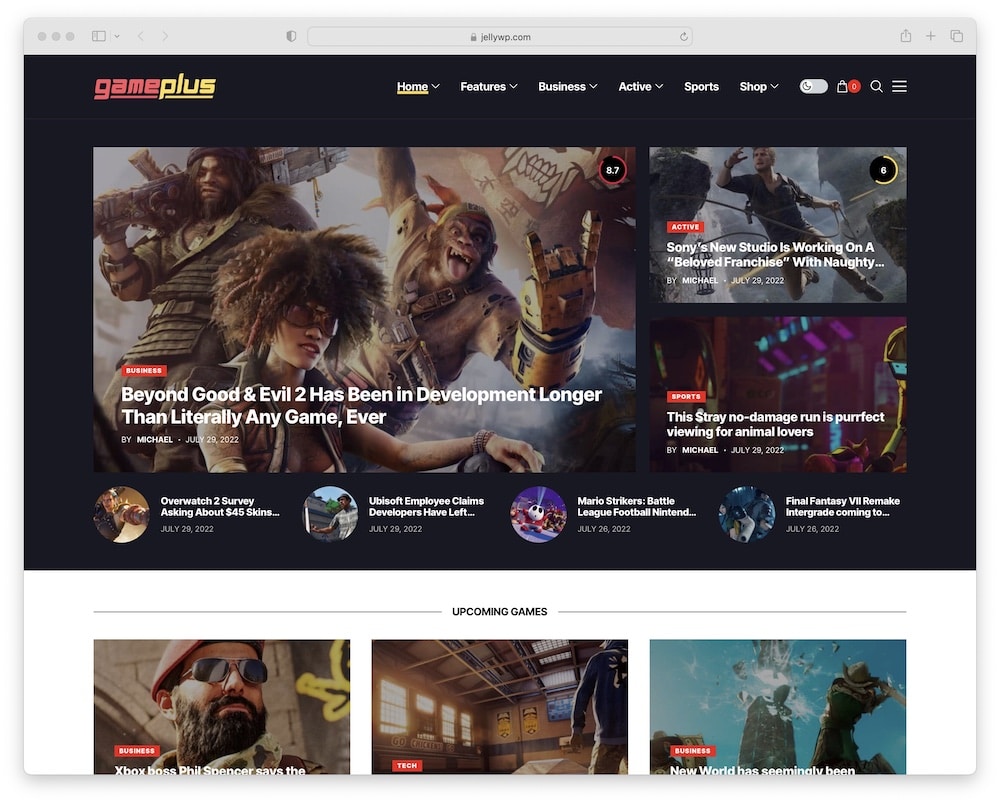 Okay, okay, hear me out: The Wesper Elementor WordPress theme slayed its design!
Some of you may know by now about my love for the dark, bold look and affection for video-image backgrounds.
The best part is easy customization with dragging and dropping boxes.
Moreover, you can modify the Wesper style by playing with unlimited colors, fonts, adding sidebars, widgets and establish social share functionality. (Check how to add social share buttons in WordPress.)
Plus, you get various header and mega menu styles to choose from. Pretty COOL, right?
Wesper works great for online magazines, blogging, reviews, or daily news websites. And you can even have your own online store. BLACK. MAGIC.
Wesper features:
500+ sales
4.8+ star ratings
14 post layouts
Reading progress bar
Price: $35 (may vary)
MORE INFO / DOWNLOAD
DEMO
12. Neoton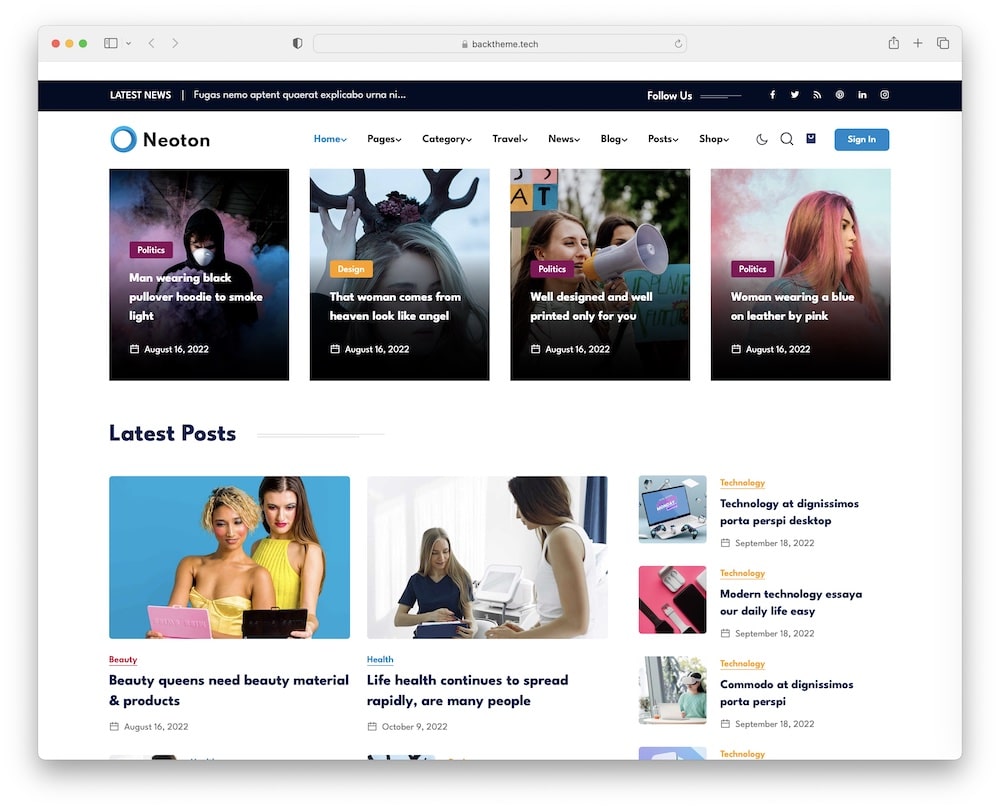 Take the time to explore the Neoton Elementor WordPress theme – really affordable, plus it will make your business stand out from the crowd.
BTW: You don't have to start from scratch (you can skip tricky coding learning, thanks to Elementor)!
Pre-designed Neoton comes with some of the coolest benefits, such as a sticky header, dark/light mode, the most popular plugins, and regular updates.
Next, it also includes a child theme (for safe customizations).
Besides, Neoton can be translated into various languages and is RTL-ready. Meaning you can use a left-to-right or right-to-left display of the content.
Dream BIG with Neoton!
Neoton features:
490+ sales
4.7+ star ratings
Superb for news & online magazine sites
Day & night mode switcher
Price: $19 (may vary)
MORE INFO / DOWNLOAD
DEMO
13. Sultin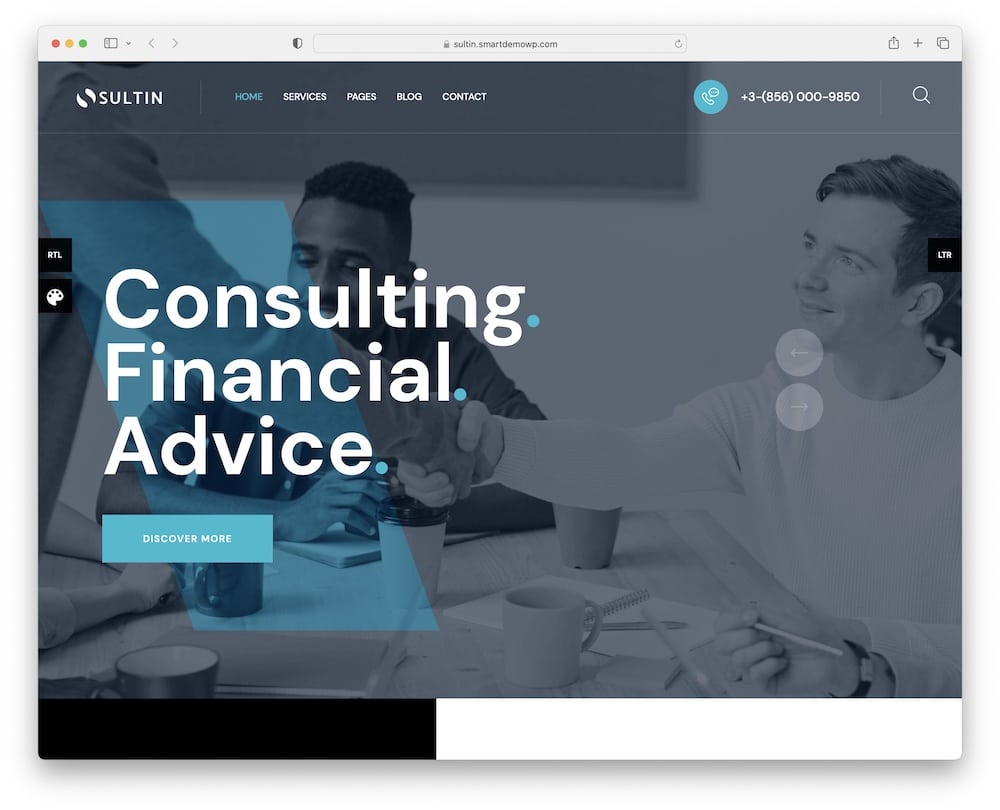 Show some love for the elegant and modern Sultin Elementor WordPress theme!
Worth your investment Sultin was designed mainly for advertising consultations, financial services, marketing agencies, and other consulting business-oriented companies.
It can also be a cool solution for freelancers.
Sultin has a high-quality design, a real-time editor (view your changes and keep or reject them instantly), and professional support that will help you with small or big dilemmas.
Besides, you can play around with ENDLESS flexibility and extendability.
Moreover, you can create engaging contact forms that encourage your visitors to take the first step and get into contact with your business.
Sometimes we all need a little motivation to take the final decision about the services we need, which you can beautiful display with Sultin.
Have fun!
Sultin features:
410+ sales
4.4+ star ratings
Integrated slider
Back-to-top button
Price: $39 (may vary)
MORE INFO / DOWNLOAD
DEMO
::
Note: This article was originally published on July 11, 2023. But our team regularly reviews it and updates it with necessary improvements for accuracy.