These are the ultimate free WordPress charity themes that helped many of our users create quick nonprofit organization websites.
However.
After spending many months testing them with our clients' projects, these are more premium-like than anything else.
It can be really challenging to find a GOOD free theme, and that's why you came here.
We did the heavy work, so you enjoy a pleasant and quick page creation.
You don't have to worry about the technicalities (SEO, speed, responsiveness) and coding. Everything. Sorted!
This post covers:
Spread the GOOD word out there and PROMOTE your causes for the better.
What To Look In A WordPress Charity Theme?
We created this ultimate list by thoroughly testing each theme, so it'll still feel very premium, even if you're picking a free one.
Through this process, investigating the industry and working on client sites, these are the main features that make for a great charity theme:
Frequent updates tell you that the author is always improving the theme and ensuring its capability with the latest WordPress version.
A lightweight structure contributes to better loading speed, which improves the overall user experience. (You don't want to lose potential donors because of a slow-loading site!)
Beginner-friendly theme admin guarantees easy configurations and customizations for everyone – even novice users.
Great documentation allows you to get familiar with the theme and find answers to your questions. However, you can still access the support forum to get help.
Online donations work 24/7, which is a big plus for every charity. Thus, including a simple (or advanced) form will help you raise more funds.
Displaying your contact details (or a contact form) lets sponsors, donors and anyone else get in touch with you easily.
You'll have everything you need by the end of this list to start online quickly.
But don't forget to read our guide on installing a WordPress theme if you haven't done it before.
Enjoy.
Best Free WordPress Charity Themes For Nonprofits
1. Bosa Charity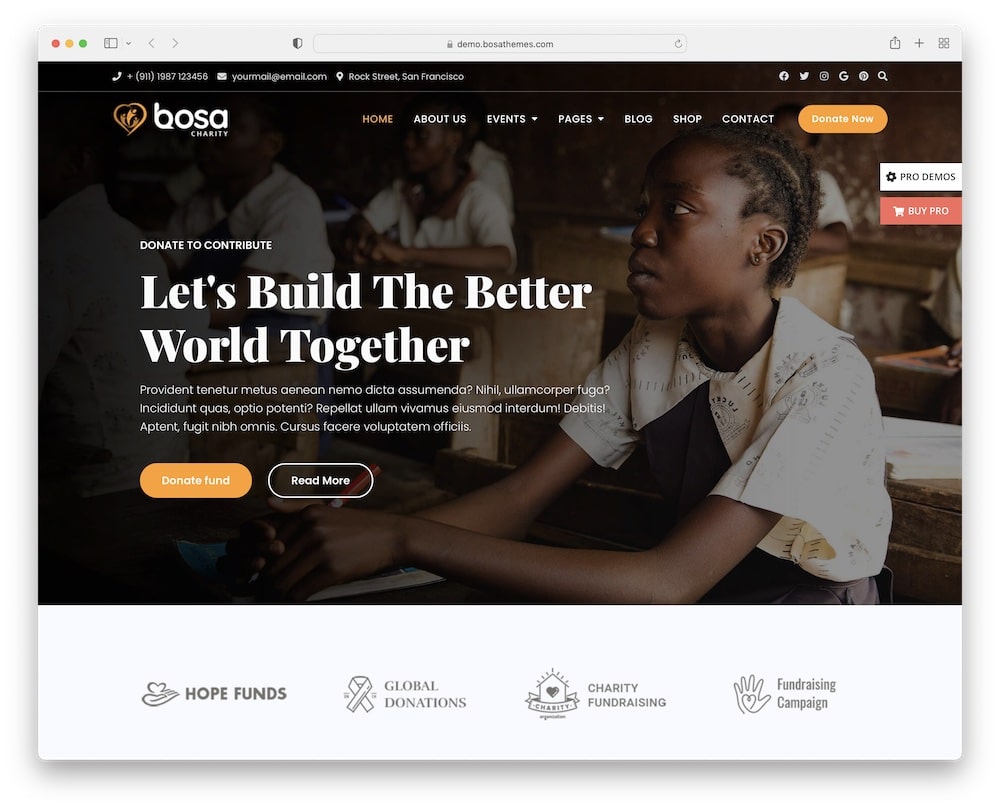 Modern Bosa Charity theme is ideal for fundraising events, volunteering opportunities, and charity news.
I easily edited this extremely customizable tool with Gutenberg (drag-and-drop solution).
Adjust the menu, setting header & footer, configuring sidebars, columns, or colors – it's all easy.
Plus, Bosa Charity is compatible with high-quality tools such as: Contact Form 7, WooCommerce, MailChimp, etc.
Several years ago, I hit a brick wall because I did not know about convenient plugins. Don't repeat my mistake; check them out!
Bosa Charity is also optimized for speed and built with SEO in mind. SWEET!
Bosa Charity features:
MORE INFO / DOWNLOAD
2. Fundraiser Lite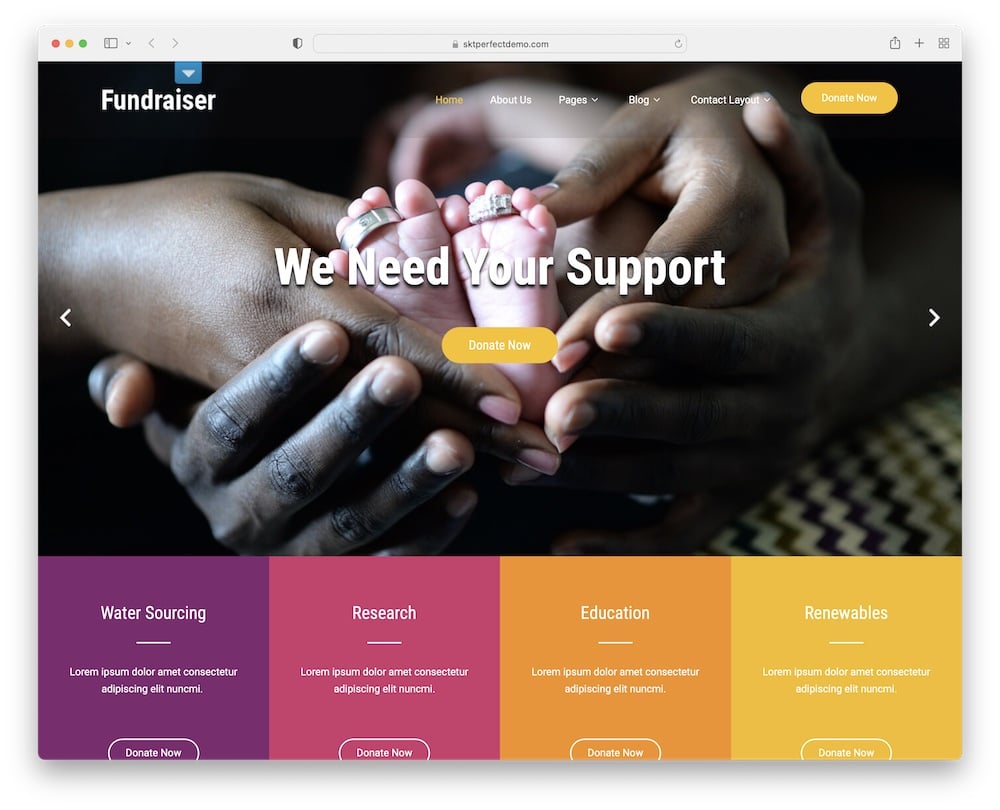 You came to the right place if you want to deal with different charity inspirations and fundraising ideas!
Fundrasier Lite free WordPress charity theme packs useful tools, gorgeous design, and pre-made layouts that you can quickly implement into your charity mission.
I love when websites are responsive and work well, no matter which device I use. Yup, Fundrasier Lite has a 100% responsive design and is cross-browser compatible.
HURRAY!
Oh yeah, Fundrasier Lite is also translation-ready (pick any WP translation plugin you want). Localize your site quickly (trouble-free).
Rise and shine by lifting others!
Fundraiser Lite features:
1000+ active installs
Includes blog section
Contact form
MORE INFO / DOWNLOAD
3. Charity Fundraiser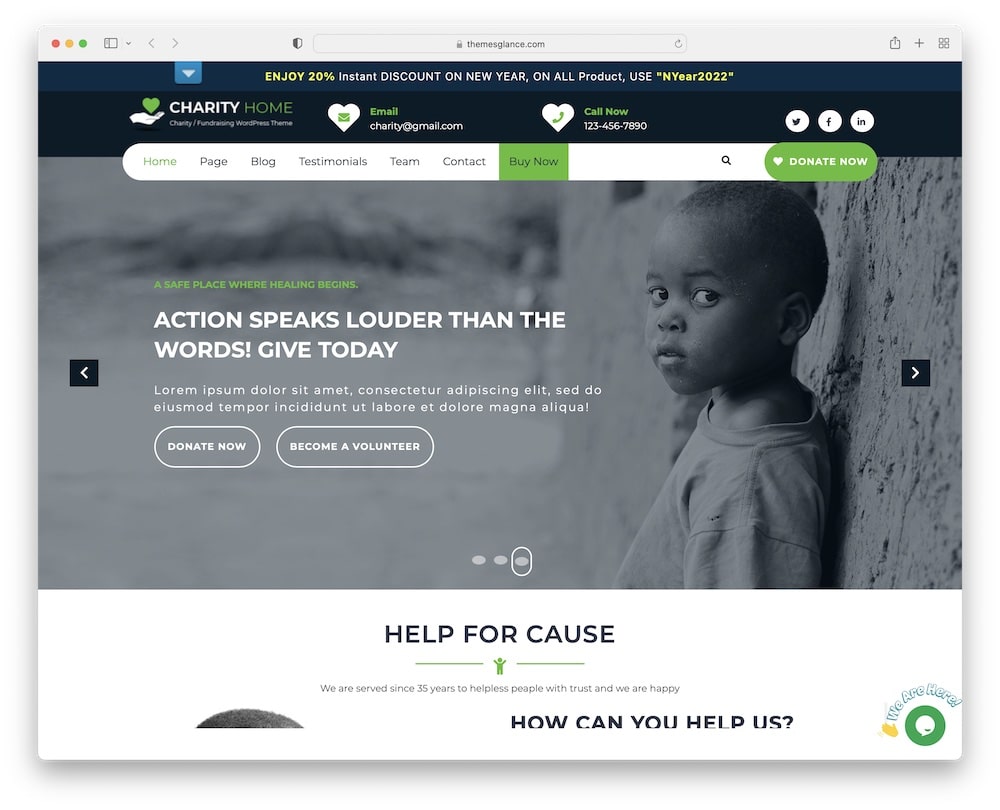 Focus on spreading kindness with the aid of Charity Fundraiser free WordPress charity theme. I highly recommend it.
Its inviting layout, user-friendly interface, and beautiful slider quickly get you the much-needed attention for your charity campaigns.
Make some noise with your BIG ideas!
Moreover, you can extend Charity Fundraiser functionality with expertly crafted plugins. Of course, you can also create banners to show gratitude to your donators.
Plus, Charity Fundraiser is social media-friendly for quick linking with your FAV platforms. I am excited as well!
Say YES to LOVE with Charity Fundraiser.
Charity Fundraiser features:
400+ active installs
Custom logo
Optimized code
Excellent documentation
MORE INFO / DOWNLOAD
4. Gutener Charity NGO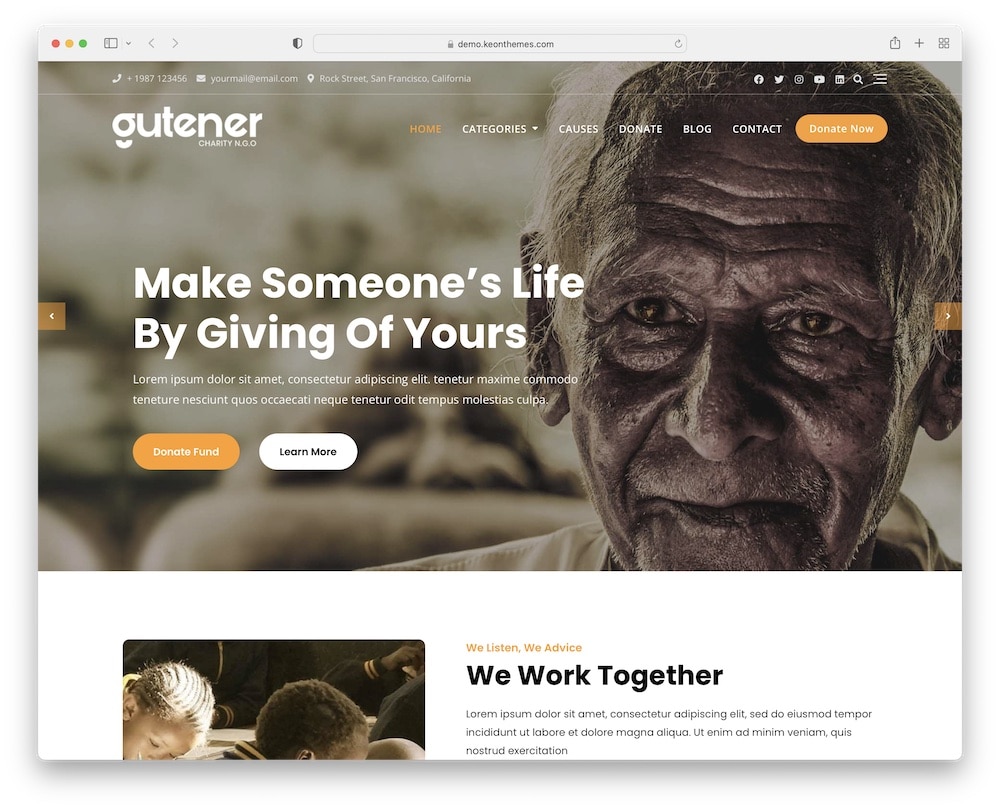 Share real-life stories, latest news, campaigns, welfare projects, and more with professional Gutener Charity NGO.
Pure BLISS.
This creative theme is Gutenberg-ready and comes with numerous customization options.
It includes multiple header & footer layouts, different Google fonts, white & dark skins, pre-loader animations, and unique icons.
Moreover, you can easily highlight your work, stories, cause, and other charity content that can be relevant to potential donors with a blog.
I always try to connect with my audience!
Gutener's friendly customer support is ready for your questions and dilemmas. Keep calm and use email support 🙂
Gutener Charity NGO features:
800+ active installs
Multiple header & footer options
Notification bar
MORE INFO / DOWNLOAD
5. Revive Charity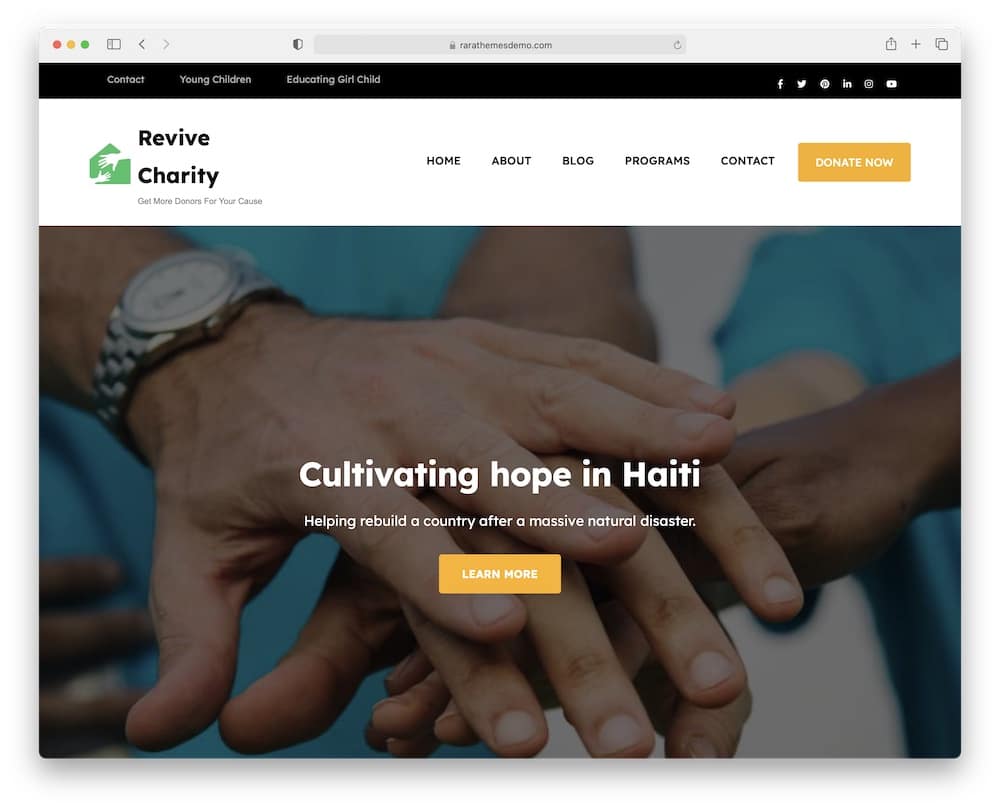 If I were a donor, I would want to understand a fundraising organization by visiting their website. (As quickly as possible.)
SO be professional & transparent with your story, idea, and purpose of collecting funds!
The modern Revive Charity free WordPress theme includes everything for your new website.
The theme is SEO-ready, loads super fast, and is ideal for mobile phones. MEGA.
You can import Revive Charit's ready-to-use homepage with single click (!). I also worked with its numerous WP widgets, slider, blog, social media icons, and unlimited colors.
Of course, Revive Charity's donation section is a spot-on feature (can help you catch user attention).
Plus, you can display your backer logos in the sponsor section (build credibility and trust). GOLD!
Revive Charity features:
200+ active installs
22 editable widgets
Stats counter
Donations
Translation & RTL ready
MORE INFO / DOWNLOAD
6. NGO Charity Donation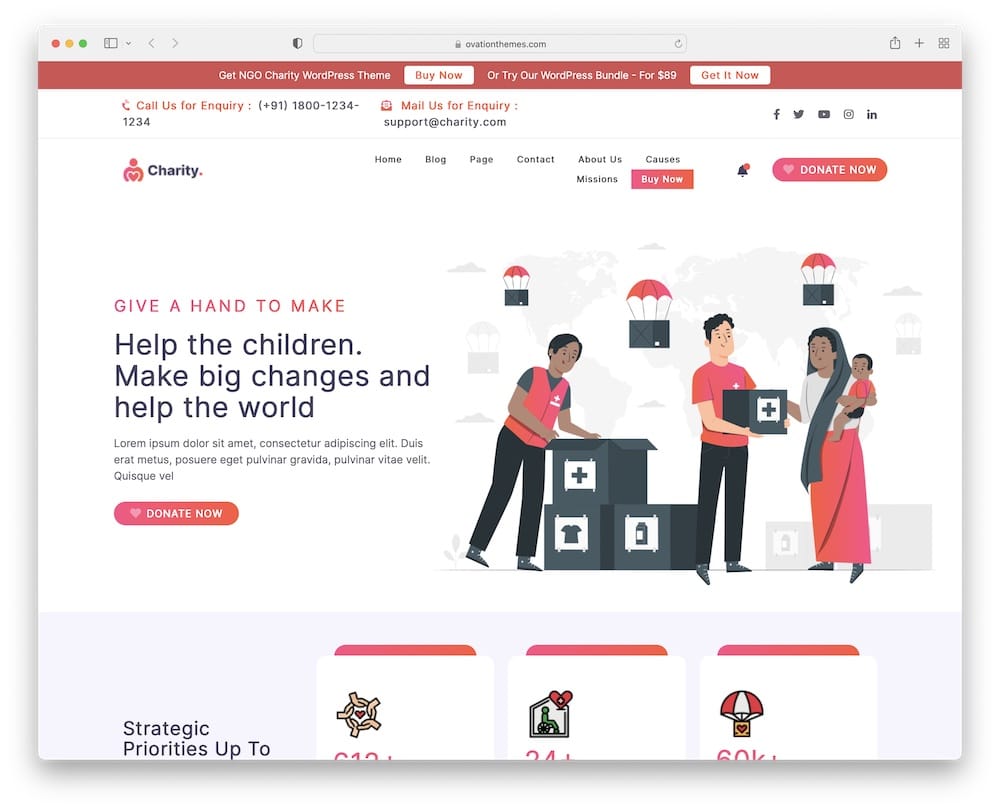 You can make a significant difference for others with the timeless NGO Charit Donation free WP theme. Spread the message of GOOD!
I played with adjusting its homepage entirely to fit my client organization's needs.
Simply mix, match and change WP sidebars, widgets, inner pages, background pictures, logo, and fonts.
You can also start a blog and create posts about philanthropy, strategies, activities, personal stories, and donors.
NGO Charity Donation is securely coded, optimized, and frequently updated (great foundation). The conclusion?
Give generously with NGO Charity Donation.
NGO Charity Donation features:
200+ active installs
Modern design
Carousels
Filterable causes portfolio
Volunteer application
MORE INFO / DOWNLOAD
7. Mega Charity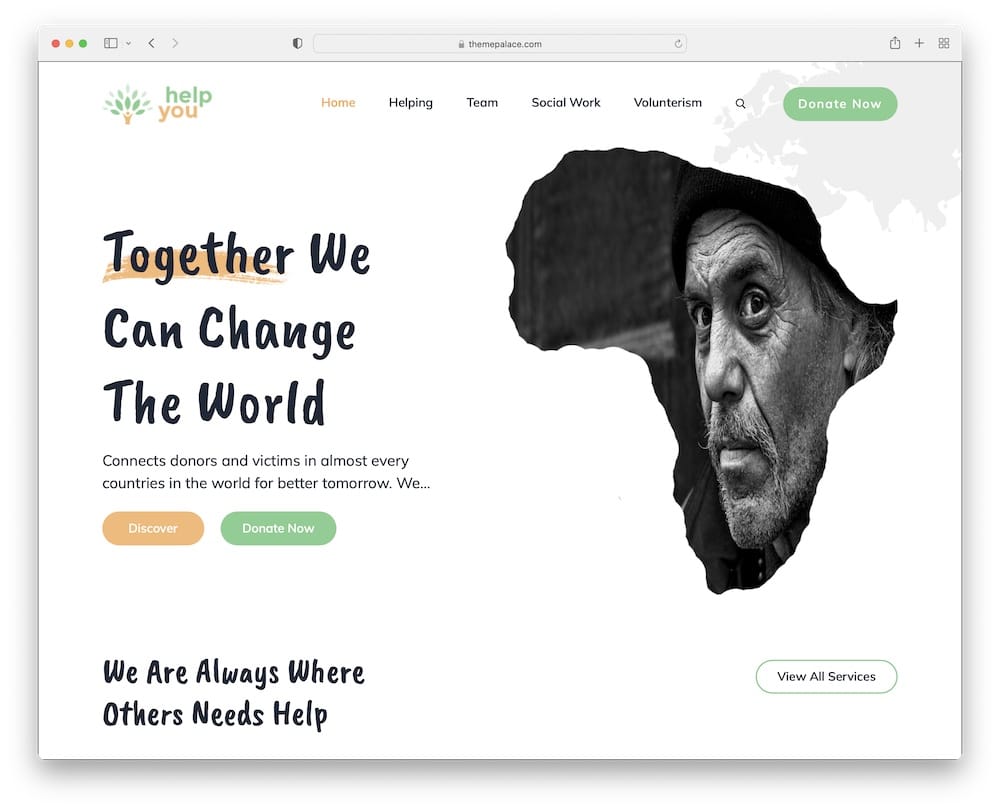 You can make this year unique in partnership with the amazing Mega Charity free theme. Keep in mind that generosity feels good (scientifically approved).
Mega Charity ensures a quick start due to a pre-designed and fully functional demo. Sounds like magic? It is even better!
It comes with numerous creative opportunities – I love using unlimited colors, practical sections, banners, and layouts.
Plus, you can easily change the header and footer!
Mega Charity has a responsive design for the best user experience.
Give kindness a BOOST!
Mega Charity features:
70+ active installs
Custom CSS
Contact section
Easy reset customizations option
Configurable background
MORE INFO / DOWNLOAD
8. FT Charity NGO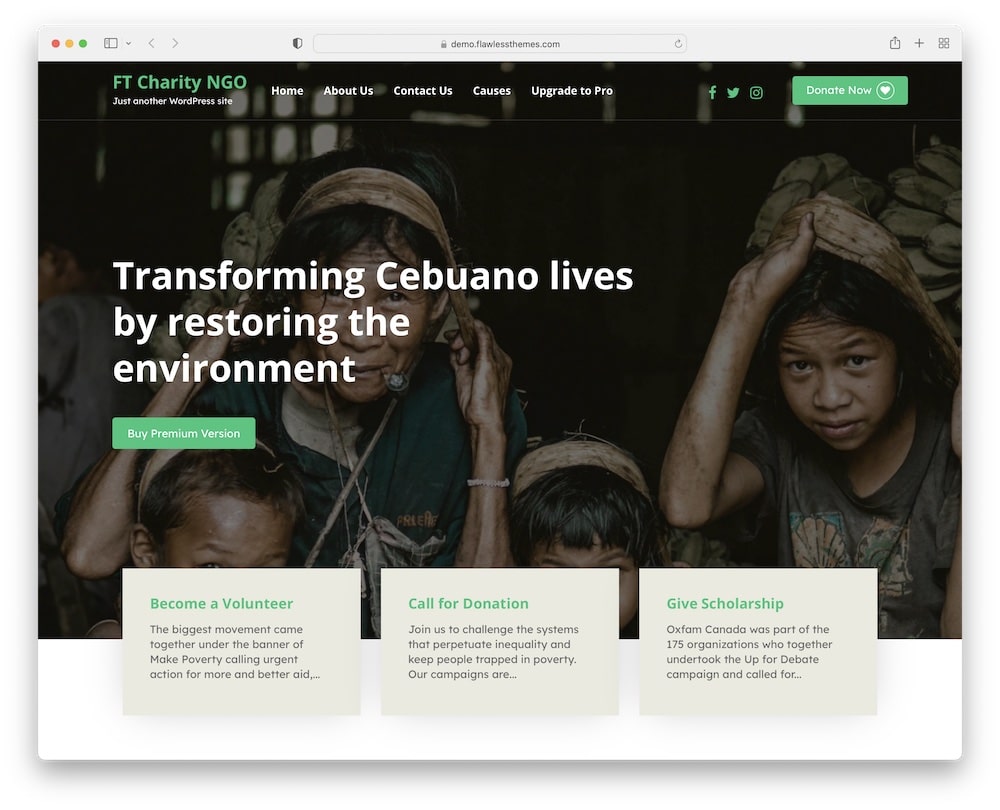 If your mission is to increase generosity, then it's the perfect time (NOW) to make a website with the stunning FT Charity NGO theme.
Here is how it works.
You can effortlessly adjust FT Charity NGO and shape it to your organization's uniqueness. You can start uploading your content, images, and essential info right away.
Trouble FREE.
Next, you can accept donations and organize fundraising with the help of the brilliant Give plugin (fully compatible). Smart, right?
Start today and spread HOPE to the world!
FT Charity NGO features:
100+ active installs
Transparent header
Dark footer
Great mobile experience
MORE INFO / DOWNLOAD
9. CharityUp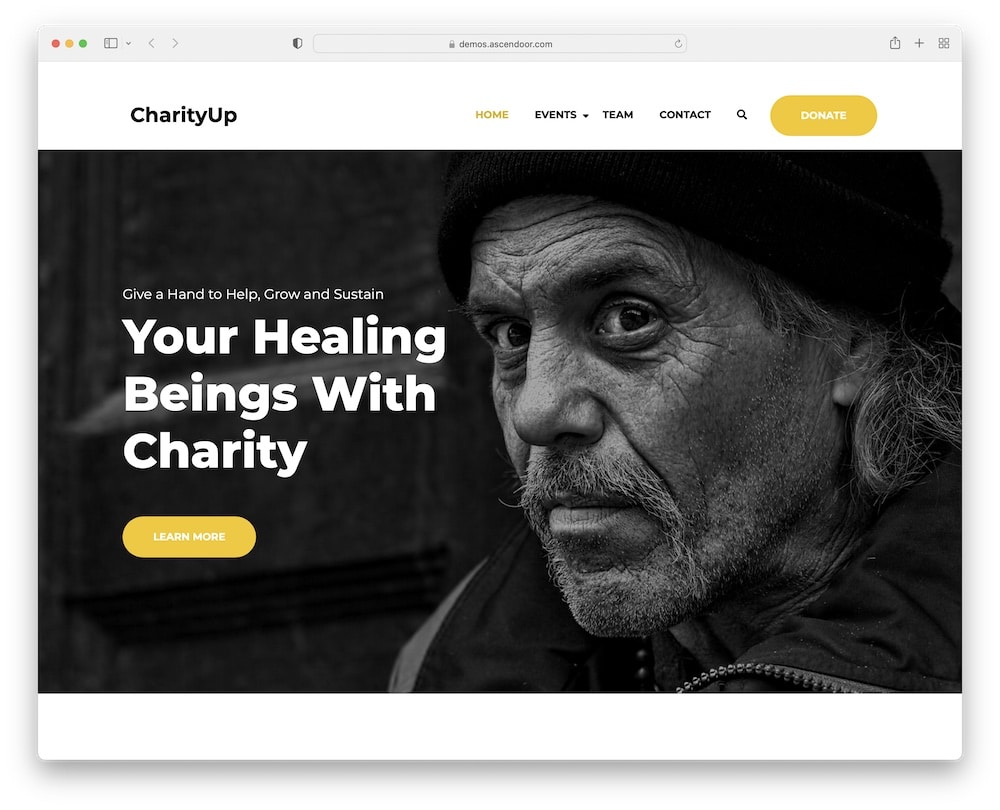 Share your fundraising goals with CharityUp free WordPress charity theme and achieve your aim – TOGETHER!
Professional looking CharityUp is fully responsive, translation-ready, and WooCommerce compatible (one of the most famous plugins for online stores).
And HEY, you can rearrange CharityUp's sections with the drag-and-drop function. Also, set colors, add images, choose fonts, columns, and much more effortlessly.
(I am obsessed with adding various (useful) widgets.)
And you can also place a newsletter subscription to your CharityUp homepage to grab their emails and stay in touch.
Be enthusiastic. BE YOU.
Don't just take my word for it – see success yourself!
CharityUp features:
300+ active installs
Minimal look
Back to top button
Animated statistics
News module
MORE INFO / DOWNLOAD
10. Charity Foundation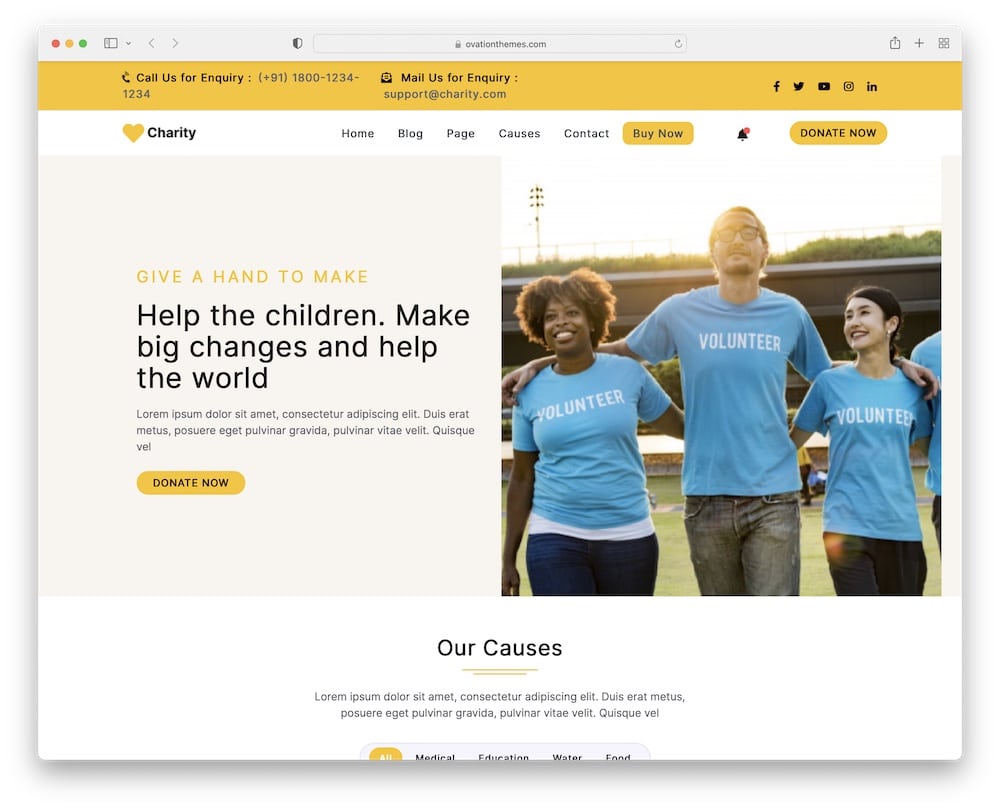 Are you ready to improve your engagement with donors? Let's dive in!
Keep your eye on the beautifully designed Charity Foundation free theme. It works smoothly, offers highly-responsive layouts, and is SEO friendly.
My sweet online home!
Furthermore, Charity Foundation is easy to operate and remake. Choose your configurations, change the slider, and you're ready to roll.
Plus, social media icons are a MUST!
Because of its cross-browser optimization, your audience can easily access your website through the most popular software such as Google, Safari, Firefox, etc.
So. Necessary.
Make a difference with Charity Foundation!
Charity Foundation features:
400+ active installs
Custom menu
Latest news/blog
Social media options
Frequent updates/improvements
MORE INFO / DOWNLOAD
11. Charity Zen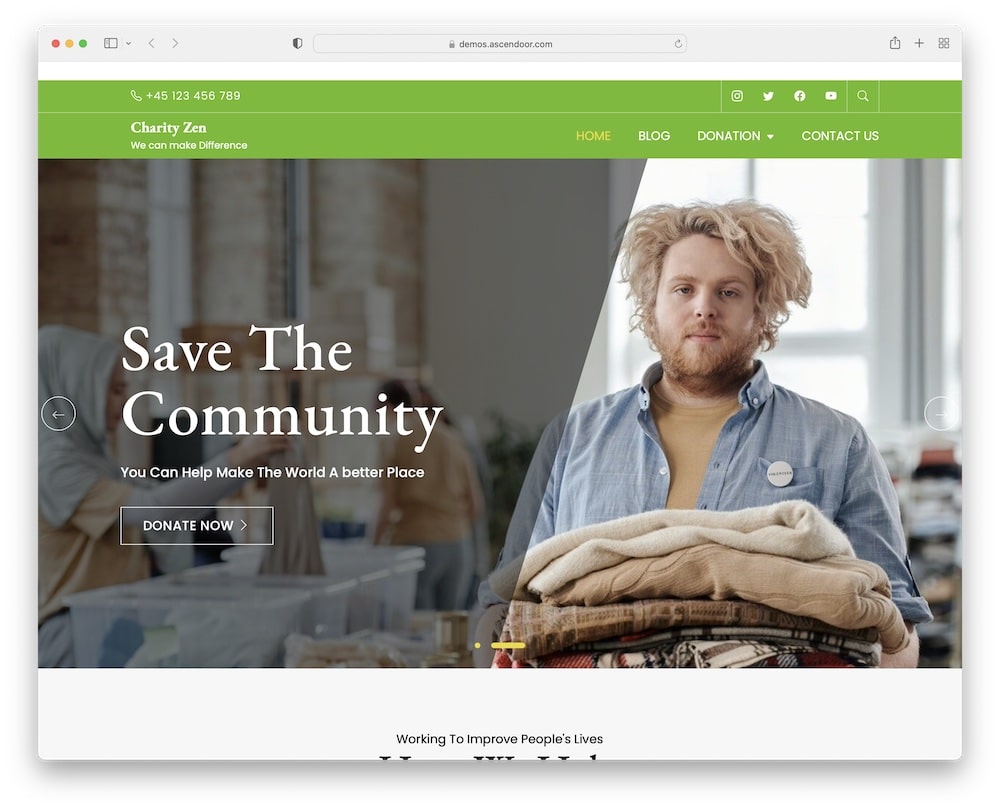 Reach out to the donors with Charity Zen free WordPress charity theme. Don't worry, though – this theme is quickly adjustable to your professional aspects.
You can personalize the attractive homepage with colors, gorgeous fonts, custom widgets, sidebar options, and unique icons.
Oh, and I love to check out different plugins to make my website more functional.
Also, you can (and should) create a blog. It helps you share news, successful projects, and charity campaigns, driving traffic to your site.
WINING situation!
You can reach a wider audience for positive charity impact with translation-ready Charity Zen.
Kindness grows with Charity Zen!
Charity Zen features:
MORE INFO / DOWNLOAD
12. Clean Charity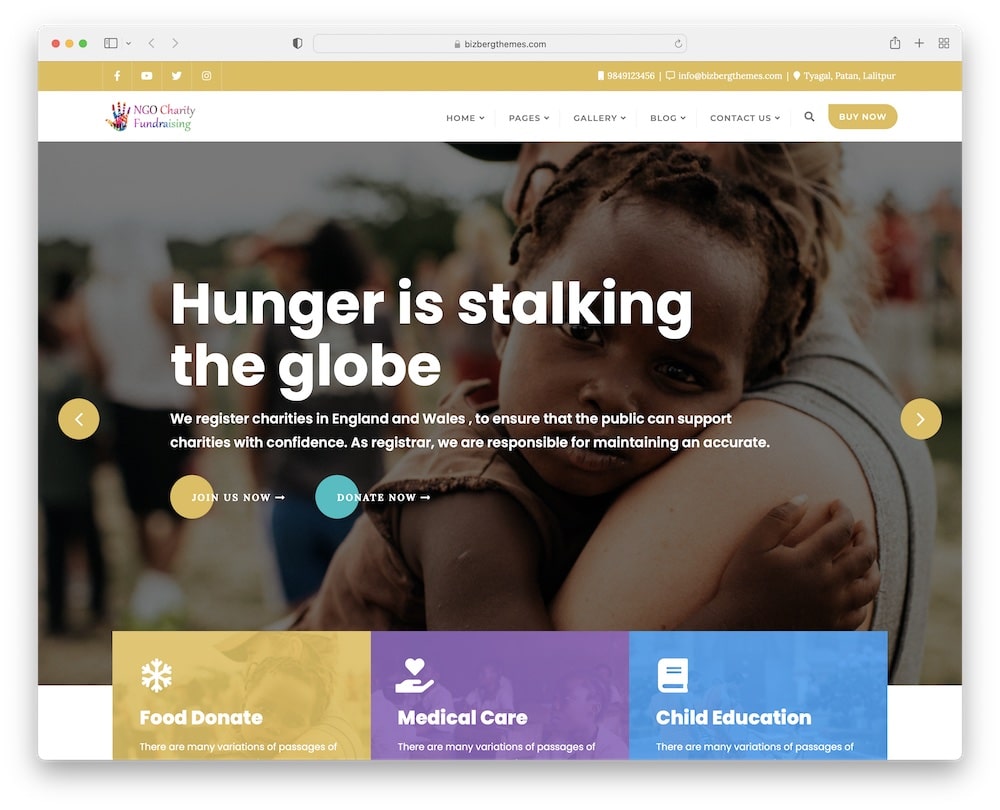 Establish your position as a charitable organization with the empowering Clean Charity free theme.
Let me explain.
Clean Charity is a professional theme with an elegant layout, handy features, and friendly customer support.
The best part is that you can quickly modify it, even if you have NO coding experience (a breeze to work with). Hallelujah!
I styled it with playful colors and high-quality images to jazz up the pre-made look.
On top of that, Clean Charity is cross-browser compatible, totally responsive, and offers the best SEO practices.
As a BONUS, you can level it up as a multilanguage site (translation-ready).
HI5!
Stand out from the crowd with more than just a site – build a trusted brand!
Clean Charity features:
400+ active installs
Supports Elementor builder
Speed & SEO optimized
1-click demo import
Scrolling animations
MORE INFO / DOWNLOAD