Are you ready to work on your website like a pro with these best WordPress music themes?
They work for solo artists, bands, recording studios and music shops with ease!
And instead of doing the hard work from scratch, we compiled a list of the ultimate fourteen.
These cover everything, regardless of the genre.
Even building a music platform.
TUNE. IN.
How To Pick The Right WordPress Music Theme
The main thing to ask yourself before choosing a theme is, "Will it help me save time and create the website I want?"
We did all the necessary testing to confirm that all WordPress themes on this list are easy to use and have heaps of features and functions to satisfy even the pickiest users. (Plus, they're optimized for excellent performance!)
But it really comes down to what type of music page you want to build. Will it be for a band or for a recording studio? Maybe you want to create an online music store?
Do you need a section for events and upcoming shows? And call-to-action buttons for selling tickets?
Would you like to start writing a blog?
Or maybe you'd want to play audio in the background while fans browse the page?
Once you have a list of features you need, scroll down and choose the theme that meets your needs.
THE ULTIMATE 3:
Best WordPress Themes For Musicians
1. Uncode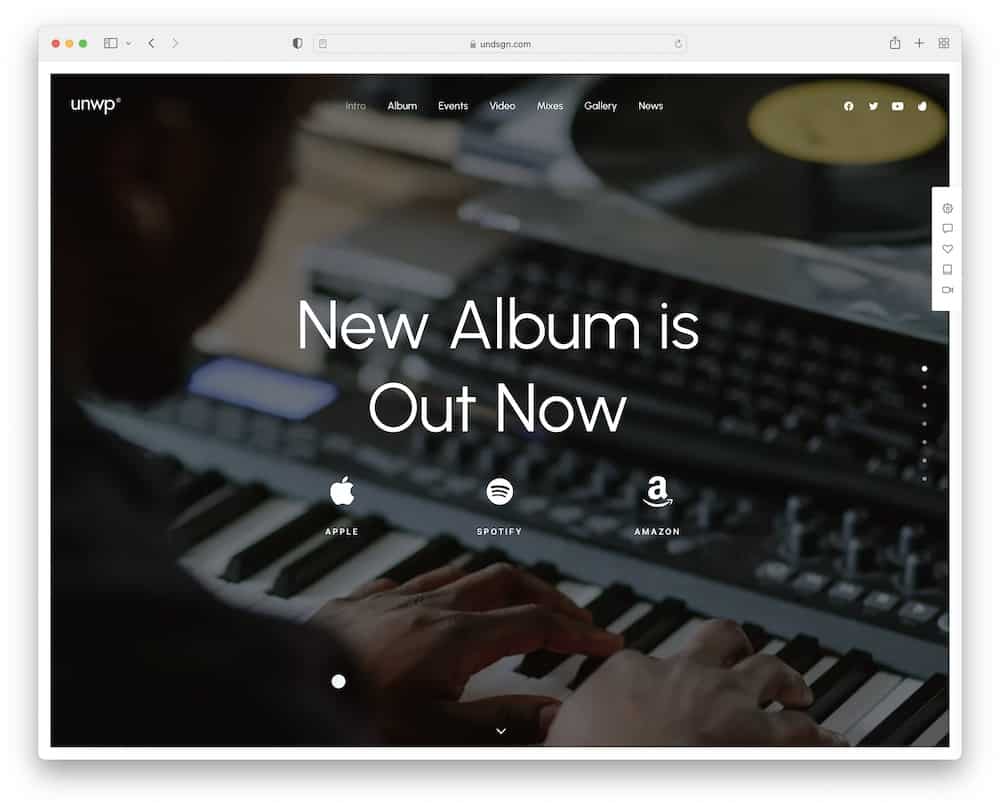 Become the most trusted voice in music with Uncode WordPress themes.
A modern, flexible, and attention-grabbing theme!
There is no need to start from 0 up due to Uncode's pre-designed homepage (plus, you save time and $$$).
Import a demo and create anything you want without coding knowledge. DAMN.
But wait, there's more.
You can offer daily music news, album reviews, and insight into your favorite genres via the Uncode blog. Plus, if you are a musician you can showcase your artistic portfolio.
This really can be your best year EVER!
I am a BIG fan of the WooCommerce plugin. Picture this, you pick the best albums and sell them in your online store. Give me five.
Excited for the future yet?!
Uncode features:
111,000+ sales
4.8+ star ratings
Frequent updates
Unlimited options
Price: $59 (may vary)
MORE INFO / DOWNLOAD
DEMO
2. Kallyas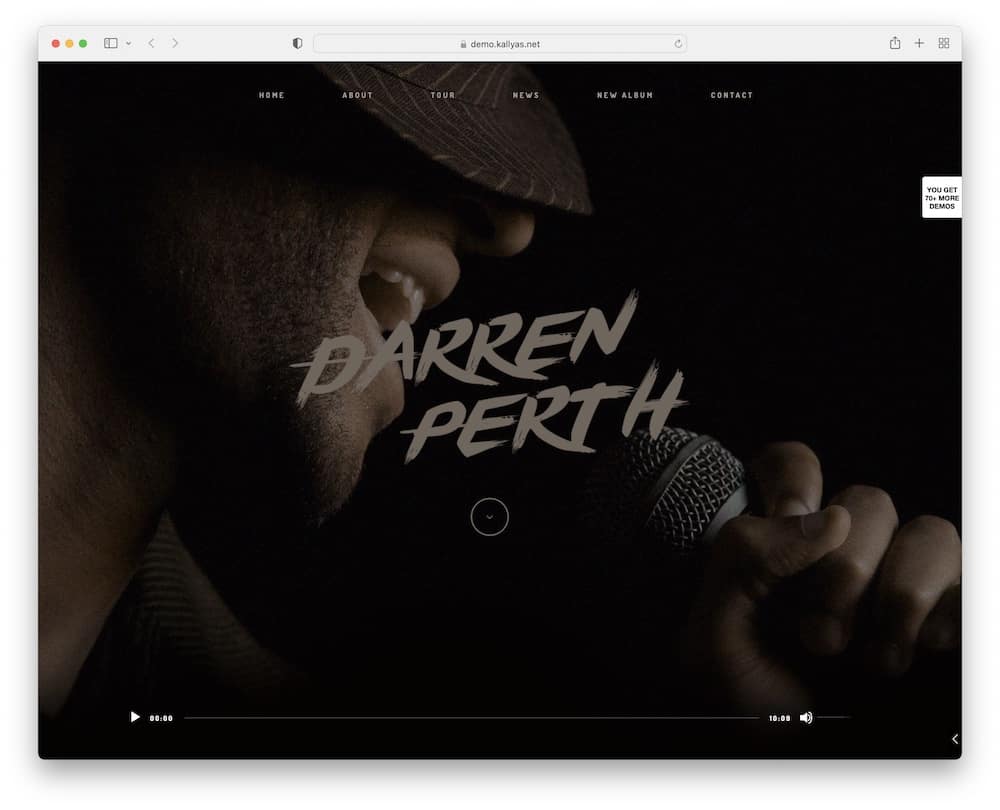 Whether you're a musician or a music lover, you will find Kallyas WordPress music theme one of the best resource for your website idea.
Brilliant Kallyas is optimized for speed, adapts to any screen, and has an excellent SEO infrastructure.
Make your website POP with the stunning Slider Revolution (included for FREE). Choose from fixed, auto-responsive, custom, or full-screen layout.
And you can even set up multiple videos on one slide or have a whole slider as a video.
Pretty COOL!
Your personality can be shown with a special color selection – unlimited options.
Oh, and check out the AWESOME parallax effect – the adjective FUN associates brilliantly with it (longer page scrolling guaranteed).
Turn up the volume with Kallyas!
Kallyas features:
51,000+ sales
4.7+ star ratings
Easy online store creation
Excellent support
Price: $69 (may vary)
MORE INFO / DOWNLOAD
DEMO
3. Soundboard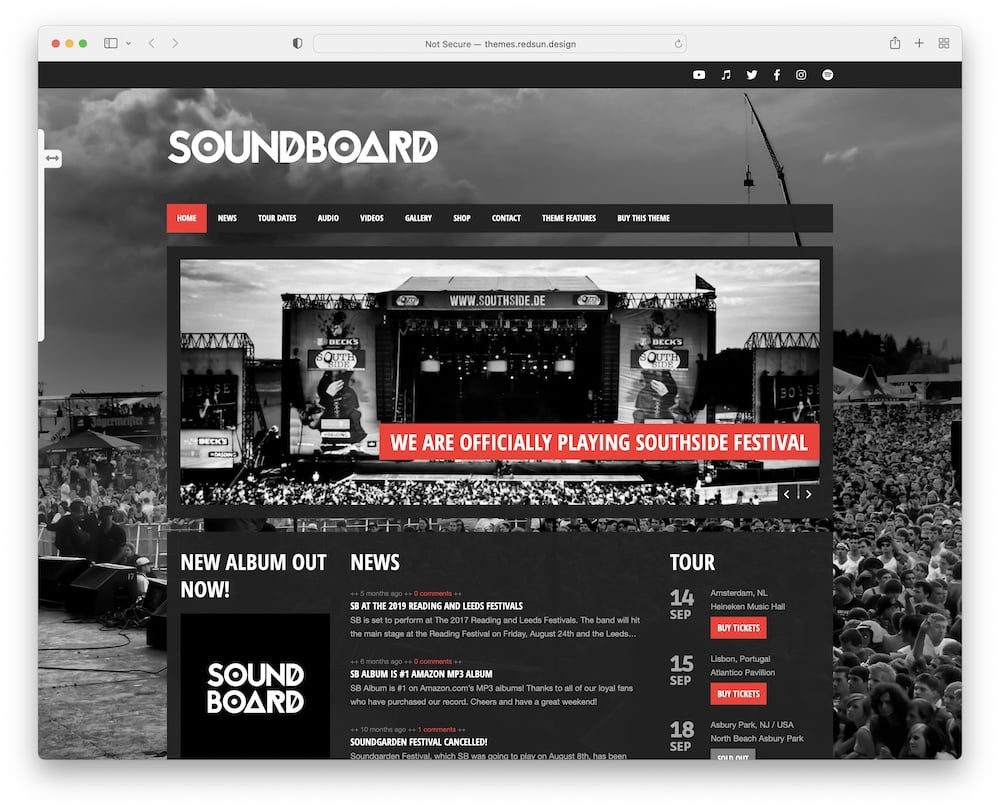 Feed your audience with the latest news regarding the most loved bands, favorite genres, and even gossip about new music projects.
My favorite part of Soundboard WordPress music theme is that is made as much for you as for your fans!
Modern Soundboard comes with light and dark skin so that you can completely change the look and feel of the site in seconds. A major value for the eyes at night-time!
You get the design all laid out in neat categories – a LIT display of tour dates, event galleries, discography, and music videos (YouTube, Vimeo, etc.) at your fingertips after importing a Soundboard demo.
A dream come true!
Go BIG and BOLD with Soundboard.
Soundboard features:
5,200+ sales
4.6+ star ratings
Price: $49 (may vary)
MORE INFO / DOWNLOAD
DEMO
4. Lucille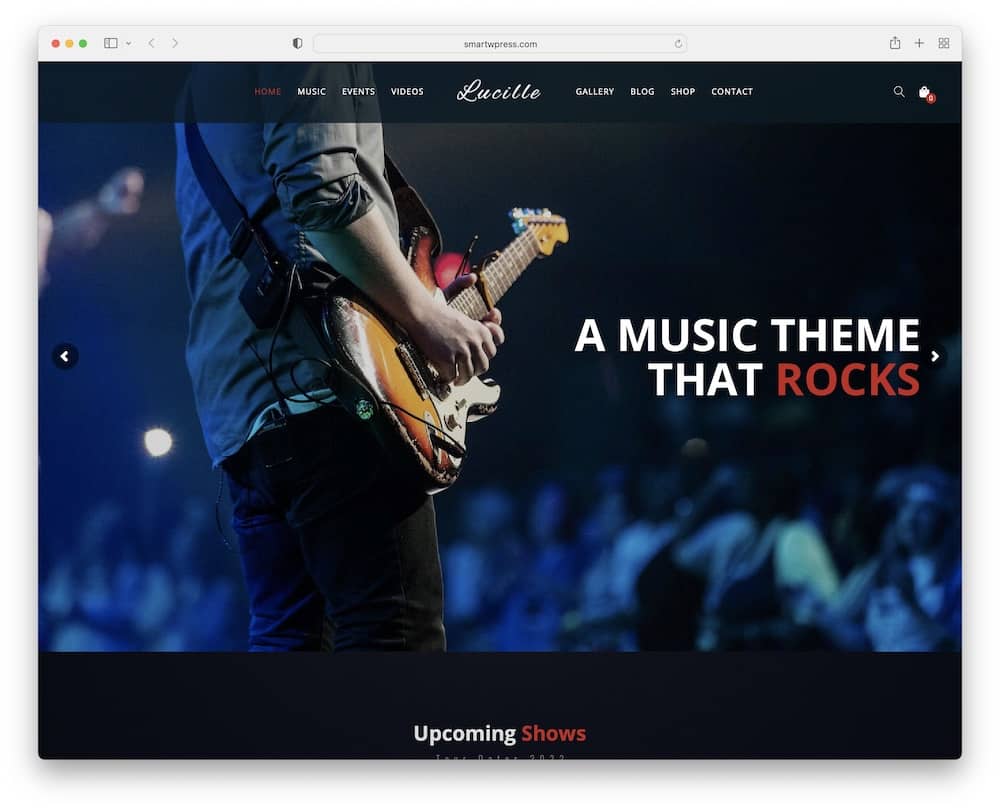 It doesn't matter if you're into folk music, metal, techno, country, rock, or rap, we're all passionate about our favorite artists.
But you can NOW show your passion with Lucille WordPress music theme.
SWEET.
It comes with Elementor AND WPBakery page builders (I love about both).
You can add any type of content to your page (blocks, columns, modules, or widgets) with the drag and drop functionality.
Professional design without using a single line of code. YES, please!
Moreover, you get various menu styles, custom logo settings, and changeable full-screen background.
Oh, and you are easy to follow with Lucille's social media integration!
Lucille features:
3,300+ sales
4.8+ star ratings
Multiple niche demos
Built-in audio player
Price: $64 (may vary)
MORE INFO / DOWNLOAD
DEMO
6. Muzak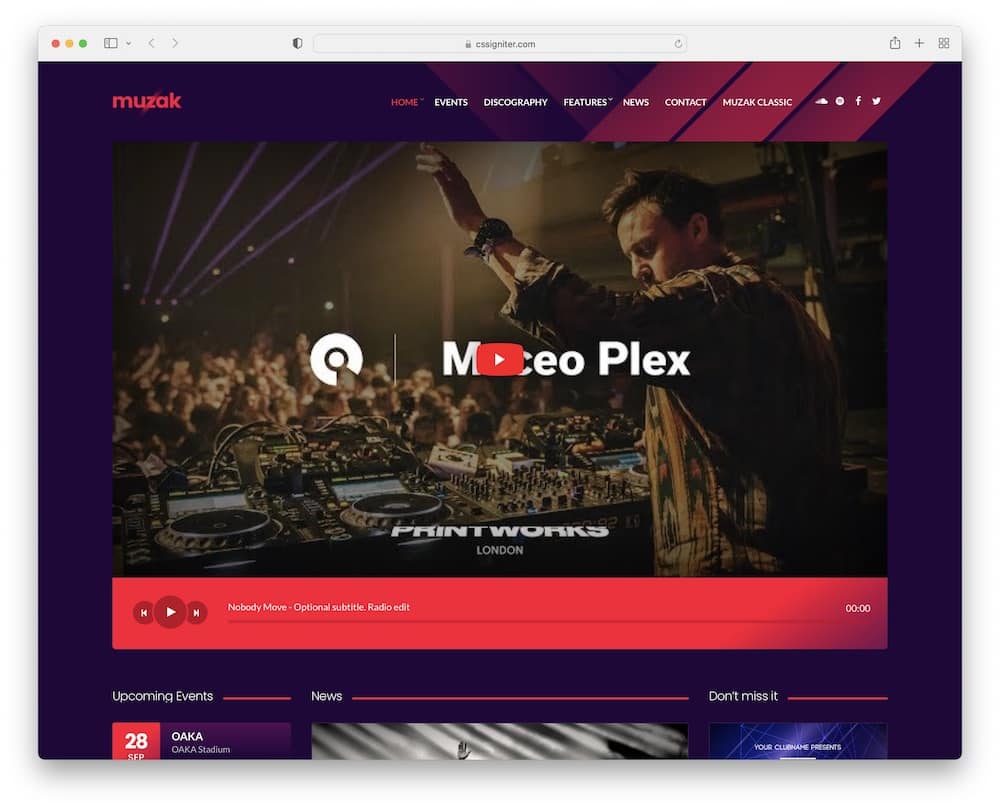 Explore different genres with the fantastic Muzak WordPress music theme.
Muzak offers pre-made post types, unique widgets, and unlimited colors. Of course, you can create your online store and sell albums, tracks, tickets, etc.!
In fact, with aid of brilliant discography management, it's easy to organize albums and songs, so that fans can download a popular track, check out lyrics or buy an album.
I know, meet your true match. This plugin is for you!
And let the puls of your passion reach people globally due to the translation-ready option.
Get the vibe of the online community and contribute value to music with Muzak.
Muzak features:
2,900+ sales
4.5+ star ratings
Price: $49 (may vary)
MORE INFO / DOWNLOAD
DEMO
7. Speaker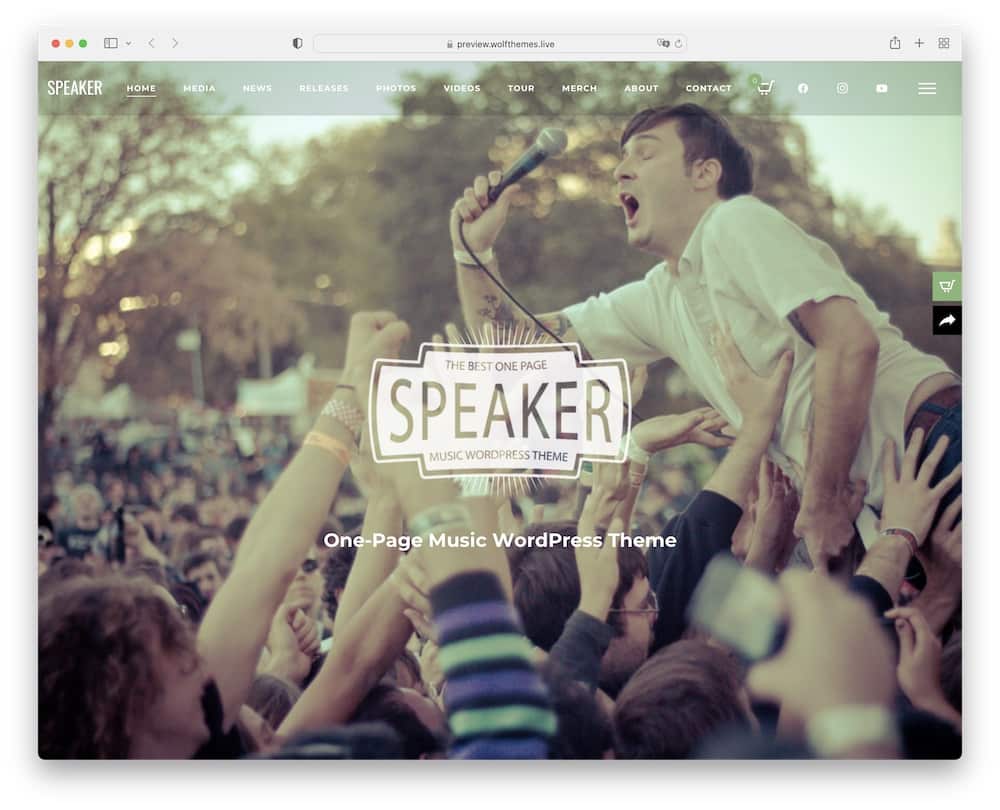 Give it a go with the professional Speaker WordPress music theme.
You can import Speaker in no time and customize it to your personal needs (live preview). Plus it includes all the necessary tools for visitors' eyes to anchor.
Go ahead, upload your video content and set it as background for any section.
WORTH IT, you guys! So worth it.
Furthermore, Speaker includes an advanced MP3 player, multiple playlists, and a discography display.
Spread your music online and generate BUZZ.
Also, be strategic about social media – set up share buttons & social icons (for quick connection). I bet $50 that anyone reading this right now has a social media account!
Bring music lovers closer to the music with Speaker.
Speaker features:
3,300+ sales
4.4+ star ratings
One-page layout
Price: $59 (may vary)
MORE INFO / DOWNLOAD
DEMO
8. Decibel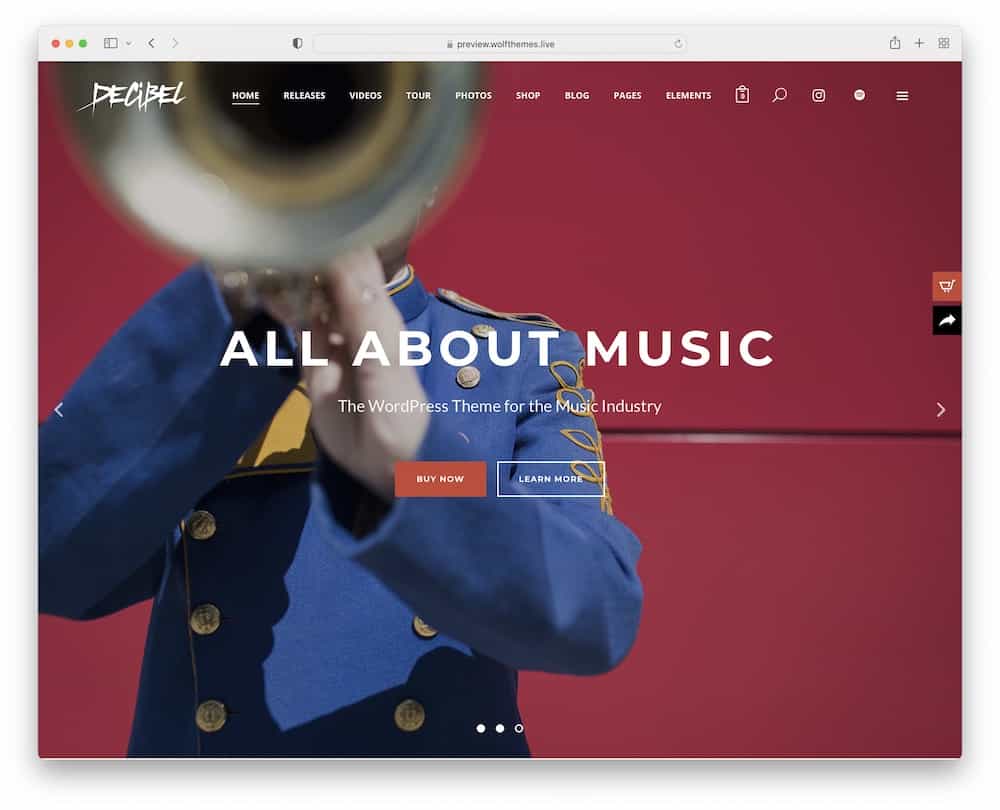 Start narrow, grow broad with the Decibel WordPress music theme (helping you shape your uniqueness).
Deep SEA of opportunity waiting for you!
Create a bold website that fits your music style in just minutes with the ready-to-use templates. They all come with flexible layouts and numerous inner pages.
You can as well design something completely new (0 coding knowledge needed)!
Decibel also includes a custom player, an event list, a discography, a video and photo gallery, and a tour dates section.
You can boost engagement with Contact Form 7 (collect data), plus send newsletters with MailChimp (endless options). ALL-IN-ONE automated marketing.
Activate Decibel today!
Decibel features:
4,300+ sales
4.5+ star ratings
Custom player
Price: $79 (may vary)
MORE INFO / DOWNLOAD
DEMO
9. Mixtape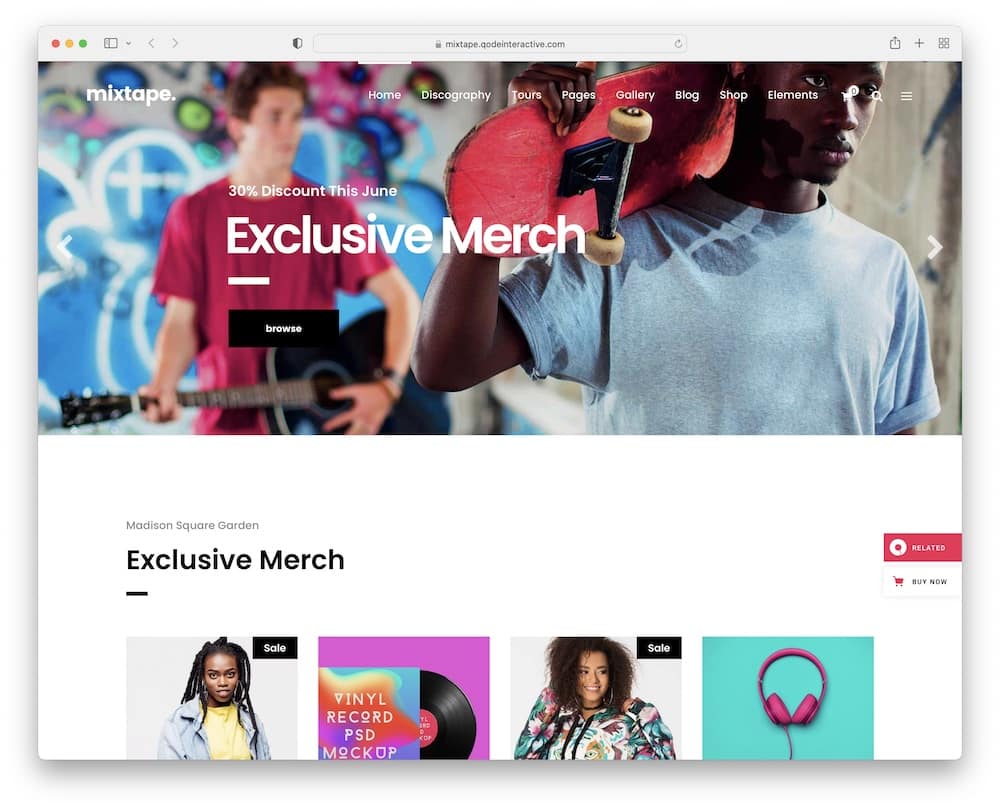 Mixtape WordPress theme for musicians offers you a place to get as creative as you like. Plus it is a precious tool to help you promote, publicize and share your music.
Get your GROOVE on pre-designed homepages, numerous layouts, unique shortcodes, and tons of Google Fonts.
Friends for life, y'all.
Treat yourself and your audience with a fully responsive design that automatically adjusts to different screen sizes.
ABRACADABRA – it's like magic.
It's worth saying that Mixtape includes a parallax effect to hit your visitor's eyeballs as an illusion of depth and movement.
I am always impacted by this feature and love to scroll a bit longer on sites with it.
Come on in!
Mixtape features:
2,100+ sales
4.5+ star ratings
Price: $85 (may vary)
MORE INFO / DOWNLOAD
DEMO
10. NeoBeat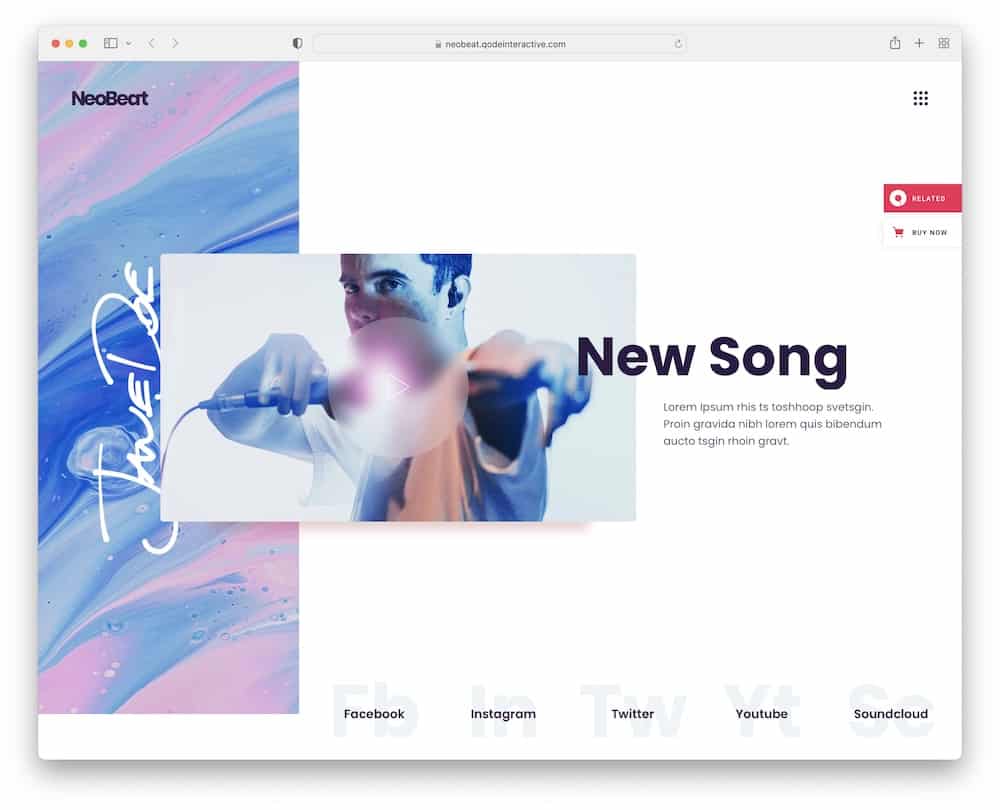 NeoBeat WordPress music theme makes dreams come true.
Not only does NeoBeat have every element and layout you need but it also integrates Elementor page builder (HERO). Import demo content with a click and START.
All the plugins! Unlimited colors! Google Fonts!
NeoBeat is waking me up in the best possible way. Are you excited, too?
BTW you can get exclusive access to artists, events, and concerts that you would never have had otherwise by starting a blog.
Dont be shy, I know you are ready to rock and roll.
But NeoBeat isn't really the star here. It's YOU!
NeoBeat features:
960+ sales
4.2+ star ratings
Music store
Price: $85 (may vary)
MORE INFO / DOWNLOAD
DEMO
11. Tabula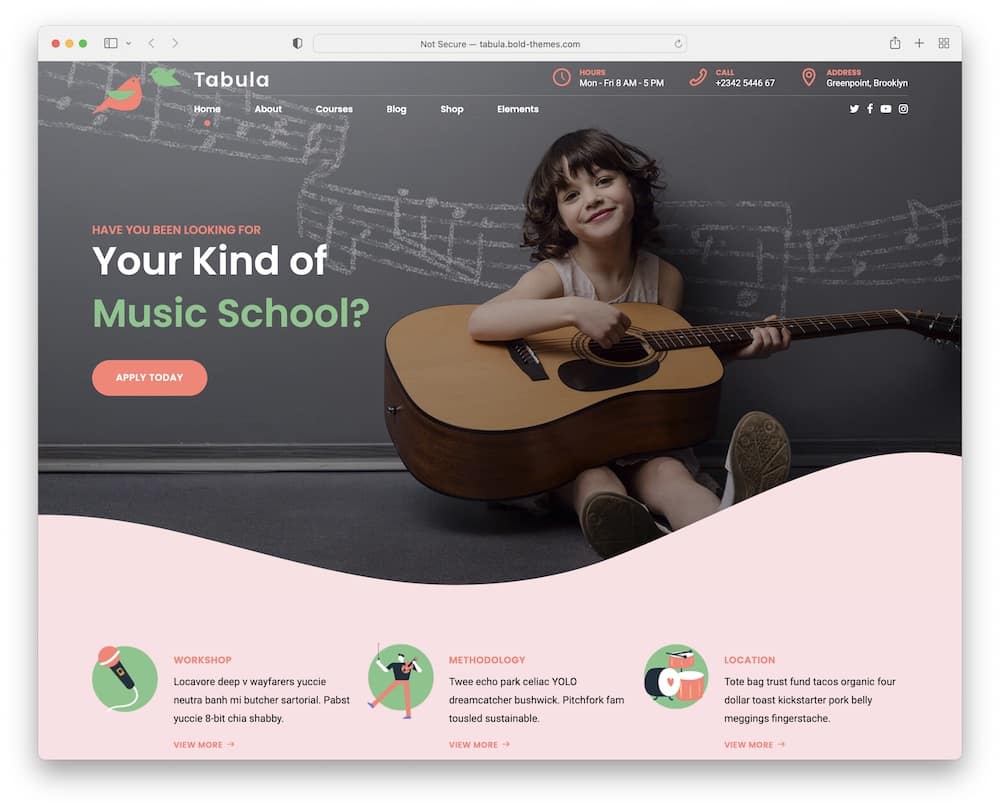 Tabula WordPress music school theme is where new musicians are born.
Tabula took inspiration from art and music and transformed them into a distinctive designs and carefully crafted inner pages. Ready for new discoveries?
I always start with the easy demo content personalization, thanks to the amazing control panel.
Choose from multiple header & menu styles, plus set up the sidebar, icons, and video options.
Moreover, Tabula includes attractive headline fonts with dashes (star, guitar pick, circle, art dot). Oh yes! This, my friend, you need to try ASAP!
NOTE:  you can display events, workshops, weekly schedules, location (Google Maps integration), and contact info. The very best of grab-and-do!
Tabula features:
1,200+ sales
4.8+ star ratings
Extensive documentation
Price: $69 (may vary)
MORE INFO / DOWNLOAD
DEMO
12. Meloo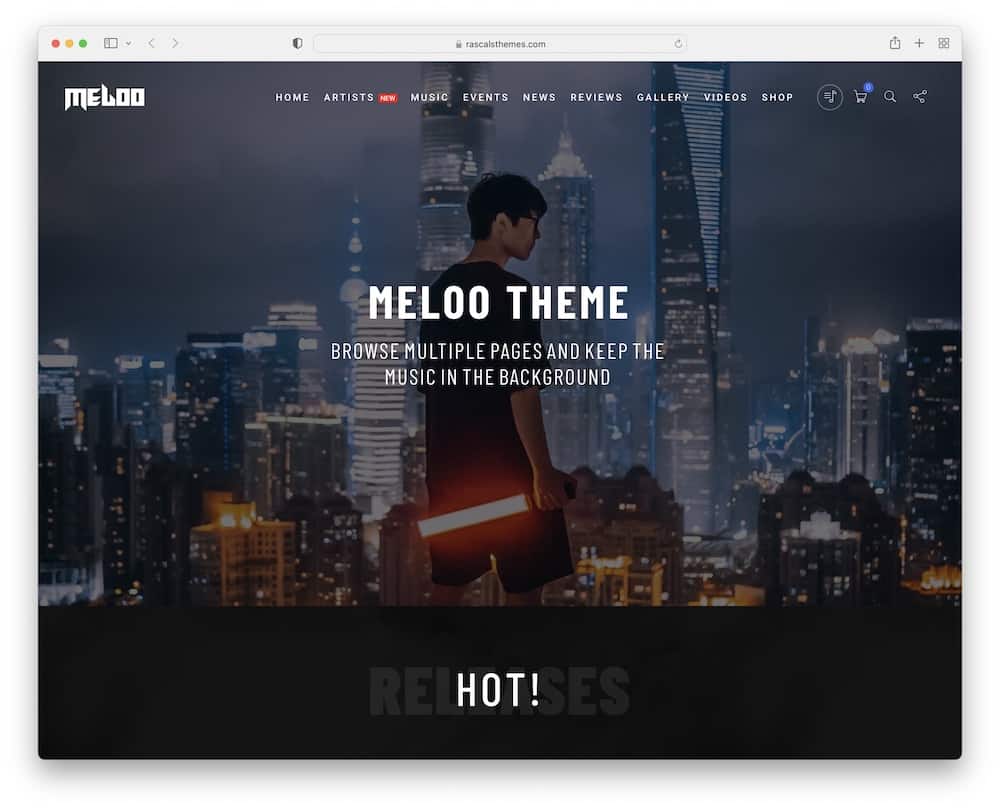 Please WELCOME into your life: Meloo WordPress music theme. Yeah? Okay!
Part one: choose a demo, click install, and unpack all its magic! That was easy.
Remember we also have a step-by-step guide on how to install a WordPress theme if you haven't done it before.
Part two: customize header design including elements like images, sliders, videos, titles, and maps (In your header section? I know, pretty COOL).
Part three: build your online business, sell music, event tickets, and other popular items.
Plus, you can earn money with ads – thanks, Meloo, for ready-to-use ad placements.
This one is a TREAT.
Your Meloo site can also play music in the background even if visitors are browsing through multiple pages. NON STOP.
Slick, fast, and dedicated to music!
Meloo features:
670+ sales
4.8+ star ratings
Supports child themes
Ad placements (monetization!)
Price: $59 (may vary)
MORE INFO / DOWNLOAD
DEMO
13. Slide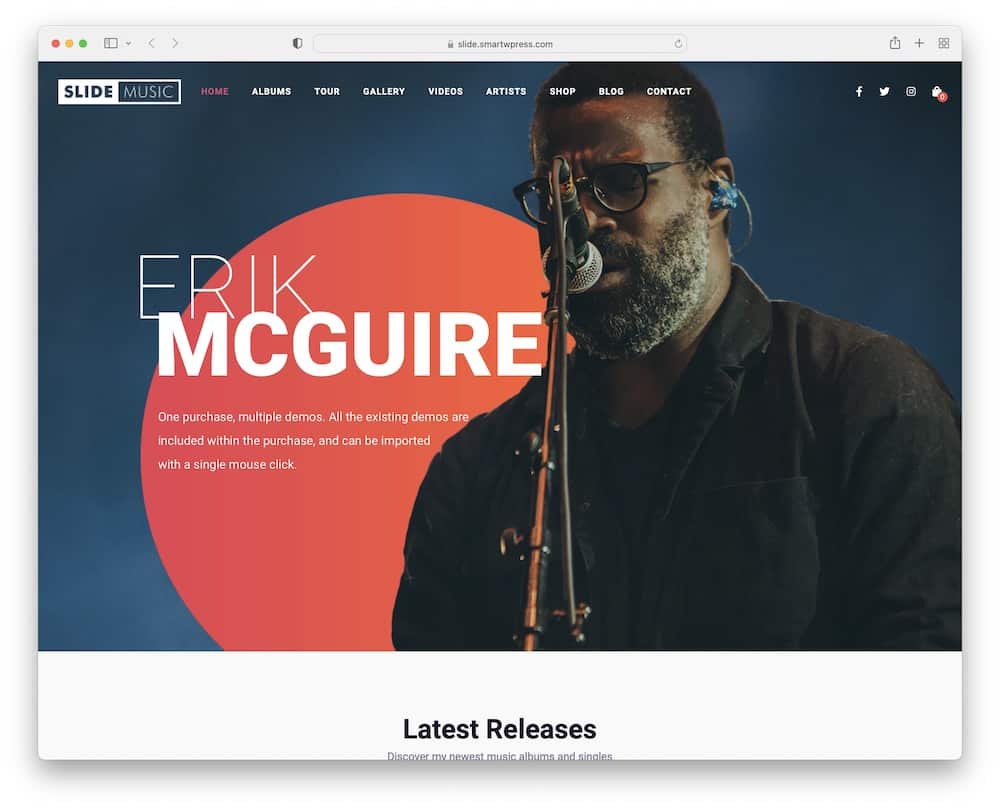 Slide was made for sharing. I first shared it with the ULTIDA team and now I am sharing it with you!
Creative and fresh Slide (follows the latest design trends) is packed with the most popular plugins!
You get total building freedom even if you are new to WordPress with phe-nom drag-n-drop function (says the girl obsessed with WPBakery page builder).
Plus, 20+ additional music elements help you create almost anything you long for.
Many people (including myself) like to grow a fan base with newsletter subscriptions. GOOD NEWS, Slide includes MailChimp!
What more could you want?
OH, OH, I KNOW! Slide's professional support team is a huge blessing!
Slide features:
1,300+ sales
4.8+ star ratings
Discography layouts
Latest releases
Price: $64 (may vary)
MORE INFO / DOWNLOAD
DEMO
14. Waveme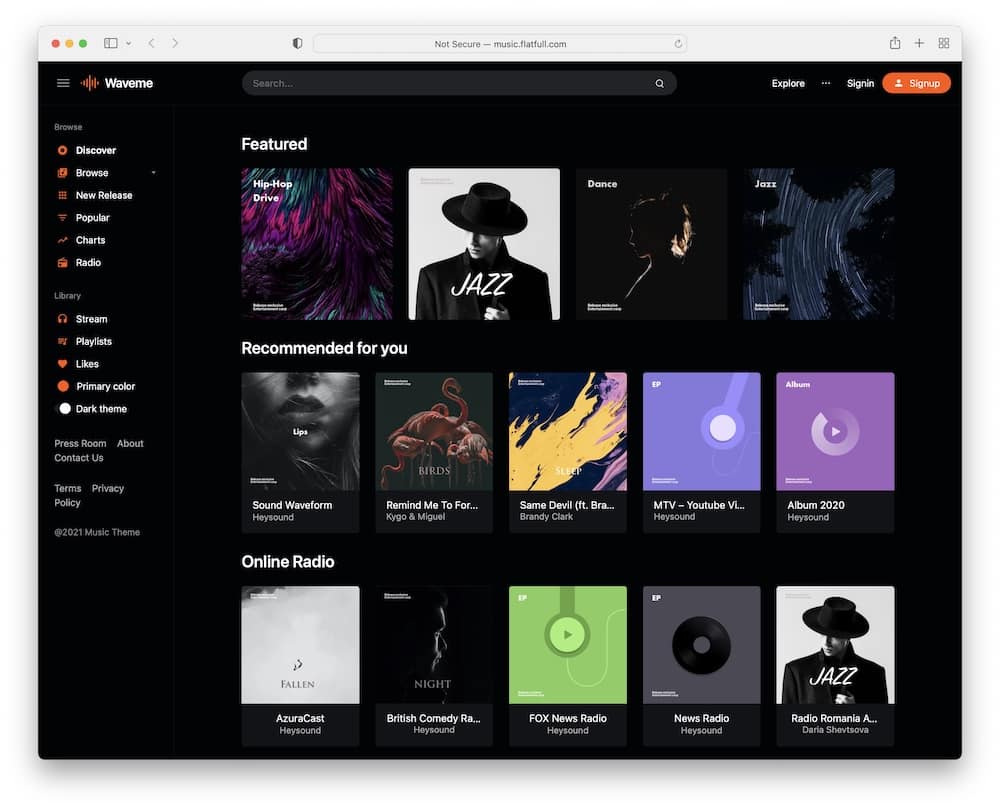 I look at Waveme WordPress music theme and my mind goes woooaah that's HOT as hell.
Impactful and minimalistic Waveme focuses on showcasing music discography, online radio, and popular playlists. It also beautifully presents artists.
In fact, signup users can browse through Waveme, like and follow artists, and manage playlists or albums.
Moreover, you can easily enable the dark mode button on your website to provide an eye-pleasing user experience.
More time spend on your site? GREAT!
You can't go wrong with FAB Waveme.
Waveme features:
520+ sales
4.2+ star ratings
Light & dark layout
For music platform
Price: $59 (may vary)
MORE INFO / DOWNLOAD
DEMO
::
Note: This article was originally published on July 11, 2022. But our team regularly reviews it and updates it with necessary improvements for accuracy.