You're in good hands with our collection of the best organic food WordPress themes regardless of your health-first project.
Instead of building your website from scratch or accidentally picking a low-quality theme, we made sure to keep you sorted with the ultimate.
Every WP theme comes with everything needed to start online quickly. (ALL-IN-ONE tools, if you will!)
With that in mind, each promises happy times after you pick it.
This post covers:
No coding is necessary to achieve pro-levels, which is ideal for beginners.
But pros can geek the hell out of each tool, too!
Make your organic food project stand out – NOW.
THE ULTIMATE 3:
Best Overall Organic Food Theme: Superfood
Best Organic Food Store Theme: Organik
Best Agriculture & Organic Food Theme: Agricom
You may also be interested in out tutorial on how to install a WP theme.
Best Organic Food WordPress Themes
1. Superfood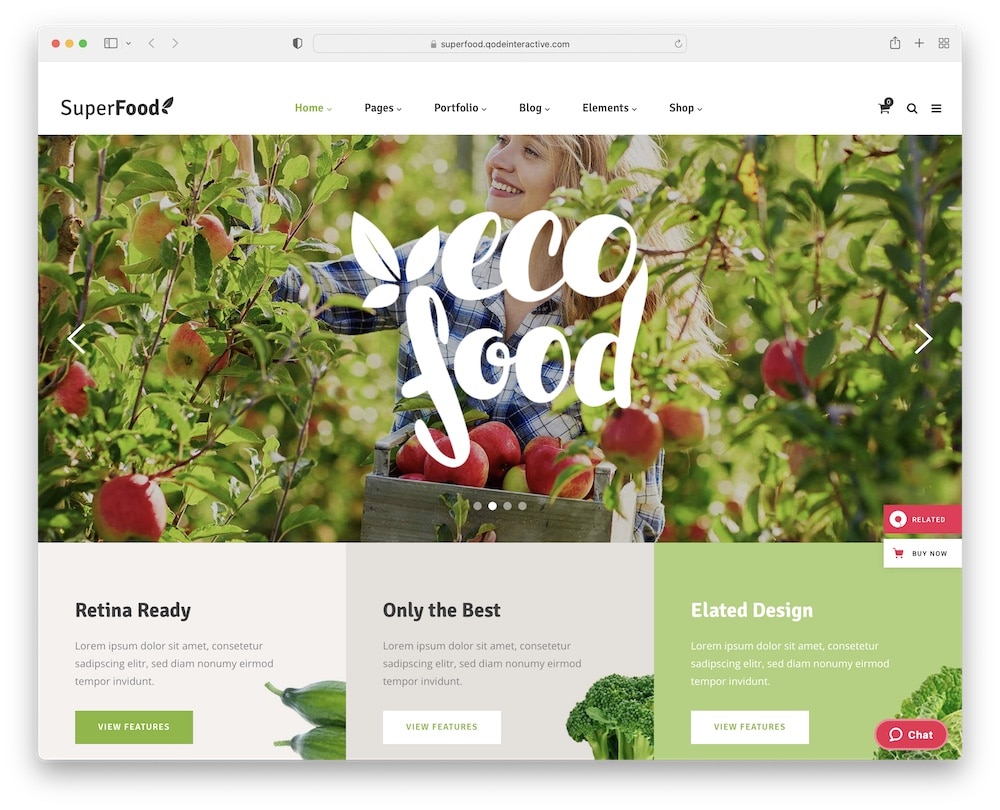 Promote GREEN living with the gorgeous Superfood WordPress theme.
Versatile Superfood offers twelve ready-to-use homepages (yup, it opens a window of opportunity) that you can adjust with WPBakery WP page builder.
You can edit the design in order, jump around, or mix and match elements.
Trust me, you will feel pretty DAMN GOOD by doing everything yourself (NO need to PAY for extra services or programs!).
Moreover, you can also easily connect Superfood to your social media accounts.
Plus, start a valuable blog and talk about the benefits of organic foods.
Wow!
Encourage people to eat REAL FOOD with fully responsive Superfood.
Superfood features:
2,100+ sales
4.5+ star ratings
Price: $85 (may vary)
MORE INFO / DOWNLOAD
DEMO
2. Organik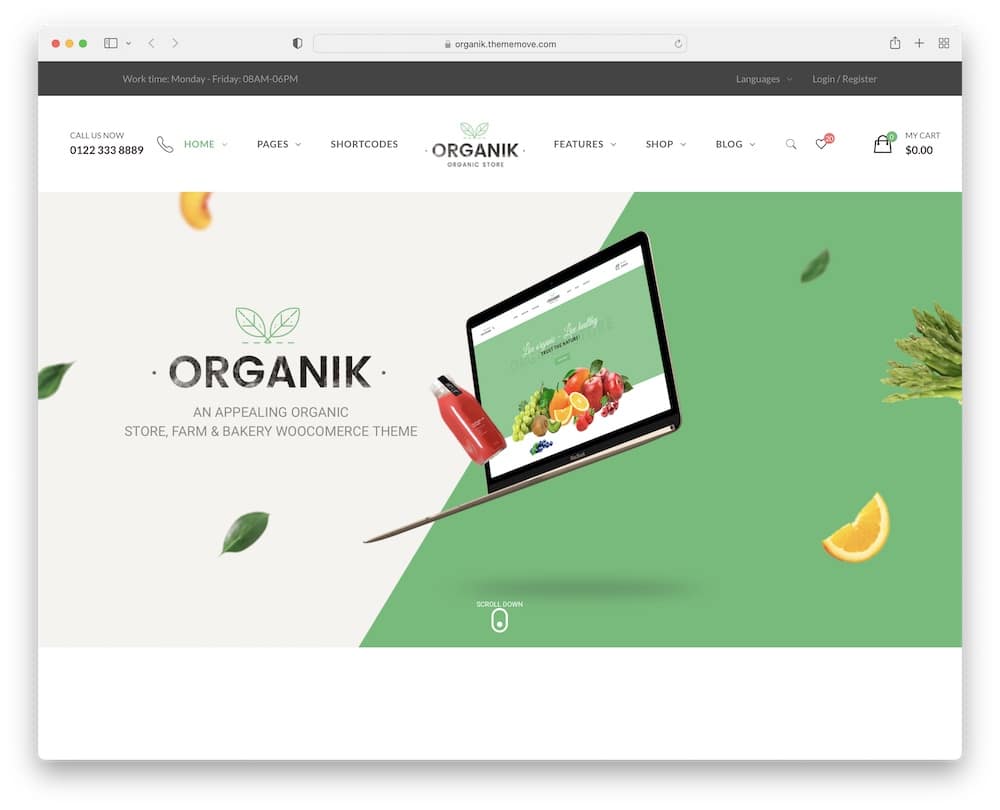 Vegetables are actually pretty COOL!
Explore a variety of whole foods, delicious meals, simple recipes, and much more with the HEALTHY Organik organic food WordPress theme.
Of course, don't forget to upload your FOODLISH photos!
Yum. Yum.
You can import the all-in-one Organik with ONE click and enjoy a bundle of premium plugins. (You don't need to pay $ to use them.)
Amazing!
Furthermore, Organik is optimized for fast page loading speed and is SEO.
Oh, and it is also cross-browser compatible SO that all your users can access your site trouble-free.
Fast, fresh, and HOT Organik is a MUST!
Organik features:
1,900+ sales
4.6+ star ratings
Frequent updates
Price: $59 (may vary)
MORE INFO / DOWNLOAD
DEMO
3. Groci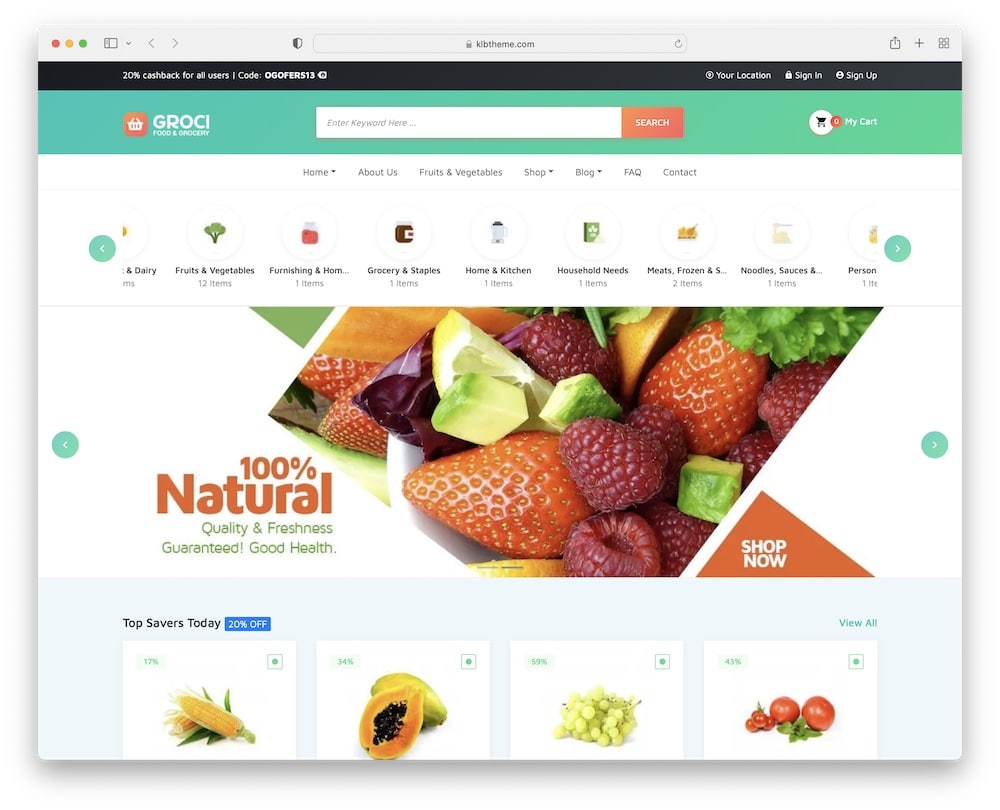 Dig into Groci organic grocery store WordPress theme's tasty features and create your dream site.
Let's get to it.
Organic food is all about feeling GOOD!
You can start changing colors, typography, elements, background and adjust Google Maps instantly.
Plus, you can try out different sidebar positions, and have fun with Slider Revolution options (I love to use breathtaking images & animations).
And you can sell your mouth-watering goods in NO time with the aid of the WooCommerce plugin. Seamless functionality guaranteed.
Last but not least, Groci top-notch support is beyond helpful (one of the main benefits).
Groci features:
1,000+ sales
4.8+ star ratings
Price: $49 (may vary)
MORE INFO / DOWNLOAD
DEMO
4. Organic Food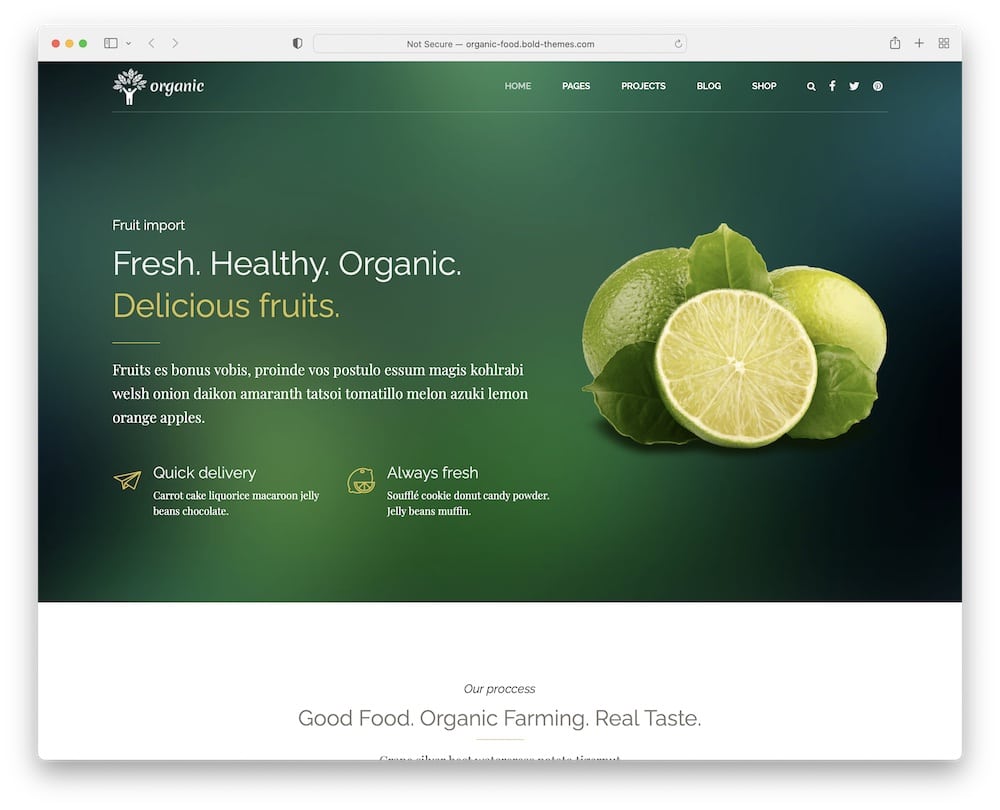 As they say, nothing is BETTER than nature (I am in love with the green!). Be sure to check out the modern Organic Food WordPress theme.
First, I would like to mention:
Organic Food is a perfect fit for health coaches, nutritionists, wholesome shops, organic farms, or amazing recipe sites. Since it is tailored for businesses it comes with the best tools to help you get bigger and better.
Organic Food can also beautifully showcase your portfolio and blog.
The goal is to make your brand trustworthy and expand visibility in search results (My No.1 tip for becoming best friend with Google!).
Moreover, Organic Food is crafted with translation-ready options. GO multilingual effortlessly and say HELLO to 1,000s of new visitors. You can choose any WordPress translation plugin you want.
FANCY.
Also: Don't forget to check our list of the top nature WordPress themes!
Organic Food features:
930+ sales
4.6+ star ratings
Price: $69 (may vary)
MORE INFO / DOWNLOAD
DEMO
5. Agricom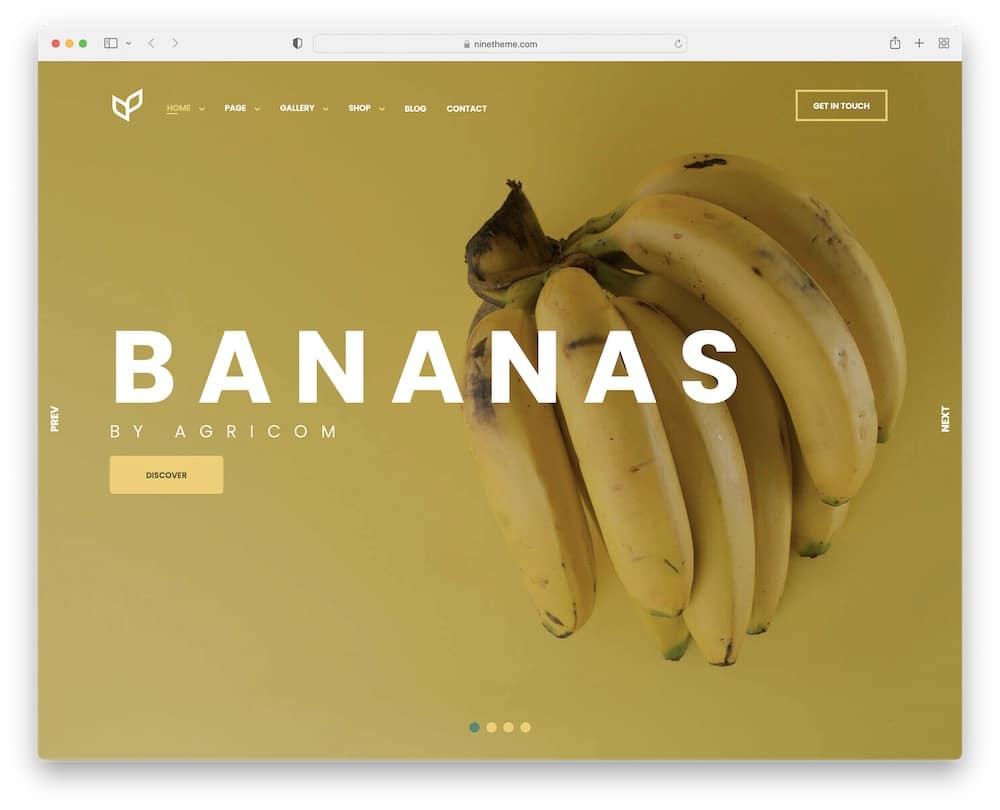 100% NATURAL Agricom organic food WordPress theme has a colorful design and functional theme options panel with 1,000s of settings (customizable elements, layouts, logos, fonts).
WOWIE.
This theme also embraces AMAZING plugins such as Gutenberg, WooCommerce, Slider Revolution, and Contact Form 7. Use every trick available to your advantage!
Furthermore, Agricom, has cleverly integrated social media icons into the theme for you to link them with your accounts.
Activate your fans (it's a must).
To wrap things up in a SWEET way – you get extensive documentation and can update Agricom with just one click.
Agricom features:
1,200+ sales
4.9+ star ratings
Quick installation
Theme cache & speed options (or choose a WordPress caching plugin with more options)
Price: $59 (may vary)
MORE INFO / DOWNLOAD
DEMO
6. Food Store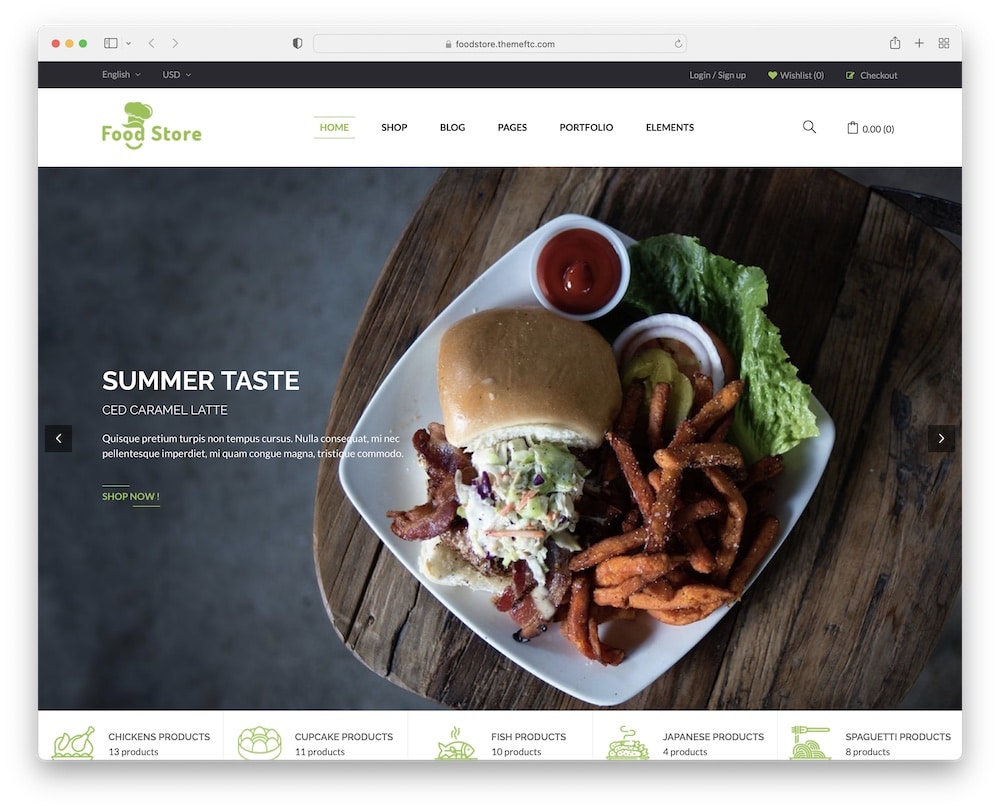 Keep it simple with the modern Food Store organic WordPress theme. This is all you need.
The best part? You get ALL 50+ (!) available demos for ALL your creative ideas.
Give me five, HIGH FIVE!
Food Store is also optimized for fast loading (waiting sucks!) and is SEO friendly (I want to be first, too – there, I said it).
Moreover, this theme allows you to create an online store while managing your inventories, shipping costs, and sale banners.
Food Store also includes 360 product view, Ajax technology, image swatches, product video, and more.
GO right ahead!
Food Store features:
MORE INFO / DOWNLOAD
DEMO
7. Hereford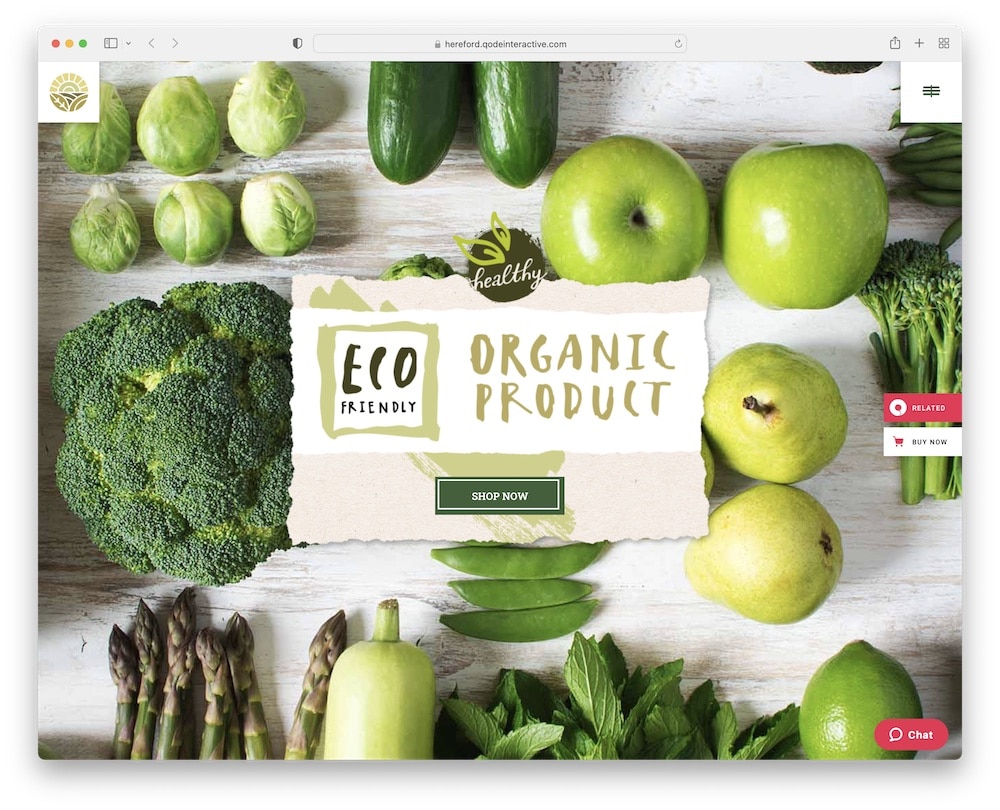 Taste the difference with the unique Hereford organic food WordPress theme. Let's look closely at it (read first, action second!).
Hereford comes with ready-to-use inner pages, stunning portfolio layouts, and is perfect for blog websites.
Feel FREE to personalize it entirely in your style!
The drop-down menu, parallax theme effect, video background, smooth scroll, and many other PEARLS decorate Hereford.
I know that you will enjoy all amazingness of it.
As an added bonus a bucket full of WP shortcodes comes with Hereford to stick specific features to your page, post, or blog. Do nifty things.
Eat clean. And green. Hereford!
Hereford features:
740+ sales
4.8+ star ratings
Price: $79 (may vary)
MORE INFO / DOWNLOAD
DEMO
8. Qualis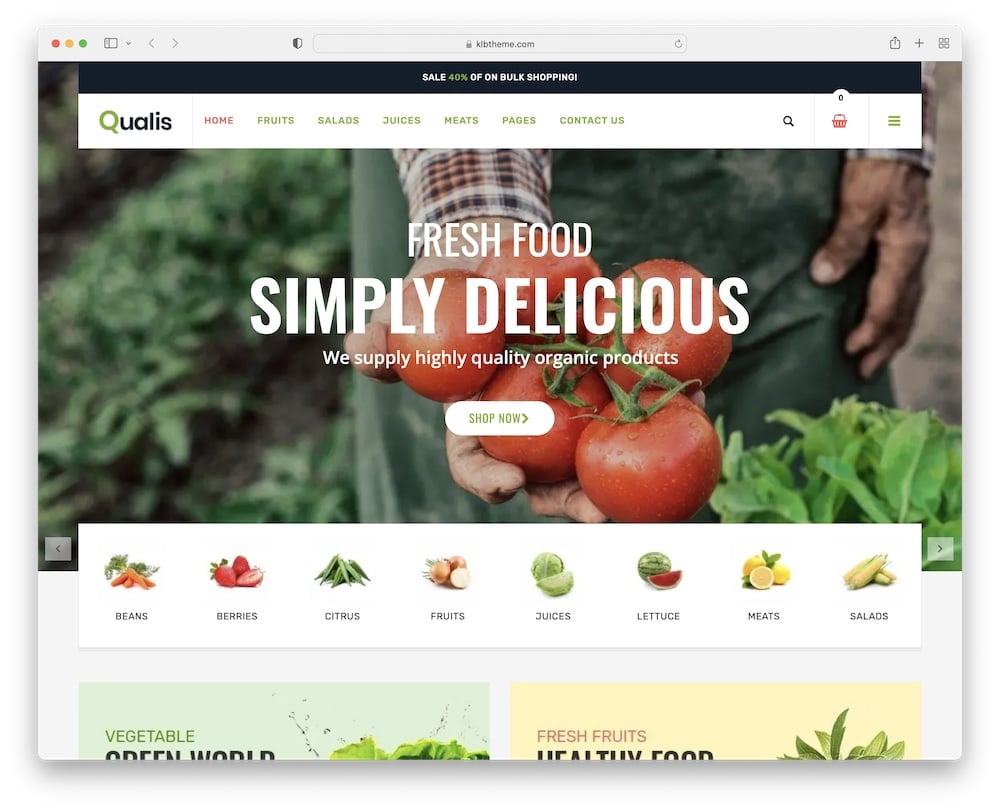 Share LOVE for your healthy lifestyle with the dynamic Qualis organic food WordPress theme.
You can use the ready-to-use Qualis out of the box (fully functional) BUT you can also enrich it with help of WPBakery page builder.
I love it!
What's more?
The design of Qualis is minimalistic and elegant, ensuring it puts extra SHINE on all your goods. Plus, creating an online store (all-in-one) with the amazing WooCommerce plugin is a pleasure.
Moreover, included Slider Revolution comes with beautiful standard sliders, hero scenes, and carousels.
Make your site POP.
YES, you can have a million-dollar-looking website with Qualis!
Qualis features:
MORE INFO / DOWNLOAD
DEMO
9. Organico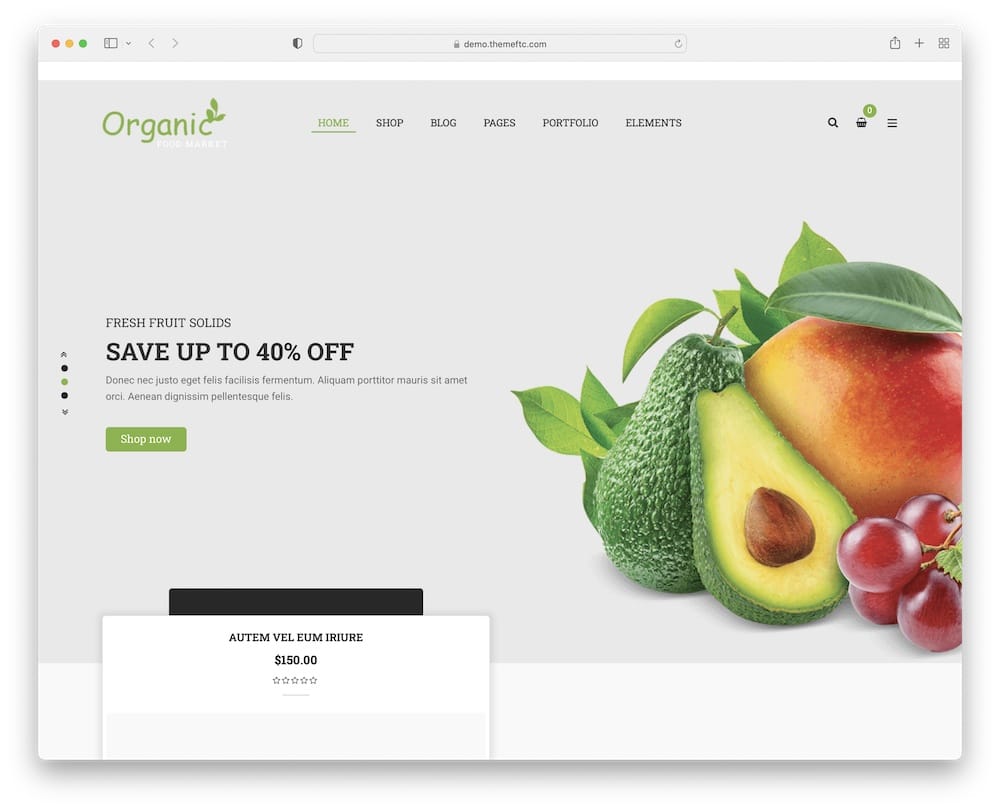 Don't we all love sipping into a hot cup of organic coffee in the morning?
You can introduce various superfoods to your audience with the wonderful Organico food WordPress theme. No fluff, but NAKED truth.
My favorite part is creating with Elementor page builder. Remember, every change you make is instant (real-time results!).
Upload your logo, and adjust the menu, colors, fonts, sidebars, and header.
Furthermore, Organico is mobile-friendly and offers an off-canvas menu for it.
Of course, it looks AWESOME also on other screens – your users will enjoy the same experience on their phones, tablets, or laptops.
You get everything you need to experience great success at an affordable price!
Organico features:
920+ sales
4.8+ star ratings
40+ demos (!)
Excellent support & updates
Price: $59 (may vary)
MORE INFO / DOWNLOAD
DEMO
10. Agrikon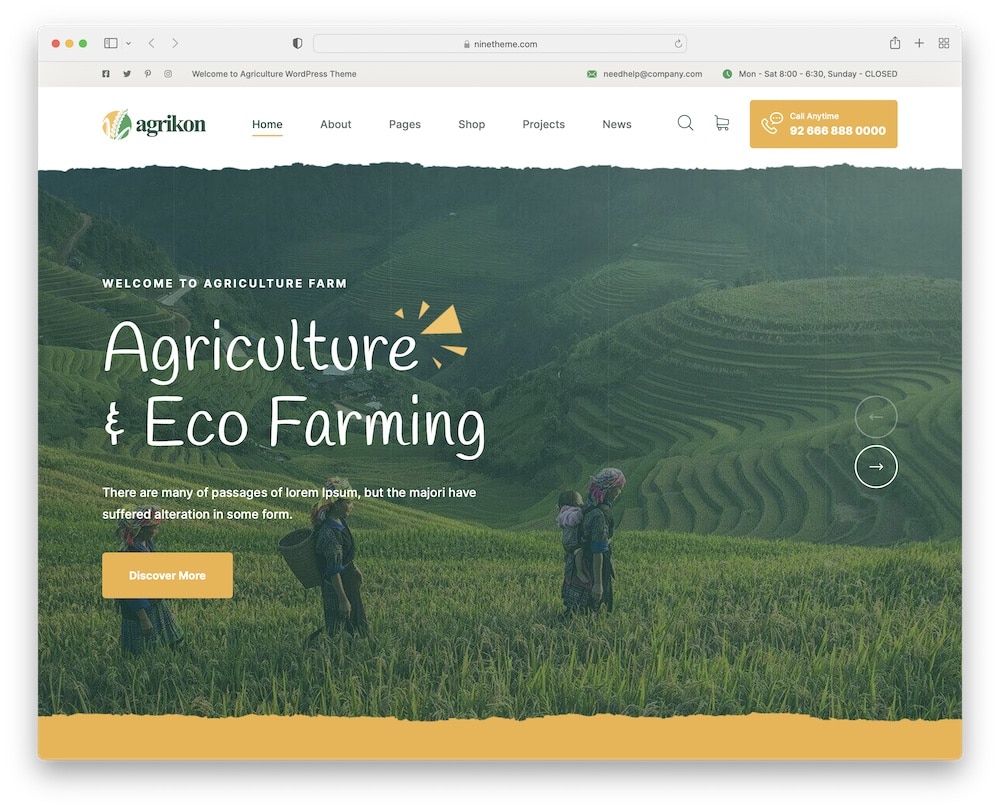 YES, it's time to make a STUNNING website with a flexible Agrikon organic food WordPress theme. You are what you eat!
Agrikon features multiple pre-made pages, header & footer layouts, unlimited sidebar options, and tons of customizable shortcodes.
Great, right?
The freshness of Agrikon also comes with COOL background effects of parallax video & image upshots.
Plus, I recommend you style it with your custom color & font choices.
BUT folks, that's not all.
Agrikon is compatible with WooCommerce (one of the best tools) and includes brilliant plugins, such as Elementor, Slider Revolution, and Ajax. Major value!
Agrikon features:
920+ sales
4.9+ star ratings
Great performance
Price: $48 (may vary)
MORE INFO / DOWNLOAD
DEMO
11. Frappé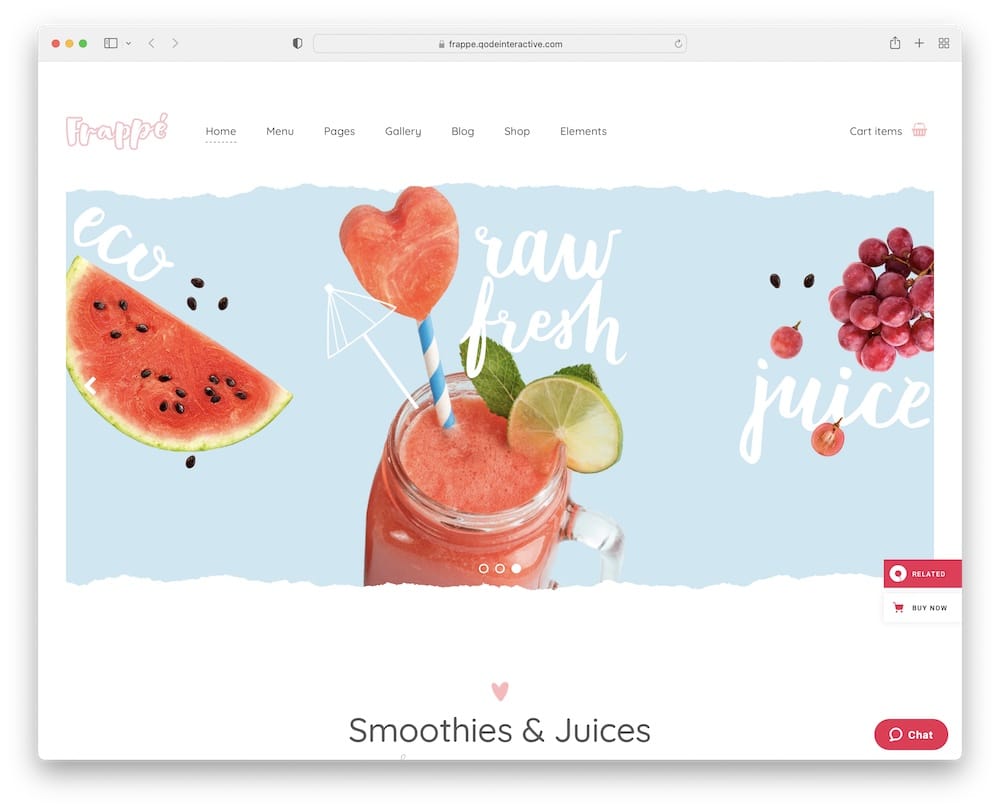 Frappé organic food WordPress theme will surely amaze you with its responsive and smart design.
OMG, so easy to work with (1-click demo import and OFF you go!). Boom.
This theme is perfect for juice bars, superfood promotions, beautiful organic shops, and nutrition enthusiasts.
I recommend you to start your FREAKING delicious blog.
I know, it's a no-brainer!
A colorful animated slider is a life-changer (!), making it easier to attract viewers' interest. It'll make their eyes as big as saucers (and YOURS).
And if you are planning to connect Frappé to your social media accounts, you get everything laid out to make it happen (Oh, Hi, Mark Zuckerberg!).
Enjoy.
Frappé features:
440+ sales
4.1+ star ratings
Comes with built-in maps
Price: $85 (may vary)
MORE INFO / DOWNLOAD
DEMO
12. Organio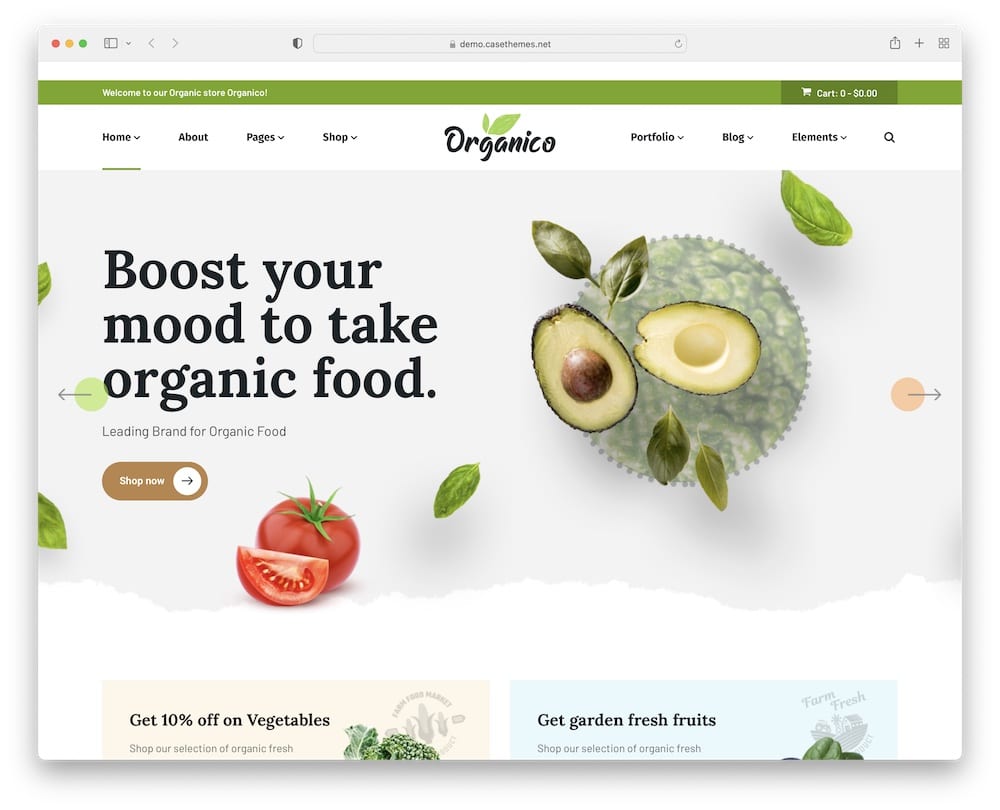 We all crave TASTY food (I drool just thinking about it), so go ahead, upload your YUMMY pictures, recipes, tips, and nutritional benefits of your wonderful products.
Yeah, you can brilliantly pull it off with the Organio organic food WordPress theme.
Organio comes with nine functional demos that you can use as they are or easily decorate in your style.
Of course, it requires zero coding knowledge (Geeks are out!).
You can drag & drop elements, choose styles and play around with the design details before you set it to GO live, thanks to Elementor.
Magic.
Plus, you are never in the dark with detailed documentation of Organio.
START!
Organio features:
720+ sales
4.9+ star ratings
80+ custom WP widgets
Free lifetime updates
Price: $48 (may vary)
MORE INFO / DOWNLOAD
DEMO
13. Bottanika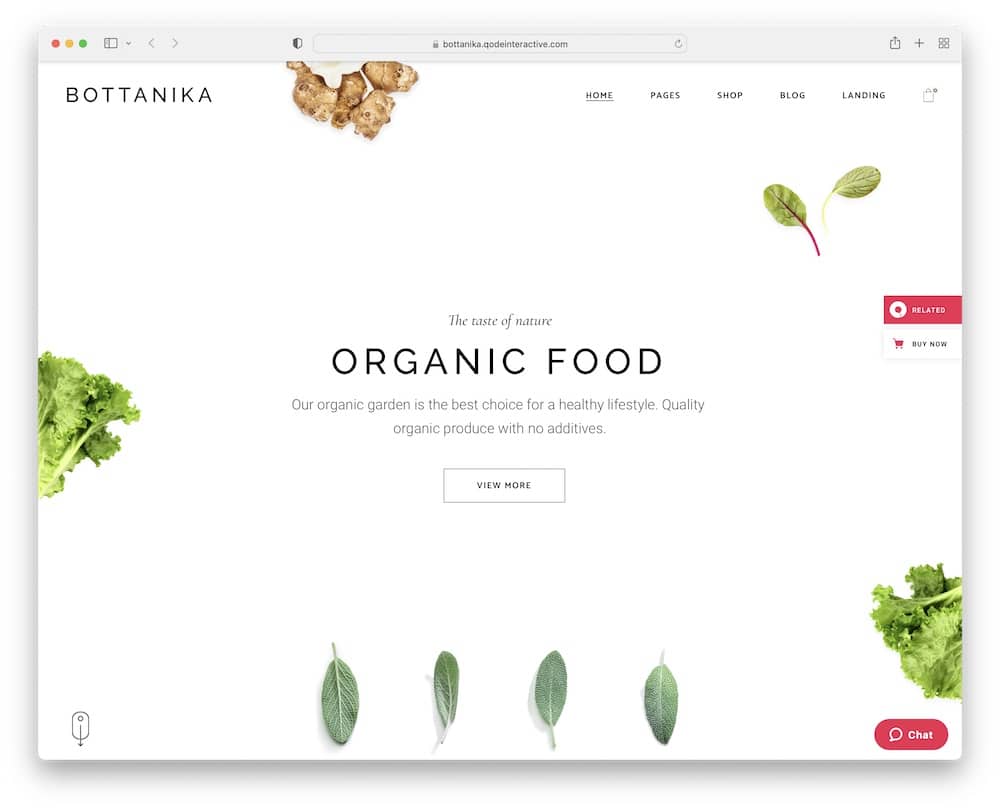 If you are one of those people who appreciate nature, a greener lifestyle, and healthy food then you are in the right place.
Bottanika organic food WordPress theme offers a favorable, minimalistic design with ONE shared quality – passion for food.
Do I recommend it? YES, I do!
Not only can you PIMP Bottanika with ease, but it also comes with the most popular tools to increase its functionality.
Furthermore, Bottanika includes customizable shortcodes for team members, testimonials, pricing tables, order tracking, countdown, etc. Plus, tons of COOL icons.
Keep in mind, your online store will LOOK great on all devices, ensuring a friendly online shopping experience.
Bottanika or Bottanika?
Bottanika features:
220+ sales
5-star ratings NI
Beautiful design (!)
Editable footer (you may also want to check these best WordPress footer plugins)
Price: $79 (may vary)
MORE INFO / DOWNLOAD
DEMO
14. Organia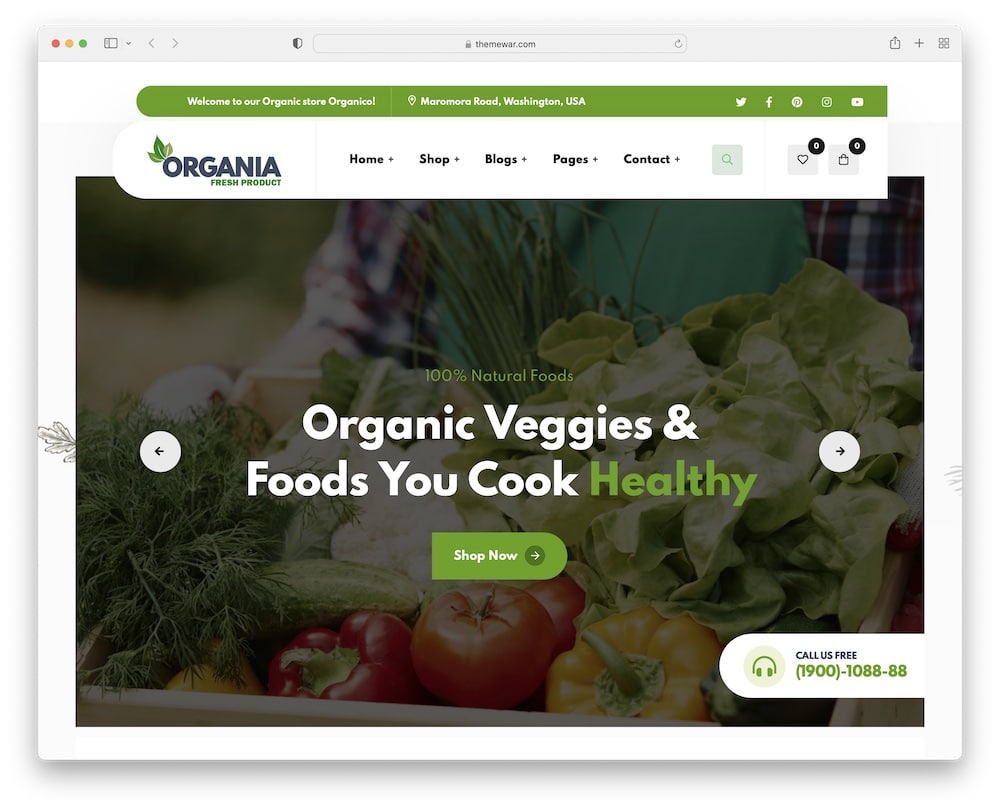 If you are a natural enthusiast, be the biggest one you can be (!) with Organia organic food WordPress theme. Who glorifies plain-looking food anyway?
Organia is a SWEET theme to launch an online store with due to various home demos.
Yes, it is totally compatible with the latest version of WooCommerce. And keep calm, of course, you can organize your shop as you wish.
Plus, it includes tons of widgets, icons, and elements (instant design results).
Organia also guarantees excellent (24/7) customer support. Win-win.
Let's be real – we all know you want it!
Organia features:
410+ sales
4.3+ star ratings
70+ practical elements
Price: $35 (may vary)
MORE INFO / DOWNLOAD
DEMO
How ULTIDA Tested Organic Food WP Themes
It's in our best interest to thoroughly examine every theme we add to the list because we stumbled across many unreliable tools during our careers, purchased them, and only later realized how bad they were.
We don't want that to happen to you.
We started the testing and reviewing with thirty themes but picked fourteen as the ultimate.
The first thing we did was read through user reviews and check for update frequency and star ratings.
Later, we contacted theme support and explored documentation, so you get the best of both worlds.
With only seventeen left, it was time to dig deeper into each theme.
We installed each on our demo website to test how fast it performs on different devices. All the themes were put through Pingdom Tools and Google's Mobile-Friendly Test, but we also analyzed them manually, theme by theme.
Remember, you may also want to read our tutorial on how to choose a fast WordPress theme.
Lastly, we investigated the user interface, the customization functionalities, and how easily a beginner can set up an organic food website.
::
Note: This article was originally published on May 27, 2022. But our team regularly reviews it and updates it with necessary improvements for accuracy.