Are you searching for the best Shopify art themes for your artistic project?
We did the necessary testing when working with a few artists, galleries and studios to find the ultimate nine themes.
You can create the art store you want with little work and as many customizations as you wish.
WITHOUT. CODING.
When selling art online becomes a piece of cake.
5 Qs To Ask Before Getting A Shopify Art Theme
One of the quickest ways to decide whether a theme suits you is to ask yourself these five questions.
That's what we did we testing the themes for this collection. (Except for the first one because it's unique to every user.)
Does the design appeal to me and fit my project/business needs?
Is the theme easy to install and configure?
Are the documentation and support helpful even for a complete newbie?
Is the theme compatible with 3rd-party apps?
Does the theme support reviews and ratings for social proof?
But we also ensured that all the themes are optimized for top-notch performance (read responsive and fast loading), so you don't need to worry about the technicalities.
QUICK PICK: Greatest Shopify Art Themes:
I highly recommend using any of these five if you're in a hurry.
They cover everything, whether you're creating a general or niche art website.
Enjoy!
Best Shopify Art Store Themes
1. Lezada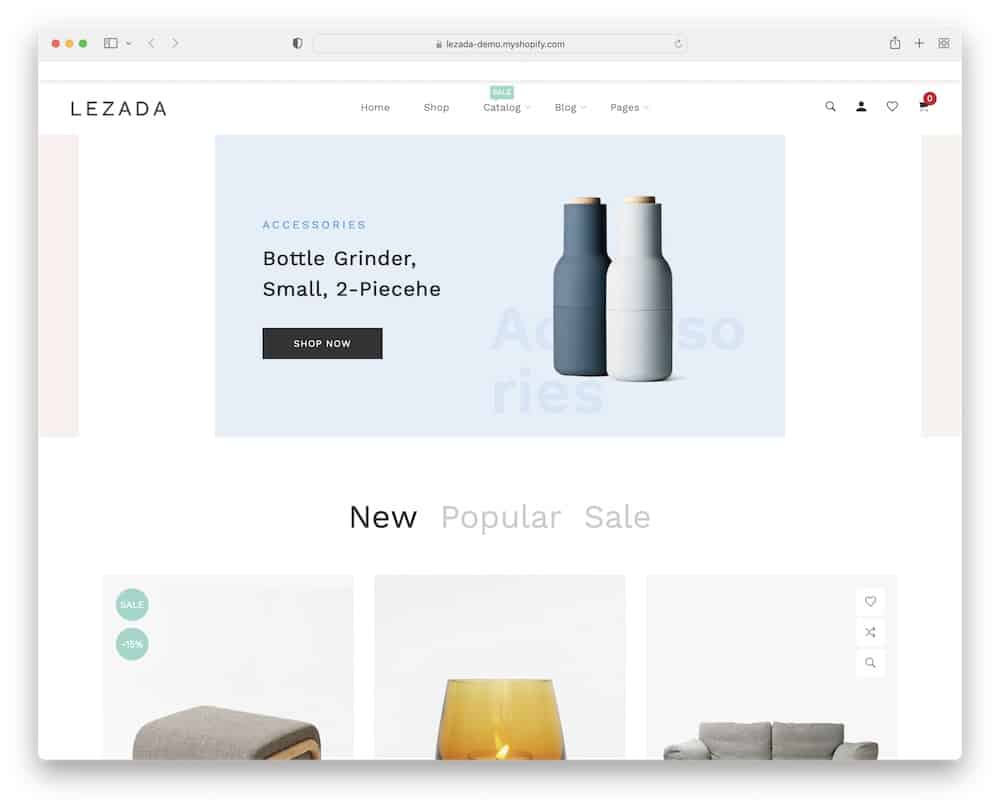 The highly effective Lezada Shopify theme comes with beautiful pre-made homepages for a quick launch of your new online store.
No-fuss, no-hidden costs.
All you really need is unique ART to sell, everything else … let Lezada take care of!
Bonus is the fact that Lezada includes product media features (3D models, AR, and videos).
I'm a BIG fan of interactive user experience (!), plus, virtual stores reduce product returns.
Moreover, Lezada is fully optimized for search engines and smoothly adapts to different screen resolutions.
30 DAYS FREE TRIAL? Um, let me think. HARD YES!
Note: It also works great for single product stores.
Lezada features:
2,600+ sales
4.9+ star ratings
Multipurpose
Supports RTL
Price: $79 (may vary)
MORE INFO / DOWNLOAD
DEMO
2. Handy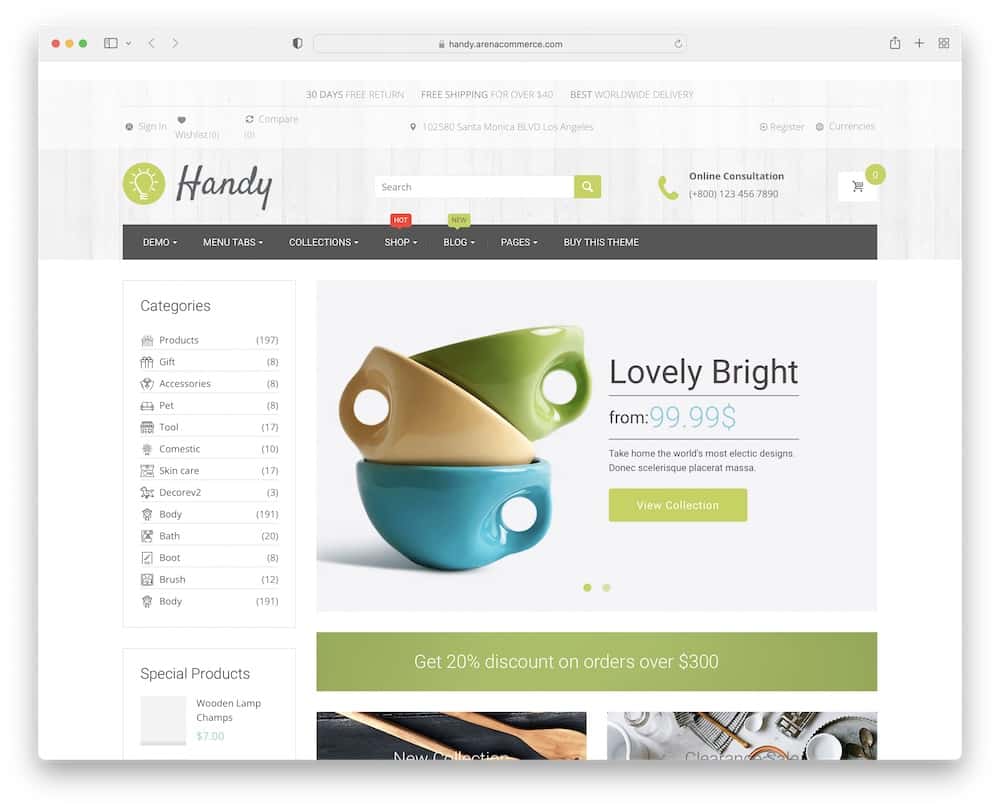 Millions of people trust Shopify to manage their online stores. And you can too!
Right here, right now!
Elegant Handy Shopify theme for selling art offers a GREAT start for anyone. Keep calm; you don't need to be a designer or developer to use Handy.
Hurray!
It includes pre-designed demos, smart shop tools, and multiple-page layouts.
My favorite thing about the built-in mega menu is how easy you can create quick access to every page on your site. (Add links, images, etc.)
Users LOOOVE quick finds!
Furthermore, Handy's newsletter popup helps you engage and connect with your customers (simple online form).
Oh man, and lazy loading images – performance improvement guaranteed!
Follow your heART with Handy.
Handy features:
2,300+ sales
4.7+ star ratings
Save time & money
Advanced theme options
Price: $59 (may vary)
MORE INFO / DOWNLOAD
DEMO
3. LeArts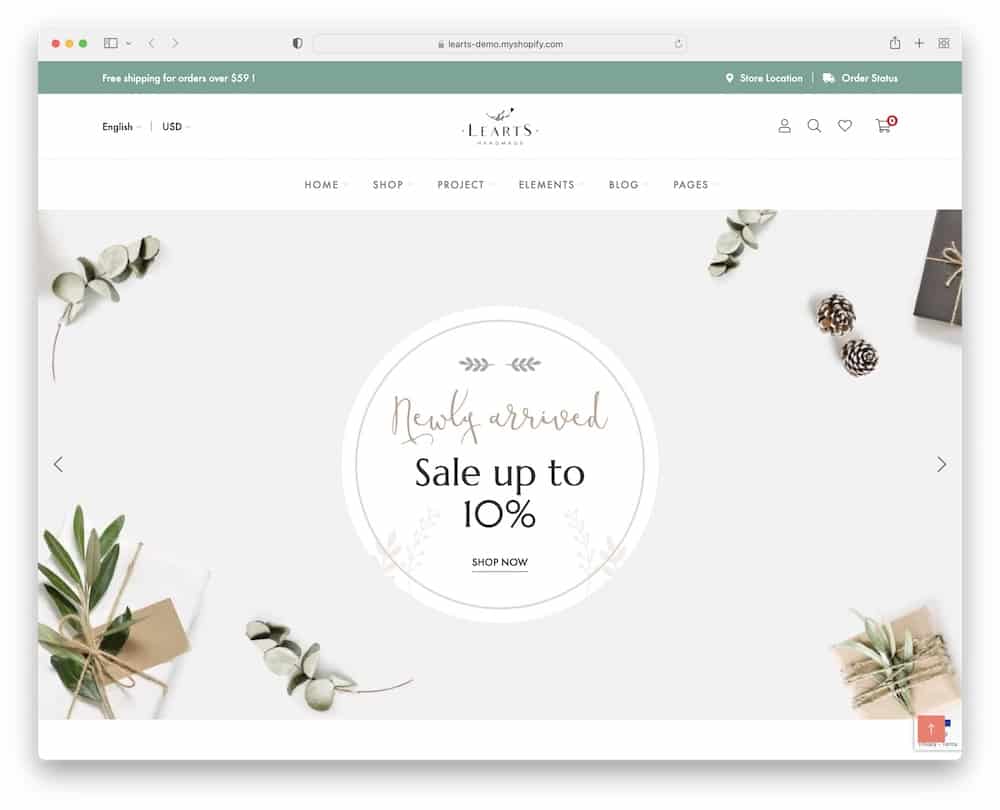 Manage artistic products, inventory, online payments, and shipping with LeArts theme.
The lively and creative LeArts design fits art perfectly.
Plus, LeArts includes so many FUN ways to play the customizing game!
It's not actually hard at all – choose site width, sidebars, colors, product tabs, banner positions, and of course upload your content.
I swear people will think you are a straight-up PRO.
Including yourself.
Yes, how you display your products is super important, SO enjoy LeArts's unique features.
From various product layouts, filtering, quick view to sticky add to cart and 360-degree product view – it's all yours.
Get down to business with LeArts!
LeArts features:
540+ sales
4.8+ star ratings
Regular updates
Testimonials
Price: $49 (may vary)
MORE INFO / DOWNLOAD
DEMO
4. Minimosa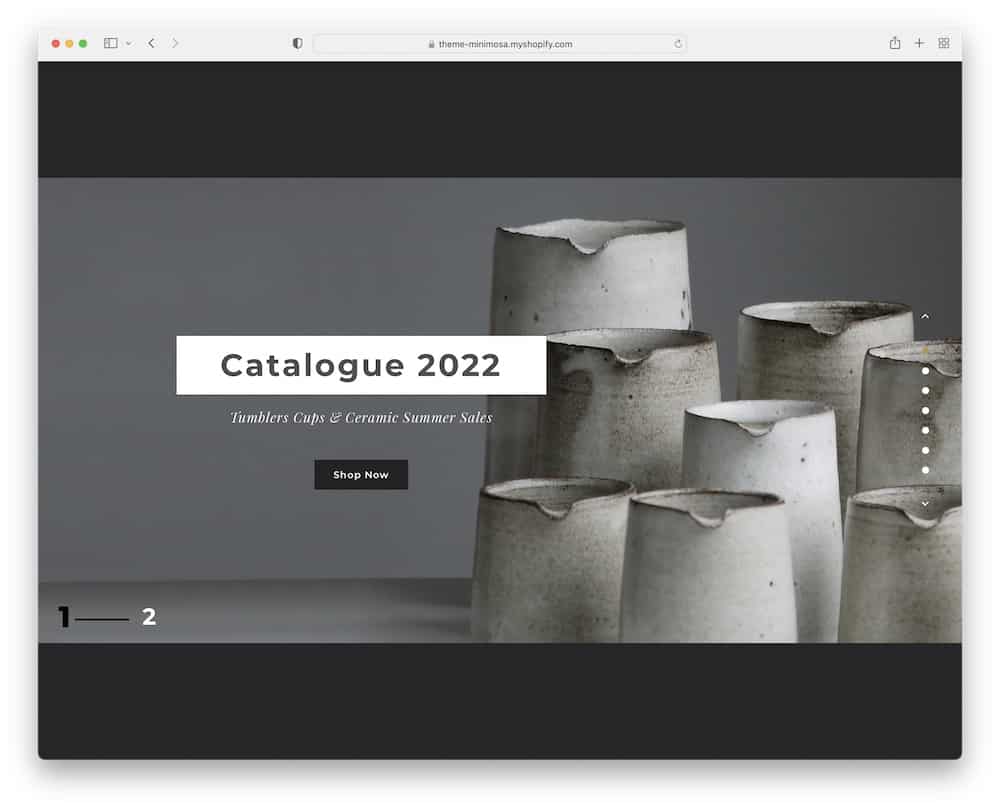 Launch your store quickly and easily with the gorgeous Minimosa Shopify art theme. My FAV thing is its AFFORDABLE price (yet it's still high quality!).
Minimosa comes with 100% responsive design, advanced features, and FREE lifetime updates!
Check out Ajax technology, special price countdown & product comments feature for a little EXTRA POP.
And if you are looking for just the right thing to make your store more attention-grabbing: I love to use page scrolling animations (fading effects, change in color, moving elements).
It WORKS. It really works!
Keep in mind, Minimosa offers amazing flexibility to access and run your business from anywhere – including your mobile phone (gasp).
Minimosa features:
210+ sales
5-star rating
Free theme installation
Great product details
Price: $34 (may vary)
MORE INFO / DOWNLOAD
DEMO
5. Artykraft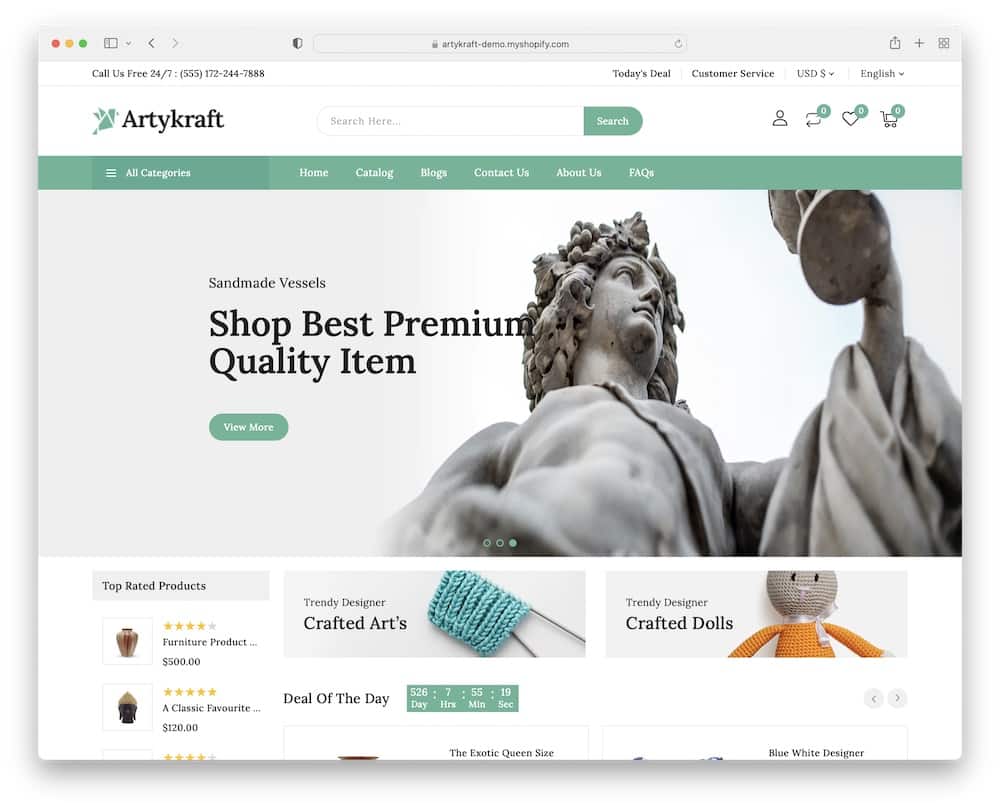 Customize the feel, look, and functionality of your store with Arykraft Shopify art theme.
Here we goooo!
Meet and choose from nine awesome layouts (one-click install) that don't require coding knowledge and come with detailed documentation (step-by-step guide).
Enjoy full control!
And the BEST PART of finishing shaping Artykraft? You can comfortably say, "This is how I did it – ME, MYSELF."
Best feeling in the world.
The structure of the Artykraft vertical menu is great for fast scanning, plus its display is super mobile-friendly.
BIG. DEAL.
Dude, would someone please start a true, honest, legitimate blog! You'll benefit greatly!
Art is the future.
Artykraft features:
15+ sales
4.5+ star ratings
Built-in advanced search
Product compare & wishlist
Price: $29 (may vary)
MORE INFO / DOWNLOAD
DEMO
6. Artistic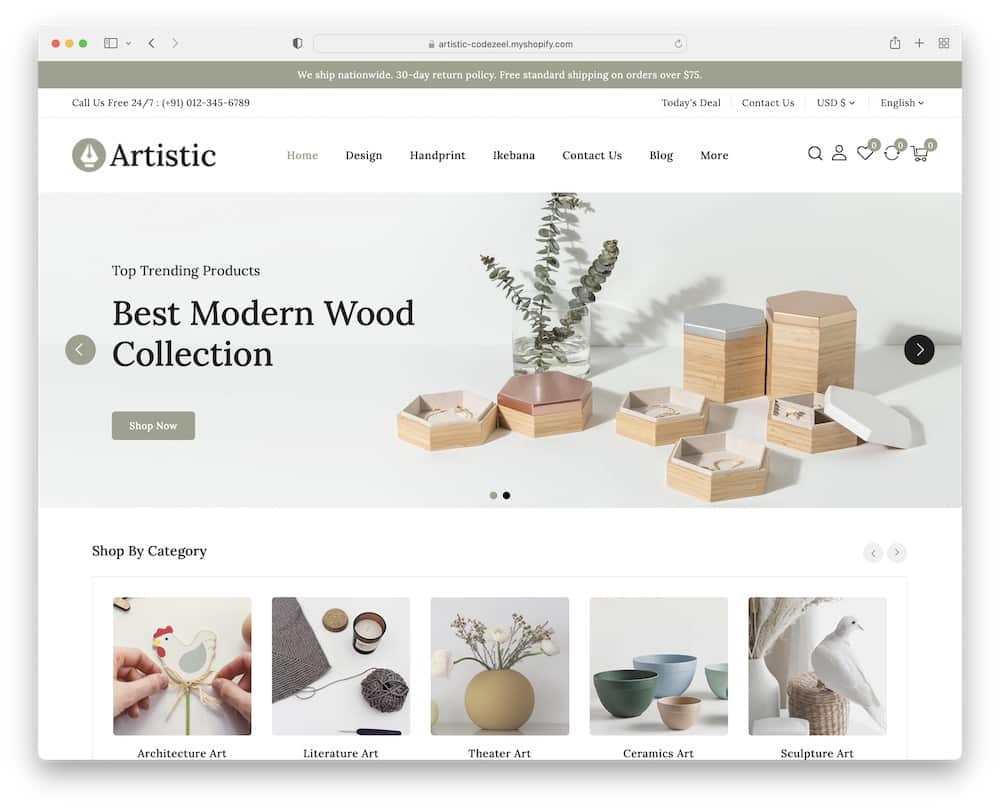 Feel the beauty of art with colors, images, and aesthetics of the Artistic Shopify theme for artists.
Clean and minimal design is perfect for AWESOME presentation of any craftwork, effort, and handmade art.
Artistic is the best recipe for success combined with advanced shop features!
Draw a big smile on the face of your visitors with integrated Google Maps (who doesn't want to get desired directions instantly?!).
Moreover Artistic offers a stunning parallax effect – in my opinion, heaven for vivid scrolling through products.
It is also retina-ready, fully responsive (Hi, mobile users!) taking your visitors on a totally new journey.
Customer support – oh my, oh my, even better than expected!
Artistic features:
150+ sales
4.2+ star ratings
Ajax technology
Integrated newsletter
Price: $39 (may vary)
MORE INFO / DOWNLOAD
DEMO
7. Artz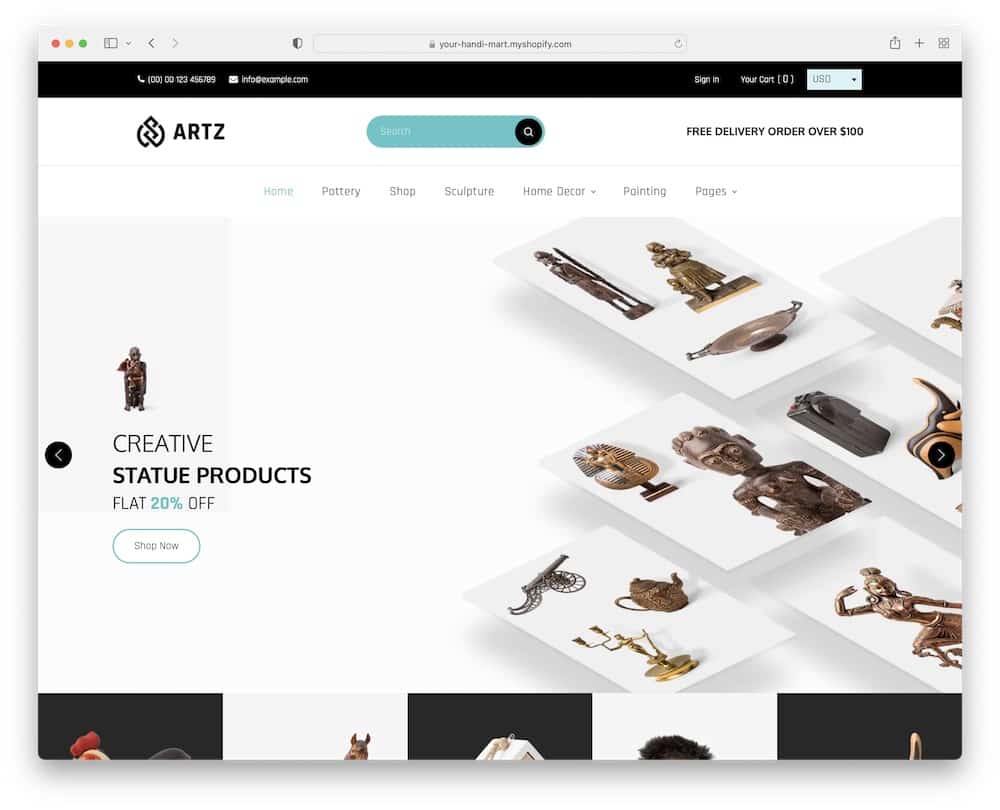 Get a high-class display of your art with the precious Artz theme. Give people a chance to fill their carts with beautiful art!
Alright now. A quick word about Artz.
It comes with drag & drop (VERY IMPORTANT) homepage blocks for quick building, various mega menu styles, and smart Ajax technology.
Of course, Artz supports multi-currency extension that re-calculates rates on the fly (simple switch between currencies).
Yup, your customers can pay in the currency of their choice. MAGIC.
Moreover, with Artz you get a collection of icons, unlimited color choice, and tons of Google fonts.
And psst. Guys.
Don't forget to link Artz with your MailChimp account via its newsletter form!
Artz features:
90+ sales
4.6+ star ratings
Social integration
Excellent SEO optimization
Price: $59 (may vary)
MORE INFO / DOWNLOAD
DEMO
8. Leatic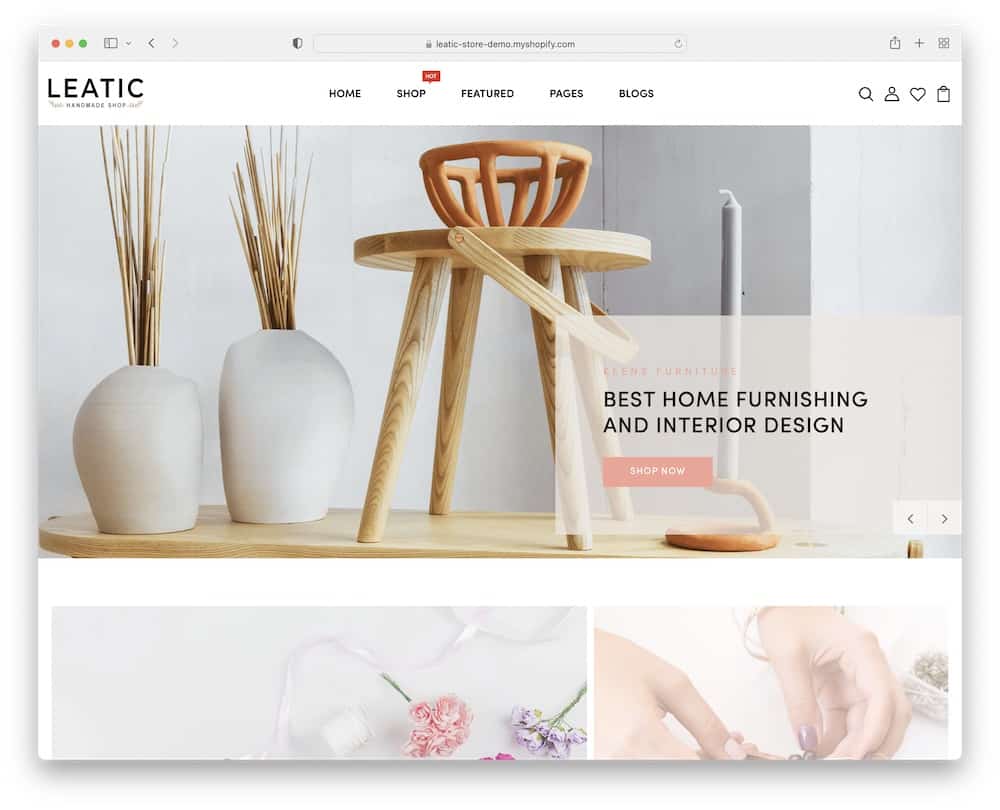 Ignore art? It is impossible with Leatic Shopify art theme.
Fresh, minimalistic, and elegant design is perfect to proudly display your awesome art pieces.
Leatic offers flexible features and a well-structured online store.
Like, WOW.
It is also SEO optimized to help you rank higher in search results.
In fact, my goal is to rank in at least the top seven search engine suggestions.
Think BIG. (But that would be the first position, right 🙂 )
Furthermore, pick from various header and footer styles, adjust the mega menu, and explore pre-made layouts.
DRESS IT UP as you like!
Remember, with fantastic Leatic you get everything you need for trouble-free creation.
NO, you don't need any coding knowledge to launch a website with Leatic BUT don't quit your job, okay?
Leatic features:
20+ sales
4.5+ star ratings
Watermark badges
Automatic price change
Price: $56 (may vary)
MORE INFO / DOWNLOAD
DEMO
9. Craftis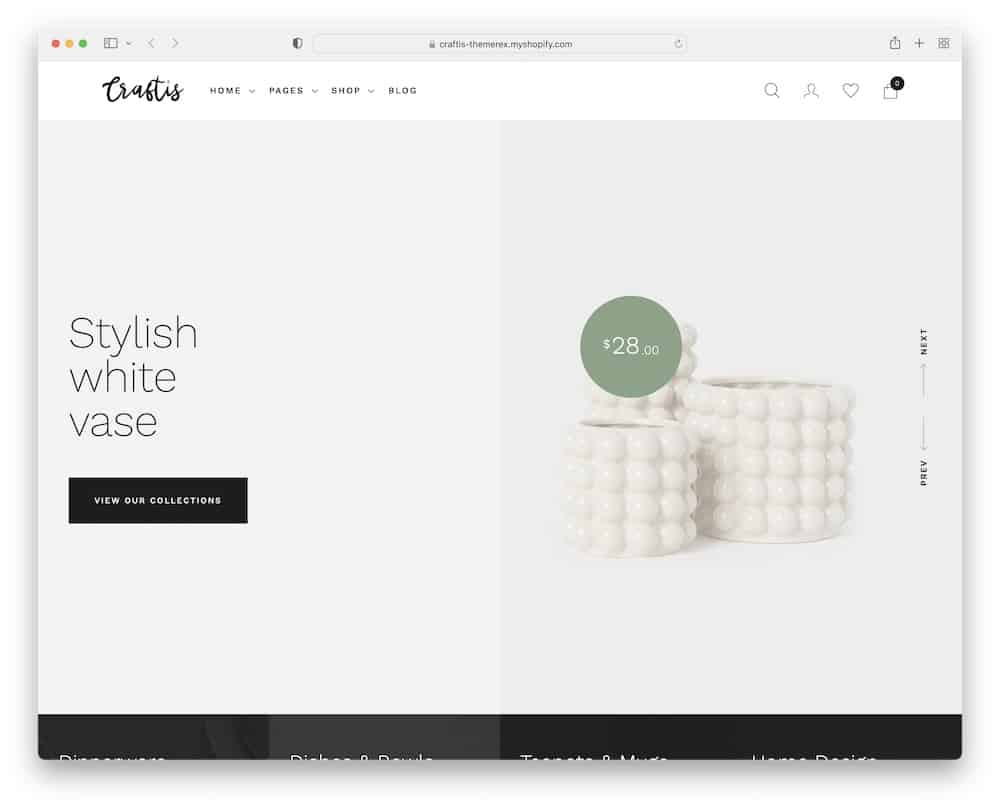 Craftis Shopify art theme is a connection between art and business (daily reminder: KEEP it simple).
Spread happiness on canvas!
You don't need the experience to create a website. Install (minimal effort) your favorite Craftis demo and start editing it as your wish (on-the-spot results).
I'm a big fan of blogs, SO I encourage you (!) to start your own.
Imagine a place where you can talk about art as much as you desire – OMG, I know!
Plus, it will serve you to increase traffic to your site and attract new customers.
Pretty COOL, right?
Oh, and Craftis is optimized for GREAT performance.
Time for ART! Is there any other better time on this planet?
Craftis features:
20+ sales
4.4+ star ratings
Ready-to-use blocks
Excellent admin
Price: $69 (may vary)
MORE INFO / DOWNLOAD
DEMO
::
Note: This article was originally published on July 14, 2022. But our team regularly reviews it and updates it with necessary improvements for accuracy.