Are you ready to enter the world of WordPress themes with a popup?
A dynamic duo that effectively grabs visitors' interest, promotes conversions and delivers valuable content!
Everyone's top priorities are captivating user attention and maximizing engagement.
LUCKILY, you can tick both boxes with the seamless integration of popups.
Capture leads, showcase promotions and special deals, provide personalized experiences and create compelling call-to-actions – it's all possible with the WP themes in our list below.
Elevate user engagement and unlock the full potential of your website now – the necessary tools are at your fingertips.
How We Tested WordPress Themes W/ A Popup
I won't go heavily into detail about how we tested each theme to guarantee reliability, performance and ease of use – because you already know that's what we pay close attention to when creating best theme roundups.
Instead, this is what we focused on when testing themes with integrated popup(s):
How does the popup behave and function? We checked if it appears at the intended trigger point (e.g., button click, time delay, exit intent) and if it closes properly when the user interacts with it (e.g., clicking close button, outside the popup area). We also made sure the popup was not intrusive or obstructive. (Hey, you don't want to annoy your visitors!)
How does the popup content display? We checked if everything was aligned correctly, readable and visually appealing (especially on mobile). We also verified that the text and images are not cut off or distorted.
Does the popup impact the performance? One thing you don't want is to use a popup that affects the overall page loading time. We monitored the performance of the theme as a whole while the popup was active, ensuring it didn't cause any slowdowns or conflicts.
Last but not least, we also tested popup integration with other elements, like subscription forms, social media buttons, etc.
Remember: If you already run a website and would like to add popups, we have a solution for you. Check out Ales's tutorial on how to create a popup in WordPress quickly and easily.
QUICK-PICK: Ultimate WP Themes W/ A Popup
Best WordPress Themes With A Modal Popup
1. Essentials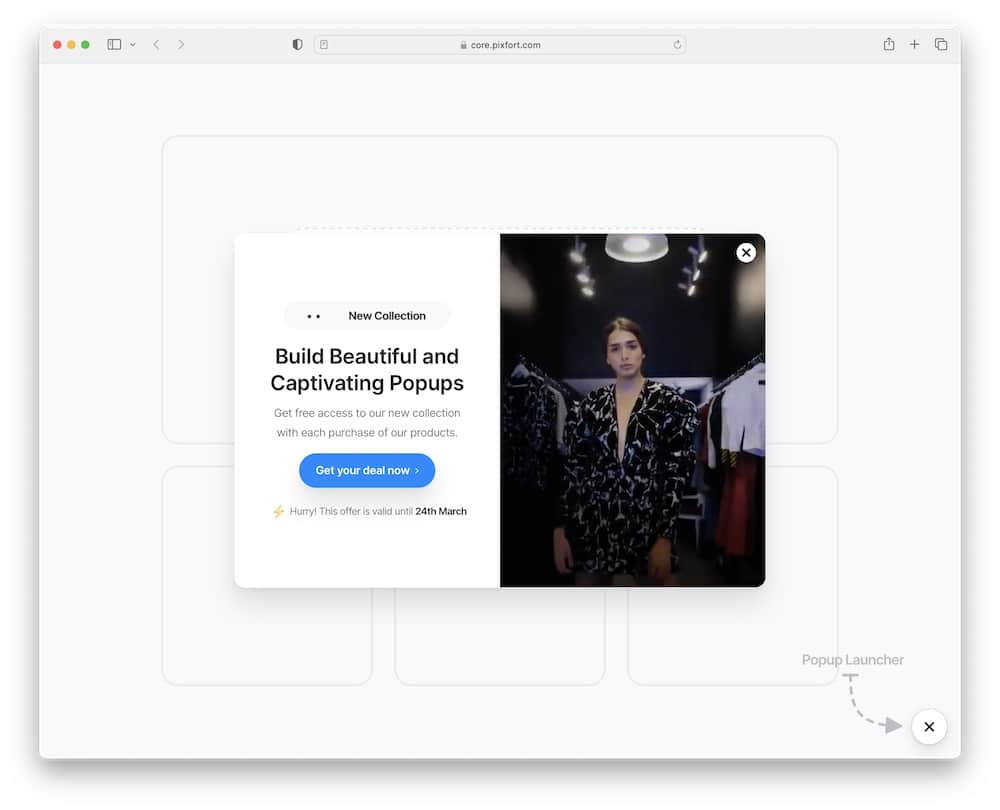 Are you ready to be impressed?
Check out the modern Essentials WordPress theme with a whopping 40+ demos for every industry.
Essentials is fully customizable – going to be beautiful and colorful when you combine all your choices.
Yup, you can create unlimited headers, pick colors, add elements, set up animations, and use page transitions.
Besides, the easy-to-use mega menu is AWESOME for a perfect display of your content, categories, and it can even include images.
Remember, the best plugins included in Essentials help you perform, engage and convert visitors into email subscribers and paying customers.
I also love to apply attention-grabbing announcement banners.
How could you go wrong?! You truly can't with Essentials.
Essentials features:
14,000+ sales
4.9+ star ratings
Built-in popup builder
50+ popup templates
Price: $69 (may vary)
MORE INFO / DOWNLOAD
DEMO
2. uDesign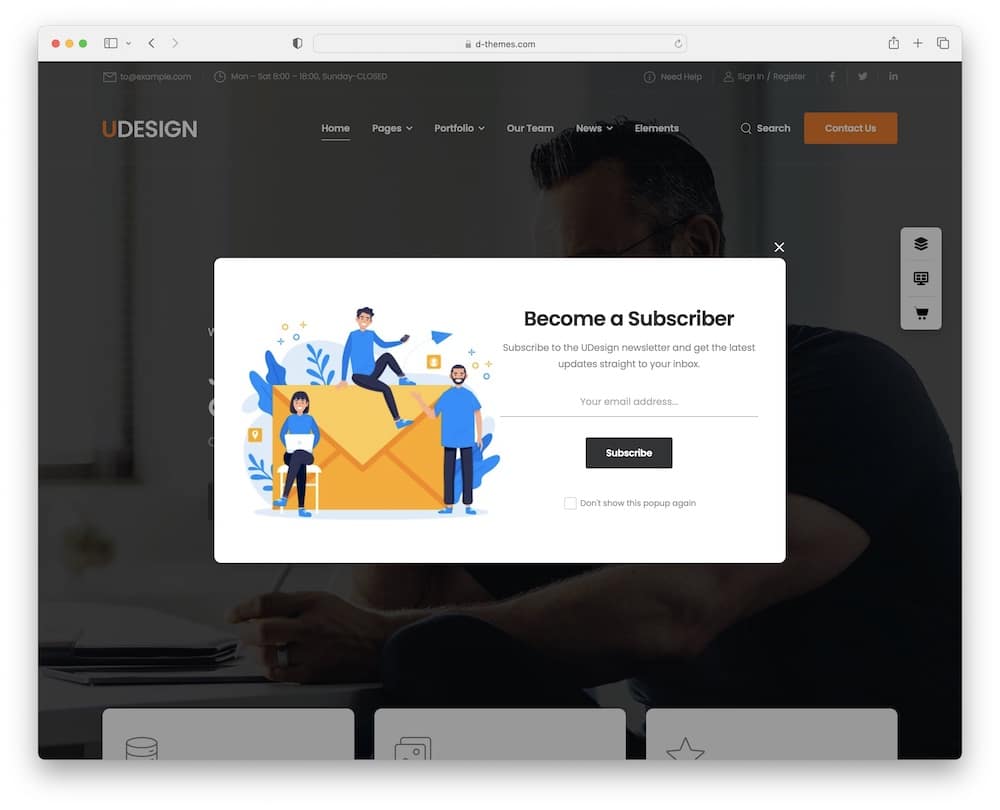 Let's talk about the unique uDesign WordPress theme with a popup.
uDesign is flexible and easy to throw together due to its ready-to-use demos (single-click import). Plus, you can drag and drop elements to the wanted position via the visual editor (Hi, Elementor).
Just smile and feel the love of the fact that you don't need to know how to write code.
Moreover, uDesign is responsive, pixel-perfect, and optimized for speed. Yes, it will stand out on every screen with epic performance!
Oh, and with popular WooCommerce, you can build your online store in no time. It also includes impressive addons for an even better user experience (quick view, wishlist, 360 rotating, cart popup, countdown, and much more).
uDesign is very ready to be your new best friend!
uDesign features:
53,000+ sales
4.6+ star ratings
Simple & quick setup wizard
Popup builder with 15+ options
Price: $59 (may vary)
MORE INFO / DOWNLOAD
DEMO
3. Betheme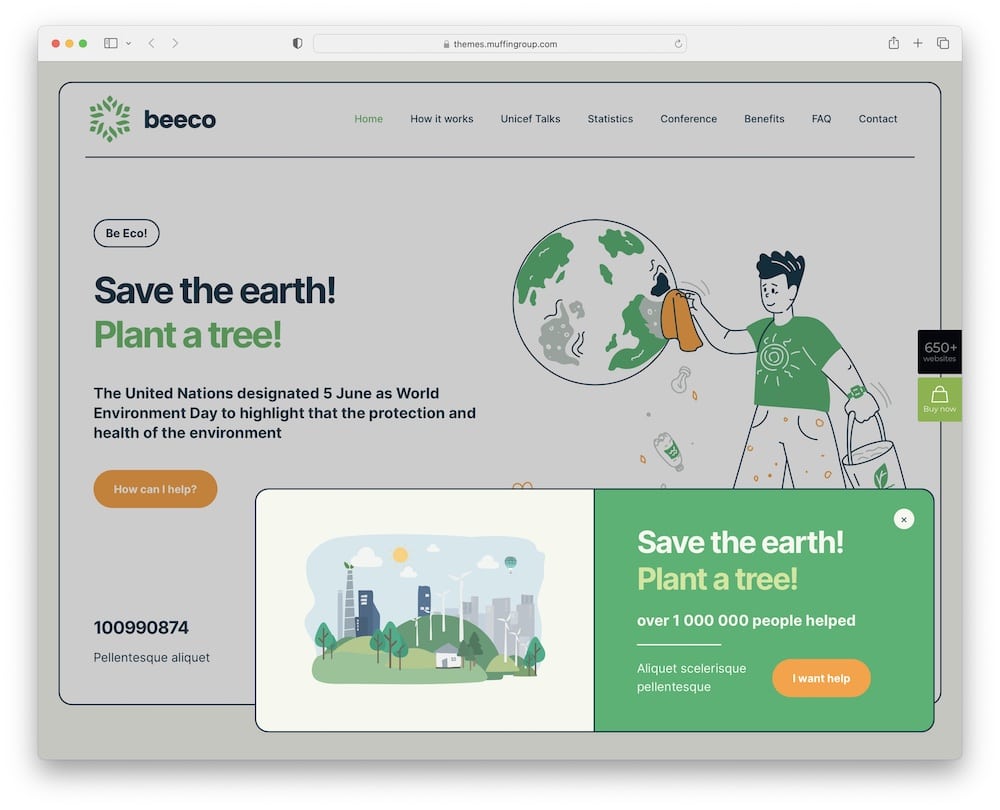 Betheme WordPress theme with a popup will help you make the most out of your online presence.
I am sure you will love unlimited possibilities, flexible design, beautiful details, various elements, and unique layouts. Everything you need is packed in professional Betheme.
Besides, you get FREE lifetime updates and outstanding customer support that would love to serve your business.
You can also decide if you want a light or dark mode effect on your website (or both).
BTW: Popup engagement can increase sales, grab visitors' attention, and encourage people to sign on to your newsletter lists. Instant results! And it's easy to make it happen with Betheme.
The SEO-ready Betheme is waiting for you.
Betheme features:
280,000+ sales
4.8+ star ratings
650+ ready-to-use websites
Disable scrolling when popup is open
Price: $60 (may vary)
MORE INFO / DOWNLOAD
DEMO
4. Miion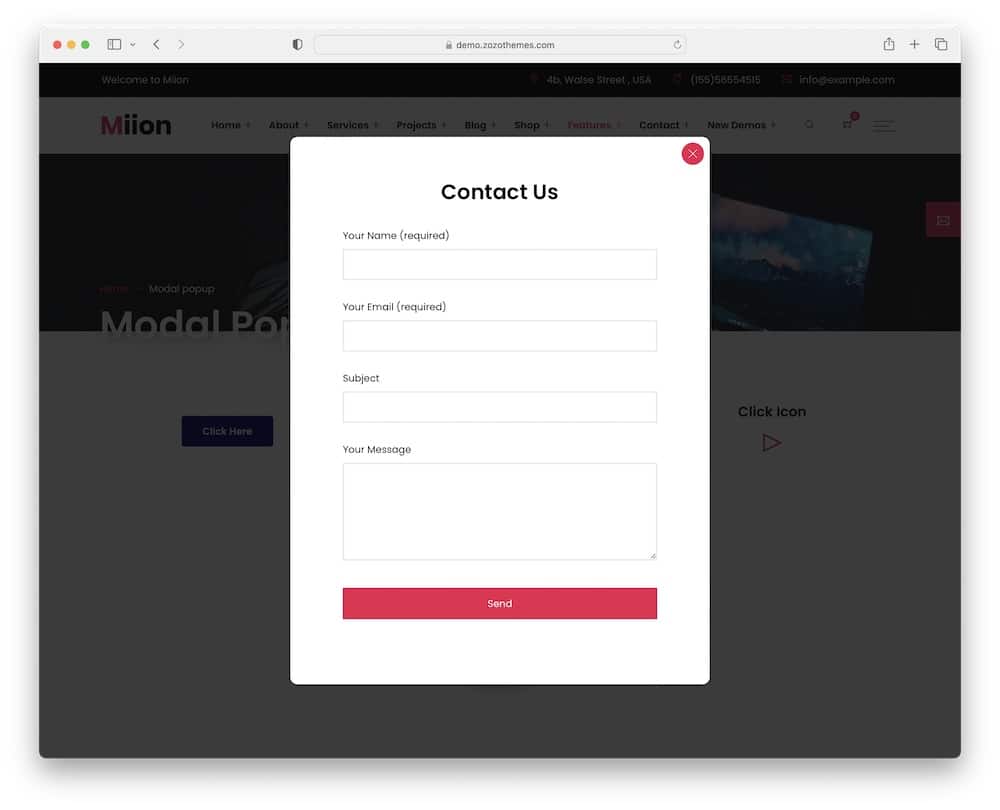 Choose smart. Choose the Miion WordPress theme with great adoption to multiple industries and niches!
Gorgeous Miion comes with ten pre-made demos, numerous inner pages, handy layouts, and helpful shortcodes. Coffee, comfortable chair, fingers on the keyboard, go time!
Moreover, Miion is compatible with the most popular plugins, such as Elementor, Slider Revolution, WooCoomerce, and Contact Form 7. Yeah, I LOVE IT.
Oh, and Miion's extensive documentation with a step-by-step guide is like a cherry on top.
In honor of the awesomeness of your business, you can pick from unlimited portfolio variations for the best presentation of your work. Illustrate your skills and abilities like a PRO!
Miion features:
180+ sales
5-star rating
30+ Elementor addons
Full support for enabling RTL in WP
Price: $69 (may vary)
MORE INFO / DOWNLOAD
DEMO
5. The7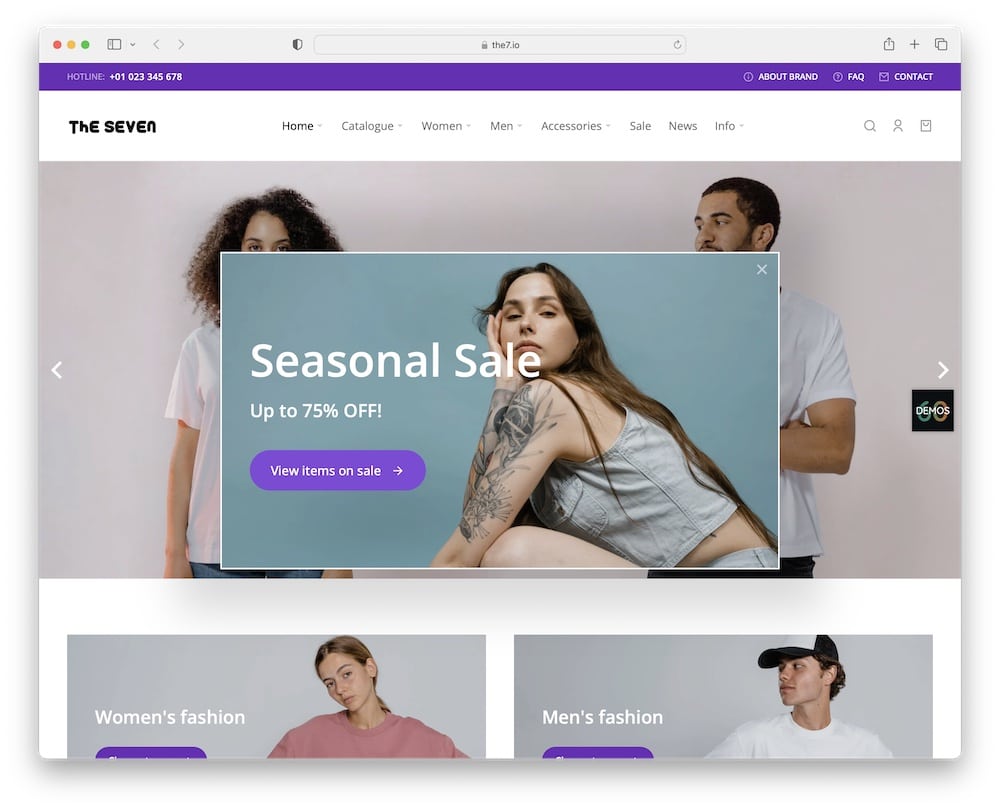 Start with a plan and finish with a stunning website due to the powerful The7 WordPress theme with a popup.
This best-selling theme comes with pre-designed demos that are fully customizable to all your needs. Simple install offers a lightning start that will make you smile! (But you may also be interested in reading how to install a WordPress theme first.)
Of course, you can build an advanced online store (thanks, WooCommerce!) with cool filters, shopping cart, and unique product showcases.
Moreover, The7 includes a bundle of awesome headers, a mega menu (my fav!), sidebars, custom widgets, handy buttons, and much more.
I would also like to tell you the other important thing, which is that – surprise! – you can actually pick between Elementor and WPBakery builders (not many themes are optimized for both).
The7 features:
288,000+ sales
4.7+ star ratings
Amazing eCommerce integration
White labeling tool (use custom branding!)
Price: $39 (may vary)
MORE INFO / DOWNLOAD
DEMO
6. Vault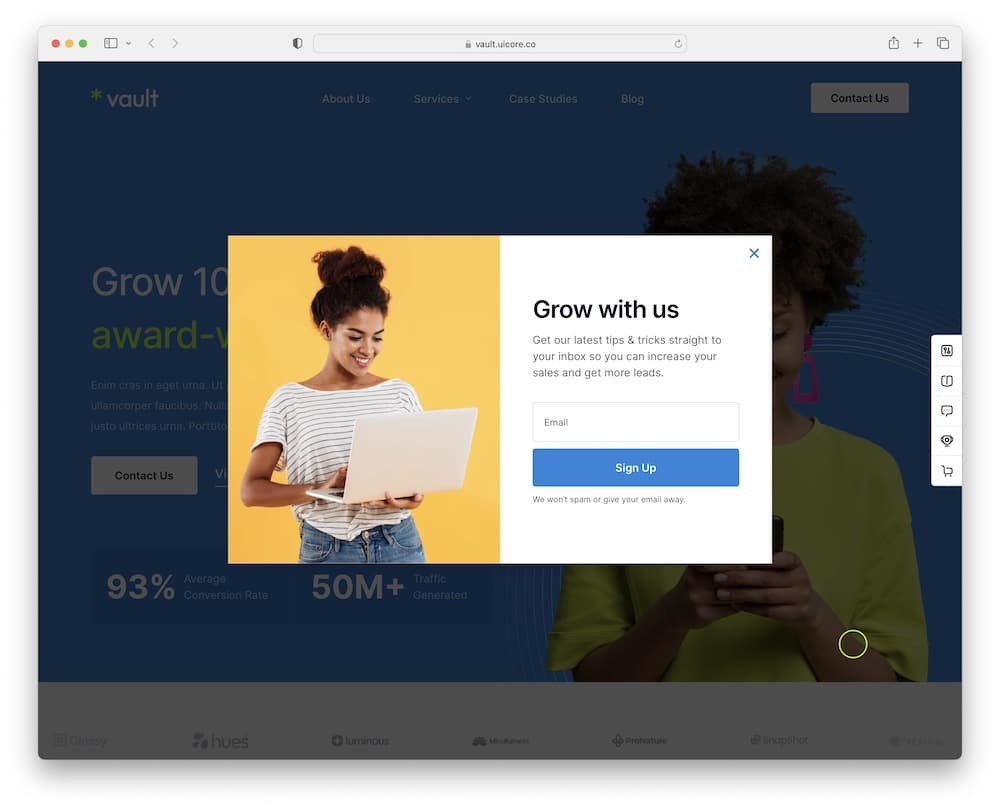 Vault is a fast-growing multi-purpose WordPress theme with a popup.
So here's the deal: Convenient visual page builder is your ticket to CHANGE pre-made demo in real-time as you desire (0 coding knowledge required). Simple dragging and dropping, baby!
Besides the builder, you can create a jaw-dropping site with exclusive icons, over 200 elements, and huge collection of blocks. ATTACK your competition with Vault's creative power!
A.M.A.Z.I.N.G.
Vault is also translation ready to help you promote your work or expand your reach anywhere in the world. (Feel free to pick any WP translation plugin to go local or global.)
You will as well discover a popup builder, built-in animations, and marketing banners to interact with your visitors in an attention-grabbing way.
Let's get started!
Vault features:
3,500+ sales
4.8+ star ratings
50+ predefined business websites
Handy built-in performance manager
Price: $39 (may vary)
MORE INFO / DOWNLOAD
DEMO
7. Panda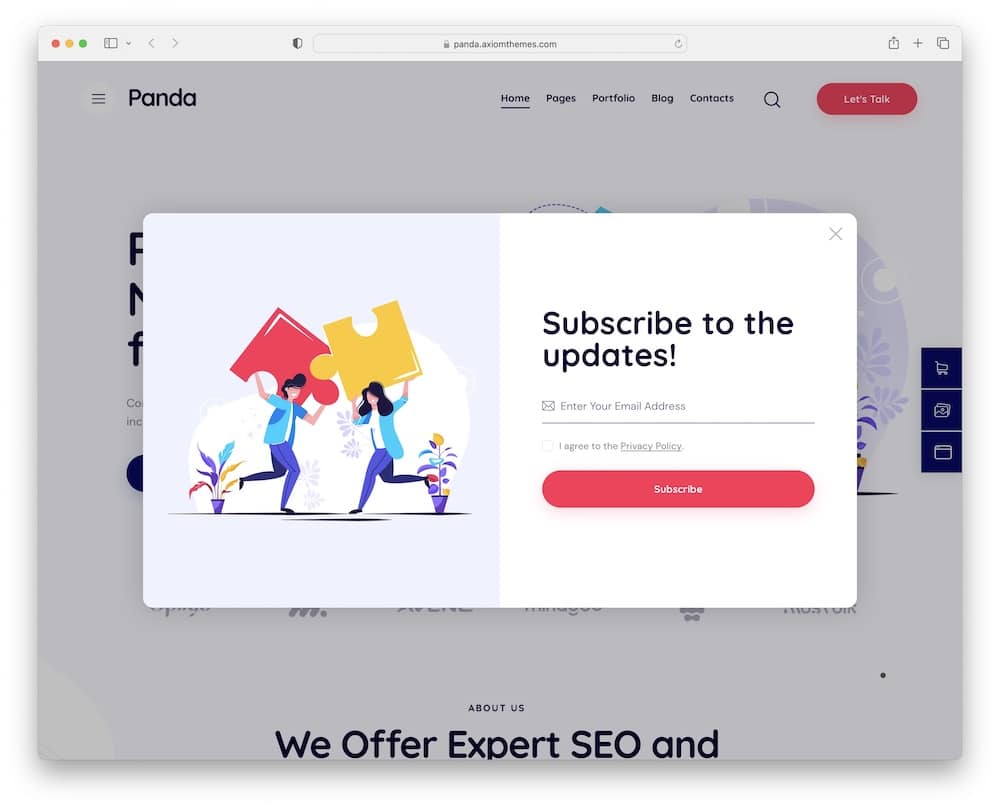 Crafty Panda WordPress theme with a popup will save you time and money.
How many hours till launching a dream website? THANK YOU FOR ASKING. Just minutes!
Remember, Panda comes with ready-to-use demos, responsive layouts, the most popular plugins, custom widgets, and handy shortcodes.
Great scenario.
Panda also pays attention to blog styles as part of a personal space for your content. Because blog can help you build an online community and authenticity of your brand. I am a #1 fan.
Plus, Panda thinks with Google in mind (SEO-friendly) and is cross-browser compatible.
Is it just me, or should it always be time to check some COOL websites on the phone? Yup, a mobile-friendly site is a must!
Panda features:
430+ sales
5-star rating
Comes with a child theme
Extra widget areas for your content
Price: $69 (may vary)
MORE INFO / DOWNLOAD
DEMO
8. Kaon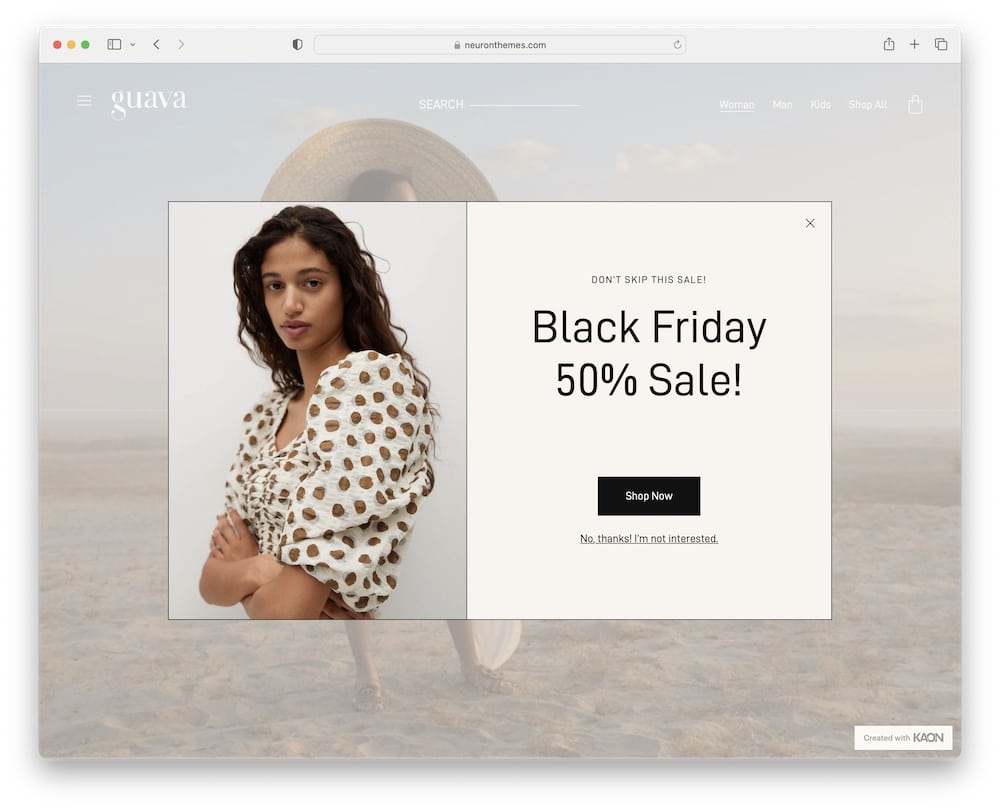 All it takes is one mouse click to start handling things the right way via the Kaon WordPress theme with a popup!
Kaon is bundled with tons of pre-designed elements and tools that will perfectly match your needs and ideas. You will get beautiful inner pages, unique layouts, custom galleries, footer types, and the popular WooCommerce builder.
Everyone = Happy.
And as you know by now, the mega menu is my fav (the bigger, the better) style of navigation. (We also have a tutorial on how to create a mega menu in WordPress.)
Moreover, with Kaon, you can create effective popups with precise timing for ad messages, email subscriptions, and hot announcements. Trust me: They work like magic.
Also, play around with motion effects like parallax, animations, horizontal scrolling and much more.
Create excitement with Kaon!
Kaon features:
410+ sales
4.6+ star ratings
Practical Ajax WordPress technology
60+ video tutorials (cover everything!)
Price: $59 (may vary)
MORE INFO / DOWNLOAD
DEMO
9. Artday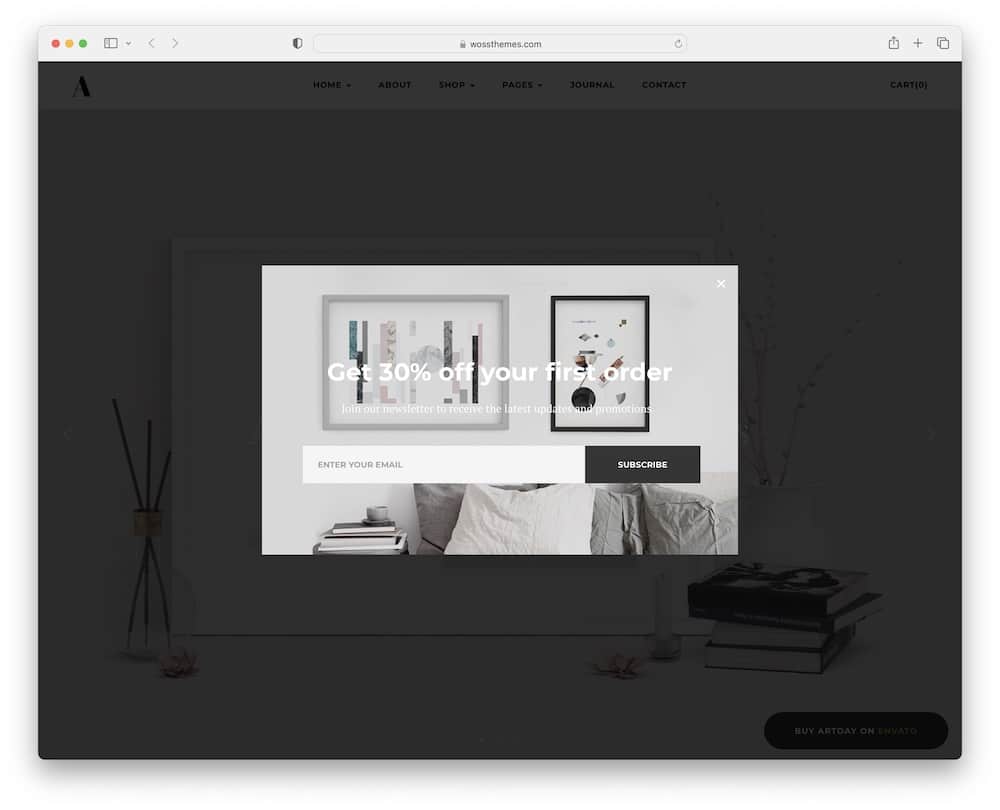 The biggest advantage of using the Artday WordPress theme with a popup comes with its smooth performance.
Generally speaking, if you're looking for a modern and flexible website foundation, you found it.
Design agencies, creative artists, freelancers, craft projects, art portfolios, or stores can use Artday.
I really fancy Slider Revolution with its smart features. Plus, it gets people more interested in what your brand has to say. You can use colorful text, lots of images, fun animations, and add engaging buttons.
Yes, and YES.
In fact, everything about Artday is editable and can be easily adjusted with the WPBakery page builder. Keep in mind coding will NEVER be a MUST with Artday!
Get the success out of Artday.
Artday features:
2,300+ sales
4.2+ star ratings
Layered Popups for WordPress plugin (for free)
Comes automatic theme updates
Price: $59 (may vary)
MORE INFO / DOWNLOAD
DEMO
10. DotLife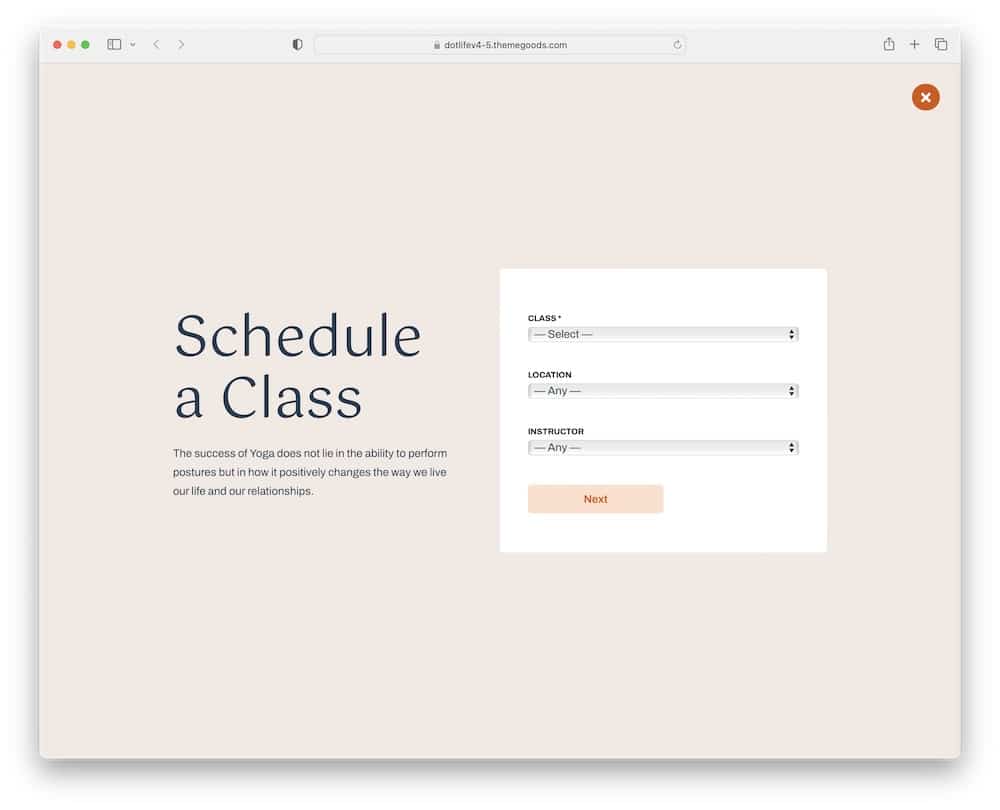 You guys, check out the professional DotLife WordPress theme with a popup for an upgraded online coaching and courses presence!
DotLife includes numerous pre-made homepages (something for everybody) with a one-click install. That's it! Easy peasy.
And then you can continue to doll it up as you like.
The best part: You can upload your podcast episodes, create and sell courses, offer online booking, and even connect via Zoom meetings. All in one place.
Furthermore, DotLife includes FREE updates (!), extensive documentation, and friendly customer support to help you with any dilemmas (seriously, it's amazing).
Oh, and by connecting your social media profiles with a site, you generate engagement and increase awareness of your work.
Make it happen!
DotLife features:
3,600+ sales
4.6+ star ratings
Setup takes seconds
80+ templates, 100+ widgets (massive time-savers!)
Price: $64 (may vary)
MORE INFO / DOWNLOAD
DEMO
11. Attika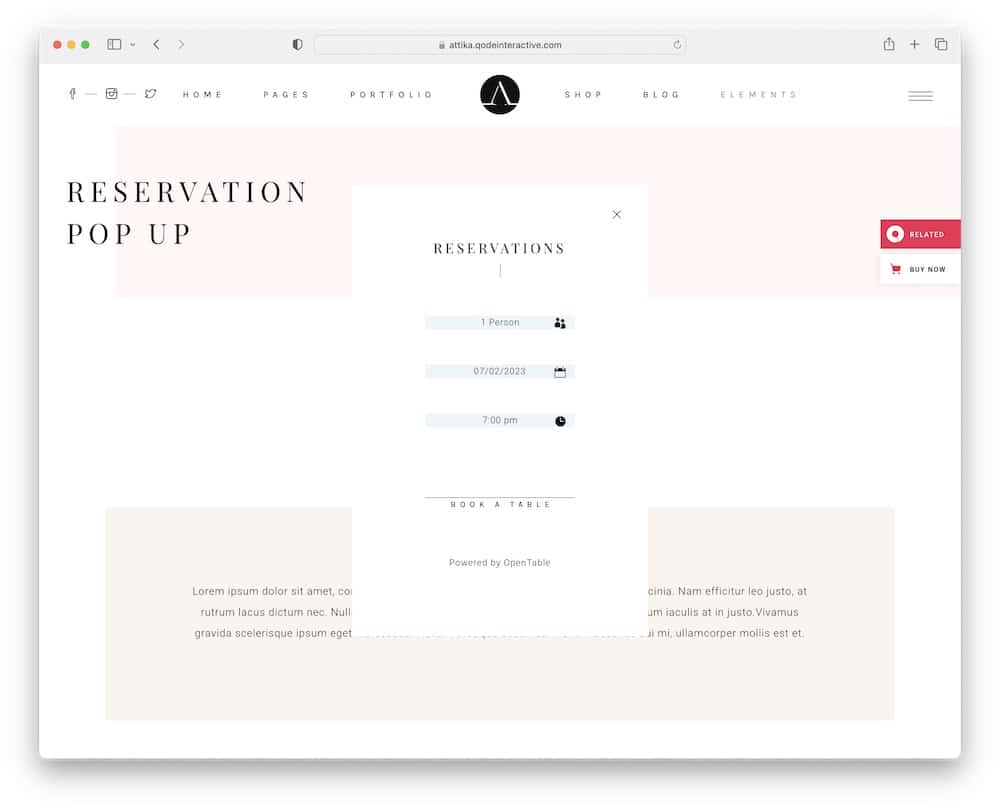 Throw-all-the-coolness-in-one-theme is exactly what the Attika WordPress restaurant theme with a popup feels like.
Elegant Attika is responsive and retina ready for the BEST user experience on all devices.
It will charm your visitors from the first scroll due to its beautiful design, perfect portfolio layouts, parallax theme sections, and brilliant mega menu navigation.
Moreover, via included social media icons & share functionality, you can connect, engage and share content with your audience.
And if you ever need any additional support, Attika customer support, assembled of skilled experts, is ready to give you a hand.
Attika features:
930+ sales
4.7+ star ratings
Customizable Google Maps
Ready-made menu & reservation popups
Price: $89 (may vary)
MORE INFO / DOWNLOAD
DEMO
12. Avada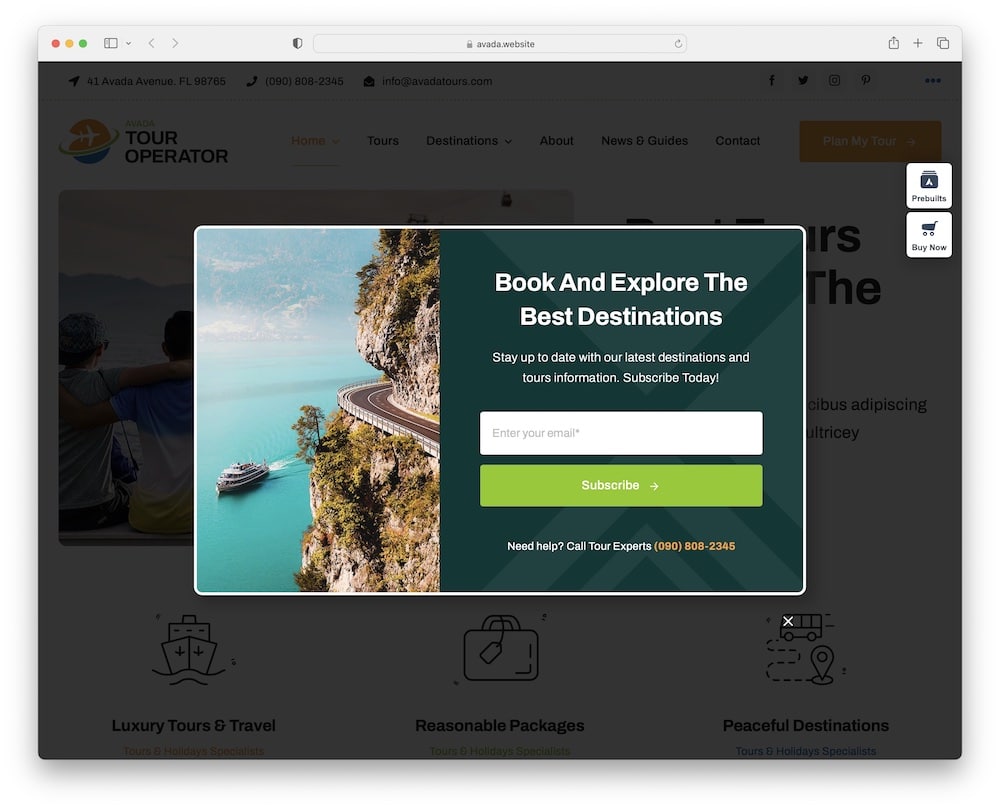 Experience the amazingness of the modern Avada WordPress theme and fill your website with users' favorite tools.
Hello, success!
Avada has multiple demos with endless customization possibilities to suit your numerous ideas. Plus, it requires 0 experience (coding, design) to work with it.
You can simply learn everything from step-by-step documentation. Also, Avada is Gutenberg optimized for user-friendly block editing that lets you build pages and post with blocks.
Without any problem.
But Avada has a builder for everything, including creating custom popups.
Besides, feel free to experiment with custom headers & footers to find the right design for your business logo, key information, mega menu, privacy policy, social media icons, forms, and Google maps.
Enjoy a new beginning with Avada!
Avada features:
900,000+ sales
4.7+ star ratings
Translated in 30+ languages (partially or fully)
Works for any project
Price: $69 (may vary)
MORE INFO / DOWNLOAD
DEMO
::
Note: This article was originally published on July 3, 2023. But our team regularly reviews it and updates it with necessary improvements for accuracy.