We tested, reviewed, picked and ditched 30+ mommy blog WordPress themes to bring you this ultimate collection.
Are you starting your online journey as a MOM BLOGGER but don't have experience with coding and design?
That's what these WordPress themes are here for – YOU!
It doesn't matter if you would like to write about babies, motherhood, your pregnancy experience, food, heck, even traveling, fashion and lifestyle – it's all possible.
This post covers:
You can now build a powerful, impressive, lovely and impactful mom blog, spending very little.
BY. YOURSELF.
What To Look In A Mommy Blog Theme?
It's important that you pay close attention to a few of the essentials when picking the right theme for a mom blogger.
However, we already did the hard work instead of you when testing the themes for this collection.
So you don't have to.
Meaning, we analyzed each theme in great detail to cover all the key features – AND plenty more!
5 Must-haves of a great mom blog:
The layout needs to be 100% mobile-friendly and the base lightweight and optimized for excellent performance (read top-notch loading speed).
It must come with multiple predefined home and internal page and post layouts.
Regular updates (and improvements) are a must, so you can use the theme for years to come.
Compatibility with page builders and plugins, so you can expand the blog's functionality at free will, plus customize it however you want.
The theme needs to have extensive, beginner-friendly documentation and fantastic support.
THE ULTIMATE 4:
Best WordPress Themes For Mom Bloggers
1. Ceris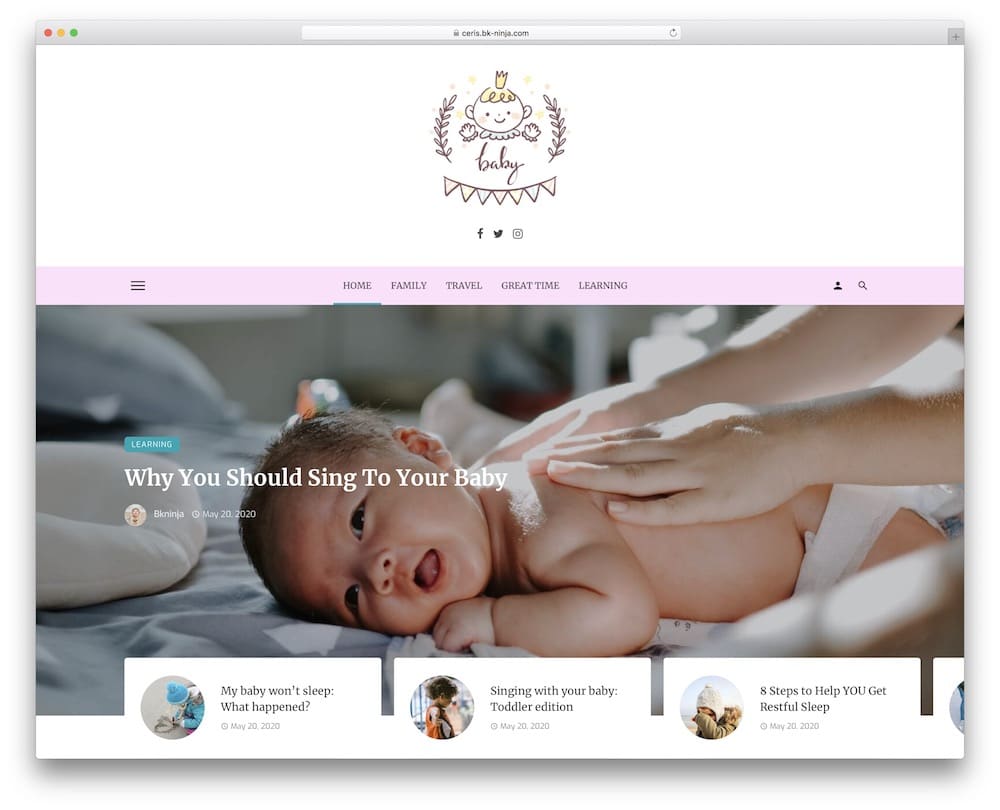 Choose from a wide variety of premade pages, styles, and layouts that Ceris offers.
This modern mommy blog WordPress theme helps you share your sensitive stories and brave experiences of the mom's life with your audience.
Ceris comes with stuff like optimized site speed, infinity scroll, SEO, and GDPR compatibility.
You can also choose different headers for each page that you will create with Ceris for an even better experience.
Another cool thing about Ceris is the integrated WP review system, which can help take your MOM BLOG to the next level.
Be a fun and charming mom with Ceris.
Ceris features:
1,700+ sales
4.9/5 star rating
Created with SEO in mind
40+ demos
Price: $59 (may vary)
MORE INFO / DOWNLOAD
DEMO
2. Veen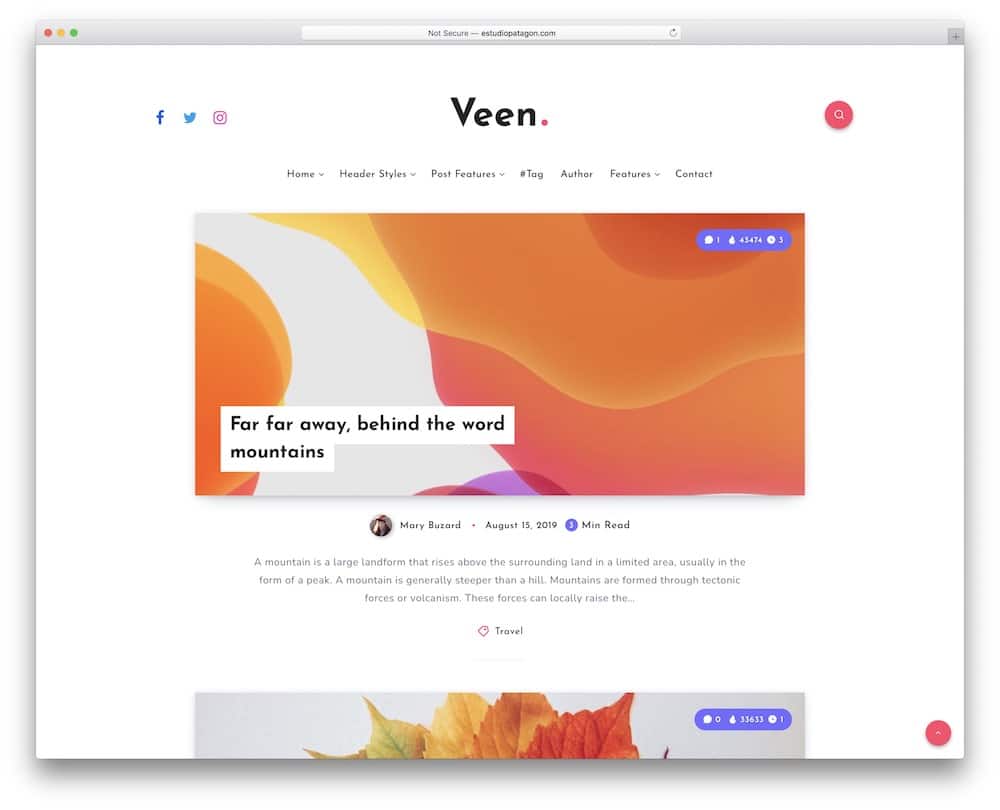 Make a memorable impact on your visitors with the Veen mommy blog theme. Veen is a colorful and modern solution for personal or inspiring blogs with wonderful content that can help a wide range of women.
With this theme, you can also achieve great scores on Google due to SEO optimization.
Veen has full documentation that will provide you with all the necessary information.
Besides, Veen is REGULARLY UPDATED for the latest security patches, best speed, and newest features.
There is nothing better than a successful and attractive website.
Veen features:
1,800+ sales
4.9/5 star rating
Super minimalist & simple
Easy to translate
Price: $45 (may vary)
MORE INFO / DOWNLOAD
DEMO
3. TinySalt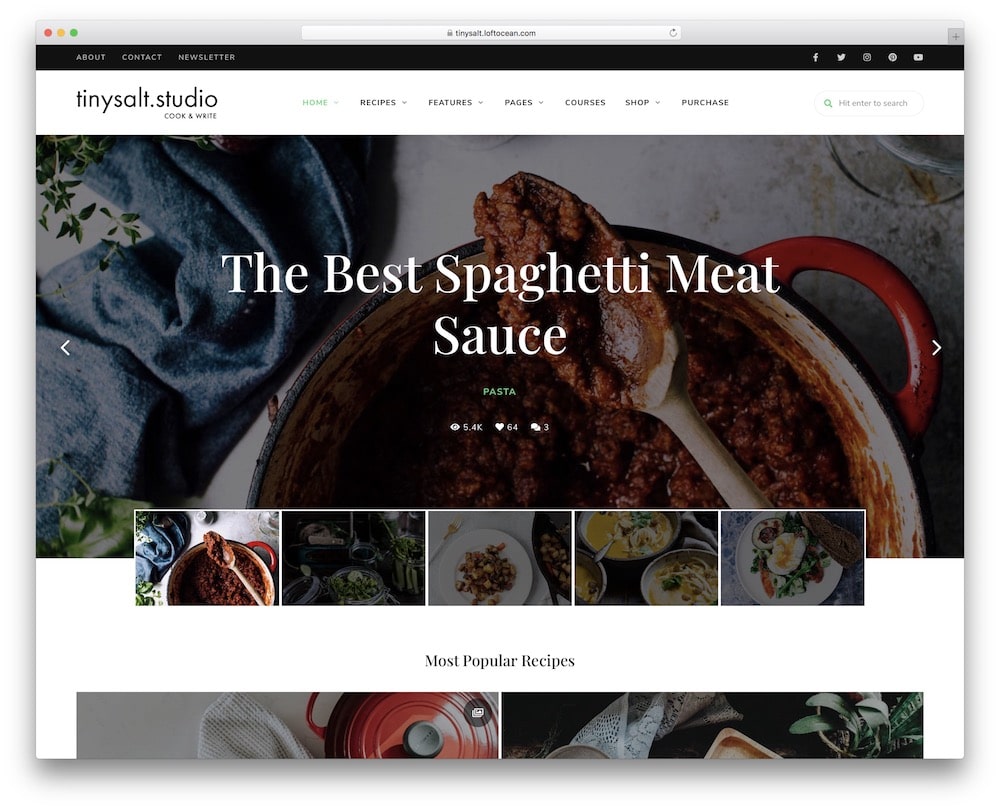 TinySalt is a stylish and fresh mom blog WordPress theme ideal for bloggers in the food space. Delicious. Recipes. FTW.
The theme comes with simple-to-install pre-made homepages, different blog styles, and various post templates. (But don't forget to read our tutorial on install a WP theme.)
Furthermore, with TinySalt, you can simply create your own online store due to the amazing WooCommerce plugin.
Besides, you can launch powerful email marketing with MailChimp.
If you are a mom who likes to cook and create different dishes, you will love all the recipe categories and stylish recipe index pages you can add to your site.
Take your "ME TIME" with TinySalt.
TinySalt features:
2,000+ sales
4.9/5 star rating
Regular updates
100s of theme options
Price: $64 (may vary)
MORE INFO / DOWNLOAD
DEMO
4. Ruki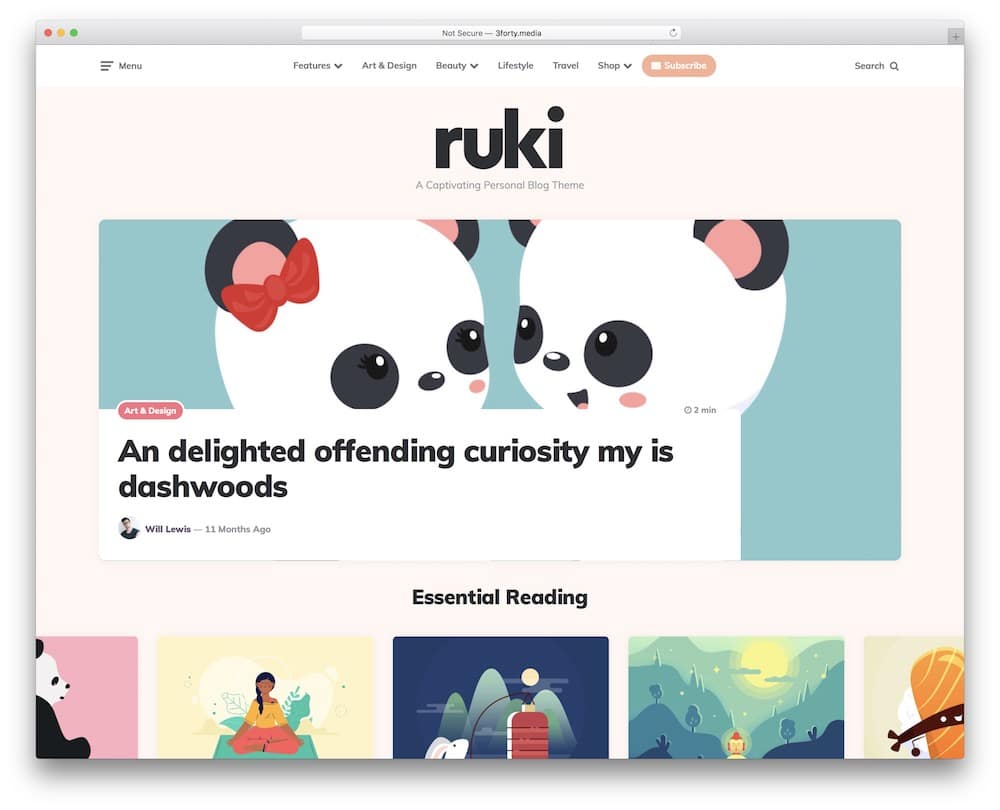 Ruki is a PRETTY and SWEET mommy blog WordPress theme for enthusiastic content creators.
If you have loving and funny mom moments, valuable tips, and an interesting lifestyle, then Ruki is the right theme for you.
This theme comes with customizable posts, a sticky header menu, different widgets, and tons of Google Fonts.
Ruki is packed with unlimited possibilities and includes all the features you need for easy creating.
Besides, you will get detailed documentation and demo data, too. Even the child theme is part of the package.
Mom, make yourself a cup of strong coffee (or tea) and start designing. ENJOY.
Ruki features:
1,000+ sales
4.9/5 star rating
Speed optimization (PageSpeed Insights: 94)
Great for RTL languages
Price: $59 (may vary)
MORE INFO / DOWNLOAD
DEMO
5. Behold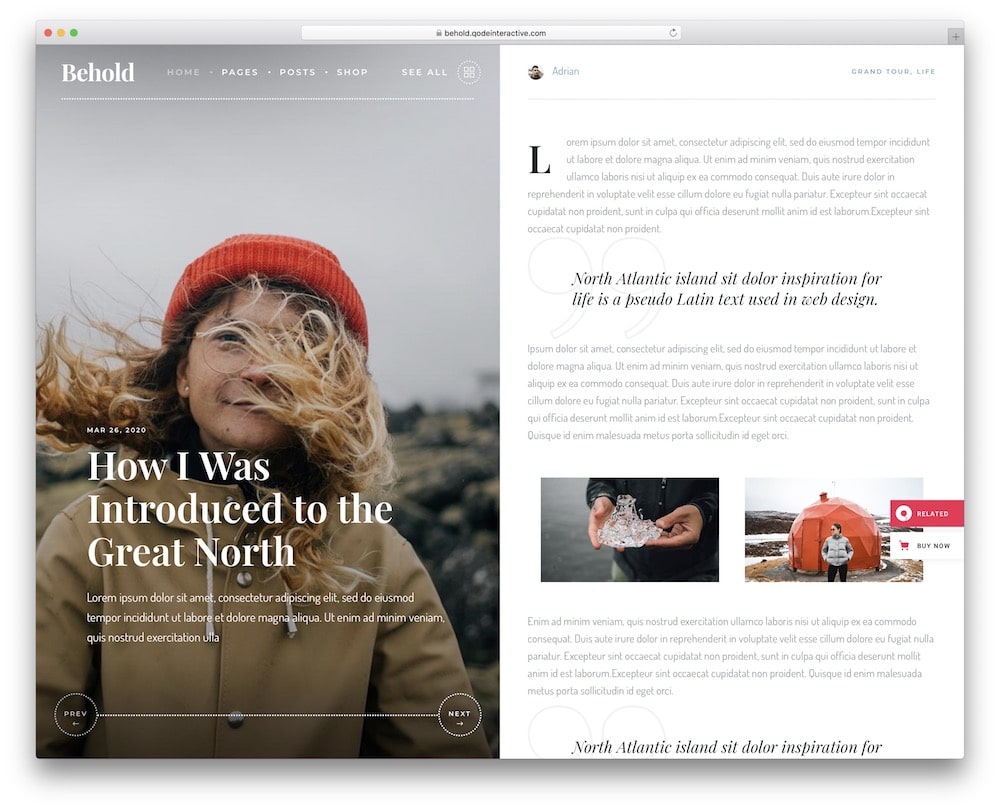 Behold is as fabulous as possible when we talk about its good looks. Even though it isn't the most popular, it's MY FAVORITE.
This mom blog WordPress theme is for crafting an elegant and modern blog site that will instantly be an eye-pleaser for your visitors.
Behold comes with practical pre-designed templates and awesome features.
The tool is packed with irreplaceable tools such as Slider Revolution, Elementor, and mega menu.
Also, Behold offers everything you will need to launch your own online store.
COMFORT yourself with amazing Behold and create your online story. HELP other moms with your everyday mom tips, ideas, and adventures.
Behold features:
430+ sales
4.5/5 star rating
Works flawlessly out-of-the-box
Price: $85 (may vary)
MORE INFO / DOWNLOAD
DEMO
6. EasyMeals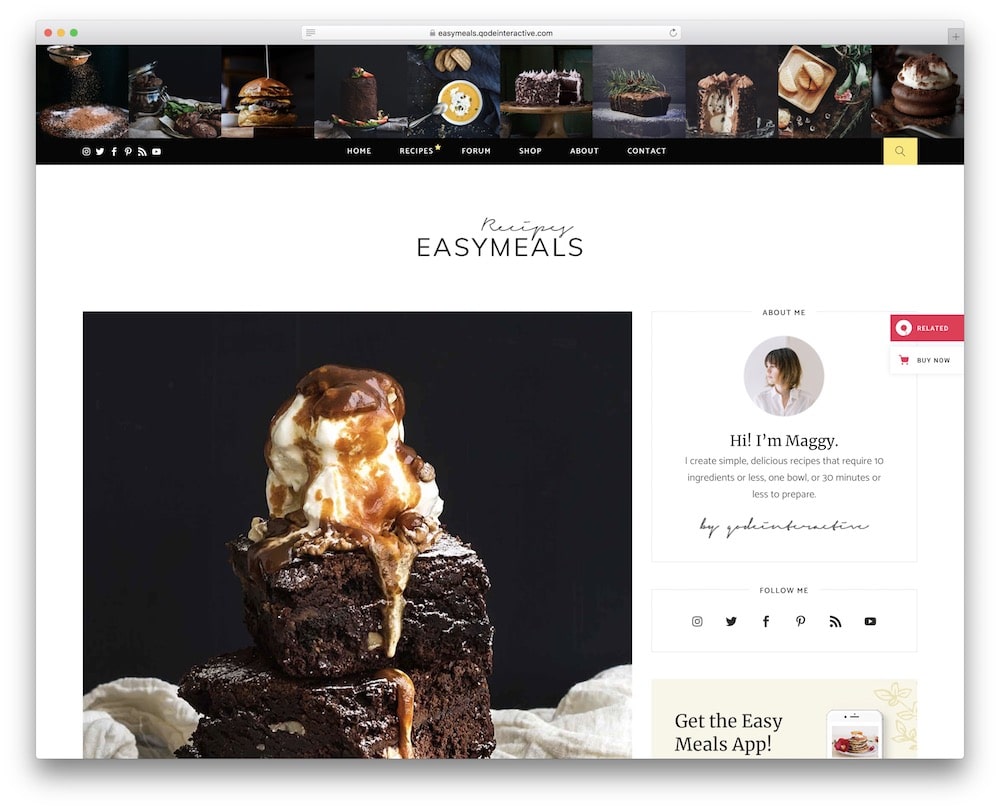 Getting back into real life after childbirth? You can reach out to other moms and even help them with your experience, transition, and valuable thoughts with EasyMeals mommy blog theme.
BUT.
You will want to use EasyMeals for your DELICIOUS meal prep, whether it's for your newborn or your entire family.
On EasyMeals, you can easily customize anything that you see on the site with the help of an amazing Elementor page builder.
Also, you will get various blog layouts and templates created especially for you. EasyMeals will impress you with stunning and useful tools that will added value and functionality to your website.
You absolutely need to check this pretty theme if you plan to launch a food blog.
EasyMeals features:
MORE INFO / DOWNLOAD
DEMO
7. Newsource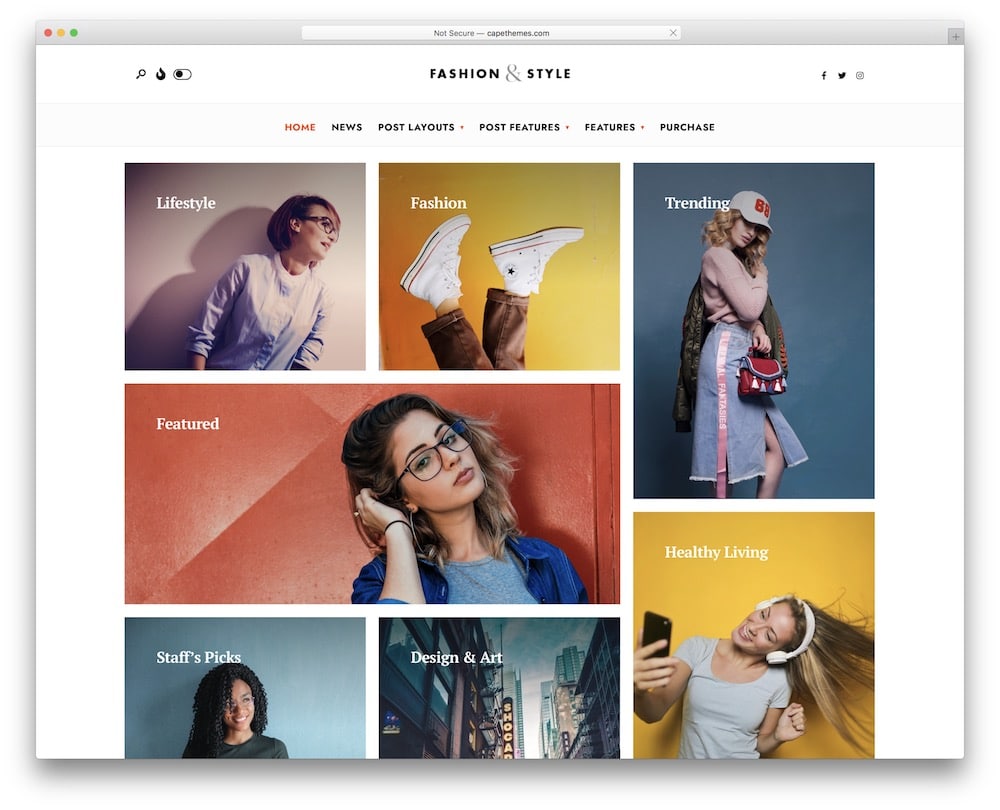 They say being a mom increases your capacity for love.
Think about it, with the Newsource mom blog WordPress theme, you can share all this new love with other moms and parents.
And it will be SO MUCH FUN.
Newsource was developed for flexible and powerful women that want to write about family, life, important events, and motherhood.
Newsource comes with Elementor and Gutenberg editors so that you will enjoy your WordPress experience even more.
100% CODELESS.
Also, this theme includes dark mode to create a stunning dark/black-ish version of your new site.
Newsource has everything you need to go through the roof with your valuable content.
Newsource features:
150+ sales
4.5/5 star rating
Drag and drop page builder
Go DARK or go with a WHITE theme look
Price: $59 (may vary)
MORE INFO / DOWNLOAD
DEMO
8. YourWay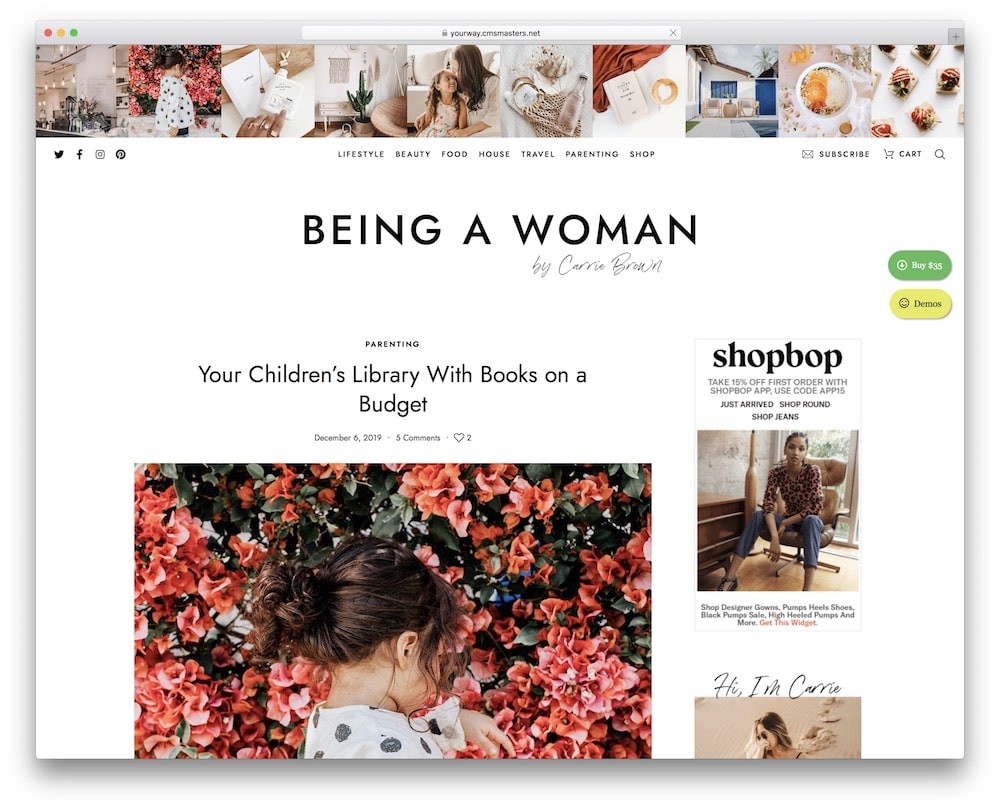 YourWay is a modern and fresh mom blog WordPress theme with social media integration. You can add Facebook, Pinterest, YouTube, or Twitter to your website easily.
MOM + SOCIAL MEDIA = WIN.
Elementor powers Yourway. It comes with unlimited flexibility and lets you create your dream site comfortably.
Also, you can use pre-designed templates, widgets, and layouts at free will.
Furthermore, this theme includes the WooCommerce plugin that will make it easy for you to build your own online store.
Remember, with YourWay, you have the power to create whatever you want and DESIRES for your mommy blog.
YourWay features:
100+ sales
5/5 star rating
Elemenentor page builder
70+ CUSTOM widgets
Price: $59 (may vary)
MORE INFO / DOWNLOAD
DEMO
9. Aqum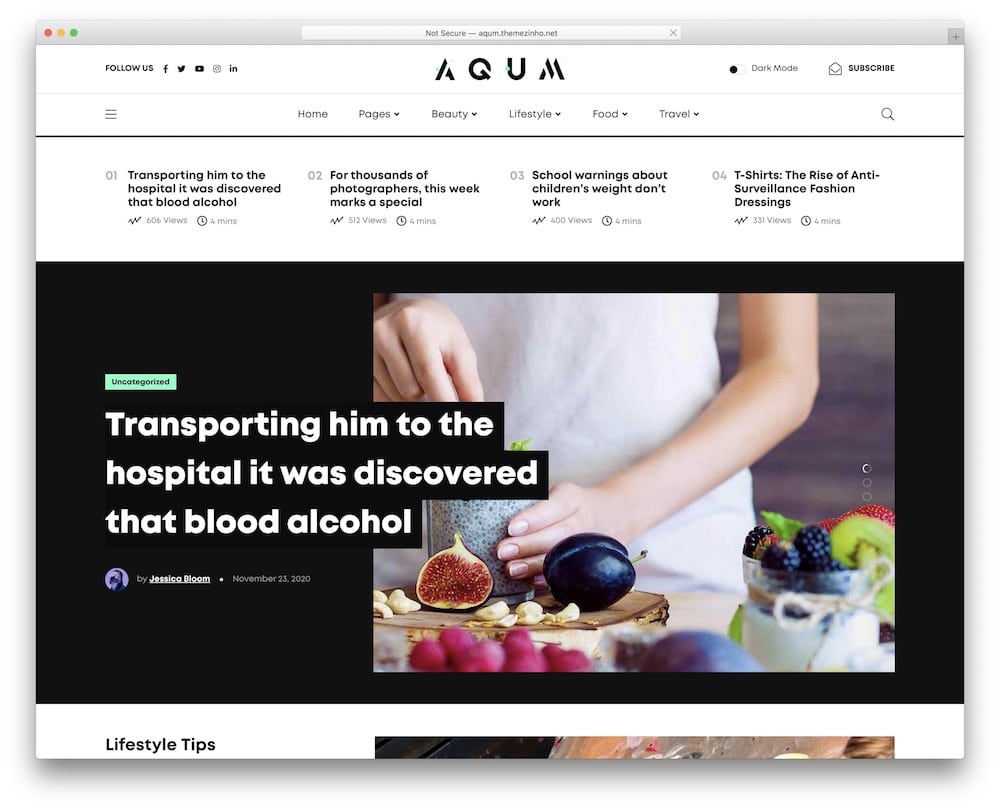 Wife – Mom – Boss, you can pursue your dreams and be great at all and then some.
This modern and beautiful mommy blog WordPress theme will fit easily in your business and help you build a popular website.
With Aqum, you can display your posts differently and show all your WP widgets on dark background for a more effective hook of attention.
BLACK. ROCKS.
Furthermore, Aqum comes with awesome WPBakery, SEO integration, and page speed optimization features.
Of course, developers regularly update Aqum for smooth site running and compatibility with the latest technology.
MOM, be limitless with Aqum.
Aqum features:
MORE INFO / DOWNLOAD
DEMO
10. Quemag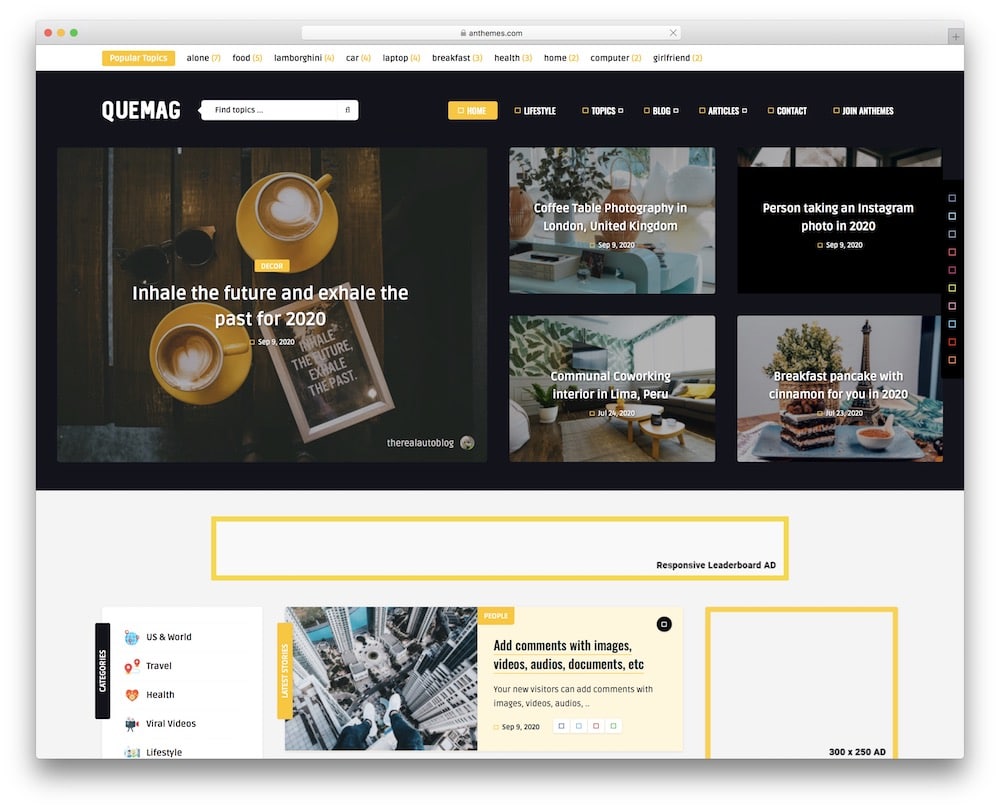 MOM this might be one of the hardest things but you have to trust in your vision and dream.
Quemag is a modern and stylish WordPress theme for mom bloggers made with stunning design and amazing elements.
It includes a one-click demo installation to use one of the pre-made index pages quickly.
Quemag is translation-ready so that you can localize your blog hassle-free.
One advantageous feature of Quemag is the option of response comments combined with personal photos or videos.
This offers your visitors the possibility to attach their images and videos related to your posts.
Find your MOM TRIBE, encourage, love them and they will lift you as well.
Quemag features:
30+ sales
4.6/5 star rating
Comments + photos + videos
WP Recipe Maker
Price: $59 (may vary)
MORE INFO / DOWNLOAD
DEMO
HINT: We also created a remarkable collection of the best feminine WordPress themes. These will help you put your project right at the top of the industry.
::
Note: This article was originally published on April 28, 2021. But our team regularly reviews it and updates it with necessary improvements for accuracy.