Are you building an optometry website and need the best WordPress optician themes?
You don't have to create your professional online presence from scratch. You don't even need to pay someone to do it for you!
I carefully selected WordPress themes (you may also be interested in reading Ales's tutorial on choosing a WordPress theme) that are easy to install and setup but still offer MANY features to create an outcome that's precise to your liking.
While you can use these designs for pushing your services, showcasing pricing and creating an online appointment form, there's a lot more to them.
This post covers:
Do you want to build an online optical store? What about starting a blog where you can share tips, tricks, advice and other knowledgeable content?
It's ALL possible.
I also ensured to test each theme for performance (read responsiveness and speed) with tools (Pingdom and Google's Mobile-Friendly tools) and manually. Result?
Your website will have the most incredible user experience regardless of the theme you choose.
You. Are. SPECtacular. (Did you see what I just did there?)
Let's go!
QUICK-PICK: Ultimate Optician WordPress Themes
I also recommend you first check how to install a WordPress theme if you haven't used it before. (It's EASY!)
Best WordPress Optic Store & Optician Themes
1. Optico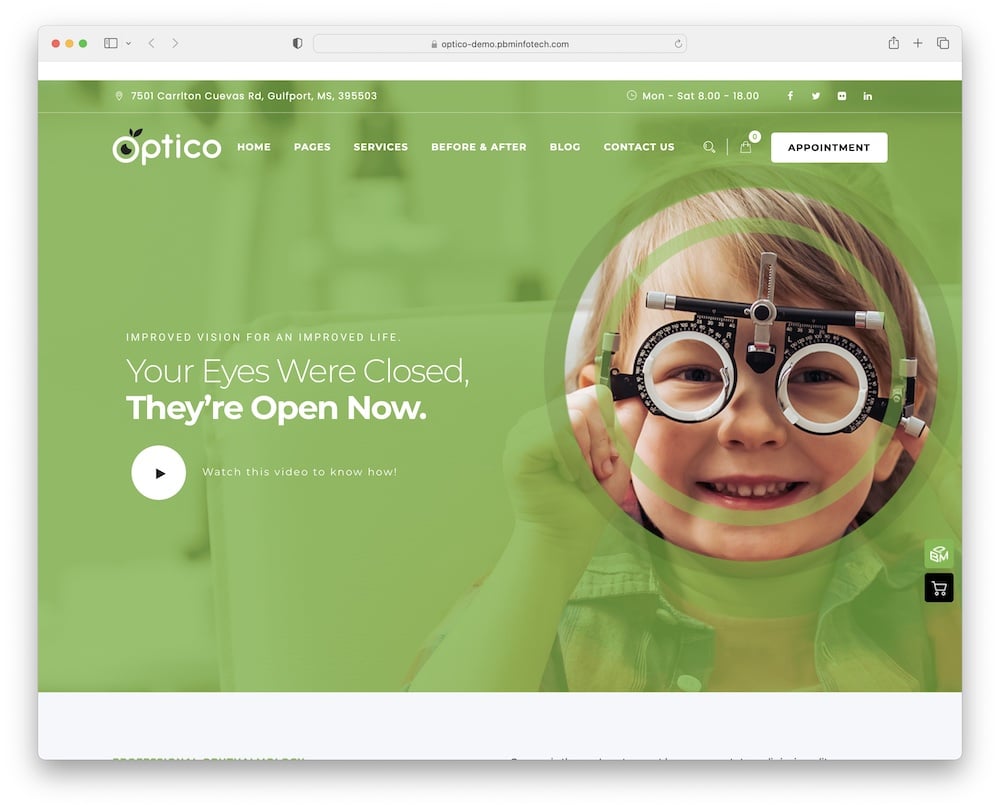 Make your client's faces stylish and attractive with an amazing glasses offer!
With the responsive Optico WordPress optician theme, you will stand out from the kick-off. It is SUPER easy to import, customize (Hi, WPBakery!), and update.
BTW: I can't resist using sticky headers (check how to create a sticky menu in WP) & creating valuable footers.
Moreover, you can beautifully display your services, team members, business portfolio, and contact information with Optico.
Plus, you can build a professional online store in no time!
And (it's my order) get the most out of the included plugins: Slider Revolution, MailChimp, Contact Form 7, and WooCommerce. AMAZING to work with.
Spot the performance difference and be inspired by Optico.
Optico features:
780+ sales
4.9+ star ratings
150+ ready-to-use template sections
Catchy animations
Price: $69 (may vary)
MORE INFO / DOWNLOAD
DEMO
2. Optrica

Stay up to date with the trendy Optrica WordPress optician theme.
Professional Optrica comes with three ready-to-use demos, numerous inner pages, and tons of smart blocks.
How much time do you have tonight?
5, 10, 20 minutes … Yup, it's enough to create your executive online store! Simple as ABC.
Okay, if you're new to WordPress, it may take you a little longer, but you can still finish it TODAY.
Furthermore, Optrica includes a brilliant appointment tool for quick and painless online booking (you can also pick a free WP booking plugin). Let your clients schedule appointments, pick the best date -time, and even pay for services online.
BIG. GAME.
The best part: You get well-prepared documentation, FREE updates, and friendly customer support. I know. Read it and weep.
I think Optrica is destined to become your new favorite co-worker!
Optrica features:
MORE INFO / DOWNLOAD
DEMO
3. Optometry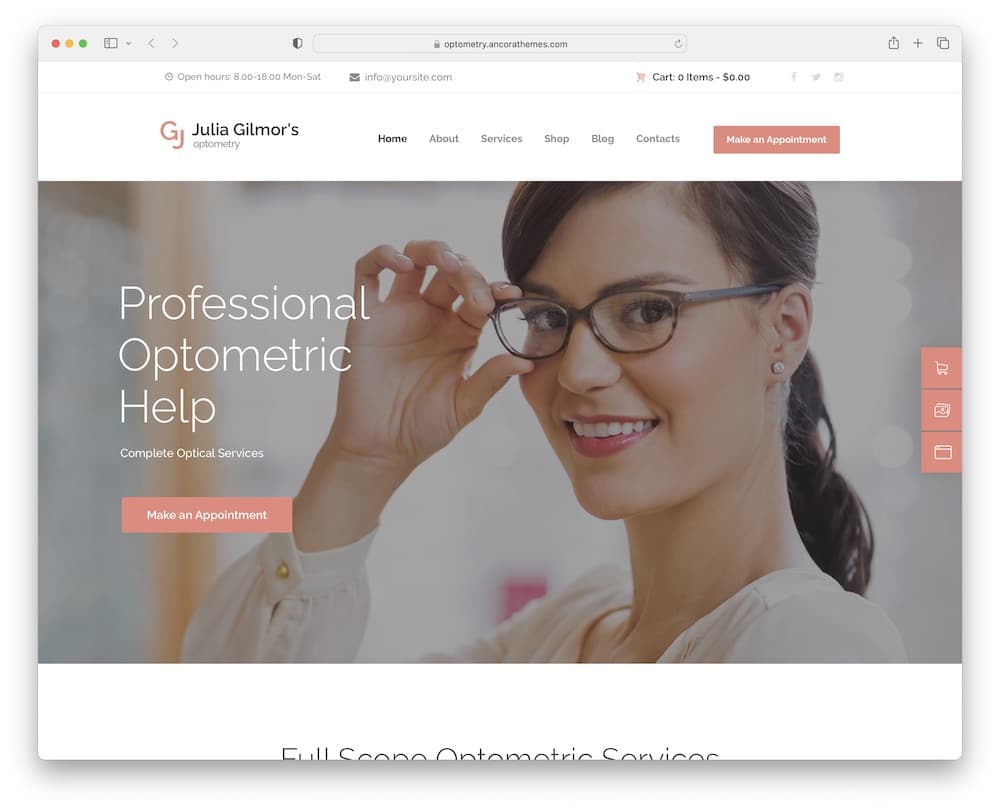 Look after the well-being of EYES with the stunning Optometry WordPress theme.
Elegant Optometry will charm you with its beautiful pre-made design, quality solutions, user-friendly WordPress page builder, and attractive gallery layout.
Plus, it always makes me happy when I see a great menu. Remember, friends, transparent aka effortless navigation through your site is everything! (But you can take things to the next level and create a mega menu for your WP site.)
I also recommend you create a blog, interactive videos, and other valuable content to share on your social media platforms. Optometry comes with social icons and feeds.
Moreover, you'll help people find your business, check your neighborhood, and see inside your physical store in a lightning way by adding Google Maps to your WP site (built-in function!).
Who doesn't love to use it?! Totally my FAV.
Optometry features:
MORE INFO / DOWNLOAD
DEMO
4. Optcare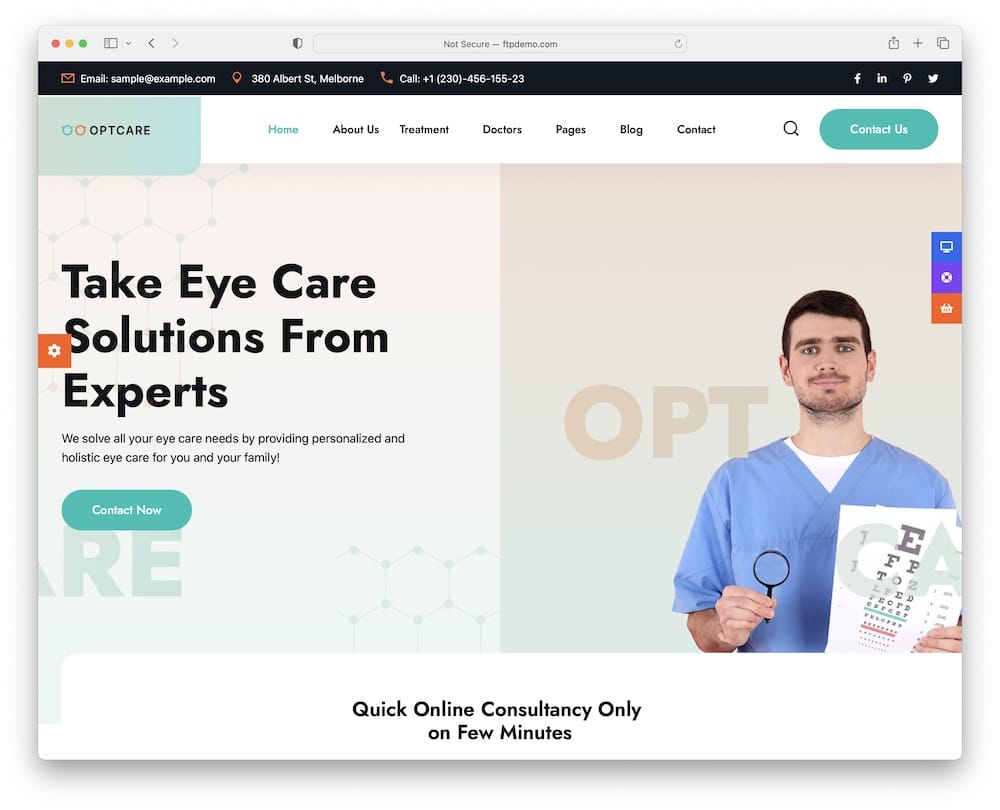 Eye care, you care, Optcare!
Create a better future for your business with this charming and functional WordPress eye care theme.
Optcare offers five pre-made homepages to choose from – guaranteeing you a quick and simple start.
Plus, you get numerous blocks, the most popular plugins, and really handy widgets.
Optcare was also tested on real devices, ensuring it looks great on all screen sizes, works fast, and is cross-browser compatible. (I did additional testing myself to ensure top-notch performance.)
It's even SEO optimized!
And if you are like me, you will enjoy browsing through unlimited colors, Google fonts, and sidebars when personalizing the look.
Tip: Create engaging forms with Contact Form 7 and allow your customers to ask questions, make a proposal, or write a flattering remark about your store and services.
See one step ahead with Optcare!
Optcare features:
50+ sales
4.5+ star ratings
100% optimized for the Elementor builder
Simple 1-click installation
Price: $39 (may vary)
MORE INFO / DOWNLOAD
DEMO
5. MediCenter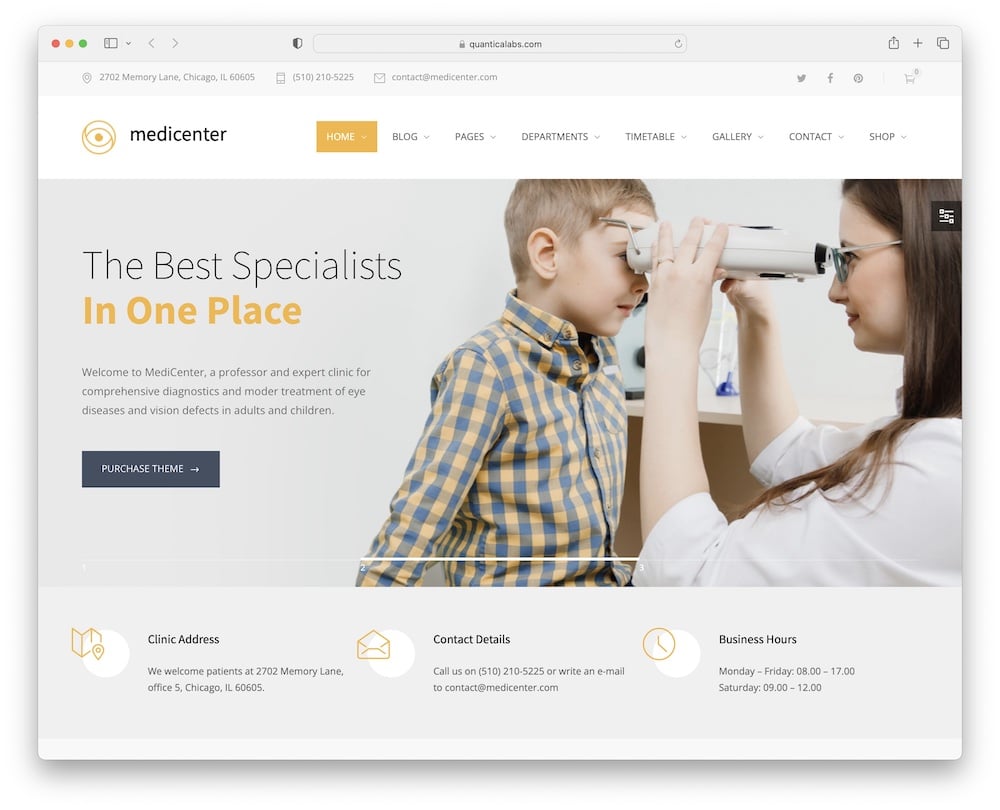 All eyes will be on you with the professional MediCenter WordPress optician theme.
MediCenter has a one-click import demo that you can customize to all your aspirations. You can choose between handy header styles, set up a sticky menu, discover fun animations, and pick out adored colors.
With a modern presentation of your services, team members, treatment benefits, and customer testimonials, you can give people a reason to engage with your business and visit your store in a flash (I am that person).
Build. Trust.
So, YES, I agree – you really need a well-structured website. Do it.
Moreover, a MediCenter timetable tool for the online schedules of doctors and other team members is PRICELESS. And Slider Revolution – well, I cannot get enough of amazing slides!
Shall we start?
MediCenter features:
11,800+ sales
4.5+ star ratings
Multi-niche WordPress theme
Supports wide & boxed layout
Price: $69 (may vary)
MORE INFO / DOWNLOAD
DEMO
7 Key Features Your Optician Website Needs
Many opticians and business owners running a website or an online store neglect key features that would help them grow their businesses to new heights.
I'll share the seven must-haves of a top-notch optician website in a second so you can avoid making the same mistakes.
Remember: I will focus less on the technical features because the themes take care of that already. (I focused on that part during the testing phase.)
Great presentation of your services with pricing. Be as transparent as possible so potential clients know exactly what they can expect from you.
If running an online store, create in-depth product presentations with high-quality images, specifications, etc.
Contact details are a must. From contact form and telephone number to social media and even a live chat(bot) – these will all up your customer service. Make yourself easy to reach.
Showcase your business location on Google Maps with a clickable link to get directions immediately.
Something rarely anyone does, but it's so rewarding is a blog. Create an optometry blog and reap the benefits of content marketing and an increase in organic traffic through SEO.
Keep it simple. Your services and your products are key. So instead of stuffing your website with animations and effects, create a minimal-looking website that will put the necessary content front and center.
Your "about us" page shouldn't lack information. This is the page where you can write about how it all started (share your story!), create a "meet the team" section and make an overall personal impression.
You now have everything you need to create an optician or online optic store website and grow your business to the next level.
::
Note: This article was originally published on May 22, 2023. But our team regularly reviews it and updates it with necessary improvements for accuracy.