I worked with five businesses to create this best cleaning company WordPress themes collection.
It took me 12+ months and testing 30+ WordPress themes to settle with the ultimate 12. (These are the only ones I'll use for future projects.)
You get everything you need to build your website quickly (effort-free).
No coding skill necessary and no additional features and plugins.
This post covers:
Each cleaning services WordPress theme is a complete pack of amazingness, so you just plug and play (starting with the single click install!).
But you may also want to read how to install a WordPress theme first (a complete, beginner-friendly guide).
You won't make a mess. (GUARANTEE.)
Go.
Quick Pick: My Favorite Cleaning Company WP Theme
Best Cleaning Company WordPress Themes
1. CleanMate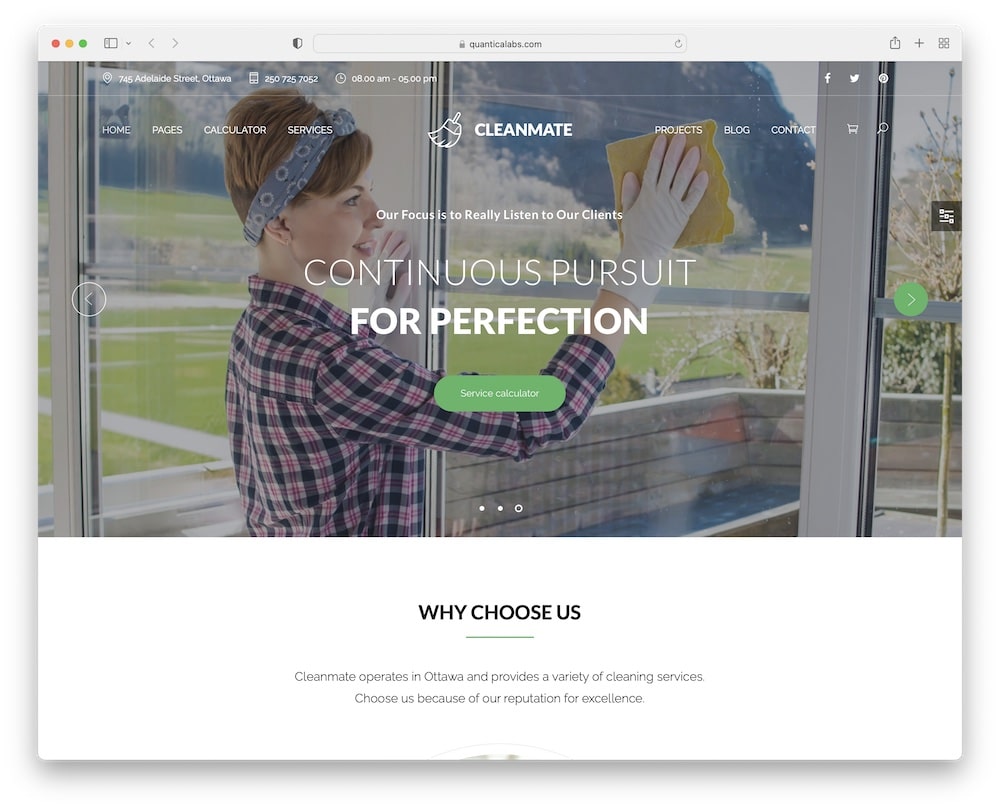 Everything about CleanMate cleaning company WordPress theme is designed to make your customer's life easier and home freshly cleaned.
PERIOD.
Start with a simple, pre-designed demo import (just one click) and deck it out precisely as you wish. YES, complete design control is yours (0 coding knowledge necessary) due to the fantastic WordPress page builder (WPBakery, baby!).
Add, mix, delete, and move around elements, columns, icons, WP sidebars, etc.
In fact, you save your money (!) because it comes bundled with the most popular plugins, such as Slider Revolution, WooCommerce, and online cost calculator (hint, hint) with CleanMate.
Plus, enjoy complete CleanMate documentation, lifetime updates, and friendly customer support. HAPPINESS.
CleanMate features:
MORE INFO / DOWNLOAD
DEMO
2. Moppers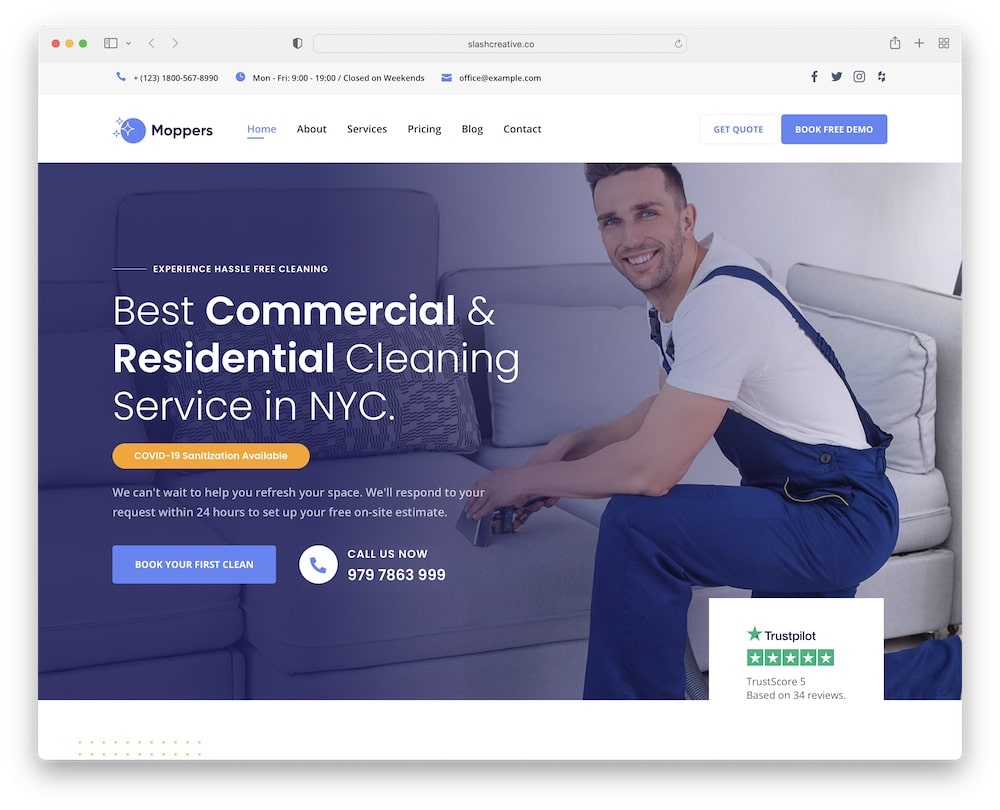 You will make a great pair with a modern and flexible Moppers cleaning services WordPress theme. It is easy to set up, quick to customize, and surprisingly user-friendly for your customers.
HI5!
Moppers' design is phenomenally fluid, amazingly responsive (it welcomes any screen or device), and compatible with the best tools. Plus, it guarantees smooth & fast page loading.
Of course (YES, YUP, AHA, AYE), you can change colors and Google fonts.
MAKE THE SITE YOUR OWN!
Want to be active in more than one language? No problemo! Moppers is translation-ready (!) I know you are off to an excellent start. (You can use any modern WordPress translation plugin.)
Take care of your customers with Moppers.
Moppers features:
MORE INFO / DOWNLOAD
DEMO
3. The Kleaner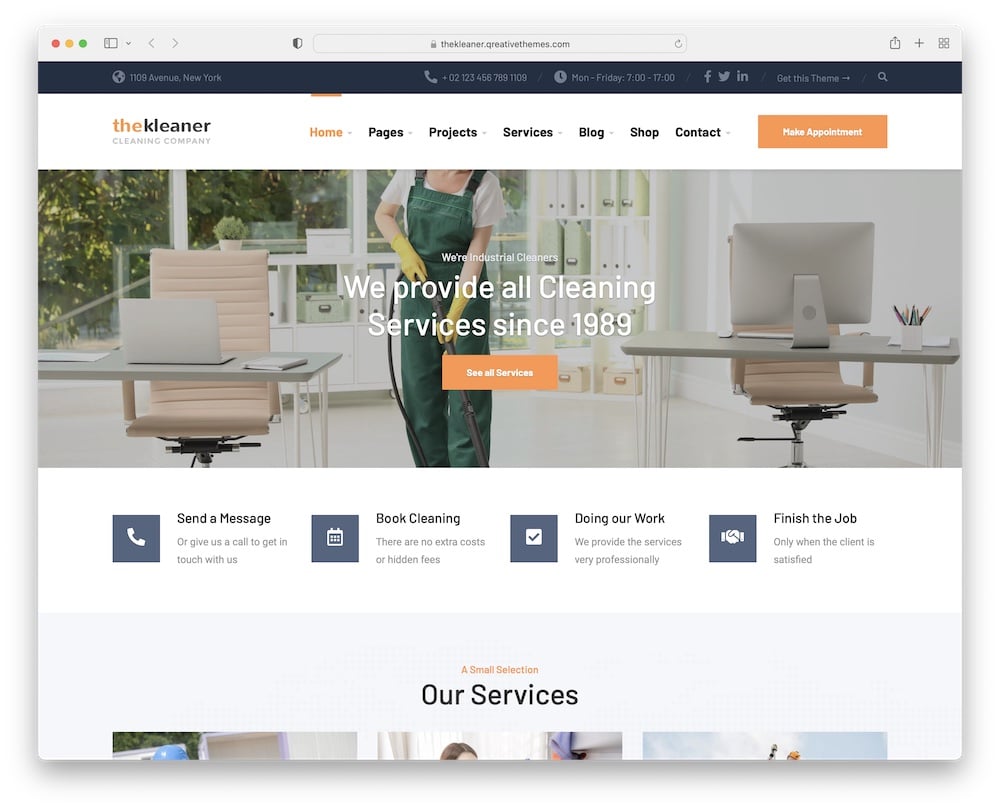 Find your favorite customers and their uncleaned homes with The Kleaner cleaning services WordPress theme and turn it into your business inspiration.
HIGH. STANDARD. SERVICE.
The Kleaner comes with three modern homepages (ready-to-use), more than 65+ unique building blocks, numerous custom WP widgets, different layouts, and unlimited typography options.
Pretty COOL.
Uncomplicated to set up, edit and use!
Best of all: The Kleaner includes an appointment calendar for online WordPress bookings. Be a witness to a simpler and faster engagement on your site. Moment of GREATNESS!
Oh, and do you want to sell cleaning products on your website? Yes, due to the WooCommerce integration (activate the plugin and start).
Just like that, and you are in the business with The Kleaner.
The Kleaner features:
500+ sales
4.8/5 star rating
Live (& quick) customizing
WordPress child theme support
Price: $59 (may vary)
MORE INFO / DOWNLOAD
DEMO
4. CarpetServ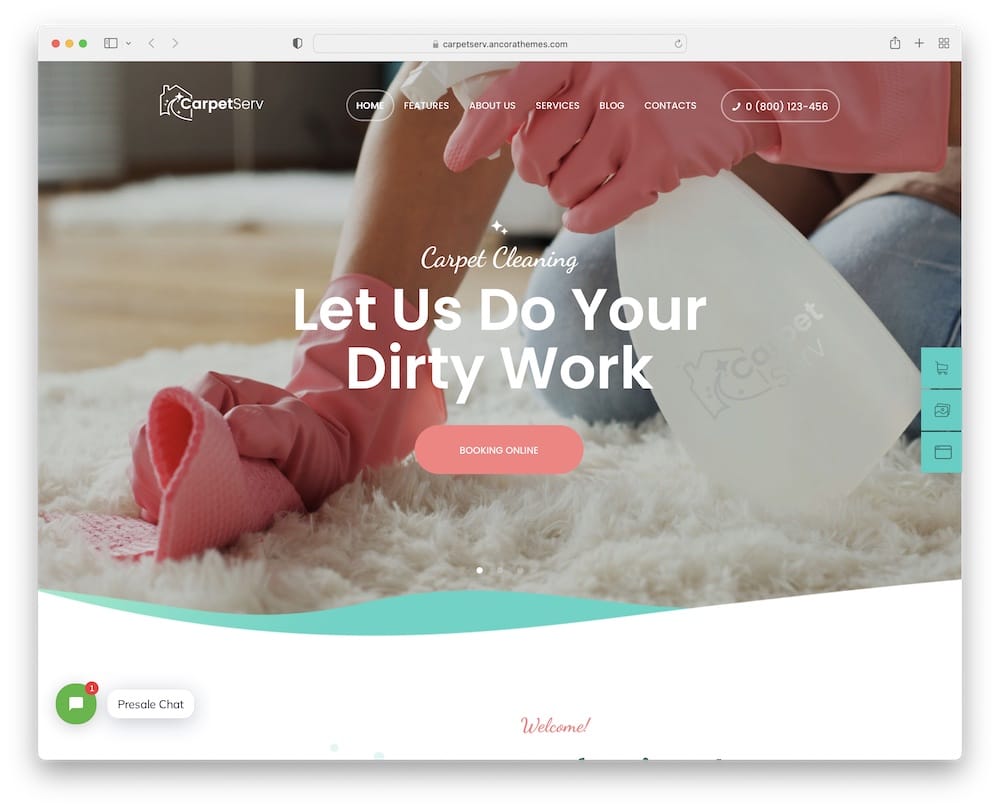 Mainly, CarpetServ cleaning company WordPress theme is meant to motivate you to reframe your business, take action, build a website and reap its benefits.
Let's make some bookings!
CarpetServ is a beautifully designed theme with catchy and vibrant tools (added for FREE). Also, it's SEO optimized, cross-browser compatible, and retina ready.
PURE. BLISS.
Besides, CarpetServ offers pre-made blog styles for a quick start of your blog. Just think how many useful cleaning tips you can give your loyal customers.
I know you are overflowing with valuable experiences!
With CarpetServ you can give your customers time off with their loved ones (BIG DEAL) due to your brilliant cleaning service, start today!
CarpetServ features:
770+ sales
4.5/5 star rating
Price: $69 (may vary)
MORE INFO / DOWNLOAD
DEMO
5. SmartClean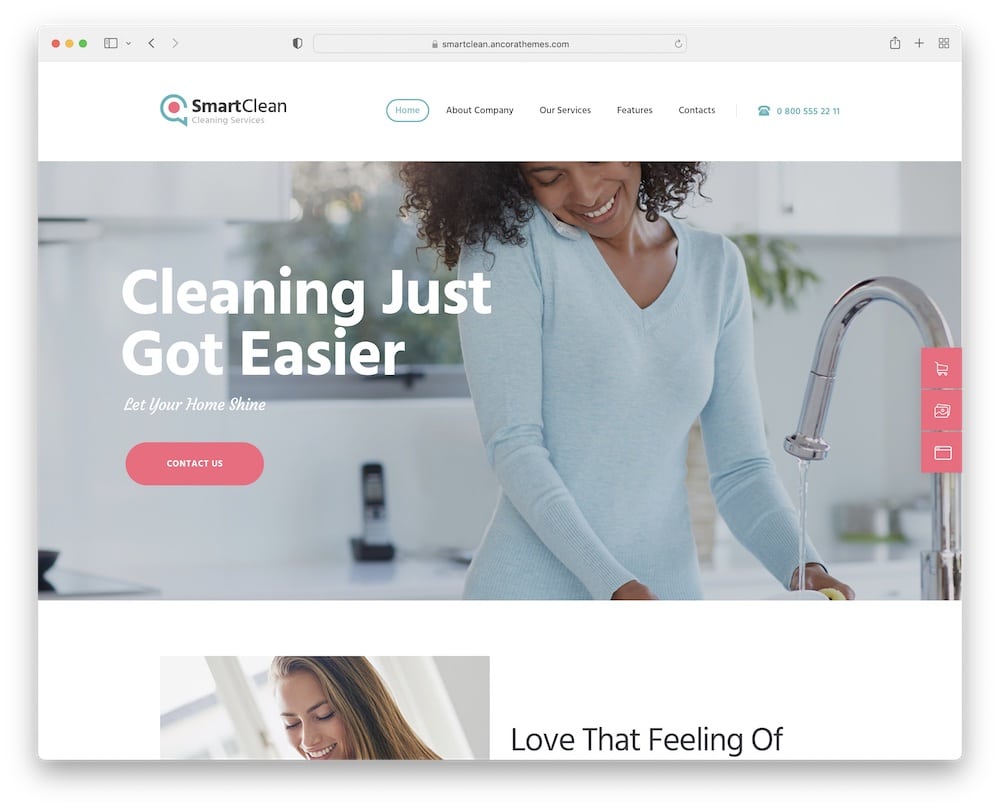 No matter the size of your customer's home – it deserves a good and professional cleaning regularly.
SO take the action with SmartClean cleaning services WordPress theme and create an awesome company to help overwhelmed clients.
Stylish, fresh, and packed with everything you need for a simple start!
The best part? The request form (!) and appointment calendar. Great features for successful engagement with your potential clients. AHA, 24-7 service available at any time, you just call back during your working hours.
BRILLIANT.
Plus, you can make beautiful WordPress slides in seconds due to stunning Slider Revolution – stand out.
And HEY, if needed SmartClean professional customer support is here for you to answer all your questions.
Remember, you got the sauce!
SmartClean features:
250+ sales
5/5 star rating
Price: $69 (may vary)
MORE INFO / DOWNLOAD
DEMO
6. Cleany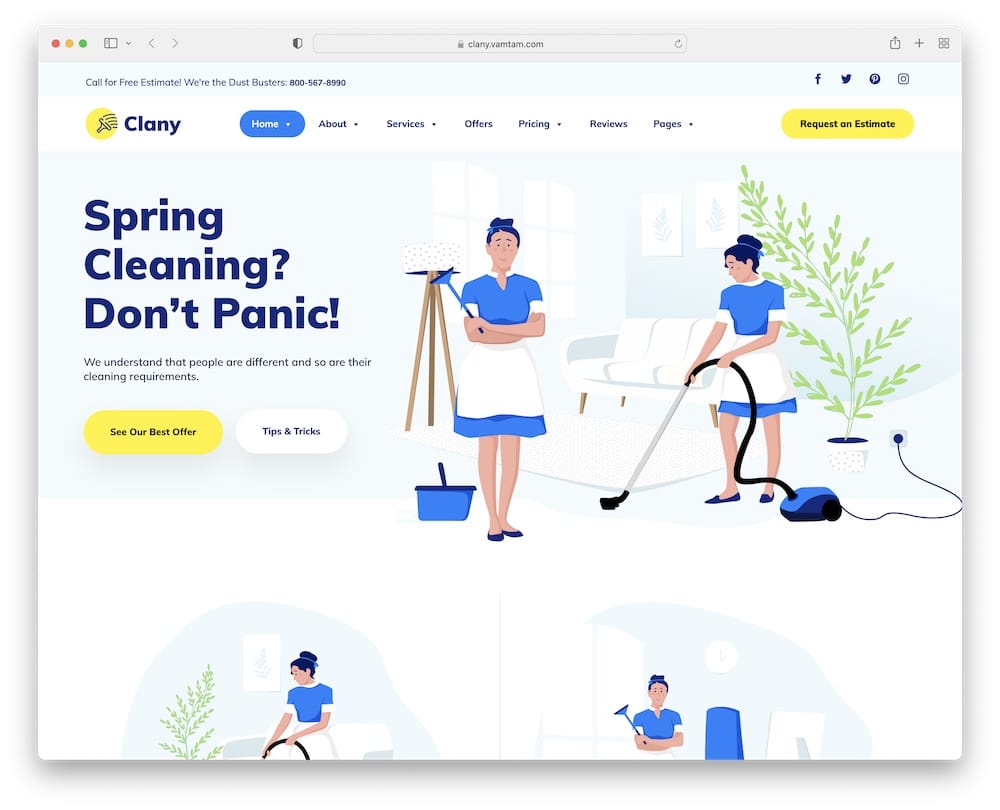 We all know how great it feels to have a clean and tidy home, SO grab Cleany theme and end messy homes worldwide. HURRAY!
Users with 0 design & coding skills – don't panic (!) you can do it as well. Remember, demo content with images (premium image stock included) can be imported with a single click.
MAGIC, I know.
Besides, Cleany has endless layout possibilities, smooth page transition, amazing WP animations, and a customizable mega menu. Plus, Cleany is buzzing with great plugins.
Refreshing from the start.
OH yes, Cleany integrates social media – easy social share functionality guaranteed (there is no joy without sharing).
Words of wisdom: WELCOME Cleany with open arms!
Cleany features:
800+ sales
5/5 star rating
Cool, minimalist design
Price: $89 (may vary)
MORE INFO / DOWNLOAD
DEMO
7. Klear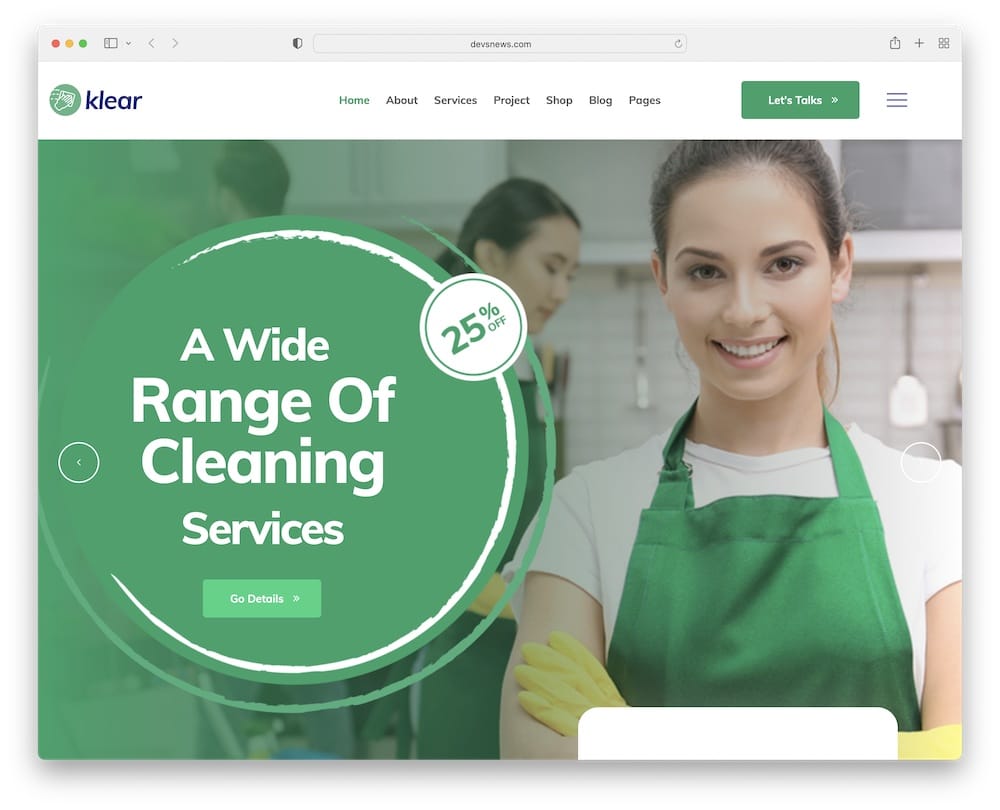 The whole "cleaning" issue is one of the main reasons why people are stressed today … BE their savior with gorgeous Klear cleaning services WordPress theme.
I dare you!
Modern, flexible, and stylish Klear is for general service companies, maids, maintenance businesses, and cleaning professions. Happy zone.
So come on, start building your sparkling online world. You can also present your service, projects, staff and talk about cleaning tips on your COOL blog.
Plus, your customers can book your service directly online (trouble-free).
Great advantage!
Also, take pleasure in responsive and retina-ready design (YUP, all kinds of screens and devices are accepted – Klear loves'em all). I know, not bad at all!
Klear features:
MORE INFO / DOWNLOAD
DEMO
8. EcoClean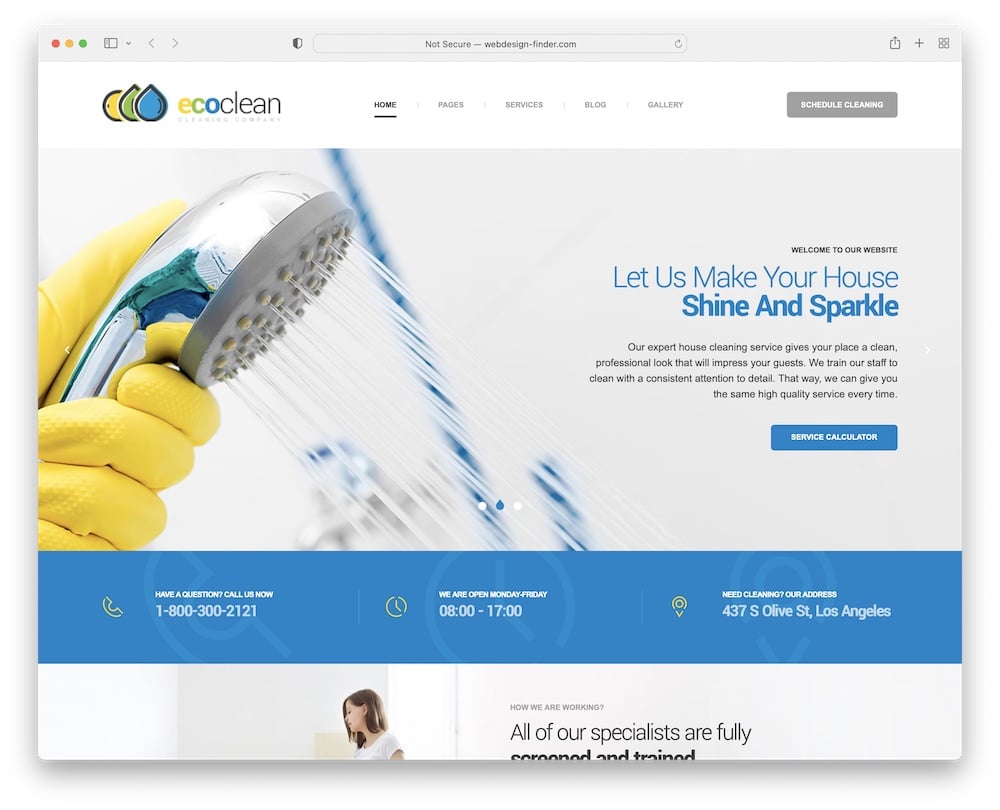 Cleaning is not my favorite thing in the world to do. Not even close, actually. If nothing else please offer your cleaning services to me. 🙂
BUT not just me, a lot of people out there need your help.
God help us.
You have complete control over your website with a professional EcoClean cleaning company WordPress theme (Hi, BOSS).
Just replace, rotate, swap, or add anything you wish in minutes flat!
EcoClean can help you track all your appointments (booking plugin), show your clients calculated tariffs, and include feedback of your happy customers (multi-purpose sliders).
Bonus: EcoClean comes in a light and dark version. Are you ready for a change?
It doesn't get easier than this! Try EcoClean NOW.
EcoClean features:
MORE INFO / DOWNLOAD
DEMO
9. CleenDay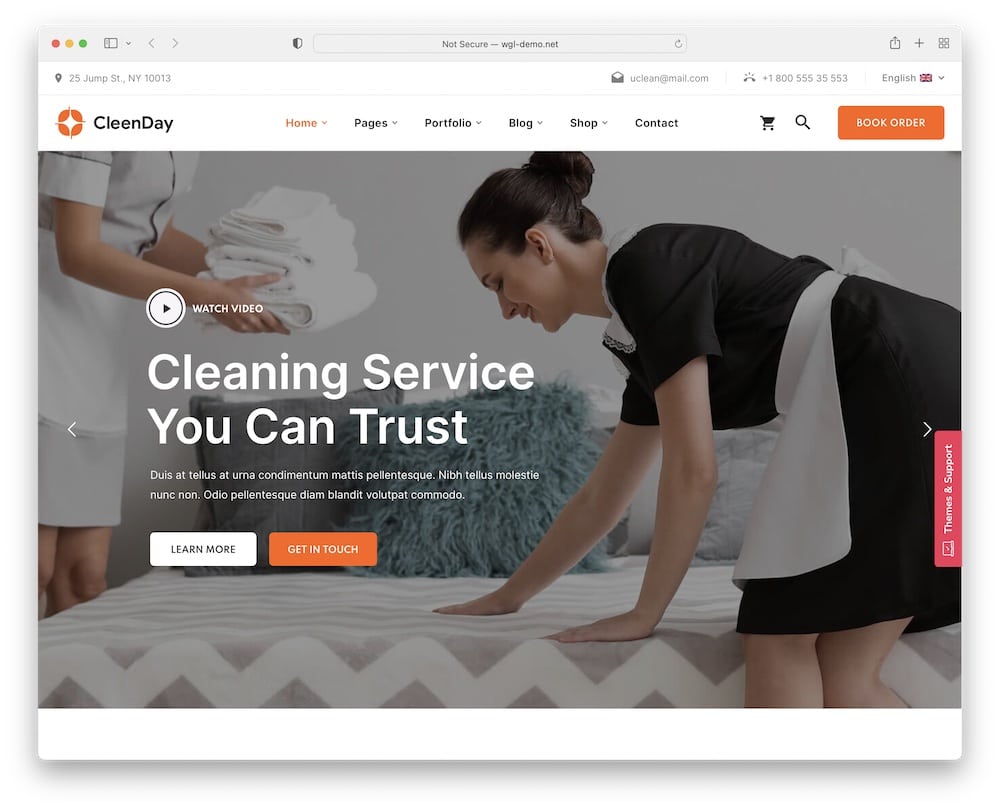 You can never go wrong with a high-quality CleenDay cleaning services WordPress theme designed especially for house, office, or commercial building cleaning. Total customer satisfaction is the key to success!
CleenDay comes at an affordable price, bundled with the most popular plugins, ready-to-use demos, gorgeous layouts, and 30+ modules with all the necessary settings to start like a PRO.
Unlimited colors and fonts are another bonus points for CleenDay.
Other good news?
With the attached WooCommerce, you can have a wonderful online store in just minutes. I mean, seriously, what's not to love?
Oh, and CleenDay 5-star customer support is here for you – use their help and knowledge wisely!
CleenDay features:
100+ sales
4.4/5 star rating
100+ theme options
Elementor page builder
Price: $69 (may vary)
MORE INFO / DOWNLOAD
DEMO
10. The Qlean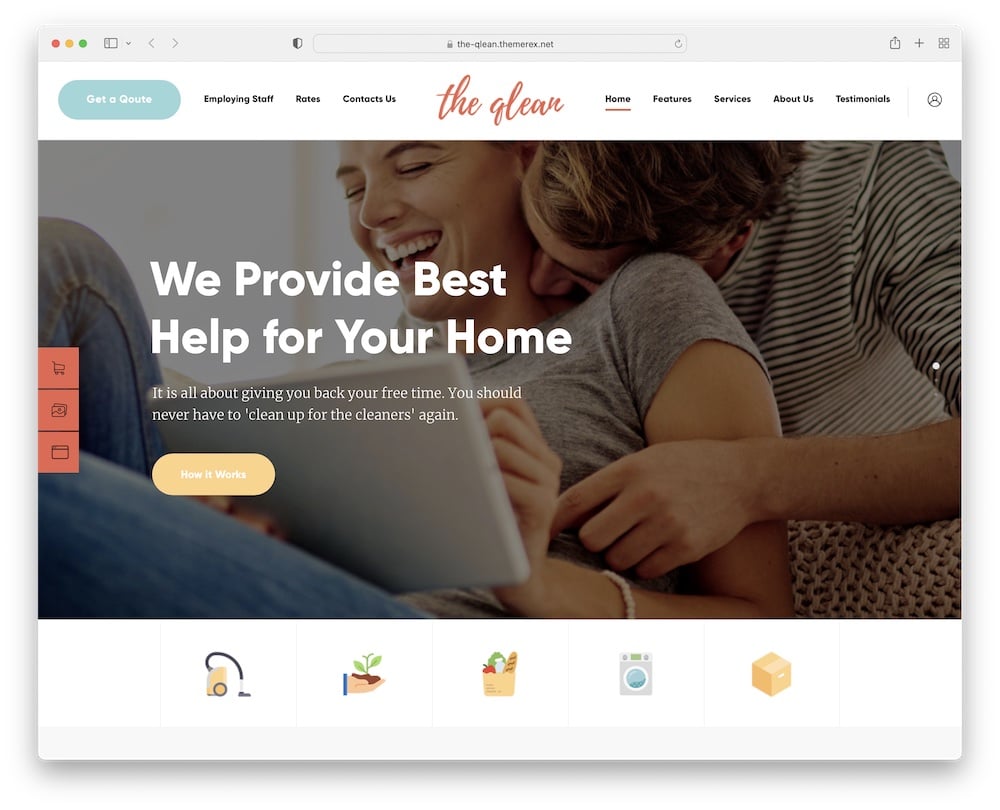 Yes, it's true – Getting started is OFTEN the most difficult part of building a website just like cleaning!
But once you get going, the job is usually easier and faster than we expected.
Trust me: The Qlean cleaning company WordPress theme gives you complete control (NO previous experiences needed) and access to the best features available.
You got this!
Modern design, powerful framework, one-click import, and professional support – LIFETIME DEAL.
Moreover, The Qlean is cross-browser compatible, SEO optimized, and easy to update. User-friendly from the first line of code. BRILLIANT.
Launch your website today (!) with fabulous The Qlean.
The Qlean features:
90+ sales
4.5/5 star rating
Easy sidebar manager
Price: $69 (may vary)
MORE INFO / DOWNLOAD
DEMO
11. Hanover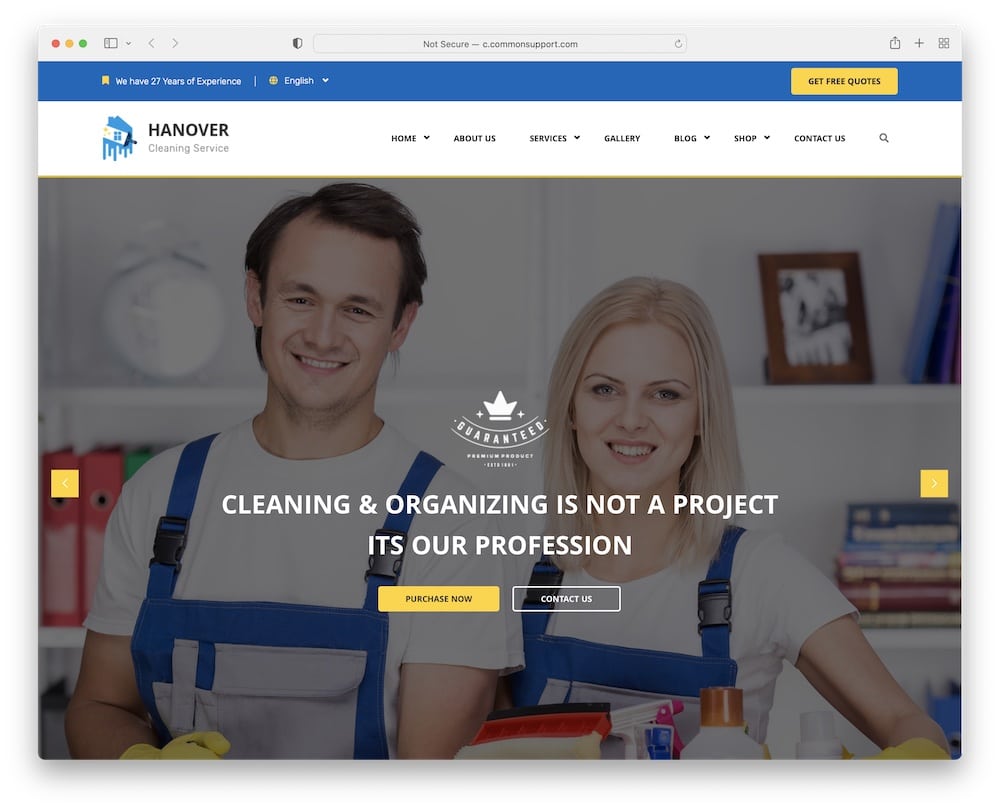 Quick cleaning of a messy house? Unexpected company popping in soon?
Keep your customers calm with the Hanover WordPress theme. Online cleaning plans, contact info, FAQ, product shop, and much more are available quickly & directly on your website.
Plus, with amazing Contact Form 7 plugin, you can create your own forms in just seconds.
Use the about us section (who are you, your mission, completed projects, global branches), staff introduction, and gallery (before-after) to make all the essential business info POP.
Gain your customer's trust with your professional approach.
Besides, Hanover embraces social media, offering your customers to share your posts on their favorite platforms. You can display sharing buttons on the top or bottom of your site.
Heads up for Hanover.
Hanover features:
50+ sales
4.5/5 star rating
Testimonials (we also have a list of the best WordPress testimonial plugins if you'd like to expand functionality)
Price: $29 (may vary)
MORE INFO / DOWNLOAD
DEMO
12. Hexafy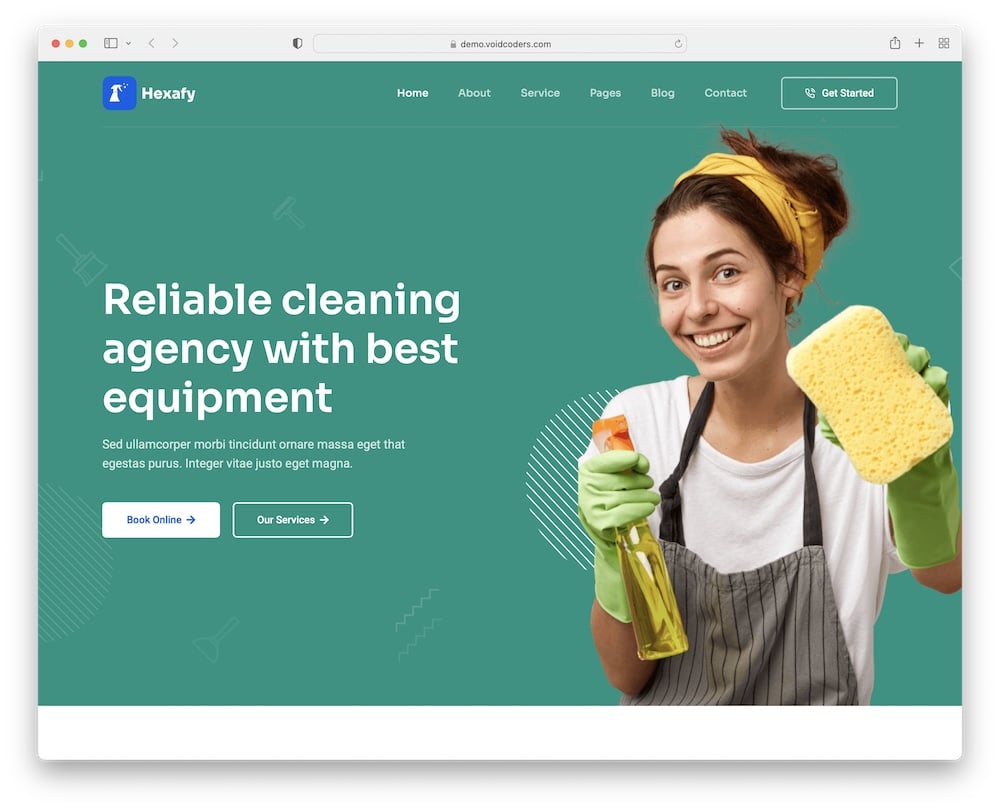 Once you have a good business idea & mindset in place, you should first check Hexafy cleaning services WordPress theme (showtime!).
Hexafy is a fluid, trendy, and beautifully designed theme with three different homepages, numerous layouts, tons of elements, and smooth animations.
BOOM.
Included (hair-rasing) plugins such as Elementor, MailChimp, and Contact Form 7 are essential for a victorious success.
Classic. Easy. Irresistible.
In addition, Hexafy is fast as a speeding vacuum cleaner (on its max power program). BUT also well documented for all you nerds out there (Hi, it's me!).
SO join me, and let's secretly like Hexafy together.
Hexafy features:
60+ sales
4.6/5 star rating
Video support
Filterable portfolio
Price: $34 (may vary)
MORE INFO / DOWNLOAD
DEMO
What To Look In A Great Cleaning Company Website?
Here are a few of the must-haves that I found every successful cleaning company website needs.
What's pretty awesome is that you can easily make it happen with any of the above WordPress themes.
How I Picked The Best Cleaning Company WordPress themes:
I studied every theme carefully and reviewed its features and possibilities to ensure you get the best of the best.
Responsive design: It's absolutely mandatory that your website is 100% mobile-ready. Luckily, that's not something you need to worry about with a theme because it takes care of responsiveness by default.
Fast loading: Another key characteristic of a great page is fast loading. You need to guarantee the best user experience, and that's only possible with a great-performing website (read WP theme). Remember, hosting also plays a big part in ensuring epic loading speeds. (You can also read our tutorial on choosing a fast WordPress theme.)
Services & pricing: Your amazing services need to be clearly visible on the home page. However, you can also create an individual page for each service where you create an in-depth presentation. Also, don't forget to mention pricing – that's something most of the visitors and potential clients may be interested in the most.
Real-life examples: Instead of showcasing some random stock images, use your images. Create an online portfolio of real-life cases and show the world why your cleaning services are THE BEST. You can even use before/after images or sliders.
Reviews & testimonials: Another cool feature to add are testimonials and reviews. These help build trust and increase conversion rates.
Contact details: While you may have a "get a quote" form on the home page, include your contact details in the footer area or on a separate page. You can also add a clickable phone number – even a live chat.
Start a blog: Show your professionalism and build authority through a professional cleaning blog. This is where you can share all sorts of tips, tricks, or other user-beneficial content. On top of that, you can also gain a lot of traffic with a strategic SEO approach.
Location: Showing your cleaning business's location may not be for everyone, but you can easily make it happen by adding Google Maps to your WordPress website.
There you have it – the key features that you need to apply to your cleaning company's website to increase your potential.
Make. It. Big.
::
Note: This article was originally published on February 23, 2022. But our team regularly reviews it and updates it with necessary improvements for accuracy.