Are you searching for the best travel agency WordPress themes?
We've tested 50+ WordPress themes for the tourism industry and picked these fifteen as the absolute best.
Every theme has EVERYTHING you need out of the box.
From online booking system, tour operation, WooCommerce and eCommerce integration to contact forms and sections for images, details and reviews, to name a few.
This post covers:
You can also use these WordPress themes for hiking, trekking tours, and anything related to the adventurous lifestyle.
IN A HURRY? Check The Ultimate 5:
If you haven't used a theme before, we recommend reading this tutorial how to install a WP theme first.
Best Travel Agency WordPress Themes
1. Travel Booking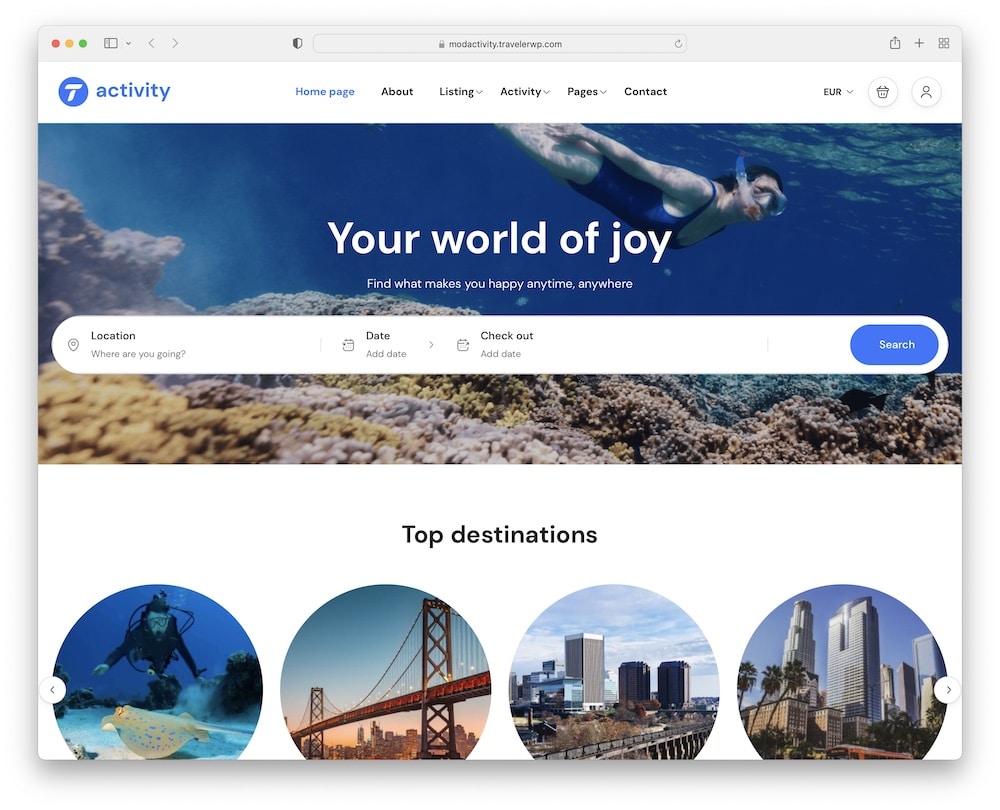 Create one of the most popular travel-planning platforms on the web with fantastic Travel Booking.
Are you coming with me?
Travel Booking's pre-made demos are simply STUNNING (I love a modern and smart design) and simple to work with.
Besides, you can use Travel Booking for everything, from accommodations, flights and rental cars to sports activities and an all-in-one marketplace.
Your visitors can quickly find exactly what they want due to the flexible mega menu (for me, is like a navigational map).
Oh man, and Travel Booking offers options for easy earning on your site (affiliate & ad supported – check it out).
YES, make money while you sleep!
Travel Booking features:
MORE INFO / DOWNLOAD
DEMO
2. Book Your Travel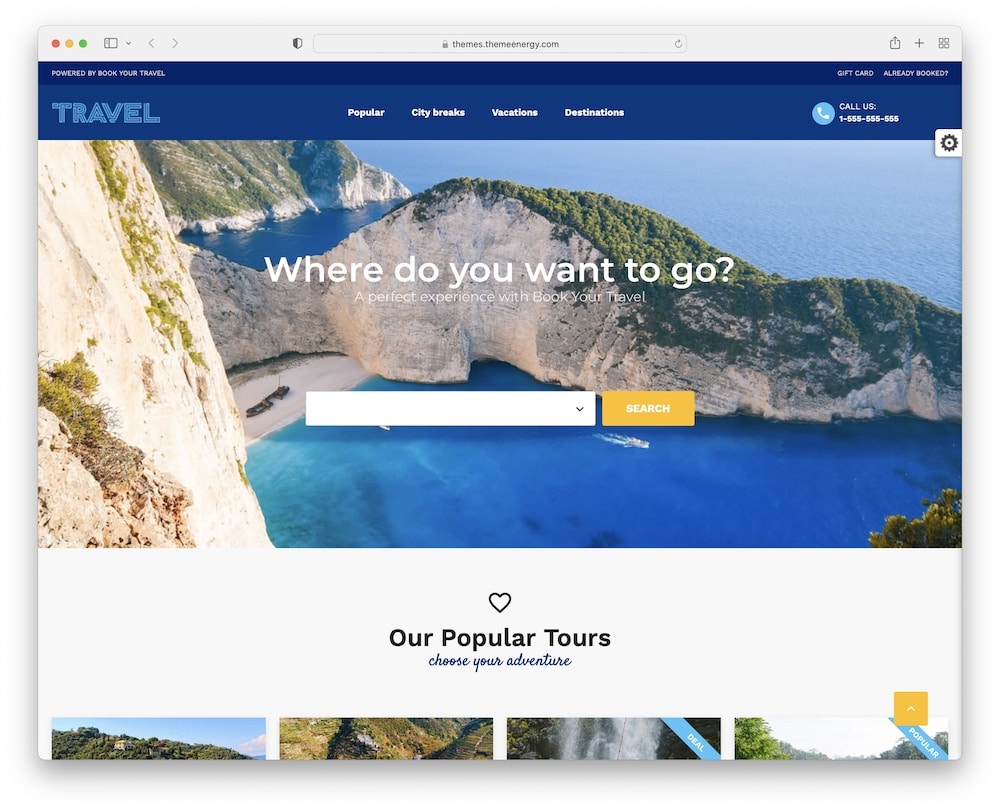 Beautiful Book Your Travel WordPress theme is responsive and ready to be translated into various languages for your global impact!
Book Your Travel design will help you determine your business's ideal way.
Its never been so easy to set up a booking system, marketplace, advanced searching, and user review system.
You got this (even if you dont have any coding knowledge)!
Book Your Travel includes various page layouts, custom blocks, a fully editable mega menu, and unlimited sidebars. Plus, you can choose from 600+ Google fonts.
Redesign pre-made Book Your Travel exactly as you wish (boost your creativity with numerous options).
Book Your Travel features:
9,000+ sales
4.4+ star ratings
Easy to enable/disable functions
Multiple payment gateways
Price: $59 (may vary)
MORE INFO / DOWNLOAD
DEMO
3. Love Travel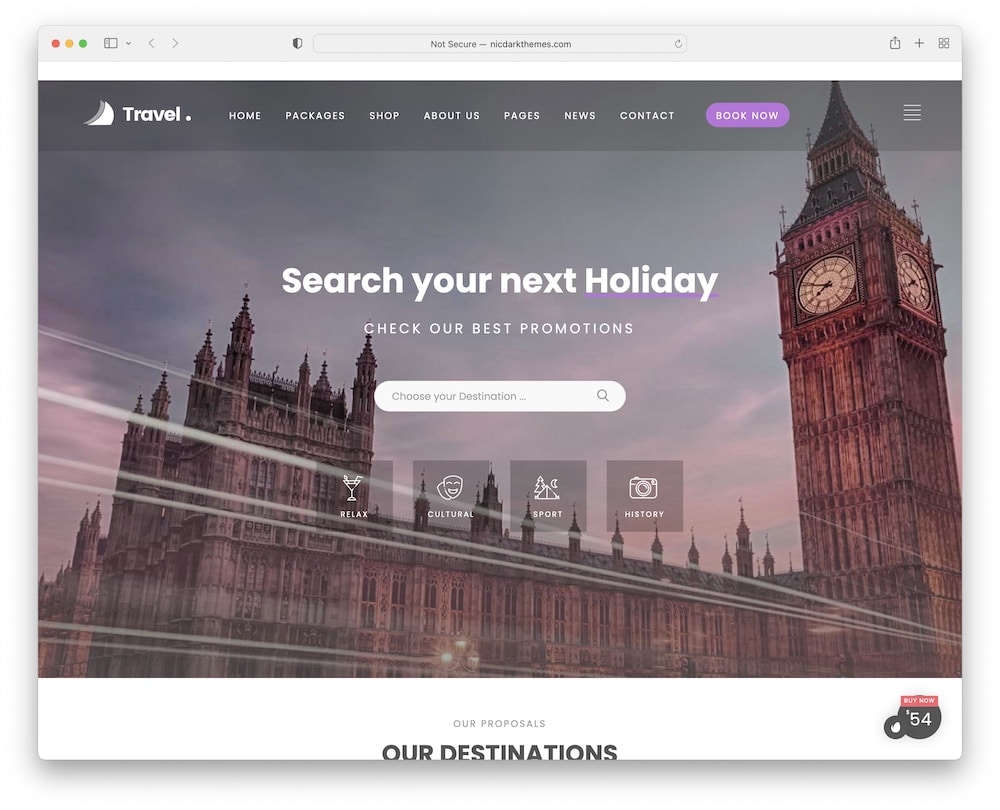 Stand out with the GORGEOUS Love Travel WordPress theme.
The package offers useful layouts, unlimited color options, and COOL effects. From Love Travel site, you can sell, review, and receive money (safe payments guaranteed).
In fact, custom shortcodes open so many design possibilities. You even get a WordPress weather widget to let users know the forecast without them doing the research.
Moreover, Love Travel comes with the most popular plugins such as MailChimp, Contact Form 7, Slider Revolution, and Events Calendar.
Pretty great, right?
And I LOVE valuable blogs. I think every person in the travel industry should write one!
Full disclosure: Yup, you can make everyone happy with Love Travel!
Love Travel features:
6,300+ sales
4.3+ star ratings
Quick order management
Online booking system
Price: $54 (may vary)
MORE INFO / DOWNLOAD
DEMO
4. Astra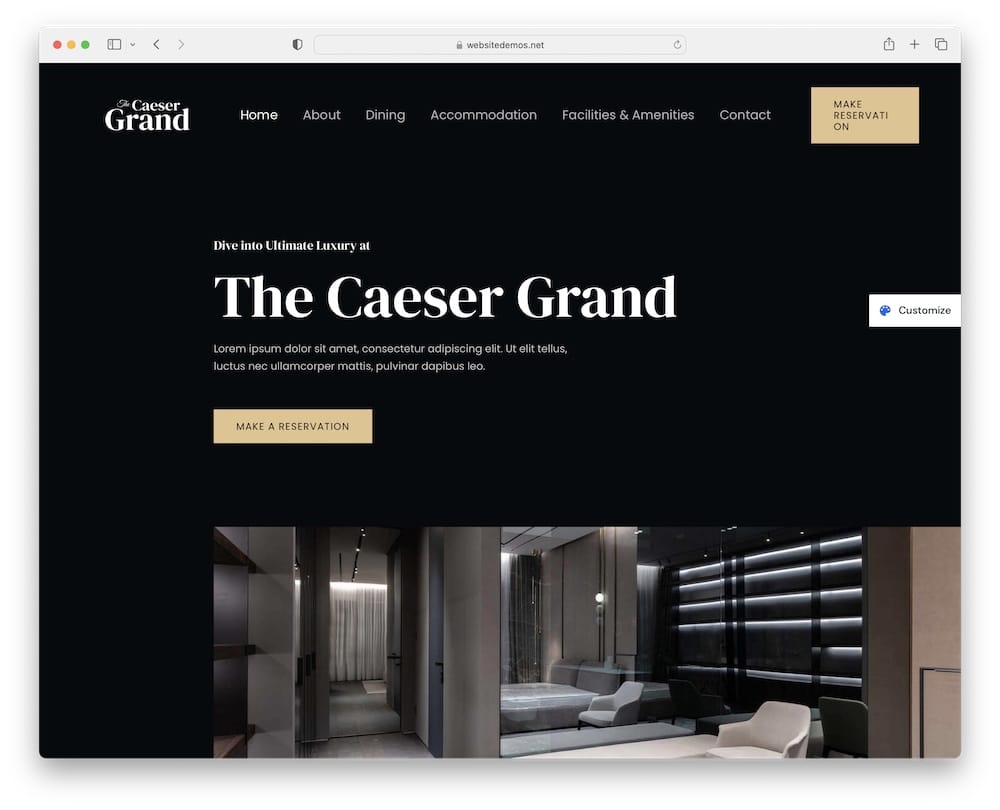 When we first tested Astra for a travel agency website, we knew immediately that the client wouldn't need our assistance after launching the website anymore.
Why? Because of how beginner- and user-friendly the theme's interface is. Yes, everyone finds managing and maintaining a website with Astra a piece of cake – regardless of skills!
Get the ball rolling with any of the available (luxurious!) demos and have a page up and RUNNING sooner rather than later.
You can even pick a free sample, but we recommend premium ones because they're much more high-quality.
Astra features:
1+ million sales
4.9/5 star rating
Classy designs that make offerings pop more
Accepts online reservations & bookings
Price: Free or subscription ($47+)
MORE INFO / DOWNLOAD
DEMO
5. TravelTour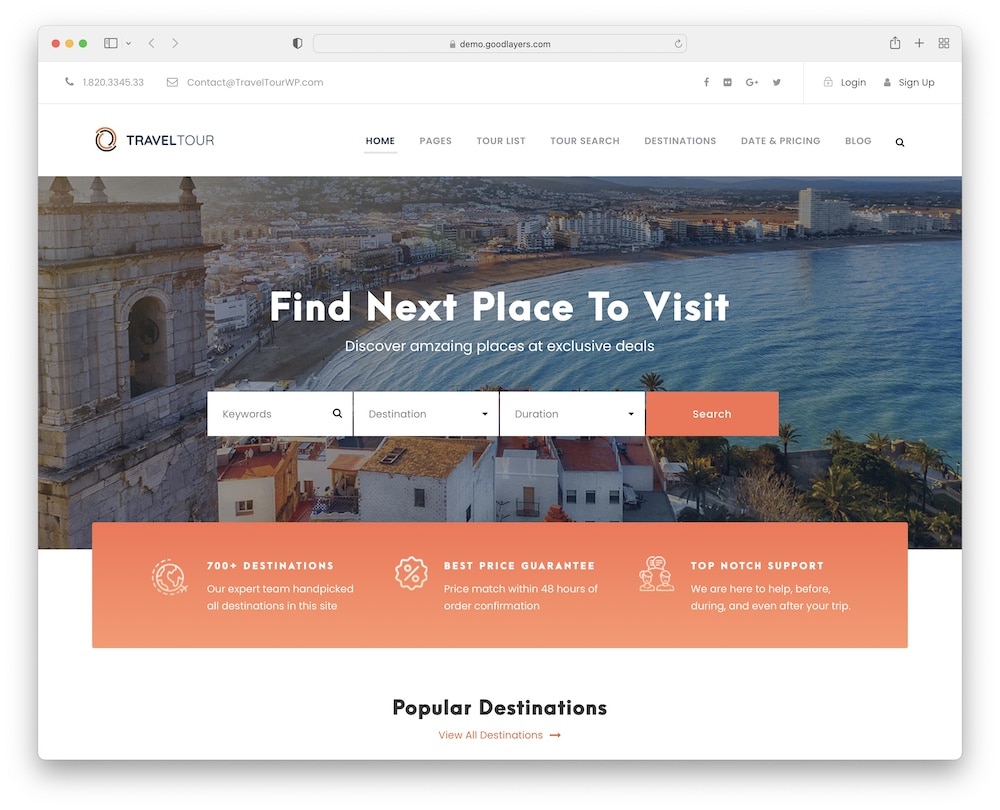 Brilliant TravelTour travel agency WordPress theme has various tools and solutions to make your audience's travels easier.
You can change layouts, colors, fonts, header styles, create custom filters or skins quickly.
Bonus: You can view changes instantly before going live, which is one of my favorites.
Moreover, set up custom sidebars to display information in vertical columns. Easy way to direct the reader's attention and share information!
Also, with the genius Wrapper system, everyone can set up video content (YouTube, Vimeo) for the gripping areas on your new site.
Responsive, neat, and reliable, that's TravelTour!
TravelTour features:
8,200+ sales
4.6+ star ratings
Tour management system
Mltiple deposits
Price: $69 (may vary)
MORE INFO / DOWNLOAD
DEMO
6. Altair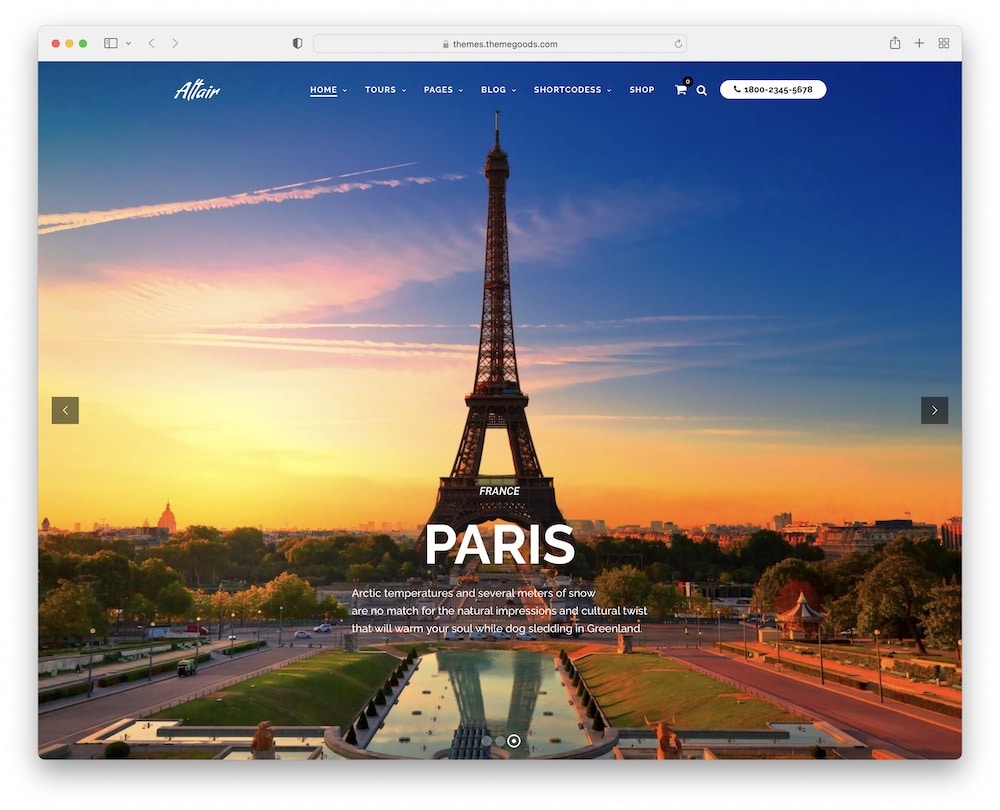 Gorgeously designed Altair travel agency WordPress theme is great for creating a website with ONE GO all-in deals (flights, accommodations, car rentals, etc.).
YES, your visitors can easily find packages and filter their search directly on your site, plus the built-in booking form is super simple to use.
Unlock beautiful parallax theme background and create depth with a 3D scrolling effect. In my opinion, it looks AMAZING (one of my FAV).
Oh man, and Slider Revolution is perfect for showcasing wonderful offers on your homepage.
Just set out a red carpet and invite your customers to CHECK-OUT Altair.
Altair features:
3,900+ sales
4.4+ star ratings
Advanced search function
Price: $64 (may vary)
MORE INFO / DOWNLOAD
DEMO
7. Getaway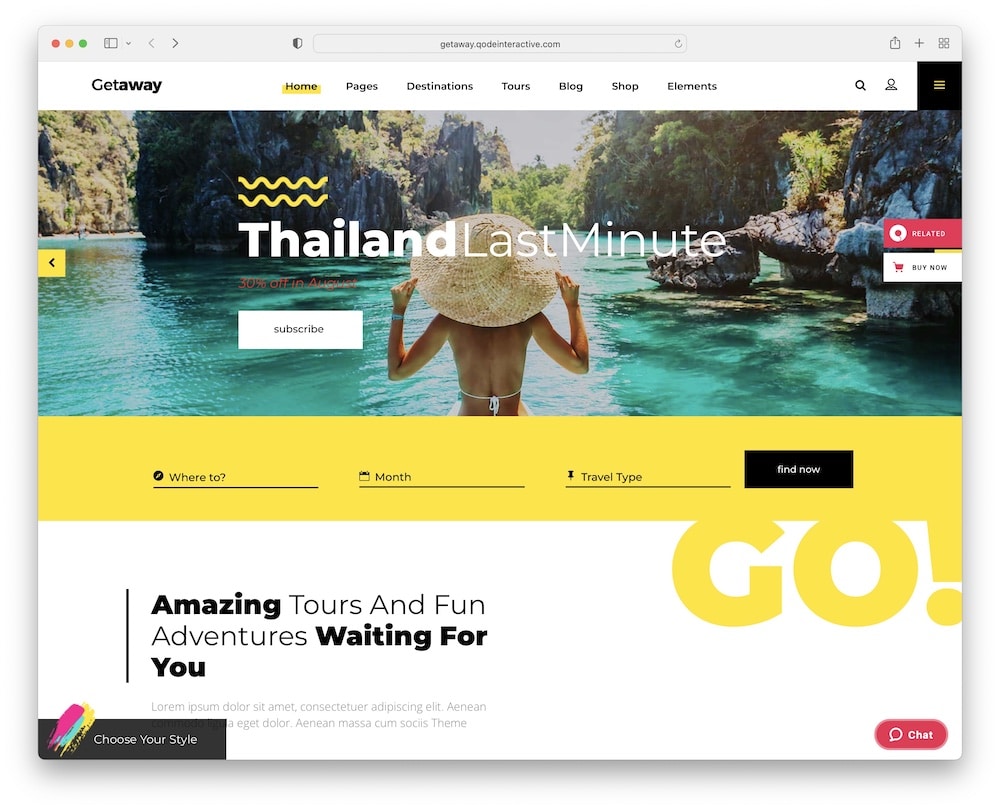 Create the world's friendliest community with the Getaway travel agency WordPress theme.
Getaway is simple to customize and comes with a large collection of layouts and pages. Plus, various WP shortcodes allow you to add practical elements to your site (do more with 0 code).
You can help people find, schedule, and pay for hotels, flights, or tours directly on your website with Getaway. You can also include destination lists, travel presentations and share the latest news via blog.
Moreover, stay in touch with social media audiences through sharing buttons & social icons.
Bonus tip: Travel testimonials ensure potential clients get honest feedback about suggested destinations and accommodations.
Do GOOD with the modern Getaway!
Getaway features:
1,100+ sales
4.4+ star ratings
Price: $85 (may vary)
MORE INFO / DOWNLOAD
DEMO
8. Triply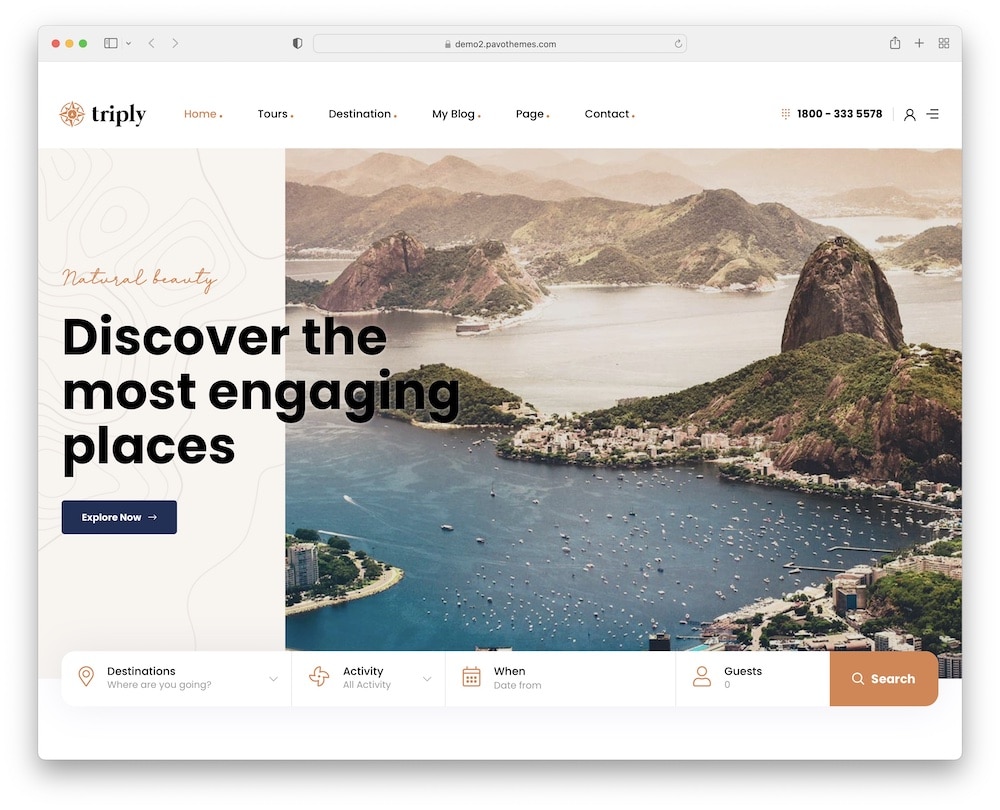 Showcase your destinations & special offers with Triply travel agency WordPress theme.
Triply was made for tour services, holiday activities, travel agencies, and booking companies.
Ready-to-use homepages (you get four options) are perfect for a quick and painless start.
Plus, Triply secures the best online booking features – from smart tour search, map, filters and detailed plan to an online calendar and travel price list.
ALL. IN. ONE.
A website made with Triply is fully responsive – looks great on different screen sizes, and welcomes visitors from diverse browsers (Google, Mozilla, Safari, etc.). A friendly user experience will make your site POP!
Make the most of Triply!
Triply features:
1,100+ sales
4.8+ star ratings
Google reviews support
Price: $46 (may vary)
MORE INFO / DOWNLOAD
DEMO
9. Grand Tour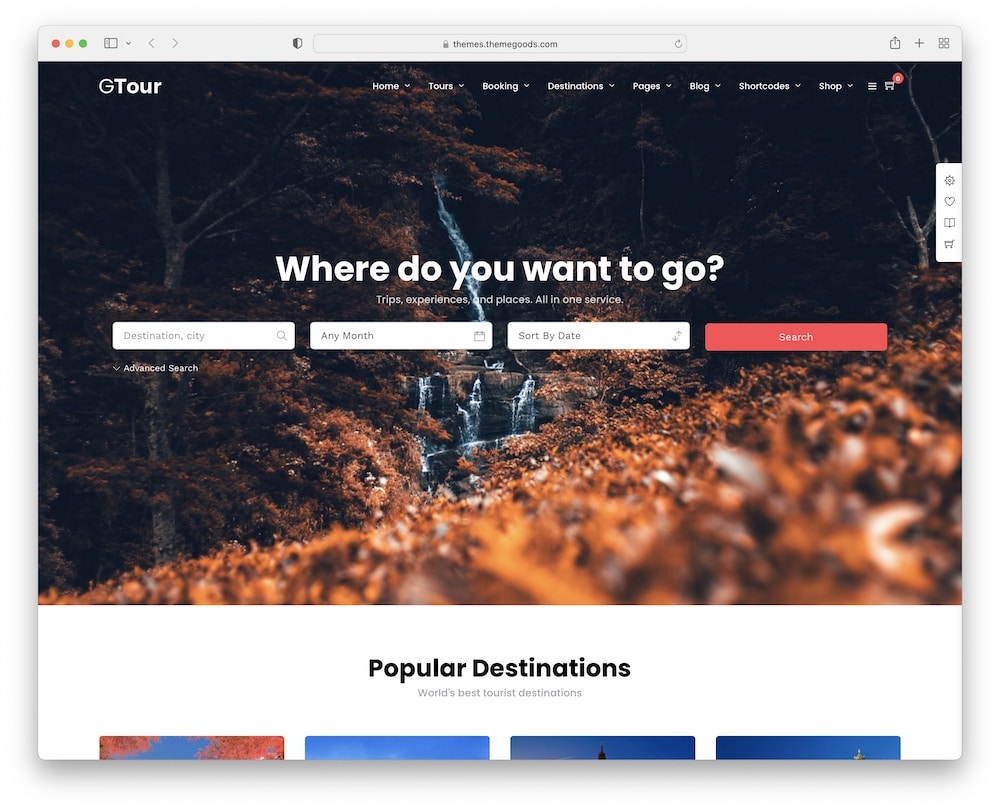 Set your business apart from others with the gorgeous Grand Tour travel WordPress theme.
One-click demo includes ready-to-use pages & posts, a menu, numerous WP widgets, a bundle of images, and beautiful sliders.
Developers of Grand Tour already have 120,000+ happy customers (overall). AAAAAAMAZING!
Online exposure should be a part of your marketing plan, SO share your thoughts on socials with easy connection via your site.
Oh, and I can't stress enough how important a blog is to me (great for search engine optimization!).
Moreover, Grand Tour comes with a powerful SEO tool to help you realize best practices on your site.
RANK. HIGH.
Now, let's get your website up!
Grand Tour features:
2,700+ sales
4.6+ star ratings
Various widgets for instant integration
Detailed tour information
Price: $64 (may vary)
MORE INFO / DOWNLOAD
DEMO
10. SetSail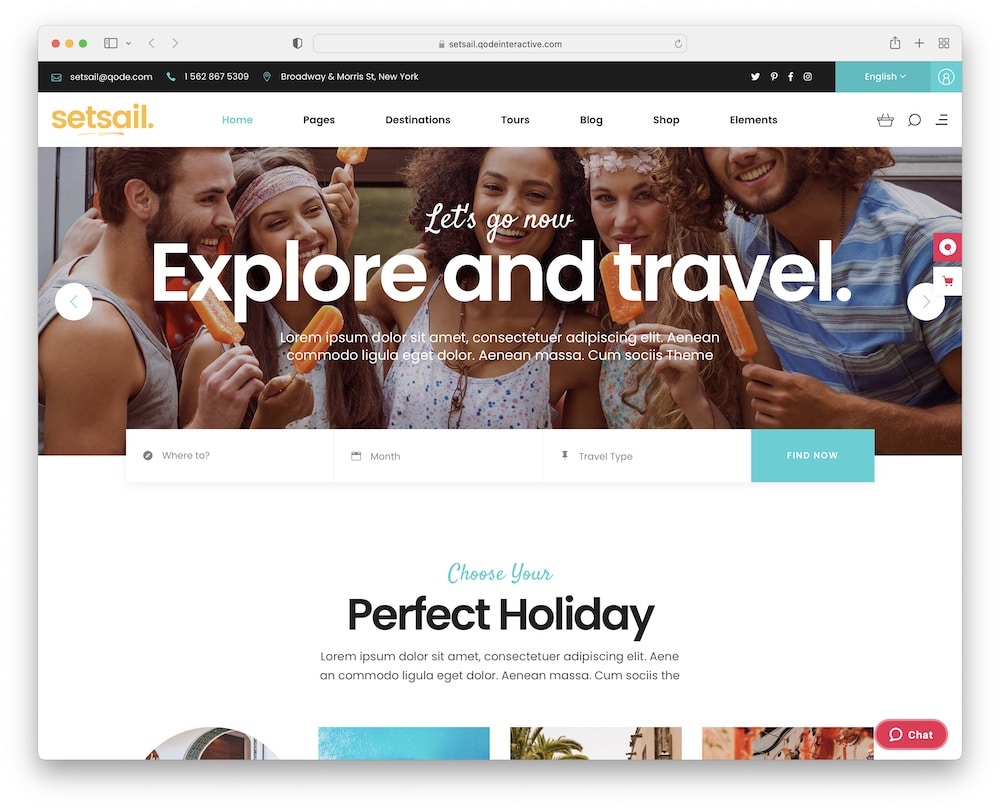 Position yourself with SetSail travel agency WordPress theme as a specialist for travel, family tours, budget offers, and address customer pain points (the better you do it, the more competitive advantage you get).
Present your travel offers with pretty layouts, enable helpful filters, offer online booking, and even sell useful items.
It's time to take your business idea UP!
SetSail is highly customizable and compatible with the most popular tools.
Of course, you can set up a parallax effect, video background sections, smooth scroll, and transparent mega menu. Great user interaction is guaranteed!
Work with the best!
SetSail features:
MORE INFO / DOWNLOAD
DEMO
11. GoTravel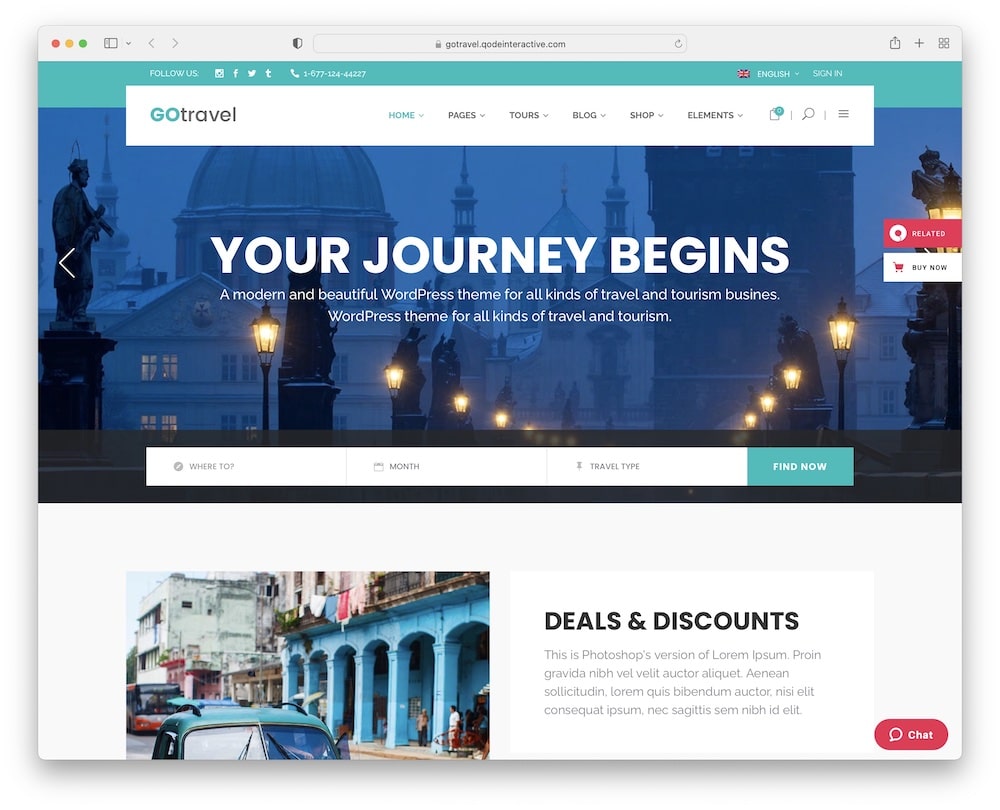 Every traveler dreams of a professional agency to help him manage time through fast and worry-free travel.
This can become a reality with GoTravel travel agency WordPress theme!
Modern GoTravel offers everything you need for an effortless craft.
Choose AWSOME pre-designed layouts, play with practical elements, set up powerful plugins, and BE creative with videos & images.
Moreover, GoTravel offers a COOL option of stunning maps – showcase your destinations directly on the map.
Besides, GoTravel can be translated into various languages (YUP, the whole world can be yours!).
And dont forget to add a contact form on your site – Contact Form 7 included.
GoTravel features:
1,200+ sales
4.3+ star ratings
User reviews
Price: $85 (may vary)
MORE INFO / DOWNLOAD
DEMO
12. Travio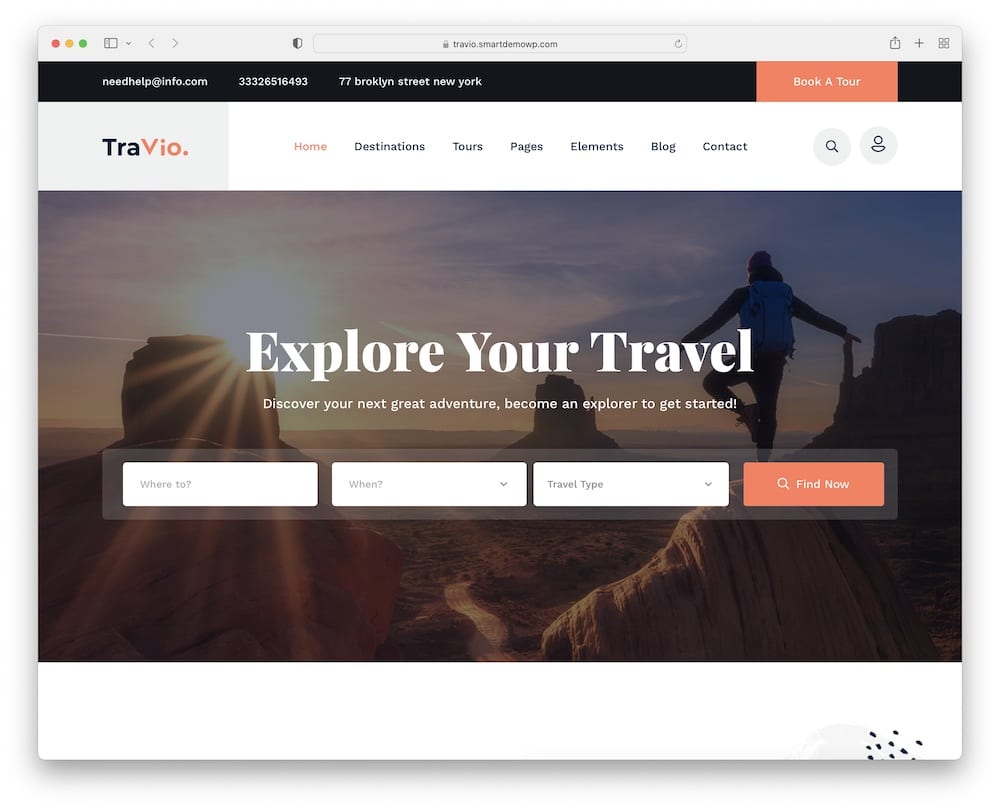 Opportunities are endless with the brilliant Travio travel agency WordPress theme.
Advanced drag & drop mode is perfect for fast and user-friendly customization (Hi, Elementor page builder). In fact, you can see your changes in real-time before going live.
I'm super love-love-loving it.
And OH, the unlimited colors and typography options will highlight your work (immediate results)!
Furthermore, Travio is responsive and cross-browser compatible to ensure visitors have the same user experience regardless of their device and network. HI5!
One more thing: Travio's customer support is the best place to ask a question at any time.
Try Travio now!
Travio features:
620+ sales
4.6+ star ratings
Popular adventures section
Tour list & details pages
Price: $39 (may vary)
MORE INFO / DOWNLOAD
DEMO
13. Valley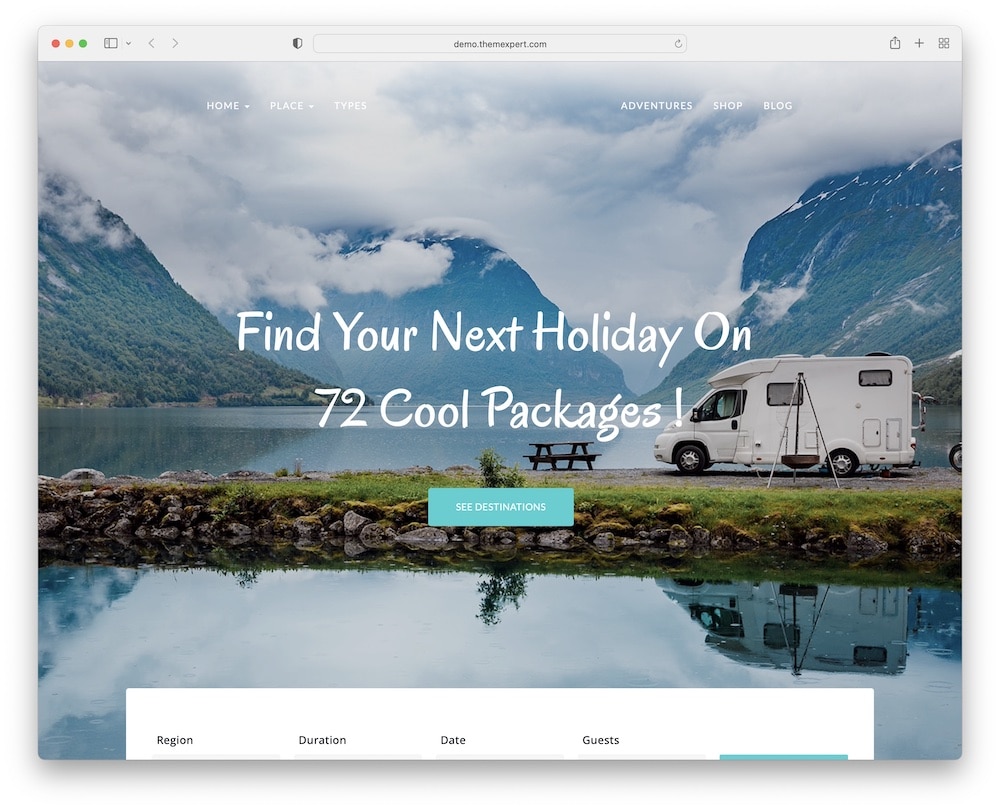 Grab a seat on an exciting new tour with Valley travel WordPress theme.
Valley comes with ready-to-use homepages for quick and simple creation. And it's fully compatible with Gutenberg or Elementor page builder (yup, pinch yourself!).
The best part is that you can display travel packages categorized by region, price, and travel time. If your visitor decides on an adventure, it can be booked 24/7 with a simple click (and even paid online).
Pretty COOL, right?
Moreover, amazing MailChimp is a stunning all-in-one solution for email blasts/newsletters with pre-made templates to use and also helps you track your email open rate.
Aim for BIG BANG with Valley!
Valley features:
400+ sales
4.2+ star ratings
One click installation
Destination & adventure management
Price: $49 (may vary)
MORE INFO / DOWNLOAD
DEMO
14. Voyage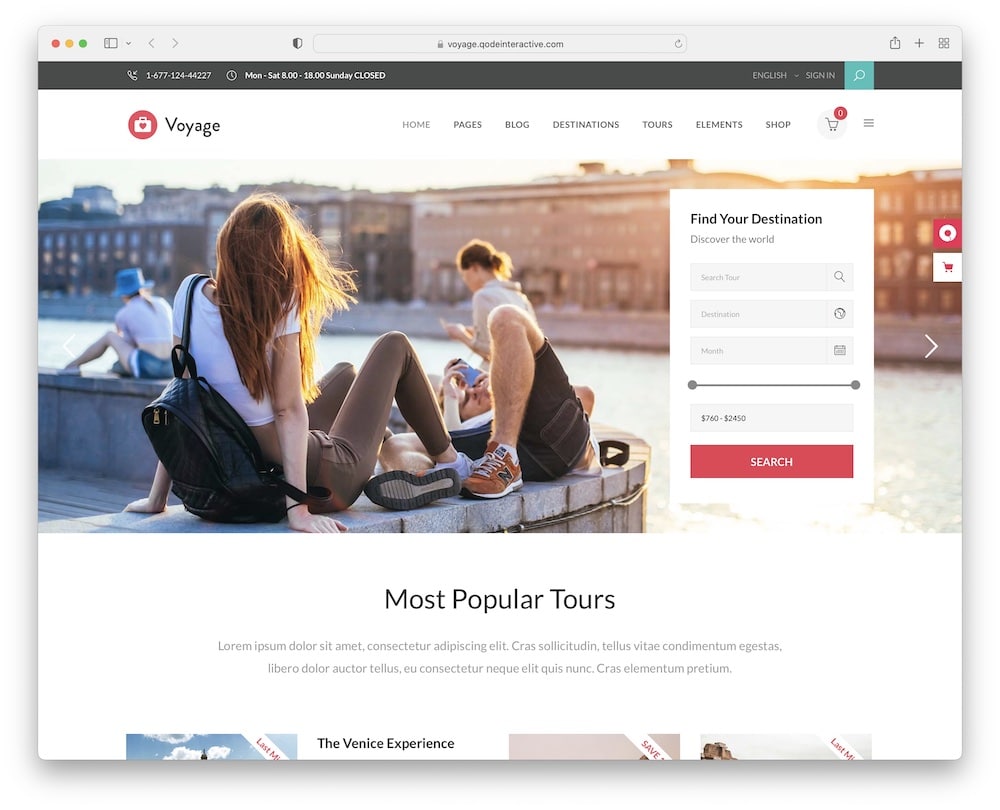 Create an unforgettable travel experience with Voyage theme.
Offer priority access to new trips, destinations, and exciting new tours before anyone else. Visitors will get a little extra magic with beautiful design, stunning tour lists, and amazing galleries.
With pre-designed tour types lists and icons, you can group different travel adventures for fast & easy search (powerful filter options). Plus, dont forget to include testimonials!
Trust me, the impact is HUGE!
Voyage is also bundled with a huge collection of useful shortcodes, including animations, videos, pricing tables, working hours, about you & team, and carousel sections.
You can always count on Voyage!
Voyage features:
1,100+ sales
4.4+ star ratings
Search with filters
Child theme ready
Price: $79 (may vary)
MORE INFO / DOWNLOAD
DEMO
15. Adventor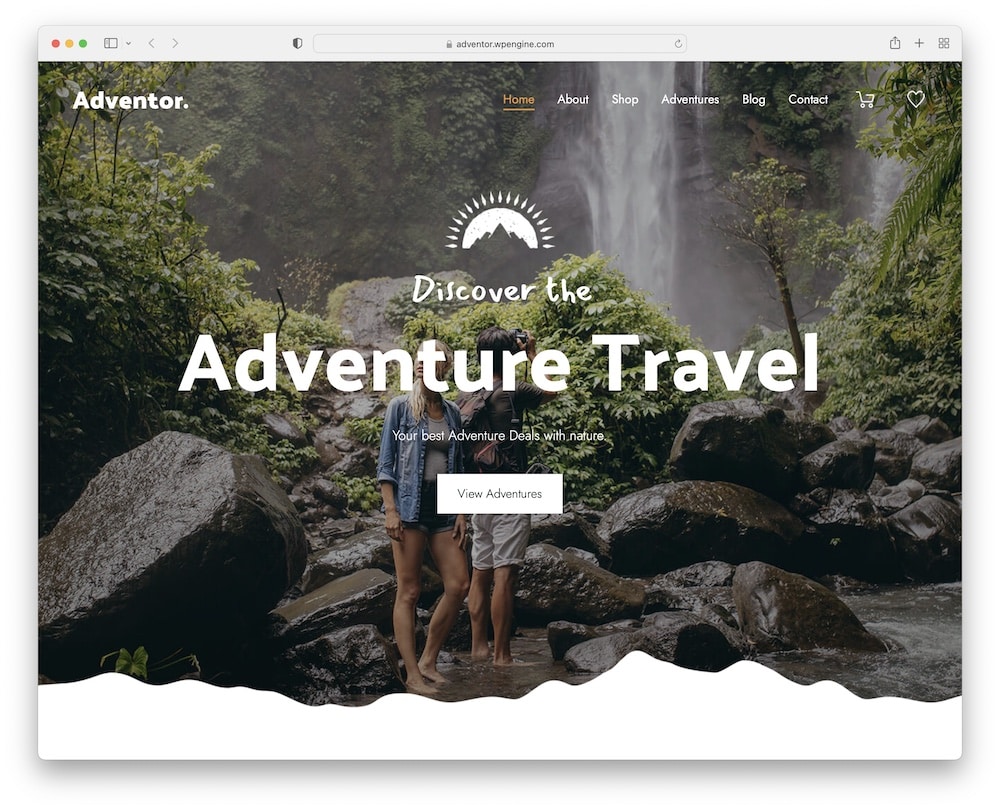 Being part of Adventor travel agency WordPress theme will help you scale your business to a new level.
Remember, due to Adventor bundle of GOODIES, you don't have to pay for multiple tools or experts. It's all laid out for your to start building your dream site (just do it!).
Hands up if you want a blazing fast site.
Adventor, comes with a responsive design and fast load SO that your visitors get the best interaction with your site.
Promote playful activities, family trips, adventurous trails, custom packages, and complete guides. You can even start selling trekking accessories and other essentials (WooCommerce, you ROCK!).
Major value: Modern blog!
Adventor features:
180+ sales
5-star rating
Minimal & creative design
Complete online travel store
Price: $69 (may vary)
MORE INFO / DOWNLOAD
DEMO
7 Key Features Of A Great Travel Agency Websites
1. Online Booking System
Every travel agency website needs to have a solid online booking system. Gone are the days of picking up the phone to make a reservation or sending emails.
Luckily, all modern travel agency themes have a built-in booking system, so you don't have to build it from scratch. Configure it and let it run your business automatically.
2. Advanced Search Function
Another key feature of a travel agency page is an advanced but easy-to-use search function.
You must ensure that your visitors find their next exciting holiday or adventure as quickly as possible.
3. Contact Form
Many customers will have pre-booking questions and that's what you allow them to do by sending you an email via the contact form.
Guarantee that everyone can reach out anytime they want (but you can also share your phone number and working hours).
4. Google Maps
A Google Maps integration works for two things: 1) you can display the location of your travel agency, and 2) you can include your travel destination locations, so users can look around and get familiar with the area.
5. Social Media Integration
The benefit of social media is tremendous, but many still miss the opportunity. That's why we're adding social media integration as one of the key features of travel agency websites.
But WordPress themes have this feature included by default in most cases for your convenience.
6. Ecommerce section
An eCommerce section is not only for selling travel packs and online bookings but you can also promote physical and digital products. Think about the future – there's always a chance to expand.
7. Customer Reviews
Customer reviews and testimonials are a great way to build customer trust. While you'll already have an amazing presentation of your travel offerings, take things to the next level by including the best customer reviews.