Are you searching for the ultimate WordPress AdSense themes to take website monetization to the next level?
With the help from the rest of the ULTIDA team, I'm excited to share with you carefully handpicked WP themes for bloggers, magazine owners and entrepreneurs.
Not only do these themes offer a seamless user experience, but they also ENSURE your ads get the spotlight they deserve.
You're now ready to dive in and boost your revenue numbers, thanks to the harmonious blend of aesthetics and functionality designed to charm your readers and maximize your earnings.
Hey, EVERY CLICK counts!
And the look and the performance of your website play a crucial role in making your visitors click more.
Enjoy monetization through AdSense without boundaries!
How We Tested WordPress AdSense Themes
After conducting extensive tests, we ended up with a selection of epic WordPress themes that aren't only AdSense optimized but also ensure your website remains user-friendly and performs at its best
The process consisted of:
Listing out popular themes based on ratings, reviews and update frequency. (We also reviewed theme documentation and chatted with the support team for reliability.)
Installing the top themes on a test website to see how easily they integrate with AdSense. The ideal theme should allow for seamless ad placement without requiring excessive customization or additional plugins. (Check how to install a WP theme if it's your 1st time.)
Testing how ads appear on different devices (desktop, tablet, mobile) and browsers. The best themes should offer strategic ad placements while ensuring the user experience remains intact.
Analyzing page load speed because an ad-heavy site can suffer from slow load times, which can deter visitors (read less ad clicking) and lower your ranking on search engines (Google loves speedy sites!). We particularly focused on adding themes that are lightweight and well-coded. (You may also be interested in our guide on how to choose a fast WordPress theme.)
Investigating the theme's general settings, customization options, ease of use and predefined layouts and elements.
Moreover, we also ensured to include themes you can use for entering various niches and industries.
QUICK-PICK: Ultimate AdSense Optimized WP Themes
Best AdSense Optimized WordPress Themes
1. REHub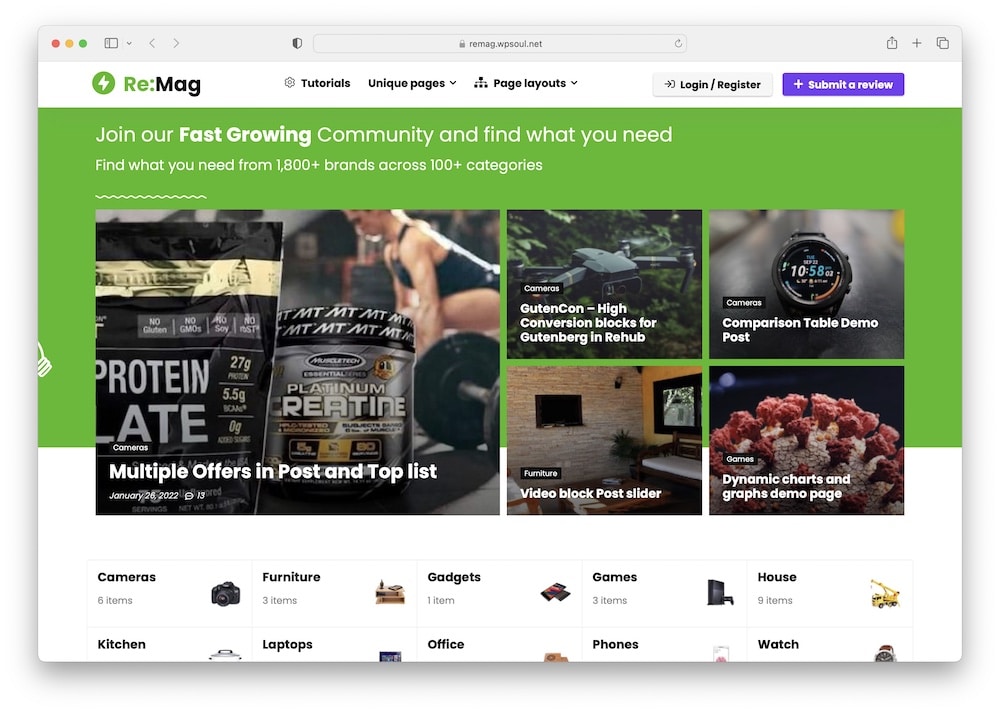 REHub theme comes with excellent pre-made designs, beautiful layouts, the most popular plugins and fantastic animations to spice things up.
WOW.
And you have total freedom to customize it as you wish!
Moreover, REHub is translation-ready to reach various regions and cultures. So tap into new markets and welcome new audiences.
The best part: REHub allows you to simply monetize your website by displaying targeted ads to your visitors.
Passive income, YES, please!
Also, I love to work with organized and visually appealing mega menu that makes it much easier for visitors to move quickly throughout your site.
Make the impossible, possible with REHub.
REHub features:
33,000+ sales
4.9+ star ratings
Full site editing
Excellent mobile performance
Price: $59 (may vary)
MORE INFO / DOWNLOAD
DEMO
2. JNews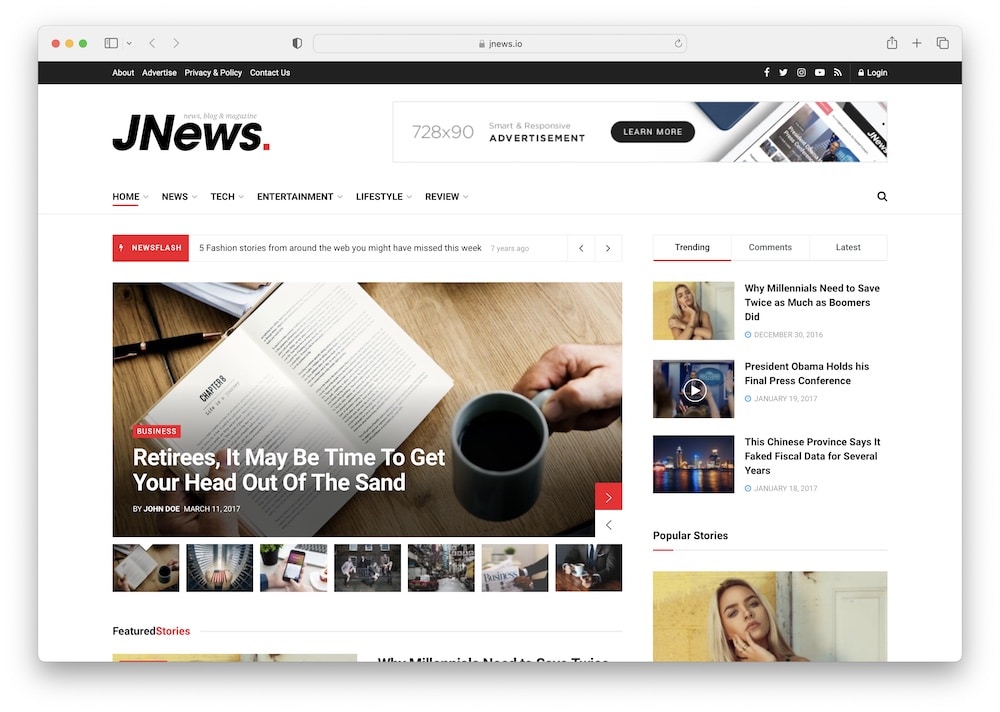 Better, faster work happens with the brilliant JNews WordPress AdSense theme.
Choose from a huge collection of pre-made homepages and use JNews for publishing journal blog articles, podcasts and videos. You can even create an online store with simple Paypal integration.
By content restriction, you can offer a subscription system (membership) and earn directly from your published content. Pretty COOL right?
I also like to use a donation button on the website. (Feel free to check the best free WordPress donation plugins.)
Moreover, JNews offers fast loading and responsive performance on different screen sizes. Plus, you can switch from dark to light mode. Hurray!
Easy social media integration makes users more likely to engage with your site via built-in like function, social share buttons and Facebook comments.
GO!
JNews features:
21,000+ sales
4.8+ star ratings
AI writing assistant
Integrate advertising system
Price: $59 (may vary)
MORE INFO / DOWNLOAD
DEMO
3. Newsmag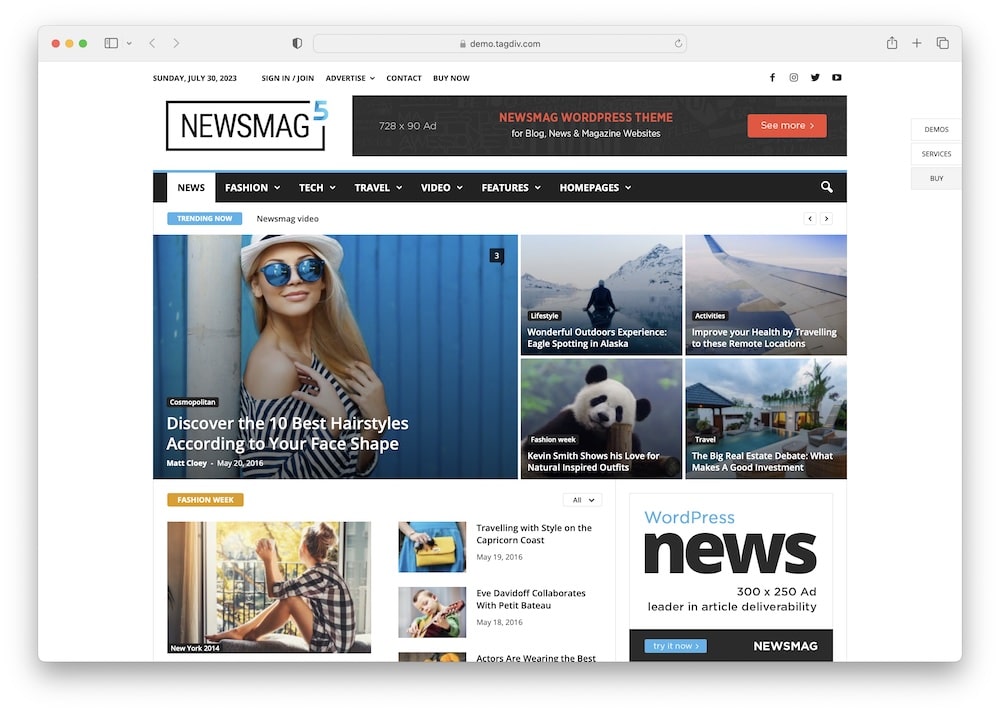 I think you will LOVE the modern Newsmag WordPress AdSense theme!
You can use it for personal blogs, online newspapers, review sites, or magazines. The best part: You can even insert YouTube videos to your WP site and make it more engaging!
Newsmag can handle large amounts of content in an organized manner. Plus, handy widgets like weather, exchange markets, Instagram and popular categories block are great add-ons.
Furthermore, you can sell products, ebooks, apply AdSense ads, affiliate links, collaboration ads, and much more.
But, I recommend that you don't overdo it with advertisements and cause users to mark it as a spammy site.
Furthermore, Newsmag includes FREE lifetime updates and top-notch customer support. GOLD.
Try light, fast and flexible Newsmag!
Newsmag features:
MORE INFO / DOWNLOAD
DEMO
4. SmartMag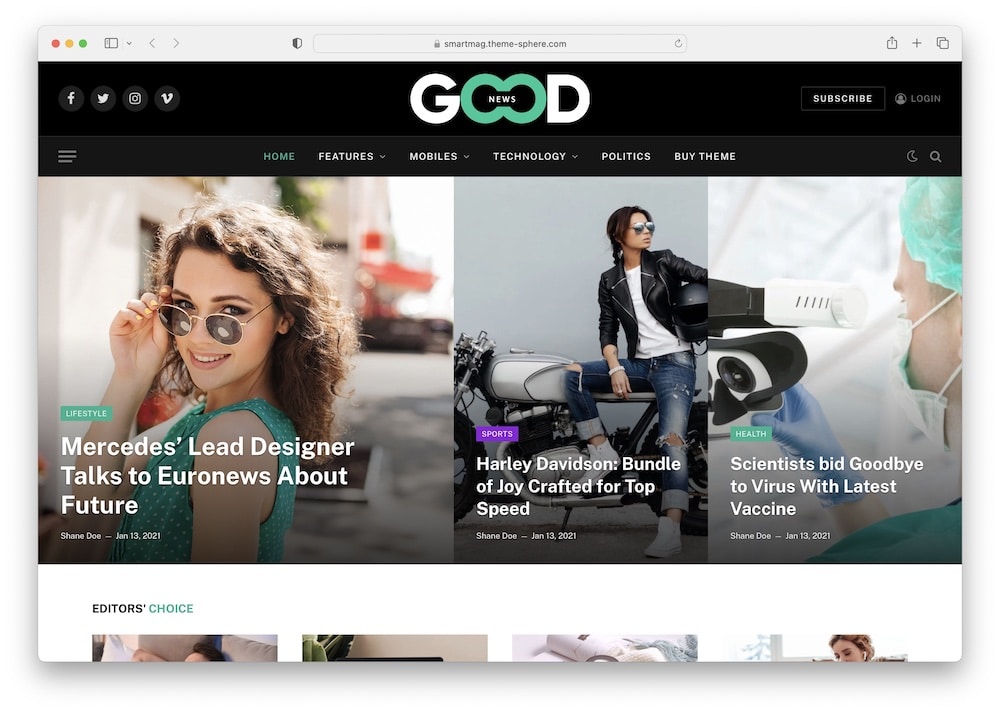 Share news, ideas, products, stories, reviews and much more via the SmartMag WordPress AdSense theme.
Easy-to-customize SmartMag includes numerous homepages (one-click import) that you can use as is or transform them into your personally constructed website.
No need for coding skills!
Elegant SmartMag offers a big collection of pre-made blocks, headers, post layouts, newsletter forms and smart widgets. Yup, everything you need is here!
Moreover, with AdSense, you can simply monetize your online content with targeted ads.
Other cool features of SmartMag are dark mode, a mega menu, Google fonts and built-in review posts.
START smart today!
SmartMag features:
MORE INFO / DOWNLOAD
DEMO
5. Directory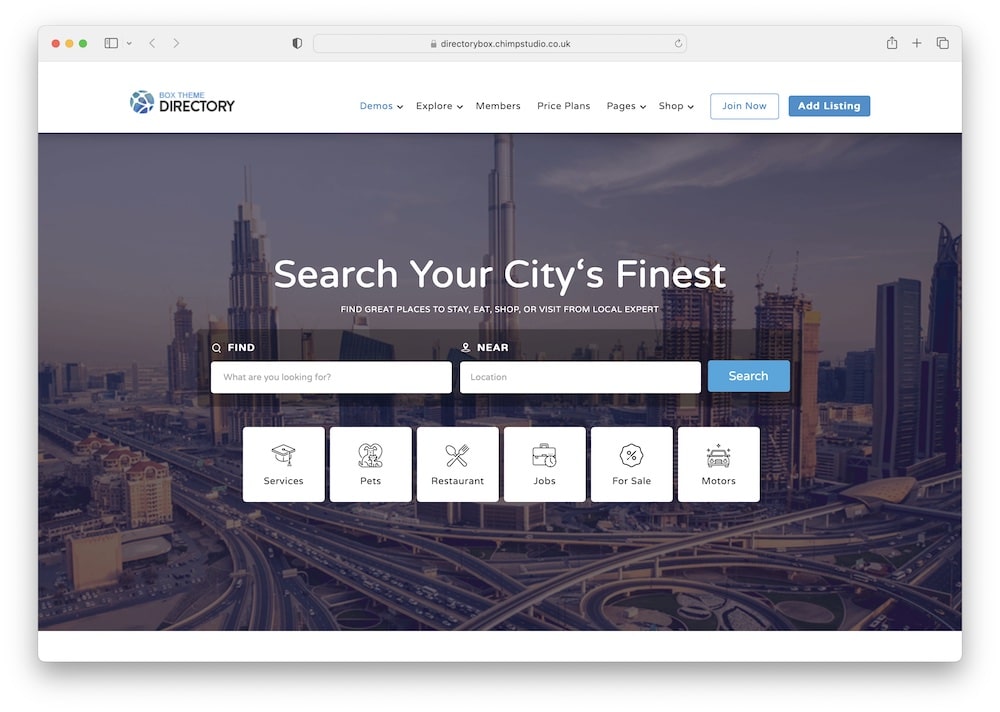 Grow your business on your terms with the Directory WordPress AdSense theme!
Clever Directory is an ideal platform for tourism, restaurants, various services and other popular listings and classifieds. You can offer membership packages, registrations, log ins, accurate search filters, and much more.
The most popular plugins, such as Slider Revolution, WooCoomerce, MailChimp and Contact Form 7, can provide amazing functionality for your site.
Plus, the responsive Directory is ready to make use of AdSense advertisement, Google Analytics, banner ads, and pop-up subscriptions out of the box.
HIGH FIVE!
Take advantage of these engaging tools.
Your dreams can become reality with Directory.
Directory features:
5,300+ sales
4.3+ star ratings
Membership packages
Multiple ad spaces
Price: $59 (may vary)
MORE INFO / DOWNLOAD
DEMO
6. MagPlus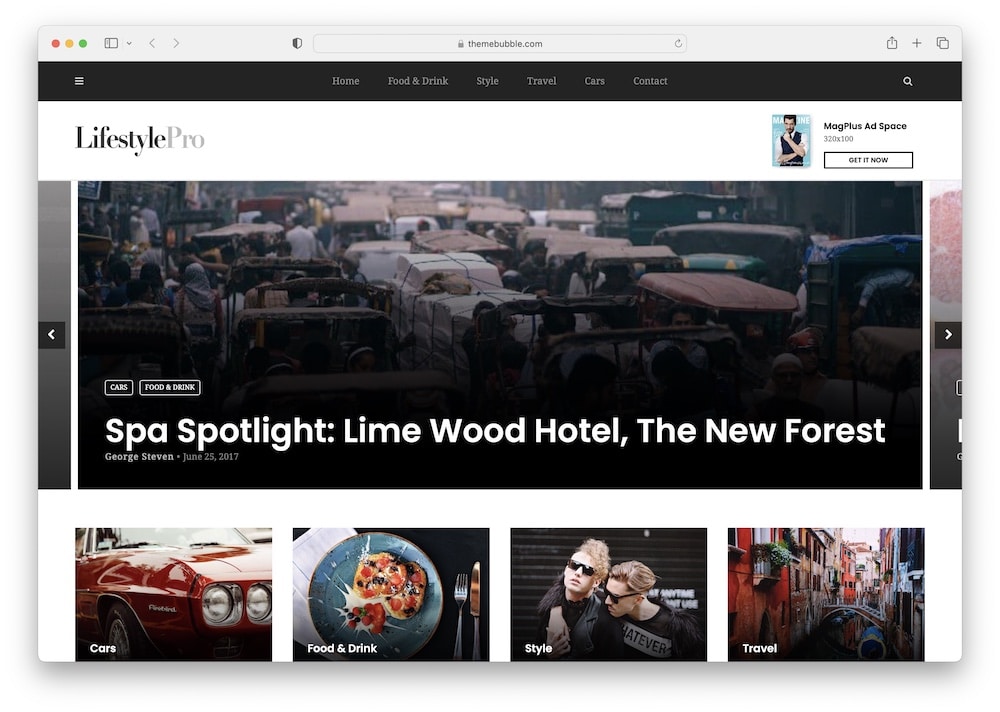 Modern MagPlus is your creative and helpful collaborator to share up-to-date news, stories, reviews, upcoming events, etc.
It comes with a BIG homepage collection that works fantastically well out of the box. However, I recommend you modify them to your desires because it's very easy and quick to tweak MagPlus.
You can change typography, colors, header, menu and add/remove sidebars, shortcodes, or widgets, to name a few.
Moreover, MagPlus is SEO friendly and optimized for great user experience by loading fast and being responsive (it welcomes all shapes and screen sizes!).
Proper documentation is great for a quick and simple setup, plus professional customer support can make a huge difference at the start of your building.
Enjoy it!
MagPlus features:
3,900+ sales
4.8+ star ratings
Custom ads
Google AdSense option in AMP
Price: $59 (may vary)
MORE INFO / DOWNLOAD
DEMO
7. VidoRev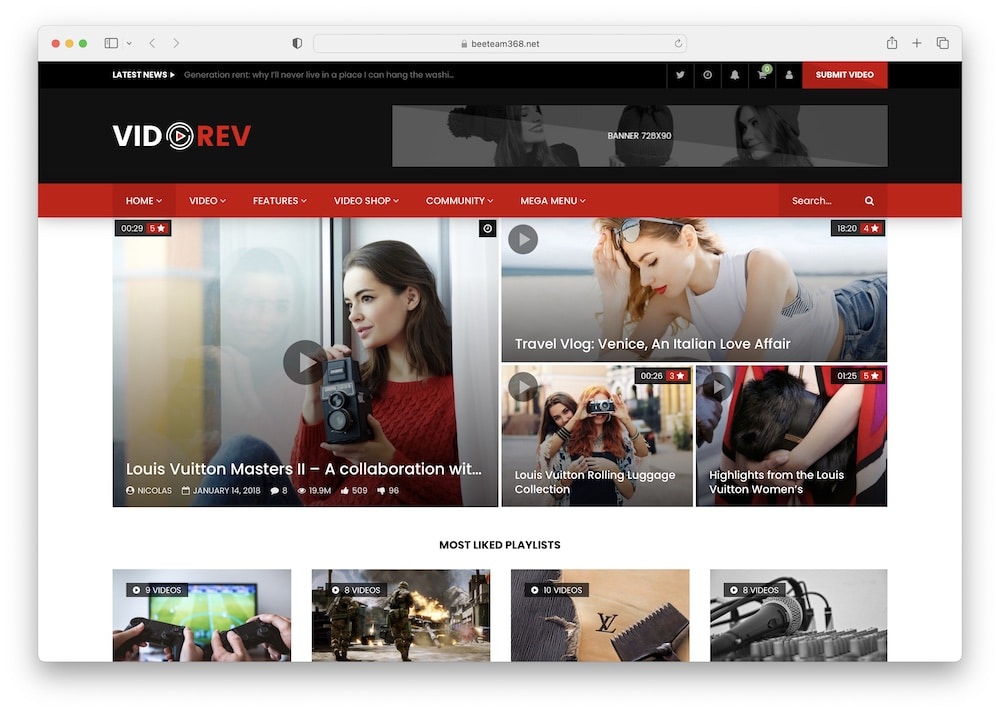 Getting started is so simple – just import (one mouse-click) the versatile VidoRev WordPress AdSense theme.
Due to the stunning Elementor WP page builder, you can drag and drop elements into the desired position (real-time changes). You don't need any coding or design knowledge, simply use your imagination and bring your ideas to life!
Adjust the header and footer, import videos from YouTube or Vimeo, set up infinite scroll, and even translate VideoRev (with your favorite WordPress translation plugin).
You can also create live broadcasts, video series, pre-roll video ads, podcasts and group videos into playlists. Plus, you can offer subscriptions and video ratings.
Pretty COOL, right?
Aha, VidoRev is as well social media friendly so that users can easily engage with you.
Give it a try!
VideoRev features:
3,000+ sales
4.8+ star ratings
Video ads (pre-rolls video ads)
Lightbox video
Price: $59 (may vary)
MORE INFO / DOWNLOAD
DEMO
8. Admania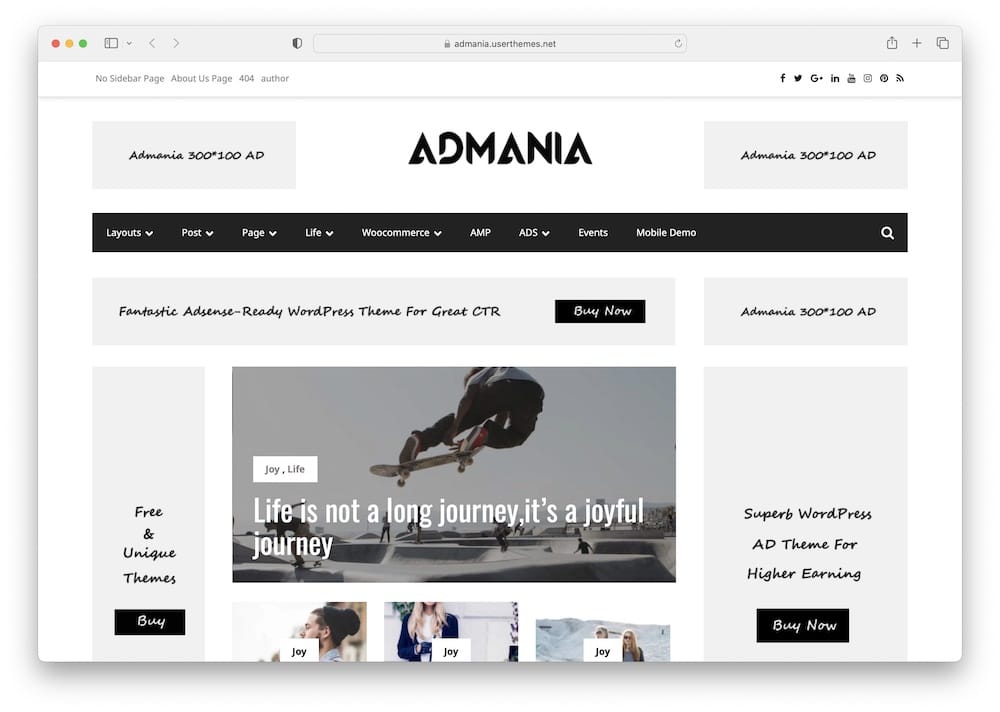 Found yourself asking: "What should I do today?" Well, if I was you I would create an interactive website with Admania WordPress AdSense theme!
Beautifully designed Admania is ideal for a magazine or blog of any industry. Great way to write about your interests and want to share with the world. (Fantastic for niche and general sites.)
You get various ready-to-use homepages, blog, and magazine layouts, flexible headers, sticky menu, and attractive subscription boxes.
Admania is also Gutenberg-optimized and compatible with brilliant WooCoomerce, Events Calendar and MailChimp.
THUMBS up!
You can also easily insert affiliate links, AdSense displaying targeted advertisements and eye-grabbing banners.
Boost your productivity with Admania!
Admania features:
2,700+ sales
4.9+ star ratings
Live ad editor
Mobile & AMP ad layouts
Price: $39 (may vary)
MORE INFO / DOWNLOAD
DEMO
9. Kicker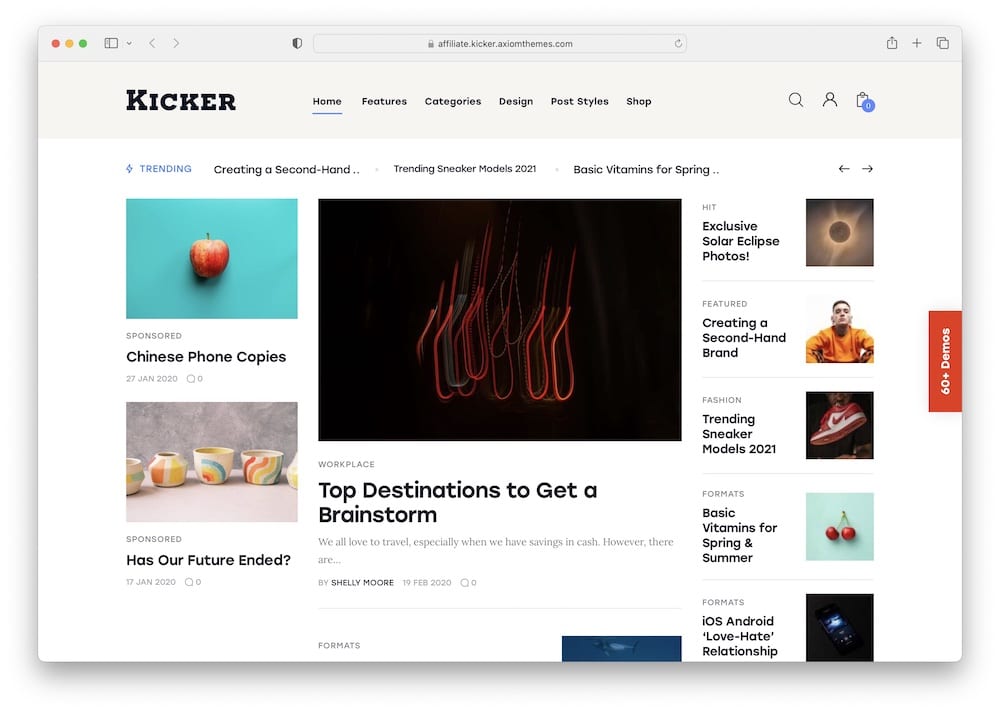 Achieve amazing outcomes with the stylish Kicker AdSense theme.
Share business news, lifestyle guides, fashion tips, wellness reviews, or travel ideas via multipurpose Kicker. Plus, you can easily monetize your website with handy tools included in Kicker.
The Kicker is lightning-fast, responsive and offers FREE lifetime updates! WOW.
You can use Elementor page builder or Gutenberg blocks (your choice) and create the perfect layouts to showcase your ideas, products and posts. Hint: Kicker blog & magazine layout is my FAV.
Moreover, the mega menu is in my opinion the best tool for user-friendly navigation by using an advanced drop-down approach. Plus, you can use icons, images and animations inside the menu.
Kicker will drive attention into your arms!
Kicker features:
2,300+ sales
4.7+ star ratings
Banner ads & sponsored posts
Practical Ajax search
Price: $59 (may vary)
MORE INFO / DOWNLOAD
DEMO
10. Spotlight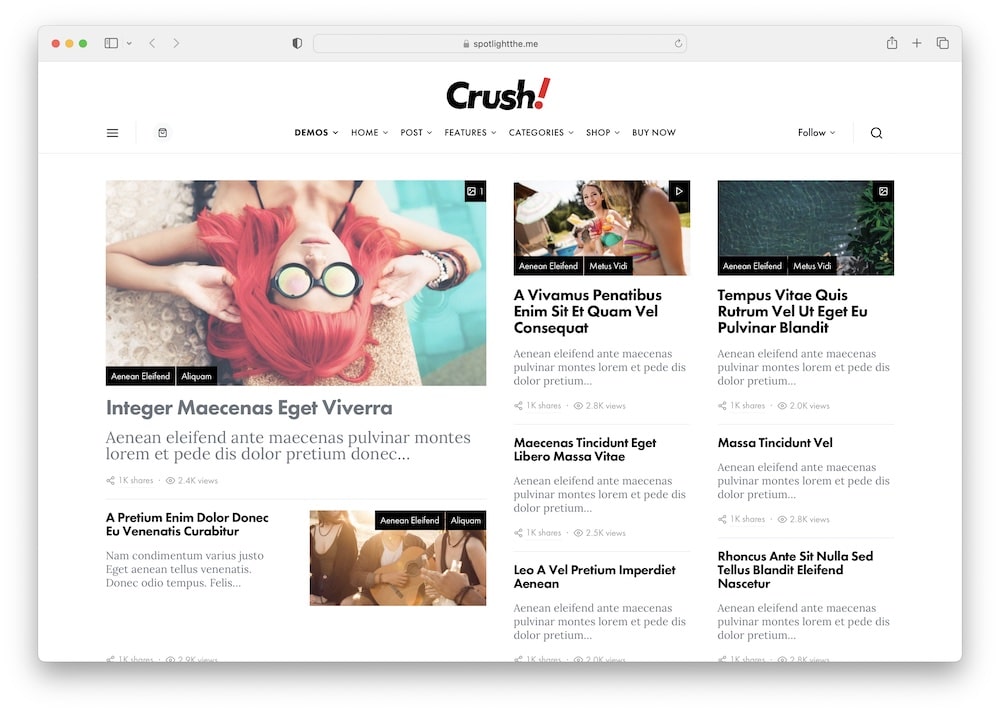 See for yourself, how easy it is to manage design, content, store and ads all in one website due to the simplicity yet advanced functionality of Spotlight theme.
Feature-rich Spotlight has five attractive index pages, brilliant header types, multiple-page layouts and regular updates.
Use drag-and-drop motion and watch your website come to life!
What's more?
Spotlight is perfect for displaying banners and ads with built-in AdSense support. YES, please!
Besides, social media integration is a MUST. Set up the Facebook comment widget, display the Instagram feed in your sidebar, and let your visitors pin images from your site by adding the Pinterest buttons.
Yup, stunning Spotlight can do all of the above!
Spotlight features:
570+ sales
5 star rating
Plenty of ads & banner placements
Post view counter
Price: $59 (may vary)
MORE INFO / DOWNLOAD
DEMO
11. BuzzMag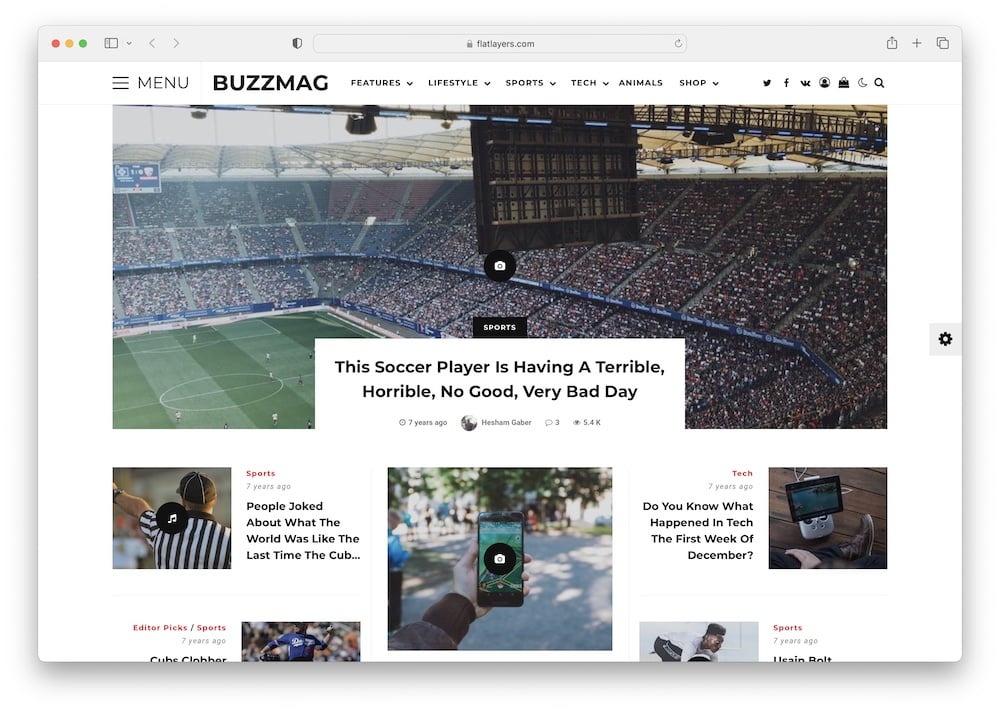 Create with the fantastic BuzzMag AdSense theme and good things will happen!
BuzzMag is made with the best practices in mind offering amazing user experience via fast speed, friendly mobile view and responsive sections for ads.
You can pick from various homepages, post styles and formats, category layouts and numerous page templates.
Plus, custom widgets for sidebar, footer, or other specific regions can be easily added, removed, or rearranged if needed.
I also love it when a site lets visitors switch between dark or light mode.
Moreover, BuzzMag includes Ajax technology to improve website efficiency and interactivity with visitors. WIN-WIN.
BuzzMag features:
220+ sales
4.8+ star ratings
WP child theme ready
Trending posts
Price: $59 (may vary)
MORE INFO / DOWNLOAD
DEMO
12. Meto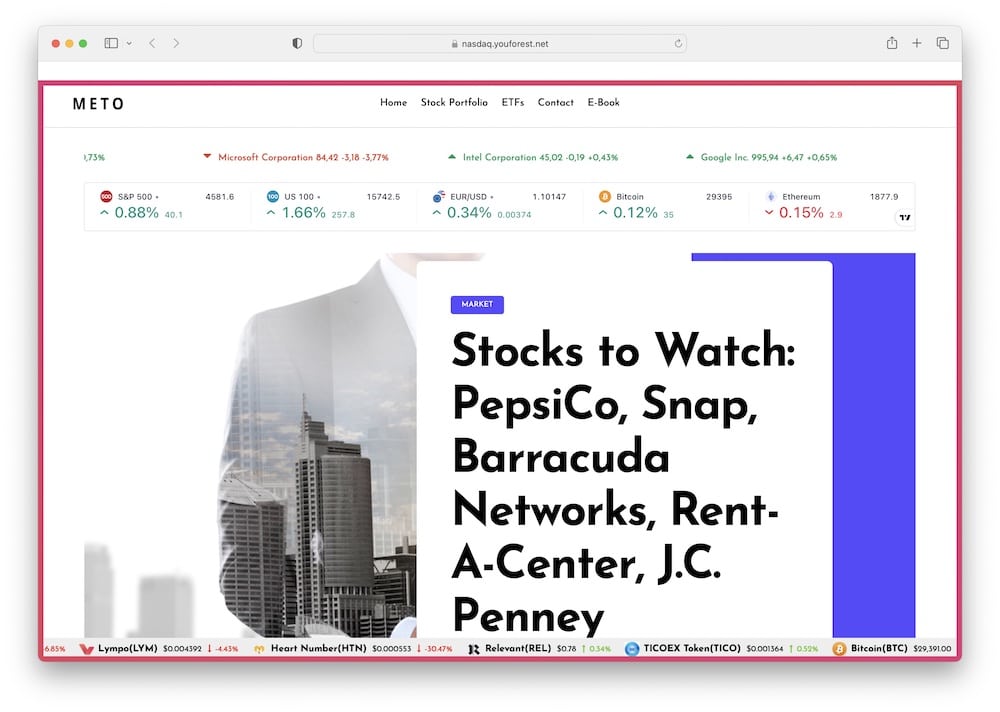 Build a modern financial blog with the Meto WordPress AdSense theme and GROW with confidence!
Flexible Meto was created for pro and hobby financial investors, traders and economists.
You can sell products, offer services and even place a donate a coffee form at the bottom of your online magazine or blog posts.
Fan support is the best!
Fall in love with the stunning visual experience of the video background slider. Besides, Meto is responsive, ensuring great functionality on various devices, including (most importantly!) smartphones.
The best part: Meto is optimized for ad placements via AdSense, affiliate links, gif ads and promotional banners.
You can also encourage the audience to sign up for a newsletter or make a purchase with call-to-actions.
Ready?
Meto features:
140+ sales
4.5+ star ratings
Niche AdSense theme
30+ ad placements
Price: $69 (may vary)
MORE INFO / DOWNLOAD
DEMO
13. Newspread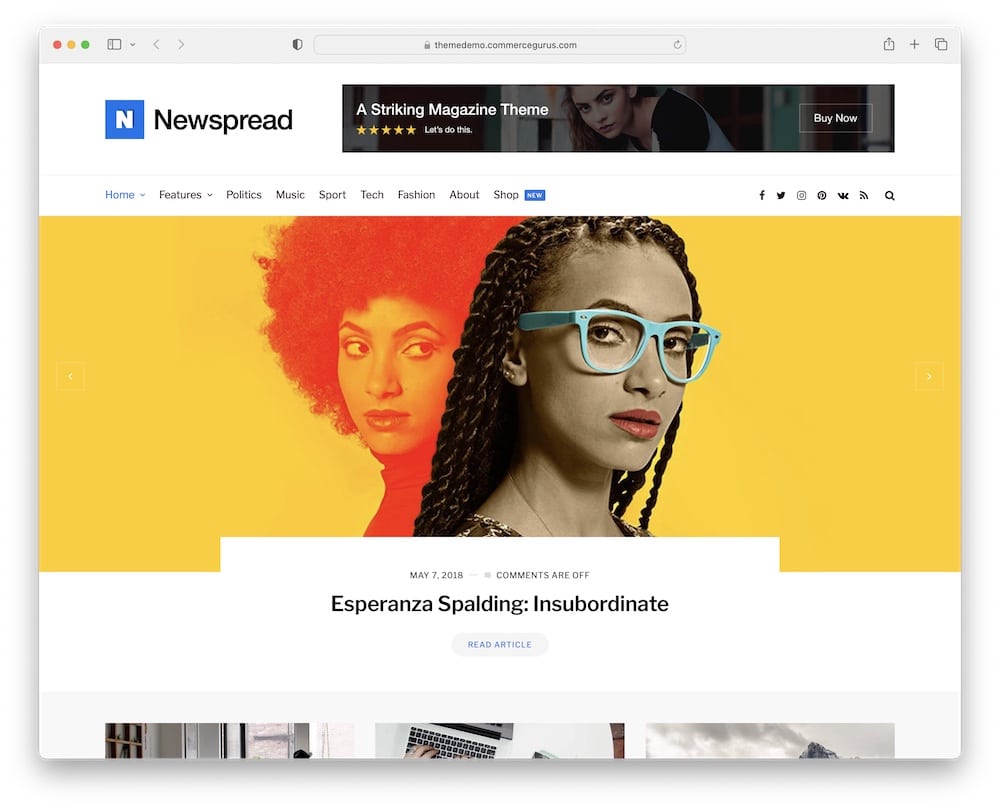 Achieve amazing outcomes with the brilliant Newspread WordPress AdSense theme – today!
From online magazine and newspaper to blog and review sites, you can realize your dream project(s) with one theme.
Elementor makes Newspread simple to adjust and customize (without any skills).
SAVE. TIME.
Plus, you can cleverly organize advertisements and monetize your site. Hurray!
In addition, Newspread offers incredible performance, reflected in an awesome user experience and more ad clicks.
Moreover, add your social media accounts to the heart of your site; remember the more are people engaged with your content, the more they will support you (yes, even through clicking on ads).
Oh, and check out the all-in-one marketing tool MailChimp (my FAV).
Besides, Newspread's customer support has your back – always!
Newspread features:
210+ sales
4.5+ star ratings
Carefully SEO optimized
Instant demo install
Price: $49 (may vary)
MORE INFO / DOWNLOAD
DEMO
::
Note: This article was originally published on August 12, 2023. But our team regularly reviews it and updates it with necessary improvements for accuracy.