Do you want to learn how to insert ads within your WordPress content?
I prepared a quick guide that doesn't require coding.
I know, you're running a successful blog or a portal and want to monetize it.
That's OK!
You spent months or even years building a great website, and visitors are finally starting to pour in.
Now it's time to get something back. Yup, ads are the first thing that comes to mind.
This post covers:
Even if your business is not advertising-oriented, getting another RELIABLE income stream never hurts.
Easiest Ways To Insert Ads In WordPress
First, you need to ask yourself, where do I want to place my ads on my website?
You need to think that through well, as you don't want to clutter your website by displaying ads everywhere.
This can seriously HURT your visitor's browsing experience. Which, of course, won't provide the best ROI.
The most common locations for ads
Header (very visible, yet subtle)
Footer (small banners or text ads)
Inside the post (best place for longer text ads)
Sidebar (small banners)
Popup windows (best option for occasional big discounts)
Slide-in windows
Between the posts in your blog
As you can see, every location has its advantages.
But that doesn't mean you can't experiment.
I encourage you always to do the A/B testing to determine which type of ads give the best results on your website.
Numbers will TELL you everything.
How To Add Advertisements To Your WordPress Website
Adding banners and text ads to your WordPress website is QUICK.
You will receive a script code when you sign up for any platform (see best platforms below).
You can insert the text widget in the sidebar, footer, or header.
Or use Insert Headers and Footers plugin, which is perfect for beginners, but pros use it, too (read me).
Note: You will still have full analytics, statistics and conversions in the dashboard of, let's say, BuySellAds.
Insert Ads with WordPress plugins
Do you want MORE control of your ads? Do you want to add them to your posts?
Of course, you do!
That's why it's time to install an ad management plugin and start getting the most out of your ads.
Fortunately, we have already prepared a comprehensive list of the best WordPress advertising plugins that will help you in this regard.
However, our favorite is Ad Inserter (which allows you to manage scripts & heaps more).
Step 1: Create your ad block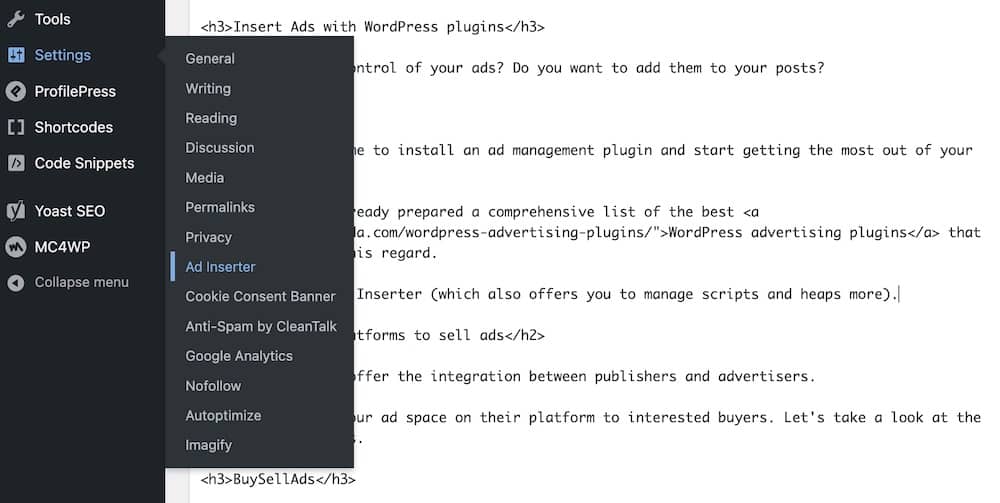 Go to Settings > Ad Inserter. This is where you create your ad block by inserting your HTML code.
Sixteen tabs mean sixteen different opportunities for placing advertisements on your WordPress content.
But don't use them all for ads!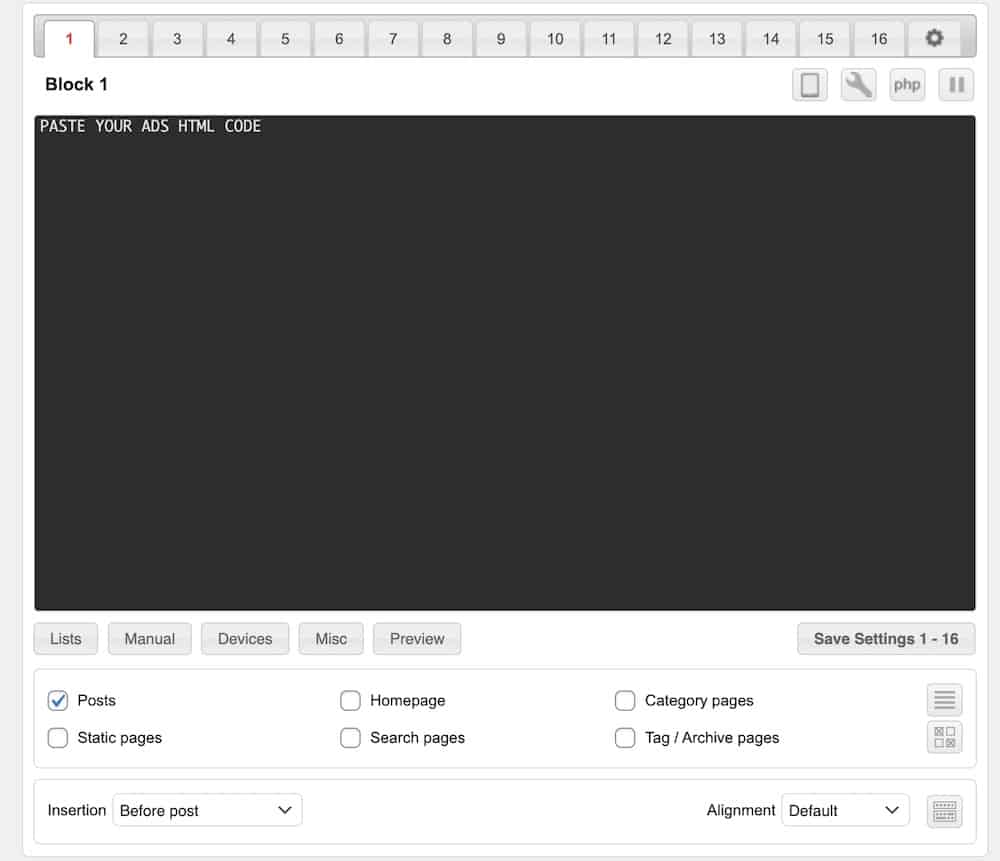 Step 2: Pick ad location

As you can see, picking the location is very easy.
If you'd like to add ads to your posts, just tick posts.
From here on, you can also SPECIFY insertion and alignment.
You can choose before or after a post, after a specific paragraph, after comments, a featured image, and more.
Plus, it's also possible to set the alignment, like left, right, center, etc.
That's it; you just inserted an ad within your WordPress content.
Bonus: Best Platforms To Sell Ads
Several platforms offer integration between publishers and advertisers.
They are selling your ad space on their platform to interested buyers.
So you don't have to!
Let's take a look at the most prominent ones.
1. BuySellAds
They have been around almost from the beginning of WordPress, which is the platform I used on my other website, PremiumCoding.
Even some of the biggest publishers in our space like CSS-tricks, Feedly, and Brave browser use BuySellAds.
You must set up a publisher's account and add your advertising zones (header, footer, sidebar, in-post, etc.).

You need to connect your website via Google Analytics so they can get the information on how many pages views a particular zone has.
Important: Price every zone accordingly and don't exaggerate it.
Because this may lead to zero sales.
Now copy-paste the script you get into your text widget in WordPress.
And wait until you get your first sale/deal.
2. Carbon Ads
These are the ideal solution for the design and development world.
It's now connected with BuySellAds, but you should STILL make your account directly with them.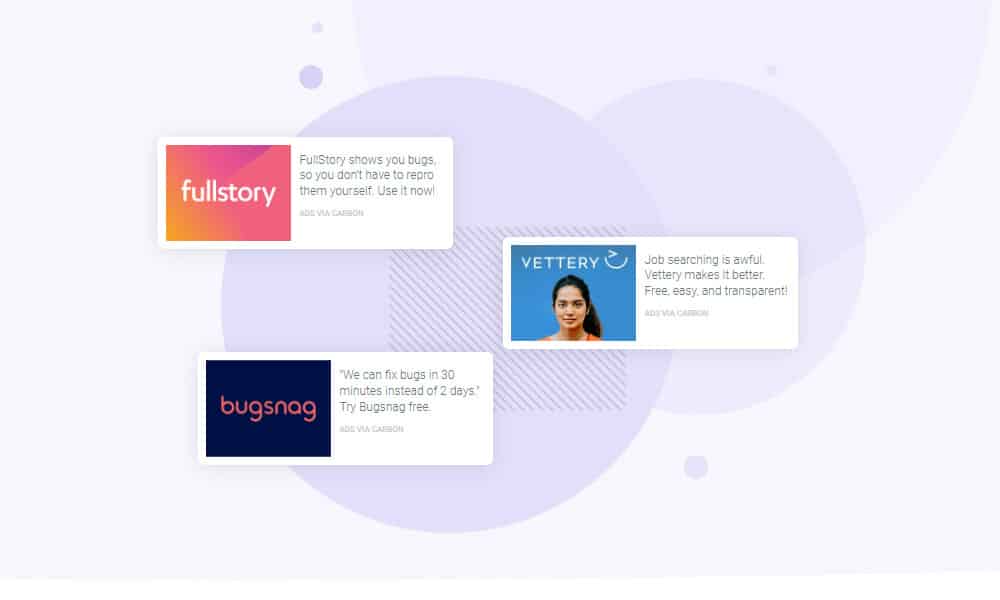 They use VISUALLY attractive ads that will fit perfectly on most modern websites.
Carbon Ads are very selective, so if your website is not visually appealing, you might not be accepted.
They work in a niche and are the opposite of the annoying and spammy ads that make our stomachs sick.
One of my personal best in terms of visual appeal.
3. AdRoll
Adroll is excellent if you need a solution for display ads, social ads, and email marketing.
They can help you with brand awareness, new shoppers, and even lost checkouts.

Adroll received many awards and are currently one of the LEADERS in the field.
4. Google Adsense
The biggest advertising platform by far is the marketing solution from Google itself.
2+ million publishers are already using it, which is growing daily.
While it's one of the most common options bloggers use, the downside is that the revenue is NOT as high as on the platforms described above.
But, in my opinion, it's the best way to test ads on your website.
You will need to connect your website to the Google Adsense account.
Our knowledge from the previous tutorials will be useful, as you need to copy and paste the Adsense code to your scripts in the header.
But here's a quick how-to:
Install Headers and Footers plugin.
After you install the WP plugin, head to Settings > Insert Headers and Footers.
All you have to do now is to add the code you got in the last step of setting up the Google Adsense account and paste it to the header.

Now click on the Ads > Overview button in the left sidebar.
And set the ads to AUTO.
You are ready to go!
Ads are now displayed on your website.
There you go; you are now ready to monetize your website with content ads correctly.