If you are searching for the best arts and crafts WordPress themes, I have your back.
I've been studying the needs of artisans, creatives and hobbyists to find out what their needs are over the past two months.
Luckily, my friends Emily (owns a handcrafted soap shop) and Mark (creates leather wallets) helped me on my journey, which saved me a ton of time.
This allowed me to choose only the greatest WP themes so you can comfortably build your website (blog, portfolio or online shop) with EASE.
This post covers:
How I Tested Themes For Arts & Crafts
After I found 25 suitable themes on ThemeForest, I knew I needed to investigate them further, so I don't accidentally include a theme that might not perform as it should.
Thus, I read user reviews and checked ratings to see the satisfaction rate. I also ensured to ditch all the themes without regular updates (there's no good in an outdated theme).
Before diving deeper into each theme, I also skimmed through the documentation and analyzed the support quality.
Surprisingly, ten themes failed to deliver a high satisfaction rate, updates and satisfactory documentation and support team.
From here, I installed all the other themes on our demo website, where I tested their performance (responsiveness and speed), installation simplicity and the friendliness of the theme interface. Lastly, I tried to match all the mentioned features from the official descriptions with the actual ones.
Here you are now – ready to build a personalized arts and crafts website.
QUICK-PICK: Ultimate Arts & Crafts WP Themes For Artisans
Best Hobby, Arts & Crafts WordPress Themes
You may also want to read Ales's guide on how to install a WordPress theme, so you do it smoothly.
1. Crafts & Arts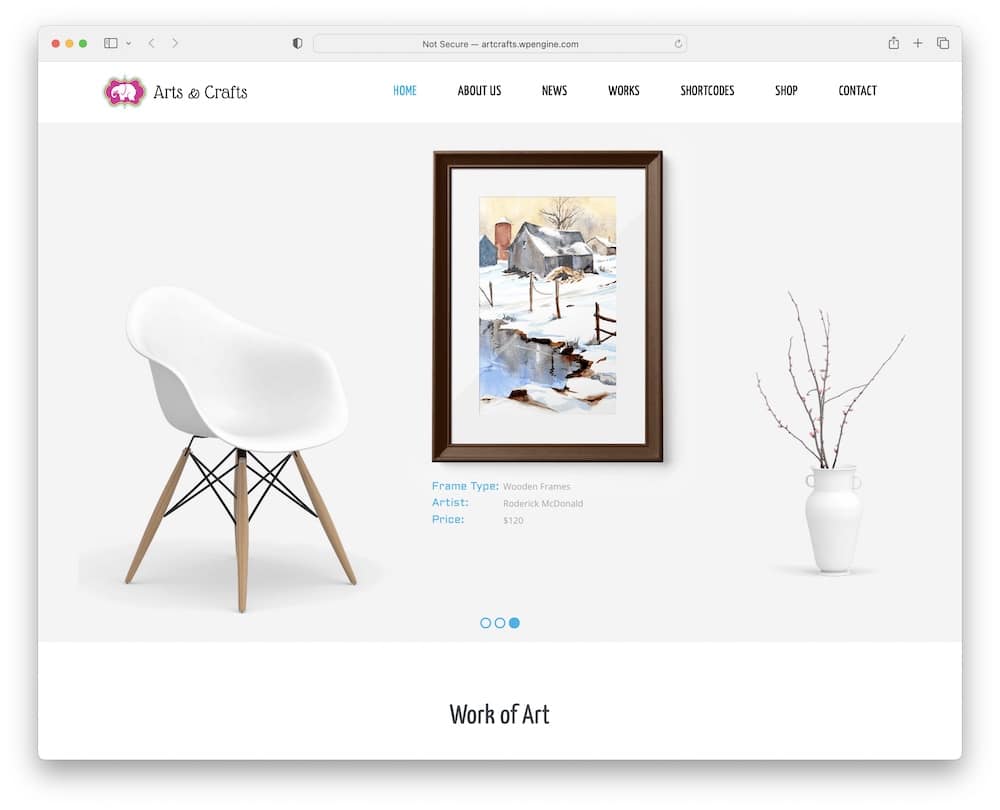 Have a life full of creativity with Crafts & Arts!
This elegant WordPress theme is fully responsive and retina ready, which promises a great user experience on all devices.
And if you want to start quickly, don't worry; it's possible (!) due to ready-to-use homepages. Plus, you don't need to know any tech or design stuff.
Hurray!
Crafts & Arts also offer unique inner pages, a huge collection of shortcodes, the best plugins, and beautiful portfolio layouts.
Tip: Start a popular craft blog!
Furthermore, with Crafts & Arts, you can share your products, ideas, and coming events (with the world) via social media integration. ENJOY.
Crafts & Arts features:
MORE INFO / DOWNLOAD
DEMO
2. Manufactura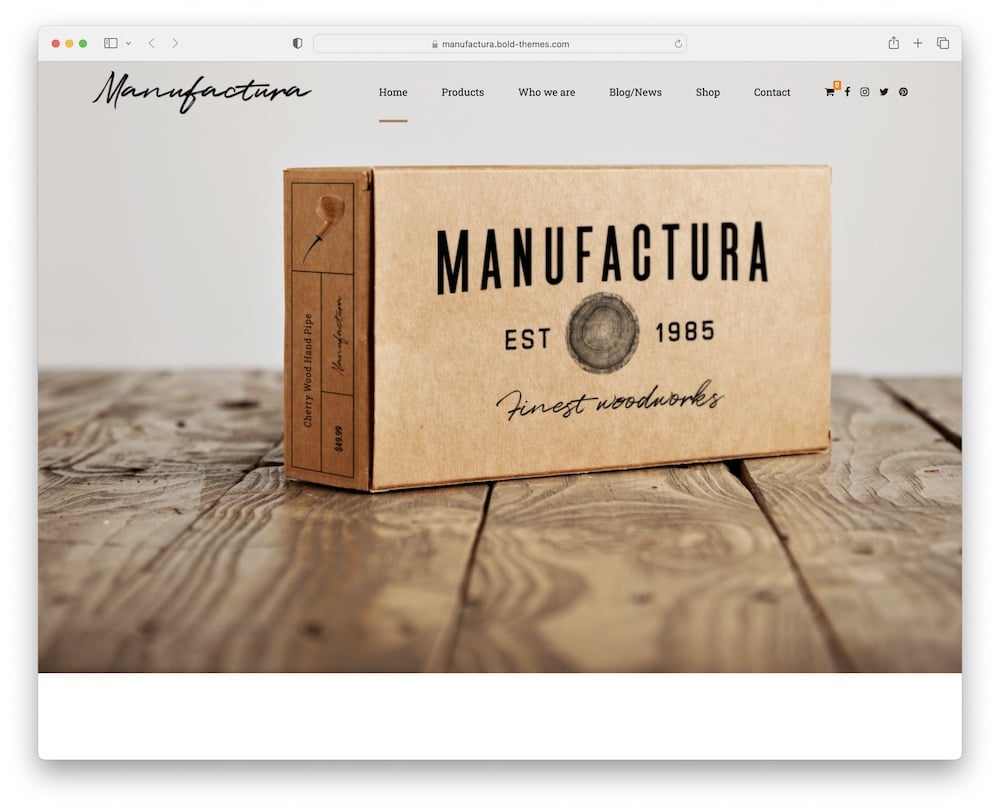 Give your passion a new style with the Manufactura arts & crafts WordPress theme.
You can use Manufactura entirely out of the box (one-click install), or you can customize it to your personal style from top to bottom.
Your choice!
Guys, I LOVEEE custom icons showing scissors, thread, staples, sewing machine, wood … so cute!
Besides, you can create an online store with the stunning WooComerce. Trust me; it will become your new best friend!
Moreover, you can translate Manufactura into any language you seek for the success of your brand (use your favorite WordPress translation plugin).
I think it is a great added value as well to have a portfolio. Keep in mind that more customers are seeking out handmade and luxury items online than ever before.
Ready? GO.
Manufactura features:
730+ sales
4.7+ star ratings
Fully WordPress child theme ready
Catchy one-page slider
Price: $69 (may vary)
MORE INFO / DOWNLOAD
DEMO
3. Iona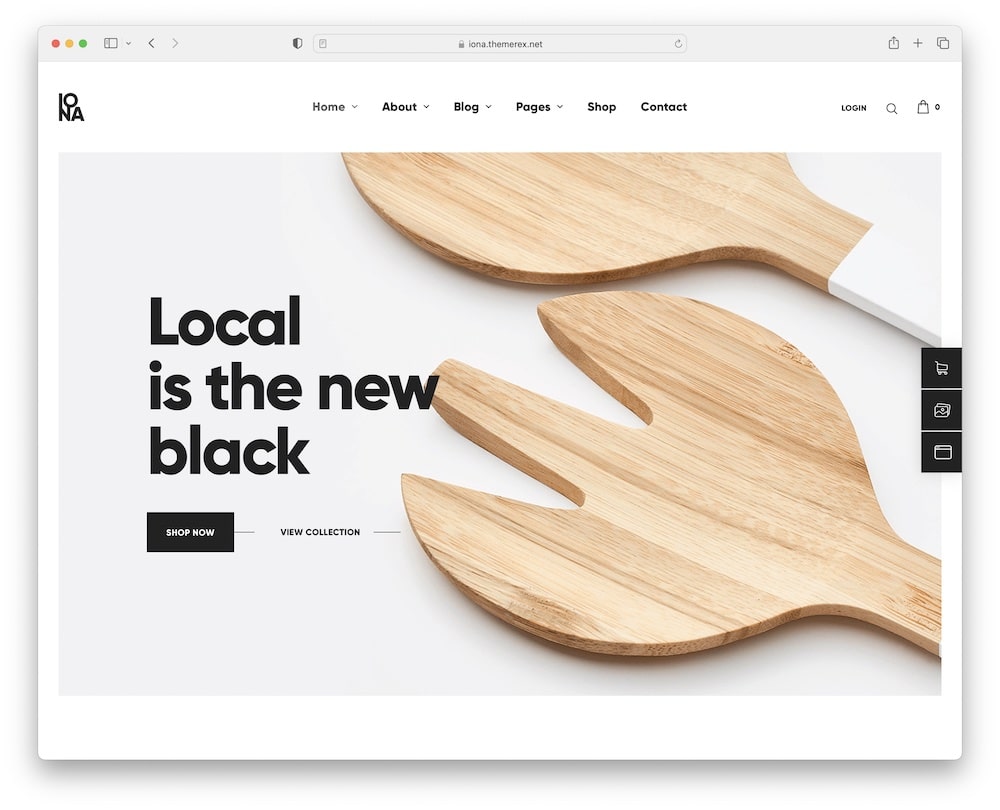 Give your business a shape with the elegant Iona arts & crafts WordPress theme.
Remember, keeping it simple is the new luxury.
I always enjoy working with the Elementor page builder and WooCoomerce. And I know you will, too.
Not only are they easy to understand, but you also get immediate design results in real-time.
For various purposes, you can choose from beautiful pre-made pages and layouts. Plus, you can even use dark color schemes. (You might also read how to add dark mode in WordPress.)
Furthermore, Contact Form 7 is a great tool for engaging with your visitor via forms. Because email marketing (check out MailChimp!) is still very much alive.
Yup, it's important you get responses and data on your site.
Experience excellence with Iona.
Iona features:
MORE INFO / DOWNLOAD
DEMO
4. Dove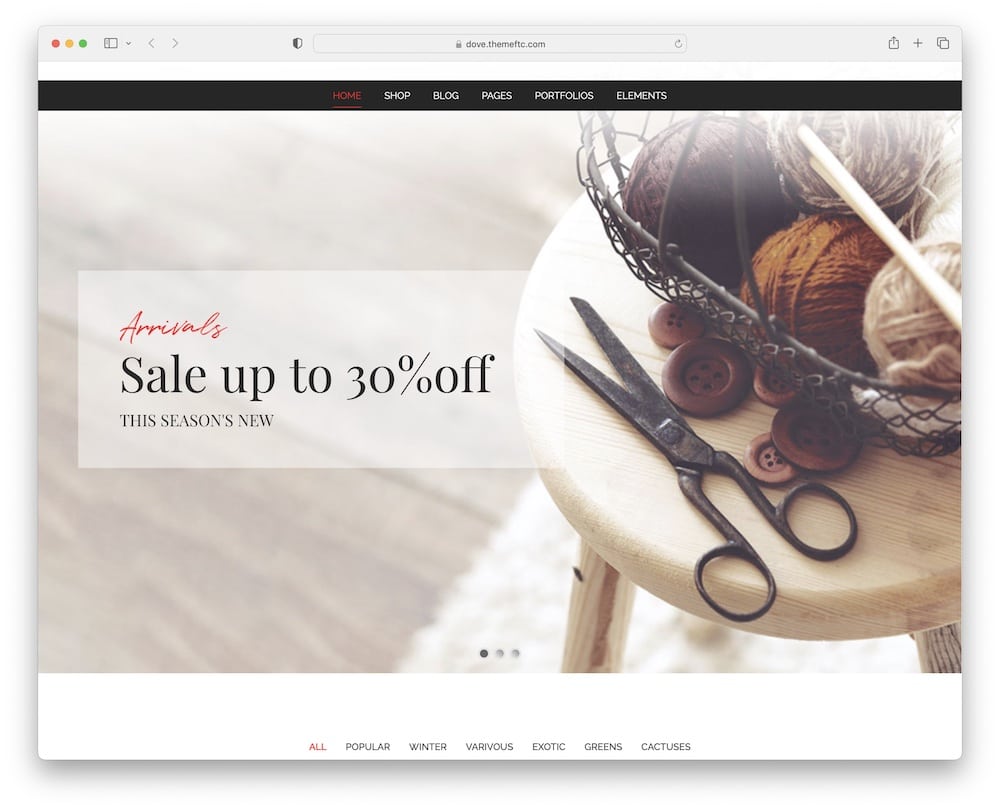 Make your online masterpiece with Dove arts & crafts WordPress theme!
Do you want that? I know you do.
Let's break Dove down and start from the beginning – you can choose from twenty-three (!!!) ready-to-use demos. It's just amazing how many possibilities you get from the start.
Dove includes modern header styles, a mega menu, social share integration, unlimited colors, and Google fonts options.
YES, everything you need for quick personalization.
I also really like the latest products carousel, brand logos slider, product compare, and wishlist features. Oh, and Ajax technology in WP is simply the best.
The COOL part: Dove customer support is a friendly and reliable team of professionals available around the clock!
Dove features:
240+ sales
5-star rating
Handy 360-degree product view
Price: $59 (may vary)
MORE INFO / DOWNLOAD
DEMO
5. Lemani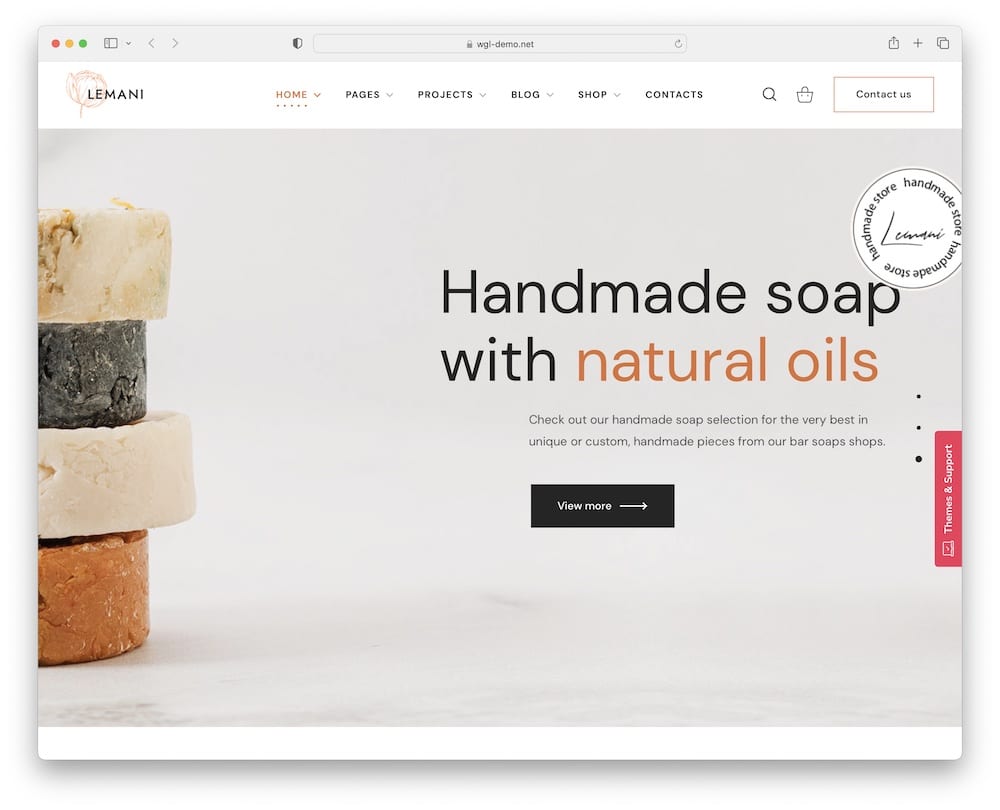 Do good every day with the stylish Lemani handmade WordPress theme. Handmade is still the BEST!
You can customize and change Lemani's elements, layouts, sidebars, colors, and more with the brilliant Elementor.
0 coding required.
In the bundle, you get three header styles to choose from. I love that they designed a header with the contact us form – the easiest way to contact your brand.
Furthermore, you can display valuable testimonials of your clients or partners for social proof. (We also have a collection of free WordPress testimonial plugins if you need extra options.)
And (it's a MUST) start a blog about new and unique crafts, luxury art, handmade items, and the passion behind your successful crafting.
Be creative with Lemani!
Lemani features:
190+ sales
4.3+ star rating
Multiple niche demos
30+ modules & 100+ theme options
Price: $69 (may vary)
MORE INFO / DOWNLOAD
DEMO
6. Melania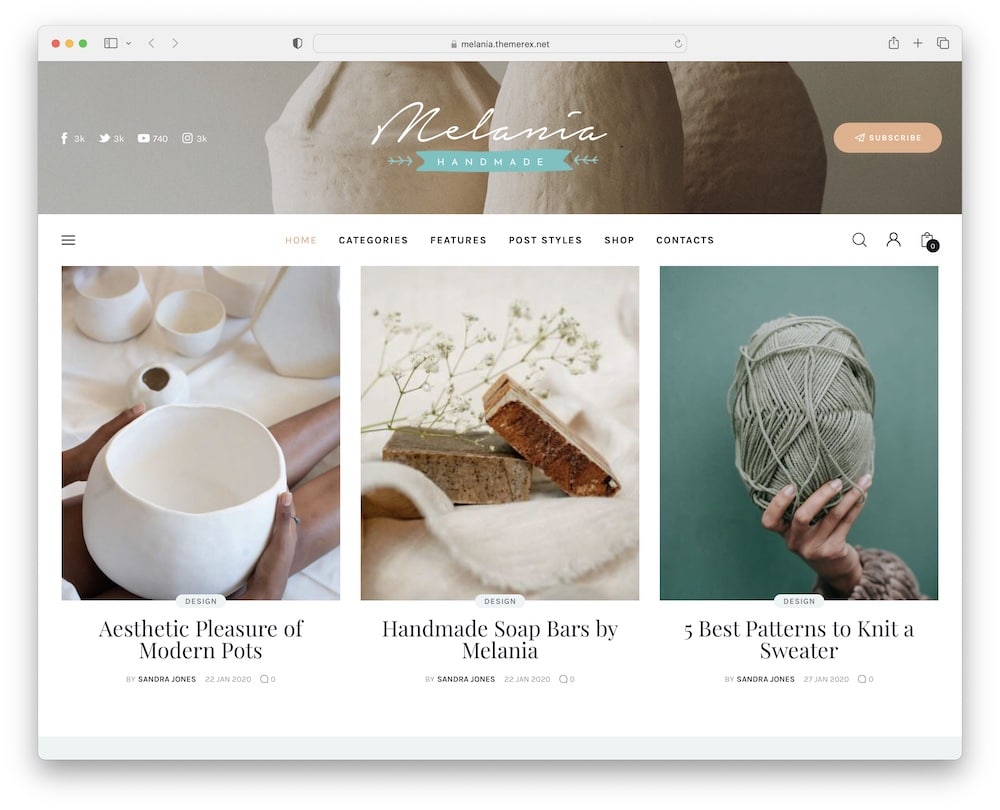 If you are looking to build a first-class website, check out Melania arts & crafts WordPress theme.
Melania was crafted with huge care for details and aims to showcase your products in the best way possible. Trust me, WooCoomerce will exceed your expectations for years and years.
I was insecure, just like you, when I started, and now I can imagine my life without it!
Besides, Melania comes with step-by-step documentation and FREE lifetime updates. Hold up. Is this real life? Yup!
Furthermore, included Slider Revolution is amazing for creating rich and dynamic visual sliders. You will be able to display modern designs and promote your art beautifully (actually like a PRO).
You deserve Melania!
Melania features:
MORE INFO / DOWNLOAD
DEMO
7. Eimear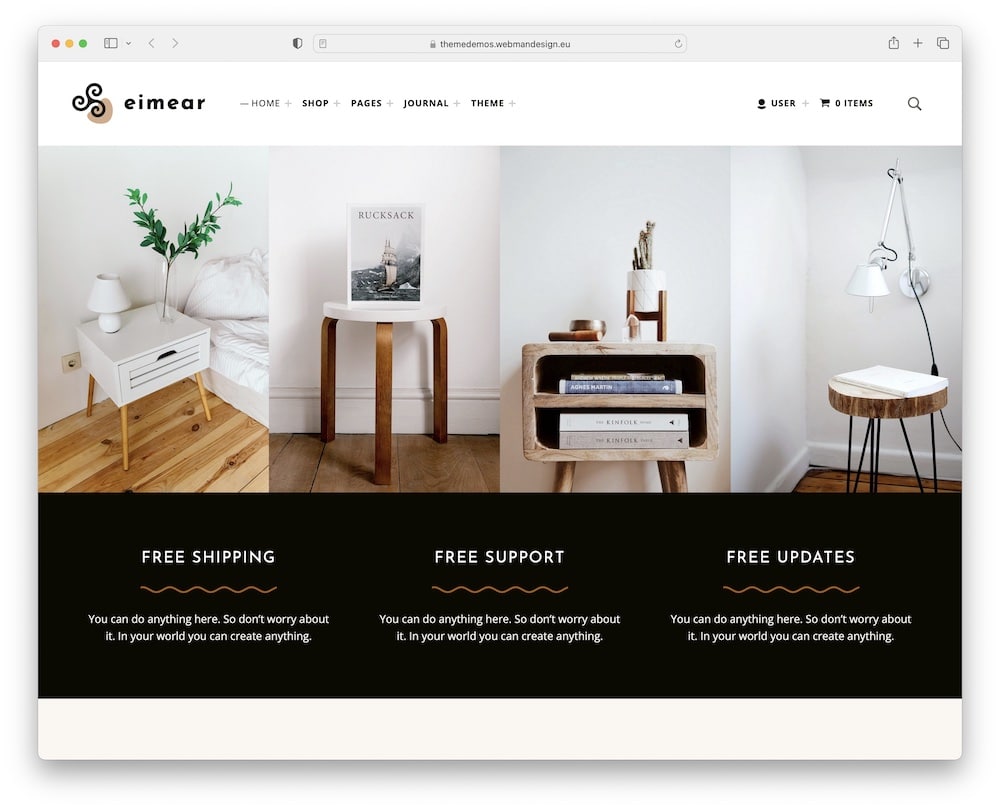 Magic can be created with the responsive Eimear arts & crafts WordPress theme.
Natural colors, clean design, and modern shop pages are all you need. Plus, having a block editor (Gutenberg) within reach of your fingertips is just wonderful!
For me, Eimear's beautiful attraction is its thumbnail shapes for posts and product lists. You can customize image size crops and turn images into different shapes (rectangular instead of square, for example).
Moreover, Eimear is also SEO optimized to give you a competitive advantage!
Oh, and various product layouts are a huge gem for your arts & crafts display.
Remember, with Elimear; you can provide THE BEST user experience.
Eimear features:
160+ sales
4.3+ star rating
100% accessibility ready (dissabilities-friendly)
Allows you to create a mega menu
Price: $80 (may vary)
MORE INFO / DOWNLOAD
DEMO
8. Handmade Shop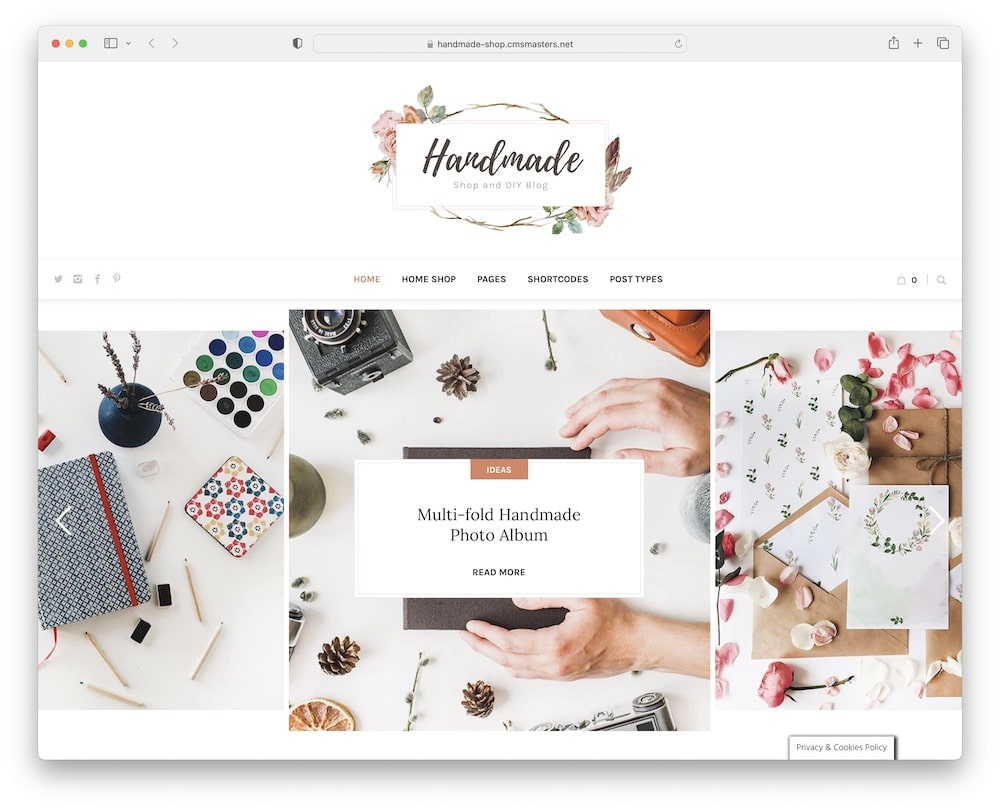 Grab the elements and tools you need and start crafting your dreams with the Handmade Shop WordPress theme.
Pretty Handmade Shop comes with amazing WooCoomerce so that you can create a powerful online store in just minutes.
GOOD. FEELINGS.
Moreover, unique blog layouts and various post formats are perfect for sharing valuable content. Also, with Handmade Shop, you can promote and display your Instagram posts directly on your website.
Choose from unlimited menu colors, set up a custom background, and pick the coolest Google fonts.
Plus, Slider Revolution (included for FREE) is one of my FAV plugins. Breathtaking animations intermingled in the eye-grabbing slides are guaranteed.
Above the rest.
Handmade Shop features:
MORE INFO / DOWNLOAD
DEMO
9. Craftis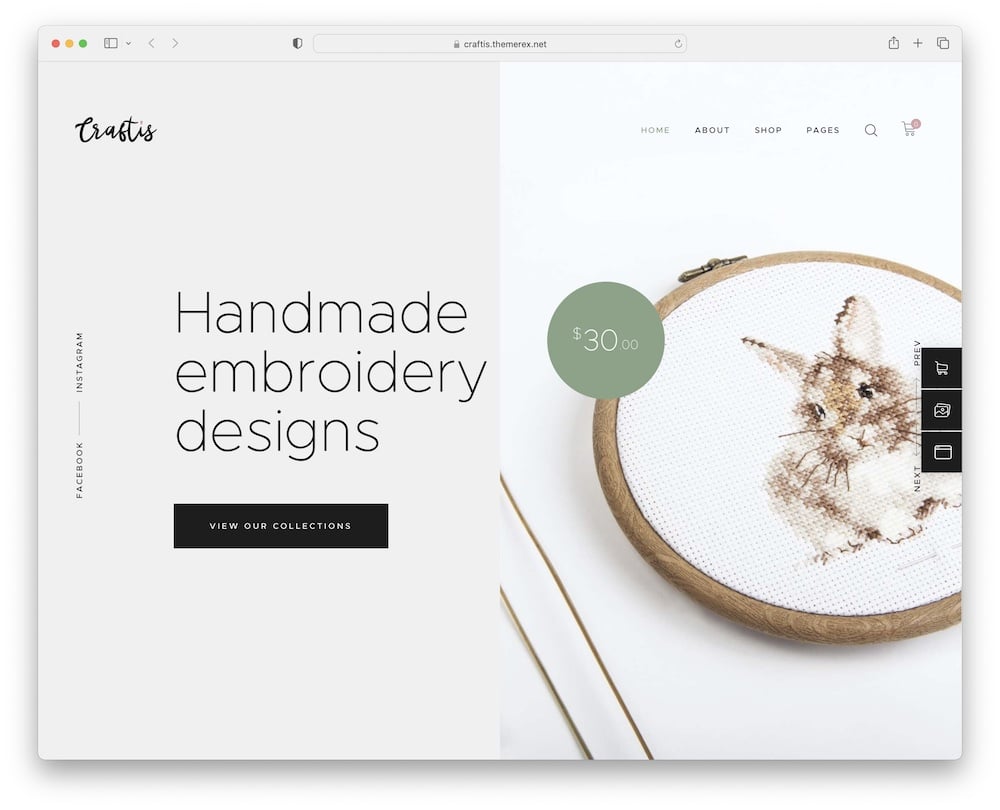 Relive your imagination and create smiles with the stylish Craftis handcraft artisan WordPress theme.
Craftis has a user-friendly and easy-to-understand page builder (Ciao, Elementor!) that will make your customization process a dream come true scenario.
Plus, you get the most popular plugins, such as Slider Revolution, Contact Form 7, and MailChimp, in the bundle.
Furthermore, Craftis' ready-to-install demos are just AWESOME looking.
And you even get FREE lifetime updates, along with six months of professional customer support.
I think we all owe Craftis a big virtual hug!
BTW: Smart header design will highlight the main points of your brand and help your visitors navigate in style.
Remember, a site's header is one of the first things you see (+ Craftis' is a sticky one)!
Craftis features:
540+ sales
4.9+ star ratings
Quick & friendly editing/customization
Custom header & footer layout builder
Price: $69 (may vary)
MORE INFO / DOWNLOAD
DEMO
10. Auriane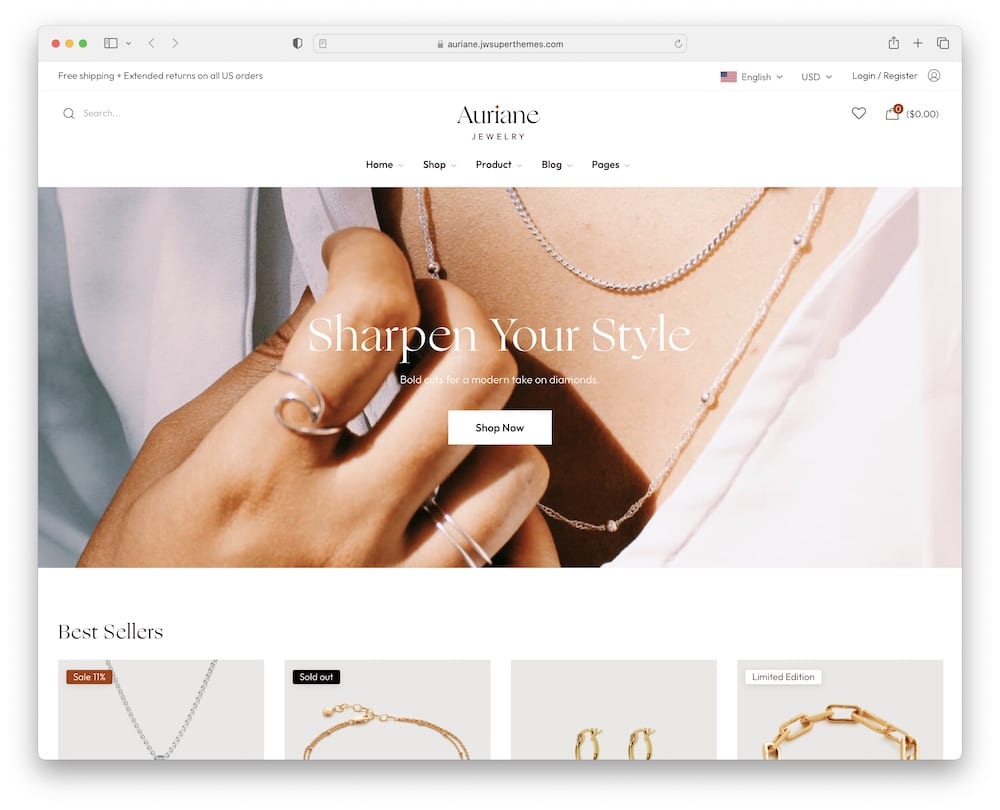 Put the art in the craft with the Auriane online handcrafted store WordPress theme.
Auirane comes with stunning features that will suit your art in the best way. All you ever need for showcasing your handcrafted goods!
Choose from gorgeous homepages, pre-made inner pages, and modern shop layouts. Plus, fast and smooth Ajax technology will get the most out of your eCommerce website.
Moreover, Auirane is SEO optimized to help you increase your visibility on Google. Yup, we all want to be discovered by the best customers.
And you can even translate Auriane into any language you want. Remember, you have full control over your website.
That's what a GOOD website is to me.
Auriane features:
230+ sales
5-star rating
Shoppable images
Discounts & frequently bought together
Price: $59 (may vary)
MORE INFO / DOWNLOAD
DEMO
What To Include In The Best Arts & Crafts Website
You need a website to promote your works, portfolio and anything else you'd like to share with the world in the best possible light.
Thus, creating a great site for your arts and crafts shouldn't be taken lightly. During the industry research, I found these seven common features I highly recommend you include in your website.
The 7 Features Your Arts & Craft Site Needs To Have
Excellent performance: You must create a site that offers fast loading and 100% compatibility with all modern devices. This will improve your website's user experience, which is OH SO necessary for your success.
Clean & simple design: Instead of adding too much stuff, features, animations and effects – many overdo it – keep it minimalist. This will bring your portfolio and products front and center.
Great product presentation: If running an online store, create beautiful product presentations with high-quality images and compelling text.
About me page: People like stories. And one great way of getting on a more personal level with your potential and existing customers (and clients) is by creating an about me page.
Contact: Besides adding a contact page, you can go one step further with a clickable telephone number and links to your social account. And if you run a physical location, integrate Google Maps to showcase your exact location.
Online portfolio: Promote your best works (and services) with a separate online portfolio page. I also recommend adding filters so everyone can easily find what interests them the most.
Blog: Finally, some of the most successful artists and craftsmen also run a blog, where they share their processes, advertise their products and share great insights into their work and life.
You're now ready to create the best website for your amazing arts and crafts. BOOM!
::
Note: This article was originally published on May 14, 2023. But our team regularly reviews it and updates it with necessary improvements for accuracy.