I enjoyed reviewing 30+ free WordPress bakery themes over the last six months, bringing you this BEST-OF collection.
Note: There aren't many themes dedicated to bakeries, so I added a few other food-related ones.
Remember, all are extremely easy to use and customize so that you can tailor them to your needs in a few clicks.
It takes minutes to build a bakery website!
Each theme has everything you need for a successful page lunch. I mean… launch.
SO. FIRE.
This post covers:
Baking websites is happiness. Especially when you sprinkle them with your creative touch and love.
Enjoy.
Best Free WordPress Themes For Bakeries
1. Bakes and Cakes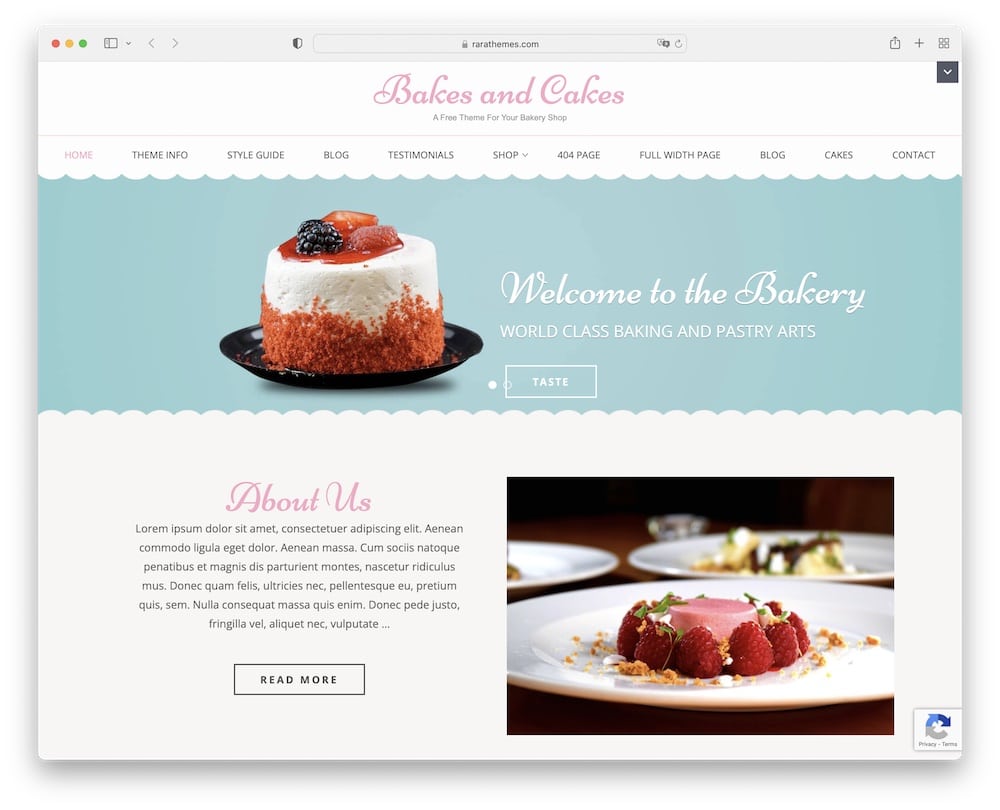 This is, without a doubt, your go-to design!
Bakes and Cakes bakery theme is cute and pretty – just perfect for your new site. It is optimized for speed, cross-browser compatible, and SEO-ready for ULTIMATE performance.
Change a few WP widgets, set up a menu, add your info, banners, and upload your cookie photos in just minutes. It doesn't get easier than this!
Plus, you can start your WP food blog with yummy recipes to get the perfect bakery audience. Oh, and you can translate Bakes and Cakes.
Winner.
Bake your new website with love!
Bakes and Cakes features:
MORE INFO / DOWNLOAD
2. Panadero Bakery

This is one of those free WordPress bakery themes that leaves me speechless after scrolling over it. Panadero Bakery is fresh, colorful, girly, and sweet – the best baking friend.
Oh, and let's not forget Panadero Bakery is 100% customizable.
You can decide about the header & footer look, easily change colors, set up a menu, mix WP sidebars, and upload images.
You are THE BOSS!
Lovely Panadero Bakery is also integrated with social media icons for effortless share and engagement with your audience. Sounds good?
Panadero Bakery – fresh from the oven, waiting for you to try it!
Panadero Bakery features:
MORE INFO / DOWNLOAD
3. Tanawul Bakery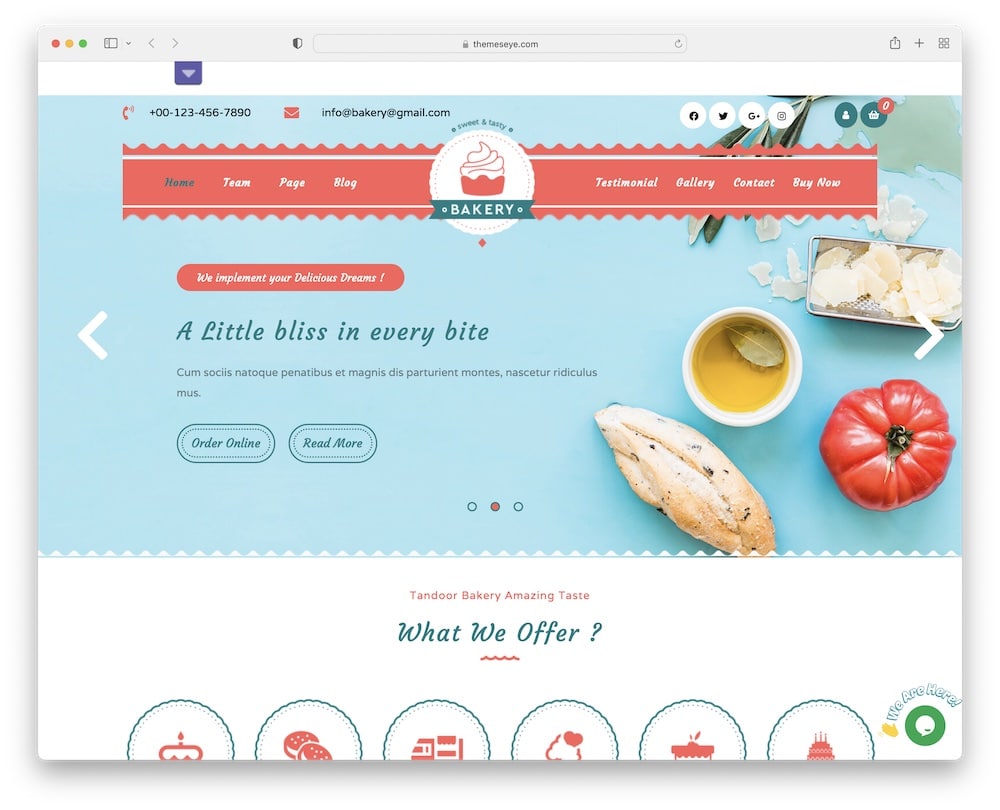 I loved to use the Tanawul Bakery template to get the PERFECT website to showcase amazing bakery skills, tasty products, and recipes.
This free WordPress bakery theme is visually stunning, has multiple applicable sections (team presentation, testimonials, product offer), and unlimited colors & fonts to choose from.
Of course, you can also use Tanawul Bakery as an online shop due to its compatibility with the No.1 WooCommerce plugin.
Turn your new site into GOLD!
As a bonus, it is well documented and comes with a great customer support team. Whoopee!
Simple, efficient, and functional. Tanawul Bakery is really worth the look.
Tanawul Bakery features:
200+ active installs
Quick customizations
Compatible with all modern plugins
Catchy gallery (or use a free WP gallery plugin to create a custom one)
Widget-rich footer
MORE INFO / DOWNLOAD
4. VW Bakery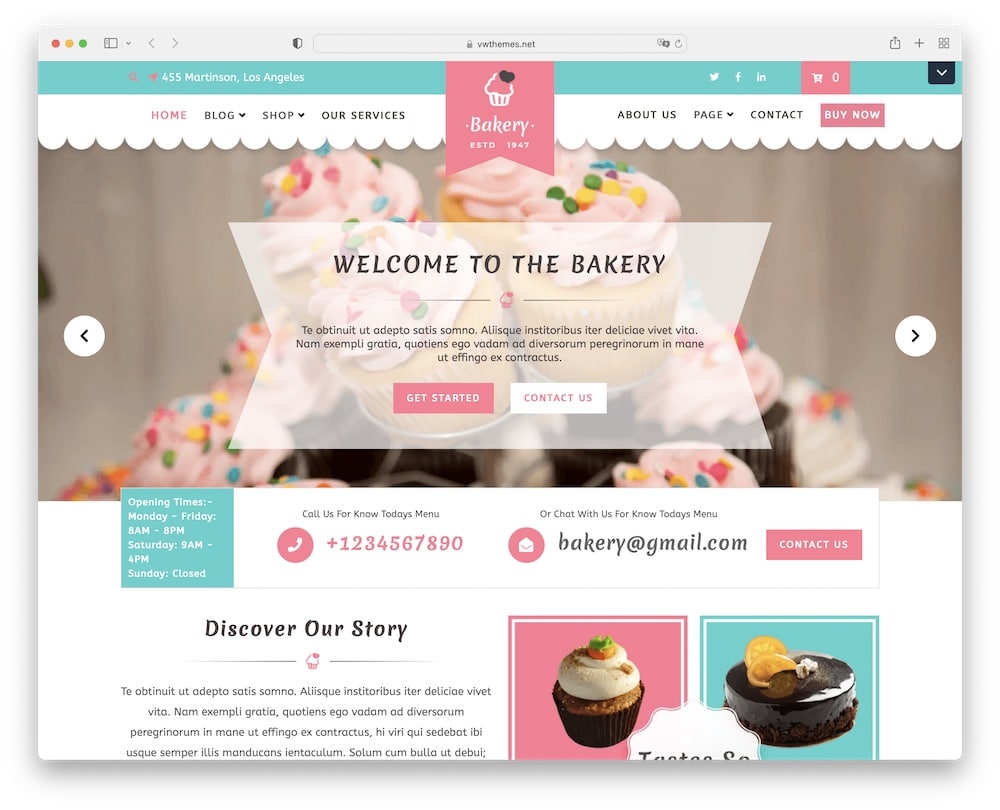 It all starts, very obviously, with the simple download of the VW Bakery free WordPress bakery theme.
Its delicious-looking design comes with everything you need for a quick kick-off.
Provided banners and sliders add to the attractiveness of the site. Plus, you can easily engage your visitors with beautiful and mouth-watering photography of your sweet creations.
Yup, you have the place to brag about your bakery superpowers!
Moreover, VW Bakery is fully responsive, cross-browser compatible, and coded clean and secure. YES, it is also integrated with social media.
Mix it with your favorite elements, tools, and widgets, set up the plugins … Aaand, your site is baked!
VW Bakery features:
600+ active installs
Works with page builders
Add/remove anything you want
Smooth functioning (on devices & browsers!)
Custom logo upload
MORE INFO / DOWNLOAD
5. Creamery Lite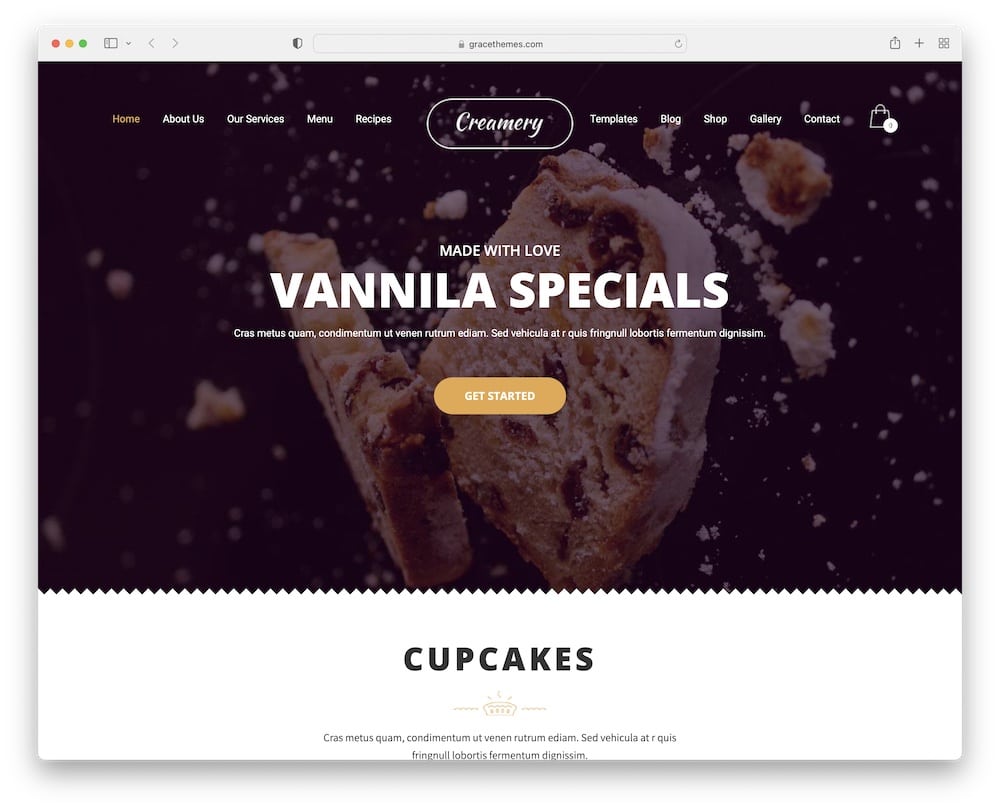 The Creamery Lite free WordPress bakery theme you've always dreamed of is here!
Its details are rich and fully flexible (let me tell you (!) – you can change them precisely as you desire). Yup, sassy Creamery has everything a COOL site should have.
And the best part? SO easily accessible (OMG – FREE).
Creamery Lite has the perfect blend of eye-catching images and a gorgeous slider (included option of overlying text & buttons).
Of course, you also get custom widgets for the footer & header, adjustable sidebars, bold typography, and pre-made page layouts.
Remember that you have complete control over Creamery Lite – Bite in!
Creamery Lite features:
MORE INFO / DOWNLOAD
6. Classic Coffee Shop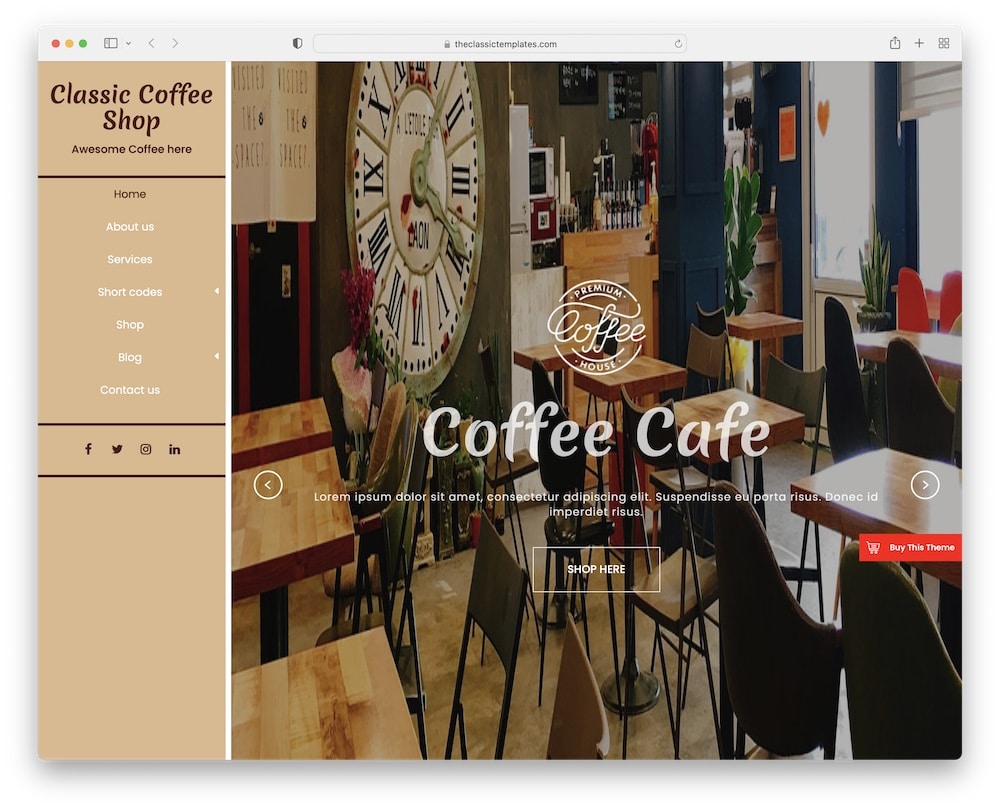 Beautiful Classic Coffee Shop theme is heaven for elegant and minimalistic lovers. PS: If you are a fan of coffee, I highly recommend giving Classic Coffee Shop a try!
You can use it for coffee (also check our coffee shop WP themes) & tea shops, cafeterias, patisseries, cake shops, and various yummy bakeries
Trust me: Unlimited possibilities guaranteed.
Get results quickly and simply with a pre-made demo (one-click import). And it is VERY easy to make adjustments to fit all your business needs, thanks to the Elementor page builder.
Additionally, you get dedicated & friendly customer support for an entire year.
HI5!
Classic Coffee Shop features:
MORE INFO / DOWNLOAD
7. Rosa Lite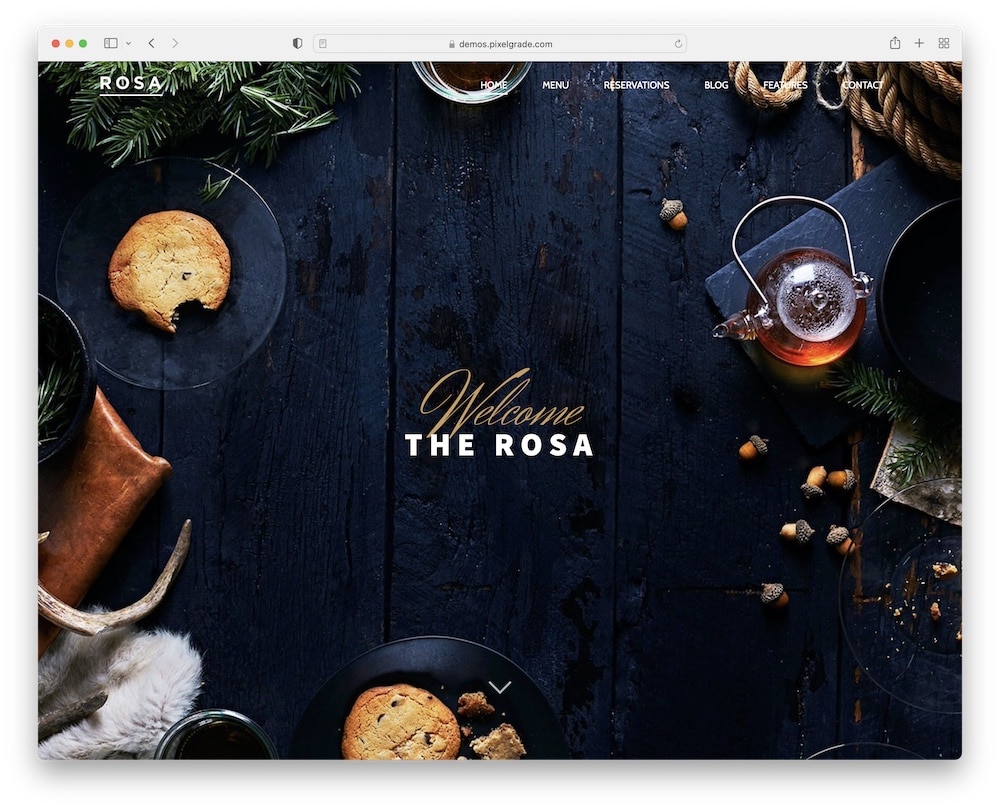 Beautiful Rosa Lite free WordPress bakery theme has a perfect design crust, rich details, and over-the-top tools. Easy to work BUT looks impressive.
You can add a unique flavor to your website with a flexible menu, food-inspired photography, an interesting about us section, and gorgeous typography.
Keep in mind: The show's real star is your blog with engaging & valuable content!
Rosa Lite is also totally beginner-friendly and straightforward to understand (well documented).
Of course, if in need of help, its customer support provides friendly assistance. Happiness.
Bake a fantastic story with lovely Rosa Lite!
Rosa Lite features:
1,000+ active installs
Custom menu
Sticky navigation
MORE INFO / DOWNLOAD
8. Bakers Lite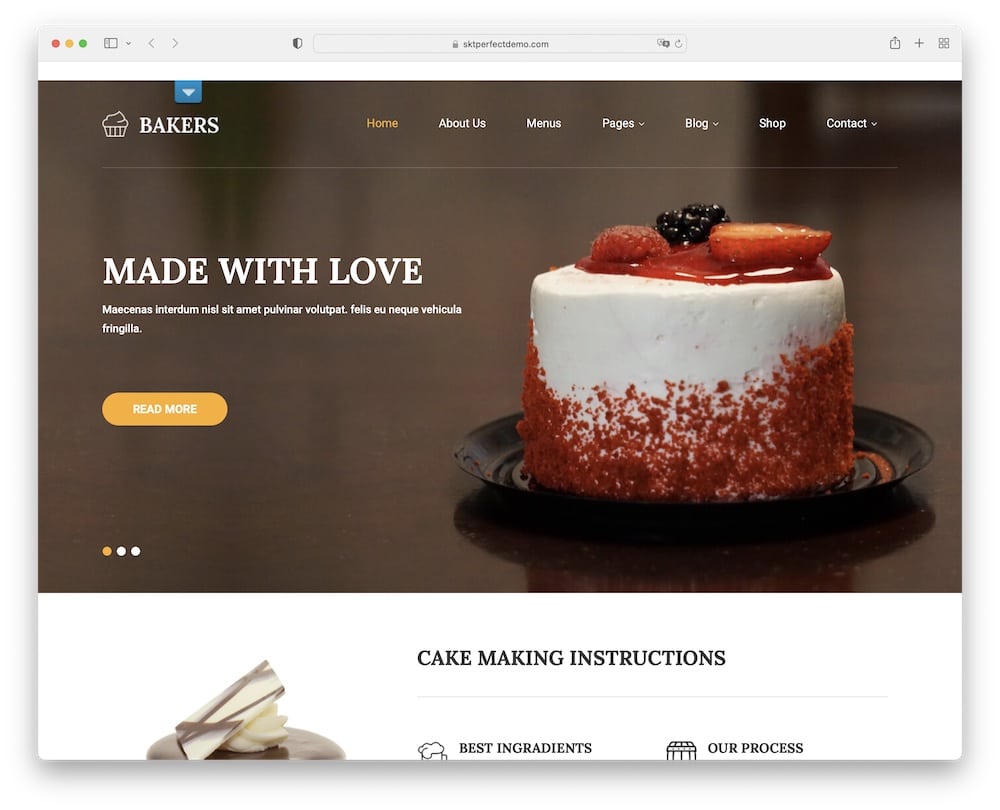 You just can't go wrong with Bakers Lite free WordPress bakery theme!
It has numerous elements, unlimited colors, flexible design, various widgets, and useful WP shortcodes. And you can also connect it to your social media profiles.
You can use this modern and elegant theme with the brilliant Gutenberg editor (five stars), and it is also WooCommerce compatible (you can sell directly on your website).
Love it!
Bakers Lite is fully responsive and works excellent on cellphones.
BIG DEAL.
Use all the ingredients in the right proportion and kick off with passionate Bakers Lite!
Bakers Lite features:
500+ active installs
Works with AMP
Supports Beaver Builder, Elementor, etc.
Back to top button
MORE INFO / DOWNLOAD
9. Bread and Cake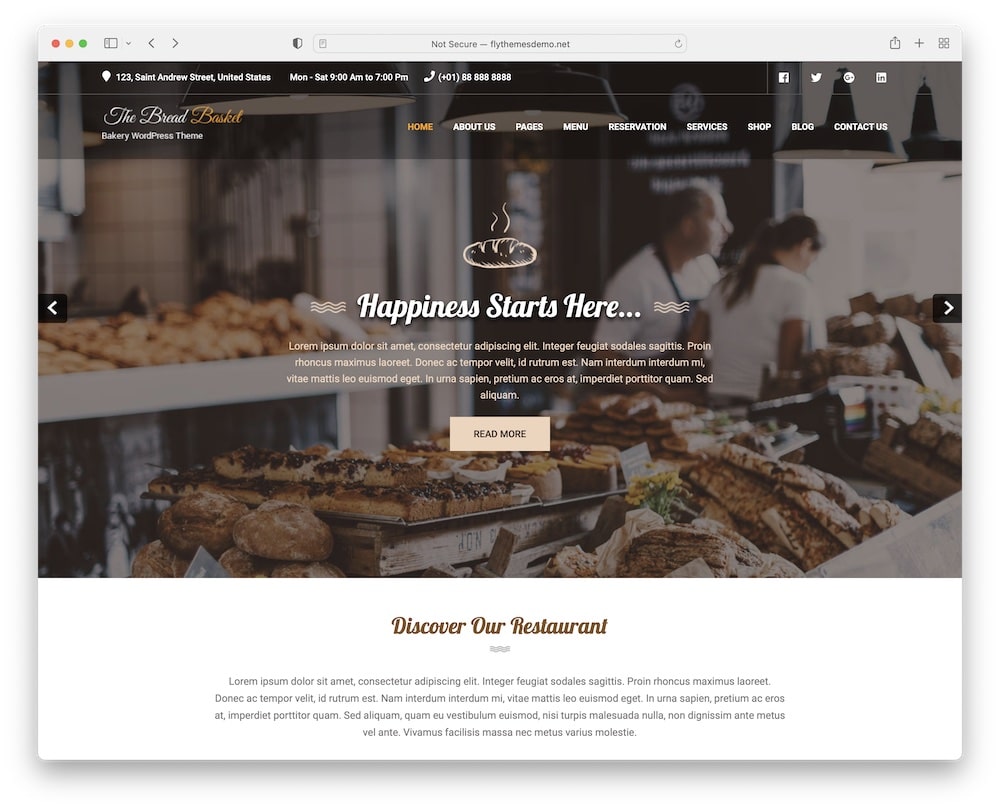 Flour and silky butter, chocolate and sugar, words and delicious images are all ingredients for a rich and pretty website.
I mean, do I need to say anything else? Check out the Bread and Cake free WordPress bakery theme ASAP!
Not to mention that it's insanely easy to work with. Nothing will stop you.
Bread and Cake works with the most popular plugins, is integrated with SEO, and is cross-browser compatible.
Its responsive and retina-ready design guarantees a sharp and clean look on any device screen size.
Keep it coming, please!
The secret? Pre-made blog layout is waiting for your content!
Chew into Bread and Cake today!
Bread and Cake features:
200+ active installs
Full-width layout
Custom background
1-click import
MORE INFO / DOWNLOAD
10. SKT Cafe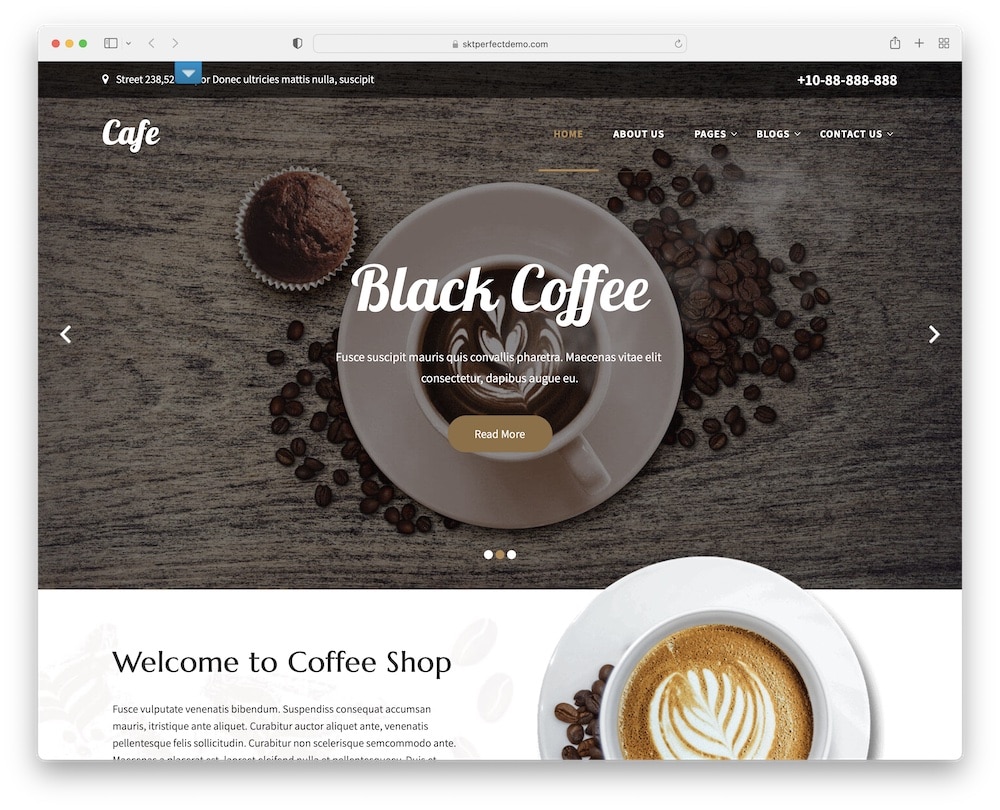 Share your passion for baking, chocolate, coffee, and desserts for all diets on SKT Cafe free WordPress bakery theme. Satisfy every sweet tooth out there!
You can use this simple, flexible, and elegant theme for coffee shops, bakeries, cake shops, or patisseries.
Don't forget to explore unlimited colors and dynamic text options. Serious eye candy!
Of course, add your personal touch to pre-designed templates, inner pages, and set up included elements.
SKT Cafe is quickly customizable (NO coding knowledge is needed). Benefit: It comes with transparent documentation.
Create a tasty website with SKT Cafe.
SKT Cafe features:
MORE INFO / DOWNLOAD
What We Looked For In Free WordPress Bakery Themes?
It's important to ensure the theme features all the must-haves (or has an option for expansion) when building your bakery website.
For this reason, we want to share with you what we looked for and tested when conducting this collection of the best free themes.
6 Must-haves of any bakery theme:
Responsive layout: Any modern/new website must ensure a smooth operation on mobile and desktop devices. Some themes lack this, so that's why we triple-checked every layout to ensure 100% responsiveness.
Speed optimization: Another key characteristic of a top-notch theme is its lightweight structure, which contributes to fast loading. It's also worth mentioning that your web hosting greatly contributes to your page's speed. We also have a tutorial on how to choose a fast WordPress theme.
WooCommerce compatibility: While this may be optional for some, it's always great to know that the theme works smoothly with WooCommerce. Hey, why not sell your tasty baked goodies via your site?
About page: We always admire a good about page, so that's why the predefined layout is a must for us. But we also found that every successful bakery website uses it after researching the industry.
Great documentation: Because a free theme doesn't always offer customer support, it's essential that it has extensive documentation. But you can still create a support forum thread!
Ease of use: We also included themes that are easy to use, with a pleasant user interface, so that everyone gets the most out of them.
You are now ready to install your WordPress theme and create an EPIC online presence to take your bakery to the next level.