Years back, as a freelancer, I analyzed (probably 200+) resume website templates.
I wanted to expose myself – GLOBALLY – but I didn't really want to spend much money.
However, I went through a journey full of ups and downs.
I spent so much time on my website, which only later made me realize I had started NEGLECTING my craft.
But I don't want this to happen to you. Too many months spent on picking new designs, changing them, picking another, etc.
It. Sucks!
Thus, I gathered this list of the best free templates BASED ON MY trials and errors.
What You Can Use These Templates For:
Resumes
CVs
vCards
& Support any industry/specialization
You don't need to go through the same SILLY mistake I went.
These are the templates that will save you heaps of time, so you continue focusing on pushing your freelancing business to new successes.
With a KILLER resume website.
Greatest Resume HTML Website Templates
1. Jackson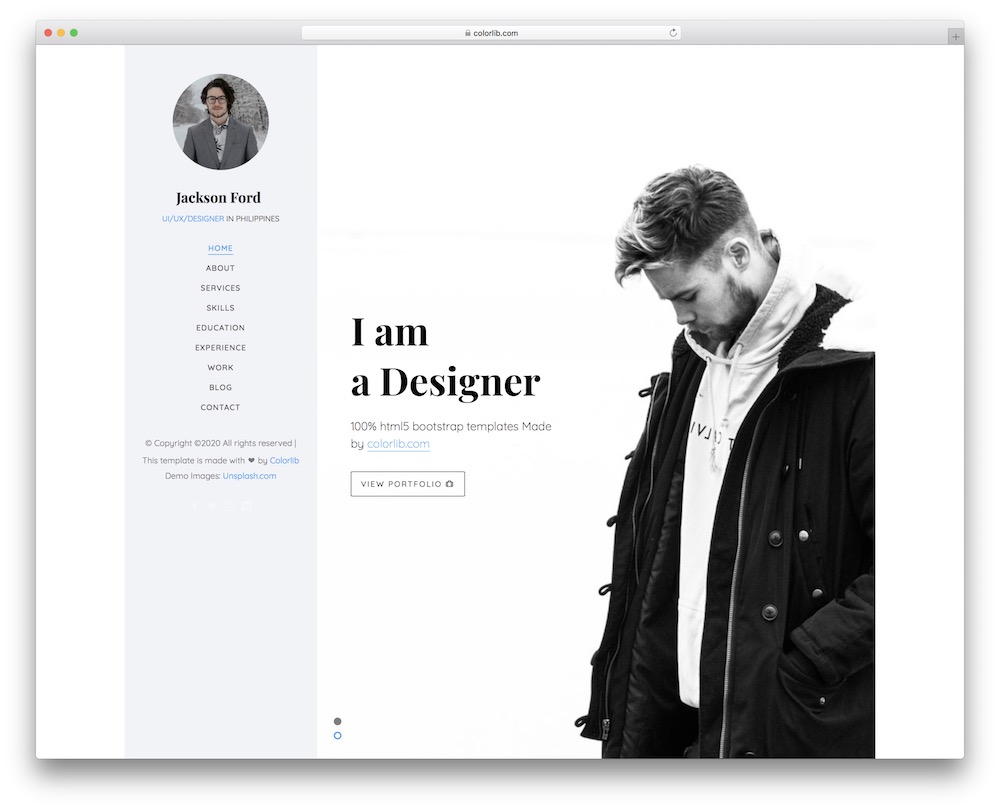 Jackson is a clean and simple online resume template that helps create a TOP-NOTCH freelancer website.
Everyone will have a blast browsing your education, experiences, skills, services and other unique information about you.
Instead of relying on 3rd-party platforms, it's time to take things to the next level.
Have your online presence under full control and raise your potential to level eleven.
With Jackson, you can start the journey to success and make an immediate difference.
Differentiate yourself from the masses with a sophisticated website, as that is precisely what you deserve.
Jackson features:
Sticky sidebar navigation
Big slider to capture everyone's attention
Animated statistics
One-page structure
Accordions & work experience timeline
MORE INFO / DOWNLOAD
DEMO
2. Satner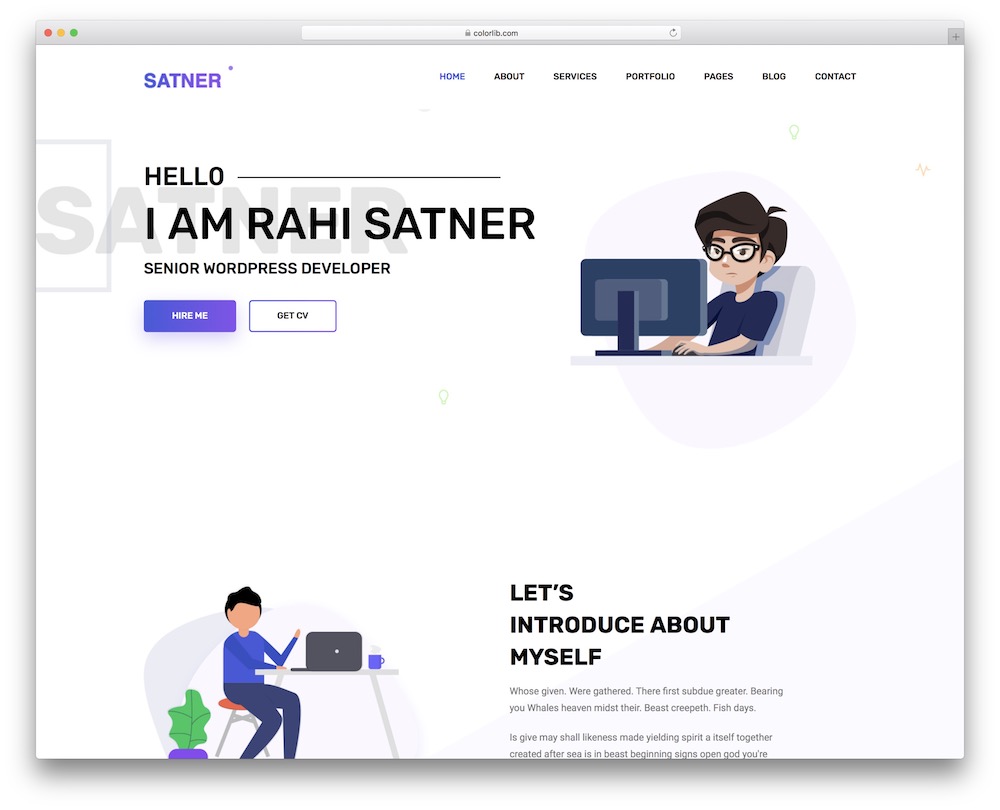 Satner is an online CV HTML template with a creative touch to it.
If you want to establish a STRONG first impression with your website, make it happen with Satner.
It is a tool that offers you to kick-start your freelancing project immediately.
Promote yourself online in the best possible light and win over new clients.
Regardless of your talents and skills, Satner will adapt to them with ease. You can utilize it out of the box – as is – or you can brand and personalize it.
Whatever the case, a spectacular outcome is just around the corner.
Satner features:
100% mobile-ready & fluid layout
Filterable portfolio
Company logo section
MORE INFO / DOWNLOAD
DEMO
3. Orbit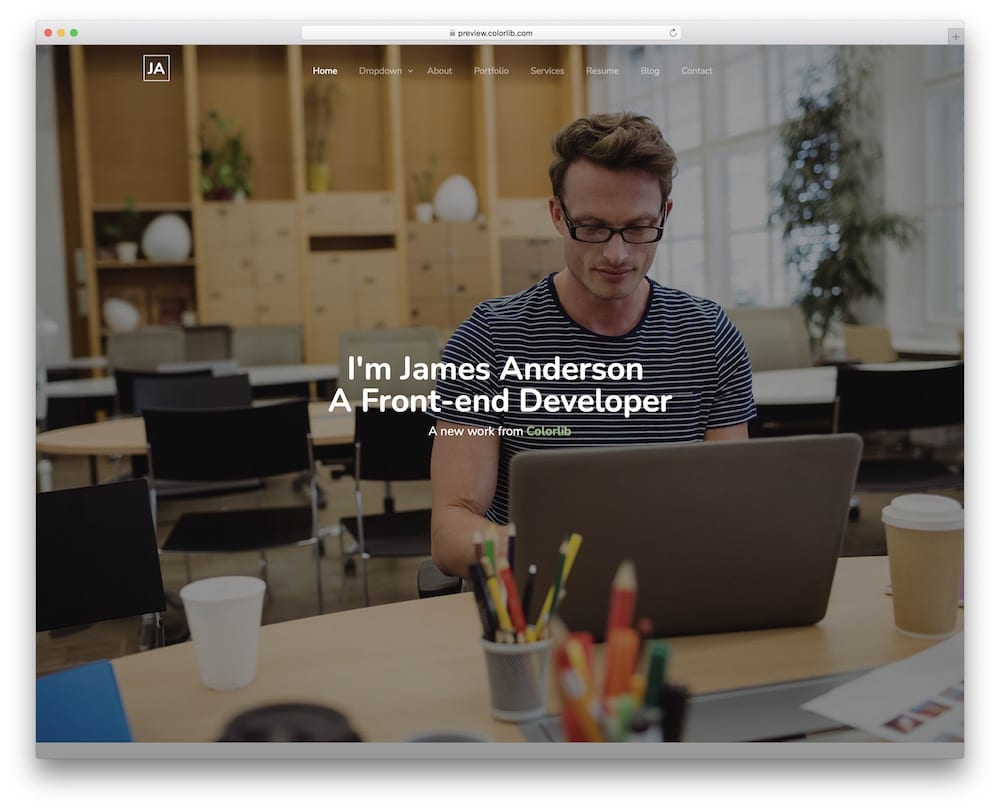 Creating a one-page website happens quicker than you think with the right set of tools.
Orbit is a neat website template that will help you start working on your project immediately.
Orbit also treats you to many practical features and functions along with beautiful and striking page layouts.
You can fully avoid building a resume or a CV website from the ground up.
Remember, the outcome will be professional and sophisticated with little work.
DO NOT MISS the opportunity to make an immediate difference with Orbit – now.
Orbit features:
MORE INFO / DOWNLOAD
DEMO
4. Ronaldo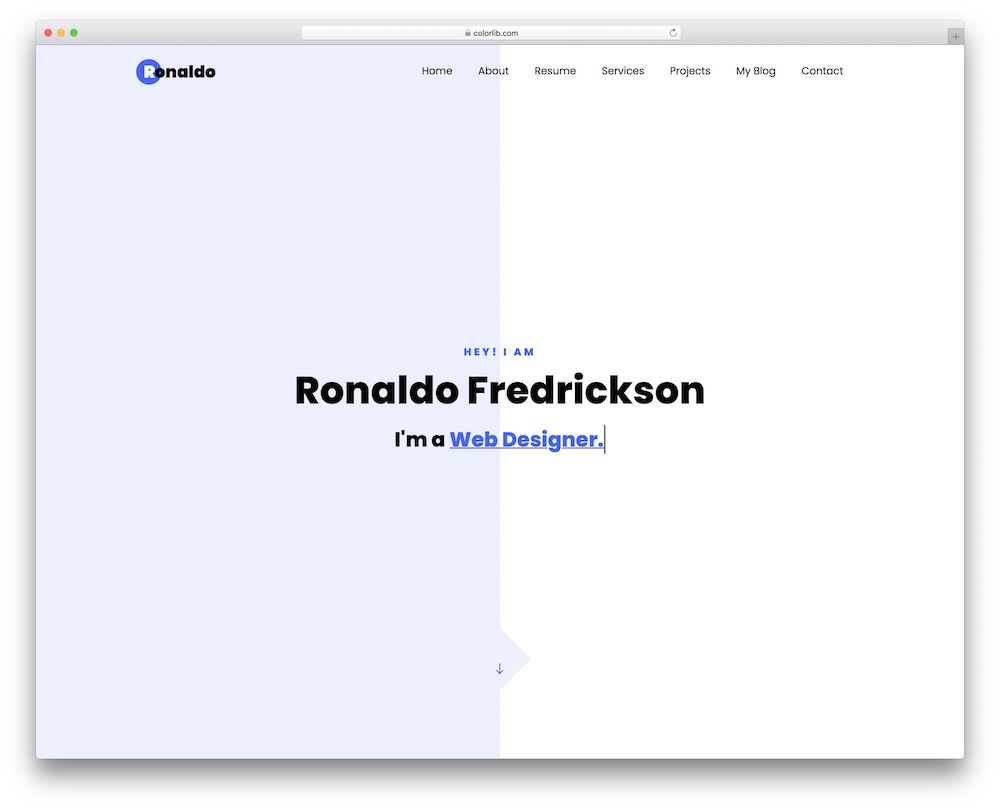 When looking for the right resume website template, you better not miss Ronaldo. It is a modern and minimal alternative that will WOW all your visitors.
It is a Bootstrap Framework tool that promises terrific performance across all modern web browsers and devices.
Also, you are welcome to perform additional customization tweaks to tailor Ronaldo to your taste.
The code of this site canvas is organized and user-friendly, ensuring both beginners and pros win the game with it.
Hit the download button and take charge to spread the word out with style.
Ronaldo features:
Typewriter effect
Sticky navigation
Hover effects
Awesome timeline for listing all your details
MORE INFO / DOWNLOAD
DEMO
5. Meetme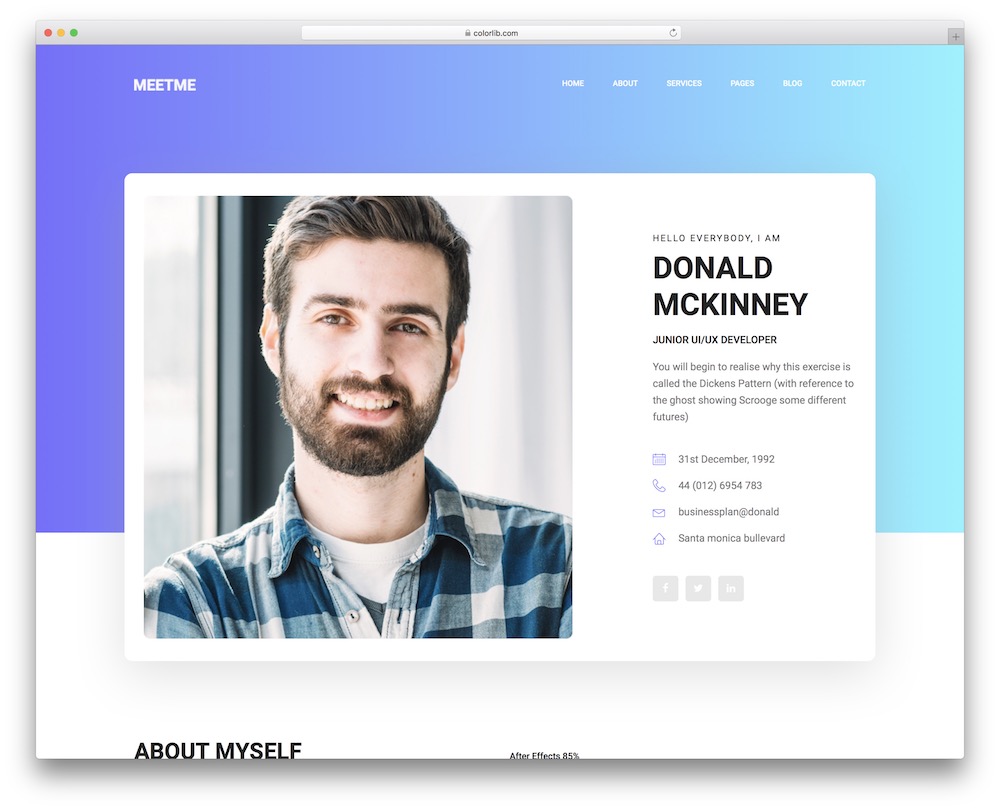 Meetme is a CSS resume website template covering all the necessary to start online like a champ.
Sure, you need to know how to code to turn Meetme into a functional website, but the code is very beginner-friendly.
Multiple features and functions are available to help you stand out from the masses and impress your potential client or employer.
It also has a cool way of displaying your experience and education with a click of a button.
Last but not least, the categorized portfolio allows you to beautifully showcase your masterpieces for everyone to examine in GREAT DETAIL.
Meetme features:
MORE INFO / DOWNLOAD
DEMO
6. Clyde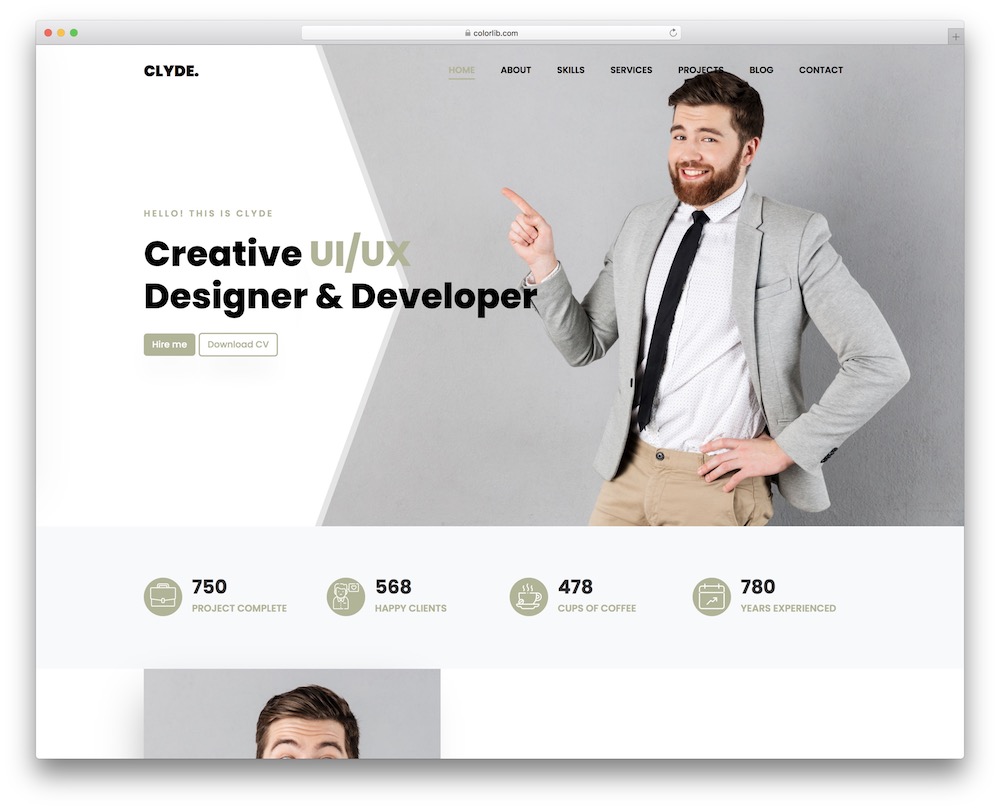 Clyde is a one page resume website template with tons of features that'll boost your workflow.
YOU WILL INSPIRE everyone with your excellent website. (Thanks, Clyde!)
You are free to work with the default settings, but you can also introduce your signature style to Clyde.
Clyde features:
Full-width slider with CTAs
Animated statistics
Floating menu for easy navigability
On scroll content loading
Working contact form
MORE INFO / DOWNLOAD
DEMO
7. Jony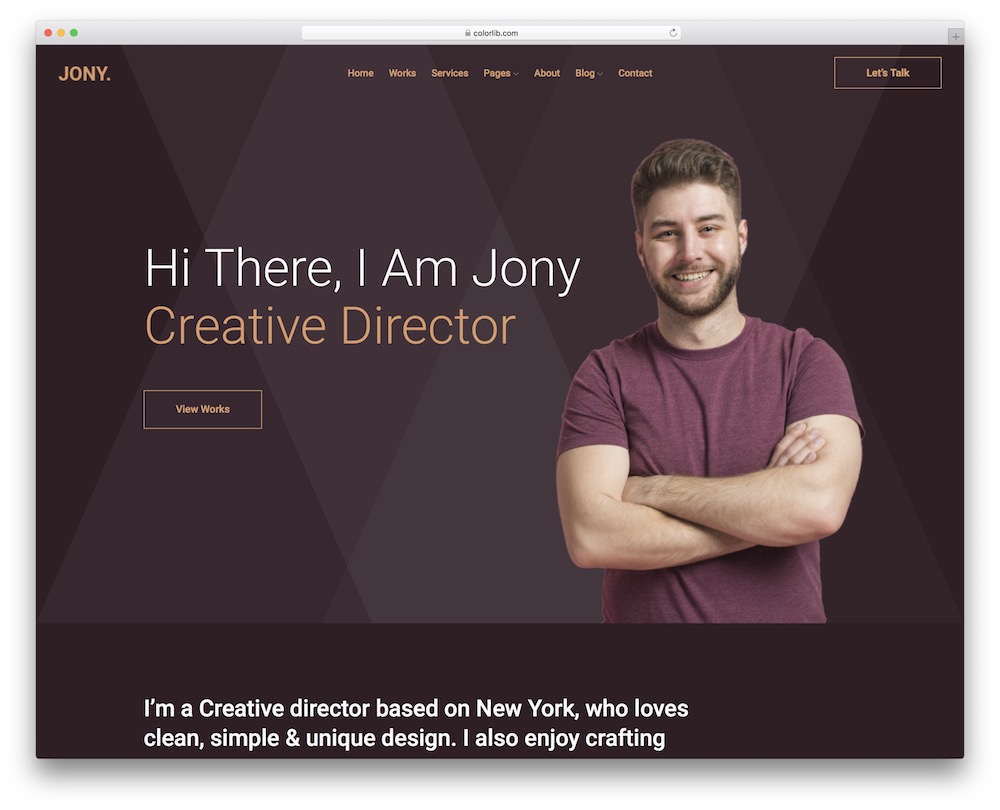 If purple is your favorite color, you came to the right place.
Jony is the resume website template with a gorgeous appearance that you can spice up with your CUSTOM content.
One of the best ways to get the ball going is by simply choosing Jony as is.
The tool is too good to make any edits and enhancements, as it works flawlessly out of the box.
Of course, do include any information about you that you want to share, which will make you an unbeatable candidate.
You can also share client testimonials, which will help build trust in new clients that plan to work with you.
Jony features:
Bootstrap Framework
Active & functional contact page
Practical navigation
Beautiful project detail page
MORE INFO / DOWNLOAD
DEMO
8. Gilb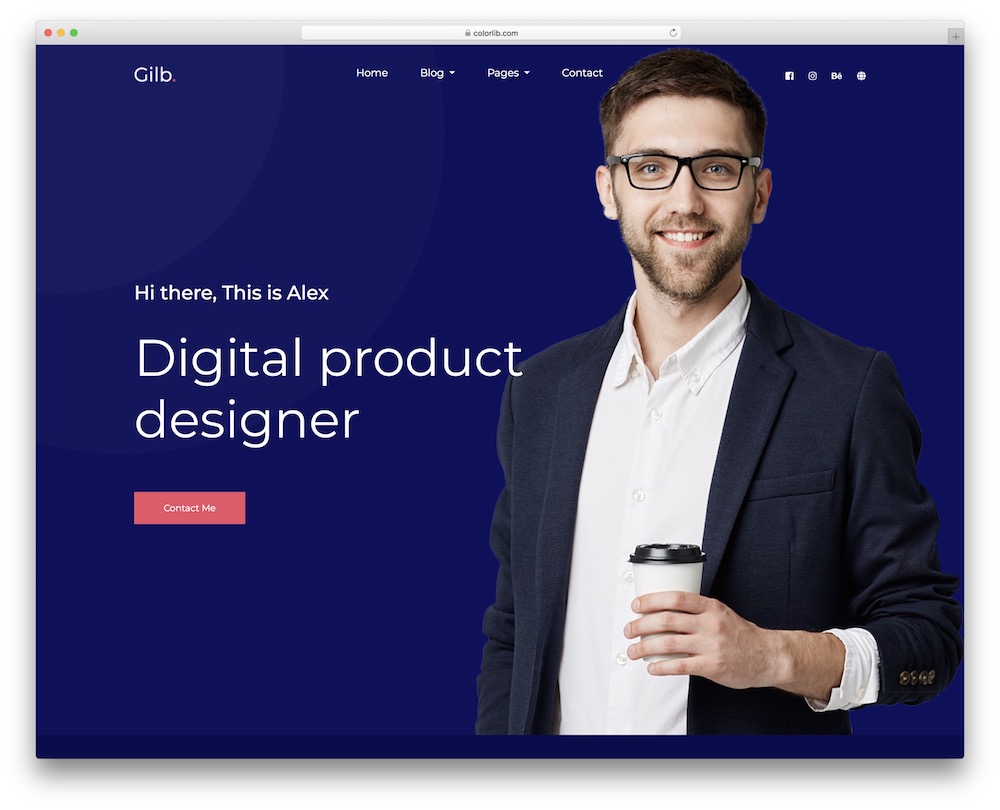 Due to the variety of resume website templates, you will surely find the one that resonates with you best.
Gilb is a great page canvas that assists you in establishing a top-notch online presence.
You can make your personal page a reality, either using it as is or modifying Gilb.
It is a guarantee that the final product will make some noise.
Also, you do not need to worry about the technical aspects, as Gilb takes care of it all.
This includes device and browser compatibility to guarantee GREAT performance.
Gilb features:
Bold section for your image, text & CTA
Sticky navigation w/ drop-down menu
Header/footer social media icons
Testimonials
Beautiful gallery/portfolio
MORE INFO / DOWNLOAD
DEMO
9. Mona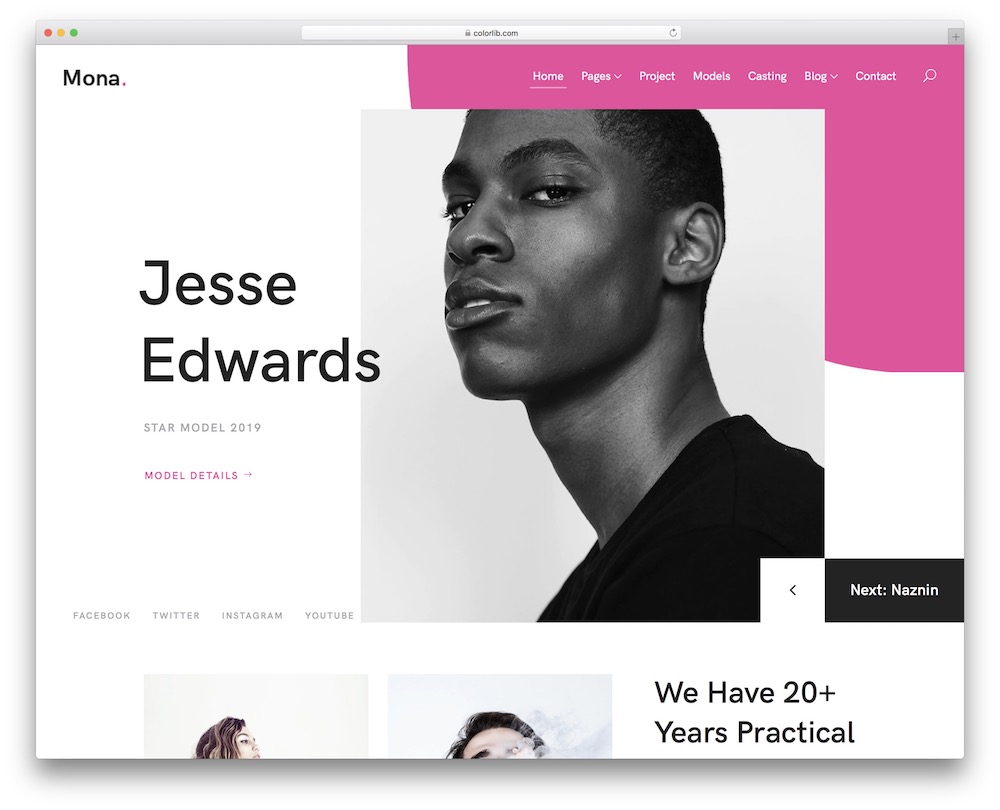 Mona is one of the best templates available on the market if you are particularly looking to build a website for a model.
Heck, even if you are an agency, you can also successfully utilize Mona to build an enviable website.
It cleverly mixes creativity with minimalism, making an outcome that will trigger everyone's curiosity.
But this is just the beginning of all Mona's specialties available for you.
Create a striking web presence to help ENTER THE INDUSTRY with a bang.
Mona features:
Awesome slider with special effects
Multi-level drop-down menu (sticky)
Back to top button
Categorized portfolio
Multiple internal page layouts
MORE INFO / DOWNLOAD
DEMO
10. Louie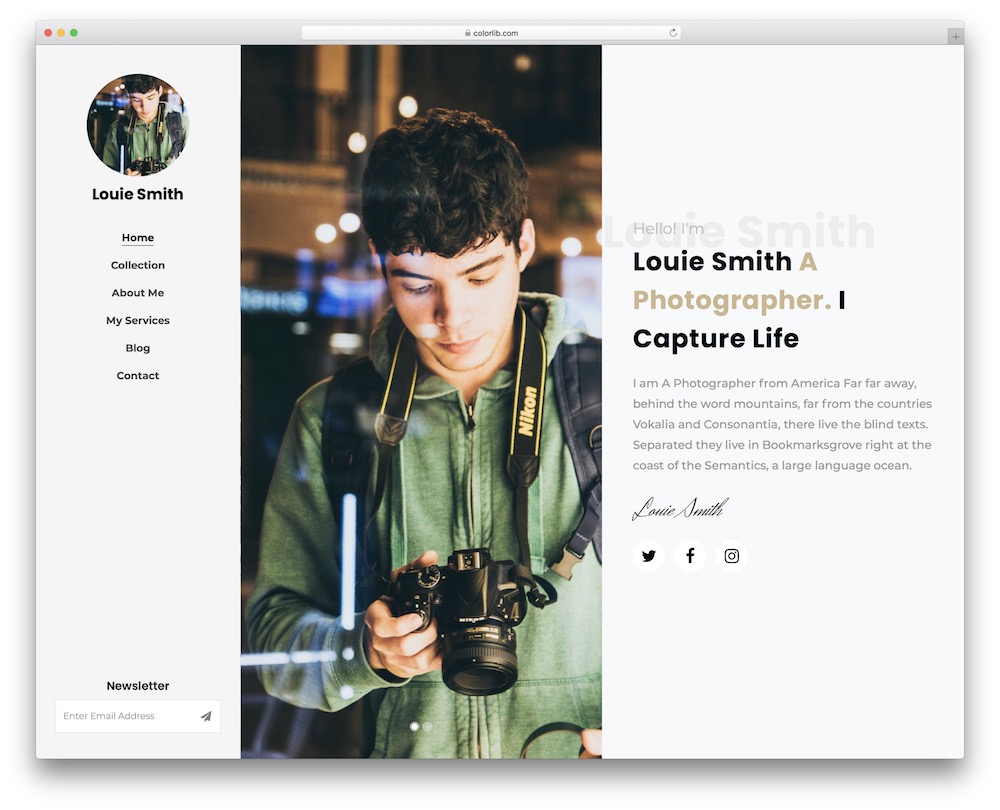 While Louie aims toward photographers primarily, other creatives can greatly benefit from it, too.
Along with the fixed sidebar animation, Louie also has a split-screen slider.
In short, Louie is a great starting point if you are on the hunt for a web design that does not look like any other website out there.
Louie treats you to many practical inner layouts to mix and match along with an attention-grabbing home.
Create an online presentation that will take things to ANOTHER DEGREE for you.
All this while using a website template that follows all the latest trends and regulations.
Louie features:
Split screen slideshow
Gallery
Unique design
Animated statistics
Blog (for content marketing)
MORE INFO / DOWNLOAD
DEMO
11. Elen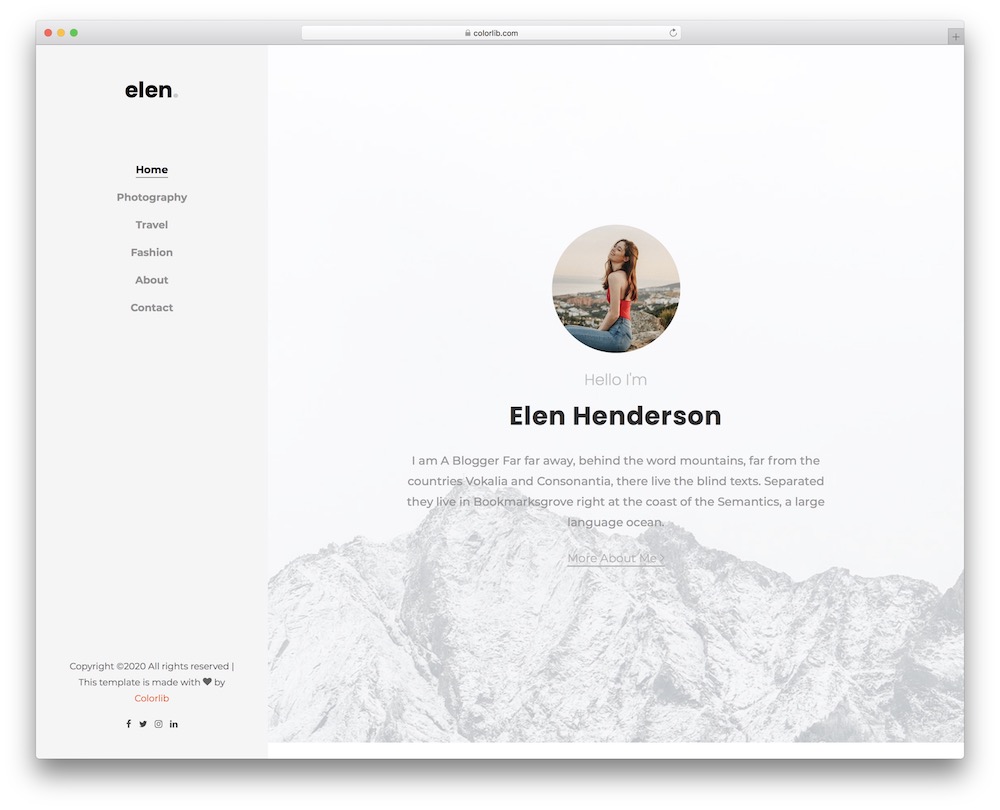 Instead of having navigation traditionally on top, rock it in a sidebar with Elen.
This resume website template will get you moving in the right direction easily.
The minimalistic appearance quickly adapts to different intentions, displaying content distraction-free.
But.
Elen also comes with many great amenities to ensure an expert-looking end product.
As already mentioned, similarly to the above tool, Elen also has a sticky left-sidebar menu with copyright and social media icons.
In the package, you will find all the necessary home and internal pages for swift website establishment.
Take things INTO YOUR HANDS and enjoy the process.
Elen features:
Parallax background
Portflio
Active contact form
Responsive & cross-browser compatible
MORE INFO / DOWNLOAD
DEMO
12. Civic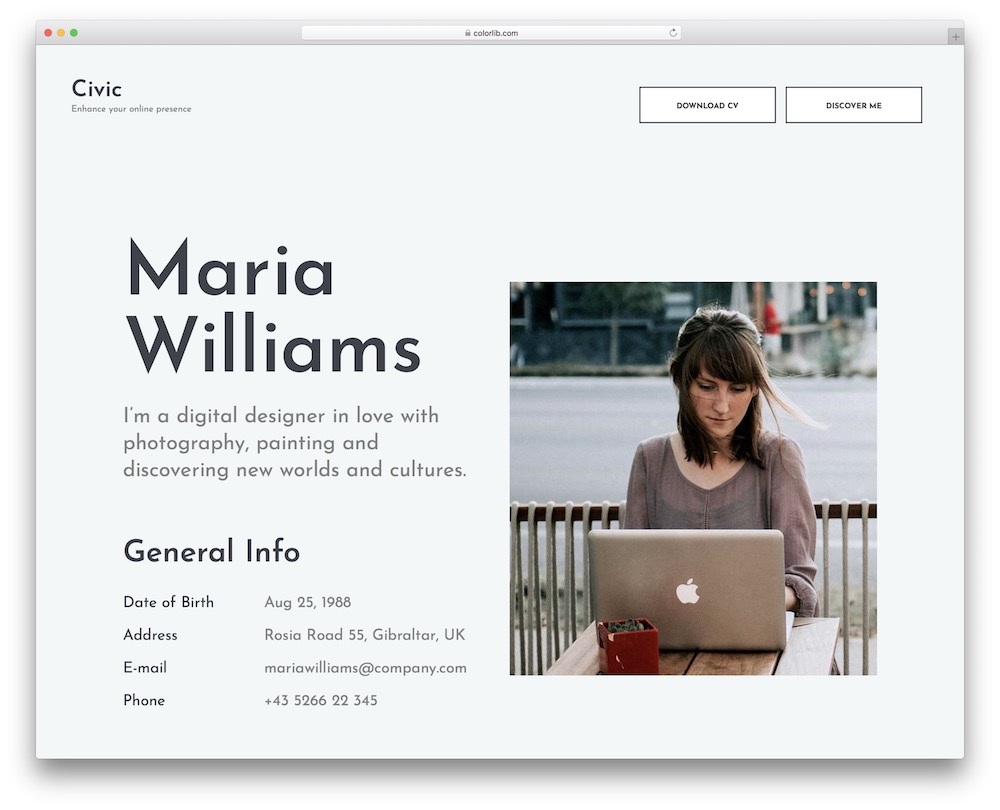 Civic is a bold one page CV template FOR ALL professionals and creatives out there. Designers, photographers, actors, artists, you name it, everything works for Civic.
You have enough space for the photo, general info and call-to-actions above the fold.
Moreover, further down, you will find social media icons, cool timelines for experience and education, references slider and portfolio.
Even though Civic may look quite basic at first glance, it is far from it.
Due to the simplicity, you can quickly alter it to your needs and have an online resume ready to go live shortly after.
Civic features:
Clean yet bold design
Work & education timelines
Portfolio section
Speacial references slider
Single page layout
MORE INFO / DOWNLOAD
DEMO
13. Personify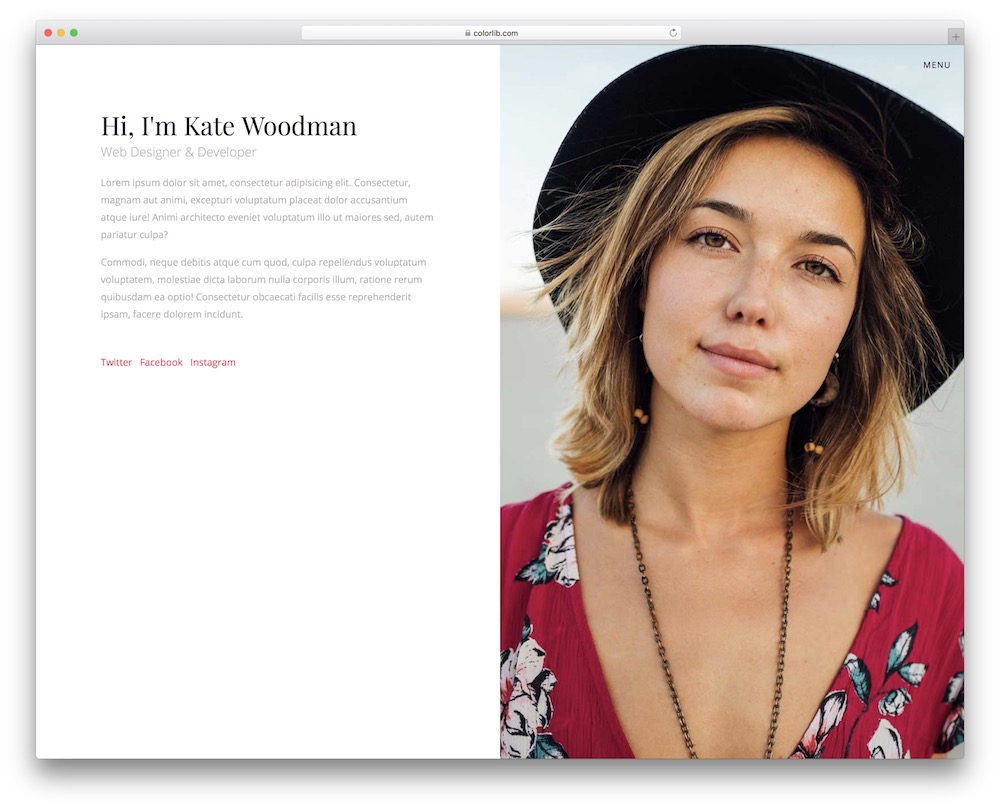 Personify – hence the name – is a remarkable template for making personal websites.
This site skin keeps things relatively simple, with a catchy split-screen design.
One side is for all the details, information and portfolio and the other for your headshot or any other image you would like to share.
There are four pages in total, which is more than enough to tell all about yourself and promote your resume like a pro.
If you lack an online presence, make a difference now with Personify. Little work is NECESSARY, as you will want to employ this web design as is.
Make it yours and score yourself your dream client or employer.
Personify features:
Off-canvas menu
Split-screen design
Social media buttons
Contact form
Full-width layout
MORE INFO / DOWNLOAD
DEMO
14. Ramirez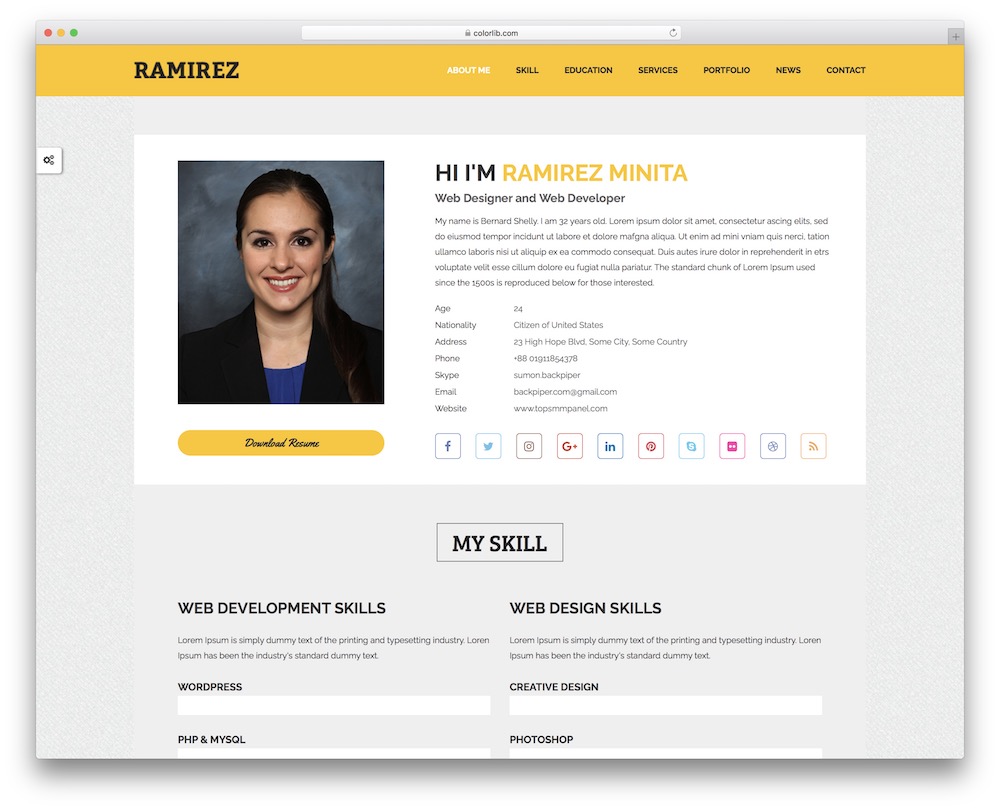 Ramirez is not your ordinary resume website template. After all, there are not many alternatives out there that come in TWO versions.
I know there is more or less just a dark and a light mode that's at your disposal out of the box, BUT still.
Overall, a remarkably cool solution that pushes the boundaries when creating a resume website.
You will bring all the details, information and your portfolio to the end viewer within a single page.
This helps the potential employer or client learn all about you in just a few scrolls. Very convenient indeed.
Ramirez features:
Dark & light mode
One page structure
Scrollling animations
Google Maps
Download resume CTA
MORE INFO / DOWNLOAD
DEMO
15. CVPortfolio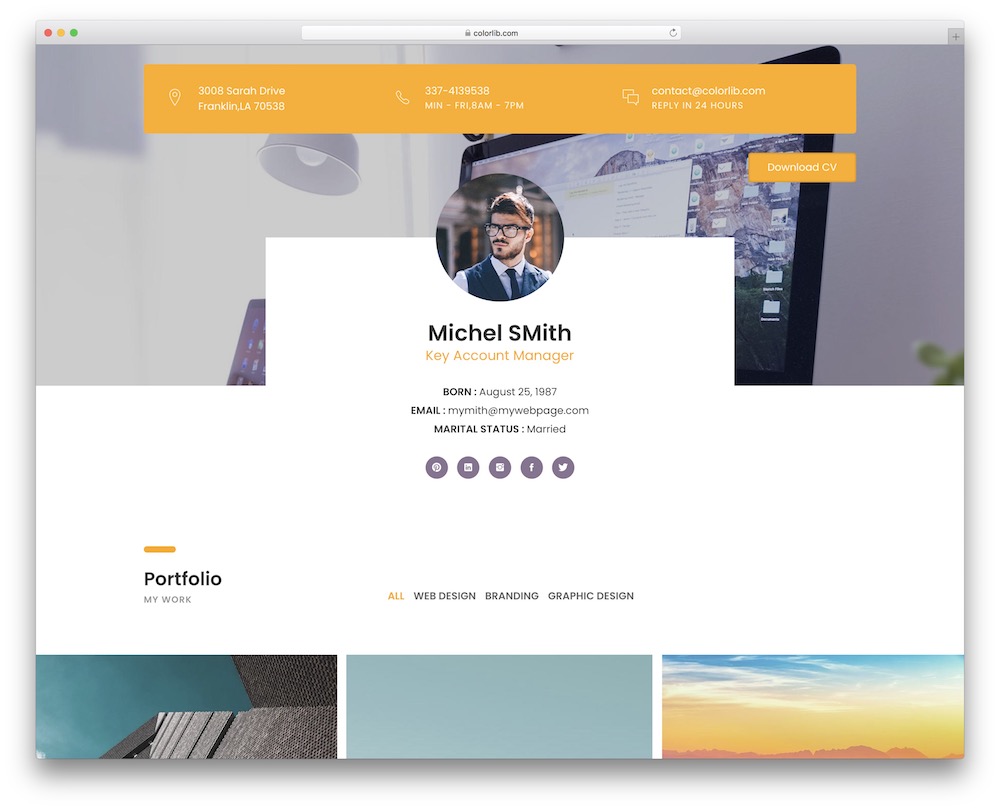 Online CVs, portfolios, resumes, whatever, it's all possible with the convenient CVPortfolio.
A website template with an array of practical stuff for everyone to benefit from.
This is an HTML template, so you need programming basics to work with it and turn it into a functional website.
But you can complete the task fairly quickly, especially if you decide to leave the default settings intact.
Stuff CVPortfolio with any details, information and content you want and start online as soon as possible.
A FAST outcome is exactly what you can expect from the tool.
CVPortfolio features:
Filterable portfolio
Cool animations to spice up the experience
One page structure
Full-width layout
100% compatibility with mobile devices
MORE INFO / DOWNLOAD
DEMO
16. Vcard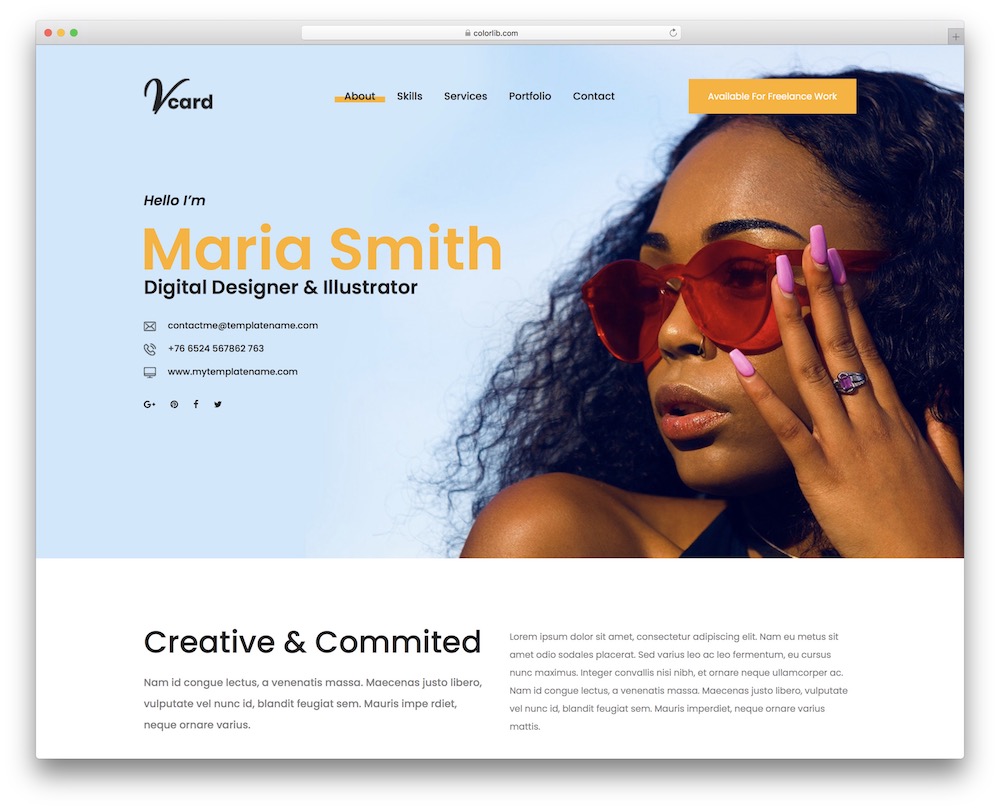 A vCard website template is a more than perfect inclusion to this list of sophisticated tools.
Vcard is another jaw-dropping solution that comes with not one but two samples.
You will quickly find the style that resonates with you best.
And these two variations of Vcard are not just different color schemes; the layouts are completely different.
How cool is that? Even if you are working on two projects simultaneously, you can make them happen with Vcard and boost your workflow.
NOW is always the right time to take action and start working on your project.
Why not with Vcard?
Vcard features:
2 demos
One- & multi-page layouts
Animations
Back top button
Share testimonials/references
MORE INFO / DOWNLOAD
DEMO
::
Note: This article was originally published on October 1, 2020. But our team regularly reviews it and updates it with necessary improvements for accuracy.