We reviewed 100+ church website templates after working with 9 local (& 7 foreign) churches and organizations over the past months.
The clients wanted to keep the cost as low as possible, so we delivered THE BEST that's available (for cheap (including our work)).
But that's something you don't have to do. "What?"
The boring research to find the best template for your church project.
How We Tested The Best Church Website Templates?
We tested the available church templates based on:
Mobile performance
Professional look
Code structure (user-friendly!)
Customization capabilities
Compatibility with different religions
You don't have to do any thinking. All these templates guarantee quick and actionable execution of any church site.
WITHOUT. HIDDEN. COSTS.
Enjoy spreading God's word!
Best Church & Religion HTML Website Templates
Note: All templates cost $19.
1. Salvation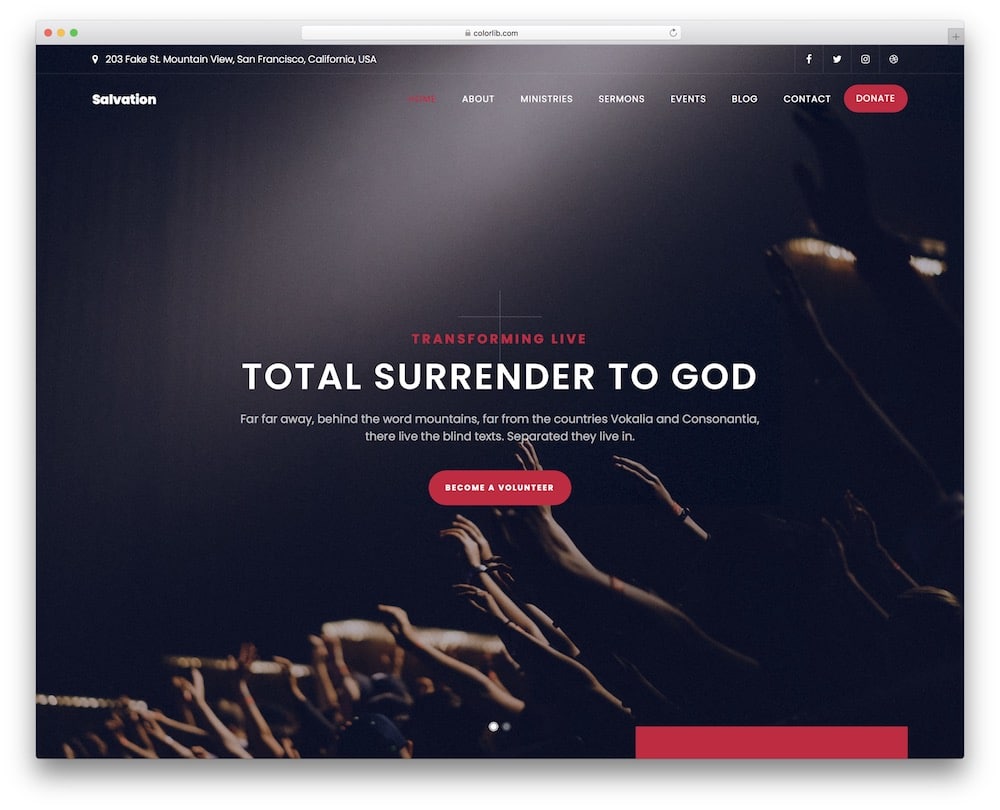 Salvation offers you a modern design to sort out your religious website.
You can start on the right path quickly with Salvation.
It is a tool that does require coding knowledge to turn it into a functional website.
However, the code structure is very friendly, so everyone easily gets the most out of it.
In addition to that, you can also fine-tune and improve the default settings if necessary.
There is always an option to introduce your creative touch to any of the spectacular templates I have here for you.
Salvation features:
Full-screen slider with CTAs & text
Animated statistics
On scroll content loading
Ministries, sermons & events pages
MORE INFO / DOWNLOAD
DEMO
2. Faith 2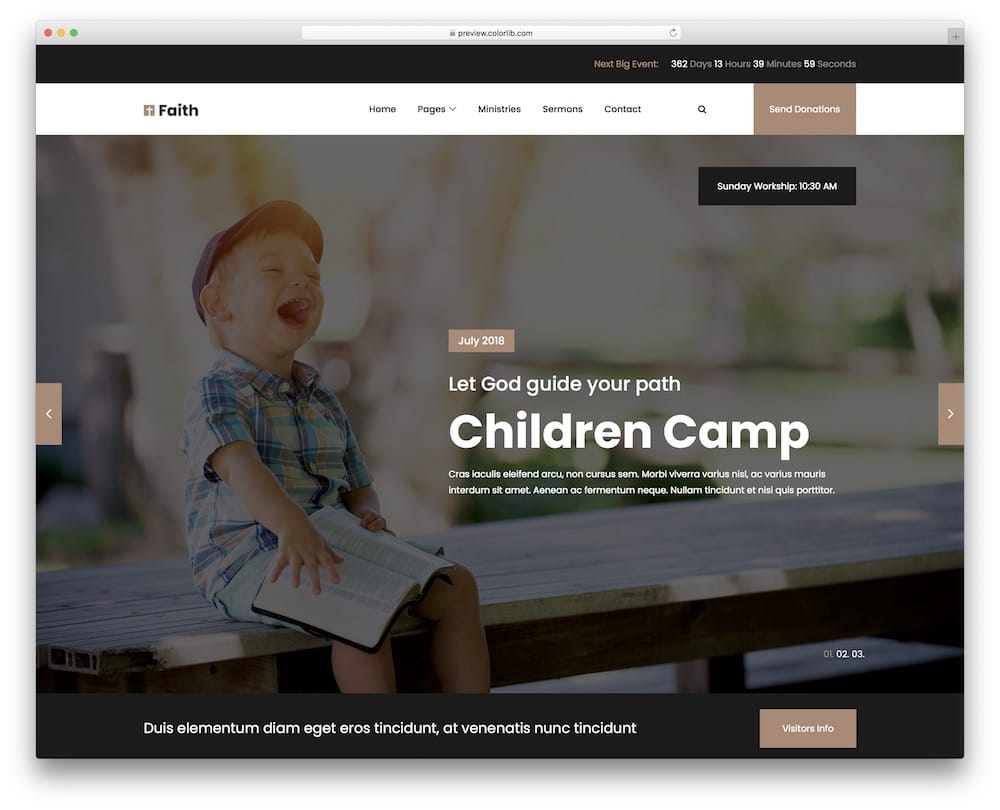 You can rapidly speed up the process of building a church website with Faith 2 and any other website templates.
With the beautiful design ready-to-use and multiple practical features, you can now kick-start your project instantaneously.
Keep in mind, that basic HTML knowledge is necessary to turn Faith 2 into an engaging site.
However, the whole structure is very user- and beginner-friendly, ensuring everyone gets the most out of it.
Your website's performance will also be A-grade at all times since Faith 2 uses only the LATEST technology.
Faith 2 features:
Preloader
Call-to-action buttons
Drop-down timer for events
Sticky navigation
MORE INFO / DOWNLOAD
DEMO
3. Vineyard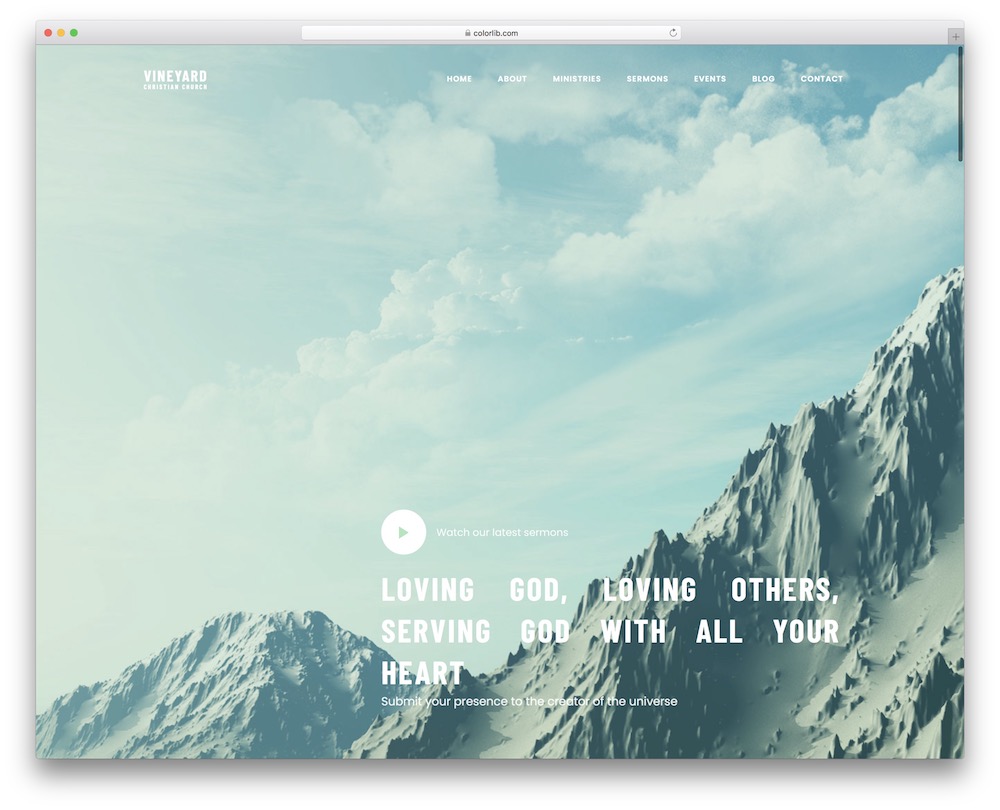 May the name of this next church website template not fool you. Vineyard is perfect for building any type of church page.
It is a nifty solution to kick-start your project and spread God's word with style.
You will find Vineyard very appealing to the eye out of the box.
With this in mind, you might only need to alter the color scheme and that's it. (That's what we did.)
The layout of the tool is also perfectly in tune with all modern devices, web browsers and retina screens.
Yup, the performance will always be on point.
Vineyard features:
Video support & sermons
Sticky navbar
Nifty animations
Testimonials slider
MORE INFO / DOWNLOAD
DEMO
4. Christian (1-Page Layout)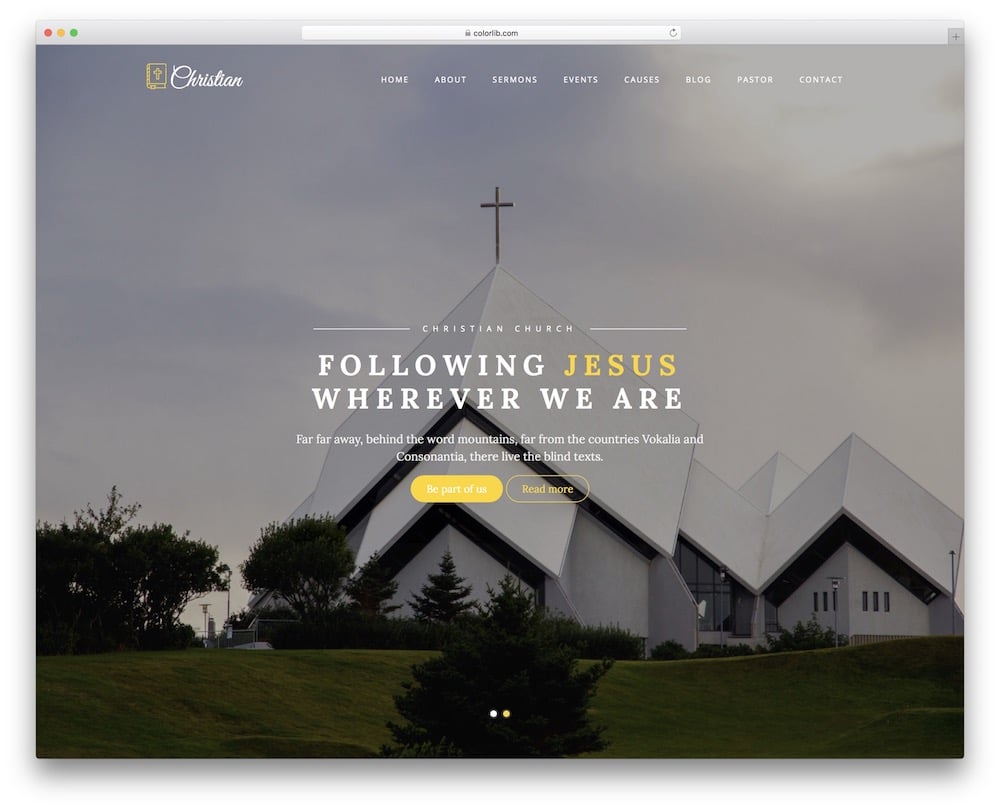 Even though Christian aims toward Christian churches, the versatility of this website template goes over and beyond.
Meaning, if you dig the look and the features, there is no need to feel limited.
Hit the download button and put Christian into play immediately. But before you do that, you might even want to experience Christian by accessing the demo page.
It is an impressive and responsive web design with heaps of great amenities.
Christian also practices all the latest trends and regulations of the modern web for SMOOTH running.
Christian features:
Big, full-screen slider above the fold
Different scrolling animations
Clean & creative design
Floating navigation
One-page structure
MORE INFO / DOWNLOAD
DEMO
5. Spring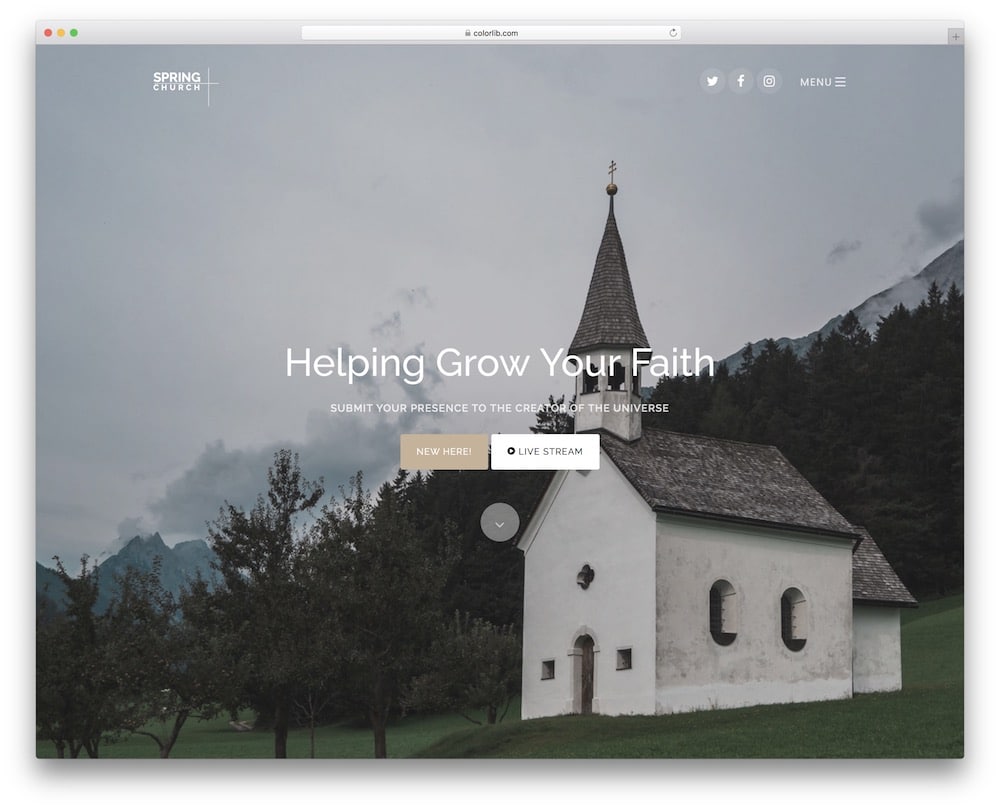 Even though every church template on this list is outstanding, I will say Spring is my favorite.
I just like how everything beautifully comes together, the color scheme, the positioning of elements and everything else in between.
Enjoy using it exactly as is, decorate it with your content and call it a day.
After all, that's what predefined templates are for, to speed up the process of establishing a religious website.
Avoid doing all the tedious work yourself and make an IMMEDIATE difference with Spring now.
Spring features:
MORE INFO / DOWNLOAD
DEMO
6. Faithful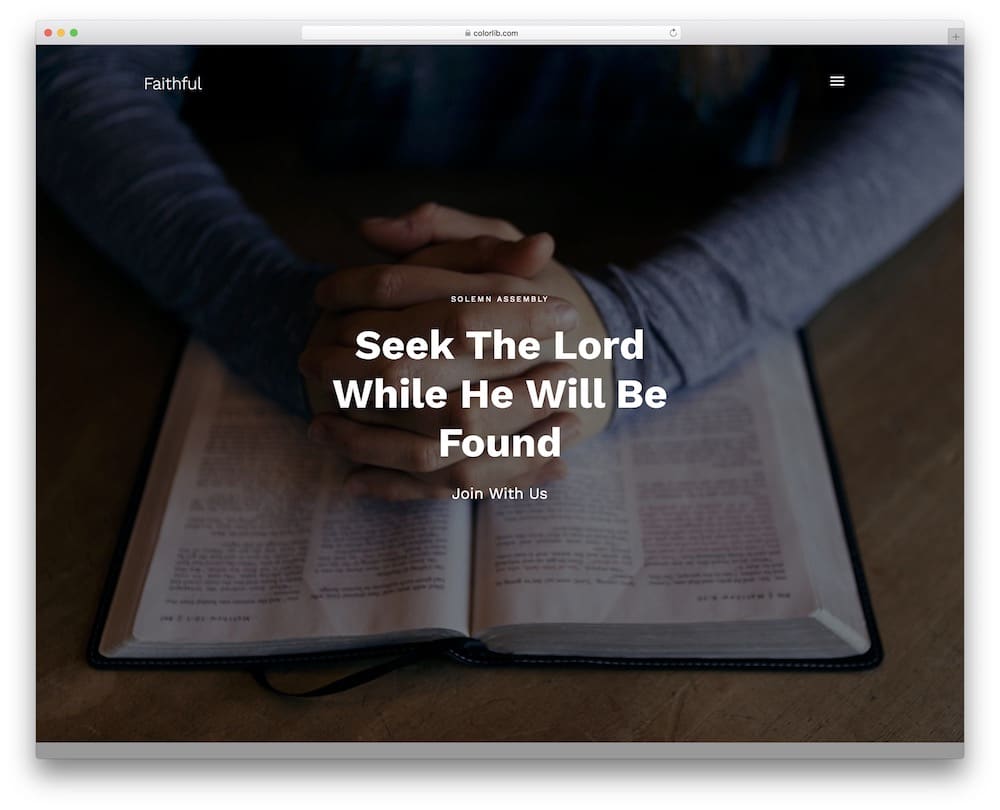 Faithful is another catchy and impactful website template for churches, ministries and other religious intentions.
If you would like to spread the word out for your sermons and promote events and camps, let Faithful do the trick.
Everyone will enjoy browsing through your content due to its awesomeness.
And you can easily take things to the next level with Faithful once you introduce your creativity and branding regulations.
Faithful uses only the latest technologies, so everything will flow seamlessly.
Grab the AWARENESS of a wider audience and welcome them to your place with a modern website.
Faithful features:
Full-screen slider with parallax effect
Sidebar navigation reveal
Multi-level drop-down menu
Functional contact form
Social media buttons
MORE INFO / DOWNLOAD
DEMO
7. Reborn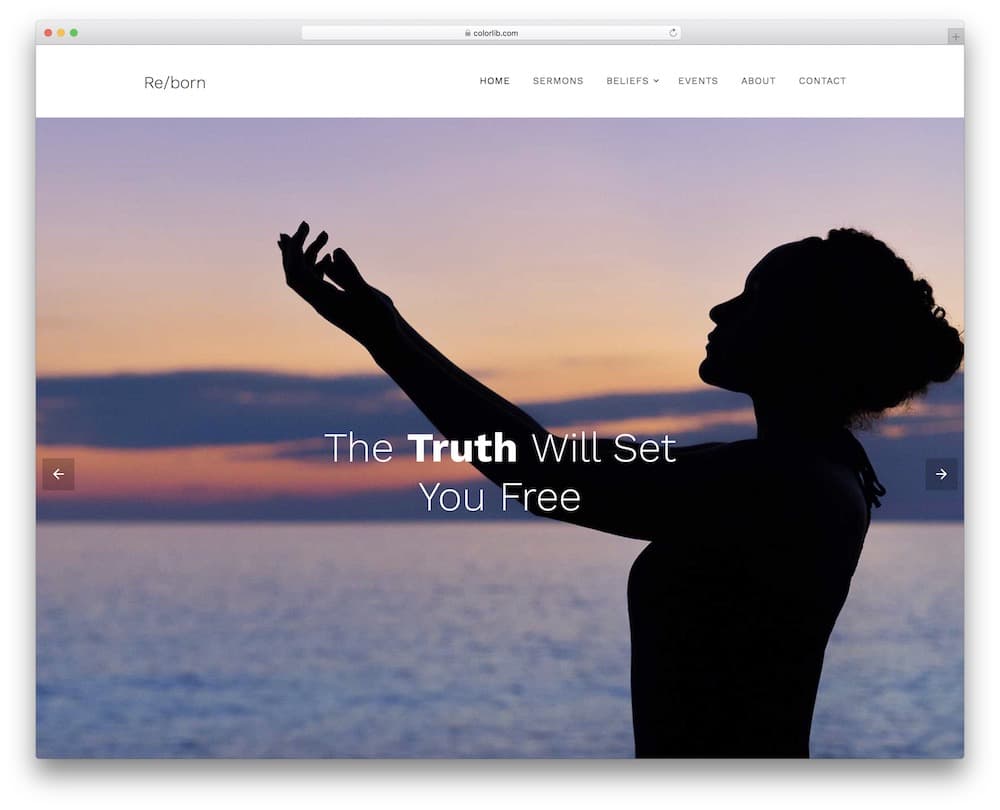 Reborn is for you if you are searching for a church website template that is clean and minimal.
It is a nifty site canvas with tons of great features, yet tries to keep things simple.
This answers all your questions regarding what design approach to take when establishing a site.
Whenever in doubt, always go with the simplest and most minimalist version. (Our recommendation!)
This lets everyone enjoy your content first and foremost, without all the fancy stuff distracting them.
And that's what Reborn specializes in while still coming with just a tiny pinch of UNIQUENESS.
Reborn features:
Spice things up with a massive slider
Cool parallax effect
Support for sermons/audio player
Events page
Testimonials
MORE INFO / DOWNLOAD
DEMO
8. Crose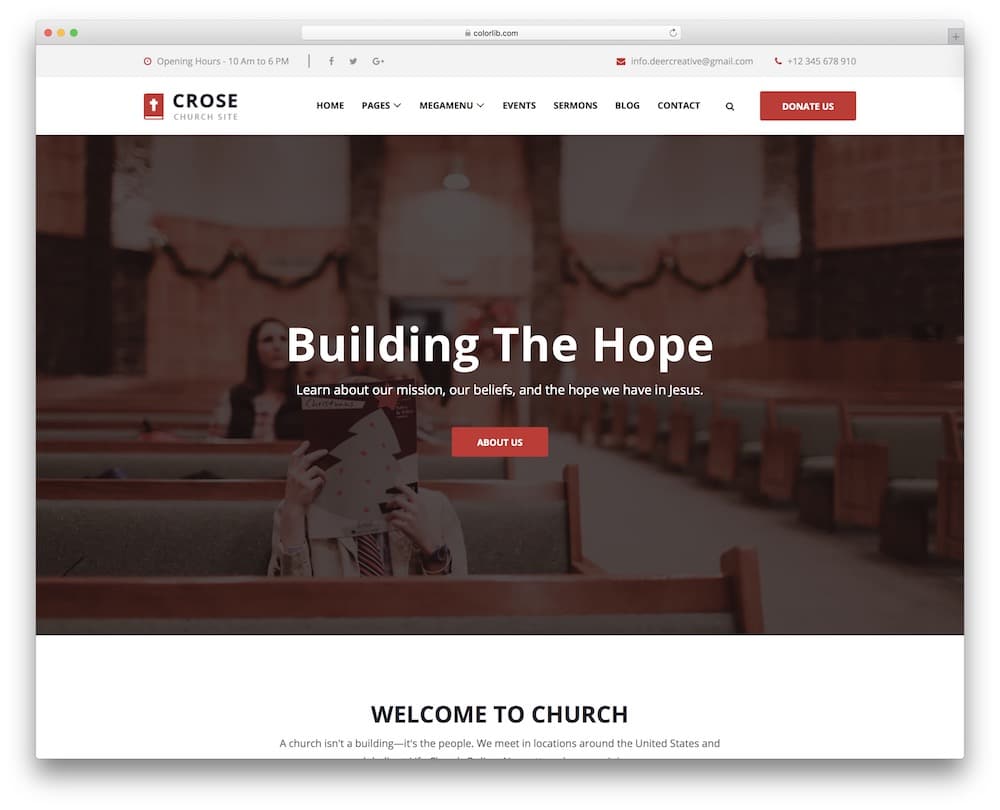 Promote goodwill with everyone, even those who cannot visit you, thanks to a website you are about to build.
rose is the website template that will do you well whether you are working on your project or for a local church.
It is a hidden gem with all the very many features and functions. (So happy that we tested it!)
A convenient solution to skip the process of building an online presence from the ground up.
Whether you are a beginner programmer or an established web developer, everyone wins the game with Crose.
Thanks to the well-organized code structure, you will quickly use, reuse and improve the default settings.
Crose features:
Full-width slider + CTAs
Top bar
Back to top button
Awesome events section w/ slider
MORE INFO / DOWNLOAD
DEMO
9. Wisdom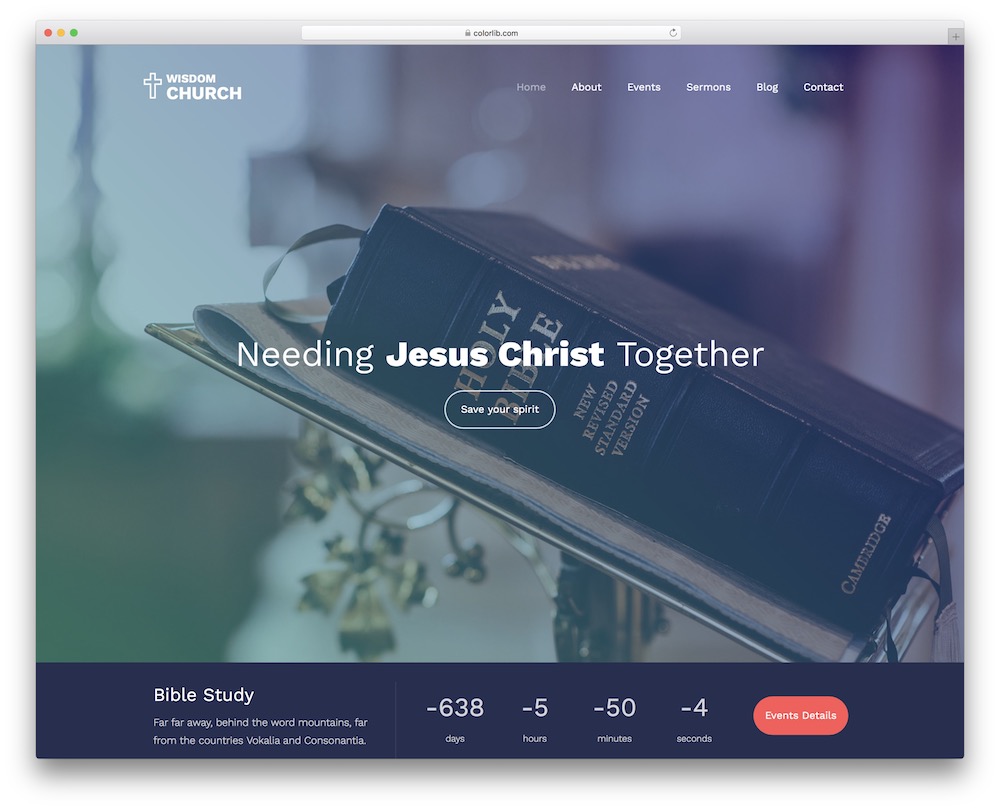 Share wisdom and God's word with – hence the name – Wisdom.
This remarkable tool is an ideal solution for any church out there, big, small, hey, Wisdom also does not have a problem catering to different religions.
Your imagination is the only limitation (!).
You will find a lot of amazing features and traits neatly packed into one web design.
They will make a strong and lasting impression on all your followers.
Wisdom features:
Image & video background
Call-to-action buttons
Floating navigation for great navigability
Animated statistics
Blog section for special announcements
MORE INFO / DOWNLOAD
DEMO
10. Brotherlylove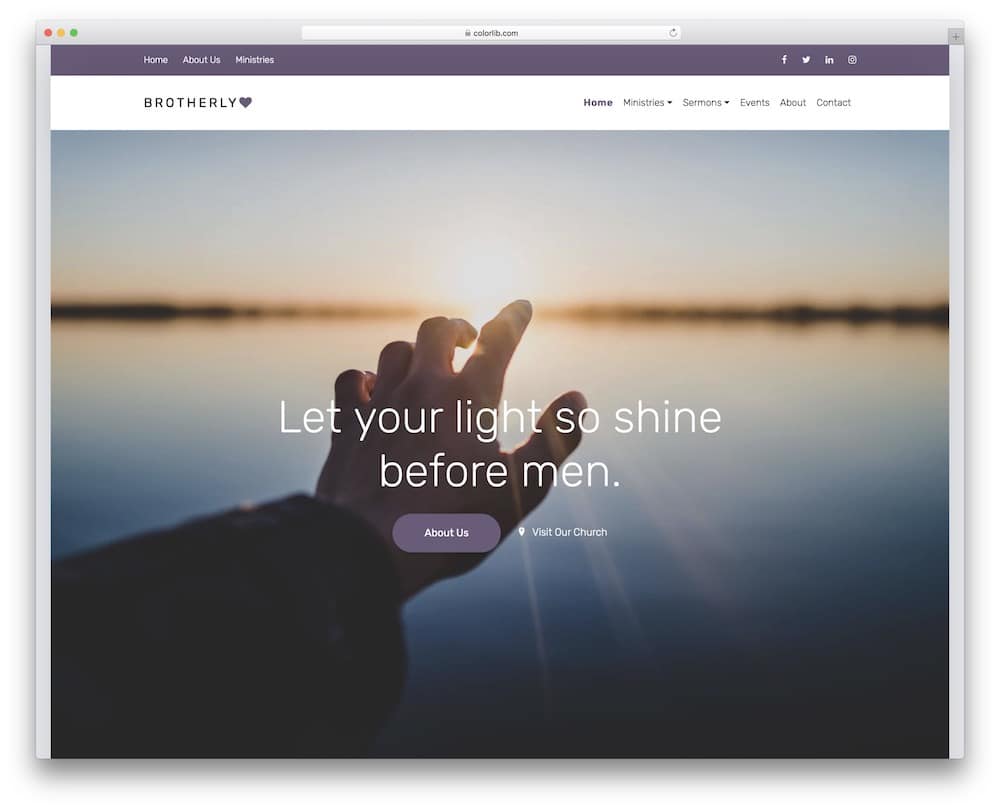 Spread the word out and make the light shine on everyone with a well-thought-out website. Even when it comes to churches, nowadays, a page is nearly a must.
After all, you can easily reach a much broader audience, LOCALLY and GLOBALLY.
You can now start on the right path like a pro with Brotherlylove.
This HTML church website template guarantees a top-notch outcome with little work.
Brotherlylove also makes sure to adapt to all screens sizes for a great experience instantly.
It is a Bootstrap Framework template, offering you all the necessary and then some.
Brotherlylove features:
Big banner with parallax effect
Special section for church services & testimonials
Google Maps for showing exact location
Integrated working contact form
MORE INFO / DOWNLOAD
DEMO
11. Faith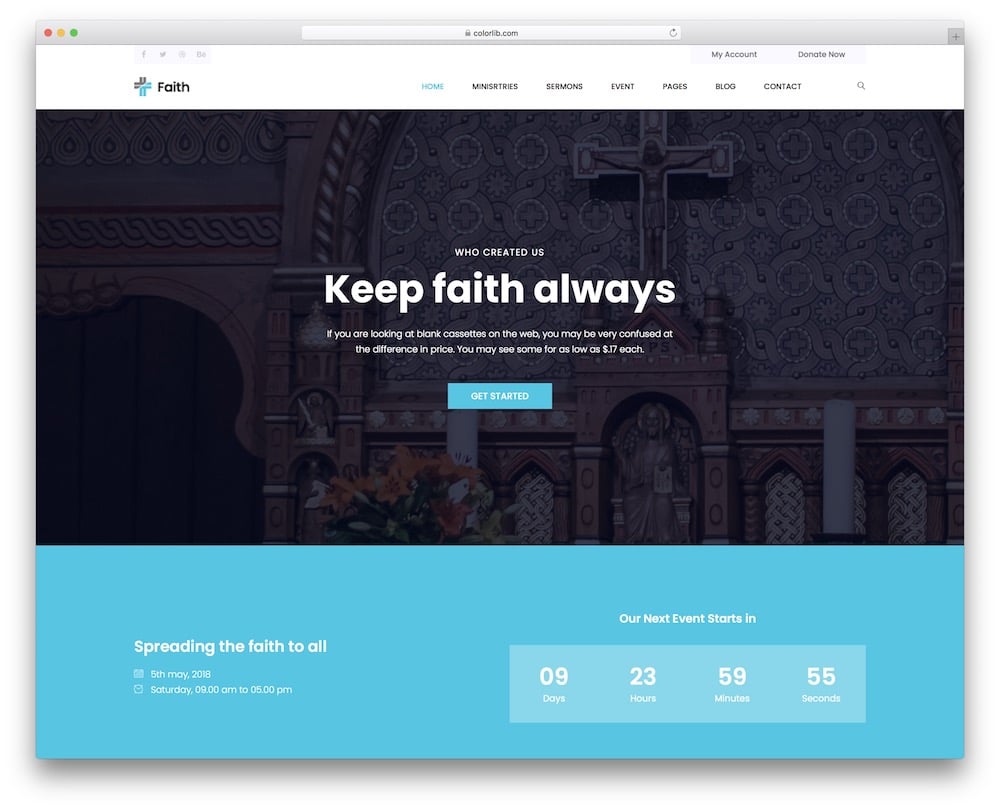 Have faith and belief and you can achieve great things in your life.
You can promote a similar message and more with an attractive website with Faith.
It is a church website template with a set of practical amenities that will get you moving right away.
You may find the tool somewhat basic at first glance, but it is far from it.
Faith is an excellent solution to sort out a website that will SPREAD THE MESSAGE and reach every soul.
You can even go with the default settings, improve it with your custom content and go live.
There is a whole lot more to it, as you can edit Faith with your twist that will amaze everyone.
Faith features:
100% mobile-ready
Cross-browser compatible
Retina-friendly
Countdown timer for events
Donation form (needs back-end)
MORE INFO / DOWNLOAD
DEMO
12. Mimosan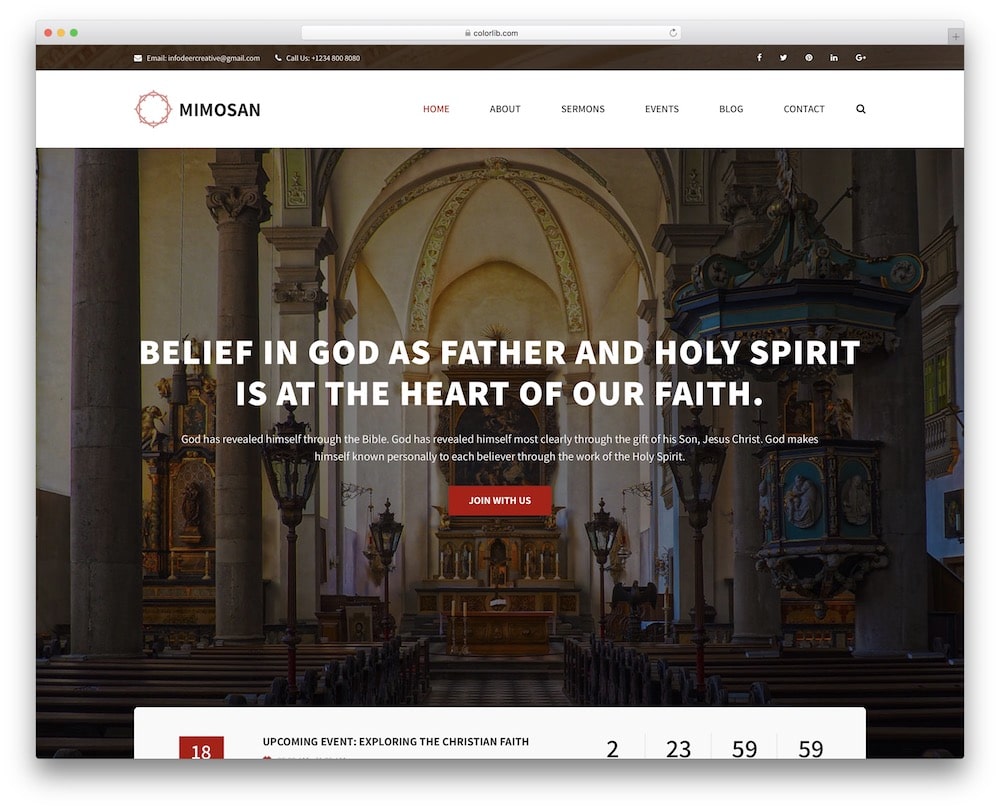 You are in good hands with any of the church website templates that are in this collection.
You can expect an outcome that will inspire no matter which you settle with.
Of course, Mimosan is no different, offering you to enjoy its perks for a terrific outcome.
Clean and creative, those are the two main characteristics of Mimosan, but there is a whole bunch more to it.
Mimosan is HIGHLY VERSATILE, allowing you to modify it according to your liking.
Mimosan features:
Capture attention with a stunning image
Top bar with additional information
Donation section for raising funds
Different internal page layouts
MORE INFO / DOWNLOAD
DEMO
13. LibChurch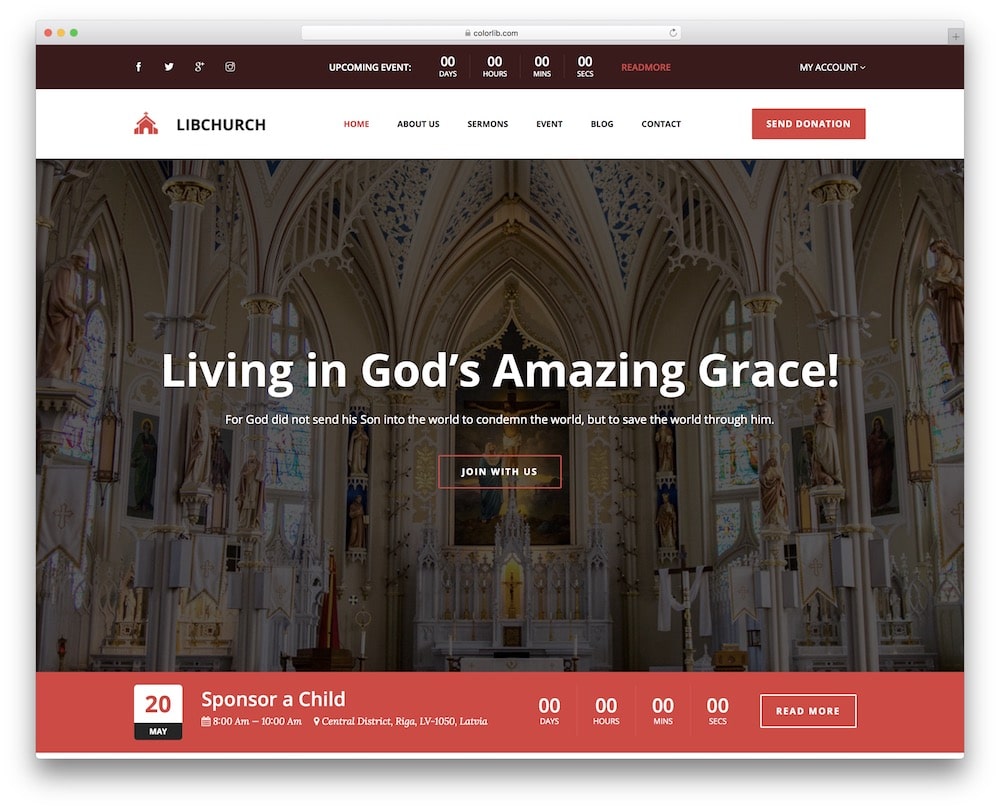 After a quick glance, you might find LibChurch somewhat similar to Mimosan, but it's not.
Another exceptional solution that helps you sort out an impactful church website.
You can work with LibChurch out of the box or adjust it accordingly (like any other site skin here).
It will take little time before you have the final product ready to go live.
No need to establish everything from scratch.
But if you want LibChurch to follow a particular style or branding, you can quickly alter it to the specific directions.
Keep in mind, even if you are raising funds for a cause, that's what you can do with LibChurch, too.
LibChurch features:
Ready-to-use front & internal pages
Pastors
Sermons
Blog for latest news
Social icons & contact form
MORE INFO / DOWNLOAD
DEMO
14. Advent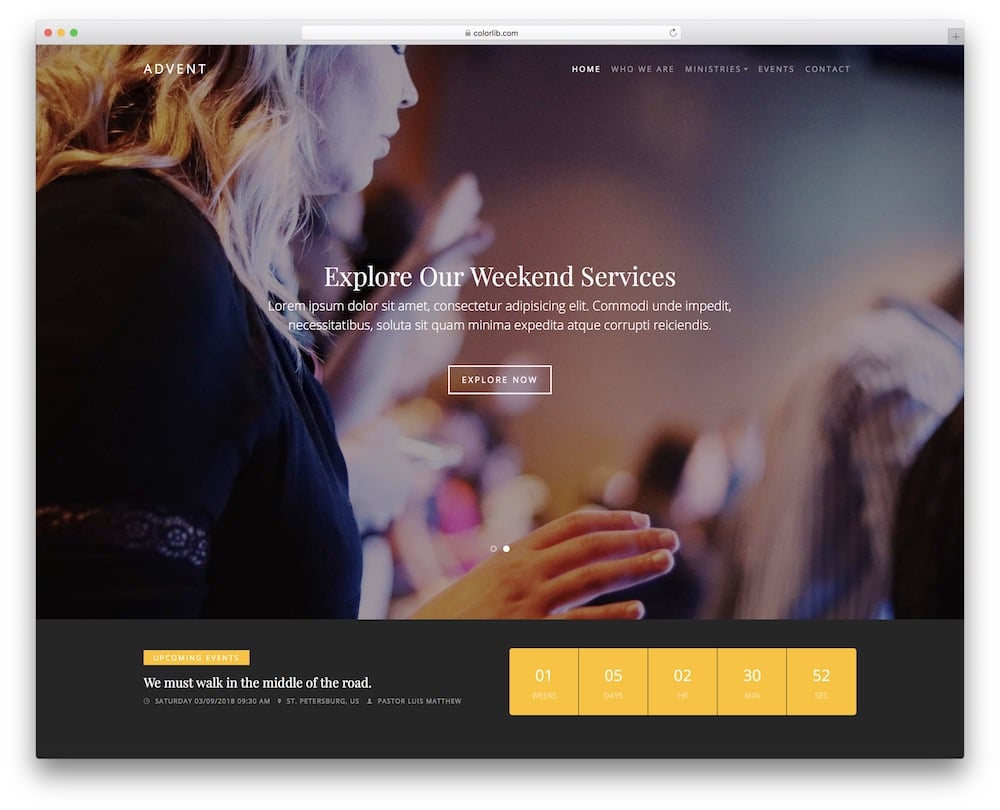 With all the different church website templates that we have here, it is a guarantee that you will discover the one that resonates with your project best.
Not just that, but finding such that you can work with out of the box, which will boost your workflow.
You better consider Advent if you are looking for something different.
Thanks to the dark and elegant design, you will amaze everyone who visits your website.
Even if you are working with a client, make their online presence something special.
A tool that is easy to use for web developers of all levels, NEWBIES and PROS.
Advent features:
Slider wit text & CTAs
Countdown timer
Dark mode
Listen to sermons online
Ministries & events
MORE INFO / DOWNLOAD
DEMO
15. Inward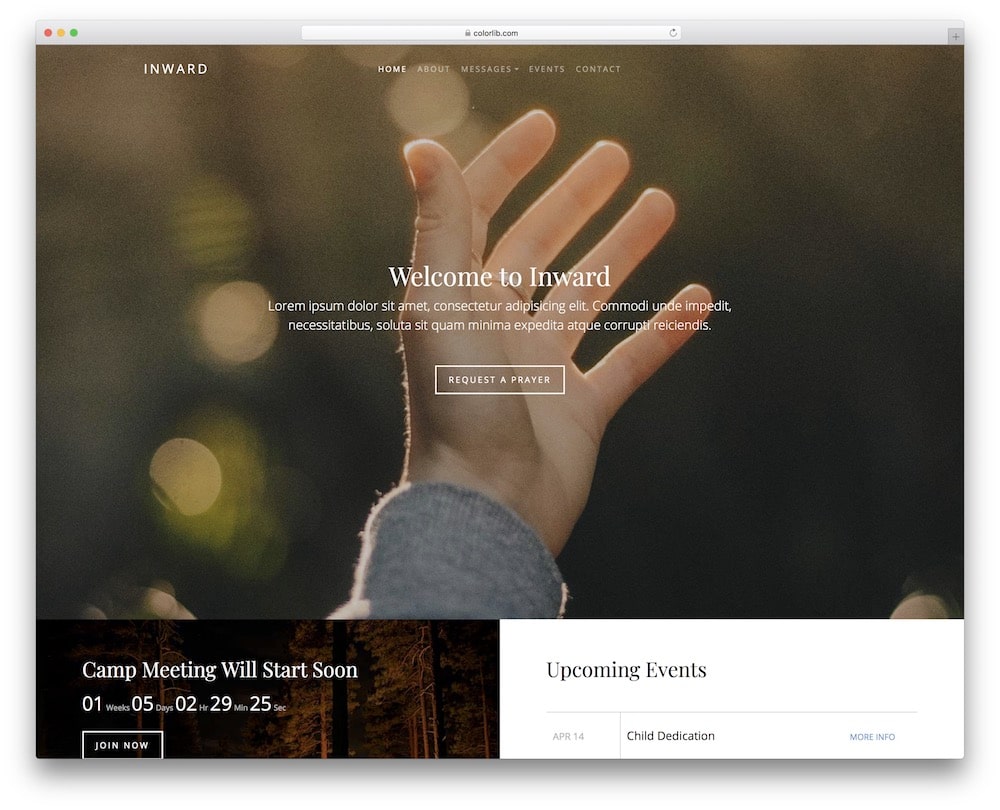 Creating a modern and responsive church website is complications-free.
However, since these are HTML templates, coding knowledge is necessary to activate them.
But that is something you are familiar with anyway. With that in mind, hit the download button now and enjoy all the perks that Inward has to offer.
Nothing is stopping from starting with full force and create an extraordinary website for sharing God's word.
Everything is carefully packed into one kit for you to get the most out of it.
Inward is modern and regularly updated, so you know everything will operate without a hitch.
Inward features:
Attention-grabbing slider
Upcoming events & timer
Audio sermons
Events & testimonials
Static navigation w/ drop-down menu
MORE INFO / DOWNLOAD
DEMO
::
Note: This article was originally published on September 28, 2020. But our team regularly reviews it and updates it with necessary improvements for accuracy.