I collected the best event website templates to save you time and effort after reviewing 60+.
Create pages for conferences, forums, exhibitions, music festivals, planners, etc.
EASY. PEASY!
Perfect for beginner and expert web developers.
Features Of A Great Event Website Template:
An event website's core features are CTA buttons for selling tickets, a countdown timer, an event schedule/timeline and speakers' presentation.
Luckily, the following templates cover all the necessary components by default.
Moreover, you can use designs out-of-the-box, but I encourage you to customize them.
Stand out!
Remember, you can get all the below templates for $19.
Best Event Website Templates
Note: After gaining inspiration myself, I'd like to share with you this awesome collection of event website designs. WOW.
1. Eventro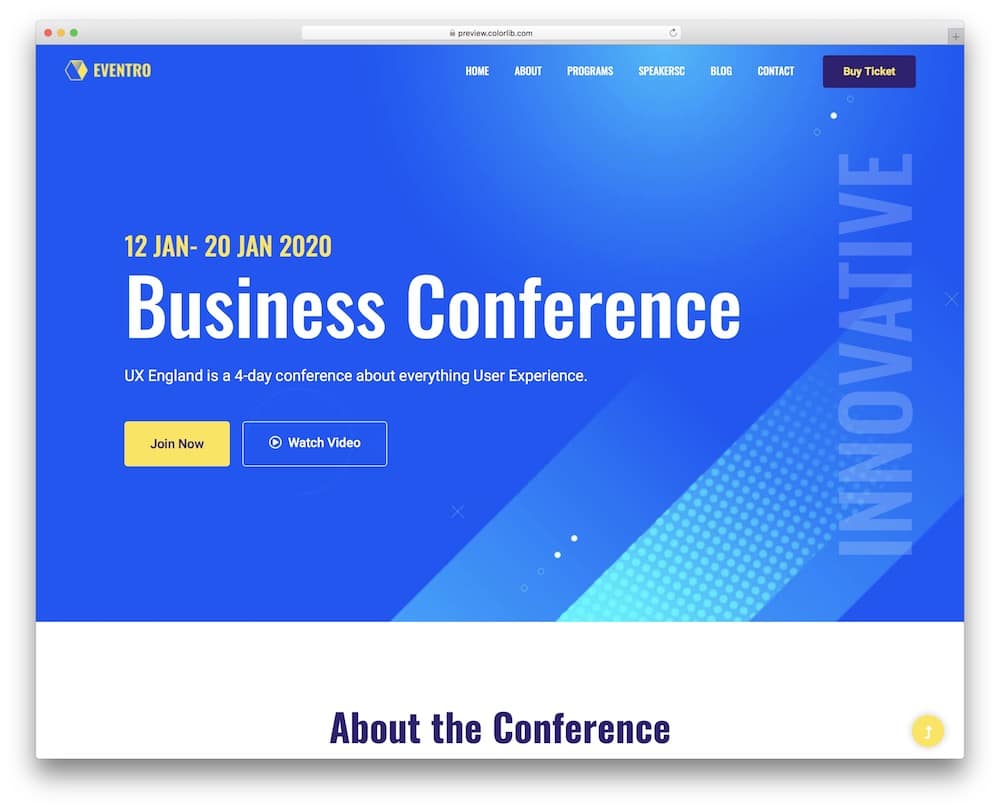 Eventro is a neat website template that suits business conferences IDEALLY. Still, if you dig the look but would like to use it for something else, go for it.
The template is easy to work, operating as is, or you can fine-tune it further.
Eventro has a nice light layout that smoothly adapts to mobile and desktop devices for great performance.
After all, it is a Bootstrap tool, so you know your website will follow all web's latest trends and regulations.
Eventro features:
Program details/schedule
Back to top button
Speakers' section
Social media icons
Internal page layouts
MORE INFO / DOWNLOAD
DEMO
2. Eventz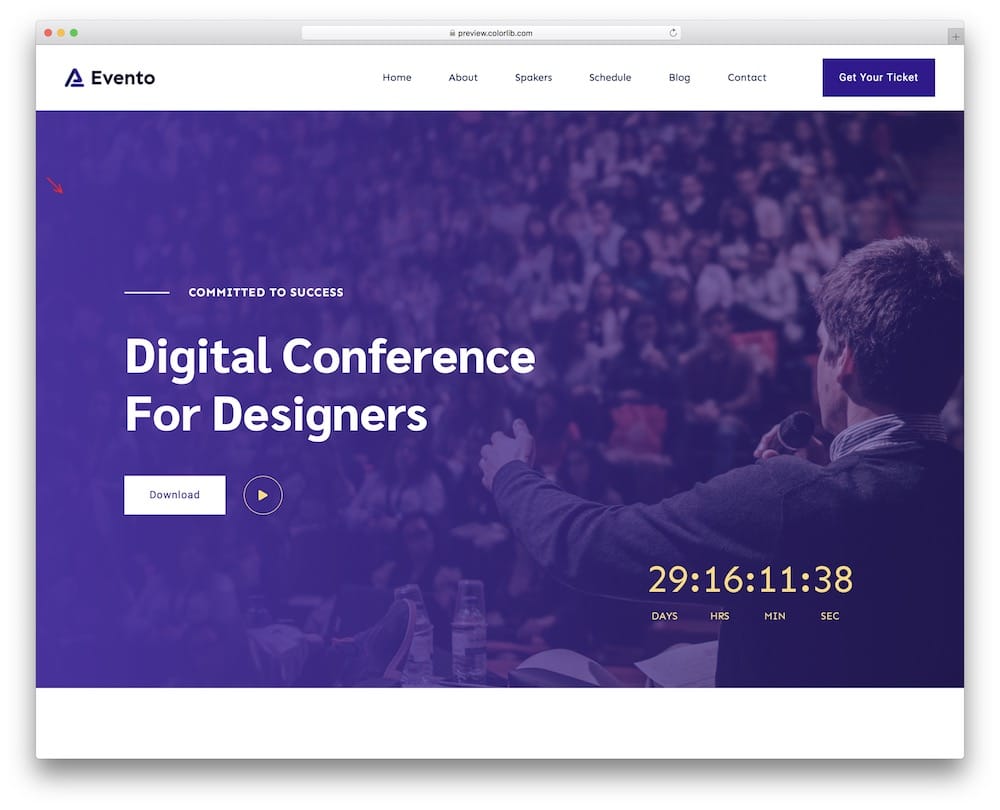 Eventz is a Bootstrap event template that uses only the latest technologies. It's not only high-performing and fast-loading, but also very user-friendly.
With that in mind, whether you are a beginner or a professional, you will both see an excellent result coming your way.
In the bundle, you will get every possible element of an event website to start right away with confidence.
However, you are also welcome to brand and personalize Eventz, so it matches YOUR style to a tee.
Eventz features:
Countdown timer
Video support
Sticky navigation bar
Hover effects
Event schedule
MORE INFO / DOWNLOAD
DEMO
3. Eventcon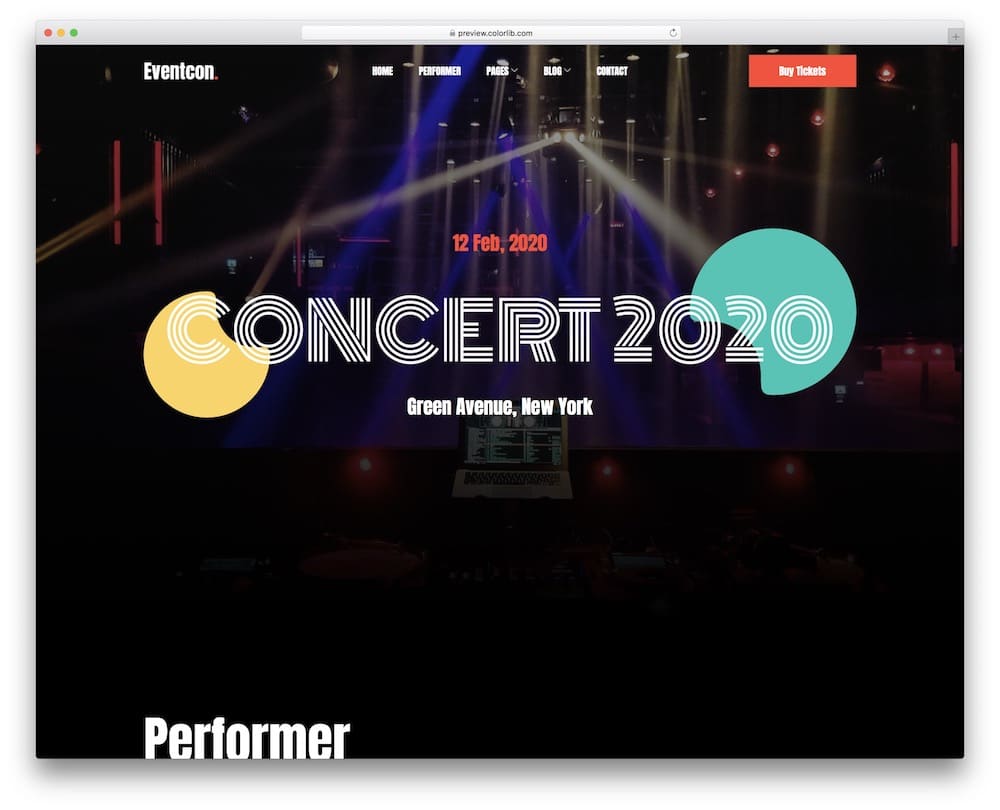 Eventcon is a top-class music event template with an impactful dark design. If you would like to differentiate yourself from the MASSES, you better not miss this neat web design.
Eventcon calls for a superb distribution of event details, images and other content you would like to share. This applies to mobile and desktop use.
Moreover, Eventcon also loads content beautifully on scroll, which calls for an A-grade user experience.
Additionally, it has some nice hover effects to spice things up.
Eventcon features:
On scroll content loading
Floating menu
Program details timeline
MORE INFO / DOWNLOAD
DEMO
4. WeMeet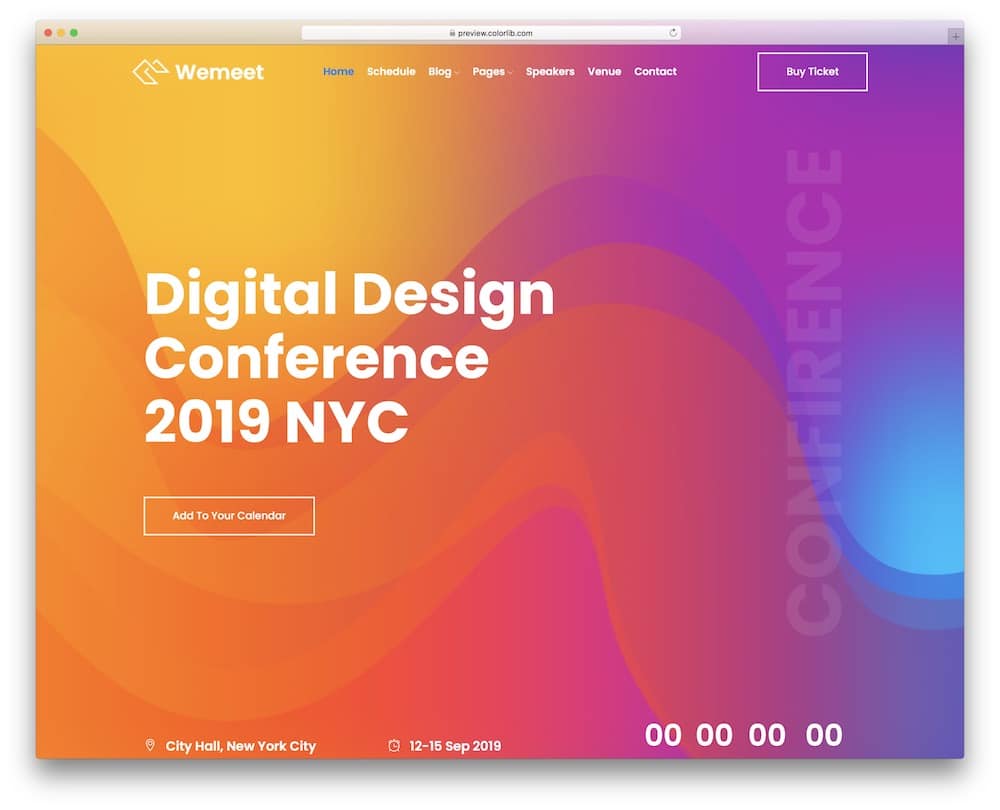 WeMeet is a fantastic solution for event registration, as you can create a FULL-BLOWN online presence that will help with organization.
In other words, everyone can register for the event, whether it's free or they need to book a ticket.
Of course, a back-end is necessary to make WeMeet function properly and to your advantage.
WeMeet is an HTML template that requires coding knowledge, but you will still witness great progress even if you are a newbie.
Enjoy the bright and creative design and wow everyone.
WeMeet features:
Vibrant & energetic design
Brand logo slider
Blog section
FAQ accordions
Functional contact form
MORE INFO / DOWNLOAD
DEMO
5. Summit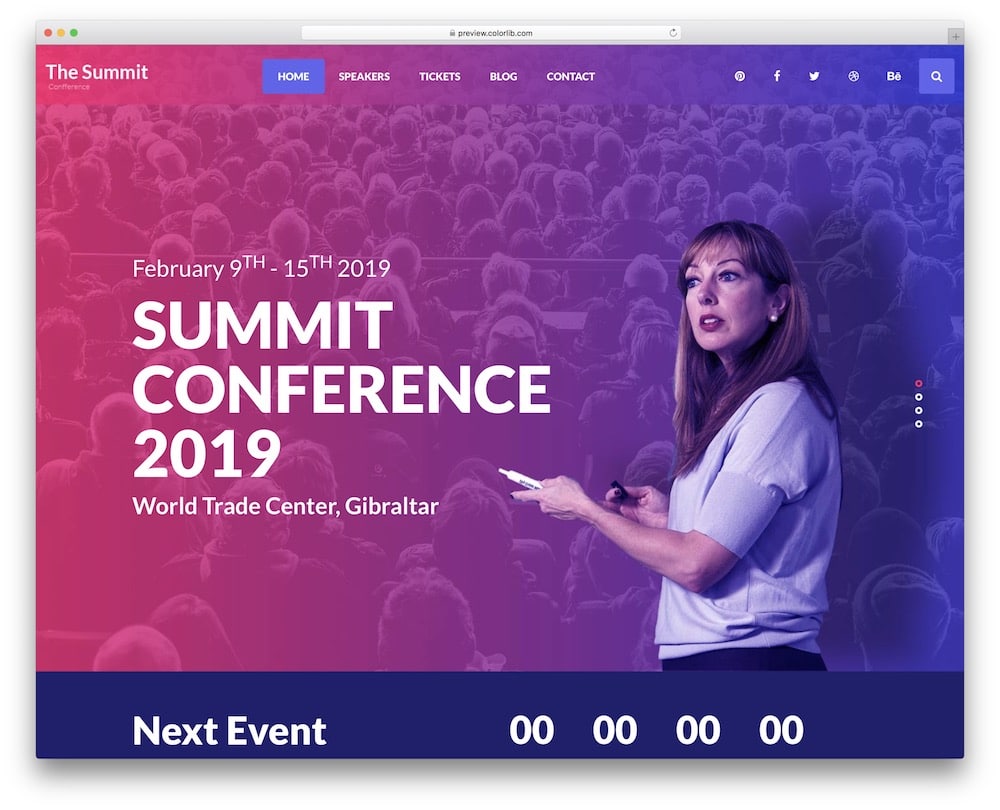 If you are on the hunt for the best website template for an event booking, you should go straight to investigating Summit in great detail.
Conferences, events, summits, gatherings, forums, you name it, Summit COVERS them ALL with ease.
This spectacular design is a fantastic alternative that will get you moving in the right direction right from the get-go.
You can now swiftly start working on your web presence with the appearance and several features ready to go.
Make it pop and grab the attention of potential attendees with ease.
Summit features:
Full-width slider
Transparent header
Social media buttons
Hover effects
Newsletter subscription widget
MORE INFO / DOWNLOAD
DEMO
6. Plataforma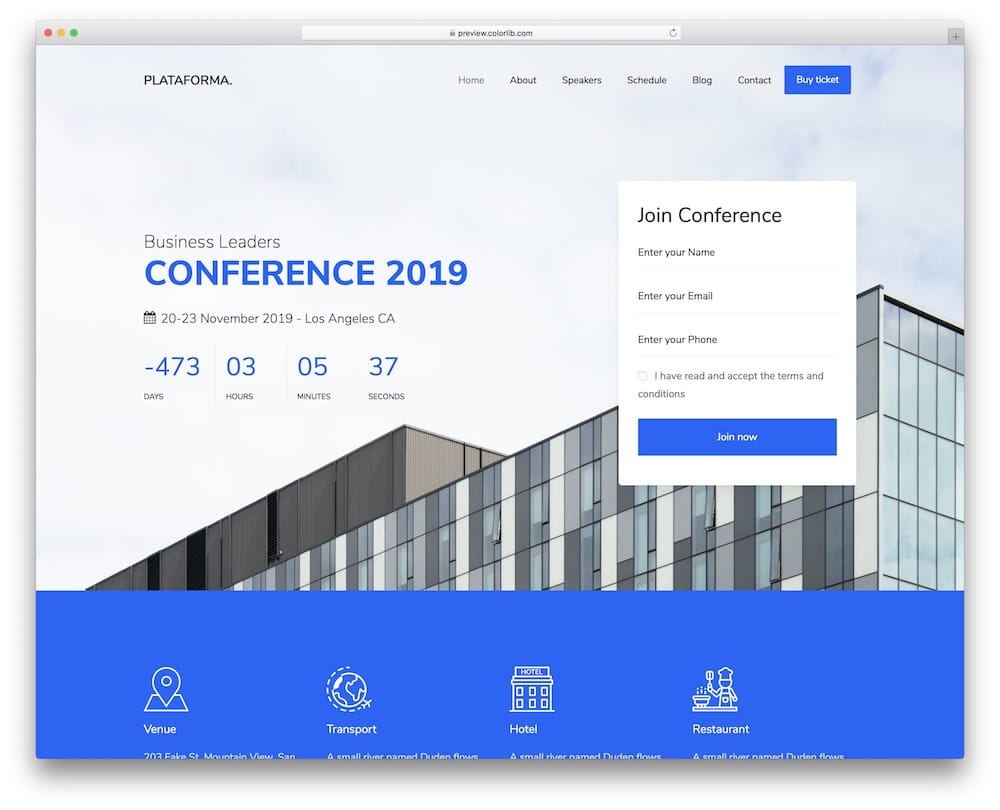 Plataforma will unlock tons of new possibilities for event management and conference websites.
With its modern, professional and sophisticated style, you can BOOST your online presence through the roof.
Why do all the work from the ground up if you don't have o?
You can help yourself with any of these top-notch event website templates and save plenty of time and effort.
Plataforma is packed with practical features to take to your absolute advantage.
You can also enrich it with your creative ideas and make your version.
Plataforma features:
A countdown timer for events
Filterable event schedule
MORE INFO / DOWNLOAD
DEMO
7. Confer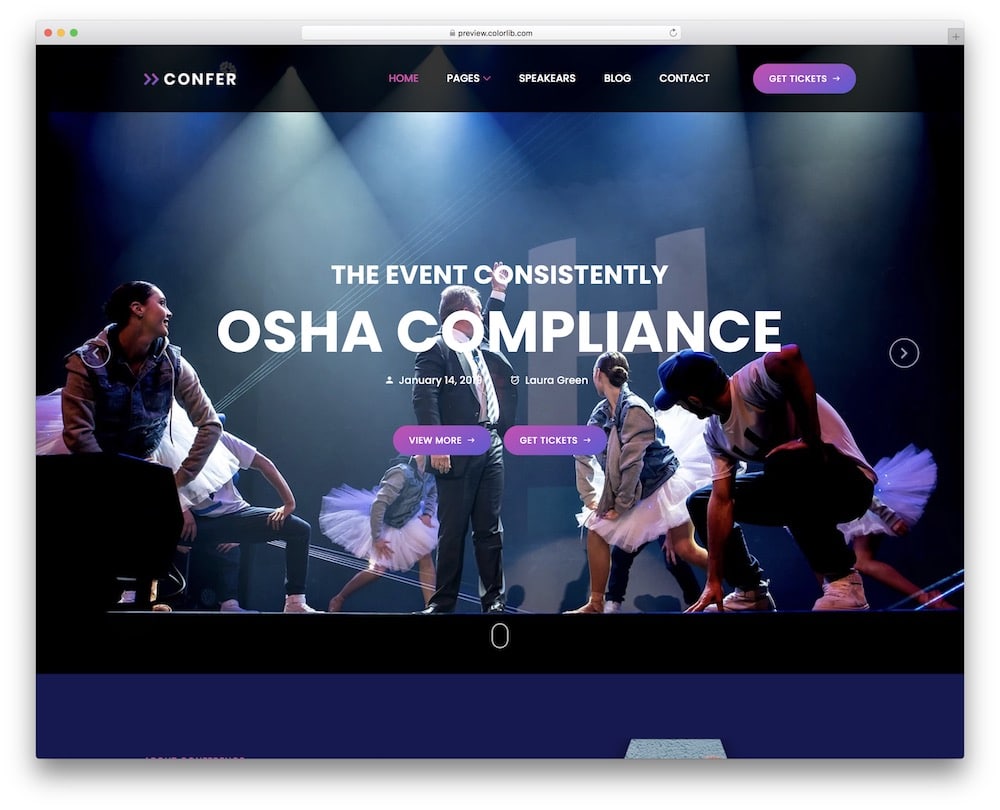 If on the hunt for the ideal motivational speaker website template, Confer is your best bet.
But really, just like other site canvases on this list, Confer is also great for a plethora of different intentions.
In other words, please don't hold back and make the most out of Confer, even if it means modifying it to FIT YOUR NEEDS and regulations.
Confer comes with tons of specialties to help you stand out from the masses.
But most importantly, grab potential attendees' interest and make them get a ticket. In short, make it sold out.
Confer features:
Slider with parallax effect
Call-to-action buttons
Multi-level drop-down button
Back to top button
MORE INFO / DOWNLOAD
DEMO
8. Workshop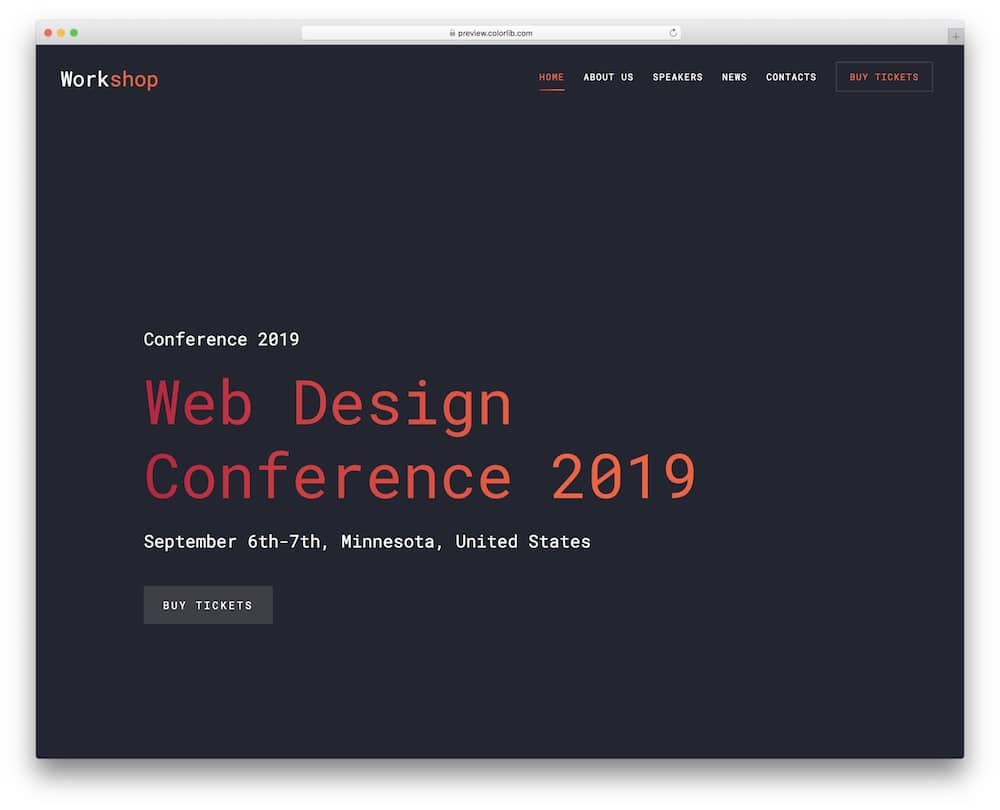 Workshop is a unique event planner website template for all the daring ones out there.
Why? It is a page skin unlike any other on this collection, making it a great alternative for everyone who likes to go against the grain.
To some extent, Workshop is super minimalist with a beautiful yet striking dark design.
However, it includes elements for everyone to EASILY immerse into your event, which will increase the likelihood of them attending your upcoming event.
See it for yourself.
Workshop features:
Unique and original dark design
Minimalist layout
Scrolling animations
Program timeline
Sponsors' section
MORE INFO / DOWNLOAD
DEMO
9. Eventalk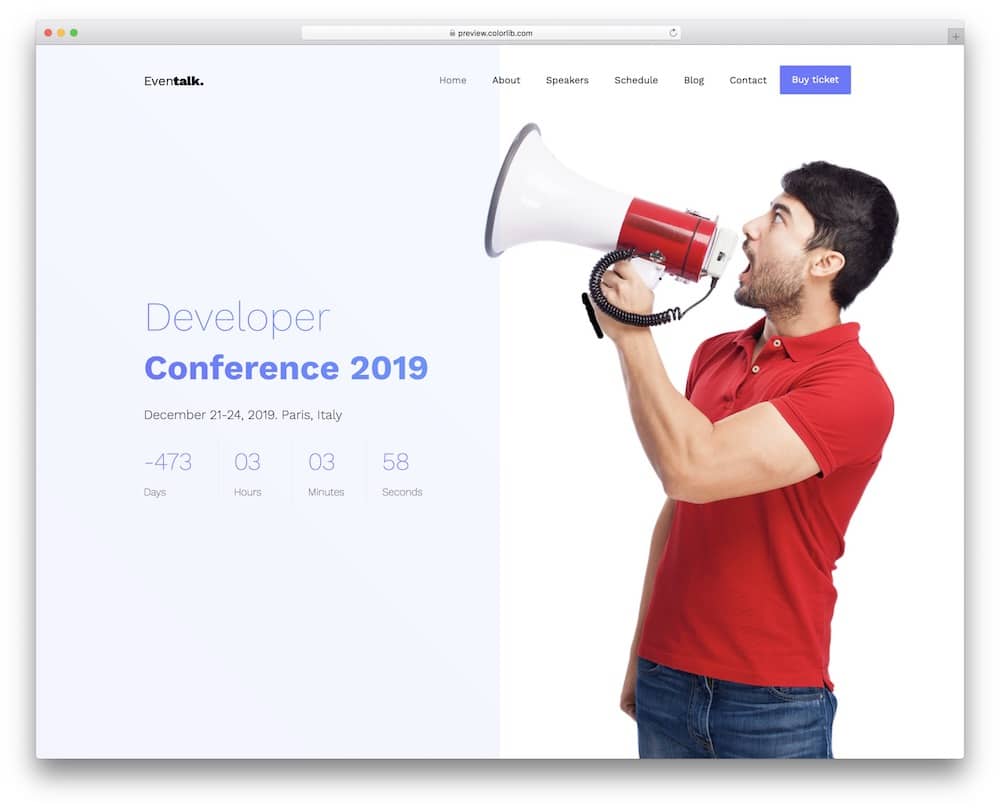 Eventalk is an excellent choice if you are on the hunt for a single-page event template.
Due to its cleanness and simplicity, Eventalk easily caters to different events and conferences for your convenience.
You may not even need to perform any drastic changes, as you can use it as is, introduce your content and ENJOY.
What's more, Eventalk has an excellent distribution of content and information, so everyone can quickly skim through, learn about the event and purchase tickets.
On mobile, too!
Eventalk features:
Transparent header, sticky navbar
Countdown timer
Pricing plans
Animated statistics
Attendees' feedback/testimonials
MORE INFO / DOWNLOAD
DEMO
10. Confpro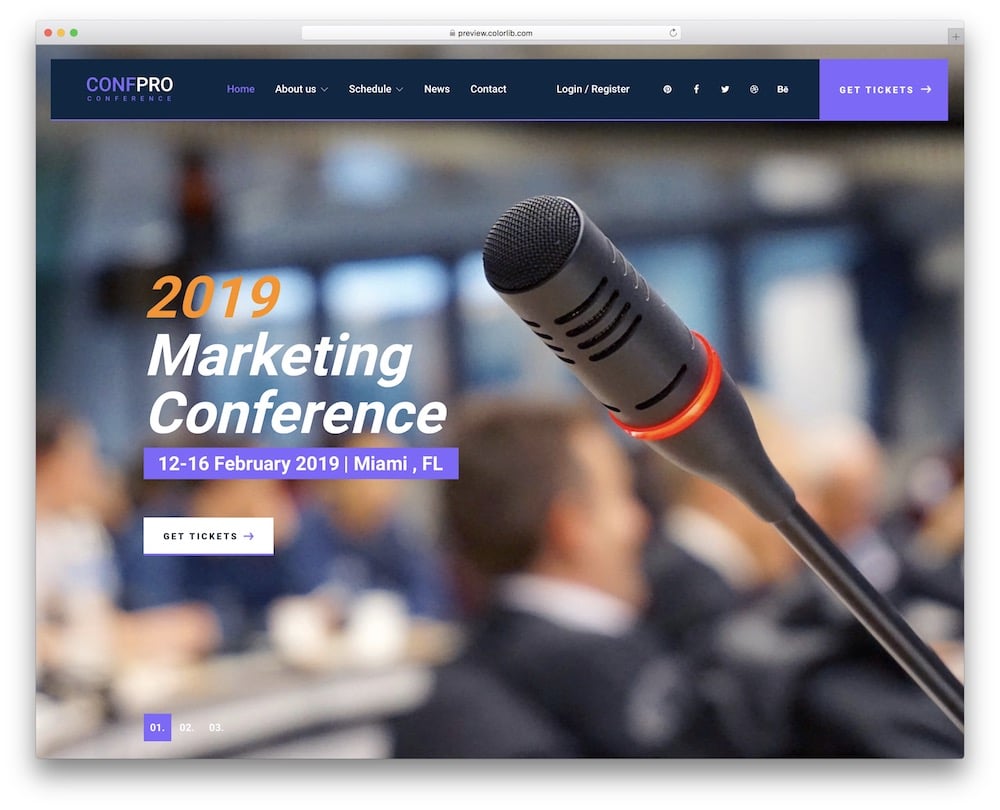 Confpro is a NEAT website template for engagingly promoting public speakers and events.
You can do oh so much to pre-sell the event you are hosting with your fresh website.
It allows you to display the speakers, the topis, the schedule, you name it, so everyone knows what to expect.
Confpro is also full of goodies that call for a creative outlet to help realize your idea.
But first, you can see its live demo preview and witness Confpro in all its glory.
Confpro features:
Practical multi-level navigation
Slideshow
Clickable tabs for topics
Event schedule/timeline
Google Maps & contact form
MORE INFO / DOWNLOAD
DEMO
11. Sunfest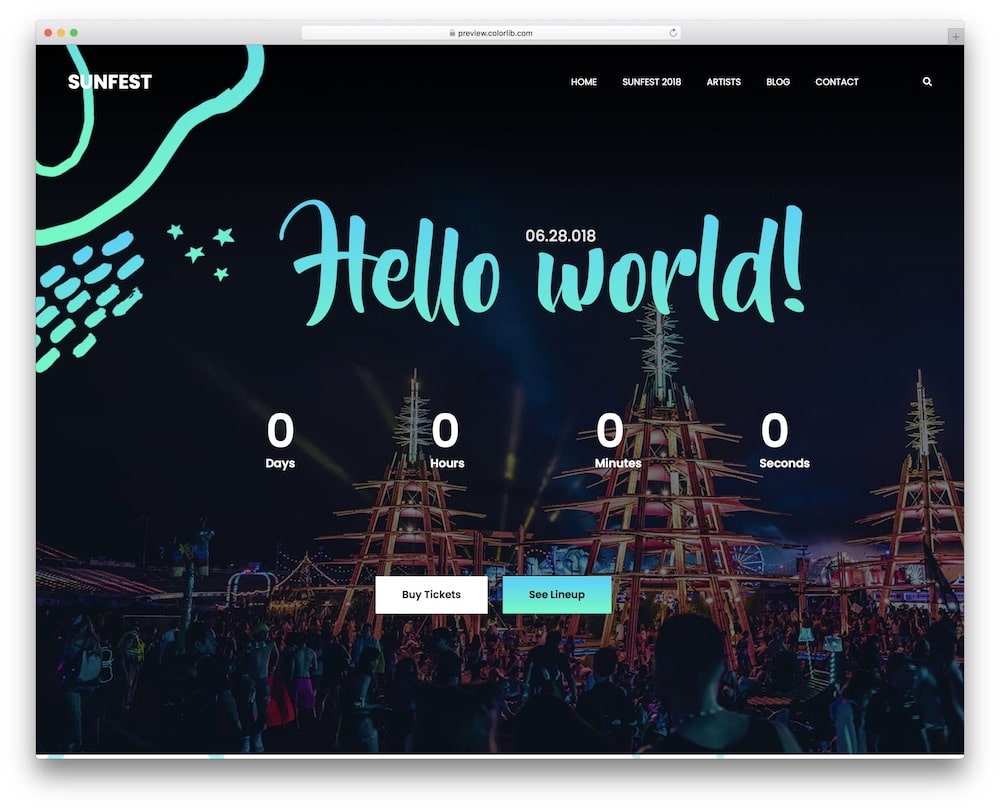 Sunfest is your best music festival website template for creating an outstanding online promotion.
With a website, you can push headliners and other artists, create a complete lineup list, share news and even push other events you have going on.
You can sort it all out easily and effectively.
Since it's a Bootstrap Framework template, you know your users will enjoy browsing the content on mobile and desktop devices.
You can even A-TEST it yourself first and take action second.
Sunfest features:
Creative design
Artists' lineup
Carousels
News section
MORE INFO / DOWNLOAD
DEMO
12. Eventure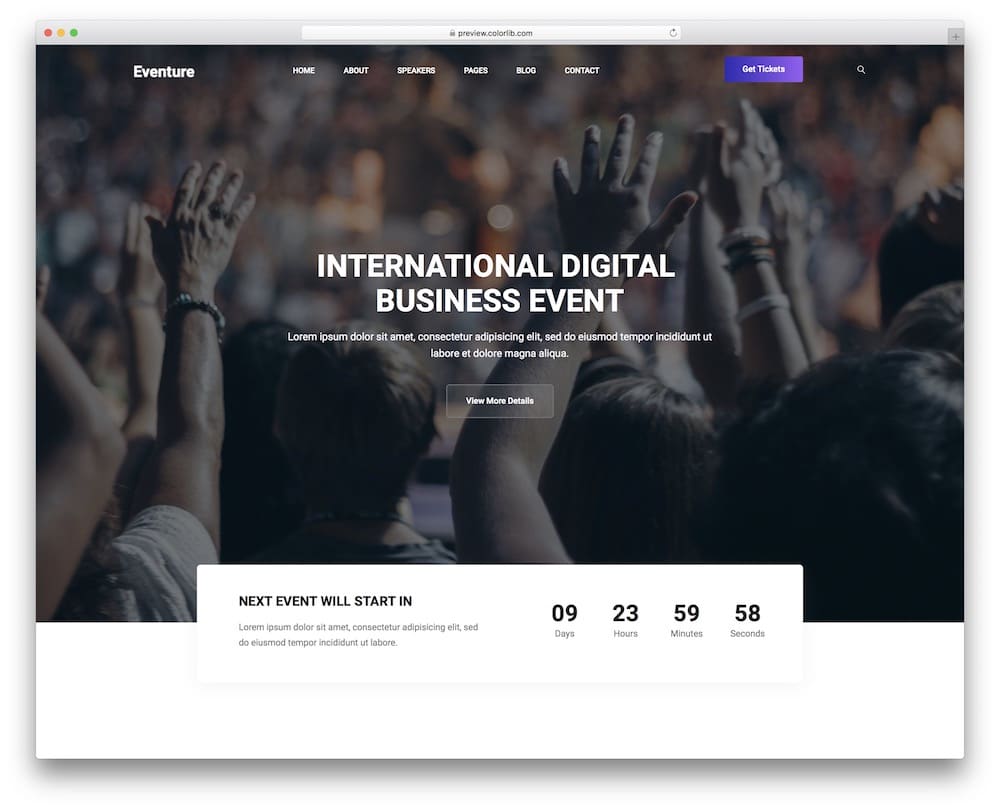 Hence the name, Eventure is a top-notch exhibition and event website template that will help you make an IMMEDIATE difference.
You don't need to start working on an event website from square one these days.
Instead, you can opt for a ready-made web design and skip some part of the heavy lifting you would otherwise need to do.
Eventure is here to help you quick-start your event page and create a pleasant web promotion that will help cause a nice bump in ticket selling.
Eventure features:
Sticky menu w/ gradient background
Ticket pricing
Multiple UI elements
Blog pages
Functional contact form
MORE INFO / DOWNLOAD
DEMO
13. Agenda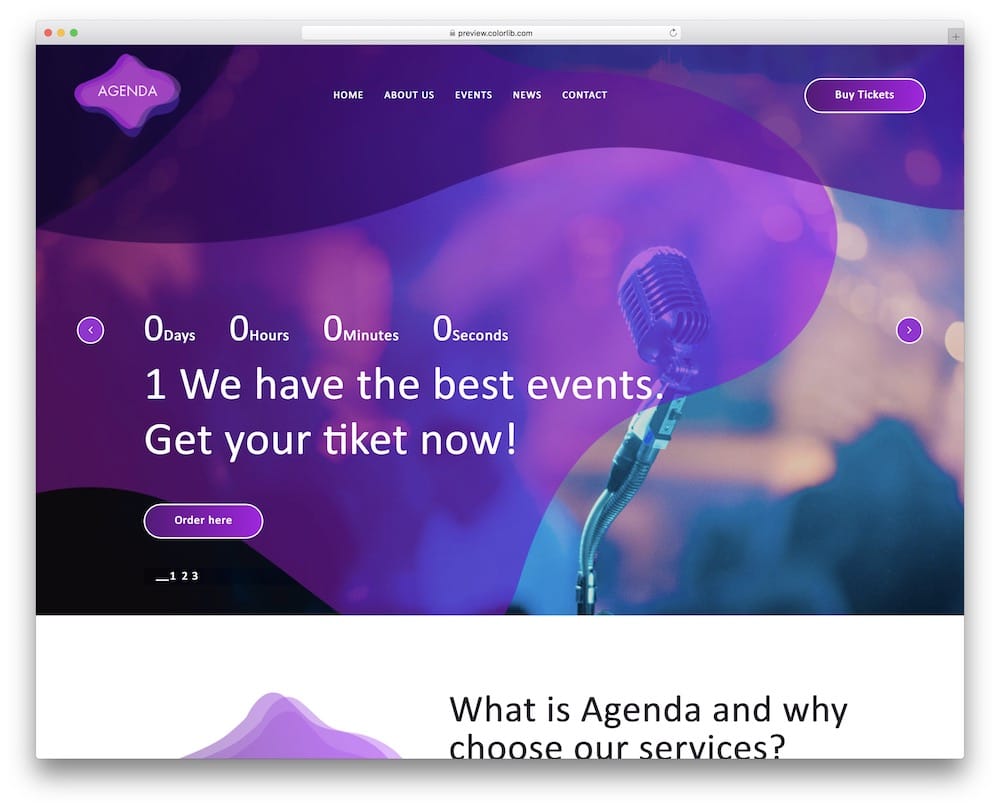 Agenda is an all-around event website template that you can greatly benefit from. You are welcome to employ the tool out of the box and SAVE TIME.
Still, even if you plan to alter it, you will execute the work easily and comfortably due to the great code structuring.
Agenda also comes with many fantastic amenities that call for a magnificent outcome.
It is also fully optimized for mobile devices, web browsers and retina screens – hurray for a magnificent performance.
Agenda features:
Slider with pagination
CTA buttons
Promote other events
Partners/sponsors section
Drop-down for location selection
MORE INFO / DOWNLOAD
DEMO
14. Eventasia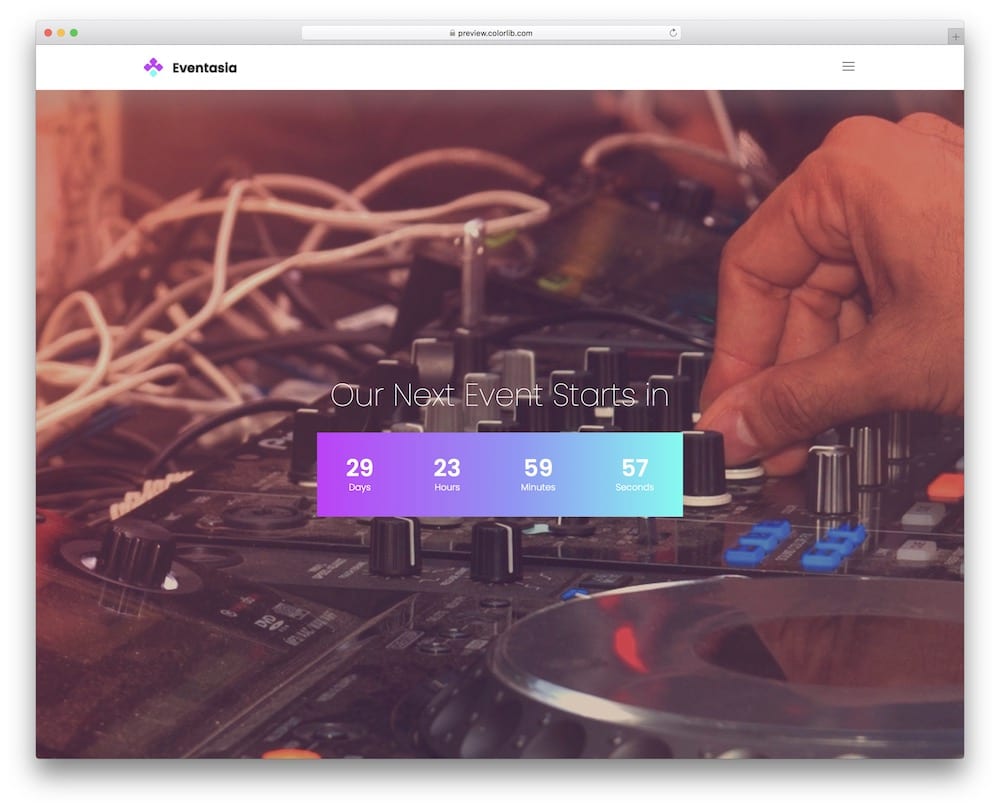 You are welcome to employ Eventasia for all types of events and conferences. You will immediately notice the more basic and simple look that Eventasia sports.
If you don't like the fancy designs, Eventasia is one of the IDEAL solutions for you to opt for.
Like with other tools on this list, you can also fine-tune and improve the default settings of Eventasia. No need to hold back.
Since Eventasia follows the latest trends and regulations, you don't need to bother about the technicalities, as it sorts things out by default.
Eventasia features:
Basic design
Menu reveal
Sticky navigation
Hover effects
Event calendar
MORE INFO / DOWNLOAD
DEMO
15. Conference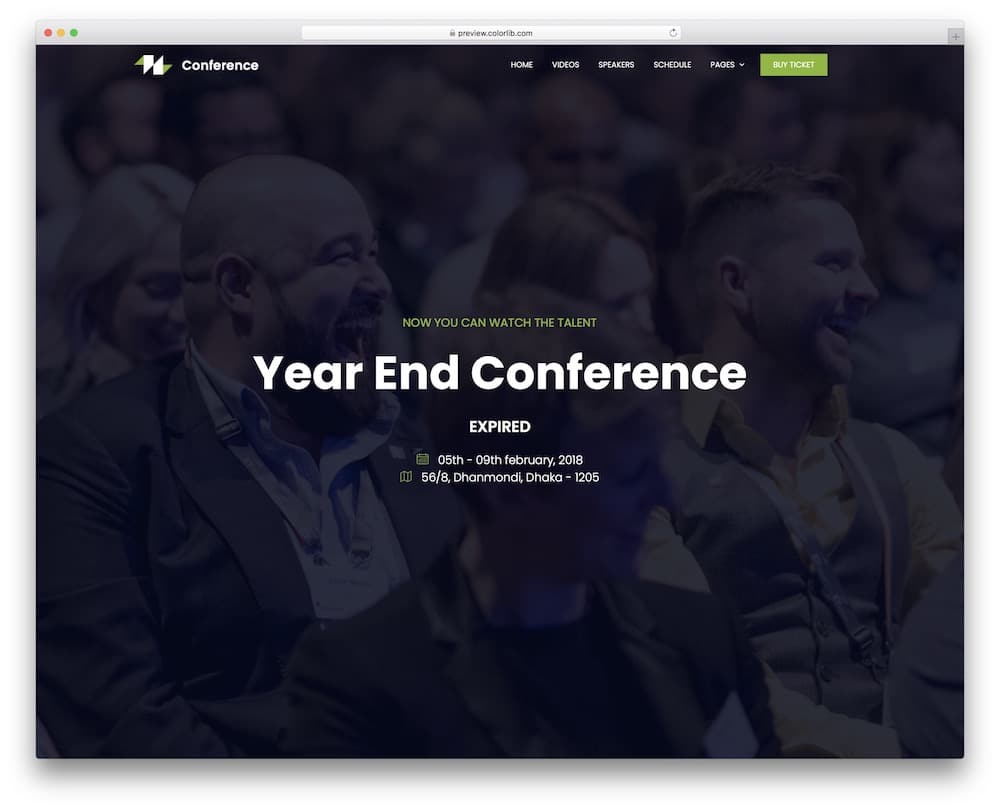 Conference is very to the point with its name, catering to different event websites EFFECTIVELY.
In this collection, you get different website template designs, as I wanted to ensure that there's something for everyone.
Let's face it, some like it super clean and minimal, while others want special effects and creativity.
When it comes to Conference, it falls somewhere in between. It has an original feel that you may not find other event websites to use.
Conference features:
Full-screen banner above the fold
Sticky and transparent navbar
Testimonial carousels
Pricing tables
Video support
MORE INFO / DOWNLOAD
DEMO
16. Evento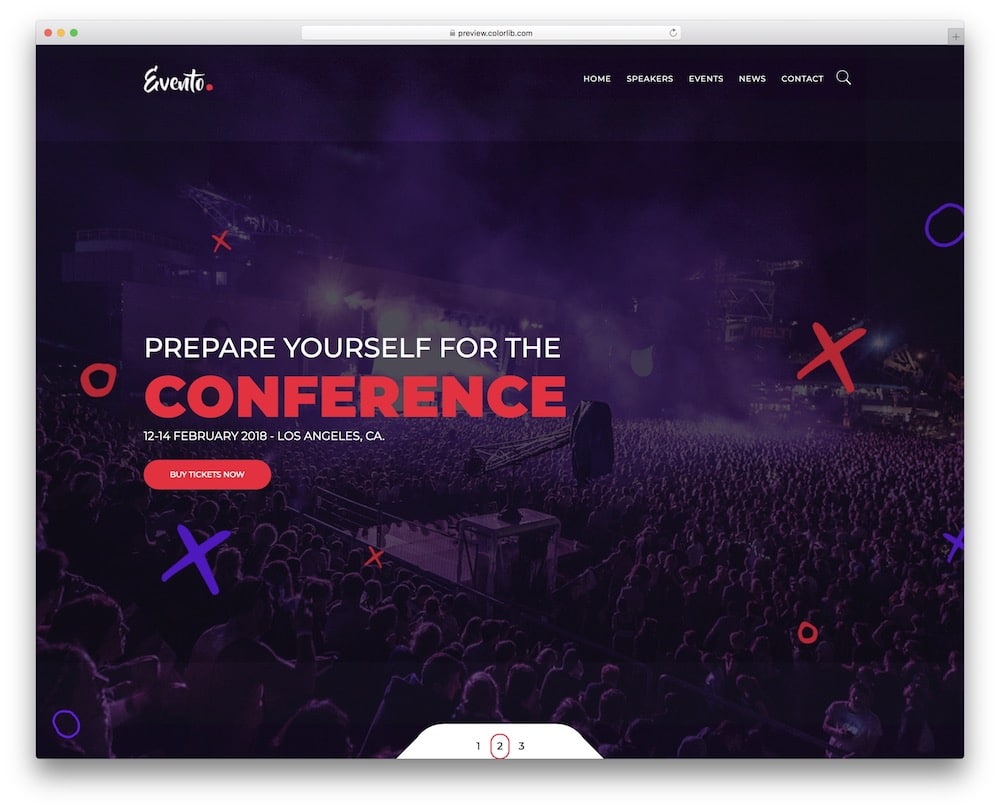 With Bootstrap and other modern technologies, Evento is at the top of the game when it comes to event website templates.
You can quickly configure it for your particular event with its excellent design and easy customizations.
Evento acclimatizes to different devices instantaneously and makes content appear beautifully on retina screens.
What's COOL, before you take charge and download it, you can also hit the demo button first and see Evento live.
You can study it in great detail first before starting to make some noise with it online.
Evento features:
Brand logo slider
Pricing table
Event calendar
Full-screen slider
Cool hover effects
MORE INFO / DOWNLOAD
DEMO
::
Note: This article was originally published on April 8, 2021. But our team regularly reviews it and updates it with necessary improvements for accuracy.