Are you building a strong online presence for dental services and need the best dentist website templates?
Our review is ready to take quick action
Honestly: I didn't expect we'd review so many dentist templates during our design and development careers.
Yup, dentists are all around us!
We usually opt for site skins to create quick prototypes.
It helps us further investigate the client's needs, so the outcome is exactly to their liking.
And here's our review of the top picks to make it EASIER for YOU.
We eliminated all the bad ones. The focus is only on the most reliable dentist templates.
Extractions, dentures, teeth whitening, bridges, implants, veneers, root canals, whatever services you specialize in, PROMOTE them online!
Include pricing tables and share tips and tricks via a business blog. Show who the real expert is.
Note #1: A back-end is necessary if you want to add an active online appointment booking form.
Note #2: But you can also use a dental WordPress theme to simplify your life.
Your new neat dental website is almost ready.
Go for it!
Best Responsive Dentist Website Templates
1. DrCare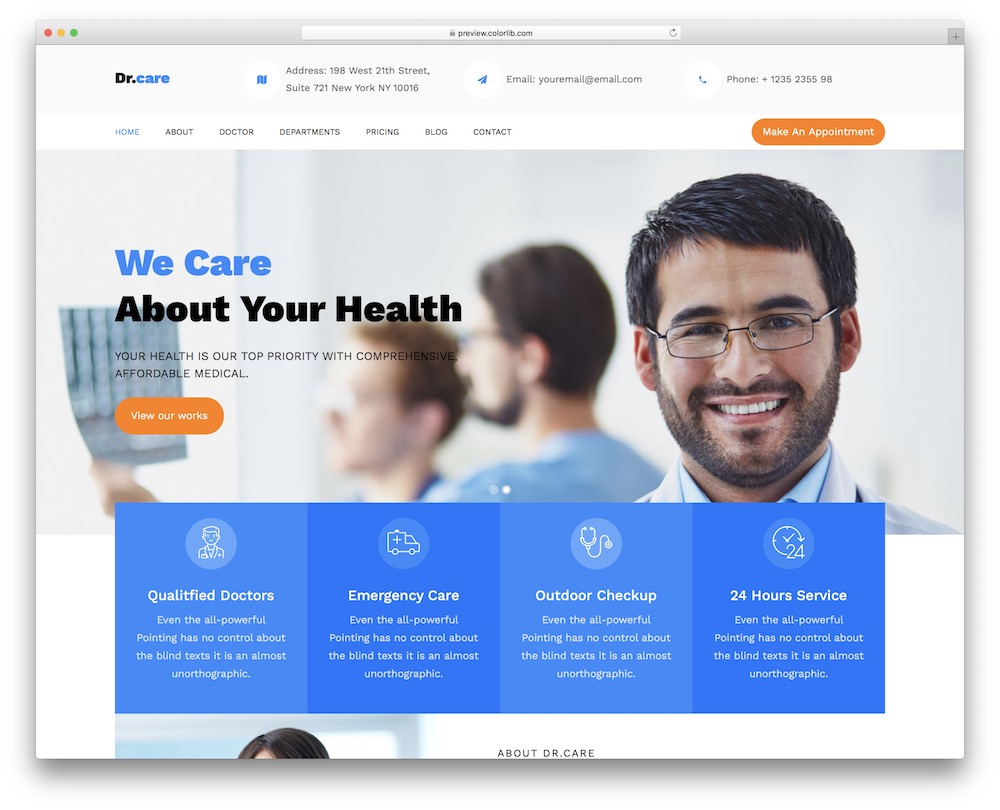 DrCare is a versatile website template that suits an array of different intentions in the medical space.
Of course, you can also use it for a dentist or a dental clinic.
The design is clean and minimal, ensuring all the content you plan to publish is stunningly viewed with little to no distractions.
The layout of DrCare is also 100% mobile-ready and cross-browser compatible so that the performance will be flawless across all devices and platforms.
You can also use the blog section, which can work FANTASTICALLY well for content marketing.
DrCare features:
Categorized departments
Pricing tables
Animated statistics
MORE INFO / DOWNLOAD
DEMO
2. Dentures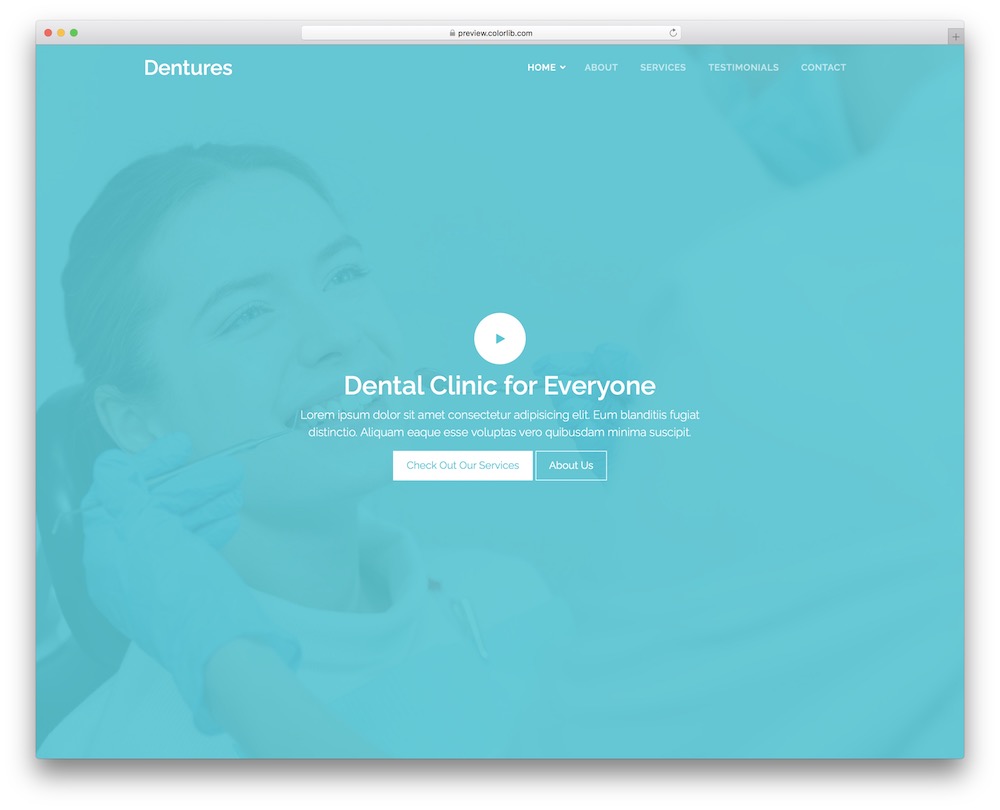 Dentures is a dentist website template that offers many great features and functions.
It has a modern and creative look that will professionally display all your dental services.
With Dentures's default design, you can already achieve spectacular results. But you can also step things up and modify it to your branding directions.
It comes with a full-screen banner that will help trigger every potential patient's attention if you use it STRATEGICALLY.
There are other goodies, like a quote form, team section, social icons and multi-level drop-down menu.
Dentures features:
Bootstrap Framework
Dental icons
Fixed navigation
Functional contact & appointment forms
MORE INFO / DOWNLOAD
DEMO
3. Dentista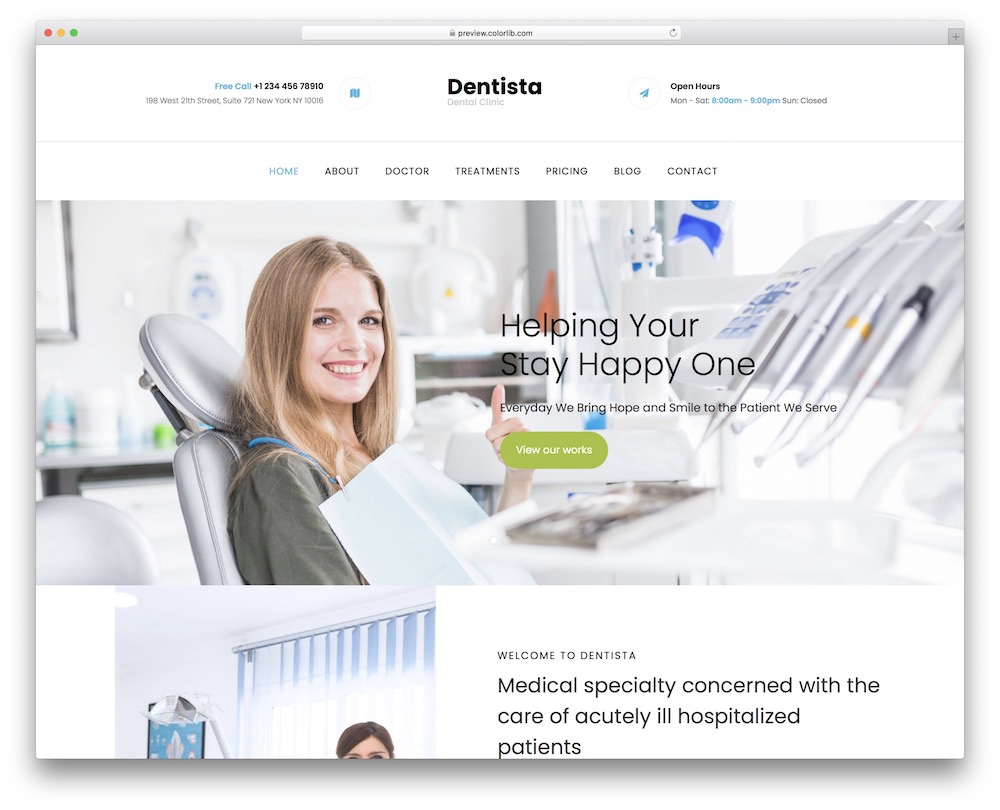 Whether you are a dental surgeon, a general dentist or offer any other exclusive service, advertise it to the masses with Dentista.
This dental website template rocks many great amenities that offer you to quick-start your project.
Avoid doing everything from the ground up when Dentista has loads sorted out for you already.
Even though it is an HTML template, Dentista's code is organized, perfect for beginners and expert web developers.
With all the dental INDUSTRY-SPECIFIC elements and components, you can easily create a powerful website that makes a difference.
Dentista features:
Slideshow
Parallax effect
Pricing plans
On scroll content loading
Opening hours
MORE INFO / DOWNLOAD
DEMO
4. Medi+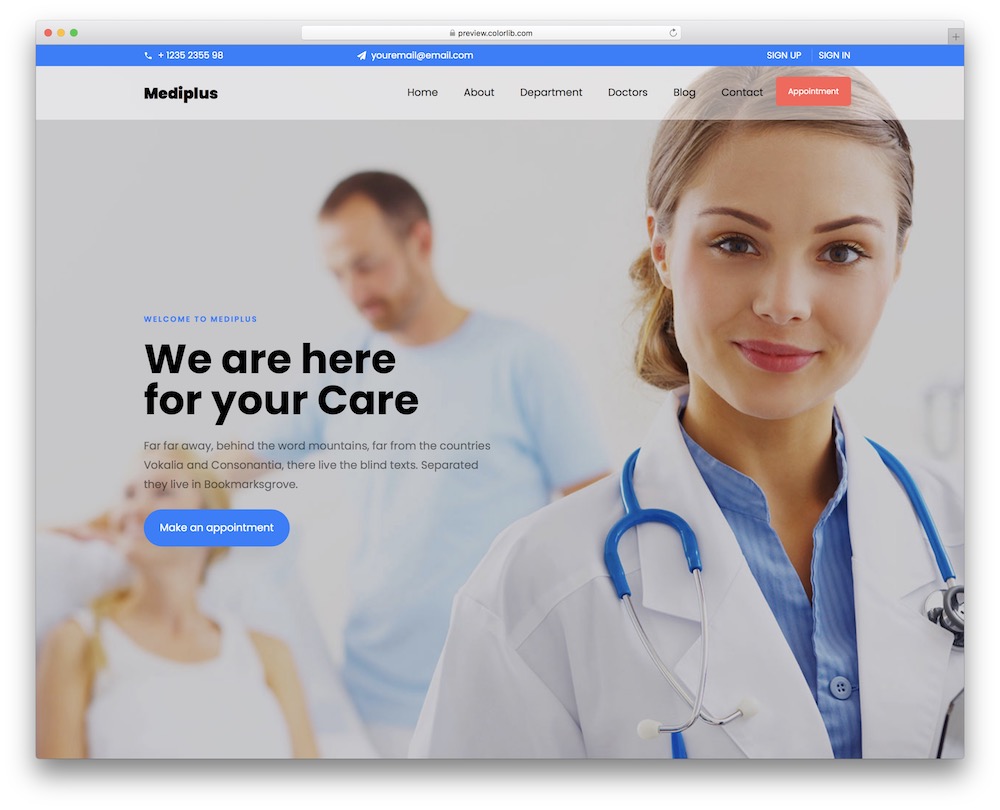 No need to think twice, Medi+ is a spectacular website template for many medical projects.
Whether you operate a dental clinic or something else, Medi+ helps you take care of the creation process of your impactful online presence.
With all the varying solutions at your disposal, you never need to lack a solid and professional website again.
If the TRENDY and METICULOUS design that Medi+ rocks fit your style, you can make it yours with a single click.
Medi+ features:
Hover & parallax effects
Sticky menu
Consultation/appointment form
Animated statistics
MORE INFO / DOWNLOAD
DEMO
5. Toothsy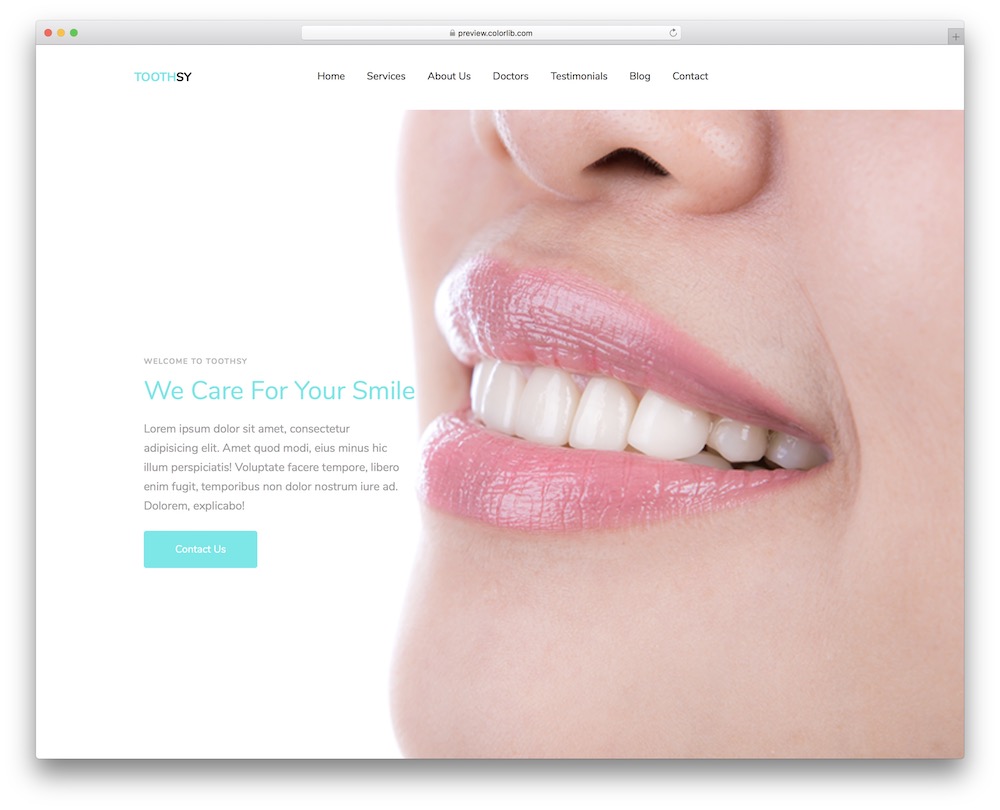 As the name implies, you already know what you are getting with Toothsy. This bold and impactful dentist website template rocks it all for your convenience.
It uses only the latest technologies to ensure that your website's performance is first-rate across all devices and web browsers.
What's also cool about Toothsy is the one-page layout it represents.
You can now display all the information and services in a very USER-FRIENDLY way, as they do not need to jump from page to page to learn more about what you do.
Toothsy features:
Full-screen background image
Floating navigation
Video support
Functional contact form
Special section for doctors
MORE INFO / DOWNLOAD
DEMO
6. Dento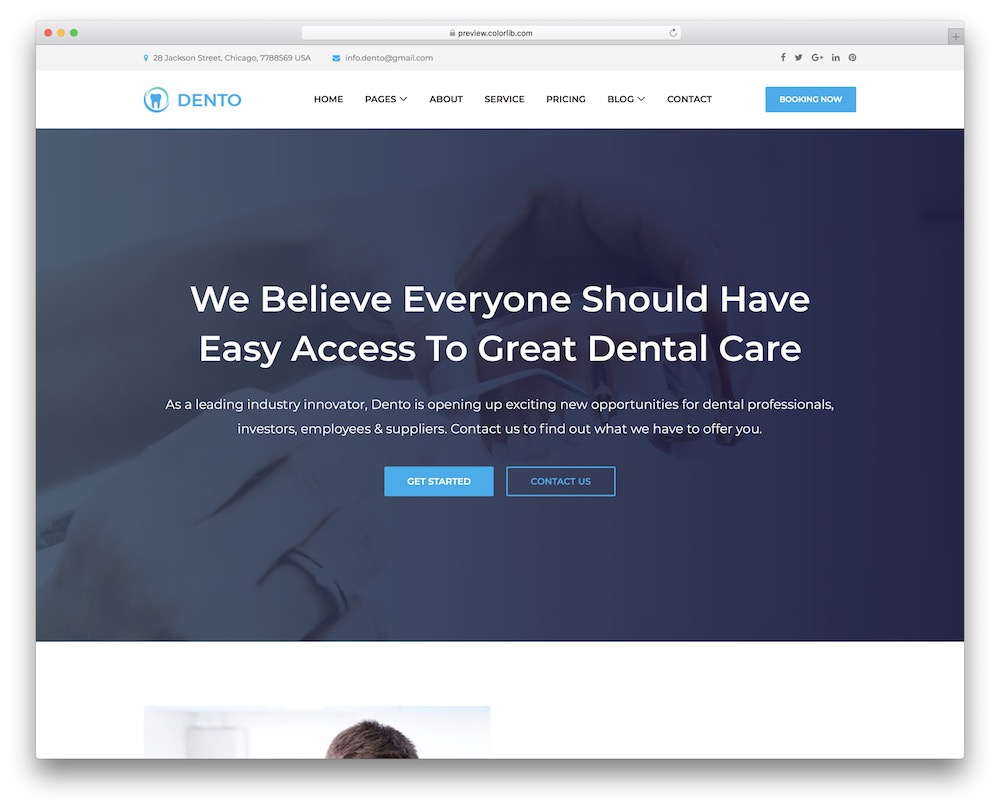 Take your dental business to the online space with Dento.
Even if you operate at a smaller scale and your marketing runs more or less through word of mouth, creating a website is a must nowadays.
With Dento, you can SAVE yourself a lot of TIME and ENERGY.
The web design and many traits are available to start the process immediately. You are free to use Dento as is, but if you want to configure it (get creative!), you can do that, too.
The code is neat to get the gist of it on the fly.
Dento features:
Slider with text & CTAs
Top bar
Back to top button
Pricing table
Appointment booking with schedule
MORE INFO / DOWNLOAD
DEMO
7. Prodent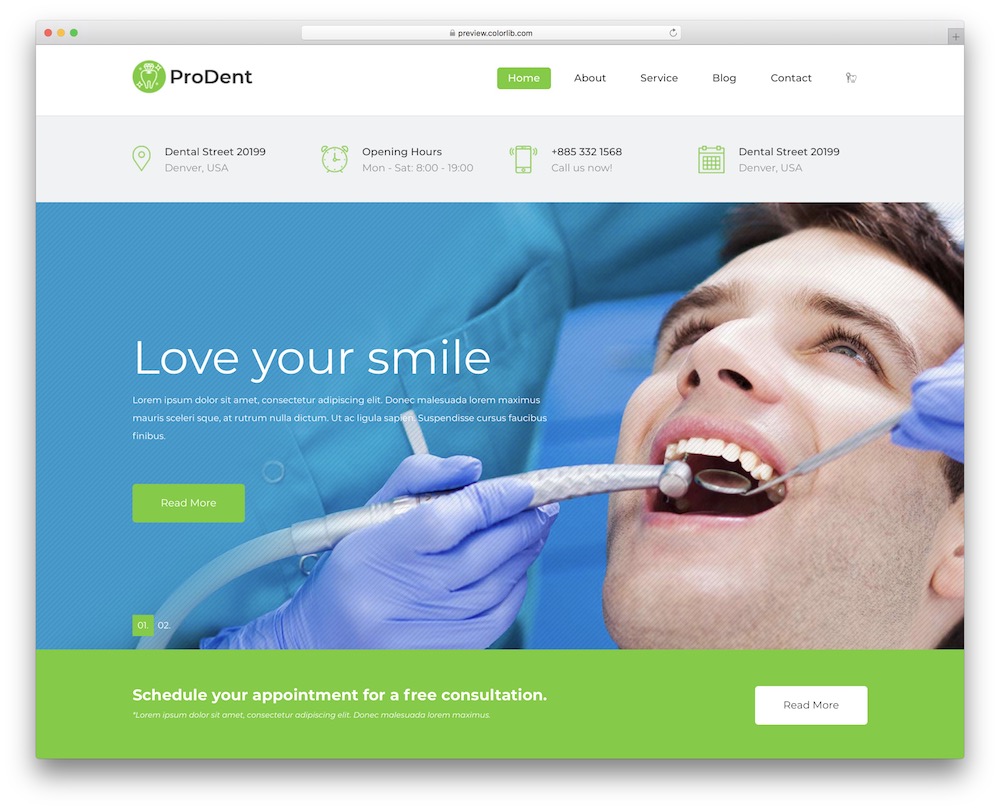 If you make the best smiles, promote your offerings on the internet like a champ with Prodent.
It is a dental website template that follows all the modern trends and regulations of the web.
With this in mind, your dentist's website will operate seamlessly on mobile and desktop devices.
But it's the VERY MANY specialties that Prodent rocks in the bundle that help you stand out from the masses and take things to new success.
Prodent features:
Pleasant color scheme
Somewhat basic design
Testimonial carousels
Opening hours in the footer
Google Maps integration
MORE INFO / DOWNLOAD
DEMO
8. Medically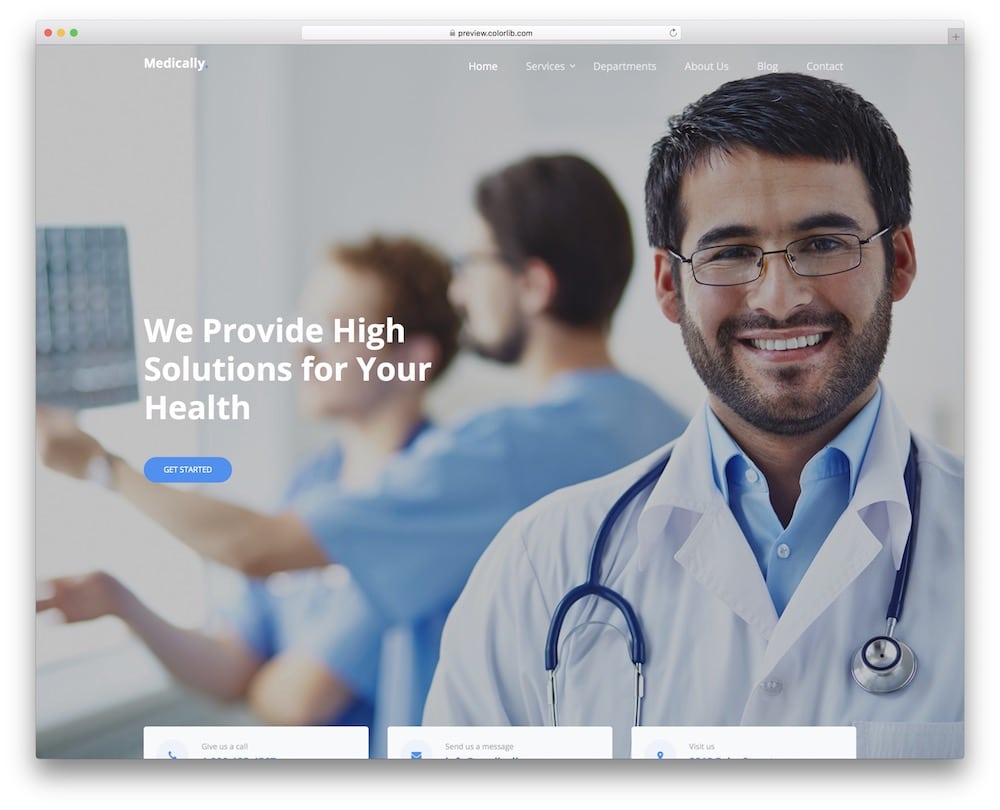 Medically is an all-around medical template you can use for dental clinics and dentists.
The design of Medically is clean and modern, offering a pleasant atmosphere and a great user experience.
Moreover, you are also welcome to adjust and brand the default settings, making Medically follow your business to a tee.
This is also a Bootstrap Framework template, so YOU KNOW the final product will work across all modern devices without a hitch.
Medically features:
Floating header
Multi-level drop-down menu
Video support
Hover effect
Services & departments
MORE INFO / DOWNLOAD
DEMO
9. Medical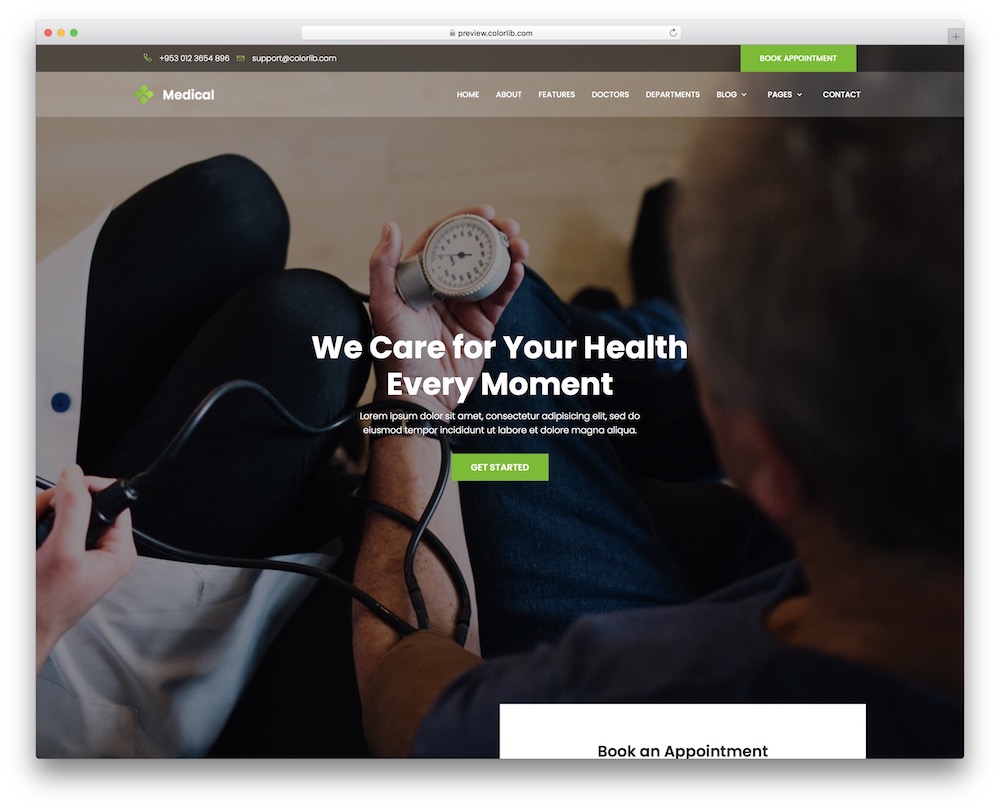 As you would expect from the name, Medical is a more general website template for the medical space.
However, that means it is fully flexible and highly adaptive, so you can use it for your dental business.
It is another attractive alternative covering plenty of material for your out-of-the-box.
With that in mind, AVOID the process of starting from the ground up when you can help yourself with a premium-like tool that costs nothing.
Medical features:
Sticky & transparent header
Client feedback
Brand logo slider
Full-blown contact page
Special page for departments
MORE INFO / DOWNLOAD
DEMO
10. Dentacare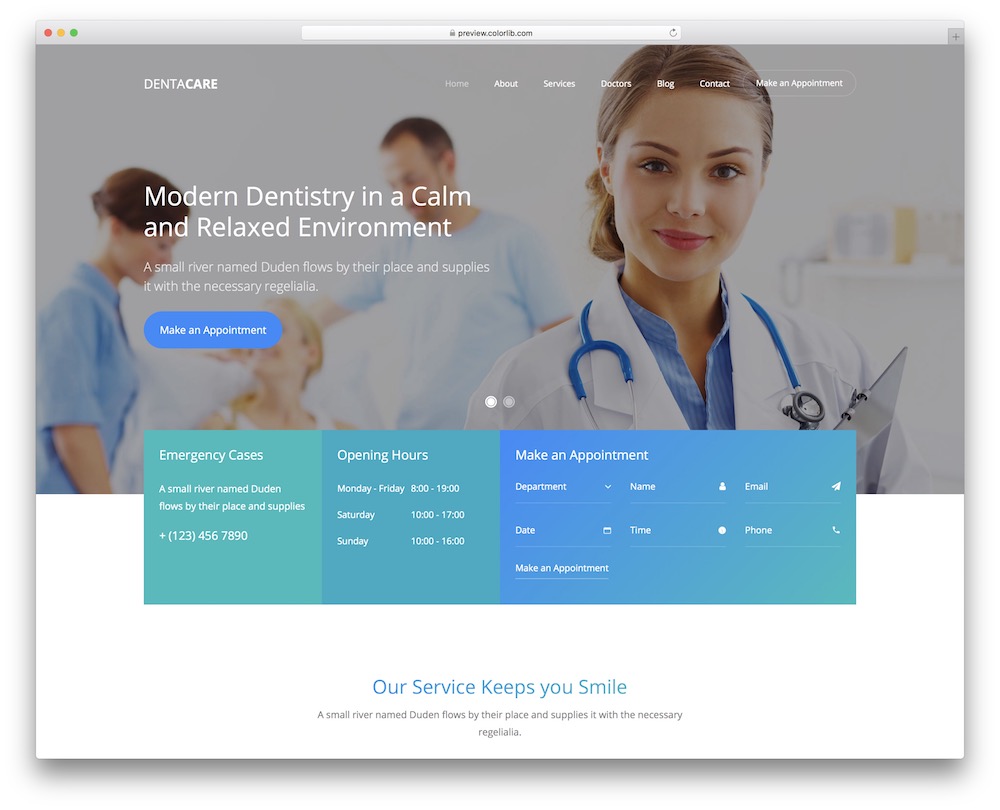 If you are helping people with their oral hygiene, reach a wider scope of potential patients with a head-turning website.
Whether you offer teeth whitening or teeth cleaning, whatever the case, make it shine online with Dentacare.
This modern and creative web design promises an outcome that creates a pleasant atmosphere for every site visitor.
They will ENJOY browsing through your services, pricing and all the other information that you have available for them.
Plus, the smart and cleverly structured above-the-fold segment triggers everyone's interest quickly.
Dentacare features:
Full-width slider w/ extra info
Form with date & time pickers
Loading content on scroll
Pricing tables
Can also work for one-page websites
MORE INFO / DOWNLOAD
DEMO
11. Dente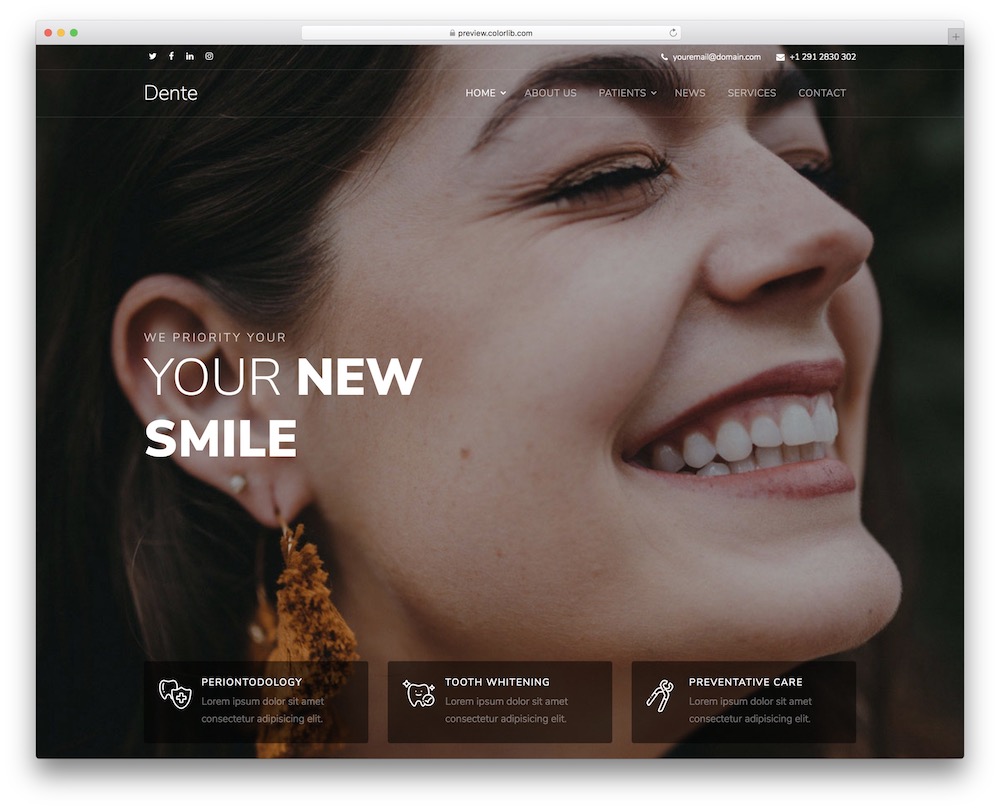 If you want to avoid the traditional look of a dental website, that's when you pick Dente.
This magnificent site canvas helps you stand out from the masses with an online business presentation that will amaze and wow everyone.
With the eye-catchy web design and a full-screen banner with parallax effect, you know everyone will want to learn more about you immediately.
But this is just the beginning of all the GOODIES and HIGHLIGHTS Dente has in store for you.
If you are ready to make a difference and go slightly against the norm, you are ready for Dente.
Dente features:
Full-width design
Simple & to the point structure
Multi-level drop-down menu
Appointment & contact forms
Patients' testimonials
MORE INFO / DOWNLOAD
DEMO
12. Dentist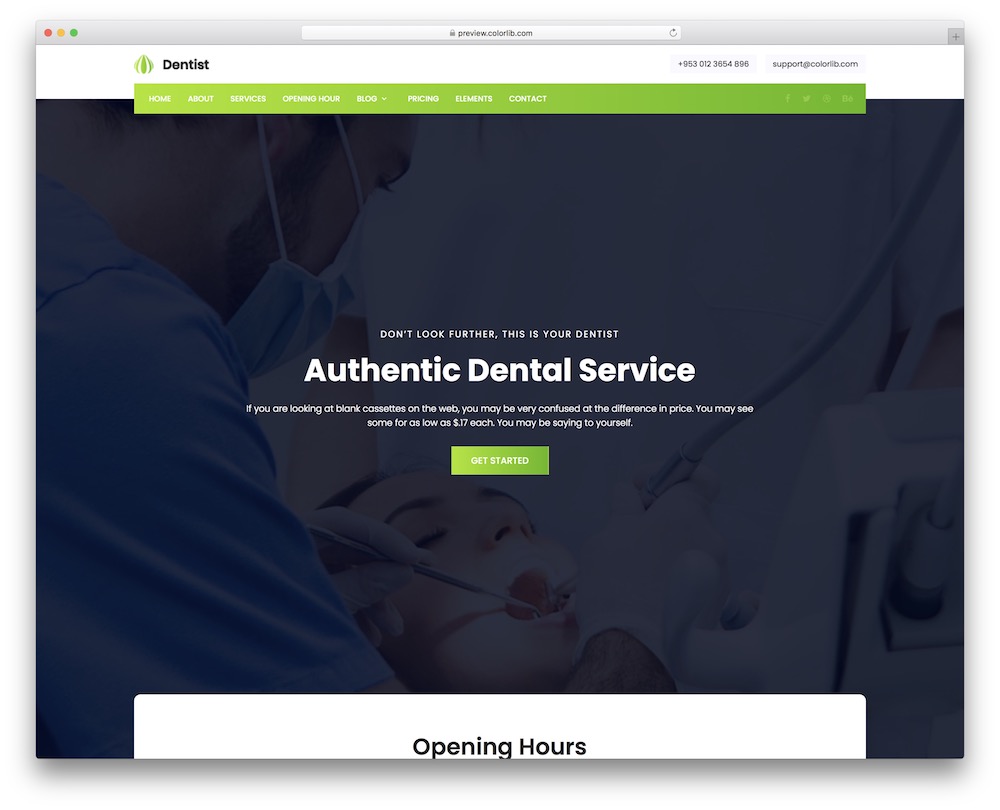 For everyone who does not want to over-complicate with the design part of their website, yet still likes a little bit of creativity, here is Dentist.
This dentist website template is based on Bootstrap Framework, so you know it has flexibility fully sorted out.
Along with all the technicalities, Dentist also has many more amenities that take care of the site establishment.
Fixed header, tons of elements, pricing, Google Maps to showcase location and contact form, all this and more is what you find in the Dentist package.
Dentist features:
Nifty selection of colors
Flexible & extensible
Dental services page
Booking form (needs back-end)
Floating header
MORE INFO / DOWNLOAD
DEMO
::
Note: This article was originally published on November 12, 2020. But our team regularly reviews it and updates it with necessary improvements for accuracy.