Yo designers, are you ready to explore the best free and premium round box mockups for your next impactful packaging design presentation?
Beginners and experts, you're all safe and sound with this list.
We tested (on live projects) 40+ to pick 13 circle box mockups that stand out most.
What Are Round Box Mockups Good For?
This collection is ALL YOU NEED to create round packaging for:
Add 0 effort and little time, and you win big times.
These mockups make your design WORK.
THAT'S. IT.
Also, don't miss my ultimate cylinder packaging mockups collection for more options.
Best Round Box & Packaging Mockups
1. High-res round box PSD set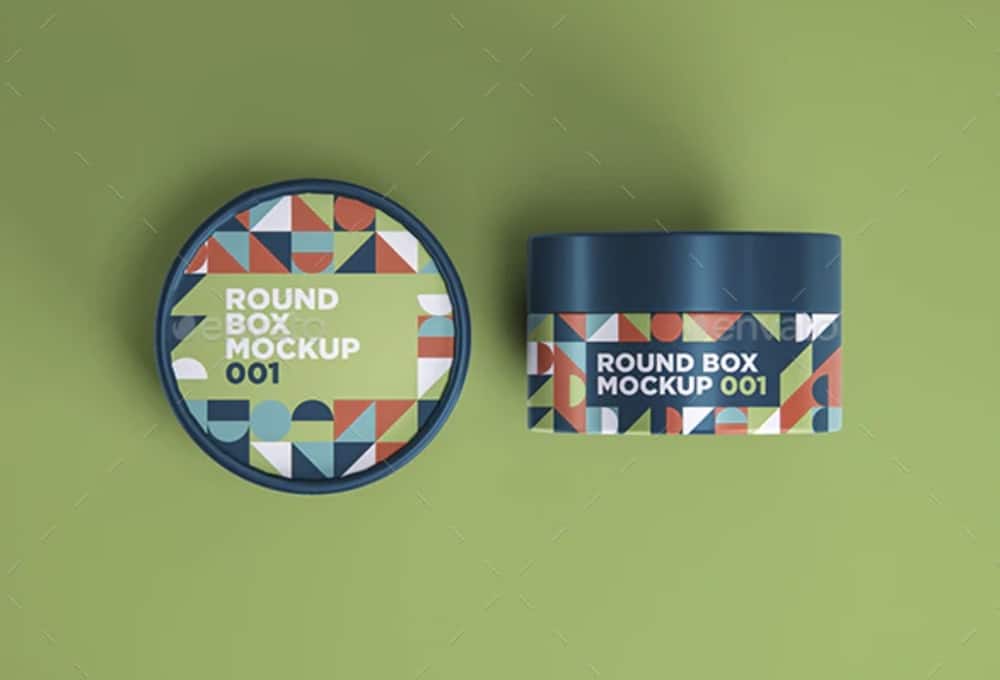 Present your amazing design work with a high-quality mockup (4000 x 3000px) that will impress everyone.
Yes, that's possible.
And what's even better, it takes you a few seconds to complete the process. Who even has time starting from scratch?
Note: All the mockups that we have here for you boost your workflow and keep professionalism at an all-time high.
Everything is editable; plus, you get four cool filters to SPICE THING UP.
Price: $6
MORE INFO / DOWNLOAD
2. Round packaging with pull up cover mockup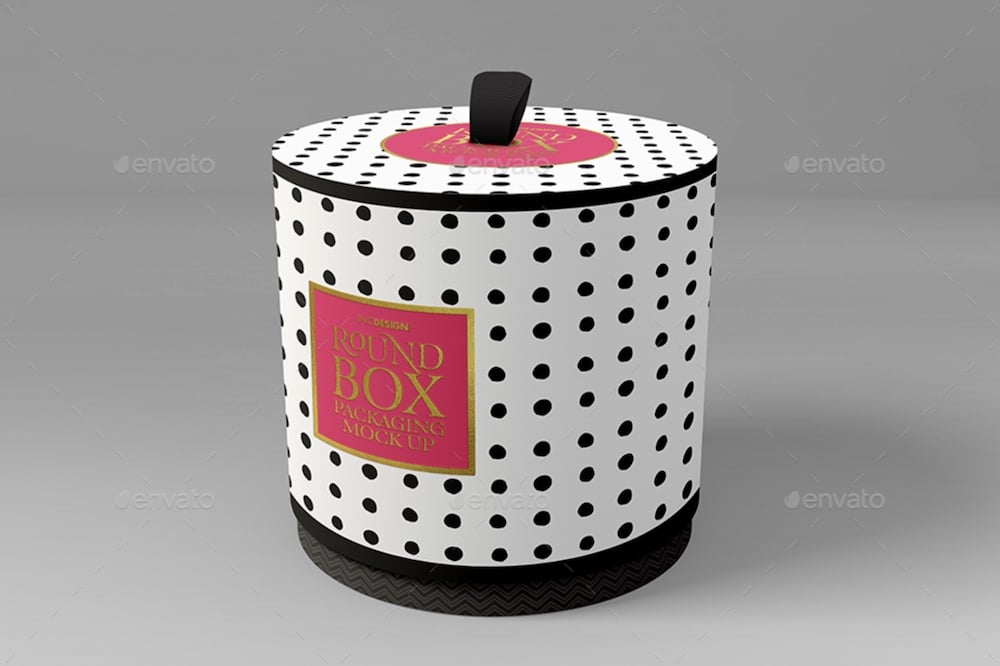 A beautiful round box mockup with a convenient pull-up cover for delicate items. Whether you use this one as a cake box or a gift box mockup, the options are endless.
The available three layered PSD files are more than enough to create a full-blown packaging design presentation.
You can design the main compartment and the cover individually.
The box is scaled to its actual size, measuring 5″ in diameter.
All mockups also guarantee extreme quality at 5400 x 3600px. (Great for close-ups!)
Price: $14
MORE INFO / DOWNLOAD
3. Round paper box mockup kit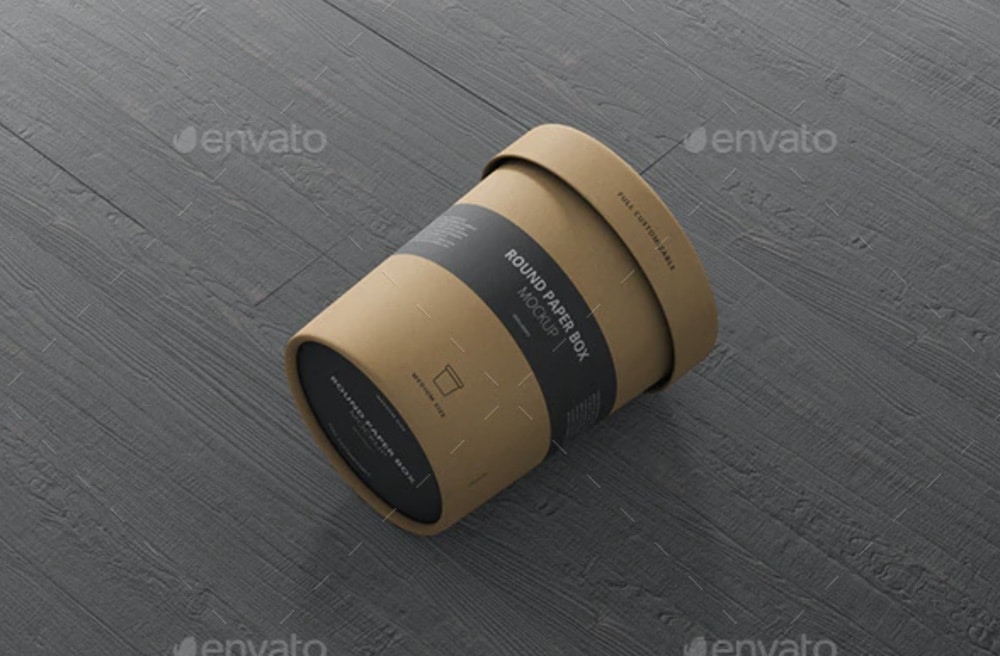 You can create an impressive outcome in just a few clicks with this round paper box mockup set.
Hurray for smart objects. (Just drag-and-drop and make it POP.)
This is a pretty massive bundle – the biggest. It features 24 ready-made files, covering cardboard boxes in three sizes.
You can also choose between three layerstyles; embossed, letterpress and foil stamp.
That's not all!
Each file allows you to pick either black, brown or white wood texture.
Usage-wise, it works for takeaway, fast food packaging or food delivery mockups, to name a few. (Soup, anyone?)
So. Many. Options. (We loved using it, 10/10.)
Price: $14
MORE INFO / DOWNLOAD
4. Round gift box mockup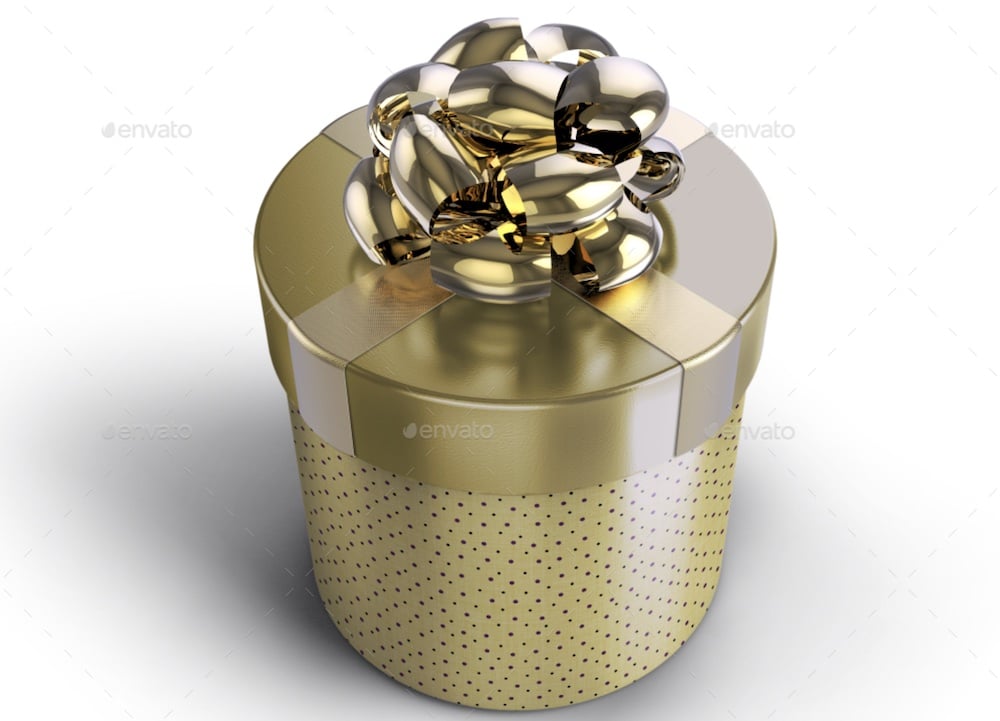 We highly advise you to use this mockup when working on a design for a round gift box.
It guarantees insane quality and comes in four different views. The pack delivers all the necessary to SPEED UP your workflow while maintaining your level of expertness.
We are fans of simplifying things and this PSD template set does the job very well. I know it'll help you, too!
You can change the color of the bow, ribbon and cover. You also have full control over lightning, making it matt or glossy.
Price: $6
MORE INFO / DOWNLOAD
5. Round tin can mockup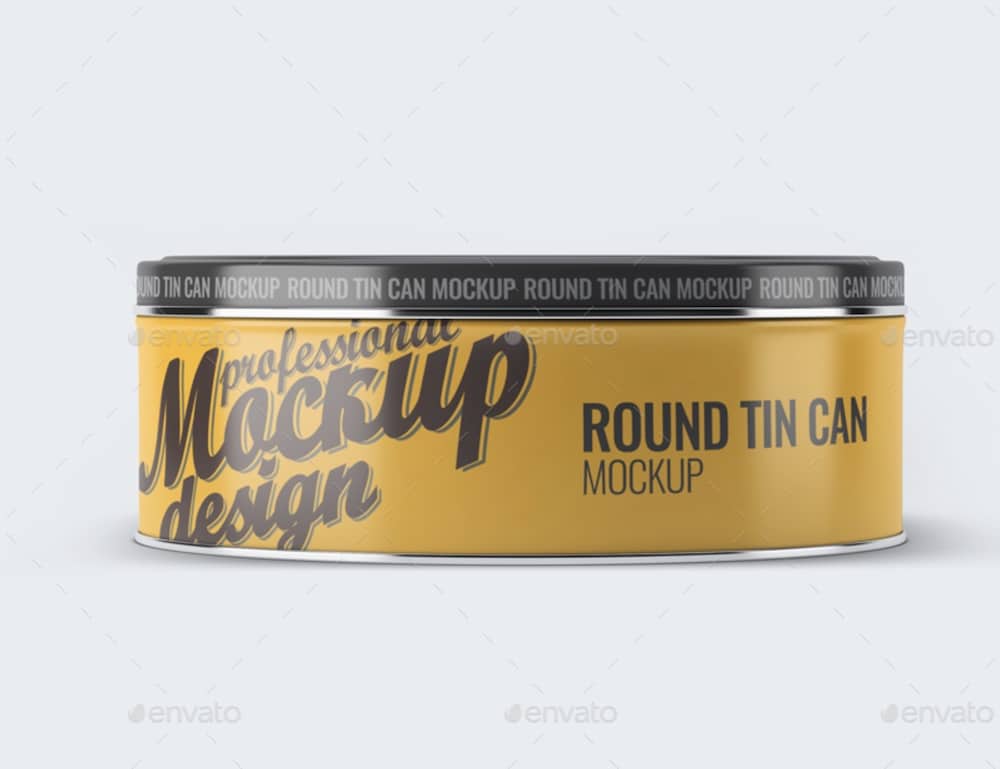 This round tin box mockup came very useful when we were creating packaging for a shoe polishing brand. But you can use it for oh so many other things, too.
No. Limits.
The kit includes eight beautiful mockups that are perfect for zooming in.
You can decorate the top, bottom and side with any branding you want. Even if it's just the logo (we used it on the bottom).
Add any custom background you want, and that's it.
How quick and awesome was that?
Price: $7
MORE INFO / DOWNLOAD
6. Glossy round can box mockup set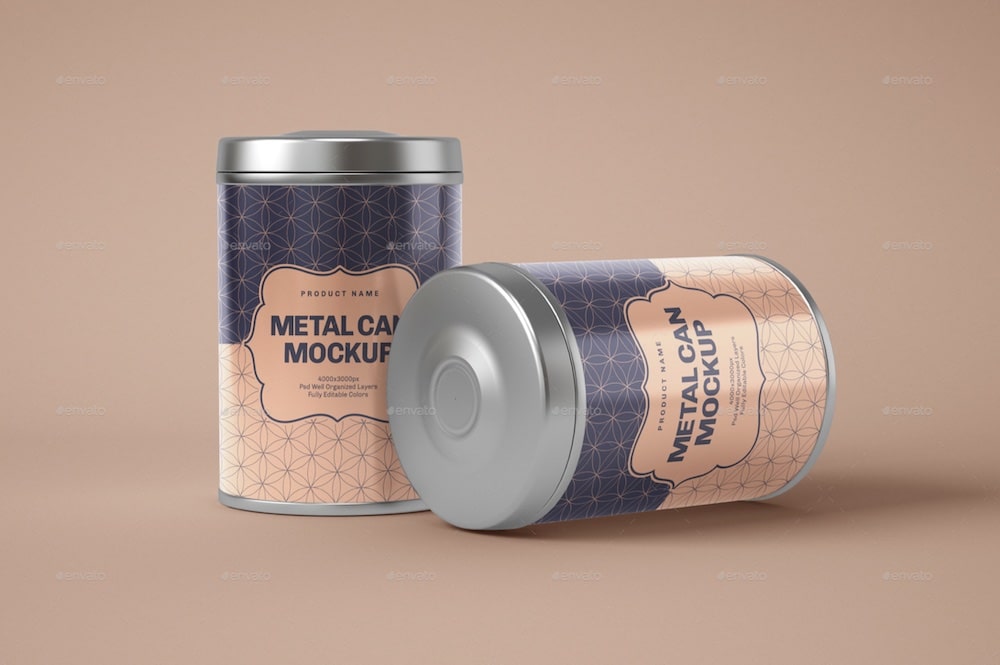 We actually used this one when we were creating a full branding image for a tea brand. It also easily works for coffee brands, even for storing cookies and heaps more.
If you are working a lot with tin can boxes, this is the only round box mockup bundle that you will need.
There are twenty (20!) PSD files are waiting for you to decorate them however you want.
Everything comes at an individual layer for quick selection. Plus, you can slide in your design creations with smart objects.
Everyone can make it happen with complete confidence.
Price: $12
MORE INFO / DOWNLOAD
7. Round tin can PSD mockup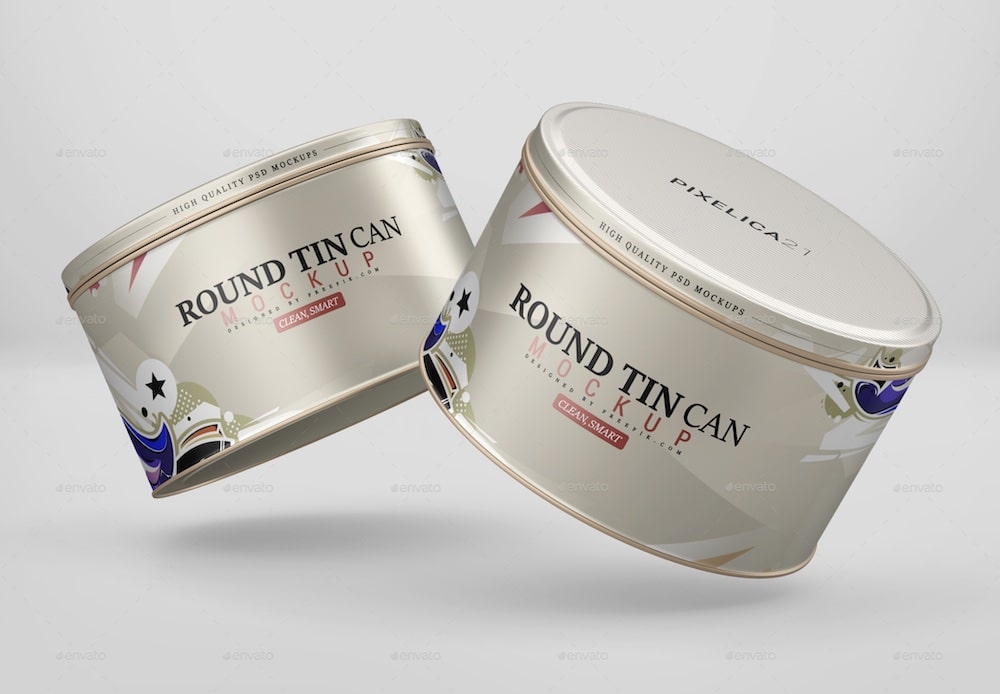 This round tin box mockup will do wonders no matter what you use it for. Create a stunning showcase of your creative idea with the nine different angles.
Your client, your audience – everyone will go WOW.
Make a close-up, present two or three boxes, even create custom packaging – you really can do whatever you want.
All nine files are entirely customizable (to the smallest detail!). This one made us speechless.
Note: It also comes in a slim version.
Price: $7
MORE INFO / DOWNLOAD
8. Round tin can PSD mockup set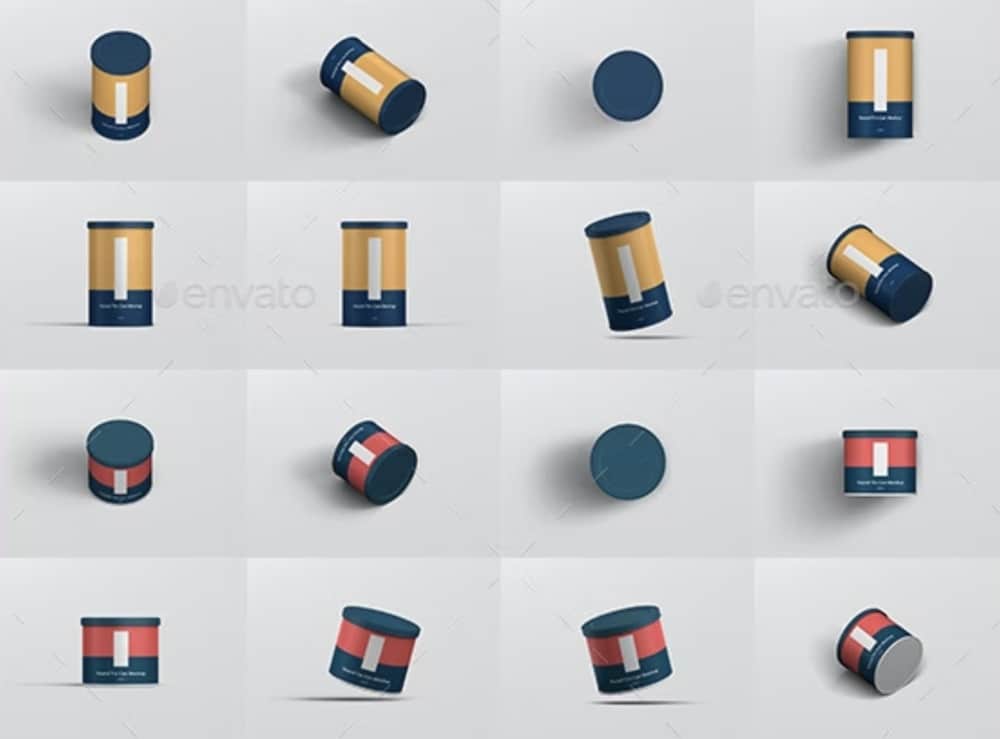 Honestly, I couldn't stop staring at this one. Yes, I genuinely find this round box mockup that awesome.
It comes as a set of multiple PSD files (40!) that are easy to use and customize. And you are welcome to use each template for food or non-food brands.
Note: We always try not to limit ourselves. Sometimes, this means taking a few steps backward to have a broader perspective of the task.
Everything about this bundle of GOODIES is beautiful. But I particularly like the detailing!
Price: $14
MORE INFO / DOWNLOAD
9. Kraft cylinder mockup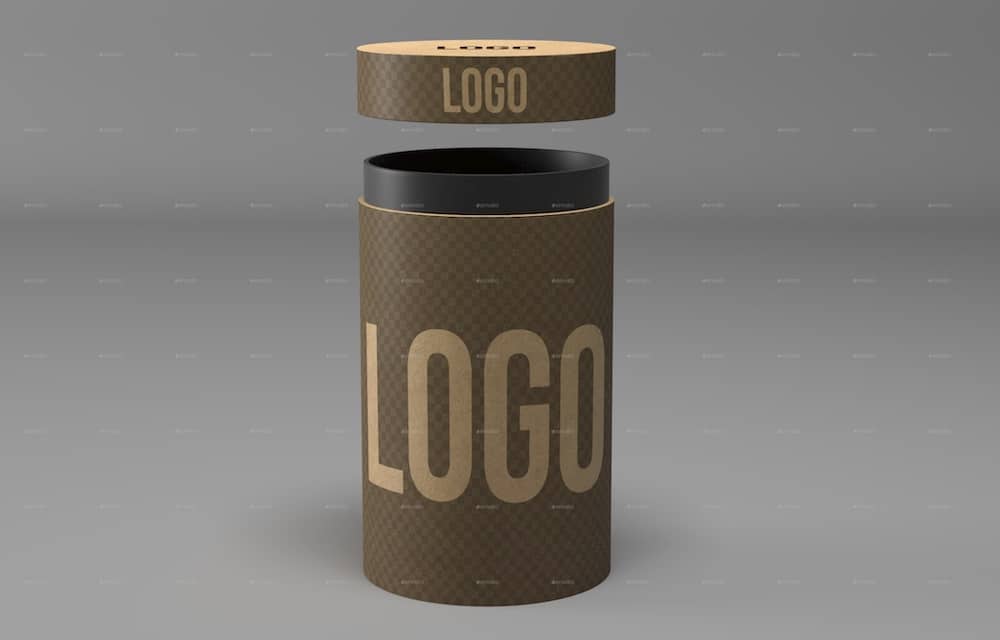 When we were searching for a cylinder box mockup for a local liquor, this particular one worked wonders.
Placing branding on the box was quick and easy via the smart objects. We also altered the background and the box's color, which took just a few clicks to complete.
Moreover, we left the edge of the lid blank but added a logo on top and a full wrap on the main compartment.
The dimension of each file is 4000 x 3000px, so you get the quality you deserve.
Price: $6
MORE INFO / DOWNLOAD
10. Canned (tinned) food packaging mockups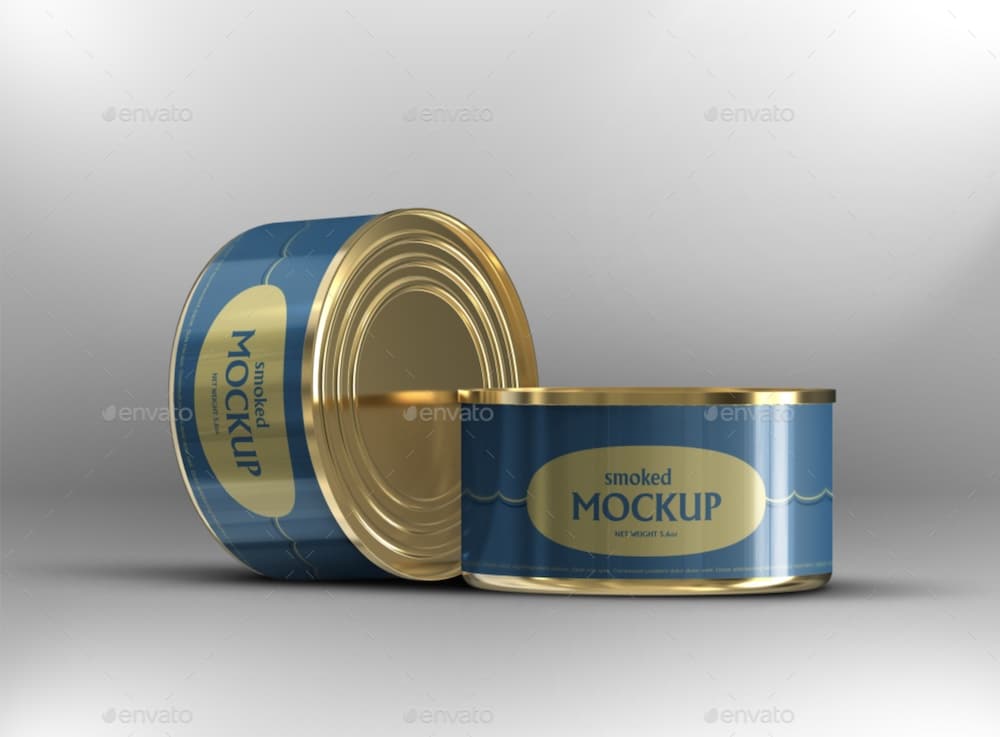 Okay, this may not necessarily be a round box mockup, but it still fits this listicle well.
The package equips you with five round tinned food mockups of different dimensions. Everything about each PSD template is configurable.
You can modify the tin color, opener, add a custom background, apply any three available textures, and more.
Each tin can be with or without the opener.
If you are working on food packaging for a brand with canned food – this one will do the trick. (You can use and reuse it unlimited times.)
Price: $6
MORE INFO / DOWNLOAD
Best Free Round Box PSD Mockups
11. Customizable round box PSD mockup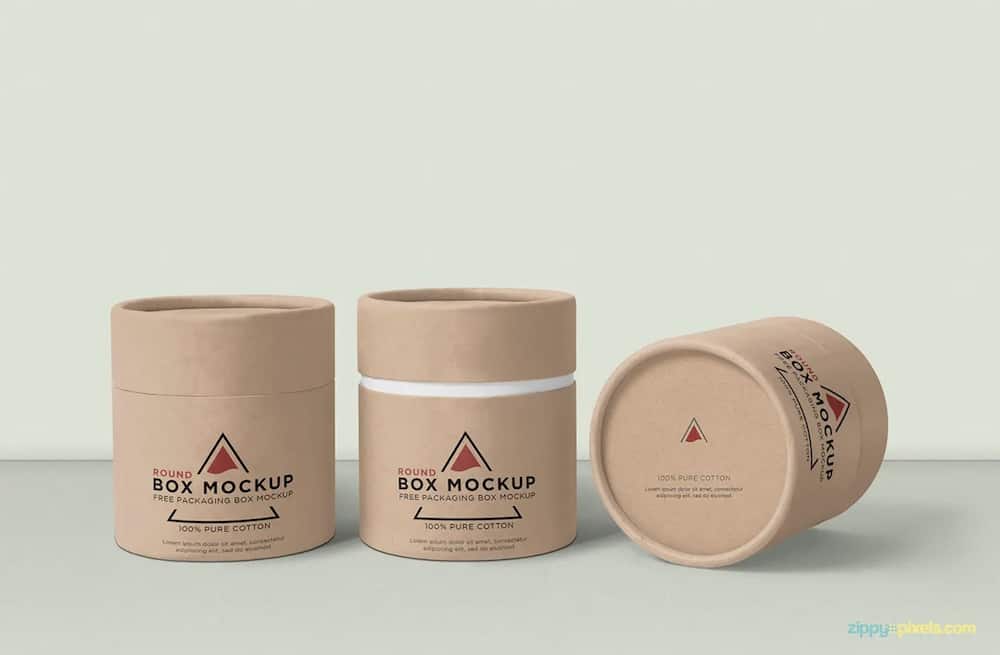 You are free to test the waters with this mockup if you are unsure about the first one on this list. They are not exactly the same but still feature a very similar style.
The editing options are AMAZING.
You can change the colors of everything you see, including the background and the inner (visible) rim. Plus, the quality is pretty banging at 3500 x 2300px.
Note: Supports personal and commercial projects.
MORE INFO / DOWNLOAD
12. Round shaped packaging PSD template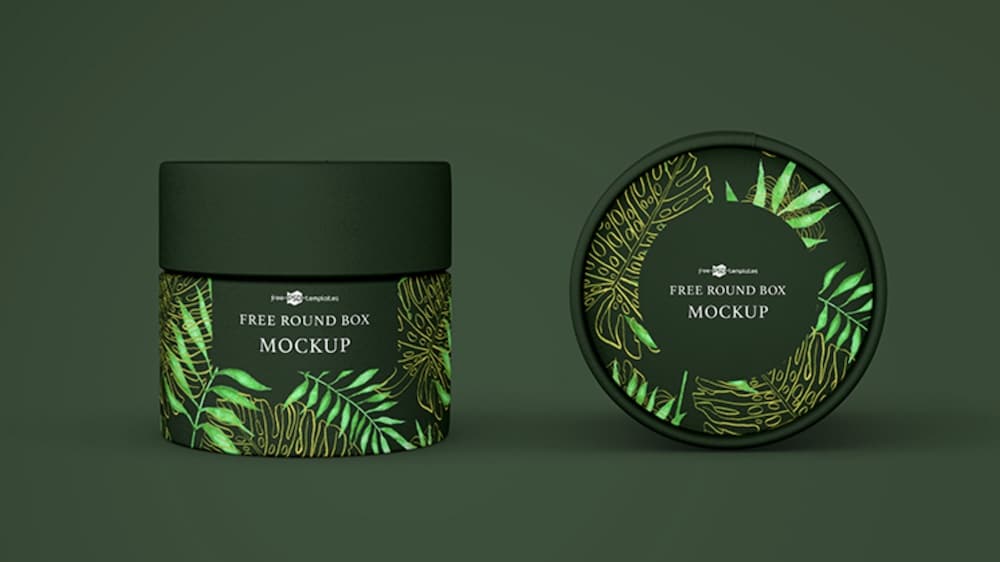 This free round box mockup features two different styles of boxes. Thus, you can use it for MANY different occasions, from beauty to food niches and many more in between.
Organized layers, smart objects and high detalization – that's what's up.
We experienced a very smooth editing flow that made us make ten different variations in just a few minutes.
We did have the main designs and logos predefined, so it took us more or less just some clicking.
The outcomes were remarkable.
MORE INFO / DOWNLOAD
13. Round paper box mockup in PSD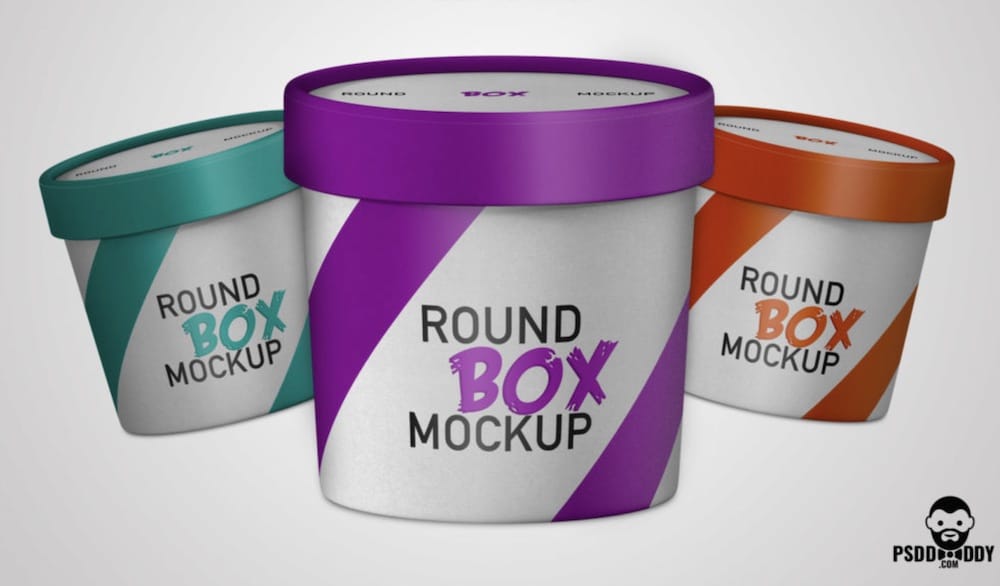 The first thing that came to my mind when seeing this round box mockup was: Ice cream.
What about you?
When you land on the mockup's official page, make sure the word premium doesn't fool you.
We checked to make sure it's free and it is. Just with premium quality!
Use it for launching a new product or a new taste. You can use it to add three different ice cream flavors, making it SHINE even more.
Again, this box style can work for other foods, even something entirely different, non-food related.
I also create a full collection of the best ice cream mockups if you need more.
MORE INFO / DOWNLOAD
::
Note: This article was originally published on August 30, 2021. But our team regularly reviews it and updates it with necessary improvements for accuracy.