When I tell you that I spent more than half a year collecting the best free and premium ice cream mockups, you're in the right hands.
It's a long process to ensure every template works excellent, follows the latest standards and provides exceptional quality.
And so your ONLY WORK is to choose the right one.
That's it.
Plus, the remaining time to create a photorealistic outcome will take you just a few seconds.
Click, click and that's it.
Always fire. (But don't use fire and ice cream together.)
This post covers:
You're ready to create ice cream cones, popsicles, tubs, boxes and other brandable packaging.
YUM!
Note: You might also be interested in my best-of food packaging mockups collection.
Best Ice Cream Mockups
1. Customizable paper ice cream cups (Generator)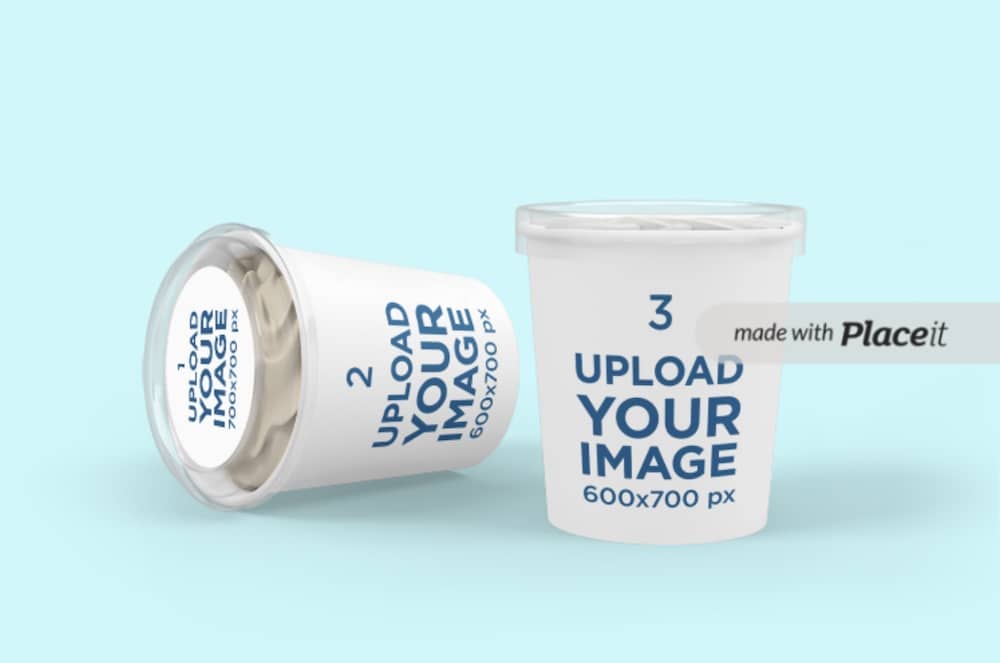 I went straight to this mockup generator when I recently started my fifth ice cream paper cup project. It's SO EASY to use and offers many customization options.
You can insert different designs to both paper cups and cover label, as well as change the colors.
Also, you can add or remove the content aka ice cream and add any background you want.
Note: You don't need Photoshop to create a mockup with this one.
Price: $7.95 (or subscription)
MORE INFO / DOWNLOAD
2. Ice cream package mockup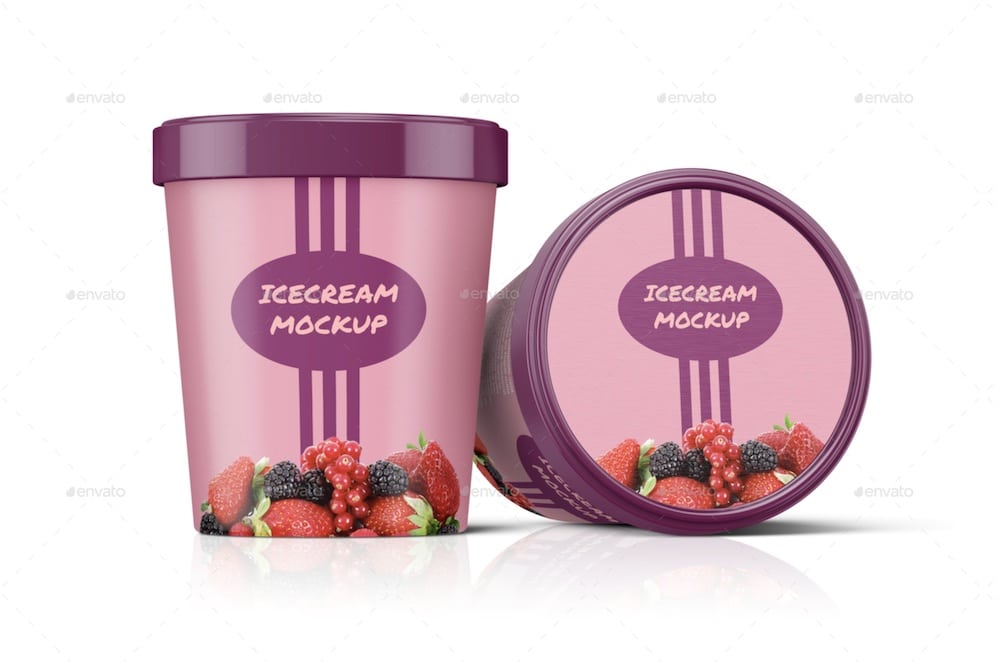 As one of the most popular ice cream packaging mockups, I – of course! – needed to test it.
Even though it equips you with only one layered PSD file, that's more than enough to create a photorealistic outcome.
The 5600 x 3900px resolution wins for me! And the second win is the smart object layer for instant artwork inclusion.
ENJOY.
Price: $7
MORE INFO / DOWNLOAD
3. Ice cream packaging mockup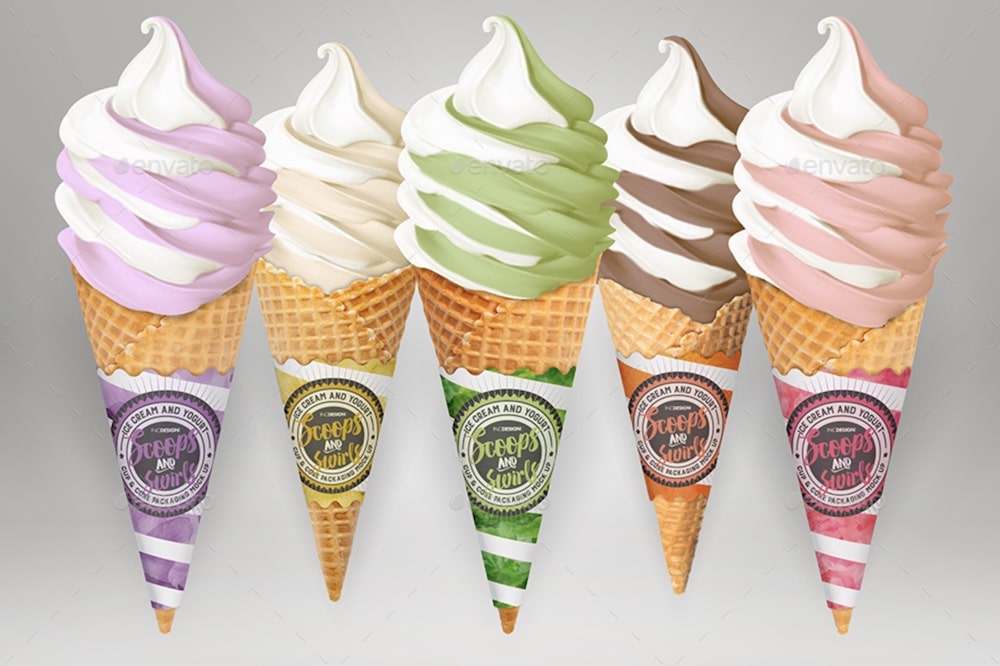 A local ice cream stand once go in touch with me to create CUSTOM cones and cups.
It didn't take me long to realize that this is the ideal mockup that'll take care of the presentation.
The bundle includes two main mockups with optional swirls or scoops.
I played around with different ice cream types and flavors, creating the right combination easily and quickly.
You can, too!
Price: $14
MORE INFO / DOWNLOAD
4. Popsicle packaging mockup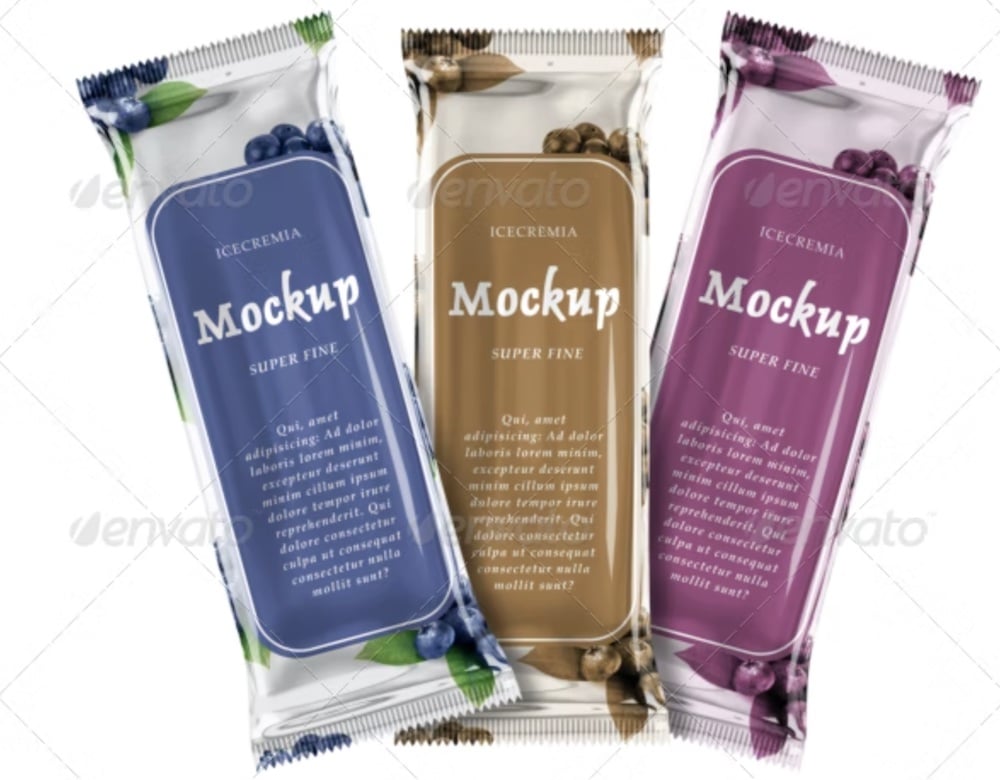 Drop everything and get your hands on these four popsicle mockups that come at EXTREME, 7000 x 4000px dimension each.
What I really like about this set is that covers everything.
What's that? The actual popsicle (yes, you can change the color of the ice cream), the single popsicle packaging and the box.
Use it for full branding because of its amazing flexibility and instant adjustments.
So. Good.
Price: $6
MORE INFO / DOWNLOAD
5. Ice cream branding shop mockup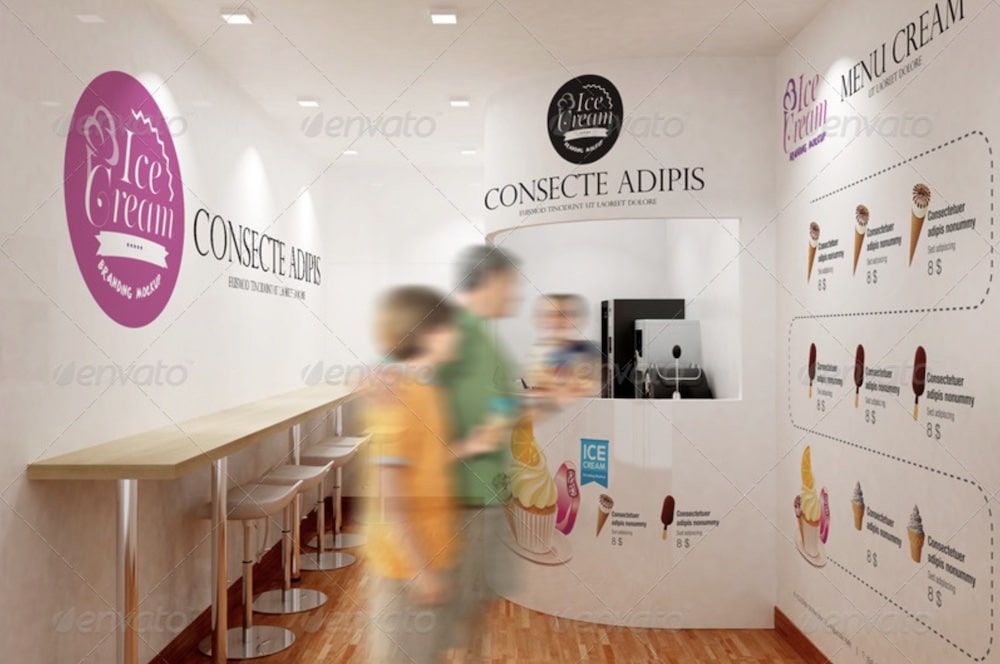 I only used this ice cream branding PSD mockup bundle once, but during the process created 10+ versions for my client.
You get a collection of thirteen PSD files, including interior, badges, business cards, mugs, desktop, menu and hat, to name a few.
Everything's at your fingertips to IMPRESS your client with their shop's look before actually starting building.
An. Absolute. Must.
Price: $12
MORE INFO / DOWNLOAD
6. Ice cream cargo bike mockup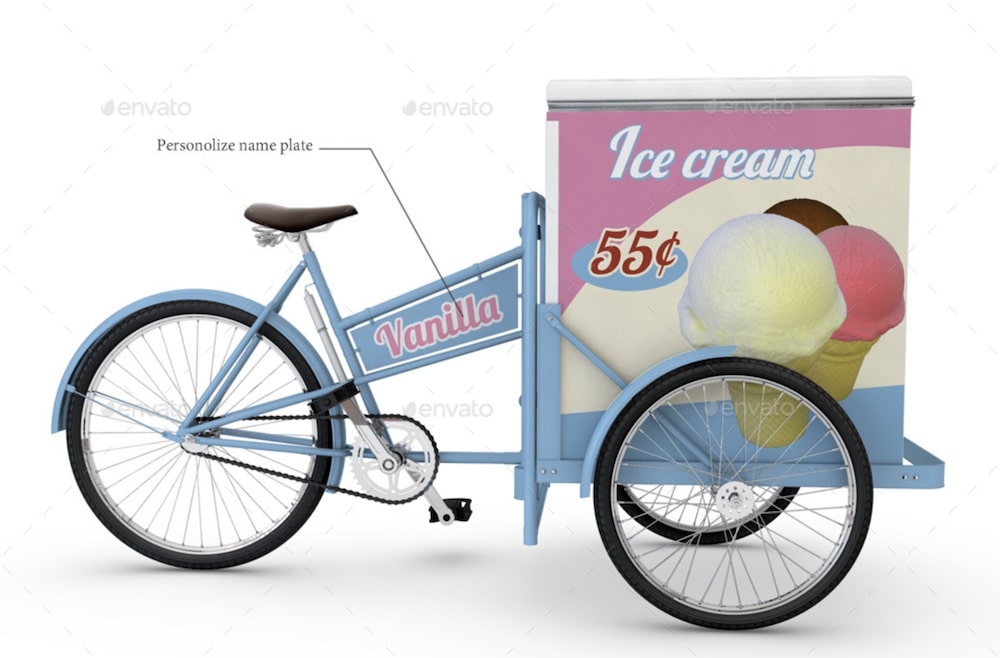 Even though I haven't seen one in years, I still got the opportunity to work on a custom ice cream cargo bike design last month.
With the four available mockups, covering all cargo bike's sides, I was so stoked to come across this one.
And sliding in my design idea was so easy. Plus, it's really COOL that you can also change the nameplate on the bike.
Also, you can use it with or without an umbrella.
Yup, I know, so many options.
Price: $11
MORE INFO / DOWNLOAD
7. Ice cream cone mockup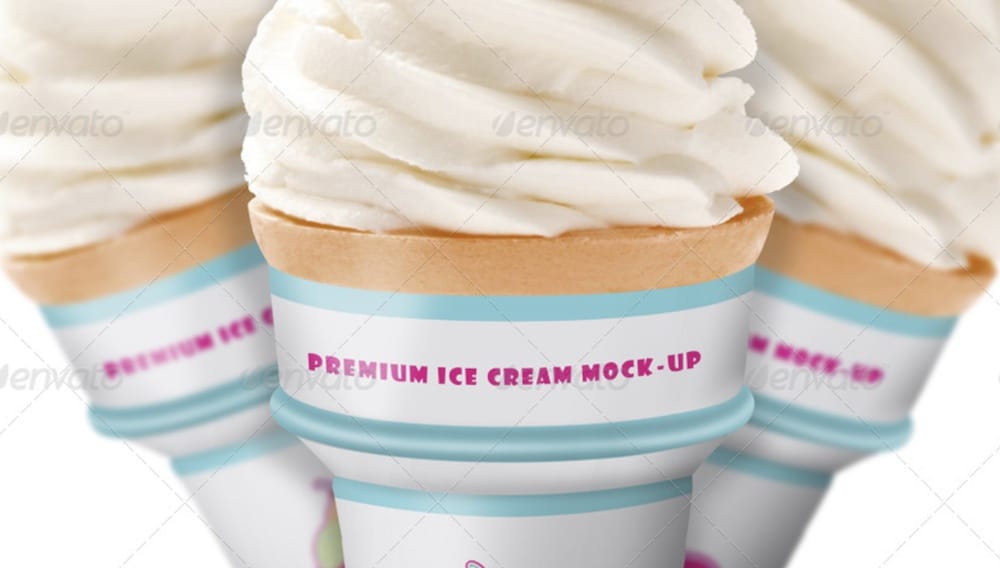 I don't remember when was the last time I had so much fun creating a collection of the best mockups. Or that's because I'm a FAN of ice cream?
The realistic presentation of custom ice cream cones is just around the corner with eight views and two cone styles that you get in this bundle.
The high resolution, changeable perspectives and 300dpi make this one a real bargain at that low price tag.
Price: $5
MORE INFO / DOWNLOAD
8. Ice cream bowl mockup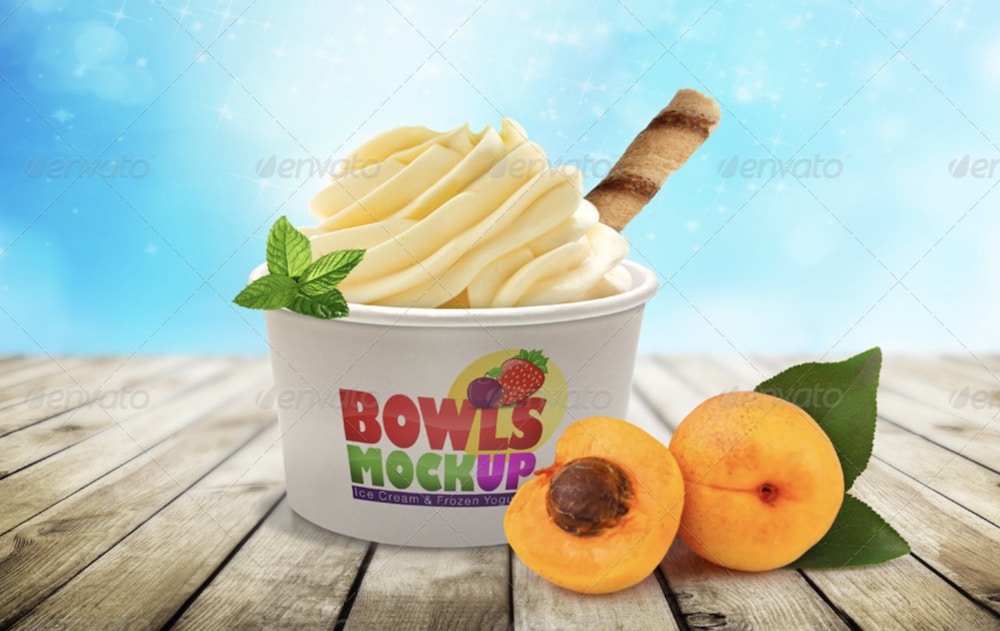 Do you prefer a bowl or a cone? I kinda like both. Bowls for when it's really hot and cone for all the other times.
There, I said it.
But you can now make a brandable ice cream bowl mockup demonstration for your client that'll take you seconds to complete.
What makes this one really cool is the fruit element that you can add to the bowl, making it look more – WELL – healthy!
Try it, I enjoyed it a lot.
Price: $8
MORE INFO / DOWNLOAD
9. Ice cream freezer cart PSD mockup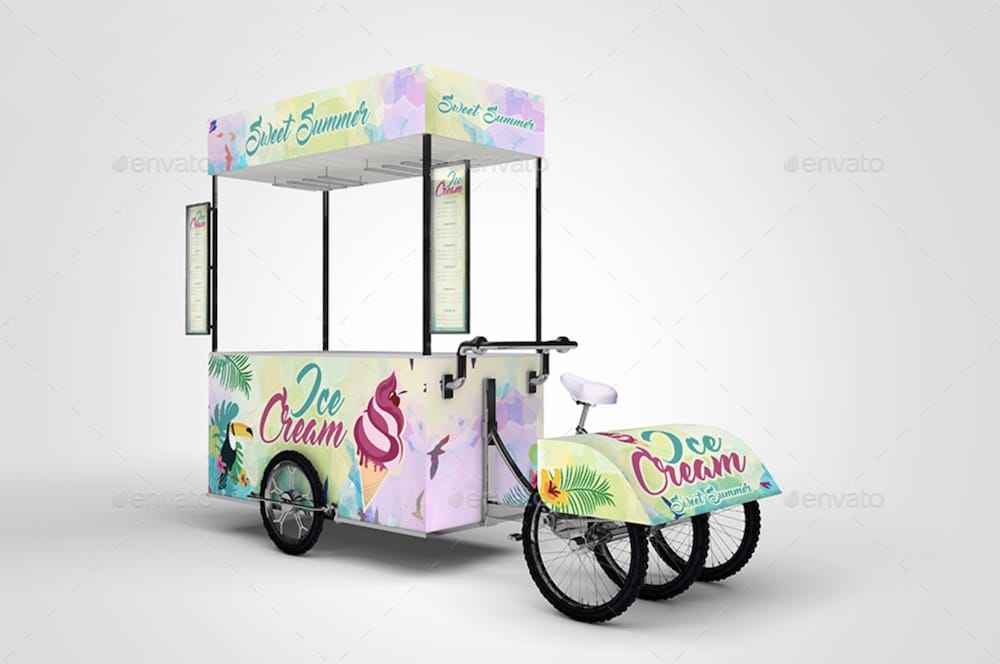 Some of the ice cream carts that I saw on my recent vacation were SOOO old-school.
Make your client proud with a fun and catchy ice cream cart design that this PSD template set allows you to demonstrate.
I guarantee they'll love it.
You can mix and match any color combination, add a menu, and more. You can even change the seat's color!
EPIC.
Price: $7
MORE INFO / DOWNLOAD
10. Ice cream cone mockup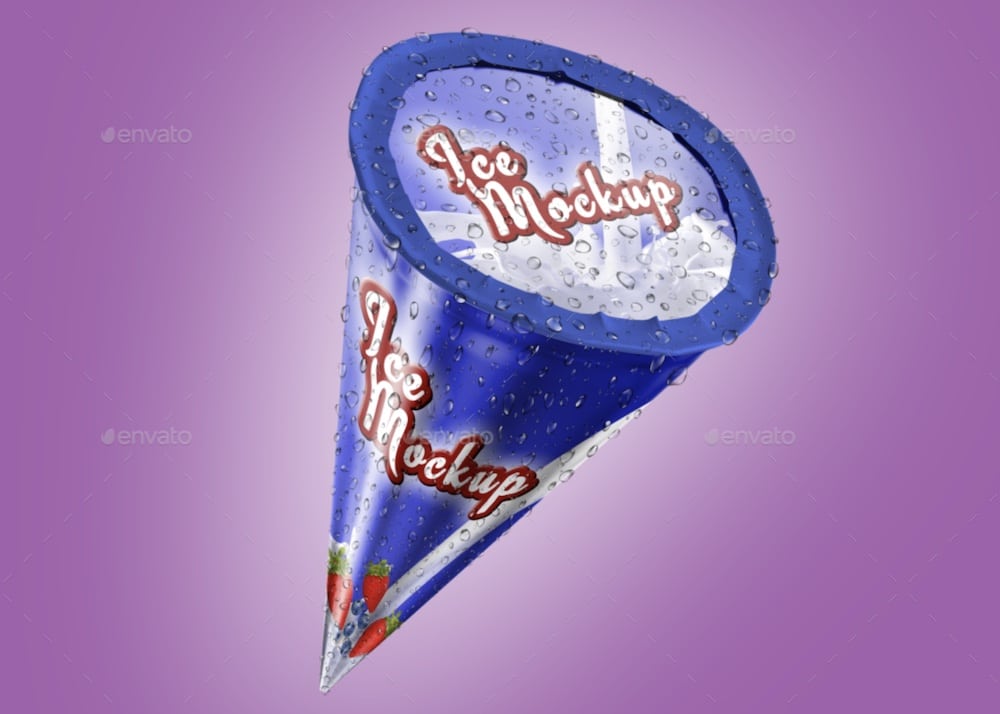 If you need a universal ice cream cone PSD mockup that works for any client in the space, use this one. It's one of my favorites.
It ensures a crystal clear design showcase with its 5390 x 4000px (300dpi) resolution. The different views allow you to display all sides of the cone packaging.
But the most mouthwatering is definitely the mockup with droplets.
It makes me wanna go straight to the store and pick a cone! (BUT I'll resist because I need to finish this list.)
Price: $7
MORE INFO / DOWNLOAD
11. Ice cream container tub mockup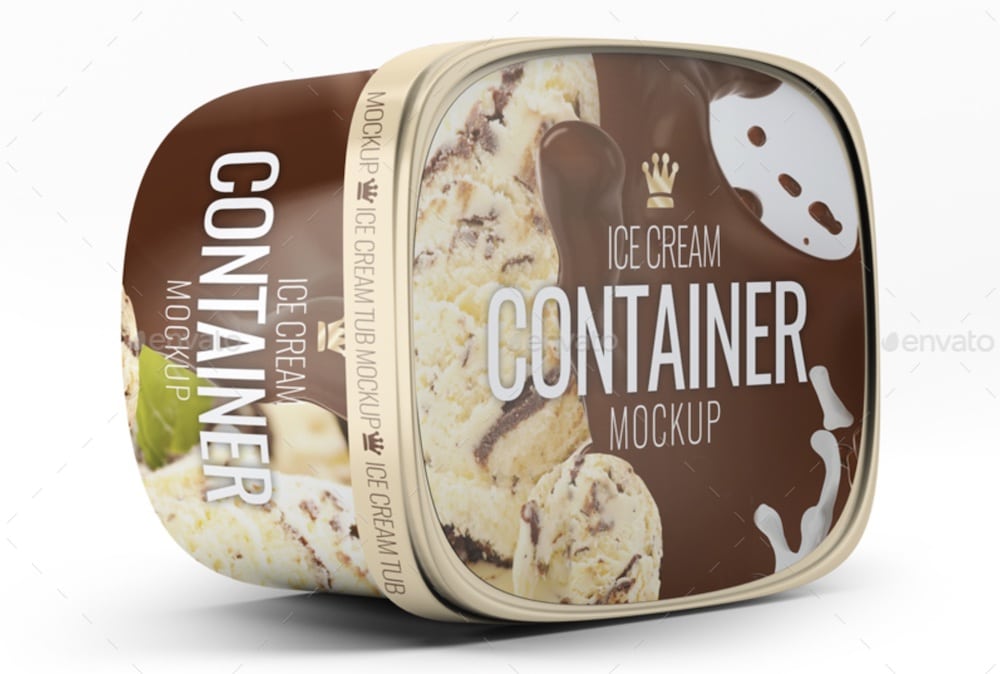 If this particular style of an ice cream container/tub is what you're after, all the eight mockups COVER everything you need.
While it covers every angle of the tub, the only one that's missing is the bottom, but that's a boring one, so you don't need it anyway.
Smart object, shadow, light, it's all on an individual layer for quick access and editing. And the 100% zoom works really well, too!
Price: $7
MORE INFO / DOWNLOAD
12. Ice cream van/truck mockup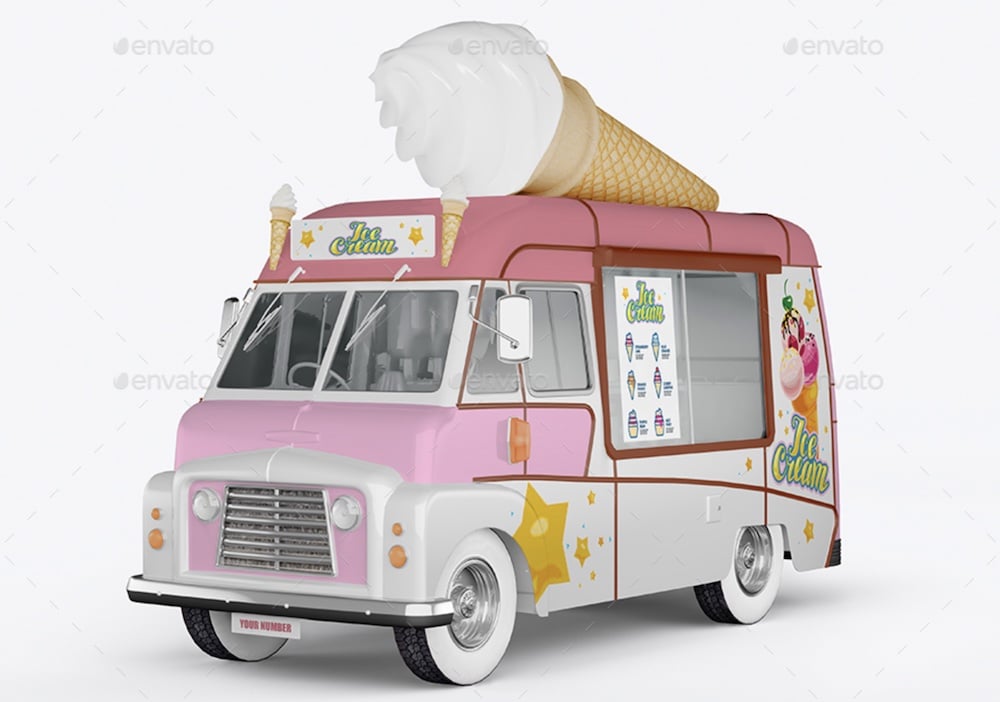 Okay, even though you probably won't have this exact ice cream van (or your client), using it to present your branding will WOW everyone.
Guarantee.
Multiple van angles sort your out with an excellent presentation regardless of how detailed or minimal your artwork.
Plus, you get eight preset backgrounds, but you can always work with your custom one.
Double click the smart object, drag your design and that's it!
Price: $9
MORE INFO / DOWNLOAD
13. Ice cream fridge mockup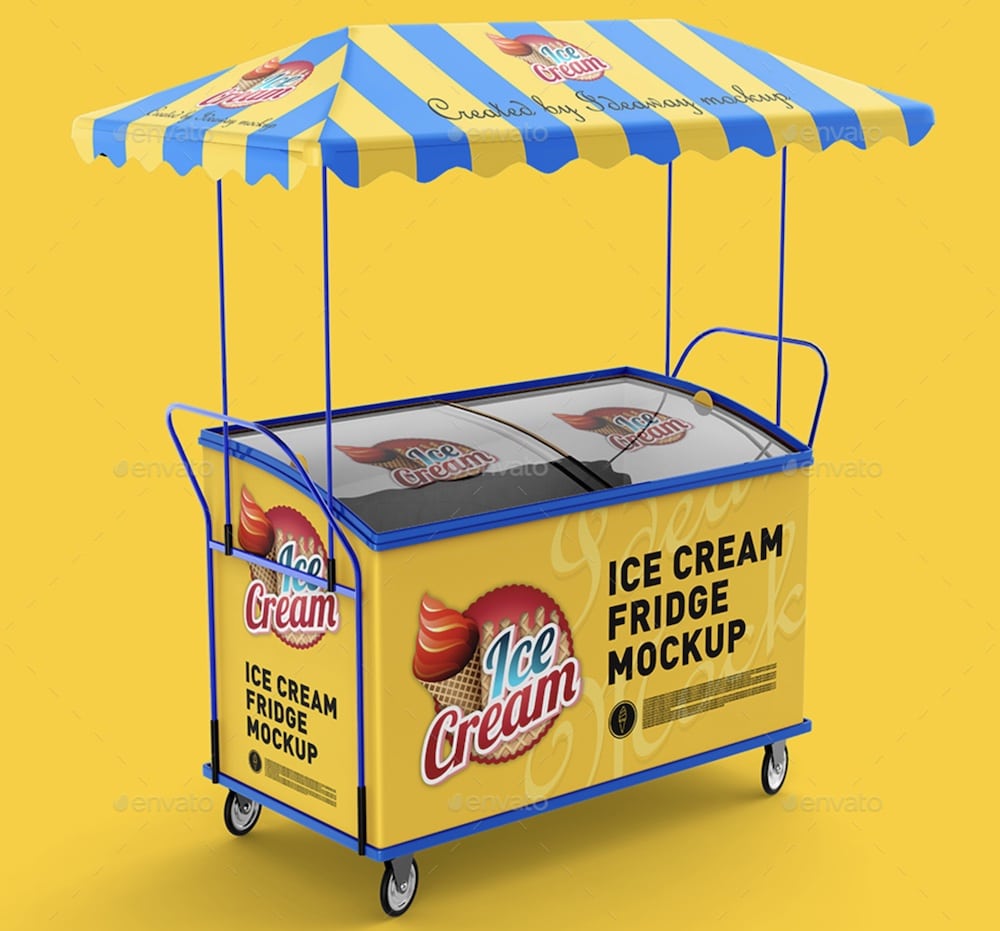 I've been searching for a quality ice cream fridge (on wheels) mockup for a while, ended up testing a bunch, but found this one works the best.
Extreme customization and excellent quality (5000 x 7154px) ensure the final product is first-class.
Excellent organization and PDF help file make working with the PSD file a little breeze (even for beginners!).
Price: $10
MORE INFO / DOWNLOAD
Best Free Ice Cream PSD Mockups
I have you covered with freebies, too. You're WELCOME.
14. Free ice cream cone packaging mockup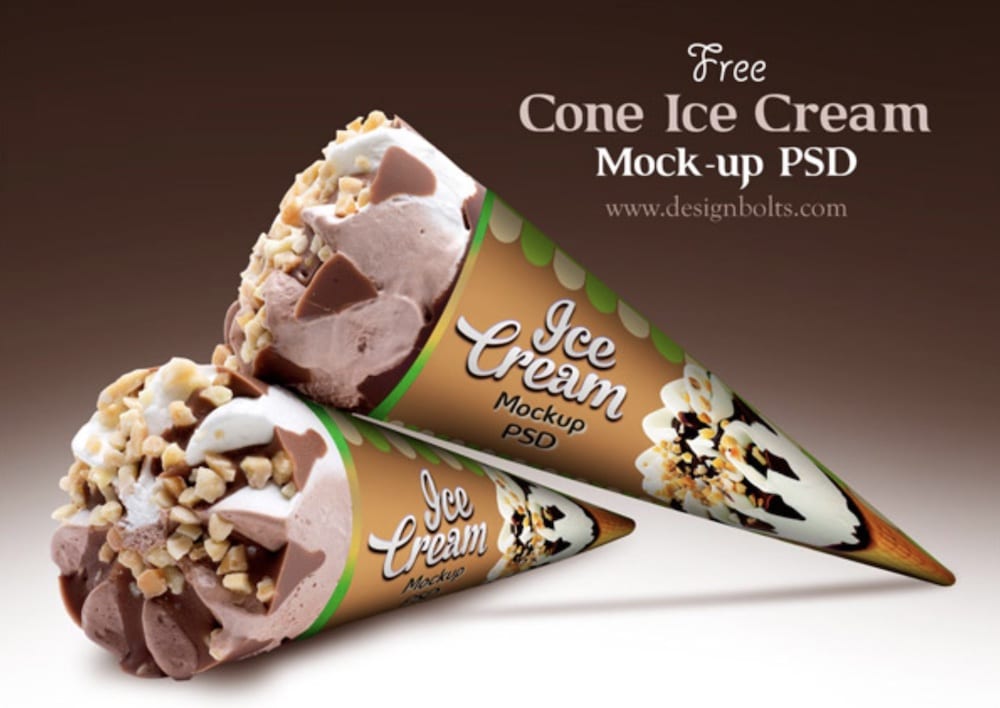 Design an ice cream cone packaging for free with this exclusive PSD template that received an extremely positive feedback.
It's a layered file with a smart object, so you know the workflow will be QUICK and EFFORTLESS.
Also, feel free to use it for commercial and personal projects (with attribution aka likinking to the official mockup page).
MORE INFO / DOWNLOAD
15. Free ice cream tub PSD mockup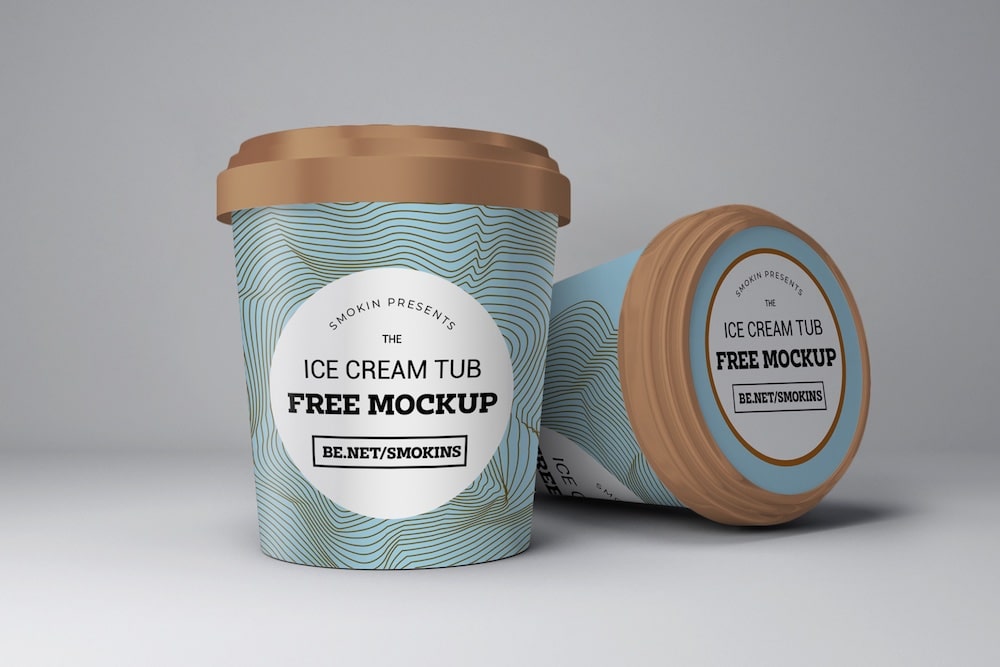 Honestly, I hardly believed that this ice cream mockup is free. I needed to check thrice just to make sure.
Why am I telling you this? Because it's 4K quality and offers two views. THANKS, Mohamed, for creating this one.
I used it multiple times and I'm sure I'll use it some more when working on custom ice cream tubs.
MORE INFO / DOWNLOAD
16. Free ice cream paper cup PSD template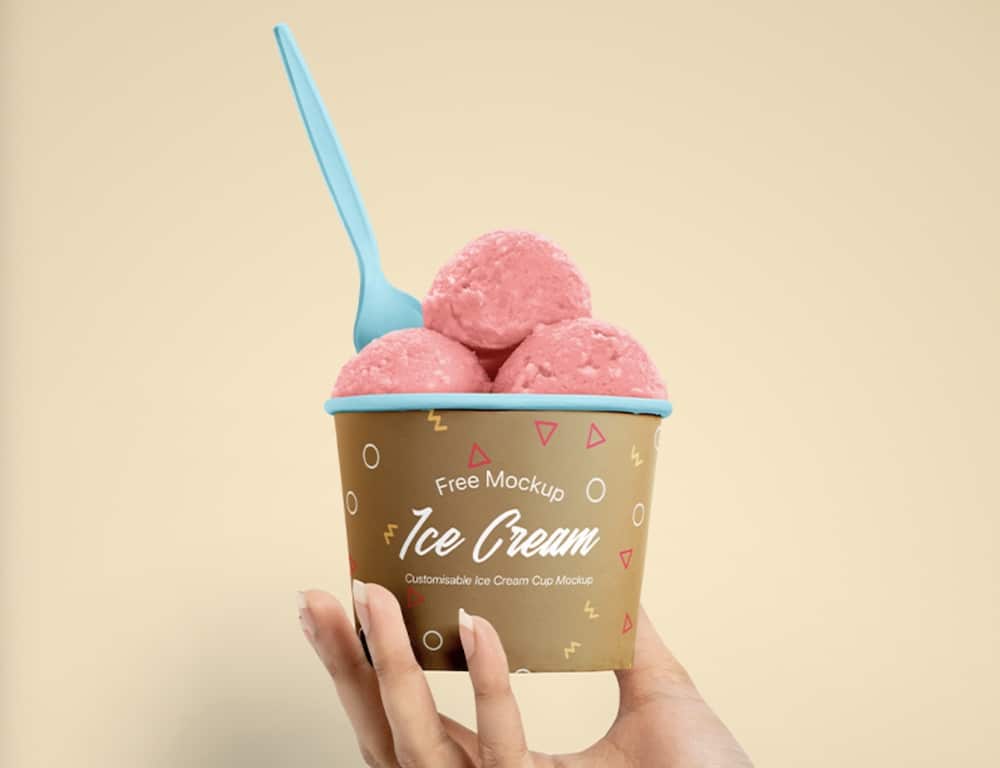 And then I stumbled across this one.
A 3500 x 5000px quality mockup of an ice cream cup in hand, making the experience of viewing it HIGHLY photorealistic.
That's exactly what I needed, and I am 100% certain it'll do you well on your journey to a fast but pro ice cream mockup creation.
Do you know what makes it even better? It's free for commercial and personal use. BOOM.
MORE INFO / DOWNLOAD
17. Ice cream freezer mockup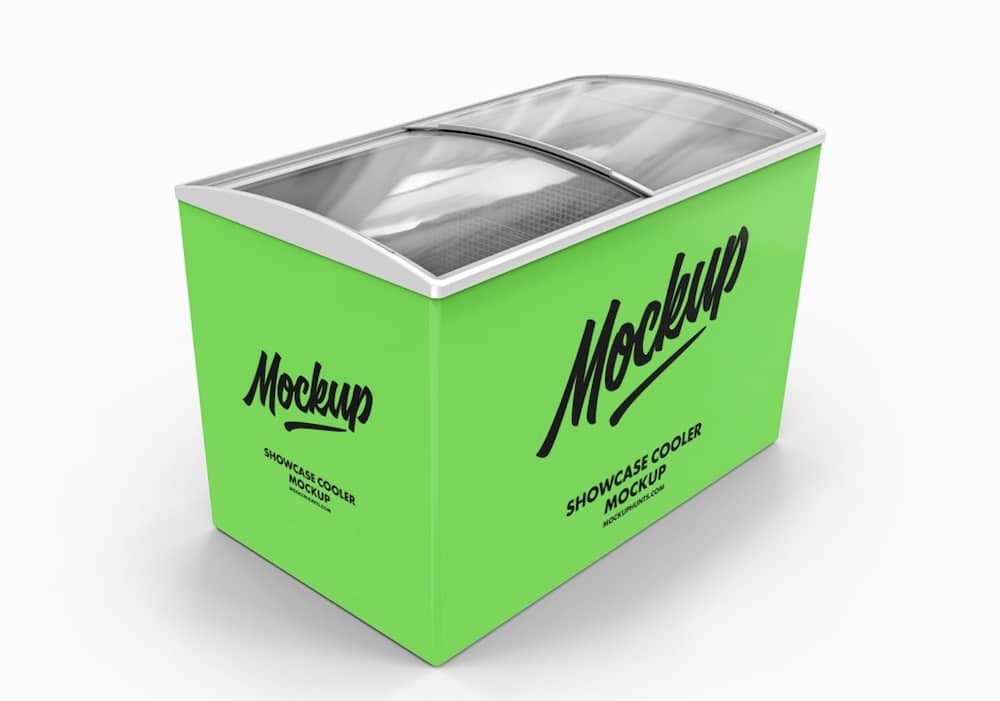 Making a gelato freezer mockup is now EASIER than ever. And it doesn't cost you a dime!
The 4000 x 3000px dimension keeps the quality at an all-time high, whether you'd like to add minimal or more detailed branding.
Note: You're welcome to get even more creative with a custom background.
Add an image so it'll appear as if it's in a store or a storefront. But that's just one of the options.
You're free, my legends, to do your thing and shine.
MORE INFO / DOWNLOAD
How To Easily Create An Ice Cream Mockup?
You have two options to create a realistic presentation of ice cream: With an online mockup generator or Photoshop.
I like the generator more because of its extreme simplicity, but unfortunately, there aren't many available on this topic.
For this reason, I worked with PSDs way more, and they also give you more creative freedom.
The method of creating a mockup is very straightforward:
First, open Photoshop and import your desired template.
Second, search for the smart object layer, double-click on it and slide in your design.
Third, have some fun with performing additional customization tweaks, like changing the colors, the background, altering shadows, and more.
Fourth, you're DONE!
That wasn't too bad, right?
This process just shows that anyone can create a photorealistic ice cream mockup, regardless of their experience.
::
Note: This article was originally published on May 14, 2022. But our team regularly reviews it and updates it with necessary improvements for accuracy.