We opted for these food packaging mockups when recently worked on another branding assignment for a grocery store.
We chose a few from our past restaurant and fast food projects and reviewed and tested some more.
But we did it differently.
Instead of choosing layered PSD files, we wanted to prove that mockup generators work EXTREMELY WELL.
You don't need to use Adobe Photoshop for these. You do all the customizing online.
Quick. Easy. Very Efficient.
BUT. (Ah, another but!)
We also added multiple free food packaging mockups for all the Photoshop fans.
Table of contents:
Enjoy creating OUTSTANDING branded packaging presentations and amaze everyone – your clients and your customers.
Best Food Packaging Mockup Generators
Every Placeit template goes for $7.95. Or save money with a monthly ($14.95/month) or yearly ($89.69/year) subscription.
1. Mockup of two clear food boxes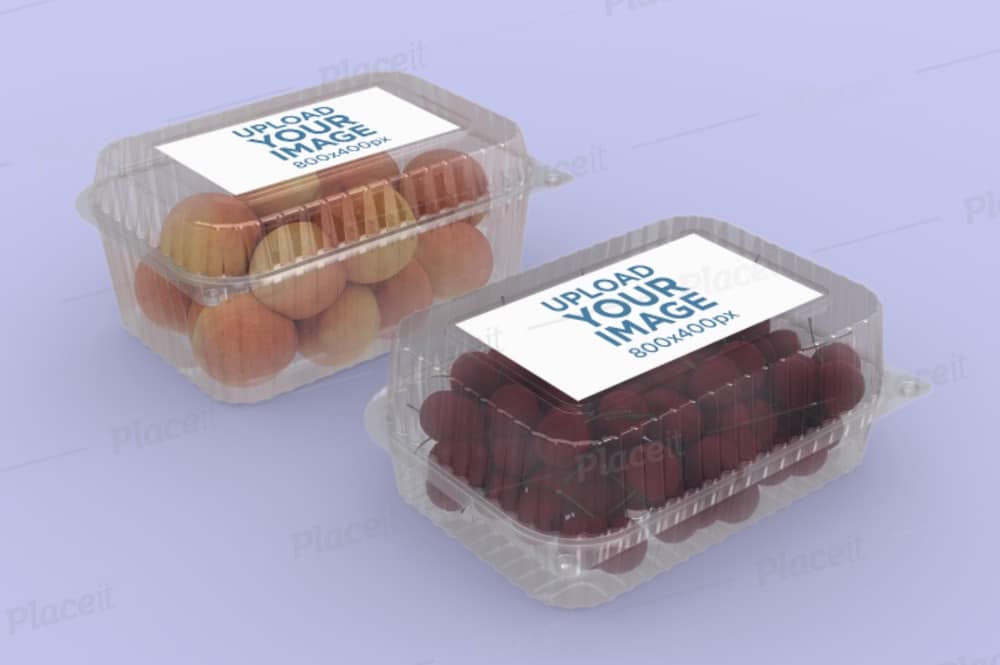 A very versatile clear food boxes with tons of great customization functions.
And, yes, there is also an option to include foods in them.
Without the need to have any experience with mockups, you can style and beautify this one in a mere few clicks.
You perform all the work online, from your favorite web browser.
Along with adding labeling on top of each plastic box, you can also adjust the background color, upload a logo and even add graphics and text.
Many options to create an outcome that APPEALS to your client or audience.
MORE INFO / DOWNLOAD
2. Food delivery mockup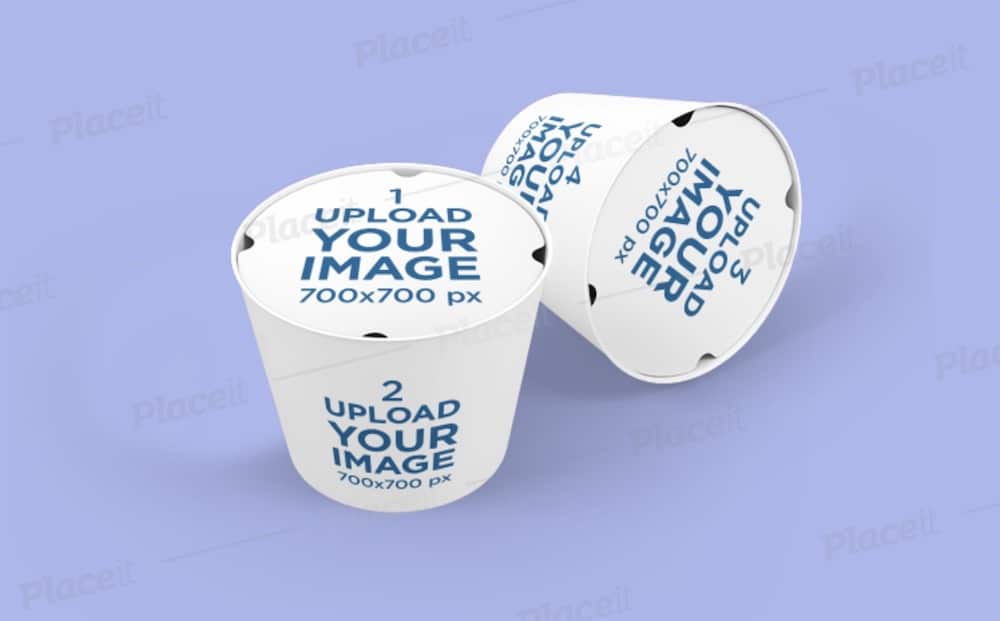 Awesome food packaging mockup of two containers that can work for soups, noodles and other types of Asian (and non-Asian) cuisine.
This just shows that you have complete freedom when it comes to utilizing the template and tailoring it to your needs and regulations.
Enjoy a predefined alternative and make an IMMEDIATE difference. (No need to do the hard work from square one.)
As you see from the image above, there are four workable areas, two on each container.
Along with that, editing the color of the cap, the packaging and the background is also possible.
Present your strategic food delivery designs and take everyone's breath away.
MORE INFO / DOWNLOAD
3. Food packaging mockup of a soup bowl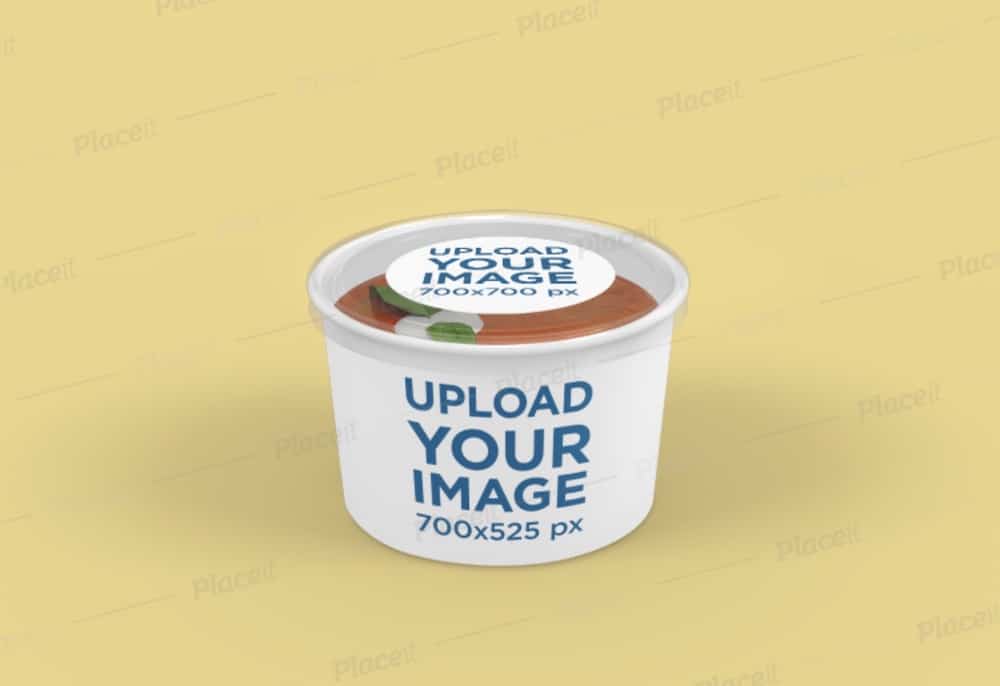 If you are working with a client who offers soups on their menu, this mockup generator will do the trick. It features a soup bowl with a clear lid, both sporting customizable working areas.
Of course, you can add two different designs to the mockup, uploading them directly from your computer.
Moreover, alter the color of the label, the packaging and the background. Furthermore, it also allows you to include text, logo and graphic.
Finally, you can remove the content (soup), too, presenting it as an empty bowl for soups.
So many great features and you can execute it all online.
MORE INFO / DOWNLOAD
4. Transparent food container mockup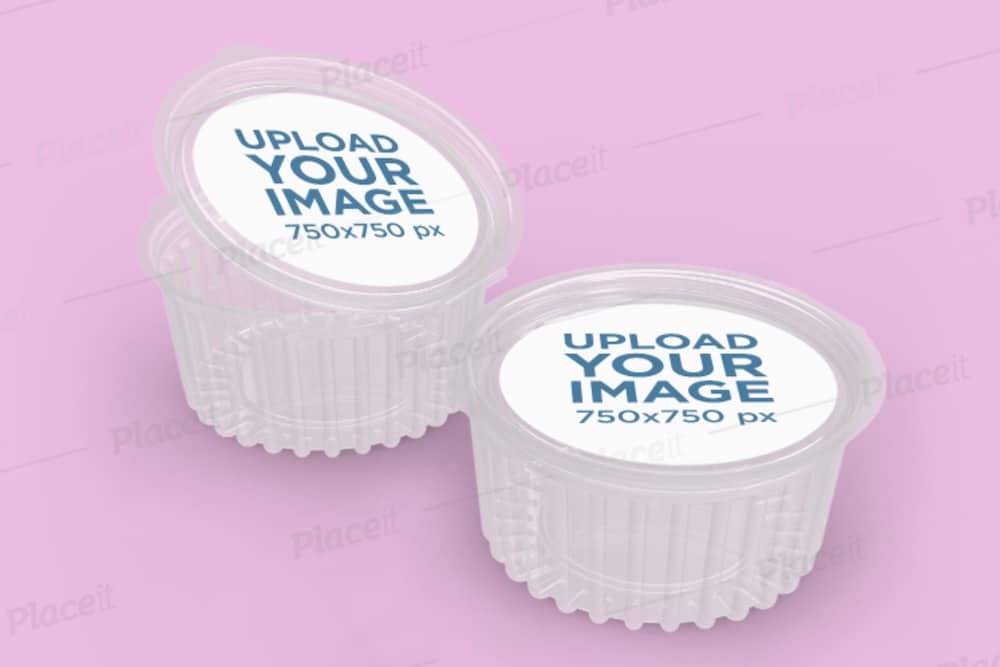 If you search for small and transparent food containers, this is the mockup template that will do you well.
It features two containers, one with a closed and one with a slightly open cover.
Moreover, with ONE CLICK, you can add a design to both labels with 750 x 750px working areas.
However, no need to stick to this dimension to a tee; you can crop and reposition your design or logo anyway.
Additionally, you can also change the color of the label and the background.
Not just that, but you can also use empty or full round containers.
MORE INFO / DOWNLOAD
5. Mockup featuring three food boxes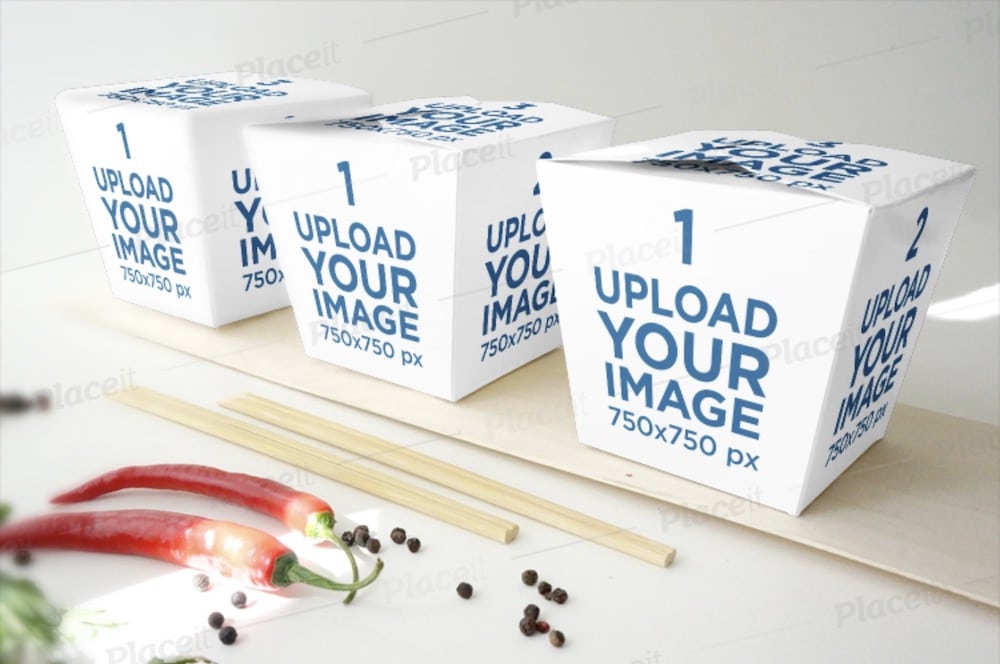 Instead of one, this mockup features three food boxed, all fully editable and adjustable according to your liking.
With an option to add three different artworks and change the color of the boxes, you can quickly create an inspirational presentation.
You can have a photo-realistic outcome ready to go in just a few clicks.
Send it over to your client and showcase your idea for their food packaging. Heck, you can also use it on social media, even on your online portfolio.
One thing is for sure – never feel limited in any way, shape or form. If you think and believe you can – YOU CAN.
MORE INFO / DOWNLOAD
6. Mockup of a pizza box

Why sticking to a plain pizza box when you can use it as a great marketing medium?
You can quickly create a life-like presentation that everyone will enjoy, thanks to this impressive mockup.
One click is for uploading the design and the second click is for changing the color of the cardboard.
At this point, you can enjoy the result and send it over to your client.
Still, if you would like to take things to the next level, you can also use other features that Placeit offers, like logo upload, text inclusion and graphics.
How COOL does that sound?
MORE INFO / DOWNLOAD
7. Mockup of a chips bag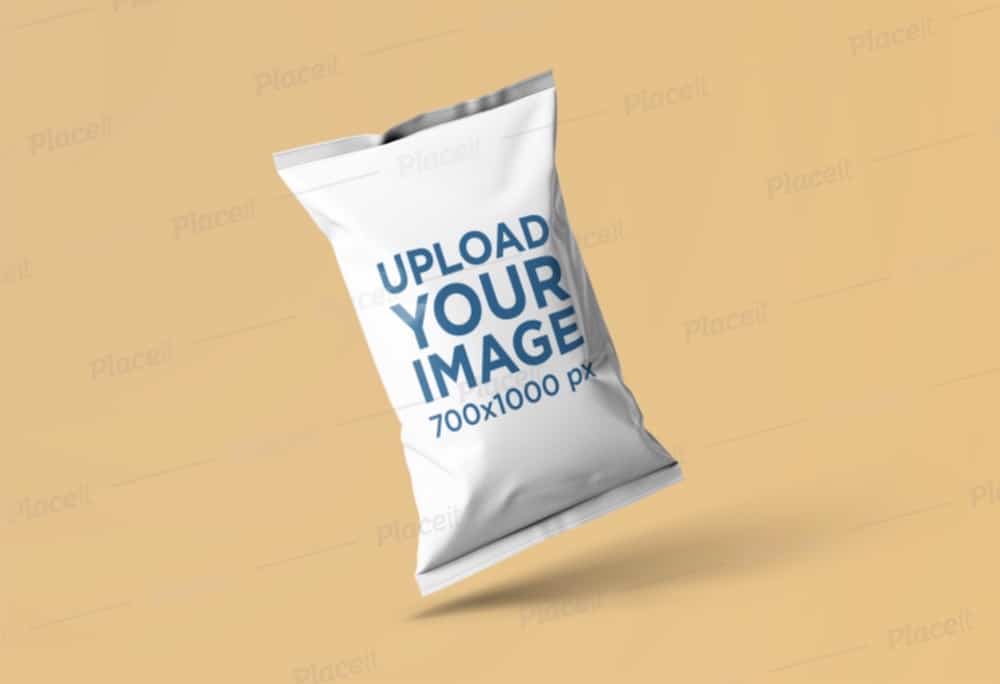 In this collection, there are many different food packaging mockups for you to take to your total advantage.
When designing a chips bag, don't rely only on the flat design.
Use a mockup and see how the physical product will look.
With this, you and your client can easily discuss any corrections and improvements.
The mockup allows you to change the shade of the box and the background first and foremost.
Also, you can import the design from your disk or use one from the downloads.
Still, all this work you do over on the convenient Placeit platform without the need to have any experience whatsoever.
MORE INFO / DOWNLOAD
8. Mockup of a small jar at an angle

You can use a jar for all sorts of intentions, including in the food industry.
Whether it is a marmalade or honey, heck, even a jar of olives, whatever the case, create a presentation of the jar design with this mockup.
What's cool, you can test things out right away, without the need to create an account on Placeit.
Of course, I highly advise you to make it because it will boost your workflow even further.
However, you do all the work from one location without using Photoshop or any other software.
That's what's OH SO special about Placeit – it unlocks mockup creation to everyone, BEGINNERS and PROS.
MORE INFO / DOWNLOAD
9. Label mockup featuring a set of 3 honey jars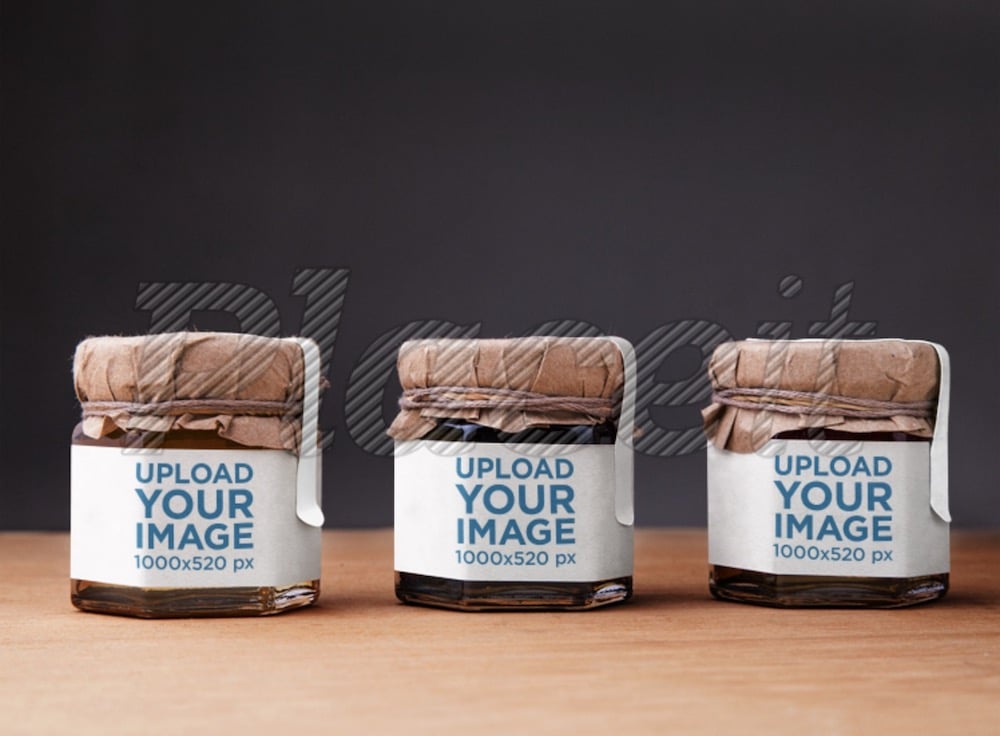 If you need more food packaging mockups in the form of jars, you came to the right place.
This layout features three small honey jars with a rustic touch, placed on a wooden surface.
With a single design upload, you can replace the label on all three jars in just one click. Of course, you can also change the color of the packaging.
Keep in mind, if you use a 1000 x 520px design, it will cover the entire space anyway (no color alteration necessary).
How quick and straightforward does all this sound?
Hey, head over to Placeit and test it out yourself – it will be a BREEZE.
MORE INFO / DOWNLOAD
10. Chocolate bar mockup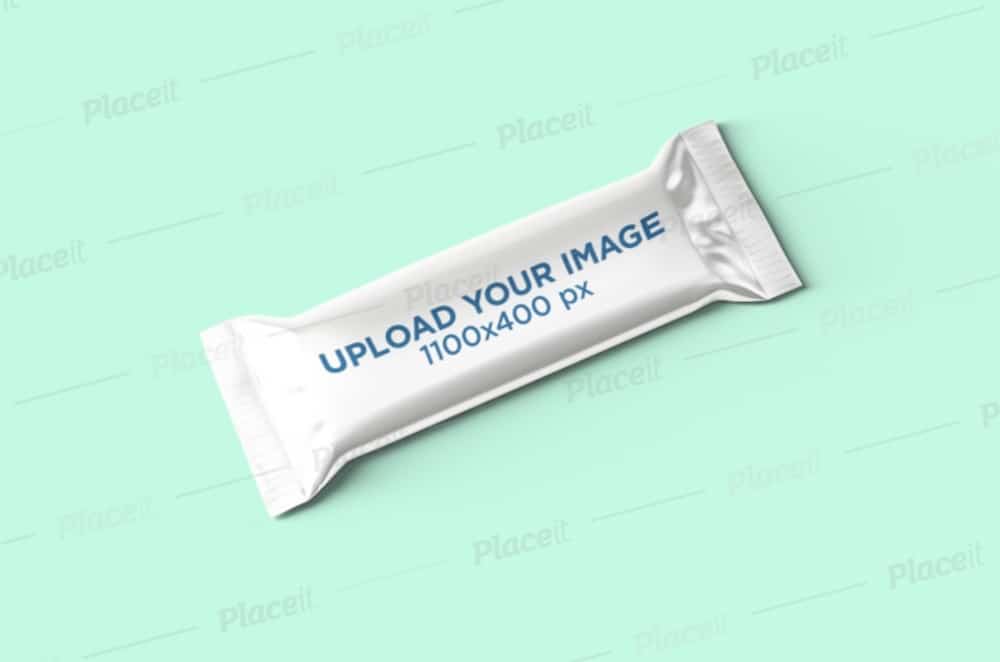 Chocolate bars are ten times yummier with mouthwatering packaging.
With so many different variations available on the market, it's the packaging that will make your or your client's bar stand out on the shelf.
Thanks to this food packaging mockup, you can now make a life-like presentation that you can A-test further with your audience.
In other words, feel free to post it to social media and see what happens.
You can still make additional adjustments and get back to this mockup to stick it to the bar and see its appearance.
On the other hand, you can also use this presentation in your online store.
MORE INFO / DOWNLOAD
11. Paper bag mockup of a woman eating a sandwich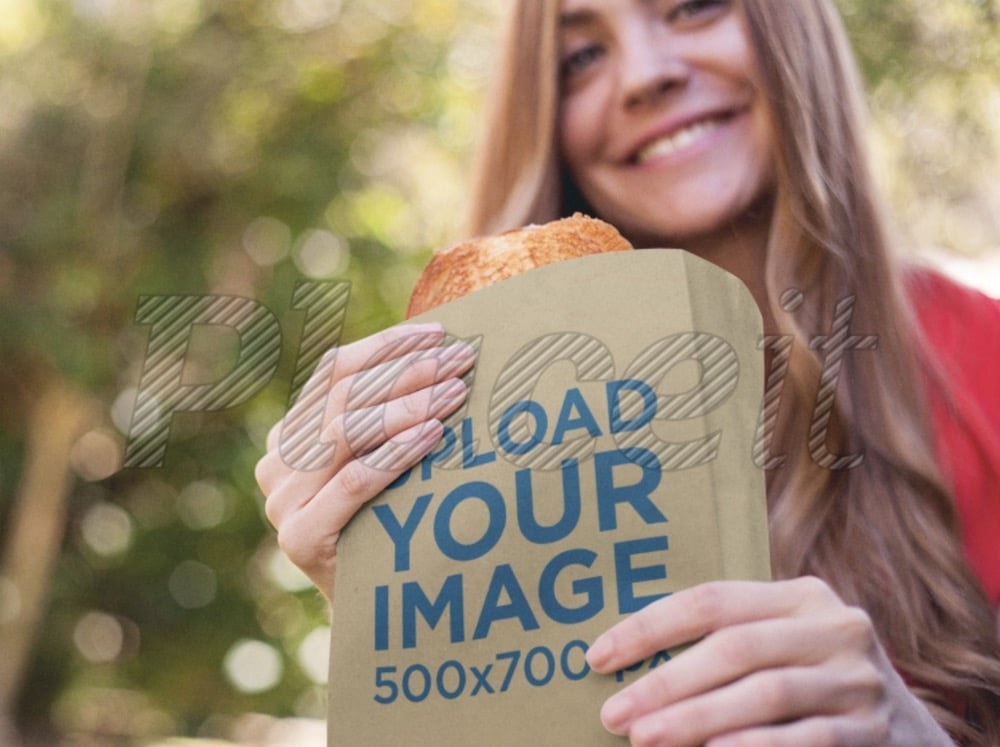 This particular mockup is ideal for when designing a paper bag for a bakery or a fast-food.
But any other food or sandwich business can put it in the application, too.
The food packaging mockup features a woman holding a sandwich in a paper bag, enjoying herself to the fullest.
The customization functions include changing the bag color, uploading a design, attaching text and appending a logo.
Moreover, you can also introduce a custom graphic or pick one from Placeit's archive.
You can have a SOLID and very photo-realistic presentation in little to no time without performing much work.
Note: You may also be interested in my review of the best burger box mockups. YUM!
MORE INFO / DOWNLOAD
12. Label mockup featuring a girl eating a bowl of soup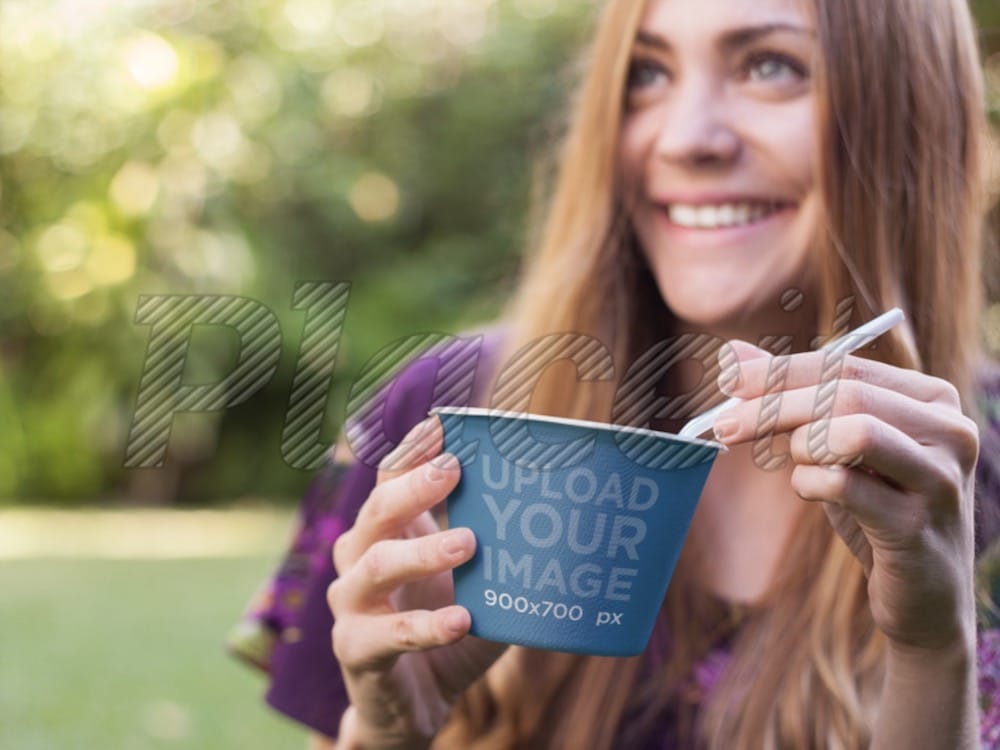 The same model as on the mockup above, just that this time, she is eating a bowl of soup. Soup first, sandwich next?
That's how I would choose.
If this is the type of food packaging mockup you are after, well, here you go.
You can now create a customized presentation of a bowl design that you import to the mockup with a single click.
While the size of a design that is 900 x 700px will cover the entire bowl, you can also go with a smaller variation and change the color of the bowl.
You have the right to do it your way entirely, so do not hold back and get CREATIVE now.
MORE INFO / DOWNLOAD
13. Label mockup of a packaged loaf of bread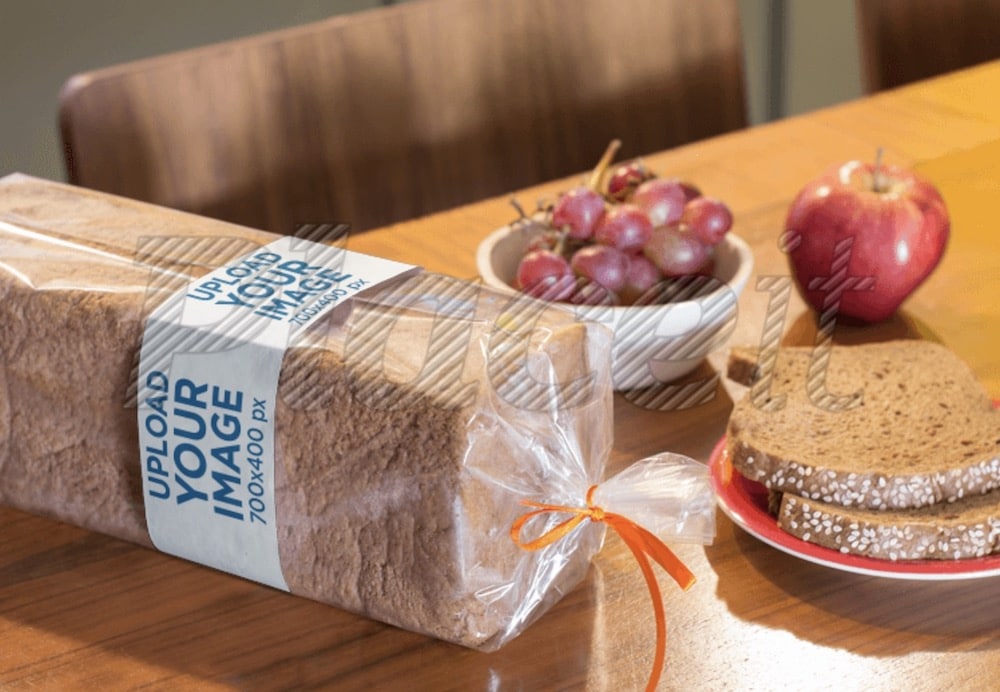 What's the next big thing after the sliced bread? Placeit. Seriously, if you haven't yet used the platform, you better head over right now and play around with all the functions.
When designing a label for packaged bread, this mockup will move you in the right direction.
It is a pretty simple setup featuring the loaf of bread, two slices of bread, grapes and an apple, all on a kitchen table.
As for the bread label, you can add two designs to both sides, top and side.
Additionally, you can also CHANGE the color of the label and introduce other elements to the presentation.
MORE INFO / DOWNLOAD
14. Label mockup featuring a takeaway food packaging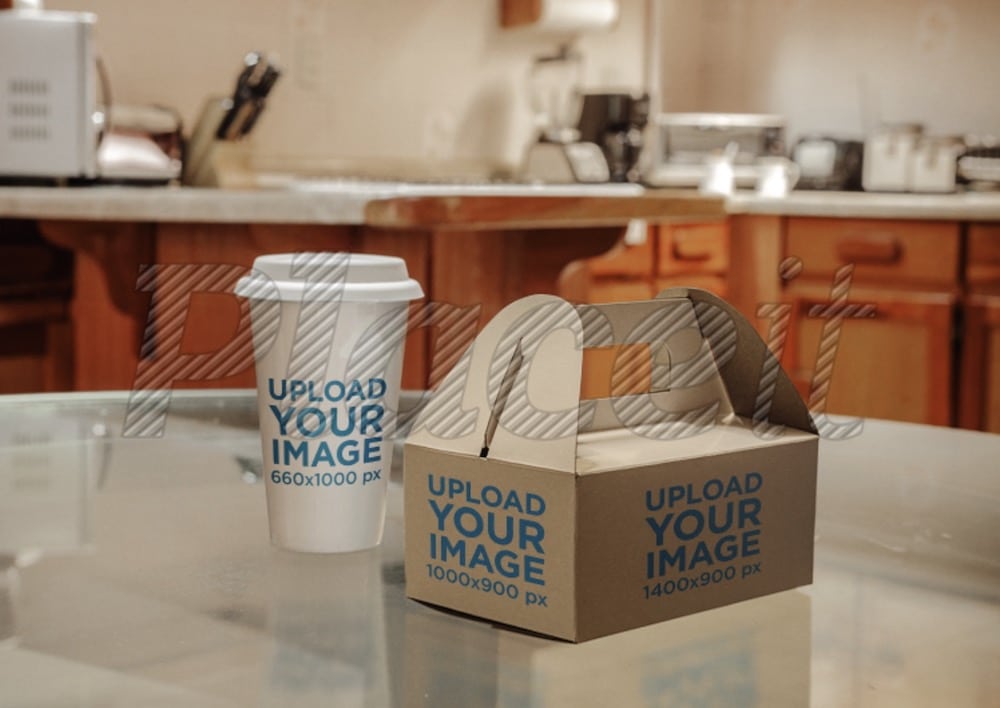 Coffee shops and bakeries, everyone needs proper takeaway food packaging.
Use this food packaging mockup instead of running into any inconveniences without pre-testing your designs.
It features a paper cup and a box, both fully editable for your convenience.
You can insert three entirely different designs by uploading them from your computer or picking them from the downloads.
If you would like to change the shade of both items, you can do that, too, by using the handy color picker.
At this point, the major part of the task is completed. Still, you can HAVE some FUN with additional text, logo and graphic insertion if necessary.
MORE INFO / DOWNLOAD
Note: There are 100s more mockups for food packaging on Placeit, which you can execute in a FEW CLICKS.
Best Free Food Packaging Mockups
15. Food packaging mockup set in PSD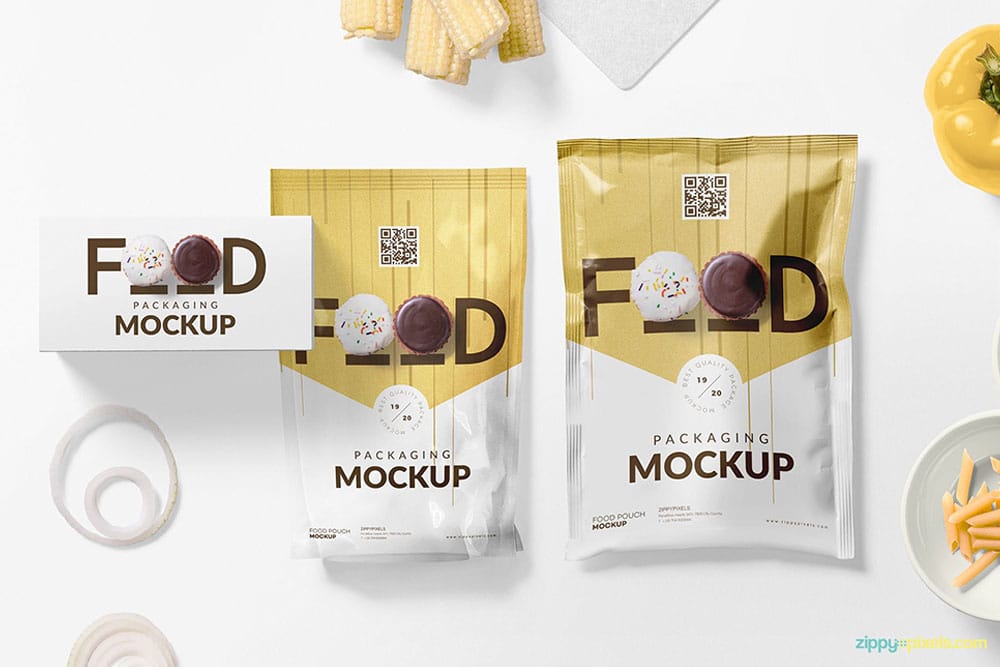 To your luck, here are some more mockups of different food packaging – this time, for free.
However, all these tools are PSD files, so you need to use Photoshop and the basic knowledge.
Whereas with all the above alternatives, no experience and skills are necessary.
This lovely mockup will create brand packaging that will stand out from the crowd.
It includes a bag, pouch and (tea) box along with other food items to spice things up.
You can utilize this tool for an array of different intentions easily with a little creativity.
MORE INFO / DOWNLOAD
16. Free disposable food packaging mockup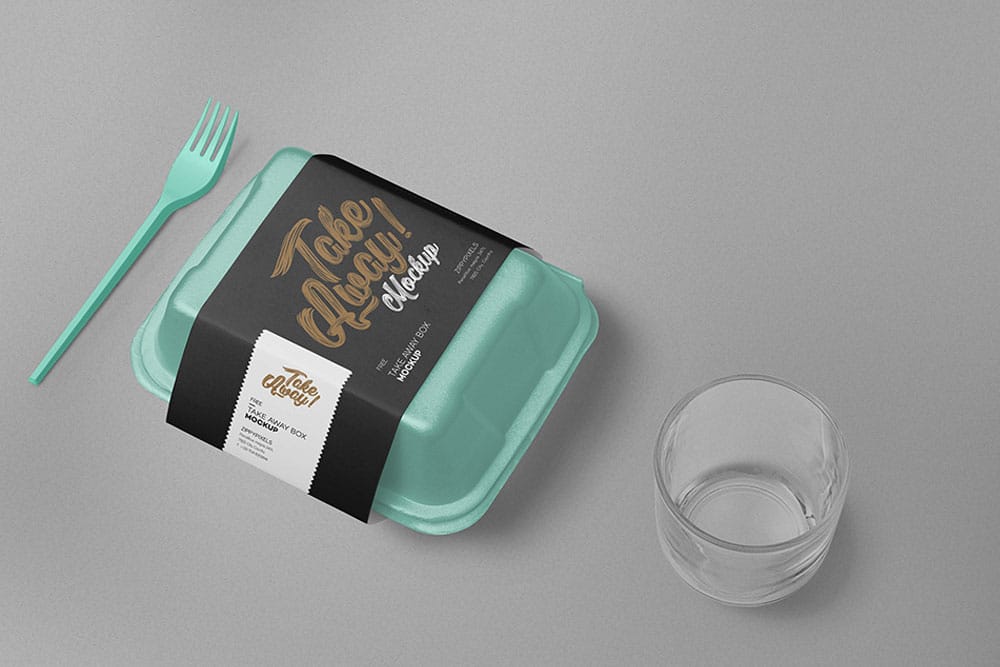 A simple, clean and impactful free food packaging mockup for takeaways. Creating a life-like presentation of your design idea needs not be complicated.
You can make it happen swiftly without spending a dime with a mockup and Photoshop.
Also, even if you are a beginner Photoshop user, you will still succeed at it.
Thanks to the smart objects, you get to improve the default settings in just a few clicks.
Alter the background, fork and box color and import the label design.
How easy was that?
You can create as many variations as you want, compare and discuss them with your client and go with the WINNER.
And the addition of a glass cup makes it even more life-like.
MORE INFO / DOWNLOAD
17. Free paper lock box packaging PSD mockup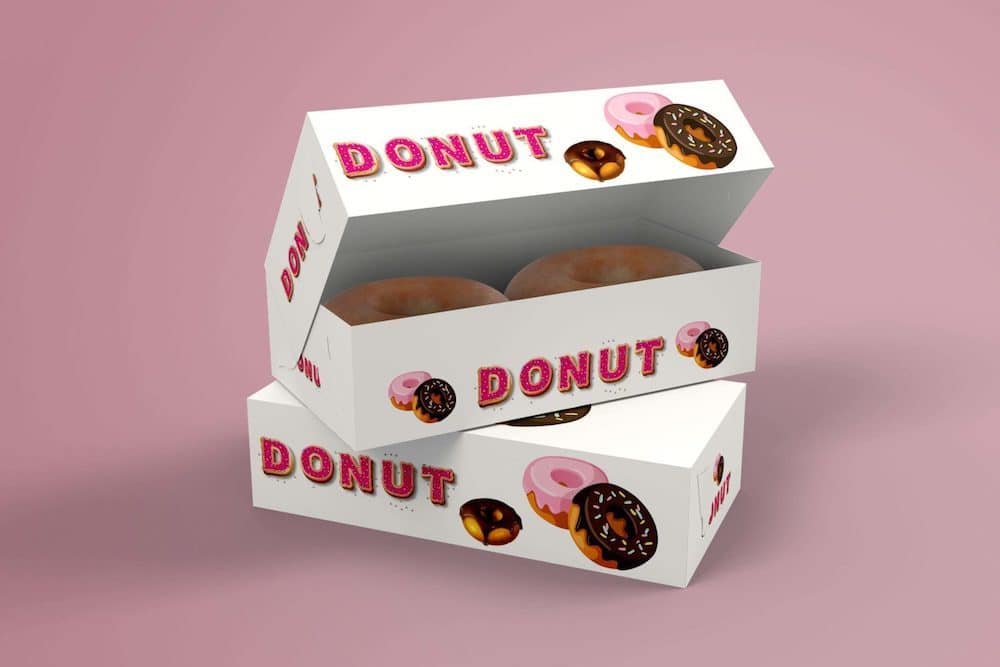 A fresh pack of donuts and a hot cup of coffee – what else you need in life?
Joke aside, this modern and photorealistic packaging mockup is very versatile, working for all sorts of aims and intentions.
Instead of handling a pack of donuts to your customer in a boring paper box, level things up with lovely and catchy branding.
All this is possible with this simple PSD mockup that does not cost you a dime. With a little IMAGINATION, this can also work as a cake box mockup demonstration (flat cakes only).
It is fully layered, equipped with the smart object and comes at 2000 x 2250px dimension.
In short, the outcome will be professional, sophisticated and high-quality, and that is a guarantee.
MORE INFO / DOWNLOAD
18. Packaging containers PSD mockup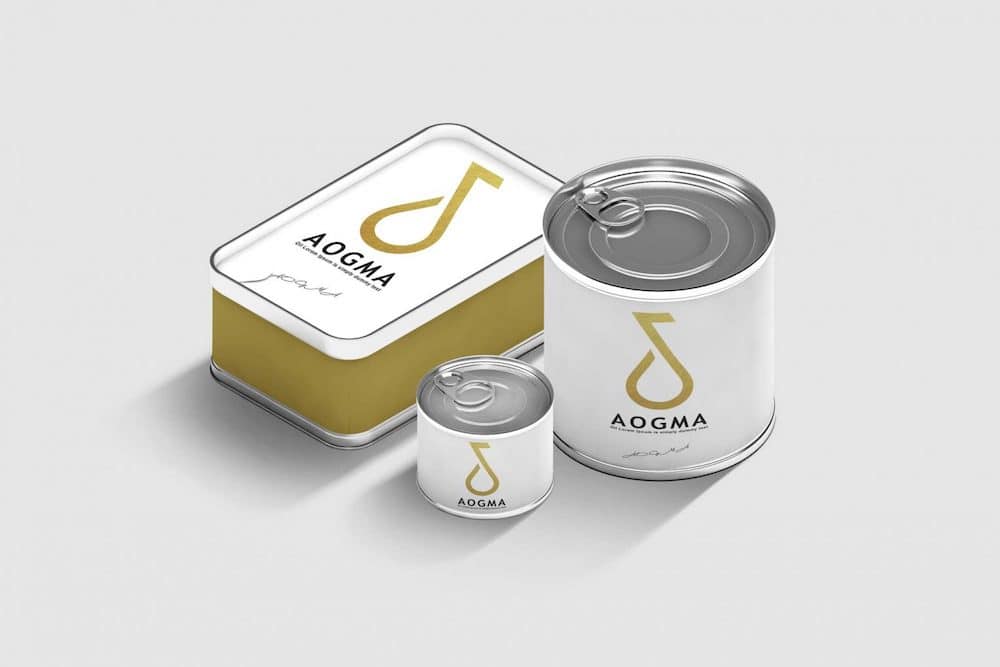 Protecting food with cans is a good option if you want to keep it preserved and fresh for longer.
If you are working on canned food packaging, here is an exceptionally modern and clean mockup to make a life-like presentation.
The PSD file is super simple to use, ensuring everyone gets the most out of it in just a few clicks.
Of course, the labeling on all three items is 100% adjustable, so import your creative idea and see it appear on the mockup instantaneously.
Perform as many corrections and improvements as you want and have a finishing product ready to rock and roll FAST.
MORE INFO / DOWNLOAD
19. Free french fries packaging mockup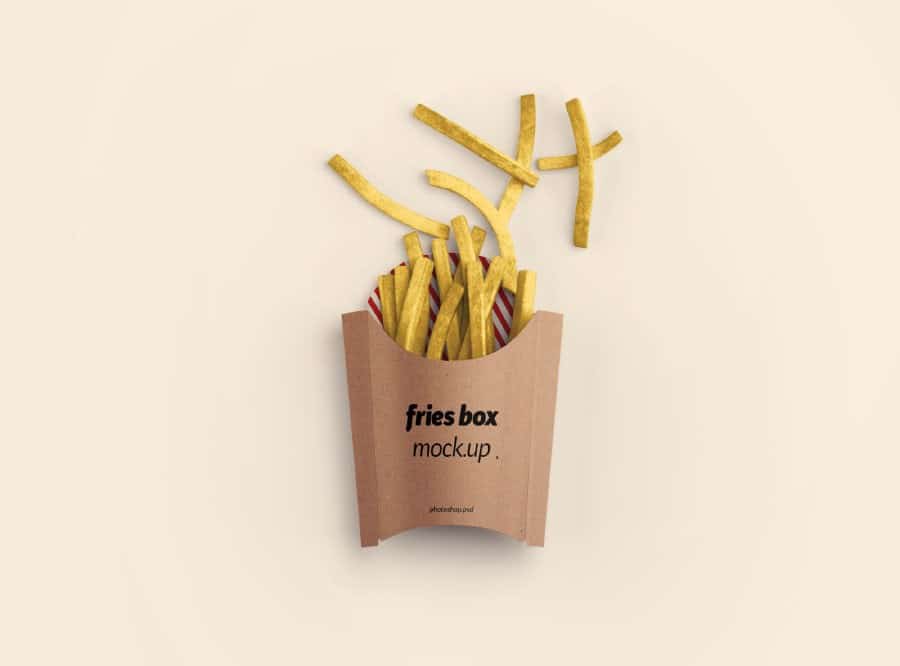 When working on branding for a fast-food business, the packaging is vital.
And when it comes to creating custom packaging for french fries, here you go, this mockup will get you going right away.
It is 100% EDITABLE, as you can change everything, the background, the bag/holder and the french fries.
You can make it just how you want, so go as artistic or keep it simple and minimal.
You can impress your client or share the outcome on social media for everyone to experience.
Make it yours now and stand out from the masses.
MORE INFO / DOWNLOAD
20. Food snack package PSD mockup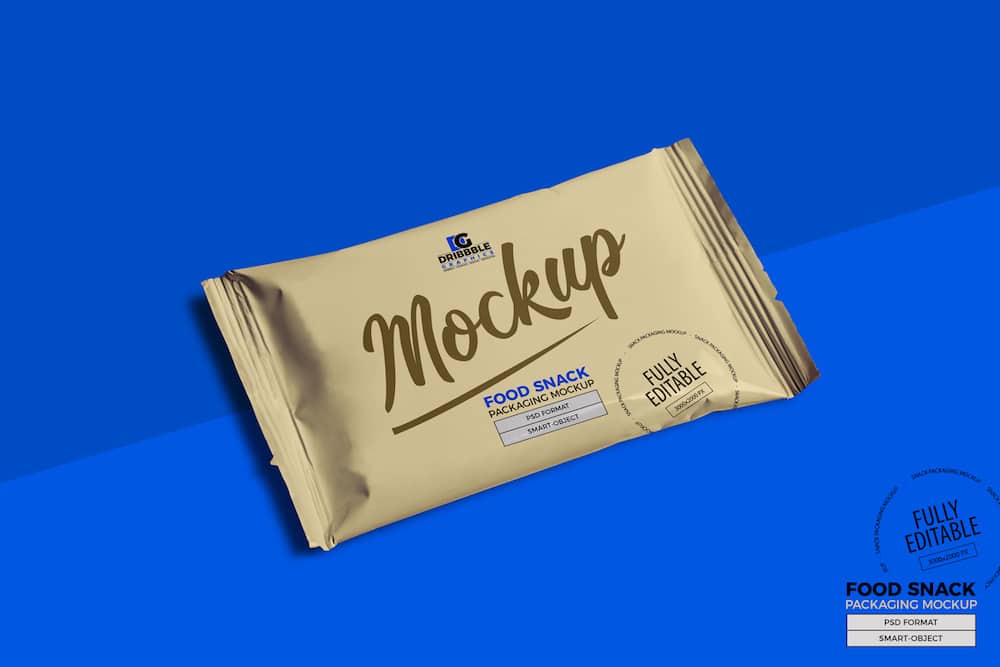 These small food snack packages are great for multiple intentions.
For instance, a bar owner can give you a small bag of peanuts alongside the beer, or a biscuit with coffee in the morning.
Improving the mockup will be as easy as pie with the fully layered structure.
No need to be design-savvy, as only the fundamentals of Adobe Photoshop are necessary to make a difference.
Your design packaging idea will be a photo-realistic demonstration that will WOW your client or customer.
This PSD file also equips the smart object layout to simplify the process further.
MORE INFO / DOWNLOAD
21. Free pizza packaging PSD mockup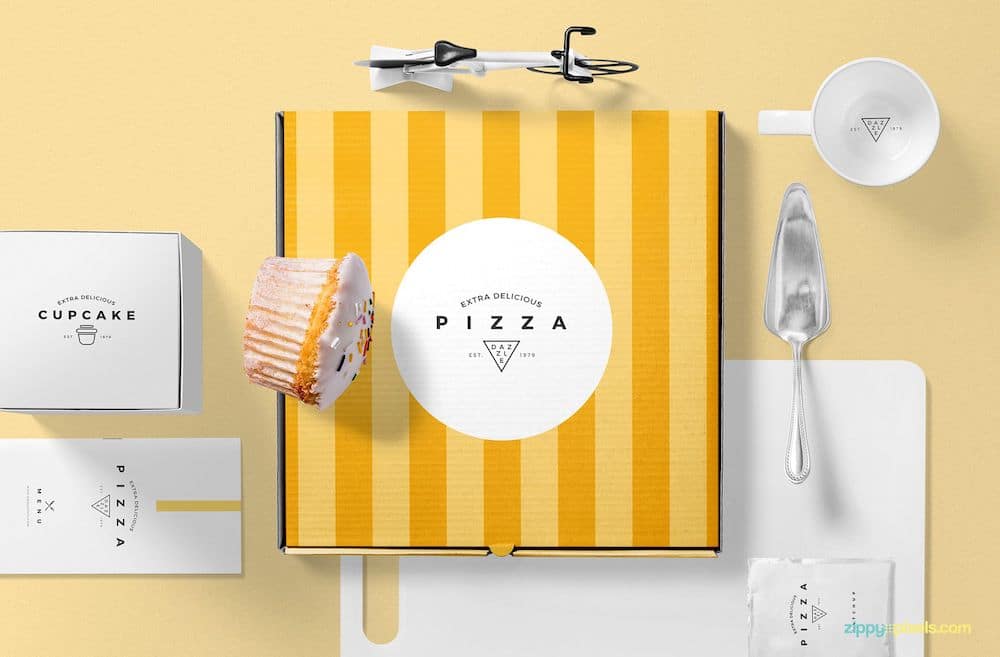 Even though the pizza box is the main focus of this food packaging mockup, you can brand other items, too.
As you see, you can also improve cup, brochure, box and sachet.
However, those are not the only items of the mockup – a very crowded setting, if you will.
It is a vibrant alternative that helps you create a very attention-grabbing showcase of your design idea.
Go all in and style it according to your branding regulations, thanks to the CREATIVE FREEDOM that this template unlocks.
Or go entirely against the norm and make something so extraordinary it will be impossible to say no.
MORE INFO / DOWNLOAD
How To Create A Food Packaging Mockup?
While we already have an extensive guide on how to create a packaging mockup, I want to share a quick recap for everyone who wants to take immediate action.
And to make it as beginner-friendly as possible, I'll show you how to do it without Photoshop.
How awesome does that sound?
That's possible by using a mockup generator (Placeit, in our case).
5 Steps To Make A Food Packaging Mockup:
Step 1: Visit Placeit, where you can find MANY fantastic templates that cater to any project. From simple to extremely realistic, you can use them all!
Step 2: Choose the template you dig, click it, and then use the blue "insert image" button to import your design. It can't be any simpler than that.
Step 3: A popup window with a live preview opens to refine your design's size and position. If you want to start again, click "reset." But if you're happy with how it looks, click "crop."
Step 4: You then have other configurations to set, like colors, extra graphics, background, texts, etc.
Step 5: When you're pleased with your work, hit the purple "download" button.
This is where I stop now because you just created your food packaging mockup.
I know, it's SO simple.
::
Note: This article was originally published on October 26, 2020. But our team regularly reviews it and updates it with necessary improvements for accuracy.