Imagine eating pizza while reviewing dozens of pizza box mockups.
Sadly, I didn't do that.
But I did have a slice once (yes, only once!) when brainstorming on a pizza branding for a client.
After working with many pizzeria, restaurant, and food delivery business owners, a custom-pizza-box-design conversation came up MANY TIMES.
Ant with that my extensive review of 50+ designs.
Right away, I decided to focus on pizza box mockup generators.
BUT.
I also added a few free pizza box PSDs for the Photoshop fans.
17 made a list.
Jump straight to:
You now have everything to make pizza look even more DELICIOUS.
Best Pizza Box Packaging Mockup Generators
These allow you to make a mockup without Adobe Photoshop.
Every Placeit template goes for $7.95. Still, I recommend either their monthly ($14.95/mo) or yearly ($89.69/yr) subscription if you'd like to work with mockup generators often.
1. Mockup of a pizza packaging on a table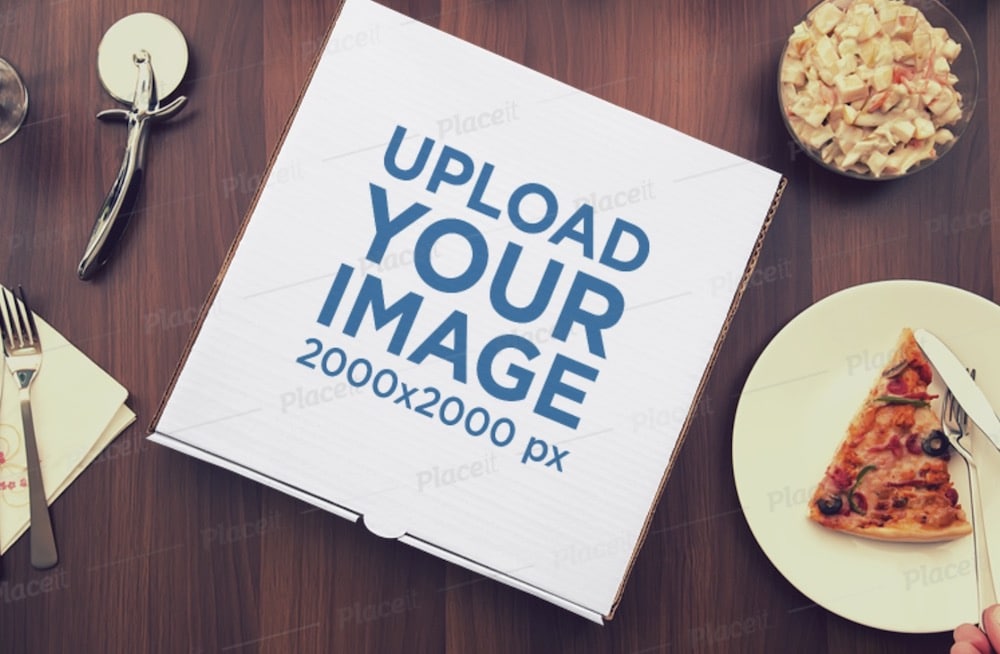 A beautiful and delicious pizza box mockup on a table with all sorts of goodies around it.
Of course, the latter makes the overall appearance even tastier.
As for the box itself, you can decorate it with custom color, as well as insert any image or logo that you wish.
The working area is 2000 x 2000px dimension, but you can also import artwork of different sizes. (You can crop and reposition your upload with ease.)
Moreover, if you FANCY including some text and graphics, you can do that, too.
Treat yourself to a quick outcome.
MORE INFO / DOWNLOAD
2. Mockup of a pizza box with an actual pizza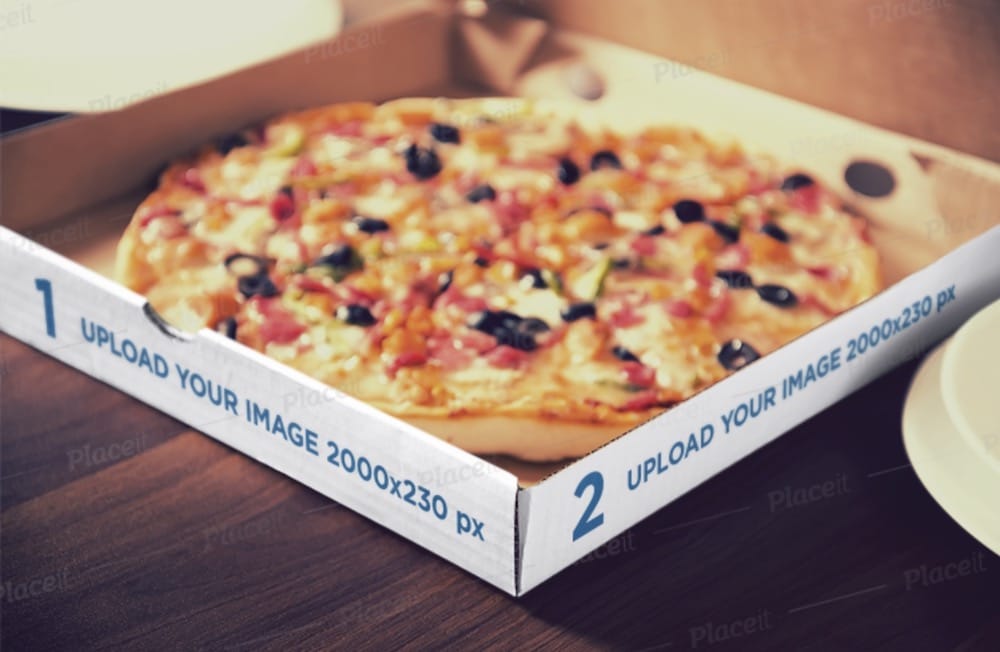 If this is not the tastiest pizza box mockup of the bunch, I am not really sure which is.
Create a photorealistic presentation of your food packaging design idea that will wow everyone.
For your information, this particular template offers you to display the sides of the paper box.
Indeed, you can import two entirely different artworks for each side and go from there.
Not just that, but if you would like to improve the default color configuration, you can do that with just a click.
Little work is necessary to create a STRIKING and IMPACTFUL presentation of a branded pizza box.
MORE INFO / DOWNLOAD
3. Mockup of a customizable pizza box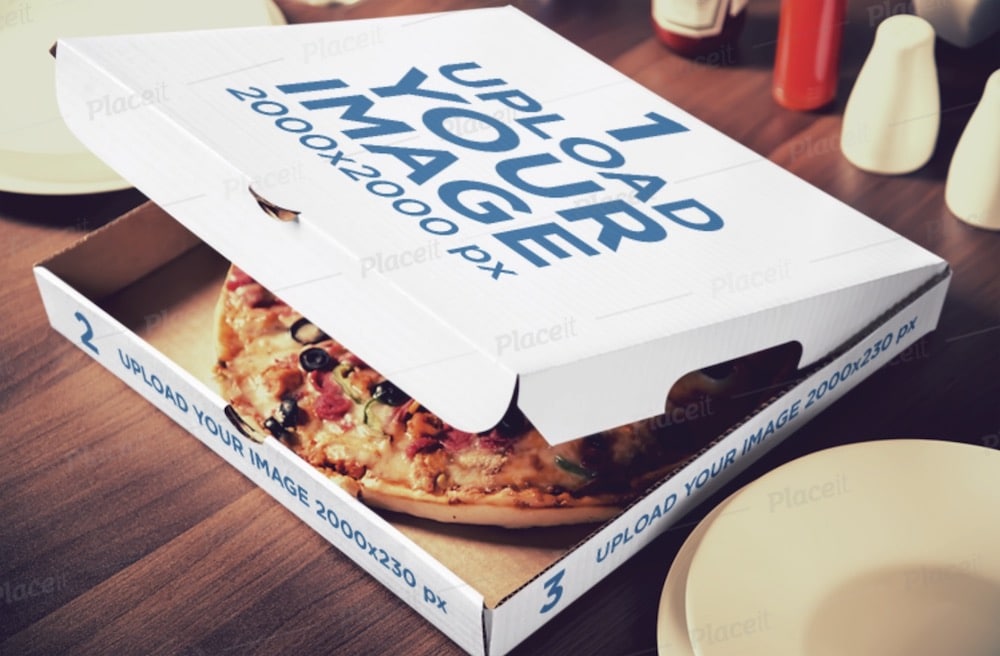 This one was definitely taken during the same photo session as the previous one.
Just that this time, you can also add the top design, which is by far the most important one on a pizza box.
If you have the images predefined, you will experience a super swift creation that will move mountains.
You can employ the outcome for all sorts of stuff, like sharing it on social media, showcasing it to your client, even on your online portfolio.
Each visible side of the packaging lets you display your creation by uploading it from your device.
MORE INFO / DOWNLOAD
4. Template of an open pizza box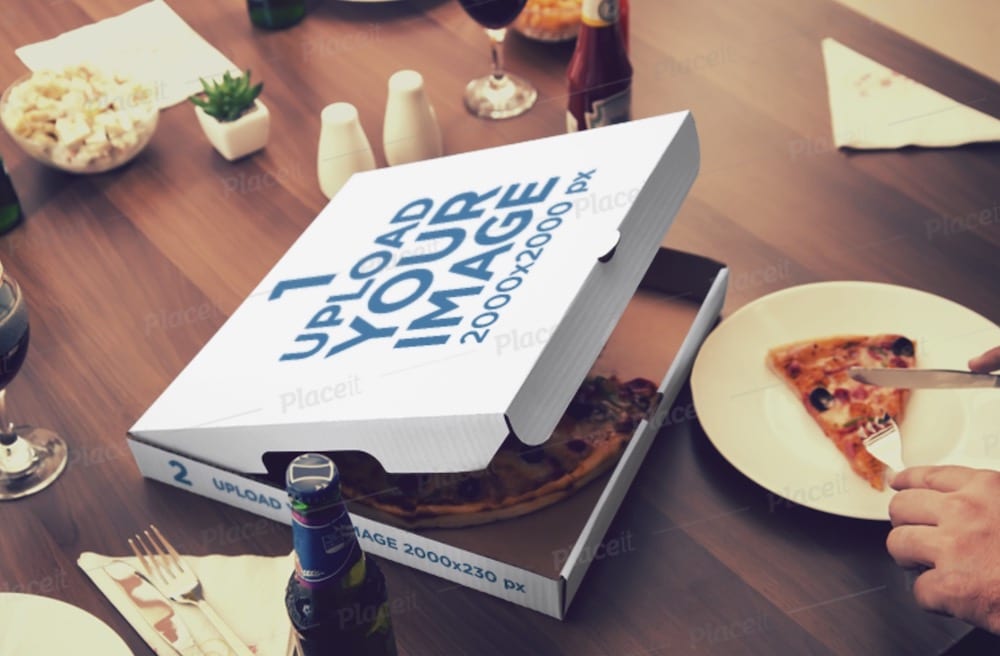 A pizza box mockup in ACTION! Yes, that's what's up when it comes to this particular template.
Along with featuring the box and the pizza itself, it contains a person eating a slice of pizza with a knife and a fork.
There's also a beer, a salad, ketchup and all the other stuff that you find on a restaurant table.
While the default configurations already make this mockup very appealing to the eye, you can easily take things a step further by improving it according to your regulations.
With a Placeit mockup, you do all the work online.
SO. CONVENIENT.
MORE INFO / DOWNLOAD
5. Mockup of a pizza box on a table with glasses and sauces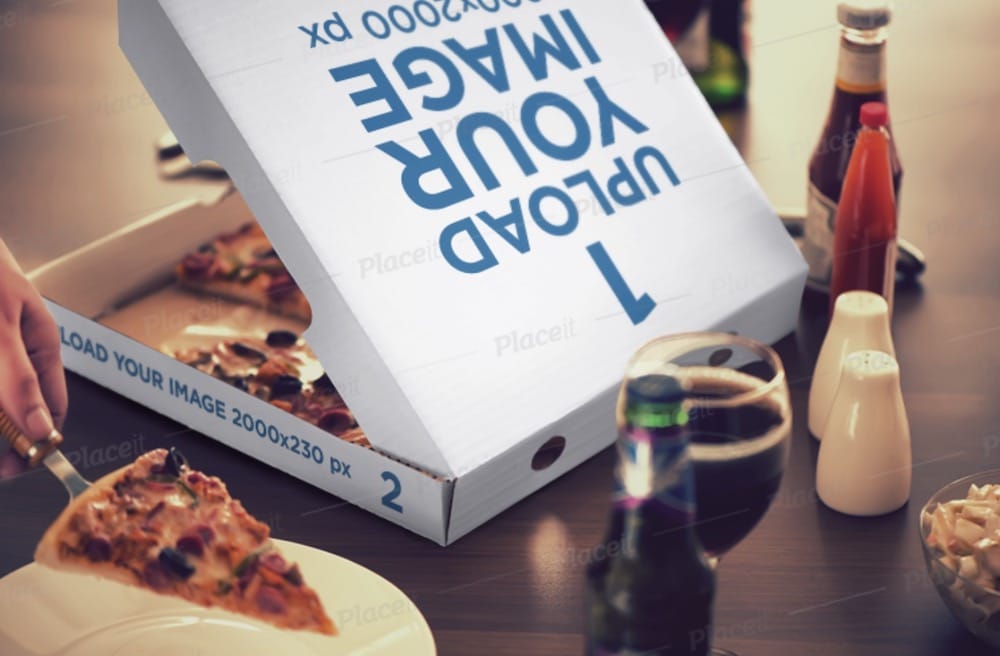 Pizza box, a slice of pizza, a bottle of beer, salt, pepper, hot sauces, well, you get the gist of it.
This mockup sports all the must-haves for a life-like demonstration.
And if you would like to make it your own, head to Placeit and start working on it immediately.
You do not even need to create a free account to test the waters, although it is highly advisable to make one.
After all, it will BOOST your WORKFLOW through the roof, creating striking product presentations within seconds.
Note: You only need to have the design ready; the rest is a piece of cake.
MORE INFO / DOWNLOAD
6. Rustic pizza box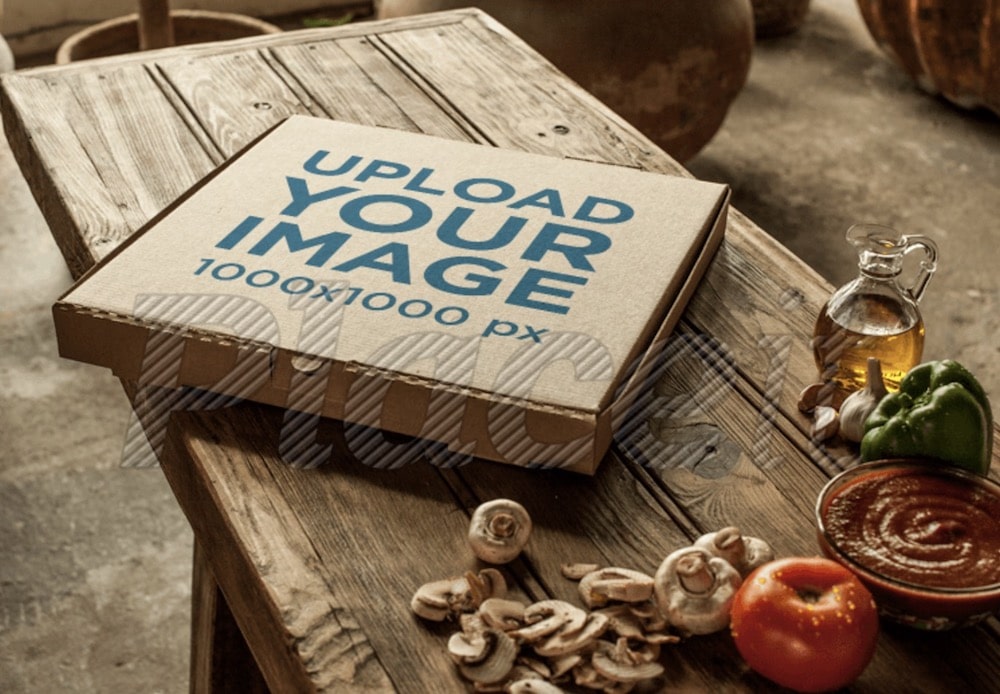 If the rustic and vintage style fits you best, you will find using this next mockup the best.
Along with a pizza box, the image also features a beautiful wooden table, mushrooms, tomato, tomato sauce, olive oil, garlic and bell pepper.
This makes for a simple but super delicious pizza that everyone wants a slice of.
As for the box, it is fully customizable for you to get the most out of it with ease.
Expect a quick result because the entire process of editing the mockup happens online.
MORE INFO / DOWNLOAD
7. Mockups of a closed pizza box on a table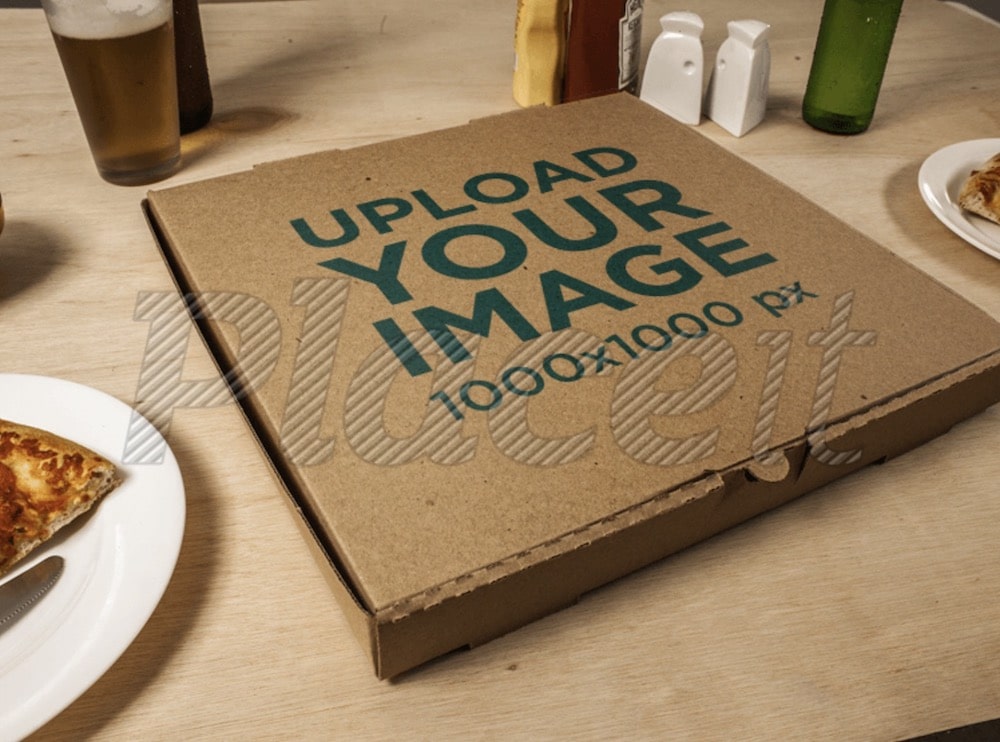 With a life-like mockup of a pizza box, you can create the end product looking pretty much like the physical version.
Here is another alternative that will do the trick, whether you are design-savvy or not.
The mockup features a closed pizza box on a table in a restaurant.
As for the box, you can change the color to any shade you want and slide in any design you want.
It can be a simple logo or a FULL-BLOWN image. The mockup handles them both easily. That's it, you are now ready to rock and roll.
MORE INFO / DOWNLOAD
8. Classic pizza box template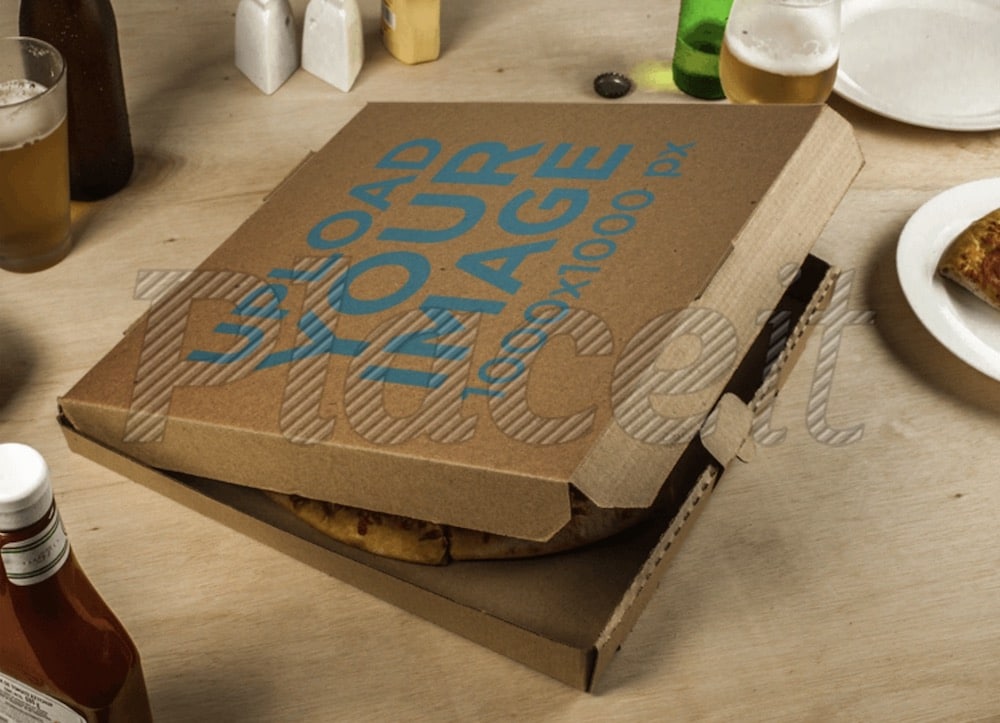 What you need to know about this one right off the bat is that you cannot change the color of the box.
It sports the raw cardboard color, which fits many pizzerias and restaurant owners alike.
Still, you can upload your image with a click on the button and spice things up with a company logo, additional text and graphics.
You can see the first variation of your packaging design presentation with an instant improvement.
To do this, Placeit allows you to test things out without an account. But it will be A LOT EASIER for you if you make one.
MORE INFO / DOWNLOAD
9. Top view mockup of a pizza box on a two-toned surface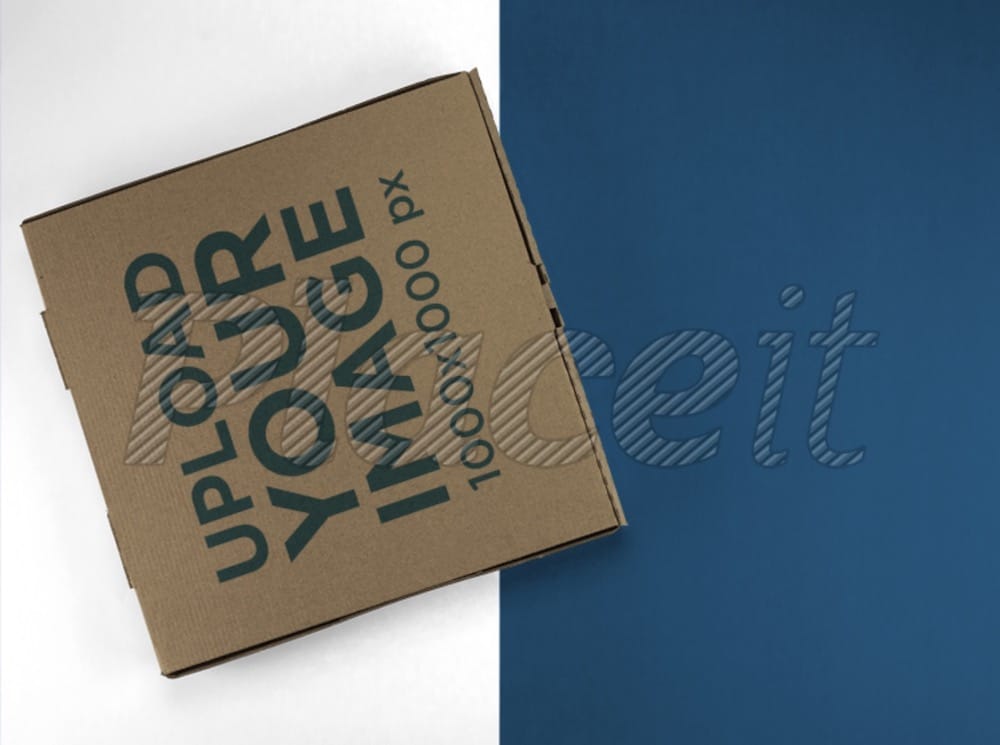 While many of the pizza box mockups on this list sport A TON of elements, you can keep things simple with this one.
It features a top view of the box, placed on a two-toned surface.
You can change the color of both backgrounds and the box by accessing the practical color picker.
The top design can be 1000 x 1000px, but if you have it of a different size, that will work, too.
After you upload your image, a handy cropping and repositioning tool will open for you to make arrangements if necessary. Create a mockup for a client or yourself quickly and with confidence.
MORE INFO / DOWNLOAD
10. Close-up mockup of a pizza box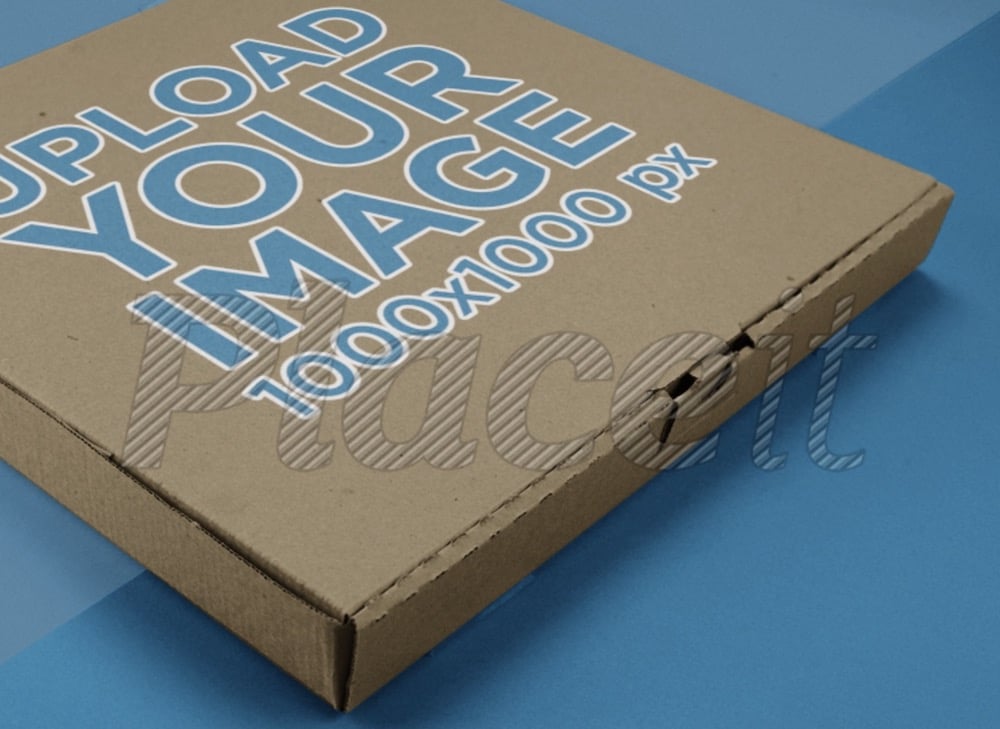 Sometimes, you would just like to step things up and create a close-up view of your pizza box design idea.
If that is the case, this is the mockup that will do the trick for you.
With many great features and customization options, you can beautify default settings according to your taste speedily.
No need to be design-savvy to work with this mockup, as Placeit is for everyone, beginners and pros.
But that's something you can experience FIRST-HAND by simply visiting the platform.
Play with the features, attach your design and voila, you have it all set to move forward.
MORE INFO / DOWNLOAD
11. Pizza box template with ingredients on a wooden table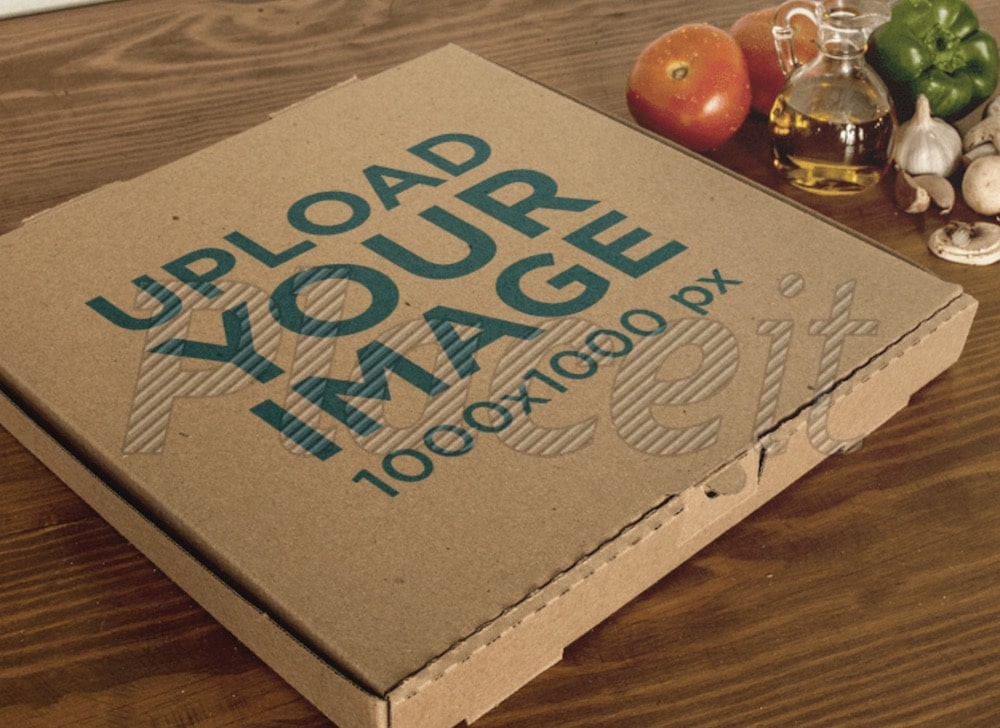 Another super photo-realistic pizza box mockup alongside ingredients on a wooden table.
In this day and age, you do not even need photo editing software to create a mockup – how cool is that?
Still, someone needs to sort out the design for you; other than that, you can make it happen all on Placeit.
However, if you are a designer who would like to BOOST their WORKFLOW, that's when Placeit comes in handy, too.
Why complicate and make it all from the ground up if you do not have to?
Instead, choose any of the mockups from this collection and make an immediate difference.
MORE INFO / DOWNLOAD
12. Template of a top view of a pizza box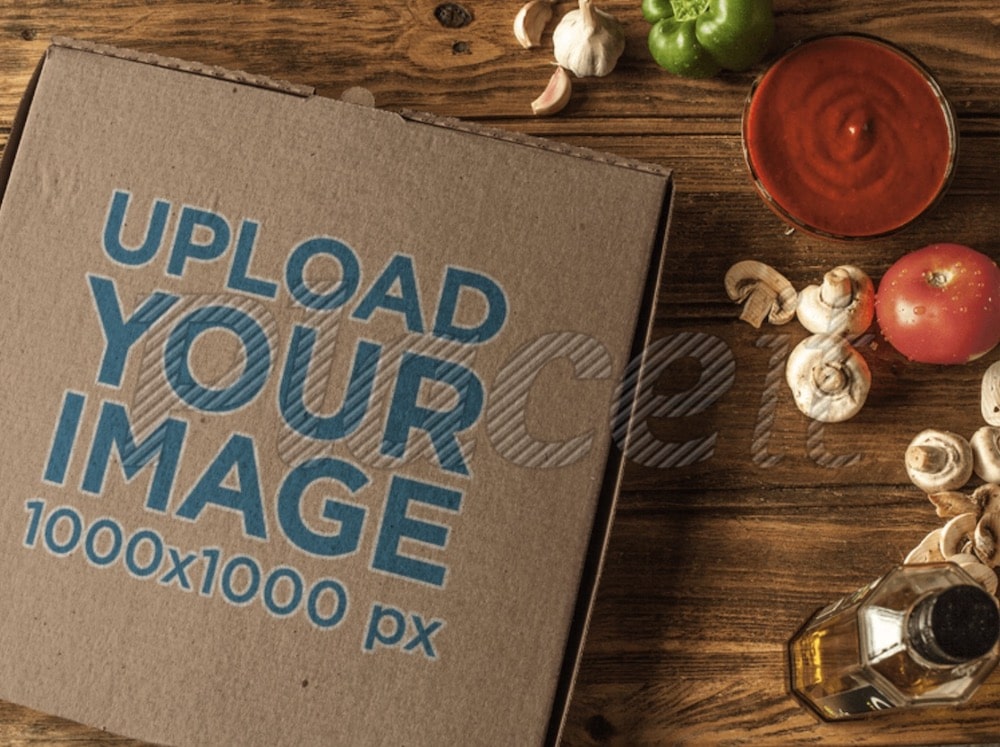 Is it even possible that someone does not like pizza? I mean, I do not know anyone and me personally, I can pretty much eat pizza every day.
Help pizzeria with the creation of a beautiful design for a pizza box.
So. Effortless.
Instead of sending it out for print right away, you can test your idea first and go from there.
Just need to insert your image, and you are ready to rock and roll. BOMB.
MORE INFO / DOWNLOAD
13. Pizza box on a solid color surface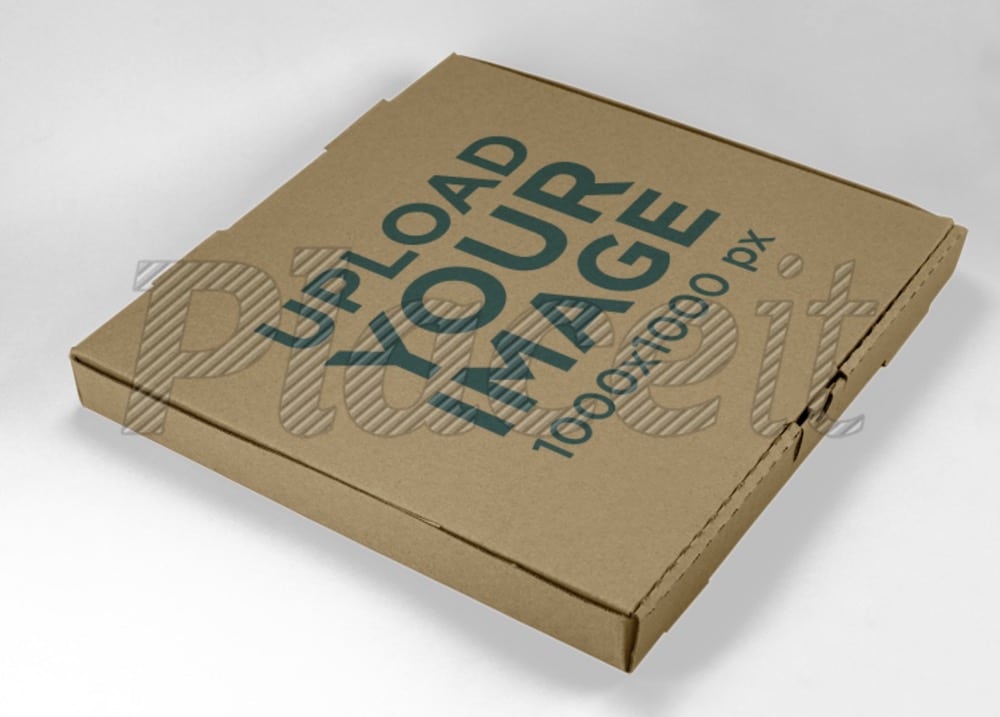 This is the pizza box mockup that will do you well if you dig simplicity and minimalism.
It features a fully customizable packaging on a white background that ensures the final product pops out beautifully.
Change the shade of the cardboard, decorate it with any design you want and introduce other specialties, like text and graphics.
Not just that, but if a client prefers a company logo on it, you can do that, too.
In short, you will have a lot of fun during the process, and that is a guarantee.
Feel free to create as many different variations as possible, compare them and find the winner much simpler.
MORE INFO / DOWNLOAD
Best Free Pizza Box PSD Mockups
14. Pizza box packaging mockup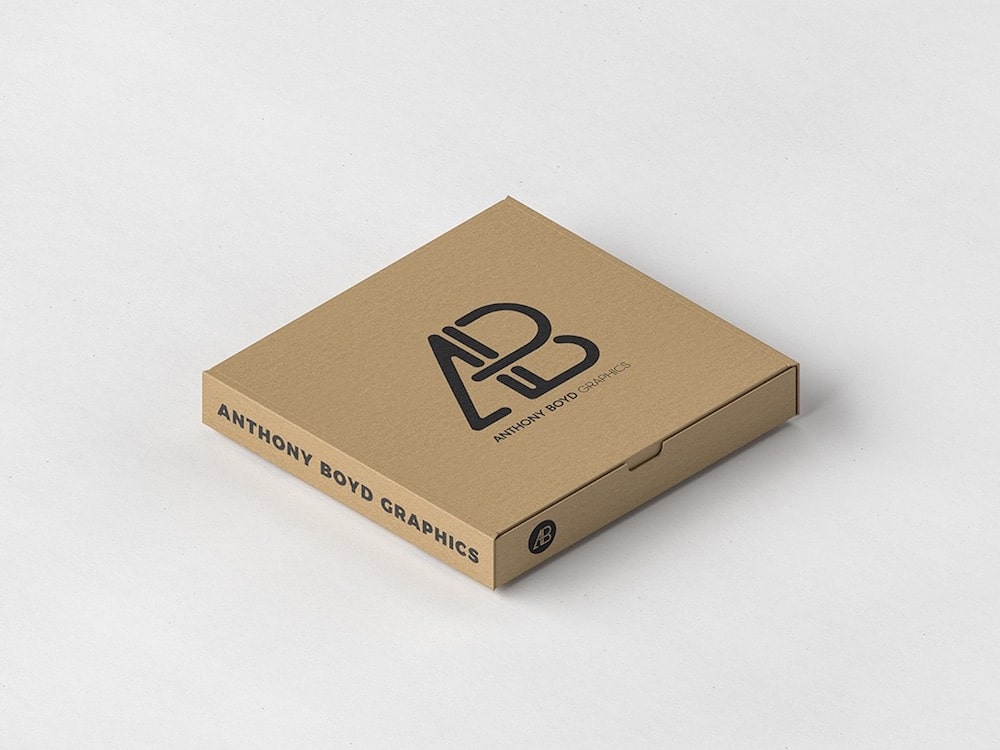 If you are particularly looking for a free alternative, then any of these solutions will do the magic.
This exclusive one from Anthony Boyd comes at a high resolution of 5000 x 3750px, ensuring you a detailed logo or packaging branding presentation.
Keep in mind, this is a PSD mockup, so Adobe Photoshop is necessary to utilize it.
Still, you do not need to be a pro, as the tool comes with smart objects, meaning, you can IMPROVE it quickly and effortlessly.
Simple, clean and to the point – that's what this template treats you to.
MORE INFO / DOWNLOAD
15. Free multi pizza box mockup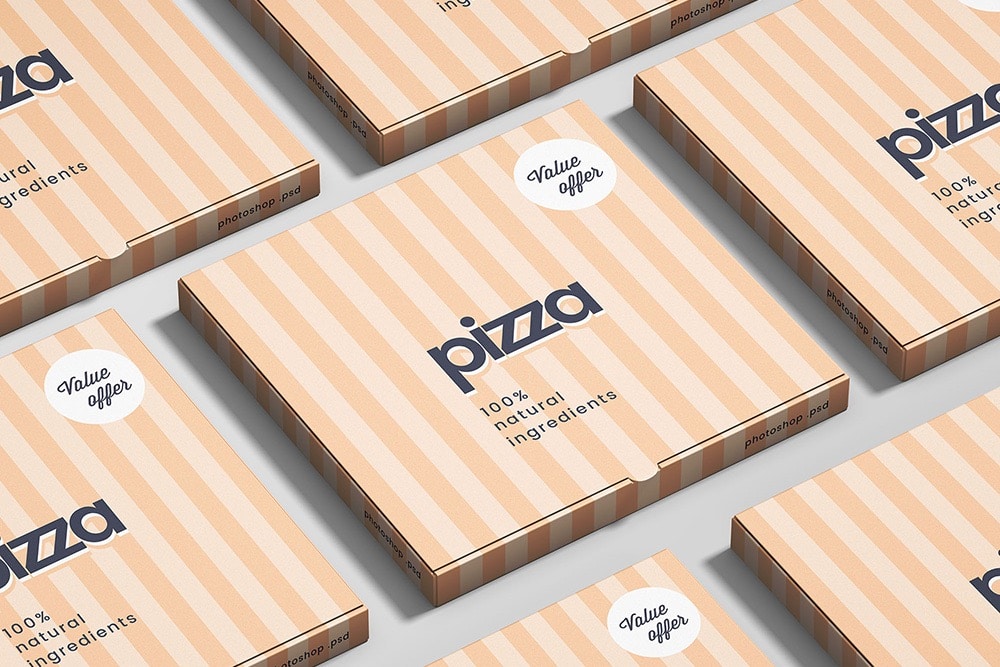 Instead of placing your pizza box design on just one item, this mockup offers you an isometric view of multiple.
If you would like to create a banging presentation that will trigger everyone's interest, you are in safe hands with this one.
It is just as easy to use as any other free pizza box PSD mockup that we have here.
Once you download the file, import it to Photoshop, search for the smart object layer and drag and drop your branding.
Additionally, the layered PSD file also comes with different FILTERS to go one step further.
MORE INFO / DOWNLOAD
16. Free pizza box packaging PSD template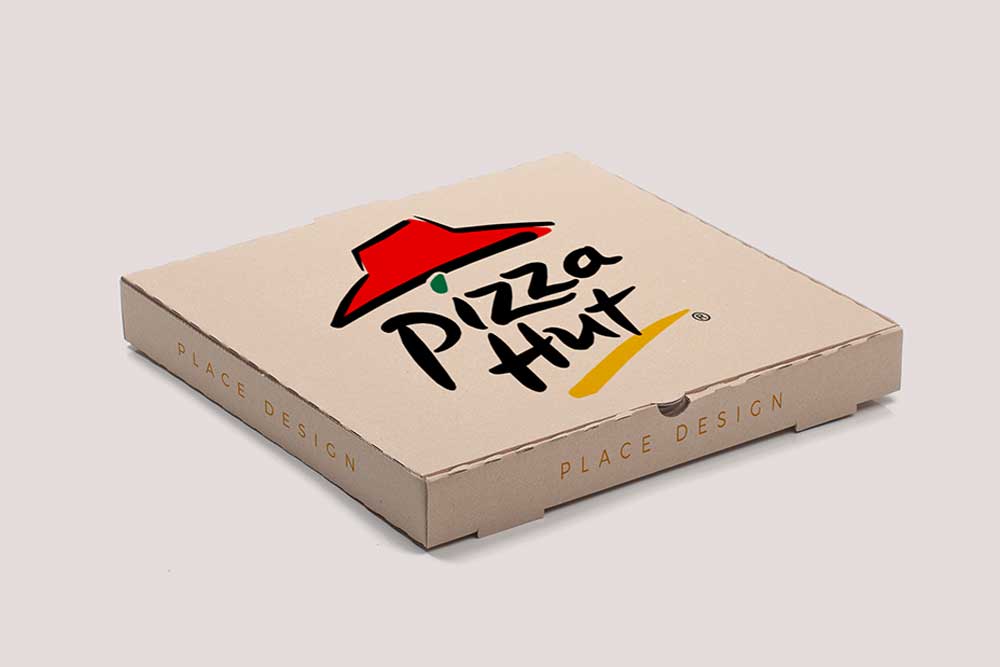 Even though this pizza box mockup may look very basic at first glance, you can style it to the very last detail.
You can use a solid color background, but you can also step things up and place it on a table or some other surface – the choice is yours.
For a takeaway pizza, consider creating catchy packaging that will also act as a marketing medium.
You can get more eyeballs on your business for a small additional investment in proper packaging.
But first, make sure you TEST things out with a mockup and see how the physical product would look. No. More. Inconvenience.
MORE INFO / DOWNLOAD
17. Free highly realistic pizza box mockup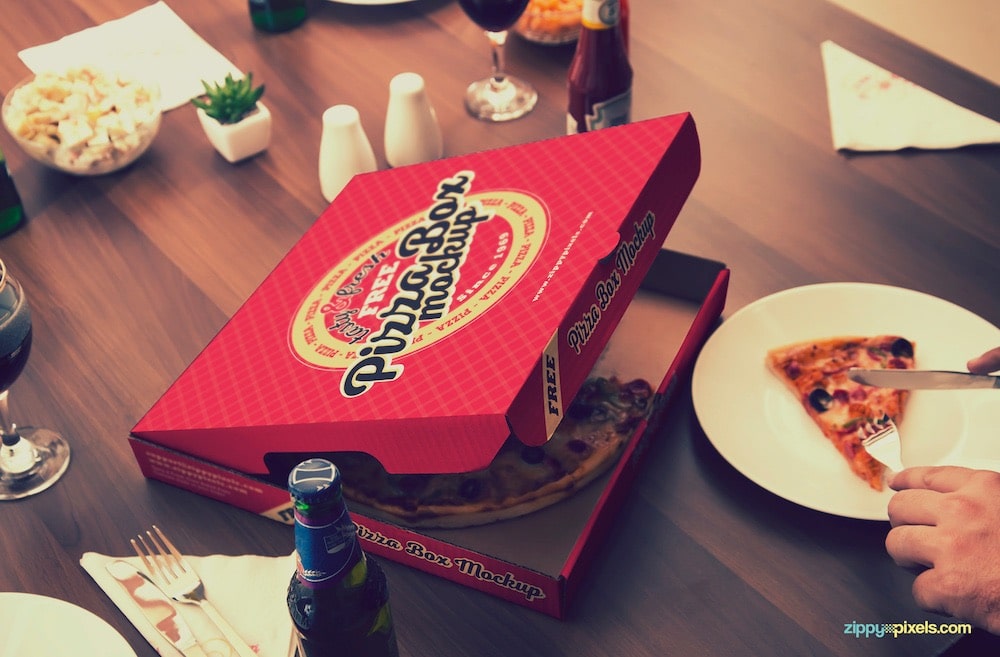 Pizza business is massive, and that is a fact.
And if you would like to get your share, you first need to make sure that your pizza varieties are exceptionally delicious.
Do not be afraid of going against the grain and coming out with unique tastes.
Moreover, if you plan to offer a takeaway, too, indeed, make sure your pizza boxes are not like of any other corner fast-food.
With a mockup, you can help yourself tremendously, as you can create the pizza box branding that will wow everyone.
MORE INFO / DOWNLOAD
How To Make A Pizza Box Mockup?
Do you have a custom branding design for a pizza box but are not entirely sure how to create a realistic version of it (without actually printing it on the packaging)?
That's when an online mockup generator comes into play.
It's the speediest way of creating a mockup for any project, including pizza packaging.
Let's do it with Placeit, a platform I prefer using over any other.
Hint: It'll take seconds!
Create A Pizza Box Mockup In 4 Steps:
Step 1: Follow this link to get to Placeit's 30+ mockup generators. (But feel free to use the search bar, too, to find something more concrete.)
Step 2: Open the template page and import your design (via the "insert image" button). You can resize and reposition it if necessary before hitting the "crop" button.
Step 3: Half work done! The next part of the task is to use other customization options to change the box's color, maybe improve the background (not all templates have this option), add extra graphics, and even create a text overlay.
Step 4: When happy with how the presentation looks, "download" it! (Click the button in the top right corner.)
And because I also added a few free PSDs, here's how to do it with Photoshop.
It's equally simple.
All you need to do is import your mockup and insert your design via the smart object layer.
I tested each template to ensure the layered structure is organized, so it's easy to find the elements you want to edit.
This is why performing other tweaks is a little breeze, even for a beginner.
You're in COMPLETE control!
Enjoy.
::
Note: This article was originally published on October 30, 2020. But our team regularly reviews it and updates it with necessary improvements for accuracy.