We recently worked on branding and product presentation for a large local kid's store and used multiple baby blanket mockups.
I tell you one thing: it wasn't the easiest to make the right decisions with SO MANY CUTE ones.
We always have a set of directions to follow. This allows us to end up with the best mockup variations that anyone can use.
In this case, we wanted the following characteristics in mockups:
Cuteness
High-resolution/quality (for detailed designs)
At least half with (an actual) baby
This is the EXACT list that we ended up with. And we are delighted to share it with you.
This post covers:
Just make sure that the cuteness factor doesn't take too much of your time! (insert: smiling-face-with-rosy-cheeks emoji)
Bask in!
Best Baby Blanket Mockup Generators
Enjoy each Placeit mockup for only $7.95. But if you plan to work with the platform regularly, save time with either a monthly ($14.95/month) or a yearly ($89.69/year) subscription.
1. Boy in onesie on a blanket mockup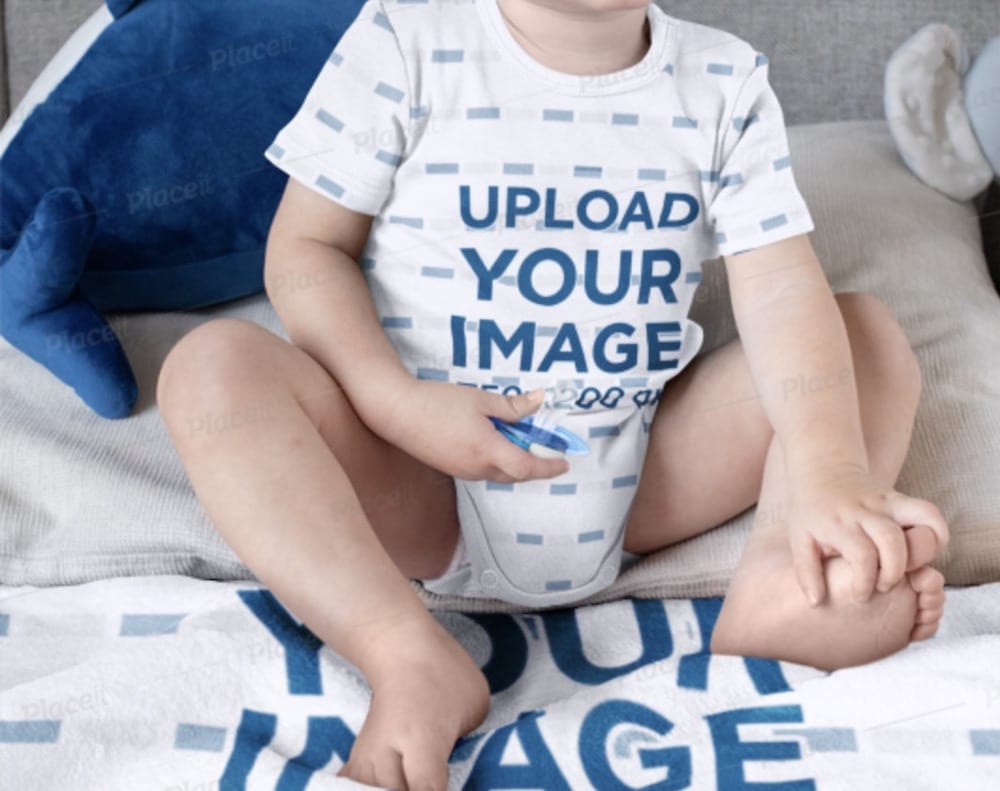 A mockup generator of a baby with his favorite onesie and blanket is ready for you to put it to action.
Well, you still need to make it his favorite with your excellent designs.
With quick few tweaks, you can create a photorealistic presentation swiftly, thanks to the convenient Placeit website.
Upload individual designs to both items, as well as change the color of the onesie and blanket he is sitting on.
On top of that, there is also an option to decorate the presentation with a graphic, a logo or text.
Enjoy the process and START on the right foot now.
MORE INFO / DOWNLOAD
2. Happy baby in an onesie on an editable blanket mockup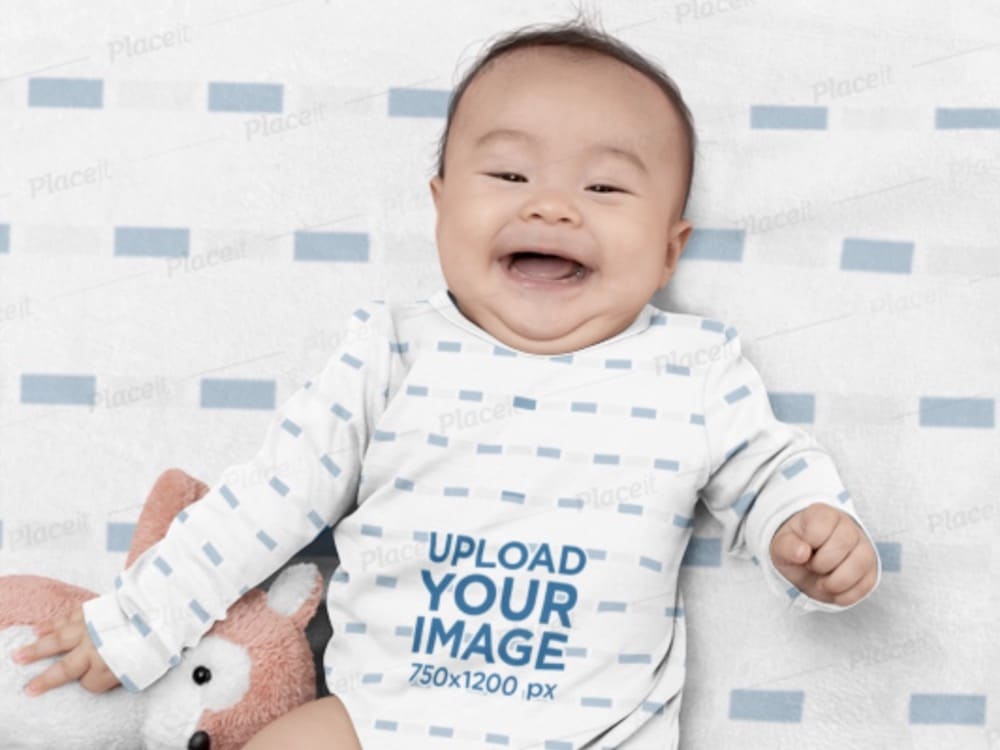 If you would like to create a presentation of a baby blanket, this is the mockup that will do the trick. A cheerful baby enjoys himself a whole lot, thanks to the coziness of the blanket.
Along with customizing the fleece blanket, you can also fine-tune the onesie that he wears.
You do all the editing and improvement of the default settings from within your favorite web browser.
To your luck, there is no need to use Photoshop to get the ball rolling.
Luckily, that's when Placeit comes into play.
A new way of making mockups without Photoshop. How AWESOME does that sound?
MORE INFO / DOWNLOAD
3. Toddler wearing an onesie sitting on a blanket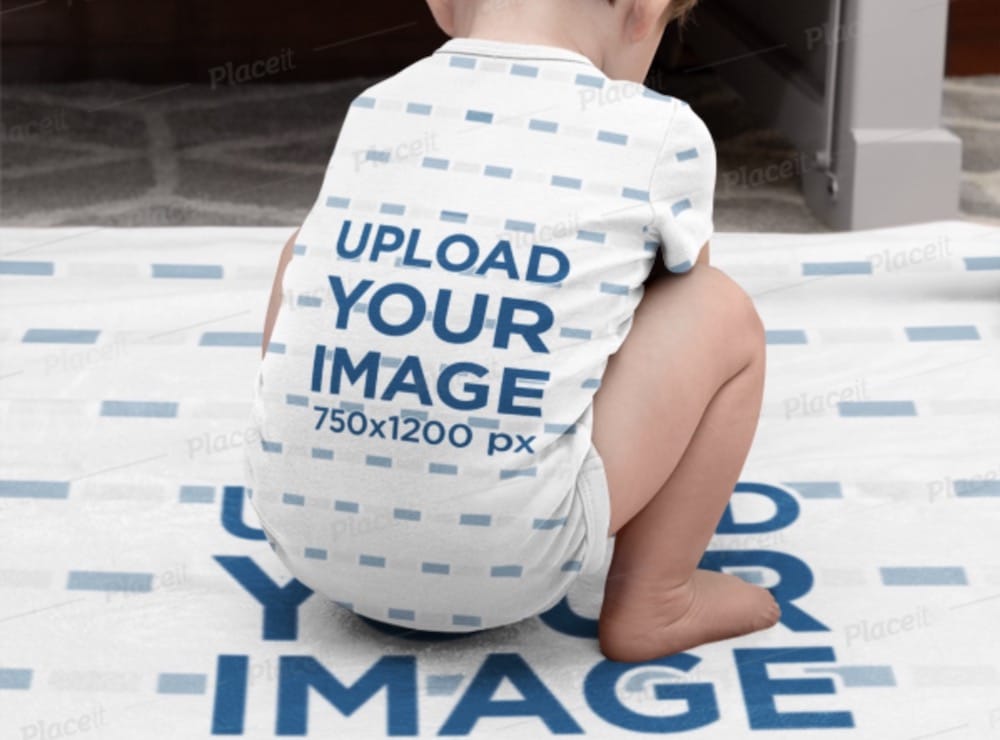 While this cool template offers you to style two items, you can keep the onesie of a single color and emphasize the blanket only, too.
However, you can do whatever you prefer, adjust and enhance the mockup, so it fits your liking precisely.
EASY WORK awaits you, even for someone who has no design and mockup experience.
Keep in mind, you don't need to learn anything; Placeit is very self-explanatory.
Just a few clicks to upload your designs or images and change the colors of the garment and you are done.
MORE INFO / DOWNLOAD
4. Mockup of a baby on a blanket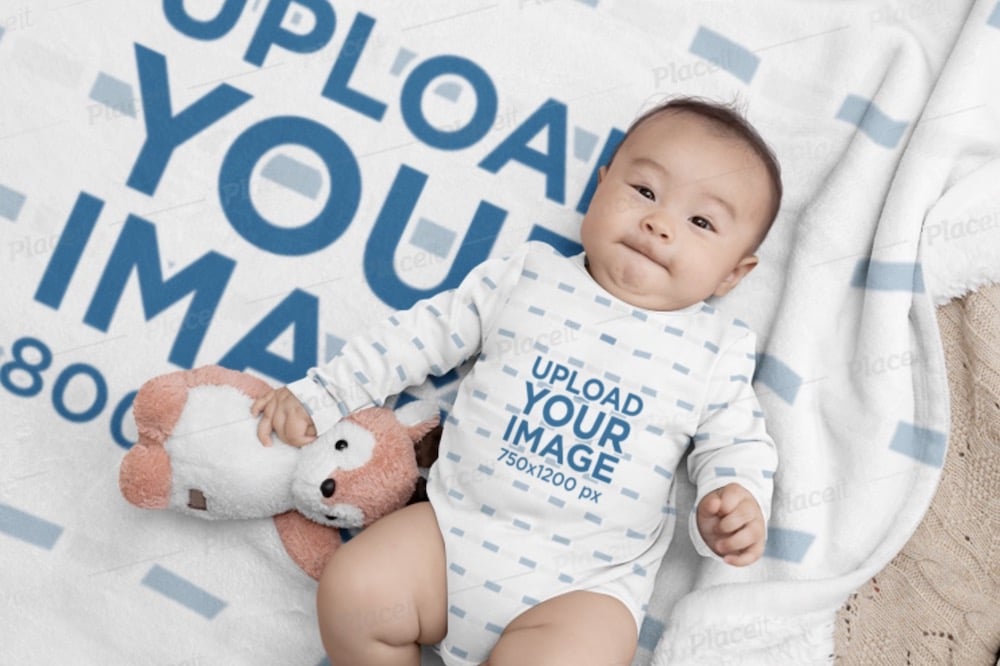 A baby boy lying on a blanket mockup is right at your fingertips.
Instead of undergoing a tedious process of creating the entire presentation from scratch, use a mockup and make an immediate difference.
Easy. Peasy. Lemon. Squeezy.
That's exactly what you can expect once you start using this or any other Placeit mockup.
There are all the necessary customization functions available for you to brand the exhibition, so it matches your style precisely.
Whether you are working on your product or helping a client out, start with a mockup template and go from there.
This also helps you to picture better how the physical product will look.
MORE INFO / DOWNLOAD
5. Onesie and baby blanket mockup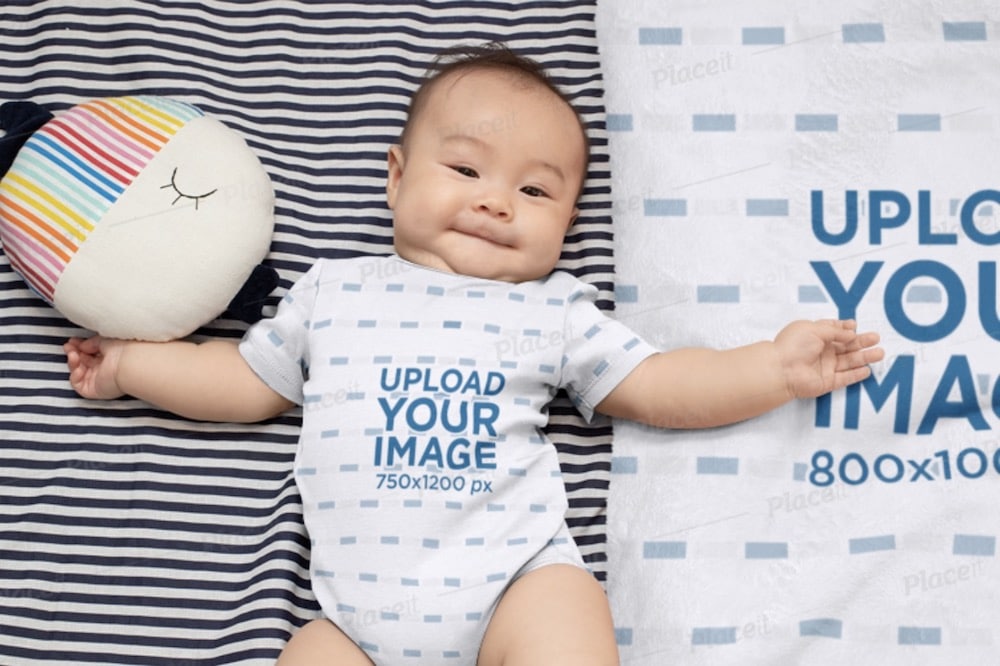 Happy kids are the best kids. If this little kiddo does not bring a smile to your face, you might only need to add your design to the blanket and onesie.
This will instantly create a completely different story.
Go ahead, head over to Placeit now and you can get the ball rolling right away.
For your information, you DO NOT EVEN NEED to create a free account. (Still, I highly advise you to do it to simplify your workflow.)
But the overall method is swift and straightforward anyway, making sure beginners and pros get the most out of the mockup.
MORE INFO / DOWNLOAD
6. Baby boy in onesie on a blanket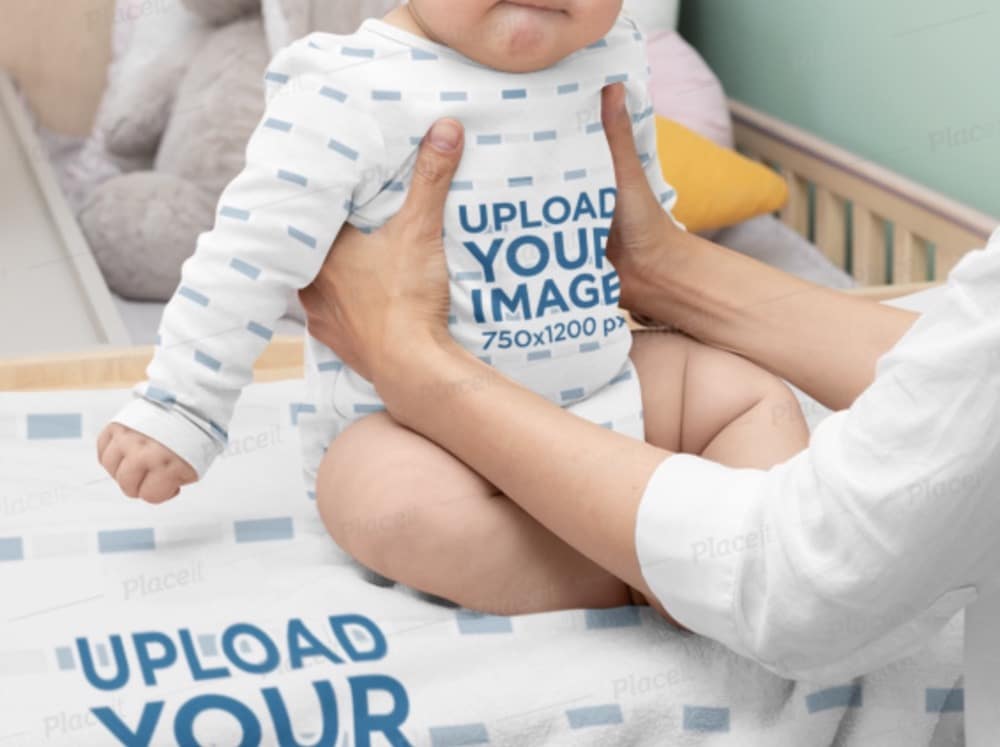 Instead of having a combination of baby and the blanket or just the blanket on the mockup, this one takes things a step further.
It features the parent holding a sitting baby who is professionally posing for the camera.
You can decorate the baby blanket with any design, making a LIFE-LIKE presentation quickly.
Use the outcome for all kinds of promotions, on your website, a blog post, or wherever you want.
You can even come up with multiple variations, mixing in different colors for an impactful finish.
Make things precisely how you want them and surprise your client or customers with a new design.
MORE INFO / DOWNLOAD
7. Baby blanket in a nursery mockup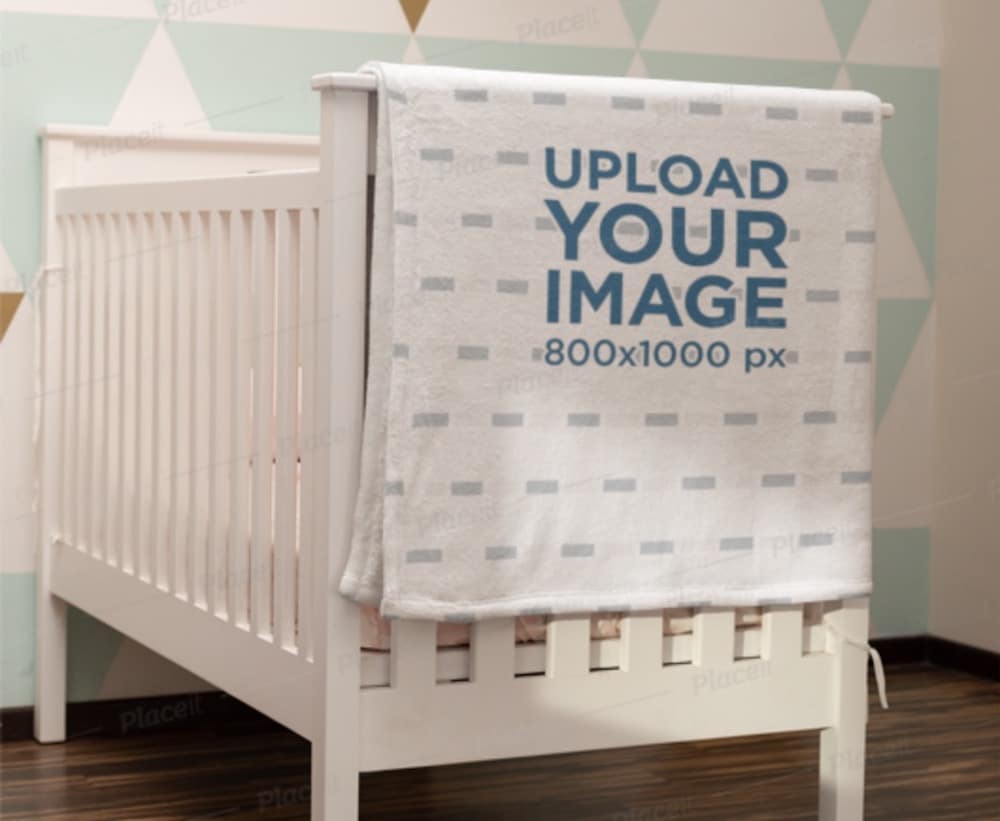 Right away, it is up to you to decide whether this cradle is in a nursery or parent's home.
However, it does not really matter, as everyone will focus on the blanket design anyway.
If you have the art you would like to put on a blanket ready, it will only take you two clicks once you are over on Placeit.
With one, you upload your artwork, which you can also crop and reposition. And with the second, you get to choose the color of the garment.
There's more.
You can also IMPROVE this blanket mockup with the company logo, graphics and text.
MORE INFO / DOWNLOAD
8. Minimalistic baby blanket mockup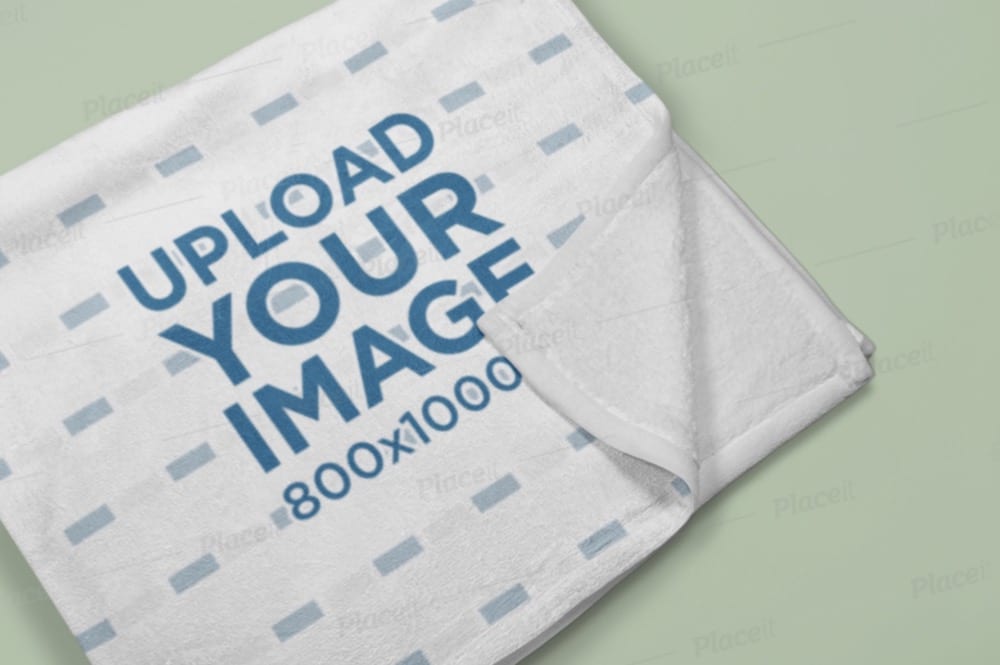 For emphasizing the blanket design, use this minimal-looking mockup and make an immediate difference.
The tool is straightforward to use, as you execute the entire task online.
Placeit unlocks everyone an option to build photorealistic product presentations without a sweat.
Along with inserting your design or logo, you can also alter the tint of the throw blanket and the background.
Make the mockup follow your branding regulations to a tee. You can also share a short message or a call-to-action with the "add text" function.
MORE INFO / DOWNLOAD
9. Mockup of a soft baby blanket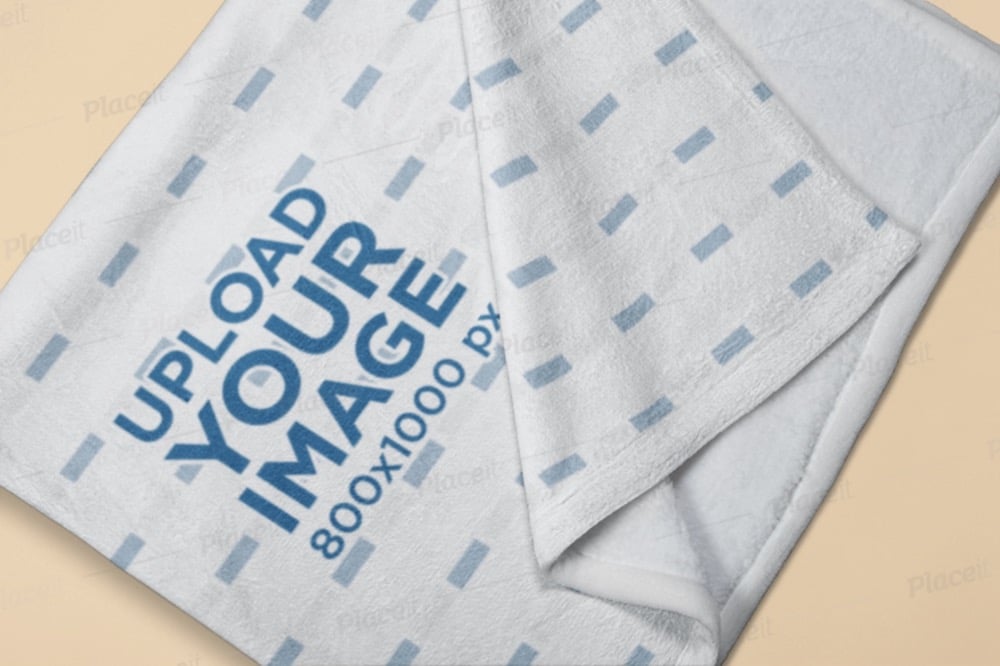 While most baby blanket mockups on this list include an actual baby, this one is product-only.
It features a close-up shot of a soft blanket that you can use for making the photorealistic presentation that you are after.
A simple tool to use, yet the outcome will be as a professional created it.
That's how Placeit's mockups role.
Instead of using Photoshop or Illustrator, you can get things going accessing the platform from within your favorite web browser.
From then on, it will almost feel like PLAYING A GAME, as the process is that fun.
MORE INFO / DOWNLOAD
10. Baby blanket in a pink bedroom mockup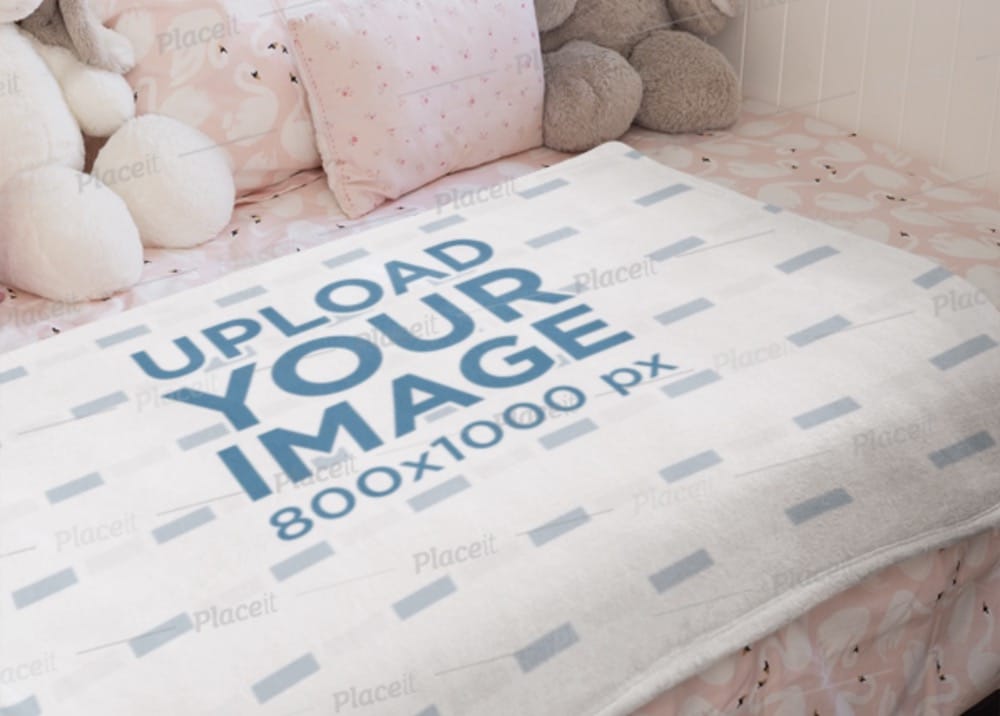 A cute pink bed setting with a fully customizable baby blanket. Of course, you can employ this template for all kinds of intentions; still, it's time for babies right now.
With a working area of 800 x 1000px, you can upload any design or artwork you want.
And if it does not fit, you can even use the cropping and repositioning function, which will be of great help.
If your design does not fit the entire blanket, you can also alter the tone of the garment by accessing the included color picker.
You are IN TOTAL COMMAND to make an exhibition of your blanket design that is exactly to your liking.
MORE INFO / DOWNLOAD
11. Mockup of a folded baby blanket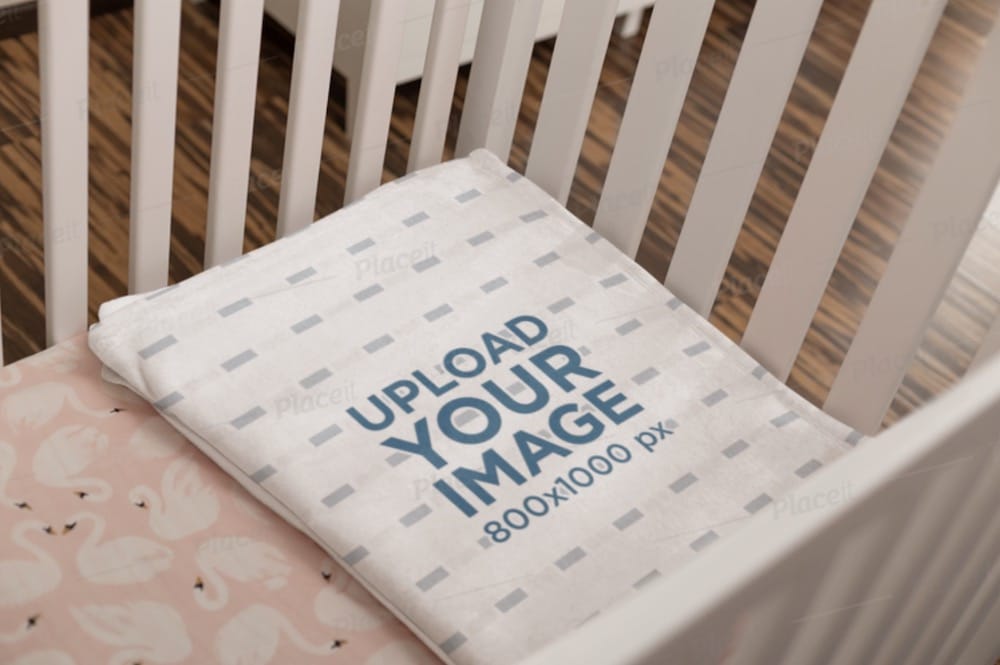 A baby blanket in a cradle mockup with your design on it will trigger every parent's attention.
With that in mind, if you are creating a new social media post, you want to start a paid campaign or showcase your work to your client, get your hands on this mockup and QUICKLY improve it.
While there is an option to change the color, you can also just upload your image (800 x 1000px).
But do employ different functions that Placeit has in store to create a spectacular presentation.
The final product is just a few clicks away.
MORE INFO / DOWNLOAD
12. Mockup of a soft baby blanket on a bed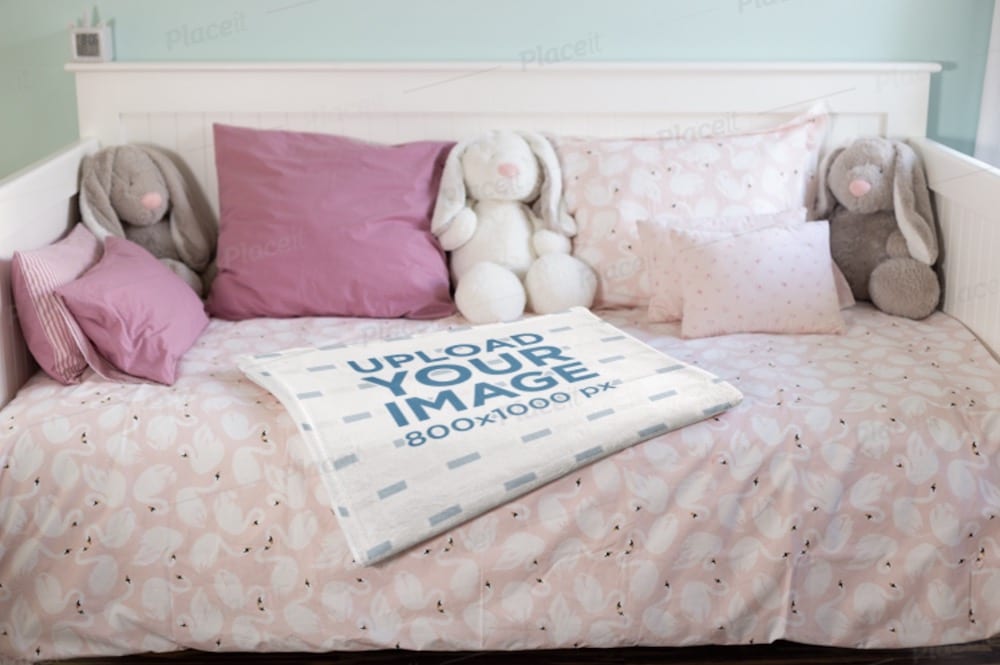 If the design is cool, many won't buy the blanket just for themselves, but as gifts, too. With that in mind, have a strategic approach, and you can target an even broader audience.
However, start with a mockup first, test things out, make a presentation and see what an impact it creates.
You can create as many variations as you want, even different colorways with the same design.
This will give you a better understanding of whether the design fits as it should, or it needs any additional editing.
Thanks to the mockup, you can be sure that everything is in perfect order BEFORE production.
MORE INFO / DOWNLOAD
Best Photorealistic Baby Blanket PSD Mockups
13. Cotton baby blanket (15 angles)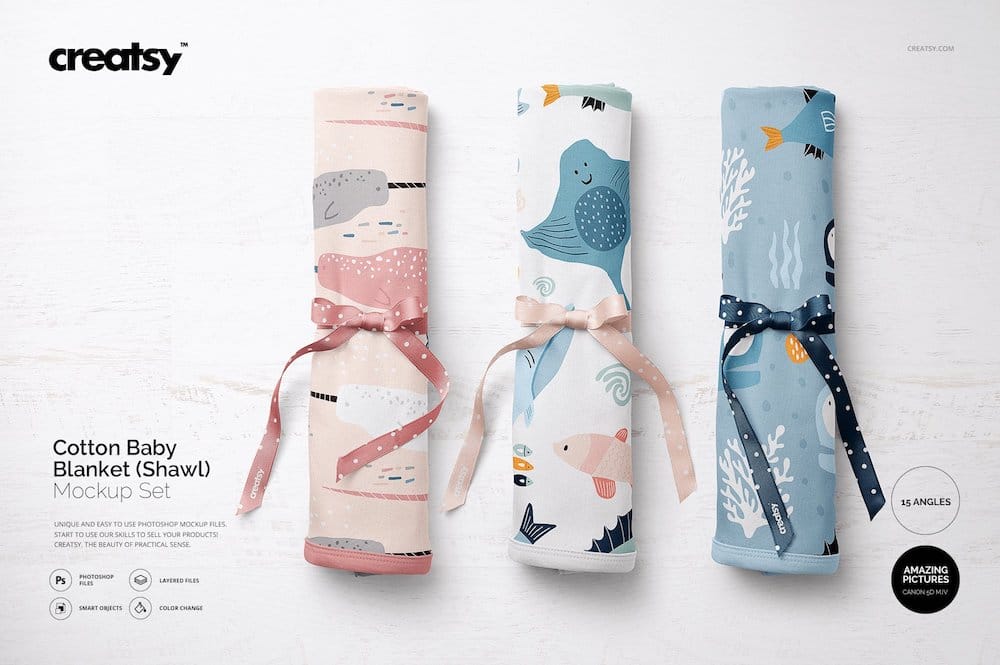 While all the above mockups are accessible online, here are a few layered PSD alternatives for all you creatives out there.
Still, they are a little breeze to use even though you need Photoshop for these.
This is a cool collection of whopping fifteen different cotton baby blanket mockups. Every file is 6000 x 4000px in size, ensuring high quality.
All the layers are organized and easy to work with to slide in your designs quickly.
HURRAY for smart objects.
The files also work with any solid color choice, gradients, as well as custom designs.
You can take a peek at how the final product looks and then put all the fifteen angles to use.
Price: $15
MORE INFO / DOWNLOAD
14. Baby boy wrapped in a blanket mockup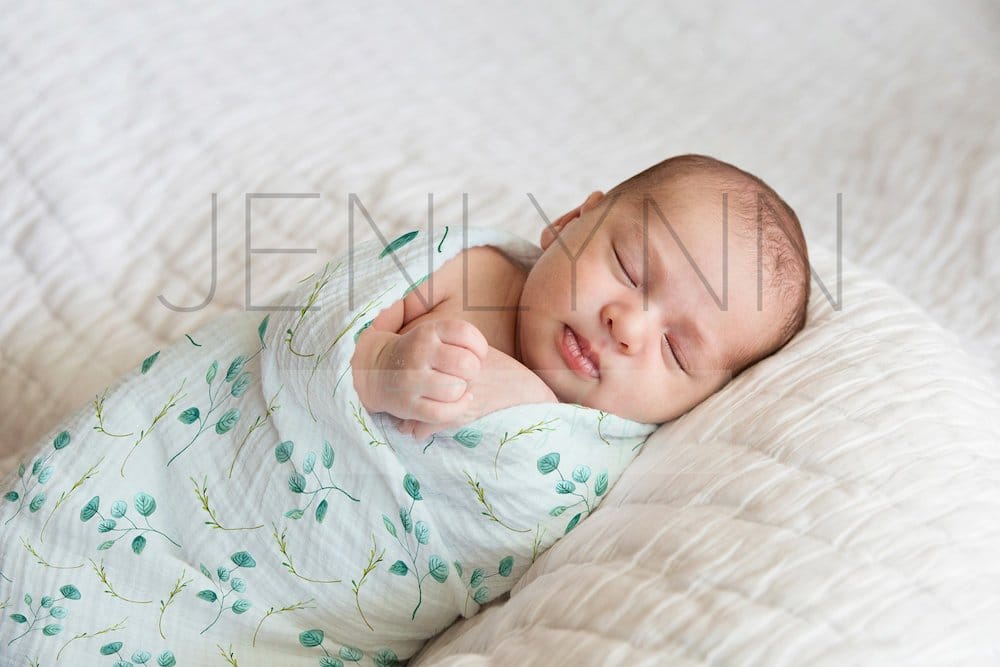 Highly photorealistic mockup of a baby wrapped in the softest blanket. No one will even notice it is a mockup because of how crisp clear this one is.
In the kit, you will find one PSD file with easy-to-use layers for quick work.
Just attach any design or artwork, even a pattern, that you would like the blanket to sport with a click, and you are done doing the work.
It truly is just as simple as it sounds.
With that in mind, even if you have just the basic knowledge of Photoshop, you will still make an EFFECTIVE outcome.
Price: $20
MORE INFO / DOWNLOAD
15. Milestone baby blanket & swaddle PSD template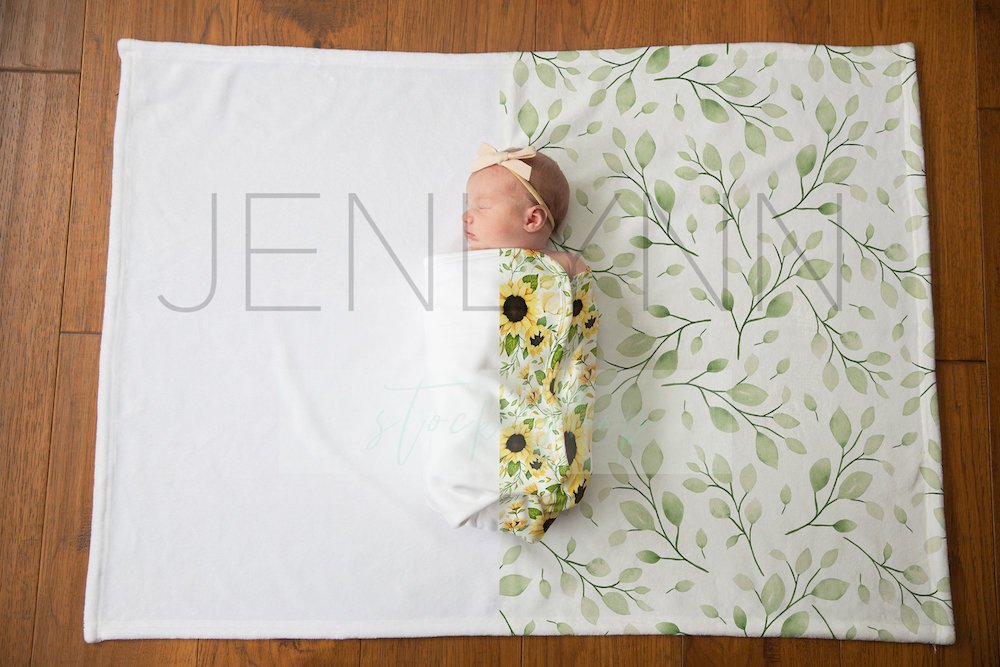 A real swaddled baby on a soft and delicate blanket, all neatly packed into a fully editable mockup.
Both cloths are FULLY CUSTOMIZABLE and you can even reposition the elements.
While the image is already outstanding, decorate it with your beautiful design, and you will have a real attention-grabber available in little to no time.
You receive one high-resolution PSD file (3000 x 2000px, 240 dpi), ensuring a stunning final product.
The presentation of your design will leave a strong and lasting impression on everyone.
Get as creative as you want, make as many variations as you want and find the winner to make everyone want to have it.
Price: $20
MORE INFO / DOWNLOAD
How To Design A Baby Blanket Mockup?
You have it all under control when you follow this effortless step-by-step process to create a life-like baby blanket showcase.
And this applies to both newbies and experts.
We'll use my favorite online mockup generator, Placeit, to make it happen because it's the easiest and the quickest method I ever used.
4 Steps To Make A Baby Blanket Mockup:
Step 1: Go to Placeit and pick the template that like the most. You can also use their search bar with live results if searching for something more detailed.
Step 2: When on the template page, hit the "insert image" button, which allows you to upload your design from a desktop or a mobile device. Yes, you can actually create a mockup with a smartphone! Resize and reposition it (if necessary) and click "crop."
Step 3: Then do all the other customization tweaks necessary. This could be changing the blanket's color, adjusting the background, adding a graphic, etc.
Step 4: Download it, and you're DONE!
For those of you who plan to use a PSD mockup, here's a quick how to that shows it's almost as simple as the above process – but you need Photoshop.
Open PS and import the template you dig the most.
You then find the smart object layer to import your design. This is easy because I included only templates with an excellent and user-friendly structure (named layers).
This is also why doing other modifications is easy. Navigate the layer you'd like to edit, click it and alter it however you want.
Click save and download your masterpiece.
::
Note: This article was originally published on September 27, 2020. But our team regularly reviews it and updates it with necessary improvements for accuracy.