Working with a cake shop and a bakery owner made us check and review dozes of cake box mockups.
Later, another client came seeking help with branding gift boxes for birthday cakes.
Then it STRUCK us.
We already have the mockups that anyone can use, so why not share them?
We wanted a mixture of online smart mockups (aka mockups generators) and layered PSD files during our review process.
This post covers:
You need 0 experience for the first but only Photoshop basics for the second.
Extremely. Convenient.
This is it! You have the necessary cake packaging mockups ready to go.
Make a difference. NOW.
Best Cake Box Mockup Generators
All mockup generators are from good people over at Placeit. Each goes for $7.95, but you can also get monthly ($14.95/month) or yearly subscriptions ($89.69/year).
1. Minimalistic mockup of a cardboard box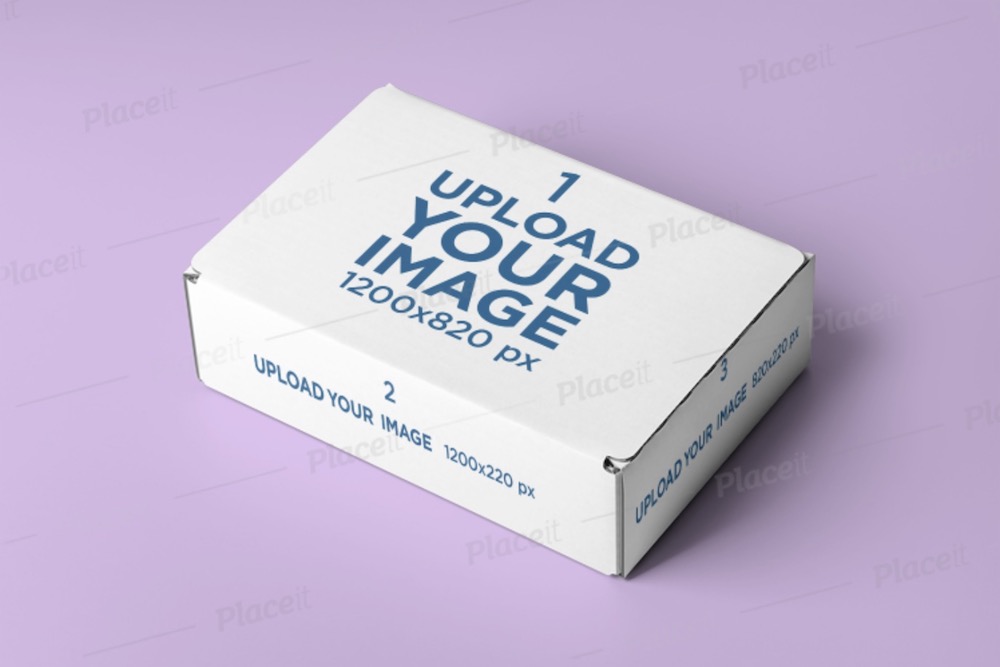 By using a mockup generator, you can quickly create a life-like presentation of your design.
In this instance, if you are designing the packaging of cakes and other sweet treats, this cardboard box will come super handy.
Keep in mind, this is not the right box for two, three or even more stories high cakes; instead, flatter variations will come ideal.
You can alter the box's top and both sides.
Upload INDIVIDUAL design to each side, plus, change the color of the background and the box.
Swift work for remarkable results.
MORE INFO / DOWNLOAD
2. Mockup of a cube box with label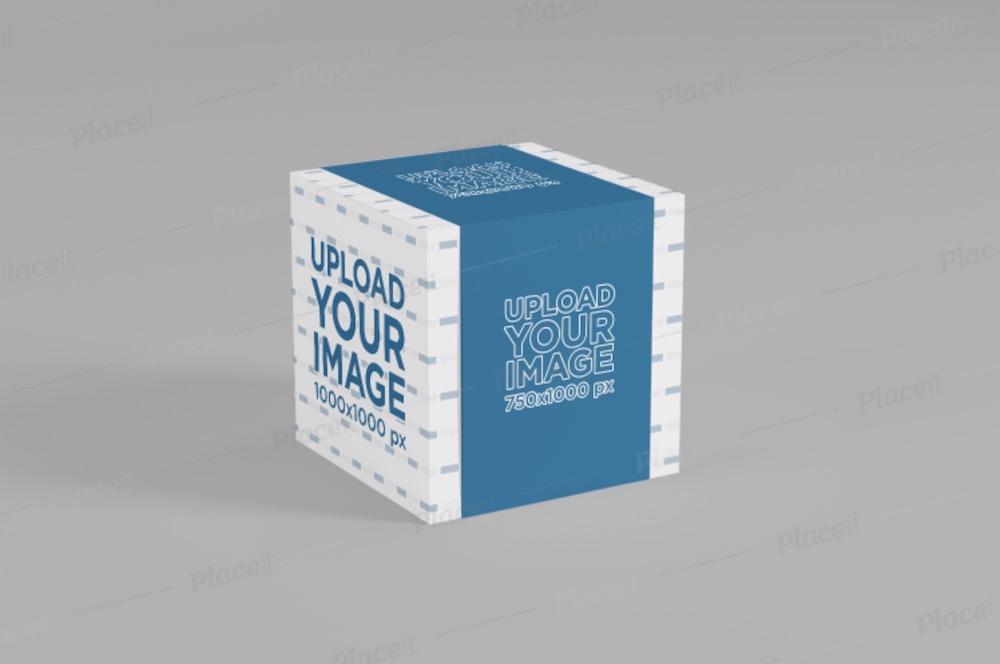 If the last cake box mockup was more for one-story cakes, this one is for higher creations. The mockup features a cube box with a label.
The working area of the box is 1000 x 1000px and the label 750 x 1000px.
You can attach individual designs to both layers with a click on the button, thanks to the convenient online editing.
And if your art does not fit directly, you can also crop and reposition it.
From then on, you can also alter the colors of the background, box and label. Like that would not be ENOUGH already, feel free to add a company logo, text and graphics, too.
MORE INFO / DOWNLOAD
3. Mockup of a cake box on a solid background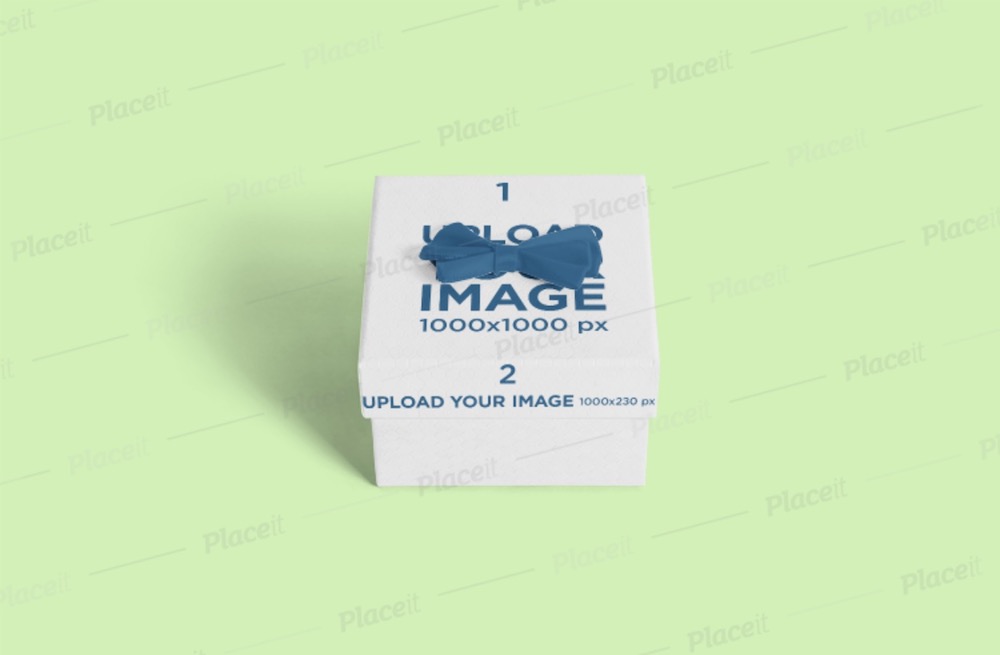 This particular mockup comes with great customization features that will help you come up with a stunning presentation.
Present a beautiful box that will WOW everyone.
Thanks to the Placeit platform, you get to do all the work from within your favorite browser – online, of course.
No Photoshop and no other advanced tools are necessary to make things happen.
This one's specialty is the bow on the top, which you can also decorate with a custom color.
MORE INFO / DOWNLOAD
4. Cake box mockup with a colored ribbon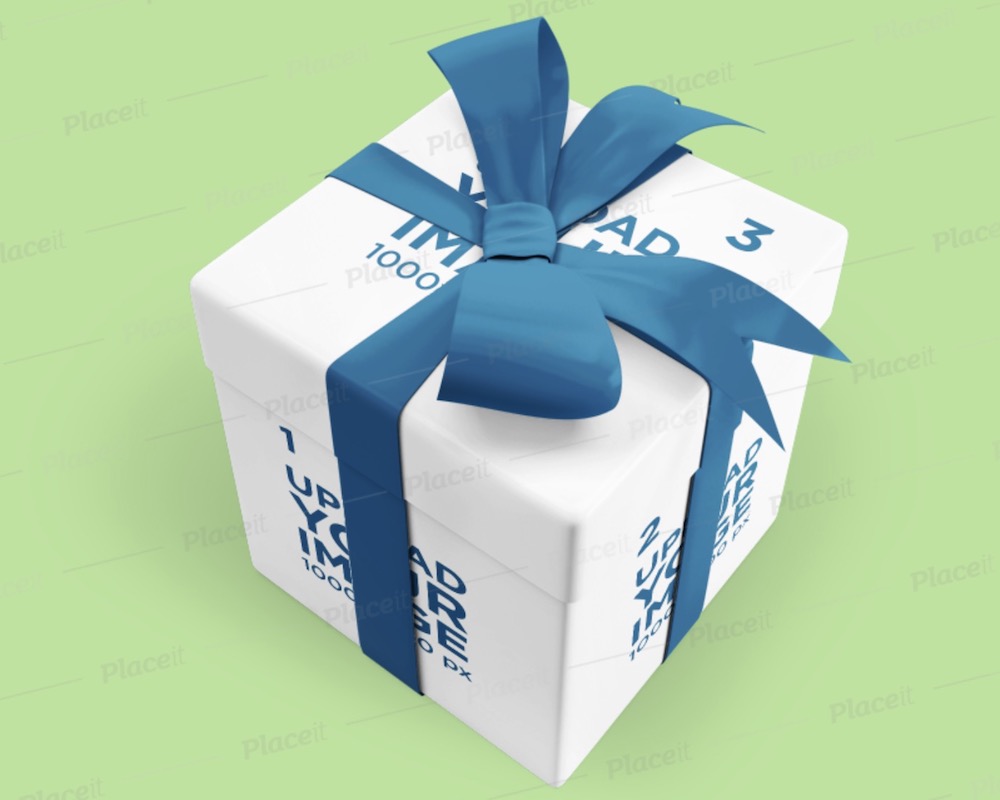 A more close-up look of a box with a ribbon that will create the perfect box for your cake.
First thing's first, you can upload three different designs to the box's top and two sides.
These can be anything you want, from text to custom graphics and everything else in between.
Second, you can choose any color from the color picker to alter the ribbon.
Finally, you can also adjust the shade of the box and the backdrop.
This is not it.
You can SPICE THINGS UP with additional text and graphics, too, even upload a logo.
A top-notch life-like showcase of a cake box is just a few clicks away.
MORE INFO / DOWNLOAD
5. Cake box mockup with an open lid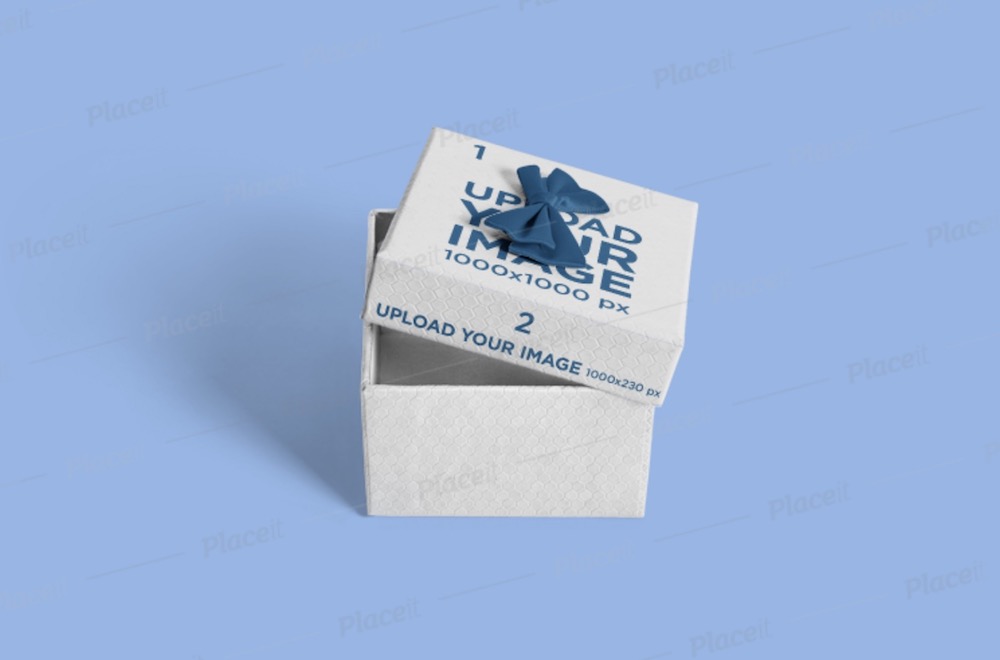 A somewhat simple, yet impactful mockup of a cake or gift box that you can style to your liking quickly.
You can bring to fruition a first-class design showcase for a box without the need to have any experience.
You can also use a mockup to see HOW WELL your idea works and whether or not it needs any additional tweaks.
This one especially focuses on the lid of the box, as you can improve both the top and the side.
Tons of coloring options, as well, to make the final product follow the necessary direction.
MORE INFO / DOWNLOAD
6. Mockup featuring an open cake box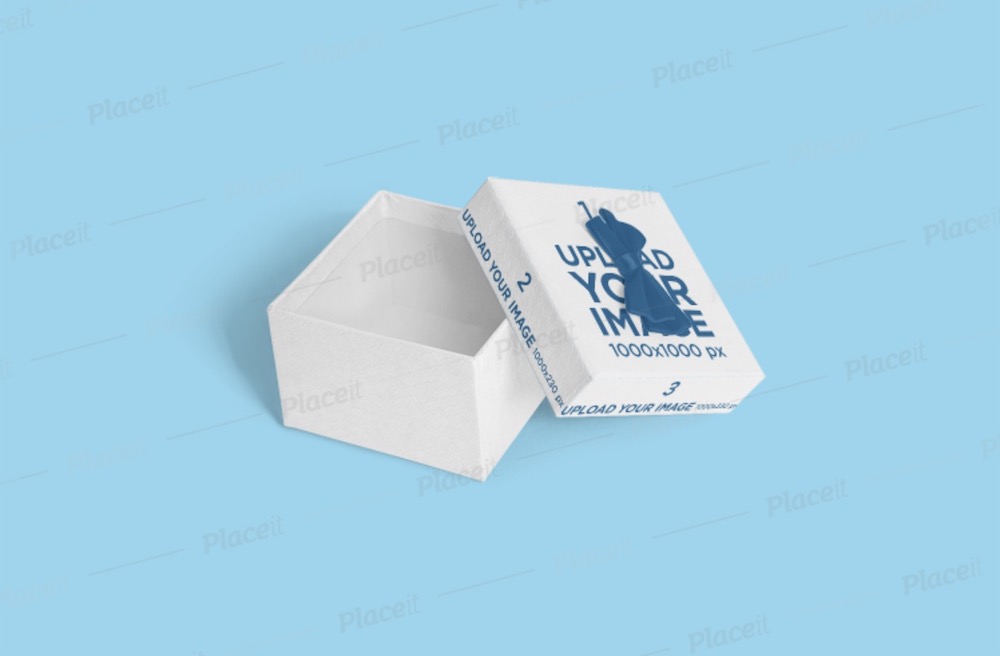 If the top mockup allows you to include two designs to the lid of the box, this one offers you three.
You can upload different designs individually and have them appear on the mockup with the click of a button.
That's how easy working with the convenient Placeit is.
You can test a bunch of variations of the design ideas that you have before you settle with the winner.
This also helps you make sure that the final product will be exactly to your liking before you send it to production.
Enjoy the process, as it will feel like playing a game.
Clicking and some more CLICKING.
MORE INFO / DOWNLOAD
7. Mockup featuring a takeaway coffee cup and cake box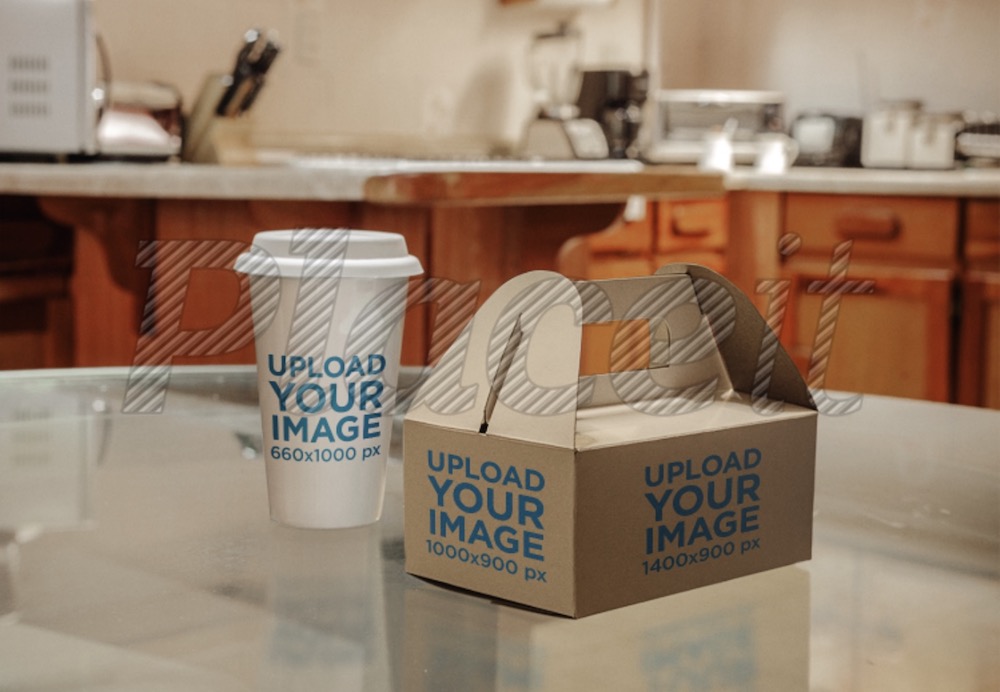 Some need to design a box that fits the entire cake and some just a slice. If you are working with a coffee shop or a restaurant, heck, even a bakery, takeaway packaging is probably something that they need.
This nifty mockup features both a coffee cup and a paper food packaging box, which comes ideal for a slice of delicious cake or other pastry.
The simplistic procedure of beautifying the default settings unlocks tons of new opportunities.
Upload one design to the cup and two to the box.
From then on, you can also change the colors of each element and append a graphic, a CTA, whatever.
MORE INFO / DOWNLOAD
Need inspiration? You can view tons of cake packaging design ideas that will get your imagination going full tilt.
And BOOST your confidence because you now know how to make a LIFE-LIKE cake box presentation.
Like a PRO!
8. Mockup of a cake packaging with a ribbon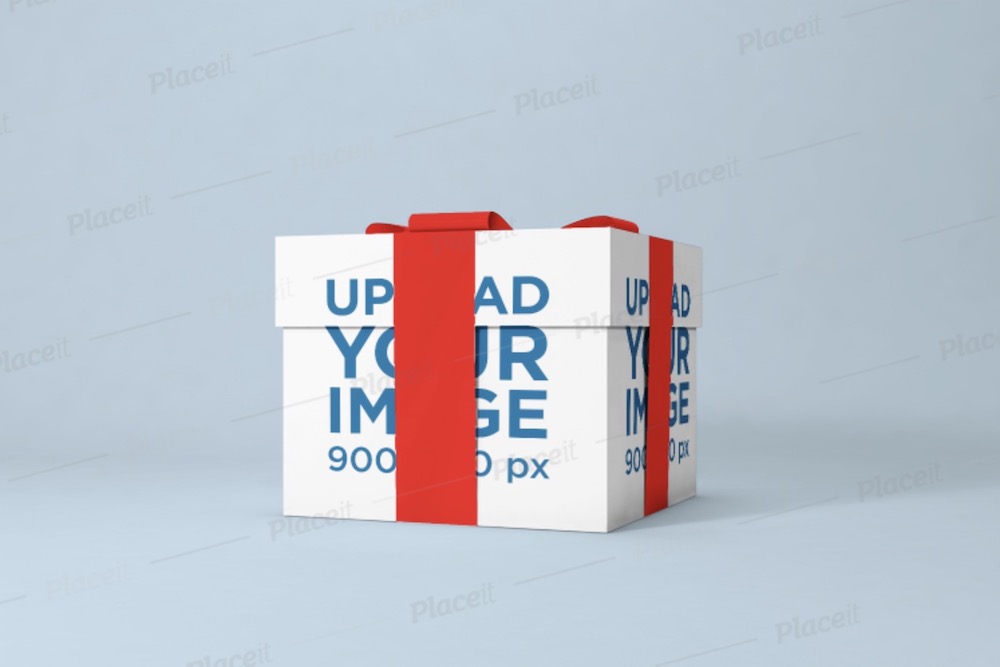 A beautiful square cake box with a ribbon mockup can now be yours by heading over to Placeit.
You can start using its decoration features right away to see what's possible.
In short, you can pretty much style everything.
You make it happen all from the comfort of your favorite browser from changing the colors to uploading custom artworks and more.
When it comes to Placeit, you do all the work online and when you are done, you simply download your creation and that's it.
MORE INFO / DOWNLOAD
9. Mockup of a square box with a customizable background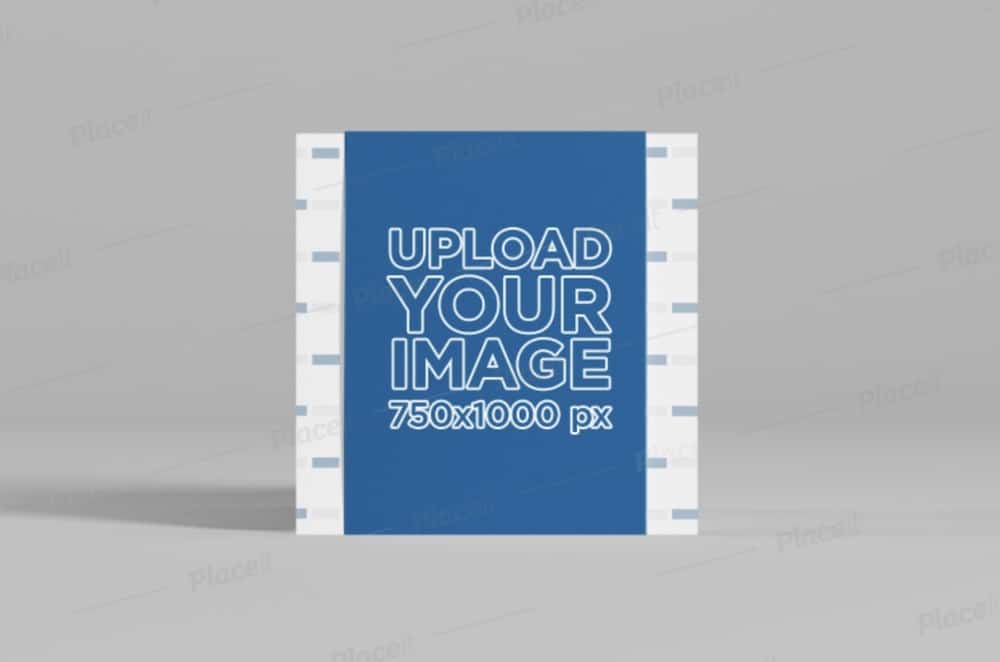 If you would like to create a simple but impactful demonstration of a cake box design, that's when this neat mockup comes into play.
It features a square box with a large label that you can fully beautify according to your liking.
In addition to that, you can also change the background color or even make it transparent.
With simple clicks, you can import designs to the box and the label and have it all set sooner rather than later.
You can even test things out without creating a Placeit account, which comes in EXTRA handy.
MORE INFO / DOWNLOAD
Best Cake Box PSD Mockups
The mockups above are all fully functional online, without the need for any software and whatnot.
But if you are particularly searching for a PSD alternative, here are many beautiful ones for you to consider.
10. Cake box mockup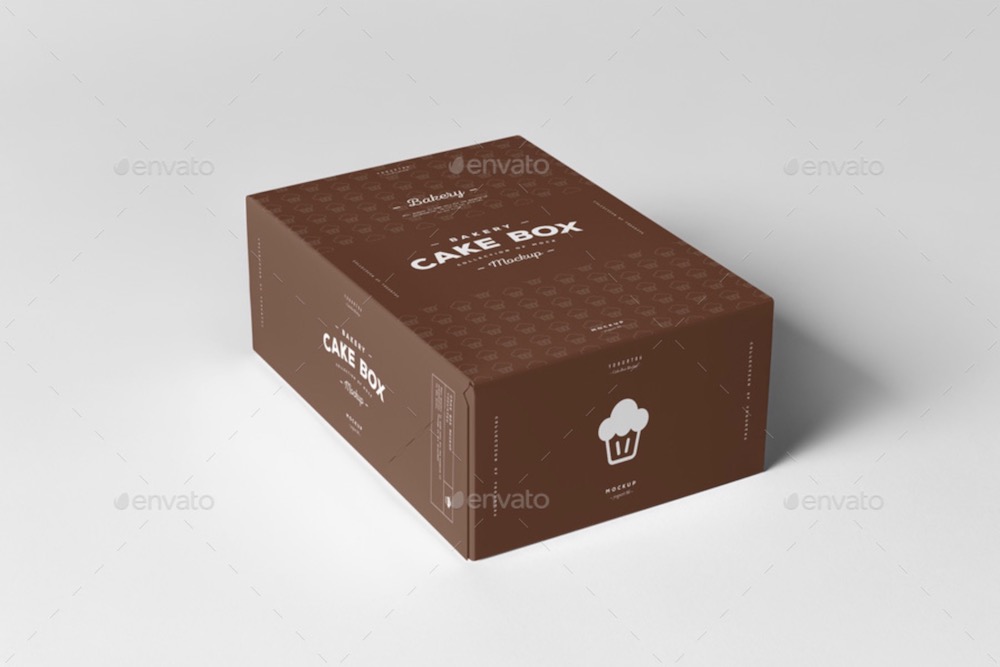 This set offers you a collection of six different views, seven PSD files and entirely editable everything.
With this in mind, you can craft a striking and engaging presentation of a cake box that will wow everyone.
The QUALITY is also top-class so that you can go very in detail with your exhibition.
Each file comes with organized layers and smart objects, so you know the task will be quick and effortless.
Price: $7
MORE INFO / DOWNLOAD
11. Pastry packaging mockups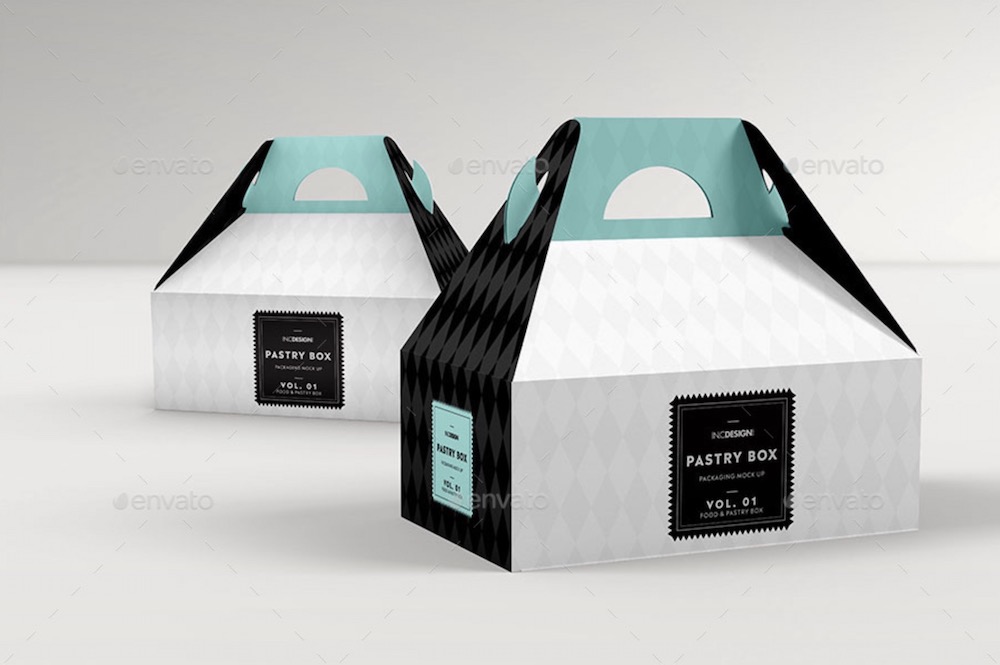 In this collection of food and pastry packaging mockup set, you get three different PSDs, which all will do the trick.
Each file features a different type of packaging, so you can easily use the kit to work on different projects simultaneously.
You can expect every file to be of high resolution, so you know the outcome will be outstanding.
Note: Each mockup has 5400 x 3600px dimension, 300 dpi. (Boxes are of actual size.)
You can also utilize each file to test out your beautiful designs and perform any last corrections if necessary.
Price: $15
MORE INFO / DOWNLOAD
12. Bakery cake box mockup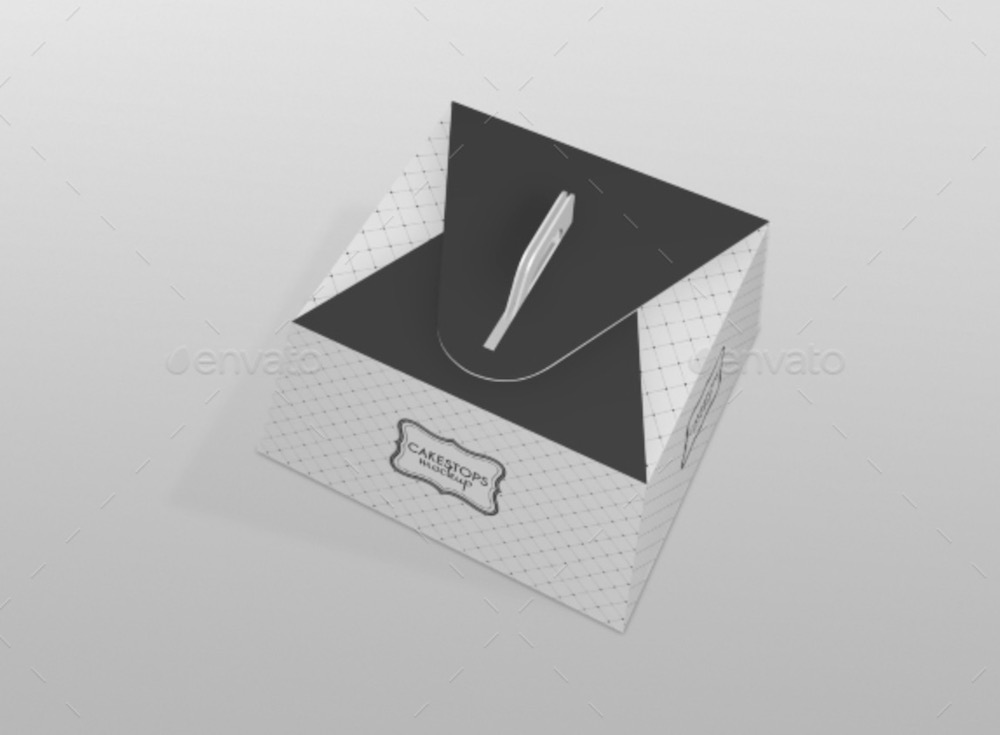 Bakeries looking to brand their packaging, start with a set of mockups first and go from there.
This kit includes seven stunning presentations of a cake box in multiple views.
With that in mind, you can focus on creating a full-blown design presentation that will go into great detail.
Speaking of detail, thanks to the amazing resolution, all your designs will come into view with crystal clarity.
Even though Photoshop is necessary to work with any of these PSD files, the process is still very beginner-friendly.
Perfect for BEGINNER and PROFESSIONAL designers.
Price: $14
MORE INFO / DOWNLOAD
13. Paper cake box mockup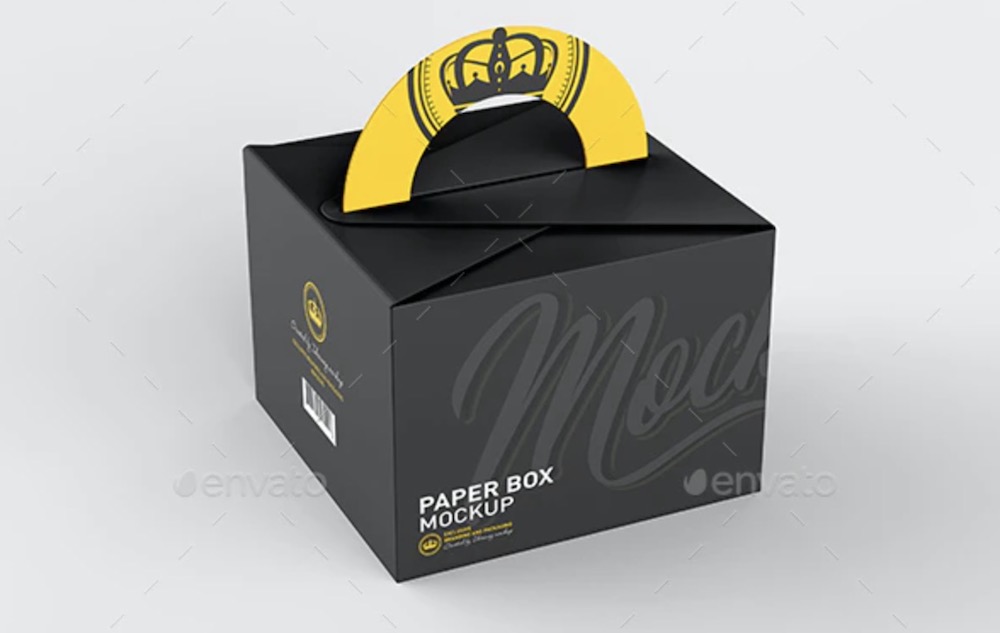 A creative cake box with a handle that will grab everyone's attention. When coming up with a design for a paper box, the first thing you would want to do is to use a mockup.
It is great for all sorts of stuff, like presentations, visualization, and seeing how well the design fits.
Ensure all is in perfect order and exactly how you want it to be before you make the physical version of it.
In the bundle, you get two PSD files, both entirely editable and adjustable with custom color options and designs.
Each file comes at 7700 x 5000px dimension, so you know the final product will be OUTSTANDING.
Price: $6
MORE INFO / DOWNLOAD
14. Cake box packaging mockup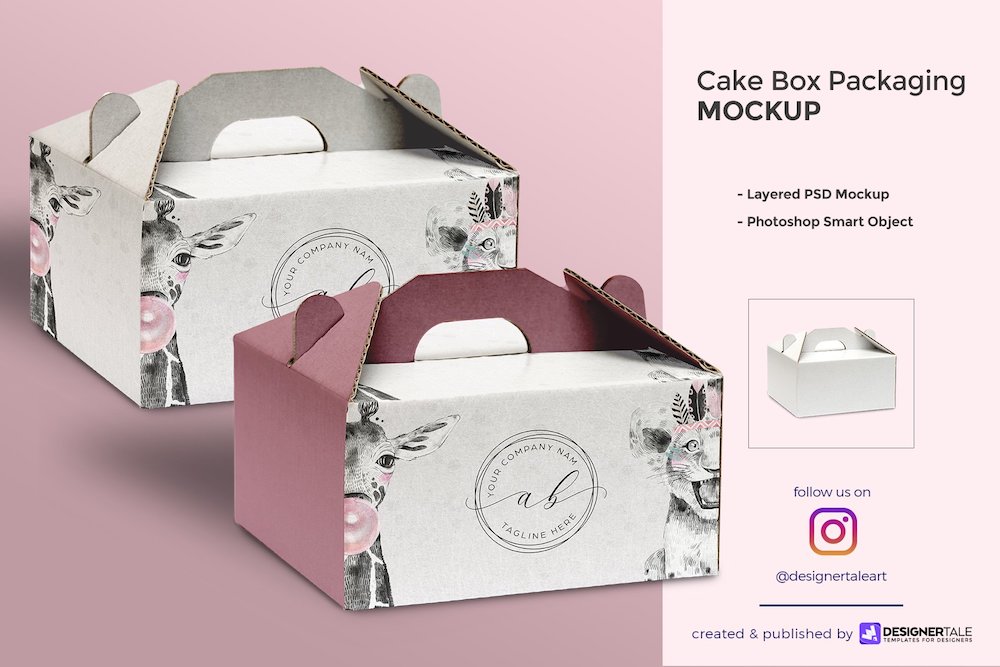 Put outstanding branding on display with a stunning cake box mockup that you can employ in just a few clicks.
With the design ready-made, you can activate this PSD file immediately and have an outcome available shortly after.
With this one, you receive one fully customizable 6000 x 4000px file that ensures a high-resolution outcome.
The background and all sides of the box are customizable with colors and designs for your convenience.
Keep in mind, there is even a short video tutorial that will help you successfully work with the mockup even as an utter NEWBIE.
Price: $9
MORE INFO / DOWNLOAD
15. Cake box PSD mockup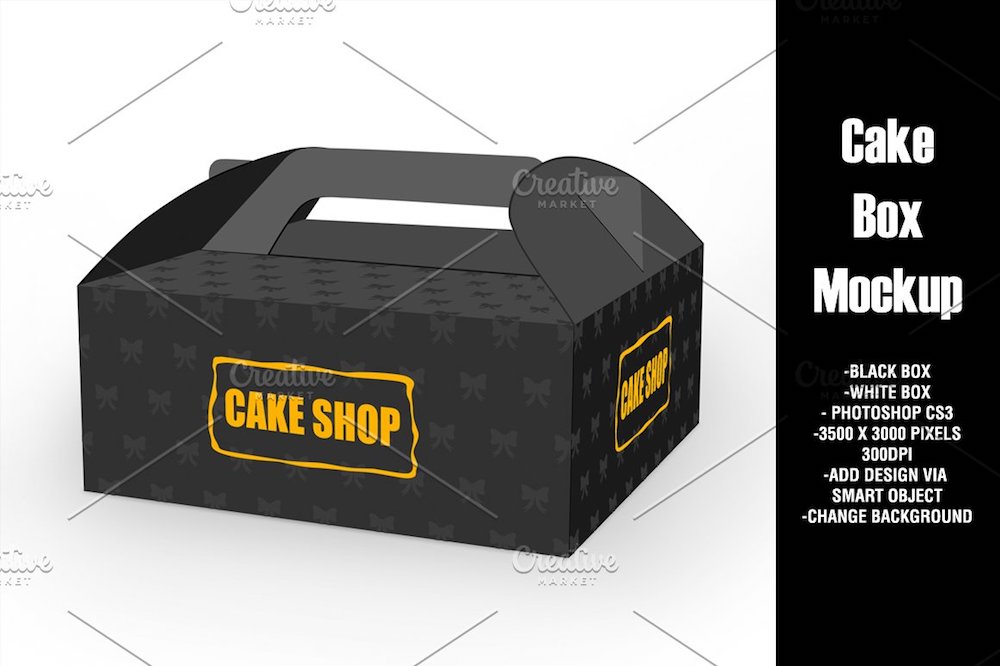 Along with altering the color of the box, you can also place a design or a logo on top and both sides of the box.
Thanks to the smart object layer, you just drag and drop the artwork and see it appear immediately.
Of course, you can adjust the background, too.
Without performing any tedious work, you can have a sophisticated life-like presentation available in little to no time.
By the way, if you have any questions for the author, feel free to shoot them a message.
Still, even if you are using a PSD mockup for the first time, you will EASILY learn on the fly.
Price: $9
MORE INFO / DOWNLOAD
16. Square box mockup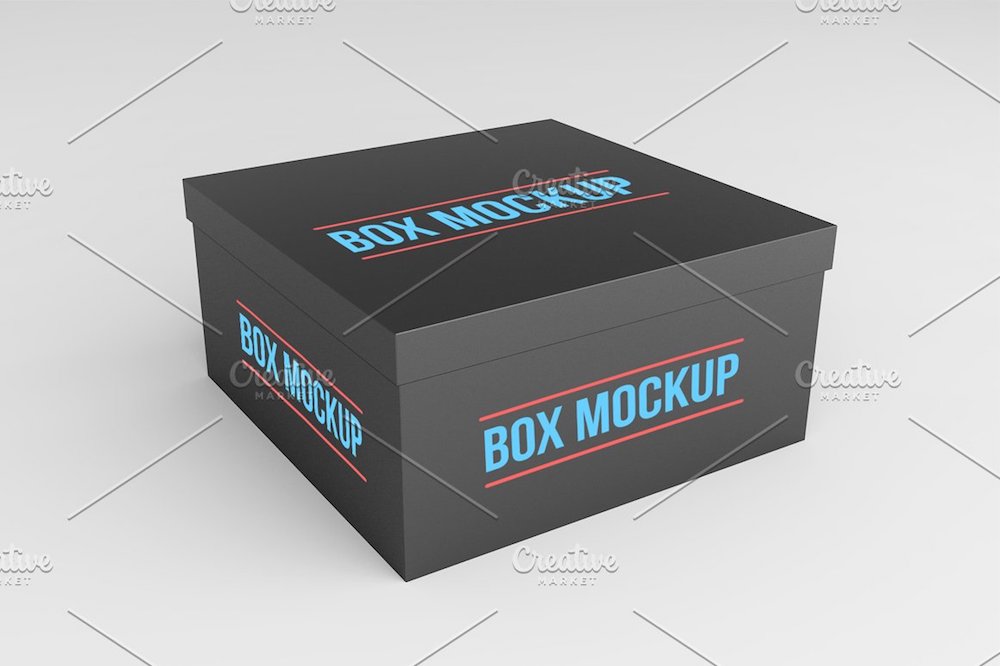 If you would like to keep things simple and minimalistic, this is the ideal mockup for you. It comes as a single PSD file that offers you complete creative freedom.
To achieve a spectacular result, you really need to spend a few seconds in Photoshop after you import this PSD.
Adding a logo or any other artwork is QUICK, just like adjusting the color of the box is.
You can enhance the top and the sides of the box at free will.
Also, white and black versions of the box are already included in the kit, if that's something you need.
Price: $9
MORE INFO / DOWNLOAD
17. Cake window box packaging mockup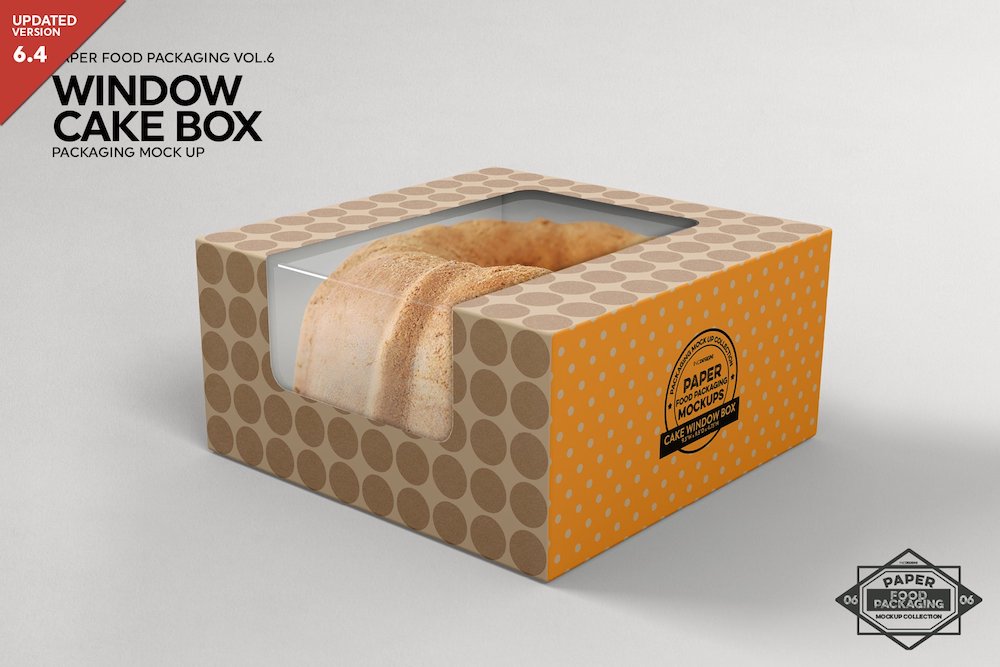 You came to the right place to pick a cake box with a window.
A simple to use, yet powerful PSD file is available for everyone to use and IMPROVE according to your liking.
Color-wise, you can adjust both the outside and the inside of the box.
Additionally, you can also add a background image and even include the actual cake inside the box.
Tons of options and possibilities for creating an end product that will wow everyone.
The dimension of the box is 9.5″ x 9.5″ x 4.75″. That's it, now add your own twist to it.
Price: $10
MORE INFO / DOWNLOAD
18. Cupcake box mockup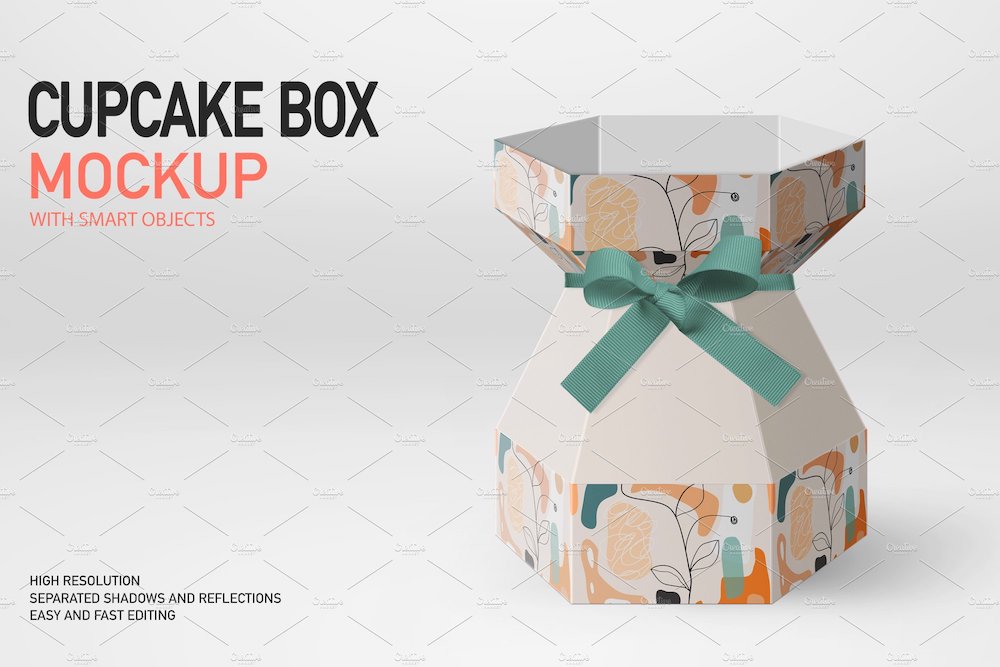 As an alternative to all the other cake box mockups above, here is one for cupcakes.
If you are already in the space of creating a design for cake boxes, you may require a cupcake mockup, too.
This lovely solution will help you with the presentation that will inspire your client or your customer.
Instead of working on it from the ground up, enjoy a mockup instead and have it all set and ready to go sooner rather than later.
With the convenient smart objects, you can make improvements in just a few clicks and FINISH the work swiftly.
Price: $10
MORE INFO / DOWNLOAD
How To Make A Cake Box Mockup?
You can create a mockup online or use Photoshop to make it happen.
My favorite way of doing it is with a mockup generator, so we'll start with that.
However, both methods are beginner-friendly, ensuring everyone easily creates the desired outcome.
In general, you need NO experience to use a generator. But even if you use PS, only the basic skills are necessary.
That's it. Let's go!
4 Steps To Design A Cake Box Mockup:
Step 1: Head over to Placeit, where you can search for your favorite template. But I recommend picking any of the above generators because Placeit doesn't have a specific category for cake boxes, so finding the right one may take some time.
Step 2: Once you're on the template page, I recommend adding your design first by pressing the "insert image" button first. You can also change the position and the size (optional). Then attach the design by hitting "crop."
Step 3: Every template also has other customization functions to tailor the look however you want. Changing colors and background, adding texts and graphics – everything requires only some clicking.
Step 4: Click "download," and your job is done.
Moreover, when working with a PSD file, open Photoshop first and import the template.
Then click the smart object layer, which allows you to slide in your design by dragging and dropping it. Yes, really!
I made sure to add PSDs with an organized, layered structure, so any other modification you want to do is only a click away.
When done, click save and download your creation.