Are you searching for the ultimate gift box mockups?
I spent 6+ months working and testing 100+ variations to create this best-of list.
You can now save a lot of time and energy! (Photorealistic box is only a few clicks away.)
Whether you opt for a mockup generator or a layered PSD file, you'll WOW everyone either way.
Note: You can make a mockup without Photoshop if you opt for the former. (My recommendation.)
These mockups are great for testing and prototyping, online stores, social promos – YOU NAME IT!
This post covers:
Surprise everyone with a wonderful box packaging mockup for presents (or something else).
Best Gift Box Mockup Generators
You can use each for $7.95 or go for Placeit's monthly ($14.95/month) or yearly ($89.69/year) subscriptions.
1. Gift packaging mockup with a colored background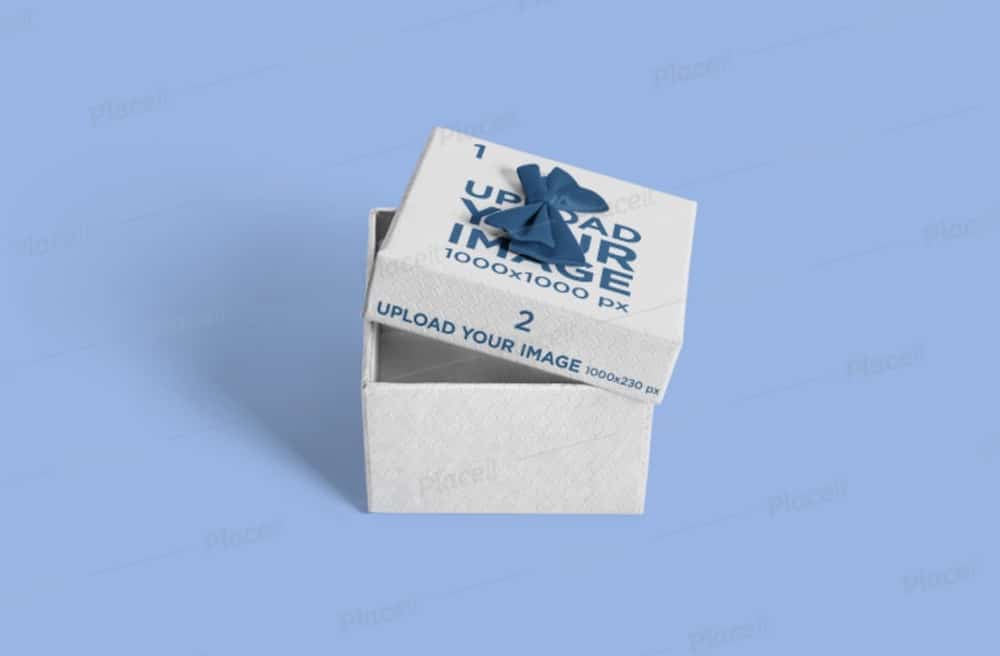 A modern, simple and FULLY customizable mockup of a slightly open gift box with a bow. Everything you see is editable with just a few clicks.
With the color pickers, you can change the tints of the top and bottom box, background and bow.
You can make them appear in just any color you want. Also, when it comes to the background, you can even make it transparent.
Since the box has two editable areas, you can quickly insert two different designs. You can juggle with as many possible variations as you want first and go from there.
MORE INFO / DOWNLOAD
2. Mockup of a gift box with a bow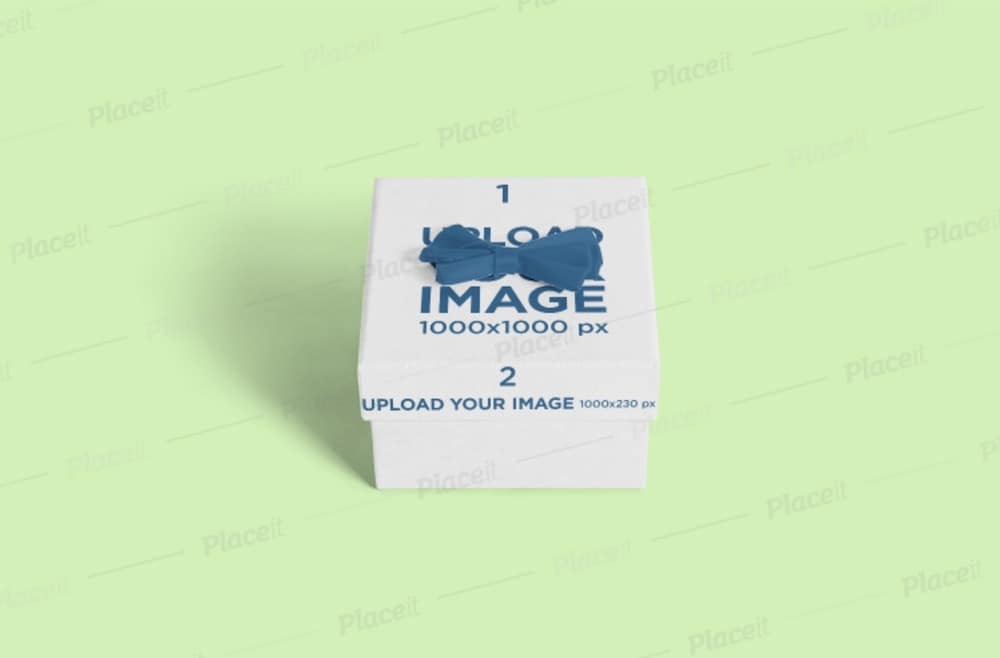 A somewhat similar alternative to the one above, JUST that this gift box is closed.
Again, with the convenient color picker, you can quickly alter the elements on the template, making them follow your style to a tee.
Moreover, you can insert a design to the lid's top and side.
Keep in mind, you do all the work online, using the fantastic mockup generator. For this, you don't really need to be a designer; still, you need to have the designs ready to go.
MORE INFO / DOWNLOAD
3. Mockup of an open gift box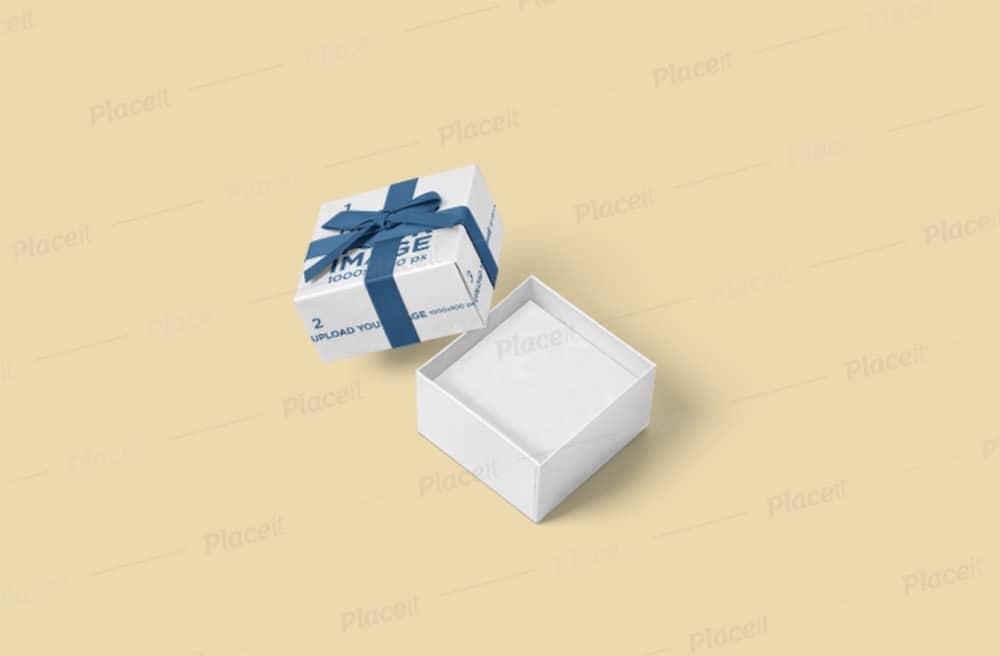 Create an amazing and highly realistic gift box presentation with this effortless yet IMPACTFUL mockup. All the elements on the template are customizable with any color you want.
You can also change the bow and the background (even make it transparent). These days, you don't need a professional anymore to help you create a life-like product presentation.
You can quickly set things up yourself with Placeit and its amazingly flexible platform. And even better, you don't need to create a free account immediately.
Test it out and move from there.
MORE INFO / DOWNLOAD
4. Mockup of an angled present box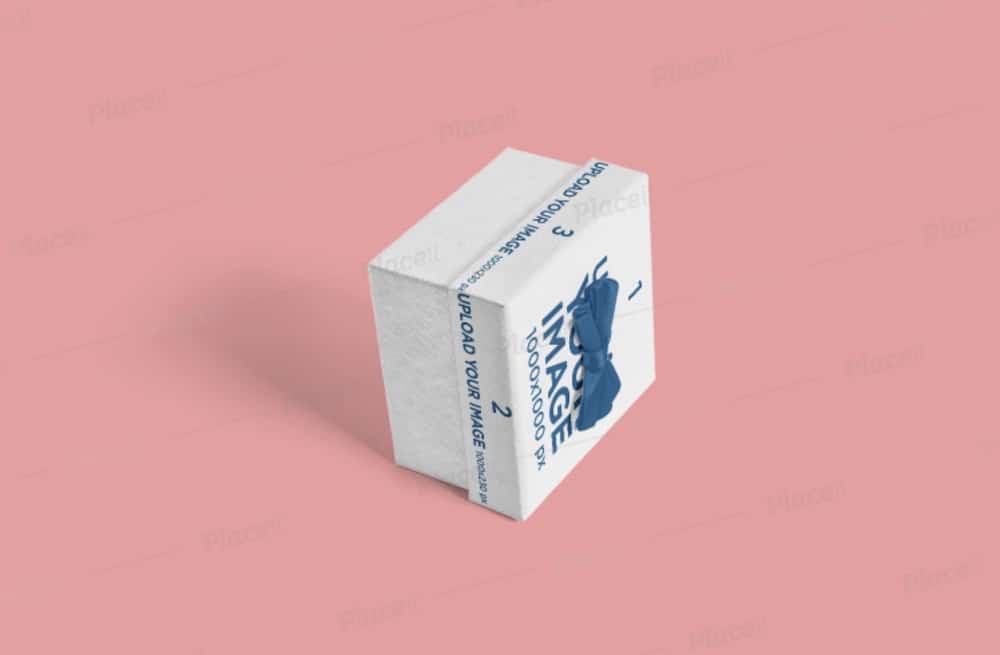 Instead of rocking the classic way of presenting a gift box, go against the grain with this angled alternative.
It still comes with a fully editable structure so that you can fine-tune and BEAUTIFY it according to your liking.
Grab a mockup generator and boost your workflow through the roof, whether you are presenting it to your client or for your own business.
You can add one to the top and two to the cover's sides when adding the design. You can try as many different variations, test the possibilities, and quickly create a real masterpiece.
MORE INFO / DOWNLOAD
5. Mockup generator of an open gift box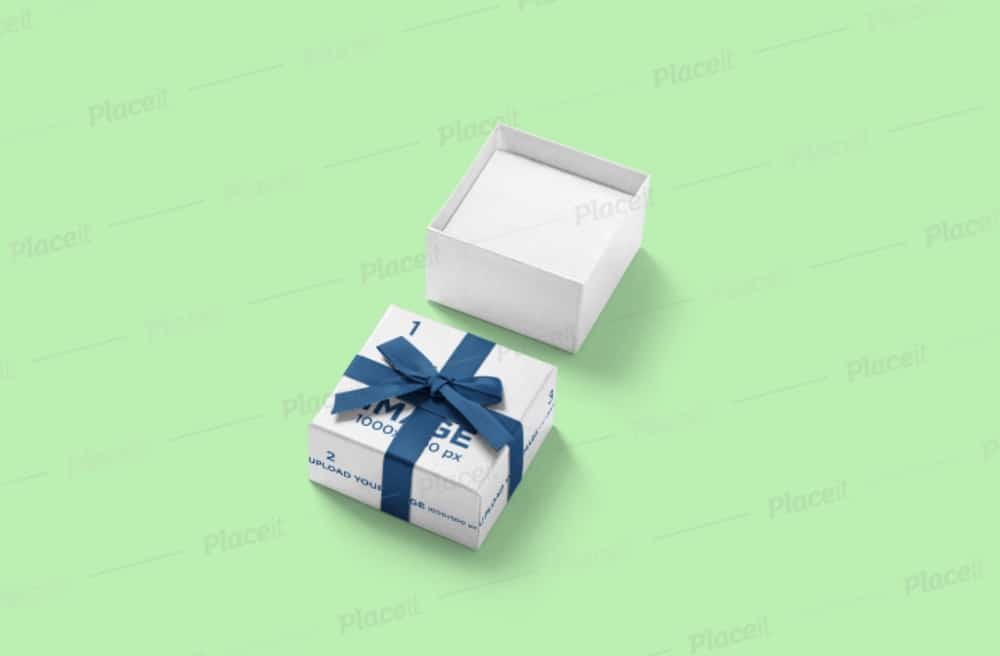 A completely open gift box mockup for everyone to design, style and enhance to their needs and regulations.
The process of branding the box and enriching it with custom designs will be a child's play.
As long as you have the logo or the artwork available, it will take you seconds to make a life-like version.
Another cool function of this particular mockup is that you can also change the color of the inside of the box. But you can ALSO create a completely white box, too.
You can make the final piece of art exactly how you want it to be.
MORE INFO / DOWNLOAD
6. Mockup of a gift box with a colored ribbon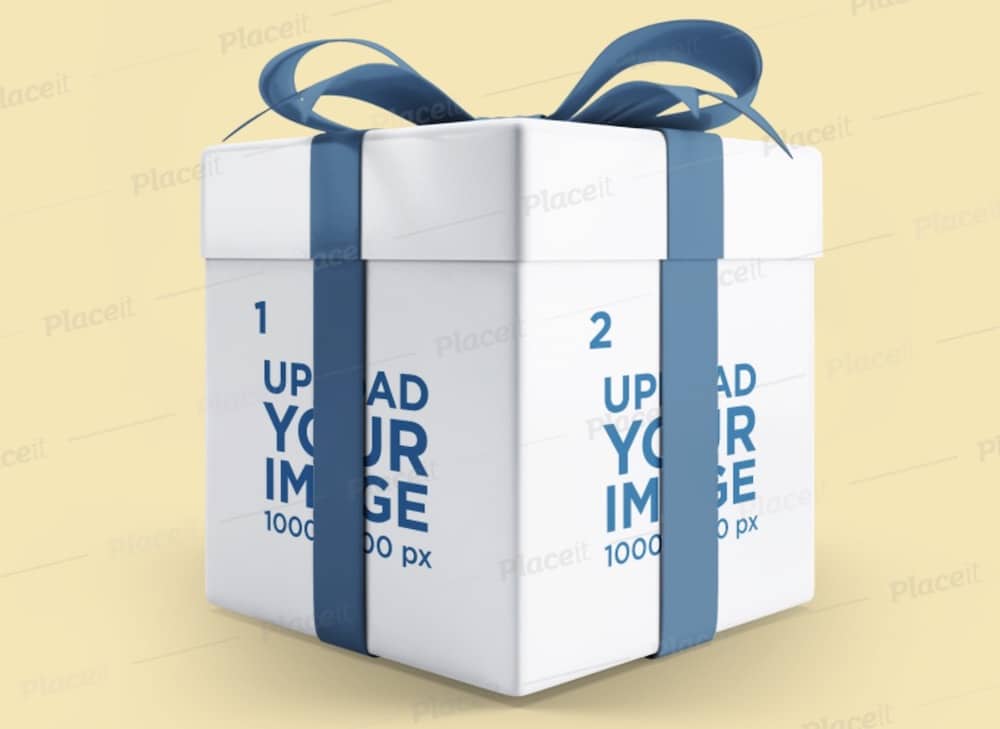 If you are searching for a bold, close-up-style gift packaging mockup, this one will surely do the trick.
It features a beautiful square box with a ribbon and a customizable background to make it yours in just a few clicks.
Why complicate and start from the ground up if you don't have to? Save time and energy while maintaining your professionalism with a ready-made mockup instead.
The box's working area is 1000 x 1000px, but you can also add designs of different sizes. A pop-up will open, allowing you to crop and reposition your artwork accordingly.
MORE INFO / DOWNLOAD
7. Present box mockup with a customizable ribbon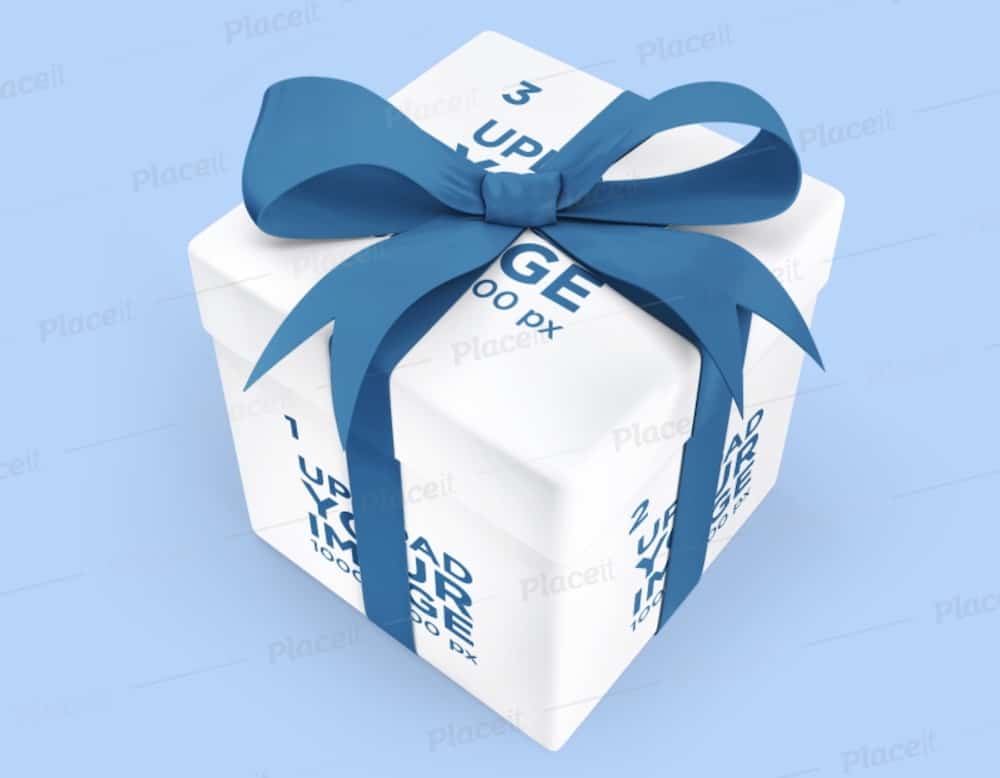 This and the mockup above allow you to create a full-blown presentation of a gift box that will WOW everyone.
While the one earlier focuses more on the sides of the box, this one emphasizes the top. Still, you can also add the side designs to it.
It will take you barely any time to complete the task and end up with a photorealistic gift box presentation.
Of course, you can also play with different color combinations, thanks to the available color picker.
MORE INFO / DOWNLOAD
8. Mockup of a small present box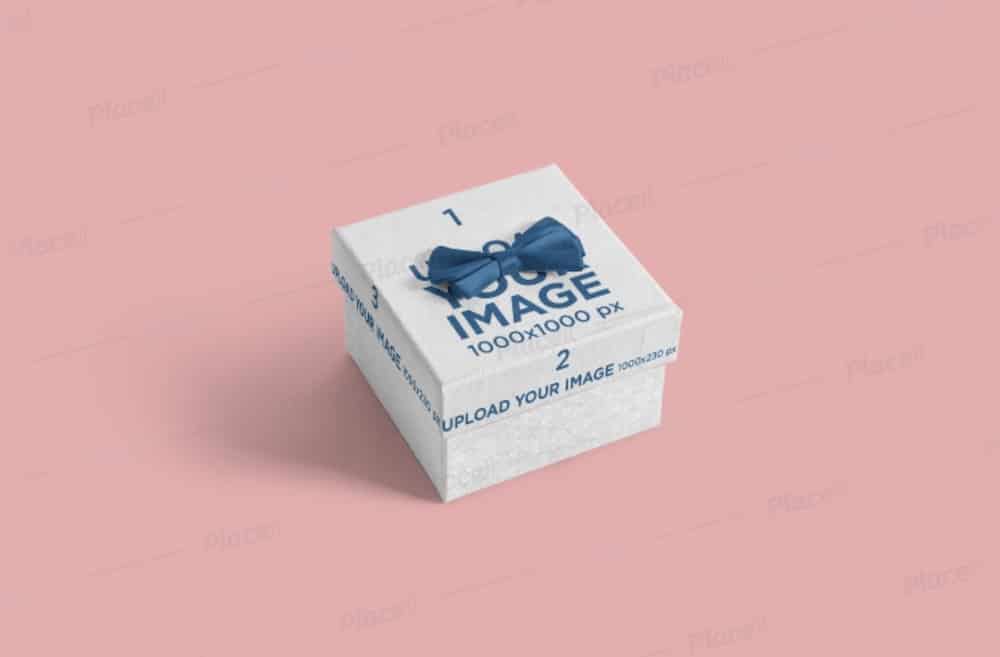 This mockup will do the trick if you are particularly looking for a SMALLER gift box that can fit various jewelry and other accessories.
You can go against the norm and even use this one for more oversized items – it's more or less how you view it that will define the end product.
The working area is still 1000 x 1000px, allowing you to add the designs to it quickly.
As you see, you can improve the two sides and the top of the box, change the color of the gift bow and more.
MORE INFO / DOWNLOAD
9. Mockup of a present box with a ribbon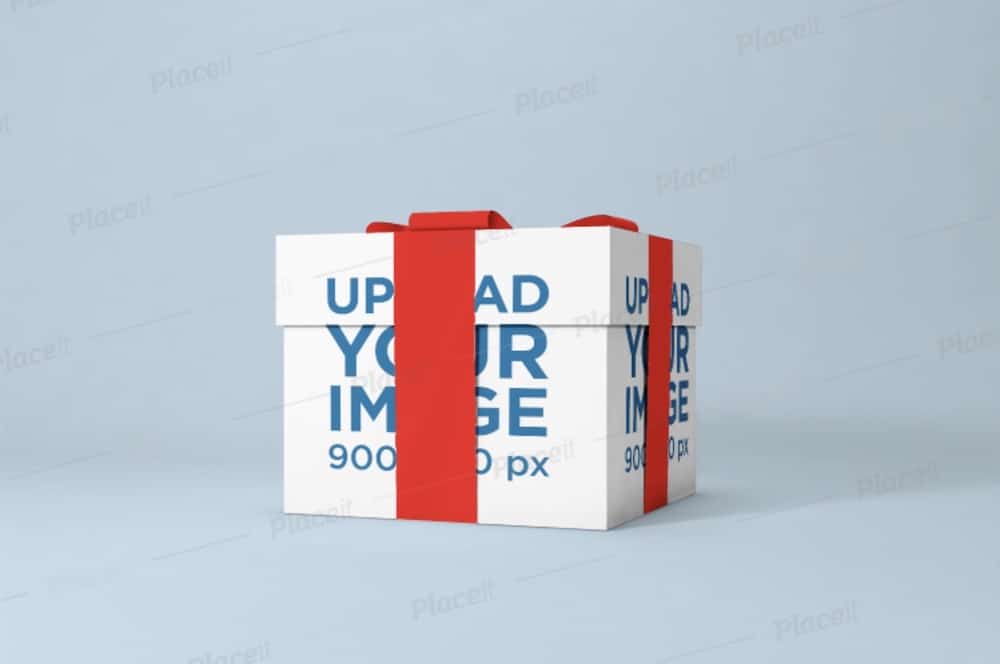 With a gift box mockup, you can now create the outcome that you would like to attain FAST.
Even without Photoshop or other photo editing software, you can still make it happen like a champ. (But you know that by now.)
Here is another neat solution that allows you to execute the work online. You can even use this one as a cake box mockup generator, as you can easily and quickly tailor it to your needs.
With the unlimited color options and swift design slide-in, you can make a life-like exhibition in the snap of a finger.
MORE INFO / DOWNLOAD
Best Gift Box PSD Mockups
10. Square box mockup (9 files)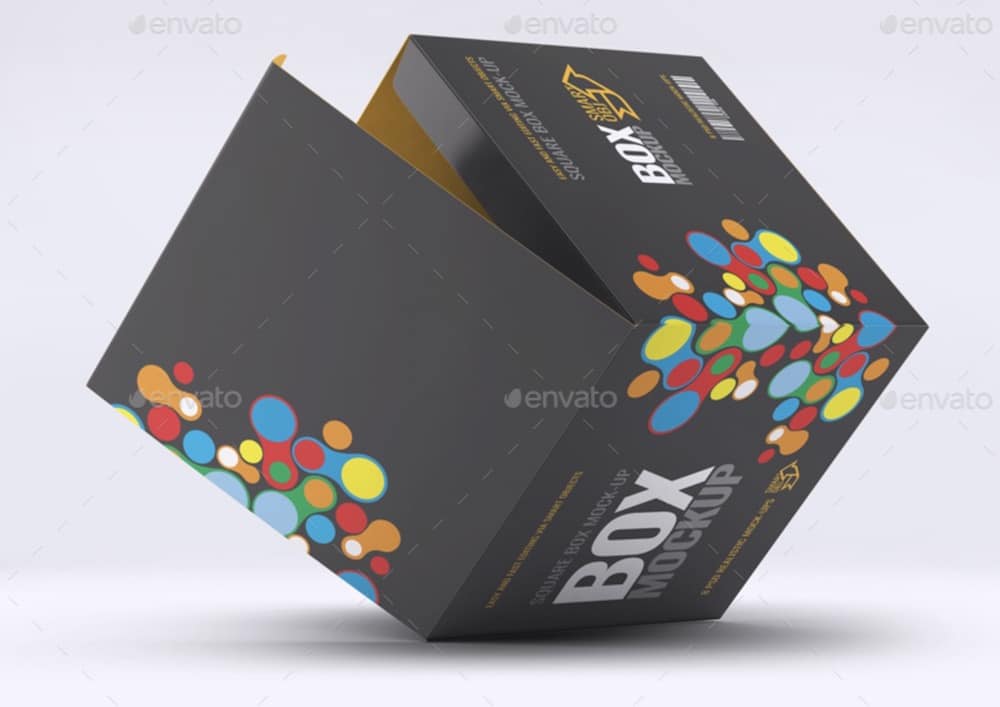 A collection of nine easy-to-use and highly customizable mockups of a square box. With all the different views, you can create a presentation that will impress every viewer. Also, the paper box is entirely editable, outside and inside.
Thanks to the FANTASTIC layer structure, you will quickly get the gist of it.
All the nine PSD files are very user-friendly, so everyone can quickly get the gist of them. If necessary, you can modify the background and flip through the help document.
Price: $6
MORE INFO / DOWNLOAD
11. Valentine gift box template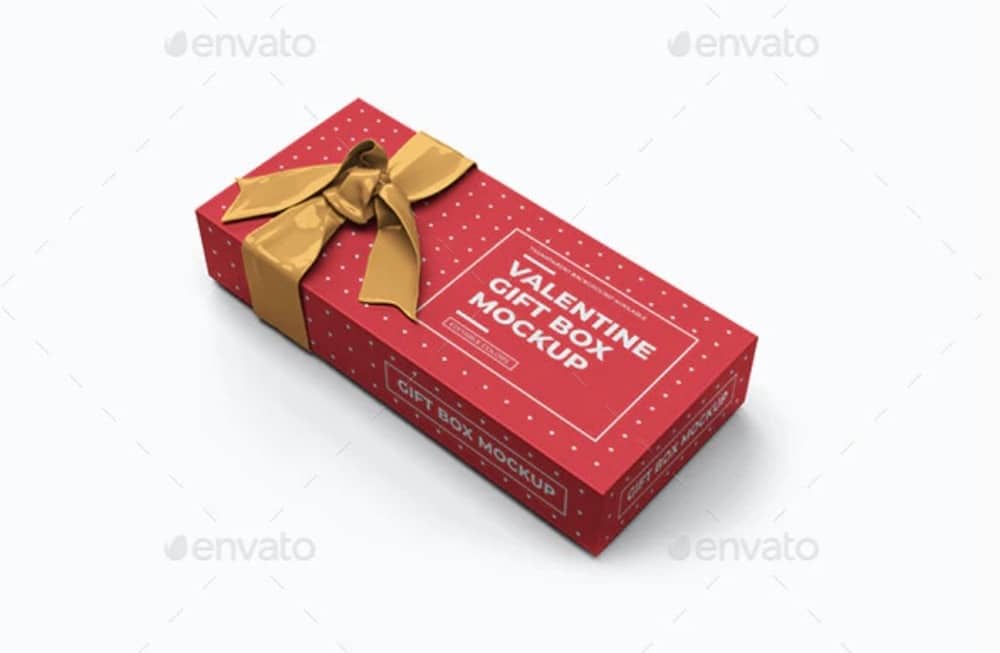 This one will do the trick for everyone looking for Valentine's gift box mockup. But there's not just one template you get – there are then different PSD mockups for you to work with.
With that in mind, you can create a comprehensive presentation of a box design idea that you have.
Moreover, this mockup set also has a nice 3D effect, making the overall presentation even more realistic.
Of course, you can preview it first and take action second. There's even a QUICK how-to available for smoother execution.
Price: $7
MORE INFO / DOWNLOAD
12. Christmas present box mockup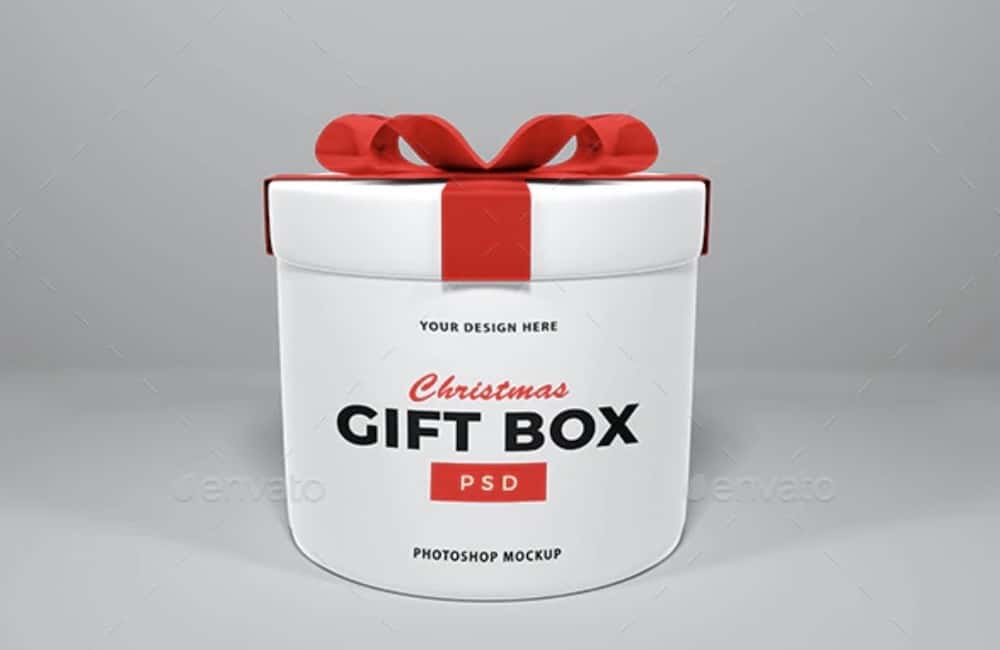 Another ALL-AROUND and very versatile gift box mockup that you can utilize for various intentions.
It aims toward Christmas gifts by default, but you are welcome to utilize it for something else as well.
There is no need to stick to one style; make it yours and do things the way you want.
You get a collection of ten different PSD templates in the bundle, all with a high 4000 x 3000px resolution.
Organized layers, editable colors and complete customization freedom are all the goodies that this bundle treats you to.
Note: We also have a full list of the best round box mockups ready for you.
Price: $7
MORE INFO / DOWNLOAD
13. Christmas gift box PSD mockup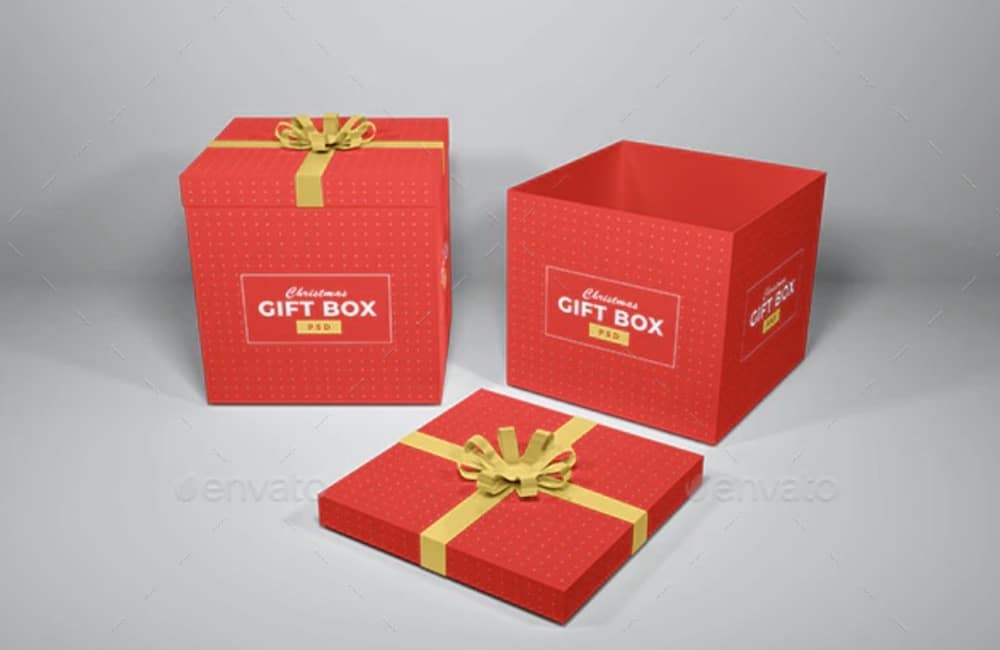 Whether it's Christmas, another holiday or even something else, this convenient set of different box styles will do the trick.
Both boxes are 100% adjustable, so you get to adjust them to your branding regulations effectively.
You can share the final creation with your client or start raising the big day's HYPE on social media.
Heck, if you are selling gift boxes, use them on your online store without creating actual product photos.
Price: $7
MORE INFO / DOWNLOAD
14. Holidays box mockup set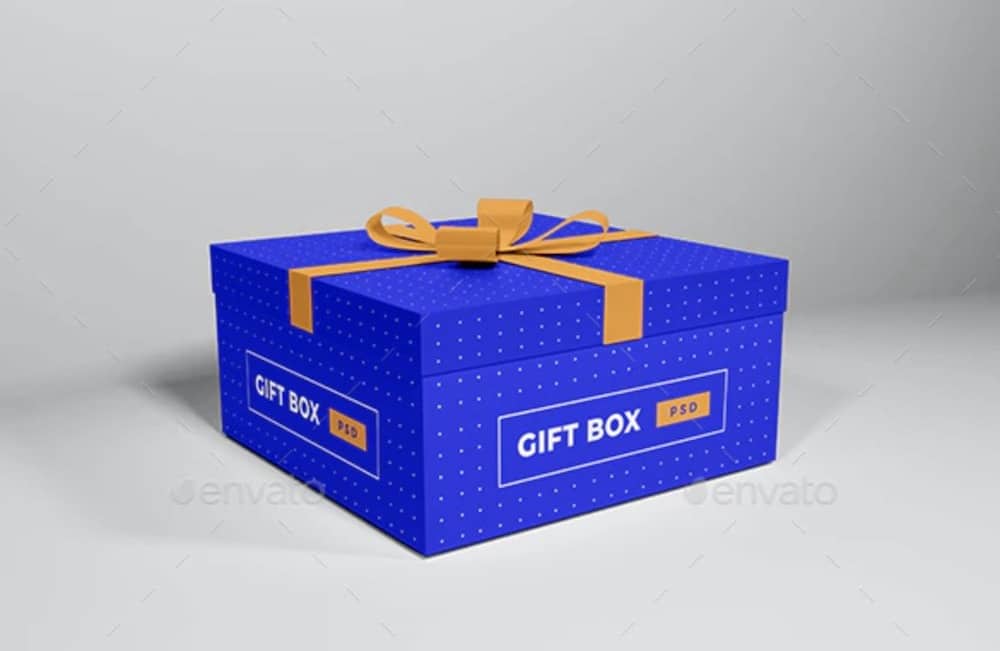 A full-blown set of ten engaging and highly realistic gift boxes that can store all sorts of different presents.
With the FULLY editable composition and layered structure, it will be a little breeze for you to perform improvements.
Even if Adobe Photoshop is necessary to work with these mockups, it will still be as easy as pie.
Each file even comes with Photoshop's smart objects, which makes the process of inserting designs effortless. Have fun making your spectacular gift boxes now.
Price: $7
MORE INFO / DOWNLOAD
15. Christmas present box PSD mockup set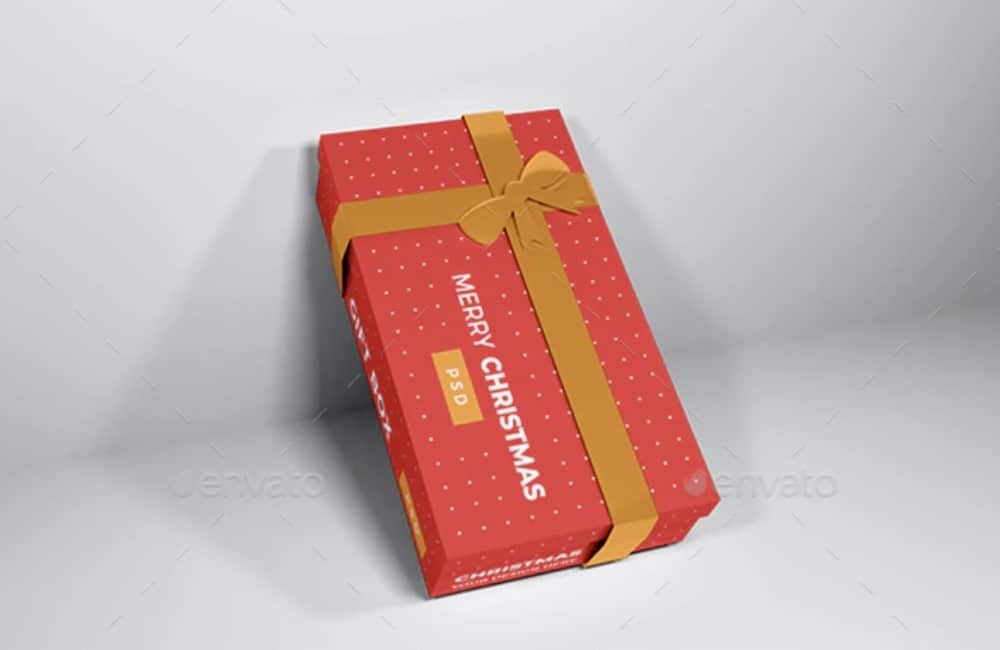 Christmas, birthday, anniversary, it does not really matter what the event, this bundle of gift box mockups will do you well.
With ten different views, you will quickly find the right ones to use for your branding ideas.
Create a full wrap or keep some box parts in a solid color and the other with a design. The options and possibilities are endless.
Of course, you can also adjust the bow/ribbon, IMPROVING it with just about any color you want.
Price: $7
MORE INFO / DOWNLOAD
16. Realistic gift box mockup 6K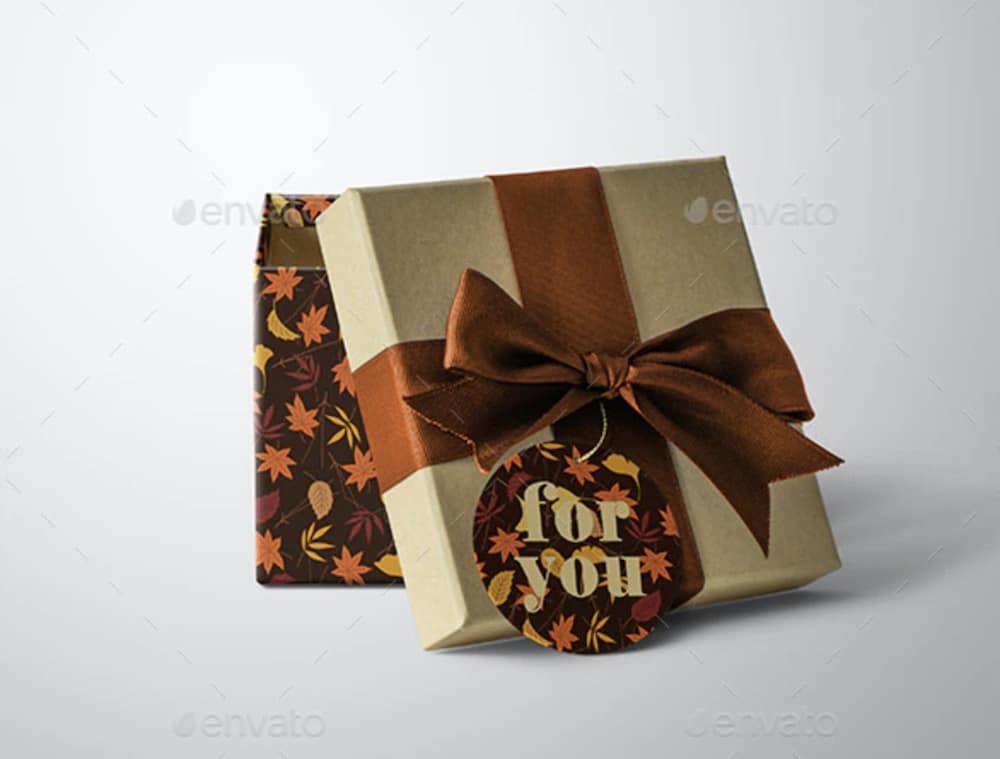 A highly-realistic box mockup for presents of any type. The amazing high 6000 x 4000px resolution (300dpi) ensures that the outcome will truly be something else.
This amazing quality also ensures that your designs and patterns will appear with crystal clarity (even when zoomed-in) no matter how DETAILED your designs and patterns are.
Moveable items, editable colors, layers, customizable background, well, you get the gist of it – it's 100% adjustable.
You can also move/remove the lid and the label and truly create the resulting product to inspire everyone.
Price: $15
MORE INFO / DOWNLOAD
How To Easily Create A Realistic Gift Box Mockup
I'll share with you the most effortless way to create a realistic gift box presentation that you can do within seconds.
I'll use my favorite mockup generator platform, Placeit.
4 Steps To Create A Gift Box Mockup:
Step 1: The first step is to visit Placeit and search for "gift box mockup." It'll load a bunch of hits for you to browse and pick your favorite.
Step 2: Once you open the template you like, you'll want to add your design or logo first. You do this by clicking the "Insert image" button. You can upload the design from your device and then crop and reposition it if necessary.
Step 3: The next step is to perform additional customizations, like changing colors, adding graphics, and more. You can play with the function for as much as you want until you find the outcome that suits you. It's SO much fun!
Step 4: This is already the last step of creating your dream grift box mockup. Download it!
That's it!
I told you it's an easy process that doesn't require skills, experience and software.
You do all the work online from the comfort of your favorite web browser.
Get creative!
::
Note: This article was originally published on March 17, 2021. But our team regularly reviews it and updates it with necessary improvements for accuracy.