Are you searching for the ultimate free and premium popsocket mockups?
I tested dozens of them on live projects (social posts, newsletters, blogs) to create a list of the best ones.
And because ULTIDA has a lot of beginner users, I also wanted to share mockup generators and PSDs with you.
Yup, to ensure there's something for everyone.
This post covers:
Create a life-like version of any custom popsocket design idea with these mockups.
It's SO easy and SO quick to do – anyone can make it happen (and it'll take you seconds!).
Best Popsocket Mockup Generators
Grab each generator for only $7.95. Or save money by picking Placeit's monthly ($14.95/month) or yearly ($89.69/year) subscription – access to everything, any time!
Note: These allow making mockups without Photoshop.
LOVE IT!
1. Close-up of a phone grip mockup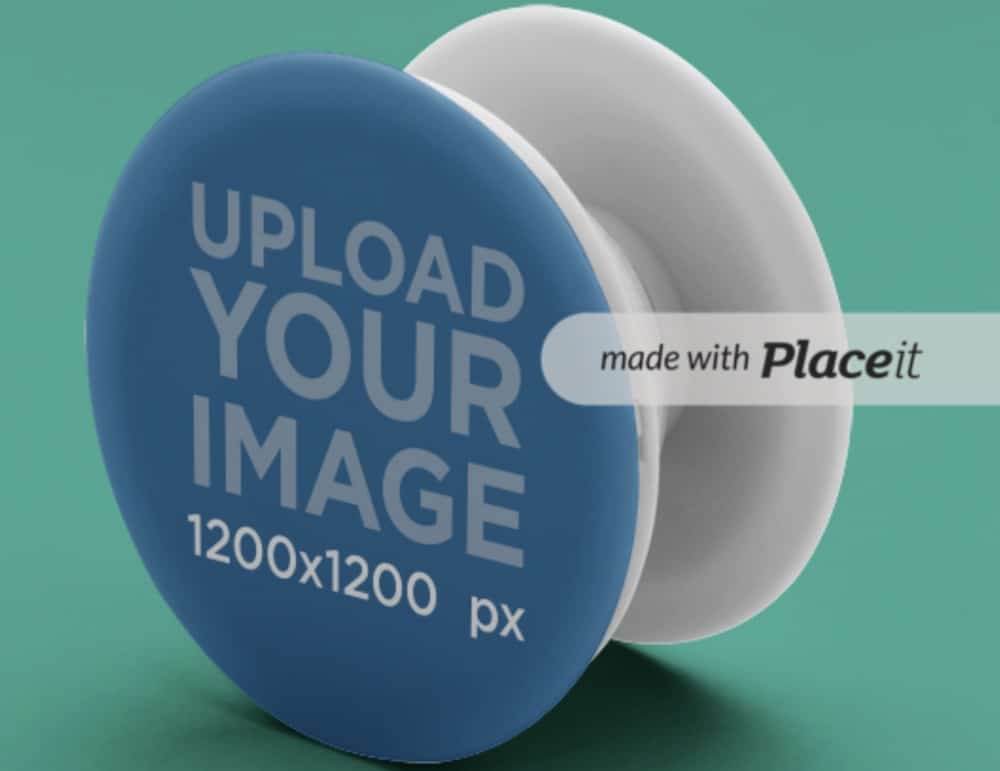 I used this close-up shot of a popsocket MULTIPLE times to present a company logo.
Also, I adjusted the phone grip's color and edited the background. I even uploaded my custom backdrop image twice.
Additionally, you can also add texts and graphics (I didn't use them on the final project but tested them out). Create a catchy call-to-action, add a watermark, whatever!
MORE INFO / DOWNLOAD
2. Mockup of a hand holding a phone with a phone grip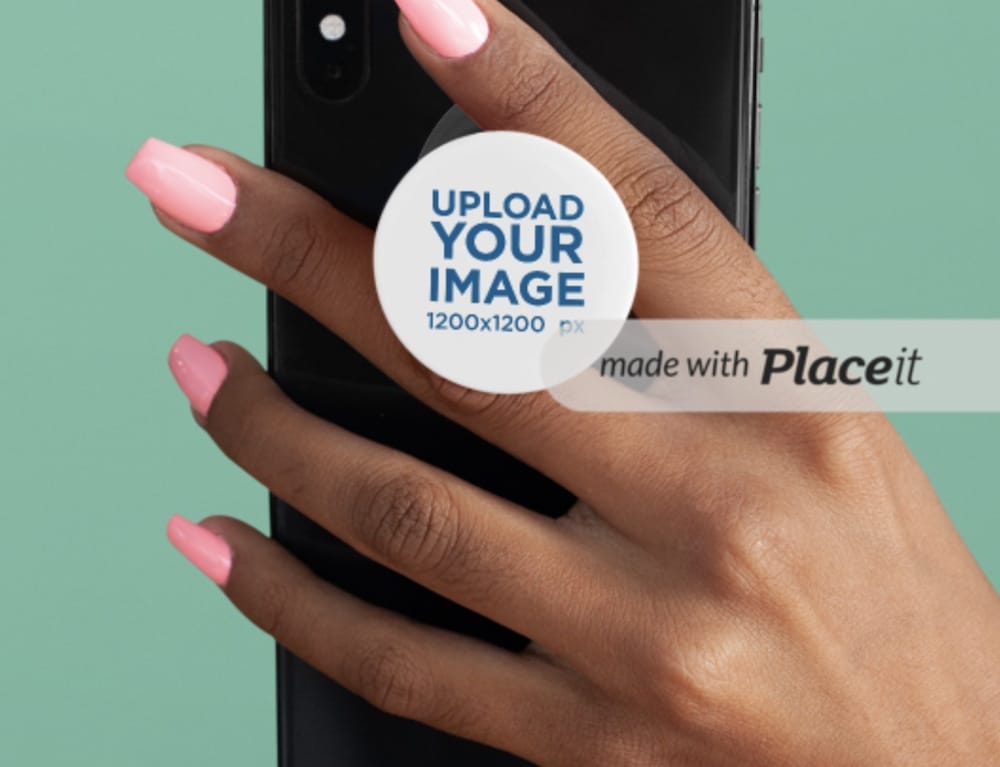 I cannot recommend this one more if you need something catchier. This popsocket mockup creates a very realistic presentation, thanks to the lady's hand.
You can customize a unique phone grip and configure the background with a solid color, pattern, image, etc. (You can use one from Placeit's archive or upload yours.)
Enjoy COMPLETE control of making your version, which will, by the way, take you seconds to complete.
MORE INFO / DOWNLOAD
3. Popsocket mockup standing on a flat surface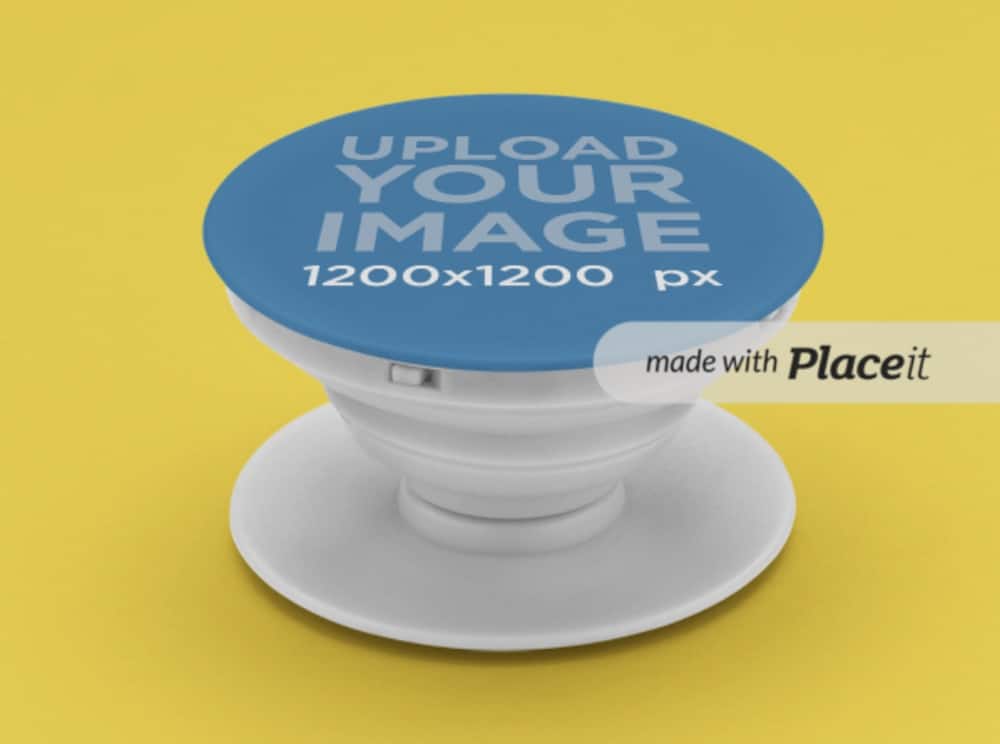 A minimalist presentation can take you a long way. You can use this one for social media, but it also works great for an eCommerce store.
This popsocket mockup is 100% brandable. Use a custom base color, upload your design and change the background.
That's it! You're life-like showcase is ready.
But you can also add a graphic or write some text over it.
MORE INFO / DOWNLOAD
4. Phone grip mockup of a woman holding her iPhone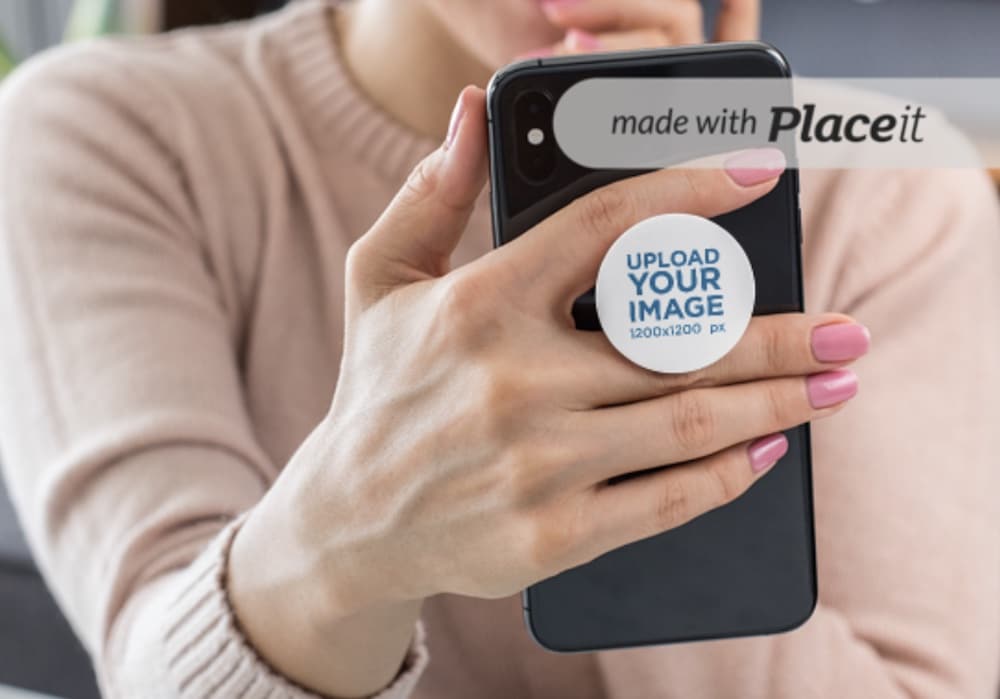 After testing multiple templates with a female model, this one performed the BEST for me.
It might be because the woman is smiling while checking her phone, which sparks curiosity.
But the whole focus is still on your popsocket design.
It only takes a few clicks to upload your artwork, and you can already have the final version ready.
Sure, Placeit offers you to add text and graphics, but I don't recommend it unless it is something clean and minimalist. (You don't want to ruin the fantastic presentation!)
Note: You may also be interested in our tutorial on how to create an iPhone mockup.
MORE INFO / DOWNLOAD
5. Mockup of a male hand holding an iPhone with a popsocket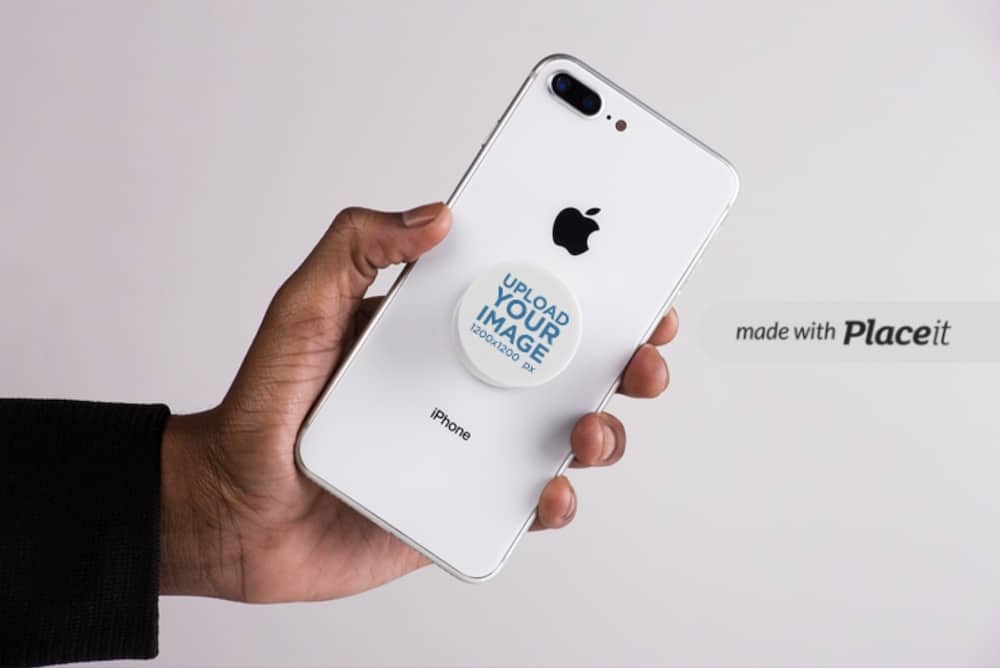 While women use phone grip more, some men use it, too.
Thus, I wanted to include a clean template of a male hand holding the iPhone with a popsocket on for your convenience.
You don't need to be a pro designer to modify and improve the default configuration with your creative tweaks.
Hey, you can even test it for free to see how awesome it is!
MORE INFO / DOWNLOAD
6. Phone grip mockup of a woman checking her phone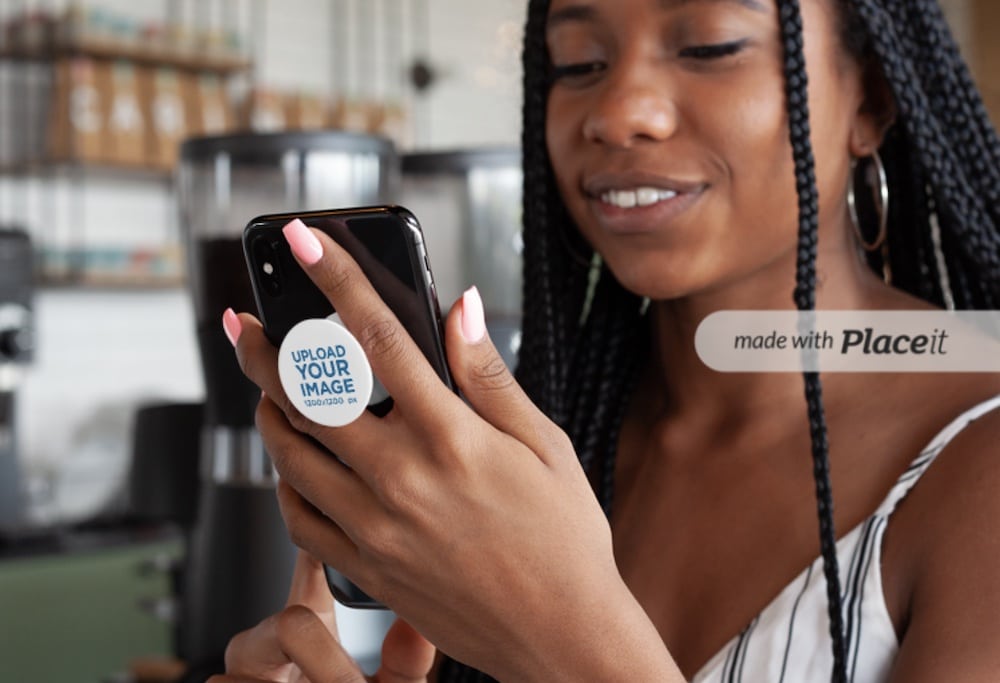 I really dig this one because of its amateurish look (don't get me wrong, the mockup is high-quality).
This gives the final version a very realistic feel so that no one will tell you actually used a mockup.
Do I need to EXPLAIN how to make your version?
Okay, it's easy, and you know that.
Upload your image, crop and resize it and let the design decorate the popsocket. You can also change its color.
MORE INFO / DOWNLOAD
7. Popsocket mockup of a woman smiling at her phone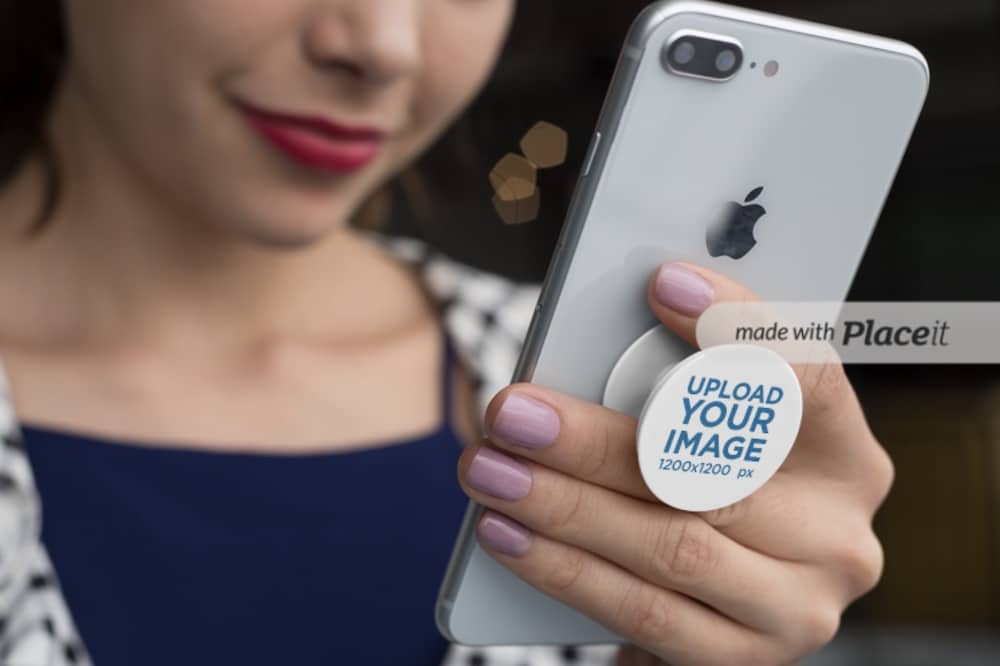 I'm sure you'll easily find the perfect mockup with all these available templates.
And you can test all generators BEFORE picking the one that best suits your custom design.
I used this one for a Facebook campaign once and the other time for a newsletter; the client and their audience loved it.
MORE INFO / DOWNLOAD
8. Woman holding her phone with popsocket on while talking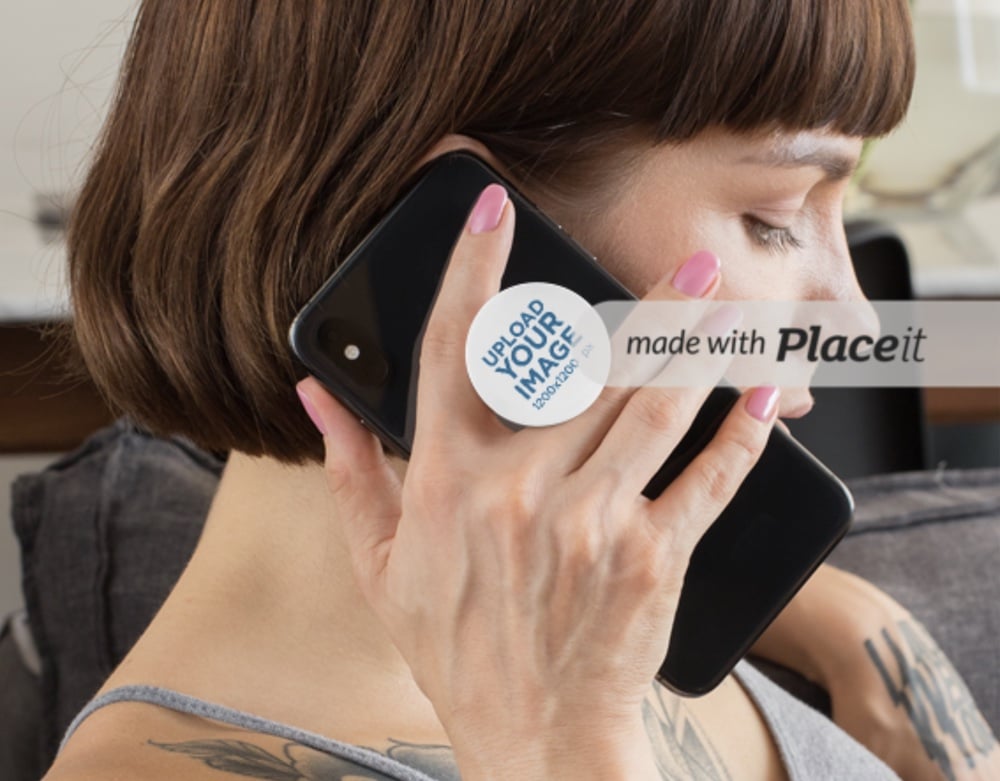 While phone grip works best when viewing the phone, some prefer using it during calls.
And you can now create your version without much work.
Best. Feeling. Ever.
Note: This one even works great for stories.
MORE INFO / DOWNLOAD
9. iPhone with popsocket in hand mockup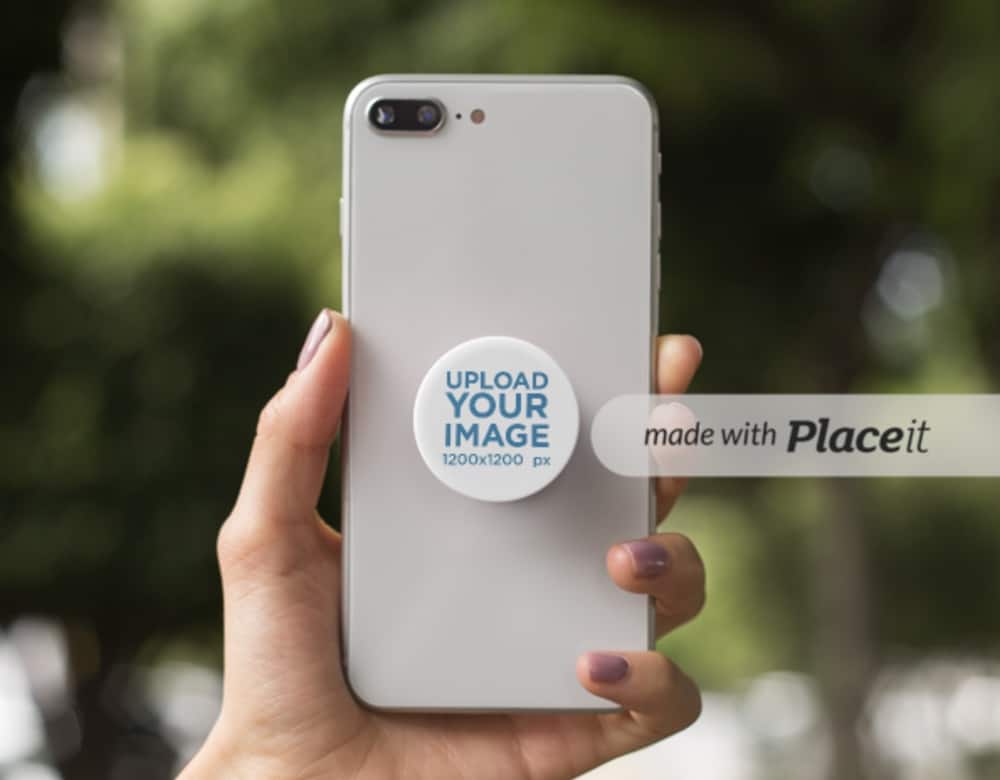 This is the "straight in your face" kind of popsocket mockup generator that I highly recommend.
It's a great ATTENTION GRABBER during scrolling a news feed or even for a promotion as a story post.
You can also create a square version by cropping it afterward because of the great quality.
MORE INFO / DOWNLOAD
10. Popsocket mockup of a woman checking her phone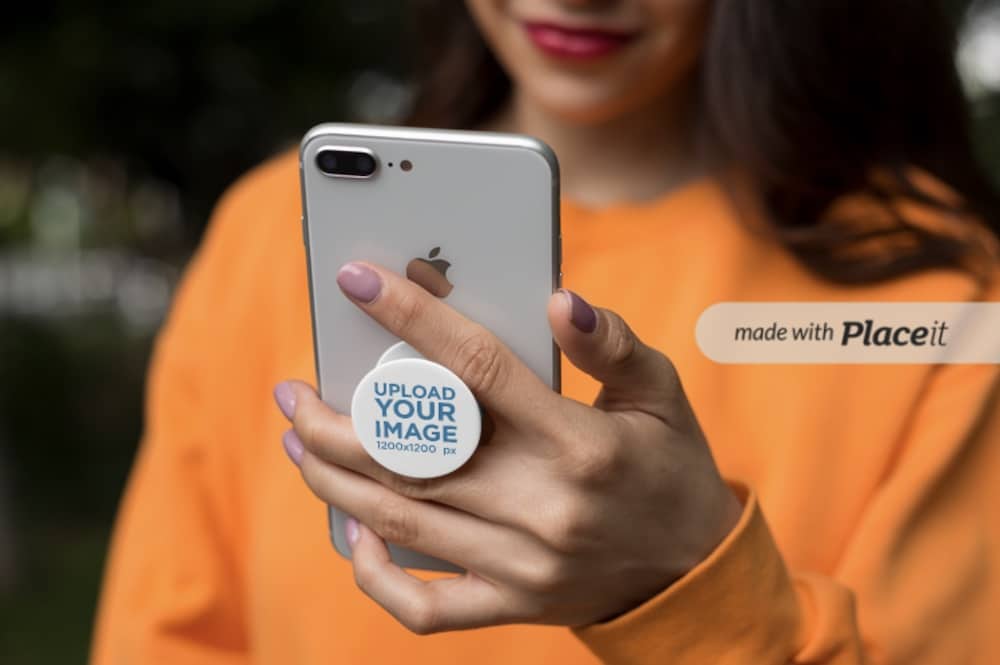 What makes this template special is definitely the woman's orange sweatshirt.
But for this reason, I also advise you use it only with a phone grip design that goes well with orange.
And if the branding works with the sweatshirt, you'll win big time.
I know; it'd be so COOL if you could change the color of the sweatshirt and make any version you want.
Use this one strategically!
MORE INFO / DOWNLOAD
11. Phone grip mockup of a woman holding her phone in landscape mode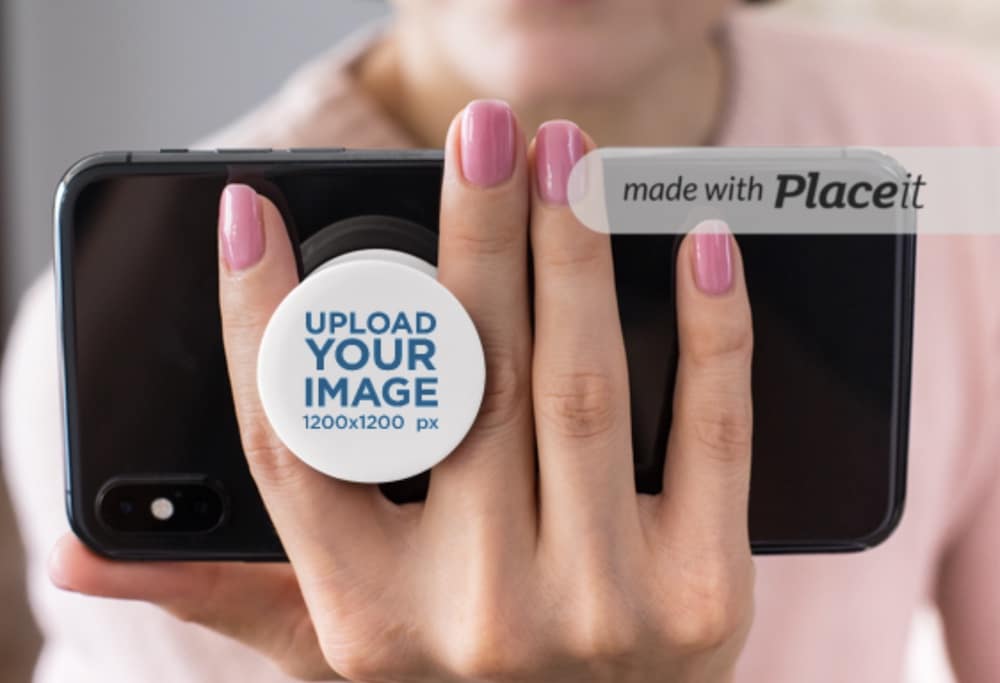 Are you particularly searching for a popsocket mockup with a phone in landscape mode?
Here you go.
I TESTED this one for multiple social posts, in newsletters and blogs and it worked really well.
It's also great for an eCommerce website to show the product "in use."
MORE INFO / DOWNLOAD
12. Popsocket video mockup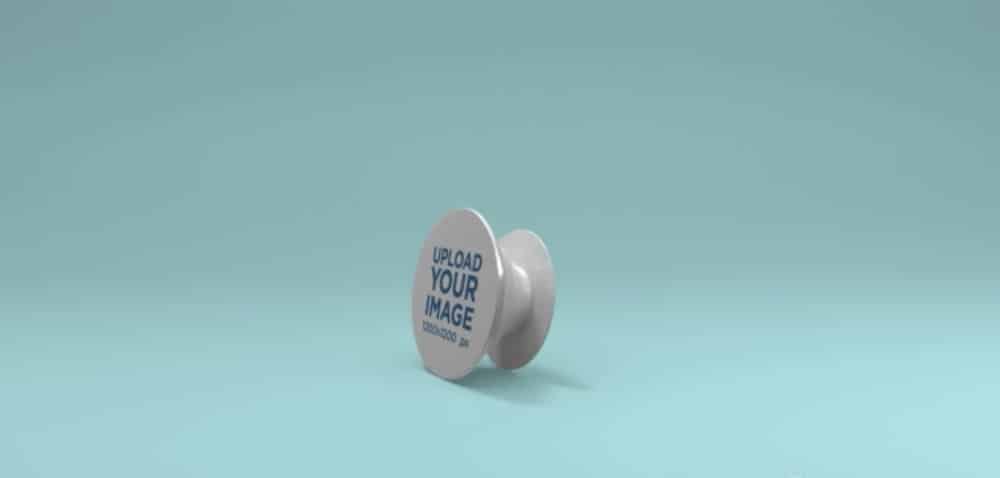 Here's a video mockup that, I'm sure, you didn't see coming.
Yes, you can now create a video version of your custom popsocket design, which, we all know, works great.
It's a short clip that keeps zooming into the popsocket.
You can customize the background and the phone grip color and upload your design.
Quick work for an impactful presentation. GO!
MORE INFO / DOWNLOAD
Best Free Popsocket PSD Mockups
It's now time fooor – drumroll, please – FREE stuff!
13. Floating popsocket PSD mockup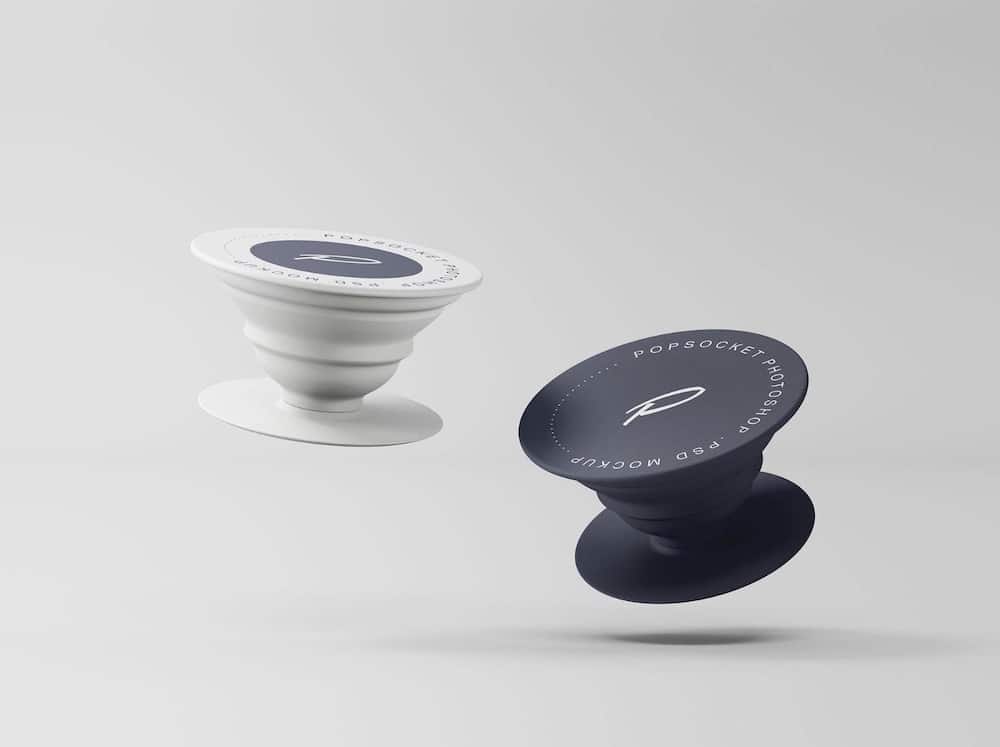 Let's start with my favorite free phone grip mockup that features two floating ones.
Because this is a layered PSD file, you can easily and quickly customize both in a mere few clicks.
Moreover, the template has a 5000 x 3750px resolution, which is a serious deal, knowing it's a free version.
And yes, editing is possible with Photoshop's smart object layer – drag and drop your design to each popsocket.
MORE INFO / DOWNLOAD
14. Free phone grip PSD mockup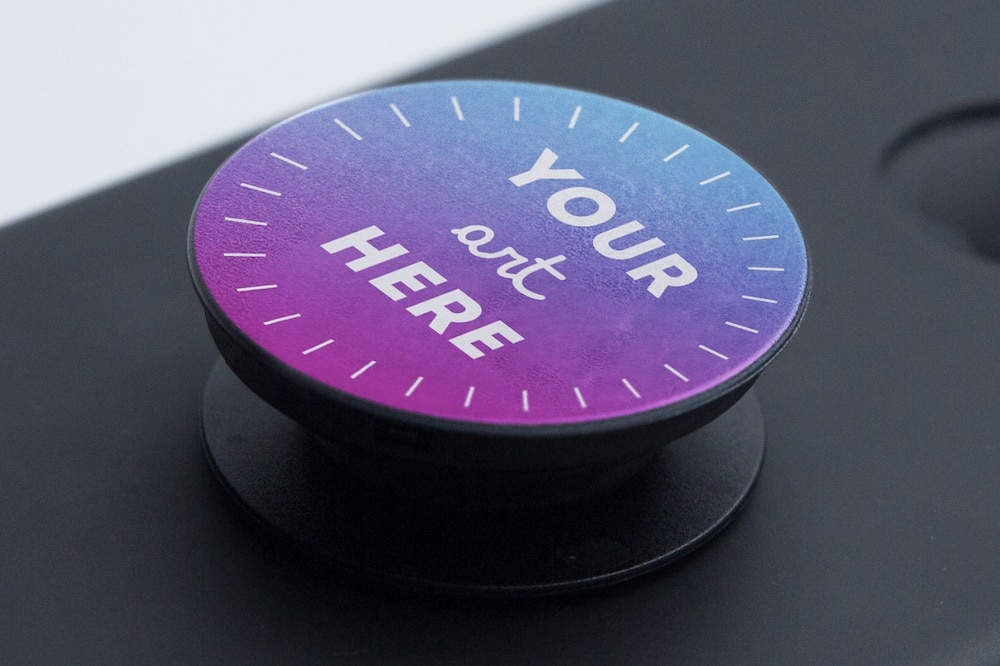 This one is so fire I even used it as a featured image of this best-of collection.
It features an iPhone with a case and a popsocket on. The 4100 x 2700px resolution makes it possible to create CRISP close-ups without hurting the quality.
Moreover, the license allows you to use it free for personal and commercial projects.
Life-like effect: 10/10
MORE INFO / DOWNLOAD
15. Free popsocket PSD mockup set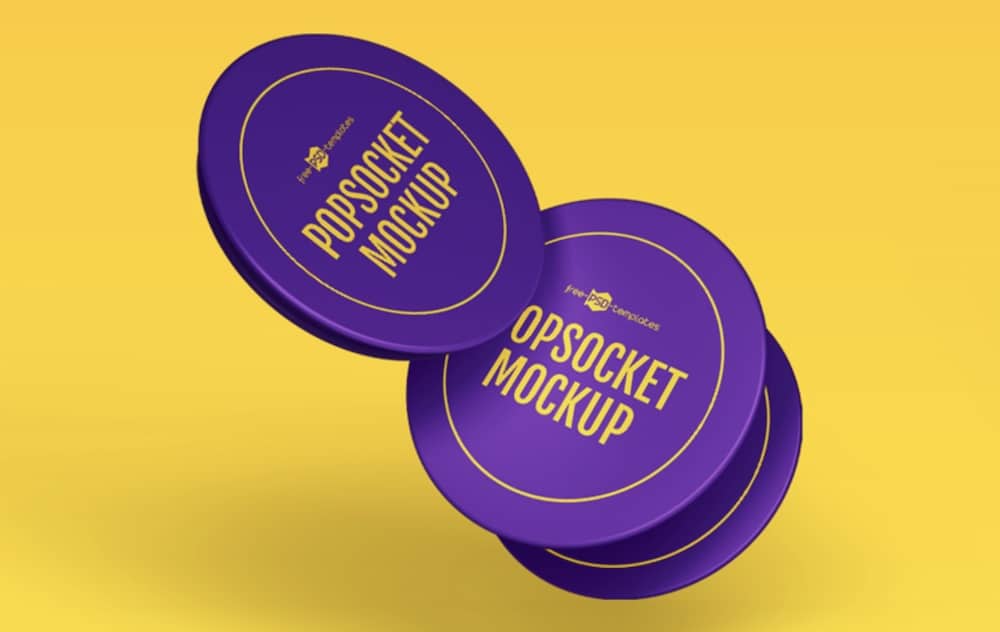 While this one is an OBVIOUS mockup, I like that you get three realistic templates.
The different views allow you to create a complete presentation of a 100% custom popsocket.
Plus, the 5000 x 4000px resolution makes any design look phenomenal.
Hey, you can try it at free will!
MORE INFO / DOWNLOAD
How To Create A Realistic Popsocket Mockup
Are you creating a realistic popsocket presentation for the first time?
That's great!
Because I have a full tutorial here on how to create one.
It's hard to believe how simple it is.
4 steps to create a popsocket mockup:
I used the Placeit mockup generating platform A LOT in the past for 100s of projects; thus, I recommend it the most.
Step 1: Visit Placeit and search for "popsocket mockup." The live result will help you pick the right query for quick finds. Placeit has many templates available, but I recommend using any that I shared above.
Step 2: Once you're on the template page, you first want to upload your image. This could be a design, a logo, well, whatever you want to stick on popsocket. For me, logos worked the best. The popup window also comes with a repositioning and cropping function, if you want to make any additional adjustments.
Step 3: Once you're fine with how your design looks on the popsocket, you can then change its color, modify the background and add a graphic and even text. Yup, Placeit has it all – and you do all the work online without using the software.
Step 4: This is already the final step – the Download step.
Voila!
You now know how to make a realistic mockup presentation of a custom popsocket that'll impress your fans, your clients – EVERYONE.
::
Note: This article was originally published on November 24, 2022. But our team regularly reviews it and updates it with necessary improvements for accuracy.