Do you want to learn how to create a mockup without Photoshop?
I received multiple requests from you for this tutorial, SO here we go.
Making a mockup without Photoshop might seem challenging, but it's EASY.
You can create all kinds of mockups for both digital and physical products with the help of an online mockup generator, Placeit.
A mockup is an effective way of demonstrating what a product will look like.
Get quick feedback from your clients and make changes even faster!
You can also use mockups to test product ideas and see if there's any interest in them.
This post covers:
In the past, Photoshop was the only way to create high-quality mockups.
But it's not the only option anymore.
This tutorial will explain what Placeit is, show you how to use it, and create product mockups quickly.
What is Placeit?
Placeit is an online generator that you can use to create mockups as well as other types of designs.
You can use Placeit to create logos, business cards, T-shirt designs, etc.
Placeit has 1,000s of ready-made mockups and design templates that you can use without downloading or learning complicated software.
How To Create A Mockup Without Photoshop
Let's look at how you can use Placeit to create a physical product mockup without Photoshop.
I'll create a hoodie mockup for the purposes of this tutorial.
Step 1: Visit Placeit
Kick things off by visiting Placeit.
In the top bar, click Mockups and then select Hoodies to create a hoodie mockup online.
Step 2: Upload Your Design
Click the button that says Upload Your Design. Select your design image from the computer and click Upload.
You can also adjust the color of the hoodie here.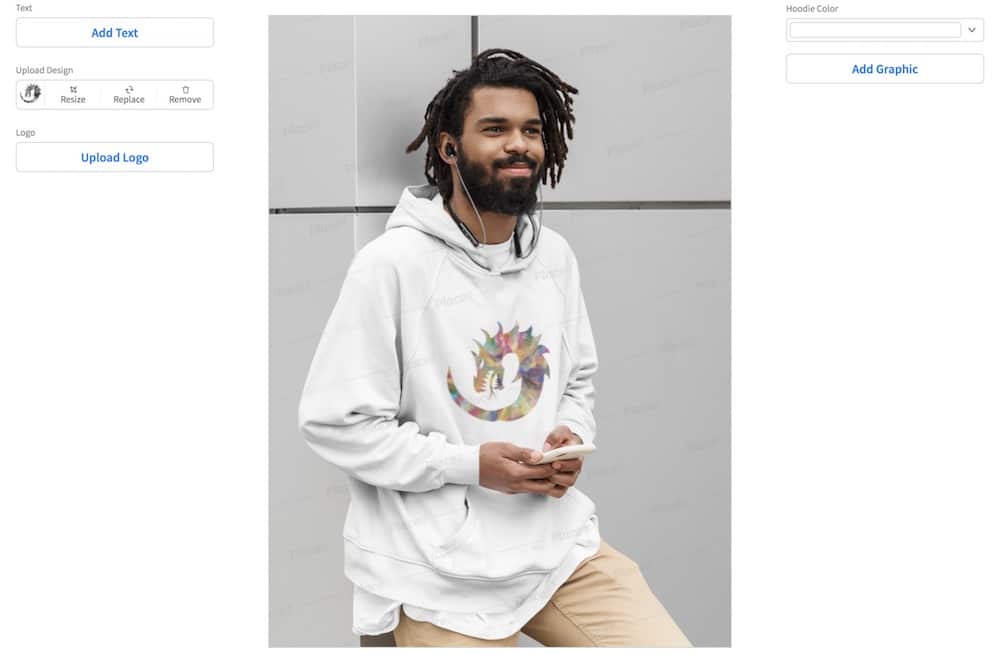 Image by chiplanay from Pixabay.
Step 3: Adjust The Crop
You'll have the option to adjust the size of the image and crop it if needed once you upload your image.
Drag the slider to ensure your image displays properly.
Then click Crop when you're happy with it.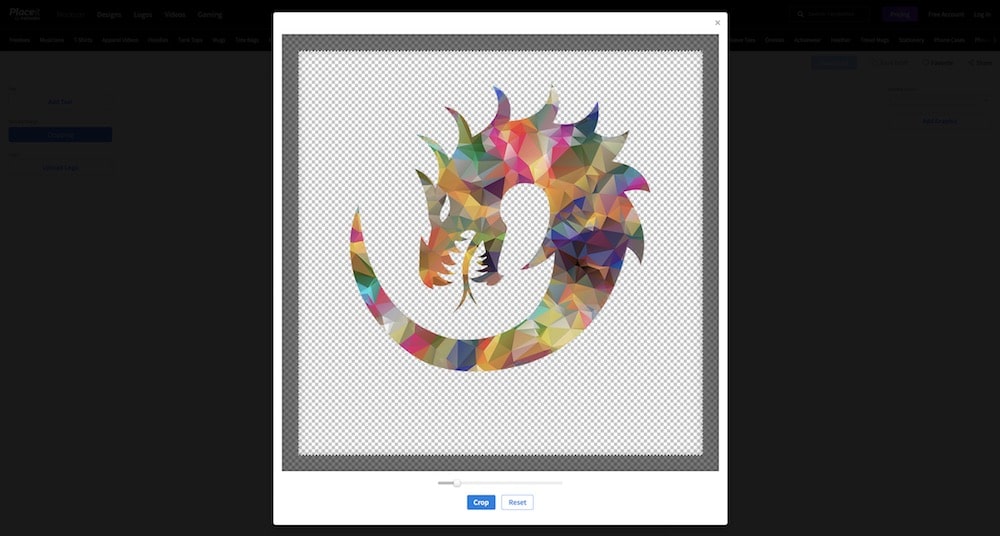 Step 4: View Mockup Designs
Placeit applies your artwork to the hoodie designs automatically. You can browse through them to find the one you like best.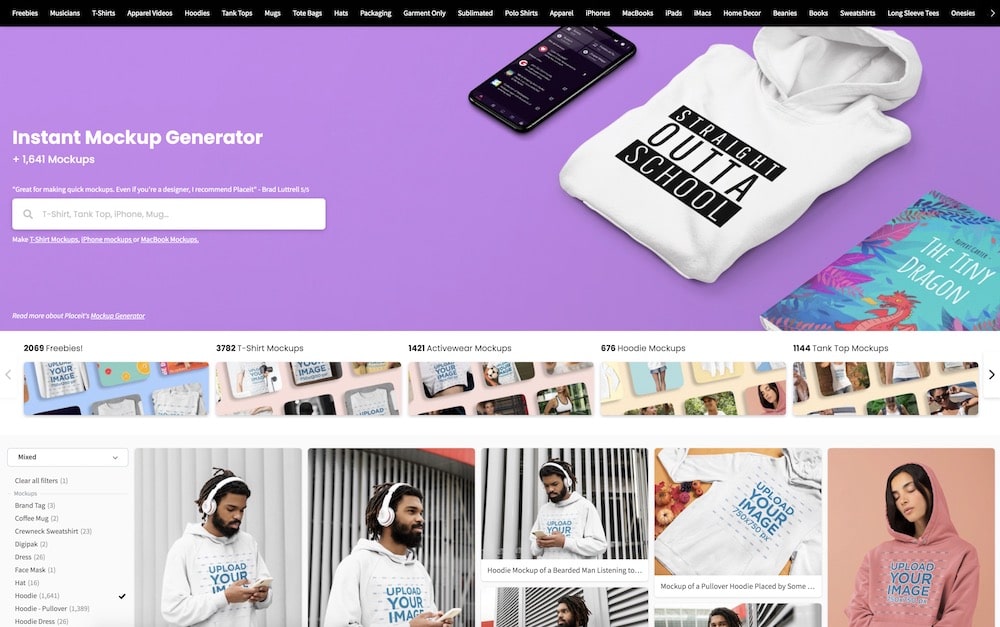 Step 5: Edit Your Mockup
When you find a design you like, click on it to see the larger size (it opens the generator).
This will also allow you to upload a different image if you decide you don't like how the current looks.
You can also add text, change the color of the hoodie, and upload your logo.
Step 6: Download The Finished Mockup
Download the mockup when you're happy with the finished design and present it to your client.
You have two choices:
Download just the single mockup ($7.95)
Sign up for a Placeit subscription ($14.95/mo or $89.69/year) and get access to unlimited mockups and other designs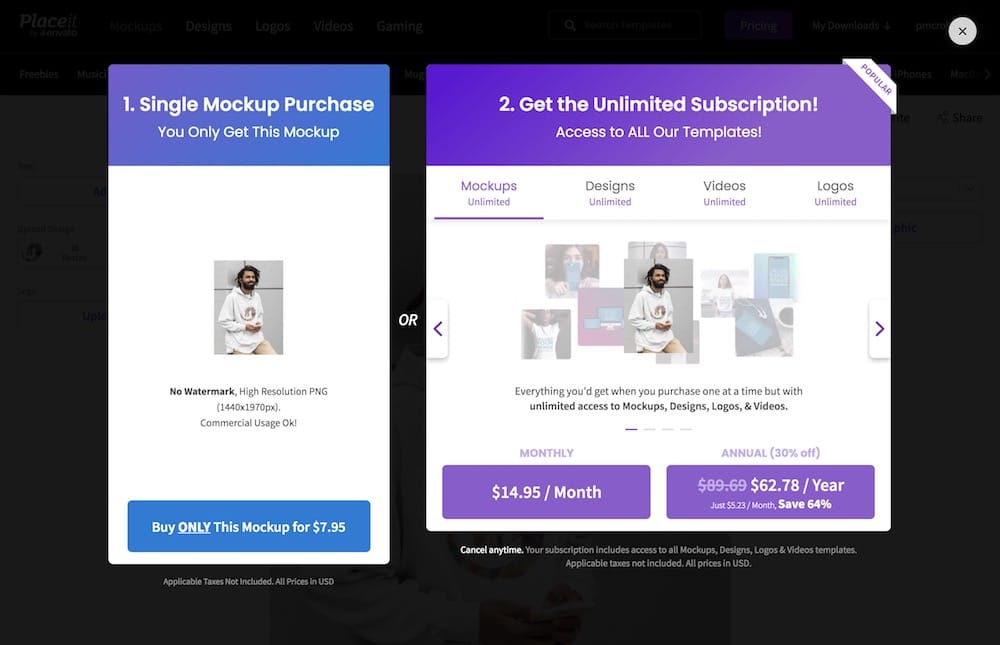 Example: Create A Mug Mockup Photoshop-Free
Now let's take a look at how you can create a mug mockup without software.
Step 1: Visit Placeit
As before, visit Placeit and select Mockups > Mugs.
Here, browse through mug mockups until you find one you like, then click on it.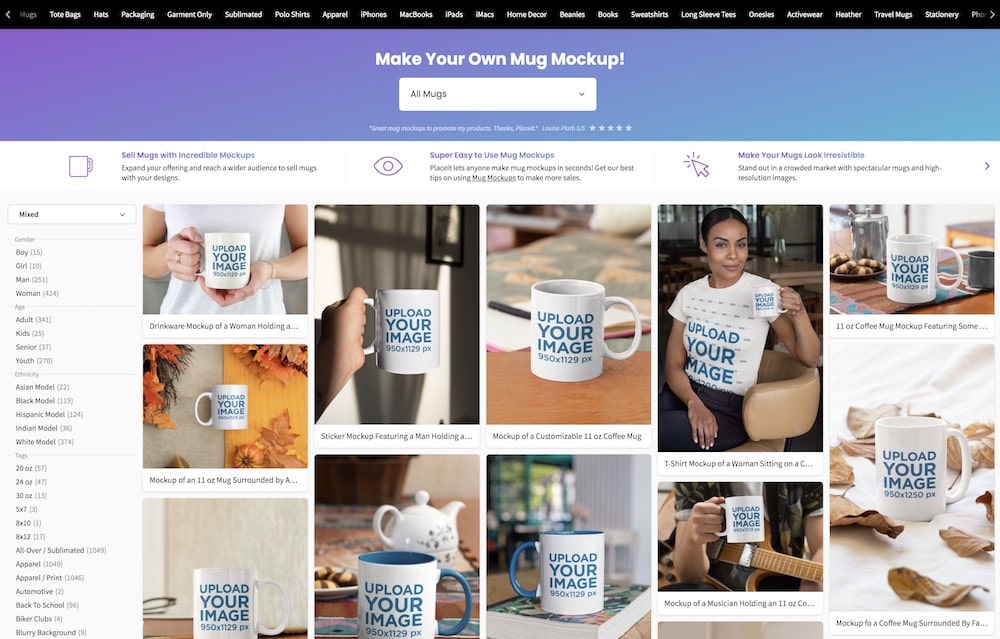 Step 2: Upload Your Design
Your chosen mug mockup will load and then you can click the blue button that says Insert image to upload your mug design.
You can upload an image from your device or from a URL. (You can even use your smartphone!)
Step 3: Adjust Image
Next, you can adjust the crop by dragging the slider below the image to ensure your cover displays correctly.
Click Crop when you're done.
Step 4: Preview And Customize The Design
You'll now have the option to further customize the design by adding text, logo, or a graphic.
When you're done customizing your design, you can download it.
Step 5: Download The Mockup
Click the Download button to download your finished mockup.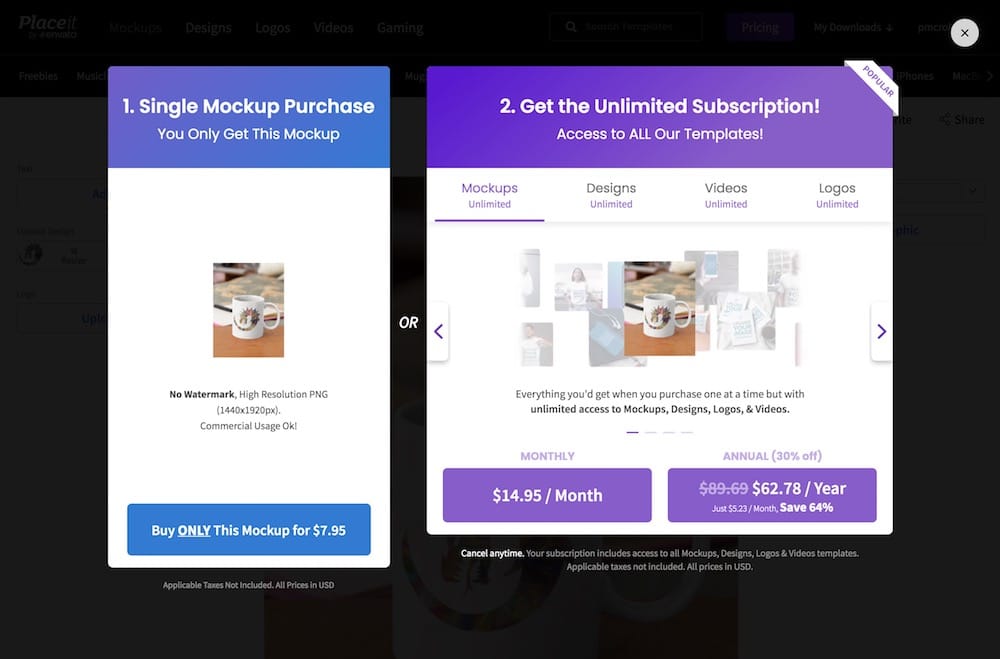 Remember, this same process applies to any other mockup creation with Placeit.
I know, IT'S EFFORTLESS!
5 Best Placeit Mockup Examples
Now that you know how to use Placeit to create mockups, let's look at some of the mockup templates available on Placeit.
1. Hoodie Mockup On A Solid Surface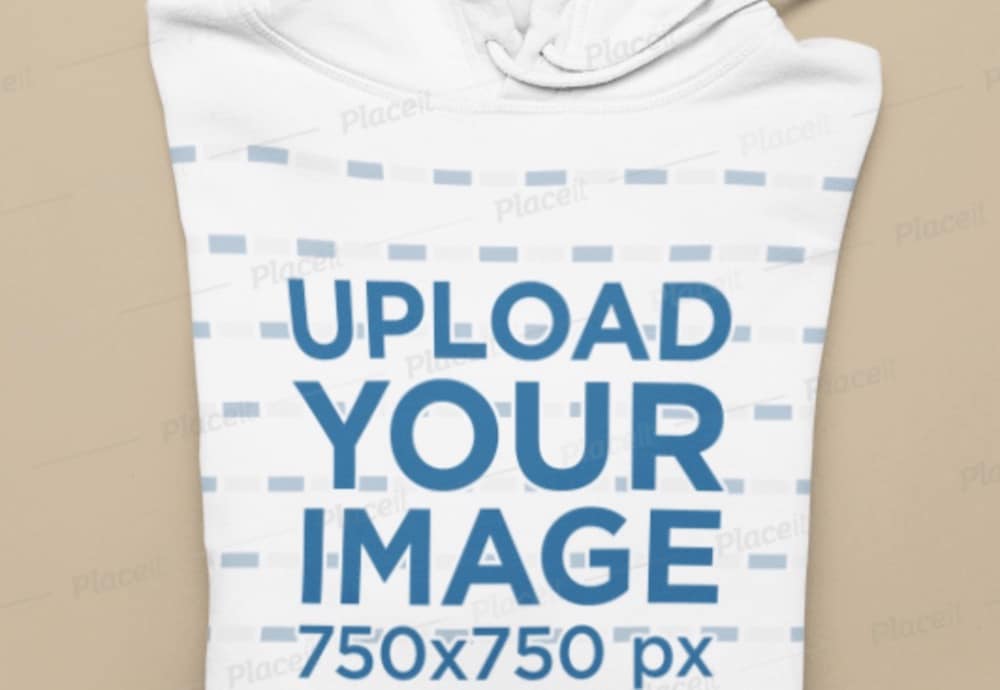 This hoodie mockup is a great choice if you want to show your design against a solid surface.
The mockup is shot from above and can display how the finished design will look on store shelves.
MORE INFO / DOWNLOAD
2. Realistic T-Shirt Mockup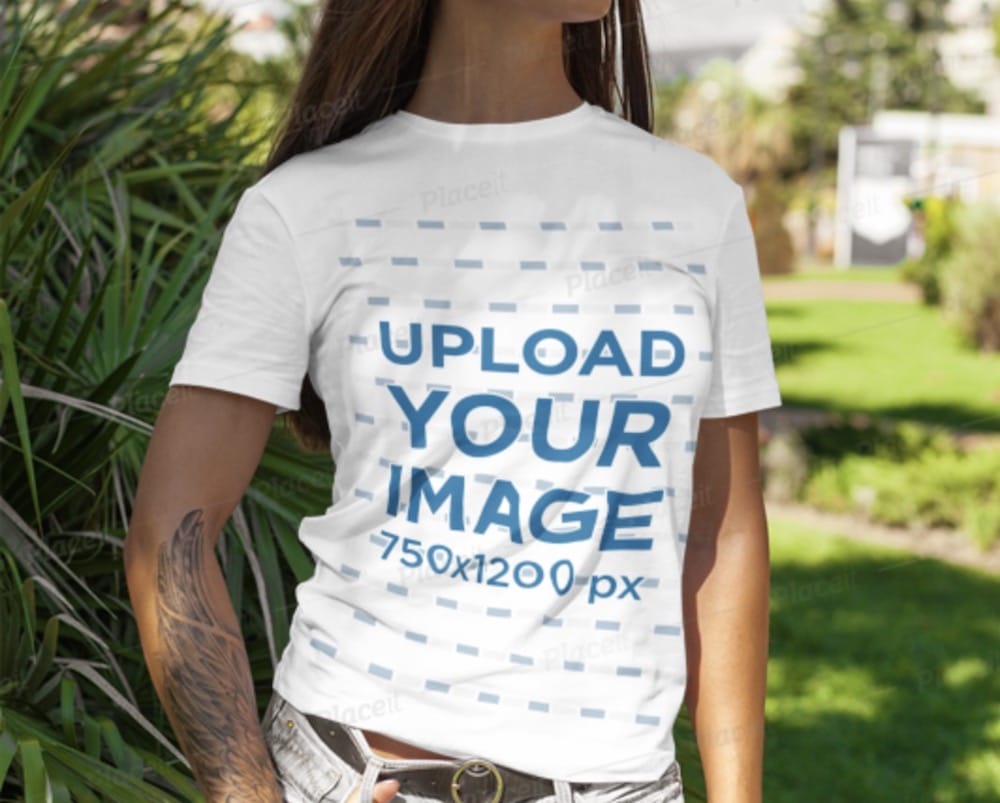 If you want to show how your T-shirt design will look in a realistic setting, this T-shirt mockup is a good choice.
You can easily use this mockup to create an attractive product image for your online store.
Note: We also have a full guide on how to make a T-shirt mockup without Photoshop.
MORE INFO / DOWNLOAD
3. Tote Bag Mockup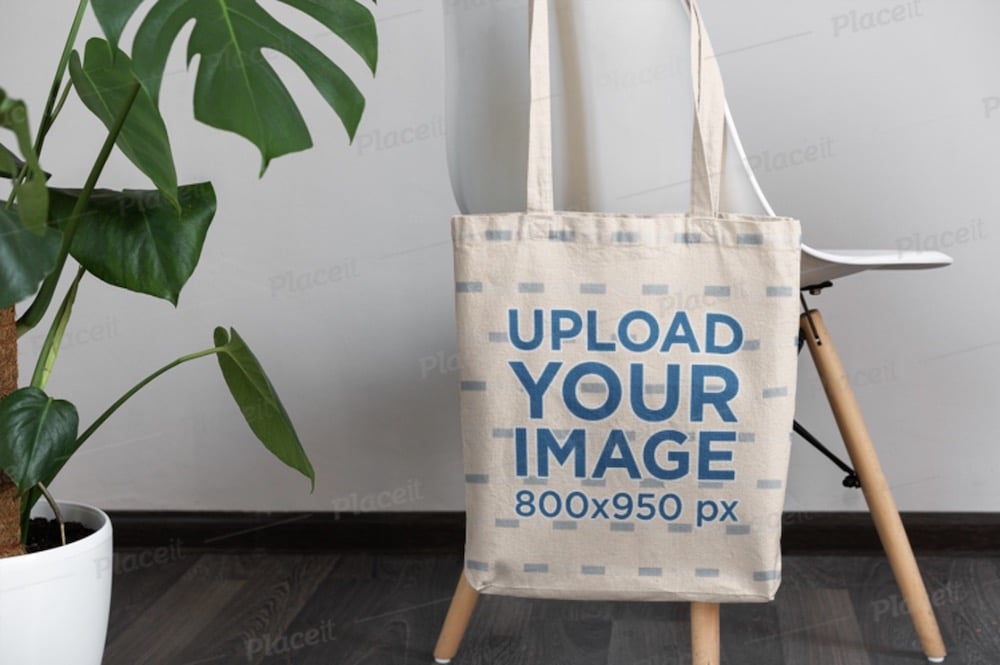 Consider this tote bag mockup if you're working on designing one.
The template shows a tote bag hanging off the chair, so it will be easy for your clients to see how the tote bag looks in their home.
MORE INFO / DOWNLOAD
4. Packaging Mockup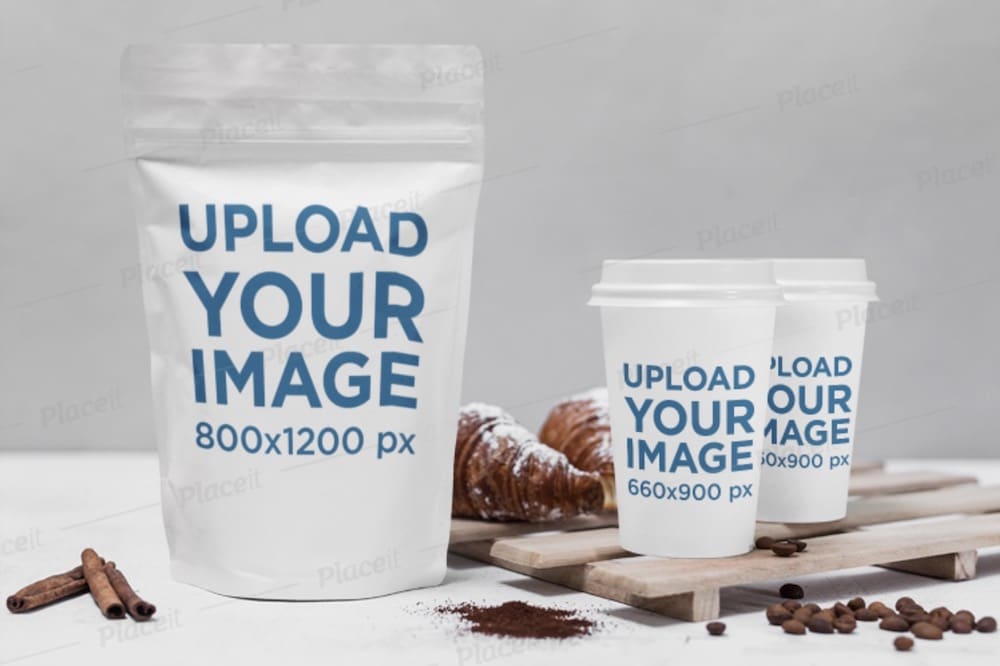 If you sell physical products or if you're a designer working on brand identity, this mockup is a great way to showcase branded packaging.
MORE INFO / DOWNLOAD
5. Face Mask Mockup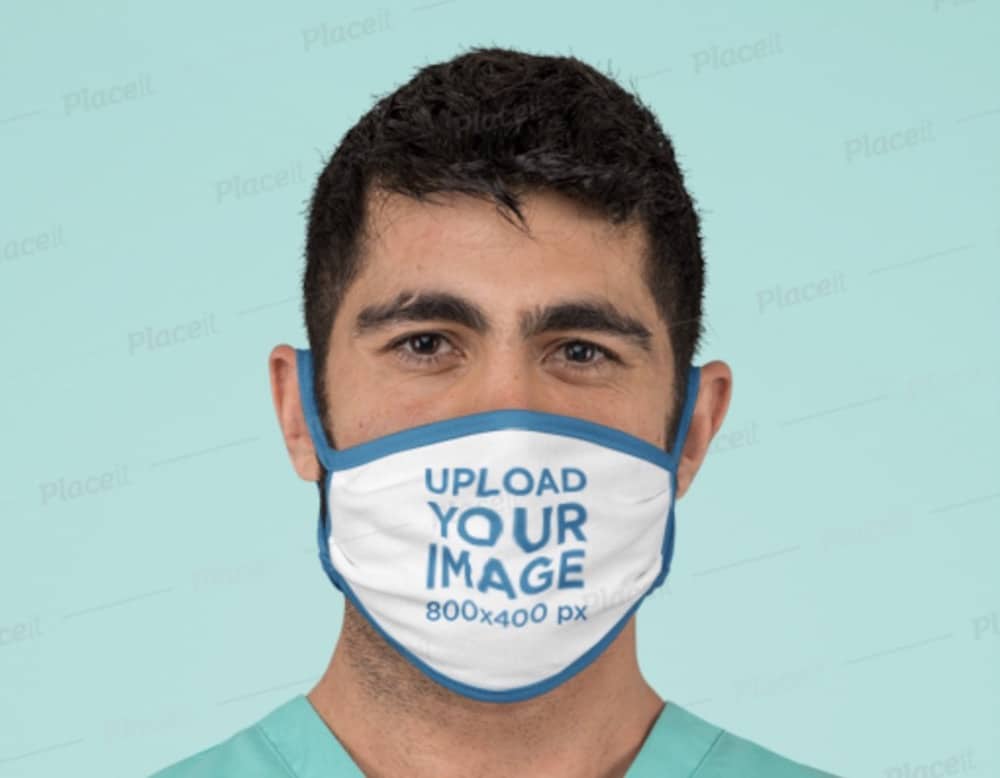 Face masks are in demand due to the current situation. With this mockup, you can present custom face mask designs quickly and easily.
MORE INFO / DOWNLOAD
Final Thoughts
You can easily create a mockup without Photoshop like a BOSS.
I opt for this method regularly because of its simplicity. But it still keeps my professionalism intact.
Use Placeit to quickly and easily create all kinds of mockups for your digital and physical products.