Do you want to learn how to make a hoodie mockup?
I would like to save you a ton of time with this beginner-friendly tutorial.
With and without Photoshop.
If you want to sell hoodies, one thing is certain: you'll need a hoodie mockup.
A mockup allows you to showcase your design on hoodies in different colors.
(And save you a ton of money because you don't need to hire models and photographers!)
It also lets you test different designs to find the perfect one much easier.
This post covers:
Making a hoodie mockup is SIMPLE.
With a tool like Placeit, you can easily create it within minutes.
Actually, seconds.
That's what this tutorial emphasizes.
A fantastic solution for beginners but just as equally great for pros.
I'll show you how to use an online mockup generator to make a hoodie mockup.
Like. Really. Fast.
(Note: You can access a quick Photoshop guide at the bottom.)
How To Create A Hoodie Mockup (Without Photoshop!)
This is an excellent alternative to make a mockup without Photoshop.
0 experience necessary.
Step 1: Visit Placeit
First, go to Placeit and use the search bar at the top to look for a hoodie mockup.
You can also click on Mockups > Hoodies to see all the available mockup designs.
(Hint: The link will guide you directly to their hoodies section.)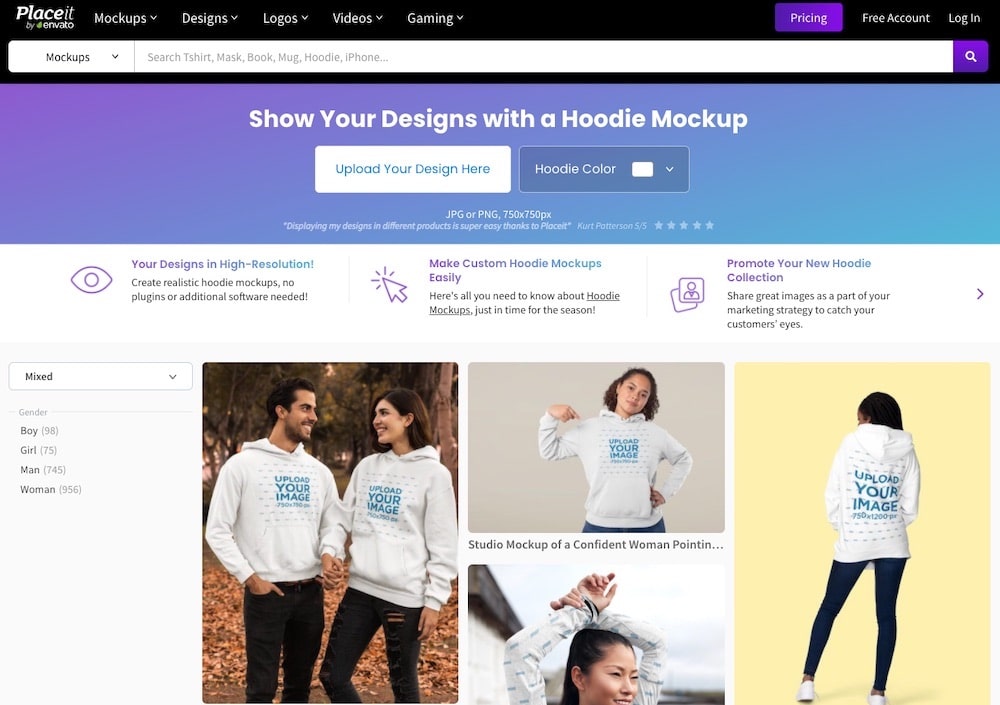 Once the mockups load, you can use the drop-down menu on the left to NARROW YOUR SEARCH by using the available filters.
You can filter the designs by ethnicity, age, gender, special occasion, and more.
Step 2: Upload Your Design
Once you find a design you like, click on it to open the mockup editor.
Press the button that says Upload your design.
You can then locate the image on your computer (even mobile device!) and press the Upload button.
Placeit RECOMMENDS you use a PNG file format but you can use JPG images as well.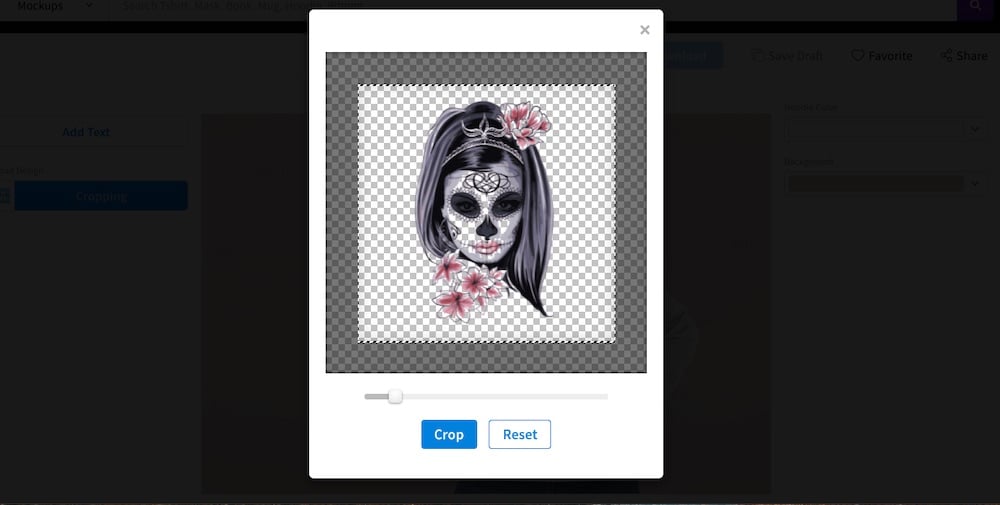 Design Credit: Image by OpenClipart-Vectors from Pixabay.
Step 3: Crop And Position The Design Image
You have the option to adjust the crop of the image during the upload process.
This allows you to position and resize the image to ensure it fits on the hoodie.
Adjusting the crop is EASY. Simply drag the slider to the left or to the right.
If you want to adjust the position of your design, drag it up or down (left and right).
When you're happy with how it looks, click the Crop button.
Step 4: Tweak The Design
Placeit makes it easy to further customize the design of your hoodie.
You can add your logo or any text you want.
You can also adjust the color of your hoodie to preview different color options.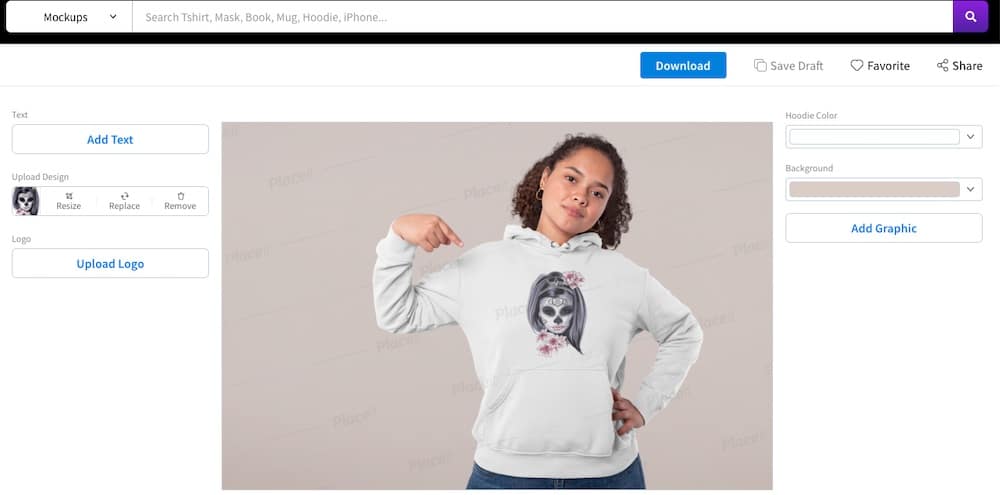 Step 5: Download Your Hoodie Mockup
After you finish customizing the design, you can download your hoodie mockup.
You have two choices: you can download the single mockup for a one-time fee of $7.95 or you can opt for a monthly subscription priced at $14.95/mo or $89.69/year.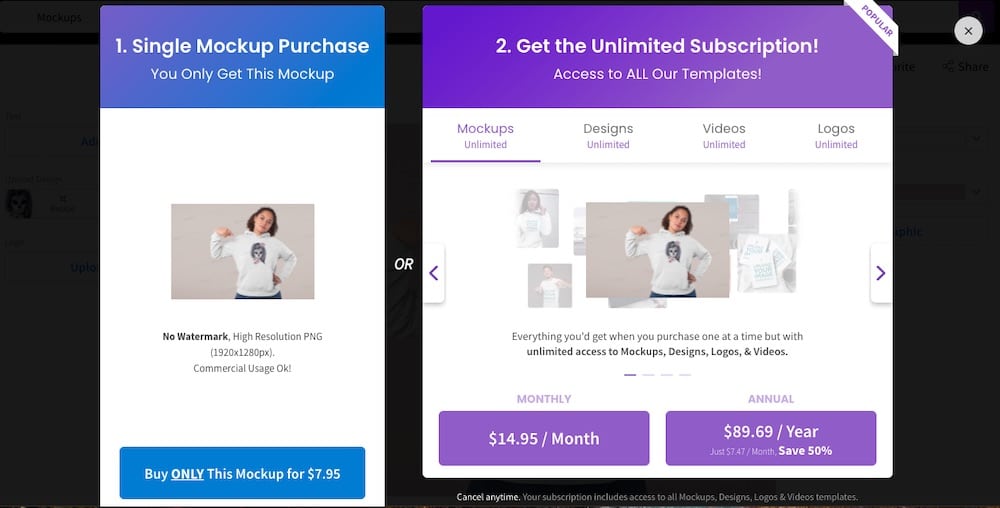 The benefit of the subscription is that you can CREATE and DOWNLOAD UNLIMITED mockups.
This is useful if you're about to open your own online store or if you work with multiple clients and need design mockups regularly.
Do you plan to design T-Shirts, too?
We have an entire tutorial on how to make a T-Shirt mockup without using Photoshop, so you can act quickly.
Best Hoodie Mockups
Now that you know how to create a hoodie mockup with Placeit, let's take a look at some interesting hoodie mockups.
1. Mockup of a folded hoodie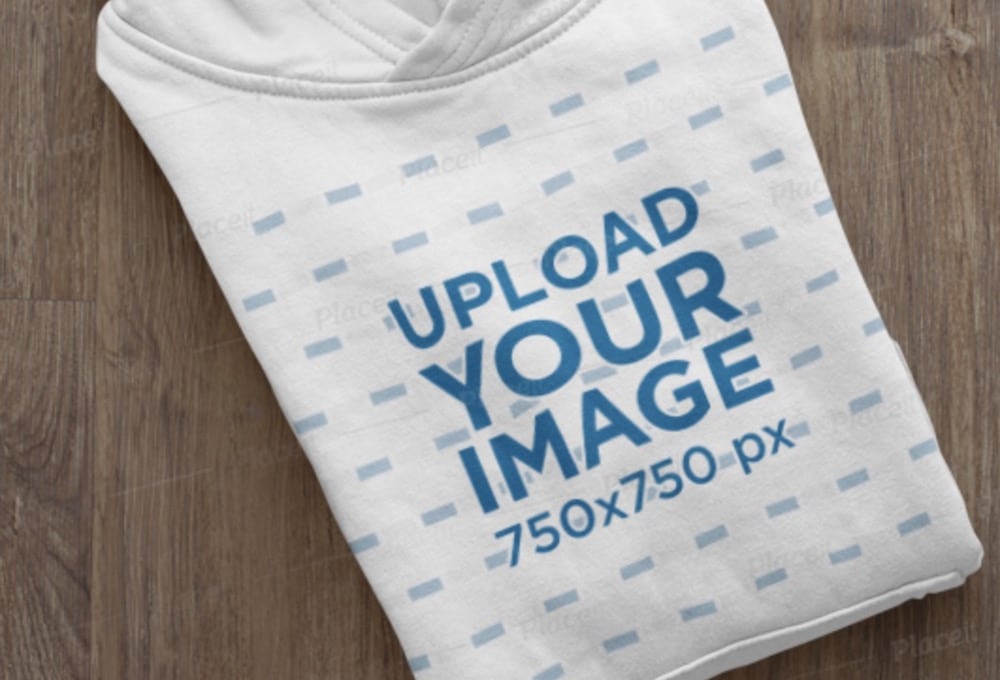 Use this mockup to present a folded hoodie realistically.
I used this one to show what a hoodie would look like on a store shelf, which worked great for a store owner client.
MORE INFO / DOWNLOAD
2. Mockup of a woman wearing a hoodie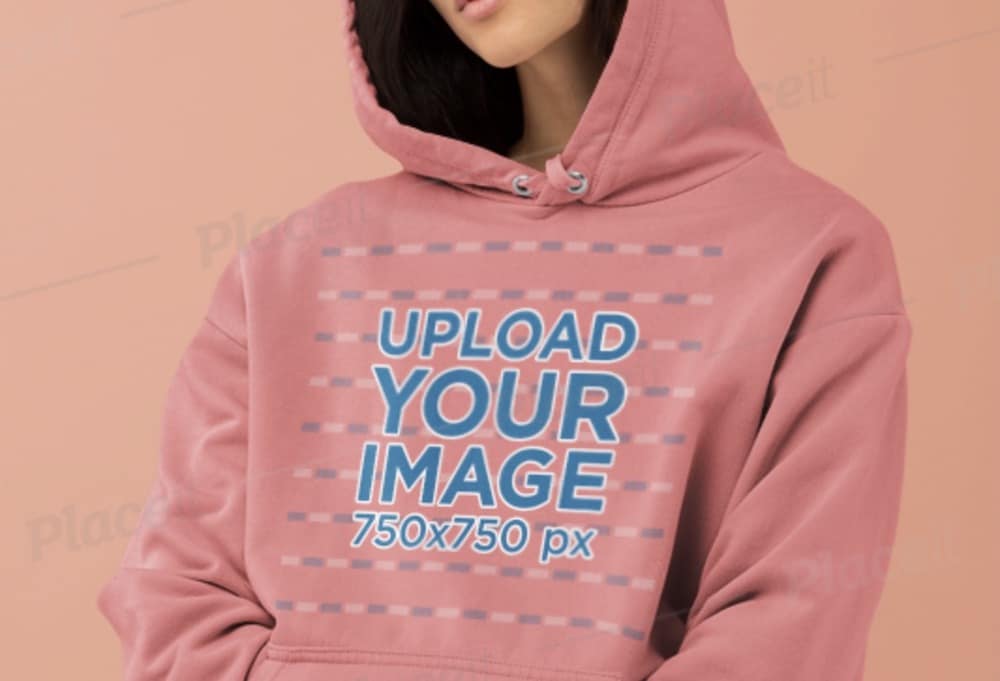 Make your hoodie design look life-like with this mockup.
It shows a woman wearing a hoodie and it's quick and effortless to customize.
(But that's something you already know.)
I tested it multiple times with different color and design combinations to guarantee its great performance.
MORE INFO / DOWNLOAD
3. Mockup of three hoodies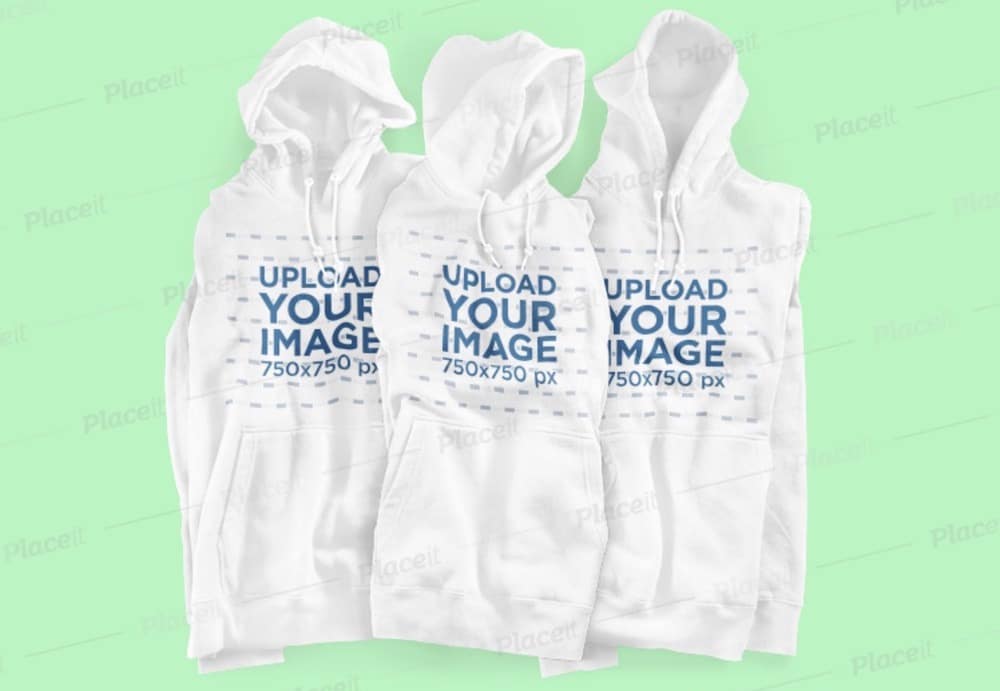 I highly recommend this hoodie mockup if you want to showcase three design variations.
You can upload different designs and choose a different color for each hoodie.
The background is also editabl with predefined templates or insert your own.
MORE INFO / DOWNLOAD
4. Back-view hoodie mockup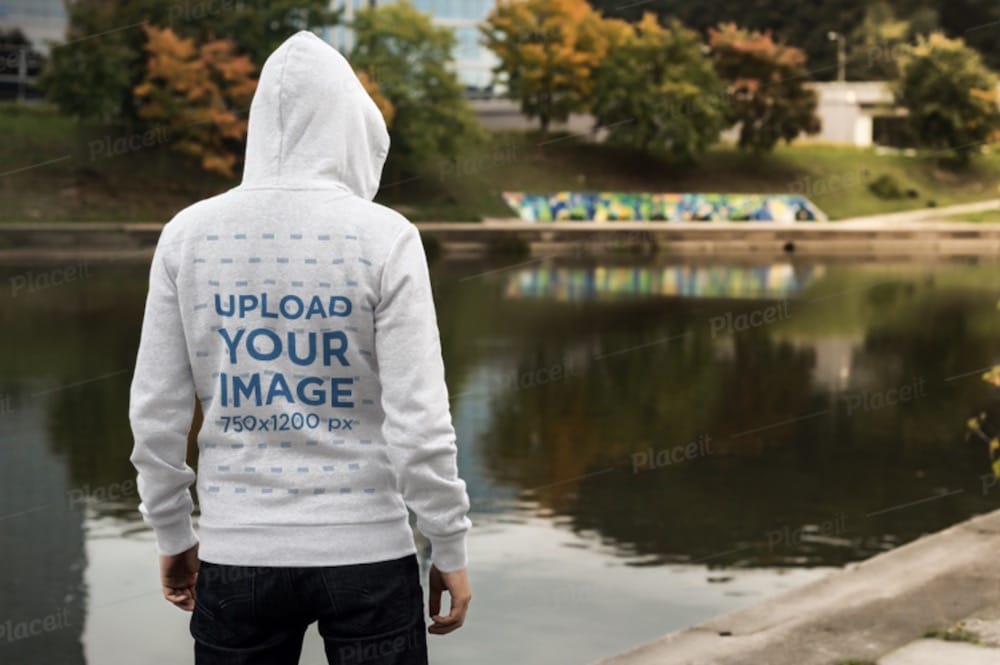 This back-view hoodie mockup is great if you plan on designing the back of the hoodie.
You have almost entire back available to beautify with any design you want.
It only takes a few clicks to gro from default to a full-blown presentation. GO!
MORE INFO / DOWNLOAD
5. Couples' pullover hoodie mockup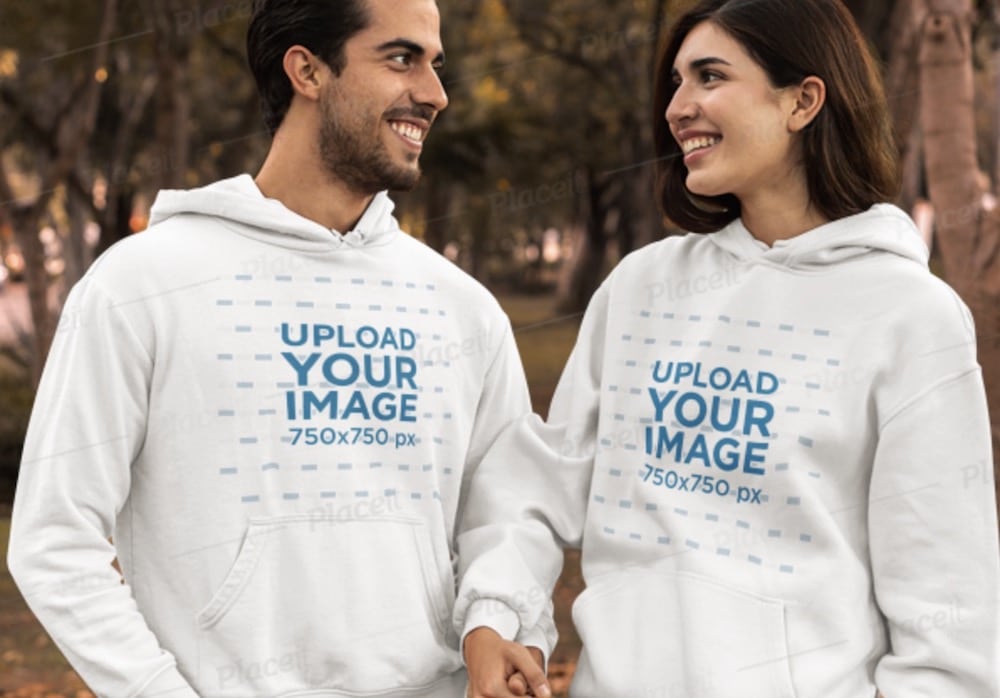 You can upload two different designs and customize the colors of both hoodies. Great choice for unisex hoodies brands, even for promotional material!
Hint: Matching hoodies are SO CUTE! Or you can showcase different designs, one for the ladies and one for the gentlemen.
MORE INFO / DOWNLOAD
But there are like 1,000s more on Placeit.
SOMETHING. FOR. EVERYONE.
How to Make A Hoodie Mockup In Photoshop
It's worth mentioning that you can also create a hoodie mockup in Photoshop. But it's a little more involved than using Placeit.
This is a great option if you're used to working with the Adobe suite of products and want MORE CONTROL over your mockup's design.
You'll need to create it from scratch to do this.
Not. Necessary.
Alternatively, if you want to save time, you can download a hoodie mockup from the internet. Using a layered PSD file will save you plenty of time.
But still retain your expertness. (I like taking shortcuts 🙂 )
How to Edit A Hoodie Mockup
First: Open the hoodie mockup in Photoshop and add your design to it.
Second: Hurray for smart objects, unlocking the quick drag-n-drop design inclusion method. (They simplify everything.)
Third: You can then further customize the design to get it to look exactly as you want.
Fourth: That's it!
Final Thoughts
You can quickly and easily create hoodie mockups for your online store, thanks to Placeit.
Even social promotions, marketing campaigns, newsletters, blog posts – YOU NAME IT.
There is NO NEED to learn Photoshop or hire an expensive designer to create the mockup for you.
You can start creating realistic hoodie mockups right away.
Like A Champ.
Enjoy!