I created this article to help you avoid questioning what is a smart object in Photoshop, plus, how to create one – quickly. (Because so many users and clients asked.)
There is no doubt that Photoshop is a powerful program for editing photos and creating graphics.
It has tons of useful features that allow for creative manipulations. One of those features is smart objects and they DEFINITELY help you be more efficient.
But what even is a smart object?
I'll explain what smart objects are, the benefits of using them, and how to create them.
What is Smart Object
A smart object is a layer in Photoshop that contains all the same image data from raster and vector images but it allows you to edit and manipulate those images in a non-destructive way.
For example, you can transform an image or scale it up or down and the image won't lose quality.
So. Cool.
Embedded and Linked Smart Objects
You can embed the contents of an image into a Photoshop document and create an embedded smart object.
You can also create a linked smart object which is a smart object whose contents are pulled from an external image. With the linked smart object, the contents update AUTOMATICALLY when the source file is changed.
Another benefit of using linked smart objects is that the file size of your Photoshop document will be smaller since they rely on external files instead of embedding them into your Photoshop document.
I need to mention that if you ever move or delete the original source file, you'll need to update your smart object the next time you open it.
Benefits Of Using Smart Objects
There are several benefits of using smart objects when you're working with Photoshop files:
As mentioned earlier, you can apply non-destructive transforms to an image without the loss of quality. You can rotate, distort, skew, transform, or warp a layer.
You can use vector artwork from Illustrator without having to rasterize it first.
You can apply non-destructive filters and edit filters that were applied to smart objects any time you want.
You can apply layer masks that are linked or unlinked to smart object layers.
You can resize the image that's contained in the smart object without loss of quality.
Smart objects are very useful when working with mockups.
You can easily add your design to real-life objects to give your clients an idea of how the end product will look like. (I use them often!)
How to Create Smart Objects
Now that we've covered what smart objects are and why they're useful, let's see how you can create them.
How to Create Embedded Smart Objects
There are several ways to create embedded smart objects.
You can open any file as a smart object by going to File > Open as Smart Object.
You can import files as smart objects by going to File > Place or File > Place Embedded.
Keep in mind that while you can place JPG files, it's better to use PSD, TIFF, and PSB files because these file types will give you more editing and modifying options without any loss of quality.
You can paste your Illustrator artwork onto an open Photoshop document and choose Smart Object in the Paste dialog box. You can also drag artwork from Illustrator onto an open Photoshop document.
You can convert any Photoshop layer to a smart object by selecting the layer, right-clicking on it and choosing the Convert to Smart Object option.
You can also select the layer and go to Layer > Smart Objects > Convert to Smart Object.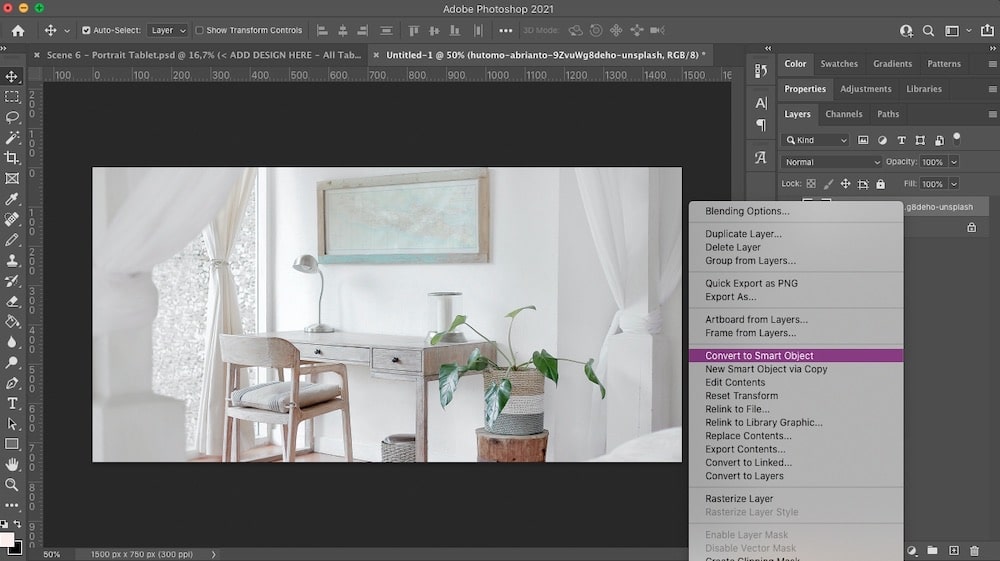 You can convert embedded smart objects to linked smart objects. To do this, select the embedded smart object layer you want to convert in your Photoshop document.
Go to the Layer menu and choose Smart Object > Convert to Linked.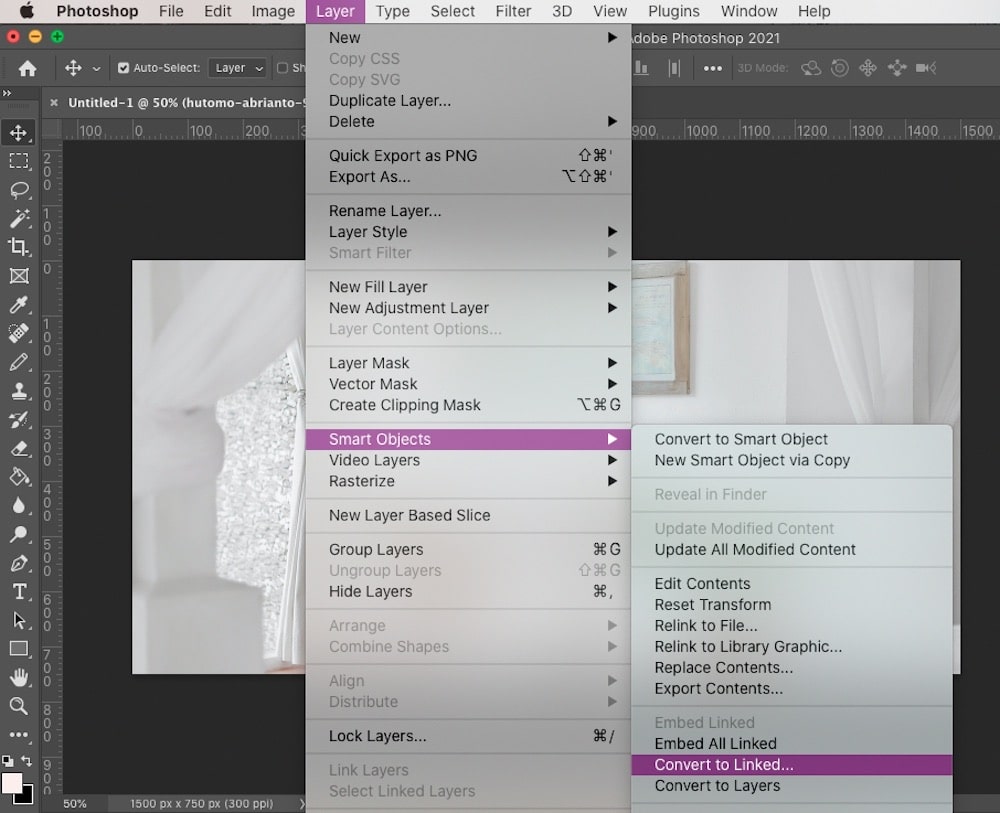 You'll then need to choose a location on your computer where you want to save your source file. Give it a name and don't forget to include the format extension such as .jpg.
Click Save and you've now converted an embedded smart object into a linked one.
How to Create Linked Smart Objects
If you have Photoshop CC, you can also create linked smart objects. Unlike embedded smart objects, there are only two ways to create a linked smart object.
One of them is placing a file onto an open Photoshop document as a linked file. Go to File > Place Linked. Choose the file you want from your computer and click Place.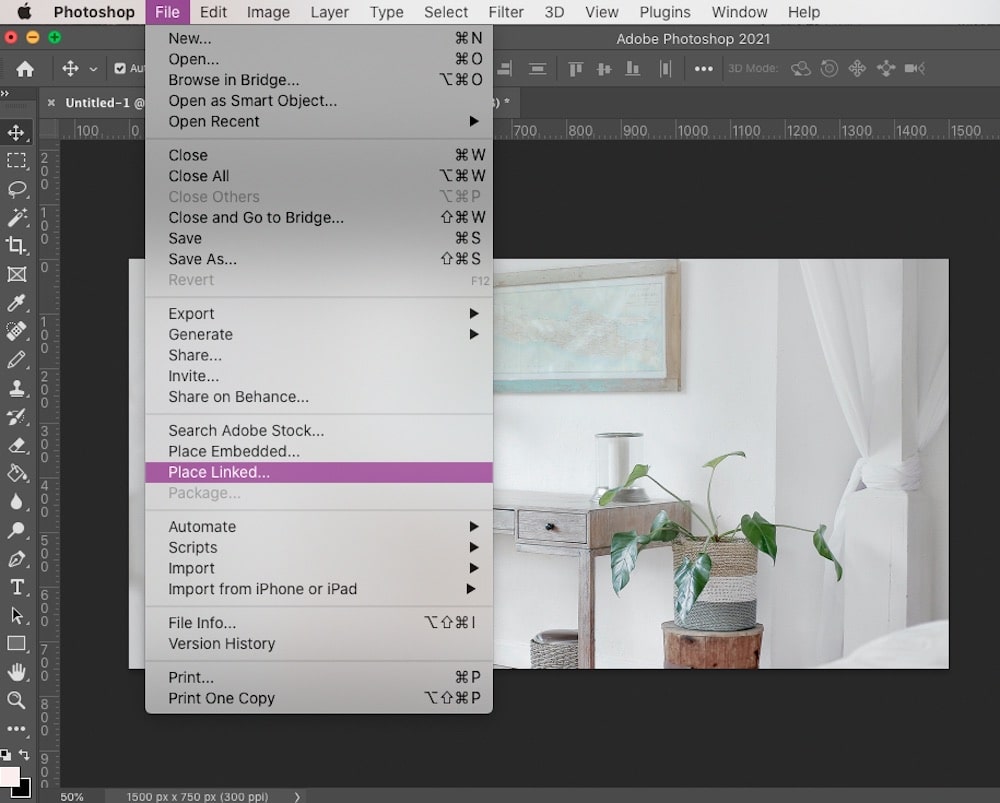 The other way to create a linked smart object is to drag and drop a file onto the open Photoshop document while holding down the Windows or the Alt key.
Final Thoughts
And there you have it.
After reading this tutorial, I'm sure you'll know what smart objects are, why you should use them, and how to create them.
The only thing left to do now is to take advantage of smart objects in your next creative project (e.g. mockups).
Good luck!